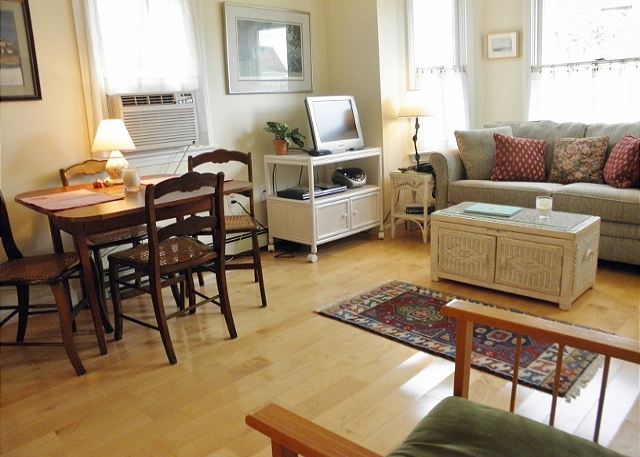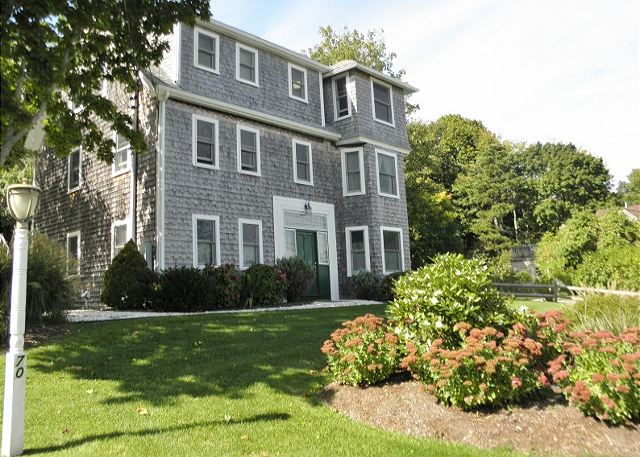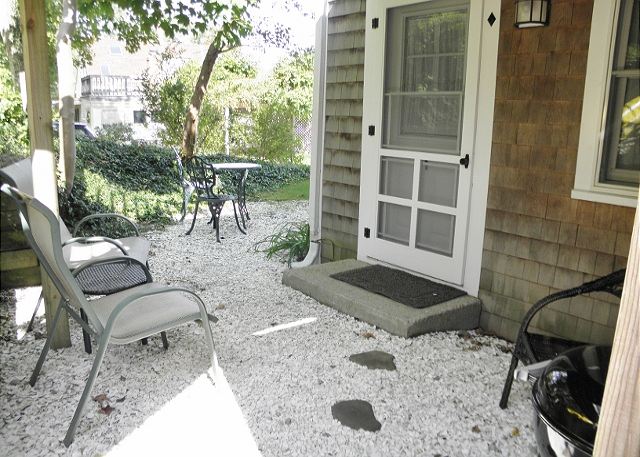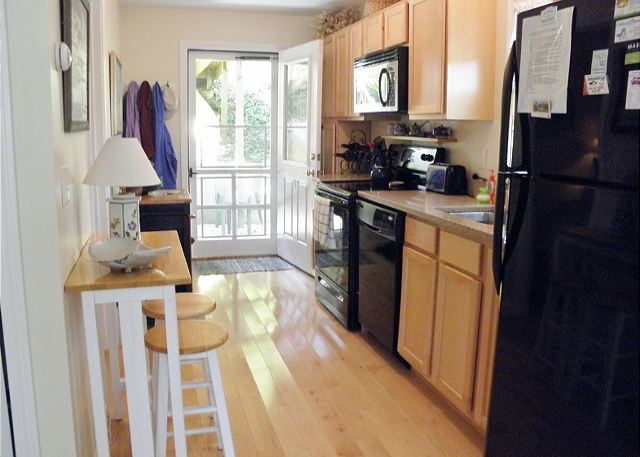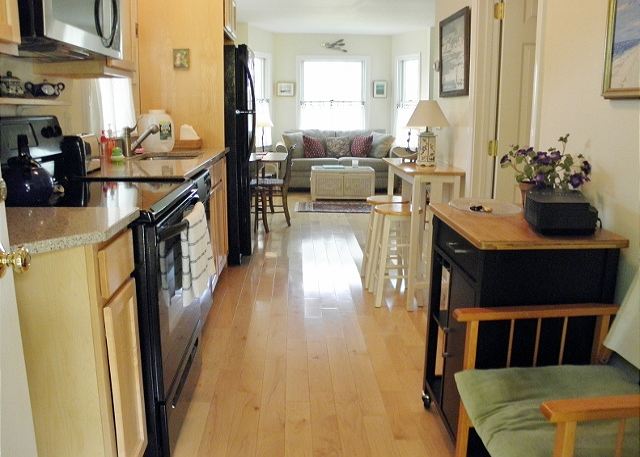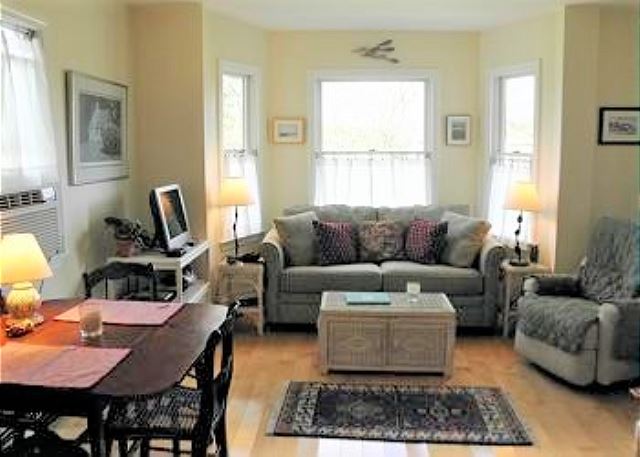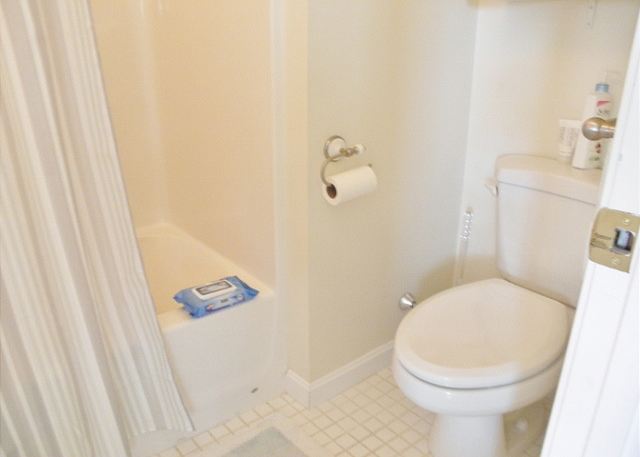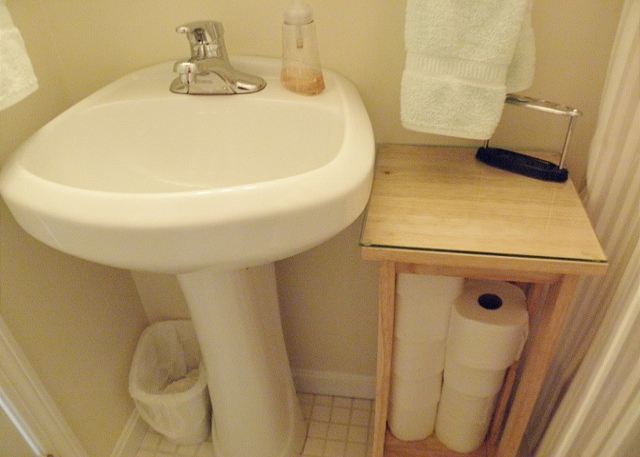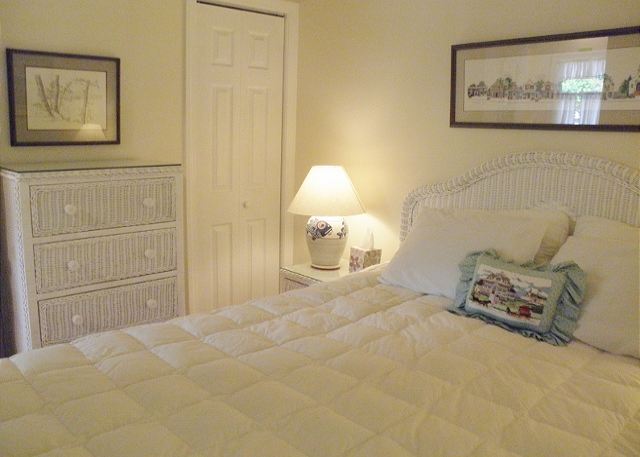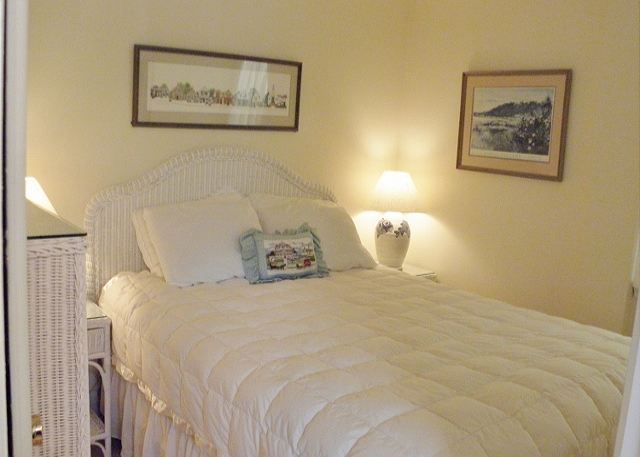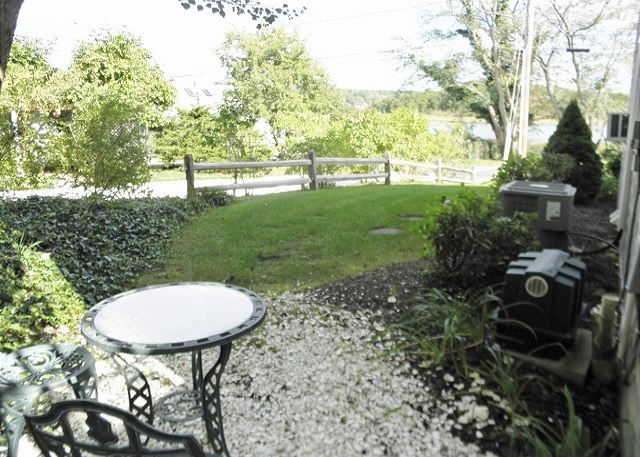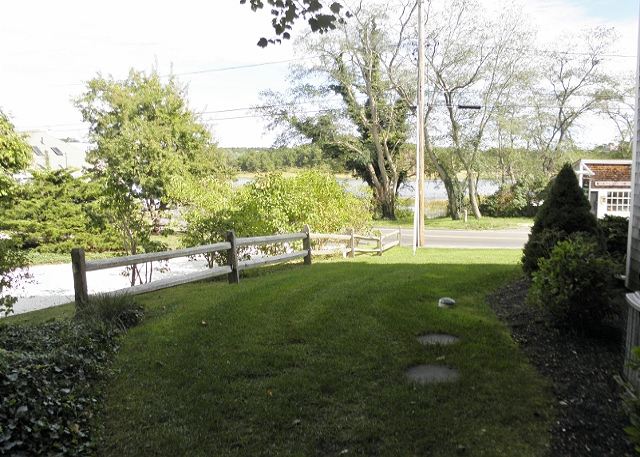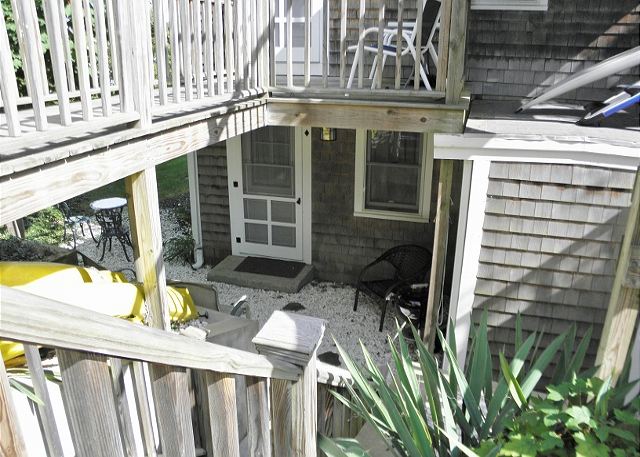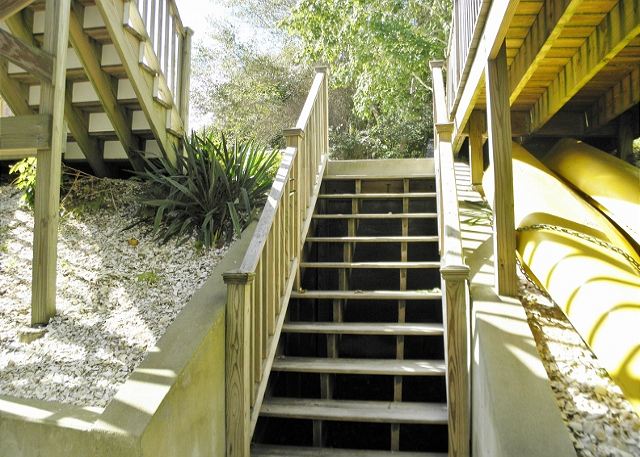 ---
Bedroom(s): 1
Bathroom(s): 1
Sleeps: 2
Type: Condominium
Area:
Town: Wellfleet
Wellfleet Marsh View Vacation Condo in The Lewis Collins House built in 1880 and wonderfully renovated. Just .5 mile to Mayo Beach!

This first floor one bedroom condo is located just a short distance to Wellfleet Pier and Main Street where you will find shops, dining, and a pretty village setting. This unit offers a beautiful interior and fully equipped kitchen with dishwasher, microwave, drip coffee maker, toaster, lobster pot, and gas cooking. The wicker decorated living area has A/C unit, TV with DVD player, basic Comcast service, WiFi internet, and Bose music system with C/D player. This condo also has a clothing washer and dryer in the unit.

The plush bedroom offers a Queen Size bed and window A/C unit. Outside the home you will find a patio area with bistro style dining set and charcoal grill for your enjoyment. It is the perfect place for the two of you to just get away and relax. Parking for 1 vehicle.

Sorry no pets and no smoking allowed.

2 guests maximum allowed at any time. No parties exceeding the occupancy limit allowed.

LINENS (SHEETS/TOWELS) ARE NOT INCLUDED IN THIS RENTAL.

Travel Insurance is highly recommended and affordable coverage to protect your vacation investment.

Please view our policy and procedure page on our web site for detailed information about renting with us.
- DVD Player
- Flat Screen HDTV
- Basic Cable
- Microwave
- Drip Coffee Maker
- Cookware
- Dishes / Glassware / Utensils
- Kitchen Table
- Toaster or Toaster Oven
- Dishwasher
- Lobster Pot
- Window A/C
- Patio
- Charcoal Grill
- Dining Table w/o Umbrella
- Beach Chairs
- Near Cape Cod Bay Beaches
- Near National Sea Shore Beaches
- Marshview
- Near Marina
Guest Reviews of
70 commercial Wellfleet , MA
70 Commercial Street, Wellfleet
Review by
Cathy C.
wonderful
5 out of 5 stars
Aug - 70 commercial
Review by
John C.
Close by everything - a lot is walkable - clean and modern - Air Conditioned!
5 out of 5 stars
Excellent!!
Review by
Kathleen C
Emaculate. Perfect. Lovely. A perfect vacation spot.
5 out of 5 stars
Wellfleet Rental for two
Review by
Denise R.
The condo was perfect for my daughter and I. The location was good for us since we love Marconi Beach. The walk to Wellfleet harbot is lovely and if you like seafood...there are many restaurants within walking distance.
4 out of 5 stars
70 commercial street apt 1
Review by
Richard G.
We had a great time, loved Wellfleet & the beaches. The apt was spotless, but so small we had to keep our suitcases in the car. I hated the bedroom window being blocked by the A/C since it was a nice week. A lot of street noise and the people upstairs were loud early am. The bed was comfortable, but the frame made a lot of noise getting in and out of bed. Had everything we needed, just cramped and a bit noisy, but a very nicely decorated space. Very homey.
3 out of 5 stars
May 2018

| S | M | T | W | T | F | S |
| --- | --- | --- | --- | --- | --- | --- |
| | | 01 | 02 | 03 | 04 | 05 |
| 06 | 07 | 08 | 09 | 10 | 11 | 12 |
| 13 | 14 | 15 | 16 | 17 | 18 | 19 |
| 20 | 21 | 22 | 23 | 24 | 25 | 26 |
| 27 | 28 | 29 | 30 | 31 | | |
June 2018

| S | M | T | W | T | F | S |
| --- | --- | --- | --- | --- | --- | --- |
| | | | | | 01 | 02 |
| 03 | 04 | 05 | 06 | 07 | 08 | 09 |
| 10 | 11 | 12 | 13 | 14 | 15 | 16 |
| 17 | 18 | 19 | 20 | 21 | 22 | 23 |
| 24 | 25 | 26 | 27 | 28 | 29 | 30 |
July 2018

| S | M | T | W | T | F | S |
| --- | --- | --- | --- | --- | --- | --- |
| 01 | 02 | 03 | 04 | 05 | 06 | 07 |
| 08 | 09 | 10 | 11 | 12 | 13 | 14 |
| 15 | 16 | 17 | 18 | 19 | 20 | 21 |
| 22 | 23 | 24 | 25 | 26 | 27 | 28 |
| 29 | 30 | 31 | | | | |
August 2018

| S | M | T | W | T | F | S |
| --- | --- | --- | --- | --- | --- | --- |
| | | | 01 | 02 | 03 | 04 |
| 05 | 06 | 07 | 08 | 09 | 10 | 11 |
| 12 | 13 | 14 | 15 | 16 | 17 | 18 |
| 19 | 20 | 21 | 22 | 23 | 24 | 25 |
| 26 | 27 | 28 | 29 | 30 | 31 | |
September 2018

| S | M | T | W | T | F | S |
| --- | --- | --- | --- | --- | --- | --- |
| | | | | | | 01 |
| 02 | 03 | 04 | 05 | 06 | 07 | 08 |
| 09 | 10 | 11 | 12 | 13 | 14 | 15 |
| 16 | 17 | 18 | 19 | 20 | 21 | 22 |
| 23 | 24 | 25 | 26 | 27 | 28 | 29 |
| 30 | | | | | | |
October 2018

| S | M | T | W | T | F | S |
| --- | --- | --- | --- | --- | --- | --- |
| | 01 | 02 | 03 | 04 | 05 | 06 |
| 07 | 08 | 09 | 10 | 11 | 12 | 13 |
| 14 | 15 | 16 | 17 | 18 | 19 | 20 |
| 21 | 22 | 23 | 24 | 25 | 26 | 27 |
| 28 | 29 | 30 | 31 | | | |
November 2018

| S | M | T | W | T | F | S |
| --- | --- | --- | --- | --- | --- | --- |
| | | | | 01 | 02 | 03 |
| 04 | 05 | 06 | 07 | 08 | 09 | 10 |
| 11 | 12 | 13 | 14 | 15 | 16 | 17 |
| 18 | 19 | 20 | 21 | 22 | 23 | 24 |
| 25 | 26 | 27 | 28 | 29 | 30 | |
December 2018

| S | M | T | W | T | F | S |
| --- | --- | --- | --- | --- | --- | --- |
| | | | | | | 01 |
| 02 | 03 | 04 | 05 | 06 | 07 | 08 |
| 09 | 10 | 11 | 12 | 13 | 14 | 15 |
| 16 | 17 | 18 | 19 | 20 | 21 | 22 |
| 23 | 24 | 25 | 26 | 27 | 28 | 29 |
| 30 | 31 | | | | | |
January 2019

| S | M | T | W | T | F | S |
| --- | --- | --- | --- | --- | --- | --- |
| | | 01 | 02 | 03 | 04 | 05 |
| 06 | 07 | 08 | 09 | 10 | 11 | 12 |
| 13 | 14 | 15 | 16 | 17 | 18 | 19 |
| 20 | 21 | 22 | 23 | 24 | 25 | 26 |
| 27 | 28 | 29 | 30 | 31 | | |
February 2019

| S | M | T | W | T | F | S |
| --- | --- | --- | --- | --- | --- | --- |
| | | | | | 01 | 02 |
| 03 | 04 | 05 | 06 | 07 | 08 | 09 |
| 10 | 11 | 12 | 13 | 14 | 15 | 16 |
| 17 | 18 | 19 | 20 | 21 | 22 | 23 |
| 24 | 25 | 26 | 27 | 28 | | |
March 2019

| S | M | T | W | T | F | S |
| --- | --- | --- | --- | --- | --- | --- |
| | | | | | 01 | 02 |
| 03 | 04 | 05 | 06 | 07 | 08 | 09 |
| 10 | 11 | 12 | 13 | 14 | 15 | 16 |
| 17 | 18 | 19 | 20 | 21 | 22 | 23 |
| 24 | 25 | 26 | 27 | 28 | 29 | 30 |
| 31 | | | | | | |
April 2019

| S | M | T | W | T | F | S |
| --- | --- | --- | --- | --- | --- | --- |
| | 01 | 02 | 03 | 04 | 05 | 06 |
| 07 | 08 | 09 | 10 | 11 | 12 | 13 |
| 14 | 15 | 16 | 17 | 18 | 19 | 20 |
| 21 | 22 | 23 | 24 | 25 | 26 | 27 |
| 28 | 29 | 30 | | | | |
May 2019

| S | M | T | W | T | F | S |
| --- | --- | --- | --- | --- | --- | --- |
| | | | 01 | 02 | 03 | 04 |
| 05 | 06 | 07 | 08 | 09 | 10 | 11 |
| 12 | 13 | 14 | 15 | 16 | 17 | 18 |
| 19 | 20 | 21 | 22 | 23 | 24 | 25 |
| 26 | 27 | 28 | 29 | 30 | 31 | |
Available
Unavailable
Sat to Sat booking