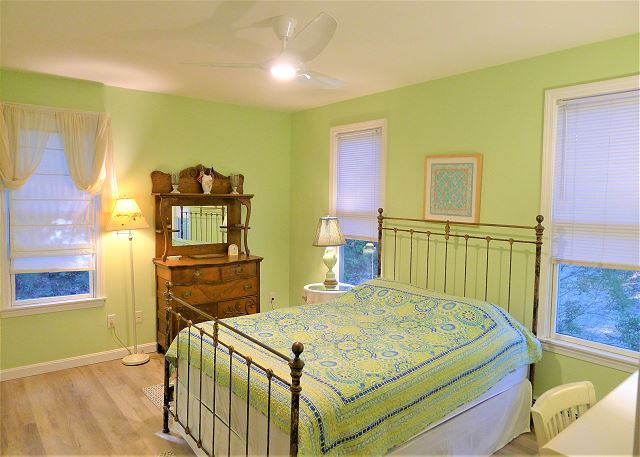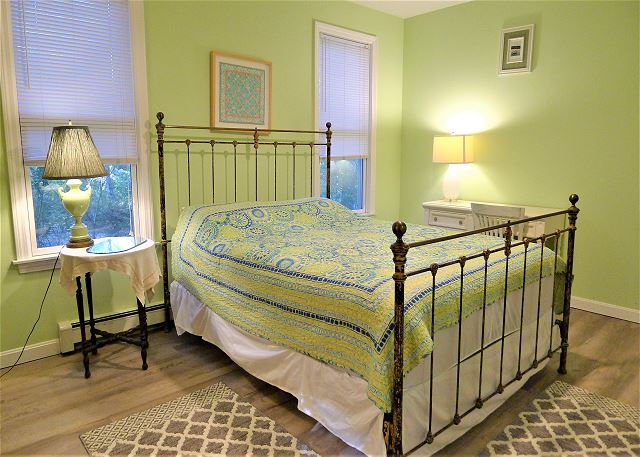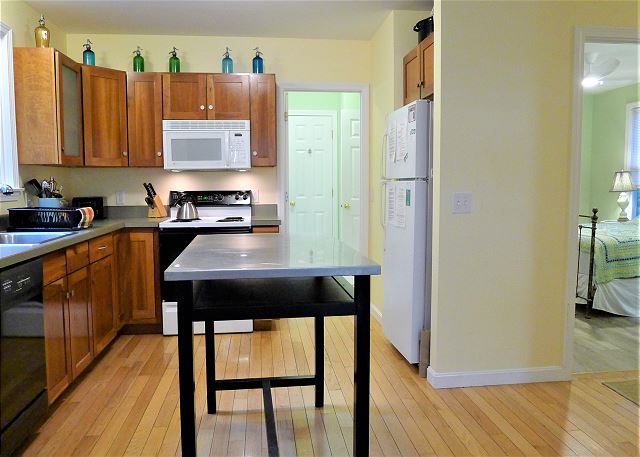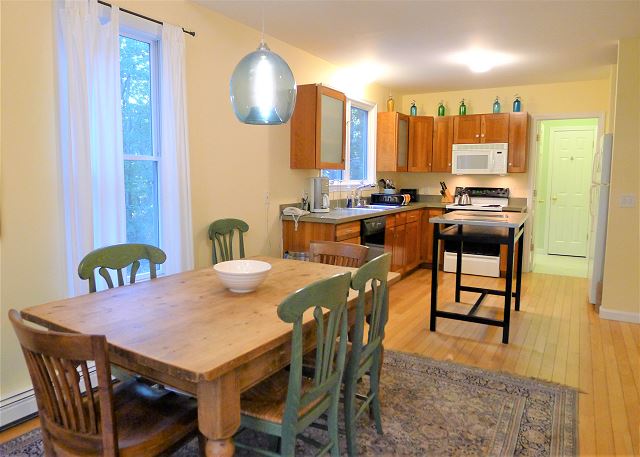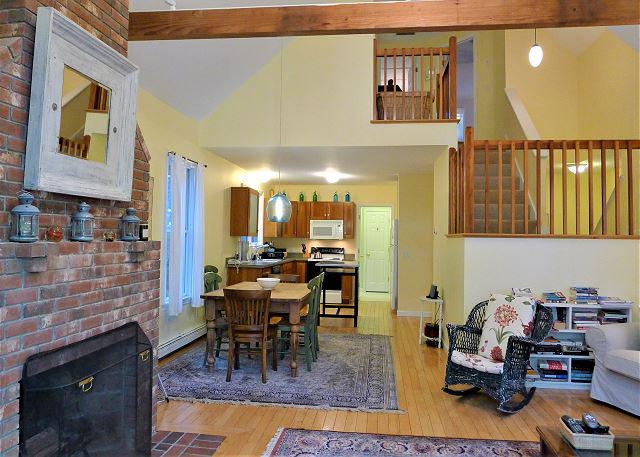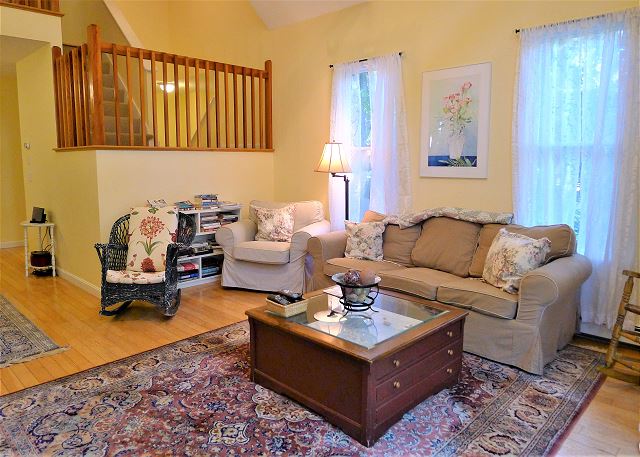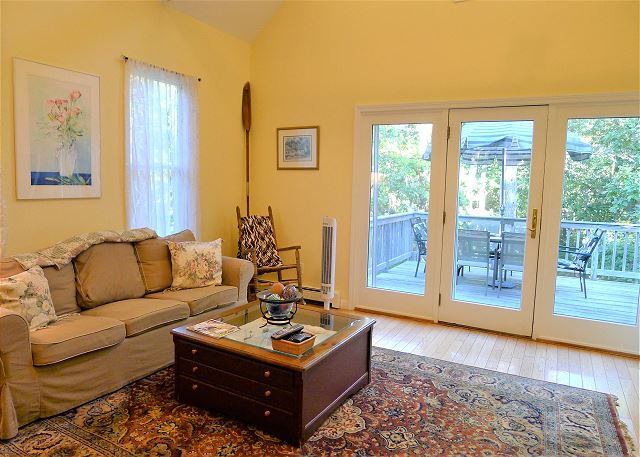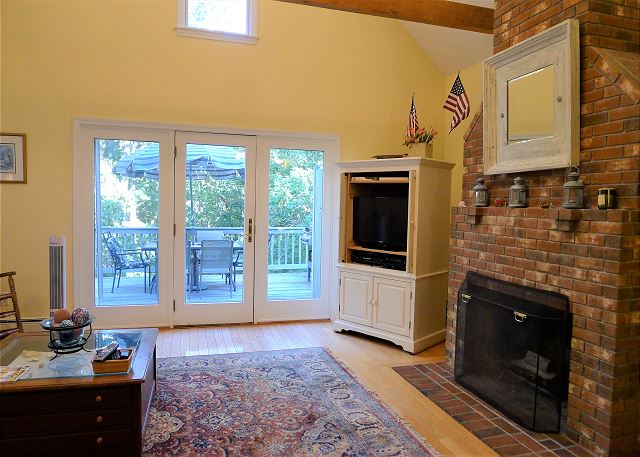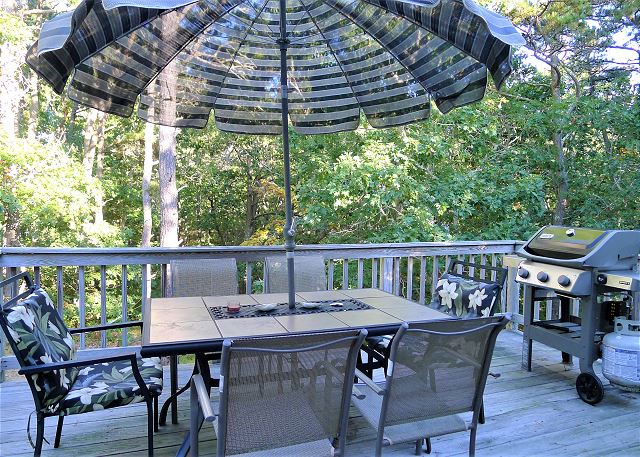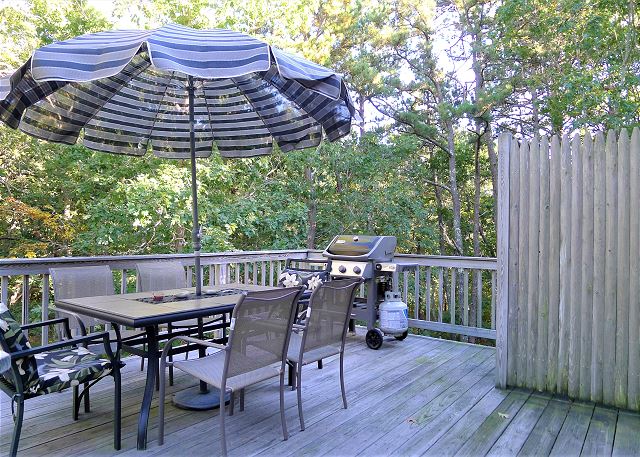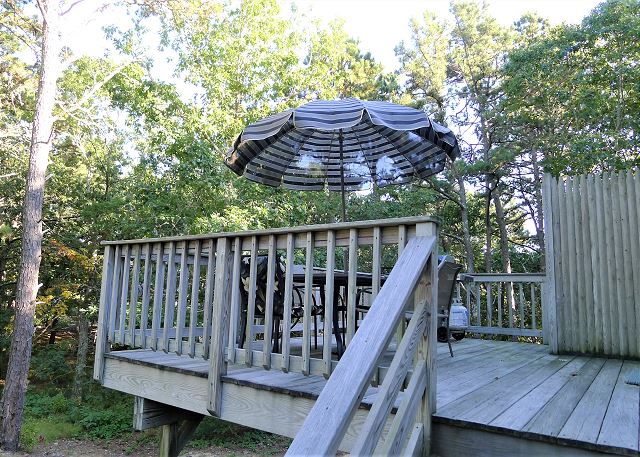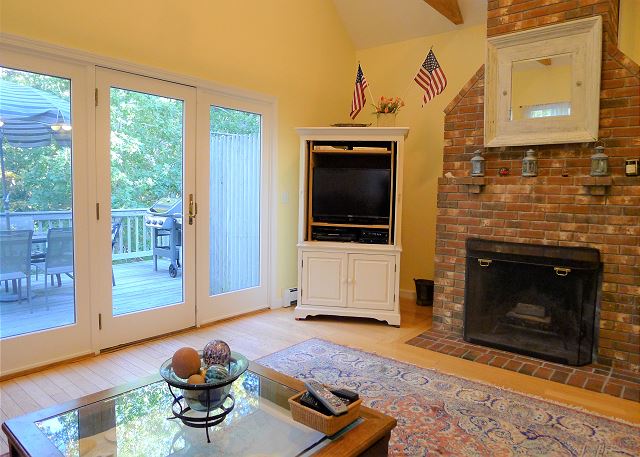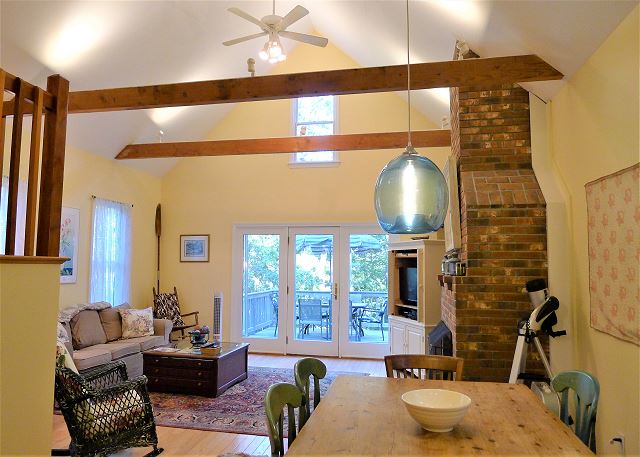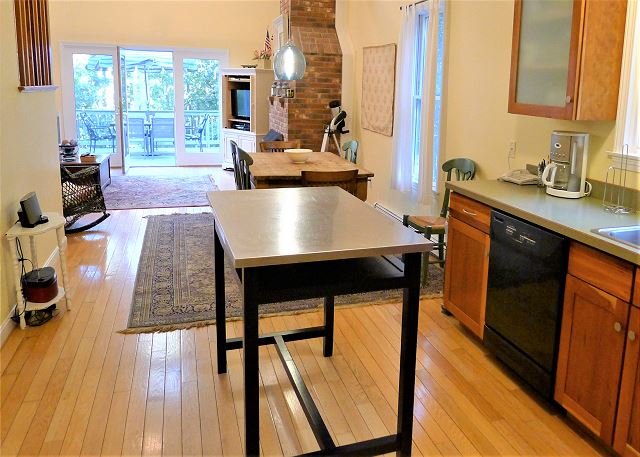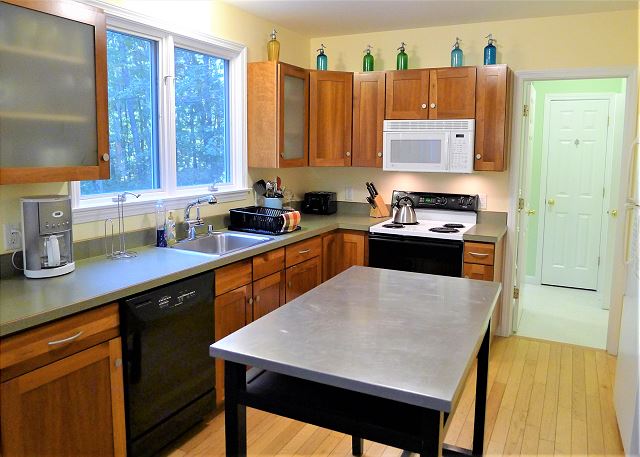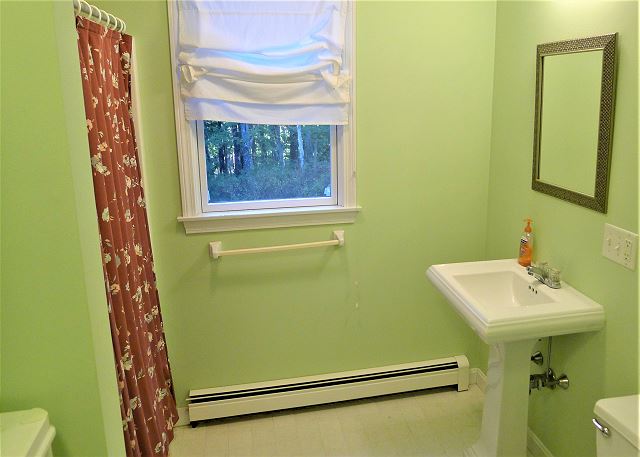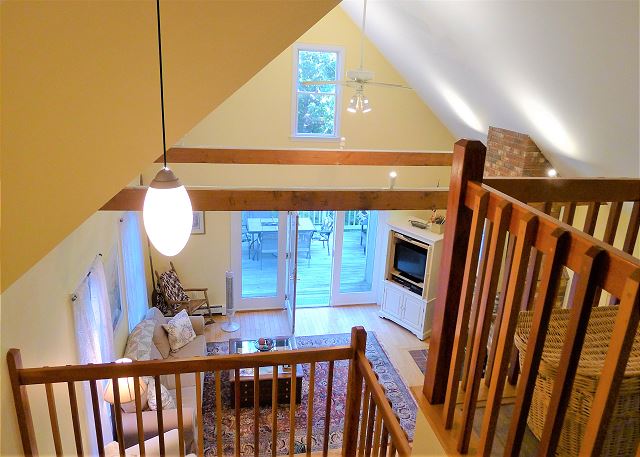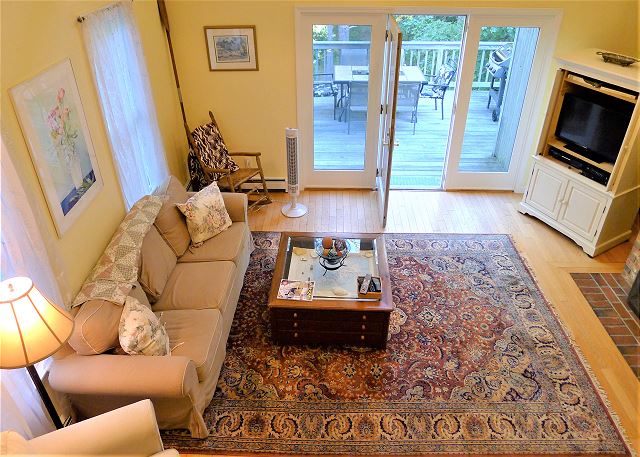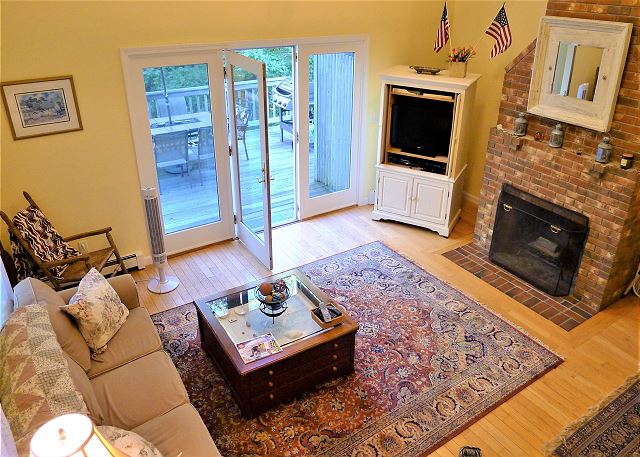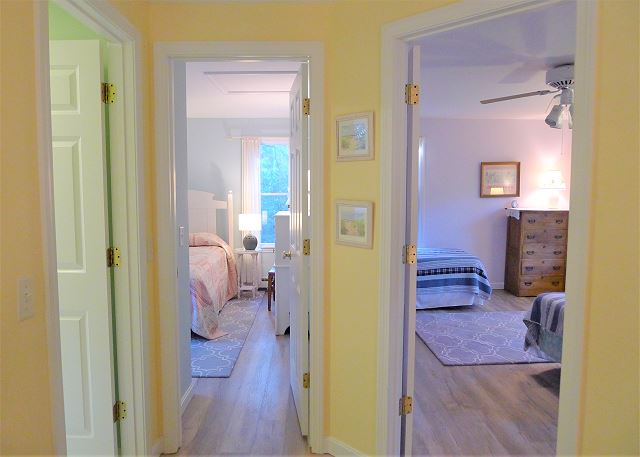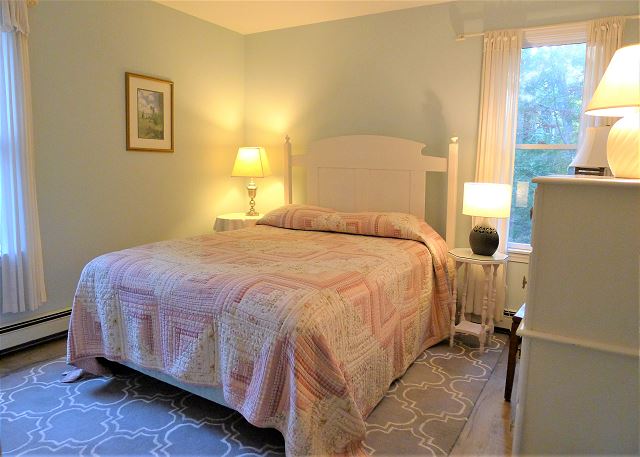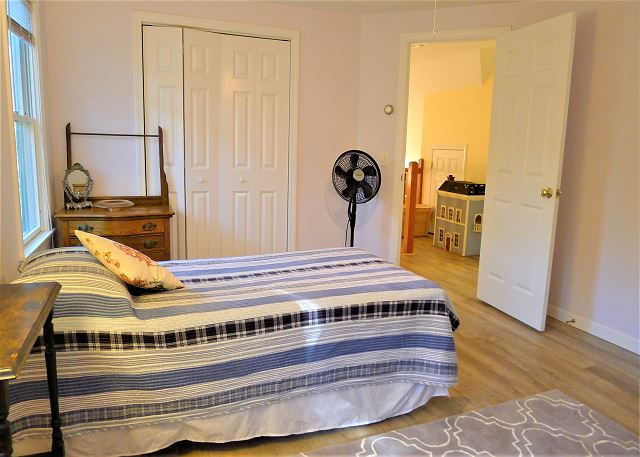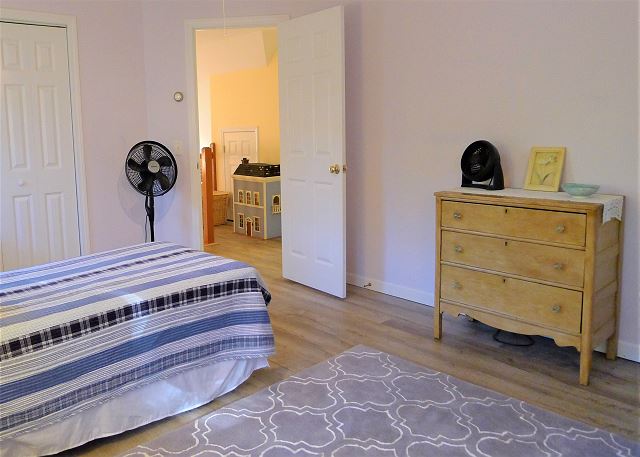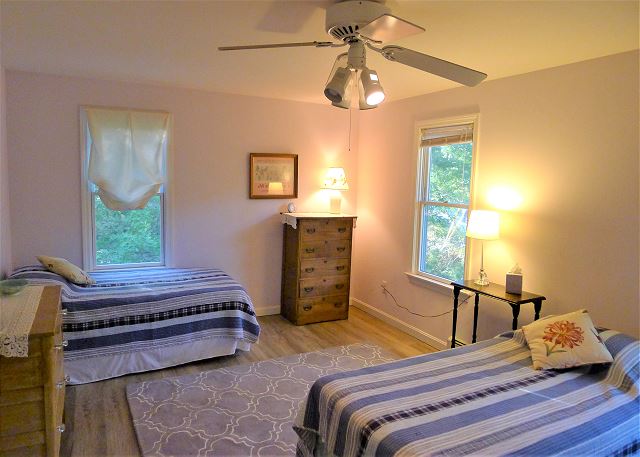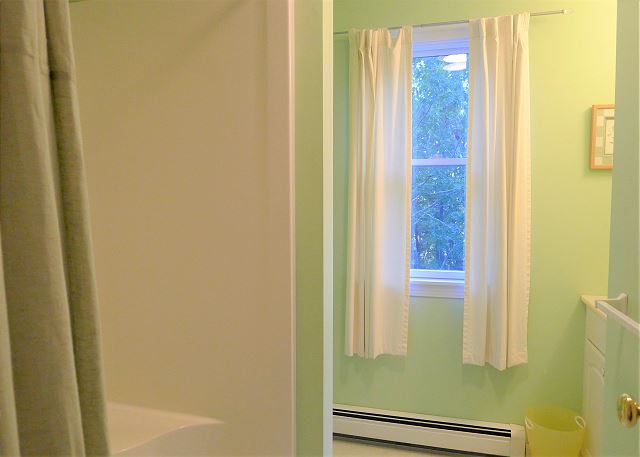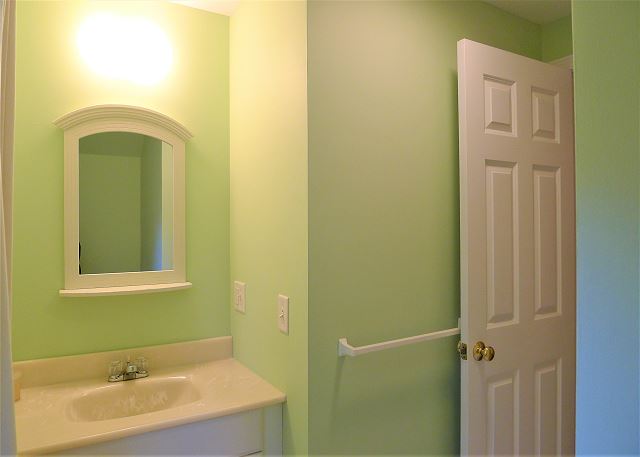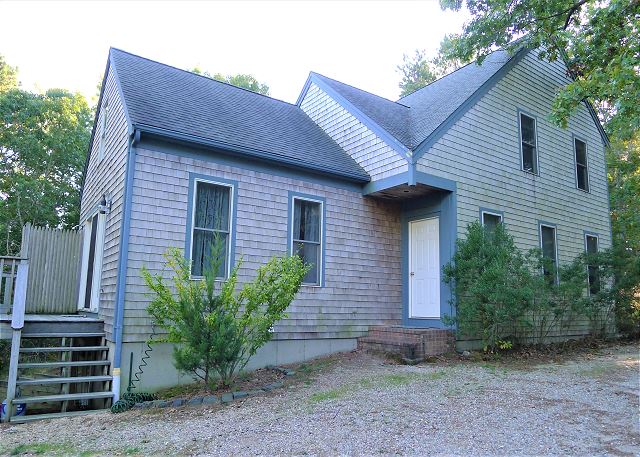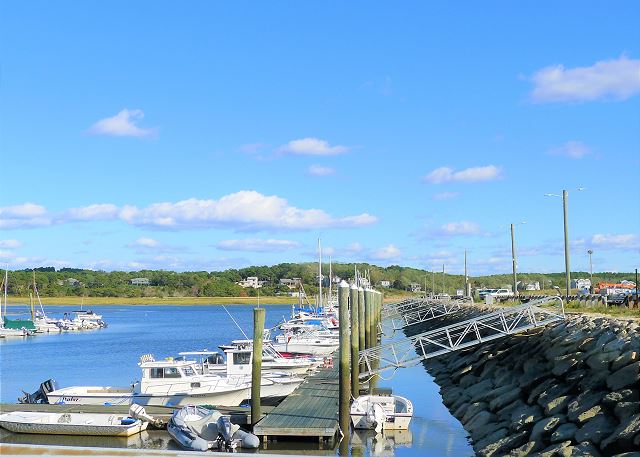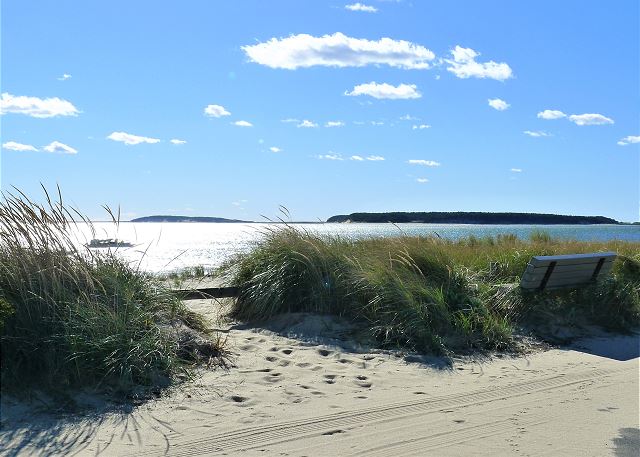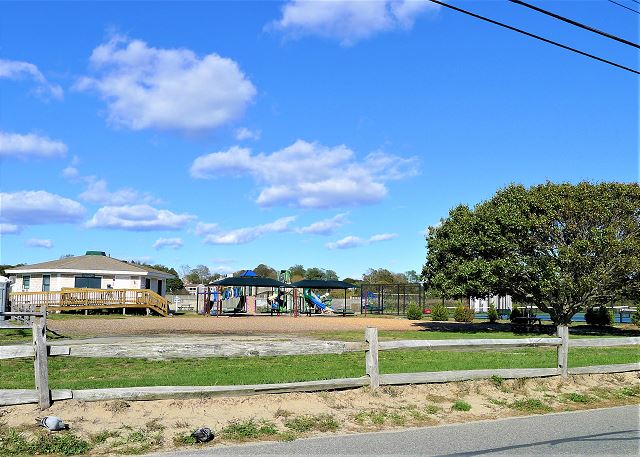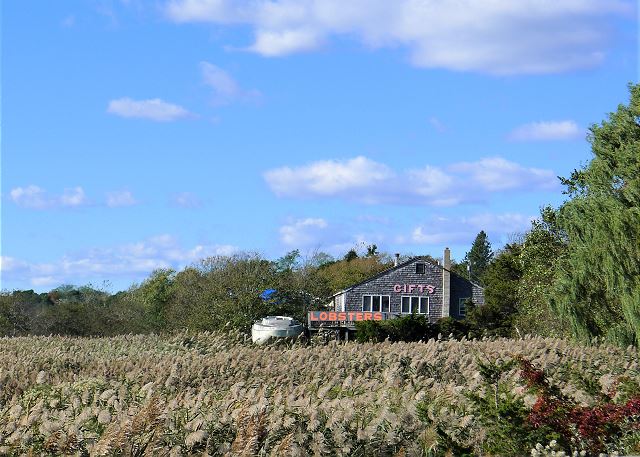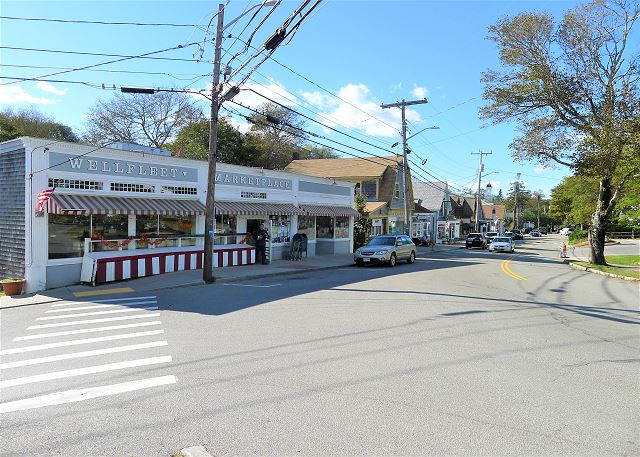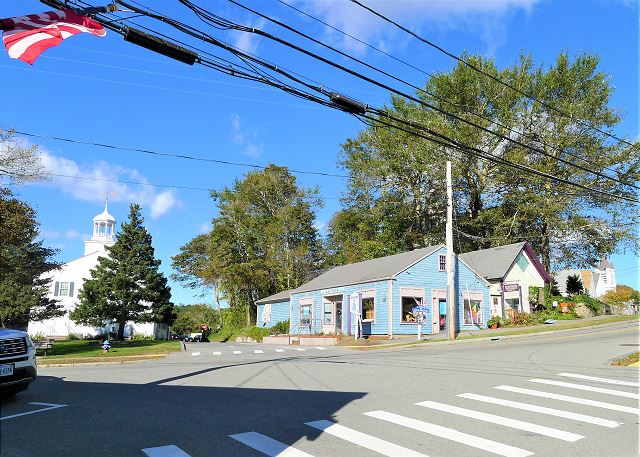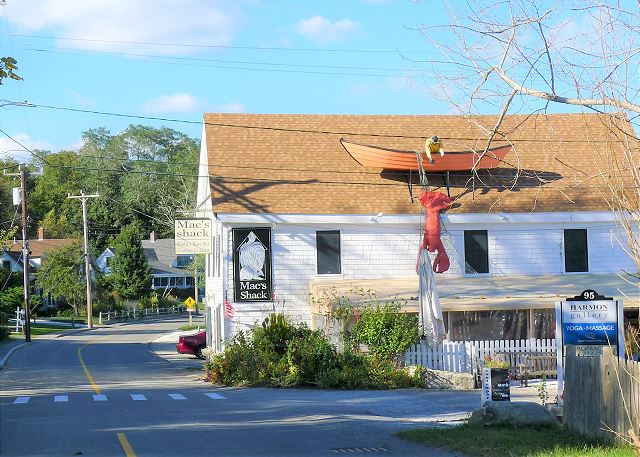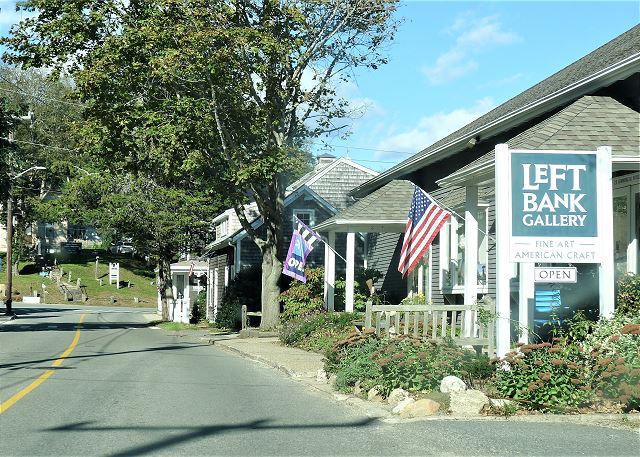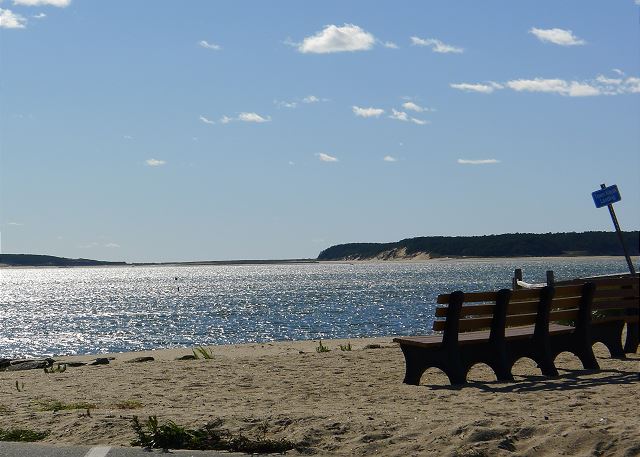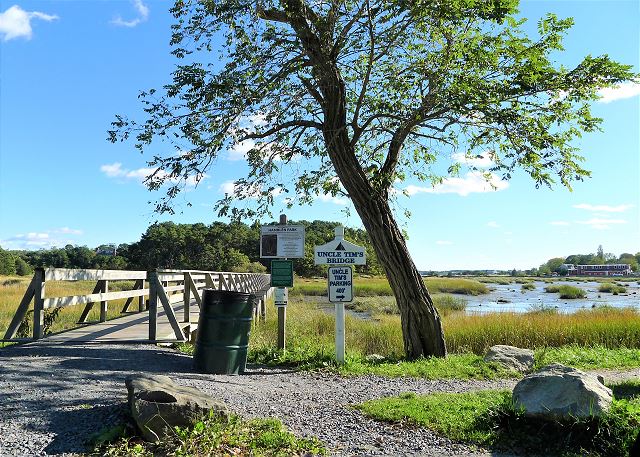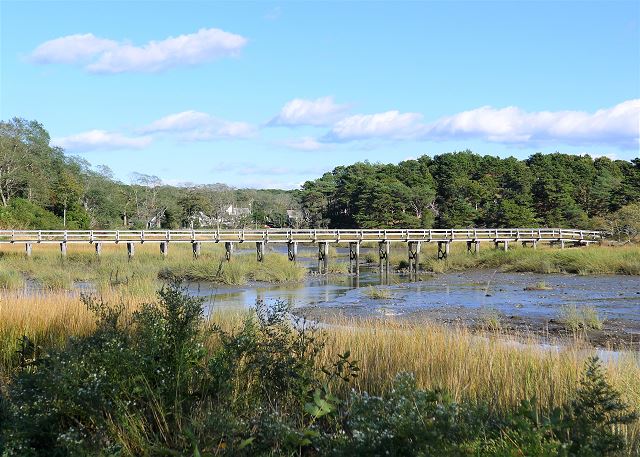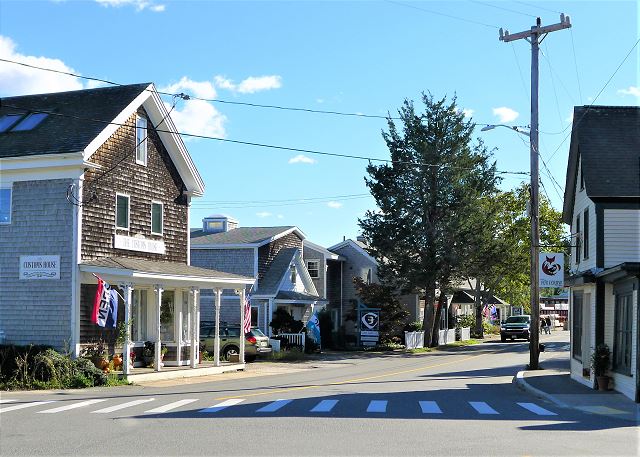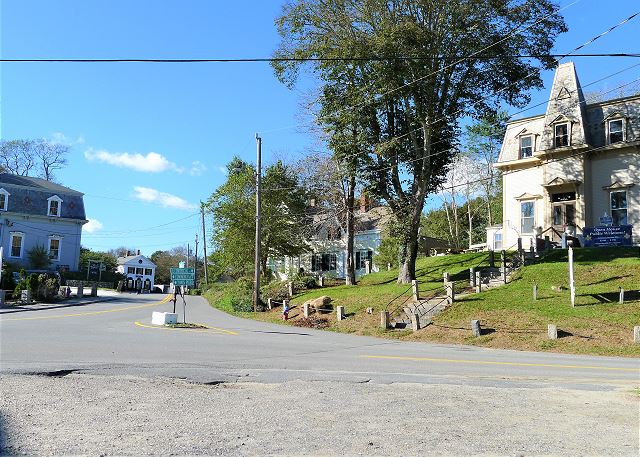 ---
Bedroom(s): 3
Bathroom(s): 2
Sleeps: 6
Type: House
Area: Newcomb Hollow Beach
Town: Wellfleet
This very popular, freshly painted Wellfleet Cape on the ocean side features an open first level floor plan. The living/dining area feels especially airy with its soaring ceilings (and ceiling fan). There is ample seating all around, and you can access premium Comcast channels when watching the flat screened TV.

On the far end of this large multi-functional space are glass sliders that lead to a peaceful deck with an elegant outdoor dining table/chairs and outsized umbrella! A gas grill is nearby, but there is a Weber charcoal grill in the basement for purists. There is also a private yard and enclosed outdoor shower. Tucked into woods, the home remains cool but you can always switch on the whole-house fan!

New flooring was recently installed in all 3 bedrooms. The first floor bedroom has a queen size bed with new mattress and ceiling fan. It is adjacent to a full bath with tub/shower combination. Upstairs there are two more bedrooms: #2 with queen size bed and #3 has two twin beds. They share a bathroom with shower only.

This idyllic retreat is located near Newcomb Hollow Beach and just 1.4 miles on back roads to fresh water swimming, kayaking, and canoeing at Gull Pond. And yet you can walk to Wellfleet Village in about 15 minutes! A great spot for you, friends, and family – including your pup!

Also included: washer/dryer , room for 3-4 cars in driveway, WiFi, *6 beach chairs,* *individual fans in each room. *Owners provide these items as favors to guests only and not as an integral part of the rental. If these items become lost or damaged during the course of the rental season, owners are not responsible for replacement.

Dogs welcome at pet-friendly properties with pre-approval of weight and breed from the property manager. Failure to observe House Pet Rules may result in a severe fine and/or eviction from the property. LIMIT 1 DOG PER PROPERTY.

No smoking allowed.

6 guests maximum allowed at any time. No parties exceeding the occupancy limit allowed.

LINENS (SHEETS/TOWELS) ARE NOT INCLUDED IN THIS RENTAL.

Travel Insurance is available and highly recommended coverage to protect your vacation investment.

Please view our policy and procedure page on our web site for detailed information about renting with us.

State and local taxes are applicable and may vary based on local ordinances and bylaws. These tax rates are subject to change.
- pets considered
- Standard TV
- DVD Player
- Basic Cable
- Movie Channels
- Stereo w/ CD player
- Ceiling Fan
- Microwave
- Drip Coffee Maker
- Cookware
- Dishes / Glassware / Utensils
- Kitchen Table
- Blender
- Toaster or Toaster Oven
- Dishwasher
- Lobster Pot
- Dining Table
- Ceiling Fan
- Room Fans
- Deck
- Gas Grill with Propane Tank
- Dining Table w/ Umbrella
- Enclosed Outdoor Shower
- Beach Chairs
- Near National Sea Shore Beaches
- Yes
- DOG
- Pet Considered
Guest Reviews of
300 gross hill Wellfleet , MA
Great week away on the Cape
The house was great! Perfectly located between town center and the ocean on a quite road adjacent to the old kings highway. The kitchen was perfect (even had sharp knives) house was updated and felt like home! The two floors allowed for privacy and the living room was perfect
5 out of 5 stars
house review
Had trouble with dishwasher leaking, but it was finally fixed. Overall, the appliances were in bad to mediocre shape. We've been coming to this house for several years, and there seems to be no effort to invest in the property when it comes to home improvements.
3 out of 5 stars
300 gross hill rd
Very nice property, perfect size for a family of 4 with 2 guests, close to Wellfleet center and also Newcomb Hollow beach
5 out of 5 stars
Close to beach
Review by
Lawrence L.
Overall, it was a decent house, but needs some heavy cleaning in the bathroom. Also, the bed in the downstairs master suite is not comfortable. The house was a good size and jut two miles from the ocean side beach, a great central location to P'town and Orleans.
3 out of 5 stars
Wellfleet is wonderful, The beds here are not!
We have rented on the Cape for 15 years and fell in love with Wellfleet 5 years ago. This house is located on the ocean side which is great to avoid traffic. The house has a nice open concept.Unfortunately this is a pet friendly house (which we knew ahead of time) and the upstairs rugs have an overpowering cat urine smell, especially on humid days. I emailed the rental agency about 3 concerns: the dirty grill (there were 2 signs stating to clean it before leaving or there was a fine), the cat smell, and the rock-hard beds( I did asked to be reimbursed if I bought a mattress topper as the listing did not state FIRM beds). A voicemail was left on my phone stating no cats had been there recently (we found liter pan items in the house), stated I could always sleep on the floor if the beds were too hard. The person, M., was also laughing as she left the message! We were shocked at her response. I called back the office and talked to the manager, S, who listened, left a bottle of spray to remove the cat smell, and asked if I could do something myself about the hard beds...like sleep on the couch cushions. We neither felt like valued renters nor would we rent through this agency again.I had to go home for a night for a good nights sleep (3 hours away) and bring back futon mattresses from my own home to make the beds tolerable. We would have appreciated a discount/return of some of the fees due to the beds conditions.
2 out of 5 stars
300 Gross Hill
Review by
Michael L.
Awesome experience! Weather was great; house was just what we needed. The house smelled and looked amazingly clean when we arrived-so happy to see that! But there were a few things that we told the realtor about that need tending to, such as: the first floor toilet handle needs replacing, as the 'chain' part broke off and we had to put our hands into the tank to reach for the chain and pull it up every time we flushed. Also, there must be a leak in the ceiling near the chimney; huge pieces of ceiling [plaster came down while we were there. Also, the screen slider door is not fitted correctly; it cannot be locked and doesn't run along the track consistently well (We think it was installed upside-down with the handle on the wrong side.). As homeowners ourselves, we were fine with working with these things but feel the owner should know. Otherwise, we had a really wonderful family trip, and hope we can rent again next summer-our daughter specifically requested this house!:)
4 out of 5 stars
Ideal location, comfortable living
Review by
Mario & Cheri N.
We had a wonderful stay - enjoyed the property and the surrounding area. Being pet friendly, I was very pleased to find how clean and well kept the home was. The deck, table and grill were a nice treat as well as the outdoor shower (for us and the dogs!) We hope to return next year and do it all over again.
5 out of 5 stars
Pure Relaxation!!
Review by
Paul F.
What an amazing stay we had in Wellfleet at 300 Gross Hiil Road...Location, Location!!..Newcombe Holloa Beach is a 2 minute drive, (8 minutes by bike)..Wellfleet Center is a 5 minute drive..What more could you ask for..The house was clean and we loved the open floor plan..We brought our 2 white labrador retrievers, (impossible to find a house of this quality that would allow dogs), our guys loved the house..We are looking forward to coming back next summer!!
5 out of 5 stars
August 2019

| S | M | T | W | T | F | S |
| --- | --- | --- | --- | --- | --- | --- |
| | | | | 01 | 02 | 03 |
| 04 | 05 | 06 | 07 | 08 | 09 | 10 |
| 11 | 12 | 13 | 14 | 15 | 16 | 17 |
| 18 | 19 | 20 | 21 | 22 | 23 | 24 |
| 25 | 26 | 27 | 28 | 29 | 30 | 31 |
September 2019

| S | M | T | W | T | F | S |
| --- | --- | --- | --- | --- | --- | --- |
| 01 | 02 | 03 | 04 | 05 | 06 | 07 |
| 08 | 09 | 10 | 11 | 12 | 13 | 14 |
| 15 | 16 | 17 | 18 | 19 | 20 | 21 |
| 22 | 23 | 24 | 25 | 26 | 27 | 28 |
| 29 | 30 | | | | | |
October 2019

| S | M | T | W | T | F | S |
| --- | --- | --- | --- | --- | --- | --- |
| | | 01 | 02 | 03 | 04 | 05 |
| 06 | 07 | 08 | 09 | 10 | 11 | 12 |
| 13 | 14 | 15 | 16 | 17 | 18 | 19 |
| 20 | 21 | 22 | 23 | 24 | 25 | 26 |
| 27 | 28 | 29 | 30 | 31 | | |
November 2019

| S | M | T | W | T | F | S |
| --- | --- | --- | --- | --- | --- | --- |
| | | | | | 01 | 02 |
| 03 | 04 | 05 | 06 | 07 | 08 | 09 |
| 10 | 11 | 12 | 13 | 14 | 15 | 16 |
| 17 | 18 | 19 | 20 | 21 | 22 | 23 |
| 24 | 25 | 26 | 27 | 28 | 29 | 30 |
December 2019

| S | M | T | W | T | F | S |
| --- | --- | --- | --- | --- | --- | --- |
| 01 | 02 | 03 | 04 | 05 | 06 | 07 |
| 08 | 09 | 10 | 11 | 12 | 13 | 14 |
| 15 | 16 | 17 | 18 | 19 | 20 | 21 |
| 22 | 23 | 24 | 25 | 26 | 27 | 28 |
| 29 | 30 | 31 | | | | |
January 2020

| S | M | T | W | T | F | S |
| --- | --- | --- | --- | --- | --- | --- |
| | | | 01 | 02 | 03 | 04 |
| 05 | 06 | 07 | 08 | 09 | 10 | 11 |
| 12 | 13 | 14 | 15 | 16 | 17 | 18 |
| 19 | 20 | 21 | 22 | 23 | 24 | 25 |
| 26 | 27 | 28 | 29 | 30 | 31 | |
February 2020

| S | M | T | W | T | F | S |
| --- | --- | --- | --- | --- | --- | --- |
| | | | | | | 01 |
| 02 | 03 | 04 | 05 | 06 | 07 | 08 |
| 09 | 10 | 11 | 12 | 13 | 14 | 15 |
| 16 | 17 | 18 | 19 | 20 | 21 | 22 |
| 23 | 24 | 25 | 26 | 27 | 28 | 29 |
March 2020

| S | M | T | W | T | F | S |
| --- | --- | --- | --- | --- | --- | --- |
| 01 | 02 | 03 | 04 | 05 | 06 | 07 |
| 08 | 09 | 10 | 11 | 12 | 13 | 14 |
| 15 | 16 | 17 | 18 | 19 | 20 | 21 |
| 22 | 23 | 24 | 25 | 26 | 27 | 28 |
| 29 | 30 | 31 | | | | |
April 2020

| S | M | T | W | T | F | S |
| --- | --- | --- | --- | --- | --- | --- |
| | | | 01 | 02 | 03 | 04 |
| 05 | 06 | 07 | 08 | 09 | 10 | 11 |
| 12 | 13 | 14 | 15 | 16 | 17 | 18 |
| 19 | 20 | 21 | 22 | 23 | 24 | 25 |
| 26 | 27 | 28 | 29 | 30 | | |
May 2020

| S | M | T | W | T | F | S |
| --- | --- | --- | --- | --- | --- | --- |
| | | | | | 01 | 02 |
| 03 | 04 | 05 | 06 | 07 | 08 | 09 |
| 10 | 11 | 12 | 13 | 14 | 15 | 16 |
| 17 | 18 | 19 | 20 | 21 | 22 | 23 |
| 24 | 25 | 26 | 27 | 28 | 29 | 30 |
| 31 | | | | | | |
June 2020

| S | M | T | W | T | F | S |
| --- | --- | --- | --- | --- | --- | --- |
| | 01 | 02 | 03 | 04 | 05 | 06 |
| 07 | 08 | 09 | 10 | 11 | 12 | 13 |
| 14 | 15 | 16 | 17 | 18 | 19 | 20 |
| 21 | 22 | 23 | 24 | 25 | 26 | 27 |
| 28 | 29 | 30 | | | | |
July 2020

| S | M | T | W | T | F | S |
| --- | --- | --- | --- | --- | --- | --- |
| | | | 01 | 02 | 03 | 04 |
| 05 | 06 | 07 | 08 | 09 | 10 | 11 |
| 12 | 13 | 14 | 15 | 16 | 17 | 18 |
| 19 | 20 | 21 | 22 | 23 | 24 | 25 |
| 26 | 27 | 28 | 29 | 30 | 31 | |
August 2020

| S | M | T | W | T | F | S |
| --- | --- | --- | --- | --- | --- | --- |
| | | | | | | 01 |
| 02 | 03 | 04 | 05 | 06 | 07 | 08 |
| 09 | 10 | 11 | 12 | 13 | 14 | 15 |
| 16 | 17 | 18 | 19 | 20 | 21 | 22 |
| 23 | 24 | 25 | 26 | 27 | 28 | 29 |
| 30 | 31 | | | | | |
Available
Unavailable
Sat to Sat booking