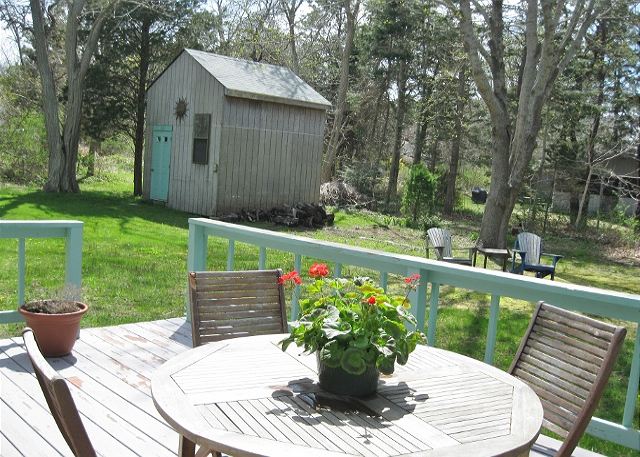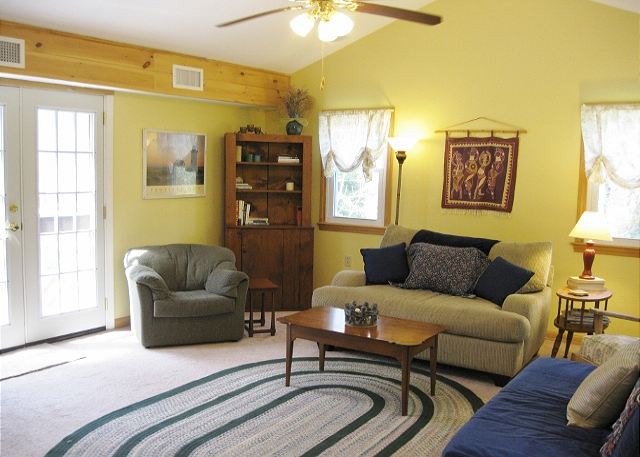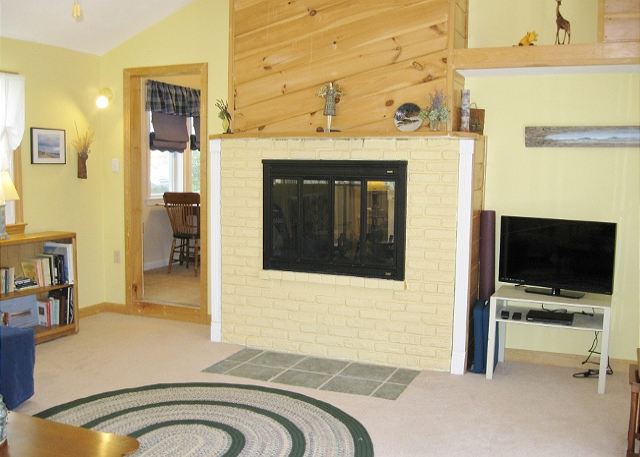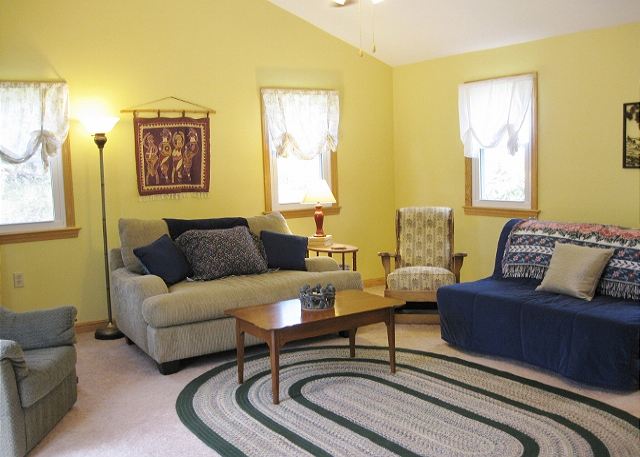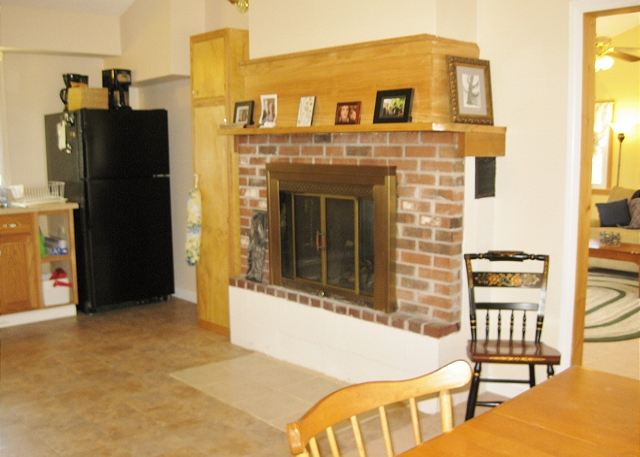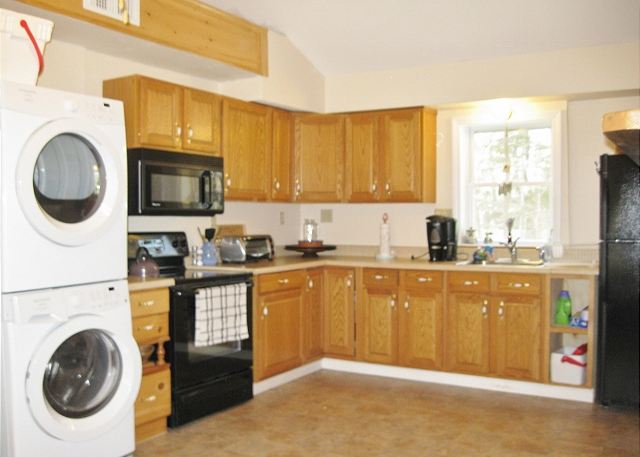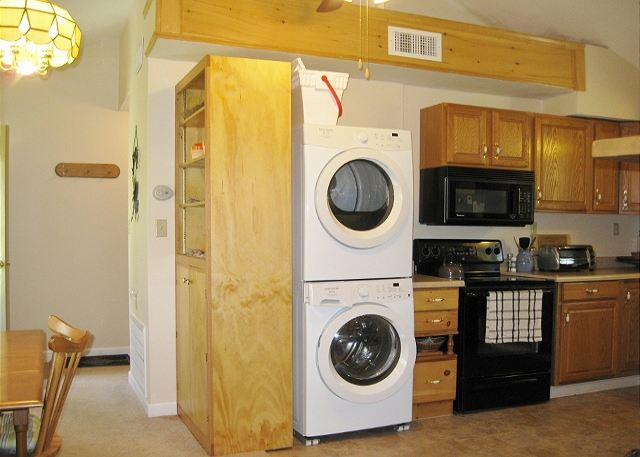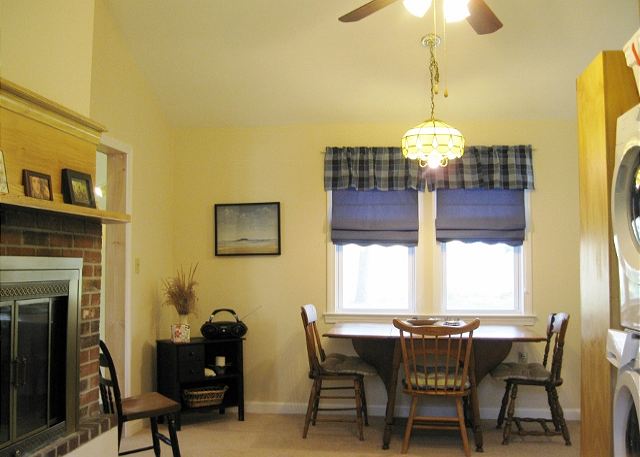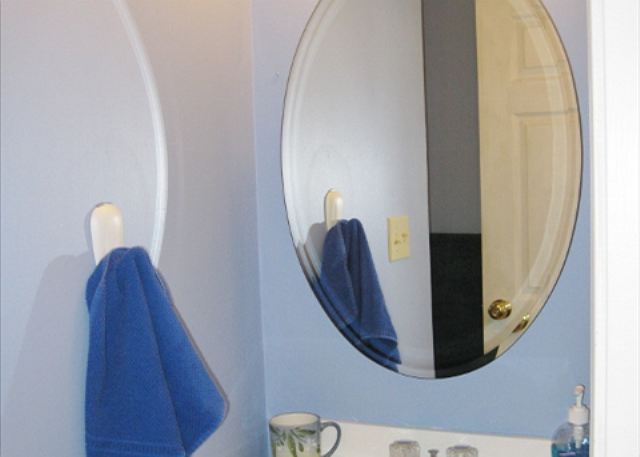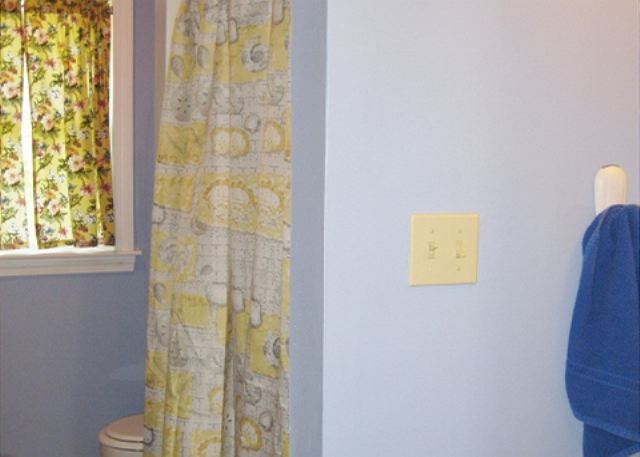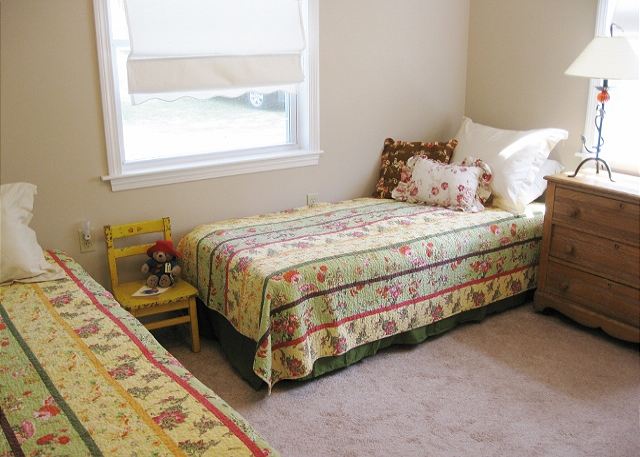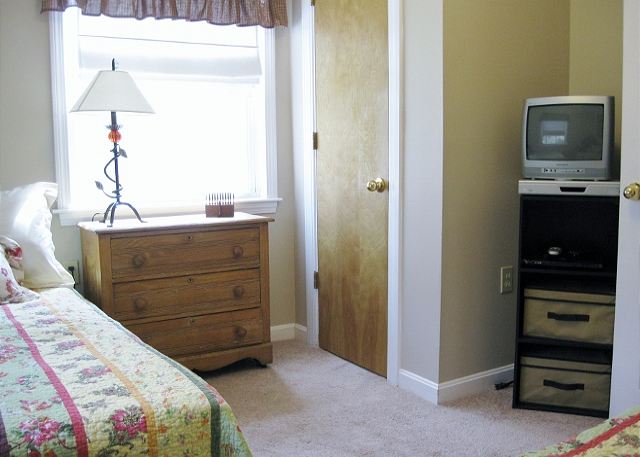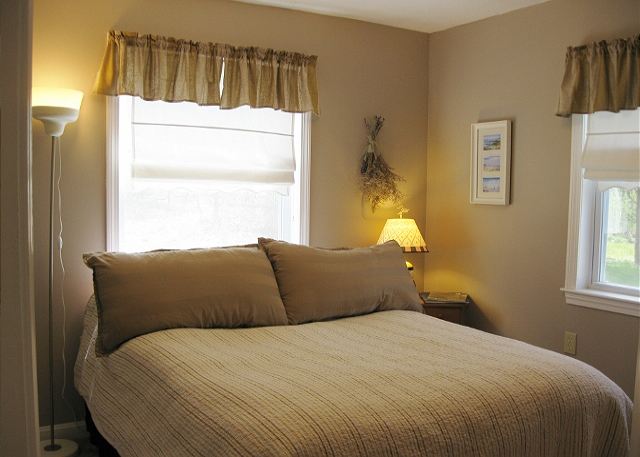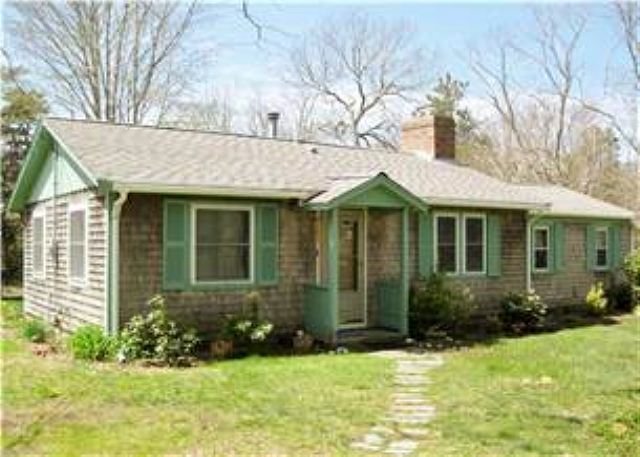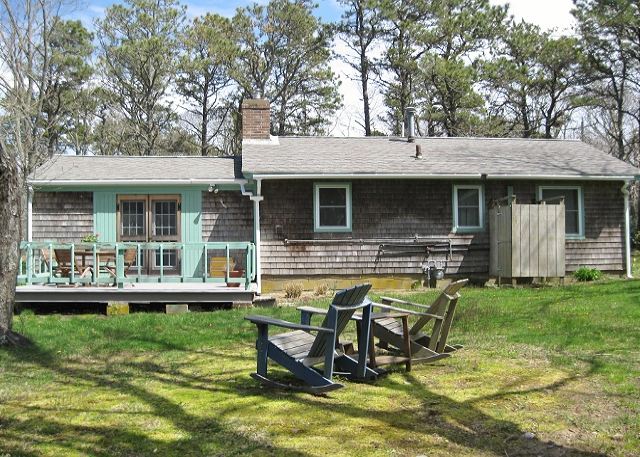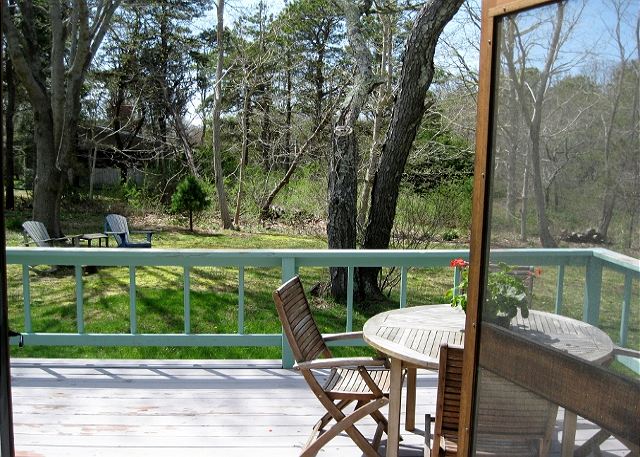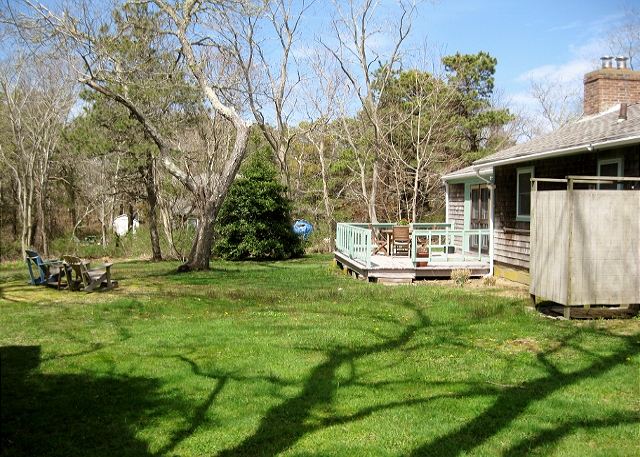 ---
Bedroom(s): 2
Bathroom(s): 1
Sleeps: 4
Type: Cottage
Area:
Town: Eastham
Wonderful Eastham Summer Vacation Cottage, ideally located 7/10ths of a mile to Kingsbury Beach and just 6/10 of a mile to Cape Cod Rail Bike Trail!

This sweet cottage sleeps 4 guests in peaceful setting near Cape Cod Bay, Pond and wonderful bike trail system.

Upon entering this home, you will find the eat in kitchen to the right of the entry that features breakfast table, clothing washer and dryer, modern appliances including brand new compact dishwasher, built in microwave, and fridge with ice maker. To the left of the entry are the two bedrooms, one with two twin futon style beds; the second bedroom has a double bed with TV that plays dvds only Both rooms are cooled by room fans. The bathroom is located adjacent to the bedrooms and has a step in shower.

Through the kitchen you will find the tranquil living area with flat screen TV with basic cable, WIFI, a wii so you can play video games and dvds, fireplace, ceiling fan and sleep sofa. Slider doors from living room lead to the deck with dining table, umbrella, and gas grill. The treed yard has seating for hours of reading and relaxing and a clothes line for beach towels.

Sorry no pets and no smoking allowed.

4 guests maximum allowed at any time. No parties exceeding the occupancy limit allowed.

LINENS (SHEETS/TOWELS) ARE NOT INCLUDED IN THIS RENTAL.

Travel Insurance is highly recommended and affordable coverage to protect your vacation investment.

Please view our policy and procedure page on our web site for detailed information about renting with us.
" frameborder="0" allowfullscreen>
- DVD Player
- Flat Screen HDTV
- Basic Cable
- Ceiling Fan
- Sleep Sofa
- wii
- Microwave
- Drip Coffee Maker
- Cookware
- Dishes / Glassware / Utensils
- Kitchen Table
- Toaster or Toaster Oven
- Ice Maker
- Dishwasher
- Lobster Pot
- microwave
- Waffle maker
- TV
- washer and dryer first floor
- Deck
- Gas Grill with Propane Tank
- Dining Table w/ Umbrella
- Enclosed Outdoor Shower
- Beach Chairs
- Near National Sea Shore Beaches
Guest Reviews of
320 weir Eastham , MA
Had a great time here!
The cottage was very nice and it had everything we needed. It is small and cozy, and doesn't lack a thing. The location was great because my husband would drop us off at Kingsbury beach by car with all our things, then he would return by bike. This free beach is about 1/2 mile away from the cottage. We went there every day. The outdoor shower is a great feature, and we loved being able to wash all the sand off outside rather than tracking sand all over the house. Having a washer and dryer was also great, so we didn't have a ton of dirty laundry to take home afterwords. Some areas that we felt needed improvement... the full bed in the master bedroom was extremely uncomfortable to the point that my husband was unable to sleep on it after the third night. He slept on the sofa after that. The bed was hard and the center was sagging. It was also extremely noisy so that any movement you made would be so loud it would wake you up from your sleep. I do hope this bed is replaced for future visitors. Another issue we ran into was the fact that the cottage was full of spiders and cobwebs. My daughter was afraid to fall asleep the first night because there were so many spiders. The next day my parents stopped by and dropped off our vacuum with a long nozzle and I was able to suck up all the spiders and cobwebs. There must have been at least 200 daddy long leg spiders that I sucked up during our vacation. I was a little disappointed by the fact that we paid a non-refundable cleaning fee and the cottage was not nearly as clean as I had hoped it would be. The floor had not been vacuumed when we arrived, there was sand on one of the beds, and the pillows on the full bed had been slept on and the pillowcases had not been changed. We ended up leaving the house cleaner than we found it. I do hope that they will do a better job cleaning the house for future visitors, and that the full mattress will be replaced soon.
4 out of 5 stars
Manager Response:
Debora, I am thrilled that you found the cottage had everything you needed and was close to the beach you went to every day. It's proximity to the bike path is another attribute that most guests love! Since your stay, the home has been sold to new owners who have invested considerably in many of the furnishings and upgraded bedding. In addition, we have changed cleaners to a crew that earned among the high ratings on Cape Cod. I'm confident that if you stayed here again, you would give the home and the whole experience five and out five stars! Please come back when you can! We would look forward to seeing you again! Cheers, Sandy O'Dell, Manager,
Stempko stay at 320 Weir Road
Review by
David S.
Our stay was nothing short of fantastic! Big plus was having a washer/dryer combo. Also a shed in back to house bikes, inflated inner tubes, etc. was great. Lots of surrounding trees and foliage provided privacy. Great proximity to bay beaches and everything Rte. 6 has to offer. The only reason I might hesitate to recommend it is because we want to make sure it is available for us again! 🙂
5 out of 5 stars
Review by
David S.
Quite thrilled overall. The mattresses were very comfortable. Had a Fantastic week and would stay again.
5 out of 5 stars
Eastham Weir Road
Review by
Beth M.
A great house in a great location. Peaceful and quiet and close to beaches.
5 out of 5 stars
Cape Cod 2015
Review by
Melanie D.
We had a wonderful vacation and loved staying at this house! It was perfect for our family of four and close to our favorite beach- First Encounter. It was also close to the bike trail, which we took advantage of. We also enjoyed riding our bikes out to CoastGuard beach. We had everything we needed at this adorable house. Thanks for a wonderful stay! Looking forward to coming back next year!
5 out of 5 stars
August Vacation
Review by
Edward F.
Found a live mouse in the trash under the kitchen sink the first night there...otherwise a very pleasant stay.
4 out of 5 stars
320 Weir Rd, Eastham, Cape Cod, Ma
Review by
Diane A.
Other than missding a few items needed in most vacation rentals- ie: normal size gas grill w/ BBQ tools,blender, serving tray- the place was fully stocked and had high end appliances. The deck was great for having meals outside and the yard had privacy( neighbors, but w/ trees in between). We thoroughly enjoyed our stay.
4 out of 5 stars
February 2018

| S | M | T | W | T | F | S |
| --- | --- | --- | --- | --- | --- | --- |
| | | | | 01 | 02 | 03 |
| 04 | 05 | 06 | 07 | 08 | 09 | 10 |
| 11 | 12 | 13 | 14 | 15 | 16 | 17 |
| 18 | 19 | 20 | 21 | 22 | 23 | 24 |
| 25 | 26 | 27 | 28 | | | |
March 2018

| S | M | T | W | T | F | S |
| --- | --- | --- | --- | --- | --- | --- |
| | | | | 01 | 02 | 03 |
| 04 | 05 | 06 | 07 | 08 | 09 | 10 |
| 11 | 12 | 13 | 14 | 15 | 16 | 17 |
| 18 | 19 | 20 | 21 | 22 | 23 | 24 |
| 25 | 26 | 27 | 28 | 29 | 30 | 31 |
April 2018

| S | M | T | W | T | F | S |
| --- | --- | --- | --- | --- | --- | --- |
| 01 | 02 | 03 | 04 | 05 | 06 | 07 |
| 08 | 09 | 10 | 11 | 12 | 13 | 14 |
| 15 | 16 | 17 | 18 | 19 | 20 | 21 |
| 22 | 23 | 24 | 25 | 26 | 27 | 28 |
| 29 | 30 | | | | | |
May 2018

| S | M | T | W | T | F | S |
| --- | --- | --- | --- | --- | --- | --- |
| | | 01 | 02 | 03 | 04 | 05 |
| 06 | 07 | 08 | 09 | 10 | 11 | 12 |
| 13 | 14 | 15 | 16 | 17 | 18 | 19 |
| 20 | 21 | 22 | 23 | 24 | 25 | 26 |
| 27 | 28 | 29 | 30 | 31 | | |
June 2018

| S | M | T | W | T | F | S |
| --- | --- | --- | --- | --- | --- | --- |
| | | | | | 01 | 02 |
| 03 | 04 | 05 | 06 | 07 | 08 | 09 |
| 10 | 11 | 12 | 13 | 14 | 15 | 16 |
| 17 | 18 | 19 | 20 | 21 | 22 | 23 |
| 24 | 25 | 26 | 27 | 28 | 29 | 30 |
July 2018

| S | M | T | W | T | F | S |
| --- | --- | --- | --- | --- | --- | --- |
| 01 | 02 | 03 | 04 | 05 | 06 | 07 |
| 08 | 09 | 10 | 11 | 12 | 13 | 14 |
| 15 | 16 | 17 | 18 | 19 | 20 | 21 |
| 22 | 23 | 24 | 25 | 26 | 27 | 28 |
| 29 | 30 | 31 | | | | |
August 2018

| S | M | T | W | T | F | S |
| --- | --- | --- | --- | --- | --- | --- |
| | | | 01 | 02 | 03 | 04 |
| 05 | 06 | 07 | 08 | 09 | 10 | 11 |
| 12 | 13 | 14 | 15 | 16 | 17 | 18 |
| 19 | 20 | 21 | 22 | 23 | 24 | 25 |
| 26 | 27 | 28 | 29 | 30 | 31 | |
September 2018

| S | M | T | W | T | F | S |
| --- | --- | --- | --- | --- | --- | --- |
| | | | | | | 01 |
| 02 | 03 | 04 | 05 | 06 | 07 | 08 |
| 09 | 10 | 11 | 12 | 13 | 14 | 15 |
| 16 | 17 | 18 | 19 | 20 | 21 | 22 |
| 23 | 24 | 25 | 26 | 27 | 28 | 29 |
| 30 | | | | | | |
October 2018

| S | M | T | W | T | F | S |
| --- | --- | --- | --- | --- | --- | --- |
| | 01 | 02 | 03 | 04 | 05 | 06 |
| 07 | 08 | 09 | 10 | 11 | 12 | 13 |
| 14 | 15 | 16 | 17 | 18 | 19 | 20 |
| 21 | 22 | 23 | 24 | 25 | 26 | 27 |
| 28 | 29 | 30 | 31 | | | |
November 2018

| S | M | T | W | T | F | S |
| --- | --- | --- | --- | --- | --- | --- |
| | | | | 01 | 02 | 03 |
| 04 | 05 | 06 | 07 | 08 | 09 | 10 |
| 11 | 12 | 13 | 14 | 15 | 16 | 17 |
| 18 | 19 | 20 | 21 | 22 | 23 | 24 |
| 25 | 26 | 27 | 28 | 29 | 30 | |
December 2018

| S | M | T | W | T | F | S |
| --- | --- | --- | --- | --- | --- | --- |
| | | | | | | 01 |
| 02 | 03 | 04 | 05 | 06 | 07 | 08 |
| 09 | 10 | 11 | 12 | 13 | 14 | 15 |
| 16 | 17 | 18 | 19 | 20 | 21 | 22 |
| 23 | 24 | 25 | 26 | 27 | 28 | 29 |
| 30 | 31 | | | | | |
January 2019

| S | M | T | W | T | F | S |
| --- | --- | --- | --- | --- | --- | --- |
| | | 01 | 02 | 03 | 04 | 05 |
| 06 | 07 | 08 | 09 | 10 | 11 | 12 |
| 13 | 14 | 15 | 16 | 17 | 18 | 19 |
| 20 | 21 | 22 | 23 | 24 | 25 | 26 |
| 27 | 28 | 29 | 30 | 31 | | |
February 2019

| S | M | T | W | T | F | S |
| --- | --- | --- | --- | --- | --- | --- |
| | | | | | 01 | 02 |
| 03 | 04 | 05 | 06 | 07 | 08 | 09 |
| 10 | 11 | 12 | 13 | 14 | 15 | 16 |
| 17 | 18 | 19 | 20 | 21 | 22 | 23 |
| 24 | 25 | 26 | 27 | 28 | | |
Available
Unavailable
Sat to Sat booking