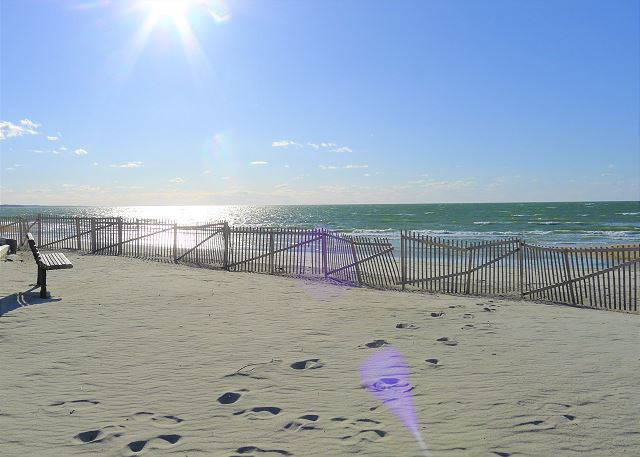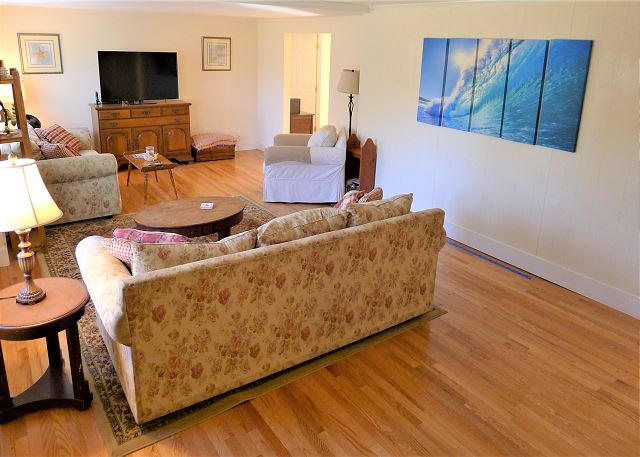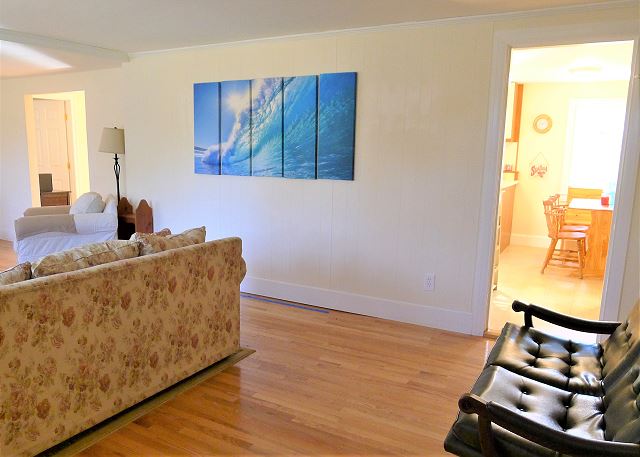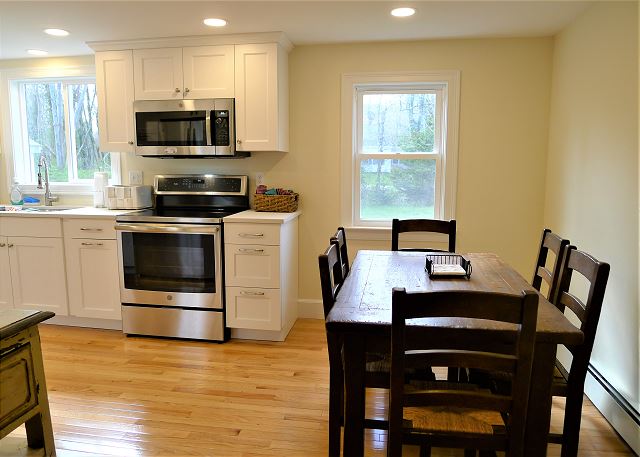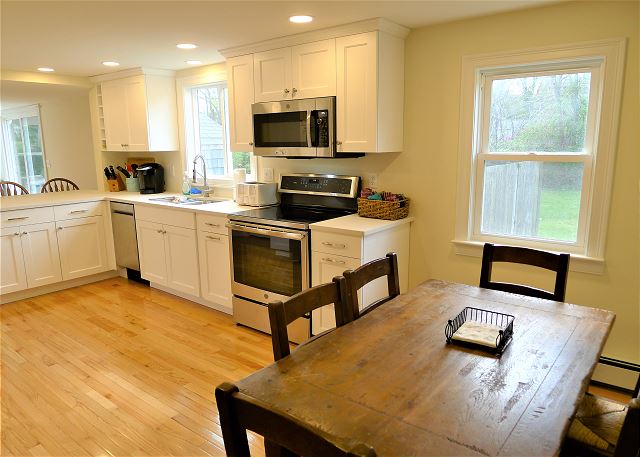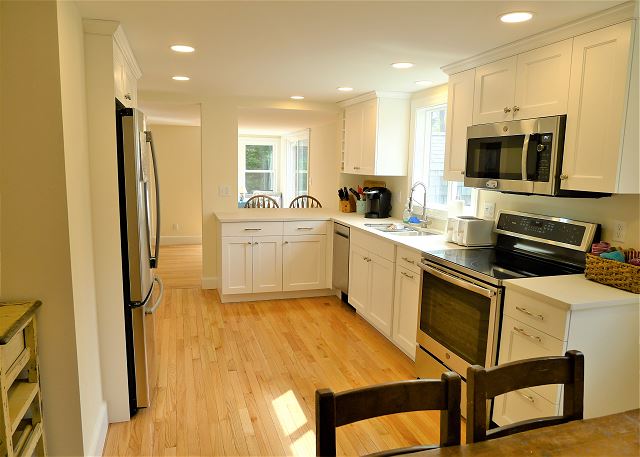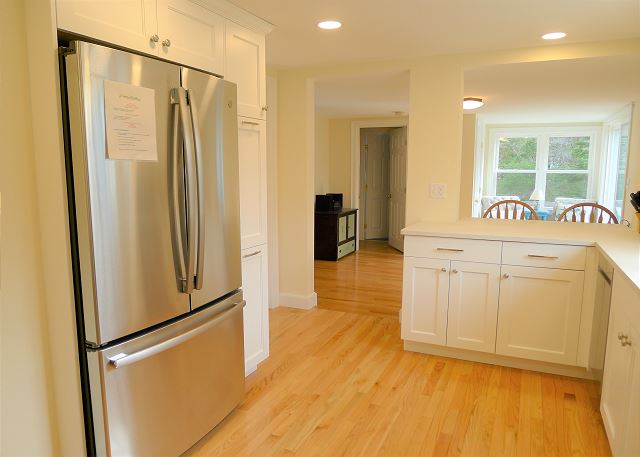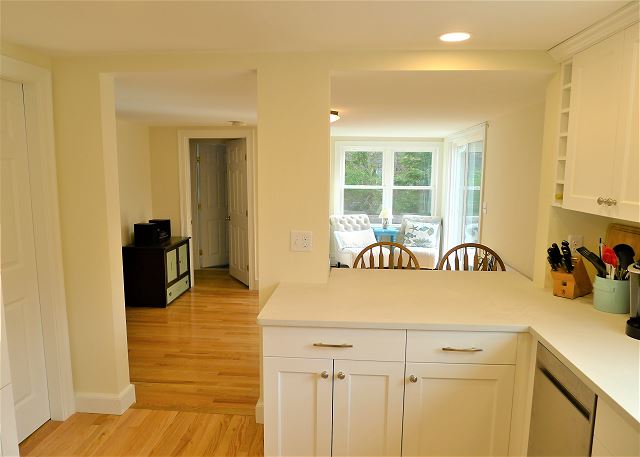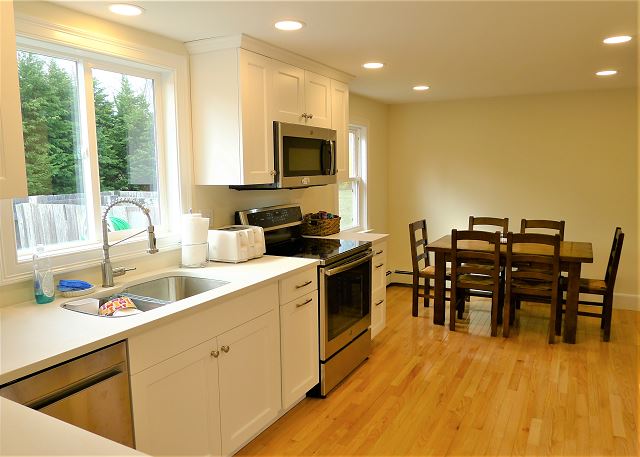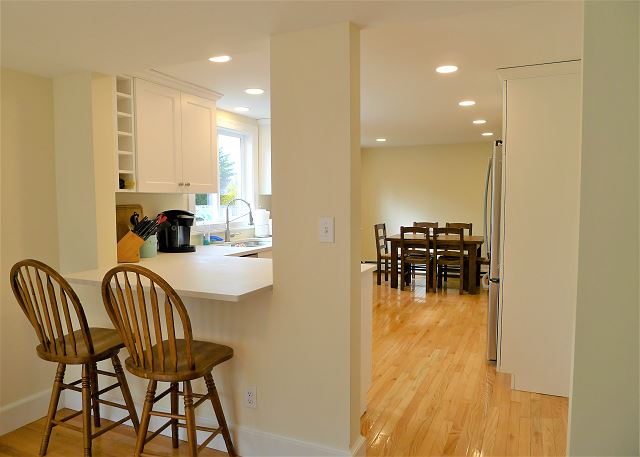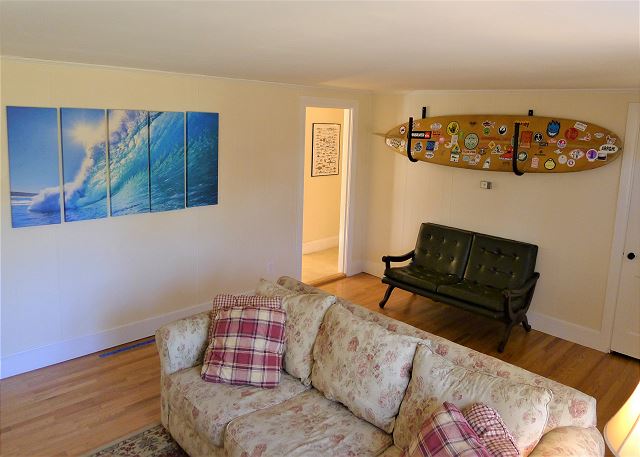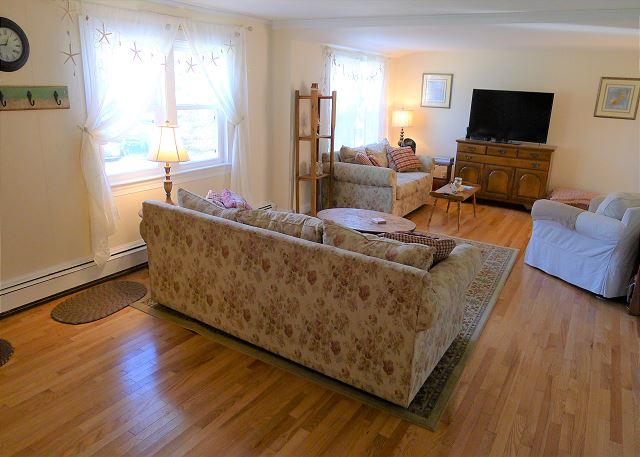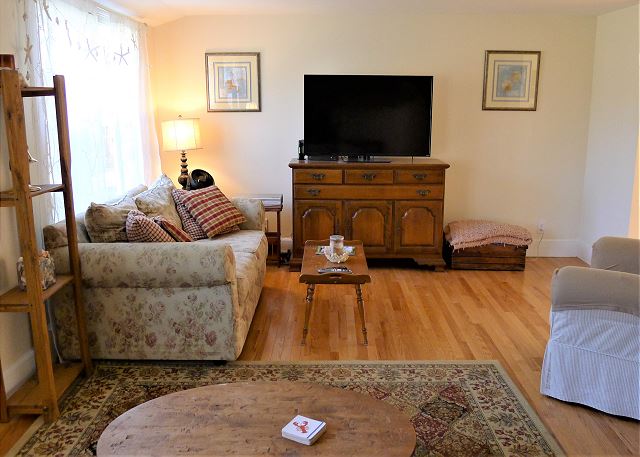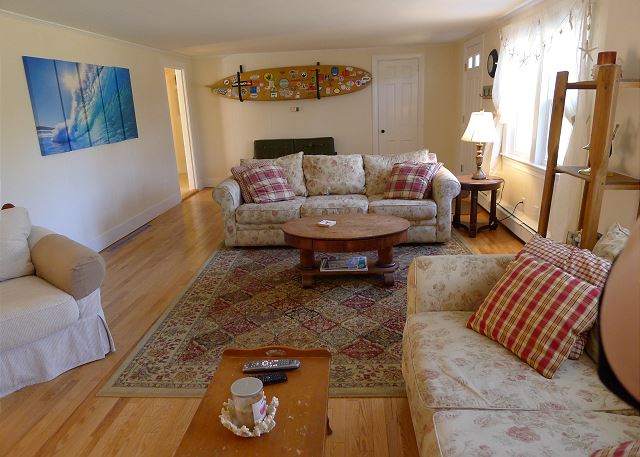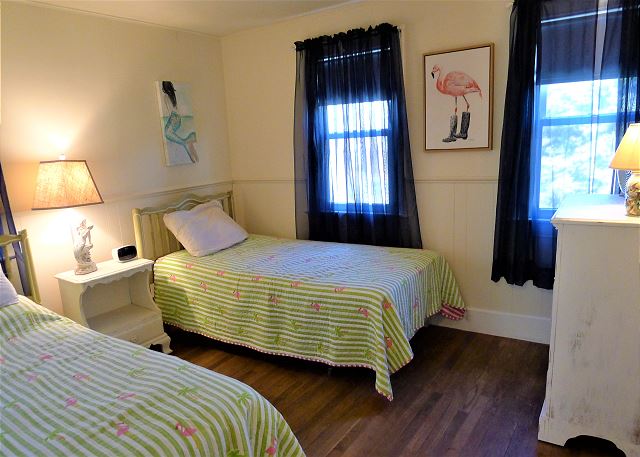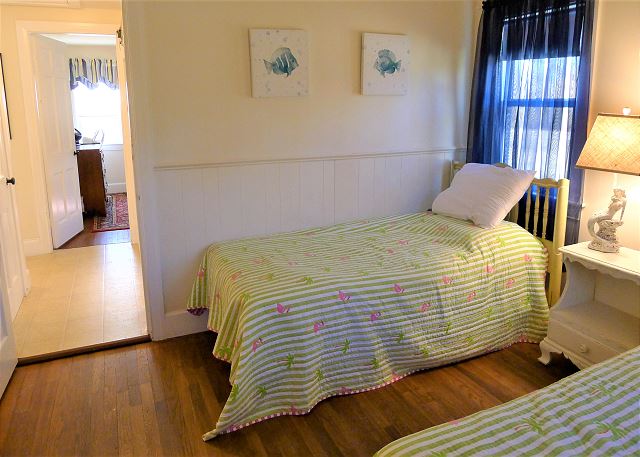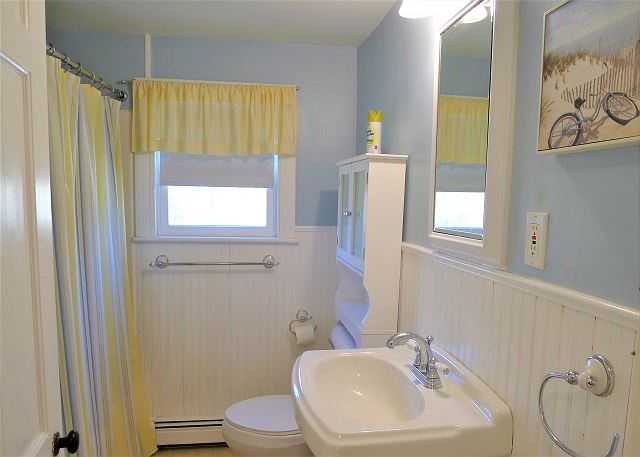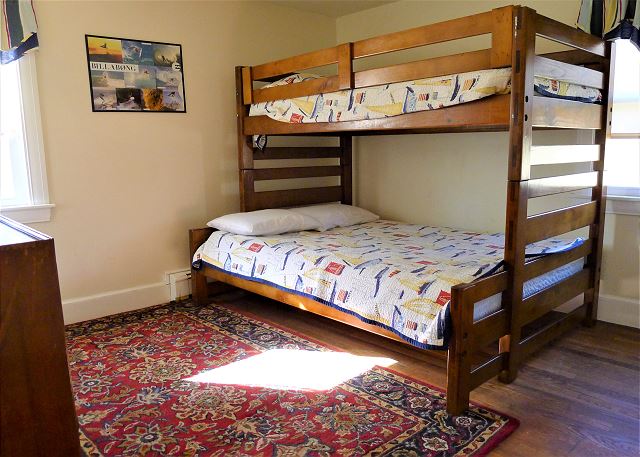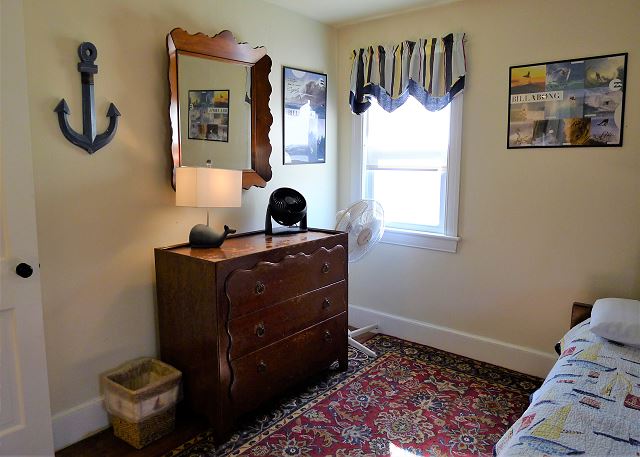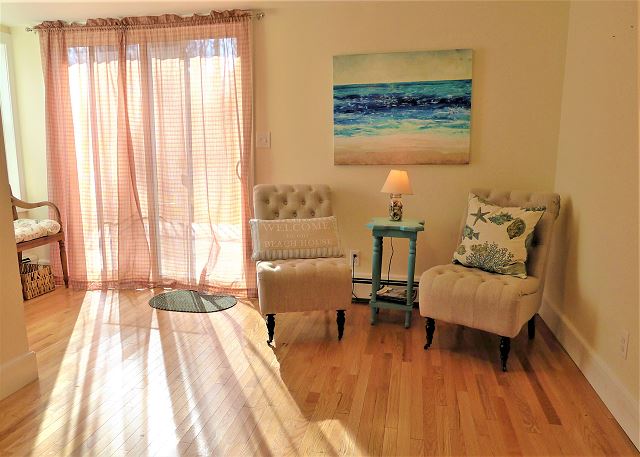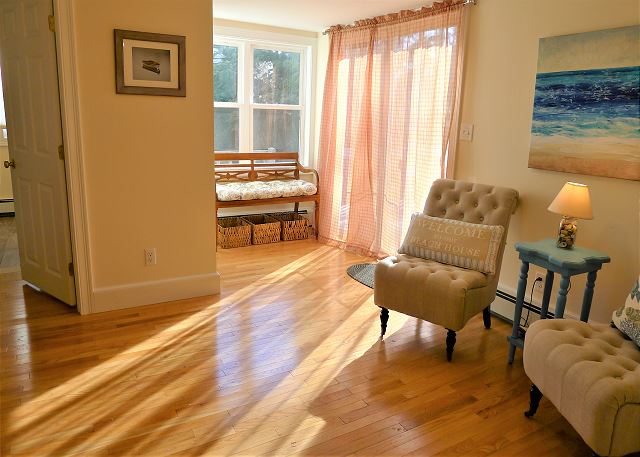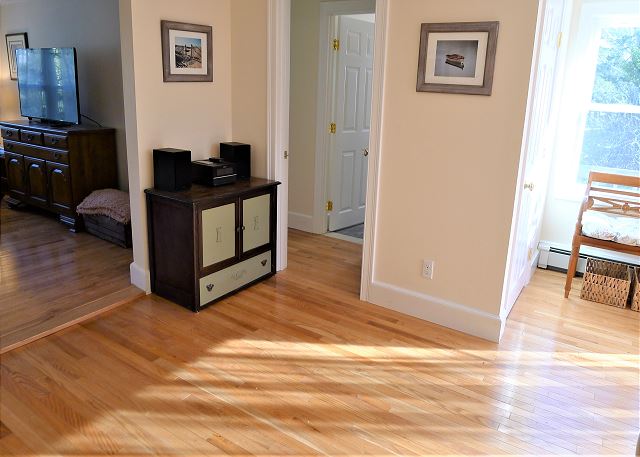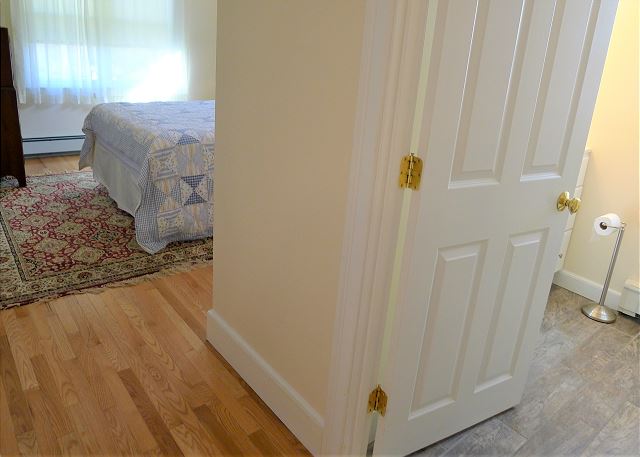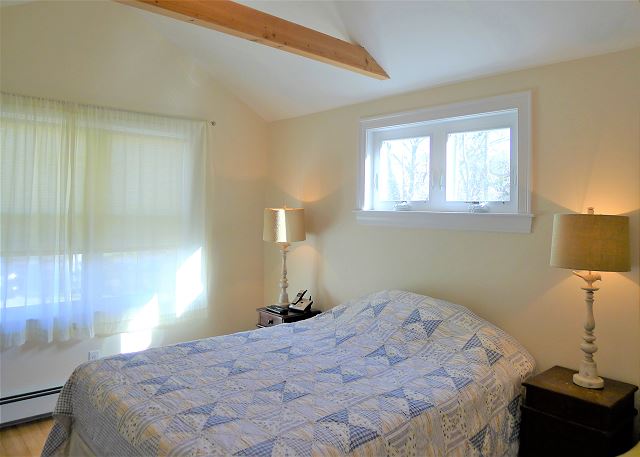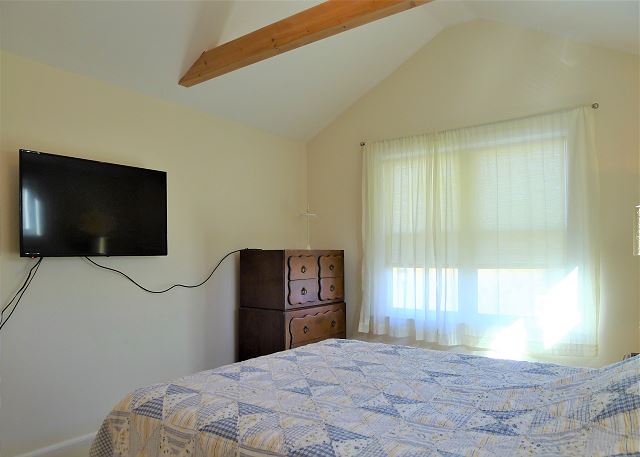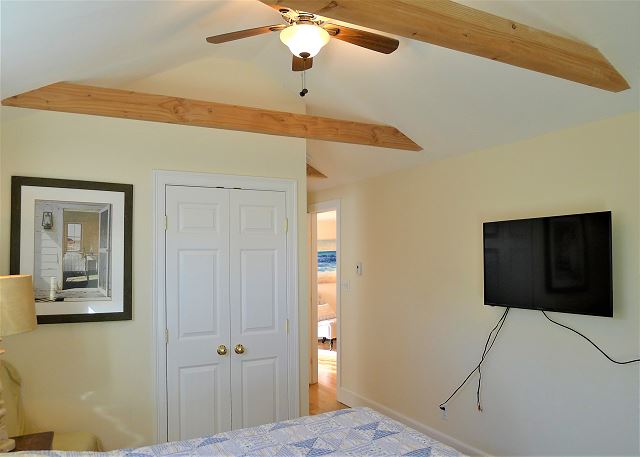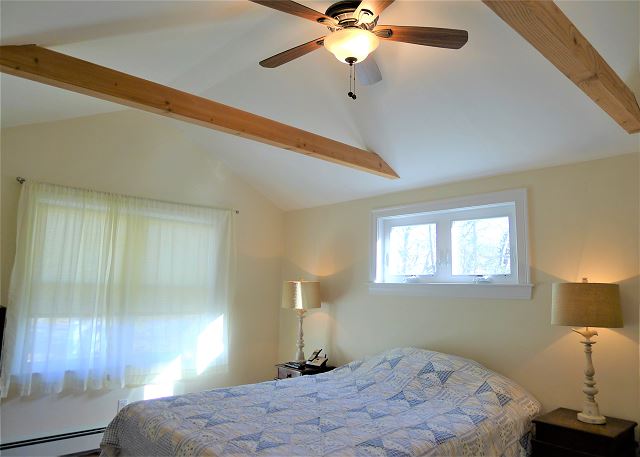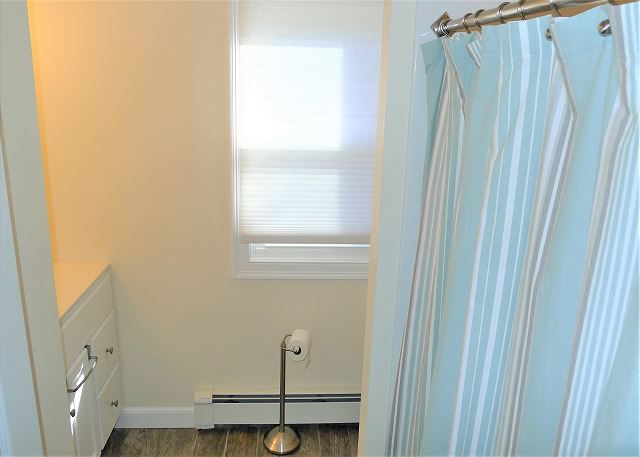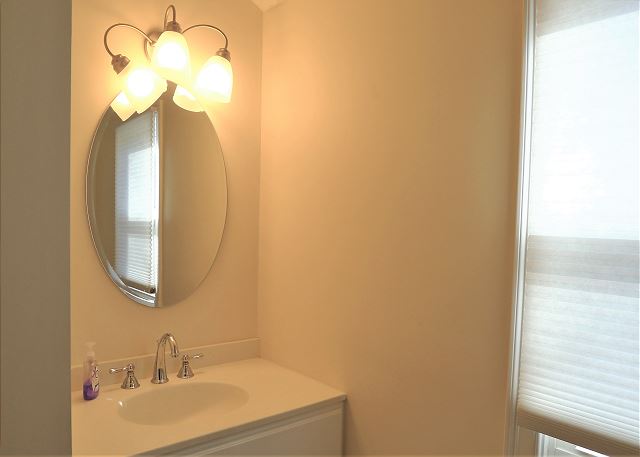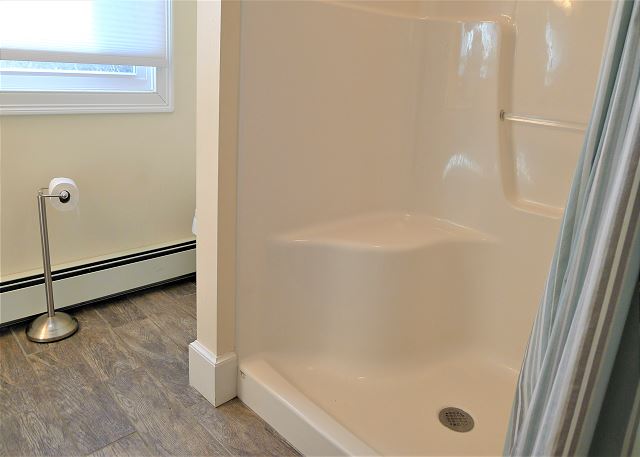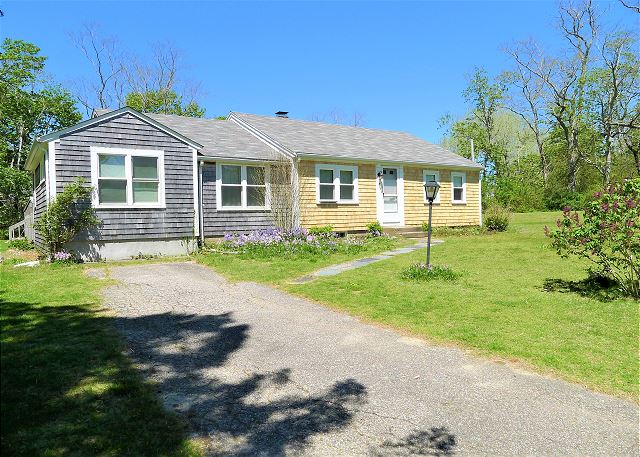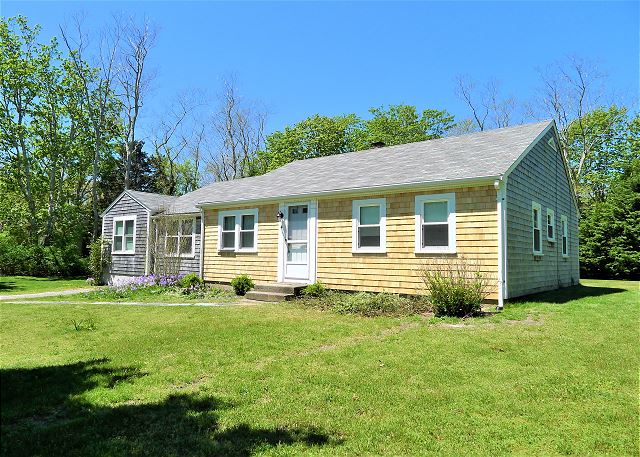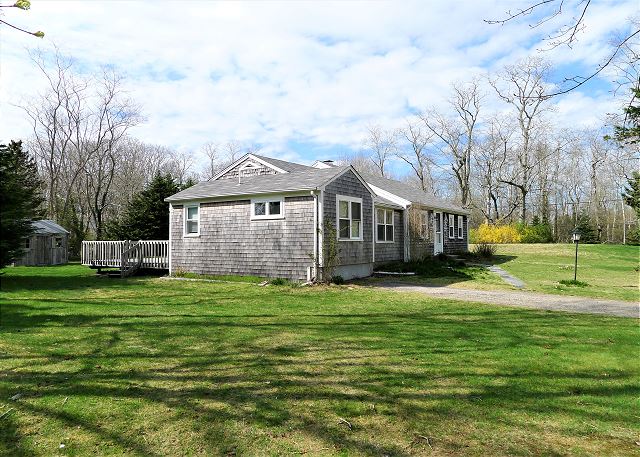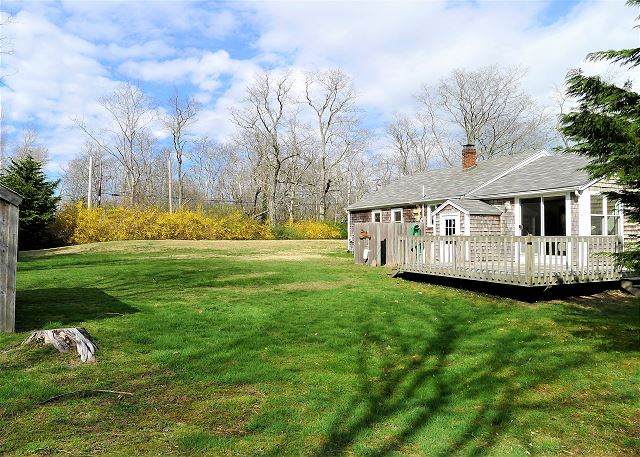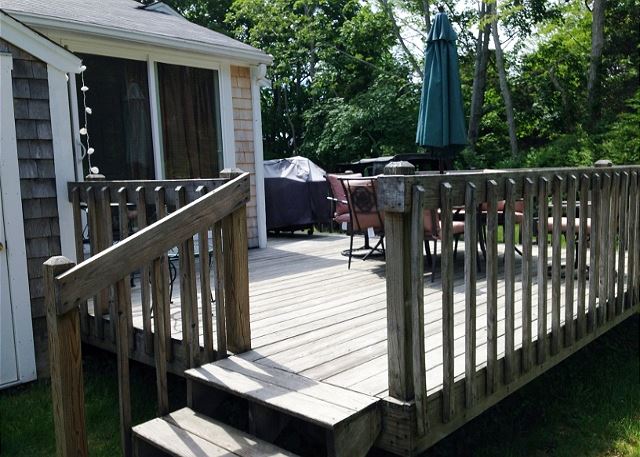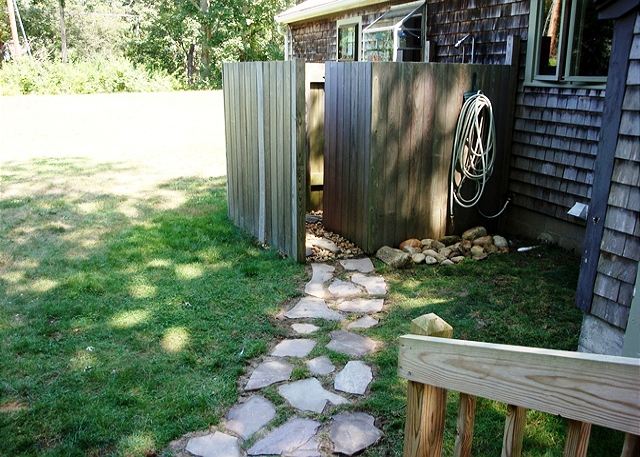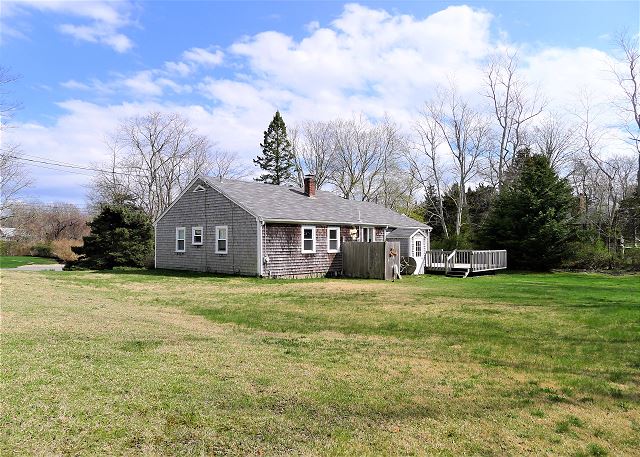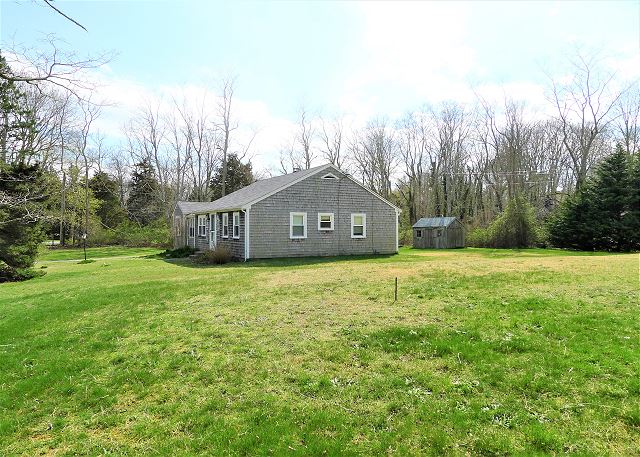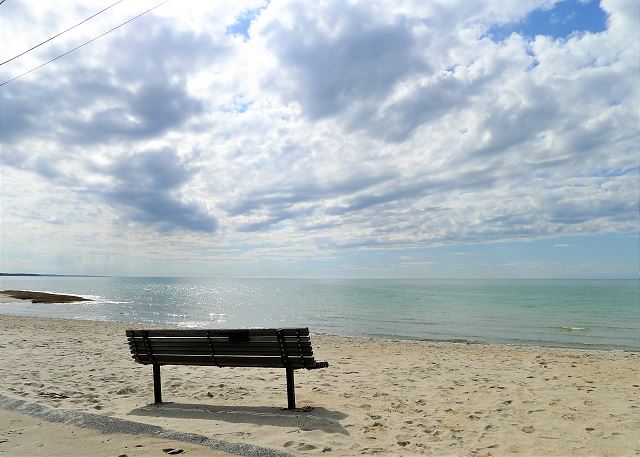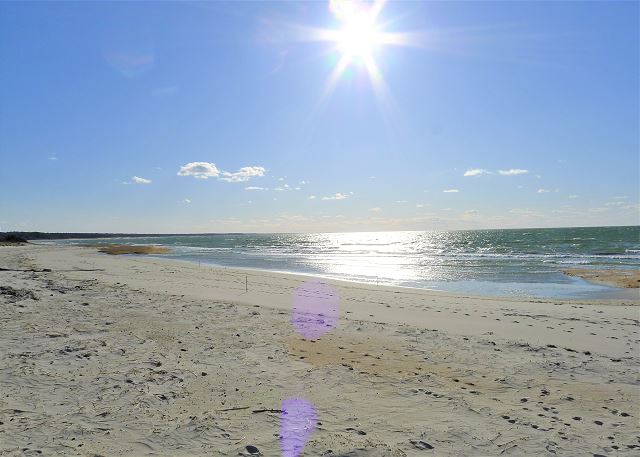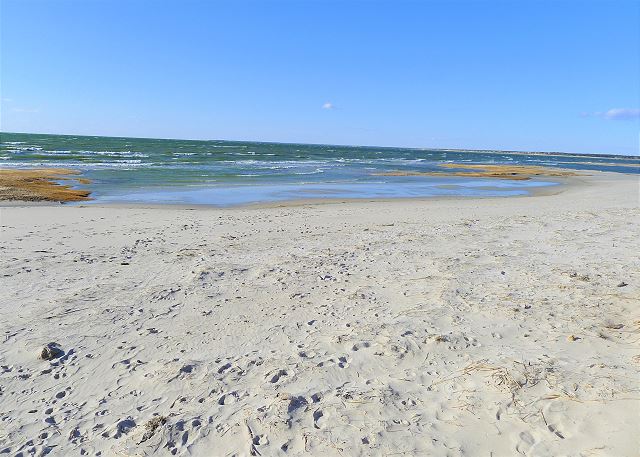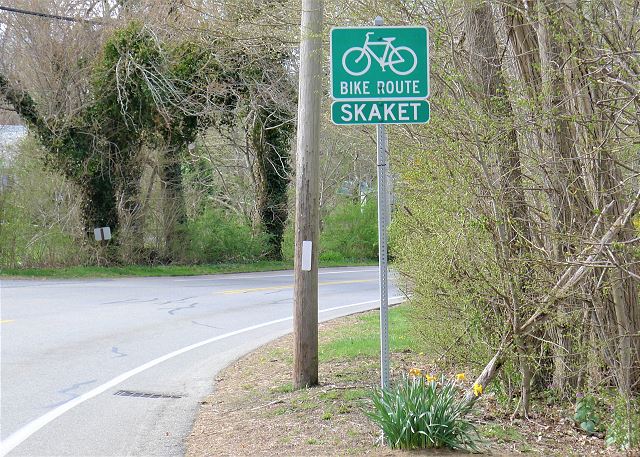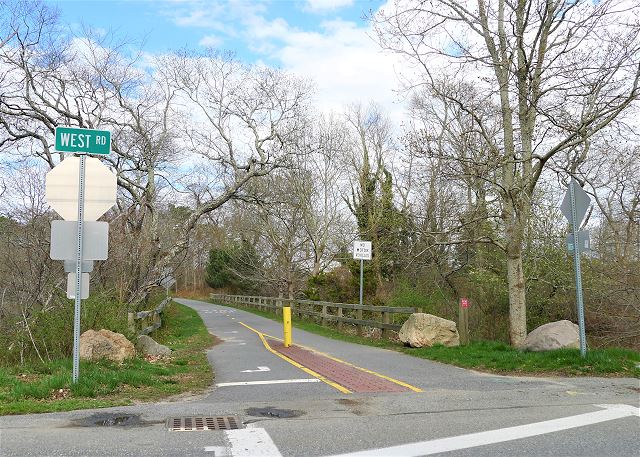 ---
Bedroom(s): 3
Bathroom(s): 2
Sleeps: 8
Type: Cottage
Area: Skaket Beach
Town: Orleans
COMPLETELY RENOVATED KITCHEN!

This sunny 3 bedroom, 2 full bath Cape Cod Vacation Cottage is located on a spacious corner lot just 3/10 of a mile from beautiful Skaket Beach in Orleans. Pack a cooler or just walk home for lunch! Or skip the beach one day and bike along the nearby Cape Cod Rail Trail.

The entrance to the home leads directly into a cheerful, air conditioned living room with ultra comfortable upholstered seating (including a sofa bed) that can easily accommodate 8 guests around the large TV & DVD player with Comcast TV channels.

The adjacent completely renovated kitchen is fully stocked and leaves plenty of room for guests to linger during and after meals while talking about their day and making plans for the next.

The main bedroom suite includes a Queen bed, Flat screen TV, window A/C unit, and private bath with shower. There are two additional bedrooms - each with a window a/c - that share another full bath. Bedroom #2 has a bunk bed with a full sized bottom bed and twin on top to sleep 3; bedroom #3 has two twins.

There is a light-filled foyer at the rear of the house where you can access the broad deck through sliding doors. Here, you can barbeque your meals on the gas grill and dine alfresco (with or without umbrella). The deck leads to a great stretch of lawn – perfect for pick-up games or watching spectacular sunsets.

Also includes: Internet; washer and dryer; enclosed outdoor shower; parking in driveway for 3-4 cars.

A dog is welcome at pet-friendly properties with pre-approval of weight and breed. Additional fee may apply. Failure to observe House Pet Rules may result in a severe fine and/or eviction from the property. LIMIT 1 DOG PER PROPERTY.

8 guests maximum allowed at any time. No parties exceeding the occupancy limit allowed.

LINENS (SHEETS/TOWELS) ARE NOT INCLUDED IN THIS RENTAL.

Travel Insurance is highly recommended and affordable coverage to protect your vacation investment.

Please view our policy and procedure page on our web site for detailed information about renting with us.

State and local taxes are applicable and may vary based on local ordinances and bylaws. Tax rates are subject to change.
- pets considered
- DVD Player
- Flat Screen HDTV
- Extended Cable
- Stereo w/ CD player
- Netflix
- Sleep Sofa
- Microwave
- Drip Coffee Maker
- Pantry items (sugar, salt & pep)
- Cookware
- Dishes / Glassware / Utensils
- Kitchen Table
- Blender
- Iron
- Keurig Coffee Maker
- Toaster or Toaster Oven
- Convenience Items
- Dishwasher
- Lobster Pot
- Sleep Sofa/Futon
- TV
- Window A/C
- Hair Dryer
- Deck
- Gas Grill with Propane Tank
- Dining Table w/ Umbrella
- Enclosed Outdoor Shower
- Beach Chairs
- Horse Shoes
- Close to Town
- Near Rail Trail Bike Path
- Near Cape Cod Bay Beaches
- Near National Sea Shore Beaches
- Yes
- DOG
- Pet Considered
Guest Reviews of
4 captain linnell Orleans , MA
Great location for family beach!
We had a wonderful time in this house. I wasn't expecting it to be so clean because it was a pet friendly home, but it was great! New kitchen was a plus but the spacious backyard and short walk to the beach made it a perfect family-friendly vacation home for us.
5 out of 5 stars
Beautiful
Review by
Kathy B.
The entire rental experience was great. No real issues to speak of. The only issue was a lot of those tiny black ants on counter. We had to keep all bread, and food in microwave. It was annoying, but not enough for a bad review at all. The other issue and it was just a problem because our dog is a terrier. He was able to fit between the slats on deck so I had to barricade the entire deck with chairs, gates and so forth. Different building codes down the cape I think. There is about a 6-8 inch gap so if you have a small dog or a little child just be careful. My dog saw the rabbits and that set him off! We had a great time this year, Our favorite spot so far!!
5 out of 5 stars
Enjoyed our stay at the cape.
Review by
Heidi M.
Quiet and peaceful. House was clean and comfortable.
5 out of 5 stars
Our Cape Cod Vacation
Review by
Ann H.
Our vacation was wonderful. The house was perfect for families. Lots of space inside and out. Love that the owners had beach toys, pack n play, beach chairs, and toys and games for all ages. Everyone on our gtoup really enjoyed their stay!
5 out of 5 stars
4 Captain Linnell
Review by
Richard S.
We were concerned that this was not a waterfront property, like the ones we have rented in the past. However the close proximity to a great beach and the large yard were great assets.
4 out of 5 stars
Great Week in Orleans
Review by
James D.
We had a great week. The house was very well maintained in a perfect location near Skaket Beach. I would definitely recommend this location to others.
5 out of 5 stars
Exquisite
Review by
Jack C.
Fun / relaxing / felt like home
5 out of 5 stars
Our first family vacation
Review by
Emily W.
We loved our rental. It was a 10 minute (if that) walk to the beach. Skaket Beach is not your typical beach. It has calm waters and its never too crowded. Our yard was nice and big, which is great if you bring your dog like we did. The house was clean and was supplied with everything we needed. We already have it booked for summer of 2016.
5 out of 5 stars
February 2020

| S | M | T | W | T | F | S |
| --- | --- | --- | --- | --- | --- | --- |
| | | | | | | 01 |
| 02 | 03 | 04 | 05 | 06 | 07 | 08 |
| 09 | 10 | 11 | 12 | 13 | 14 | 15 |
| 16 | 17 | 18 | 19 | 20 | 21 | 22 |
| 23 | 24 | 25 | 26 | 27 | 28 | 29 |
March 2020

| S | M | T | W | T | F | S |
| --- | --- | --- | --- | --- | --- | --- |
| 01 | 02 | 03 | 04 | 05 | 06 | 07 |
| 08 | 09 | 10 | 11 | 12 | 13 | 14 |
| 15 | 16 | 17 | 18 | 19 | 20 | 21 |
| 22 | 23 | 24 | 25 | 26 | 27 | 28 |
| 29 | 30 | 31 | | | | |
April 2020

| S | M | T | W | T | F | S |
| --- | --- | --- | --- | --- | --- | --- |
| | | | 01 | 02 | 03 | 04 |
| 05 | 06 | 07 | 08 | 09 | 10 | 11 |
| 12 | 13 | 14 | 15 | 16 | 17 | 18 |
| 19 | 20 | 21 | 22 | 23 | 24 | 25 |
| 26 | 27 | 28 | 29 | 30 | | |
May 2020

| S | M | T | W | T | F | S |
| --- | --- | --- | --- | --- | --- | --- |
| | | | | | 01 | 02 |
| 03 | 04 | 05 | 06 | 07 | 08 | 09 |
| 10 | 11 | 12 | 13 | 14 | 15 | 16 |
| 17 | 18 | 19 | 20 | 21 | 22 | 23 |
| 24 | 25 | 26 | 27 | 28 | 29 | 30 |
| 31 | | | | | | |
June 2020

| S | M | T | W | T | F | S |
| --- | --- | --- | --- | --- | --- | --- |
| | 01 | 02 | 03 | 04 | 05 | 06 |
| 07 | 08 | 09 | 10 | 11 | 12 | 13 |
| 14 | 15 | 16 | 17 | 18 | 19 | 20 |
| 21 | 22 | 23 | 24 | 25 | 26 | 27 |
| 28 | 29 | 30 | | | | |
July 2020

| S | M | T | W | T | F | S |
| --- | --- | --- | --- | --- | --- | --- |
| | | | 01 | 02 | 03 | 04 |
| 05 | 06 | 07 | 08 | 09 | 10 | 11 |
| 12 | 13 | 14 | 15 | 16 | 17 | 18 |
| 19 | 20 | 21 | 22 | 23 | 24 | 25 |
| 26 | 27 | 28 | 29 | 30 | 31 | |
August 2020

| S | M | T | W | T | F | S |
| --- | --- | --- | --- | --- | --- | --- |
| | | | | | | 01 |
| 02 | 03 | 04 | 05 | 06 | 07 | 08 |
| 09 | 10 | 11 | 12 | 13 | 14 | 15 |
| 16 | 17 | 18 | 19 | 20 | 21 | 22 |
| 23 | 24 | 25 | 26 | 27 | 28 | 29 |
| 30 | 31 | | | | | |
September 2020

| S | M | T | W | T | F | S |
| --- | --- | --- | --- | --- | --- | --- |
| | | 01 | 02 | 03 | 04 | 05 |
| 06 | 07 | 08 | 09 | 10 | 11 | 12 |
| 13 | 14 | 15 | 16 | 17 | 18 | 19 |
| 20 | 21 | 22 | 23 | 24 | 25 | 26 |
| 27 | 28 | 29 | 30 | | | |
October 2020

| S | M | T | W | T | F | S |
| --- | --- | --- | --- | --- | --- | --- |
| | | | | 01 | 02 | 03 |
| 04 | 05 | 06 | 07 | 08 | 09 | 10 |
| 11 | 12 | 13 | 14 | 15 | 16 | 17 |
| 18 | 19 | 20 | 21 | 22 | 23 | 24 |
| 25 | 26 | 27 | 28 | 29 | 30 | 31 |
November 2020

| S | M | T | W | T | F | S |
| --- | --- | --- | --- | --- | --- | --- |
| 01 | 02 | 03 | 04 | 05 | 06 | 07 |
| 08 | 09 | 10 | 11 | 12 | 13 | 14 |
| 15 | 16 | 17 | 18 | 19 | 20 | 21 |
| 22 | 23 | 24 | 25 | 26 | 27 | 28 |
| 29 | 30 | | | | | |
December 2020

| S | M | T | W | T | F | S |
| --- | --- | --- | --- | --- | --- | --- |
| | | 01 | 02 | 03 | 04 | 05 |
| 06 | 07 | 08 | 09 | 10 | 11 | 12 |
| 13 | 14 | 15 | 16 | 17 | 18 | 19 |
| 20 | 21 | 22 | 23 | 24 | 25 | 26 |
| 27 | 28 | 29 | 30 | 31 | | |
January 2021

| S | M | T | W | T | F | S |
| --- | --- | --- | --- | --- | --- | --- |
| | | | | | 01 | 02 |
| 03 | 04 | 05 | 06 | 07 | 08 | 09 |
| 10 | 11 | 12 | 13 | 14 | 15 | 16 |
| 17 | 18 | 19 | 20 | 21 | 22 | 23 |
| 24 | 25 | 26 | 27 | 28 | 29 | 30 |
| 31 | | | | | | |
February 2021

| S | M | T | W | T | F | S |
| --- | --- | --- | --- | --- | --- | --- |
| | 01 | 02 | 03 | 04 | 05 | 06 |
| 07 | 08 | 09 | 10 | 11 | 12 | 13 |
| 14 | 15 | 16 | 17 | 18 | 19 | 20 |
| 21 | 22 | 23 | 24 | 25 | 26 | 27 |
| 28 | | | | | | |
Available
Unavailable
Sat to Sat booking