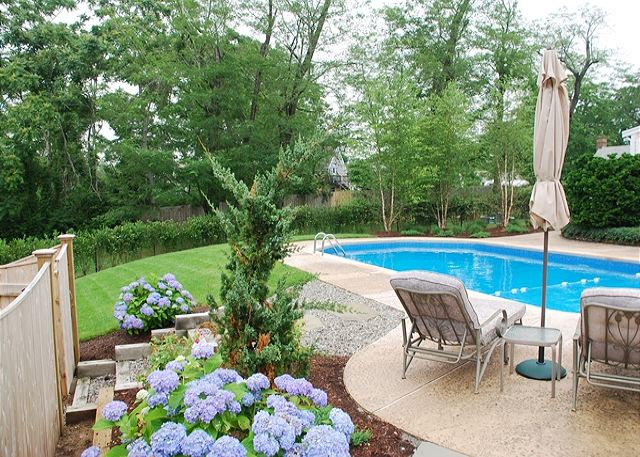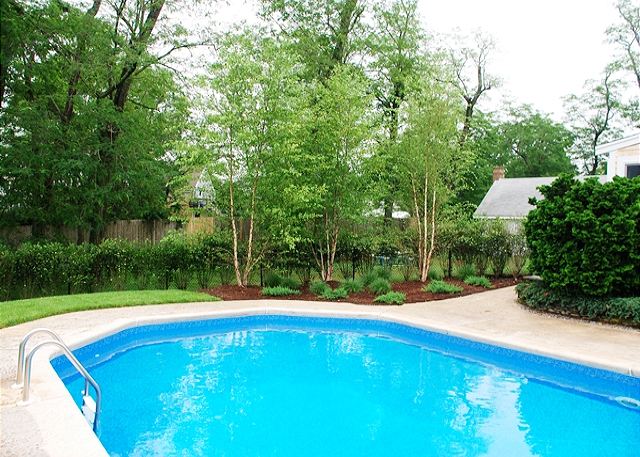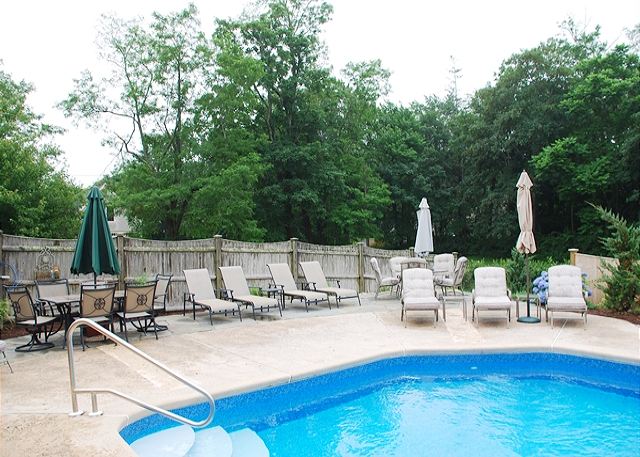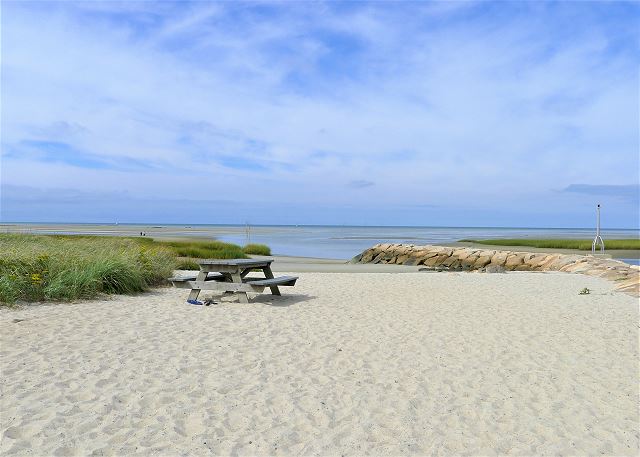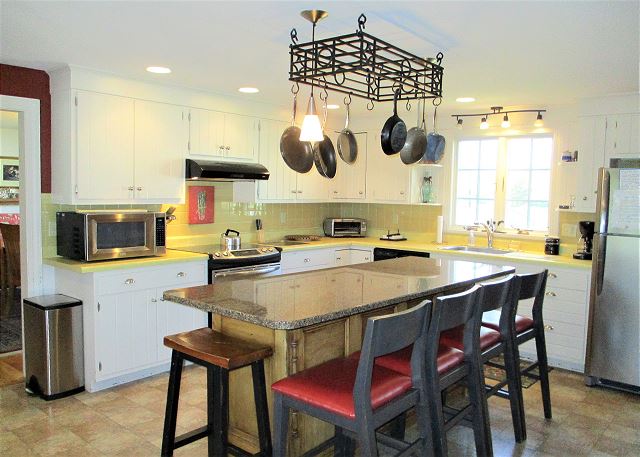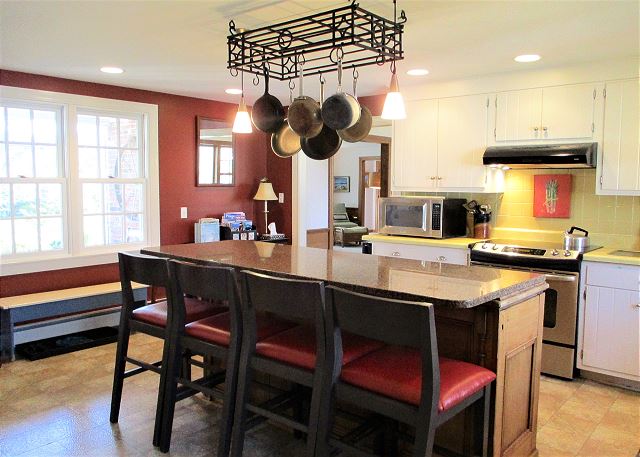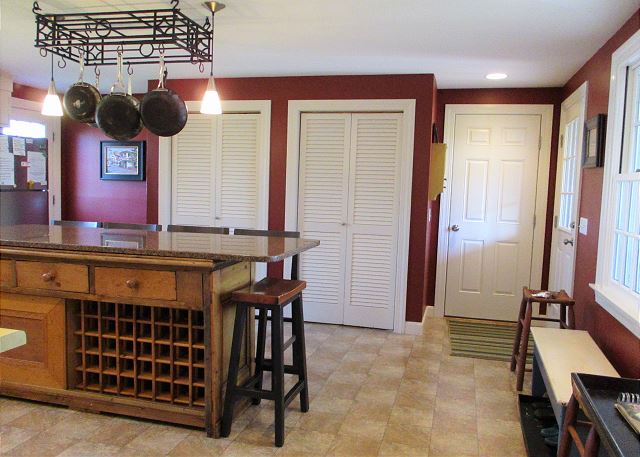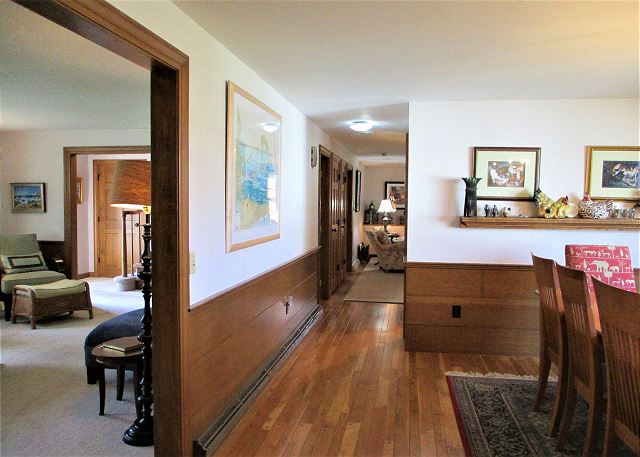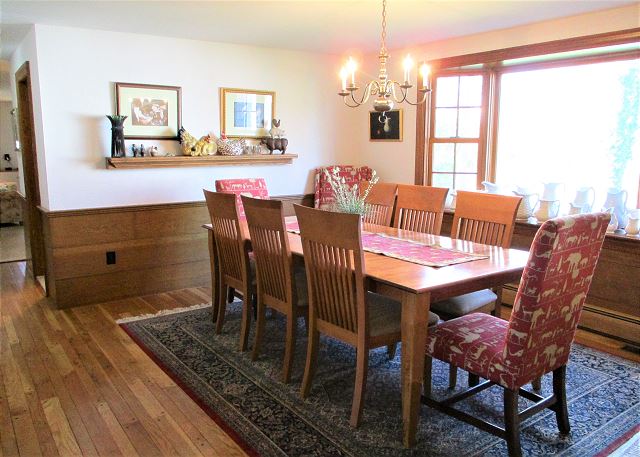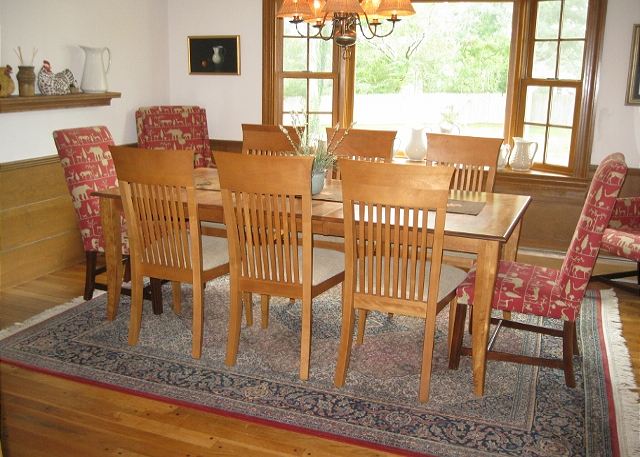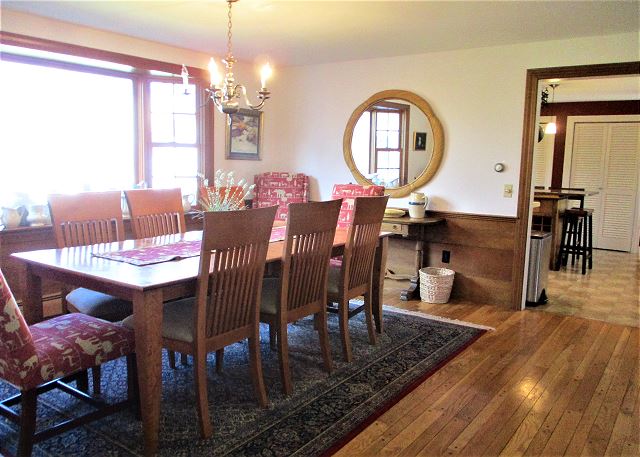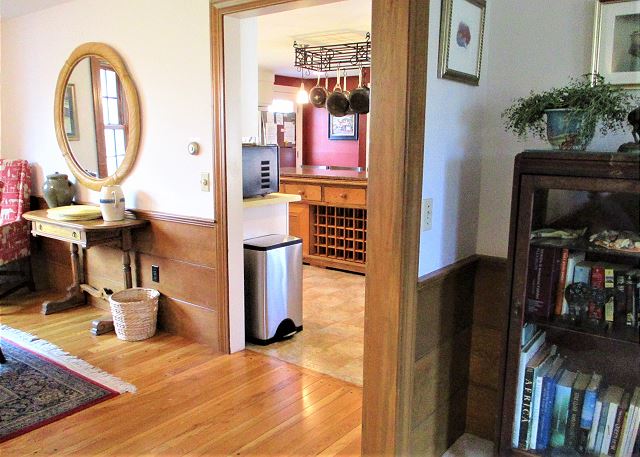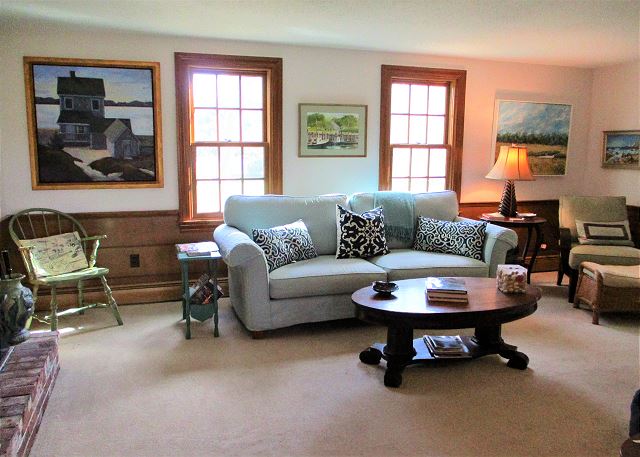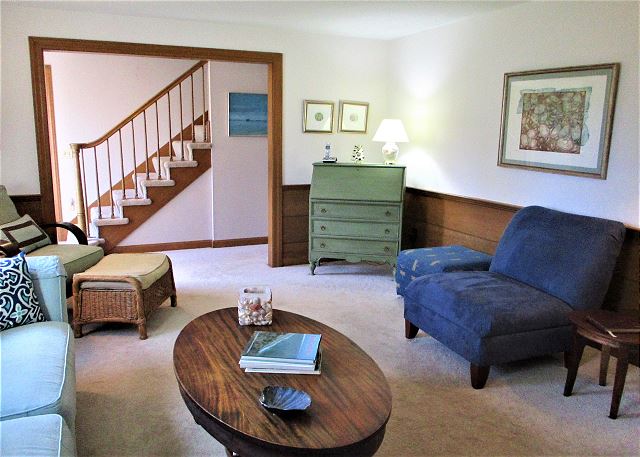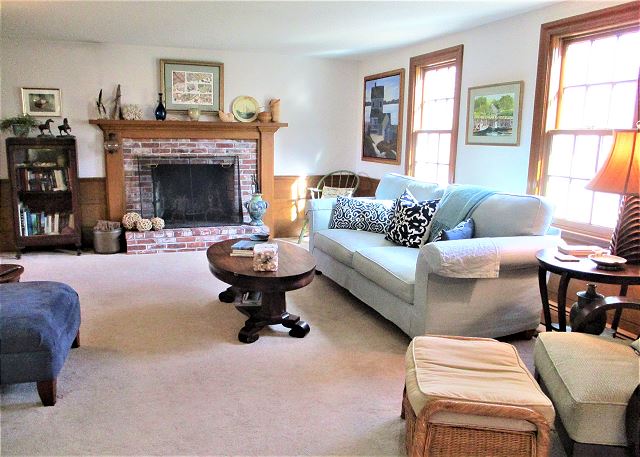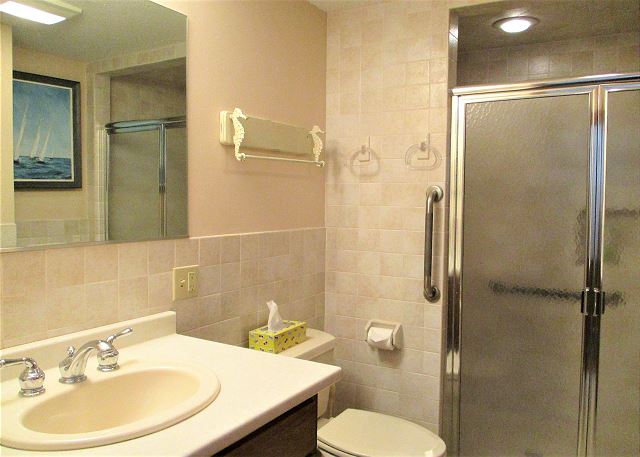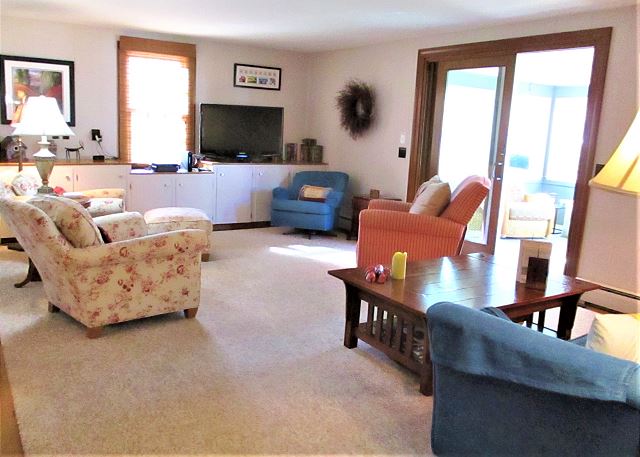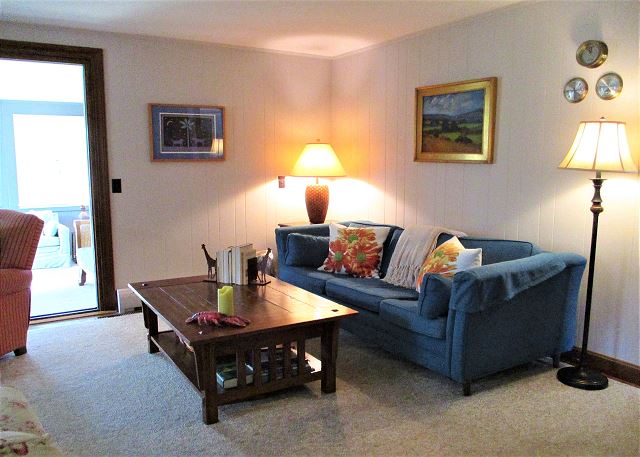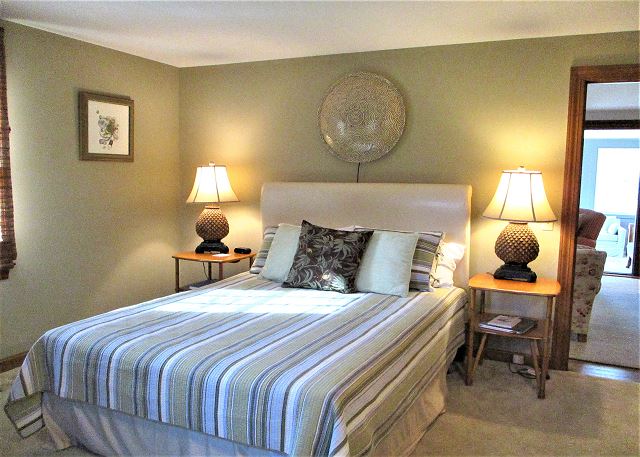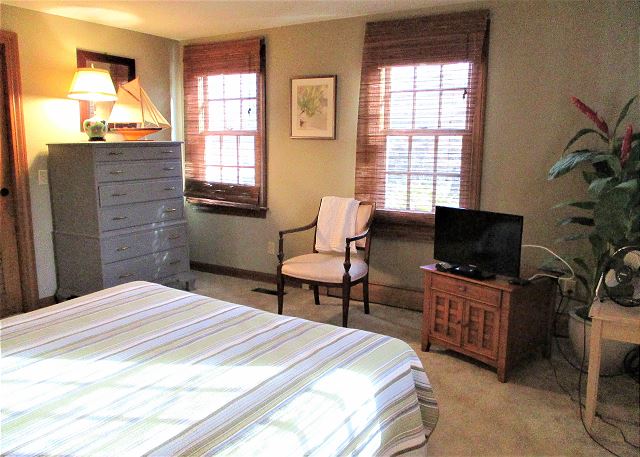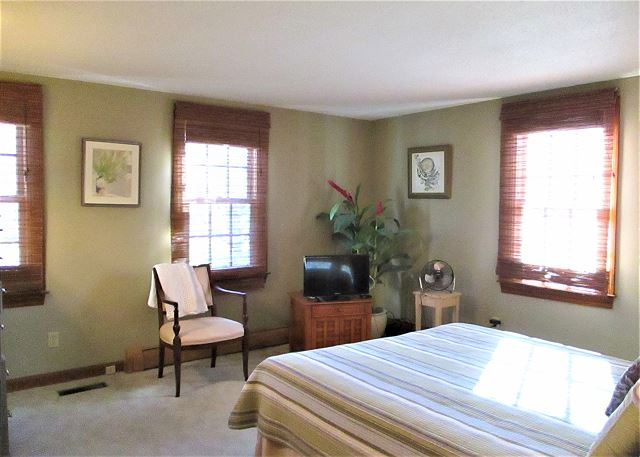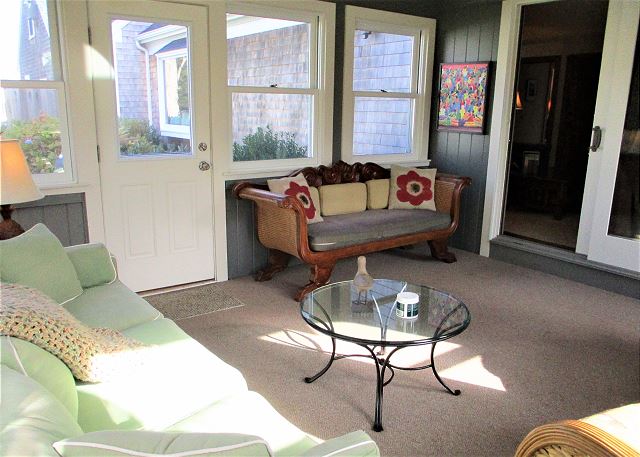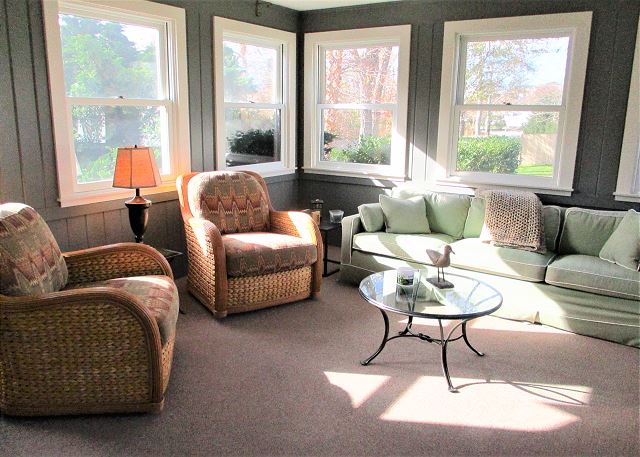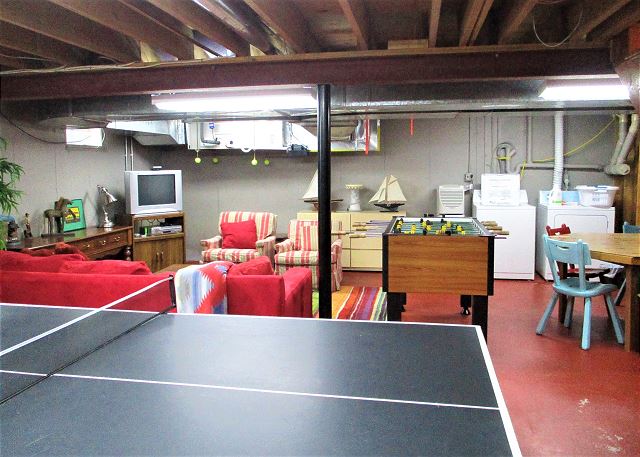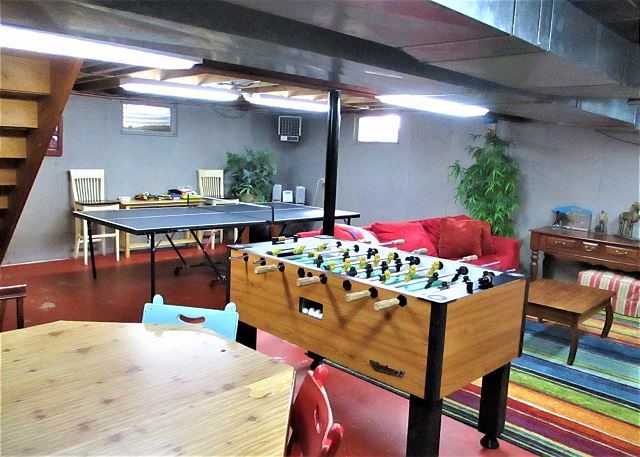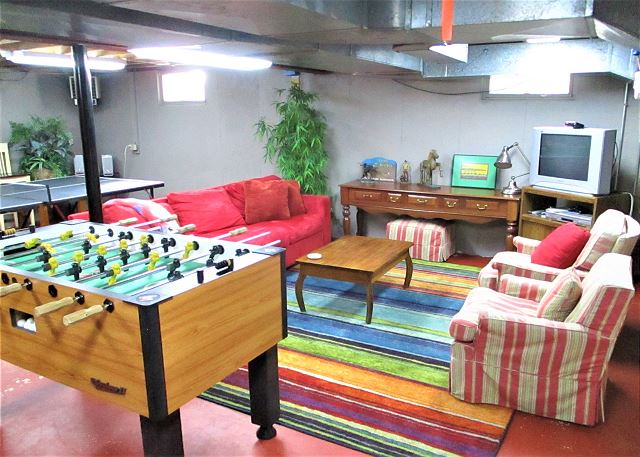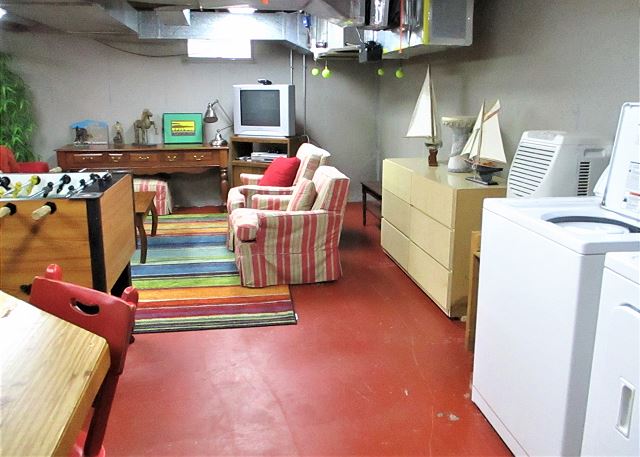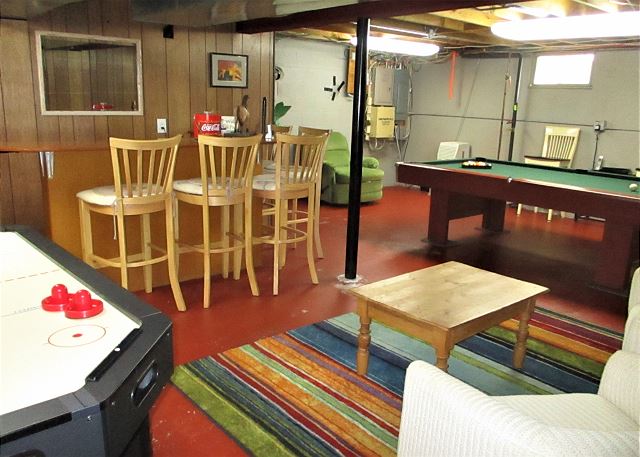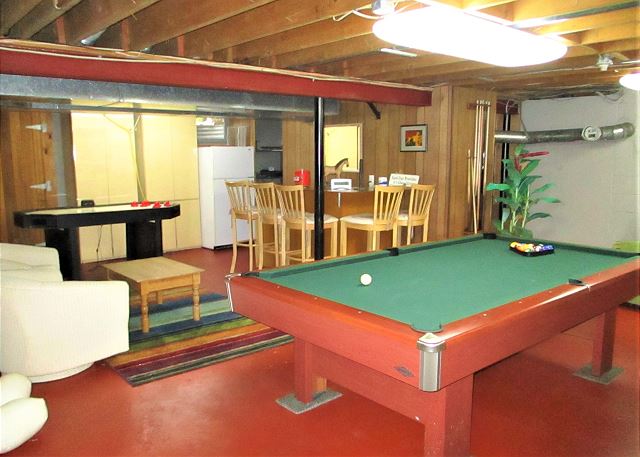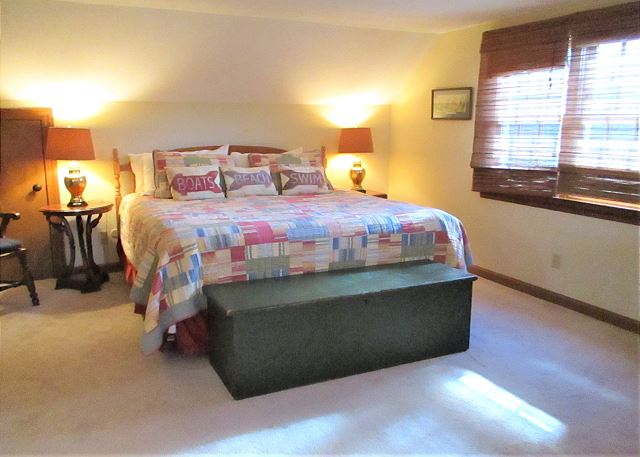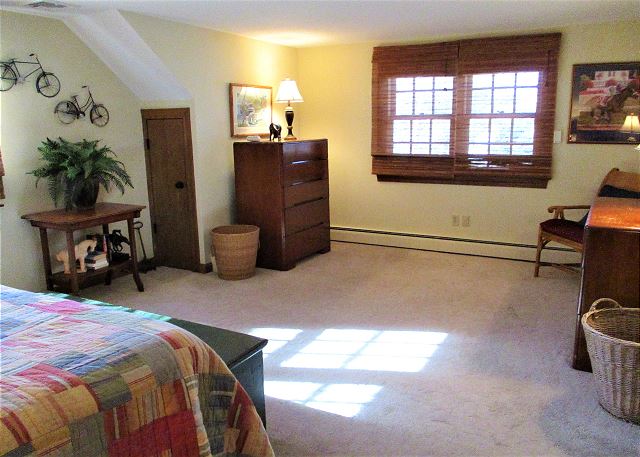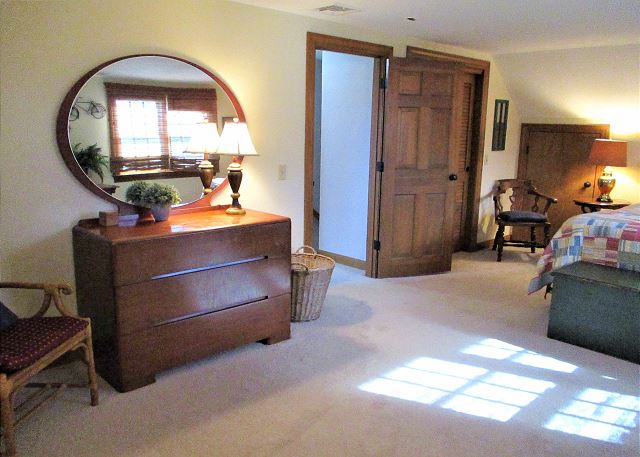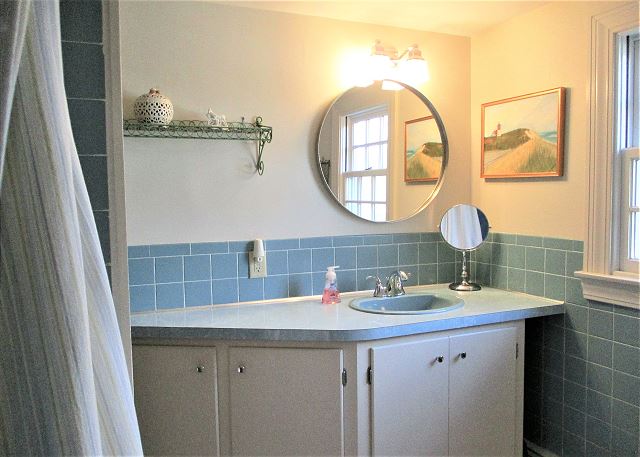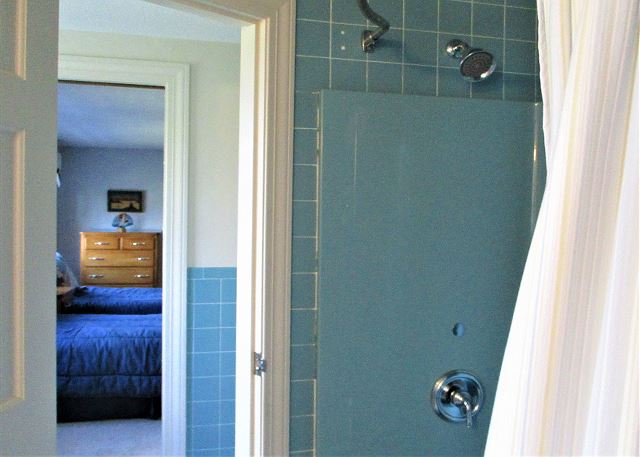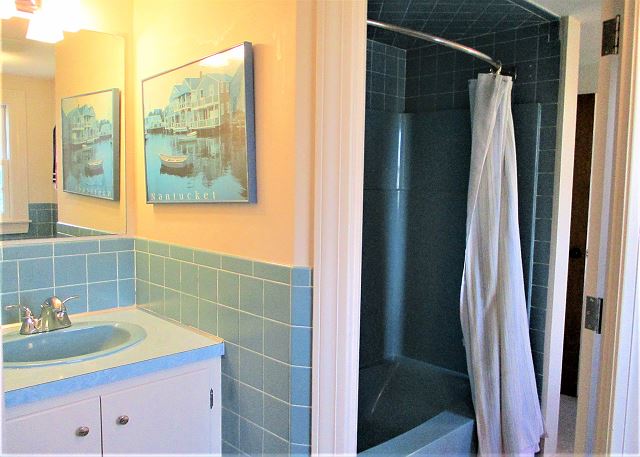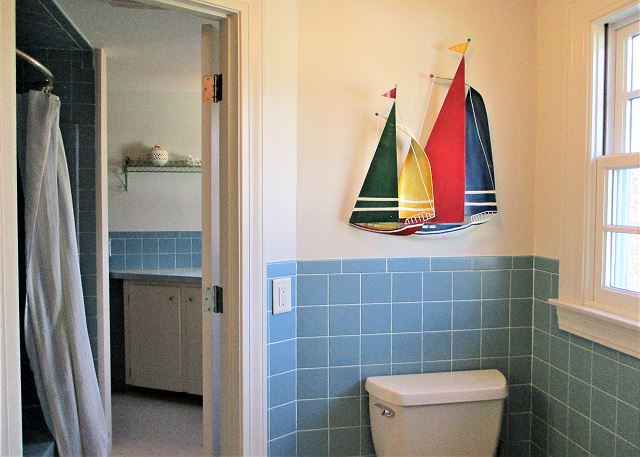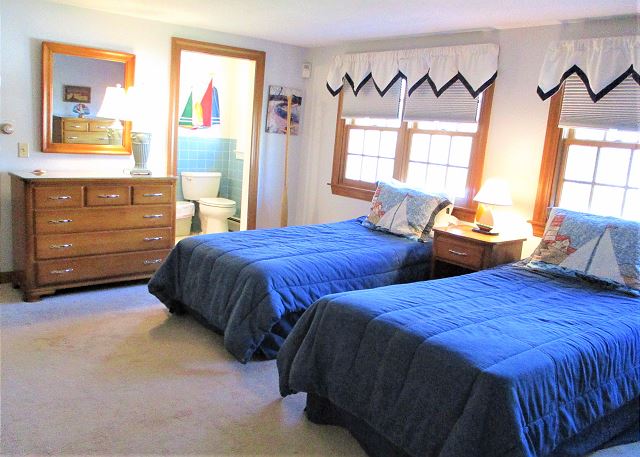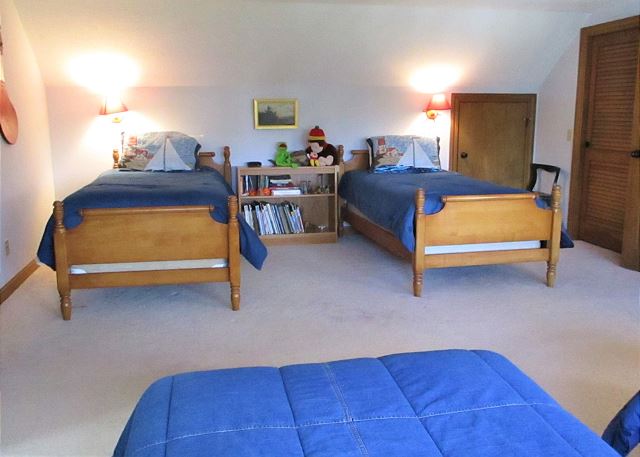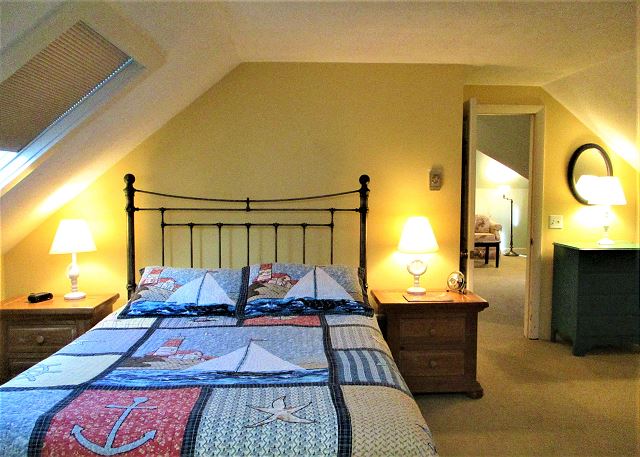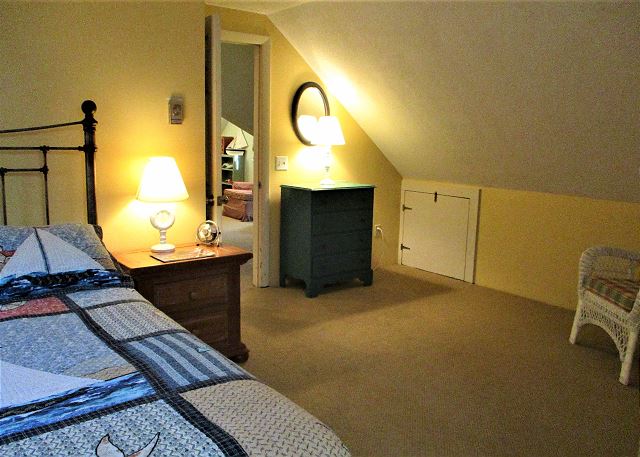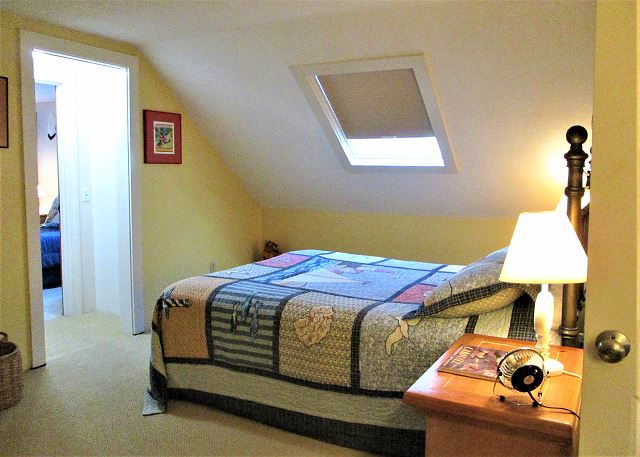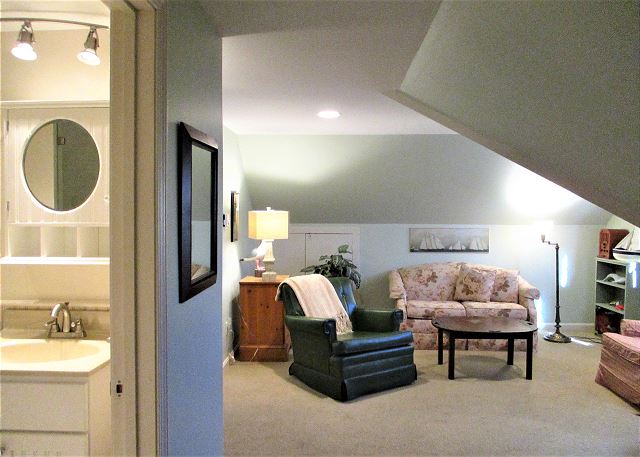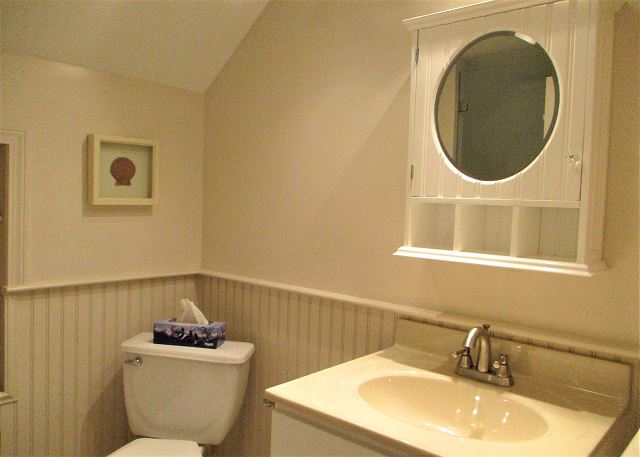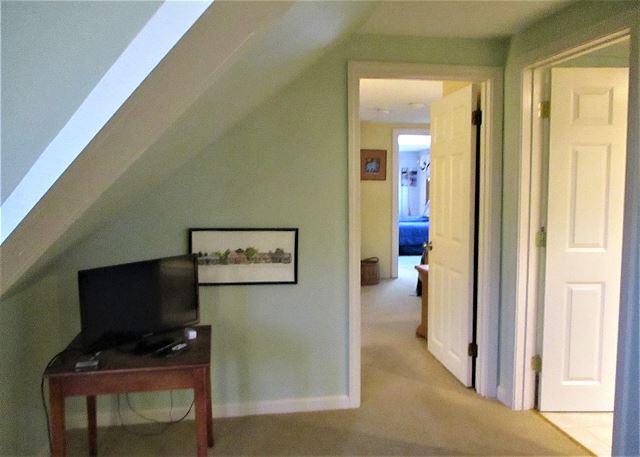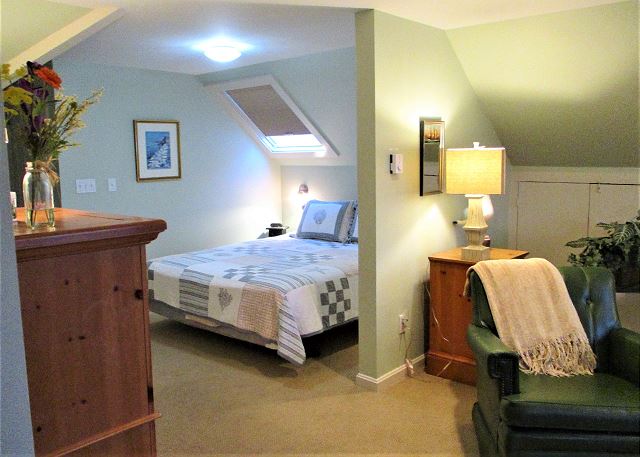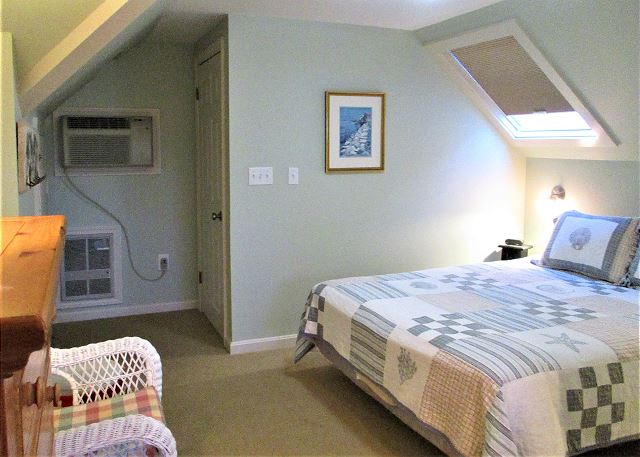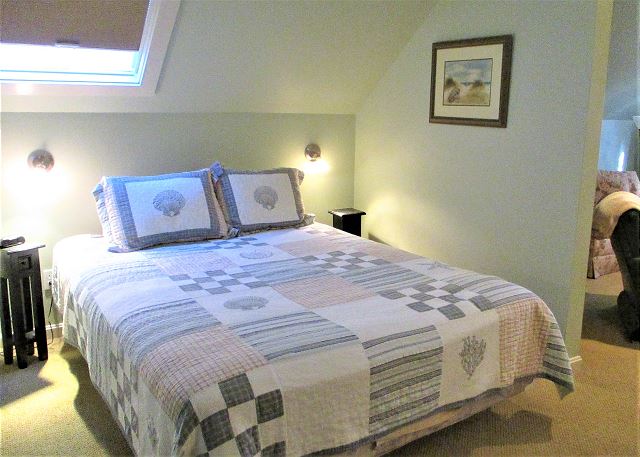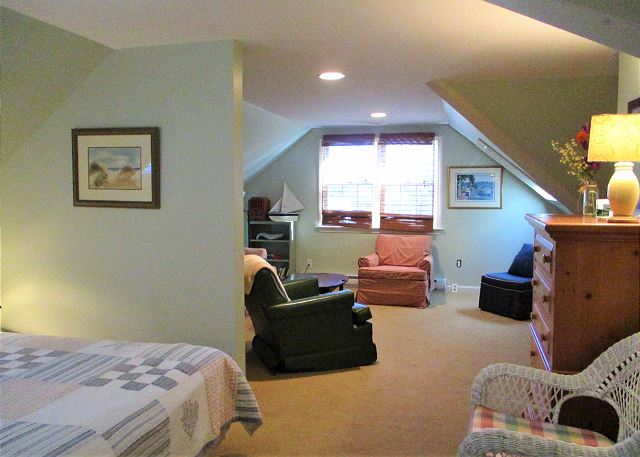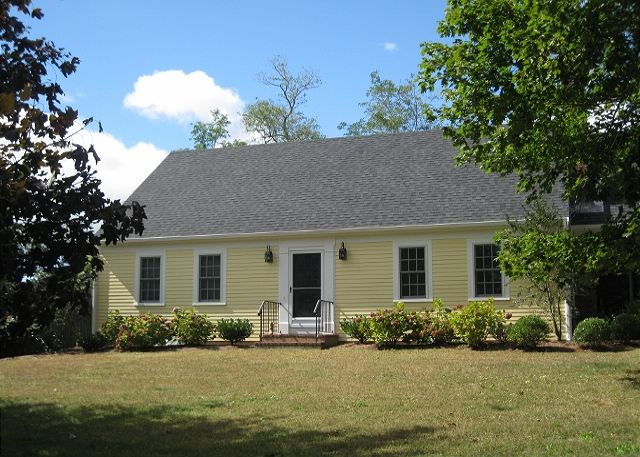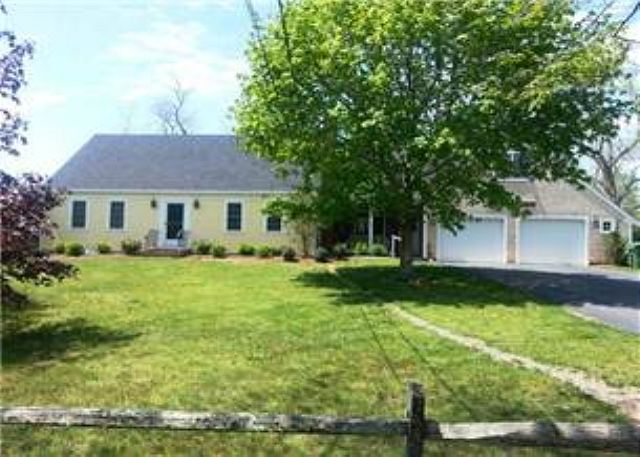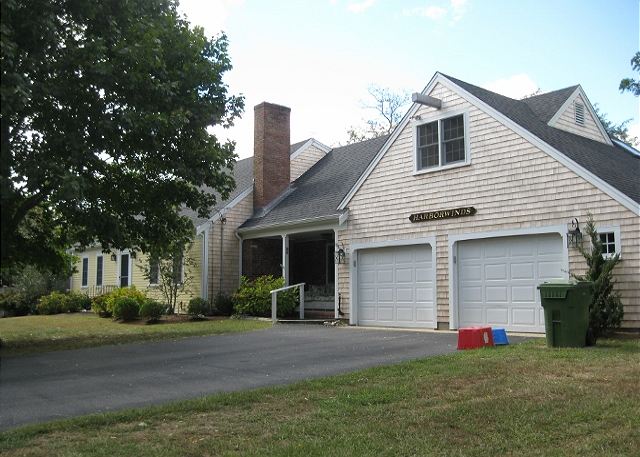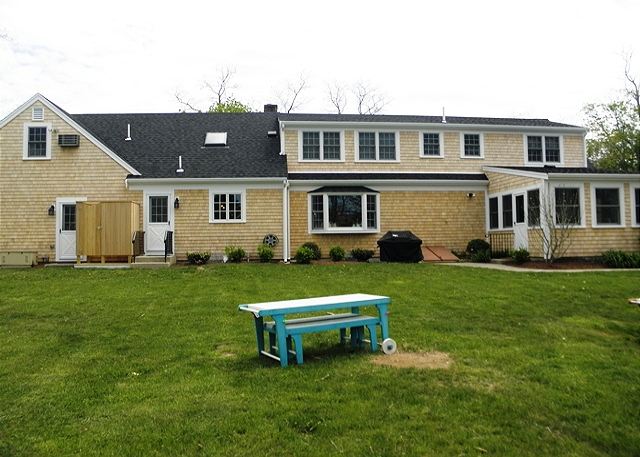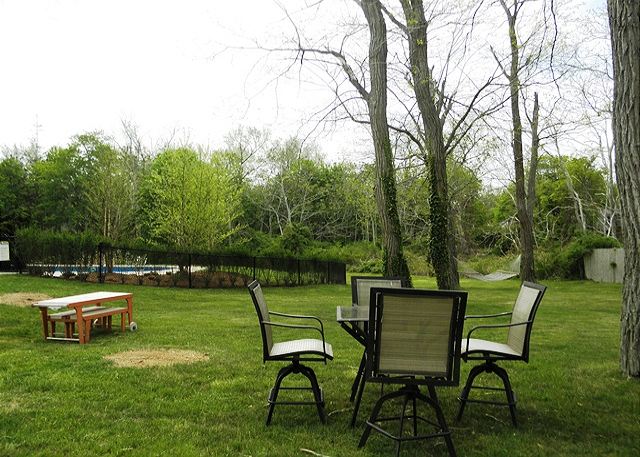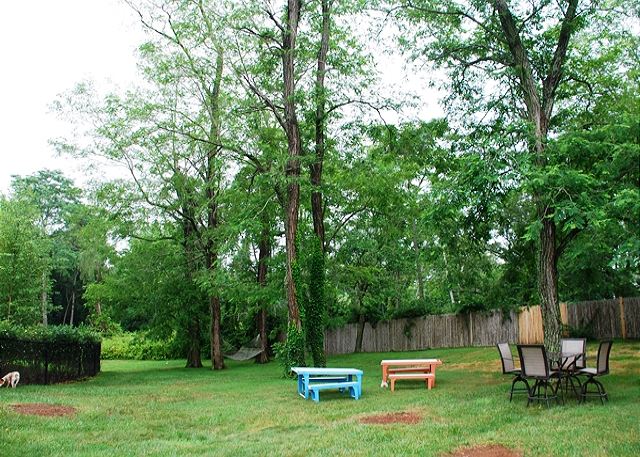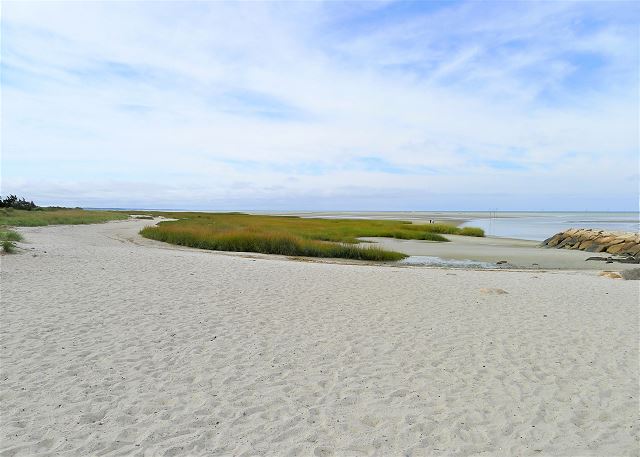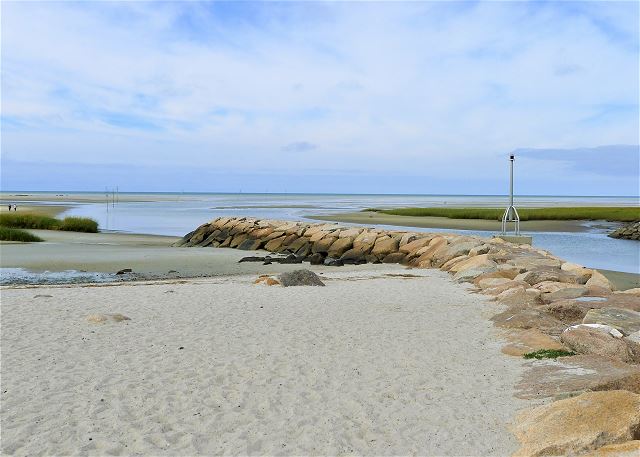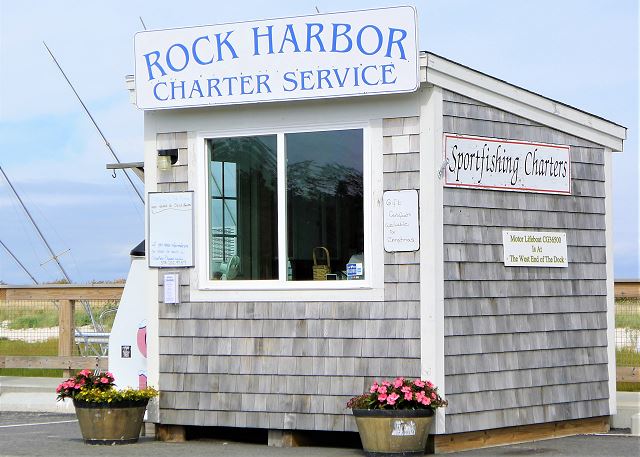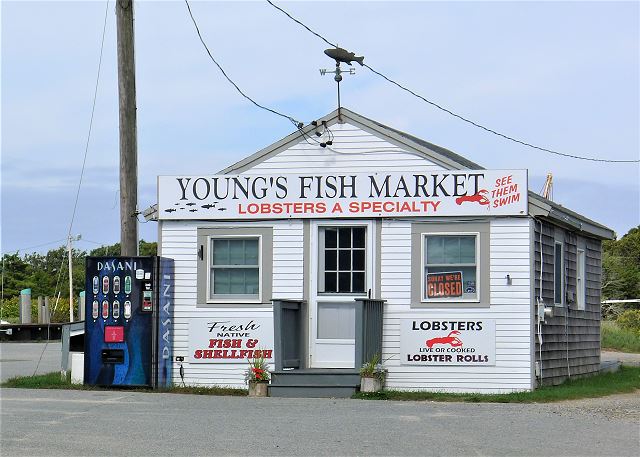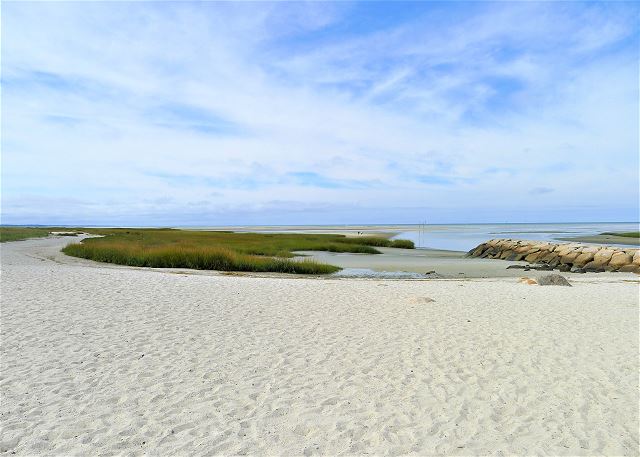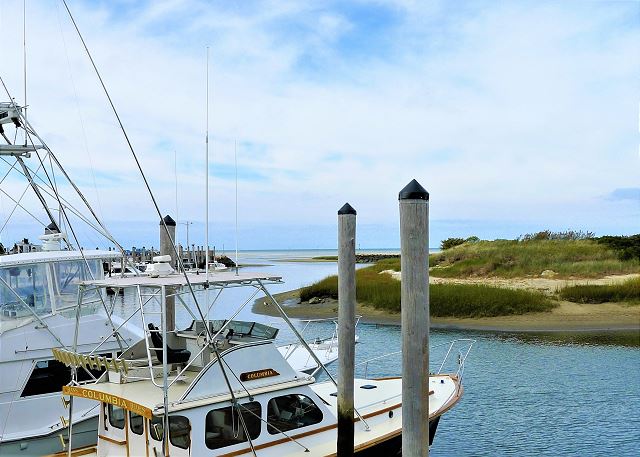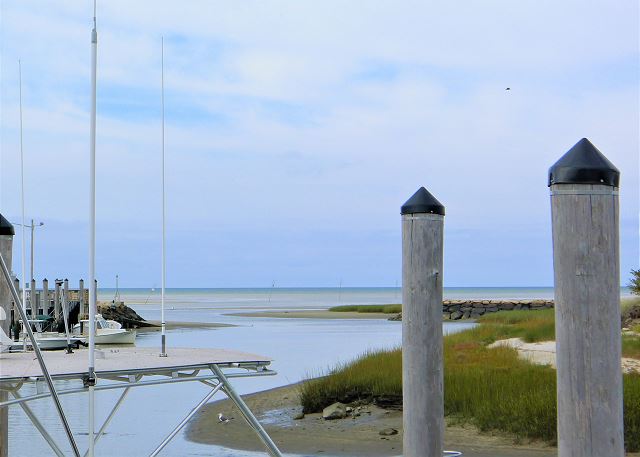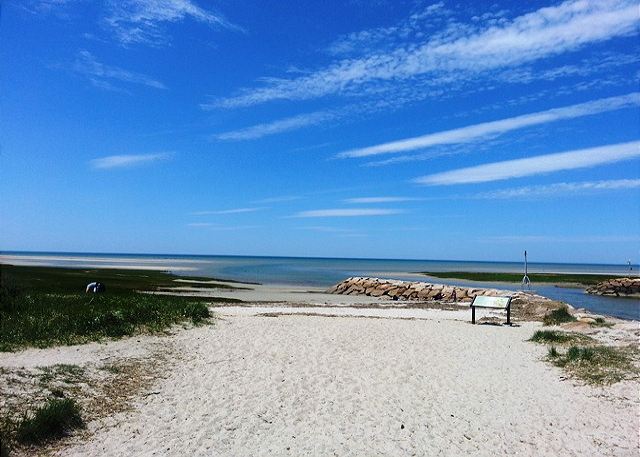 ---
Bedroom(s): 5
Bathroom(s): 3.5
Sleeps: 14
Type: House
Area: Rock Harbor
Town: Orleans
Located in the Rock Harbor area of Orleans, this expansive vacation home is just 0.2 miles to Rock Harbor Beach for swimming, fishing, and boating fun. There is a luxurious heated in-ground pool to spend time in and around on hot summer days. Accommodating 14 guests, it is the perfect holiday venue spot for groups of family and friends.

This home features many amenities including central AC, wireless internet, a DVD player, and four TV's. Enjoy the comforts of home with a wonderful cook's kitchen, formal dining room, plush living room with sleep sofa and comfortable den with a TV, DVD, and a bright sun room when you just want to feel like you're outdoors.

Bedroom locations: #1 is on the first floor with a queen bed and TV. On the second floor, #2 has a king bed; #3 has four twin beds; and #4 has a full bed. Nestled above the garage, #5 provides the ultimate privacy with one queen bed, sitting area with TV, and a separate bathroom.

The lower level offers a bar area, TV, pool table, ping pong table, foosball table, air hockey, and laundry.

The heated swimming pool and patio surround also include outdoor dining table and umbrella, as well as a large yard with additional seating and a gas grill for BBQ's. What makes this home so incredibly special is not only its seclusion, but its close proximity to everything that comprises the ideal vacation: beaches, fishing, boating, and town shopping and to mention the magnificent sunsets!

Also included: Wifi, enclosed outdoor shower, parking for 4-5 cars in driveway, beach chairs*, coolers*, and a game of horse shoes*! *Owners provide these items as favors to guests only and not as an integral part of the rental. If these items become lost or damaged during the course of the rental season, owners are not responsible for replacements.

Call for the opening & closing dates of the pool for early summer and early fall.

Sorry no pets and no smoking allowed.

14 guests maximum allowed at any time with a maximum of 10 adults per reservation.

No parties exceeding the occupancy limit allowed.

LINENS (SHEETS/TOWELS) ARE NOT INCLUDED IN THIS RENTAL.

We offer travel insurance that is highly recommended and affordable coverage to protect your vacation investment.

Please view our policy and procedure page on our web site for detailed information about renting with us.

State and local taxes are applicable and may vary based on local ordinances and bylaws. Tax rates are subject to change.
- Standard TV
- DVD Player
- Flat Screen HDTV
- Extended Cable
- WiFi
- Microwave
- Drip Coffee Maker
- Cookware
- Dishes / Glassware / Utensils
- Blender
- Iron
- Toaster or Toaster Oven
- Ice Maker
- Island or Counter Seating
- Dishwasher
- Laundry
- Lobster Pot
- Extra Refrigerator
- Dining Table
- TV
- DVD Player
- TV
- Window A/C
- TV
- Pool Table
- Bar
- Table Tennis
- Gas Grill with Propane Tank
- Dining Table w/ Umbrella
- Enclosed Outdoor Shower
- Private Pool
- Garage Access
- Beach Chairs
- Outdoor Lighting
- Outdoor Seating
- Close to Town
- Near Cape Cod Bay Beaches
- Near National Sea Shore Beaches
Guest Reviews of
bonnell Orleans , MA
Amazing vacation!
Review by
Julie P.
We were 4 families spending a week in this amazing house! Loved the pool, the proximity of the beach, and the space inside and outside. Great service and photos are accurate.
5 out of 5 stars
A perfect July week at 10 Bonnell
Review by
Louis S.
An excellent week with my sons and their families at 10 Bonnell. Comfortable living space for 8 people of 3 generations. Non-stop action at the pool, cocktail hour in the shade, fish or burgers on the grill. What's not to like?
5 out of 5 stars
great vacation
Review by
Diane H.
We had a group of 11 and it was super! This rental had every appliance and gadget know to man! We were very comfortable and enjoyed this place very much!Lots of space to spread out and of course the game room was a huge favorite space!
5 out of 5 stars
Mixed reviews
This was our 8 consecutive year staying at this house and our overall experience has been positive, however there have been issues that have not been corrected for several years despite our complaining about them. Namely the beds in the upstairs apartment and master bedroom need new mattresses and the umbrellas at the pool need new stands. On several occasions in the past and this year the wind easily blew the umbrellas out of the stands and on one occasion narrowly missed two of our grandchildren. Without being able to use the umbrellas the pool area can become very hot and in some circumstances caused us not utilize that area.
3 out of 5 stars
Cape Escape
A thre day get away weekend for 6 friends . Great place to stay Explored PTown and Chatham. Long walks on the beach
5 out of 5 stars
3 generation family get together
Review by
Leo S.
Plenty to do at this location - heated swimming pool, nearby beaches, bike path, etc House was fine - fully furnished, great kitchen, lots of hot water - great showers, grill, TVs, games, room for allNo complaints. Would definitely stay there again
5 out of 5 stars
July vacation 2914
Review by
Deborah & Earl M.
We loved the house, really enjoyed our stay. The only thing I was not totally happy about was the fact that the listing stated it was .5 miles from a bayside beach, which it was not. The marina can not be considered a beach as there was no sand to sit on or access to swimable water. We did love the house though.
4 out of 5 stars
wonderful vacation
Review by
Carolyn K.
Staying at 10 Bonnell Lane was spectacular. The house is clean, mold free and spacious as well as comfortable. The kitchen is truly a "cooks kitchen" and we cooked there all week for 14 people. The pool is lovely and perfect for children as well as adults and the saline water is so soft. Everything was excellent and being walking distance to the Bay was a wonderful part.
5 out of 5 stars
December 2019

| S | M | T | W | T | F | S |
| --- | --- | --- | --- | --- | --- | --- |
| 01 | 02 | 03 | 04 | 05 | 06 | 07 |
| 08 | 09 | 10 | 11 | 12 | 13 | 14 |
| 15 | 16 | 17 | 18 | 19 | 20 | 21 |
| 22 | 23 | 24 | 25 | 26 | 27 | 28 |
| 29 | 30 | 31 | | | | |
January 2020

| S | M | T | W | T | F | S |
| --- | --- | --- | --- | --- | --- | --- |
| | | | 01 | 02 | 03 | 04 |
| 05 | 06 | 07 | 08 | 09 | 10 | 11 |
| 12 | 13 | 14 | 15 | 16 | 17 | 18 |
| 19 | 20 | 21 | 22 | 23 | 24 | 25 |
| 26 | 27 | 28 | 29 | 30 | 31 | |
February 2020

| S | M | T | W | T | F | S |
| --- | --- | --- | --- | --- | --- | --- |
| | | | | | | 01 |
| 02 | 03 | 04 | 05 | 06 | 07 | 08 |
| 09 | 10 | 11 | 12 | 13 | 14 | 15 |
| 16 | 17 | 18 | 19 | 20 | 21 | 22 |
| 23 | 24 | 25 | 26 | 27 | 28 | 29 |
March 2020

| S | M | T | W | T | F | S |
| --- | --- | --- | --- | --- | --- | --- |
| 01 | 02 | 03 | 04 | 05 | 06 | 07 |
| 08 | 09 | 10 | 11 | 12 | 13 | 14 |
| 15 | 16 | 17 | 18 | 19 | 20 | 21 |
| 22 | 23 | 24 | 25 | 26 | 27 | 28 |
| 29 | 30 | 31 | | | | |
April 2020

| S | M | T | W | T | F | S |
| --- | --- | --- | --- | --- | --- | --- |
| | | | 01 | 02 | 03 | 04 |
| 05 | 06 | 07 | 08 | 09 | 10 | 11 |
| 12 | 13 | 14 | 15 | 16 | 17 | 18 |
| 19 | 20 | 21 | 22 | 23 | 24 | 25 |
| 26 | 27 | 28 | 29 | 30 | | |
May 2020

| S | M | T | W | T | F | S |
| --- | --- | --- | --- | --- | --- | --- |
| | | | | | 01 | 02 |
| 03 | 04 | 05 | 06 | 07 | 08 | 09 |
| 10 | 11 | 12 | 13 | 14 | 15 | 16 |
| 17 | 18 | 19 | 20 | 21 | 22 | 23 |
| 24 | 25 | 26 | 27 | 28 | 29 | 30 |
| 31 | | | | | | |
June 2020

| S | M | T | W | T | F | S |
| --- | --- | --- | --- | --- | --- | --- |
| | 01 | 02 | 03 | 04 | 05 | 06 |
| 07 | 08 | 09 | 10 | 11 | 12 | 13 |
| 14 | 15 | 16 | 17 | 18 | 19 | 20 |
| 21 | 22 | 23 | 24 | 25 | 26 | 27 |
| 28 | 29 | 30 | | | | |
July 2020

| S | M | T | W | T | F | S |
| --- | --- | --- | --- | --- | --- | --- |
| | | | 01 | 02 | 03 | 04 |
| 05 | 06 | 07 | 08 | 09 | 10 | 11 |
| 12 | 13 | 14 | 15 | 16 | 17 | 18 |
| 19 | 20 | 21 | 22 | 23 | 24 | 25 |
| 26 | 27 | 28 | 29 | 30 | 31 | |
August 2020

| S | M | T | W | T | F | S |
| --- | --- | --- | --- | --- | --- | --- |
| | | | | | | 01 |
| 02 | 03 | 04 | 05 | 06 | 07 | 08 |
| 09 | 10 | 11 | 12 | 13 | 14 | 15 |
| 16 | 17 | 18 | 19 | 20 | 21 | 22 |
| 23 | 24 | 25 | 26 | 27 | 28 | 29 |
| 30 | 31 | | | | | |
September 2020

| S | M | T | W | T | F | S |
| --- | --- | --- | --- | --- | --- | --- |
| | | 01 | 02 | 03 | 04 | 05 |
| 06 | 07 | 08 | 09 | 10 | 11 | 12 |
| 13 | 14 | 15 | 16 | 17 | 18 | 19 |
| 20 | 21 | 22 | 23 | 24 | 25 | 26 |
| 27 | 28 | 29 | 30 | | | |
October 2020

| S | M | T | W | T | F | S |
| --- | --- | --- | --- | --- | --- | --- |
| | | | | 01 | 02 | 03 |
| 04 | 05 | 06 | 07 | 08 | 09 | 10 |
| 11 | 12 | 13 | 14 | 15 | 16 | 17 |
| 18 | 19 | 20 | 21 | 22 | 23 | 24 |
| 25 | 26 | 27 | 28 | 29 | 30 | 31 |
November 2020

| S | M | T | W | T | F | S |
| --- | --- | --- | --- | --- | --- | --- |
| 01 | 02 | 03 | 04 | 05 | 06 | 07 |
| 08 | 09 | 10 | 11 | 12 | 13 | 14 |
| 15 | 16 | 17 | 18 | 19 | 20 | 21 |
| 22 | 23 | 24 | 25 | 26 | 27 | 28 |
| 29 | 30 | | | | | |
December 2020

| S | M | T | W | T | F | S |
| --- | --- | --- | --- | --- | --- | --- |
| | | 01 | 02 | 03 | 04 | 05 |
| 06 | 07 | 08 | 09 | 10 | 11 | 12 |
| 13 | 14 | 15 | 16 | 17 | 18 | 19 |
| 20 | 21 | 22 | 23 | 24 | 25 | 26 |
| 27 | 28 | 29 | 30 | 31 | | |
Available
Unavailable
Sat to Sat booking