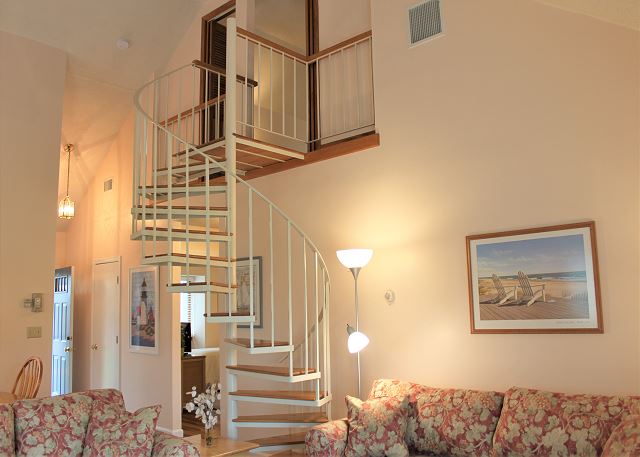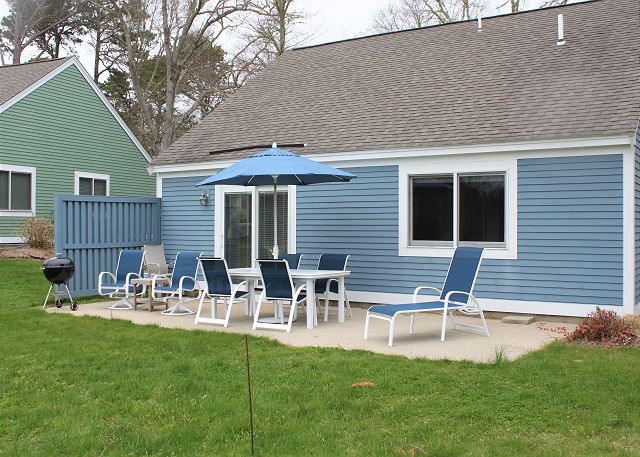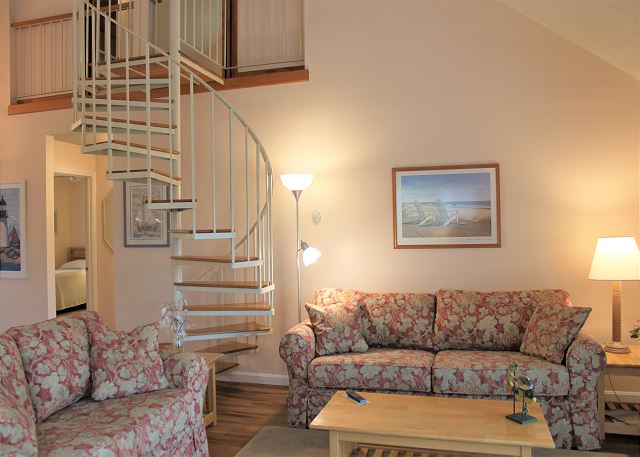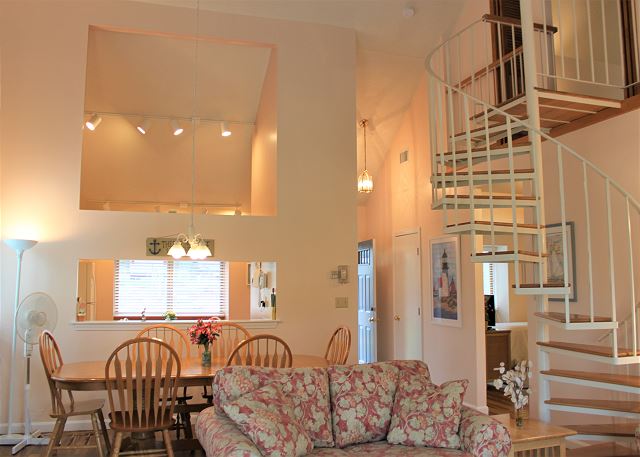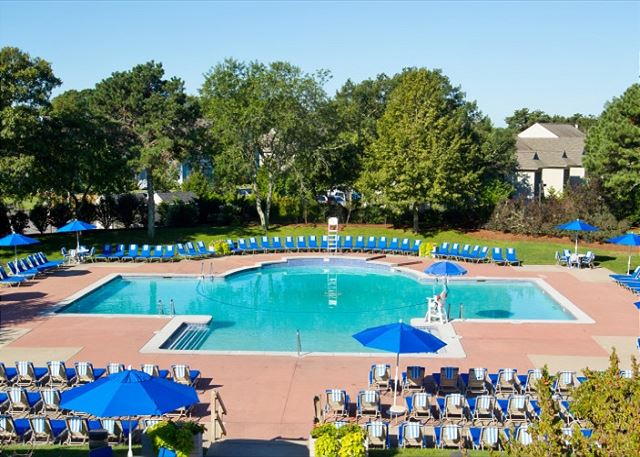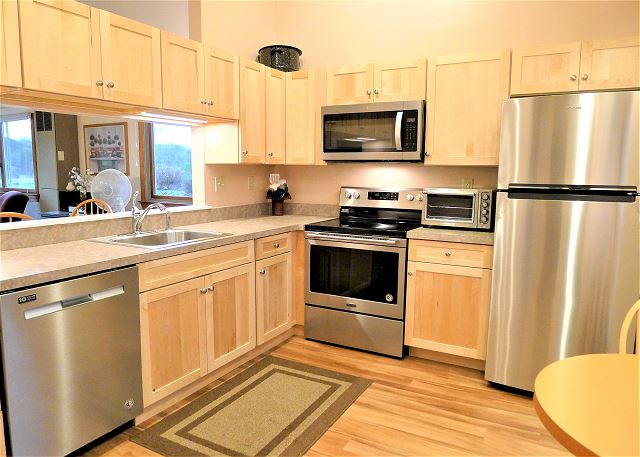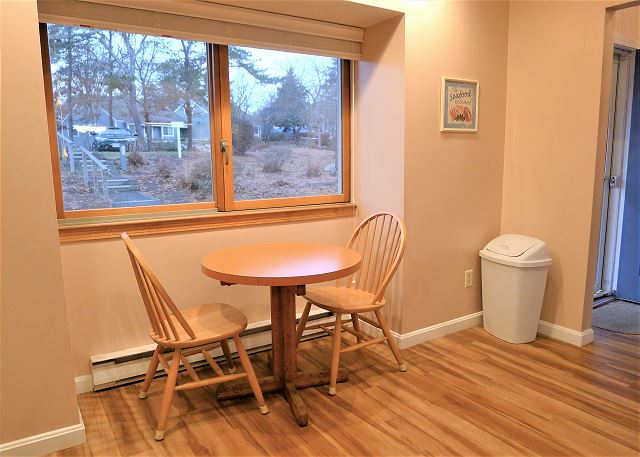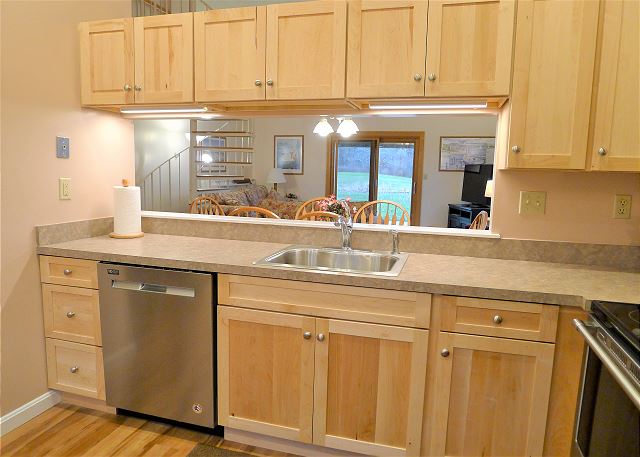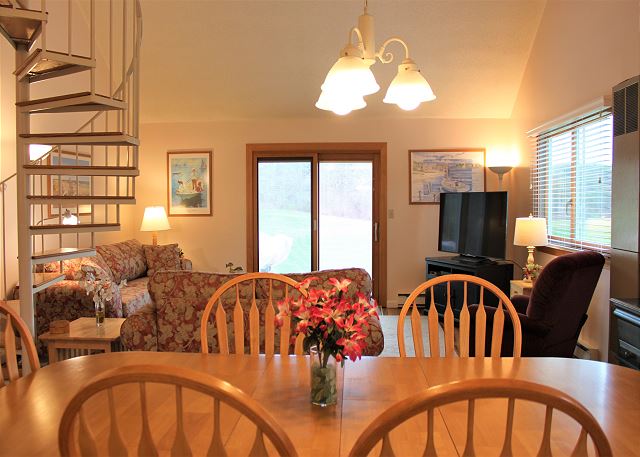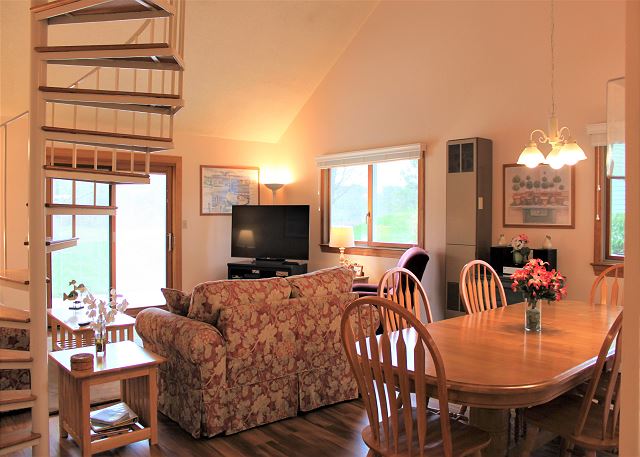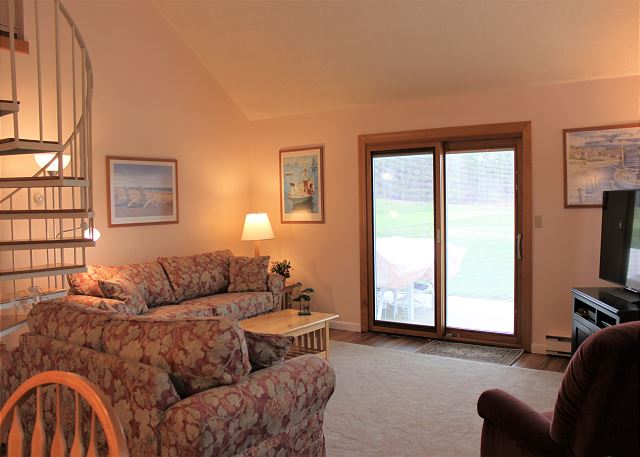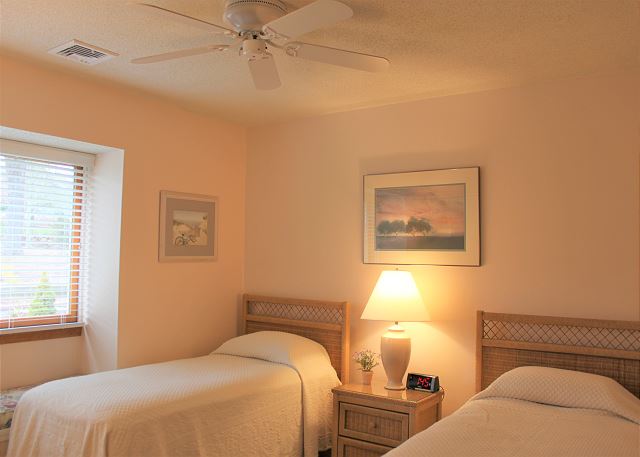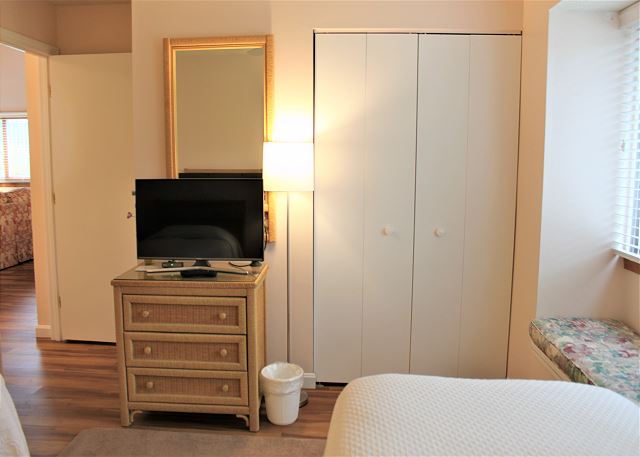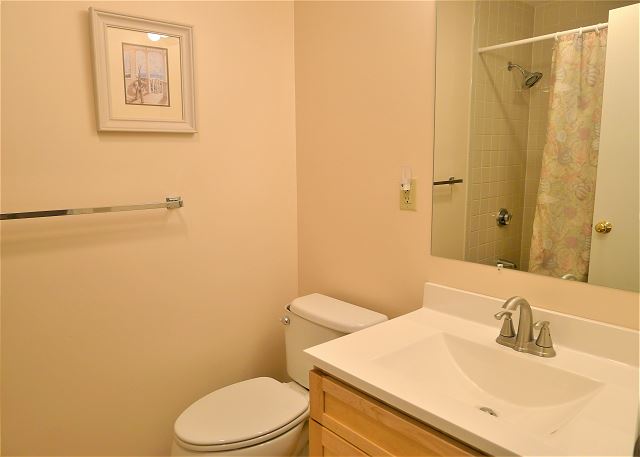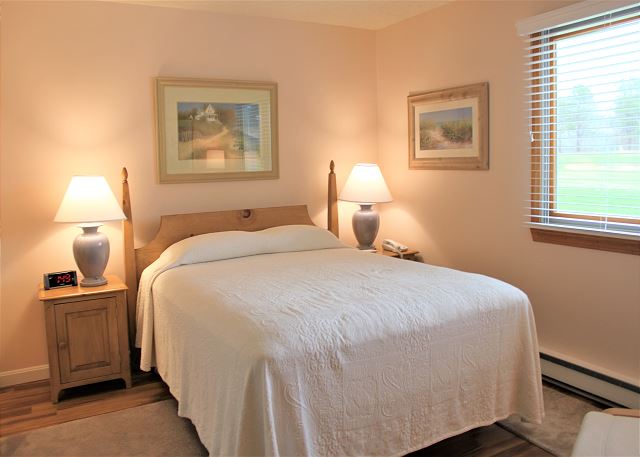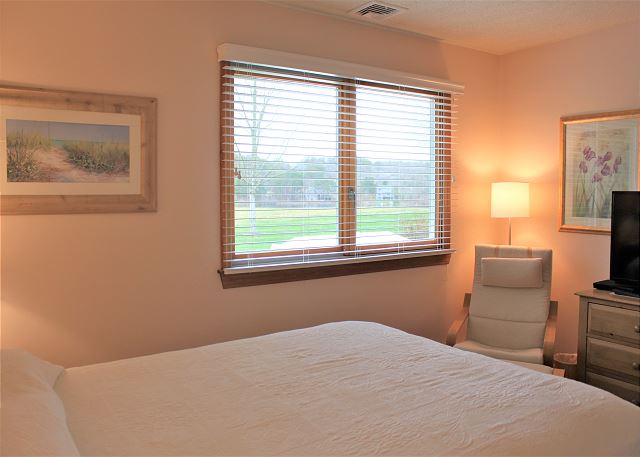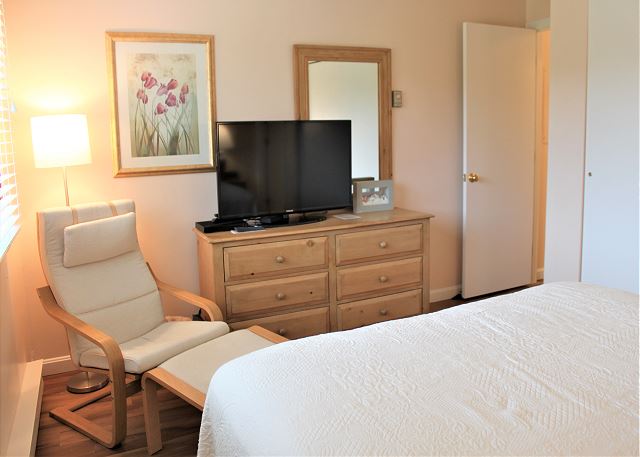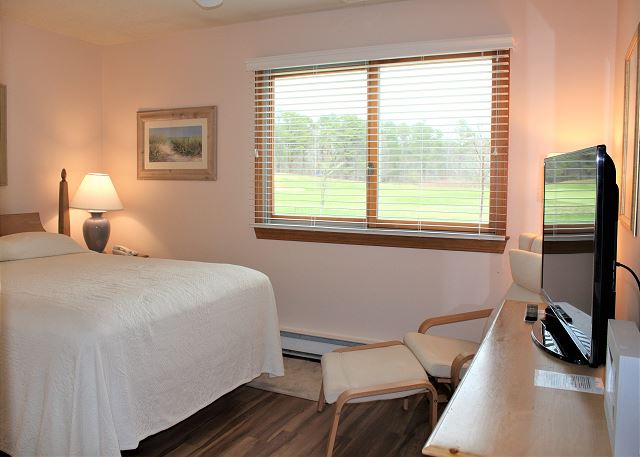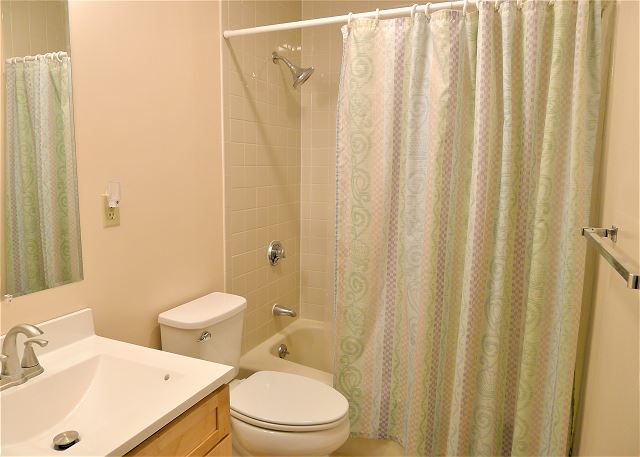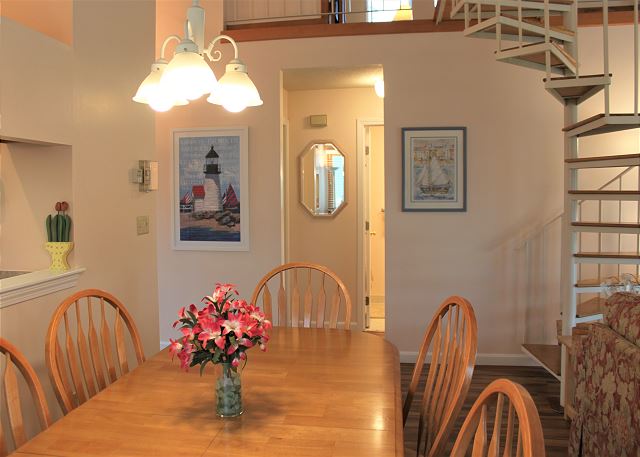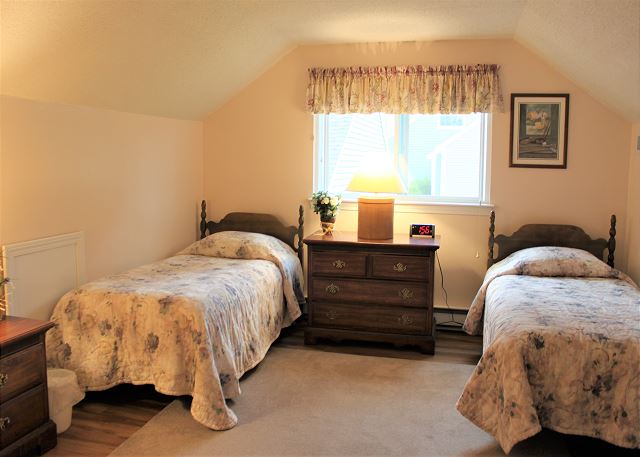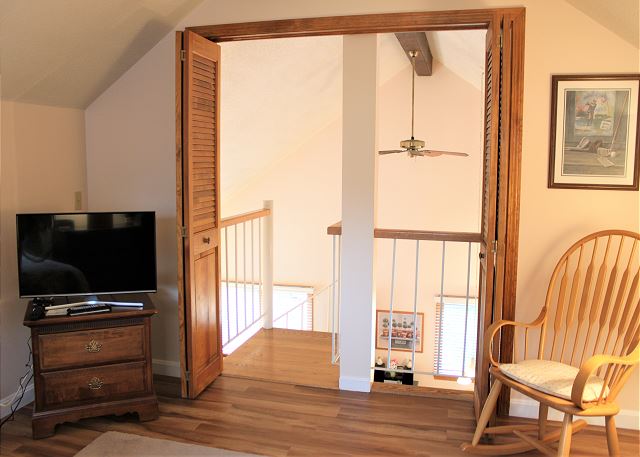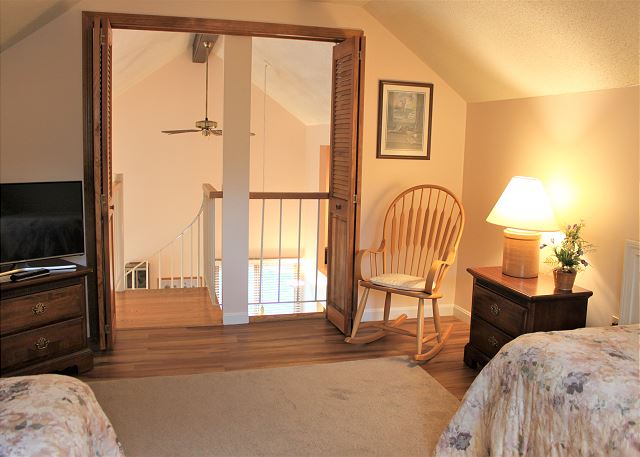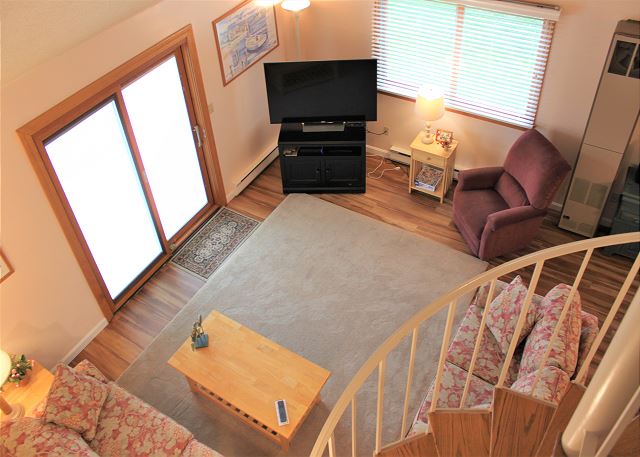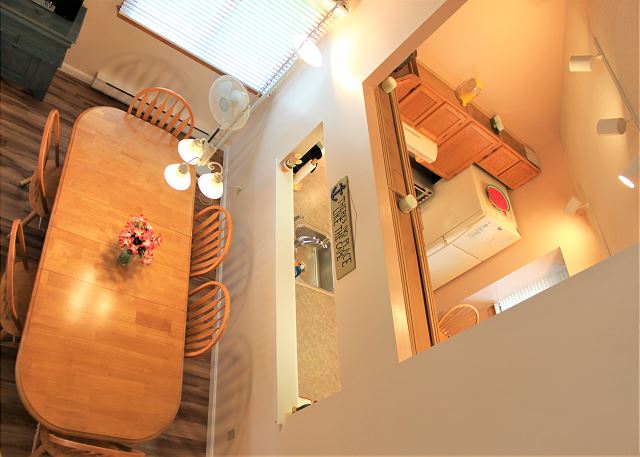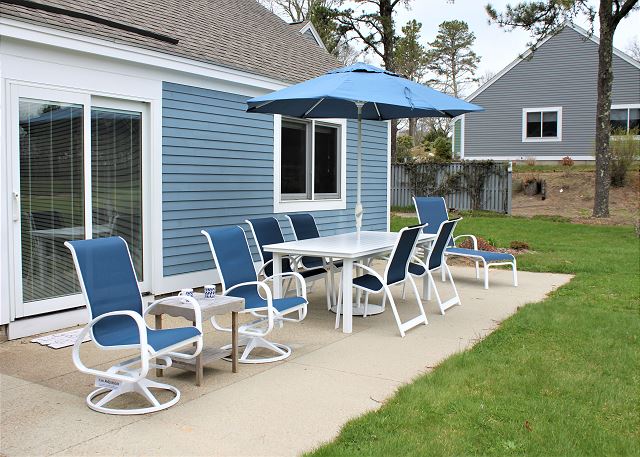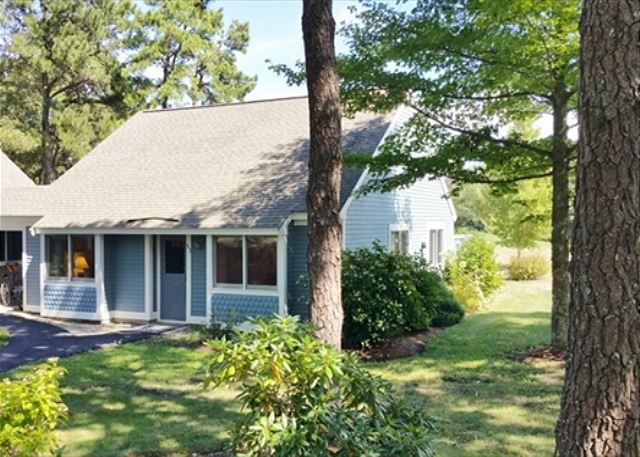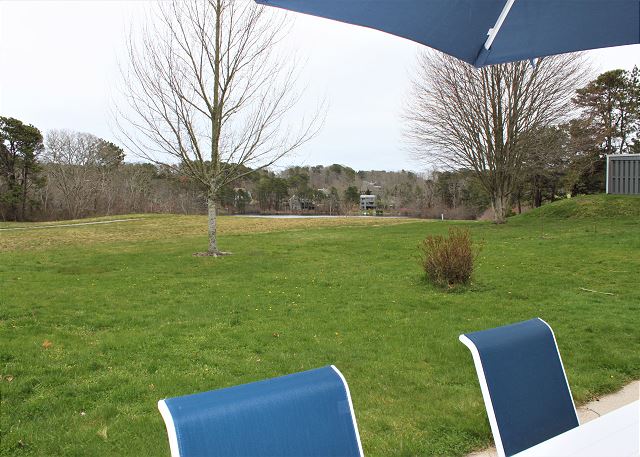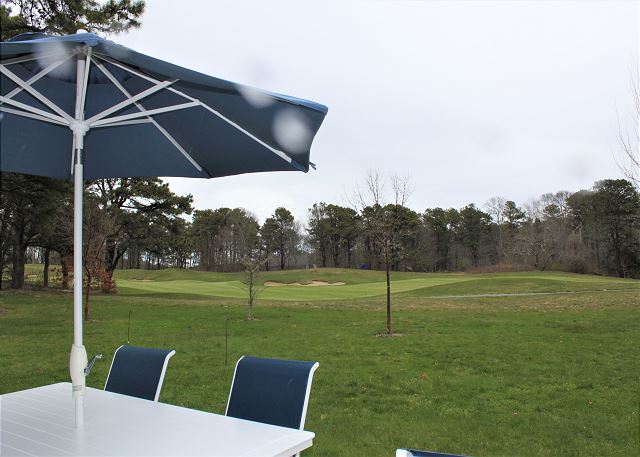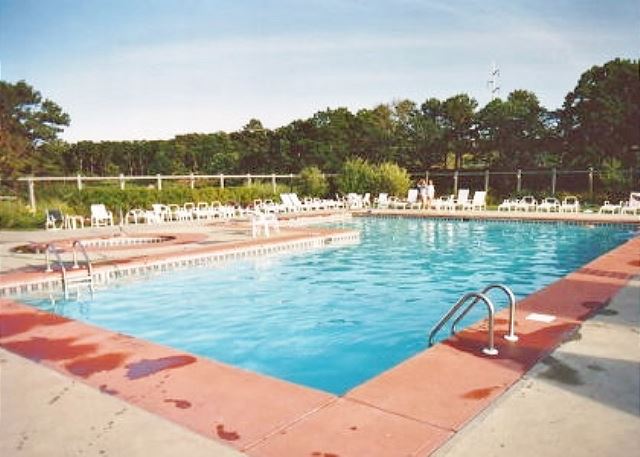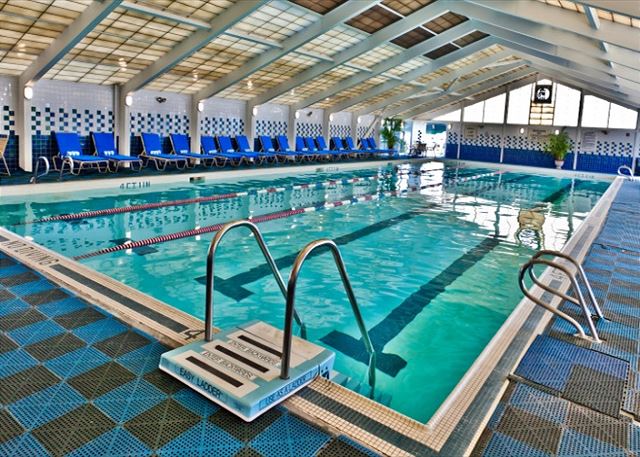 ---
Bedroom(s): 2
Bathroom(s): 2
Sleeps: 6
Type: Townhouse
Area: Middlecott Village
Town: Brewster
One of the loveliest patio homes in Middlecott Village at Ocean Edge Resort, this stand alone house features 3 bedrooms, 2 full baths, Central A/C, an interior living space that is beautifully designed and comfortable, and an oversized patio with outdoor table, umbrella, and chairs for dining or relaxing!

The bright kitchen features gleaming floors and cabinetry and a charming table for two tucked under a front-facing window. It includes a full complement of kitchenware as well as toaster, coffee maker, blender, dishwasher, microwave, and of course, a lobster pot!

The spacious living room and dining area offer plenty of room to enjoy forward technology such as a 55 inch 4k LED TV with extended Comcast cable service and X1 voice activated remote, blu ray as well as DVD and CD players, and stereo. There are two bedrooms downstairs, and a third at the top of the spiral staircase behind louvered doors. Each bedroom has its own smart TV! The main bedroom has a queen bed with new mattress, a full bath ensuite, and ceiling fan. Bedroom Two has two twins with a nearby full bath and ceiling fan. Loft Bedroom Three also has twin beds, and privacy galore.

This detached patio home offers convenience, luxury, and all sorts of recreational possibilities - the hallmarks of a great vacation!

DO YOU HAVE TWO GROUPS WHO WANT TO VACATION "TOGETHER BUT SEPARATE"? ASK ABOUT ALSO RENTING 48 MIDDLECOTT RIGHT ACROSS THE STREET!

Also included : WiFi Internet, washer and dryer, charcoal grill, and parking for two cars.

Guests of this home will have Ocean Edge privileges, except access to the private beach area. The resort charges fees to use these amenities which will include the use of Fletcher indoor & outdoor pools, Fletcher cardio room, and Tennis courts. This home does not include Golf privileges.You must complete your OE guest list and submit it to our office 10 days prior to your stay in order to have privileges.

Remember all Ocean Edge fees are due upon arrival, paid to Ocean Edge directly by Guests if Pool & Tennis are desired.

Sorry no pets and no smoking allowed.

6 guests maximum allowed at any time. No parties exceeding the occupancy limit allowed.

LINENS (SHEETS/TOWELS) ARE NOT INCLUDED IN THIS RENTAL.

Travel Insurance is highly recommended and affordable coverage to protect your vacation investment.

Please view our policy and procedure page on our web site for detailed information about renting with us.

State and local taxes are applicable and may vary based on local ordinances and bylaws. These tax rates are subject to change.
- DVD Player
- Extended Cable
- Ceiling Fan
- WiFi
- Iron/Ironing Board
- Land line telephone
- Washer & Dryer
- Central Air Conditioning
- CD Player
- LCD TV
- Pantry items (sugar, salt & pep)
- Cleaning Supplies
- Cookware
- Dishes / Glassware / Utensils
- Toaster or Toaster Oven
- Dining Table
- Ceiling Fan
- Ceiling Fan
- On Suite Main Bedroom Bath
- lcd tv
- Hair Dryer
- Tub/Shower Combo
- Washer & Dryer
- Patio
- Charcoal Grill
- Dining Table w/ Umbrella
- Shared Pool
- Outdoor Lighting
- Outdoor Seating
- Outdoor Dining Table
- Near Rail Trail Bike Path
- Near Cape Cod Bay Beaches
- Near National Sea Shore Beaches
- Resort Location & Amenities
- On Golf Course
Guest Reviews of
51 middlecott Brewster , MA
Cape Cod 2018 Vacation
Review by
Mary Ann K.
We have stayed at this unit for a few years now and have always been satisfied. The owner keeps his unit immaculate and always updated.
5 out of 5 stars
Ocean Edge Patio Home
Review by
Kathleen H.
Wonderful patio home in Ocean Edge! Near bike trail; Arbor Pool access; tennis courts; beautiful landscaping
5 out of 5 stars
Relaxing week, great location
We loved staying here. My children (7 and 10) shared the upstairs room and loved it. The house is very comfortable and had everything we needed. We biked to Sheep's Pond to swim almost daily (5 miles round trip on the bike path), walked to get coffee and pastries (10 minutes to three or more options), and had easy beach access by bike or car. Being right by the bike path was our favorite part, we used it several times a day.My father with limited mobility was with us and really enjoyed the house. It's friendly and accomodating for kids and seniors, alike.While I thought the beach parking pass was essential and great value (plus really easy to get), I don't think the pool pass is necessary, and I wouldn't purchase it next time - there are so many swimming options with the ponds and ocean.
5 out of 5 stars
Cape Cod Rental
Great experience! One of the best vacation rentals we've stayed in. Home was super clean! Very spacious, large backyard. Would definitely rent again.
5 out of 5 stars
Home away from home
Review by
Thomas S.
AS USUAL "PERFECT"!!!!
5 out of 5 stars
Calnan Review
Review by
Linda C.
Absolutely excellent. We love this condo. This is our 20th year at Ocean Edge staying in various condos and love this one the best so far. We would like to request to stay here again next year from July 17, 2017 to July 24, 2017.
5 out of 5 stars
April 2020

| S | M | T | W | T | F | S |
| --- | --- | --- | --- | --- | --- | --- |
| | | | 01 | 02 | 03 | 04 |
| 05 | 06 | 07 | 08 | 09 | 10 | 11 |
| 12 | 13 | 14 | 15 | 16 | 17 | 18 |
| 19 | 20 | 21 | 22 | 23 | 24 | 25 |
| 26 | 27 | 28 | 29 | 30 | | |
May 2020

| S | M | T | W | T | F | S |
| --- | --- | --- | --- | --- | --- | --- |
| | | | | | 01 | 02 |
| 03 | 04 | 05 | 06 | 07 | 08 | 09 |
| 10 | 11 | 12 | 13 | 14 | 15 | 16 |
| 17 | 18 | 19 | 20 | 21 | 22 | 23 |
| 24 | 25 | 26 | 27 | 28 | 29 | 30 |
| 31 | | | | | | |
June 2020

| S | M | T | W | T | F | S |
| --- | --- | --- | --- | --- | --- | --- |
| | 01 | 02 | 03 | 04 | 05 | 06 |
| 07 | 08 | 09 | 10 | 11 | 12 | 13 |
| 14 | 15 | 16 | 17 | 18 | 19 | 20 |
| 21 | 22 | 23 | 24 | 25 | 26 | 27 |
| 28 | 29 | 30 | | | | |
July 2020

| S | M | T | W | T | F | S |
| --- | --- | --- | --- | --- | --- | --- |
| | | | 01 | 02 | 03 | 04 |
| 05 | 06 | 07 | 08 | 09 | 10 | 11 |
| 12 | 13 | 14 | 15 | 16 | 17 | 18 |
| 19 | 20 | 21 | 22 | 23 | 24 | 25 |
| 26 | 27 | 28 | 29 | 30 | 31 | |
August 2020

| S | M | T | W | T | F | S |
| --- | --- | --- | --- | --- | --- | --- |
| | | | | | | 01 |
| 02 | 03 | 04 | 05 | 06 | 07 | 08 |
| 09 | 10 | 11 | 12 | 13 | 14 | 15 |
| 16 | 17 | 18 | 19 | 20 | 21 | 22 |
| 23 | 24 | 25 | 26 | 27 | 28 | 29 |
| 30 | 31 | | | | | |
September 2020

| S | M | T | W | T | F | S |
| --- | --- | --- | --- | --- | --- | --- |
| | | 01 | 02 | 03 | 04 | 05 |
| 06 | 07 | 08 | 09 | 10 | 11 | 12 |
| 13 | 14 | 15 | 16 | 17 | 18 | 19 |
| 20 | 21 | 22 | 23 | 24 | 25 | 26 |
| 27 | 28 | 29 | 30 | | | |
October 2020

| S | M | T | W | T | F | S |
| --- | --- | --- | --- | --- | --- | --- |
| | | | | 01 | 02 | 03 |
| 04 | 05 | 06 | 07 | 08 | 09 | 10 |
| 11 | 12 | 13 | 14 | 15 | 16 | 17 |
| 18 | 19 | 20 | 21 | 22 | 23 | 24 |
| 25 | 26 | 27 | 28 | 29 | 30 | 31 |
November 2020

| S | M | T | W | T | F | S |
| --- | --- | --- | --- | --- | --- | --- |
| 01 | 02 | 03 | 04 | 05 | 06 | 07 |
| 08 | 09 | 10 | 11 | 12 | 13 | 14 |
| 15 | 16 | 17 | 18 | 19 | 20 | 21 |
| 22 | 23 | 24 | 25 | 26 | 27 | 28 |
| 29 | 30 | | | | | |
December 2020

| S | M | T | W | T | F | S |
| --- | --- | --- | --- | --- | --- | --- |
| | | 01 | 02 | 03 | 04 | 05 |
| 06 | 07 | 08 | 09 | 10 | 11 | 12 |
| 13 | 14 | 15 | 16 | 17 | 18 | 19 |
| 20 | 21 | 22 | 23 | 24 | 25 | 26 |
| 27 | 28 | 29 | 30 | 31 | | |
January 2021

| S | M | T | W | T | F | S |
| --- | --- | --- | --- | --- | --- | --- |
| | | | | | 01 | 02 |
| 03 | 04 | 05 | 06 | 07 | 08 | 09 |
| 10 | 11 | 12 | 13 | 14 | 15 | 16 |
| 17 | 18 | 19 | 20 | 21 | 22 | 23 |
| 24 | 25 | 26 | 27 | 28 | 29 | 30 |
| 31 | | | | | | |
February 2021

| S | M | T | W | T | F | S |
| --- | --- | --- | --- | --- | --- | --- |
| | 01 | 02 | 03 | 04 | 05 | 06 |
| 07 | 08 | 09 | 10 | 11 | 12 | 13 |
| 14 | 15 | 16 | 17 | 18 | 19 | 20 |
| 21 | 22 | 23 | 24 | 25 | 26 | 27 |
| 28 | | | | | | |
March 2021

| S | M | T | W | T | F | S |
| --- | --- | --- | --- | --- | --- | --- |
| | 01 | 02 | 03 | 04 | 05 | 06 |
| 07 | 08 | 09 | 10 | 11 | 12 | 13 |
| 14 | 15 | 16 | 17 | 18 | 19 | 20 |
| 21 | 22 | 23 | 24 | 25 | 26 | 27 |
| 28 | 29 | 30 | 31 | | | |
April 2021

| S | M | T | W | T | F | S |
| --- | --- | --- | --- | --- | --- | --- |
| | | | | 01 | 02 | 03 |
| 04 | 05 | 06 | 07 | 08 | 09 | 10 |
| 11 | 12 | 13 | 14 | 15 | 16 | 17 |
| 18 | 19 | 20 | 21 | 22 | 23 | 24 |
| 25 | 26 | 27 | 28 | 29 | 30 | |
Available
Unavailable
Sat to Sat booking