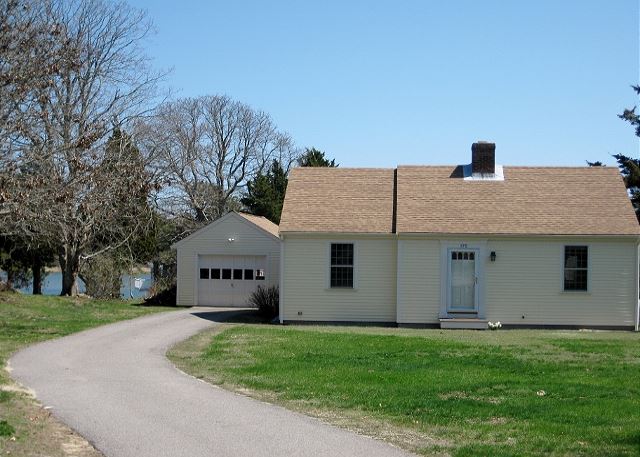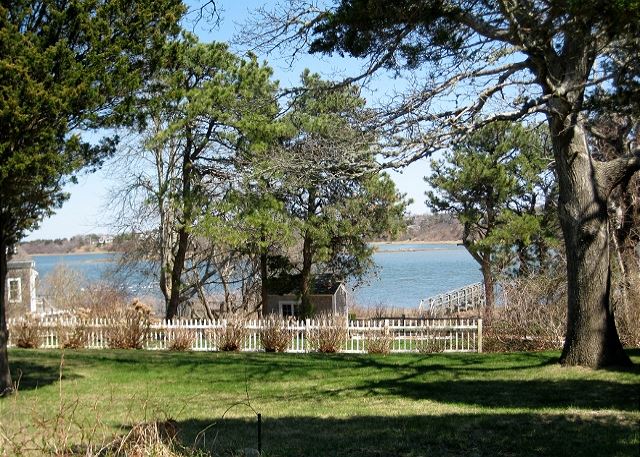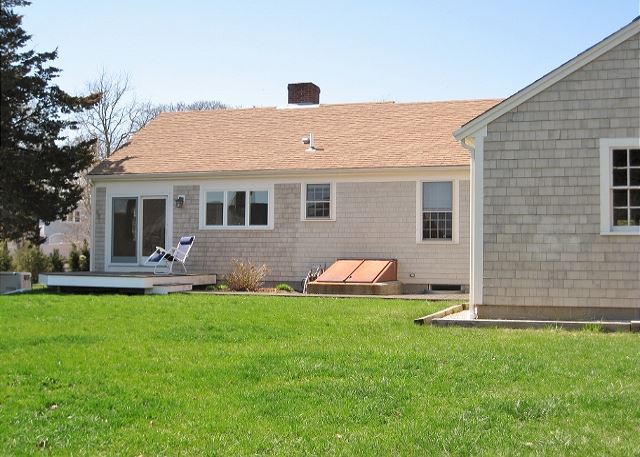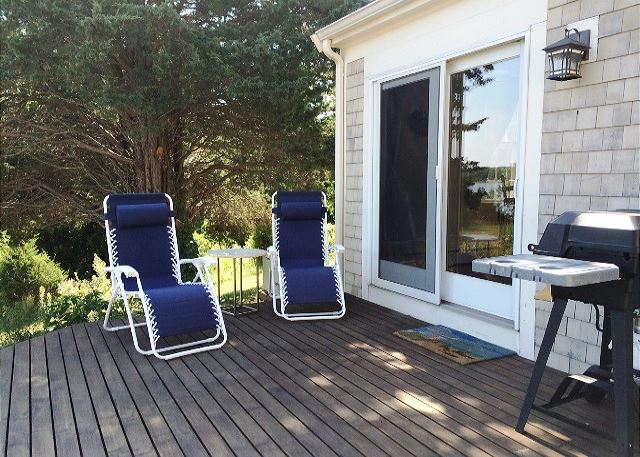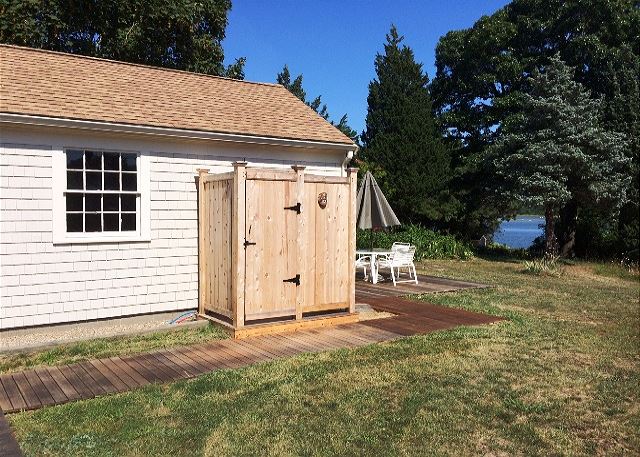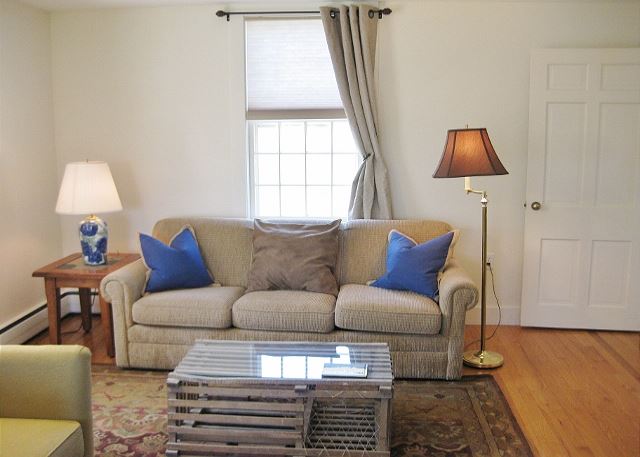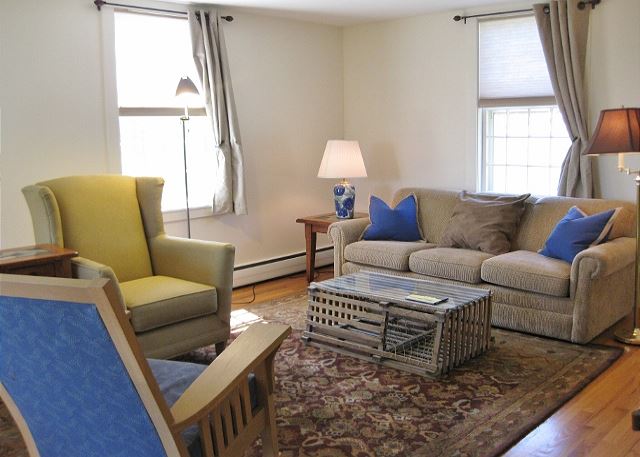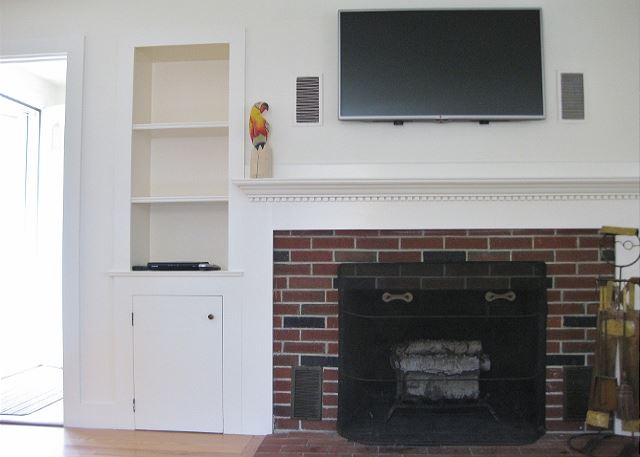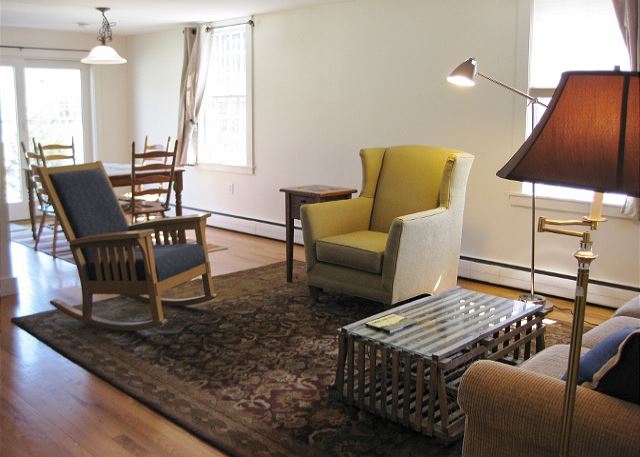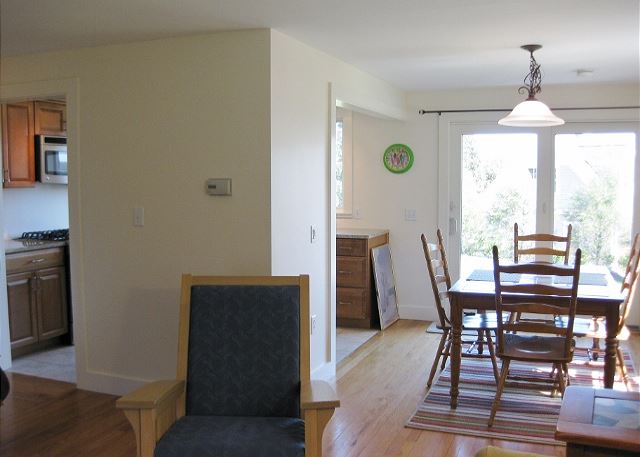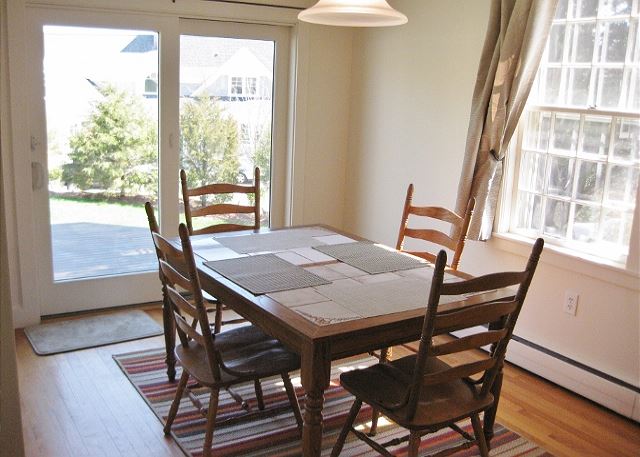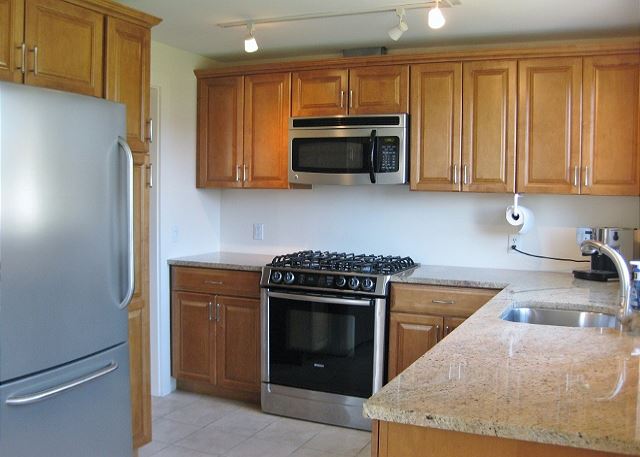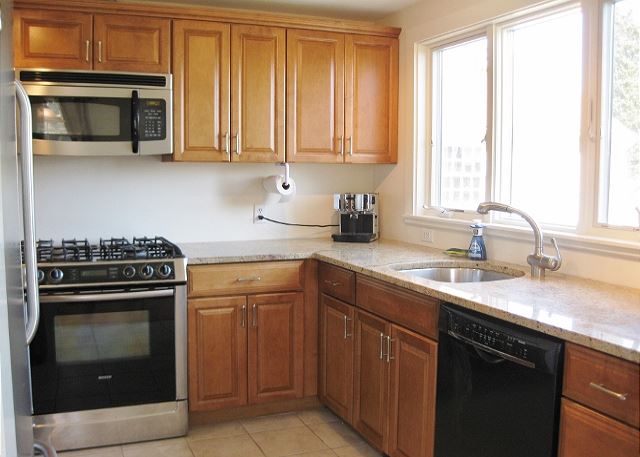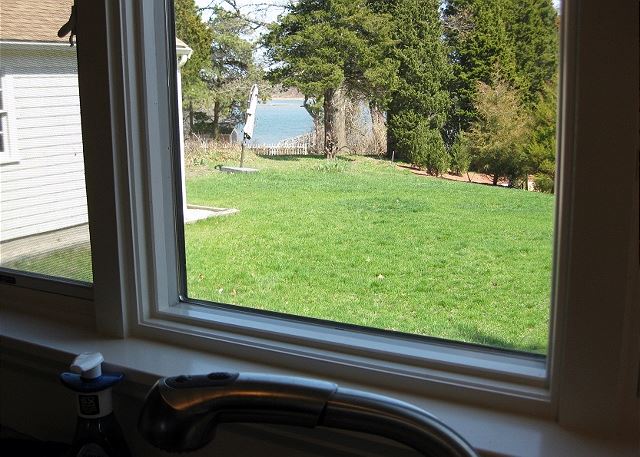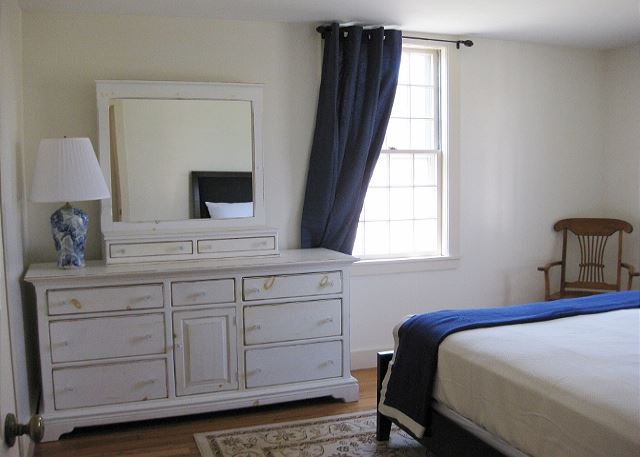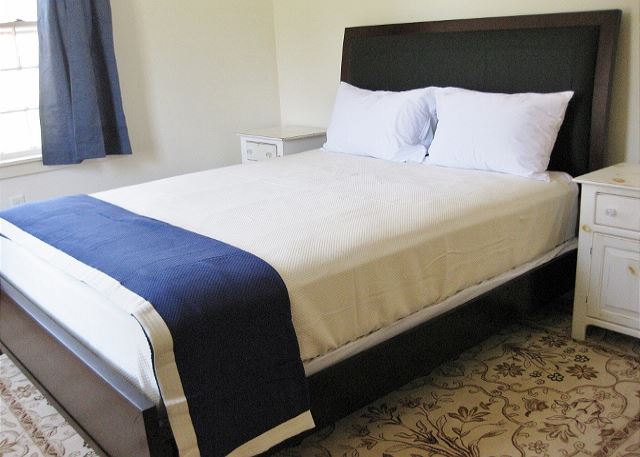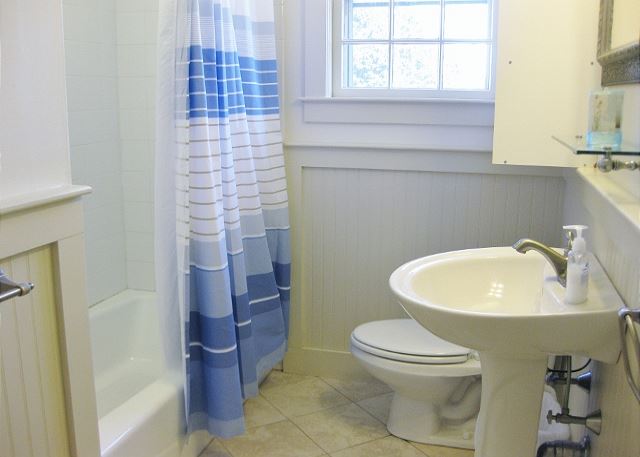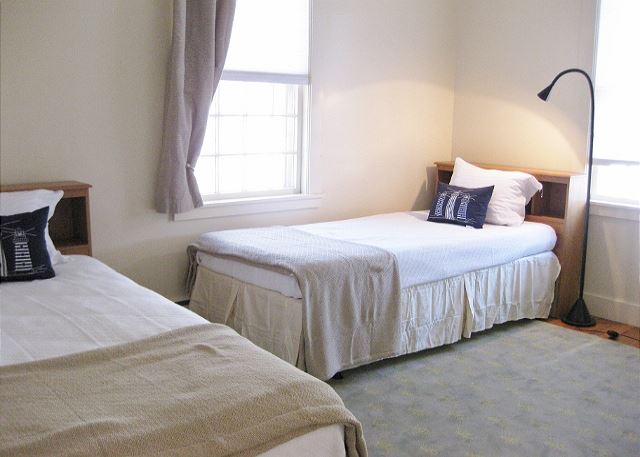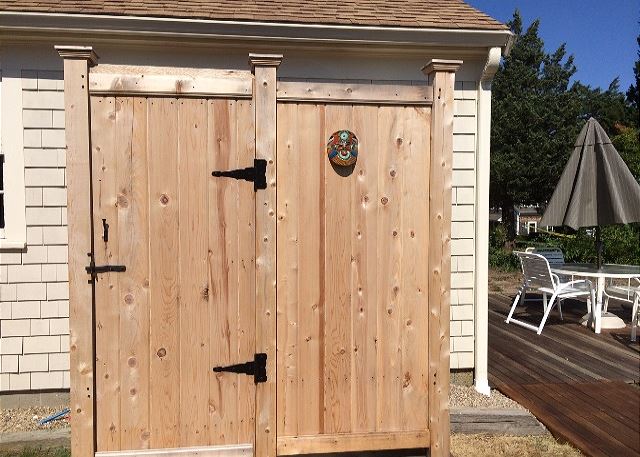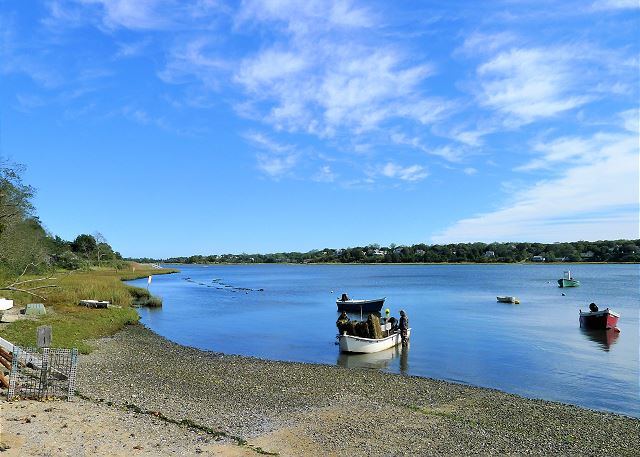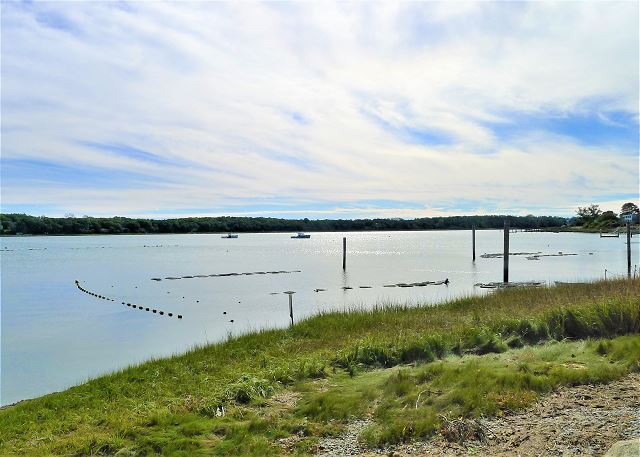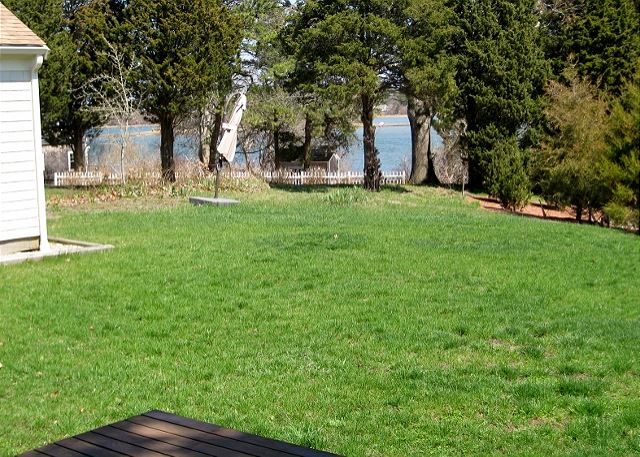 ---
Bedroom(s): 2
Bathroom(s): 1
Sleeps: 4
Type: House
Area: First Encounter Beach
Town: Eastham
This beautifully renovated 2 bedroom, 1 bath home sits just one house away from Town Cove in Eastham.

Enjoy your summer vacation from this picture perfect one story Cape that features a generous living and dining space, a sleek kitchen with tile floors, stainless steel appliances, and granite counter tops. A front to back living and dining area showcases burnished wood floors that extend throughout the home. There are sliding glass doors that face an outside deck complete with gas grill and outdoor dining and lounge furniture. From the deck and a second gathering space on the patio closer to the water, you are treated to intermittent views of Town Cove and the unmistakable scent of the sea.

Down the hallway on the right is a beautifully designed bath with tub/shower combination, tiled floor and surround, and contemporary appointments - from light fixture to pedestal sink.

There are two spacious-bedrooms, each with plenty of closet space and large windows overlooking pretty lawns and clusters of shade trees. From this home, you can easily access any bay or ocean beach or pond in Eastham or Orleans.

Bedroom #1 has a queen bed; #2 has two twins.

Other amenities include washer and dryer, enclosed outdoor shower, WiFi internet, and a 42 inch flat screened TV in the living room with Comcast cable.

Sorry no pets and no smoking allowed.

4 guests maximum allowed at any time. No parties exceeding the occupancy limit allowed.

Travel insurance is highly recommended and affordable coverage to protect your vacation investment.

Please view our policy and procedure page on our web site for detailed information about renting with us.

State and local taxes are applicable and may vary based on local ordinances and bylaws. Tax rates are subject to change.
- Flat Screen HDTV
- Basic Cable
- Deck
- WiFi
- Iron/Ironing Board
- Washer & Dryer
- Room Or Window Fans
- Flat Screen TV
- Microwave
- Drip Coffee Maker
- Dishes / Glassware / Utensils
- Kitchen Table
- Blender
- Iron
- Keurig Coffee Maker
- Toaster or Toaster Oven
- Dishwasher
- Laundry
- Lobster Pot
- Keurig Coffee Maker
- microwave
- ironing board
- Toaster
- Dining Table
- Deck
- Room Fans
- Tub/Shower Combo
- washer
- dryer
- washer and dryer basement
- Deck
- Patio
- Gas Grill with Propane Tank
- Dining Table w/o Umbrella
- Enclosed Outdoor Shower
- Outdoor Lighting
Guest Reviews of
town cove's edge Eastham , MA
View of the Cove
Review by
Laura F.
A perfect little house for 1-2 couples with a view of the cove.
5 out of 5 stars
Lovely spot in Eastham
Review by
Tracy B.
This little gem has been completely and tastefully renovated. The somewhat awkward street location was more than made up for by the exquisite views and setting in the back of the home. It is also conveniently located to both Eastham and Orleans beaches. The ONLY downside: needs window AC units in the bedrooms and living room (we were there during the hottest month this summer and it was sweltering).
4 out of 5 stars
570 State Highway
Review by
Fiona C.
We had a great time. Everything we needed was provided exceot lonen which although we brought our own wasn't all that conveneient when travelling from the UK. Air Con would have been nice but the fans were OK. Occasional road noise at busy times and very occasionally difficulties in getting out. The position was very convenient and pretty and we loved the outdoor seating and shower.
5 out of 5 stars
Great House, great location!
The house was lovely. It was move in ready and we had nothing to do but unpack. It was clean and felt brand new. The property was well maintained and we had a nice view of the water. It could only have been better if there was actually water access. We would recommend this house to everyone and stay there again ourselves.
5 out of 5 stars
570 State Highway Review
Really perfect! House in great location for us, clean and well kept
5 out of 5 stars
April 2020

| S | M | T | W | T | F | S |
| --- | --- | --- | --- | --- | --- | --- |
| | | | 01 | 02 | 03 | 04 |
| 05 | 06 | 07 | 08 | 09 | 10 | 11 |
| 12 | 13 | 14 | 15 | 16 | 17 | 18 |
| 19 | 20 | 21 | 22 | 23 | 24 | 25 |
| 26 | 27 | 28 | 29 | 30 | | |
May 2020

| S | M | T | W | T | F | S |
| --- | --- | --- | --- | --- | --- | --- |
| | | | | | 01 | 02 |
| 03 | 04 | 05 | 06 | 07 | 08 | 09 |
| 10 | 11 | 12 | 13 | 14 | 15 | 16 |
| 17 | 18 | 19 | 20 | 21 | 22 | 23 |
| 24 | 25 | 26 | 27 | 28 | 29 | 30 |
| 31 | | | | | | |
June 2020

| S | M | T | W | T | F | S |
| --- | --- | --- | --- | --- | --- | --- |
| | 01 | 02 | 03 | 04 | 05 | 06 |
| 07 | 08 | 09 | 10 | 11 | 12 | 13 |
| 14 | 15 | 16 | 17 | 18 | 19 | 20 |
| 21 | 22 | 23 | 24 | 25 | 26 | 27 |
| 28 | 29 | 30 | | | | |
July 2020

| S | M | T | W | T | F | S |
| --- | --- | --- | --- | --- | --- | --- |
| | | | 01 | 02 | 03 | 04 |
| 05 | 06 | 07 | 08 | 09 | 10 | 11 |
| 12 | 13 | 14 | 15 | 16 | 17 | 18 |
| 19 | 20 | 21 | 22 | 23 | 24 | 25 |
| 26 | 27 | 28 | 29 | 30 | 31 | |
August 2020

| S | M | T | W | T | F | S |
| --- | --- | --- | --- | --- | --- | --- |
| | | | | | | 01 |
| 02 | 03 | 04 | 05 | 06 | 07 | 08 |
| 09 | 10 | 11 | 12 | 13 | 14 | 15 |
| 16 | 17 | 18 | 19 | 20 | 21 | 22 |
| 23 | 24 | 25 | 26 | 27 | 28 | 29 |
| 30 | 31 | | | | | |
September 2020

| S | M | T | W | T | F | S |
| --- | --- | --- | --- | --- | --- | --- |
| | | 01 | 02 | 03 | 04 | 05 |
| 06 | 07 | 08 | 09 | 10 | 11 | 12 |
| 13 | 14 | 15 | 16 | 17 | 18 | 19 |
| 20 | 21 | 22 | 23 | 24 | 25 | 26 |
| 27 | 28 | 29 | 30 | | | |
October 2020

| S | M | T | W | T | F | S |
| --- | --- | --- | --- | --- | --- | --- |
| | | | | 01 | 02 | 03 |
| 04 | 05 | 06 | 07 | 08 | 09 | 10 |
| 11 | 12 | 13 | 14 | 15 | 16 | 17 |
| 18 | 19 | 20 | 21 | 22 | 23 | 24 |
| 25 | 26 | 27 | 28 | 29 | 30 | 31 |
November 2020

| S | M | T | W | T | F | S |
| --- | --- | --- | --- | --- | --- | --- |
| 01 | 02 | 03 | 04 | 05 | 06 | 07 |
| 08 | 09 | 10 | 11 | 12 | 13 | 14 |
| 15 | 16 | 17 | 18 | 19 | 20 | 21 |
| 22 | 23 | 24 | 25 | 26 | 27 | 28 |
| 29 | 30 | | | | | |
December 2020

| S | M | T | W | T | F | S |
| --- | --- | --- | --- | --- | --- | --- |
| | | 01 | 02 | 03 | 04 | 05 |
| 06 | 07 | 08 | 09 | 10 | 11 | 12 |
| 13 | 14 | 15 | 16 | 17 | 18 | 19 |
| 20 | 21 | 22 | 23 | 24 | 25 | 26 |
| 27 | 28 | 29 | 30 | 31 | | |
January 2021

| S | M | T | W | T | F | S |
| --- | --- | --- | --- | --- | --- | --- |
| | | | | | 01 | 02 |
| 03 | 04 | 05 | 06 | 07 | 08 | 09 |
| 10 | 11 | 12 | 13 | 14 | 15 | 16 |
| 17 | 18 | 19 | 20 | 21 | 22 | 23 |
| 24 | 25 | 26 | 27 | 28 | 29 | 30 |
| 31 | | | | | | |
February 2021

| S | M | T | W | T | F | S |
| --- | --- | --- | --- | --- | --- | --- |
| | 01 | 02 | 03 | 04 | 05 | 06 |
| 07 | 08 | 09 | 10 | 11 | 12 | 13 |
| 14 | 15 | 16 | 17 | 18 | 19 | 20 |
| 21 | 22 | 23 | 24 | 25 | 26 | 27 |
| 28 | | | | | | |
March 2021

| S | M | T | W | T | F | S |
| --- | --- | --- | --- | --- | --- | --- |
| | 01 | 02 | 03 | 04 | 05 | 06 |
| 07 | 08 | 09 | 10 | 11 | 12 | 13 |
| 14 | 15 | 16 | 17 | 18 | 19 | 20 |
| 21 | 22 | 23 | 24 | 25 | 26 | 27 |
| 28 | 29 | 30 | 31 | | | |
April 2021

| S | M | T | W | T | F | S |
| --- | --- | --- | --- | --- | --- | --- |
| | | | | 01 | 02 | 03 |
| 04 | 05 | 06 | 07 | 08 | 09 | 10 |
| 11 | 12 | 13 | 14 | 15 | 16 | 17 |
| 18 | 19 | 20 | 21 | 22 | 23 | 24 |
| 25 | 26 | 27 | 28 | 29 | 30 | |
Available
Unavailable
Sat to Sat booking