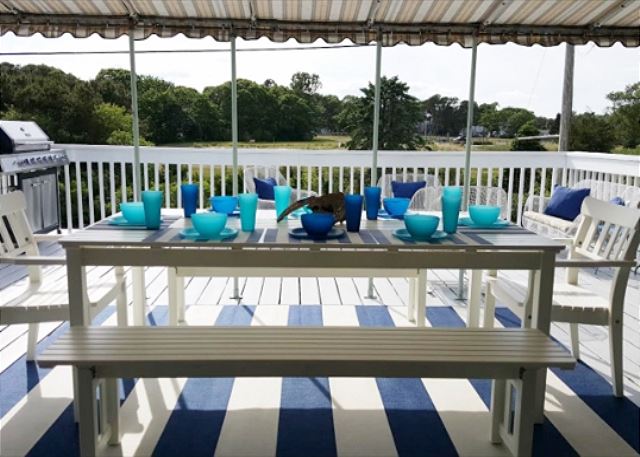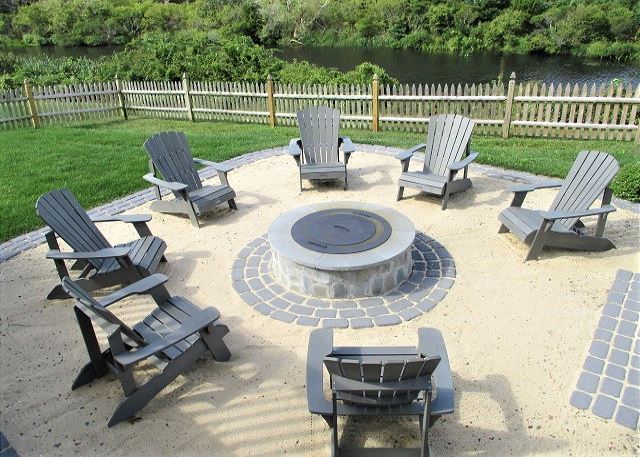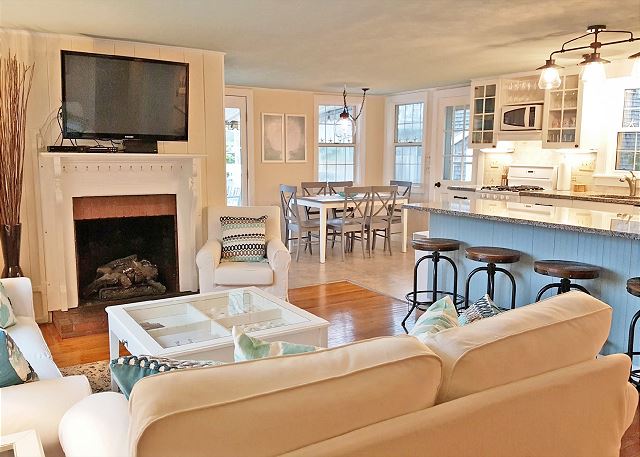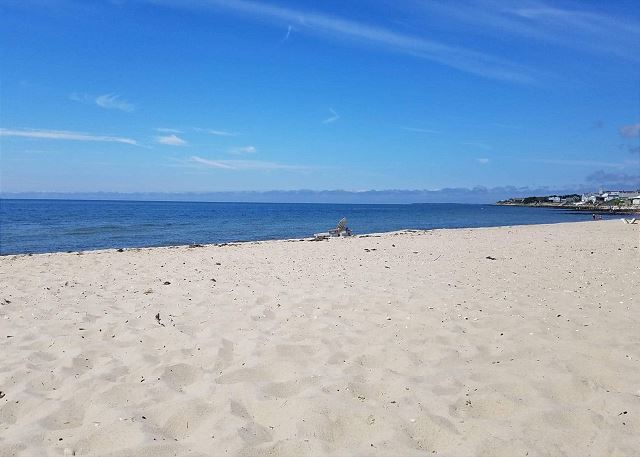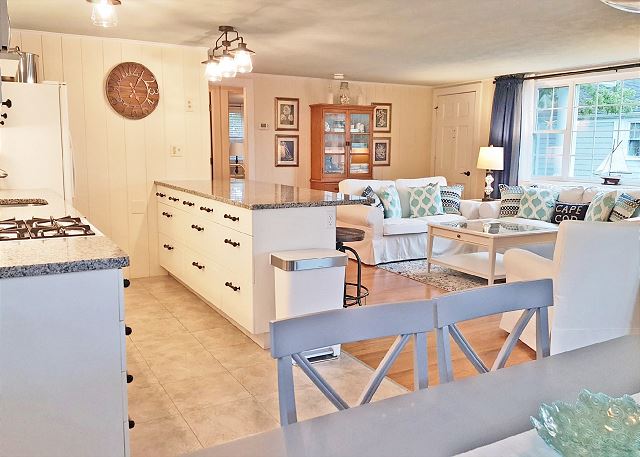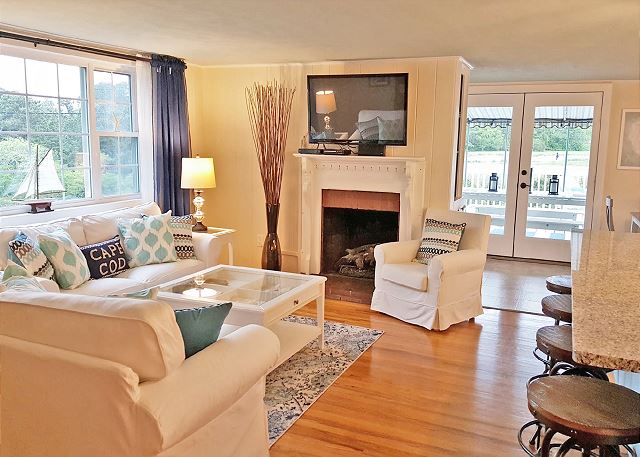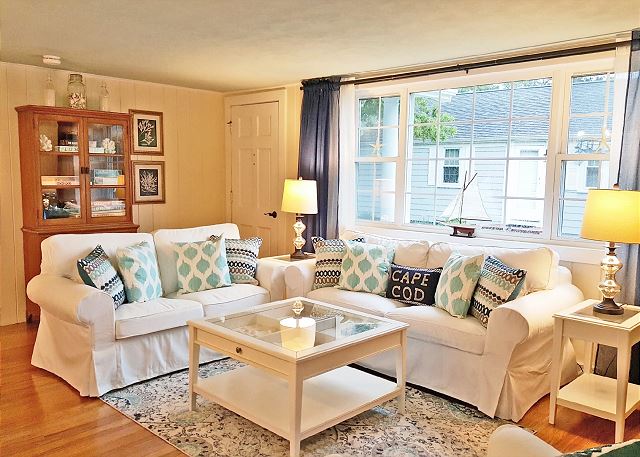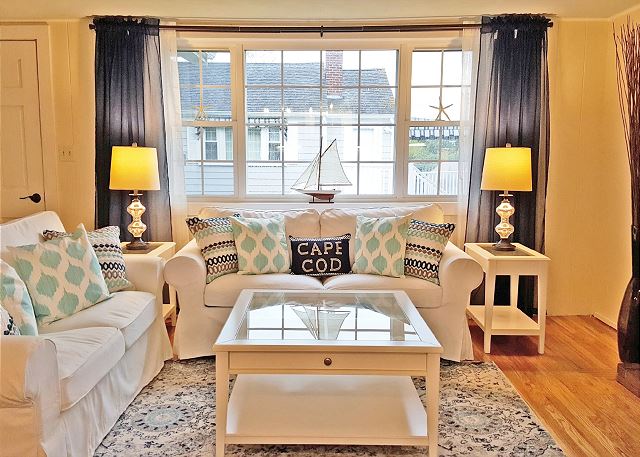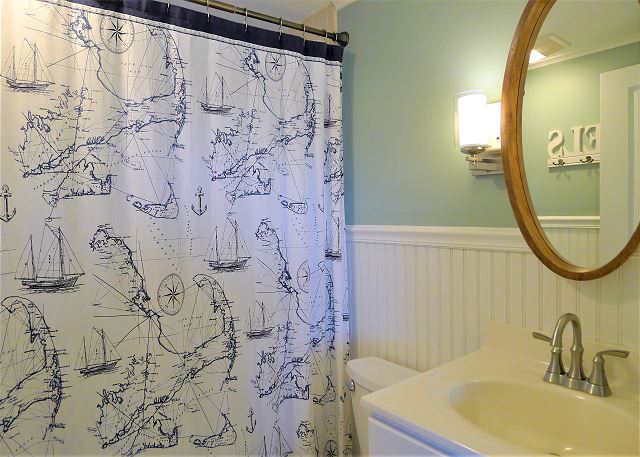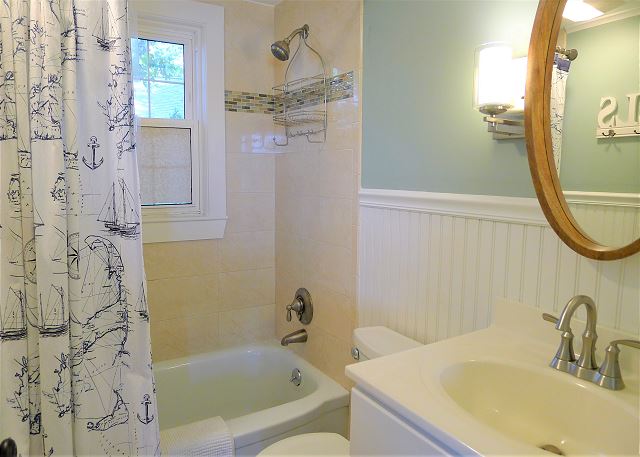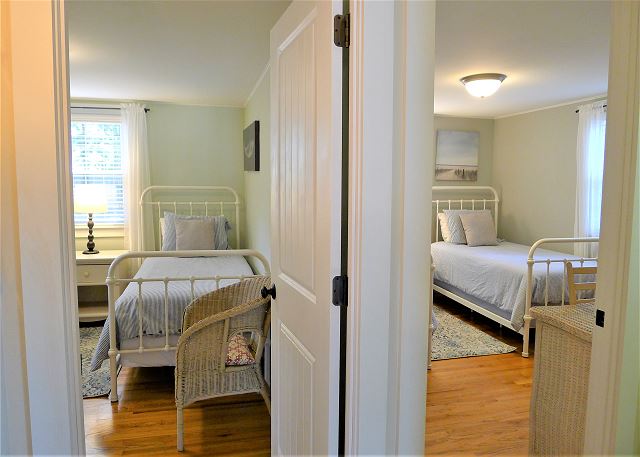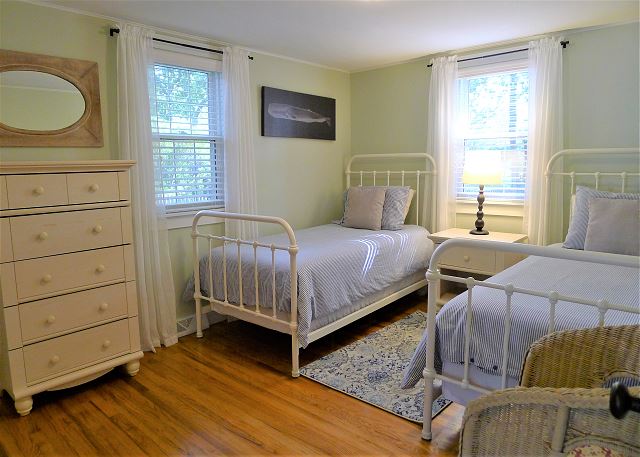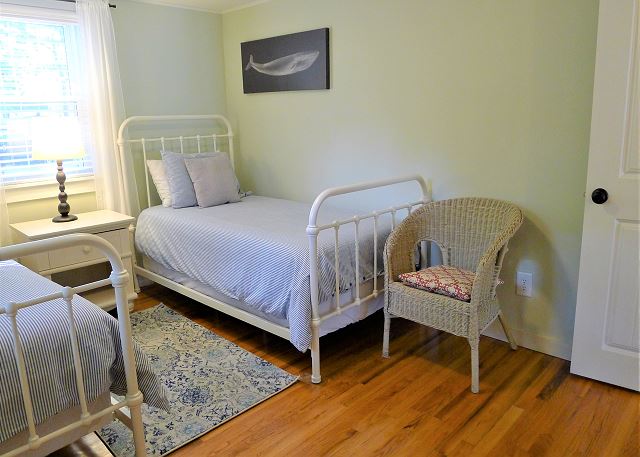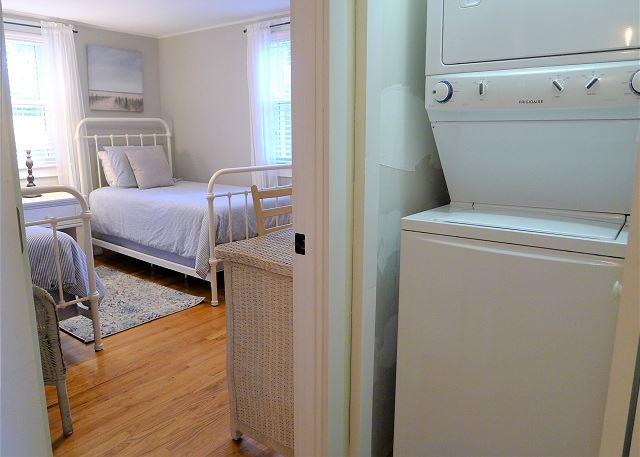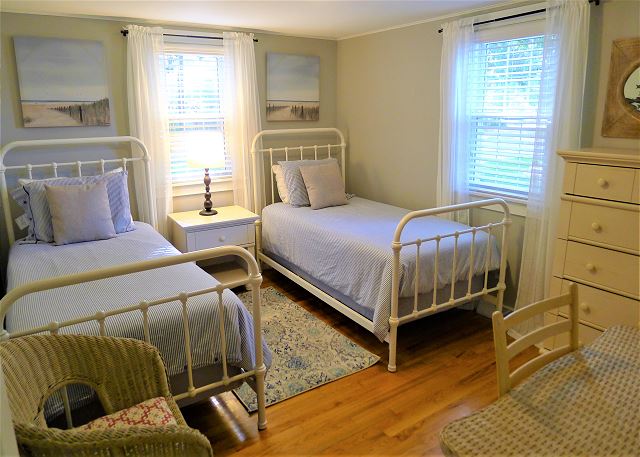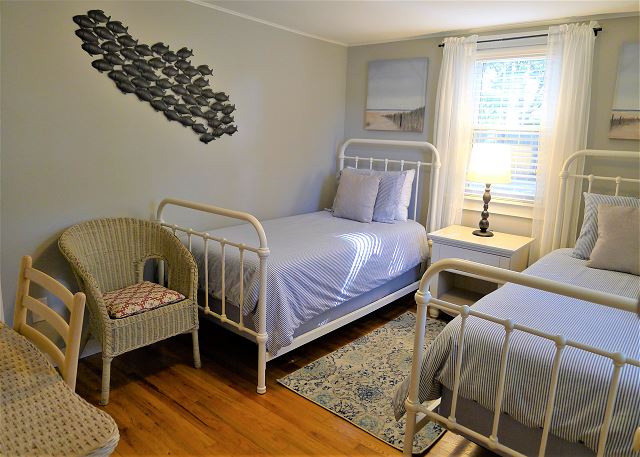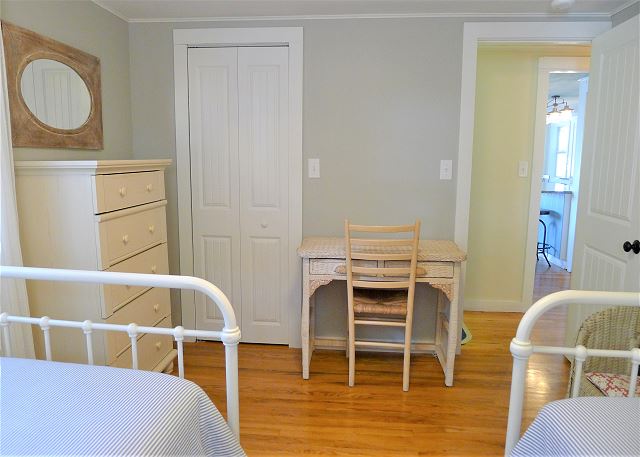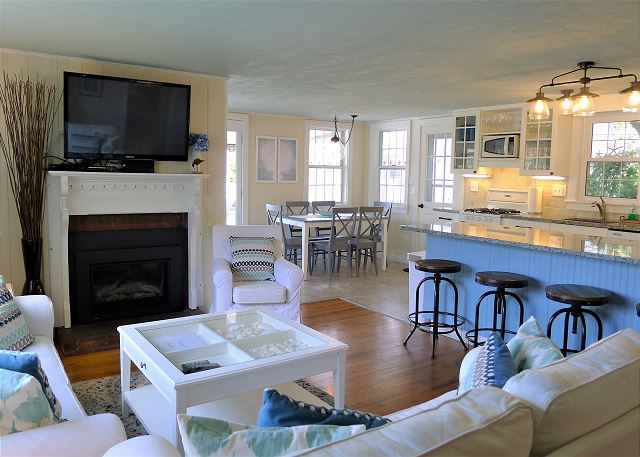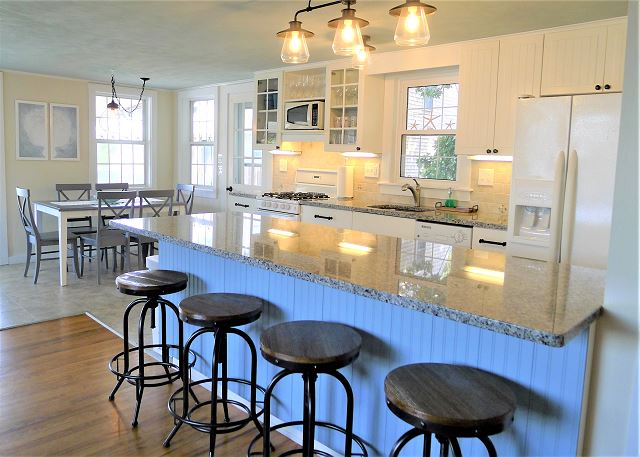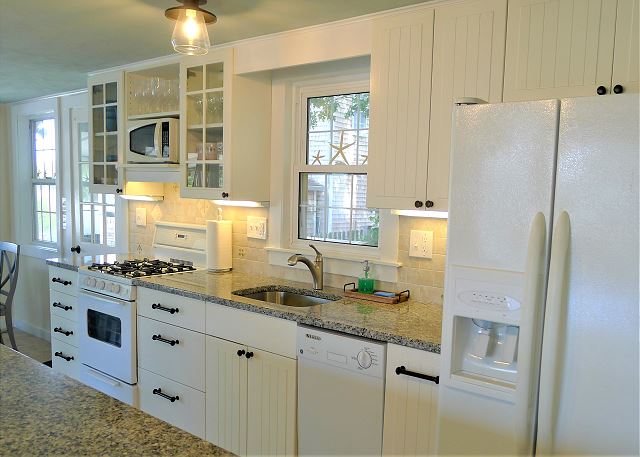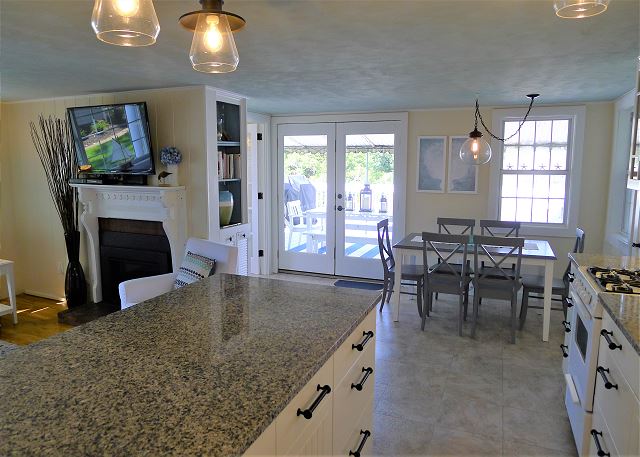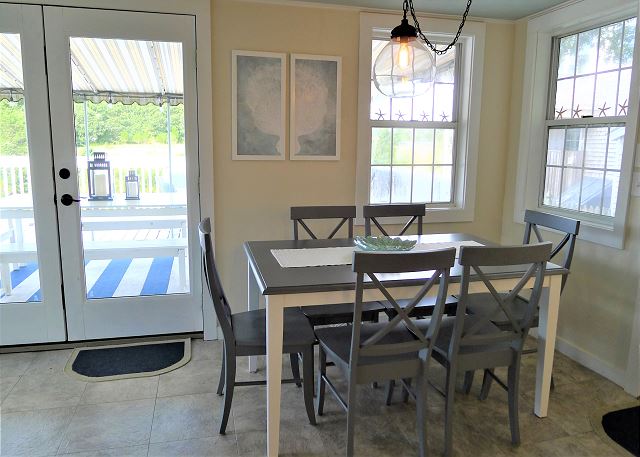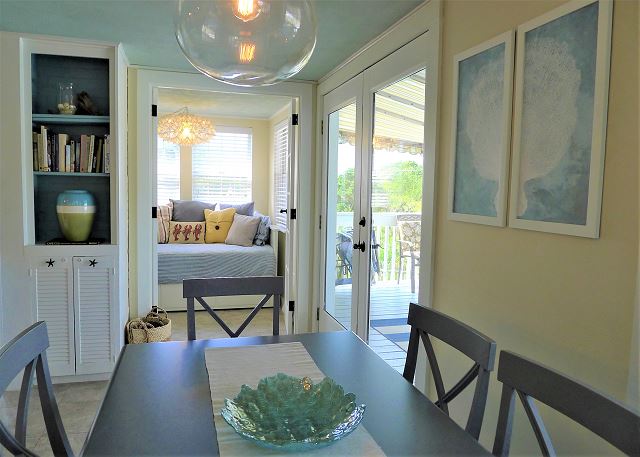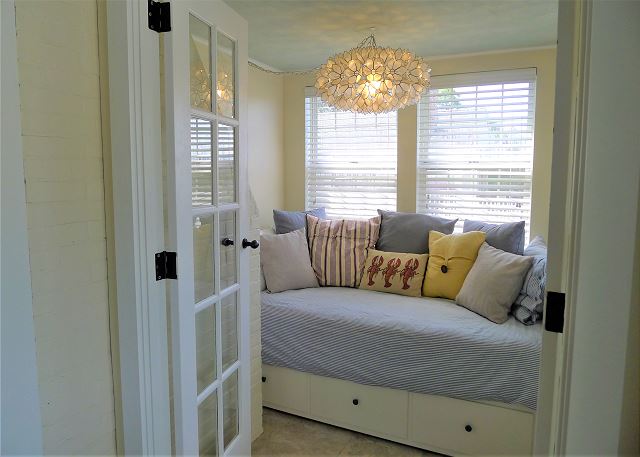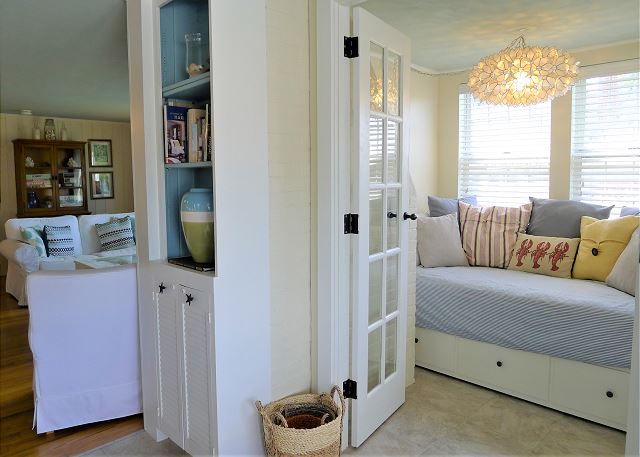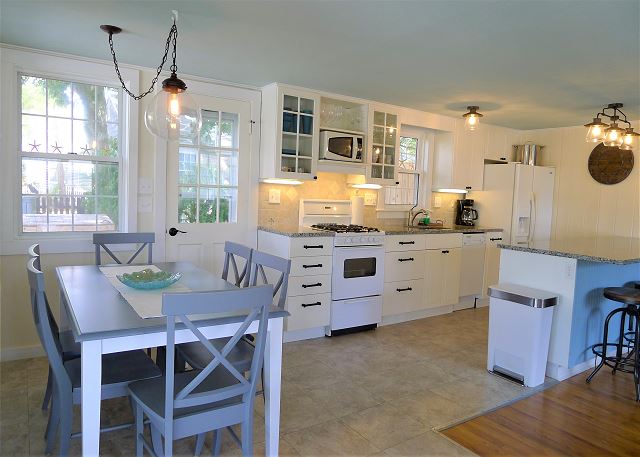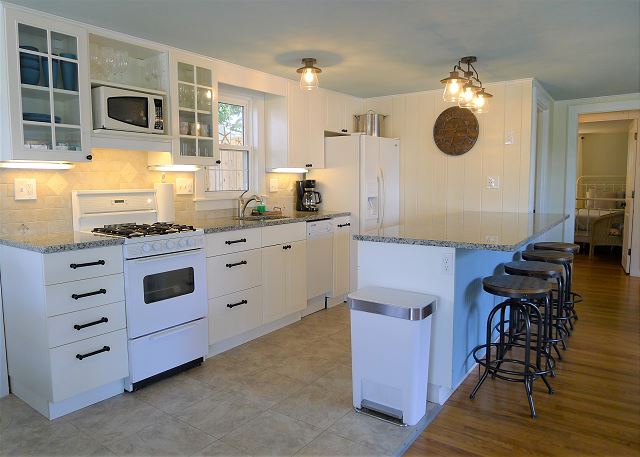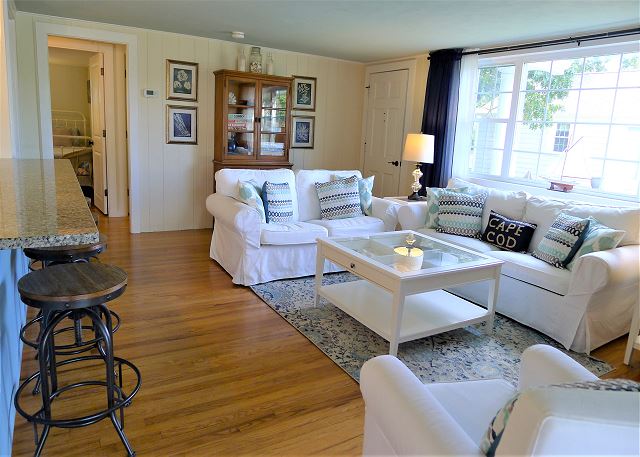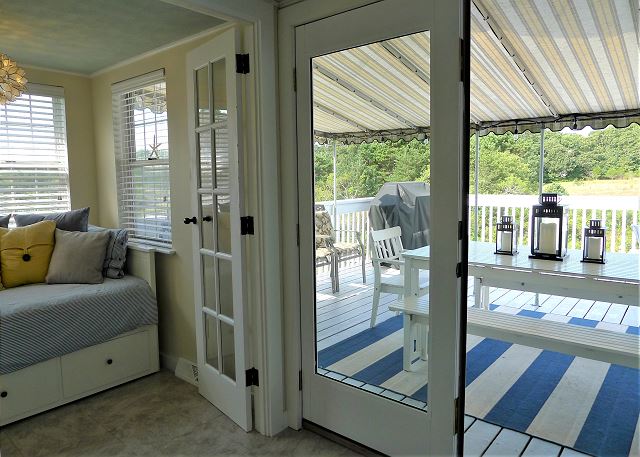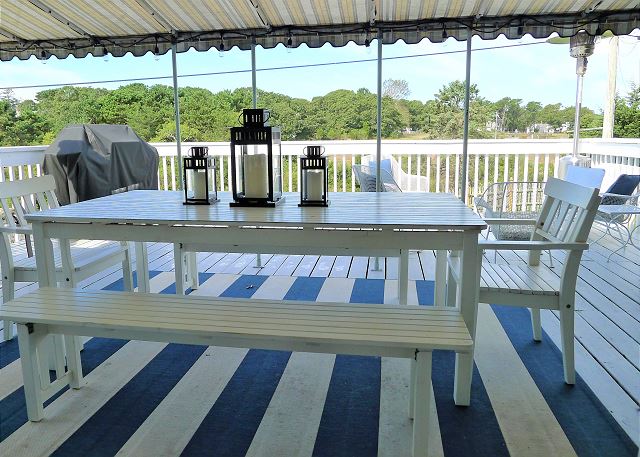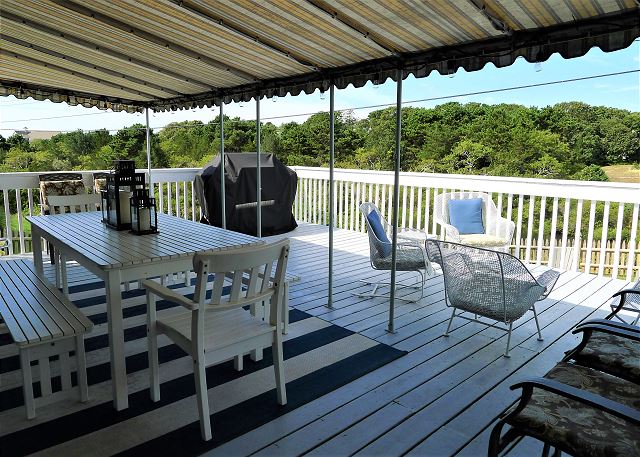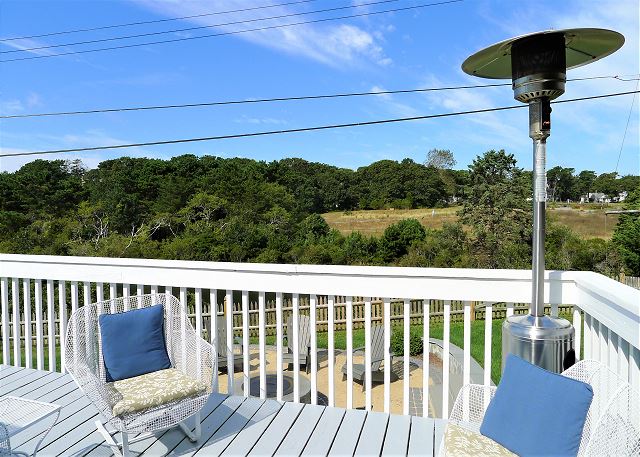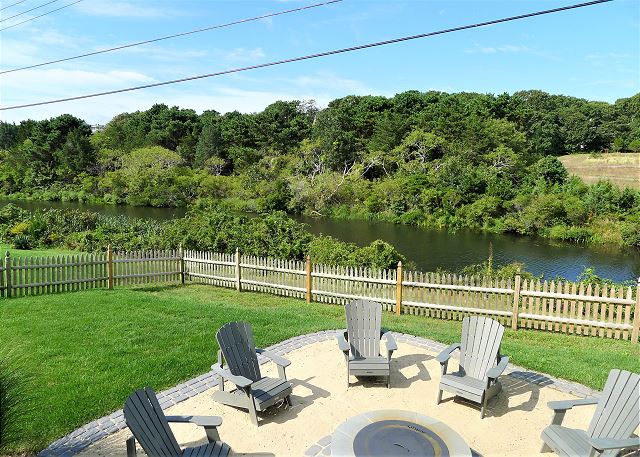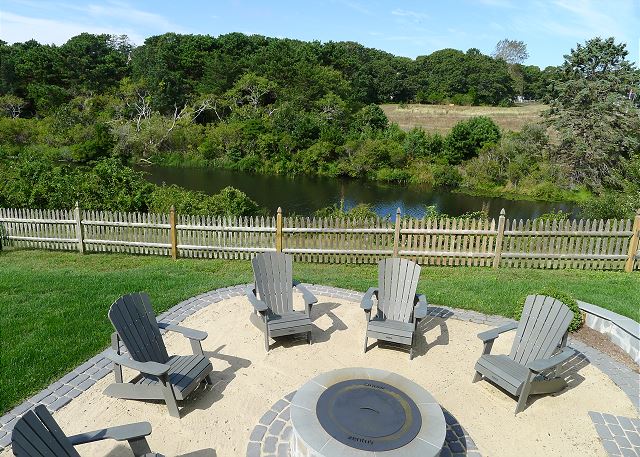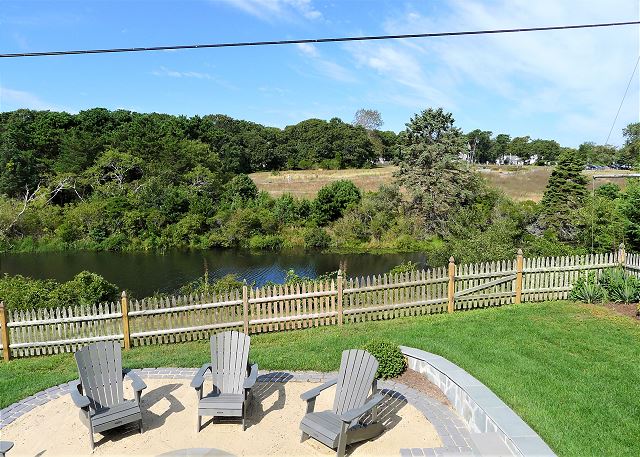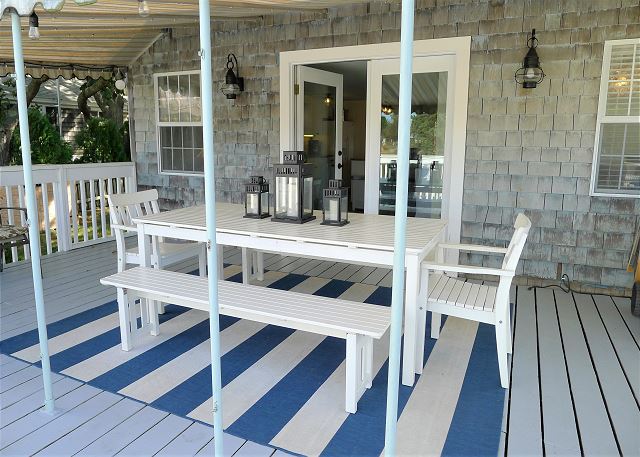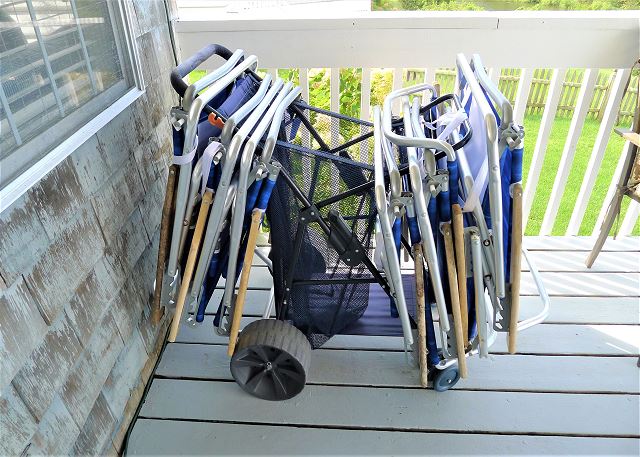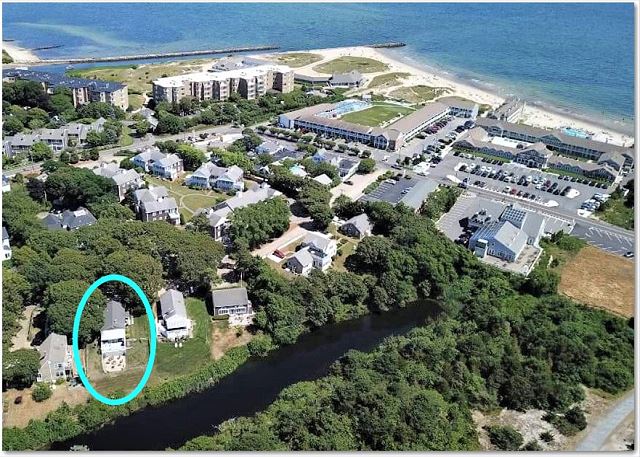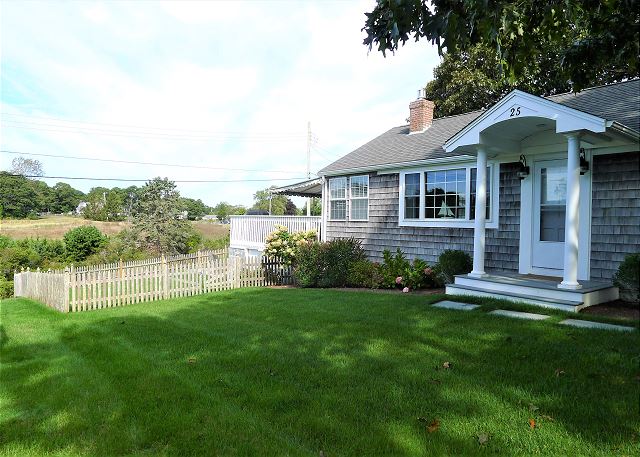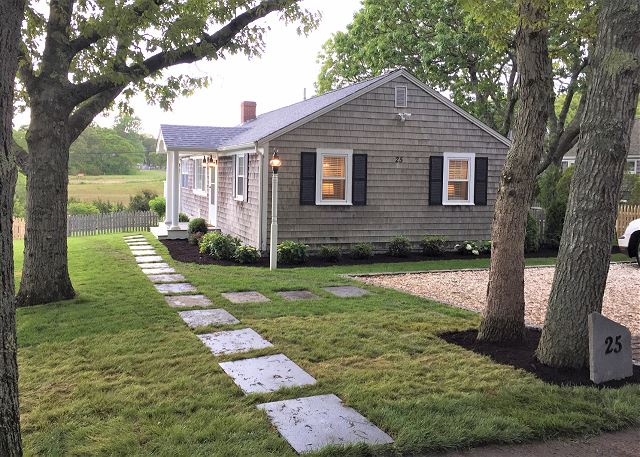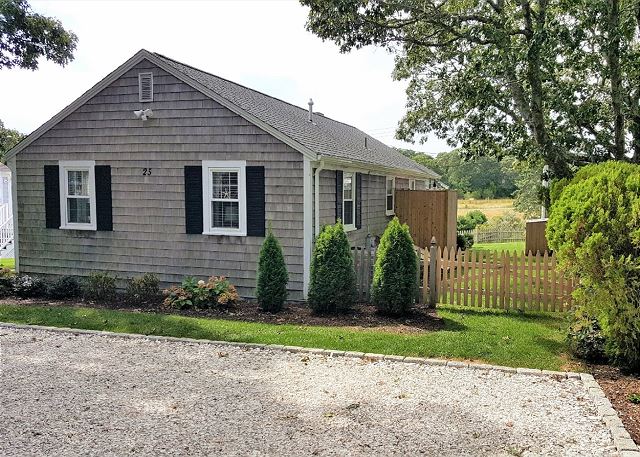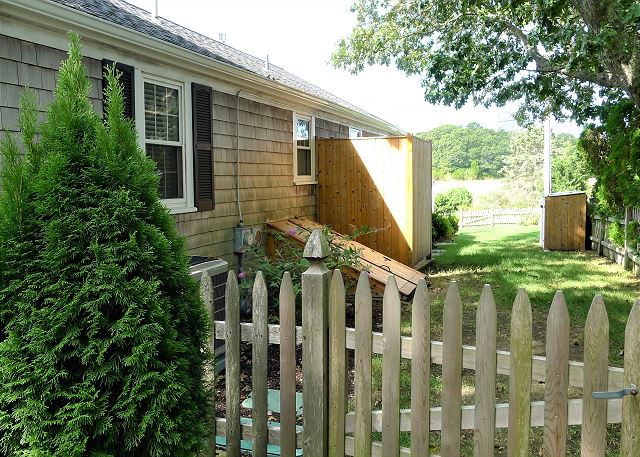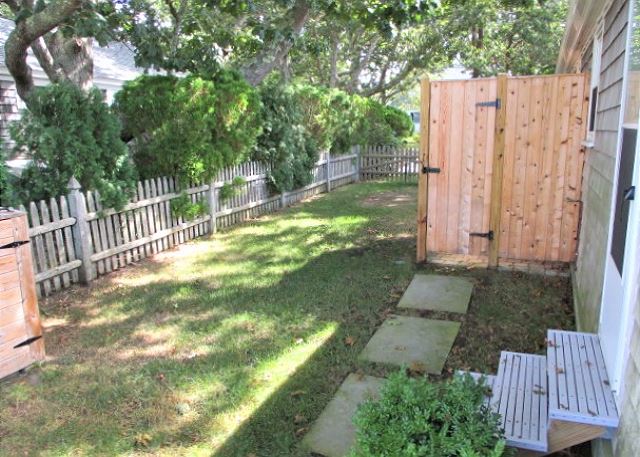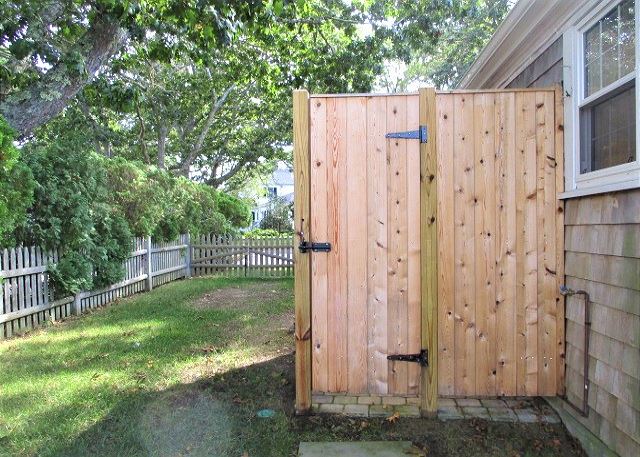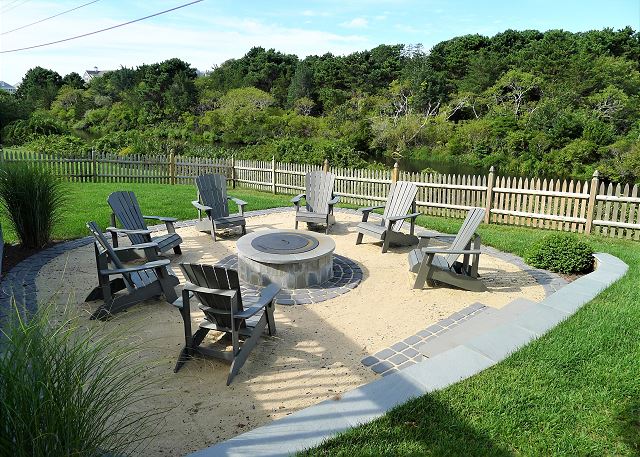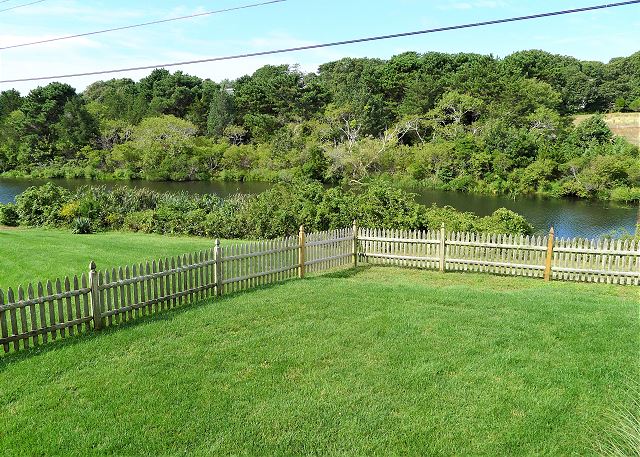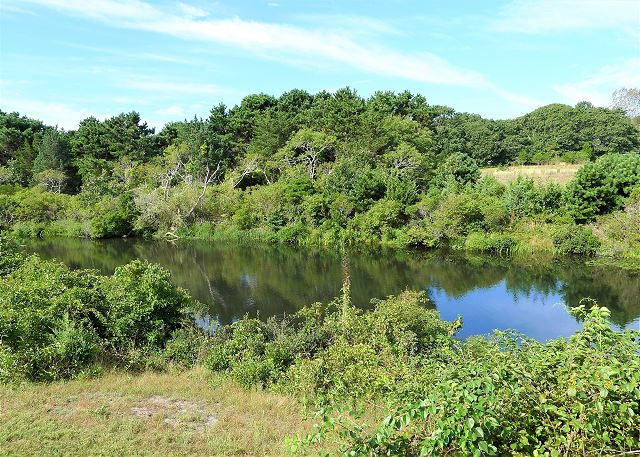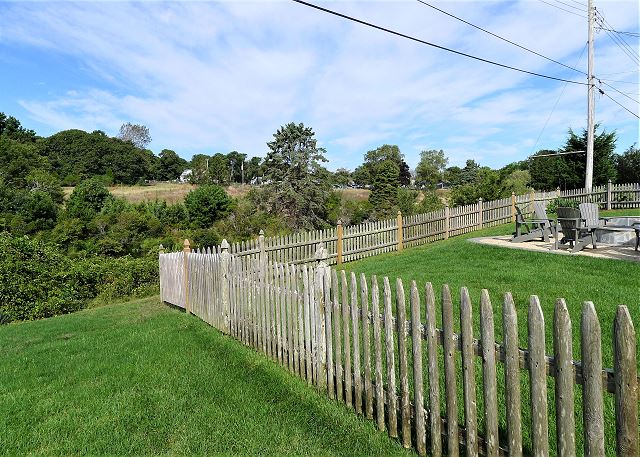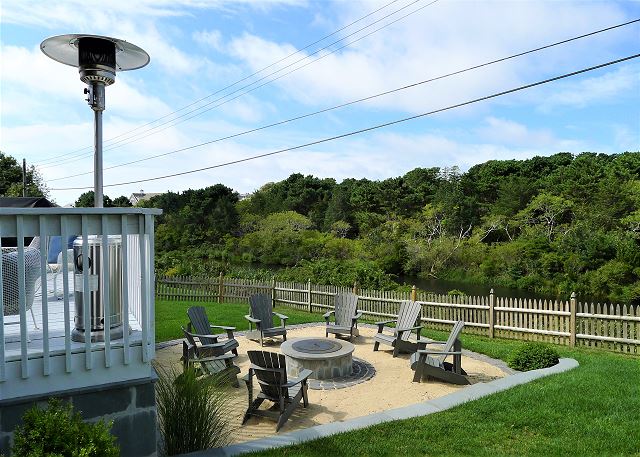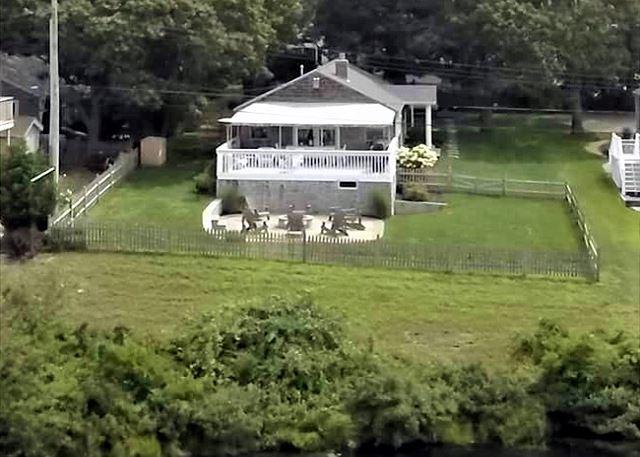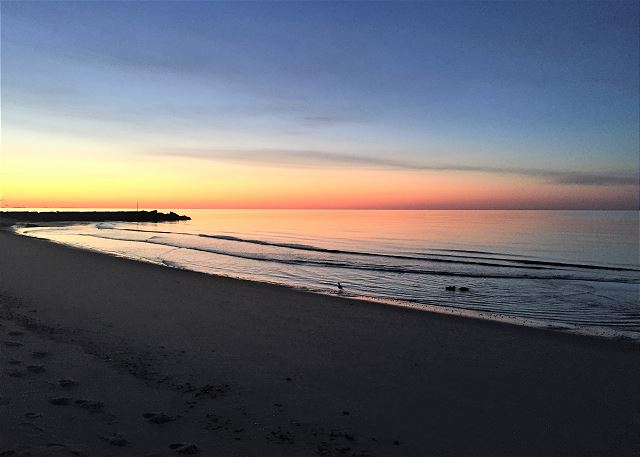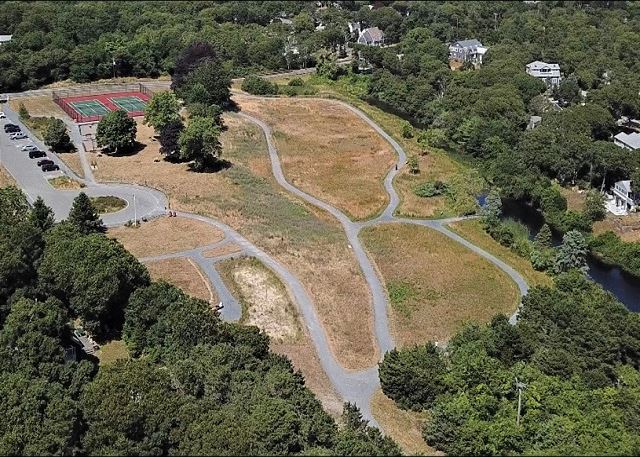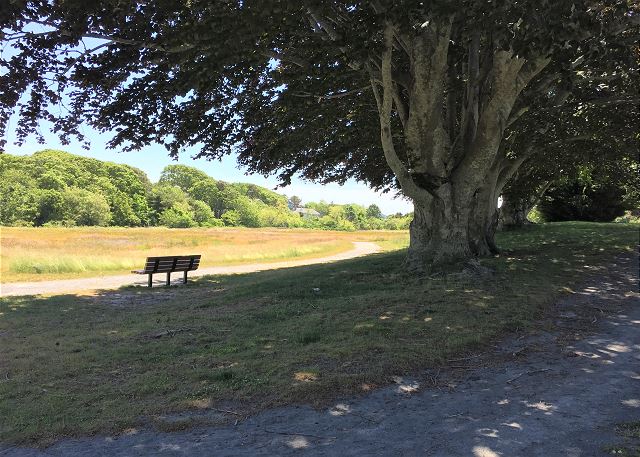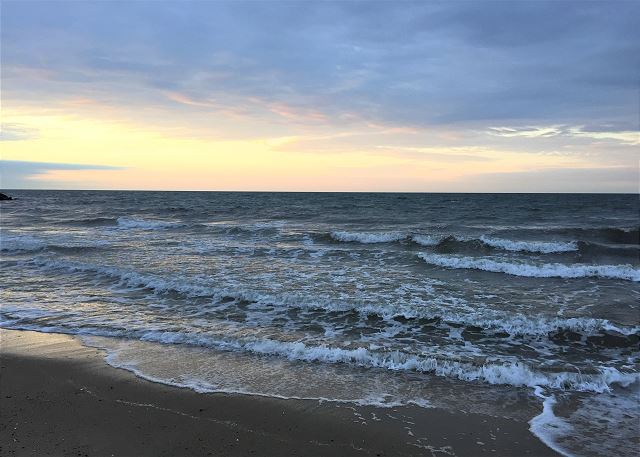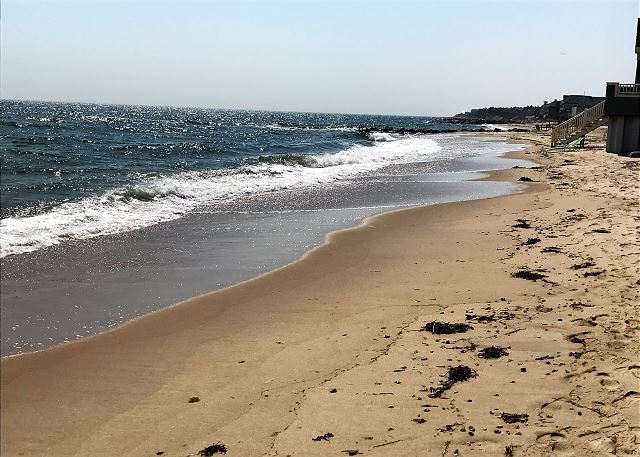 ---
Bedroom(s): 2.5
Bathroom(s): 1
Sleeps: 7
Type: House
Area: Raycroft Beach
Town: Dennis Port
The beach is just 0.2 miles from this charming 2+ bedroom, 1 bath Pet-Friendly cottage in Dennis Port with CENTRAL AIR!

This beautifully renovated cottage will absolutely wow you. The open kitchen/dining/living area is vacation-comfortable with a modern edge. The kitchen features a large, granite peninsula with four bar stools. It includes a fully stocked kitchen with dishes, glasses, etc. organized in plain view, dishwasher, microwave, and ice maker.

To the left of the kitchen is a dining table and chairs that can accommodate 7 guests. It is a luminous space adjacent to french doors to the deck, perfect for starting or ending any day. There is even a daybed tucked into a roomy nook nearby for those who want to sleep to the sound of the tidal river below.

The living room has a full sleeper sofa and love seat facing a 40 inch flat screen TV with DVD player and Comcast cable stations.

The bath boasts lovely wainscoting and tub/shower combination.

Two bedrooms, identical in size, are located at the rear of the home, each featuring a set of twins. In one bedroom, the twins can be turned into a king with a bed converter that the owner provides.

This one floor cottage has an abundance of recent improvements inside and out. At the top of the list would be the 20'x22' deck with gas grill and an awning to lounge or dine on in sun or shade. The deck overlooks a patio with fire pit, fenced in yard, and a tidal river that winds to the Sound. On the other side is Sea View Park, a great spot for kids!

Perhaps best of all, this sweet retreat with Central Air is under 2/10ths of a mile to Cliff Metcalf Memorial beach off Chase Avenue on Nantucket Sound!

Also included: WiFi, enclosed outdoor shower, two room fans, washer and dryer, and space for 4 cars in driveway.

Sorry no smoking allowed.

We recommend 5 adults maximum for this home with a total of 7 guests maximum allowed at any time. No parties exceeding the occupancy limit allowed.

Dogs welcome at pet-friendly properties with pre-approval of weight and breed from the property manager. Failure to observe House Pet Rules may result in a severe fine and/or eviction from the property. LIMIT 1 DOG PER PROPERTY.

LINENS (SHEETS/TOWELS) ARE NOT INCLUDED IN THIS RENTAL.

We offer travel insurance that is highly recommended and affordable coverage to protect your vacation investment.

Please view our policy and procedure page on our web site for detailed information about renting with us.

State and local taxes are applicable and may vary based on local ordinances and bylaws. Tax rates are subject to change.
- pets considered
- DVD Player
- Basic Cable
- Fireplace
- Sleep Sofa
- Iron/Ironing Board
- CD Player
- Central A/C
- Stereo
- Pantry items (sugar, salt & pep)
- Cleaning Supplies
- Cookware
- Dishes / Glassware / Utensils
- Toaster or Toaster Oven
- Dining Table
- Room Fans
- Hair Dryer
- Tub/Shower Combo
- Washer & Dryer
- Deck
- Enclosed/Fenced yard
- Gas Grill with Propane Tank
- Gas Grill (Natural Gas)
- Dining Table w/o Umbrella
- Enclosed Outdoor Shower
- Beach Chairs
- Outdoor Lighting
- Near Cape Cod Bay Beaches
- Near River
- Walk to Beach
- near park
- Yes
- DOG
- Pet Considered
Guest Reviews of
25 caleb Dennis Port , MA
Lovely small home in a great location
This home has everything you need and is very comfortable. There is central AC, outdoor shower, beautiful firepit with adirondack chairs, great decor, large fridge with ice maker, large deck, laundry and more. Things to know is that your neighbors are very close on both sides, so if you are looking for solitude, this is not really the place for you. Also, the 2 bedrooms have 2 sets of twin beds. Personally, I do wish 1 room had just a king bed. Also, the pillows are pretty uncomfortable, so bring your own. Also, the grill could stand to be upgraded to one with a starter button. Overall this home is beautiful and decorated so charmingly with seaside accents. Highly recommend it!
5 out of 5 stars
Wonderful spot to relax
-Rental was very clean upon arrival-Backyard and deck view was beautiful-Close to beach and several stores/restaurants-Only improvement would be more curtains/blinds in kitchen dining area-Melissa was extremely helpful and very nice throughout the entire process
5 out of 5 stars
Looking for a great pet friendly rental ? 25 Caleb is your place
Having been vacationing on the cape for 30 plus years, this is by far the best place we've spent a Cape vacation ( excluding my son's vacation home).I only have positive comments! We needed a pet friendly home and our Caleb home was great. The description was accurate regarding size, layout ,amenities and distance to beach. The fenced yard and fire pit were an added bonus. We had some rainy weather and the covered deck was a treat on those dreary days! The outside property and inside were WELL MAINTAINED. In fact the photos on the website were exactly what you will see when walking in! CapeCodRentals rentals provided us with pleasant friendly customer service. I highly recommend this property and CapeCodRentals!
5 out of 5 stars
Perfect Vacation
Review by
Janine B.
This home is bright and cherry, clean and very well organized. The views are beautiful any time of day. Beaches are just a short walk away. Would stay here for the entire summer if I could!!
5 out of 5 stars
dennisport stay
Review by
Jeffrey M.
great; crazy humid week and the A/C was great; clean place as well
5 out of 5 stars
Great property
We rented this property in September 2017. It was well decorated, clean, bright and airy. It was dog friendly and the location was great. Sandy O'Dell at the rental agency was great to deal with. I would recommend staying here.
5 out of 5 stars
Relaxing and Comfortable
Review by
Robin T.
It was wonderful, we came in later then expected, and Cape Cod Rental called us with the information needed to check in, seeing we were behind schedule and the office closes at 5, they were so helpful and nice. We found the house clean and super cute and in a nice area, with a short walk to the beach. Enjoyed the view of the water, saw a few ducks and a really big osprey. The deck was great and you could always feel a nice ocean breeze. It was a great vacation.
5 out of 5 stars
Wonderful family vacation
Review by
Kristin R.
Lovely home, quiet area and close proximity to beaches and entertainment
5 out of 5 stars
Awesome
Review by
Jeffrey A.
A pleasure to deal with the rental agency from start to finish!
5 out of 5 stars
First time on the Cape!
this property was exactly as portrayed by the posted photographs.Our vacation was blessed as we discovered new and beautiful attractive features of the house, the location, the surrounding area. The rental agents Sandy O and Melissa are invaluable assets.Go see the whales,seals, bass river, take the dinner train ride, sun rise and sun sets, cook lobsters at home and eat on the deck with clams!
5 out of 5 stars
Charming but needs improvements and to be cleaned
The house is small but charming. It is located in a quiet area and not too far from the beach. It has been somewhat renovated. However, the house was not clean when we got there and although we informed the managers as soon as we got there, nothing was done to clean it. We ended up solving the issue after numerous emails and phone calls. It made our stay much less pleasant that it could have been.
2 out of 5 stars
Dennisport cottage
Review by
Barbara G.
We LOVED this cottage. We were worried it would feel too small but the incredible deck provided extra living space. The location couldn't be better as you could walk to beautiful beaches on the Sound. Only recommendation is for more window shades/coverings so that when someone sleeps in the alcove they can sleep past the sunrise. But this cottage exemplifies"easy living". It's great.
5 out of 5 stars
Quaint and Charming Cape Cod getaway!
We did have a wonderful time. Location was perfect and plenty of room. New kitchen, windows and wonderful outdoor shower. Huge deck overlooking river and fenced in yard. We really enjoyed it. Just a couple of negative comments. Not sure if owners clean the house or have someone come in. You may want to hire someone new. Bedrooms looked like they were not cleaned thoroughly as found some dust, sand, cobwebs etc. Rugs were worn out in the living room and there wasn't any info regarding if power loss, something breaks down, wifi etc. I only say this as we have rented houses before and usually find info on the house. Otherwise not a big problem. It really was perfect as far as location. The 2/10 of a mile felt less than that. Some of the amenities were wonderful. Overall clean except those few things. The central A/C was great to have after a hot day at the beach. Plenty of space and the yard is such a great addition especially if you have children. Thank you for sharing your home!
4 out of 5 stars
July 2019

| S | M | T | W | T | F | S |
| --- | --- | --- | --- | --- | --- | --- |
| | 01 | 02 | 03 | 04 | 05 | 06 |
| 07 | 08 | 09 | 10 | 11 | 12 | 13 |
| 14 | 15 | 16 | 17 | 18 | 19 | 20 |
| 21 | 22 | 23 | 24 | 25 | 26 | 27 |
| 28 | 29 | 30 | 31 | | | |
August 2019

| S | M | T | W | T | F | S |
| --- | --- | --- | --- | --- | --- | --- |
| | | | | 01 | 02 | 03 |
| 04 | 05 | 06 | 07 | 08 | 09 | 10 |
| 11 | 12 | 13 | 14 | 15 | 16 | 17 |
| 18 | 19 | 20 | 21 | 22 | 23 | 24 |
| 25 | 26 | 27 | 28 | 29 | 30 | 31 |
September 2019

| S | M | T | W | T | F | S |
| --- | --- | --- | --- | --- | --- | --- |
| 01 | 02 | 03 | 04 | 05 | 06 | 07 |
| 08 | 09 | 10 | 11 | 12 | 13 | 14 |
| 15 | 16 | 17 | 18 | 19 | 20 | 21 |
| 22 | 23 | 24 | 25 | 26 | 27 | 28 |
| 29 | 30 | | | | | |
October 2019

| S | M | T | W | T | F | S |
| --- | --- | --- | --- | --- | --- | --- |
| | | 01 | 02 | 03 | 04 | 05 |
| 06 | 07 | 08 | 09 | 10 | 11 | 12 |
| 13 | 14 | 15 | 16 | 17 | 18 | 19 |
| 20 | 21 | 22 | 23 | 24 | 25 | 26 |
| 27 | 28 | 29 | 30 | 31 | | |
November 2019

| S | M | T | W | T | F | S |
| --- | --- | --- | --- | --- | --- | --- |
| | | | | | 01 | 02 |
| 03 | 04 | 05 | 06 | 07 | 08 | 09 |
| 10 | 11 | 12 | 13 | 14 | 15 | 16 |
| 17 | 18 | 19 | 20 | 21 | 22 | 23 |
| 24 | 25 | 26 | 27 | 28 | 29 | 30 |
December 2019

| S | M | T | W | T | F | S |
| --- | --- | --- | --- | --- | --- | --- |
| 01 | 02 | 03 | 04 | 05 | 06 | 07 |
| 08 | 09 | 10 | 11 | 12 | 13 | 14 |
| 15 | 16 | 17 | 18 | 19 | 20 | 21 |
| 22 | 23 | 24 | 25 | 26 | 27 | 28 |
| 29 | 30 | 31 | | | | |
January 2020

| S | M | T | W | T | F | S |
| --- | --- | --- | --- | --- | --- | --- |
| | | | 01 | 02 | 03 | 04 |
| 05 | 06 | 07 | 08 | 09 | 10 | 11 |
| 12 | 13 | 14 | 15 | 16 | 17 | 18 |
| 19 | 20 | 21 | 22 | 23 | 24 | 25 |
| 26 | 27 | 28 | 29 | 30 | 31 | |
February 2020

| S | M | T | W | T | F | S |
| --- | --- | --- | --- | --- | --- | --- |
| | | | | | | 01 |
| 02 | 03 | 04 | 05 | 06 | 07 | 08 |
| 09 | 10 | 11 | 12 | 13 | 14 | 15 |
| 16 | 17 | 18 | 19 | 20 | 21 | 22 |
| 23 | 24 | 25 | 26 | 27 | 28 | 29 |
March 2020

| S | M | T | W | T | F | S |
| --- | --- | --- | --- | --- | --- | --- |
| 01 | 02 | 03 | 04 | 05 | 06 | 07 |
| 08 | 09 | 10 | 11 | 12 | 13 | 14 |
| 15 | 16 | 17 | 18 | 19 | 20 | 21 |
| 22 | 23 | 24 | 25 | 26 | 27 | 28 |
| 29 | 30 | 31 | | | | |
April 2020

| S | M | T | W | T | F | S |
| --- | --- | --- | --- | --- | --- | --- |
| | | | 01 | 02 | 03 | 04 |
| 05 | 06 | 07 | 08 | 09 | 10 | 11 |
| 12 | 13 | 14 | 15 | 16 | 17 | 18 |
| 19 | 20 | 21 | 22 | 23 | 24 | 25 |
| 26 | 27 | 28 | 29 | 30 | | |
May 2020

| S | M | T | W | T | F | S |
| --- | --- | --- | --- | --- | --- | --- |
| | | | | | 01 | 02 |
| 03 | 04 | 05 | 06 | 07 | 08 | 09 |
| 10 | 11 | 12 | 13 | 14 | 15 | 16 |
| 17 | 18 | 19 | 20 | 21 | 22 | 23 |
| 24 | 25 | 26 | 27 | 28 | 29 | 30 |
| 31 | | | | | | |
June 2020

| S | M | T | W | T | F | S |
| --- | --- | --- | --- | --- | --- | --- |
| | 01 | 02 | 03 | 04 | 05 | 06 |
| 07 | 08 | 09 | 10 | 11 | 12 | 13 |
| 14 | 15 | 16 | 17 | 18 | 19 | 20 |
| 21 | 22 | 23 | 24 | 25 | 26 | 27 |
| 28 | 29 | 30 | | | | |
July 2020

| S | M | T | W | T | F | S |
| --- | --- | --- | --- | --- | --- | --- |
| | | | 01 | 02 | 03 | 04 |
| 05 | 06 | 07 | 08 | 09 | 10 | 11 |
| 12 | 13 | 14 | 15 | 16 | 17 | 18 |
| 19 | 20 | 21 | 22 | 23 | 24 | 25 |
| 26 | 27 | 28 | 29 | 30 | 31 | |
Available
Unavailable
Sat to Sat booking