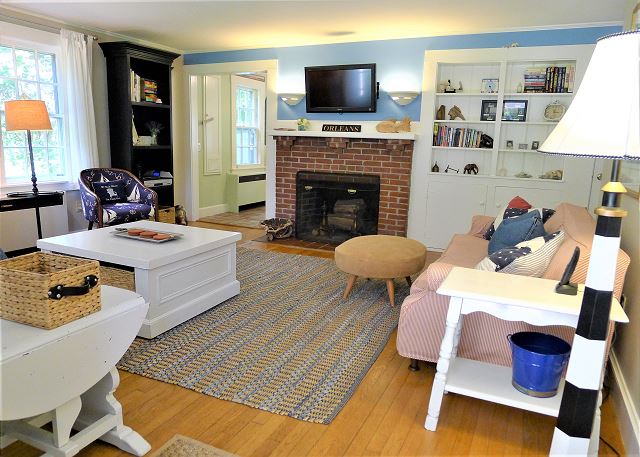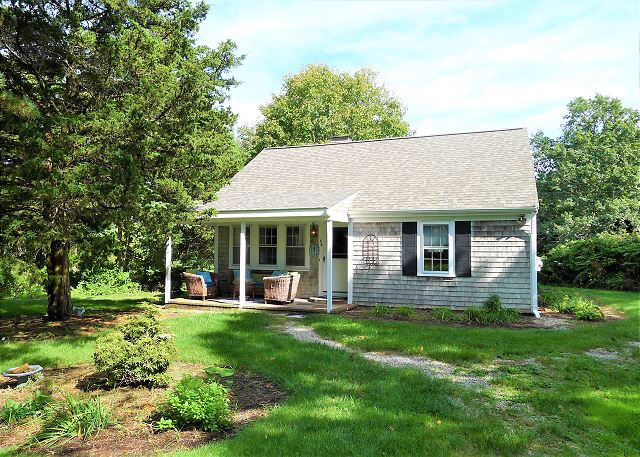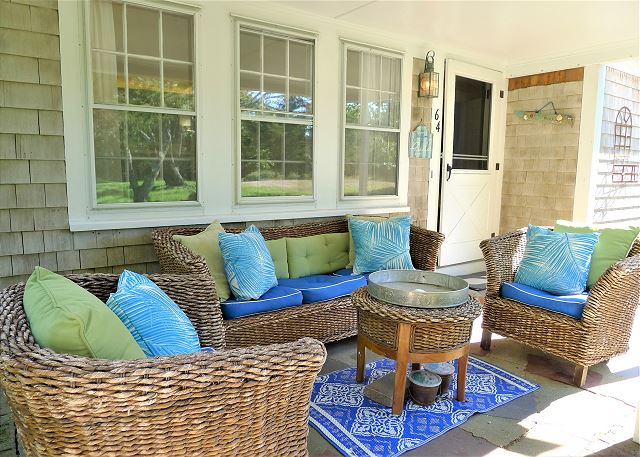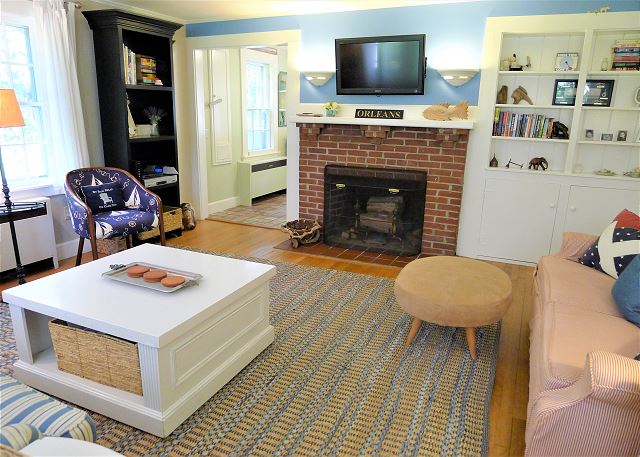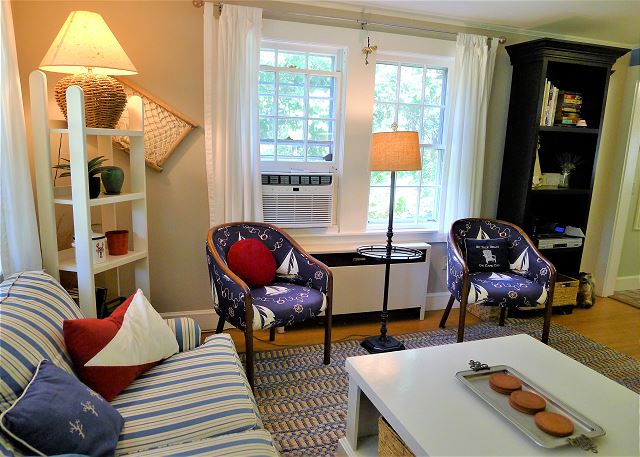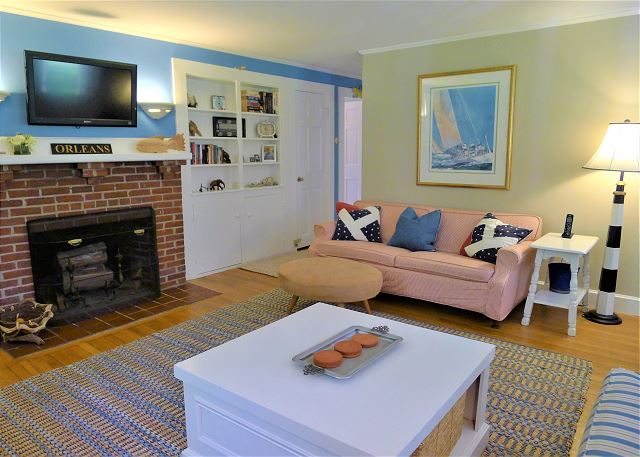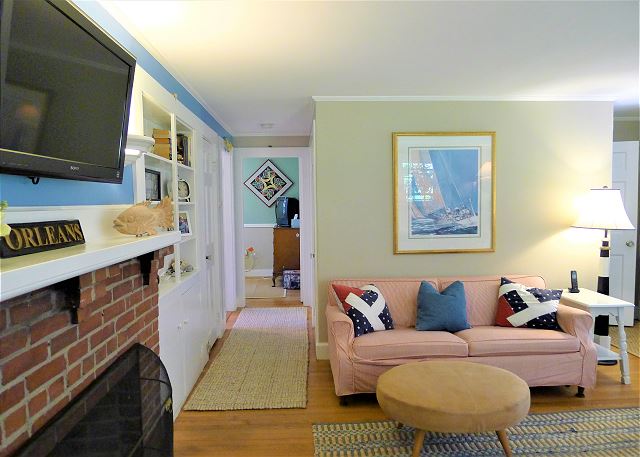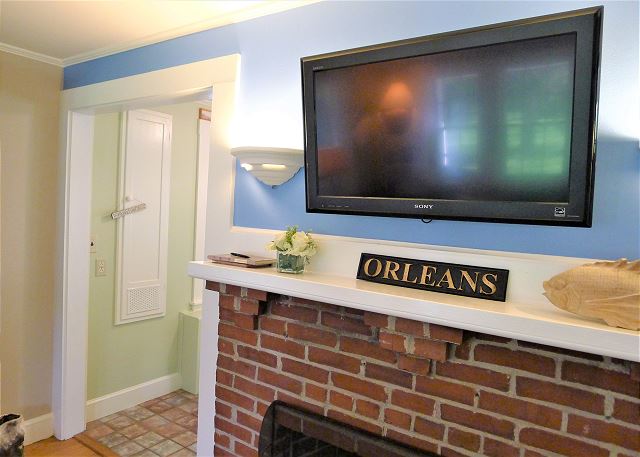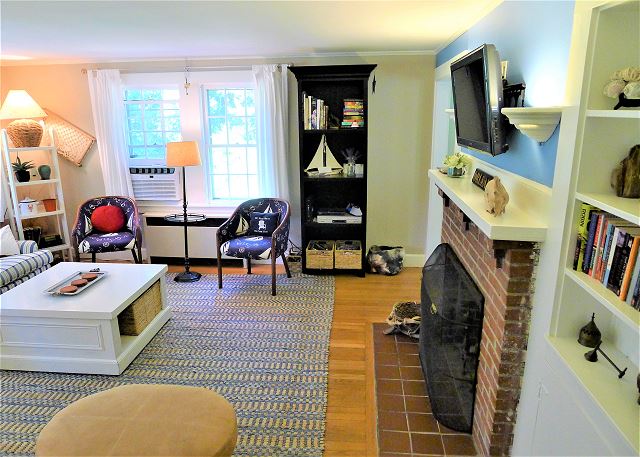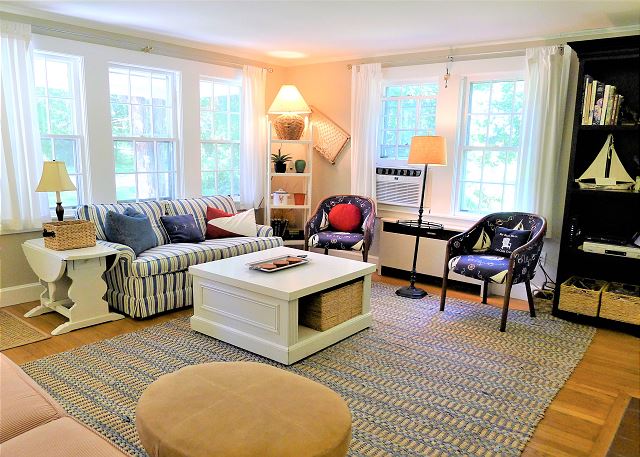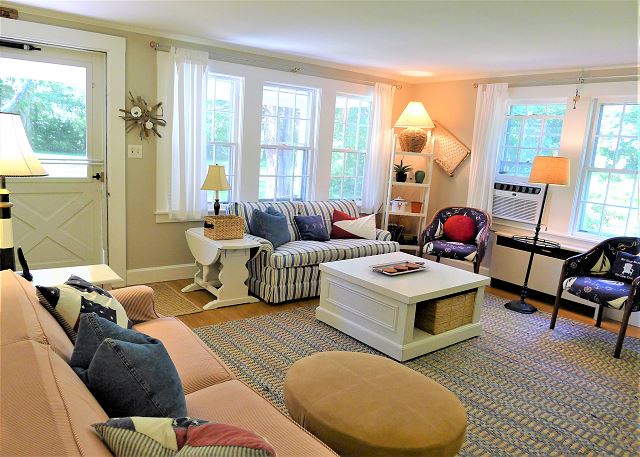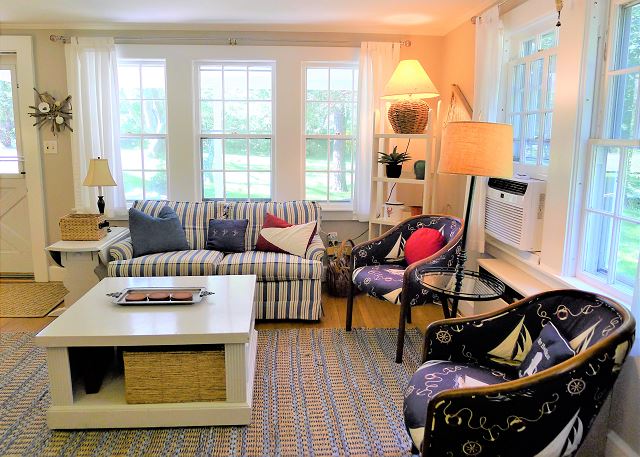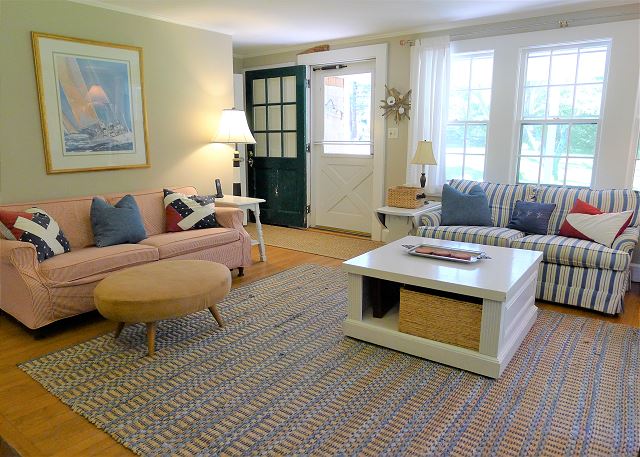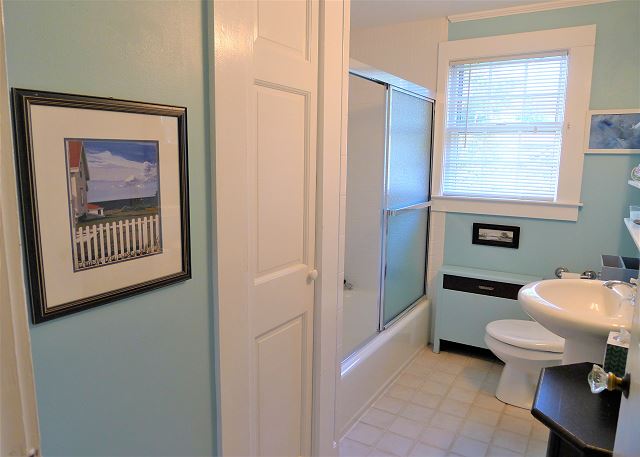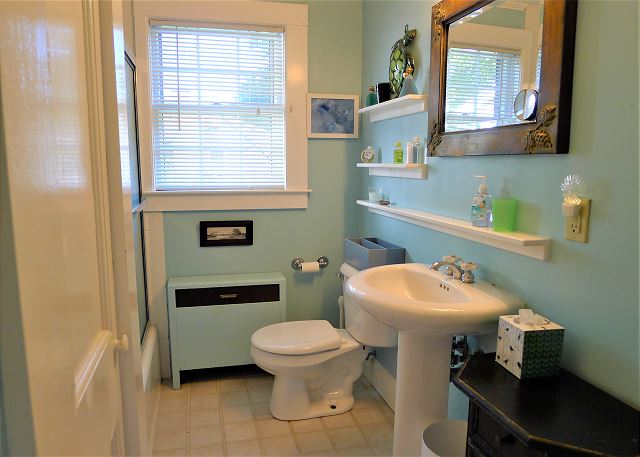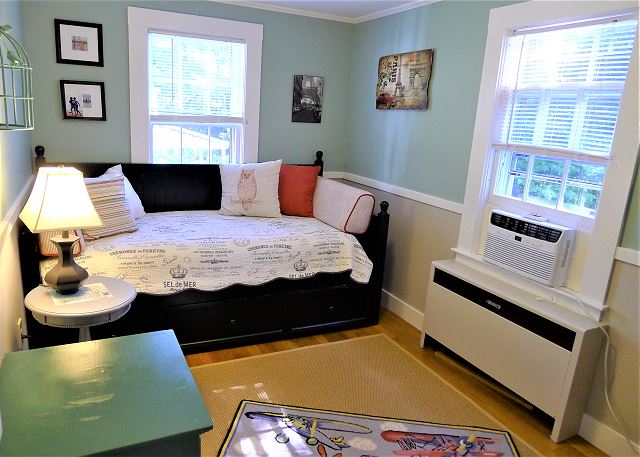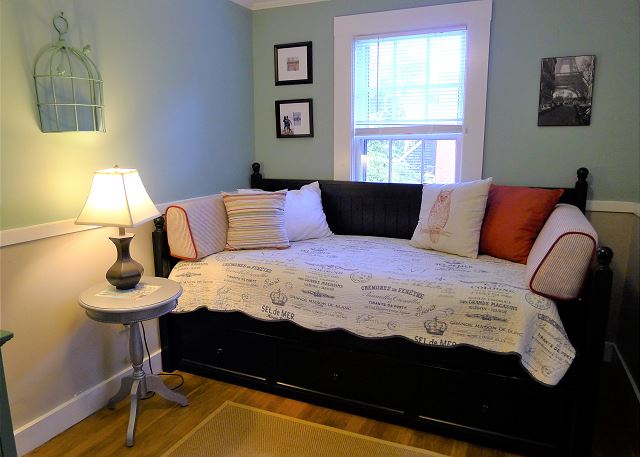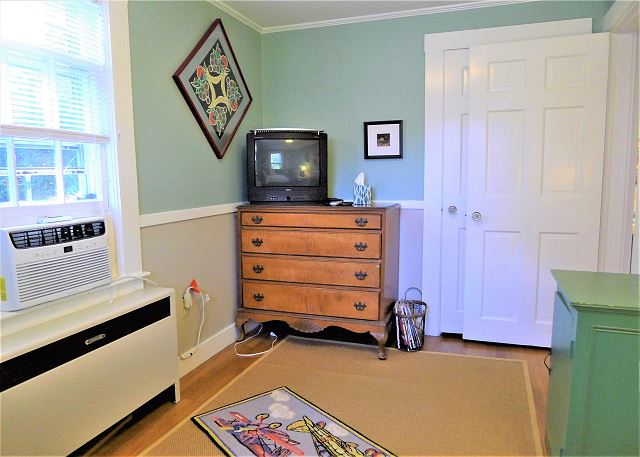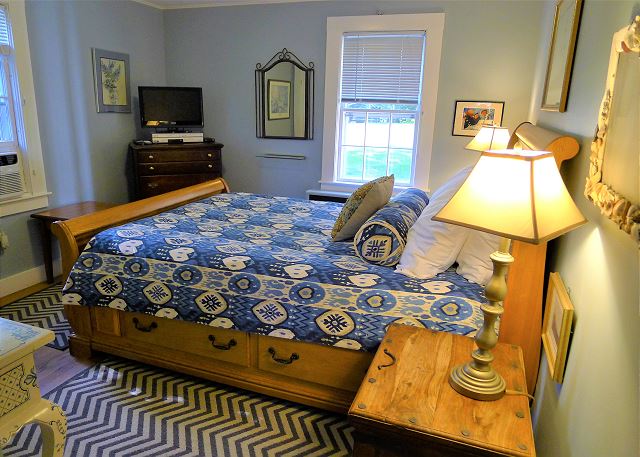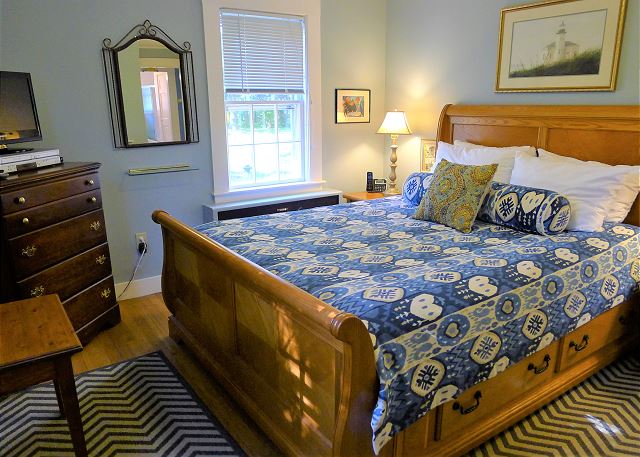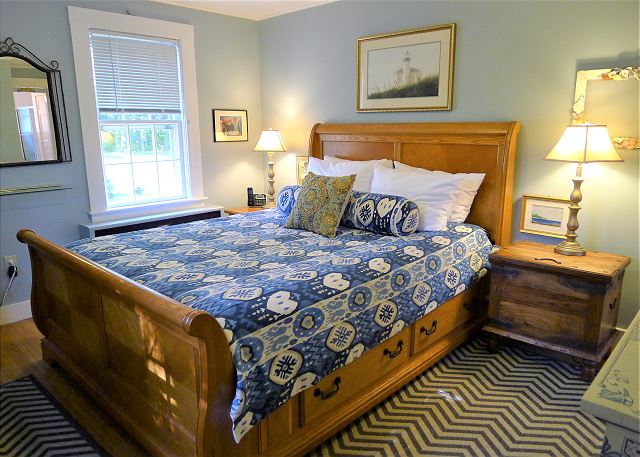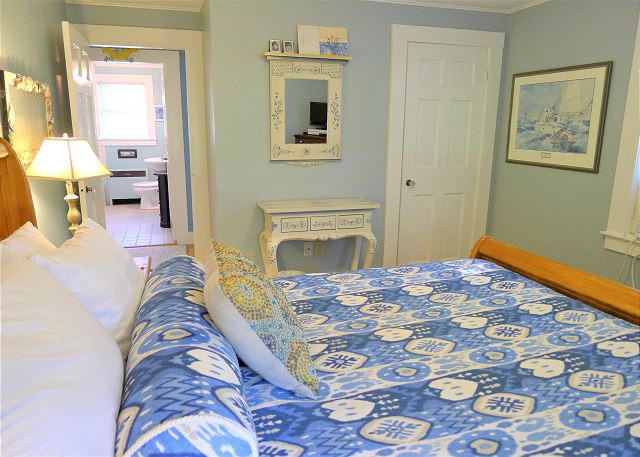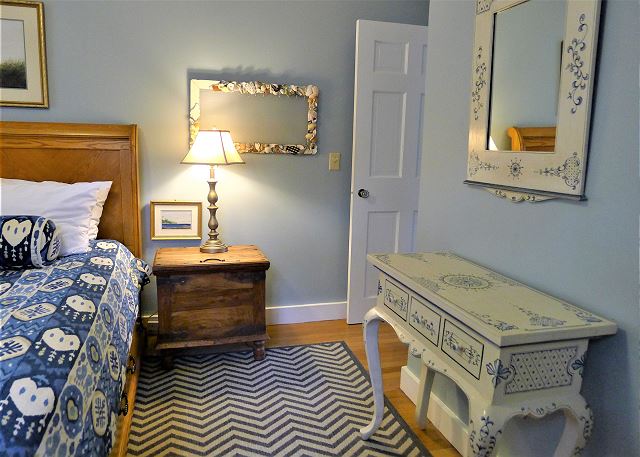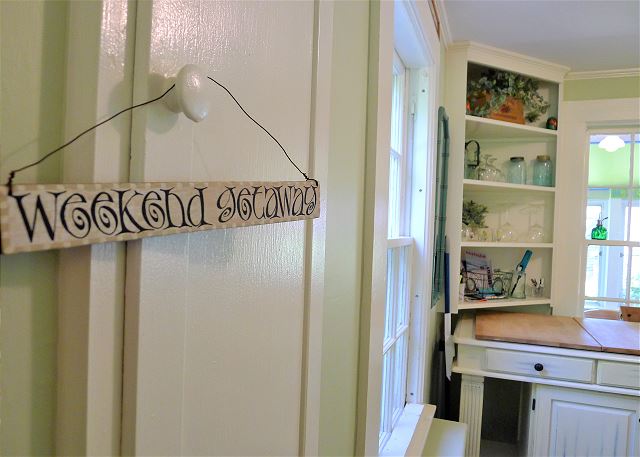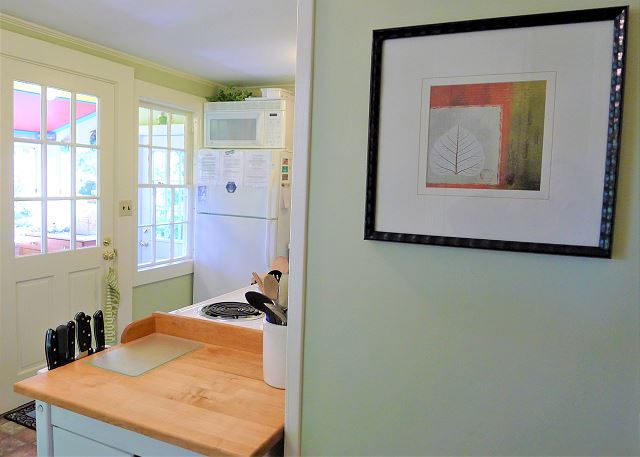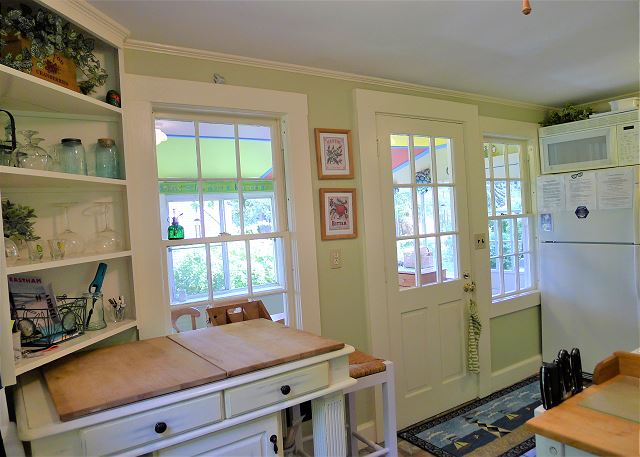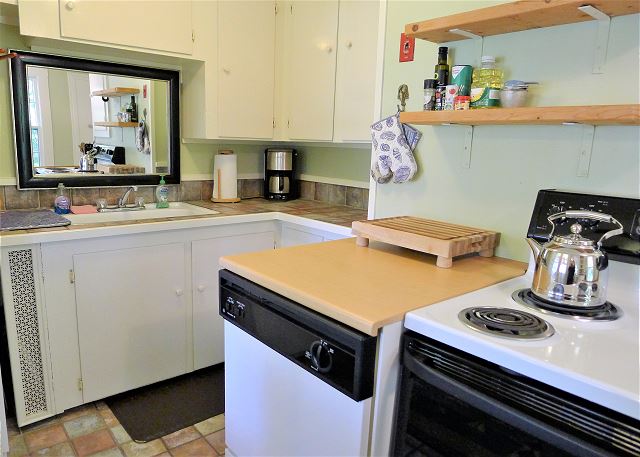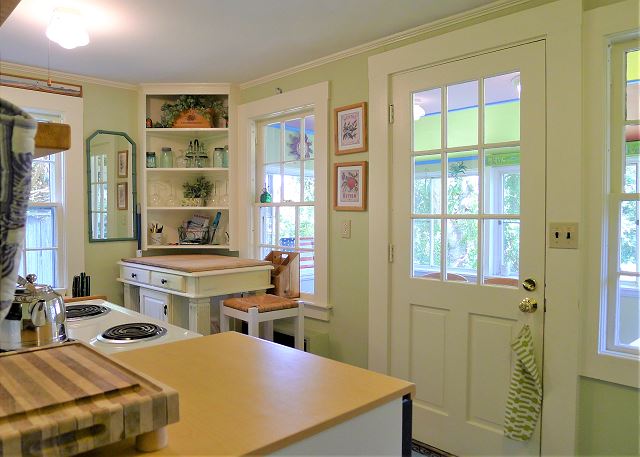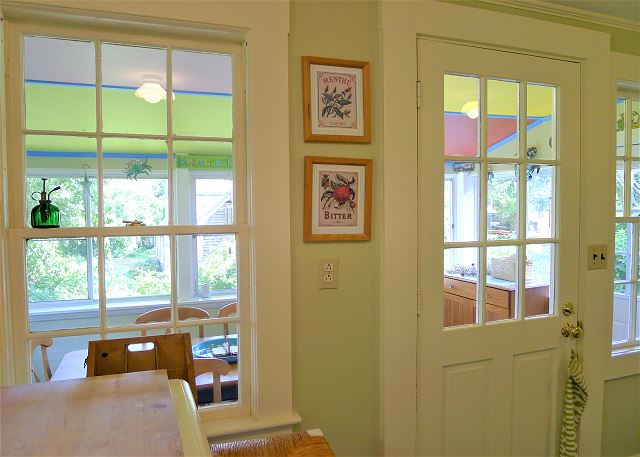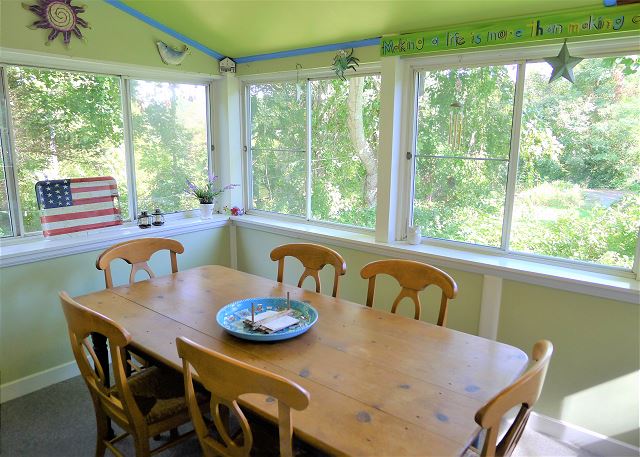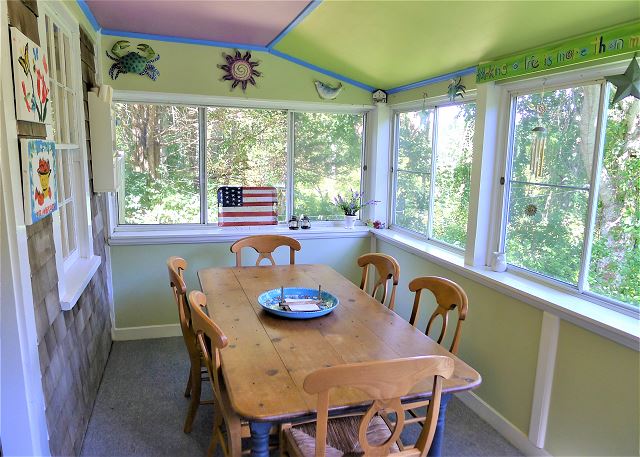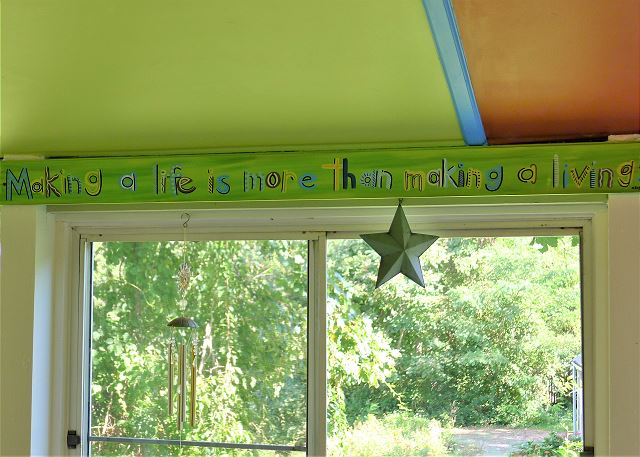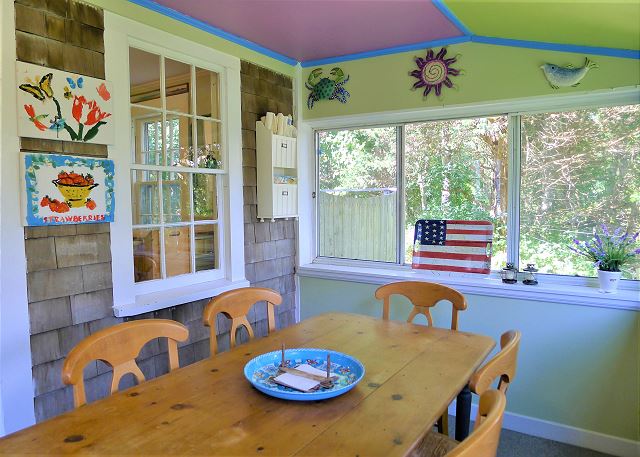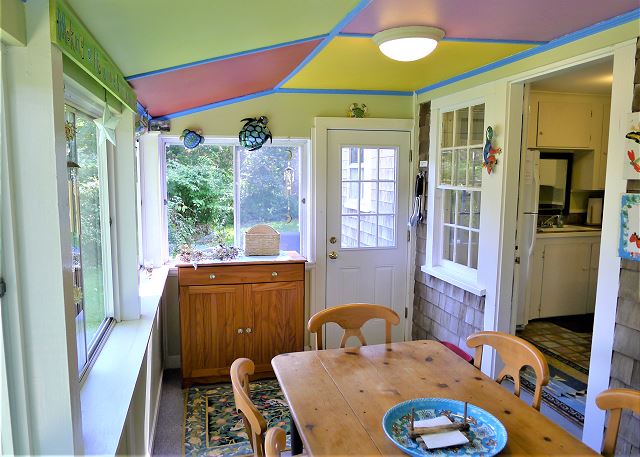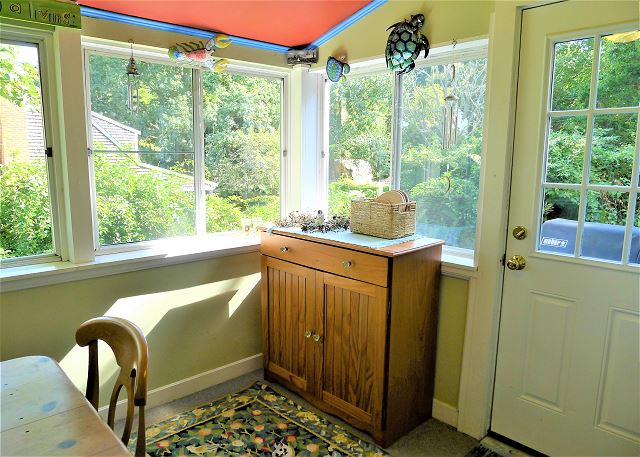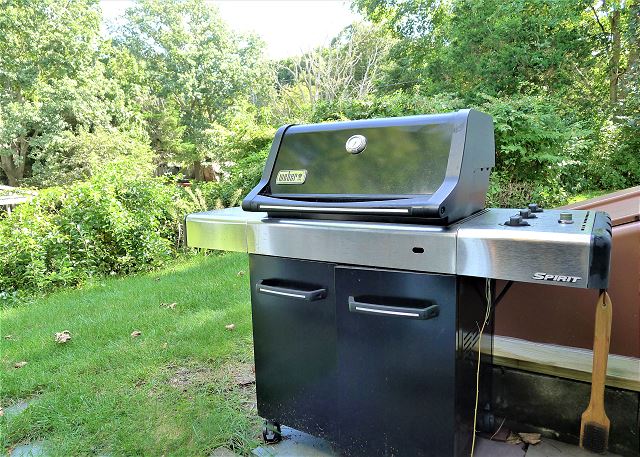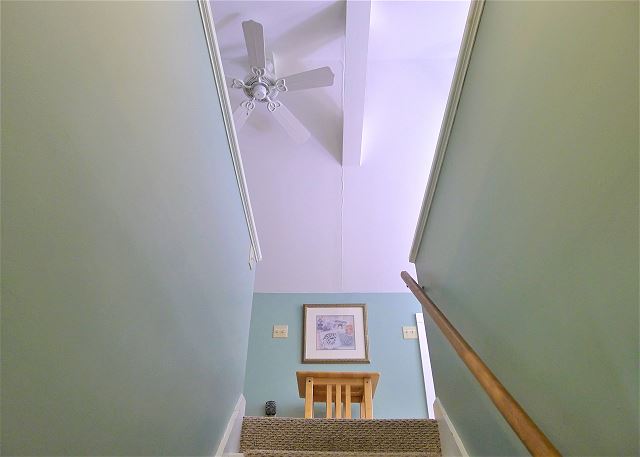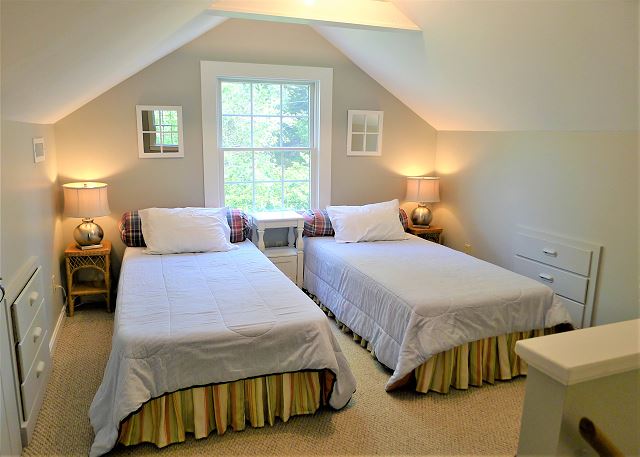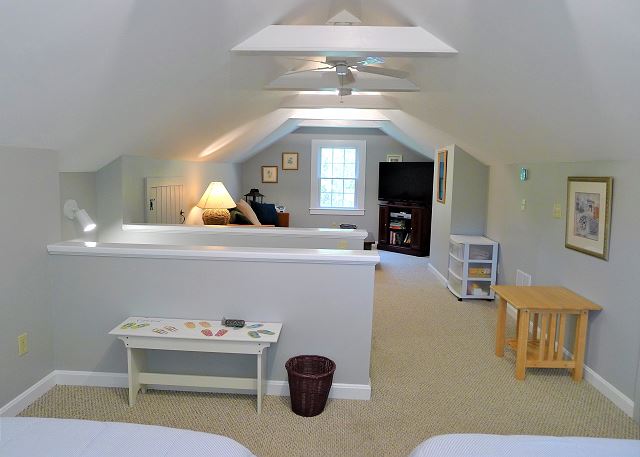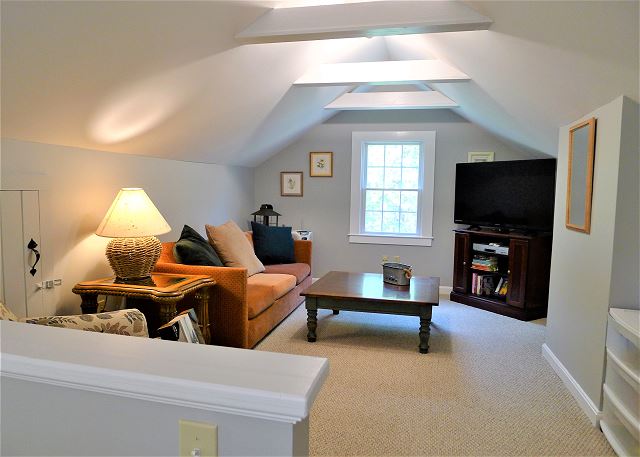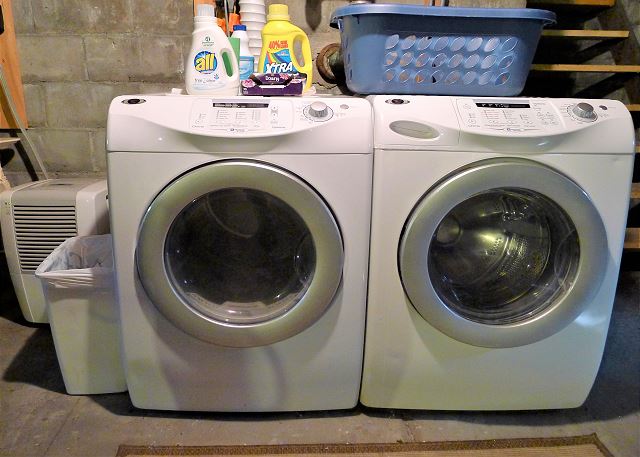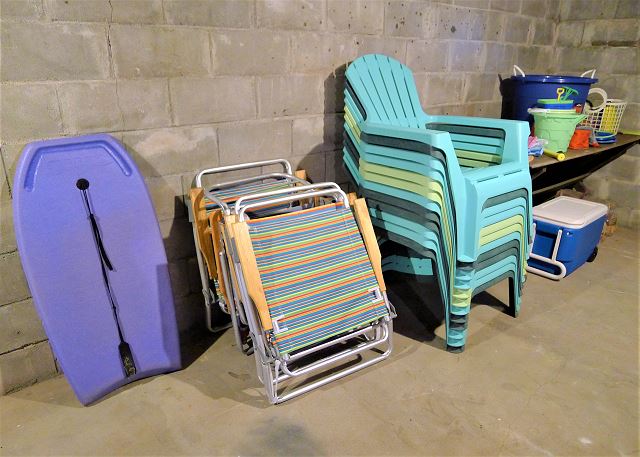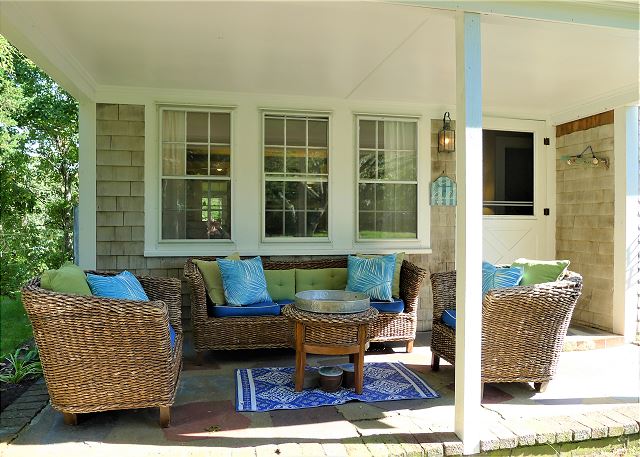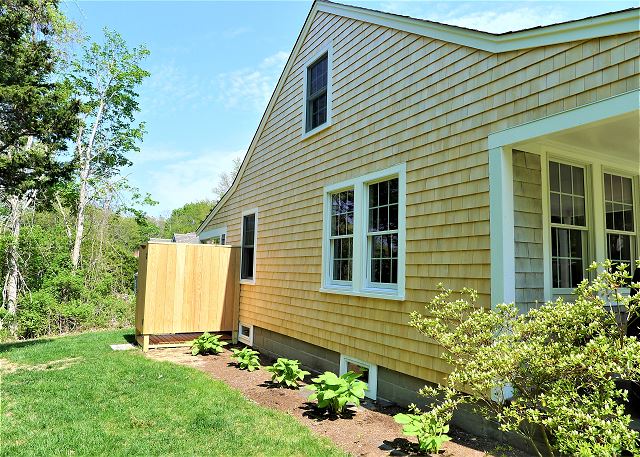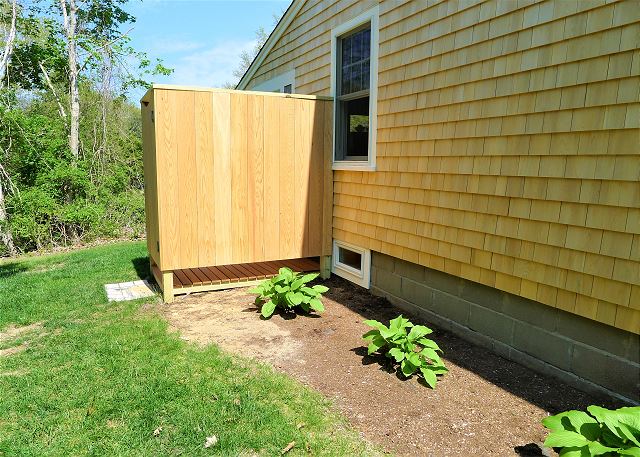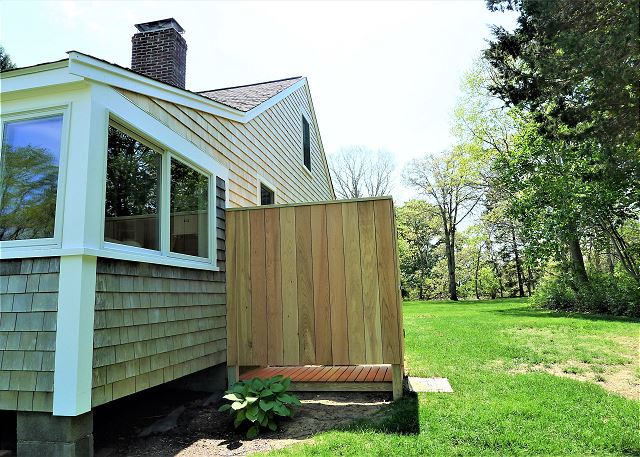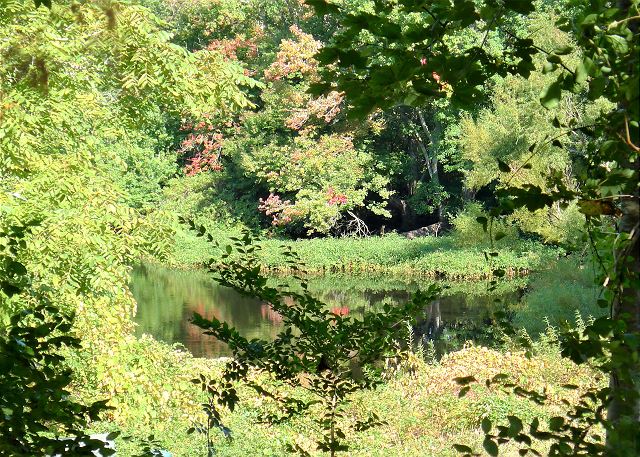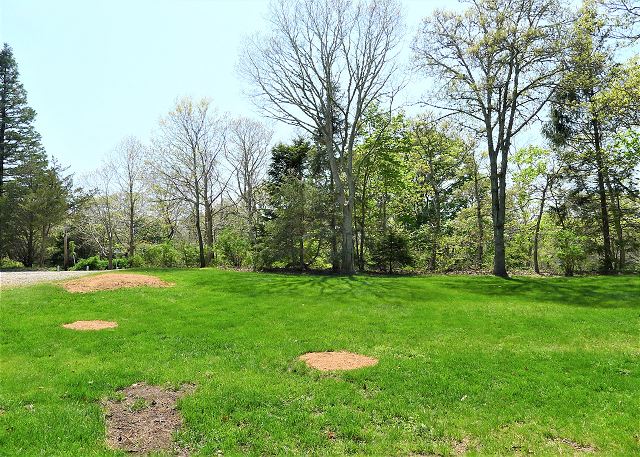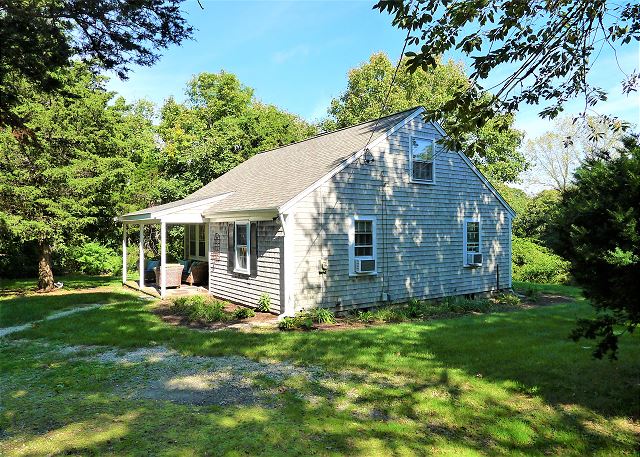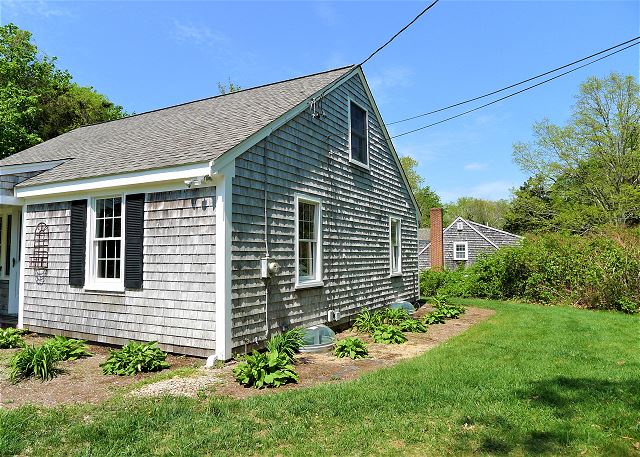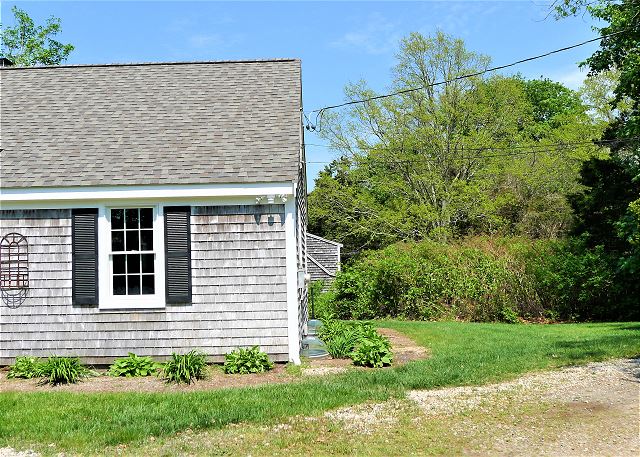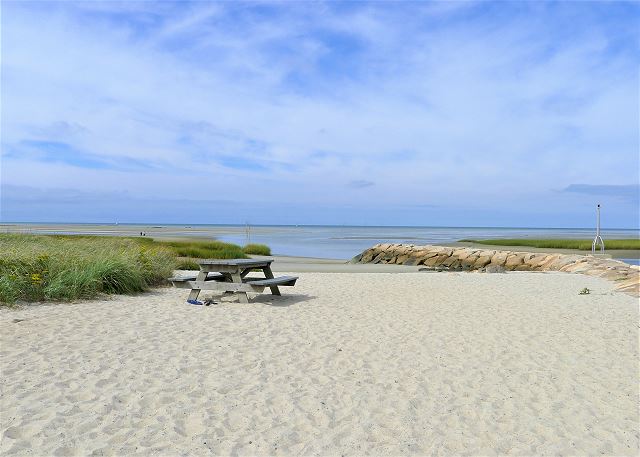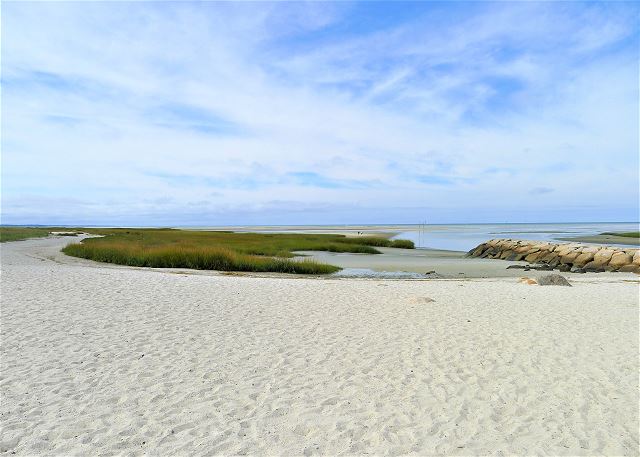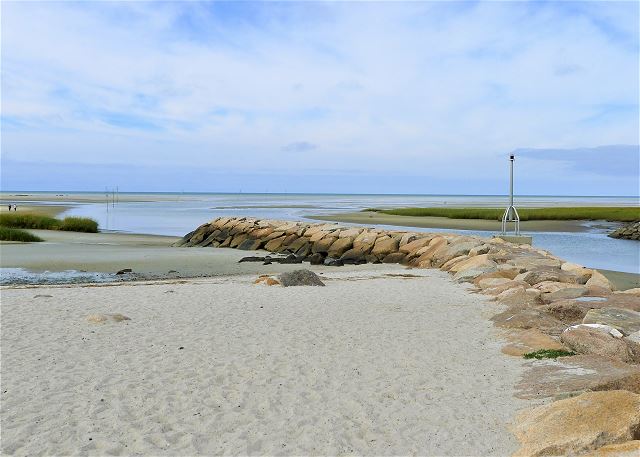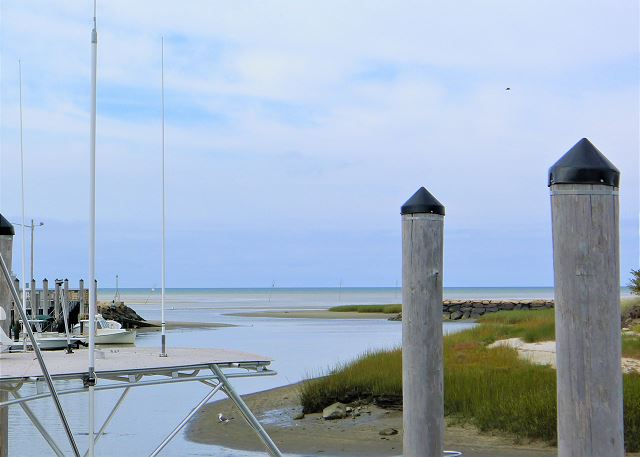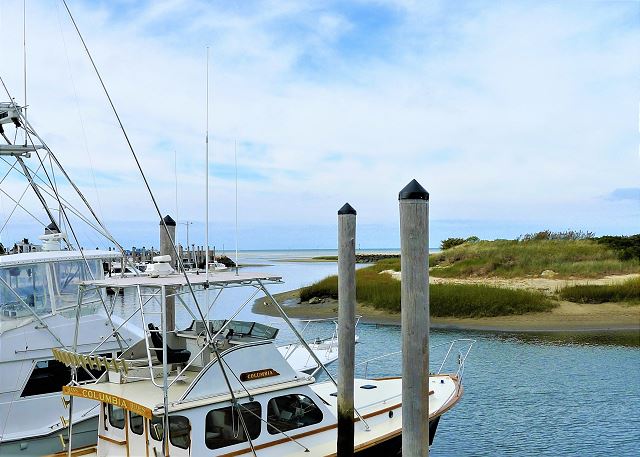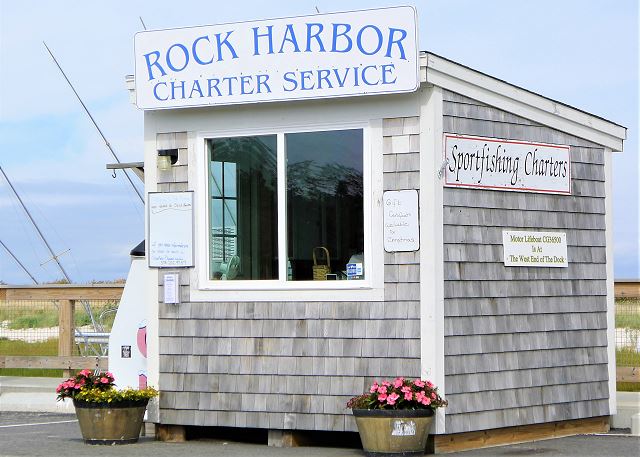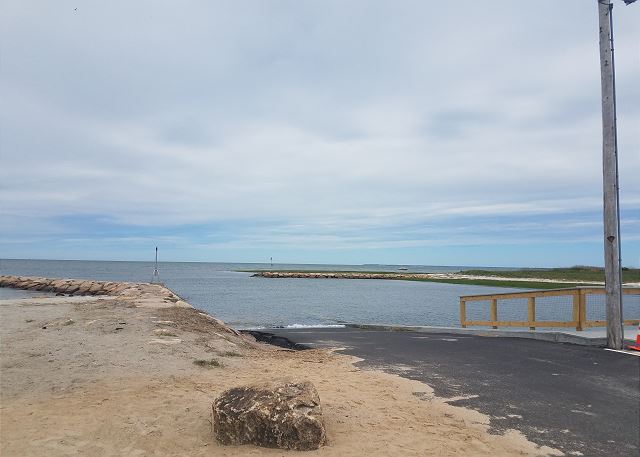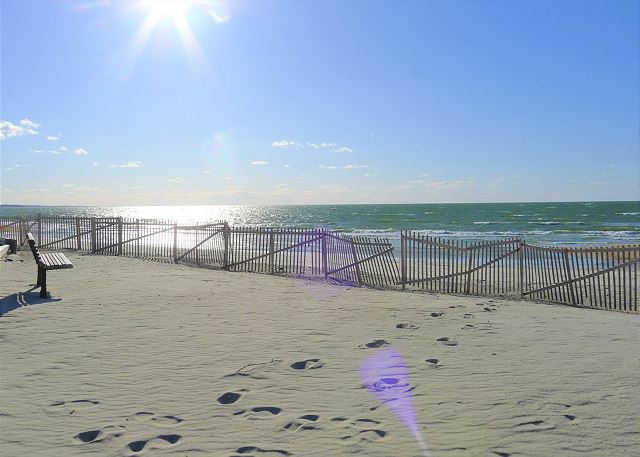 ---
Bedroom(s): 3
Bathroom(s): 1
Sleeps: 6
Type: Cottage
Area: Rock Harbor
Town: Orleans
Lovely Cape Cod Vacation Bungalow located in Orleans. The perfect Cape retreat near Skaket Beach now has central air and is less than .5 mile to Orleans Town Center and Rock Harbor Beach!

The bright, nautical-themed living room features a flat screen TV, DVD player, and a sleeper sofa. The kitchen is fully equipped with dishwasher, drip coffee maker, toaster, microwave, electric range, and lobster pot. There are 3 additional TV's & DVD players, one in each bedroom with Comcast expanded cable channels, and Central Air!

The sun porch off the kitchen provides additional space to eat, relax, and enjoy the outdoor serenity. This home also has a stereo with iPod dock, CD player, and Wi-Fi Internet access.

One bedroom has a queen bed and a second bedroom has a twin bed. The upstairs features a large area with 2 twin beds and a queen sleeper sofa. There is a washer and dryer in the basement.

The relaxing patio area has dining table for 6, a gas grill, lounge chairs, and a brand new outdoor enclosed shower!

*Beach chairs and a cooler are included for guests use.* *Owners provide these items as favors to guests only and not as an integral part of the rental. If these items become lost or damaged during the course of the rental season, owners are not responsible for replacement.*

Sorry no pets and no smoking allowed.

6 guests maximum allowed at any time. No parties exceeding the occupancy limit allowed.

LINENS AND TOWELS ARE NOT INCLUDED IN THIS RENTAL.

Travel insurance is highly recommended and affordable coverage to protect your vacation investment.

Please view our policy and procedure page on our web site for detailed information about renting with us.

State and local taxes are applicable and may vary based on local ordinances and bylaws. Tax rates are subject to change.
- Flat Screen HDTV
- Basic Cable
- Sleep Sofa
- A/C Unit
- Microwave
- Drip Coffee Maker
- Cookware
- Dishes / Glassware / Utensils
- Kitchen Table
- Blender
- Toaster or Toaster Oven
- Dishwasher
- Lobster Pot
- TV
- Window A/C
- Patio
- Gas Grill with Propane Tank
- Dining Table w/ Umbrella
- Enclosed Outdoor Shower
- Beach Chairs
- Close to Town
- Near Rail Trail Bike Path
- Near Cape Cod Bay Beaches
- Near National Sea Shore Beaches
Guest Reviews of
64 rock harbor Orleans , MA
Rock Harbor Rd.
Review by
Mary K.
Great home to stay in. In previous years there was always things left to get started. This year there was nothing from hand soap to paper towels, not even a sponge. If this is a new policy, please advise so we are better prepared.
5 out of 5 stars
Beautiful house in a great location
Review by
Amy G.
We love the Cape and have rented this house many times. Th yard is great, but the sun porch is pretty much unusable as its inbthebdirect sun and ha no shades or awnings. If it could be air conditioned, that would make it perfect!! Also, the patio furniture should be left out so guests don't have to carry it out the bulkhead.
4 out of 5 stars
Charming Cape Cod Cottage
Review by
Catherine M.
My family and I have had the pleasure to stay at this wonderful little cottage three years in a row. The upstairs attic area is finished; open concept with two single bed on one side and family room on the other. I really enjoyed the front porch area, where after a day at the beach, we sat back and watched the children running and playing in the large front yard. The house is quite private with mature trees surrounding it. I definitely recommend 64 Rock Harbor.
5 out of 5 stars
Excellent location
We had a wonderful time in this adorable and comfortable home. The location is perfect. Walk to Rock Harbor Beach or Main Street in 10 minutes! Nicely furnished and not missing a thing.
4 out of 5 stars
Home away from home!
Review by
Lois S.
Another event full year! Arrived at the house to find that the keys didn't fit the door very well and the smoke alarms inside the house were all going off. The management of capecodrentals came out right away to rectify the problem. We have been to this house annually for several years and love the location. Just the right size.
5 out of 5 stars
July 2019

| S | M | T | W | T | F | S |
| --- | --- | --- | --- | --- | --- | --- |
| | 01 | 02 | 03 | 04 | 05 | 06 |
| 07 | 08 | 09 | 10 | 11 | 12 | 13 |
| 14 | 15 | 16 | 17 | 18 | 19 | 20 |
| 21 | 22 | 23 | 24 | 25 | 26 | 27 |
| 28 | 29 | 30 | 31 | | | |
August 2019

| S | M | T | W | T | F | S |
| --- | --- | --- | --- | --- | --- | --- |
| | | | | 01 | 02 | 03 |
| 04 | 05 | 06 | 07 | 08 | 09 | 10 |
| 11 | 12 | 13 | 14 | 15 | 16 | 17 |
| 18 | 19 | 20 | 21 | 22 | 23 | 24 |
| 25 | 26 | 27 | 28 | 29 | 30 | 31 |
September 2019

| S | M | T | W | T | F | S |
| --- | --- | --- | --- | --- | --- | --- |
| 01 | 02 | 03 | 04 | 05 | 06 | 07 |
| 08 | 09 | 10 | 11 | 12 | 13 | 14 |
| 15 | 16 | 17 | 18 | 19 | 20 | 21 |
| 22 | 23 | 24 | 25 | 26 | 27 | 28 |
| 29 | 30 | | | | | |
October 2019

| S | M | T | W | T | F | S |
| --- | --- | --- | --- | --- | --- | --- |
| | | 01 | 02 | 03 | 04 | 05 |
| 06 | 07 | 08 | 09 | 10 | 11 | 12 |
| 13 | 14 | 15 | 16 | 17 | 18 | 19 |
| 20 | 21 | 22 | 23 | 24 | 25 | 26 |
| 27 | 28 | 29 | 30 | 31 | | |
November 2019

| S | M | T | W | T | F | S |
| --- | --- | --- | --- | --- | --- | --- |
| | | | | | 01 | 02 |
| 03 | 04 | 05 | 06 | 07 | 08 | 09 |
| 10 | 11 | 12 | 13 | 14 | 15 | 16 |
| 17 | 18 | 19 | 20 | 21 | 22 | 23 |
| 24 | 25 | 26 | 27 | 28 | 29 | 30 |
December 2019

| S | M | T | W | T | F | S |
| --- | --- | --- | --- | --- | --- | --- |
| 01 | 02 | 03 | 04 | 05 | 06 | 07 |
| 08 | 09 | 10 | 11 | 12 | 13 | 14 |
| 15 | 16 | 17 | 18 | 19 | 20 | 21 |
| 22 | 23 | 24 | 25 | 26 | 27 | 28 |
| 29 | 30 | 31 | | | | |
January 2020

| S | M | T | W | T | F | S |
| --- | --- | --- | --- | --- | --- | --- |
| | | | 01 | 02 | 03 | 04 |
| 05 | 06 | 07 | 08 | 09 | 10 | 11 |
| 12 | 13 | 14 | 15 | 16 | 17 | 18 |
| 19 | 20 | 21 | 22 | 23 | 24 | 25 |
| 26 | 27 | 28 | 29 | 30 | 31 | |
February 2020

| S | M | T | W | T | F | S |
| --- | --- | --- | --- | --- | --- | --- |
| | | | | | | 01 |
| 02 | 03 | 04 | 05 | 06 | 07 | 08 |
| 09 | 10 | 11 | 12 | 13 | 14 | 15 |
| 16 | 17 | 18 | 19 | 20 | 21 | 22 |
| 23 | 24 | 25 | 26 | 27 | 28 | 29 |
March 2020

| S | M | T | W | T | F | S |
| --- | --- | --- | --- | --- | --- | --- |
| 01 | 02 | 03 | 04 | 05 | 06 | 07 |
| 08 | 09 | 10 | 11 | 12 | 13 | 14 |
| 15 | 16 | 17 | 18 | 19 | 20 | 21 |
| 22 | 23 | 24 | 25 | 26 | 27 | 28 |
| 29 | 30 | 31 | | | | |
April 2020

| S | M | T | W | T | F | S |
| --- | --- | --- | --- | --- | --- | --- |
| | | | 01 | 02 | 03 | 04 |
| 05 | 06 | 07 | 08 | 09 | 10 | 11 |
| 12 | 13 | 14 | 15 | 16 | 17 | 18 |
| 19 | 20 | 21 | 22 | 23 | 24 | 25 |
| 26 | 27 | 28 | 29 | 30 | | |
May 2020

| S | M | T | W | T | F | S |
| --- | --- | --- | --- | --- | --- | --- |
| | | | | | 01 | 02 |
| 03 | 04 | 05 | 06 | 07 | 08 | 09 |
| 10 | 11 | 12 | 13 | 14 | 15 | 16 |
| 17 | 18 | 19 | 20 | 21 | 22 | 23 |
| 24 | 25 | 26 | 27 | 28 | 29 | 30 |
| 31 | | | | | | |
June 2020

| S | M | T | W | T | F | S |
| --- | --- | --- | --- | --- | --- | --- |
| | 01 | 02 | 03 | 04 | 05 | 06 |
| 07 | 08 | 09 | 10 | 11 | 12 | 13 |
| 14 | 15 | 16 | 17 | 18 | 19 | 20 |
| 21 | 22 | 23 | 24 | 25 | 26 | 27 |
| 28 | 29 | 30 | | | | |
July 2020

| S | M | T | W | T | F | S |
| --- | --- | --- | --- | --- | --- | --- |
| | | | 01 | 02 | 03 | 04 |
| 05 | 06 | 07 | 08 | 09 | 10 | 11 |
| 12 | 13 | 14 | 15 | 16 | 17 | 18 |
| 19 | 20 | 21 | 22 | 23 | 24 | 25 |
| 26 | 27 | 28 | 29 | 30 | 31 | |
Available
Unavailable
Sat to Sat booking