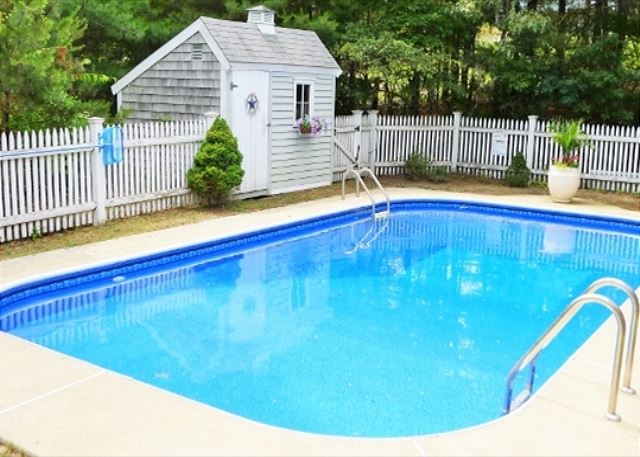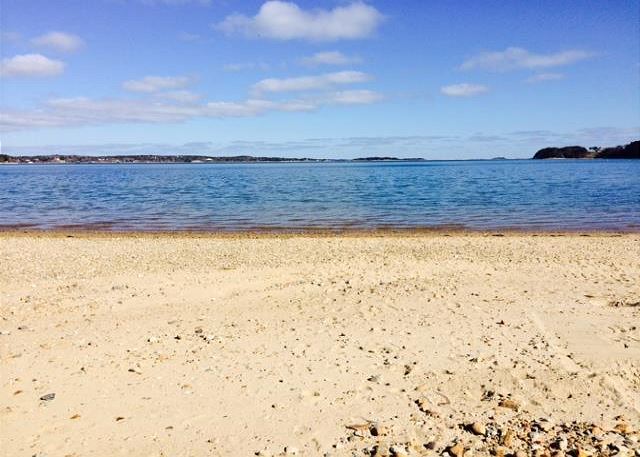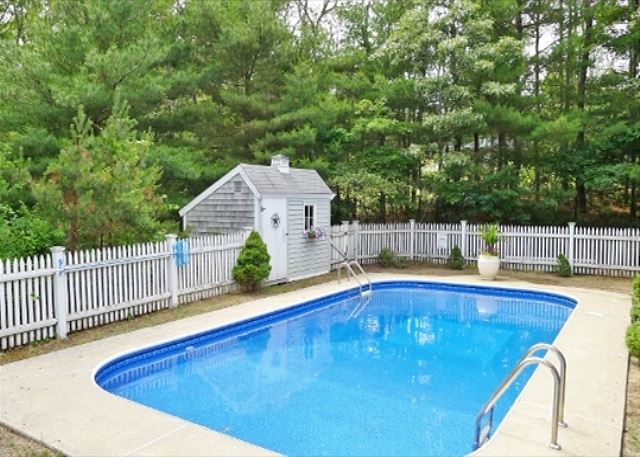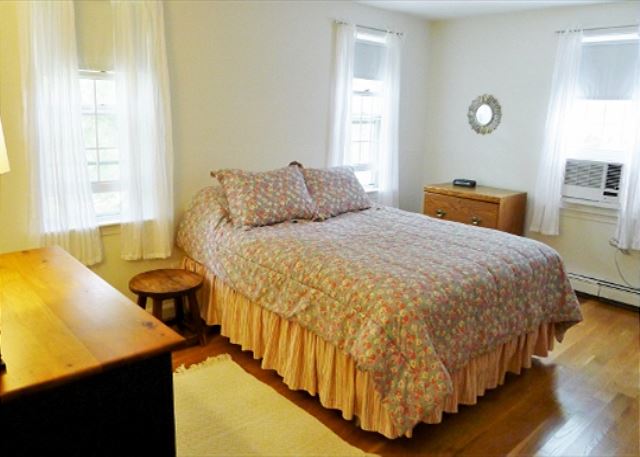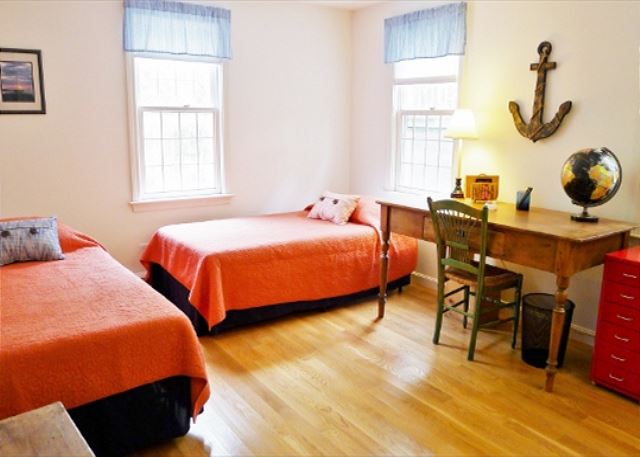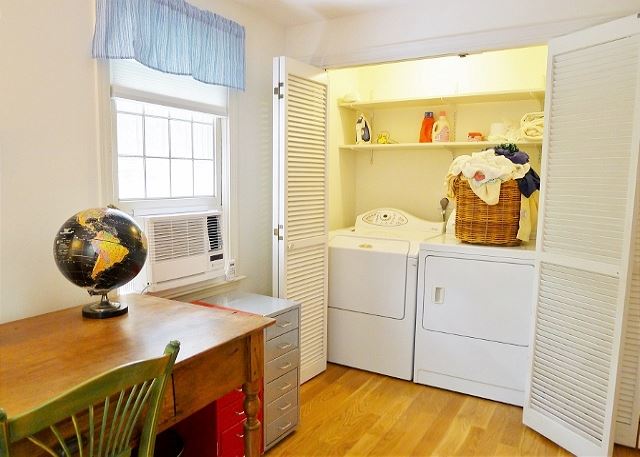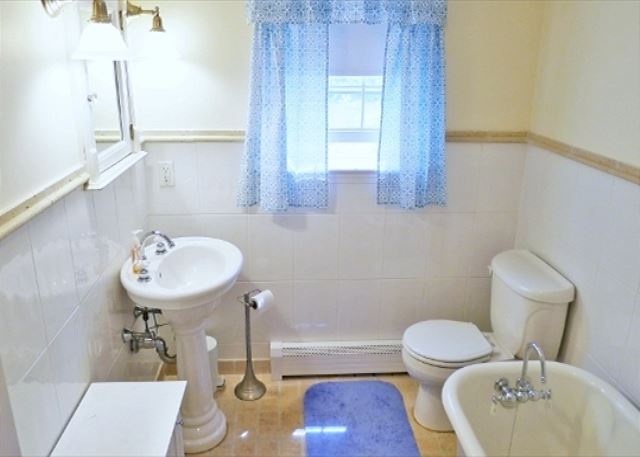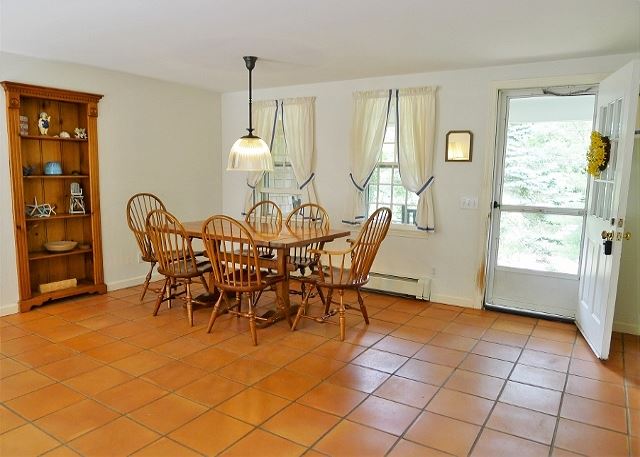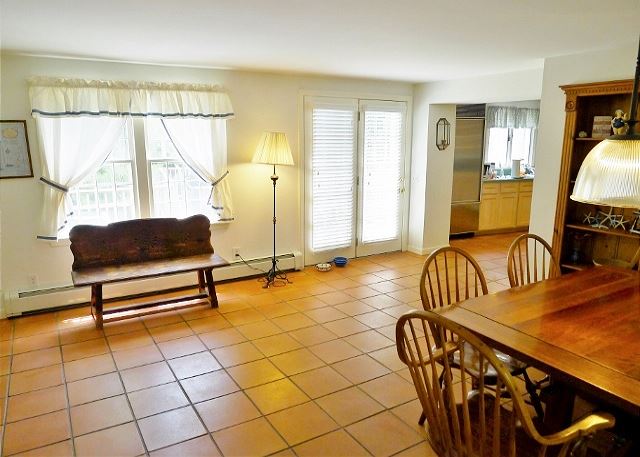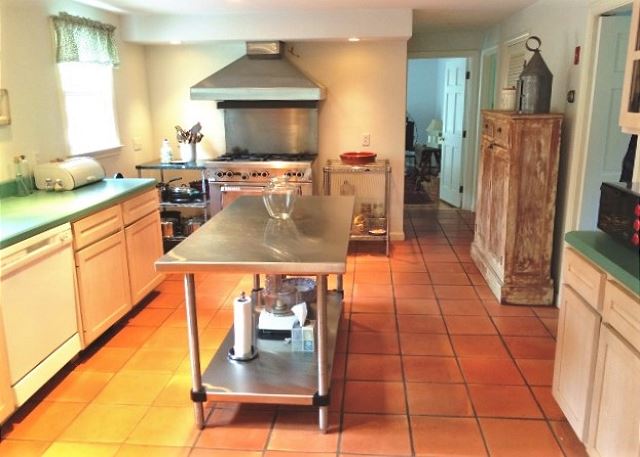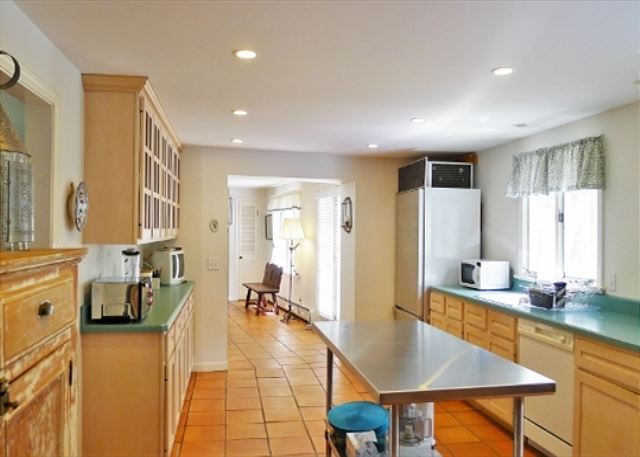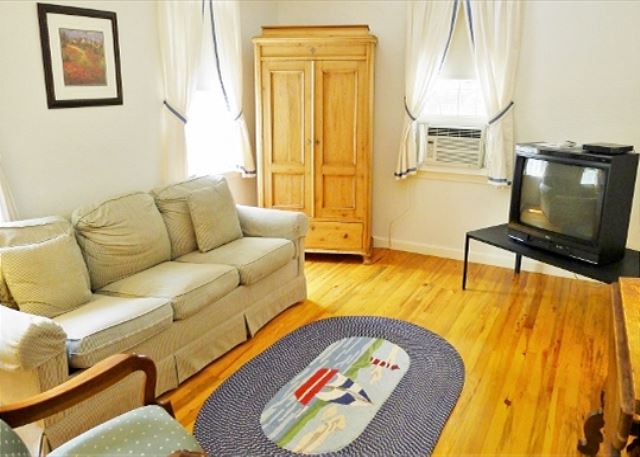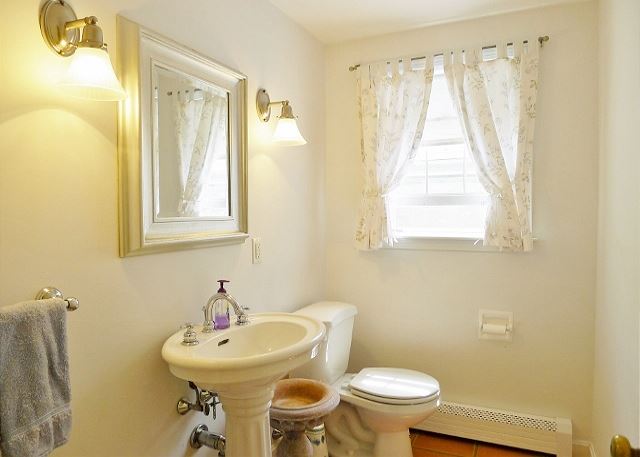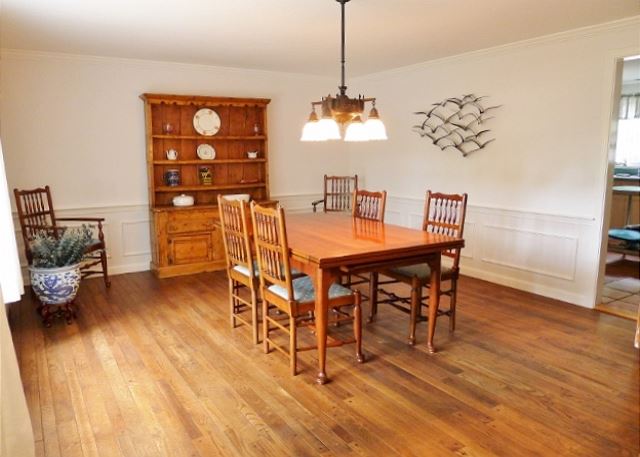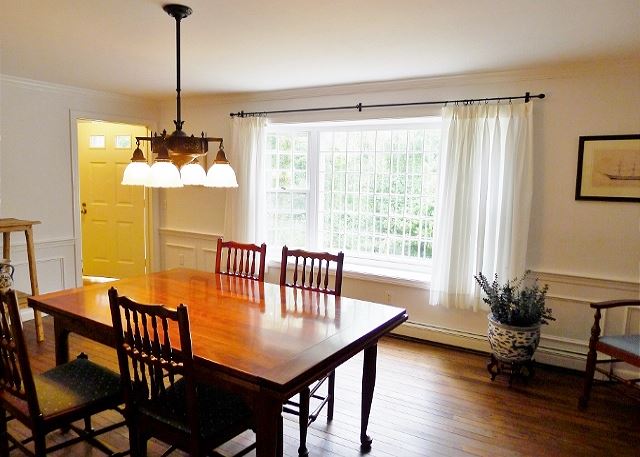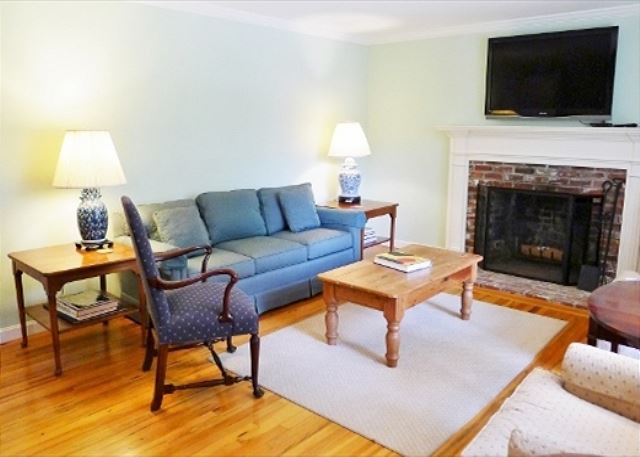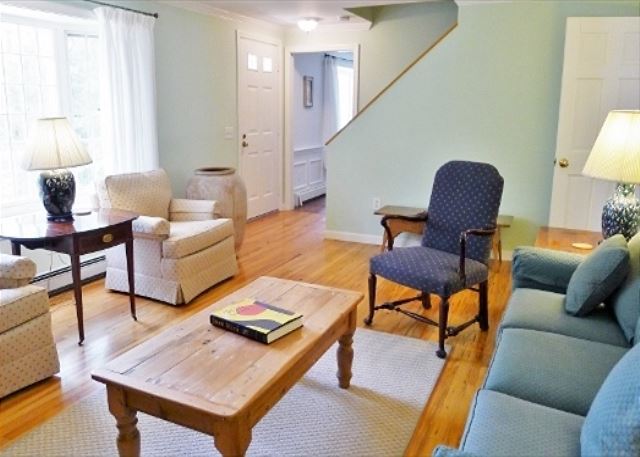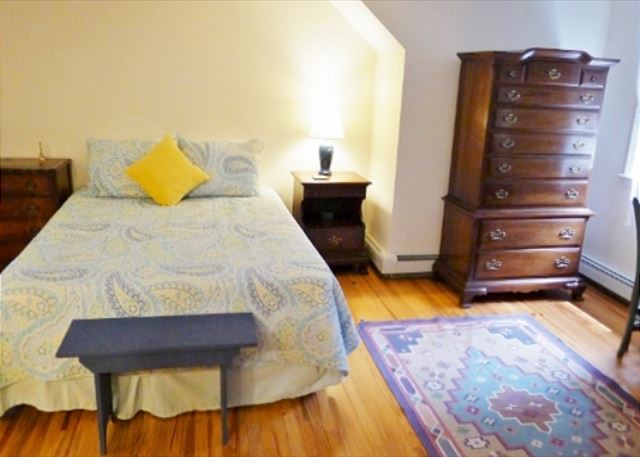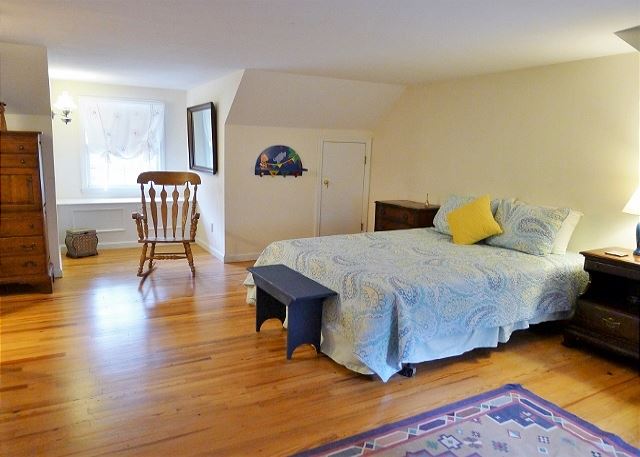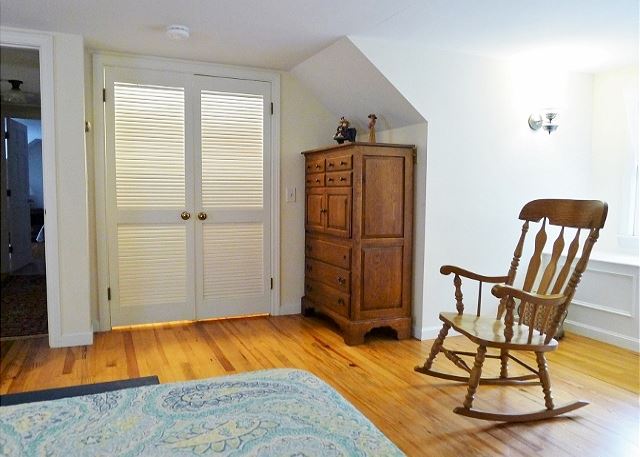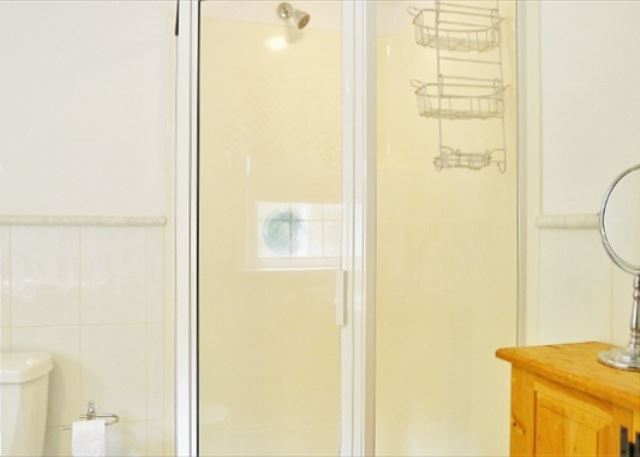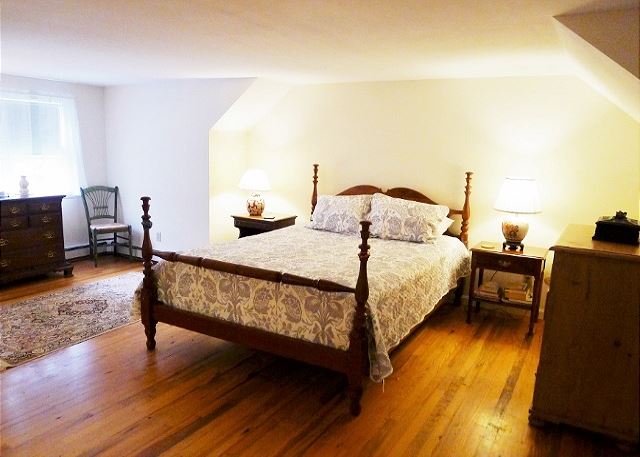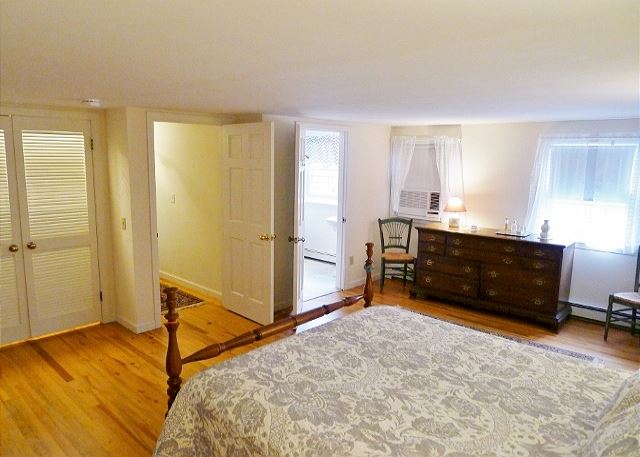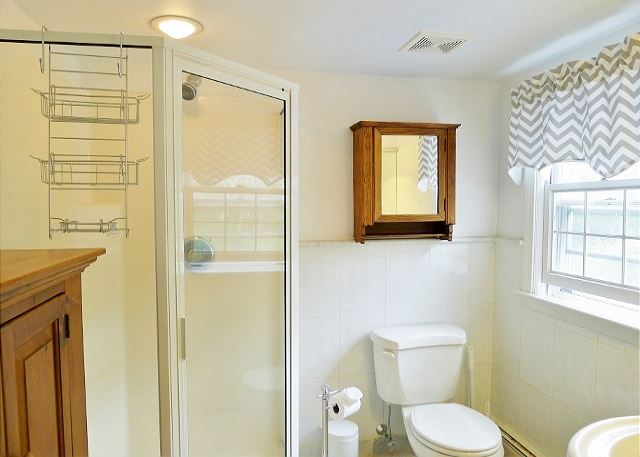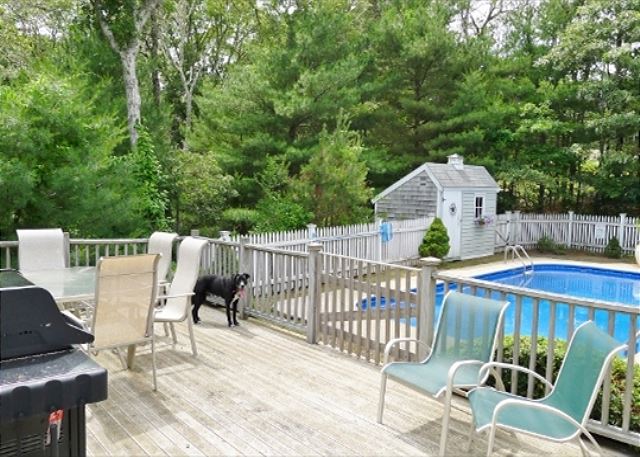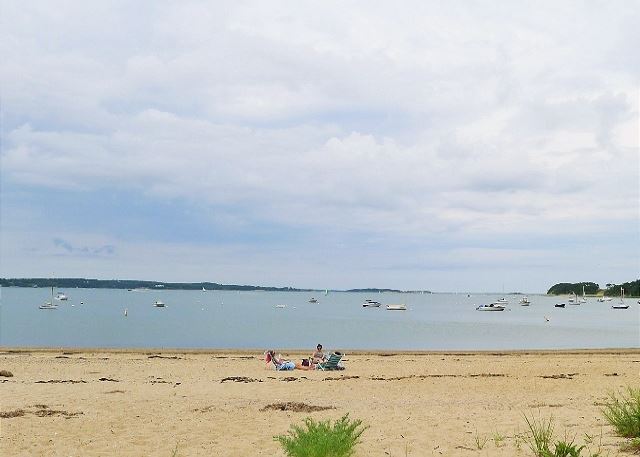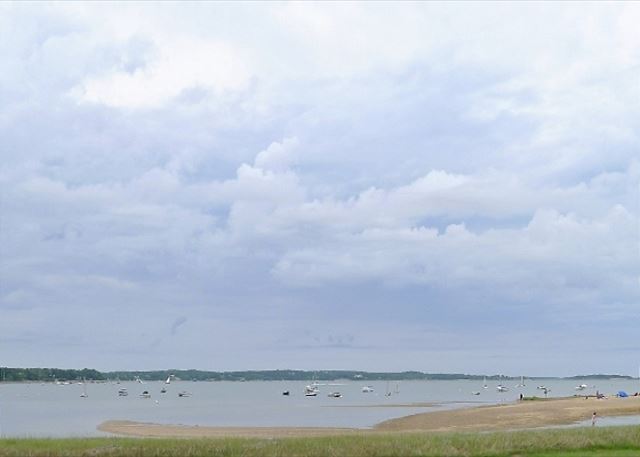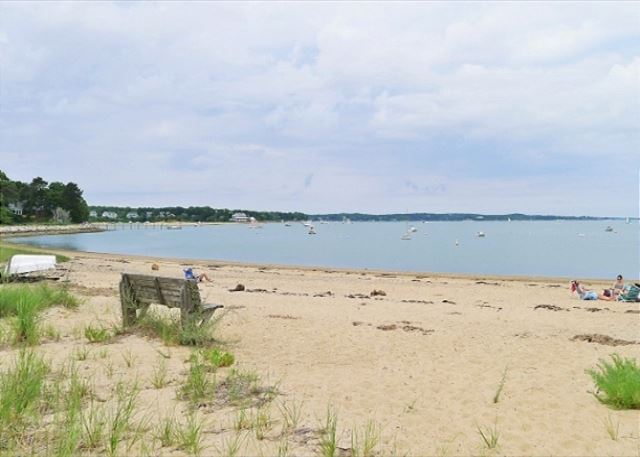 ---
Bedroom(s): 4
Bathroom(s): 3.5
Sleeps: 10
Type: House
Area: Pleasant Bay Beach
Town: Harwich
This expansive cape features 4+ oversized bedrooms, 3.5 baths, sumptuous common spaces, and a pool with L shaped deck. Light fills every room in this gem, and the home is cooled by a combination of window a/cs and a ductless wall-mounted a/c. AND A DOG IS WELCOME!

The front door opens to the kitchen with a table that extends to seat 10 and doors to the pool area. There are counters galore, a galvanized prep island, and stainless steel fridge and oven that all blend artfully with antique finishes.

Off the kitchen is a large dining room anchored by a polished solid cherry table with two leaves to easily accommodate 10 guests.

The living room has two ample couches and chairs and includes a HDTV with satellite service and BOSE stereo. On the other side of the living room is a den which readily converts into a bedroom with a full-sized sofa bed, armoire closet, and a door for privacy. Right outside the den is an elegant half bath.

Two other bedrooms are also located on the first floor on the opposite side of the entry. Bedroom #2 is large and has a queen bed and 3 tall windows where the sun pours in. Bedroom #3 is also good sized with two twins and a desk flush against another window with a view to the back woods.

There are two more generously proportioned bedrooms located upstairs and connected by a short hallway. They are mirror master suites with queen beds, their own bathrooms, walk-in tempered glass showers, cozy window seats, and enough space to practice yoga side by side!

The real centerpiece of this ethereal home is the pool surrounded by a wooden fence. Outside of its gate is an L shaped deck with outdoor dining tables, ergonomic seating, and a gas grill.

For as tempting as it is to stay put, Pleasant Bay beaches are within minutes, where you can swim, sun, boat, fish - even walk the dog during low tide!

Also included: WiFi Internet, washer and dryer (located in Bedroom #3), several room fans, and space for 3-4 cars in the driveway.

Sorry no smoking allowed.

10 guests maximum allowed at any time. No parties exceeding the occupancy limit allowed.

A dog is welcome at pet-friendly properties with pre-approval of weight and breed. Failure to observe House Pet Rules may result in a severe fine and/or eviction from the property. LIMIT 1 DOG PER PROPERTY.

LINENS (SHEETS/TOWELS) ARE NOT INCLUDED IN THIS RENTAL.

Travel Insurance is highly recommended and affordable coverage to protect your vacation investment.

Please view our policy and procedure page on our web site for detailed information about renting with us.

State and local taxes are applicable and may vary based on local ordinances and bylaws. These tax rates are subject to change.
- pets considered
- Microwave
- Drip Coffee Maker
- Cookware
- Dishes / Glassware / Utensils
- Kitchen Table
- Blender
- Toaster or Toaster Oven
- Dishwasher
- Lobster Pot
- Door to Deck
- A/C unit
- Pet Friendly
- TV
- Toaster Oven
- Dining Table
- TV
- Sleep Sofa/Futon
- A/C
- Window A/C
- two ensuite masters
- Tub Only
- Walk-In Shower
- Washer
- Dryer
- Deck
- Gas Grill with Propane Tank
- Dining Table w/ Umbrella
- Private Pool
- Garage Access
- Outdoor Lighting
- Near Cape Cod Bay Beaches
- Yes
- DOG
- Pet Considered
Guest Reviews of
6 mariner Harwich , MA
Summer End Cape Cod
House has a good floor plan and is ideal for two small families; with two bedrooms on each of the first floor and 2nd floors; the 2nd floor bedrooms each are en suite and the first floor has a full bath and a powder room. Big kitchen with good natural light. House has formal dining room but we preferred to eat at the farmers' type table in the nice sized open space off the kitchen. Two living room type spaces. This set up allows for people to be together or step apart as may sometimes be needed. Location was great for our family - quiet but just a few minutes drive to Chatham Light and town center. Nice big pool but probably better for a family without toddlers as the space between the gate and pool is a bit tight for early walkers to carefully navigate. Property agent was very professional and responsive.
4 out of 5 stars
Nice Pool at this home
The outdoor deck and pool area is the highlight of this home. While there are no beaches within walking distance, there are numerous beaches within a short drive. There are hikes close by and a very nice grocery store. The downstairs bath would benefit greatly from having a shower added. The kitchen gets a bit toasty anytime the oven is used due to lack of an exhaust fan. The owners' book needs to have information about the circuit breakers for the home. Ocean State Job Lot is close by for purchasing sheets and towels if needed. It's important to note that there's very noisy construction going on next door which starts early in the morning and continues through the evening.
3 out of 5 stars
Our trip to the Cape
Review by
Jordan H.
rented a home in Harwich for the week after Labor Day-to meet up with children and grandchildrenWe had a great time!
5 out of 5 stars
lovely cape house with lots of privacy
We spent a wonderful holiday at 6 Mariner Drive. Lots of space for the four of us, a pool (whoch is rather exceptional) and a lot of privacy and nature. The rental agency is very professional and help out with everything. When we had a small problem with electricity, they took care of it right away. The owner of the house popped by and fixed it. Very kind and hospitable!!
5 out of 5 stars
April 2020

| S | M | T | W | T | F | S |
| --- | --- | --- | --- | --- | --- | --- |
| | | | 01 | 02 | 03 | 04 |
| 05 | 06 | 07 | 08 | 09 | 10 | 11 |
| 12 | 13 | 14 | 15 | 16 | 17 | 18 |
| 19 | 20 | 21 | 22 | 23 | 24 | 25 |
| 26 | 27 | 28 | 29 | 30 | | |
May 2020

| S | M | T | W | T | F | S |
| --- | --- | --- | --- | --- | --- | --- |
| | | | | | 01 | 02 |
| 03 | 04 | 05 | 06 | 07 | 08 | 09 |
| 10 | 11 | 12 | 13 | 14 | 15 | 16 |
| 17 | 18 | 19 | 20 | 21 | 22 | 23 |
| 24 | 25 | 26 | 27 | 28 | 29 | 30 |
| 31 | | | | | | |
June 2020

| S | M | T | W | T | F | S |
| --- | --- | --- | --- | --- | --- | --- |
| | 01 | 02 | 03 | 04 | 05 | 06 |
| 07 | 08 | 09 | 10 | 11 | 12 | 13 |
| 14 | 15 | 16 | 17 | 18 | 19 | 20 |
| 21 | 22 | 23 | 24 | 25 | 26 | 27 |
| 28 | 29 | 30 | | | | |
July 2020

| S | M | T | W | T | F | S |
| --- | --- | --- | --- | --- | --- | --- |
| | | | 01 | 02 | 03 | 04 |
| 05 | 06 | 07 | 08 | 09 | 10 | 11 |
| 12 | 13 | 14 | 15 | 16 | 17 | 18 |
| 19 | 20 | 21 | 22 | 23 | 24 | 25 |
| 26 | 27 | 28 | 29 | 30 | 31 | |
August 2020

| S | M | T | W | T | F | S |
| --- | --- | --- | --- | --- | --- | --- |
| | | | | | | 01 |
| 02 | 03 | 04 | 05 | 06 | 07 | 08 |
| 09 | 10 | 11 | 12 | 13 | 14 | 15 |
| 16 | 17 | 18 | 19 | 20 | 21 | 22 |
| 23 | 24 | 25 | 26 | 27 | 28 | 29 |
| 30 | 31 | | | | | |
September 2020

| S | M | T | W | T | F | S |
| --- | --- | --- | --- | --- | --- | --- |
| | | 01 | 02 | 03 | 04 | 05 |
| 06 | 07 | 08 | 09 | 10 | 11 | 12 |
| 13 | 14 | 15 | 16 | 17 | 18 | 19 |
| 20 | 21 | 22 | 23 | 24 | 25 | 26 |
| 27 | 28 | 29 | 30 | | | |
October 2020

| S | M | T | W | T | F | S |
| --- | --- | --- | --- | --- | --- | --- |
| | | | | 01 | 02 | 03 |
| 04 | 05 | 06 | 07 | 08 | 09 | 10 |
| 11 | 12 | 13 | 14 | 15 | 16 | 17 |
| 18 | 19 | 20 | 21 | 22 | 23 | 24 |
| 25 | 26 | 27 | 28 | 29 | 30 | 31 |
November 2020

| S | M | T | W | T | F | S |
| --- | --- | --- | --- | --- | --- | --- |
| 01 | 02 | 03 | 04 | 05 | 06 | 07 |
| 08 | 09 | 10 | 11 | 12 | 13 | 14 |
| 15 | 16 | 17 | 18 | 19 | 20 | 21 |
| 22 | 23 | 24 | 25 | 26 | 27 | 28 |
| 29 | 30 | | | | | |
December 2020

| S | M | T | W | T | F | S |
| --- | --- | --- | --- | --- | --- | --- |
| | | 01 | 02 | 03 | 04 | 05 |
| 06 | 07 | 08 | 09 | 10 | 11 | 12 |
| 13 | 14 | 15 | 16 | 17 | 18 | 19 |
| 20 | 21 | 22 | 23 | 24 | 25 | 26 |
| 27 | 28 | 29 | 30 | 31 | | |
January 2021

| S | M | T | W | T | F | S |
| --- | --- | --- | --- | --- | --- | --- |
| | | | | | 01 | 02 |
| 03 | 04 | 05 | 06 | 07 | 08 | 09 |
| 10 | 11 | 12 | 13 | 14 | 15 | 16 |
| 17 | 18 | 19 | 20 | 21 | 22 | 23 |
| 24 | 25 | 26 | 27 | 28 | 29 | 30 |
| 31 | | | | | | |
February 2021

| S | M | T | W | T | F | S |
| --- | --- | --- | --- | --- | --- | --- |
| | 01 | 02 | 03 | 04 | 05 | 06 |
| 07 | 08 | 09 | 10 | 11 | 12 | 13 |
| 14 | 15 | 16 | 17 | 18 | 19 | 20 |
| 21 | 22 | 23 | 24 | 25 | 26 | 27 |
| 28 | | | | | | |
March 2021

| S | M | T | W | T | F | S |
| --- | --- | --- | --- | --- | --- | --- |
| | 01 | 02 | 03 | 04 | 05 | 06 |
| 07 | 08 | 09 | 10 | 11 | 12 | 13 |
| 14 | 15 | 16 | 17 | 18 | 19 | 20 |
| 21 | 22 | 23 | 24 | 25 | 26 | 27 |
| 28 | 29 | 30 | 31 | | | |
April 2021

| S | M | T | W | T | F | S |
| --- | --- | --- | --- | --- | --- | --- |
| | | | | 01 | 02 | 03 |
| 04 | 05 | 06 | 07 | 08 | 09 | 10 |
| 11 | 12 | 13 | 14 | 15 | 16 | 17 |
| 18 | 19 | 20 | 21 | 22 | 23 | 24 |
| 25 | 26 | 27 | 28 | 29 | 30 | |
Available
Unavailable
Sat to Sat booking