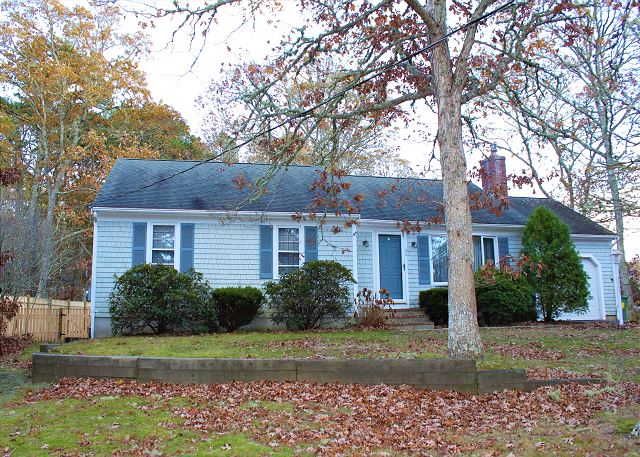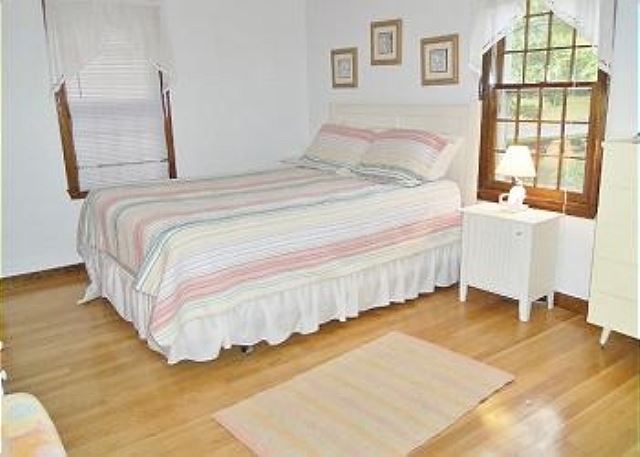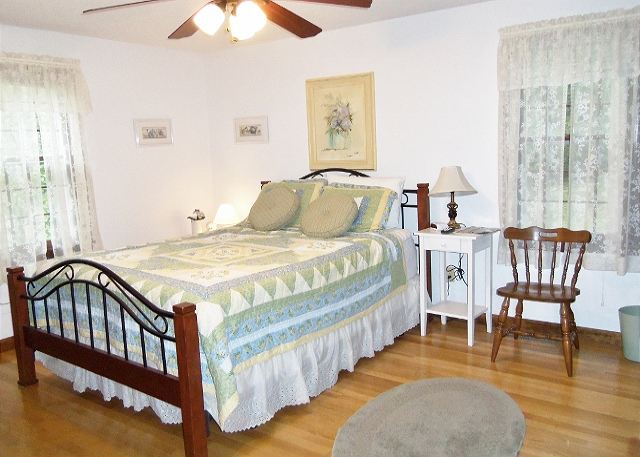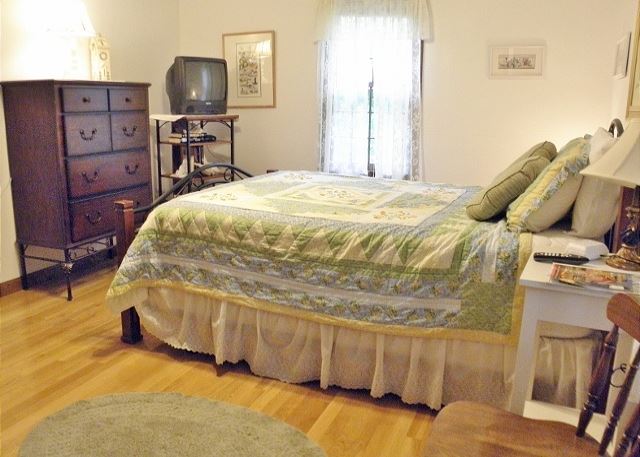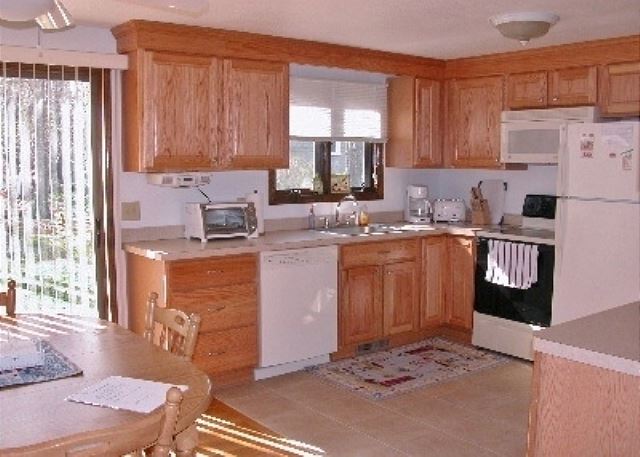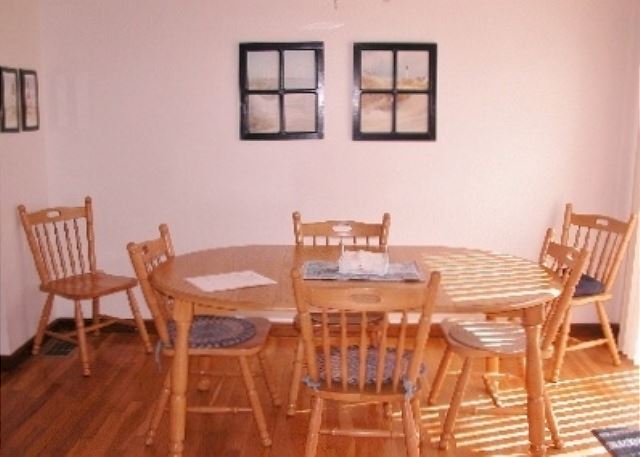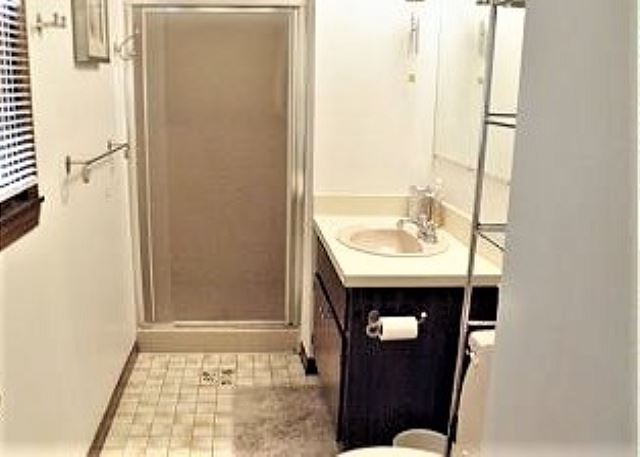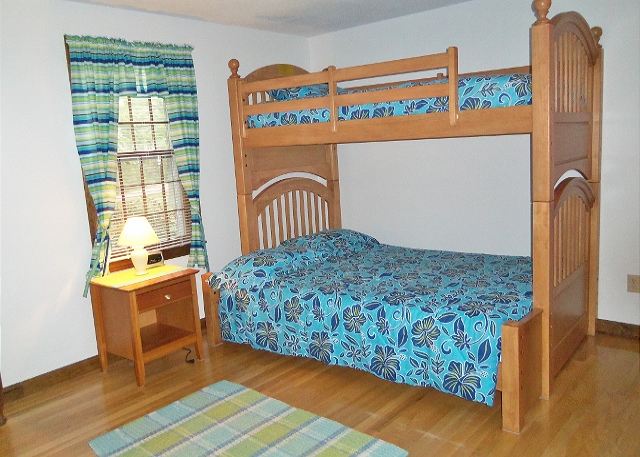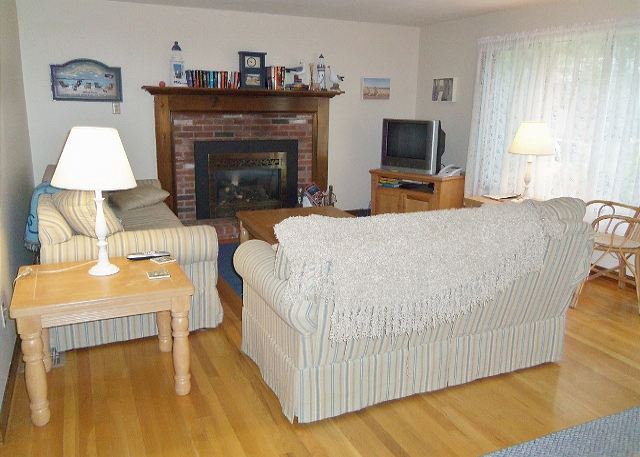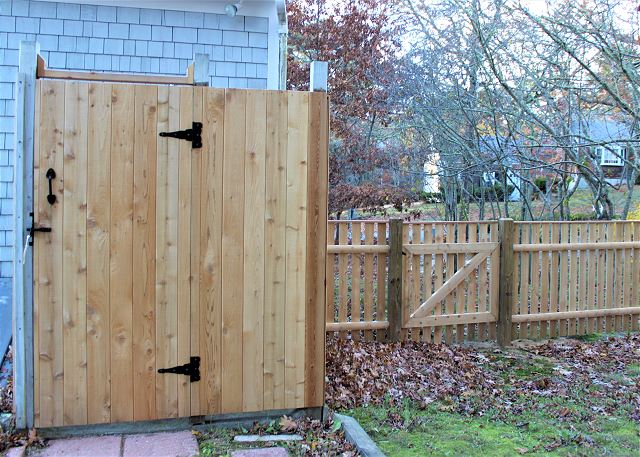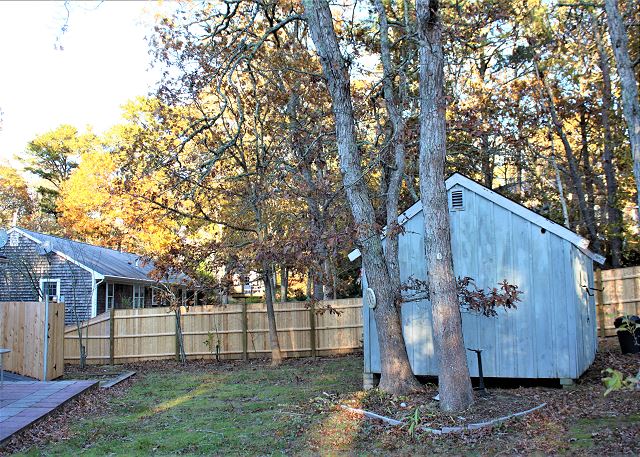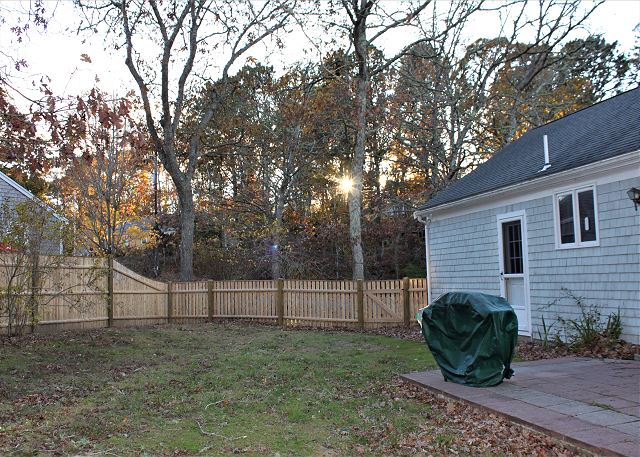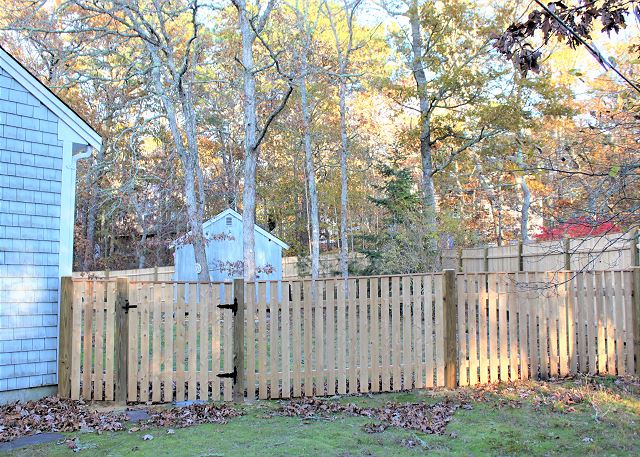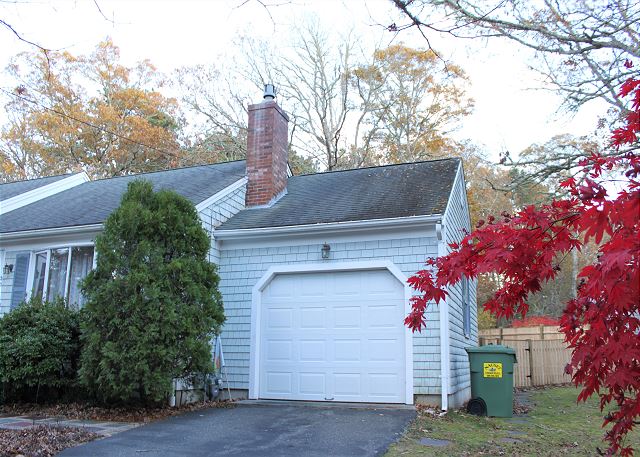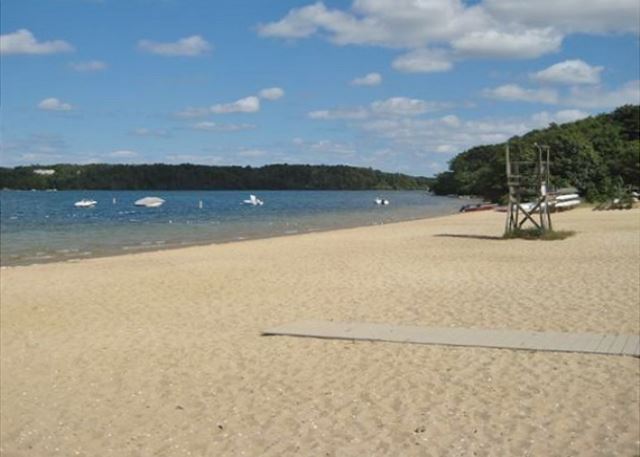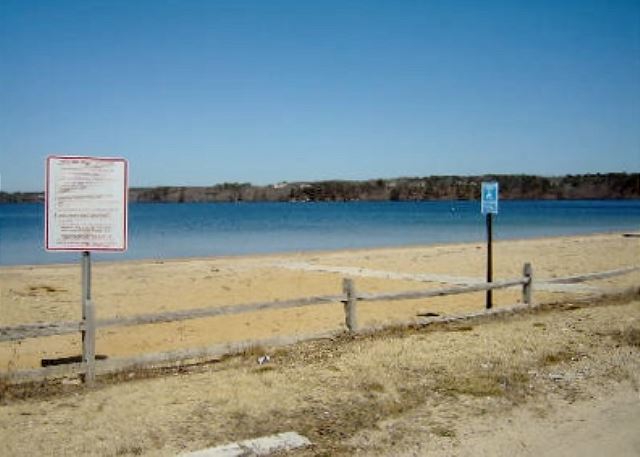 ---
Bedroom(s): 3
Bathroom(s): 2
Sleeps: 6
Type: House
Area:
Town: Harwich
Just 0.4 miles from Long Pond Beach in Harwich and 1/4 mile to the bike trail.

This Harwich ranch style home features three bedrooms and 2 baths. One bathroom has a tub & shower combo and the other bathroom has a shower only. There are hardwood floors throughout and CENTRAL A/C in this immaculate Cape Cod vacation home, located in a quiet neighborhood just 0.4 miles from Long Pond Beach, and 1/4 mile to the Cape Cod Rail Trail bike path.

The living room has queen sleeper sofa, a new 40 inch TV, DVD, WiFi, and Stereo/CD Player. The fully outfitted kitchen has electric range, dishwasher, microwave, toaster, toaster oven, iron, ironing board, blender, lobster pot, drip coffee maker, and Keurig also.

The main bed room has a Queen bed and private bath. Bedroom 2 has a Queen bed, and bedroom 3 has a bunk bed with twin on top and full bed on bottom, also a brand new 32 inch screen TV and a Wii video game console.

This home also includes ceiling fans in the kitchen & main bedroom, a DVD player with expanded Comcast cable service, portable AM/FM stereo & CD player and a gas fireplace.

There is a nice yard with enclosed outside shower, great after a day at the beach, and a charcoal grill for evening BBQs. The clothing washer & dryer are in the basement.

A pet dog maybe allowed with pre-approval and noted on your lease in advance & agreement to follow pet-friendly home guide and any rules of the home.

No smoking allowed.

6 guests maximum allowed at any time. No parties exceeding the occupancy limit allowed.

LINENS (SHEETS/TOWELS) ARE NOT INCLUDED IN THIS RENTAL.

Travel Insurance is highly recommended and affordable coverage to protect your vacation investment.

Please view our policy and procedure page on our web site for detailed information about renting with us.
" frameborder="0" allowfullscreen>
- pets considered
- Standard TV
- DVD Player
- Extended Cable
- Basic Cable
- Stereo w/ CD player
- Microwave
- Drip Coffee Maker
- Cookware
- Dishes / Glassware / Utensils
- Kitchen Table
- Blender
- Iron
- Keurig Coffee Maker
- Toaster or Toaster Oven
- Dishwasher
- Lobster Pot
- TV
- Hair Dryer
- Tub/Shower Combo
- Patio
- Gas Grill with Propane Tank
- Enclosed Outdoor Shower
- Garage Access
- Near Rail Trail Bike Path
- Lake or Pond Access
- Near Golf Course
- Yes
- DOG
- Pet Considered
Guest Reviews of
30 buttonwood Harwich , MA
Great House
Enjoyed our stay.
5 out of 5 stars
30 Buttonwood
Review by
Marilyn O.
After several years of return visits, our family loves our time together at our rental property. We love the location ...5 min to bike path,5 min to beach!
5 out of 5 stars
Love this house
Review by
Frances C.
We love staying here. We have rented this house for several years and hope to do so.
5 out of 5 stars
Harwich House
The house was perfect for my needs and I was able to bring my pet Shitzu too!
5 out of 5 stars
Nice Place!
Review by
Mark C.
This house is down the street from my parent's house where I grew up so the location is good for us. The house is clean and nice. This is now the third year we've rented it and we would likely do so again.
5 out of 5 stars
Harwich rental
Review by
Therese W.
Our stay in this property was lovely. The house was spotless, and very well appointed with everything we needed for our week's stay in Cape Cod. We would definitely rent this property again.
5 out of 5 stars
January 2018

| S | M | T | W | T | F | S |
| --- | --- | --- | --- | --- | --- | --- |
| | 01 | 02 | 03 | 04 | 05 | 06 |
| 07 | 08 | 09 | 10 | 11 | 12 | 13 |
| 14 | 15 | 16 | 17 | 18 | 19 | 20 |
| 21 | 22 | 23 | 24 | 25 | 26 | 27 |
| 28 | 29 | 30 | 31 | | | |
February 2018

| S | M | T | W | T | F | S |
| --- | --- | --- | --- | --- | --- | --- |
| | | | | 01 | 02 | 03 |
| 04 | 05 | 06 | 07 | 08 | 09 | 10 |
| 11 | 12 | 13 | 14 | 15 | 16 | 17 |
| 18 | 19 | 20 | 21 | 22 | 23 | 24 |
| 25 | 26 | 27 | 28 | | | |
March 2018

| S | M | T | W | T | F | S |
| --- | --- | --- | --- | --- | --- | --- |
| | | | | 01 | 02 | 03 |
| 04 | 05 | 06 | 07 | 08 | 09 | 10 |
| 11 | 12 | 13 | 14 | 15 | 16 | 17 |
| 18 | 19 | 20 | 21 | 22 | 23 | 24 |
| 25 | 26 | 27 | 28 | 29 | 30 | 31 |
April 2018

| S | M | T | W | T | F | S |
| --- | --- | --- | --- | --- | --- | --- |
| 01 | 02 | 03 | 04 | 05 | 06 | 07 |
| 08 | 09 | 10 | 11 | 12 | 13 | 14 |
| 15 | 16 | 17 | 18 | 19 | 20 | 21 |
| 22 | 23 | 24 | 25 | 26 | 27 | 28 |
| 29 | 30 | | | | | |
May 2018

| S | M | T | W | T | F | S |
| --- | --- | --- | --- | --- | --- | --- |
| | | 01 | 02 | 03 | 04 | 05 |
| 06 | 07 | 08 | 09 | 10 | 11 | 12 |
| 13 | 14 | 15 | 16 | 17 | 18 | 19 |
| 20 | 21 | 22 | 23 | 24 | 25 | 26 |
| 27 | 28 | 29 | 30 | 31 | | |
June 2018

| S | M | T | W | T | F | S |
| --- | --- | --- | --- | --- | --- | --- |
| | | | | | 01 | 02 |
| 03 | 04 | 05 | 06 | 07 | 08 | 09 |
| 10 | 11 | 12 | 13 | 14 | 15 | 16 |
| 17 | 18 | 19 | 20 | 21 | 22 | 23 |
| 24 | 25 | 26 | 27 | 28 | 29 | 30 |
July 2018

| S | M | T | W | T | F | S |
| --- | --- | --- | --- | --- | --- | --- |
| 01 | 02 | 03 | 04 | 05 | 06 | 07 |
| 08 | 09 | 10 | 11 | 12 | 13 | 14 |
| 15 | 16 | 17 | 18 | 19 | 20 | 21 |
| 22 | 23 | 24 | 25 | 26 | 27 | 28 |
| 29 | 30 | 31 | | | | |
August 2018

| S | M | T | W | T | F | S |
| --- | --- | --- | --- | --- | --- | --- |
| | | | 01 | 02 | 03 | 04 |
| 05 | 06 | 07 | 08 | 09 | 10 | 11 |
| 12 | 13 | 14 | 15 | 16 | 17 | 18 |
| 19 | 20 | 21 | 22 | 23 | 24 | 25 |
| 26 | 27 | 28 | 29 | 30 | 31 | |
September 2018

| S | M | T | W | T | F | S |
| --- | --- | --- | --- | --- | --- | --- |
| | | | | | | 01 |
| 02 | 03 | 04 | 05 | 06 | 07 | 08 |
| 09 | 10 | 11 | 12 | 13 | 14 | 15 |
| 16 | 17 | 18 | 19 | 20 | 21 | 22 |
| 23 | 24 | 25 | 26 | 27 | 28 | 29 |
| 30 | | | | | | |
October 2018

| S | M | T | W | T | F | S |
| --- | --- | --- | --- | --- | --- | --- |
| | 01 | 02 | 03 | 04 | 05 | 06 |
| 07 | 08 | 09 | 10 | 11 | 12 | 13 |
| 14 | 15 | 16 | 17 | 18 | 19 | 20 |
| 21 | 22 | 23 | 24 | 25 | 26 | 27 |
| 28 | 29 | 30 | 31 | | | |
November 2018

| S | M | T | W | T | F | S |
| --- | --- | --- | --- | --- | --- | --- |
| | | | | 01 | 02 | 03 |
| 04 | 05 | 06 | 07 | 08 | 09 | 10 |
| 11 | 12 | 13 | 14 | 15 | 16 | 17 |
| 18 | 19 | 20 | 21 | 22 | 23 | 24 |
| 25 | 26 | 27 | 28 | 29 | 30 | |
December 2018

| S | M | T | W | T | F | S |
| --- | --- | --- | --- | --- | --- | --- |
| | | | | | | 01 |
| 02 | 03 | 04 | 05 | 06 | 07 | 08 |
| 09 | 10 | 11 | 12 | 13 | 14 | 15 |
| 16 | 17 | 18 | 19 | 20 | 21 | 22 |
| 23 | 24 | 25 | 26 | 27 | 28 | 29 |
| 30 | 31 | | | | | |
January 2019

| S | M | T | W | T | F | S |
| --- | --- | --- | --- | --- | --- | --- |
| | | 01 | 02 | 03 | 04 | 05 |
| 06 | 07 | 08 | 09 | 10 | 11 | 12 |
| 13 | 14 | 15 | 16 | 17 | 18 | 19 |
| 20 | 21 | 22 | 23 | 24 | 25 | 26 |
| 27 | 28 | 29 | 30 | 31 | | |
Available
Unavailable
Sat to Sat booking