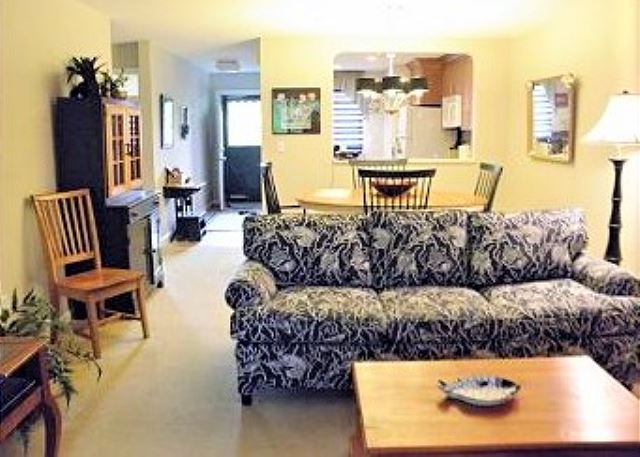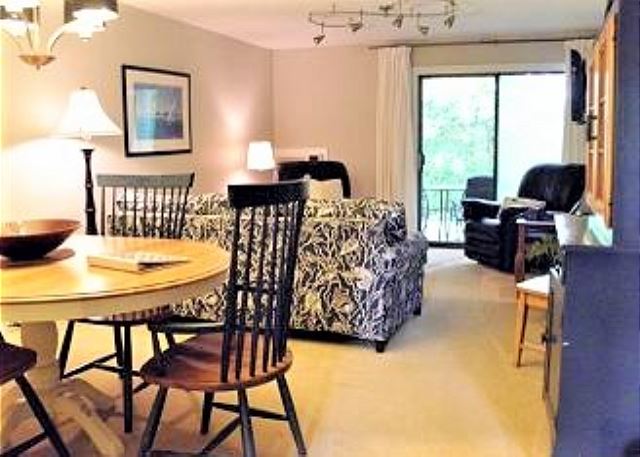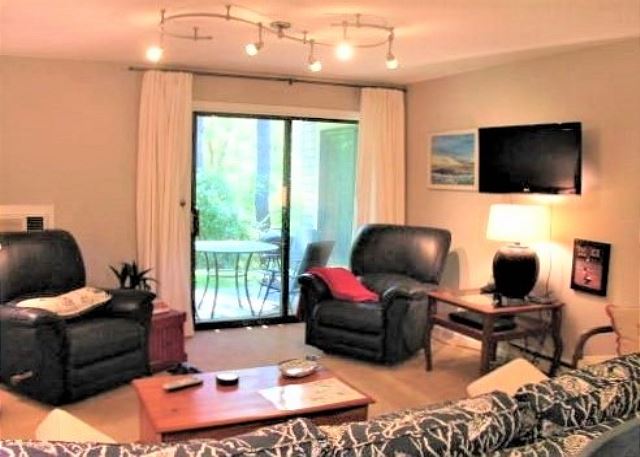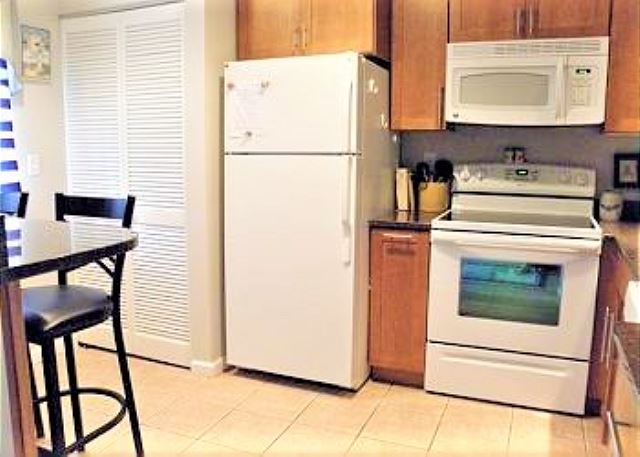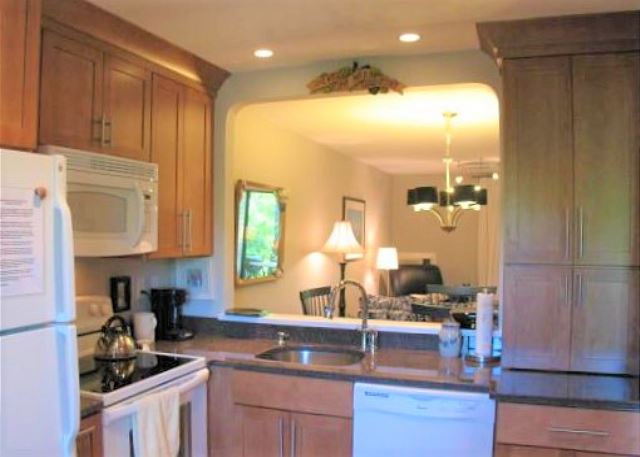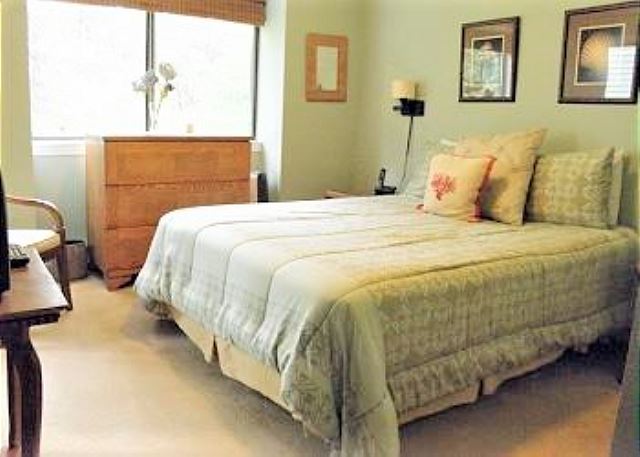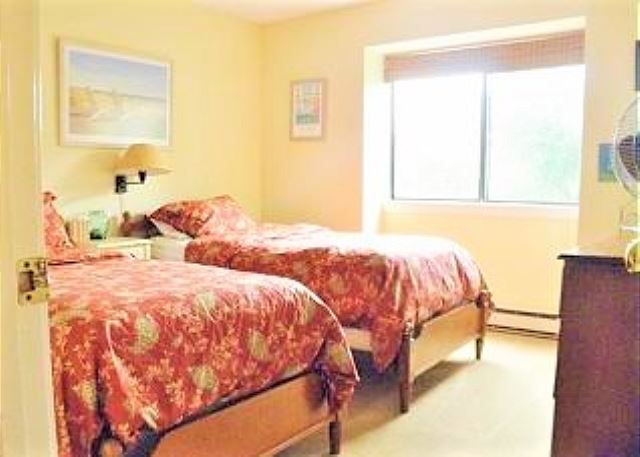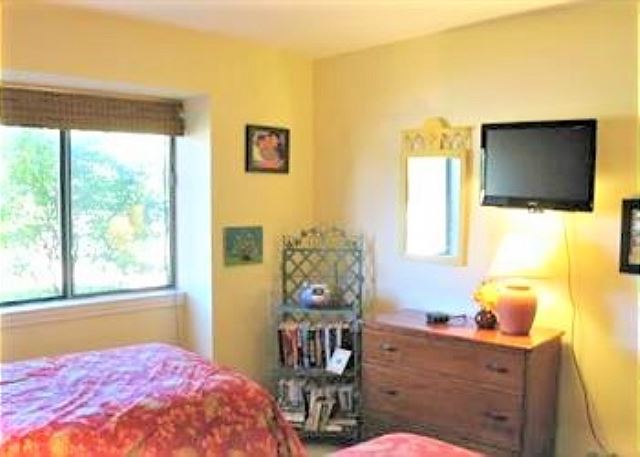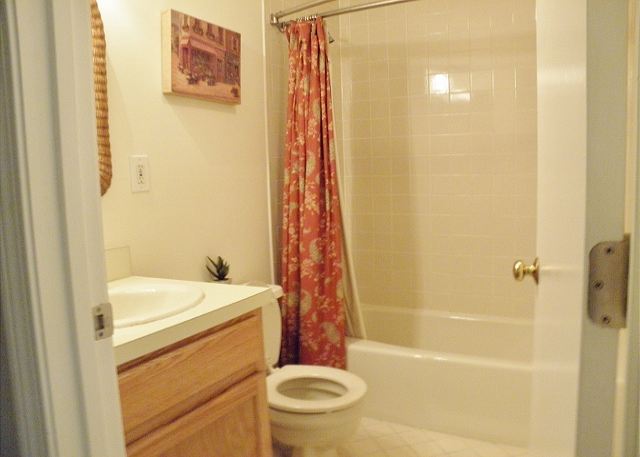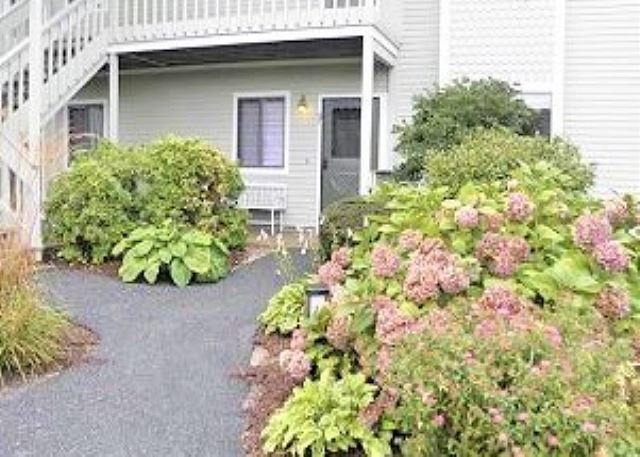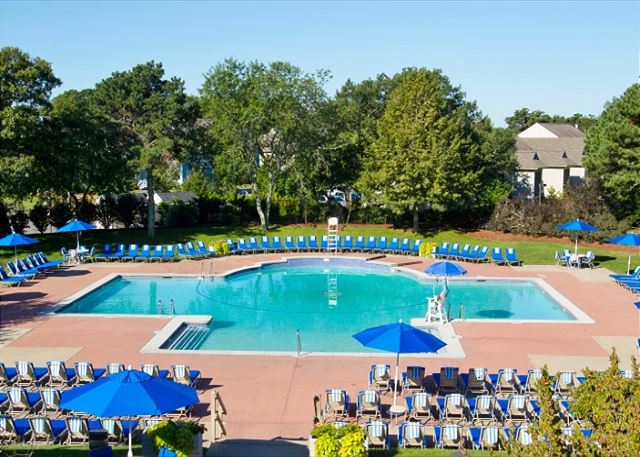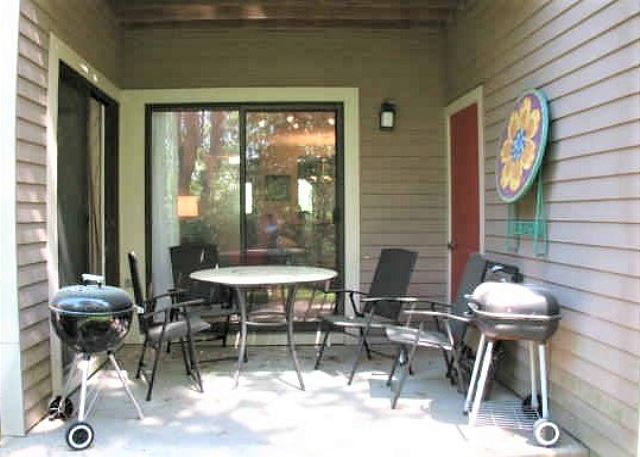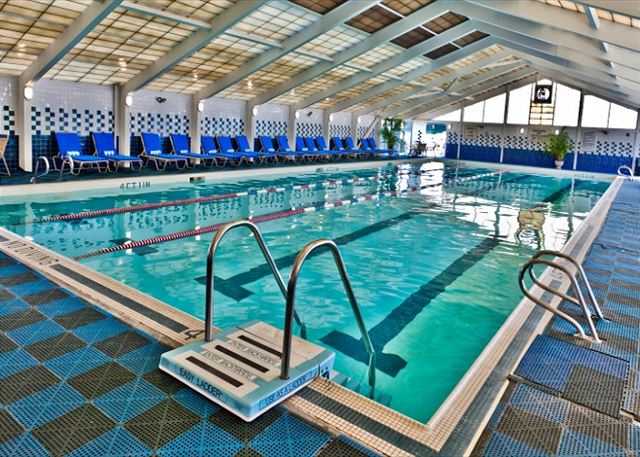 ---
Bedroom(s): 2
Bathroom(s): 2
Sleeps: 6
Type: Condominium
Area:
Town: Brewster
Enjoy this lovely lower level villa at Ocean Edge Resort with great views of Sol's Pond.

For your comfort this Ocean Edge villa offers 2 wall A/C units, one in the living room and the other in the main bedroom. This condo offers a flat screen TV and WIFI internet! Enjoy the remodeled bathrooms and new decor in the bedrooms as well. The kitchen has been fully remodeled with brand new counter-tops and stainless steel appliances, all for your enjoyment! There is one bedroom with a Queen and one with two twins. Both have TVs. The living room has a queen-size sleeper sofa. Outside there is a table and charcoal grill.

Guests of this home will have Ocean Edge privileges except access to the private beach area. The resort charges fees to use these amenities which will include the use of Fletcher indoor & outdoor pools, Arbor outdoor pool, the New Fitness Center with outdoor pool, and Tennis courts. This home does not include Golf privileges.You must complete your OE guest list and submit it to us 10 days prior to your stay in order to have privileges.

Remember all Ocean Edge fees are to be paid upon arrival to Ocean Edge.

Sorry no pets and no smoking allowed.

6 guests maximum allowed at any time. No parties exceeding the occupancy limit allowed.

LINENS (SHEETS/TOWELS) ARE NOT INCLUDED IN THIS RENTAL.

Travel Insurance is highly recommended and affordable coverage to protect your vacation investment.

Please view our policy and procedure page on our web site for detailed information about renting with us.
- Coffee Maker
- Dishwasher
- Microwave
- Stove
- Toaster
- Deck / Patio
- Outdoor Grill
- Flat Screen HDTV
- Extended Cable
- A/C Unit
- AM/FM Radio
- WiFi
- Washer & Dryer
- Microwave
- Pantry items (sugar, salt & pep)
- Cleaning Supplies
- Cookware
- Dishes / Glassware / Utensils
- Toaster or Toaster Oven
- Ice Maker
- Island or Counter Seating
- Dishwasher
- TV
- Window A/C
- Hair Dryer
- Tub/Shower Combo
- Shared Pool
- Close to Town
- Near Rail Trail Bike Path
- Near Cape Cod Bay Beaches
Guest Reviews of
87 chilton* Brewster , MA
Spacious, and yet
So one bedroom had a AC unit the other did not, but the living room did. So my kids were left with only a fan to cool them. The place was a mess when we got there because the owner rents it out with two different rental companies and the other one did not clean afterward. However, Cap Cod Rentals had someone there within the hour to do an excellent clean-up. The only other thing to mention is that the washer and drier are small, so multiple loads have to be done to get sheets and towels washed. Not a big deal in the large scheme of things, and the folks at Cape Cod Rentals were very understanding and helpful about this. We've been to Ocean Edge before and liked it. However, that prior room came with a pool pass. We wish this room came with a pool pass, or that day passes were more like $10 rather than $18, which is outrageous, as is $20/hour to play tennis. (I understand that the condo owners are getting overcharged for pool usage for the year.) Ocean Edge also used to provide shuttle buses to the Brewster beach, but that was discontinued, which is a disappointment. Cutbacks in service are never appreciated.
4 out of 5 stars
Comfortable Ocean Edge Vacation Property
Review by
Brian G.
The air conditioning was good. The TVs in each room were a welcoming feature. the furnishings were in good condition and the amount of space to move around in was very good.
4 out of 5 stars
Great
Review by
Daniel P.
March 2018

| S | M | T | W | T | F | S |
| --- | --- | --- | --- | --- | --- | --- |
| | | | | 01 | 02 | 03 |
| 04 | 05 | 06 | 07 | 08 | 09 | 10 |
| 11 | 12 | 13 | 14 | 15 | 16 | 17 |
| 18 | 19 | 20 | 21 | 22 | 23 | 24 |
| 25 | 26 | 27 | 28 | 29 | 30 | 31 |
April 2018

| S | M | T | W | T | F | S |
| --- | --- | --- | --- | --- | --- | --- |
| 01 | 02 | 03 | 04 | 05 | 06 | 07 |
| 08 | 09 | 10 | 11 | 12 | 13 | 14 |
| 15 | 16 | 17 | 18 | 19 | 20 | 21 |
| 22 | 23 | 24 | 25 | 26 | 27 | 28 |
| 29 | 30 | | | | | |
May 2018

| S | M | T | W | T | F | S |
| --- | --- | --- | --- | --- | --- | --- |
| | | 01 | 02 | 03 | 04 | 05 |
| 06 | 07 | 08 | 09 | 10 | 11 | 12 |
| 13 | 14 | 15 | 16 | 17 | 18 | 19 |
| 20 | 21 | 22 | 23 | 24 | 25 | 26 |
| 27 | 28 | 29 | 30 | 31 | | |
June 2018

| S | M | T | W | T | F | S |
| --- | --- | --- | --- | --- | --- | --- |
| | | | | | 01 | 02 |
| 03 | 04 | 05 | 06 | 07 | 08 | 09 |
| 10 | 11 | 12 | 13 | 14 | 15 | 16 |
| 17 | 18 | 19 | 20 | 21 | 22 | 23 |
| 24 | 25 | 26 | 27 | 28 | 29 | 30 |
July 2018

| S | M | T | W | T | F | S |
| --- | --- | --- | --- | --- | --- | --- |
| 01 | 02 | 03 | 04 | 05 | 06 | 07 |
| 08 | 09 | 10 | 11 | 12 | 13 | 14 |
| 15 | 16 | 17 | 18 | 19 | 20 | 21 |
| 22 | 23 | 24 | 25 | 26 | 27 | 28 |
| 29 | 30 | 31 | | | | |
August 2018

| S | M | T | W | T | F | S |
| --- | --- | --- | --- | --- | --- | --- |
| | | | 01 | 02 | 03 | 04 |
| 05 | 06 | 07 | 08 | 09 | 10 | 11 |
| 12 | 13 | 14 | 15 | 16 | 17 | 18 |
| 19 | 20 | 21 | 22 | 23 | 24 | 25 |
| 26 | 27 | 28 | 29 | 30 | 31 | |
September 2018

| S | M | T | W | T | F | S |
| --- | --- | --- | --- | --- | --- | --- |
| | | | | | | 01 |
| 02 | 03 | 04 | 05 | 06 | 07 | 08 |
| 09 | 10 | 11 | 12 | 13 | 14 | 15 |
| 16 | 17 | 18 | 19 | 20 | 21 | 22 |
| 23 | 24 | 25 | 26 | 27 | 28 | 29 |
| 30 | | | | | | |
October 2018

| S | M | T | W | T | F | S |
| --- | --- | --- | --- | --- | --- | --- |
| | 01 | 02 | 03 | 04 | 05 | 06 |
| 07 | 08 | 09 | 10 | 11 | 12 | 13 |
| 14 | 15 | 16 | 17 | 18 | 19 | 20 |
| 21 | 22 | 23 | 24 | 25 | 26 | 27 |
| 28 | 29 | 30 | 31 | | | |
November 2018

| S | M | T | W | T | F | S |
| --- | --- | --- | --- | --- | --- | --- |
| | | | | 01 | 02 | 03 |
| 04 | 05 | 06 | 07 | 08 | 09 | 10 |
| 11 | 12 | 13 | 14 | 15 | 16 | 17 |
| 18 | 19 | 20 | 21 | 22 | 23 | 24 |
| 25 | 26 | 27 | 28 | 29 | 30 | |
December 2018

| S | M | T | W | T | F | S |
| --- | --- | --- | --- | --- | --- | --- |
| | | | | | | 01 |
| 02 | 03 | 04 | 05 | 06 | 07 | 08 |
| 09 | 10 | 11 | 12 | 13 | 14 | 15 |
| 16 | 17 | 18 | 19 | 20 | 21 | 22 |
| 23 | 24 | 25 | 26 | 27 | 28 | 29 |
| 30 | 31 | | | | | |
January 2019

| S | M | T | W | T | F | S |
| --- | --- | --- | --- | --- | --- | --- |
| | | 01 | 02 | 03 | 04 | 05 |
| 06 | 07 | 08 | 09 | 10 | 11 | 12 |
| 13 | 14 | 15 | 16 | 17 | 18 | 19 |
| 20 | 21 | 22 | 23 | 24 | 25 | 26 |
| 27 | 28 | 29 | 30 | 31 | | |
February 2019

| S | M | T | W | T | F | S |
| --- | --- | --- | --- | --- | --- | --- |
| | | | | | 01 | 02 |
| 03 | 04 | 05 | 06 | 07 | 08 | 09 |
| 10 | 11 | 12 | 13 | 14 | 15 | 16 |
| 17 | 18 | 19 | 20 | 21 | 22 | 23 |
| 24 | 25 | 26 | 27 | 28 | | |
March 2019

| S | M | T | W | T | F | S |
| --- | --- | --- | --- | --- | --- | --- |
| | | | | | 01 | 02 |
| 03 | 04 | 05 | 06 | 07 | 08 | 09 |
| 10 | 11 | 12 | 13 | 14 | 15 | 16 |
| 17 | 18 | 19 | 20 | 21 | 22 | 23 |
| 24 | 25 | 26 | 27 | 28 | 29 | 30 |
| 31 | | | | | | |
Available
Unavailable
Sat to Sat booking