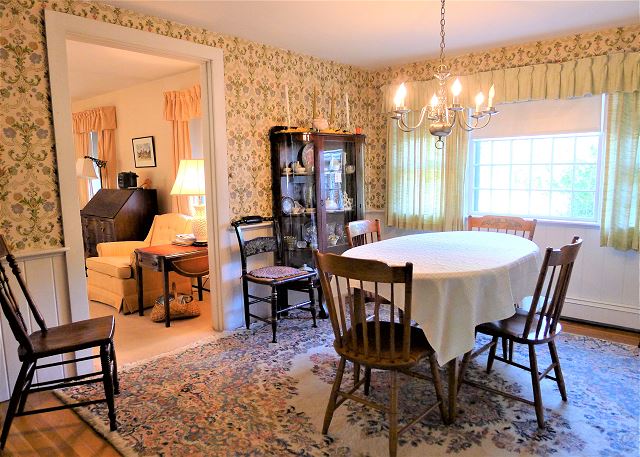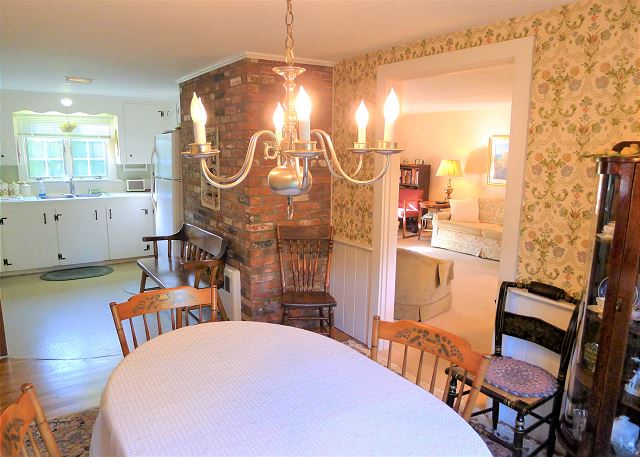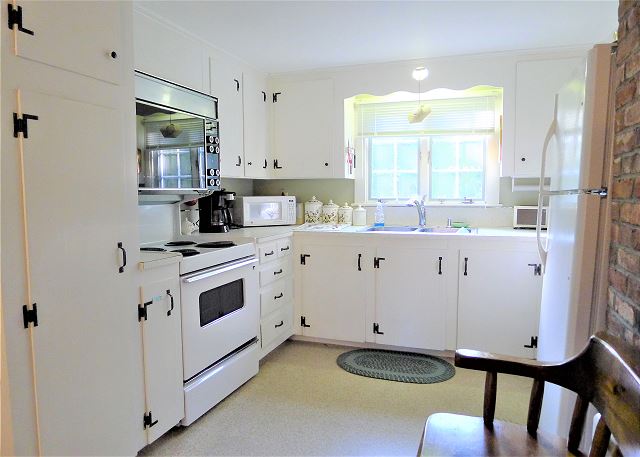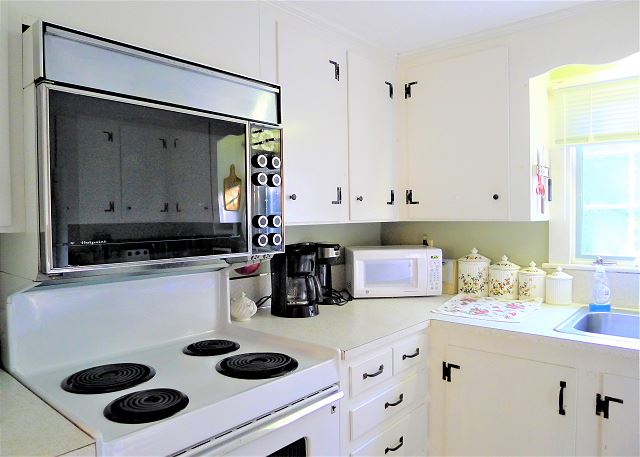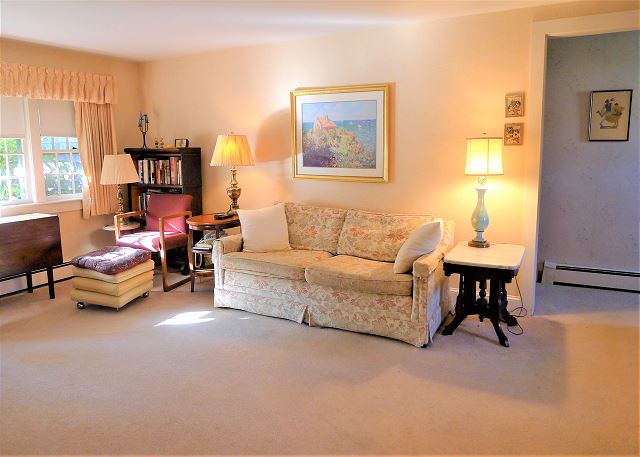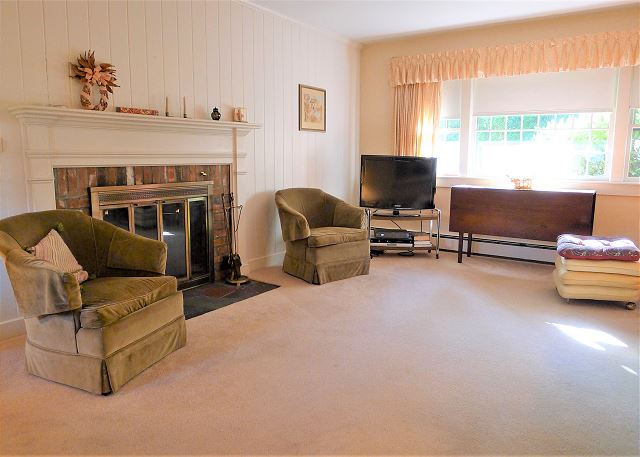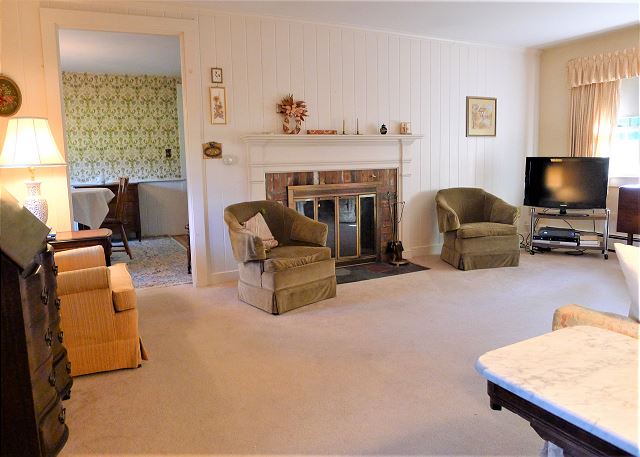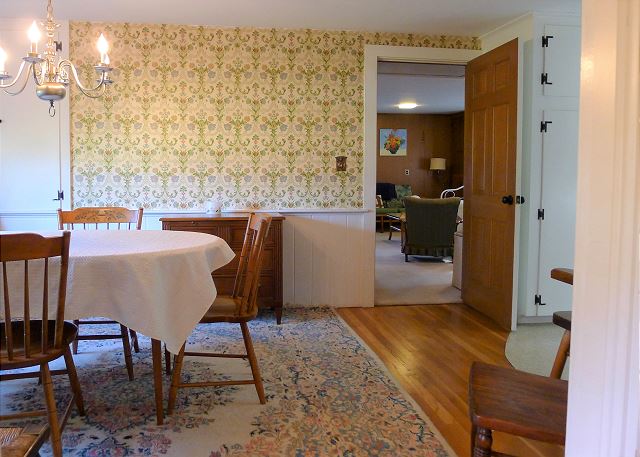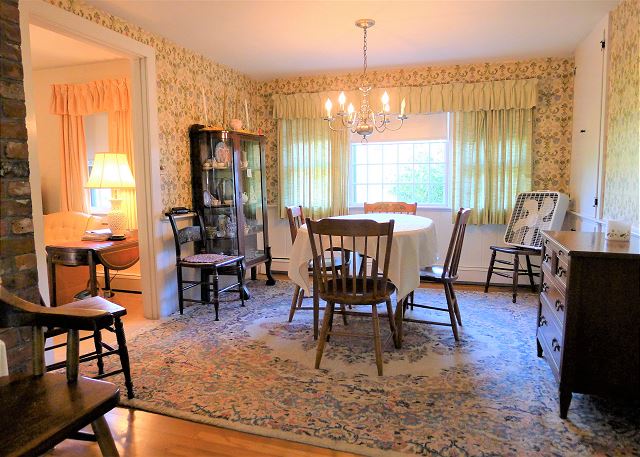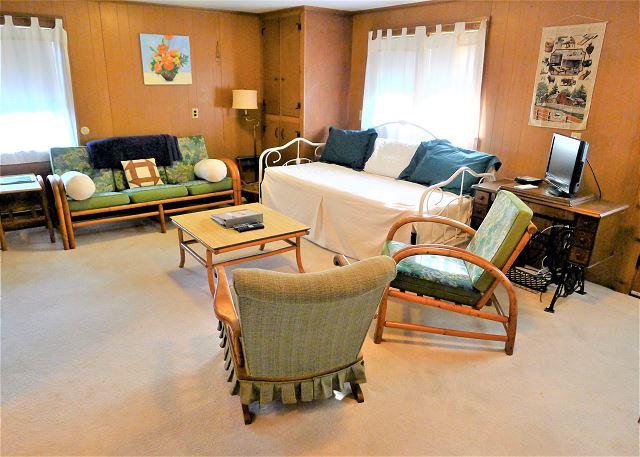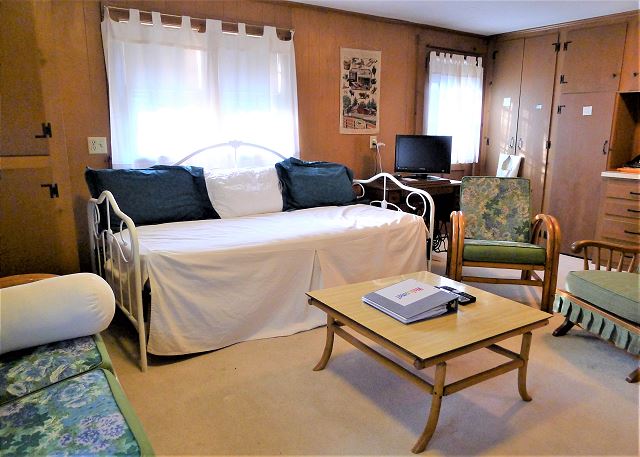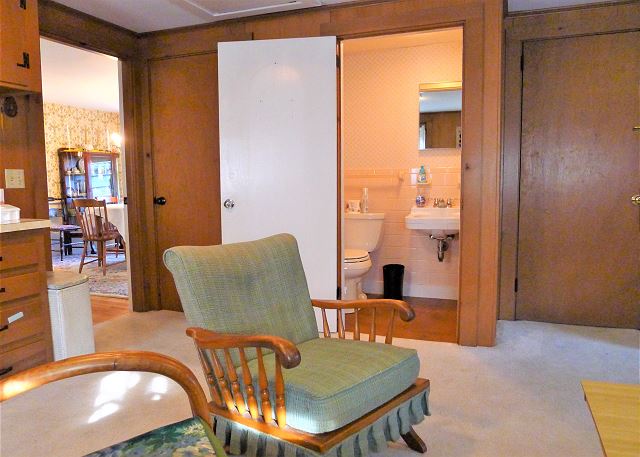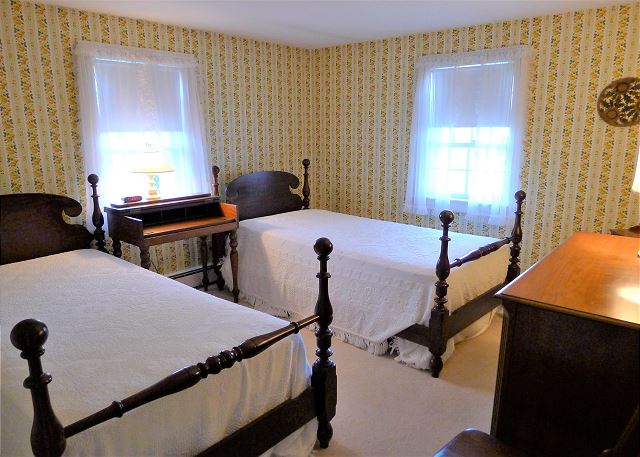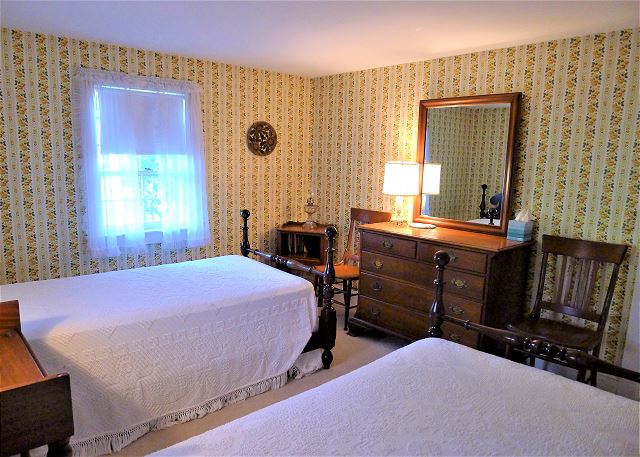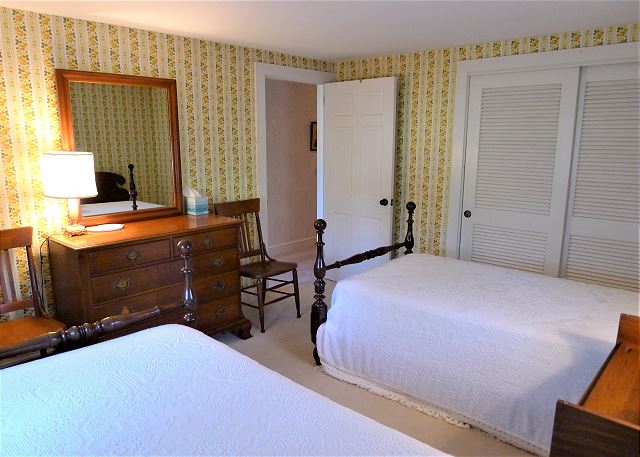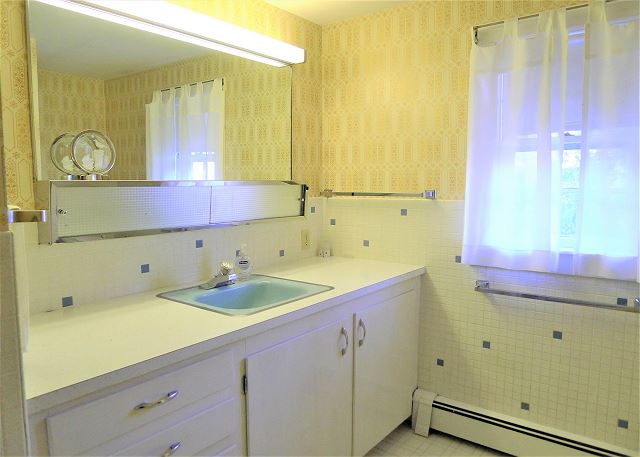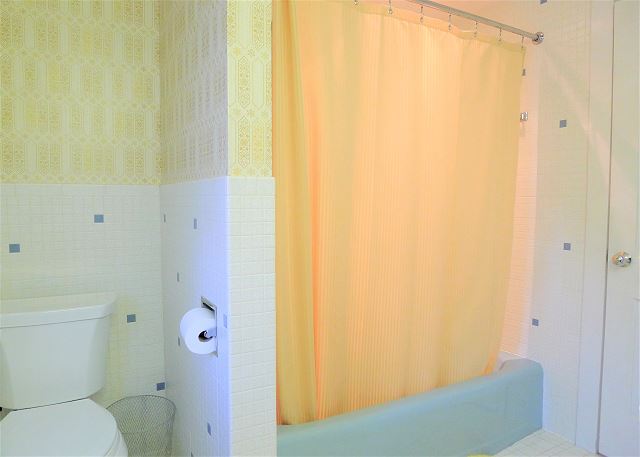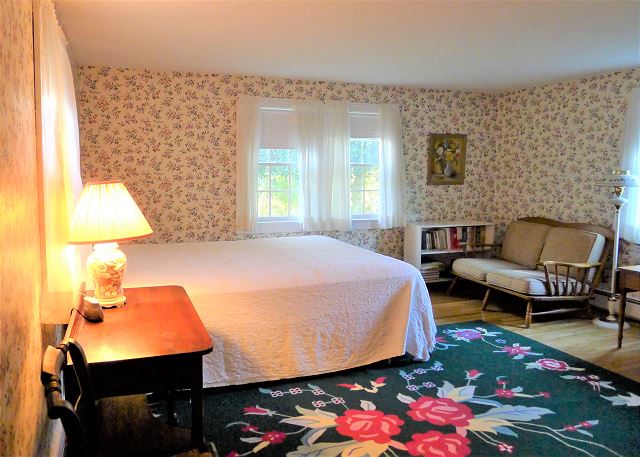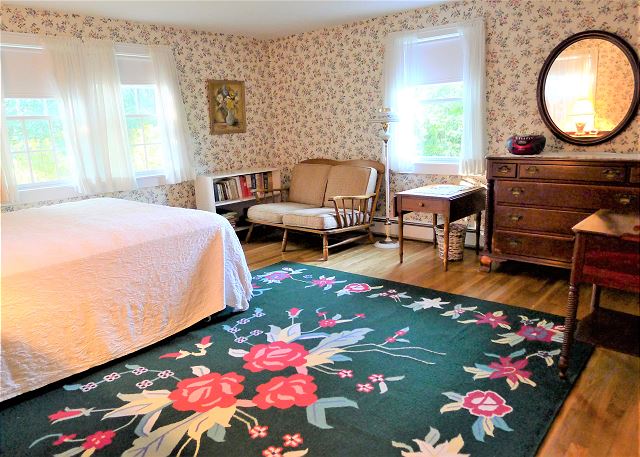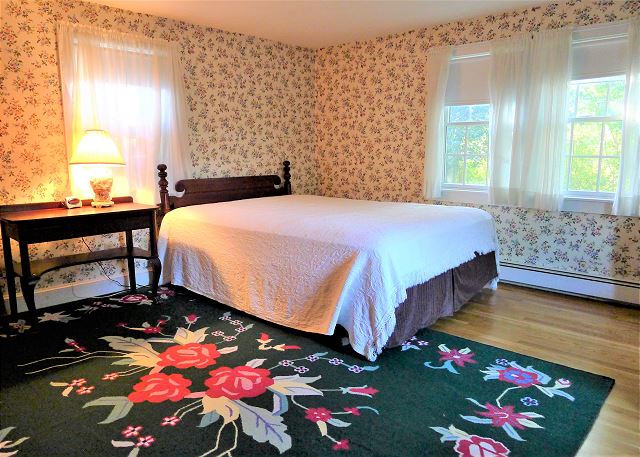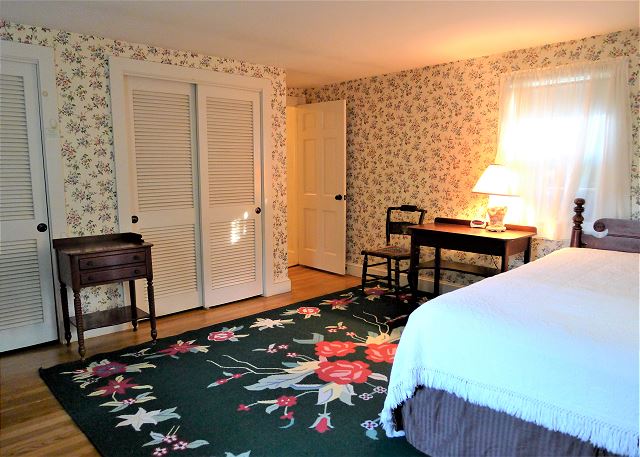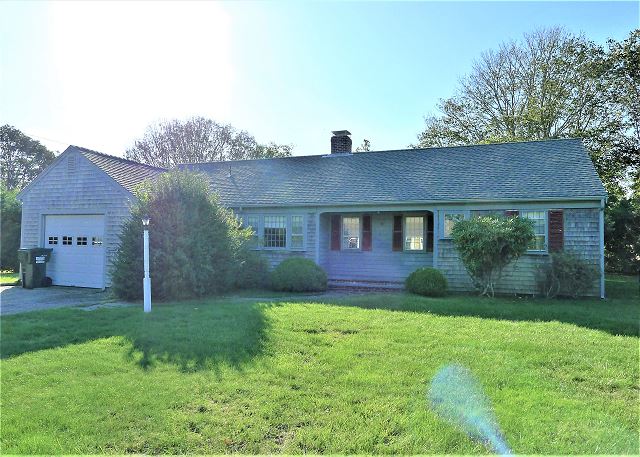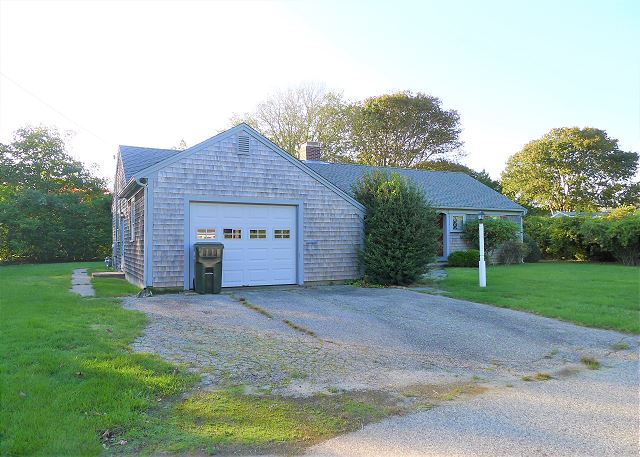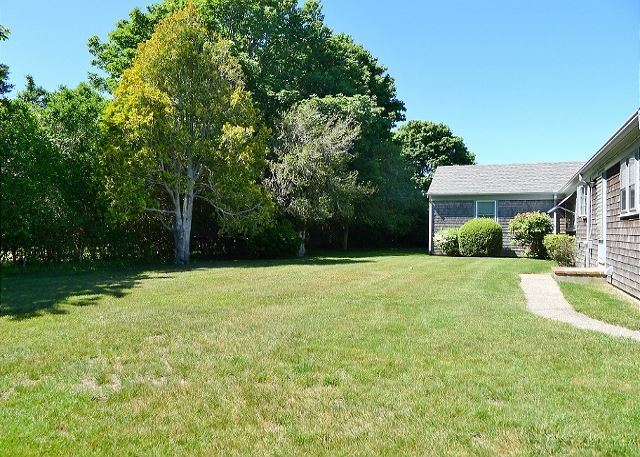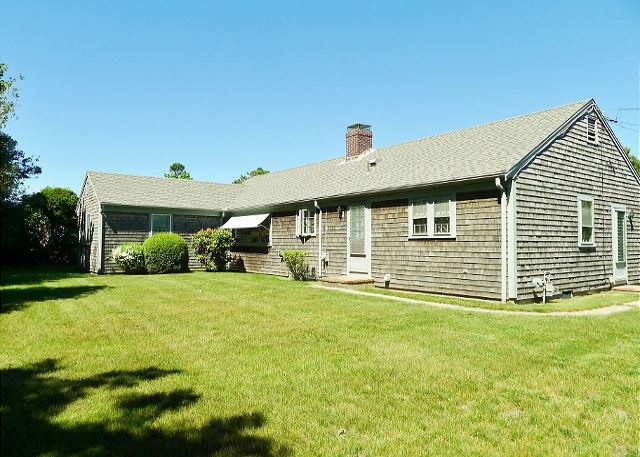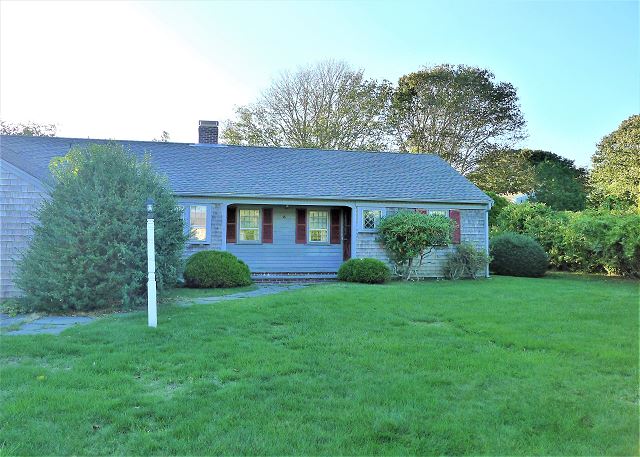 ---
Bedroom(s): 2.5
Bathroom(s): 1.5
Sleeps: 6
Type: House
Area: Aunt Lydia's Cove
Town: Chatham
Fabulous Chatham location! Just a short distance to Chatham's Main Street Village, Aunt Lydia's Cove, Chatham Fish Pier, Chatham Bars Inn, and more!

This charming 2.5 bedroom and 1.5 bath home is in a tranquil neighborhood, only half of a mile to Aunt Lydia's Cove for seal watching and the best fish market around! Also, it is just under a mile to the Rail Trail Bike Path and Main Street!

This ranch style home sleeps up to 6 guests. The living room includes a 40 inch HD TV, WIFI, DVD player, and A/C unit. The galley kitchen with adjacent dining room is well provisioned, right down to the spices and lobster pot.

The den has a twin trundle (day bed) that converts into a double size bed for 2 in a seating area with TV and A/C unit and entry to half bath. The Queen bedroom also has a window A/C unit. The 2nd bedroom has two twin beds.

In addition to the front porch where you can see the sun rise, there is a fantastic open yard in back - wonderful for pick up games and includes outdoor dining table with umbrella, extra seating, and a gas grill. Great sunset views!

Washer and dryer are located in basement. Room for 3 cars in driveway.

Sorry, no pets and no smoking allowed.

6 Guests maximum at any time. No parties exceeding the occupancy limit allowed.

LINENS (SHEETS/TOWELS) ARE NOT INCLUDED IN THIS RENTAL.

We offer travel insurance that is highly recommended and affordable coverage to protect your vacation investment.

Please view our policy and procedure page on our web site for detailed information about renting with us.

State and local taxes are applicable and may vary based on local ordinances and bylaws. Tax rates are subject to change.
- DVD Player
- Flat Screen HDTV
- Extended Cable
- Dining Table
- TV
- Sleep Sofa/Futon
- A/C
- Window A/C
- Hair Dryer
- Tub/Shower Combo
- Washer & Dryer
- Enclosed/Fenced yard
- Gas Grill with Propane Tank
- Dining Table w/ Umbrella
- Garage Access
- Beach Chairs
- Close to Town
Guest Reviews of
sandpiper Chatham , MA
Nice location, but very outdated
We loved the walking distance to the fish pier, town, playground, but it really is very dated. I knew this going in, but seeing it in person was a bit overwhelming. All in the home has been meticulously cared for, and there is real pride in ownership, but at this point, we felt that updates are necessary. Biggest area of need is living room seating. Couches and chairs are not comfortable. For this rental price, we also missed having a dishwasher. Fantastic location, though, and rental office is very helpful. (Had slight cleaning issue, and office addressed it quickly.)
3 out of 5 stars
Manager Response:
Greetings Elva! Thank you so much for your feedback. I will communicate your thoughts of/experience with the couch comfort (or lack of) and the inconvenience of not having a dishwashing, among other things. I will also let her know that you enjoyed your stay. With some upgrades, this house could easily emerge as a top seller! Thank you once again, and we look forward to hearing from you next year! Cheers, Sandy O'Dell, Manager,
16 Blueberry Lane August Review
Review by
David K.
Spent almost a week in this wonderful house in Chatham, MA. House had everything you could want, great AC, grill was great and easy to use. Thought it may have had too many "nick knacks" for our young kids but this was not a problem at all. Perfect location, walk to lighthouse, walk to fishpier, ocean beach, pond beach and downtown Chatham. Couldnt recommend it more. If I had to be critical I would say that the house would hugely benefit from the addition of a deck/patio to the rear.
5 out of 5 stars
Excellent home and location.
Pleasant, comfortable home in walking distance of fish pier (lots of seals), Main Street, baseball field of Chatham Anglers Cape Cod league team, etc. Great vacation.
5 out of 5 stars
The comforts of home away from home Cape Cod Style
Review by
Nancy W.
Loved this rental home! All the amenities you needed at this house. It is located close to the beach and situated in a nice little neighborhood with very little traffic. The house was very clean, the beds very comfortable. Kitchen was large and fully stocked with cookware. Loved having air conditioning too as the week we were there was very hot. The price is so right for this place and would love to stay here our next trip back.
5 out of 5 stars
16 Blueberry Lane, Chatham
This house had plenty of space for our 4 person family. It had a perfect location, within walking distance to the town and a short drive to the beach. The neighborhoodis lovely and all four of us took advantage of the beautiful scenery by walking or running through the surrounding areas. We had a slight problem with the WiFi/ internet service which was resolved by working with Comcast.Chatham is a fun, low keyed, town with a variety of good places to eat. We thoroughly enjoyed our time here. Thank you for sharing your house.
4 out of 5 stars
April 2020

| S | M | T | W | T | F | S |
| --- | --- | --- | --- | --- | --- | --- |
| | | | 01 | 02 | 03 | 04 |
| 05 | 06 | 07 | 08 | 09 | 10 | 11 |
| 12 | 13 | 14 | 15 | 16 | 17 | 18 |
| 19 | 20 | 21 | 22 | 23 | 24 | 25 |
| 26 | 27 | 28 | 29 | 30 | | |
May 2020

| S | M | T | W | T | F | S |
| --- | --- | --- | --- | --- | --- | --- |
| | | | | | 01 | 02 |
| 03 | 04 | 05 | 06 | 07 | 08 | 09 |
| 10 | 11 | 12 | 13 | 14 | 15 | 16 |
| 17 | 18 | 19 | 20 | 21 | 22 | 23 |
| 24 | 25 | 26 | 27 | 28 | 29 | 30 |
| 31 | | | | | | |
June 2020

| S | M | T | W | T | F | S |
| --- | --- | --- | --- | --- | --- | --- |
| | 01 | 02 | 03 | 04 | 05 | 06 |
| 07 | 08 | 09 | 10 | 11 | 12 | 13 |
| 14 | 15 | 16 | 17 | 18 | 19 | 20 |
| 21 | 22 | 23 | 24 | 25 | 26 | 27 |
| 28 | 29 | 30 | | | | |
July 2020

| S | M | T | W | T | F | S |
| --- | --- | --- | --- | --- | --- | --- |
| | | | 01 | 02 | 03 | 04 |
| 05 | 06 | 07 | 08 | 09 | 10 | 11 |
| 12 | 13 | 14 | 15 | 16 | 17 | 18 |
| 19 | 20 | 21 | 22 | 23 | 24 | 25 |
| 26 | 27 | 28 | 29 | 30 | 31 | |
August 2020

| S | M | T | W | T | F | S |
| --- | --- | --- | --- | --- | --- | --- |
| | | | | | | 01 |
| 02 | 03 | 04 | 05 | 06 | 07 | 08 |
| 09 | 10 | 11 | 12 | 13 | 14 | 15 |
| 16 | 17 | 18 | 19 | 20 | 21 | 22 |
| 23 | 24 | 25 | 26 | 27 | 28 | 29 |
| 30 | 31 | | | | | |
September 2020

| S | M | T | W | T | F | S |
| --- | --- | --- | --- | --- | --- | --- |
| | | 01 | 02 | 03 | 04 | 05 |
| 06 | 07 | 08 | 09 | 10 | 11 | 12 |
| 13 | 14 | 15 | 16 | 17 | 18 | 19 |
| 20 | 21 | 22 | 23 | 24 | 25 | 26 |
| 27 | 28 | 29 | 30 | | | |
October 2020

| S | M | T | W | T | F | S |
| --- | --- | --- | --- | --- | --- | --- |
| | | | | 01 | 02 | 03 |
| 04 | 05 | 06 | 07 | 08 | 09 | 10 |
| 11 | 12 | 13 | 14 | 15 | 16 | 17 |
| 18 | 19 | 20 | 21 | 22 | 23 | 24 |
| 25 | 26 | 27 | 28 | 29 | 30 | 31 |
November 2020

| S | M | T | W | T | F | S |
| --- | --- | --- | --- | --- | --- | --- |
| 01 | 02 | 03 | 04 | 05 | 06 | 07 |
| 08 | 09 | 10 | 11 | 12 | 13 | 14 |
| 15 | 16 | 17 | 18 | 19 | 20 | 21 |
| 22 | 23 | 24 | 25 | 26 | 27 | 28 |
| 29 | 30 | | | | | |
December 2020

| S | M | T | W | T | F | S |
| --- | --- | --- | --- | --- | --- | --- |
| | | 01 | 02 | 03 | 04 | 05 |
| 06 | 07 | 08 | 09 | 10 | 11 | 12 |
| 13 | 14 | 15 | 16 | 17 | 18 | 19 |
| 20 | 21 | 22 | 23 | 24 | 25 | 26 |
| 27 | 28 | 29 | 30 | 31 | | |
January 2021

| S | M | T | W | T | F | S |
| --- | --- | --- | --- | --- | --- | --- |
| | | | | | 01 | 02 |
| 03 | 04 | 05 | 06 | 07 | 08 | 09 |
| 10 | 11 | 12 | 13 | 14 | 15 | 16 |
| 17 | 18 | 19 | 20 | 21 | 22 | 23 |
| 24 | 25 | 26 | 27 | 28 | 29 | 30 |
| 31 | | | | | | |
February 2021

| S | M | T | W | T | F | S |
| --- | --- | --- | --- | --- | --- | --- |
| | 01 | 02 | 03 | 04 | 05 | 06 |
| 07 | 08 | 09 | 10 | 11 | 12 | 13 |
| 14 | 15 | 16 | 17 | 18 | 19 | 20 |
| 21 | 22 | 23 | 24 | 25 | 26 | 27 |
| 28 | | | | | | |
March 2021

| S | M | T | W | T | F | S |
| --- | --- | --- | --- | --- | --- | --- |
| | 01 | 02 | 03 | 04 | 05 | 06 |
| 07 | 08 | 09 | 10 | 11 | 12 | 13 |
| 14 | 15 | 16 | 17 | 18 | 19 | 20 |
| 21 | 22 | 23 | 24 | 25 | 26 | 27 |
| 28 | 29 | 30 | 31 | | | |
April 2021

| S | M | T | W | T | F | S |
| --- | --- | --- | --- | --- | --- | --- |
| | | | | 01 | 02 | 03 |
| 04 | 05 | 06 | 07 | 08 | 09 | 10 |
| 11 | 12 | 13 | 14 | 15 | 16 | 17 |
| 18 | 19 | 20 | 21 | 22 | 23 | 24 |
| 25 | 26 | 27 | 28 | 29 | 30 | |
Available
Unavailable
Sat to Sat booking