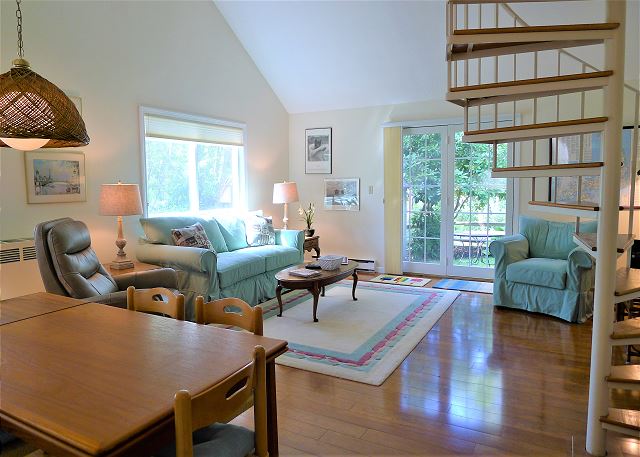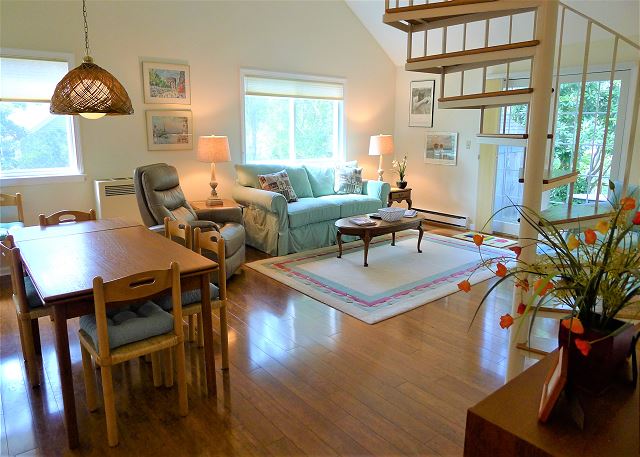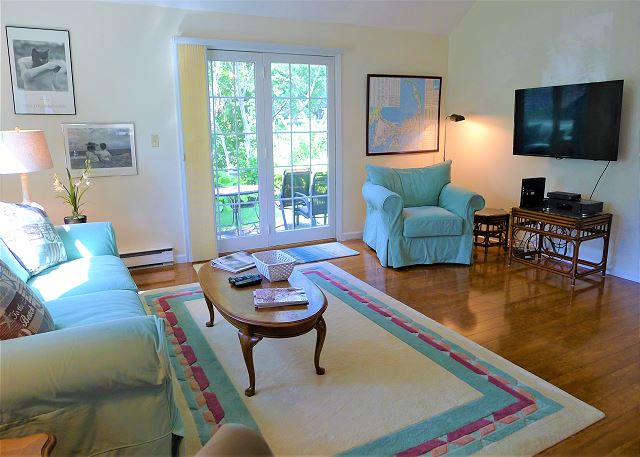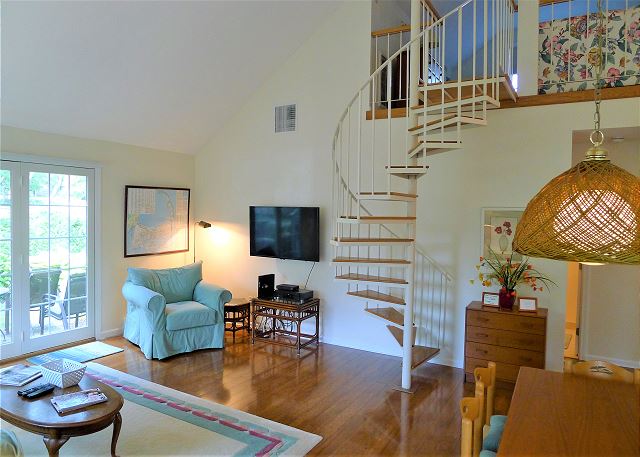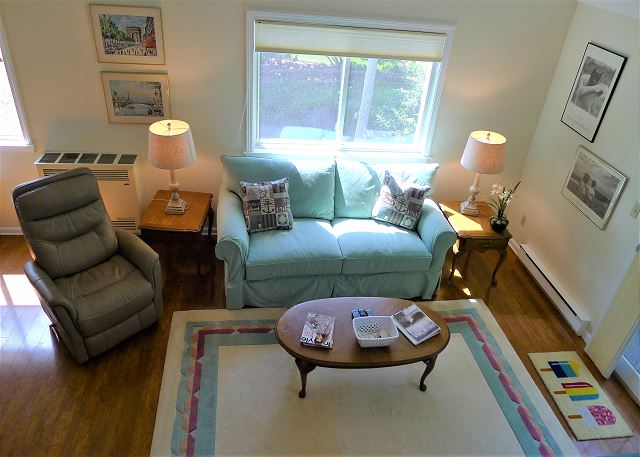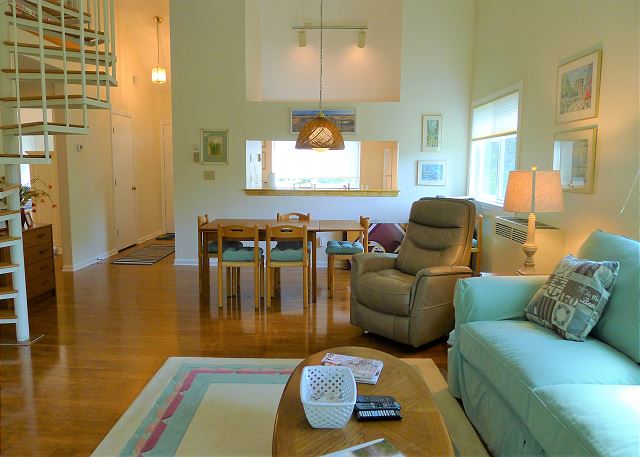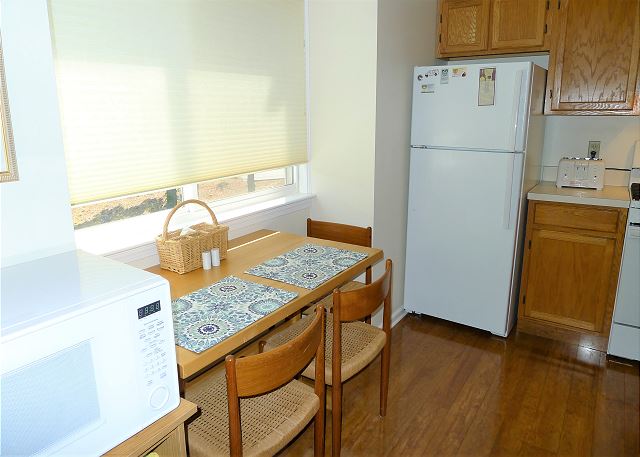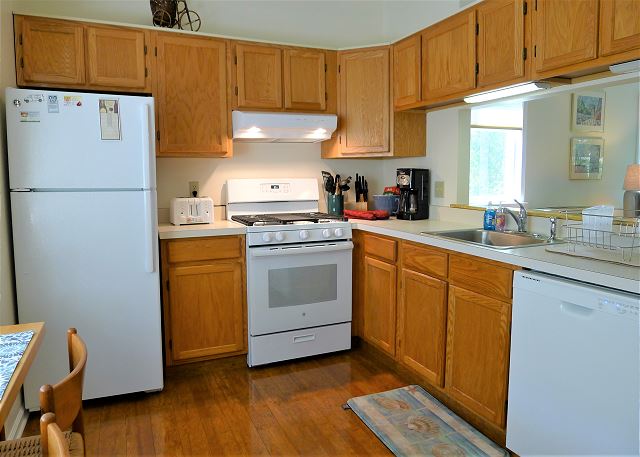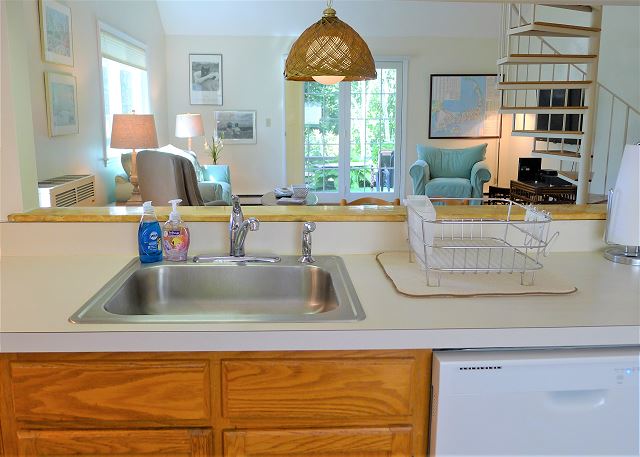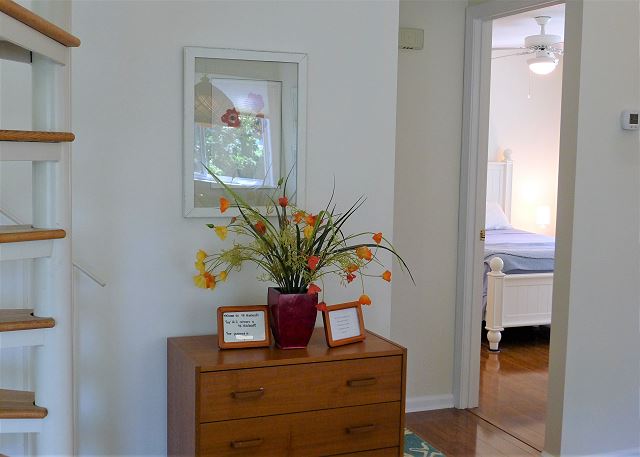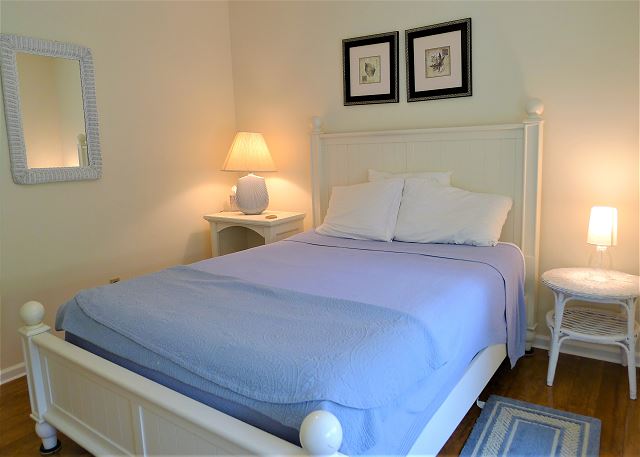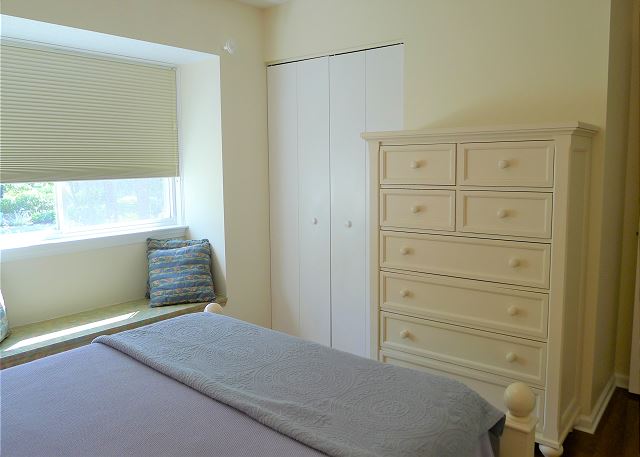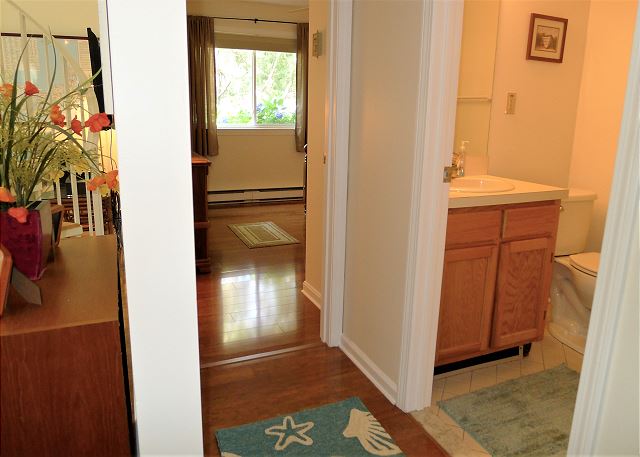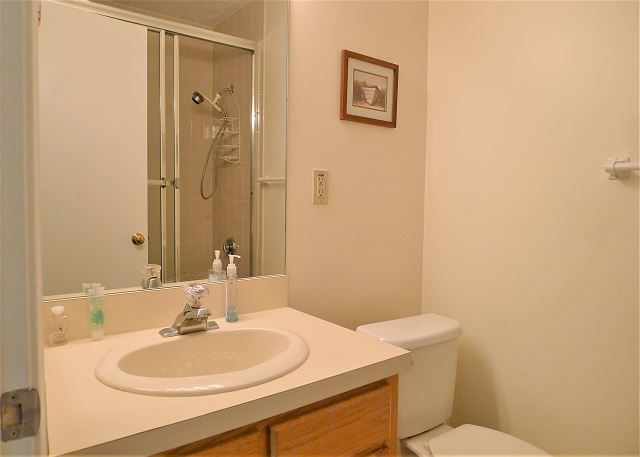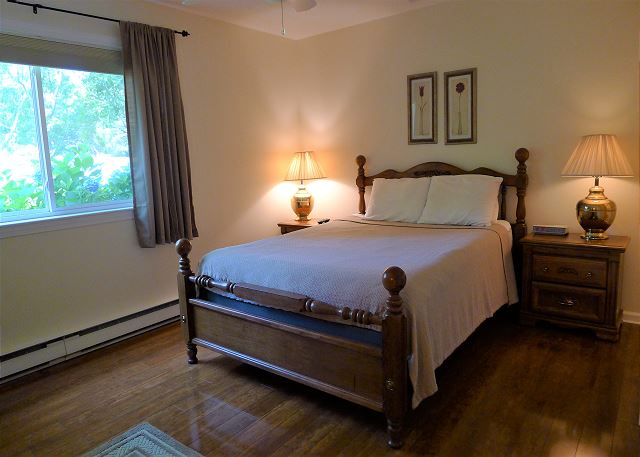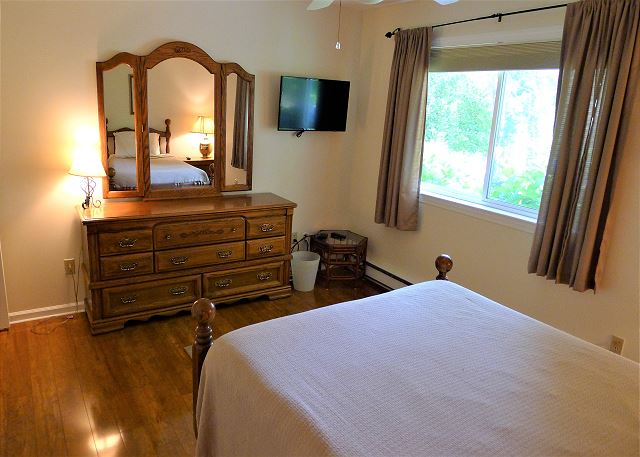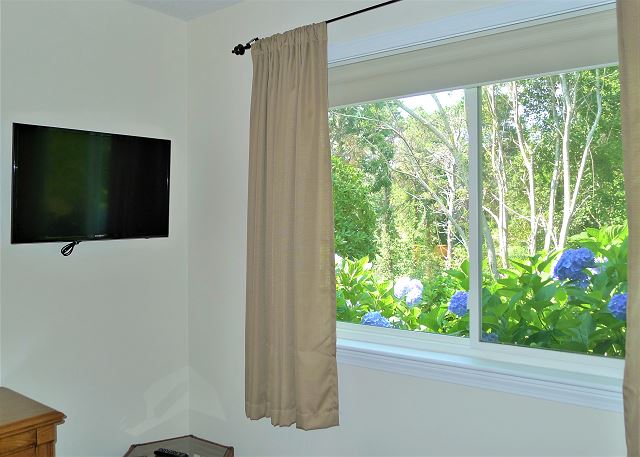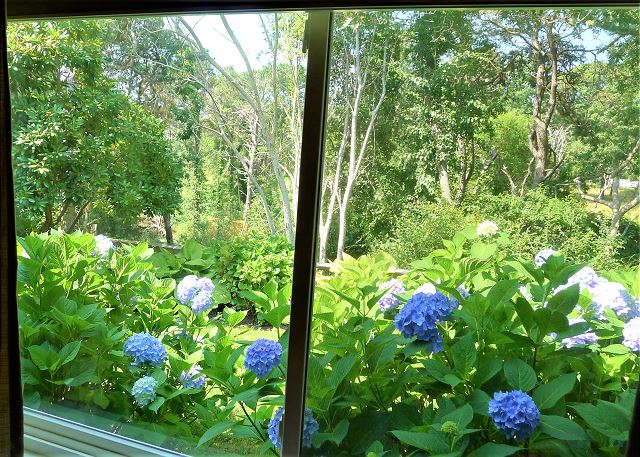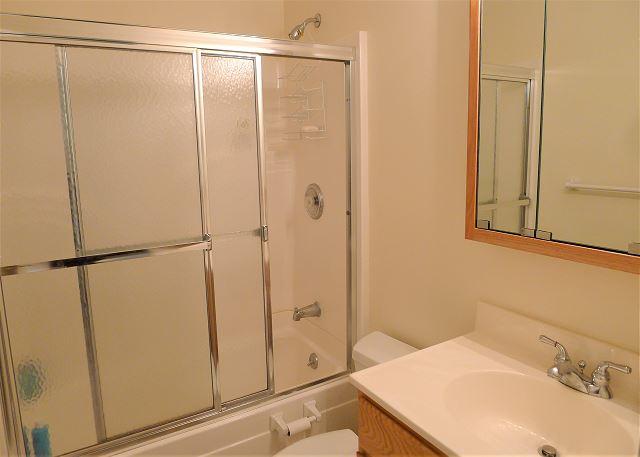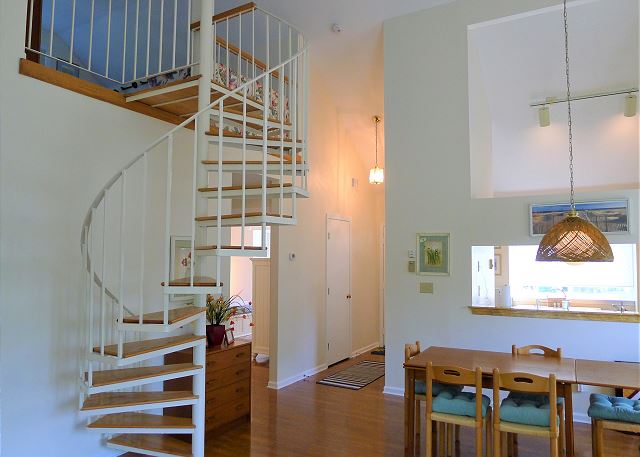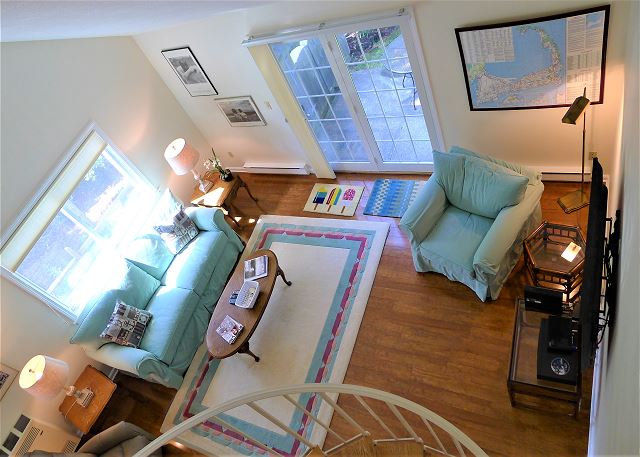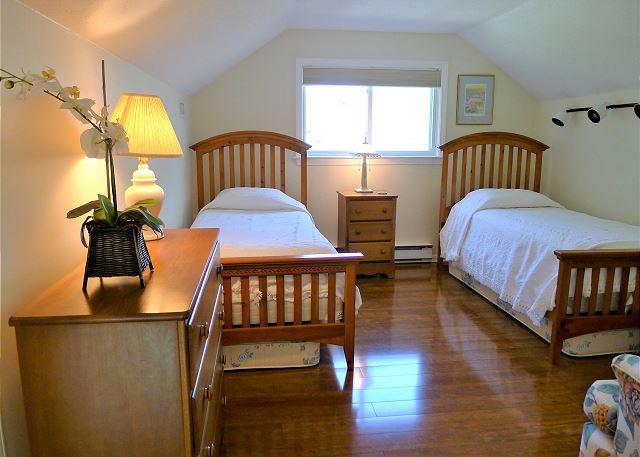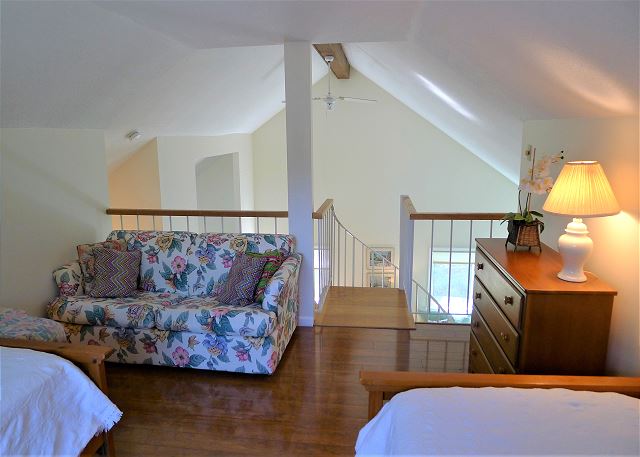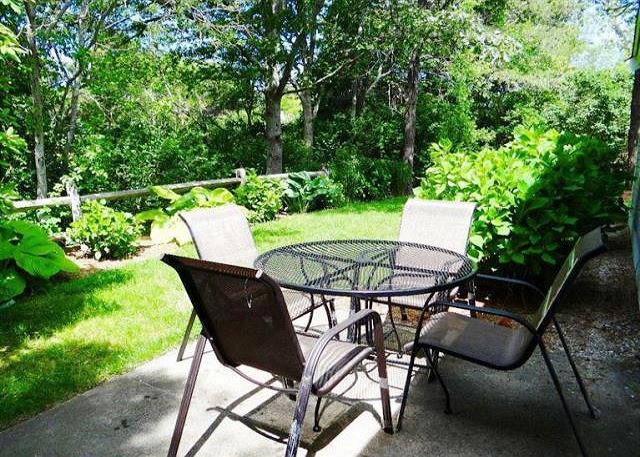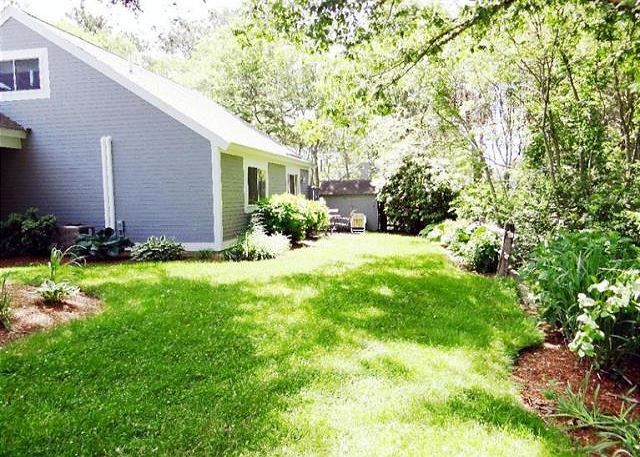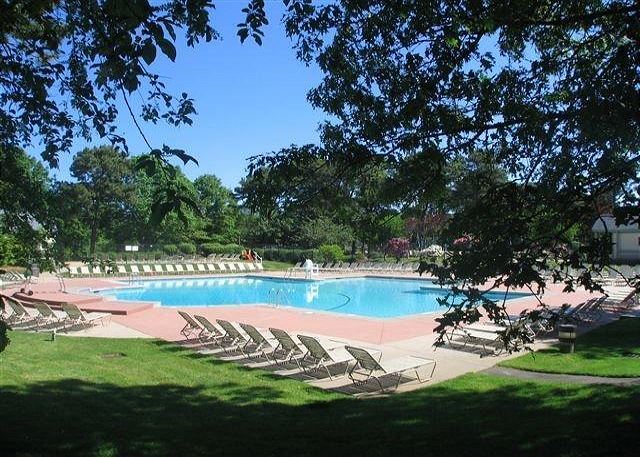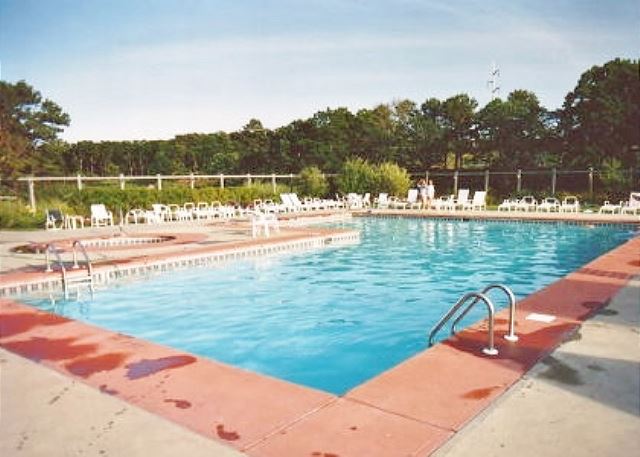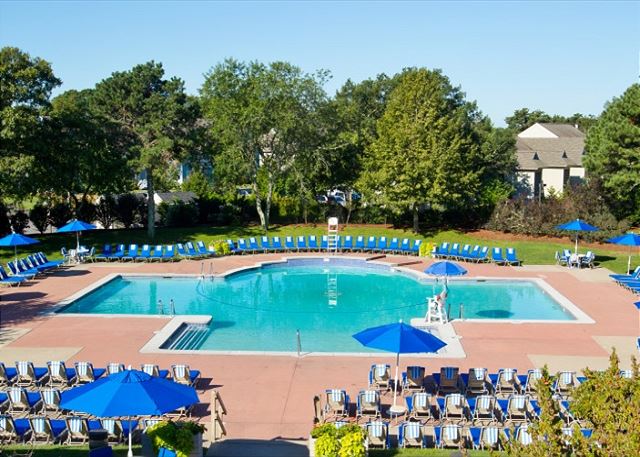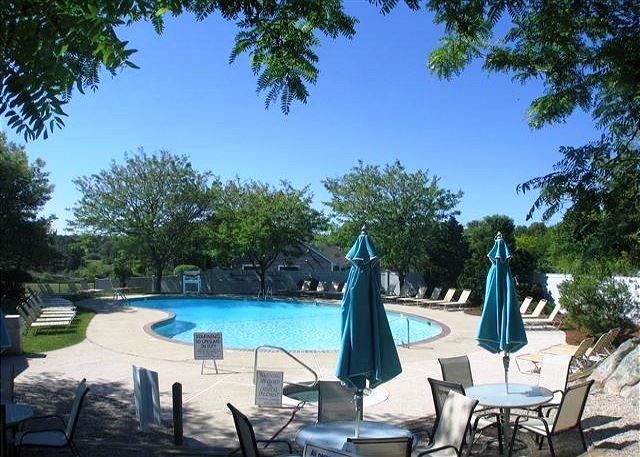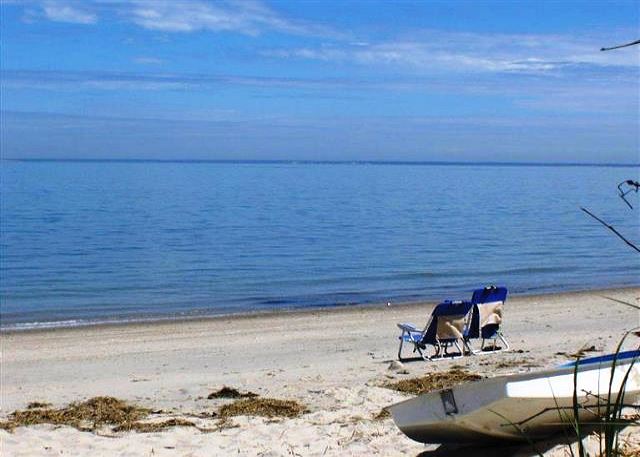 ---
Bedroom(s): 2
Bathroom(s): 2
Sleeps: 6
Type: Townhouse
Area: Middlecott Village
Town: Brewster
New appliances and updated furnishings! The moment you cross the threshold of this standalone Ocean Edge home located in the Village of Middlecott, your perspective will downshift into vacation gear. All furnishings are exquisite; all seating - from sofa to chairs - are beyond comfortable.

Gleaming hardwood floors shine throughout the first floor, including the fully-equipped kitchen with toaster, coffee-maker, lobster pot, blender, dishwasher, microwave, and room for a table seating 4!

The open dining-living area which boasts dining for 6 and

is brightened by light streaming through french doors to the private patio with outdoor dining and charcoal grill. It is further illuminated by cheery yellow upholstery from which you can enjoy the wall-mounted HD Flat Screen TV with Comcast cable stations and dvd player or take in the peaceful view outdoors!

The main bedroom has a queen bed, ensuite bath, and flat screen TV. The second bedroom, also on the first floor, has a queen bed and a charming window seat where you can read, rest, or appreciate the glorious garden hydrangeas. The second full bath is in the hall adjoining the second bedroom. There is a large sleeping loft at the top of the spiral staircase that accommodates twin beds and a full-size sleeper sofa.

Close to pools, tennis, and fitness room, you will be returning to this impeccable unit for years to come!

DO YOU HAVE TWO GROUPS WHO WANT TO VACATION "TOGETHER BUT SEPARATE"? ASK ABOUT ALSO RENTING 51 MIDDLECOTT RIGHT ACROSS THE STREET!

Also included: WiFi Internet, central a/c, washer and dryer, and parking

Guests of this home will have Ocean Edge privileges except access to the private beach area. The resort charges fees to use these amenities which will include the use of Fletcher indoor & outdoor pools, Fletcher cardio room, and Tennis courts. This home does not include Golf privileges. You must complete your OE guest list and submit it to our office 10 days prior to your stay in order to have privileges.

Remember all Ocean Edge fees are due upon arrival, paid to Ocean Edge directly by Guests if Pool & Tennis are desired.

Sorry no pets and no smoking allowed.

6 guests maximum allowed at any time. No parties exceeding the occupancy limit allowed.

LINENS (SHEETS/TOWELS) ARE NOT INCLUDED IN THIS RENTAL.

Travel Insurance is highly recommended and affordable coverage to protect your vacation investment.

Please view our policy and procedure page on our web site for detailed information about renting with us.

State and local taxes are applicable and may vary based on local ordinances and bylaws. These tax rates are subject to change.
- DVD Player
- Flat Screen HDTV
- Basic Cable
- Ceiling Fan
- Sleep Sofa
- Patio
- WiFi
- Central A/C
- Microwave
- Drip Coffee Maker
- Cookware
- Dishes / Glassware / Utensils
- Kitchen Table
- Blender
- Toaster or Toaster Oven
- Dishwasher
- Lobster Pot
- microwave
- Dining Table
- Ceiling Fan
- On Suite Main Bedroom Bath
- Ceiling Fan second bedroom
- Washer & Dryer
- Patio
- Charcoal Grill
- Dining Table w/o Umbrella
- Shared Pool
- Outdoor Lighting
- Near Rail Trail Bike Path
- Near Cape Cod Bay Beaches
- Near National Sea Shore Beaches
- Resort Location & Amenities
Guest Reviews of
48 middlecott Brewster , MA
Brewster 2018 Vacation
The place and location work prefectly
5 out of 5 stars
Very clean and a great location
Review by
Kathy T.
We had a wonderful stay here. Everything you could need was supplied. Will definitely return!
5 out of 5 stars
Manager Response:
Thank you so much for your feedback, Kathy. The owners worked very hard to redress some harsh criticism over circumstances largely outside of their control. They have invested in all new furnishings - including very comfortable mattresses - and the guest rating is back up where it belongs! Cheers, Sandy O'Dell, Manager,
48 Middlecott Lane
This is not our first time at Ocean's Edge and we have always enjoyed our stay. Well located, there are many options and benefits in staying here.For the home we rented this year, a few upgrades are needed, such as a functioning window covering in the kitchen (the existing one falls down) and a window covering in the upper bedroom (presently, there is none), a new kitchen fridge, and a larger outdoor barbeque (the present one is a table top).There was daily garden plowing directly below the home (the house is on a hill with a drop below) for our entire stay, which was noisy, so not ideal if you want to open a window.Often, there was no parking directly next to the home. Not ideal for elderly or disabled clients, as there's an incline leading up to the home.With some minor home improvements, the house is a pleasant option.
3 out of 5 stars
April 2020

| S | M | T | W | T | F | S |
| --- | --- | --- | --- | --- | --- | --- |
| | | | 01 | 02 | 03 | 04 |
| 05 | 06 | 07 | 08 | 09 | 10 | 11 |
| 12 | 13 | 14 | 15 | 16 | 17 | 18 |
| 19 | 20 | 21 | 22 | 23 | 24 | 25 |
| 26 | 27 | 28 | 29 | 30 | | |
May 2020

| S | M | T | W | T | F | S |
| --- | --- | --- | --- | --- | --- | --- |
| | | | | | 01 | 02 |
| 03 | 04 | 05 | 06 | 07 | 08 | 09 |
| 10 | 11 | 12 | 13 | 14 | 15 | 16 |
| 17 | 18 | 19 | 20 | 21 | 22 | 23 |
| 24 | 25 | 26 | 27 | 28 | 29 | 30 |
| 31 | | | | | | |
June 2020

| S | M | T | W | T | F | S |
| --- | --- | --- | --- | --- | --- | --- |
| | 01 | 02 | 03 | 04 | 05 | 06 |
| 07 | 08 | 09 | 10 | 11 | 12 | 13 |
| 14 | 15 | 16 | 17 | 18 | 19 | 20 |
| 21 | 22 | 23 | 24 | 25 | 26 | 27 |
| 28 | 29 | 30 | | | | |
July 2020

| S | M | T | W | T | F | S |
| --- | --- | --- | --- | --- | --- | --- |
| | | | 01 | 02 | 03 | 04 |
| 05 | 06 | 07 | 08 | 09 | 10 | 11 |
| 12 | 13 | 14 | 15 | 16 | 17 | 18 |
| 19 | 20 | 21 | 22 | 23 | 24 | 25 |
| 26 | 27 | 28 | 29 | 30 | 31 | |
August 2020

| S | M | T | W | T | F | S |
| --- | --- | --- | --- | --- | --- | --- |
| | | | | | | 01 |
| 02 | 03 | 04 | 05 | 06 | 07 | 08 |
| 09 | 10 | 11 | 12 | 13 | 14 | 15 |
| 16 | 17 | 18 | 19 | 20 | 21 | 22 |
| 23 | 24 | 25 | 26 | 27 | 28 | 29 |
| 30 | 31 | | | | | |
September 2020

| S | M | T | W | T | F | S |
| --- | --- | --- | --- | --- | --- | --- |
| | | 01 | 02 | 03 | 04 | 05 |
| 06 | 07 | 08 | 09 | 10 | 11 | 12 |
| 13 | 14 | 15 | 16 | 17 | 18 | 19 |
| 20 | 21 | 22 | 23 | 24 | 25 | 26 |
| 27 | 28 | 29 | 30 | | | |
October 2020

| S | M | T | W | T | F | S |
| --- | --- | --- | --- | --- | --- | --- |
| | | | | 01 | 02 | 03 |
| 04 | 05 | 06 | 07 | 08 | 09 | 10 |
| 11 | 12 | 13 | 14 | 15 | 16 | 17 |
| 18 | 19 | 20 | 21 | 22 | 23 | 24 |
| 25 | 26 | 27 | 28 | 29 | 30 | 31 |
November 2020

| S | M | T | W | T | F | S |
| --- | --- | --- | --- | --- | --- | --- |
| 01 | 02 | 03 | 04 | 05 | 06 | 07 |
| 08 | 09 | 10 | 11 | 12 | 13 | 14 |
| 15 | 16 | 17 | 18 | 19 | 20 | 21 |
| 22 | 23 | 24 | 25 | 26 | 27 | 28 |
| 29 | 30 | | | | | |
December 2020

| S | M | T | W | T | F | S |
| --- | --- | --- | --- | --- | --- | --- |
| | | 01 | 02 | 03 | 04 | 05 |
| 06 | 07 | 08 | 09 | 10 | 11 | 12 |
| 13 | 14 | 15 | 16 | 17 | 18 | 19 |
| 20 | 21 | 22 | 23 | 24 | 25 | 26 |
| 27 | 28 | 29 | 30 | 31 | | |
January 2021

| S | M | T | W | T | F | S |
| --- | --- | --- | --- | --- | --- | --- |
| | | | | | 01 | 02 |
| 03 | 04 | 05 | 06 | 07 | 08 | 09 |
| 10 | 11 | 12 | 13 | 14 | 15 | 16 |
| 17 | 18 | 19 | 20 | 21 | 22 | 23 |
| 24 | 25 | 26 | 27 | 28 | 29 | 30 |
| 31 | | | | | | |
February 2021

| S | M | T | W | T | F | S |
| --- | --- | --- | --- | --- | --- | --- |
| | 01 | 02 | 03 | 04 | 05 | 06 |
| 07 | 08 | 09 | 10 | 11 | 12 | 13 |
| 14 | 15 | 16 | 17 | 18 | 19 | 20 |
| 21 | 22 | 23 | 24 | 25 | 26 | 27 |
| 28 | | | | | | |
March 2021

| S | M | T | W | T | F | S |
| --- | --- | --- | --- | --- | --- | --- |
| | 01 | 02 | 03 | 04 | 05 | 06 |
| 07 | 08 | 09 | 10 | 11 | 12 | 13 |
| 14 | 15 | 16 | 17 | 18 | 19 | 20 |
| 21 | 22 | 23 | 24 | 25 | 26 | 27 |
| 28 | 29 | 30 | 31 | | | |
April 2021

| S | M | T | W | T | F | S |
| --- | --- | --- | --- | --- | --- | --- |
| | | | | 01 | 02 | 03 |
| 04 | 05 | 06 | 07 | 08 | 09 | 10 |
| 11 | 12 | 13 | 14 | 15 | 16 | 17 |
| 18 | 19 | 20 | 21 | 22 | 23 | 24 |
| 25 | 26 | 27 | 28 | 29 | 30 | |
Available
Unavailable
Sat to Sat booking