13 WATERVIEW COLONY Chatham, MA
BOOK NOW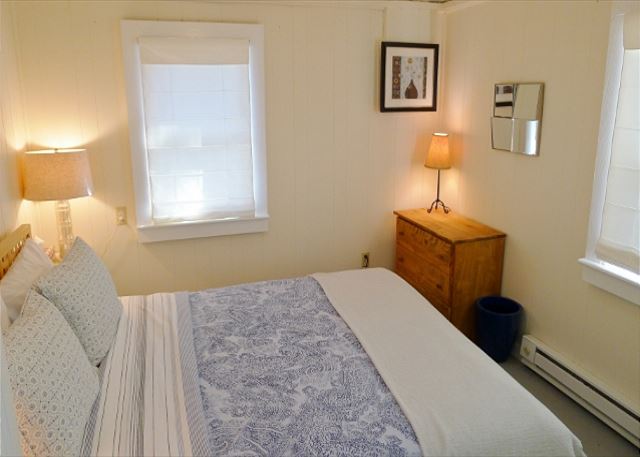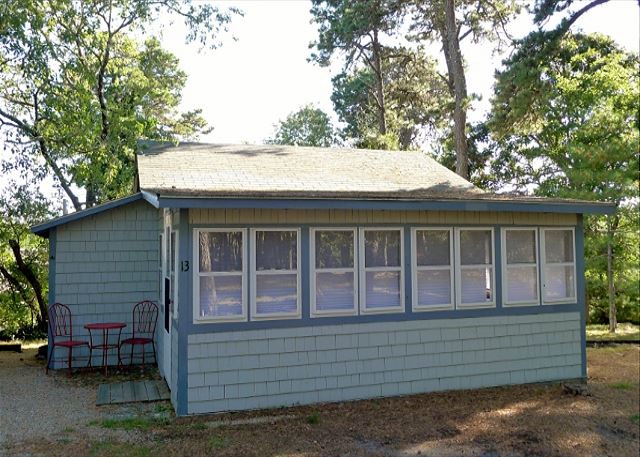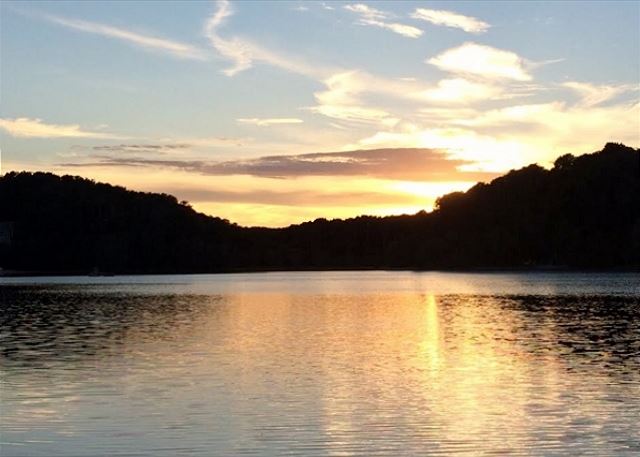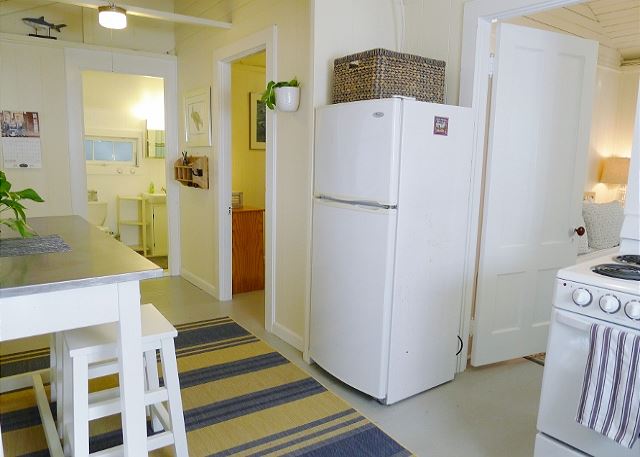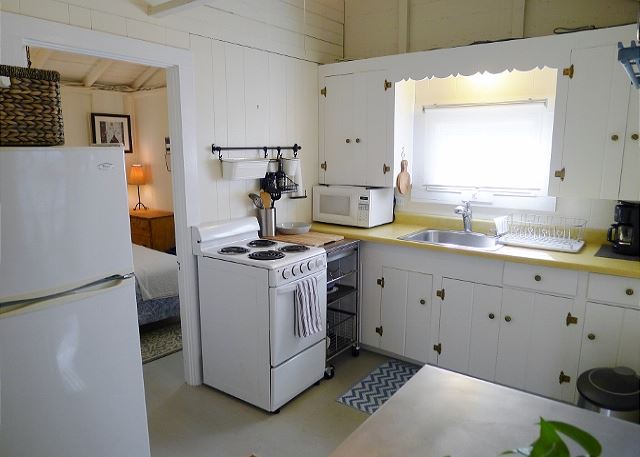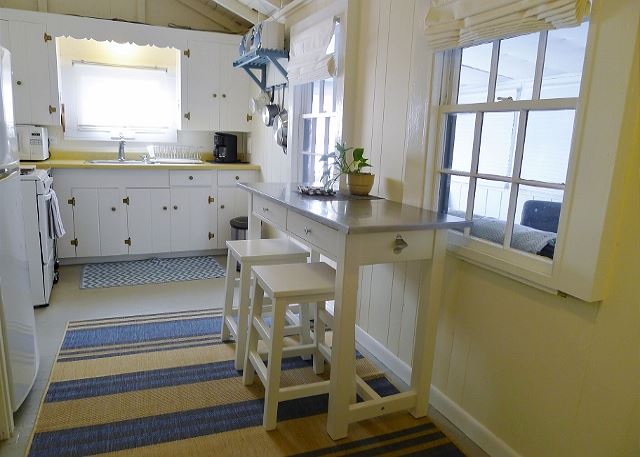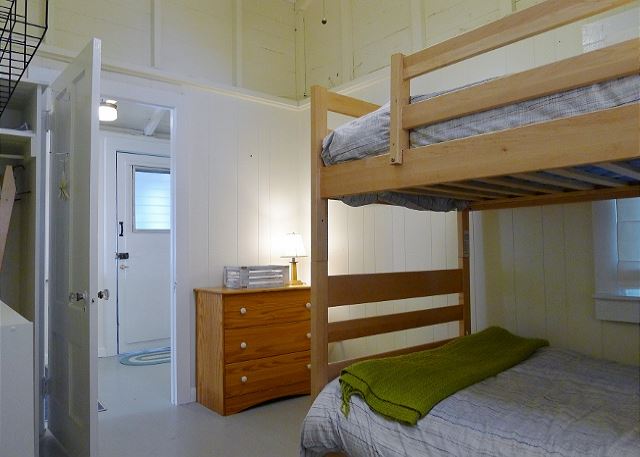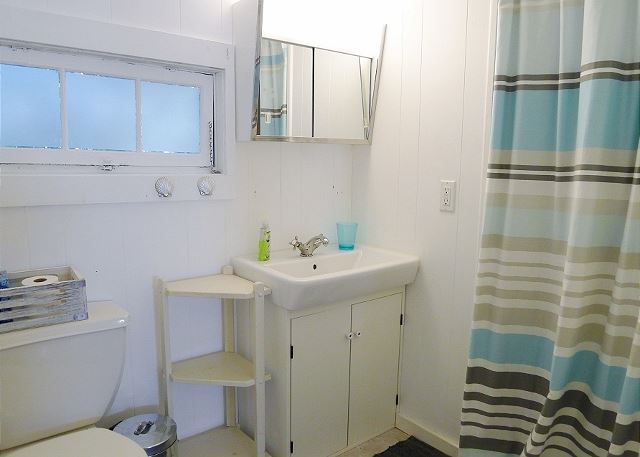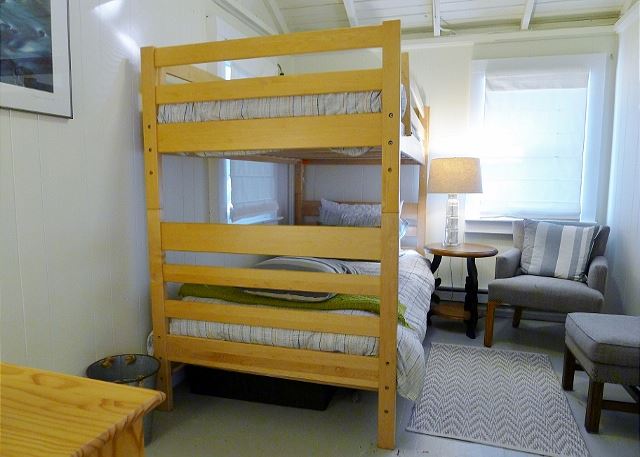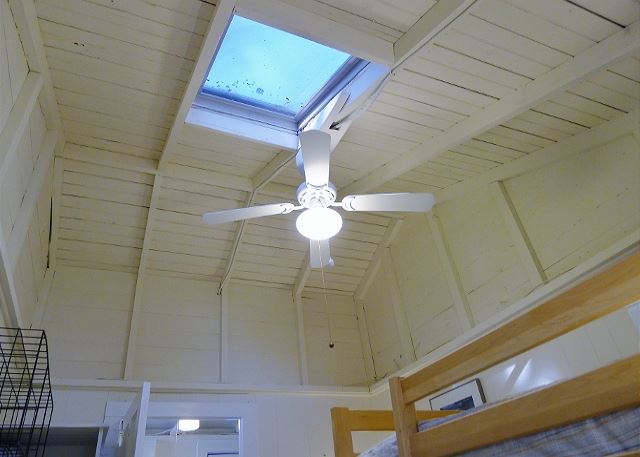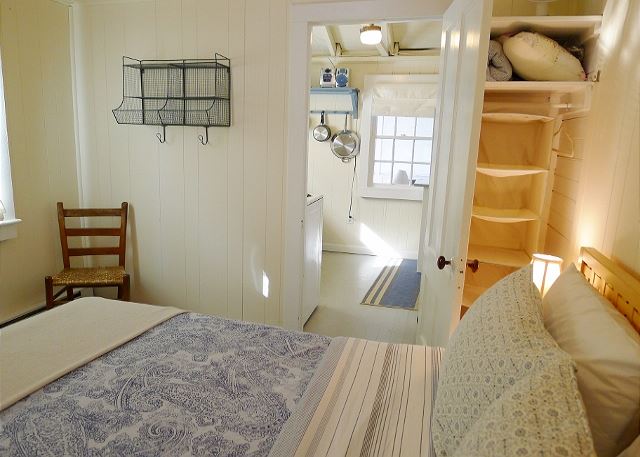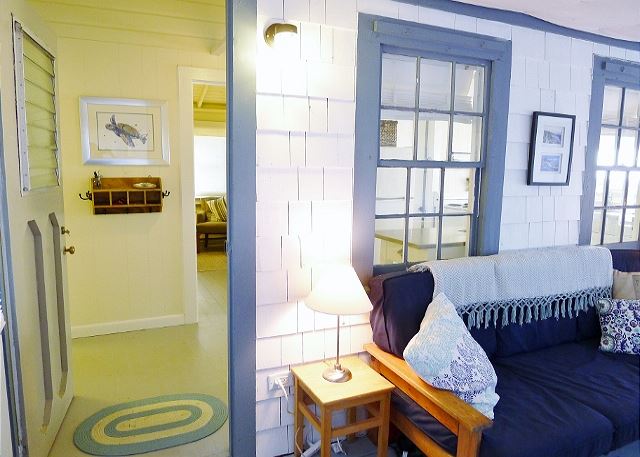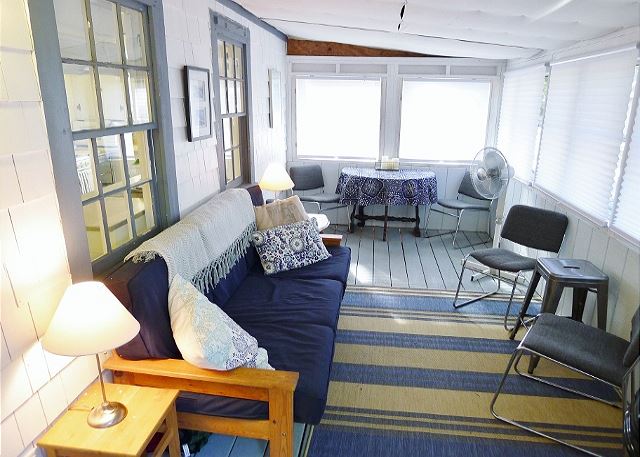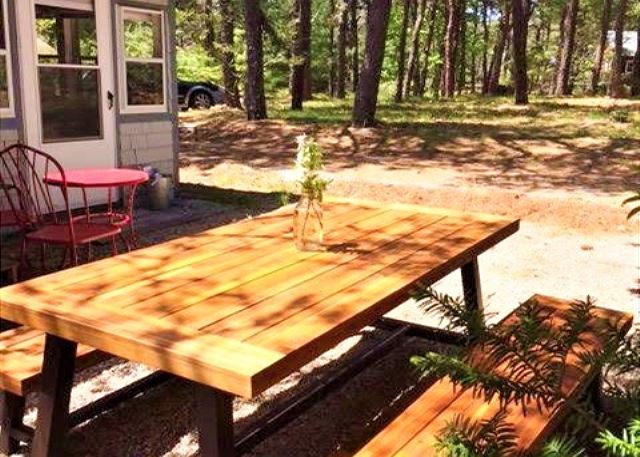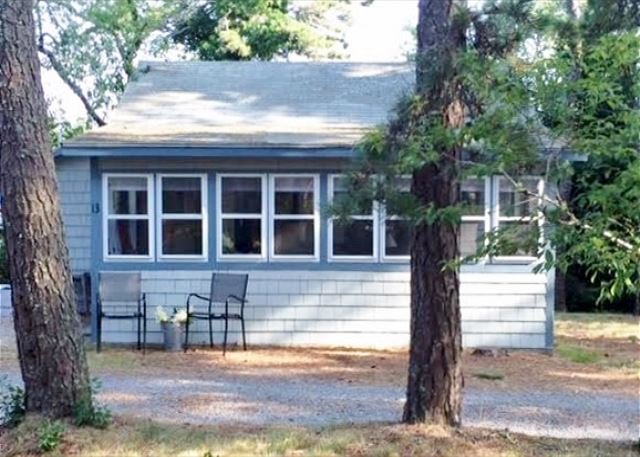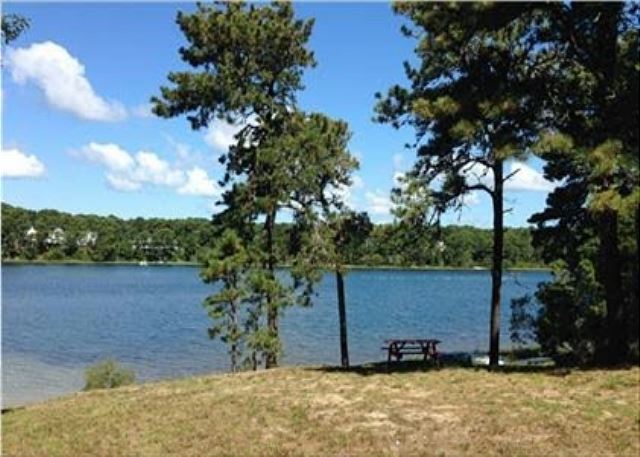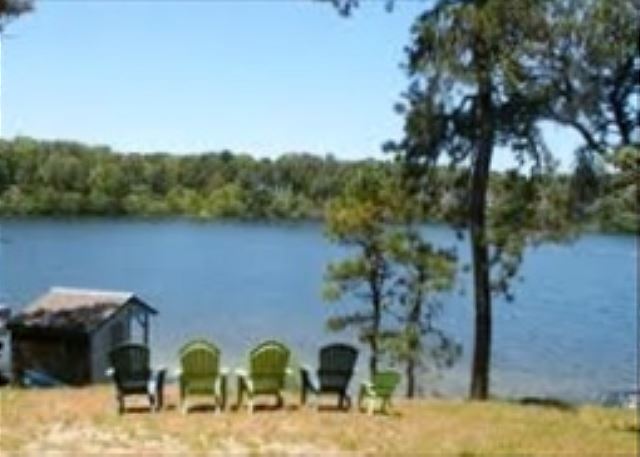 ---
Bedroom(s): 2
Bathroom(s): 1
Sleeps: 4
Type: Cottage
Area:
Town: Chatham
Price $975-$1265

Rates include all charges. No hidden fees!

NEW LISTING! This impeccable 2 bedroom and 1 bath cottage in Chatham is close to beaches, town, great restaurants, and unique shops. But you will be insulated from the summer crowds the moment you arrive at Waterview Colony, a serene retreat set on 5.5 acres with a private beach on White Pond.

Recently renovated with fresh paint, new fixtures and furnishings, this rental can accommodate 2-4 guests comfortably. This cozy cottage lives big with its soaring exposed ceilings, an abundance of windows, and outdoor living spaces that include a patio, dining furniture, and a gas grill.

You enter the home through a large porch that functions as a combination living and dining area for 4, featuring a couch that converts to a full futon bed. Here you can choose to watch a ballgame on the 32 inch flat-screened TV with basic Comcast cable or take in the view from the bank of awning windows overlooking a wooded landscape.

The kitchen is the hub of the home kept cool by a large ceiling fan and several window a/cs. It comes fully equipped with pots, pans, dishes, glassware, utensils, coffee maker, toaster, and microwave. There is a high dining table with 4 stools that does double duty as a dining bar or extra counter space.

On either side of the kitchen are the two bedrooms, each with window a/cs: The main bedroom with queen size bed is decked with several clever storage areas; the second bedroom features a set of bunk beds, ceiling fan, and a comfy chair and ottoman. The refurbished bathroom has a step in shower and convenient nooks to tuck away your belongings.

Best of all, guests of this home have association beach access to White Pond where you can swim in crystal clear water, access the owners' kayak, or picnic on the beach.

Other amenities include: parking for 2 cars, WiFi Internet, and 2+ fans. *4 beach chairs, 2 folding camp chairs, 2 bicycles, and 1 kayak.* *Owners provide these items as favors to guests only and not as an integral part of the rental. If these items become lost or damaged during the course of the rental season, owners are not responsible for replacement.*

Sorry no pets and no smoking allowed.

4 guests maximum allowed at any time. No parties exceeding the occupancy limit allowed.

LINENS (SHEETS/TOWELS) ARE NOT INCLUDED IN THIS RENTAL.

Travel Insurance is highly recommended and affordable coverage to protect your vacation investment.

Please view our policy and procedure page on our web site for detailed information about renting with us.
- Basic Cable
- Stereo w/ CD player
- Ceiling Fan
- Sleep Sofa
- A/C Unit
- Patio
- AM/FM Radio
- WiFi
- Room Or Window Fans
- Flat Screen TV
- CD Player
- Pantry items (sugar, salt & pep)
- Cleaning Supplies
- Cookware
- Dishes / Glassware / Utensils
- Toaster or Toaster Oven
- Window A/C
- Room Fans
- Ceiling Fan second bedroom
- window ac in 2 bedrooms
- Shower Only
- Walk-In Shower
- Patio
- Gas Grill with Propane Tank
- Dining Table w/o Umbrella
- Association Dock
- Beach Chairs
- Outdoor Lighting
- Screened-In Porch
- Kayak
- Bicycles
- Outdoor Dining Table
- Near Cape Cod Bay Beaches
- Lake or Pond Access
- Walk to Beach
- association amenities
- Near Old Colony Rail Trail
Guest Reviews of
13 waterview colony Chatham , MA
Great location and cottage!
Review by
Patricia H.
Lovely cottage off Main St. in Chatham. Very comfortable, beautiful wooded setting with nearby pond. Location great for going anywhere on the Cape.
4 out of 5 stars
January 2018

| S | M | T | W | T | F | S |
| --- | --- | --- | --- | --- | --- | --- |
| | 01 | 02 | 03 | 04 | 05 | 06 |
| 07 | 08 | 09 | 10 | 11 | 12 | 13 |
| 14 | 15 | 16 | 17 | 18 | 19 | 20 |
| 21 | 22 | 23 | 24 | 25 | 26 | 27 |
| 28 | 29 | 30 | 31 | | | |
February 2018

| S | M | T | W | T | F | S |
| --- | --- | --- | --- | --- | --- | --- |
| | | | | 01 | 02 | 03 |
| 04 | 05 | 06 | 07 | 08 | 09 | 10 |
| 11 | 12 | 13 | 14 | 15 | 16 | 17 |
| 18 | 19 | 20 | 21 | 22 | 23 | 24 |
| 25 | 26 | 27 | 28 | | | |
March 2018

| S | M | T | W | T | F | S |
| --- | --- | --- | --- | --- | --- | --- |
| | | | | 01 | 02 | 03 |
| 04 | 05 | 06 | 07 | 08 | 09 | 10 |
| 11 | 12 | 13 | 14 | 15 | 16 | 17 |
| 18 | 19 | 20 | 21 | 22 | 23 | 24 |
| 25 | 26 | 27 | 28 | 29 | 30 | 31 |
April 2018

| S | M | T | W | T | F | S |
| --- | --- | --- | --- | --- | --- | --- |
| 01 | 02 | 03 | 04 | 05 | 06 | 07 |
| 08 | 09 | 10 | 11 | 12 | 13 | 14 |
| 15 | 16 | 17 | 18 | 19 | 20 | 21 |
| 22 | 23 | 24 | 25 | 26 | 27 | 28 |
| 29 | 30 | | | | | |
May 2018

| S | M | T | W | T | F | S |
| --- | --- | --- | --- | --- | --- | --- |
| | | 01 | 02 | 03 | 04 | 05 |
| 06 | 07 | 08 | 09 | 10 | 11 | 12 |
| 13 | 14 | 15 | 16 | 17 | 18 | 19 |
| 20 | 21 | 22 | 23 | 24 | 25 | 26 |
| 27 | 28 | 29 | 30 | 31 | | |
June 2018

| S | M | T | W | T | F | S |
| --- | --- | --- | --- | --- | --- | --- |
| | | | | | 01 | 02 |
| 03 | 04 | 05 | 06 | 07 | 08 | 09 |
| 10 | 11 | 12 | 13 | 14 | 15 | 16 |
| 17 | 18 | 19 | 20 | 21 | 22 | 23 |
| 24 | 25 | 26 | 27 | 28 | 29 | 30 |
July 2018

| S | M | T | W | T | F | S |
| --- | --- | --- | --- | --- | --- | --- |
| 01 | 02 | 03 | 04 | 05 | 06 | 07 |
| 08 | 09 | 10 | 11 | 12 | 13 | 14 |
| 15 | 16 | 17 | 18 | 19 | 20 | 21 |
| 22 | 23 | 24 | 25 | 26 | 27 | 28 |
| 29 | 30 | 31 | | | | |
August 2018

| S | M | T | W | T | F | S |
| --- | --- | --- | --- | --- | --- | --- |
| | | | 01 | 02 | 03 | 04 |
| 05 | 06 | 07 | 08 | 09 | 10 | 11 |
| 12 | 13 | 14 | 15 | 16 | 17 | 18 |
| 19 | 20 | 21 | 22 | 23 | 24 | 25 |
| 26 | 27 | 28 | 29 | 30 | 31 | |
September 2018

| S | M | T | W | T | F | S |
| --- | --- | --- | --- | --- | --- | --- |
| | | | | | | 01 |
| 02 | 03 | 04 | 05 | 06 | 07 | 08 |
| 09 | 10 | 11 | 12 | 13 | 14 | 15 |
| 16 | 17 | 18 | 19 | 20 | 21 | 22 |
| 23 | 24 | 25 | 26 | 27 | 28 | 29 |
| 30 | | | | | | |
October 2018

| S | M | T | W | T | F | S |
| --- | --- | --- | --- | --- | --- | --- |
| | 01 | 02 | 03 | 04 | 05 | 06 |
| 07 | 08 | 09 | 10 | 11 | 12 | 13 |
| 14 | 15 | 16 | 17 | 18 | 19 | 20 |
| 21 | 22 | 23 | 24 | 25 | 26 | 27 |
| 28 | 29 | 30 | 31 | | | |
November 2018

| S | M | T | W | T | F | S |
| --- | --- | --- | --- | --- | --- | --- |
| | | | | 01 | 02 | 03 |
| 04 | 05 | 06 | 07 | 08 | 09 | 10 |
| 11 | 12 | 13 | 14 | 15 | 16 | 17 |
| 18 | 19 | 20 | 21 | 22 | 23 | 24 |
| 25 | 26 | 27 | 28 | 29 | 30 | |
December 2018

| S | M | T | W | T | F | S |
| --- | --- | --- | --- | --- | --- | --- |
| | | | | | | 01 |
| 02 | 03 | 04 | 05 | 06 | 07 | 08 |
| 09 | 10 | 11 | 12 | 13 | 14 | 15 |
| 16 | 17 | 18 | 19 | 20 | 21 | 22 |
| 23 | 24 | 25 | 26 | 27 | 28 | 29 |
| 30 | 31 | | | | | |
January 2019

| S | M | T | W | T | F | S |
| --- | --- | --- | --- | --- | --- | --- |
| | | 01 | 02 | 03 | 04 | 05 |
| 06 | 07 | 08 | 09 | 10 | 11 | 12 |
| 13 | 14 | 15 | 16 | 17 | 18 | 19 |
| 20 | 21 | 22 | 23 | 24 | 25 | 26 |
| 27 | 28 | 29 | 30 | 31 | | |
Available
Unavailable
Sat to Sat booking