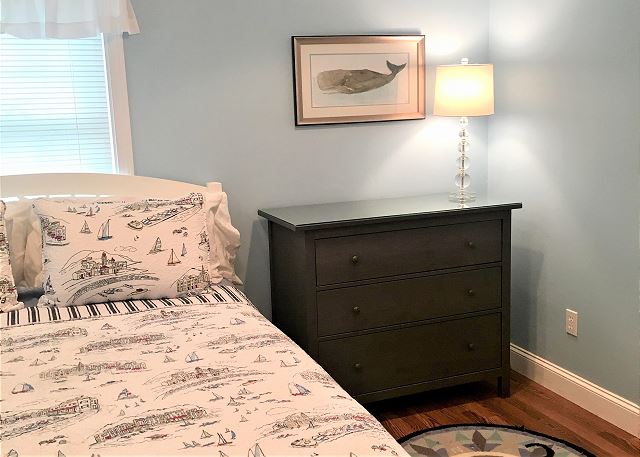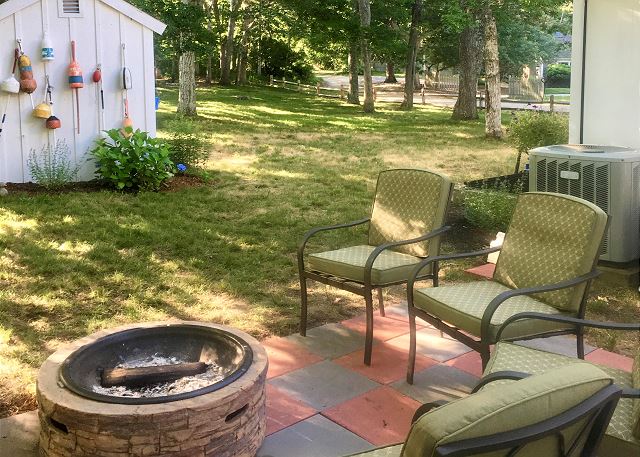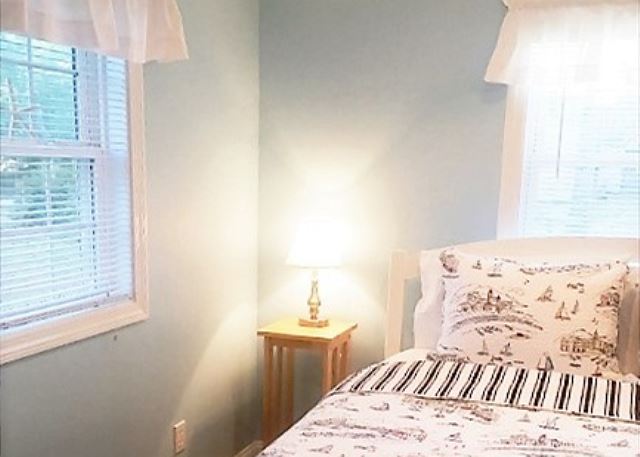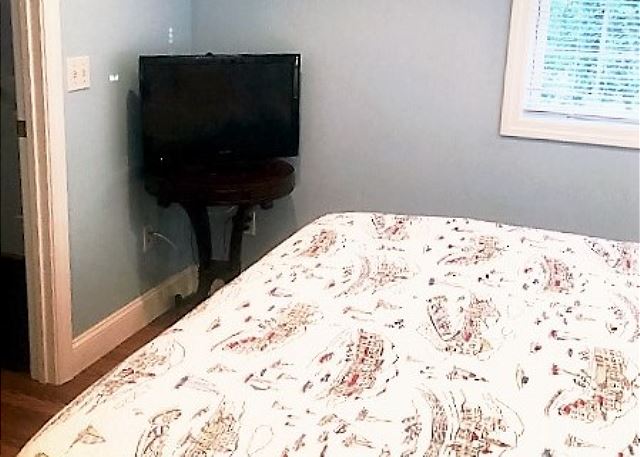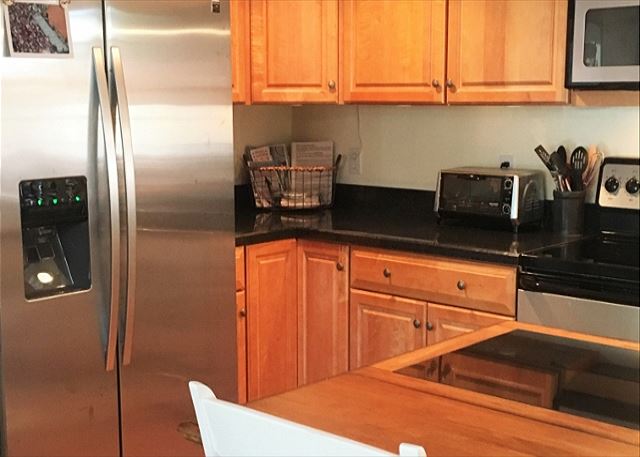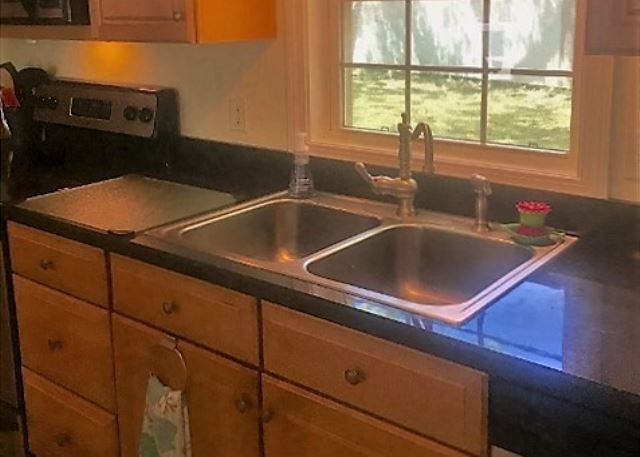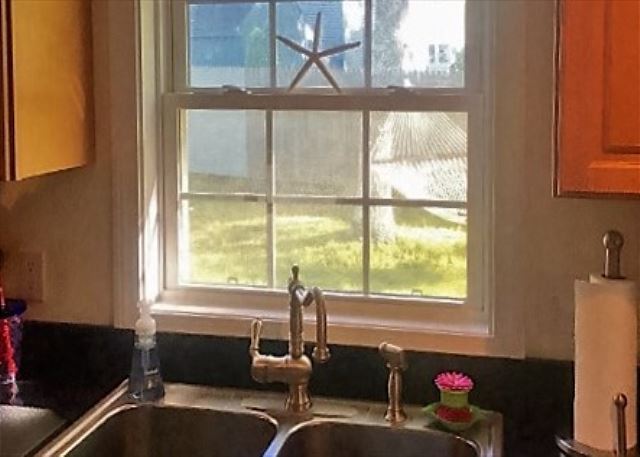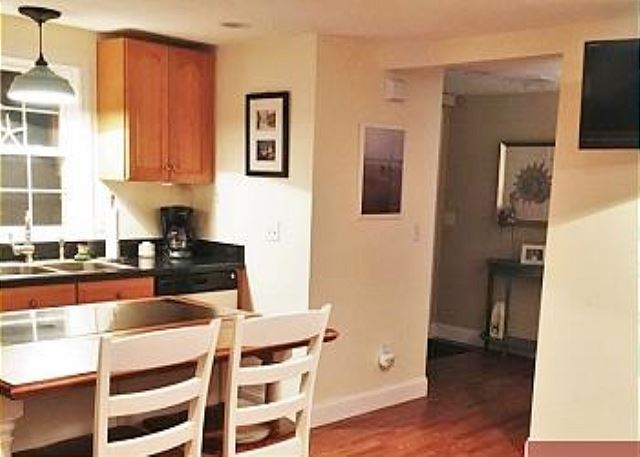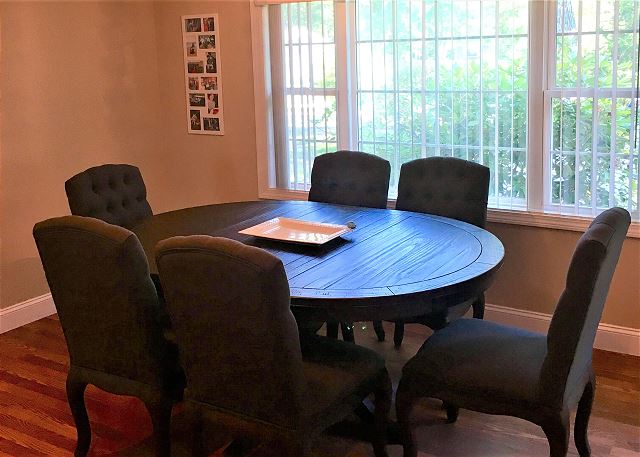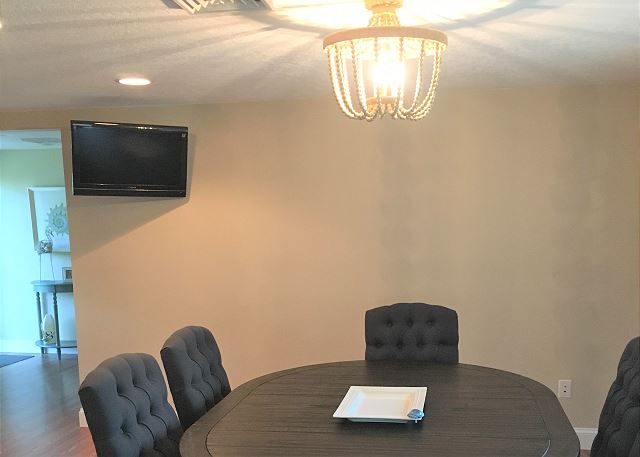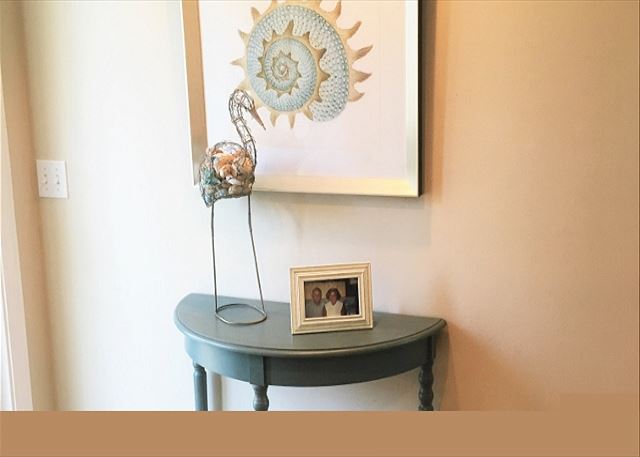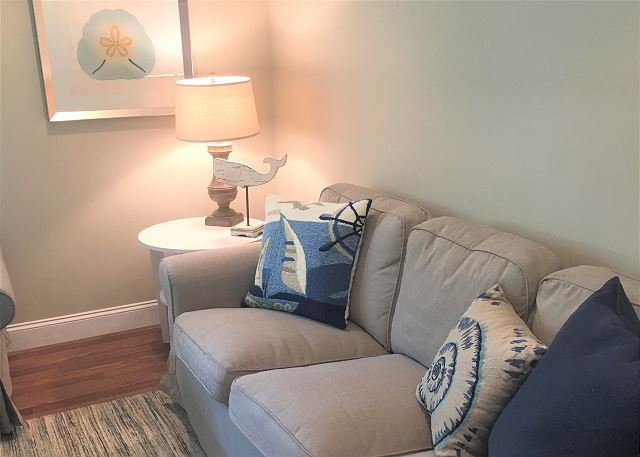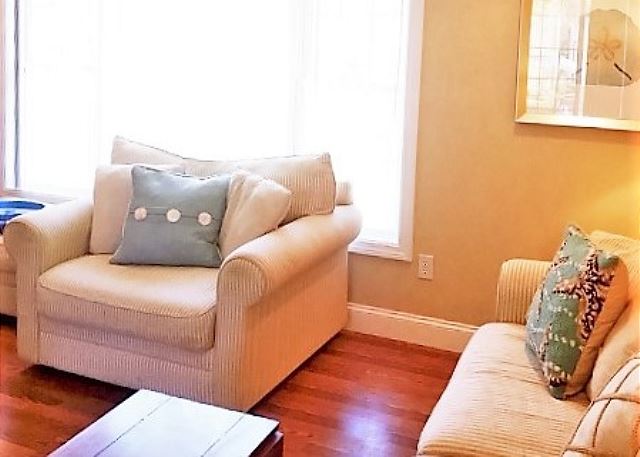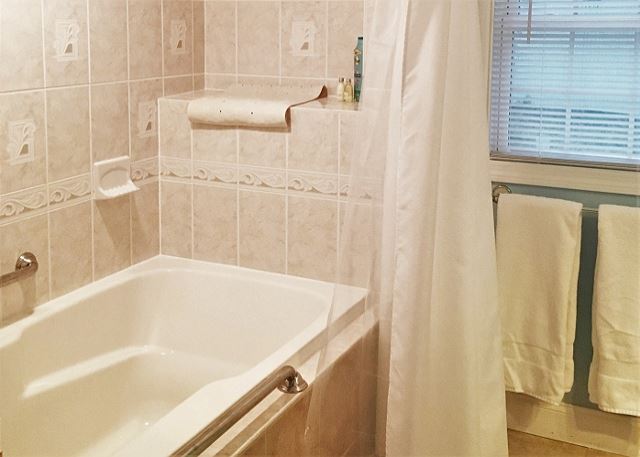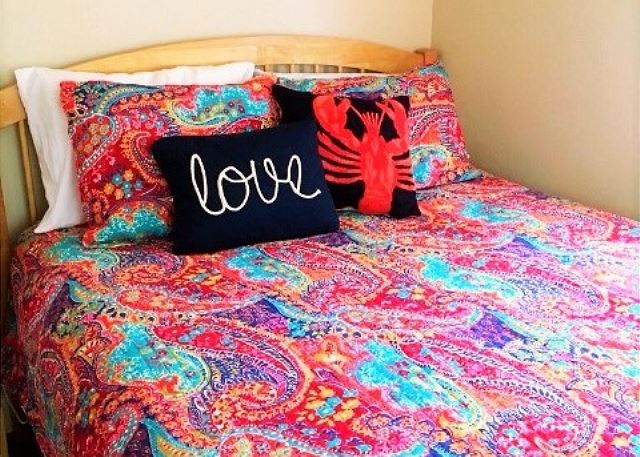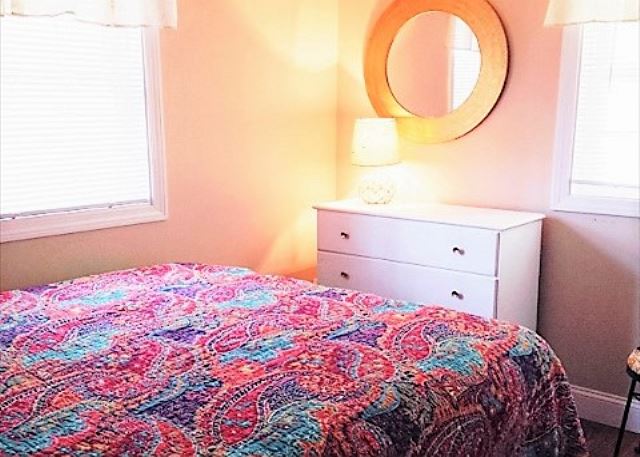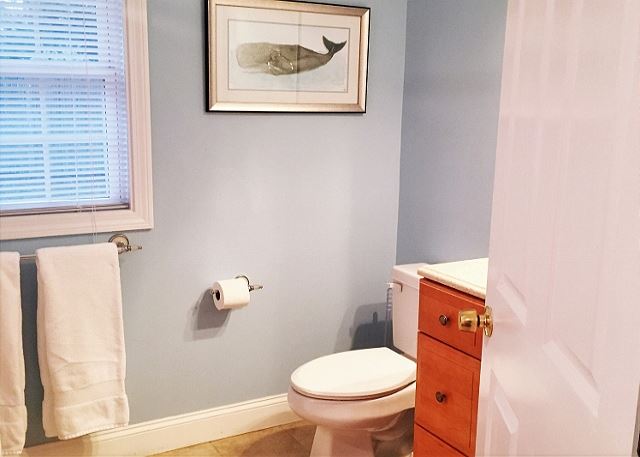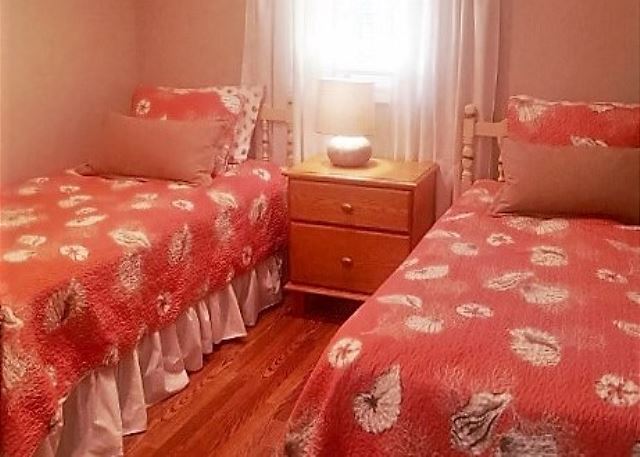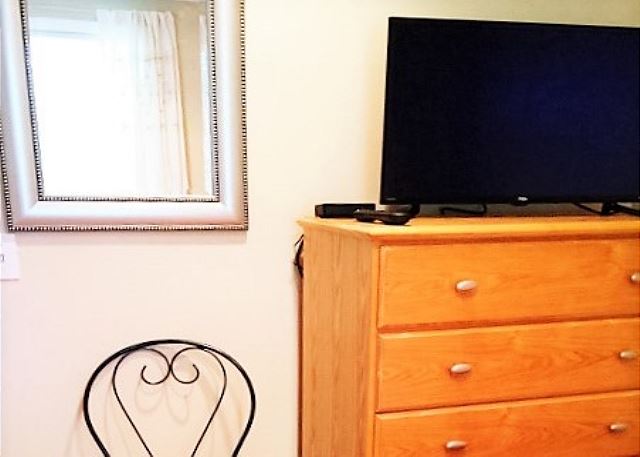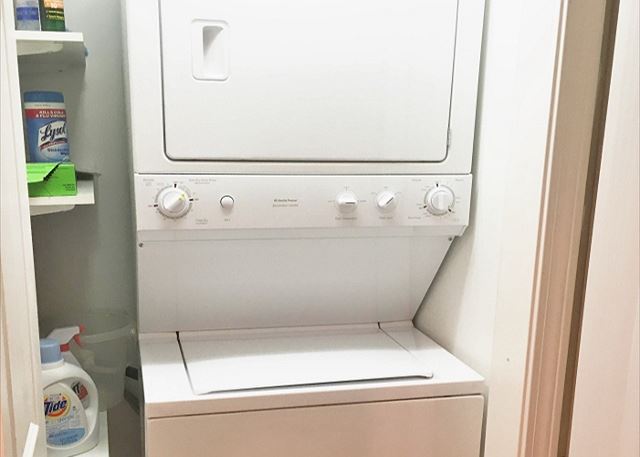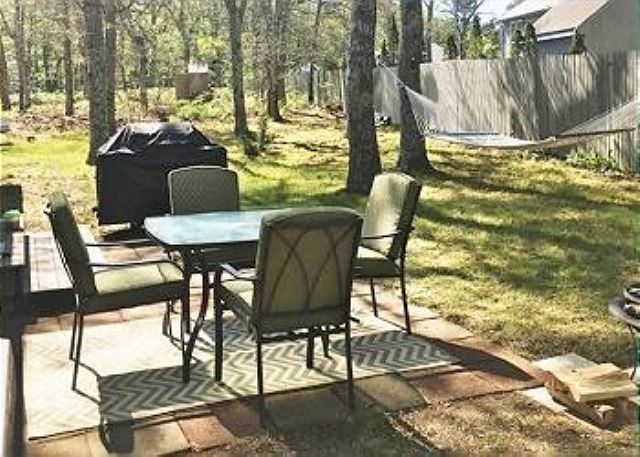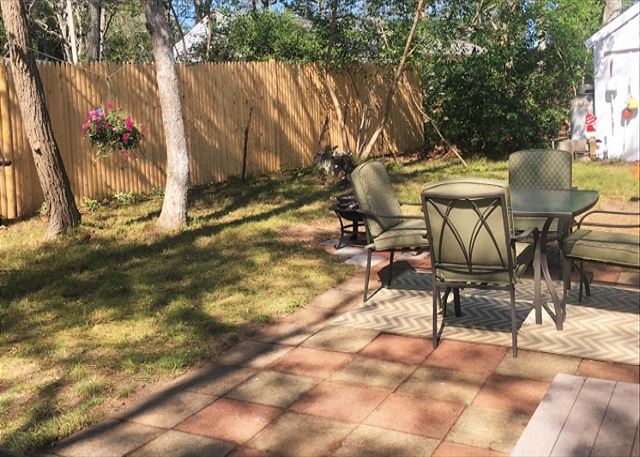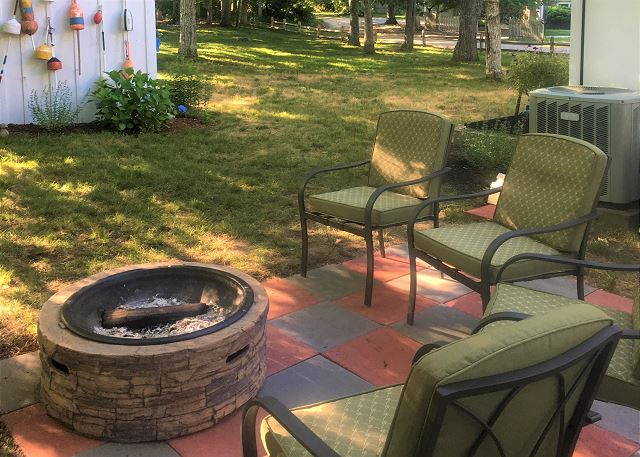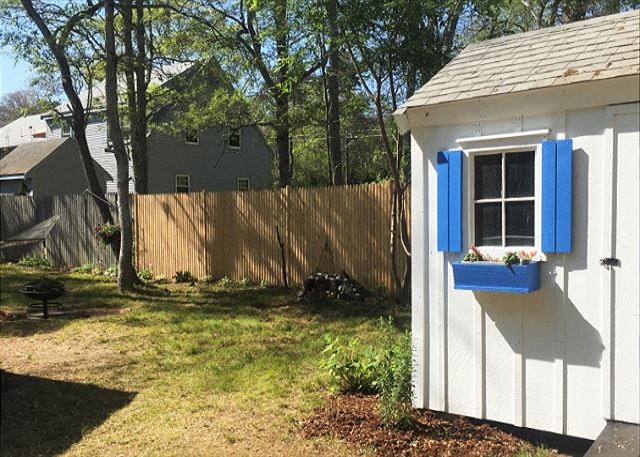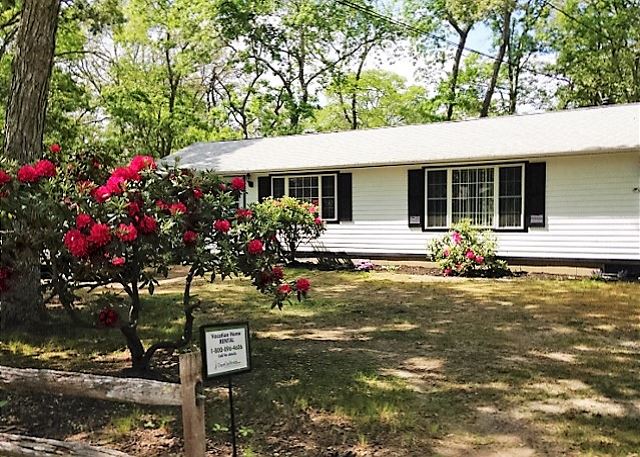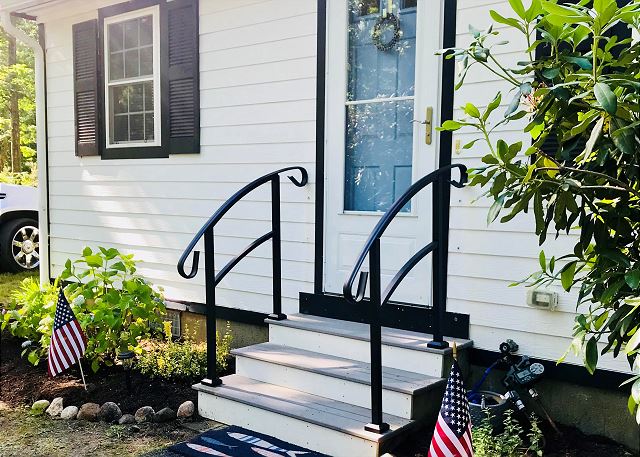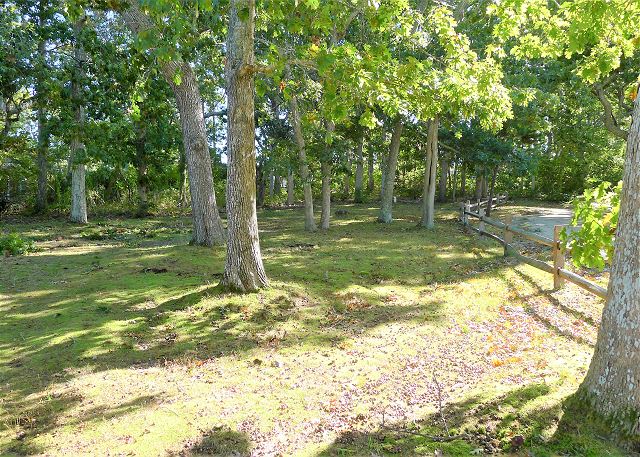 ---
Bedroom(s): 3
Bathroom(s): 2
Sleeps: 6
Type: House
Area: Cooks Brook Beach
Town: Eastham
Eastham home near Cooks Brook Beach on Cape Cod Bay with central A/C!

Great vacation ranch style home with modern kitchen & bathrooms and comfortable living room set up theater style with focus on it's big 60 inch flat screen TV! Plus the house is pet friendly!

Some of the most coveted amenities include central A/C, enclosed outdoor shower, TV in each room including kitchen, and WIFI Internet access.

There are three bedrooms and two full bathrooms, all on one level. The queen size bedroom suite has private bathroom and soaking tub, which is located at the left end of the home at kitchen side. The two other bedrooms are at the right end of home, off the living room -- one with two twins, the other with queen bed and adjacent bathroom and shower. Also off the living room is patio access with door to rear yard. Patio features sitting area and small cocktail size table and a charcoal grill for barbecues! Cooks Brook Beach is only 0.9 miles away and the bike path is 1 mile away.

It is little wonder this lovely cottage books so quickly!

Sorry no smoking allowed.

6 guests maximum allowed at any time. No parties exceeding the occupancy limit allowed.

Dogs welcome at pet-friendly properties with pre-approval of weight and breed from the property manager. Failure to observe House Pet Rules may result in a severe fine and/or eviction from the property. LIMIT 1 DOG PER PROPERTY.

LINENS (SHEETS/TOWELS) ARE NOT INCLUDED IN THIS RENTAL.

Travel Insurance is highly recommended and affordable coverage to protect your vacation investment.

Please view our policy and procedure page on our web site for detailed information about renting with us.

State and local taxes are applicable and may vary based on local ordinances and bylaws. These tax rates are subject to change.
- Satellite / Cable
- Television
- Air Conditioning
- Clothes Dryer
- Coffee Maker
- Kitchen
- Microwave
- Refrigerator
- Stove
- Toaster
- Deck / Patio
- pets considered
- Standard TV
- DVD Player
- Flat Screen HDTV
- Basic Cable
- Stereo w/ CD player
- A/C Unit
- AM/FM Radio
- WiFi
- Washer & Dryer
- Central Air Conditioning
- Microwave
- Drip Coffee Maker
- Pantry items (sugar, salt & pep)
- Cookware
- Dishes / Glassware / Utensils
- Kitchen Table
- Blender
- Toaster or Toaster Oven
- Ice Maker
- Island or Counter Seating
- Dishwasher
- Laundry
- Lobster Pot
- TV
- microwave
- ironing board
- Dining Table
- TV
- Private bath
- Hair Dryer
- Tub/Shower Combo
- A/C
- Washer & Dryer
- Patio
- Charcoal Grill
- Dining Table w/o Umbrella
- Open Outdoor Shower
- Beach Chairs
- Outdoor Seating
- Beach Cooler
- Near Cape Cod Bay Beaches
- Near National Sea Shore Beaches
- Near Golf Course
- Yes
- DOG
- Pet Considered
Guest Reviews of
oak ridge Eastham , MA
perfect
Review by
Sarah S.
This house had the perfect layout. We had 5 people, 3 adults and 2 kids. Everyone was very comfortable. The house was fully stocked with everything we needed. A coffee pot and a kuerig. All pots and pans and even baking supplies. It even had extra toilet paper, most houses do not. Great location too. Quiet neighborhood but right near RT.6. So close to national seashore and about 20 min. from Marconi beach. The only concern one would have would be the dirt road the house is on, nothing to do with the house but there were BIG hole, we had a truck so it was not a problem, but I could see a small car having to do some navigating. Great house!
5 out of 5 stars
a week in Eastham
We have been renting vacation home in Eastham for at least 25 years so I have certain expectations. Unfortunately no one can control the weather which was pretty poor. Concerns were the low setting on the AC, everyone was cold, particularly at night. No extra blankets.Disappointed that the grill was unusable. You are supposed to find a propane tank refill spot, fill the tank and clean the grill. I have never run into these problems before, really turned me off.
3 out of 5 stars
Clutered and SANDY
Review by
Ellen D.
This property needs more carpets, it is a total sand collector with the sandy driveway and nothing but wood floors everywhere. The broom is the height for a leprechaun, not even a standard height broom. WAY too much stuff o counters, 2 coffee pots, a mixing bowl for baking canister sets empty...simply don't need all this clutter. Major complaint is that they DO NOT recycle, I had to collect my recycleables and bring to the dump and pay the 10.00 fee each time I had a drop off. On the plus side, beds were clean and comfortable and décor was very tasteful. Street is quiet and yard was pretty private with the exception of 1 section of stockade fence missing with clear view into neighbors yard (who was outside all the time).Fire pit was a nice feature, but if house sleeps 6 people there should be enough chairs outside to accommodate, there are only 4 patio chairs.
3 out of 5 stars
90 OAK RIDGE
Review by
James W.
Other then the rough street, the house was roomy and comfortable. Great kitchen and bedrooms.
5 out of 5 stars
A Comfortable Stay
We stayed at this home on July 1-July 8. The house was clean and maintained very nicely. It was very comfortable for a family of 5. The location was great. Cooks Cook Beach was nearby. It was great because at times I would go with the car and the girls to the beach and my husband would walk to meet us there. Nauset Light Beach was nearby and a quick car ride as well.
4 out of 5 stars
Cape Cod rental
Overall the trip and accommodations were great!
4 out of 5 stars
Outstanding
Review by
Steve L.
Our experience was great! The property was so well maintained and comfortable. It was also very spacious, which made our stay that much more enjoyable. The location was great because it's centrally located close to many beaches and ponds, great restaurants and a trip to PTown was fun and convenient. The beds were amazingly comfortable and the bathrooms were clean, modern and spacious. We were very happy with the customer service we recieved from CapeCodRentals (Sandy and James). I would characterize our stay as outstanding.
5 out of 5 stars
Cute, well equipped vacation home
Review by
Henry T.
We are a family of four plus one dog. Perfect house for us. Well equipped with hair dryer, washer/dryer, gas grill, large screen TV and more. Furniture is comfortable and we love the location. Less than a mile from the best donuts on the Cape -- only a short ride to the bike path -- and 5 minutes to the bay or beach. This was our second year in this house and we will probably be back!
5 out of 5 stars
Comfy and clean
Quaint ranch, clean and comfortable. Only issues we had was with the long dirt road it was set off of and the sandy - dirt lawn which made it hard to keep the entrance clean from grit.
4 out of 5 stars
Peaceful Yearly Escape
Review by
M.
Every summer my friend & I go to the Cape. I attend a seminar in the morning & then we spend afternoons relaxing, walking or exploring. Our rental cottage is secluded and has every imaginable amenity. You wake to the birds singing and go to sleep to the sound of the crickets chirping. Life is good!
5 out of 5 stars
relaxing
Review by
Debby B.
we were very pleased with the house and location,easy to everything and well equipped for the 1 rainy day would be nice if there was a beach umbrella available.
5 out of 5 stars
February 2020

| S | M | T | W | T | F | S |
| --- | --- | --- | --- | --- | --- | --- |
| | | | | | | 01 |
| 02 | 03 | 04 | 05 | 06 | 07 | 08 |
| 09 | 10 | 11 | 12 | 13 | 14 | 15 |
| 16 | 17 | 18 | 19 | 20 | 21 | 22 |
| 23 | 24 | 25 | 26 | 27 | 28 | 29 |
March 2020

| S | M | T | W | T | F | S |
| --- | --- | --- | --- | --- | --- | --- |
| 01 | 02 | 03 | 04 | 05 | 06 | 07 |
| 08 | 09 | 10 | 11 | 12 | 13 | 14 |
| 15 | 16 | 17 | 18 | 19 | 20 | 21 |
| 22 | 23 | 24 | 25 | 26 | 27 | 28 |
| 29 | 30 | 31 | | | | |
April 2020

| S | M | T | W | T | F | S |
| --- | --- | --- | --- | --- | --- | --- |
| | | | 01 | 02 | 03 | 04 |
| 05 | 06 | 07 | 08 | 09 | 10 | 11 |
| 12 | 13 | 14 | 15 | 16 | 17 | 18 |
| 19 | 20 | 21 | 22 | 23 | 24 | 25 |
| 26 | 27 | 28 | 29 | 30 | | |
May 2020

| S | M | T | W | T | F | S |
| --- | --- | --- | --- | --- | --- | --- |
| | | | | | 01 | 02 |
| 03 | 04 | 05 | 06 | 07 | 08 | 09 |
| 10 | 11 | 12 | 13 | 14 | 15 | 16 |
| 17 | 18 | 19 | 20 | 21 | 22 | 23 |
| 24 | 25 | 26 | 27 | 28 | 29 | 30 |
| 31 | | | | | | |
June 2020

| S | M | T | W | T | F | S |
| --- | --- | --- | --- | --- | --- | --- |
| | 01 | 02 | 03 | 04 | 05 | 06 |
| 07 | 08 | 09 | 10 | 11 | 12 | 13 |
| 14 | 15 | 16 | 17 | 18 | 19 | 20 |
| 21 | 22 | 23 | 24 | 25 | 26 | 27 |
| 28 | 29 | 30 | | | | |
July 2020

| S | M | T | W | T | F | S |
| --- | --- | --- | --- | --- | --- | --- |
| | | | 01 | 02 | 03 | 04 |
| 05 | 06 | 07 | 08 | 09 | 10 | 11 |
| 12 | 13 | 14 | 15 | 16 | 17 | 18 |
| 19 | 20 | 21 | 22 | 23 | 24 | 25 |
| 26 | 27 | 28 | 29 | 30 | 31 | |
August 2020

| S | M | T | W | T | F | S |
| --- | --- | --- | --- | --- | --- | --- |
| | | | | | | 01 |
| 02 | 03 | 04 | 05 | 06 | 07 | 08 |
| 09 | 10 | 11 | 12 | 13 | 14 | 15 |
| 16 | 17 | 18 | 19 | 20 | 21 | 22 |
| 23 | 24 | 25 | 26 | 27 | 28 | 29 |
| 30 | 31 | | | | | |
September 2020

| S | M | T | W | T | F | S |
| --- | --- | --- | --- | --- | --- | --- |
| | | 01 | 02 | 03 | 04 | 05 |
| 06 | 07 | 08 | 09 | 10 | 11 | 12 |
| 13 | 14 | 15 | 16 | 17 | 18 | 19 |
| 20 | 21 | 22 | 23 | 24 | 25 | 26 |
| 27 | 28 | 29 | 30 | | | |
October 2020

| S | M | T | W | T | F | S |
| --- | --- | --- | --- | --- | --- | --- |
| | | | | 01 | 02 | 03 |
| 04 | 05 | 06 | 07 | 08 | 09 | 10 |
| 11 | 12 | 13 | 14 | 15 | 16 | 17 |
| 18 | 19 | 20 | 21 | 22 | 23 | 24 |
| 25 | 26 | 27 | 28 | 29 | 30 | 31 |
November 2020

| S | M | T | W | T | F | S |
| --- | --- | --- | --- | --- | --- | --- |
| 01 | 02 | 03 | 04 | 05 | 06 | 07 |
| 08 | 09 | 10 | 11 | 12 | 13 | 14 |
| 15 | 16 | 17 | 18 | 19 | 20 | 21 |
| 22 | 23 | 24 | 25 | 26 | 27 | 28 |
| 29 | 30 | | | | | |
December 2020

| S | M | T | W | T | F | S |
| --- | --- | --- | --- | --- | --- | --- |
| | | 01 | 02 | 03 | 04 | 05 |
| 06 | 07 | 08 | 09 | 10 | 11 | 12 |
| 13 | 14 | 15 | 16 | 17 | 18 | 19 |
| 20 | 21 | 22 | 23 | 24 | 25 | 26 |
| 27 | 28 | 29 | 30 | 31 | | |
January 2021

| S | M | T | W | T | F | S |
| --- | --- | --- | --- | --- | --- | --- |
| | | | | | 01 | 02 |
| 03 | 04 | 05 | 06 | 07 | 08 | 09 |
| 10 | 11 | 12 | 13 | 14 | 15 | 16 |
| 17 | 18 | 19 | 20 | 21 | 22 | 23 |
| 24 | 25 | 26 | 27 | 28 | 29 | 30 |
| 31 | | | | | | |
February 2021

| S | M | T | W | T | F | S |
| --- | --- | --- | --- | --- | --- | --- |
| | 01 | 02 | 03 | 04 | 05 | 06 |
| 07 | 08 | 09 | 10 | 11 | 12 | 13 |
| 14 | 15 | 16 | 17 | 18 | 19 | 20 |
| 21 | 22 | 23 | 24 | 25 | 26 | 27 |
| 28 | | | | | | |
Available
Unavailable
Sat to Sat booking