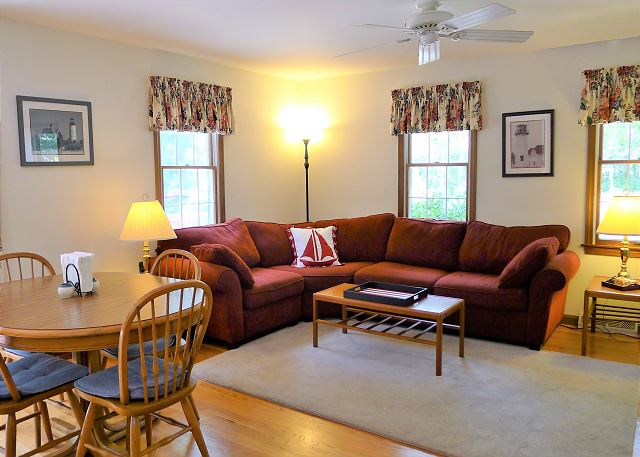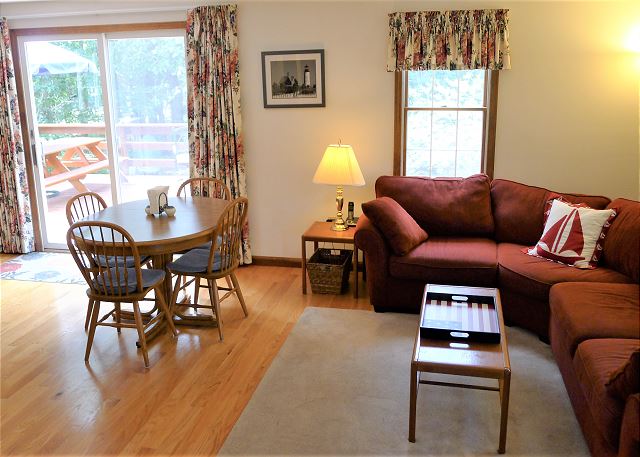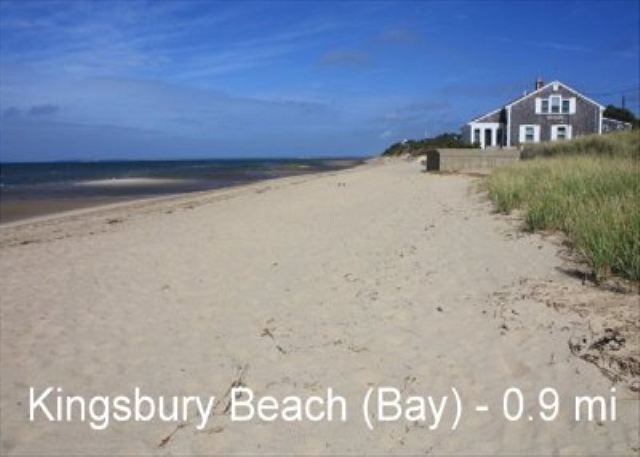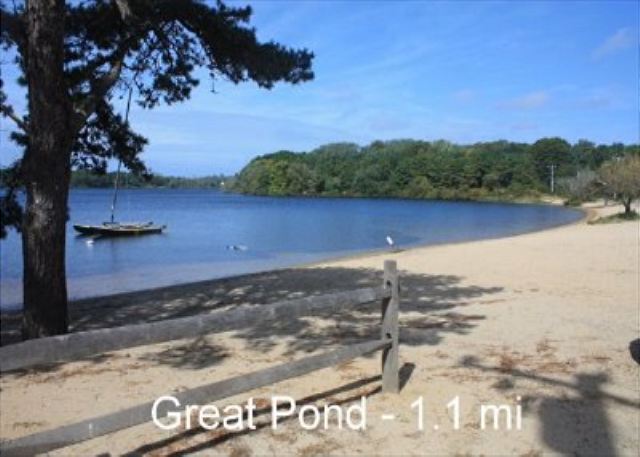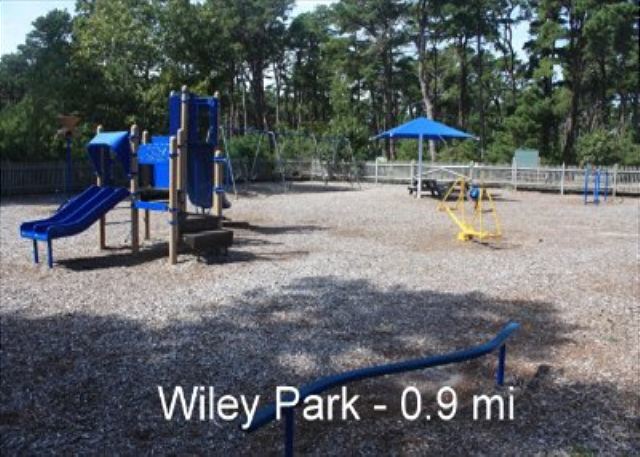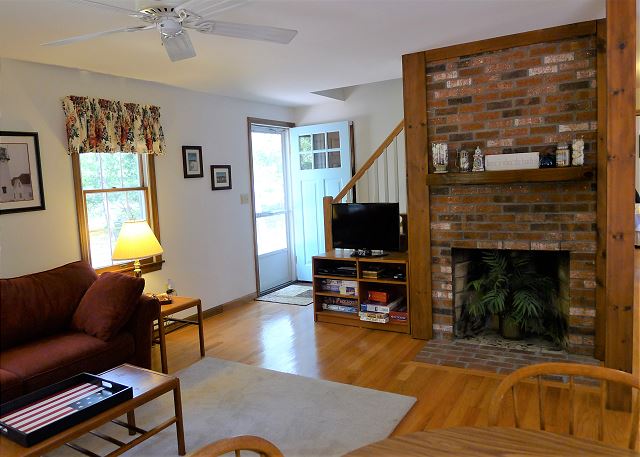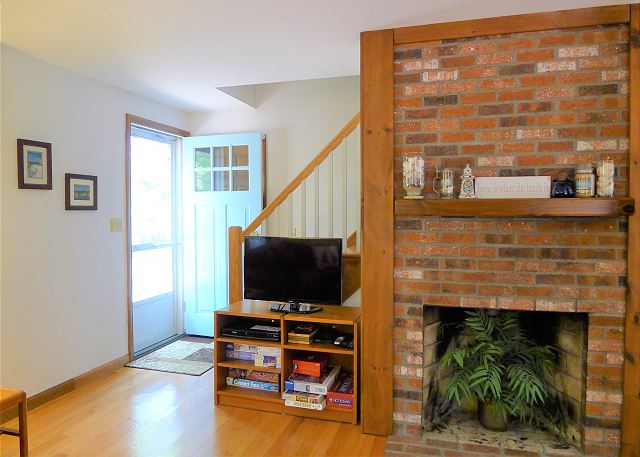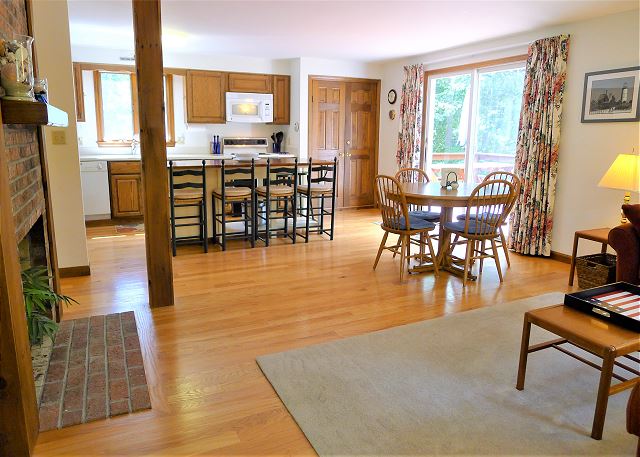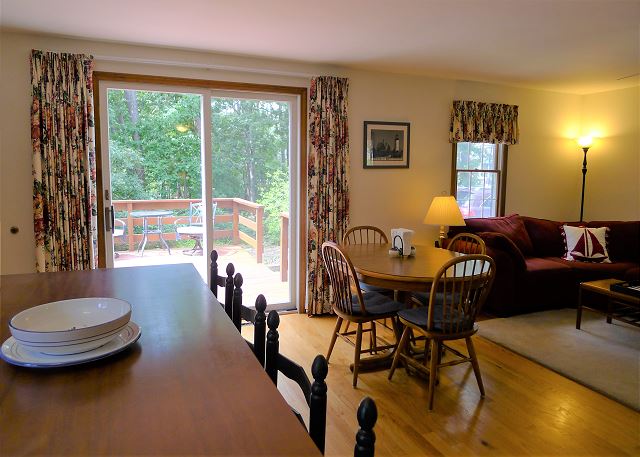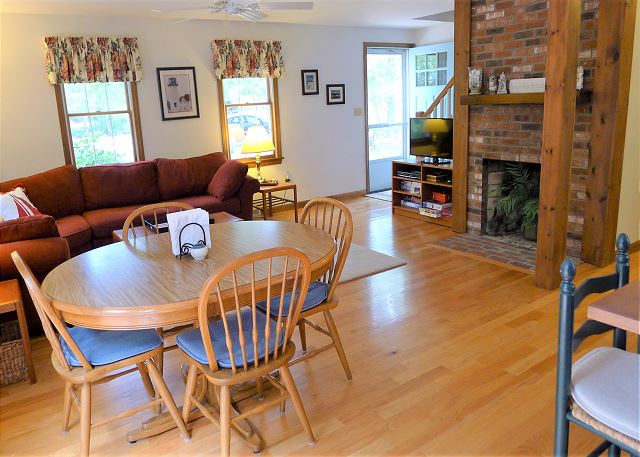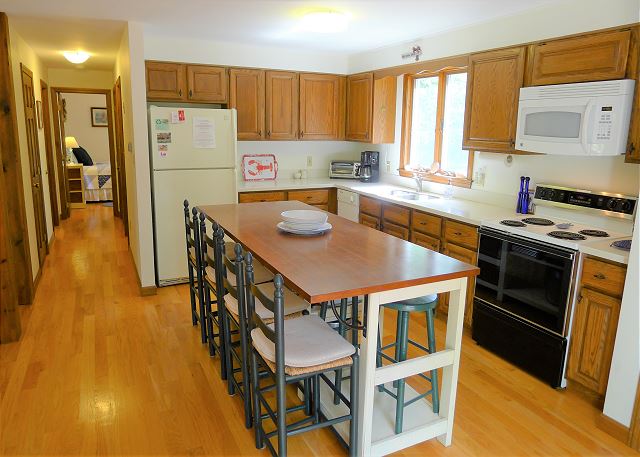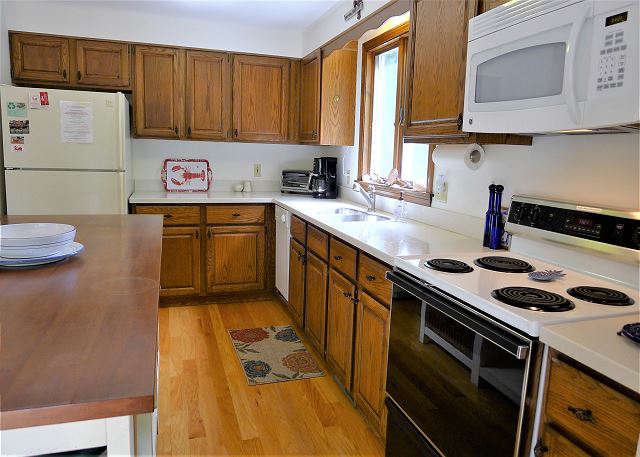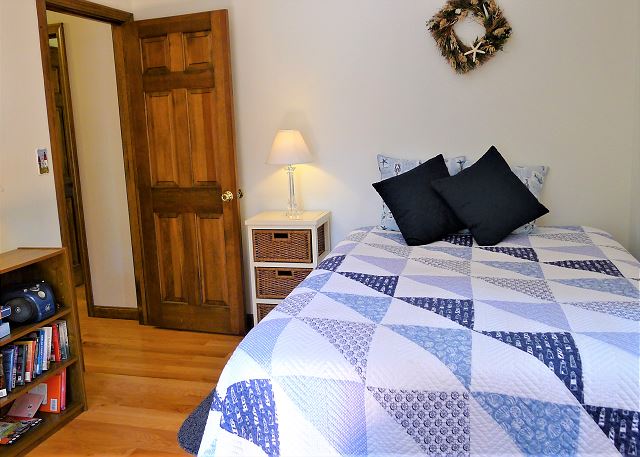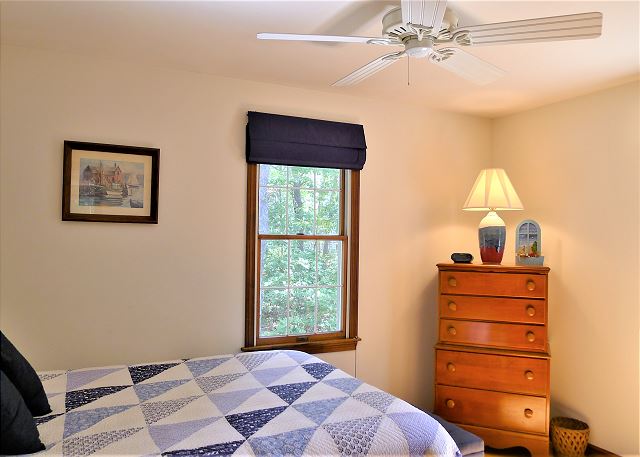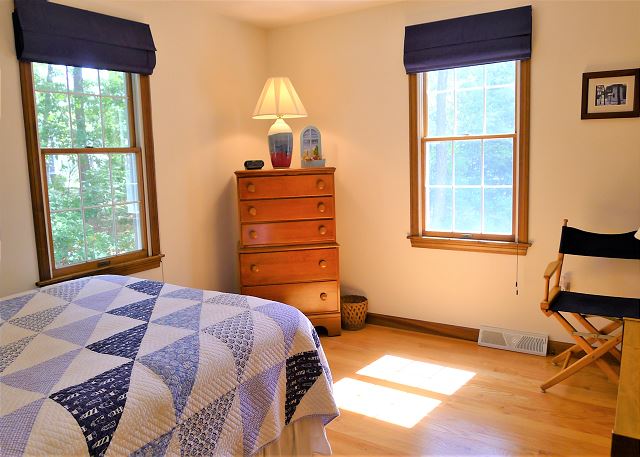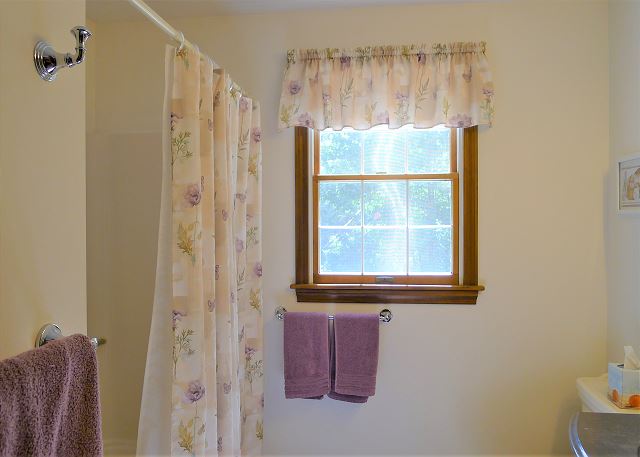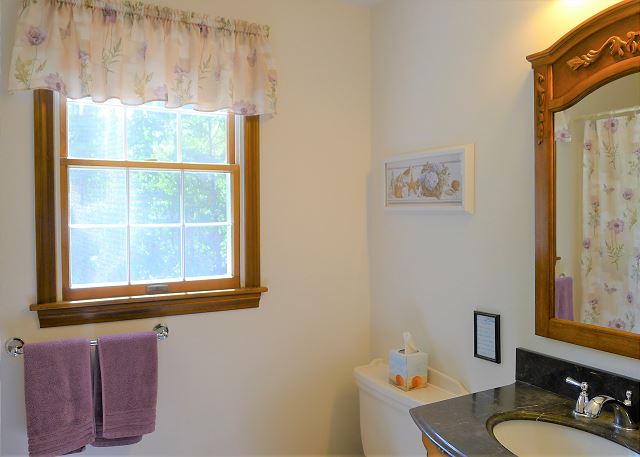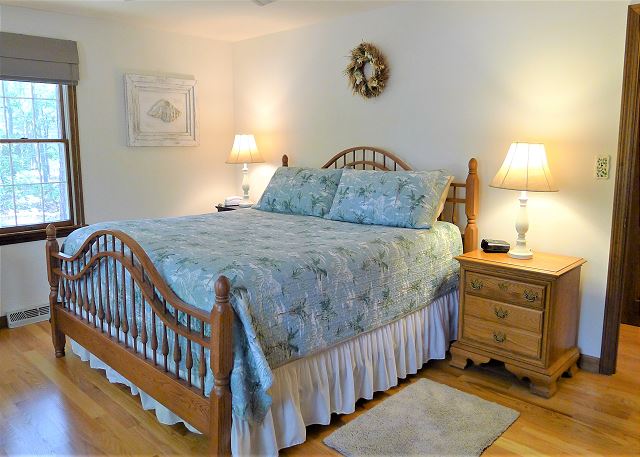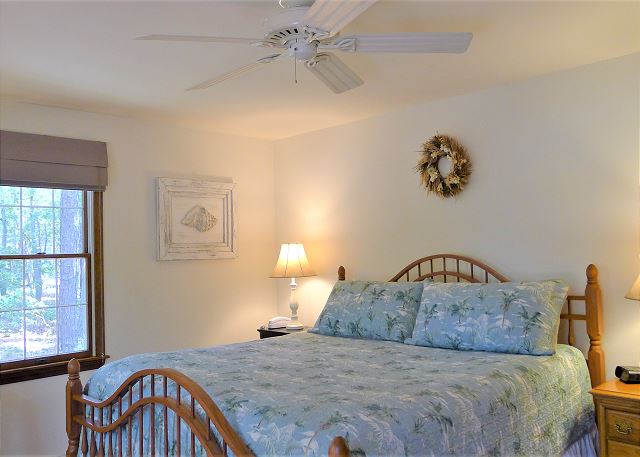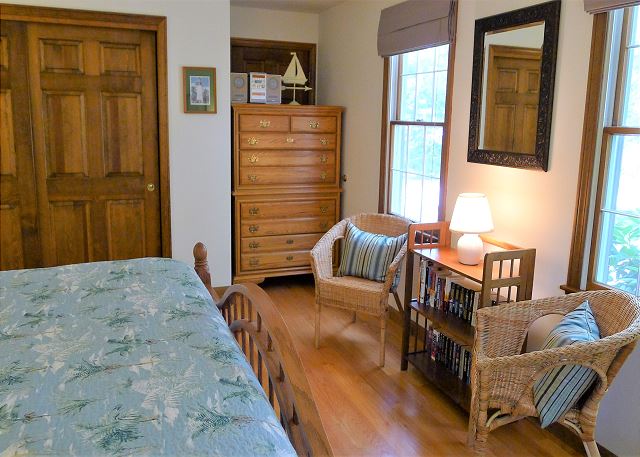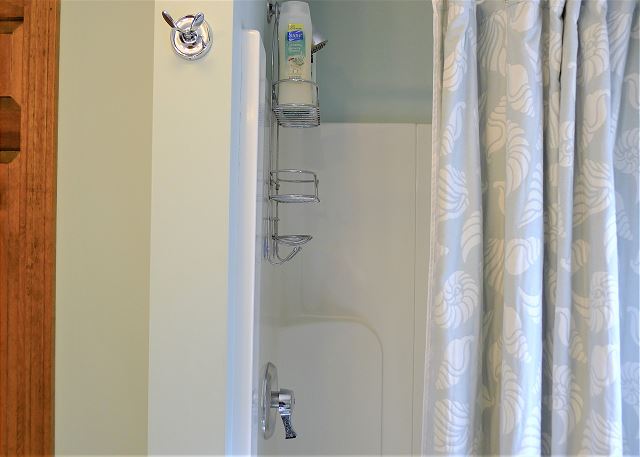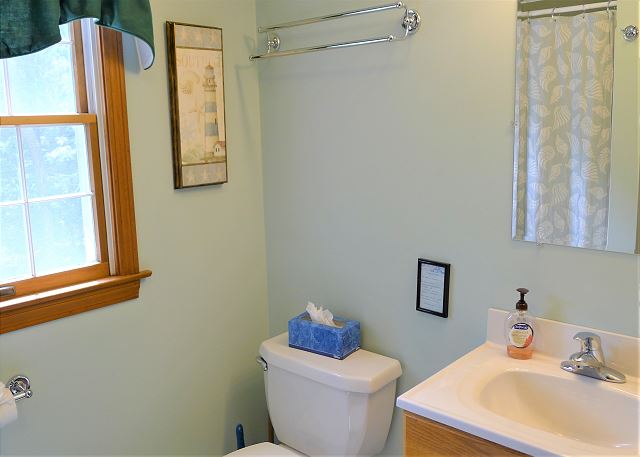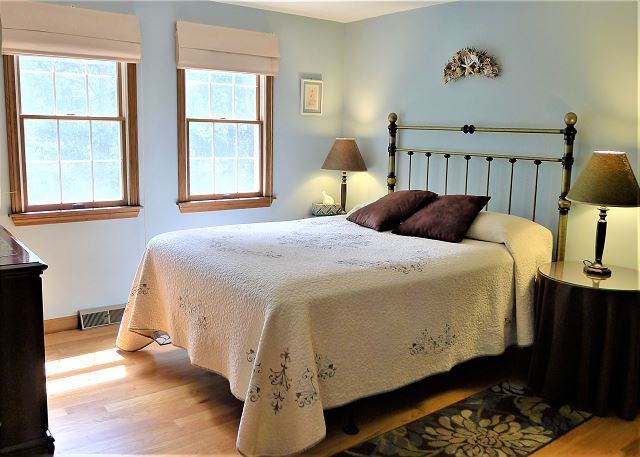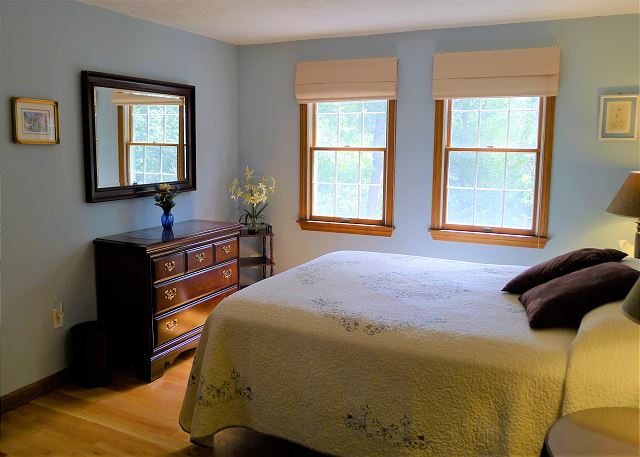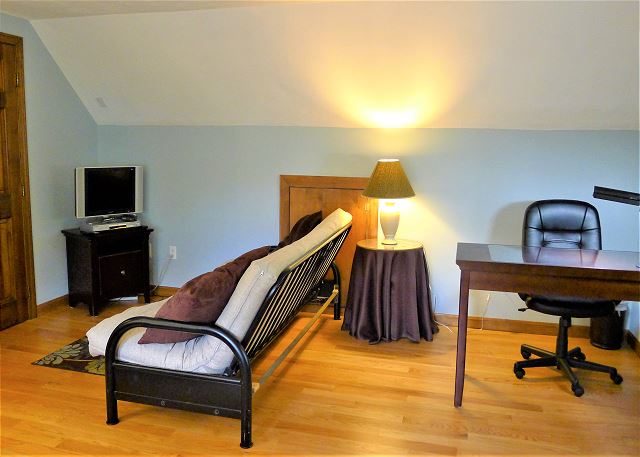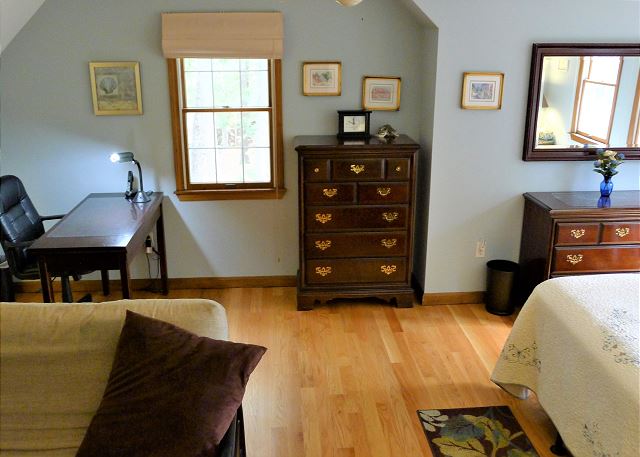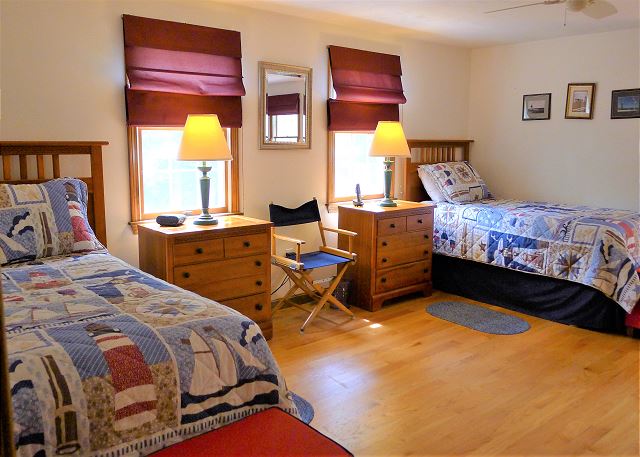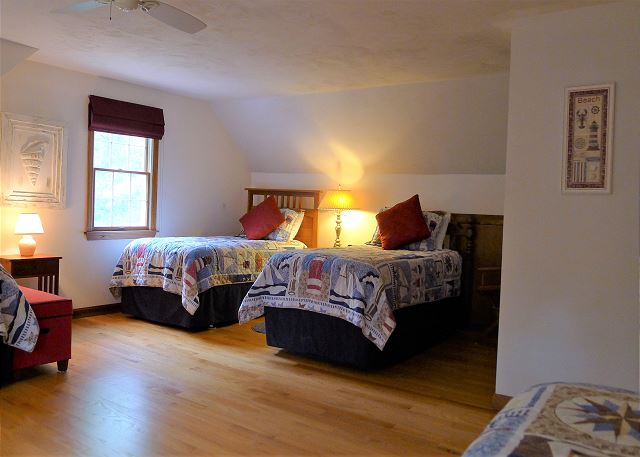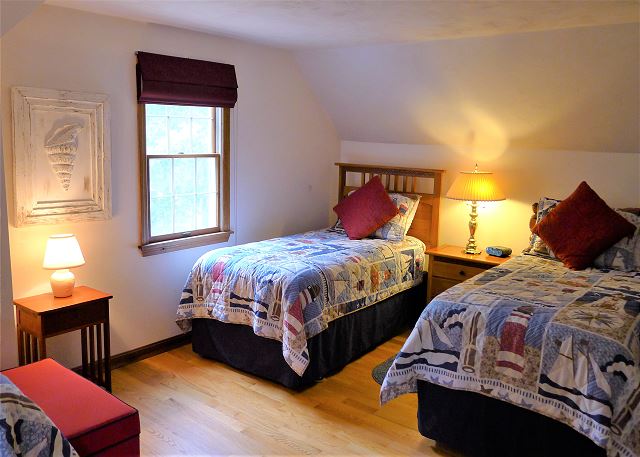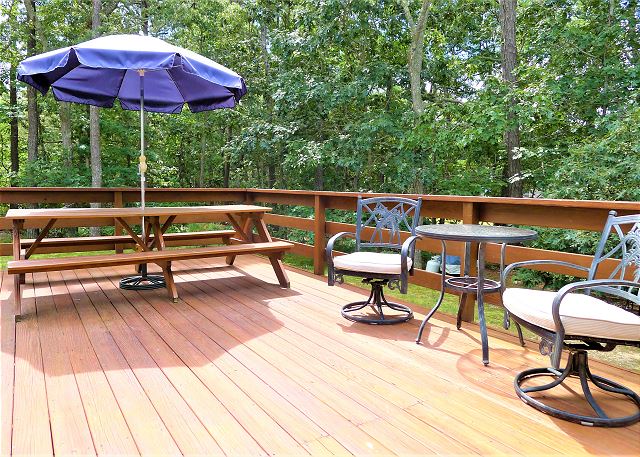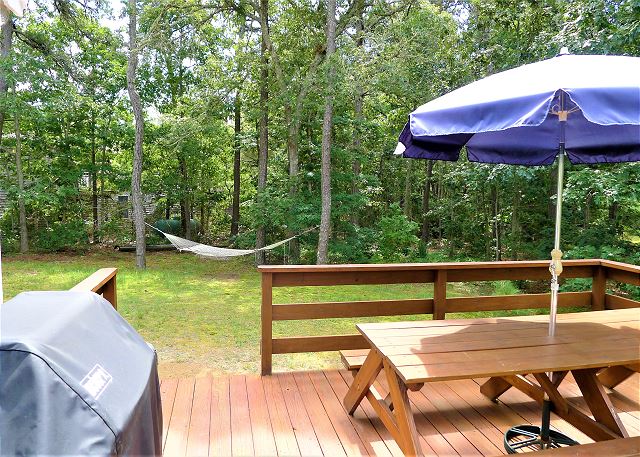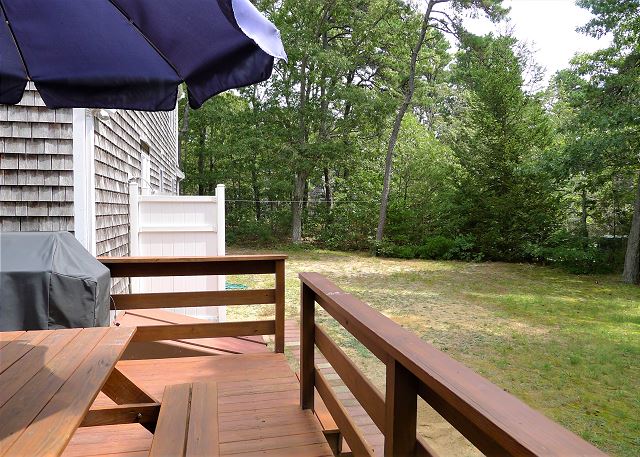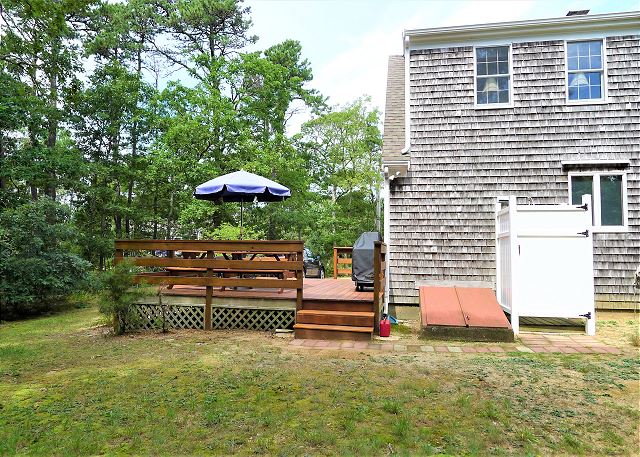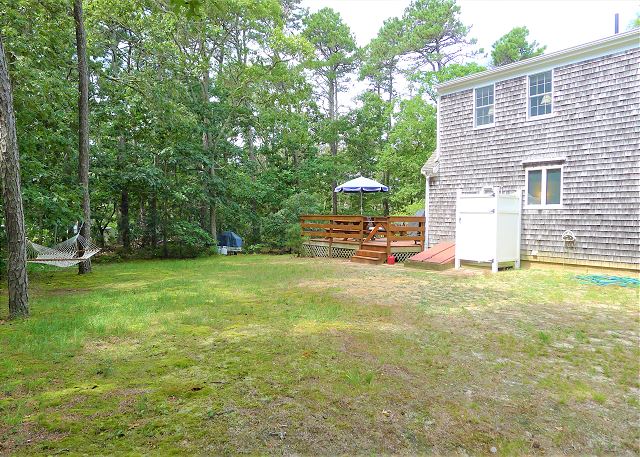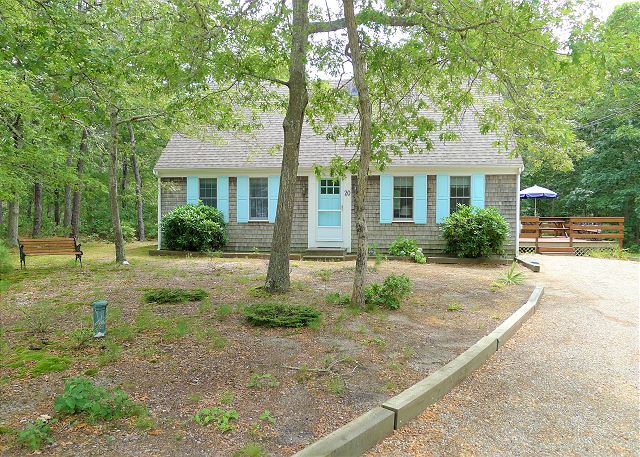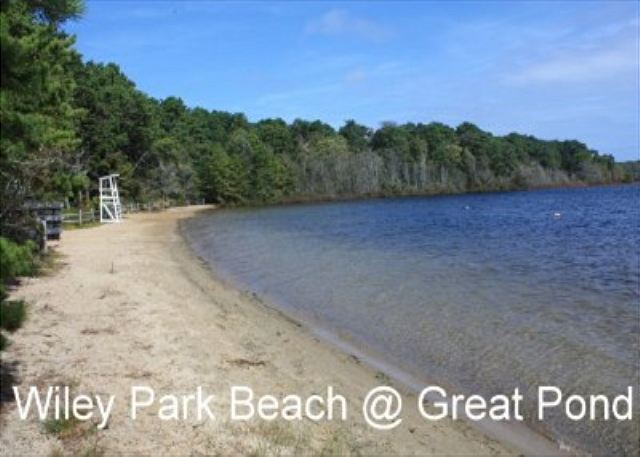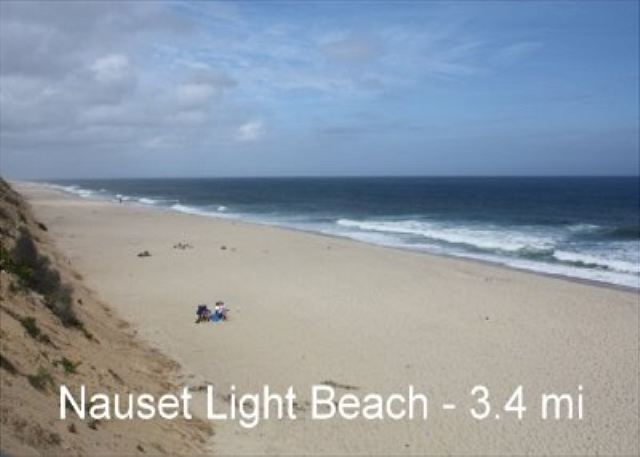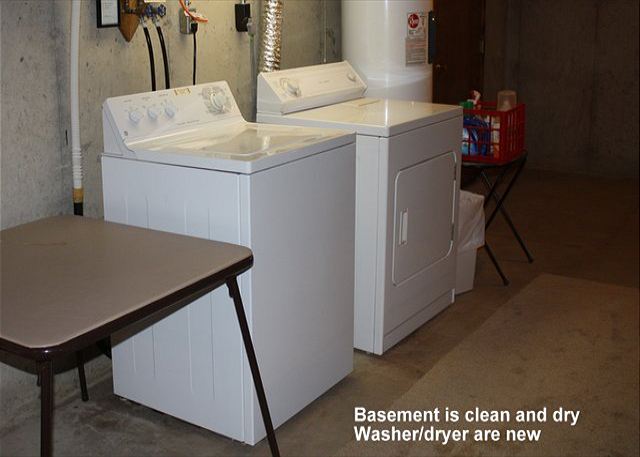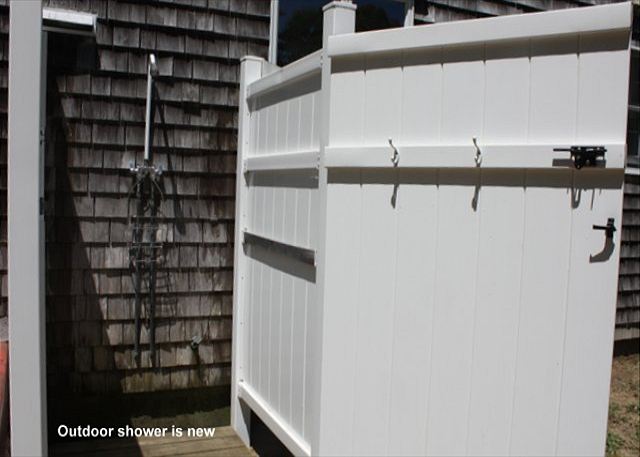 ---
Bedroom(s): 4
Bathroom(s): 2
Sleeps: 8
Type: House
Area:
Town: Eastham
Enjoy beautiful decor in this 4 bedroom, 2 bath, 1800 square foot Eastham Vacation home which is located just under 1 mile to Kingsbury Beach, Great Pond, and the bike trail. This home has many desirable amenities including central A/C and WiFi.

When you enter the first floor you'll find a spacious open living room with a new 40" TV and wonderful kitchen which is fully equipped dishwasher, toaster, coffee maker, microwave, lobster pot, electric range, and ice maker. Also on the first floor is the main bedroom with a king size bed and a second bedroom with a Queen size bed. There is a a full bathroom with a tub/shower combo on this floor as well.

On the second floor you will find two large bedrooms. The first bedroom has a queen size bed and a futon sofa and the second bedroom has 4 twin size beds. There is also a full bathroom with a shower.

There are 2 TV's; one in the living room and one in 2nd floor bedroom. There are also 2 DVD players and 5 ceiling fans in this home. There is a washer and dryer as well.

Outside you will find a deck with picnic table for dining and relaxing, and a gas grill. There is a spacious yard area and an enclosed outdoor shower with hot & cold water.

Sorry no pets and no smoking allowed.

8 guests maximum allowed at any time. No parties exceeding the occupancy limit allowed.

LINENS (SHEETS/TOWELS) ARE NOT INCLUDED IN THIS RENTAL.

Travel Insurance is highly recommended and affordable coverage to protect your vacation investment.

Please view our policy and procedure page on our web site for detailed information about renting with us.
" frameborder="0" allowfullscreen>
- Deck / Patio
- Outdoor Grill
- Standard TV
- DVD Player
- Extended Cable
- Basic Cable
- Stereo w/ CD player
- WiFi
- Central Air Conditioning
- A/C
- Microwave
- Drip Coffee Maker
- Cookware
- Dishes / Glassware / Utensils
- Blender
- Iron
- Toaster or Toaster Oven
- Ceiling Fan
- Dishwasher
- Lobster Pot
- Dining Table
- TV
- A/C
- Tub/Shower Combo
- Washer & Dryer
- Deck
- Gas Grill with Propane Tank
- Dining Table w/ Umbrella
- Enclosed Outdoor Shower
- Near Rail Trail Bike Path
- Near Cape Cod Bay Beaches
Guest Reviews of
20 woodpine Eastham , MA
Eastham vacation home
Review by
Carmen V.
It was a great time. Nice was to end summer vacation before school starts!
5 out of 5 stars
Very comfortable clean Eastham hide-away!
Review by
Michele B.
This was a very comfortable house with all the amenities one would want for the Cape. The outdoor shower was new and lovely, the hammock very serene, the bedrooms spacious and clean. We enjoyed the deck and large picnic table that could easily seat 8! We never turned on the TV but used the Wifi a lot for business purposed and it was very good. All in all, a wonderful experience. If there is any negative it's that we had to drive everywhere, walking wasn't really an option with our size group.
5 out of 5 stars
3 generation vacation
Very convenient, quiet location close to National Seashore and Bsy Beaches. Clean, comfortable and well equipped.
5 out of 5 stars
Cape Cod 2014
Review by
Lee S.
Good week.
4 out of 5 stars
January 2018

| S | M | T | W | T | F | S |
| --- | --- | --- | --- | --- | --- | --- |
| | 01 | 02 | 03 | 04 | 05 | 06 |
| 07 | 08 | 09 | 10 | 11 | 12 | 13 |
| 14 | 15 | 16 | 17 | 18 | 19 | 20 |
| 21 | 22 | 23 | 24 | 25 | 26 | 27 |
| 28 | 29 | 30 | 31 | | | |
February 2018

| S | M | T | W | T | F | S |
| --- | --- | --- | --- | --- | --- | --- |
| | | | | 01 | 02 | 03 |
| 04 | 05 | 06 | 07 | 08 | 09 | 10 |
| 11 | 12 | 13 | 14 | 15 | 16 | 17 |
| 18 | 19 | 20 | 21 | 22 | 23 | 24 |
| 25 | 26 | 27 | 28 | | | |
March 2018

| S | M | T | W | T | F | S |
| --- | --- | --- | --- | --- | --- | --- |
| | | | | 01 | 02 | 03 |
| 04 | 05 | 06 | 07 | 08 | 09 | 10 |
| 11 | 12 | 13 | 14 | 15 | 16 | 17 |
| 18 | 19 | 20 | 21 | 22 | 23 | 24 |
| 25 | 26 | 27 | 28 | 29 | 30 | 31 |
April 2018

| S | M | T | W | T | F | S |
| --- | --- | --- | --- | --- | --- | --- |
| 01 | 02 | 03 | 04 | 05 | 06 | 07 |
| 08 | 09 | 10 | 11 | 12 | 13 | 14 |
| 15 | 16 | 17 | 18 | 19 | 20 | 21 |
| 22 | 23 | 24 | 25 | 26 | 27 | 28 |
| 29 | 30 | | | | | |
May 2018

| S | M | T | W | T | F | S |
| --- | --- | --- | --- | --- | --- | --- |
| | | 01 | 02 | 03 | 04 | 05 |
| 06 | 07 | 08 | 09 | 10 | 11 | 12 |
| 13 | 14 | 15 | 16 | 17 | 18 | 19 |
| 20 | 21 | 22 | 23 | 24 | 25 | 26 |
| 27 | 28 | 29 | 30 | 31 | | |
June 2018

| S | M | T | W | T | F | S |
| --- | --- | --- | --- | --- | --- | --- |
| | | | | | 01 | 02 |
| 03 | 04 | 05 | 06 | 07 | 08 | 09 |
| 10 | 11 | 12 | 13 | 14 | 15 | 16 |
| 17 | 18 | 19 | 20 | 21 | 22 | 23 |
| 24 | 25 | 26 | 27 | 28 | 29 | 30 |
July 2018

| S | M | T | W | T | F | S |
| --- | --- | --- | --- | --- | --- | --- |
| 01 | 02 | 03 | 04 | 05 | 06 | 07 |
| 08 | 09 | 10 | 11 | 12 | 13 | 14 |
| 15 | 16 | 17 | 18 | 19 | 20 | 21 |
| 22 | 23 | 24 | 25 | 26 | 27 | 28 |
| 29 | 30 | 31 | | | | |
August 2018

| S | M | T | W | T | F | S |
| --- | --- | --- | --- | --- | --- | --- |
| | | | 01 | 02 | 03 | 04 |
| 05 | 06 | 07 | 08 | 09 | 10 | 11 |
| 12 | 13 | 14 | 15 | 16 | 17 | 18 |
| 19 | 20 | 21 | 22 | 23 | 24 | 25 |
| 26 | 27 | 28 | 29 | 30 | 31 | |
September 2018

| S | M | T | W | T | F | S |
| --- | --- | --- | --- | --- | --- | --- |
| | | | | | | 01 |
| 02 | 03 | 04 | 05 | 06 | 07 | 08 |
| 09 | 10 | 11 | 12 | 13 | 14 | 15 |
| 16 | 17 | 18 | 19 | 20 | 21 | 22 |
| 23 | 24 | 25 | 26 | 27 | 28 | 29 |
| 30 | | | | | | |
October 2018

| S | M | T | W | T | F | S |
| --- | --- | --- | --- | --- | --- | --- |
| | 01 | 02 | 03 | 04 | 05 | 06 |
| 07 | 08 | 09 | 10 | 11 | 12 | 13 |
| 14 | 15 | 16 | 17 | 18 | 19 | 20 |
| 21 | 22 | 23 | 24 | 25 | 26 | 27 |
| 28 | 29 | 30 | 31 | | | |
November 2018

| S | M | T | W | T | F | S |
| --- | --- | --- | --- | --- | --- | --- |
| | | | | 01 | 02 | 03 |
| 04 | 05 | 06 | 07 | 08 | 09 | 10 |
| 11 | 12 | 13 | 14 | 15 | 16 | 17 |
| 18 | 19 | 20 | 21 | 22 | 23 | 24 |
| 25 | 26 | 27 | 28 | 29 | 30 | |
December 2018

| S | M | T | W | T | F | S |
| --- | --- | --- | --- | --- | --- | --- |
| | | | | | | 01 |
| 02 | 03 | 04 | 05 | 06 | 07 | 08 |
| 09 | 10 | 11 | 12 | 13 | 14 | 15 |
| 16 | 17 | 18 | 19 | 20 | 21 | 22 |
| 23 | 24 | 25 | 26 | 27 | 28 | 29 |
| 30 | 31 | | | | | |
January 2019

| S | M | T | W | T | F | S |
| --- | --- | --- | --- | --- | --- | --- |
| | | 01 | 02 | 03 | 04 | 05 |
| 06 | 07 | 08 | 09 | 10 | 11 | 12 |
| 13 | 14 | 15 | 16 | 17 | 18 | 19 |
| 20 | 21 | 22 | 23 | 24 | 25 | 26 |
| 27 | 28 | 29 | 30 | 31 | | |
Available
Unavailable
Sat to Sat booking