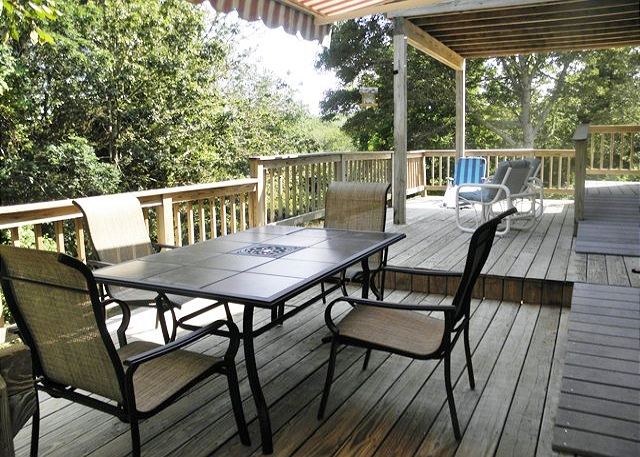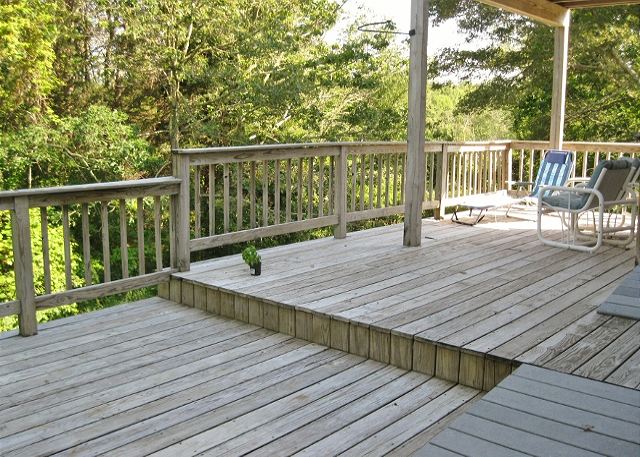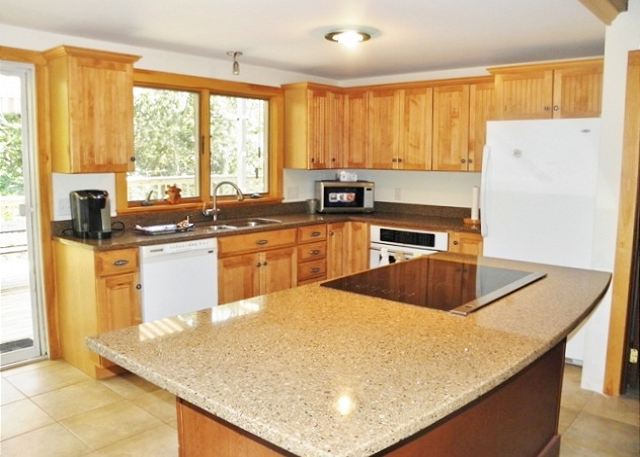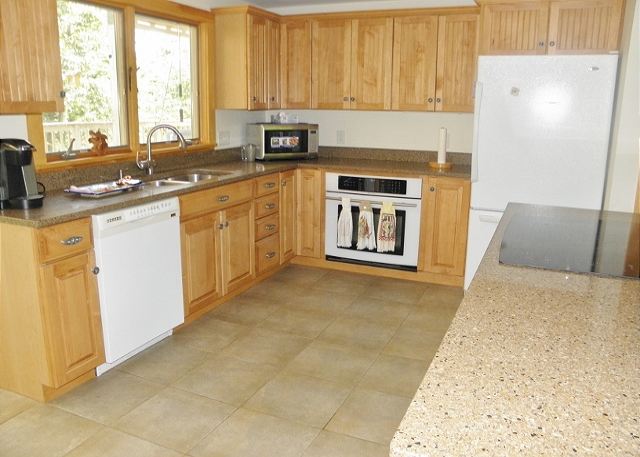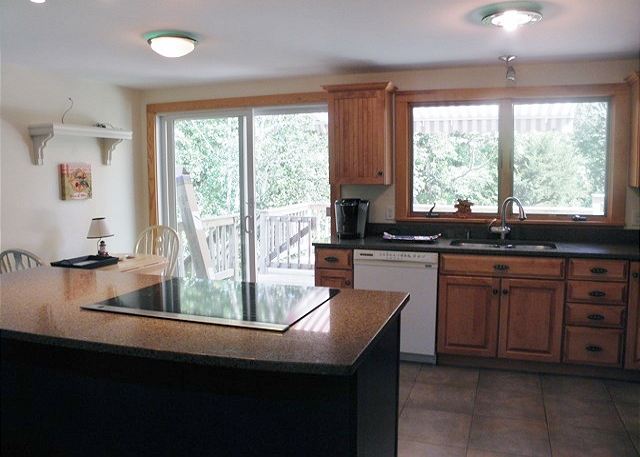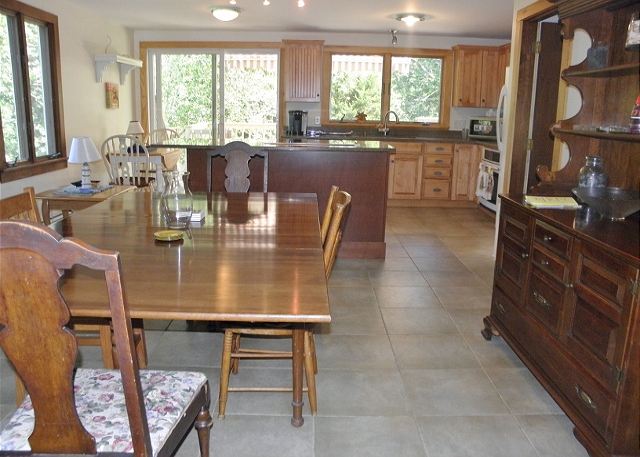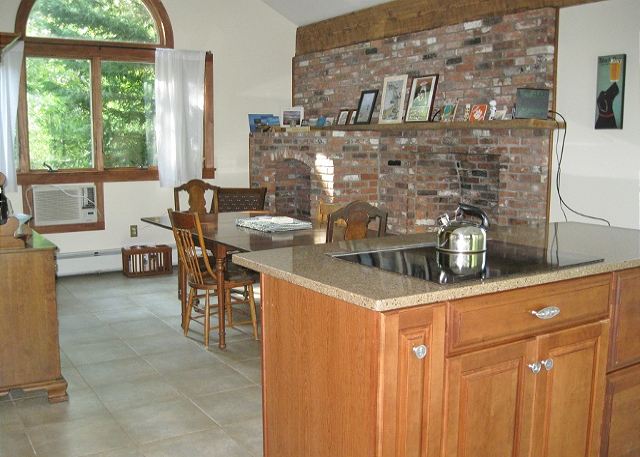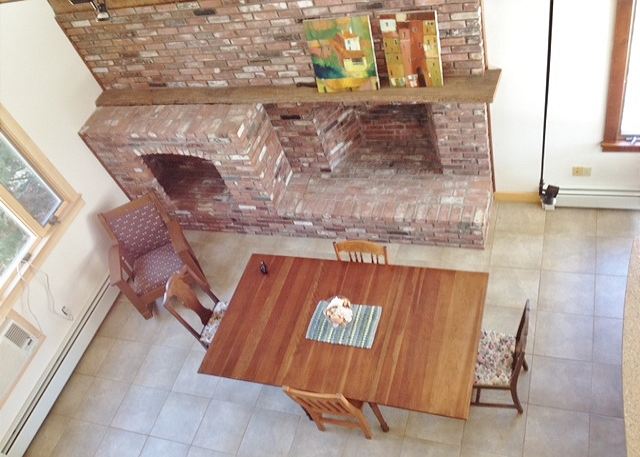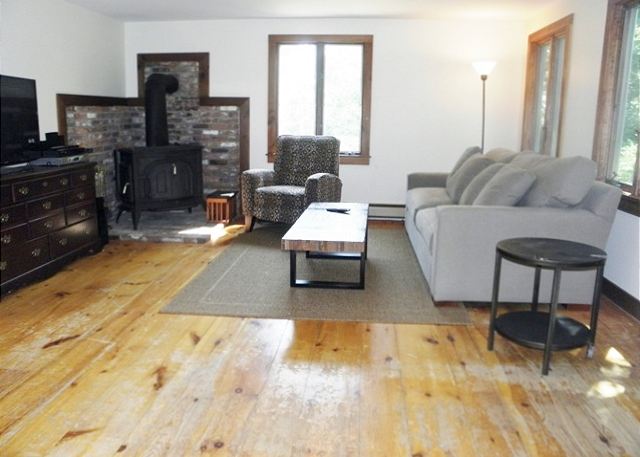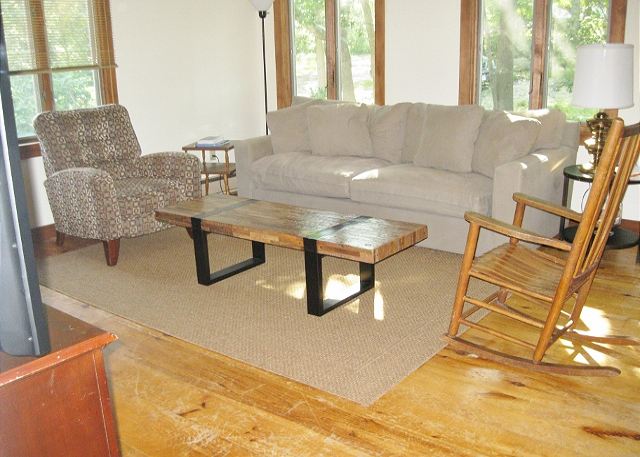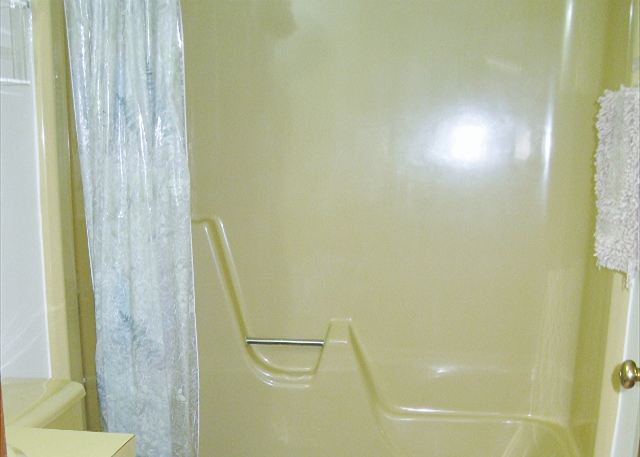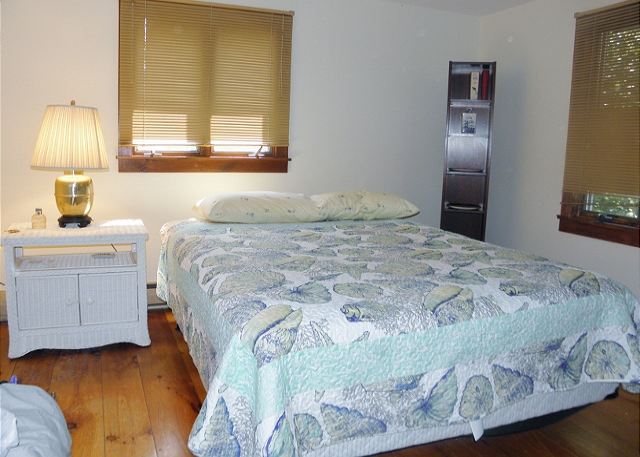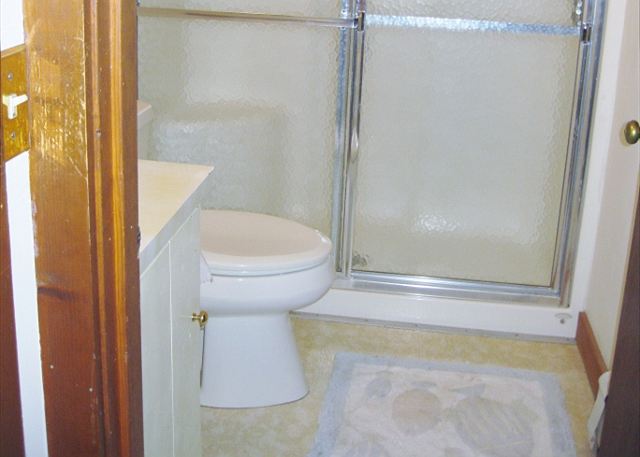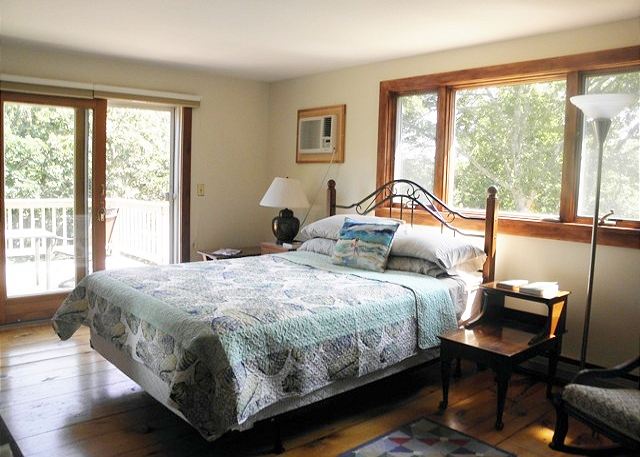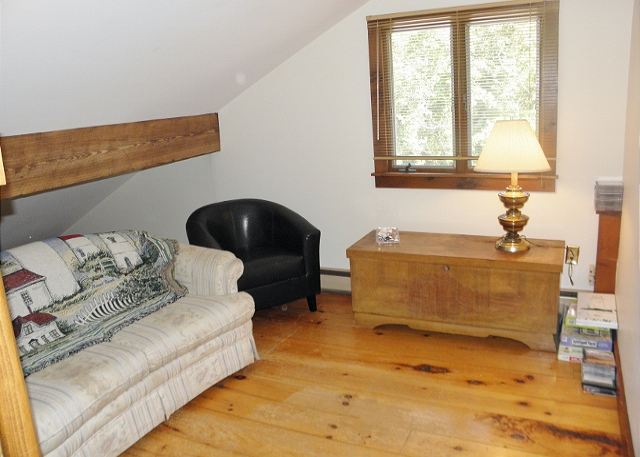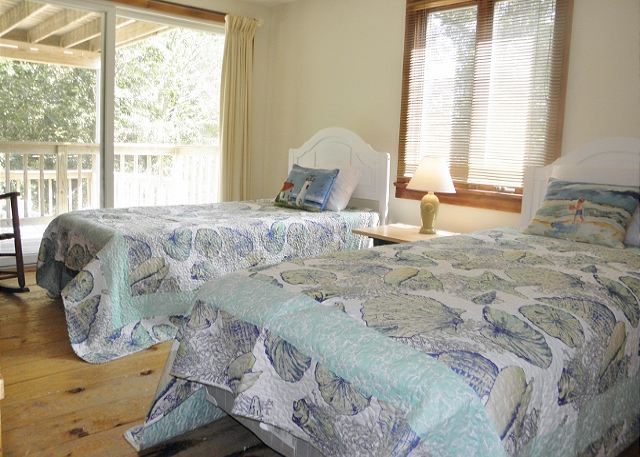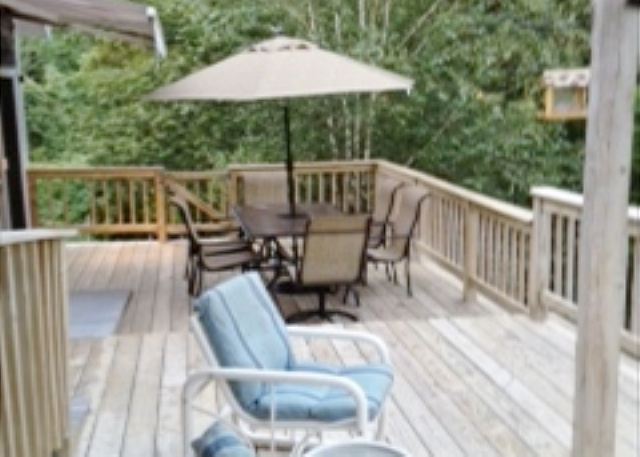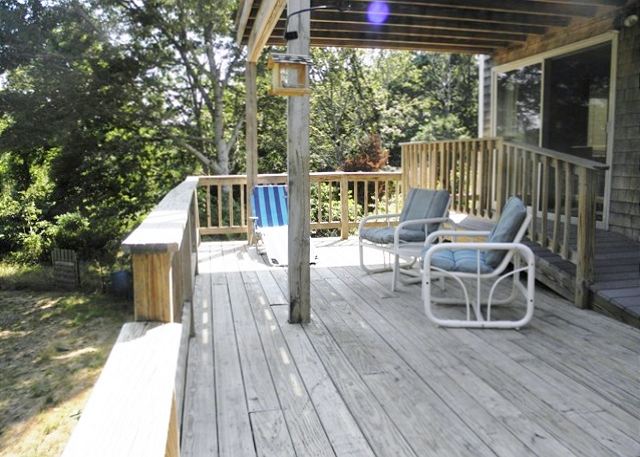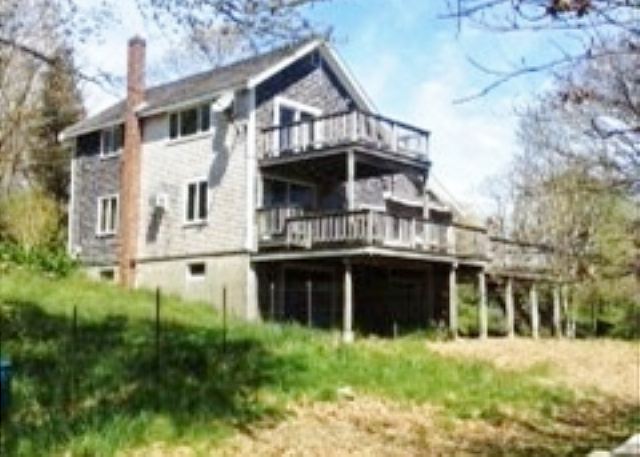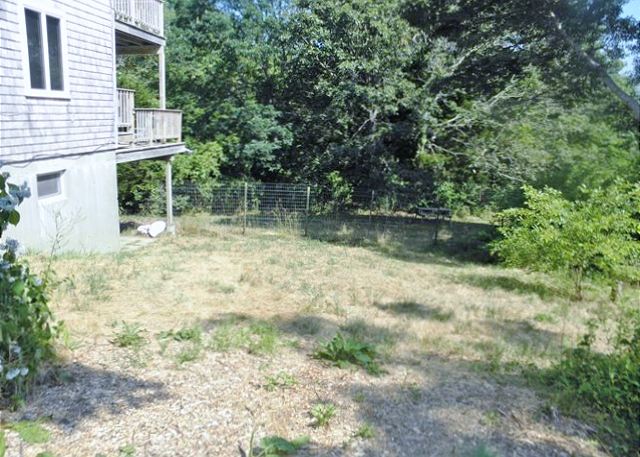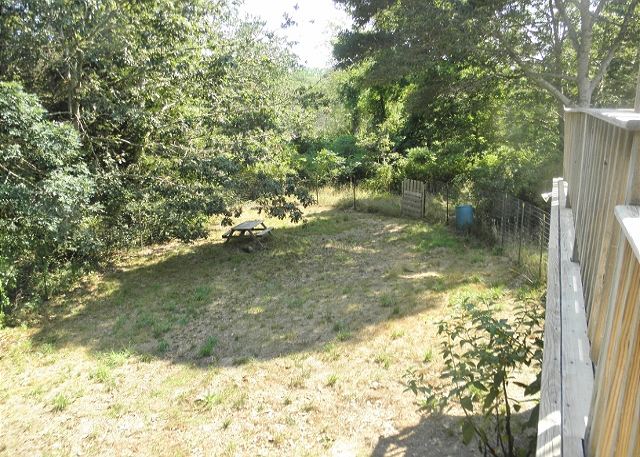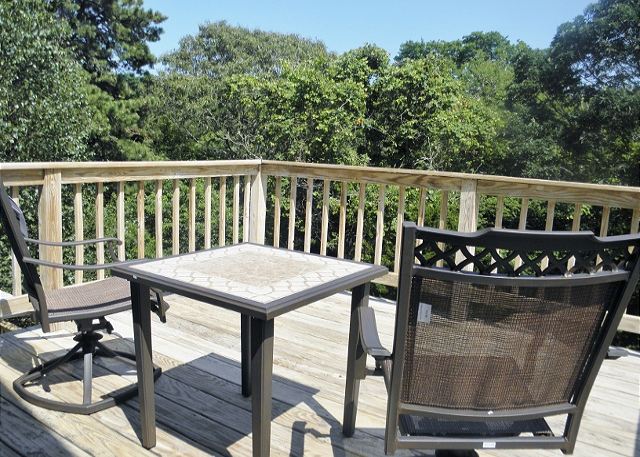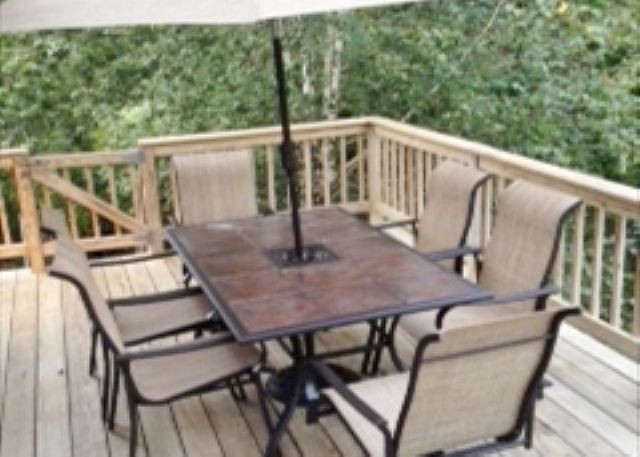 ---
Bedroom(s): 3
Bathroom(s): 2
Sleeps: 8
Type: House
Area:
Town: Eastham
$2125-$2625 ($100 less if not bringing a pet) Rates include all charges - no hidden fees!

Eastham Near National Seashore and Bay Beaches!

Private, dog friendly location with multi decks and A/C.

This home has an enclosed rear yard, so bring the furry family to enjoy the freedom! The front entry is a cozy covered porch with built in seat that leads into the living room with large flat screen TV, Blu-Ray DVD player, WiFi, and comfy seating set on rustic pine floors. Owner allows dogs only.

Step down into the open dining and modern kitchen area, with A/C and seating for 6 guests and additional breakfast counter in kitchen. This leads to a fabulous deck with tiled outdoor dining table with umbrella, gas grill, and awning overhead too, for a nice shaded space. The deck offers a gate to keep pet and little ones away from stairs, the far side of deck is nice lounge area with sliders to first floor bedroom. Down the stairs from the deck leads to fenced yard and underneath deck is open outdoor shower with hot and cold water. Washer and dryer are located in the basement.

Off the living room is a full bathroom and a first floor bedroom with two twin beds and wall A/C unit, with slider door that leads to main rear deck. Stairs to second floor lead to a quaint 2nd floor loft sitting area that leads to the two bedrooms both with Queen beds and wall A/C units and a full bathroom located in hall. The Queen bedroom facing the rear yard also has a sitting deck with table and chairs perfect for quiet times and an additional Flat screen TV.

Beaches: 2.6 miles to First Encounter Beach on Cape Cod Bay, or 3 miles to Coast Guard Beach within the National Sea Shore. The Cape Cod Rail Trail Bike Path is just 0.7 miles away.

Sorry no smoking allowed.

8 guests maximum allowed at any time. No parties exceeding the occupancy limit allowed.

LINENS (SHEETS/TOWELS) ARE NOT INCLUDED IN THIS RENTAL.

Travel insurance is highly recommended and affordable coverage to protect your vacation investment.

Please view our policy and procedure page on our web site for detailed information about renting with us.
- pets considered
- DVD Player
- Flat Screen HDTV
- Extended Cable
- A/C Unit
- WiFi
- Microwave
- Drip Coffee Maker
- Cookware
- Dishes / Glassware / Utensils
- Toaster or Toaster Oven
- Dishwasher
- Lobster Pot
- Door to Deck
- A/C unit
- Dining Table
- TV
- Window A/C
- Washer & Dryer
- Deck
- Gas Grill (Natural Gas)
- Dining Table w/ Umbrella
- Open Outdoor Shower
- Fenced Yard
- Near Rail Trail Bike Path
- Near National Sea Shore Beaches
- Yes
- DOG
- Pet Considered
Guest Reviews of
20 hoffman Eastham , MA
Hoffman Way
Review by
Carole D.
The place was nice. Plenty of room.It has a lot of overgrowth.I like the fact that there is access to the back road.
5 out of 5 stars
Disappointing from the Start!
The house is in a very secluded location & has a wonderful private back porch with woods all around. However, our stay was a disappointment from our time of arrival. The road into the property has had no maintenance and is full of very bad pot holes. The outside property looks as if there had been no maintenance all summer. Some of the weeds were as high as our hips. We could not even think of letting the children play in the yard. Most of the kitchen pots and pans were so filthy they had to be a health violation. All the cookie sheets were rusted. Oven did not work at all. We killed cockroaches in the kitchen cabinets and then had to clean and disinfect them ourselves. Two full cabinets of old food from previous renters (so much for having to clear them out when you left or be charged). Clothes dryer took almost three hours to dry one regular sized load of clothes. Sofa in the livingroom was so stained we had to go out & buy a cover for it. The rest of the furniture is very old & beat up. Rental agent was very nice but we should not have even had to call her. Owner clearly does not take proper care of this house. We would never go back to this location.
2 out of 5 stars
Fun on Cape Cod
Review by
Mary C.
fun and comfort
5 out of 5 stars
20 Hoffman Eastham
Review by
Lorrie P.
We loved the location, pet-friendly environment, with decks & fenced back yard...bight , open, well-eqjipped kitchen. Minor would be nice tohave a full bed on the main level, working locks on slider upstsirs & living room window. We would rent agsin. Thx
5 out of 5 stars
Nice Location but Property Was Lacking
Review by
Roger P.
Ants in the kitchen, yard not mowed with interior furniture beat-up with uncomfortable beds. Would I pay $2400 for another week?Absolutely not!Never again, very dissatisfied.
1 out of 5 stars
Wonderful week in Eastham
Review by
Mary C.
This was our third year staying at this house. We all enjoy our stay, young, old and furry. Great location for access to beautiful beaches, good restaurants, and outdoor fun. Wish we could stay for longer than a week.
5 out of 5 stars
Our family vacation on Cape Cod.
All enjoyed thier vacation. I realy enjoyed riding my bicycle on the CCRT. End to end the scenery was very nice. The beaches were clean and fun. Toured lighthouses,windmills,pilgrim tower and took the ferry to Martha's Vineyard. That too is a great place to visit.
4 out of 5 stars
January 2018

| S | M | T | W | T | F | S |
| --- | --- | --- | --- | --- | --- | --- |
| | 01 | 02 | 03 | 04 | 05 | 06 |
| 07 | 08 | 09 | 10 | 11 | 12 | 13 |
| 14 | 15 | 16 | 17 | 18 | 19 | 20 |
| 21 | 22 | 23 | 24 | 25 | 26 | 27 |
| 28 | 29 | 30 | 31 | | | |
February 2018

| S | M | T | W | T | F | S |
| --- | --- | --- | --- | --- | --- | --- |
| | | | | 01 | 02 | 03 |
| 04 | 05 | 06 | 07 | 08 | 09 | 10 |
| 11 | 12 | 13 | 14 | 15 | 16 | 17 |
| 18 | 19 | 20 | 21 | 22 | 23 | 24 |
| 25 | 26 | 27 | 28 | | | |
March 2018

| S | M | T | W | T | F | S |
| --- | --- | --- | --- | --- | --- | --- |
| | | | | 01 | 02 | 03 |
| 04 | 05 | 06 | 07 | 08 | 09 | 10 |
| 11 | 12 | 13 | 14 | 15 | 16 | 17 |
| 18 | 19 | 20 | 21 | 22 | 23 | 24 |
| 25 | 26 | 27 | 28 | 29 | 30 | 31 |
April 2018

| S | M | T | W | T | F | S |
| --- | --- | --- | --- | --- | --- | --- |
| 01 | 02 | 03 | 04 | 05 | 06 | 07 |
| 08 | 09 | 10 | 11 | 12 | 13 | 14 |
| 15 | 16 | 17 | 18 | 19 | 20 | 21 |
| 22 | 23 | 24 | 25 | 26 | 27 | 28 |
| 29 | 30 | | | | | |
May 2018

| S | M | T | W | T | F | S |
| --- | --- | --- | --- | --- | --- | --- |
| | | 01 | 02 | 03 | 04 | 05 |
| 06 | 07 | 08 | 09 | 10 | 11 | 12 |
| 13 | 14 | 15 | 16 | 17 | 18 | 19 |
| 20 | 21 | 22 | 23 | 24 | 25 | 26 |
| 27 | 28 | 29 | 30 | 31 | | |
June 2018

| S | M | T | W | T | F | S |
| --- | --- | --- | --- | --- | --- | --- |
| | | | | | 01 | 02 |
| 03 | 04 | 05 | 06 | 07 | 08 | 09 |
| 10 | 11 | 12 | 13 | 14 | 15 | 16 |
| 17 | 18 | 19 | 20 | 21 | 22 | 23 |
| 24 | 25 | 26 | 27 | 28 | 29 | 30 |
July 2018

| S | M | T | W | T | F | S |
| --- | --- | --- | --- | --- | --- | --- |
| 01 | 02 | 03 | 04 | 05 | 06 | 07 |
| 08 | 09 | 10 | 11 | 12 | 13 | 14 |
| 15 | 16 | 17 | 18 | 19 | 20 | 21 |
| 22 | 23 | 24 | 25 | 26 | 27 | 28 |
| 29 | 30 | 31 | | | | |
August 2018

| S | M | T | W | T | F | S |
| --- | --- | --- | --- | --- | --- | --- |
| | | | 01 | 02 | 03 | 04 |
| 05 | 06 | 07 | 08 | 09 | 10 | 11 |
| 12 | 13 | 14 | 15 | 16 | 17 | 18 |
| 19 | 20 | 21 | 22 | 23 | 24 | 25 |
| 26 | 27 | 28 | 29 | 30 | 31 | |
September 2018

| S | M | T | W | T | F | S |
| --- | --- | --- | --- | --- | --- | --- |
| | | | | | | 01 |
| 02 | 03 | 04 | 05 | 06 | 07 | 08 |
| 09 | 10 | 11 | 12 | 13 | 14 | 15 |
| 16 | 17 | 18 | 19 | 20 | 21 | 22 |
| 23 | 24 | 25 | 26 | 27 | 28 | 29 |
| 30 | | | | | | |
October 2018

| S | M | T | W | T | F | S |
| --- | --- | --- | --- | --- | --- | --- |
| | 01 | 02 | 03 | 04 | 05 | 06 |
| 07 | 08 | 09 | 10 | 11 | 12 | 13 |
| 14 | 15 | 16 | 17 | 18 | 19 | 20 |
| 21 | 22 | 23 | 24 | 25 | 26 | 27 |
| 28 | 29 | 30 | 31 | | | |
November 2018

| S | M | T | W | T | F | S |
| --- | --- | --- | --- | --- | --- | --- |
| | | | | 01 | 02 | 03 |
| 04 | 05 | 06 | 07 | 08 | 09 | 10 |
| 11 | 12 | 13 | 14 | 15 | 16 | 17 |
| 18 | 19 | 20 | 21 | 22 | 23 | 24 |
| 25 | 26 | 27 | 28 | 29 | 30 | |
December 2018

| S | M | T | W | T | F | S |
| --- | --- | --- | --- | --- | --- | --- |
| | | | | | | 01 |
| 02 | 03 | 04 | 05 | 06 | 07 | 08 |
| 09 | 10 | 11 | 12 | 13 | 14 | 15 |
| 16 | 17 | 18 | 19 | 20 | 21 | 22 |
| 23 | 24 | 25 | 26 | 27 | 28 | 29 |
| 30 | 31 | | | | | |
January 2019

| S | M | T | W | T | F | S |
| --- | --- | --- | --- | --- | --- | --- |
| | | 01 | 02 | 03 | 04 | 05 |
| 06 | 07 | 08 | 09 | 10 | 11 | 12 |
| 13 | 14 | 15 | 16 | 17 | 18 | 19 |
| 20 | 21 | 22 | 23 | 24 | 25 | 26 |
| 27 | 28 | 29 | 30 | 31 | | |
Available
Unavailable
Sat to Sat booking