Staff Choice Homes have been highly reviewed by both our staff and past guests for an extended period of time. Only a select handful of homes in our inventory receive this highly coveted award! It signifies that staff has extensive knowledge of the property and – just as important – of the owners' commitment to elevating the guest experience.

---
345 Harmes Eastham, MA
BOOK NOW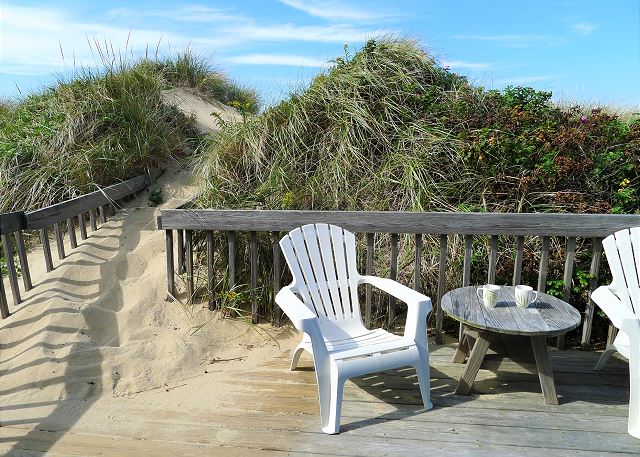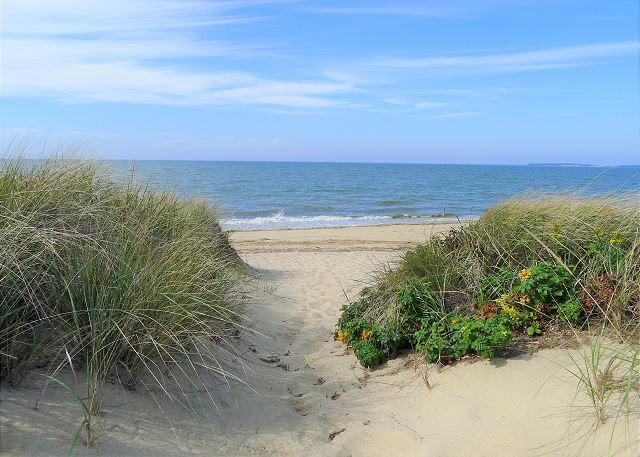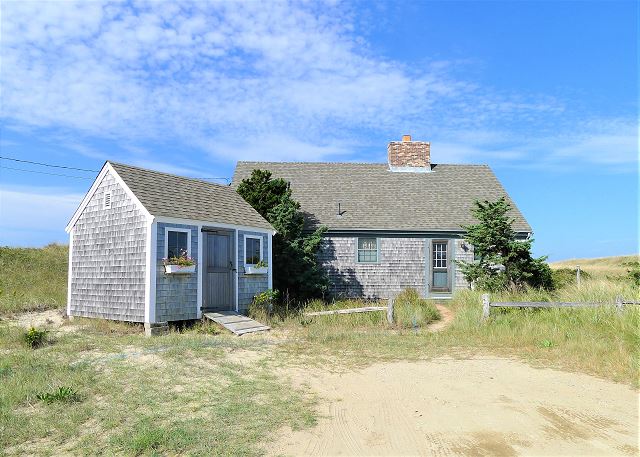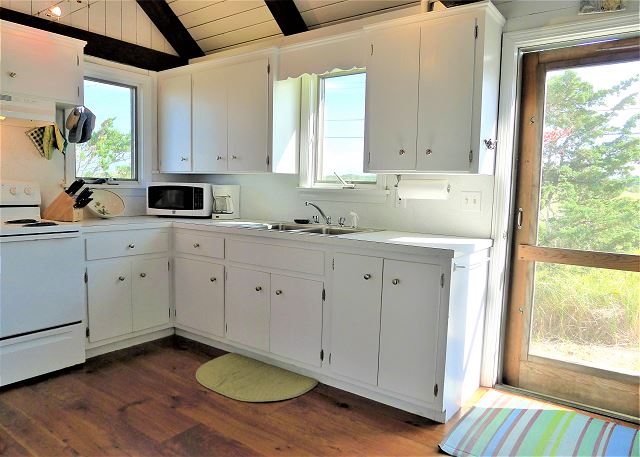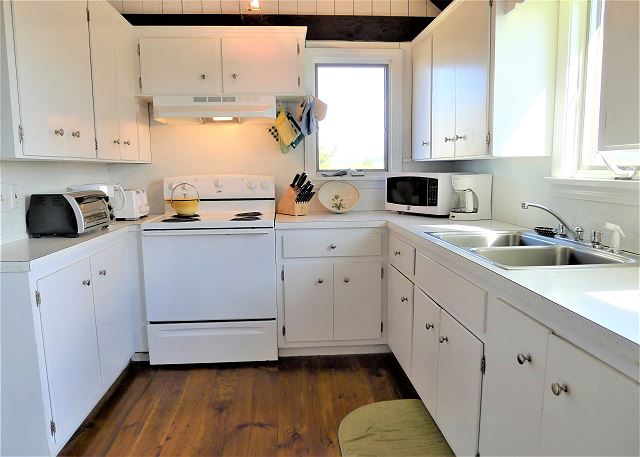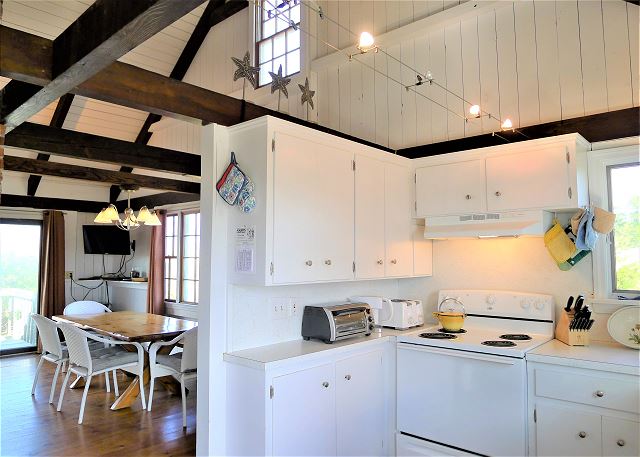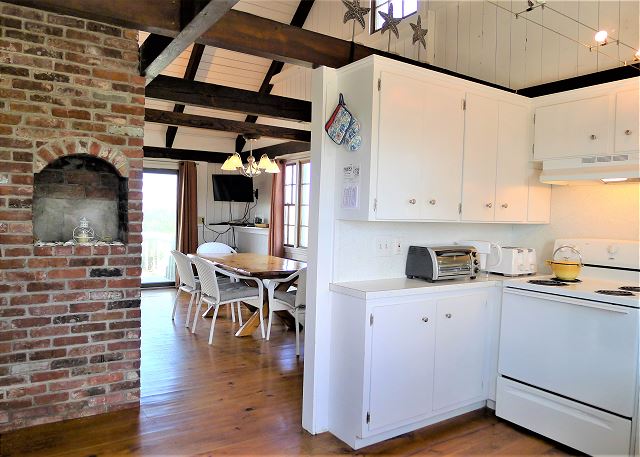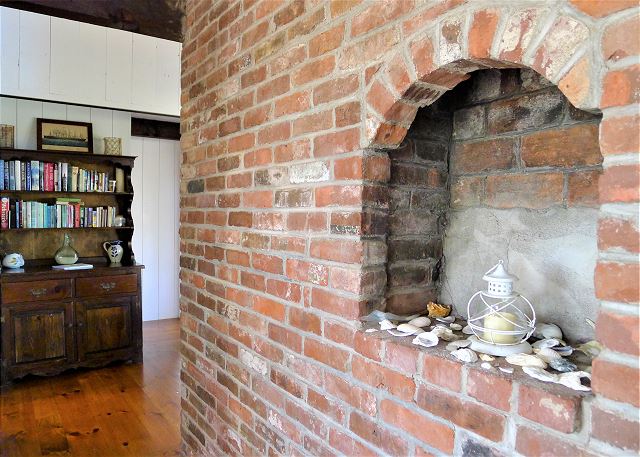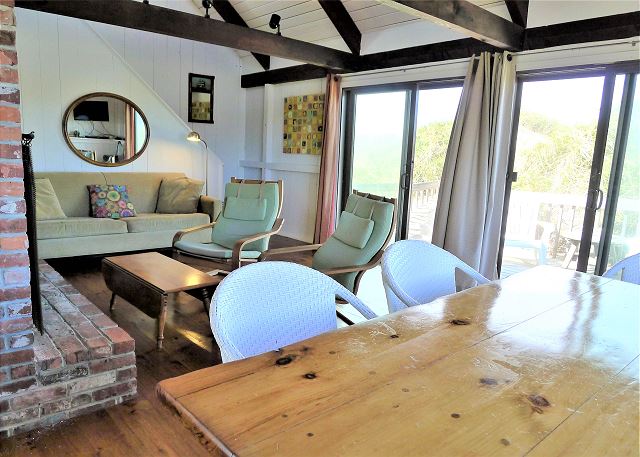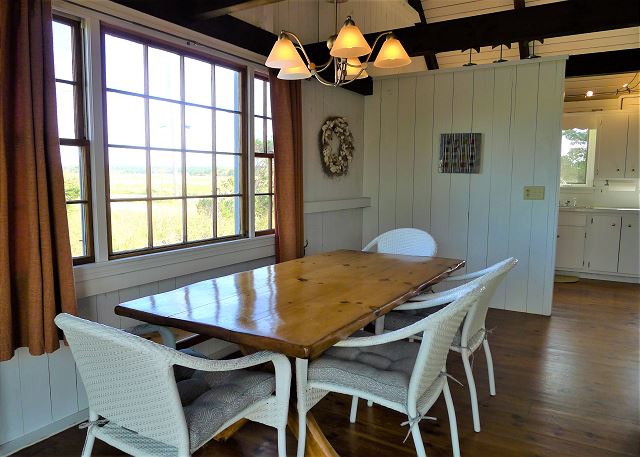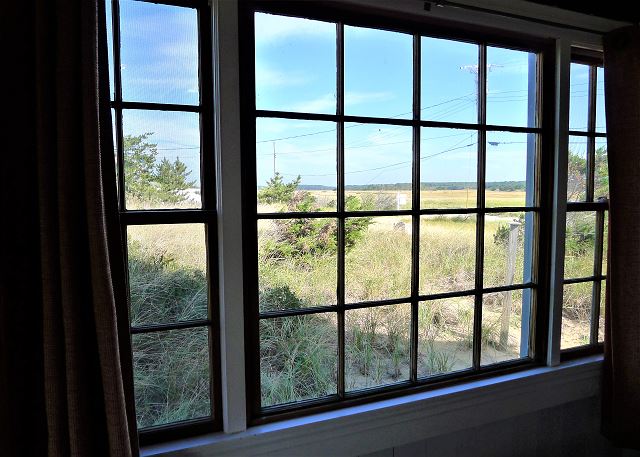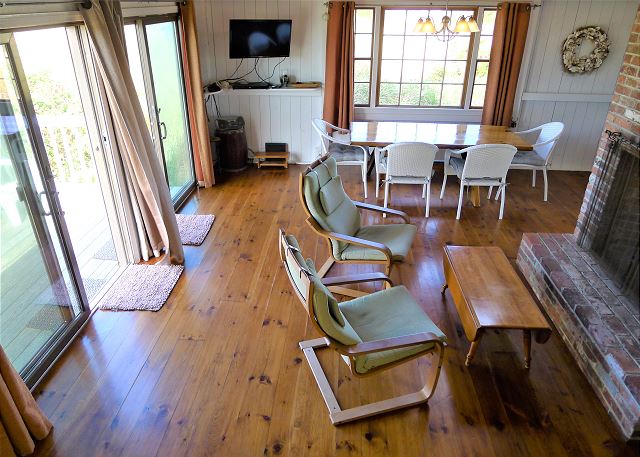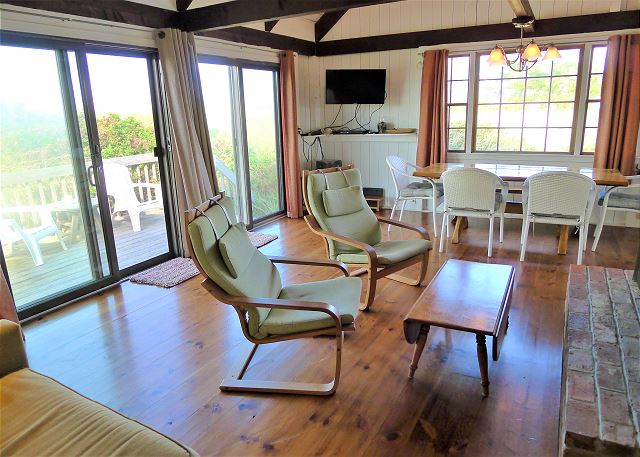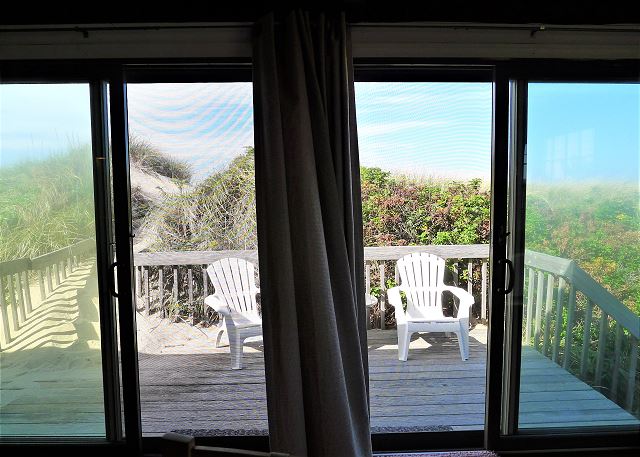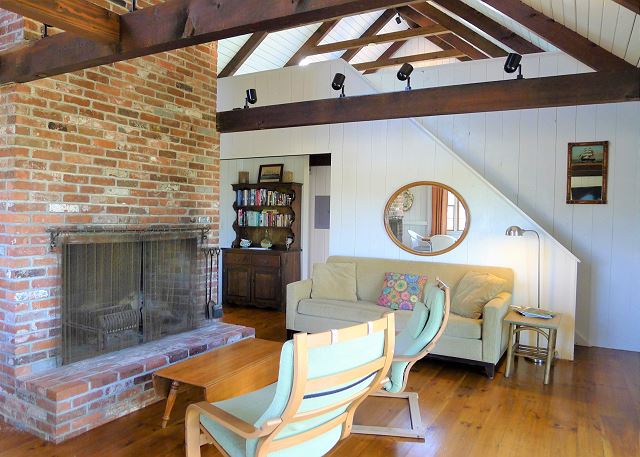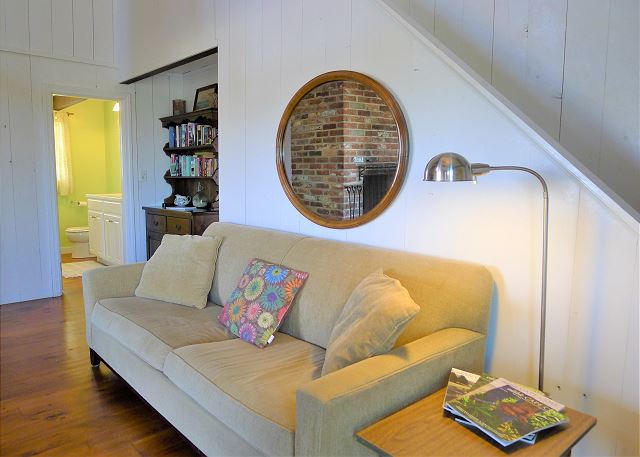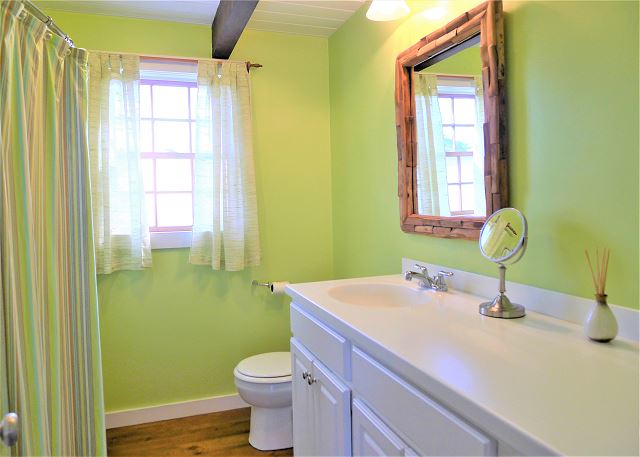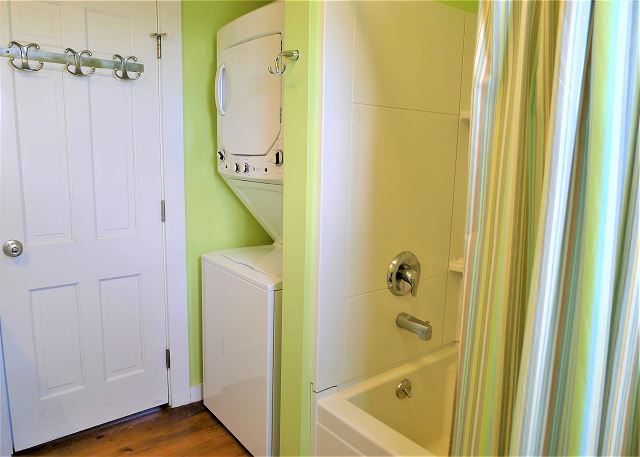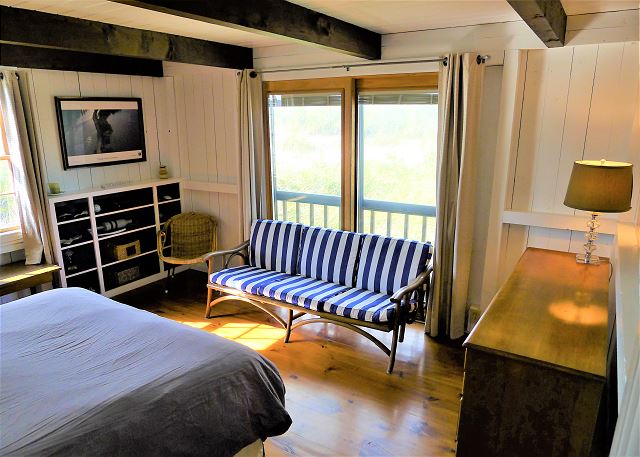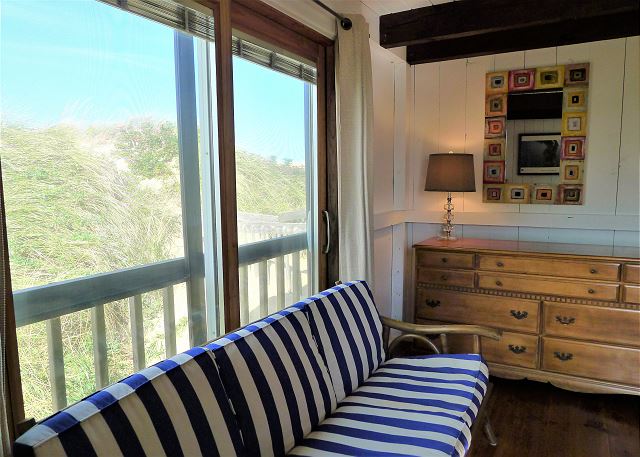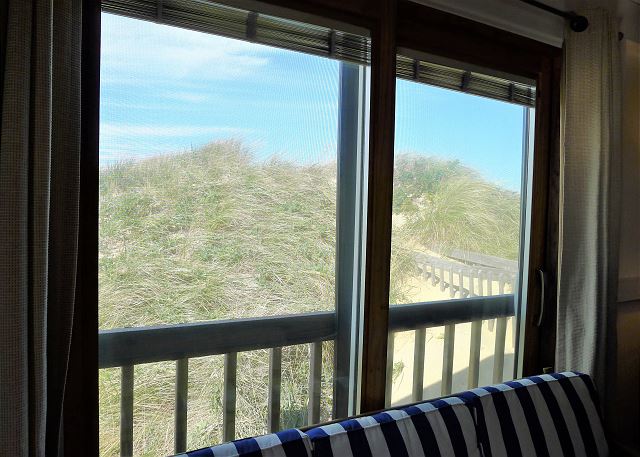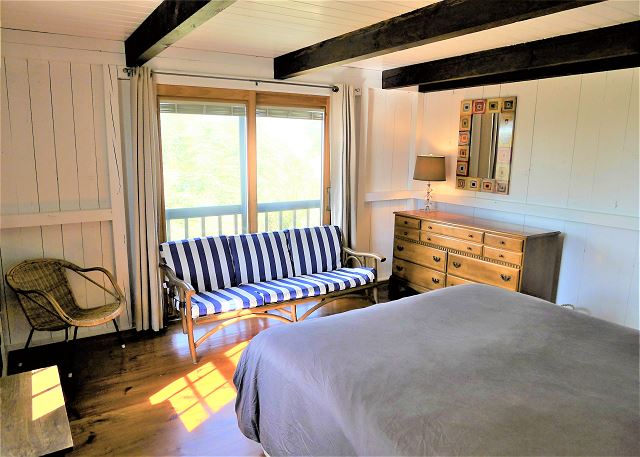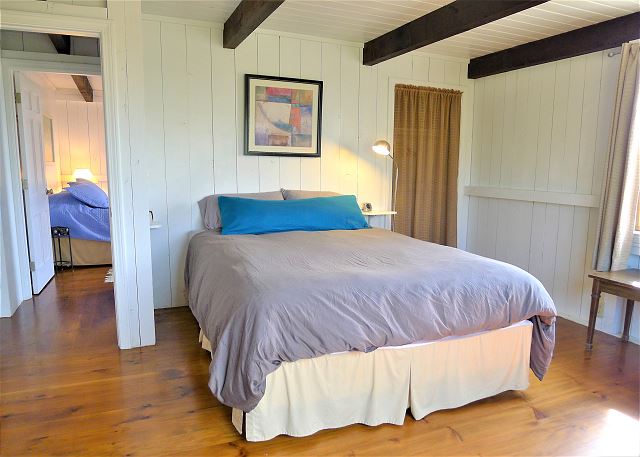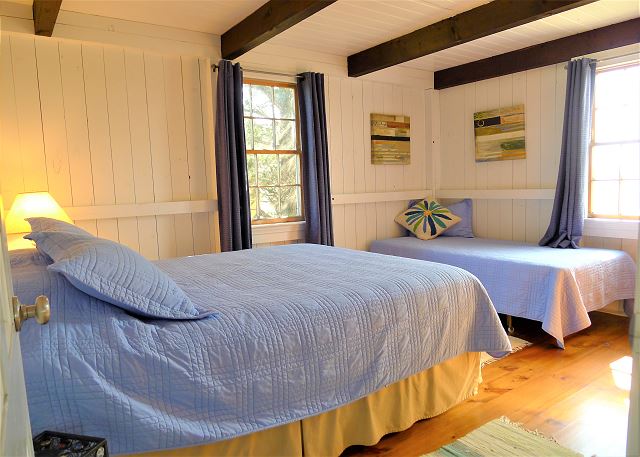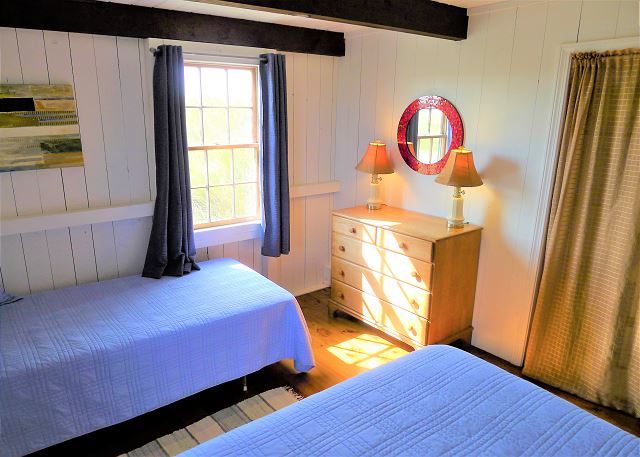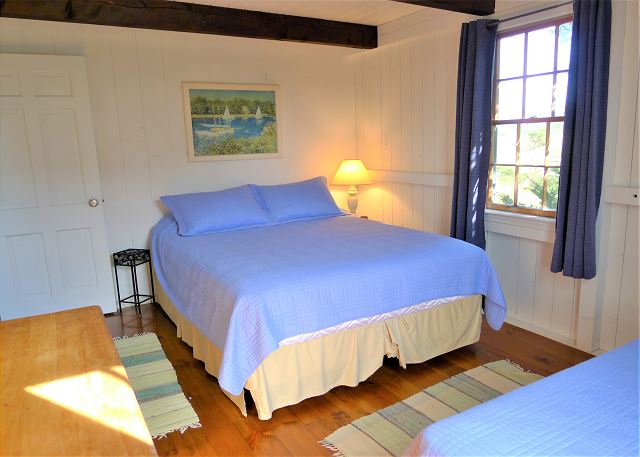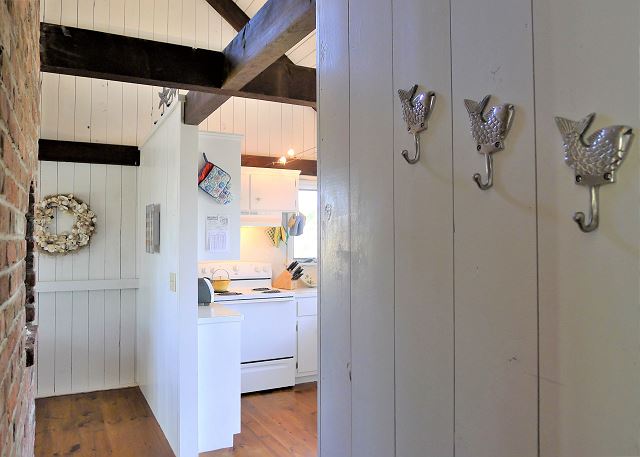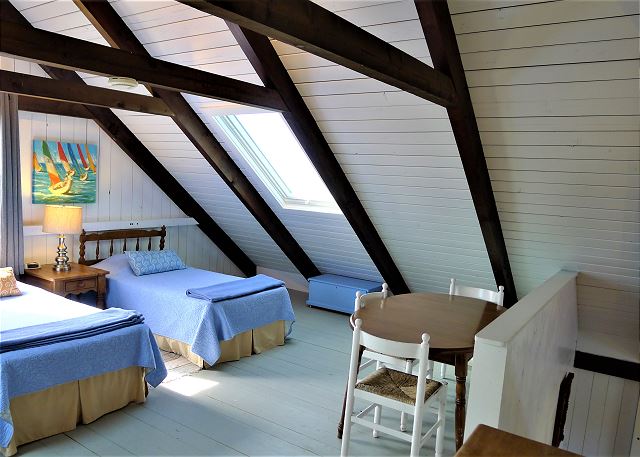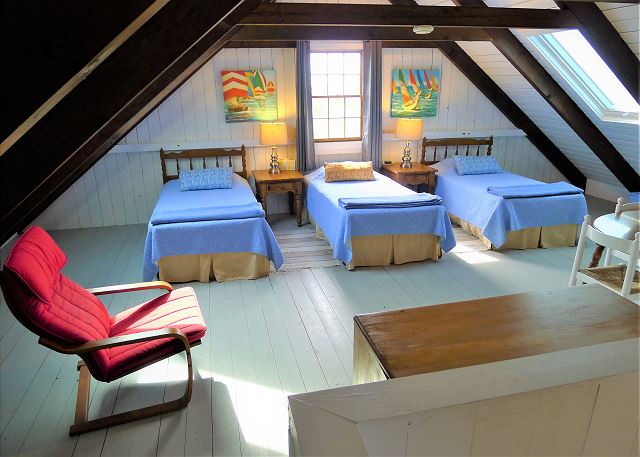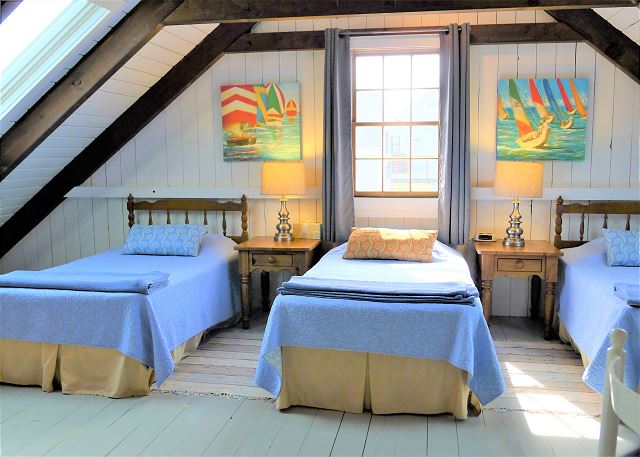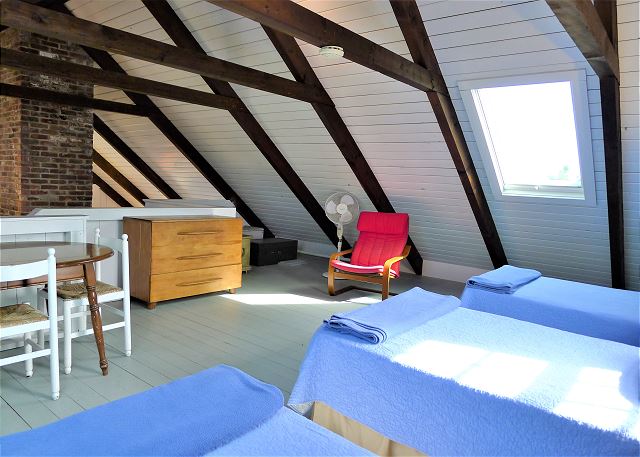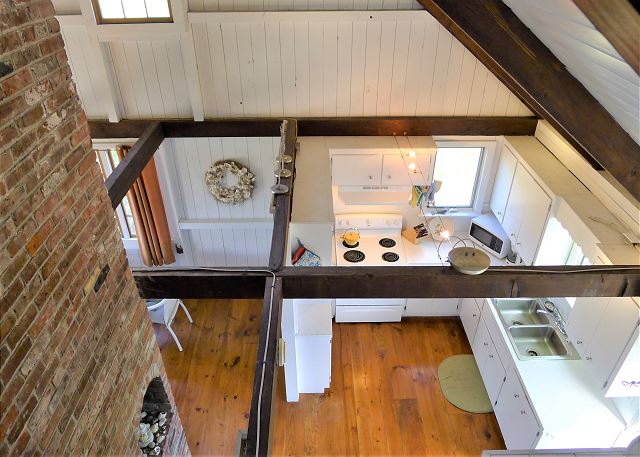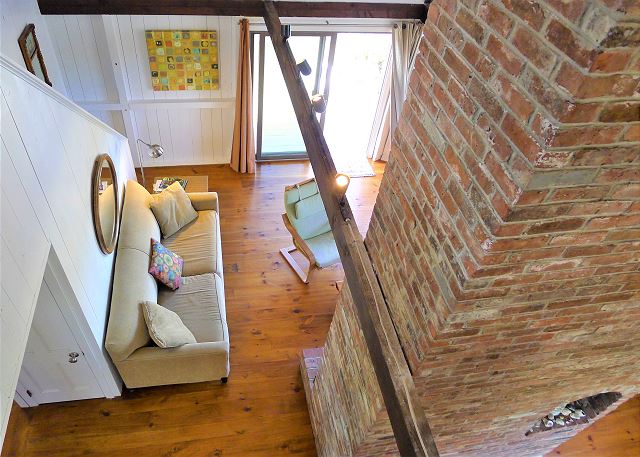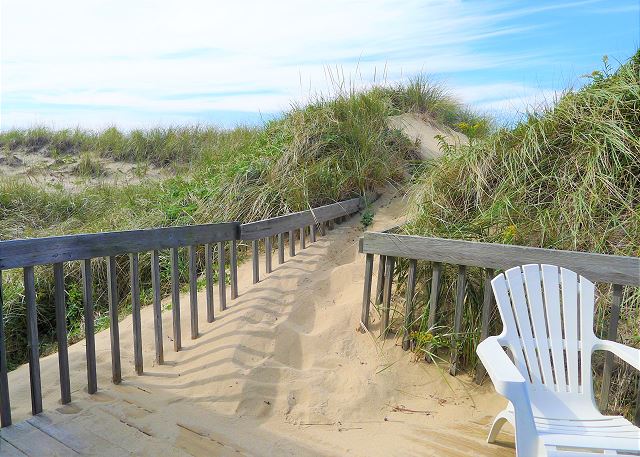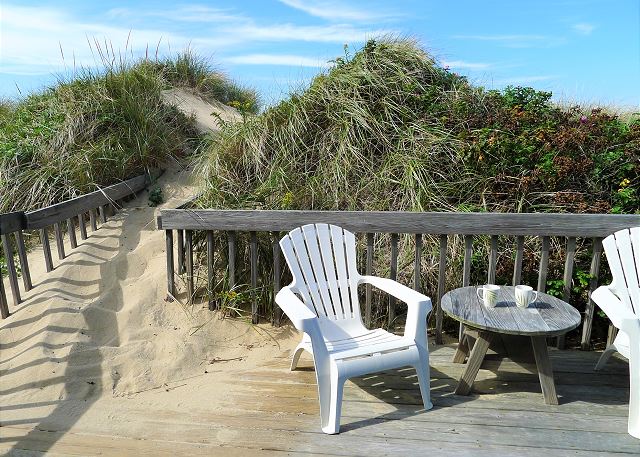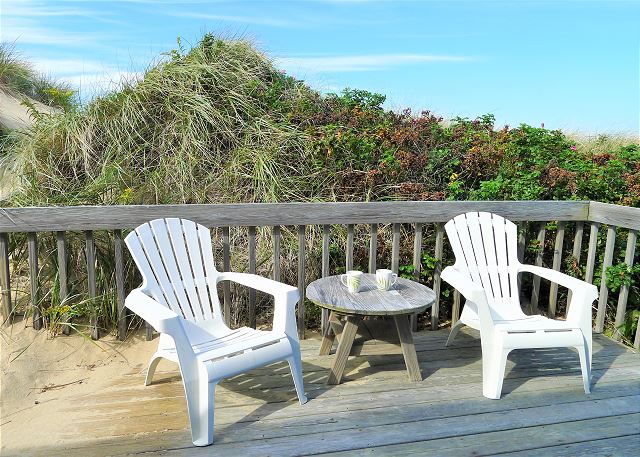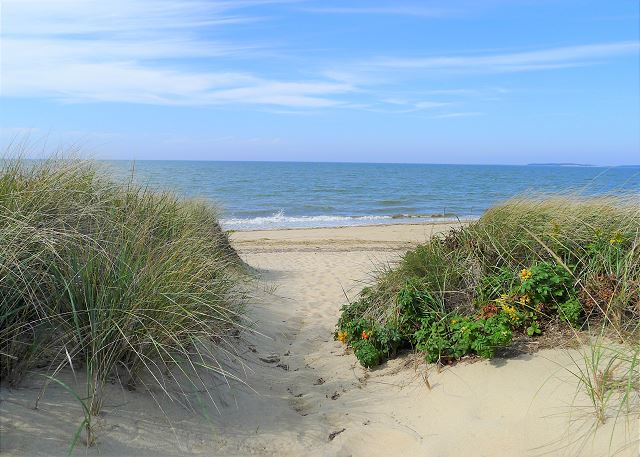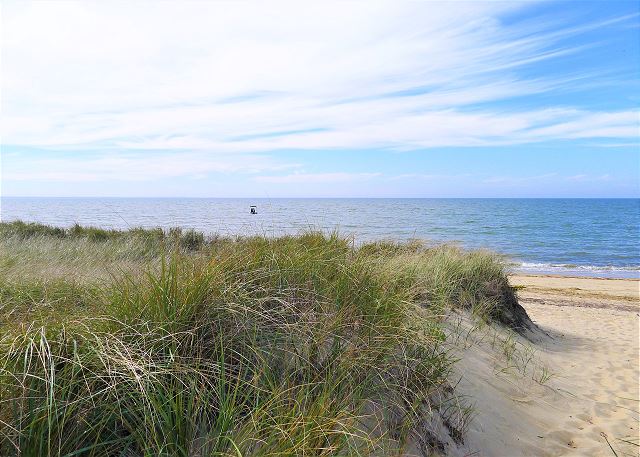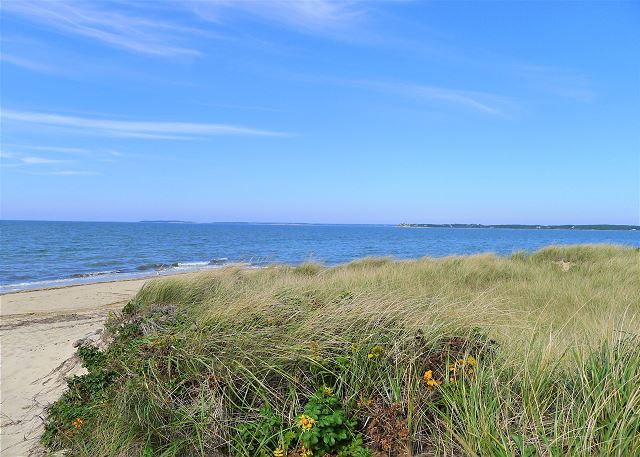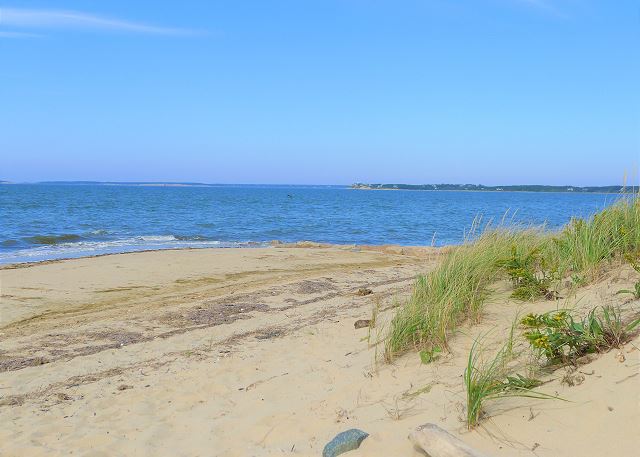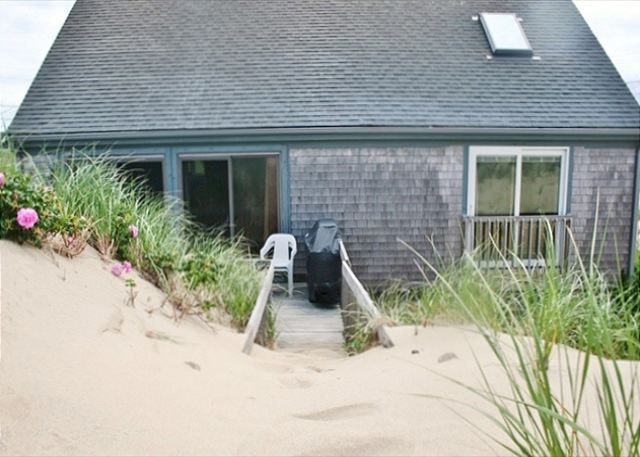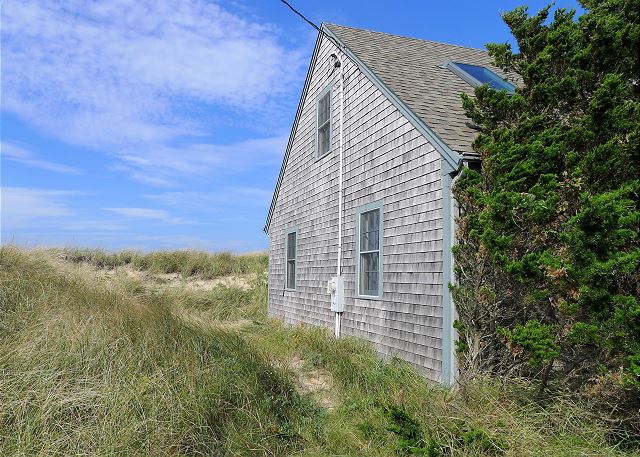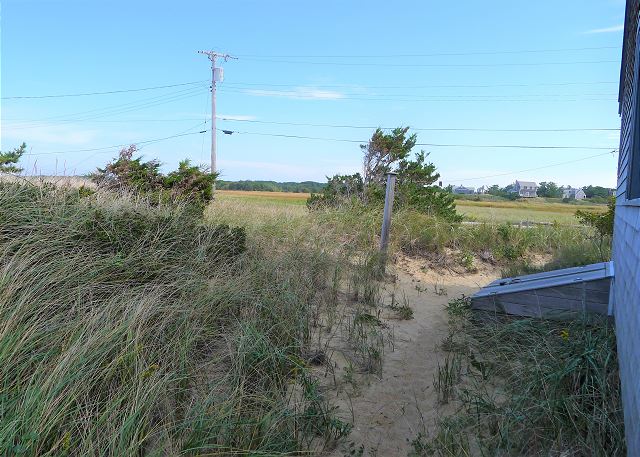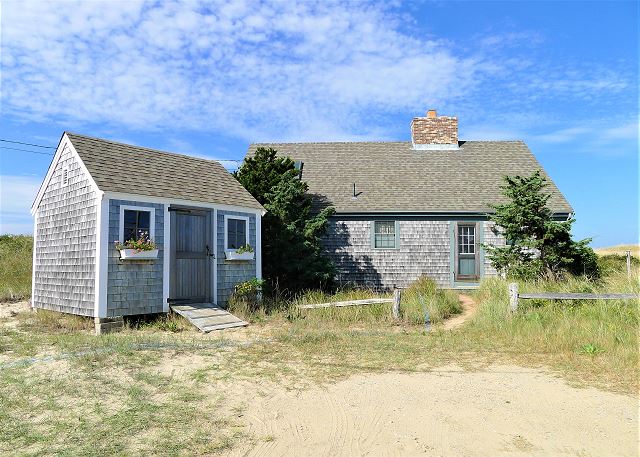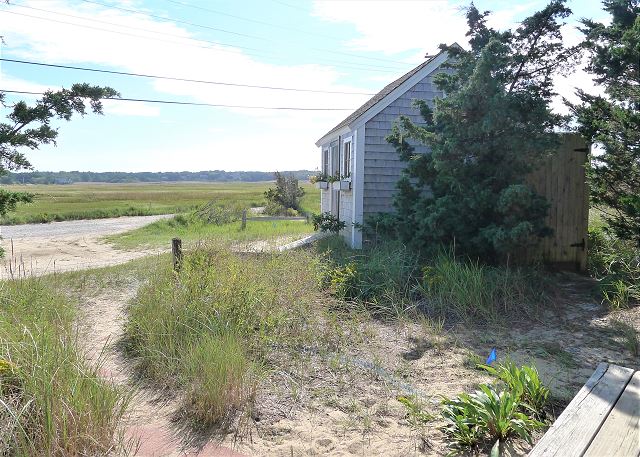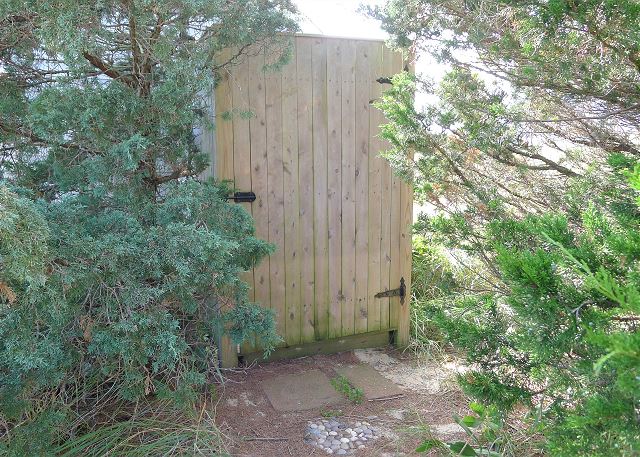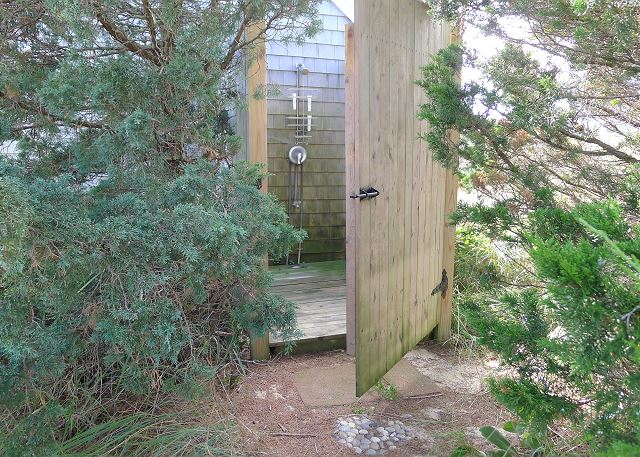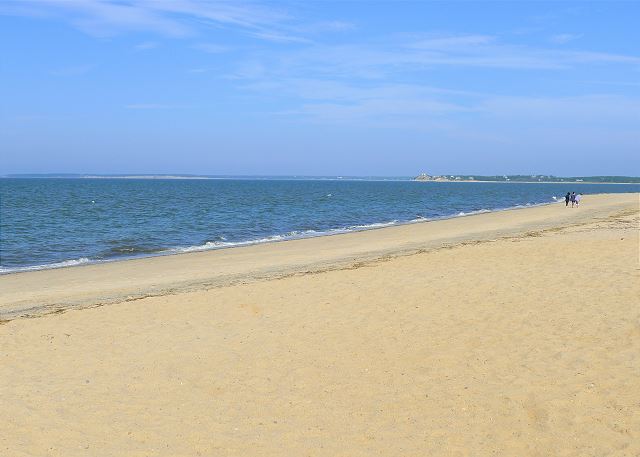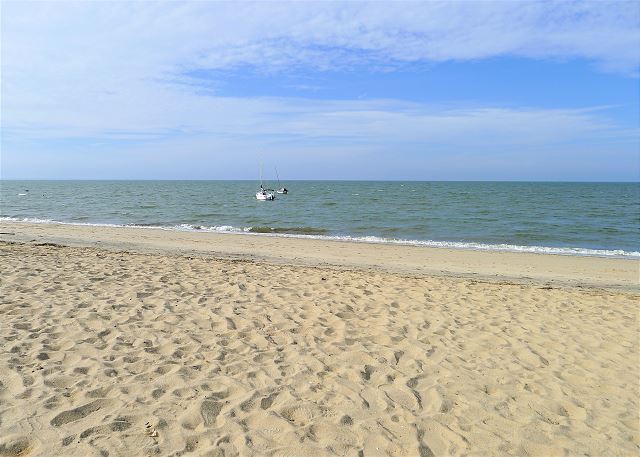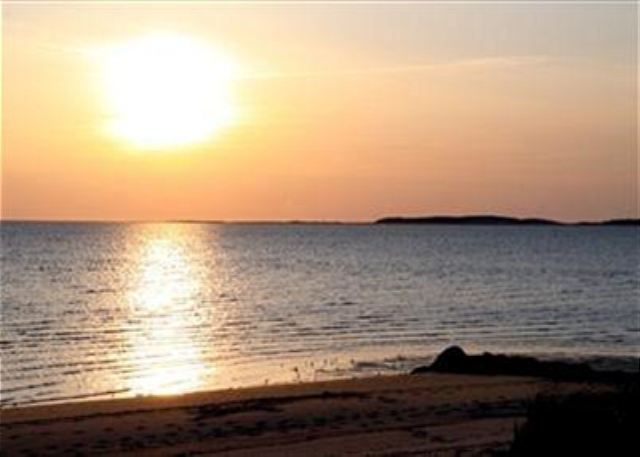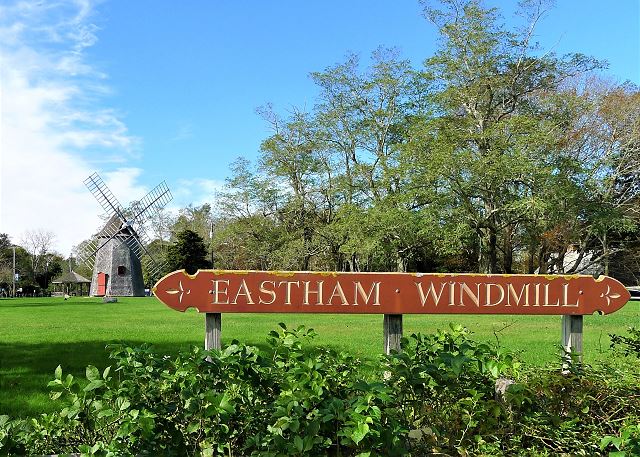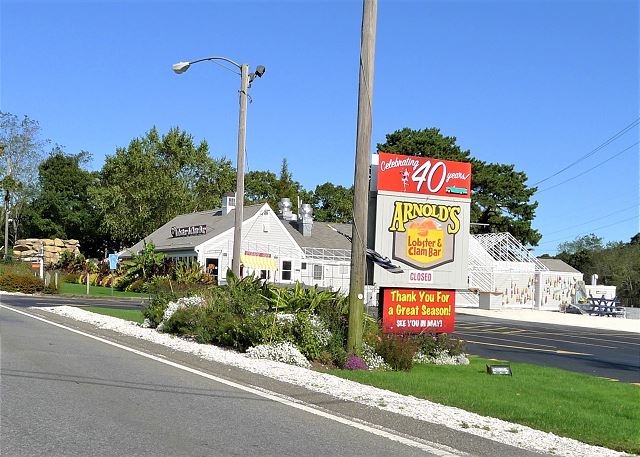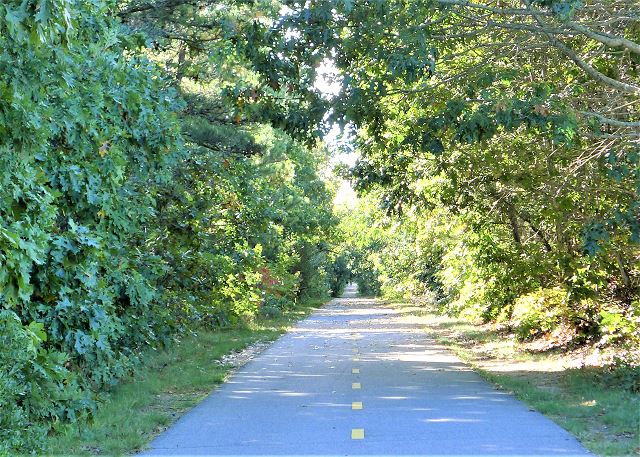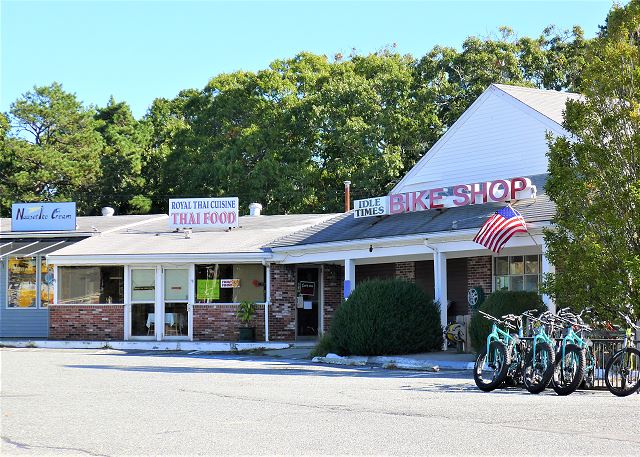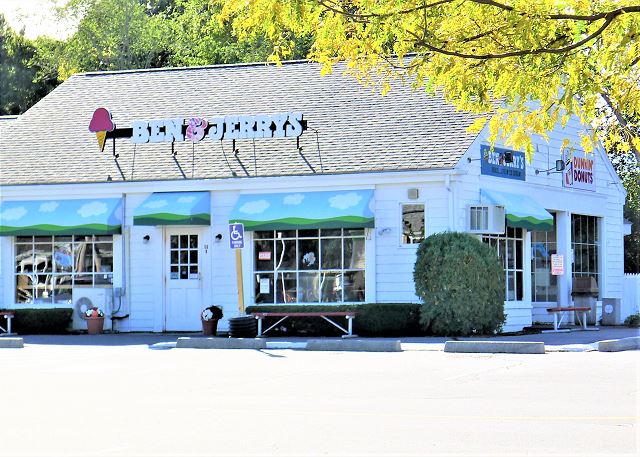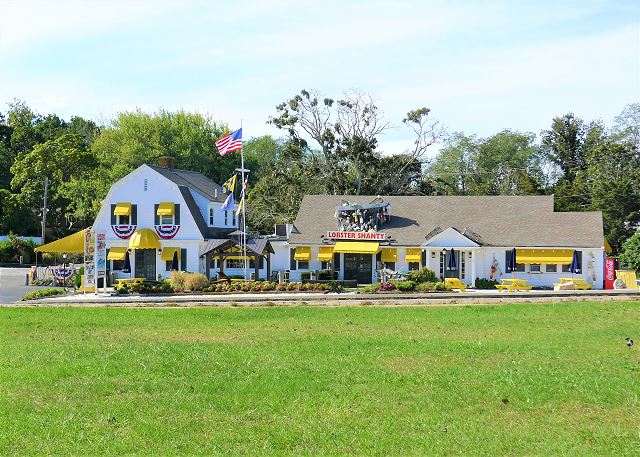 ---
Bedroom(s): 3
Bathroom(s): 1
Sleeps: 8
Type: Cottage
Area: Sunken Meadow Beach
Town: Eastham
Nestled in the dunes, this beachfront Eastham Cottage is only steps to the warm bay waters of the Sunken Meadow Beach area.There are breathtaking views from almost anywhere in this 3 bedroom home, and you have easy beach access from the sandy yard or off the deck over the sand dune to waters edge.

On the main floor, there is a modern, fully equipped white kitchen with wood floors throughout. There is also a fire-placed living room with queen size sleeper sofa, dining area, 2 bedrooms; one with a queen size bed and the other with a queen and a twin both have a/c units and a full bathroom with a shower/tub combination. There is a third bedroom loft on the second floor with 3 Twin Size Beds - a great spot for kids and kids at heart!

This home includes a flat screened TV with Comcast Expanded Cable TV Channels, DVD player, stereo, beach chairs*, WIFI INTERNET ACCESS, and enclosed outdoor shower.

*Owners provide these items as favors to guests only and not as an integral part of the rental. If these items become lost or damaged during the course of the rental season, owners are not responsible for replacement.

Marvel over the spectacular sunsets from the deck while enjoying an evening BBQ with the gas grill.

This is an incredibly rare and popular home. Book it right away and starting dreaming of the quintessential Cape Cod vacation now!

Sorry no smoking and no pets allowed.

8 guest maximum allowed at one time. No parties exceeding the occupancy limit allowed.

LINENS (SHEETS/TOWELS) ARE NOT INCLUDED IN THIS RENTAL

Travel Insurance is highly recommended, and affordable coverage to protect your vacation investment.

Please view our policy and procedure page on our web site for detailed information about renting with us.

State and local taxes are applicable and may vary based on local ordinances and bylaws. These tax rates are subject to change.
- Standard TV
- DVD Player
- Basic Cable
- Stereo w/ CD player
- Sleep Sofa
- Microwave
- Drip Coffee Maker
- Cookware
- Dishes / Glassware / Utensils
- Kitchen Table
- Blender
- Toaster or Toaster Oven
- Lobster Pot
- window ac in 2 bedrooms
- Washer
- Dryer
- Washer & Dryer
- Deck
- Gas Grill with Propane Tank
- Enclosed Outdoor Shower
- Beach Chairs
- Outdoor Seating
- Near National Sea Shore Beaches
- On Cape Cod Bay Beach
Guest Reviews of
345 harmes Eastham , MA
Best little Cape Cod cottage ever--but don't tell anyone!
Review by
Julia B.
My sister and I have been visiting Cape Cod since children. We adore "old Cape Cod". This cottage met all of our expectations--cozy, well appointed kitchen, amazing access to the bayside beach! Perfect. We stayed through tropical storm Jose, had a fire in the fireplace, did jig saw puzzles and ate sea food. What else could we have wanted?
5 out of 5 stars
No harm at Harmes Way
Review by
Peter M.
Delightful location, cute cottage. Terrific vacation!
5 out of 5 stars
A dream in sand
This was family time with son and young grandchildren. The house is perfect for this and also for people who love nature, peace and quiet. Nestled directly in the dunes with immediate access to the sea the location is ideal. Where else can you walk on the beach without an disturbance and enjoy pure nature with the changing tides. Besides the water was amazingly warm. And every day a magnificent sunset.The house is well equipped with all the basics. The layout is very romantic with high ceilings, fireplace , small clean kitchen, 2 queen bedrooms and upstairs on the mezzanine under the roof 3 single beds. Like in a dollhouse, my granddaughter said. In short we were thrilled and had a great time. Some suggestions : bring drinking water , the well water is not very pleasing. A better broom would be helpful to keep the house clean and a better brush to clean the BBQ.
4 out of 5 stars
We Love This Place!
Review by
Graham W.
Fourth year staying here and we look forward to it all year long. What a great experience!
5 out of 5 stars
Nice Location
The house was clean, nice furniture, nice location - far away from everything! The private beach was perfect (no views of the water unless you're in the loft - the house sits behind a big sand mound). The indoor shower could be cleaner/updated - and the iron in the water needs to be remedied. Taking a shower outdoors in my white bathing suit turned it orange - not to mention the odor in both the indoor and outdoor shower which we assume is from the iron. If it weren't for that issue, we would stay again.
4 out of 5 stars
Our stay at Harms Way
Review by
Grace C.
Overall a very nice place to stay. Very clean. Hate to bring up short comings, but it got very stuffy on days with little breeze. Could use central air. Although the tap water was tested drinkable, the odor was overpowering. Other than that, my family enjoyed our stay at 345 Harmes Way.
5 out of 5 stars
Cape House
We spent the 3rd week in August at this rental house. The house was great. However, the water was terrible smelling, tasting and it stained some clothing I washed. It had an orange color to it. It also had no dishwasher. The beach was a huge disappointment. At low tide it went out at least a mile which meant no cooling off on a hot day! The beach was also very dirty with trash and debris. It was also very rocky. There was an abundance of wildlife, especially foxes in the evening. The sunsets were gorgeous but if there was no breeze the noseums were brutal!! There was also no view of the water from the house, it was blocked by the dunes.
3 out of 5 stars
Remembrance
Review by
Doris R.
It was all we hoped it would be. I asked to rent the house because I was honoring a dying wish of my husbands. His family owned this house and the new house next door for well over sixty years. He wanted his youngest grandchildren to experience Cape Cod Bay and the flats. It was wonderful and bittersweet. The house looks terrific!The new owners have done a beautiful job.
5 out of 5 stars
Awesome rental
Review by
Kathleen M.
The place was great!
5 out of 5 stars
Harmes Way June 2014
This cottage was on a lovely stretch of beach with lots of privacy. The cottage itself was very clean and had all the conveniences required for a great beach holiday. Although there was no air conditioning, there was always a good breeze off the water.
5 out of 5 stars
May 2019

| S | M | T | W | T | F | S |
| --- | --- | --- | --- | --- | --- | --- |
| | | | 01 | 02 | 03 | 04 |
| 05 | 06 | 07 | 08 | 09 | 10 | 11 |
| 12 | 13 | 14 | 15 | 16 | 17 | 18 |
| 19 | 20 | 21 | 22 | 23 | 24 | 25 |
| 26 | 27 | 28 | 29 | 30 | 31 | |
June 2019

| S | M | T | W | T | F | S |
| --- | --- | --- | --- | --- | --- | --- |
| | | | | | | 01 |
| 02 | 03 | 04 | 05 | 06 | 07 | 08 |
| 09 | 10 | 11 | 12 | 13 | 14 | 15 |
| 16 | 17 | 18 | 19 | 20 | 21 | 22 |
| 23 | 24 | 25 | 26 | 27 | 28 | 29 |
| 30 | | | | | | |
July 2019

| S | M | T | W | T | F | S |
| --- | --- | --- | --- | --- | --- | --- |
| | 01 | 02 | 03 | 04 | 05 | 06 |
| 07 | 08 | 09 | 10 | 11 | 12 | 13 |
| 14 | 15 | 16 | 17 | 18 | 19 | 20 |
| 21 | 22 | 23 | 24 | 25 | 26 | 27 |
| 28 | 29 | 30 | 31 | | | |
August 2019

| S | M | T | W | T | F | S |
| --- | --- | --- | --- | --- | --- | --- |
| | | | | 01 | 02 | 03 |
| 04 | 05 | 06 | 07 | 08 | 09 | 10 |
| 11 | 12 | 13 | 14 | 15 | 16 | 17 |
| 18 | 19 | 20 | 21 | 22 | 23 | 24 |
| 25 | 26 | 27 | 28 | 29 | 30 | 31 |
September 2019

| S | M | T | W | T | F | S |
| --- | --- | --- | --- | --- | --- | --- |
| 01 | 02 | 03 | 04 | 05 | 06 | 07 |
| 08 | 09 | 10 | 11 | 12 | 13 | 14 |
| 15 | 16 | 17 | 18 | 19 | 20 | 21 |
| 22 | 23 | 24 | 25 | 26 | 27 | 28 |
| 29 | 30 | | | | | |
October 2019

| S | M | T | W | T | F | S |
| --- | --- | --- | --- | --- | --- | --- |
| | | 01 | 02 | 03 | 04 | 05 |
| 06 | 07 | 08 | 09 | 10 | 11 | 12 |
| 13 | 14 | 15 | 16 | 17 | 18 | 19 |
| 20 | 21 | 22 | 23 | 24 | 25 | 26 |
| 27 | 28 | 29 | 30 | 31 | | |
November 2019

| S | M | T | W | T | F | S |
| --- | --- | --- | --- | --- | --- | --- |
| | | | | | 01 | 02 |
| 03 | 04 | 05 | 06 | 07 | 08 | 09 |
| 10 | 11 | 12 | 13 | 14 | 15 | 16 |
| 17 | 18 | 19 | 20 | 21 | 22 | 23 |
| 24 | 25 | 26 | 27 | 28 | 29 | 30 |
December 2019

| S | M | T | W | T | F | S |
| --- | --- | --- | --- | --- | --- | --- |
| 01 | 02 | 03 | 04 | 05 | 06 | 07 |
| 08 | 09 | 10 | 11 | 12 | 13 | 14 |
| 15 | 16 | 17 | 18 | 19 | 20 | 21 |
| 22 | 23 | 24 | 25 | 26 | 27 | 28 |
| 29 | 30 | 31 | | | | |
January 2020

| S | M | T | W | T | F | S |
| --- | --- | --- | --- | --- | --- | --- |
| | | | 01 | 02 | 03 | 04 |
| 05 | 06 | 07 | 08 | 09 | 10 | 11 |
| 12 | 13 | 14 | 15 | 16 | 17 | 18 |
| 19 | 20 | 21 | 22 | 23 | 24 | 25 |
| 26 | 27 | 28 | 29 | 30 | 31 | |
February 2020

| S | M | T | W | T | F | S |
| --- | --- | --- | --- | --- | --- | --- |
| | | | | | | 01 |
| 02 | 03 | 04 | 05 | 06 | 07 | 08 |
| 09 | 10 | 11 | 12 | 13 | 14 | 15 |
| 16 | 17 | 18 | 19 | 20 | 21 | 22 |
| 23 | 24 | 25 | 26 | 27 | 28 | 29 |
March 2020

| S | M | T | W | T | F | S |
| --- | --- | --- | --- | --- | --- | --- |
| 01 | 02 | 03 | 04 | 05 | 06 | 07 |
| 08 | 09 | 10 | 11 | 12 | 13 | 14 |
| 15 | 16 | 17 | 18 | 19 | 20 | 21 |
| 22 | 23 | 24 | 25 | 26 | 27 | 28 |
| 29 | 30 | 31 | | | | |
April 2020

| S | M | T | W | T | F | S |
| --- | --- | --- | --- | --- | --- | --- |
| | | | 01 | 02 | 03 | 04 |
| 05 | 06 | 07 | 08 | 09 | 10 | 11 |
| 12 | 13 | 14 | 15 | 16 | 17 | 18 |
| 19 | 20 | 21 | 22 | 23 | 24 | 25 |
| 26 | 27 | 28 | 29 | 30 | | |
May 2020

| S | M | T | W | T | F | S |
| --- | --- | --- | --- | --- | --- | --- |
| | | | | | 01 | 02 |
| 03 | 04 | 05 | 06 | 07 | 08 | 09 |
| 10 | 11 | 12 | 13 | 14 | 15 | 16 |
| 17 | 18 | 19 | 20 | 21 | 22 | 23 |
| 24 | 25 | 26 | 27 | 28 | 29 | 30 |
| 31 | | | | | | |
Available
Unavailable
Sat to Sat booking