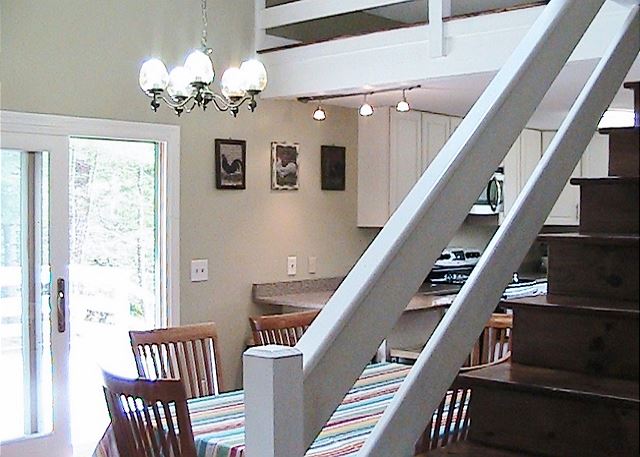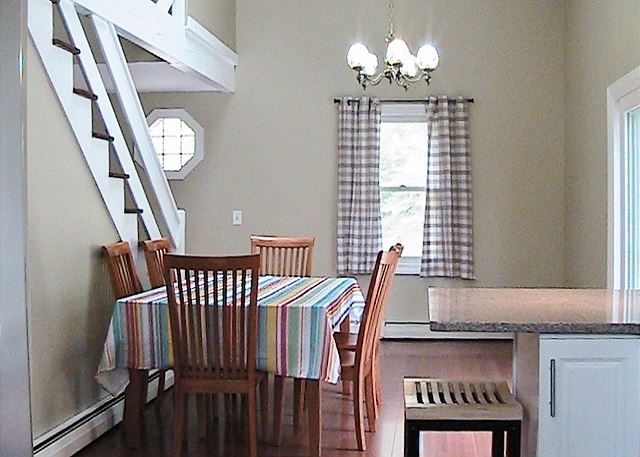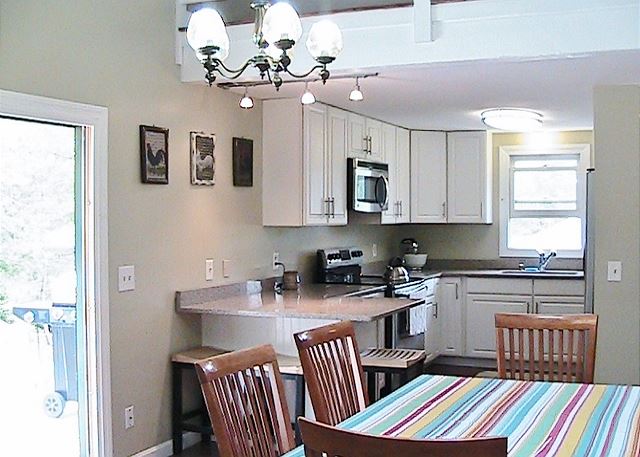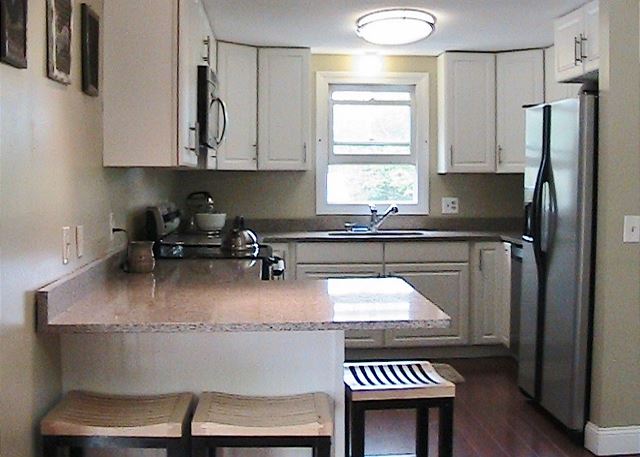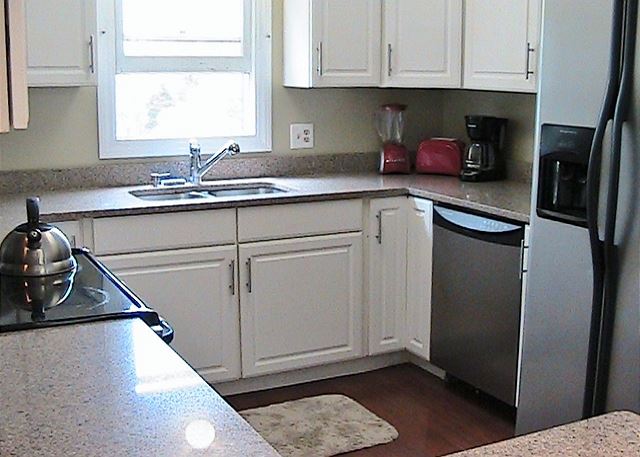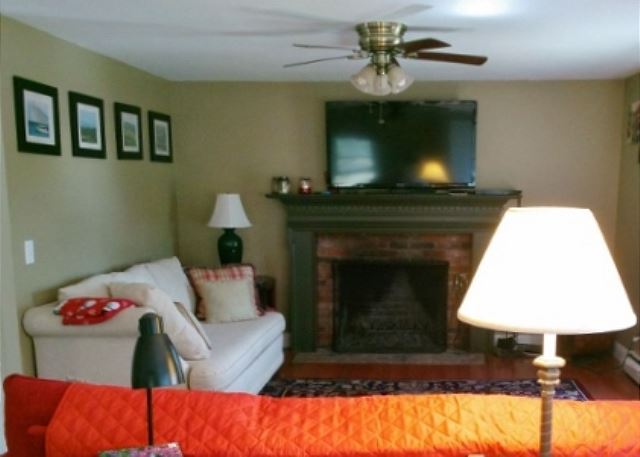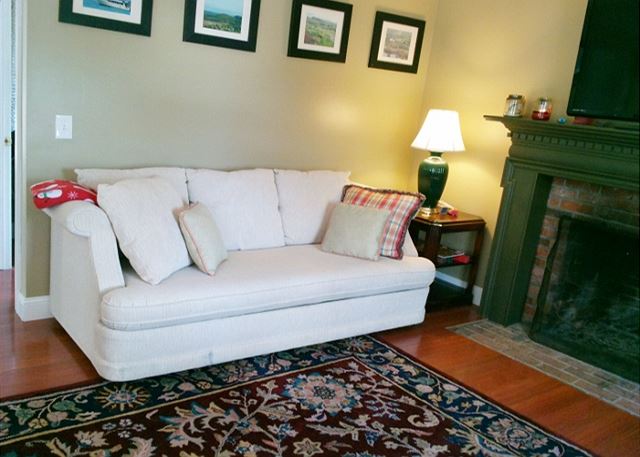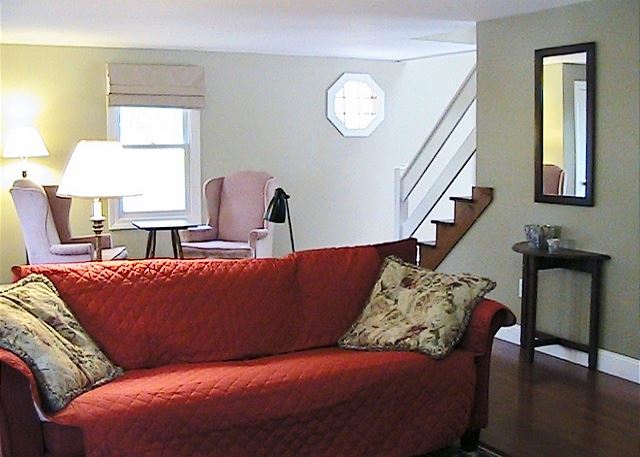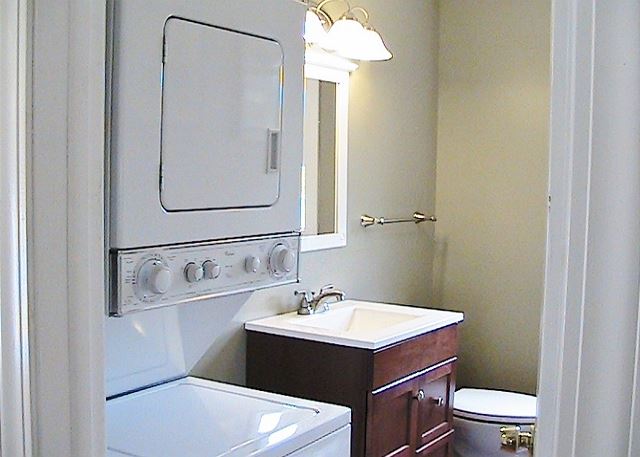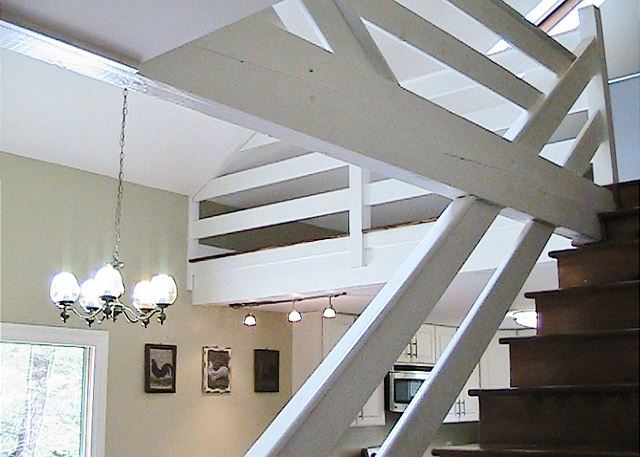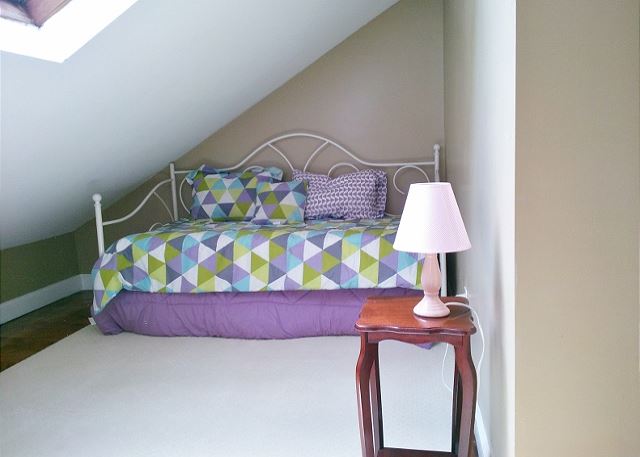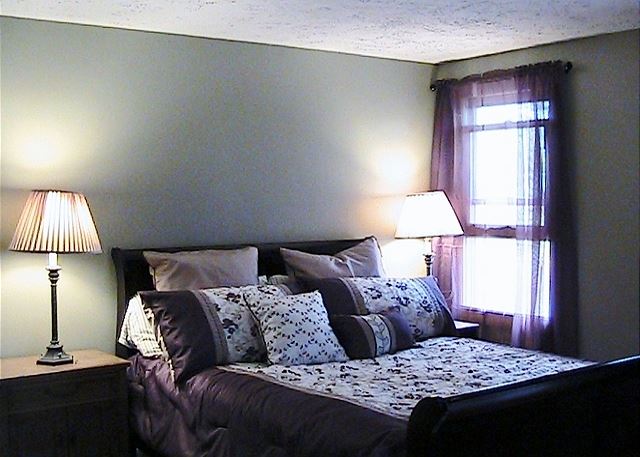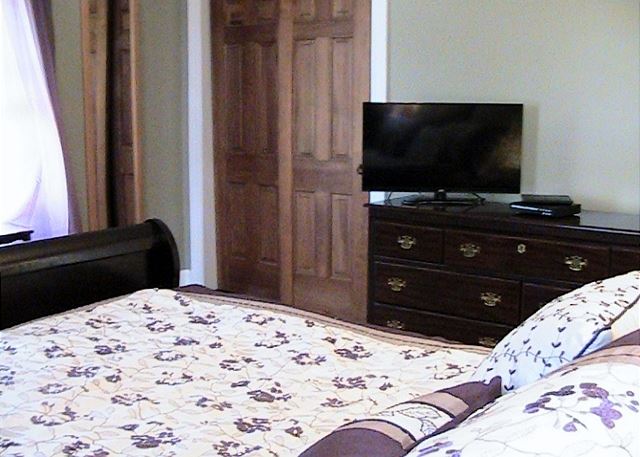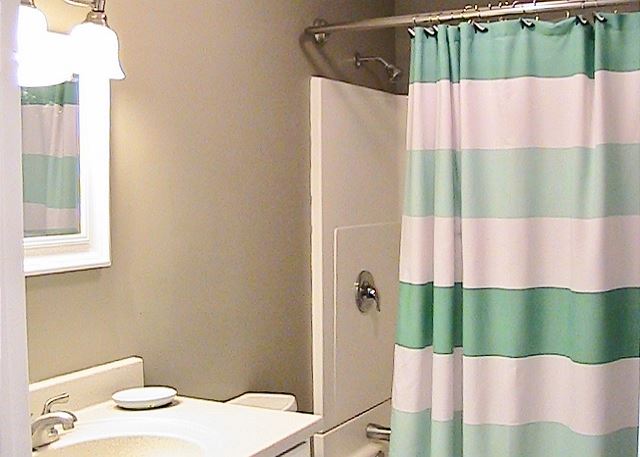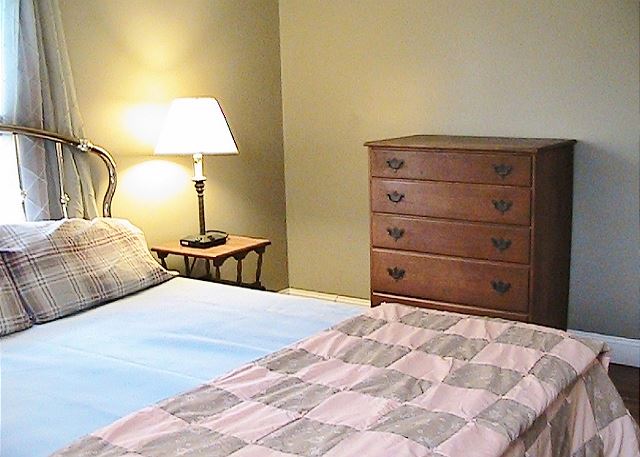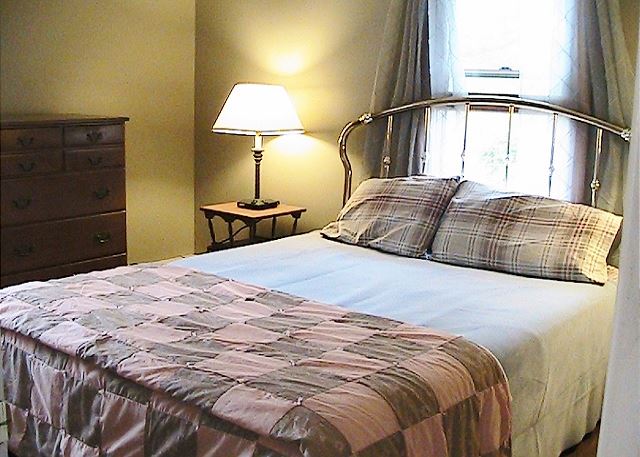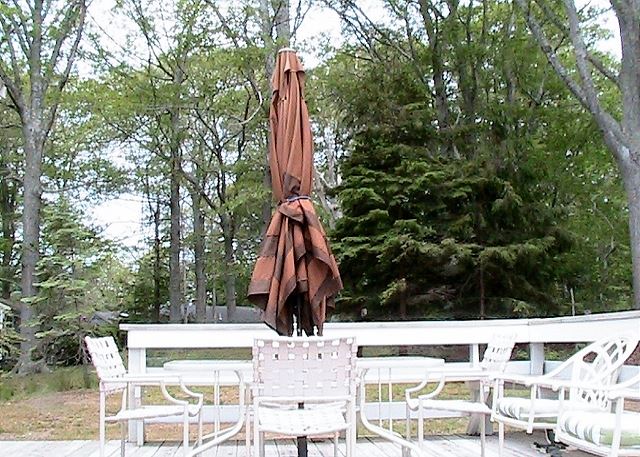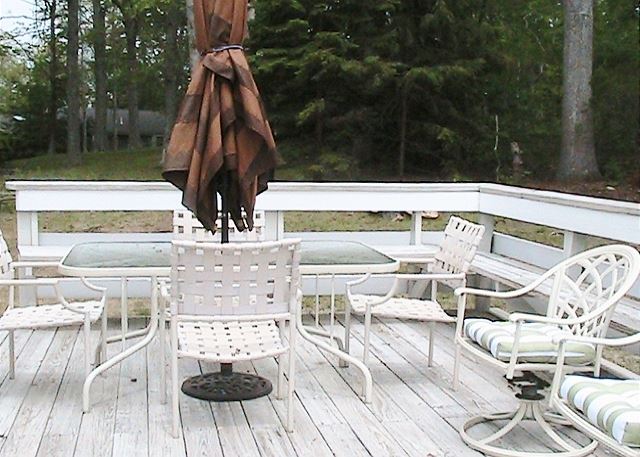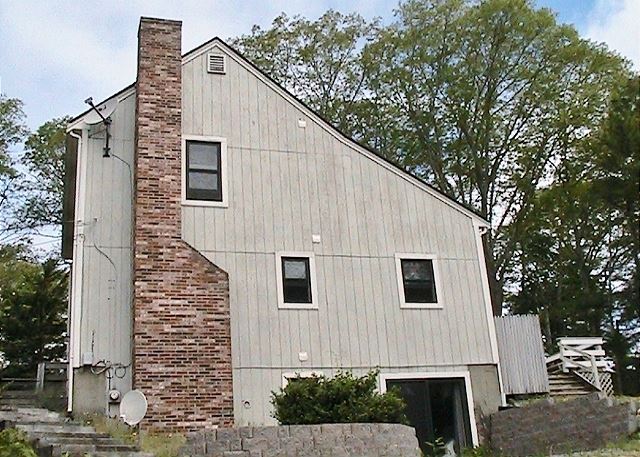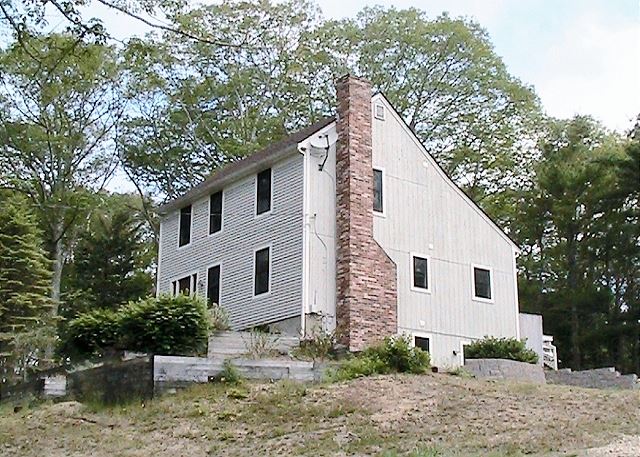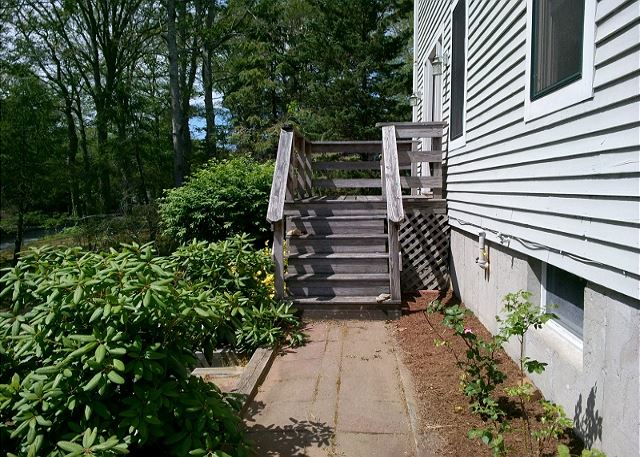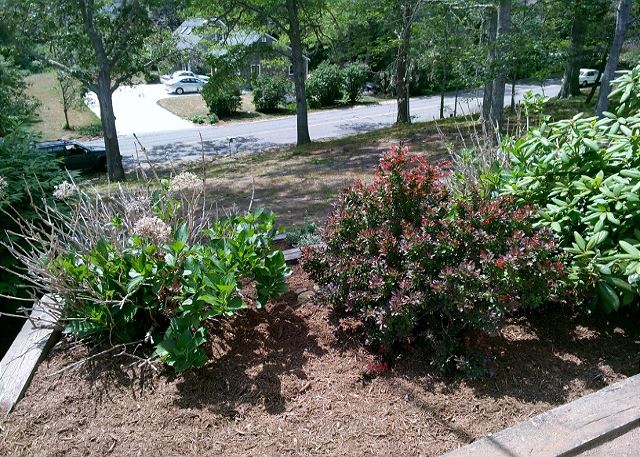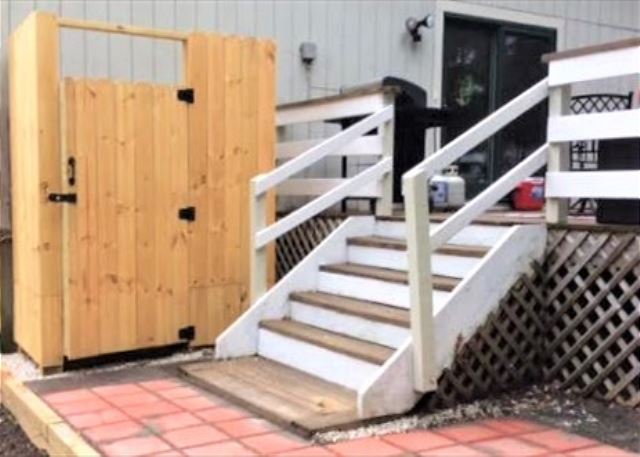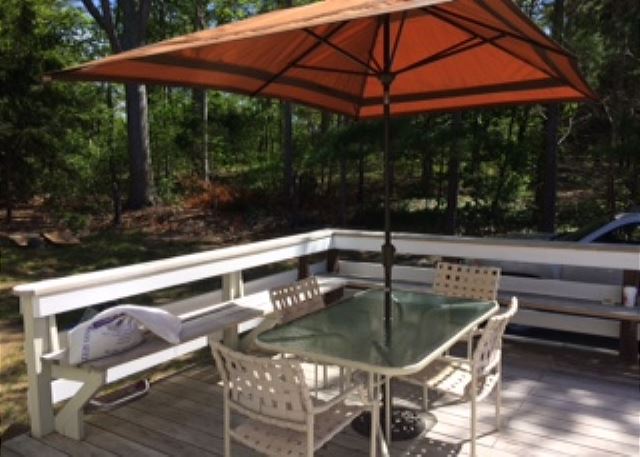 ---
Bedroom(s): 2.5
Bathroom(s): 1.5
Sleeps: 6
Type: House
Area:
Town: Orleans
This delightfully redone 2.5 bedroom/1.5 bath home located in a sought-after East Orleans location is bright and open with an unbeatable location!

The front door leads directly into a large living room cooled by both a ceiling fan and window a/c. There are two plush couches, and one is a queen sleeper. There is a 50'" flat screen TV with DVDs and with expanded Comcast Cable service that includes free on-demand movies! There is also a game table, and a sitting nook for two, providing a comfortable and private spot to enjoy coffee in front of a south-facing window. The first floor also has a half bath with a vanity sink and stacked washer and dryer.

From the living room you enter the dining/kitchen area with table and chairs for 6, a granite counter with an L-shaped breakfast bar, three molded stools, stainless steel appliances, and a complete inventory of kitchenware including coffee maker, toaster, lobster pot, blender, dishwasher, microwave, and ice-maker. Through sliding glass doors, step onto the outsized deck that features a gas grill, tempered glass/iron table with umbrella and seating for six and look out on the scrub pine and cedar landscape that is truly one of the hallmarks of Cape Cod.

Between the kitchen and living room are open steps leading to the loft space that boasts a new rollout trundle for two. The main bedroom has a queen bed, window a/c, and 36 inch flat screened TV and DVD player; Bedroom number 2 also has a window a/c and a charming brass headboard on a queen-sized bed. Both bedrooms and loft share an immaculate full bath with tub/shower combination.

This saltbox Cape with a uniquely designed floor plan feels off the beaten track, but is practically on the corner of Beach Road where you can walk, bike, or drive to everything that East Orleans has to offer: terrific surf at Nauset Beach, casual and fine dining options, and an abundance of one of a kind shops. End your day with ice cream at Sundae School, only a skipping stone away! A great vacation rental at an incredible price!!

Other Amenities: WiFi Internet, enclosed outdoor shower, and parking for 3-4 cars in driveway.

Sorry no smoking allowed. No pets allowed.

6 guests maximum allowed at any time. No parties exceeding the occupancy limit allowed.

LINENS (SHEETS/TOWELS) ARE NOT INCLUDED IN THIS RENTAL

Travel Insurance is highly recommended and affordable coverage to protect your vacation investment.

Please view our policy and procedure page on our web site for detailed information about renting with us.
- DVD Player
- Movie Channels
- Fireplace
- Ceiling Fan
- A/C Unit
- WiFi
- Flat Screen TV
- Cleaning Supplies
- Cookware
- Dishes / Glassware / Utensils
- Kitchen Table
- Blender
- Iron
- Toaster or Toaster Oven
- Ice Maker
- Island or Counter Seating
- Dishwasher
- Lobster Pot
- Door to Deck
- microwave
- ironing board
- Toaster
- TV
- Window A/C
- Tub/Shower Combo
- Washer
- Dryer
- washer and dryer first floor
- Dining Table w/ Umbrella
- Enclosed Outdoor Shower
- Outdoor Lighting
- Outdoor Seating
Guest Reviews of
55 brick hill* Orleans , MA
Good location, but....
The location near Nauset Beach is great and this house has been improved somewhat inside with some fresh paint and furniture. It was clean overall with the exception of the outdoor shower (leftover soap and personal items) and the kitchen stovetop had a film of grease. There were no "courtesy" amounts of paper products such as toilet paper and paper towels. The real issue was the deck which is peeling, rotted and in need of serious repair. Plus there is a pile of wood rubbish to look at while on the deck. Dining outside in the summer is a pretty common activity...having a decent deck without looking at unsightly debris is fairly essential for a rental.
3 out of 5 stars
Satisfied customer
The interior of the property was exactly as promised and the location was a short trip to the beach, bay and town.My only compliant was that the address was poorly marked. We found the 55 on a mailbox behind the backyard deck so we moved it to front where it needs to be resecured. It made it difficult to find the house and our linens were mistakenly delivered nextdoor. The exterior steps could use improvement.Overall, I recommend this place and we would consider staying here again.
5 out of 5 stars
Great Rental in a great location!
Review by
Phyllis S.
A beautiful house with all of the extras. Clean and open. Close to the beach and all that Orleans and the lower cape have to offer. It was very hot when we were there and there were plenty of AC units to keep the home super comfortable.
5 out of 5 stars
Just what we wanted
Really comfortable house. Great AC and nice floor plan. The hill you have to walk up is definitely a consideration but we weren't bothered by it. Nice kitchen refrigerator and dishwasher. Misleading amenities with not having a hair dryer which was posted on the website but a minor issue. Quiet street and because of the hill, your view is tree tops and not other neighbors. We enjoyed it!
5 out of 5 stars
We'll be back!
Very clean, comfortable and updated home in prime location in Orleans. This was our second year renting this house, and we hope to return next year!
4 out of 5 stars
Berrios Family week of July 24th
Review by
Tanya B.
My family and I enjoyed the rental property. The beach, stores, and towns were conveniently close by. The only areas that needed improvement were the large number of spiders found and killed throughout the house; and weeds on the property. My toddler son was not able to run in the yard because the grass, weeds, and landscaping was not maintained. Overall, my family and I was very pleased with the property.
4 out of 5 stars
Great Location and Amenities
The house was charming, comfortable, and CLOSE to everything! We went to Nauset Beach most days-- used the free 15 minute parking spot to unload, then took turns setting up at the beach while one drove back to the house and walked back to the beach. At beach day's end, we switched roles. All enjoyed the exercise (important since we indulged in having Boston creme cupcakes from a local shop most mornings) while observing the many quaint houses and the lovely flowers (hydrangea heaven) along the way. In the opposite direction, we walked to Nauset Farms (aforesaid cupcakes locale), the Nauset Beach Grille, Joe's, and Sundae School (excellent coffee oreo ice cream). Except for 2 evenings, we ate in-- there is a local grocery store a short drive away-- or, rather, out on the deck. The grill and all the kitchen amenities (microwave, stove, blender, pots/pans, etc.) proved very handy for dinner. By the way, Mahoney's (right up the road) and L'Alouette French Bistro on Cape Cod (short drive) were excellent dinner spots! We definitely want to come again!
5 out of 5 stars
December 2018

| S | M | T | W | T | F | S |
| --- | --- | --- | --- | --- | --- | --- |
| | | | | | | 01 |
| 02 | 03 | 04 | 05 | 06 | 07 | 08 |
| 09 | 10 | 11 | 12 | 13 | 14 | 15 |
| 16 | 17 | 18 | 19 | 20 | 21 | 22 |
| 23 | 24 | 25 | 26 | 27 | 28 | 29 |
| 30 | 31 | | | | | |
January 2019

| S | M | T | W | T | F | S |
| --- | --- | --- | --- | --- | --- | --- |
| | | 01 | 02 | 03 | 04 | 05 |
| 06 | 07 | 08 | 09 | 10 | 11 | 12 |
| 13 | 14 | 15 | 16 | 17 | 18 | 19 |
| 20 | 21 | 22 | 23 | 24 | 25 | 26 |
| 27 | 28 | 29 | 30 | 31 | | |
February 2019

| S | M | T | W | T | F | S |
| --- | --- | --- | --- | --- | --- | --- |
| | | | | | 01 | 02 |
| 03 | 04 | 05 | 06 | 07 | 08 | 09 |
| 10 | 11 | 12 | 13 | 14 | 15 | 16 |
| 17 | 18 | 19 | 20 | 21 | 22 | 23 |
| 24 | 25 | 26 | 27 | 28 | | |
March 2019

| S | M | T | W | T | F | S |
| --- | --- | --- | --- | --- | --- | --- |
| | | | | | 01 | 02 |
| 03 | 04 | 05 | 06 | 07 | 08 | 09 |
| 10 | 11 | 12 | 13 | 14 | 15 | 16 |
| 17 | 18 | 19 | 20 | 21 | 22 | 23 |
| 24 | 25 | 26 | 27 | 28 | 29 | 30 |
| 31 | | | | | | |
April 2019

| S | M | T | W | T | F | S |
| --- | --- | --- | --- | --- | --- | --- |
| | 01 | 02 | 03 | 04 | 05 | 06 |
| 07 | 08 | 09 | 10 | 11 | 12 | 13 |
| 14 | 15 | 16 | 17 | 18 | 19 | 20 |
| 21 | 22 | 23 | 24 | 25 | 26 | 27 |
| 28 | 29 | 30 | | | | |
May 2019

| S | M | T | W | T | F | S |
| --- | --- | --- | --- | --- | --- | --- |
| | | | 01 | 02 | 03 | 04 |
| 05 | 06 | 07 | 08 | 09 | 10 | 11 |
| 12 | 13 | 14 | 15 | 16 | 17 | 18 |
| 19 | 20 | 21 | 22 | 23 | 24 | 25 |
| 26 | 27 | 28 | 29 | 30 | 31 | |
June 2019

| S | M | T | W | T | F | S |
| --- | --- | --- | --- | --- | --- | --- |
| | | | | | | 01 |
| 02 | 03 | 04 | 05 | 06 | 07 | 08 |
| 09 | 10 | 11 | 12 | 13 | 14 | 15 |
| 16 | 17 | 18 | 19 | 20 | 21 | 22 |
| 23 | 24 | 25 | 26 | 27 | 28 | 29 |
| 30 | | | | | | |
July 2019

| S | M | T | W | T | F | S |
| --- | --- | --- | --- | --- | --- | --- |
| | 01 | 02 | 03 | 04 | 05 | 06 |
| 07 | 08 | 09 | 10 | 11 | 12 | 13 |
| 14 | 15 | 16 | 17 | 18 | 19 | 20 |
| 21 | 22 | 23 | 24 | 25 | 26 | 27 |
| 28 | 29 | 30 | 31 | | | |
August 2019

| S | M | T | W | T | F | S |
| --- | --- | --- | --- | --- | --- | --- |
| | | | | 01 | 02 | 03 |
| 04 | 05 | 06 | 07 | 08 | 09 | 10 |
| 11 | 12 | 13 | 14 | 15 | 16 | 17 |
| 18 | 19 | 20 | 21 | 22 | 23 | 24 |
| 25 | 26 | 27 | 28 | 29 | 30 | 31 |
September 2019

| S | M | T | W | T | F | S |
| --- | --- | --- | --- | --- | --- | --- |
| 01 | 02 | 03 | 04 | 05 | 06 | 07 |
| 08 | 09 | 10 | 11 | 12 | 13 | 14 |
| 15 | 16 | 17 | 18 | 19 | 20 | 21 |
| 22 | 23 | 24 | 25 | 26 | 27 | 28 |
| 29 | 30 | | | | | |
October 2019

| S | M | T | W | T | F | S |
| --- | --- | --- | --- | --- | --- | --- |
| | | 01 | 02 | 03 | 04 | 05 |
| 06 | 07 | 08 | 09 | 10 | 11 | 12 |
| 13 | 14 | 15 | 16 | 17 | 18 | 19 |
| 20 | 21 | 22 | 23 | 24 | 25 | 26 |
| 27 | 28 | 29 | 30 | 31 | | |
November 2019

| S | M | T | W | T | F | S |
| --- | --- | --- | --- | --- | --- | --- |
| | | | | | 01 | 02 |
| 03 | 04 | 05 | 06 | 07 | 08 | 09 |
| 10 | 11 | 12 | 13 | 14 | 15 | 16 |
| 17 | 18 | 19 | 20 | 21 | 22 | 23 |
| 24 | 25 | 26 | 27 | 28 | 29 | 30 |
December 2019

| S | M | T | W | T | F | S |
| --- | --- | --- | --- | --- | --- | --- |
| 01 | 02 | 03 | 04 | 05 | 06 | 07 |
| 08 | 09 | 10 | 11 | 12 | 13 | 14 |
| 15 | 16 | 17 | 18 | 19 | 20 | 21 |
| 22 | 23 | 24 | 25 | 26 | 27 | 28 |
| 29 | 30 | 31 | | | | |
Available
Unavailable
Sat to Sat booking