Staff Choice Homes have been highly reviewed by both our staff and past guests for an extended period of time. Only a select handful of homes in our inventory receive this highly coveted award! It signifies that staff has extensive knowledge of the property and – just as important – of the owners' commitment to elevating the guest experience.

---
25 FAIRVIEW Eastham, MA
BOOK NOW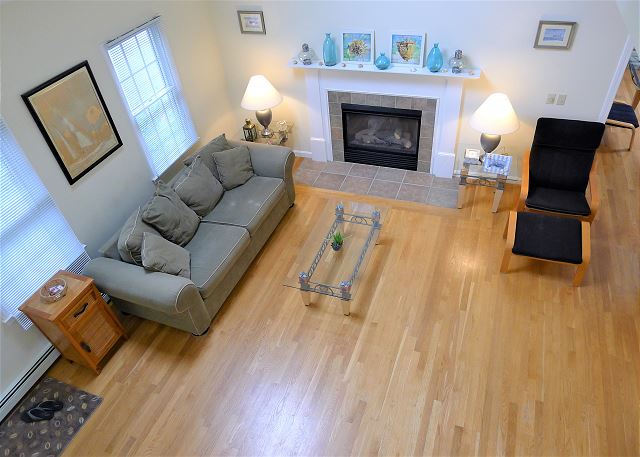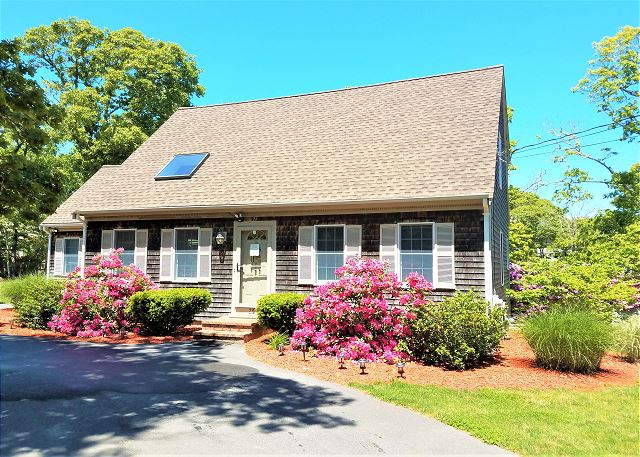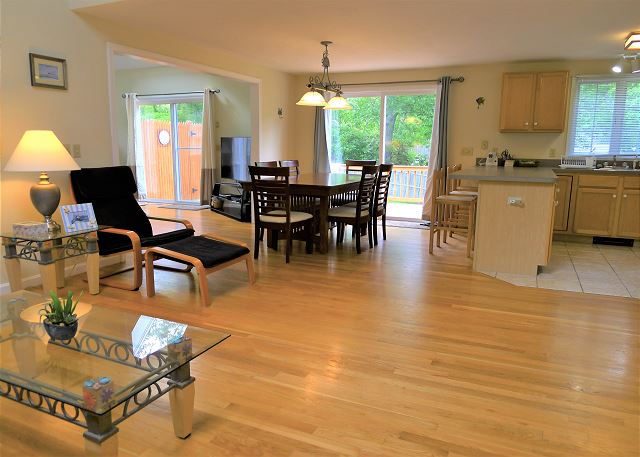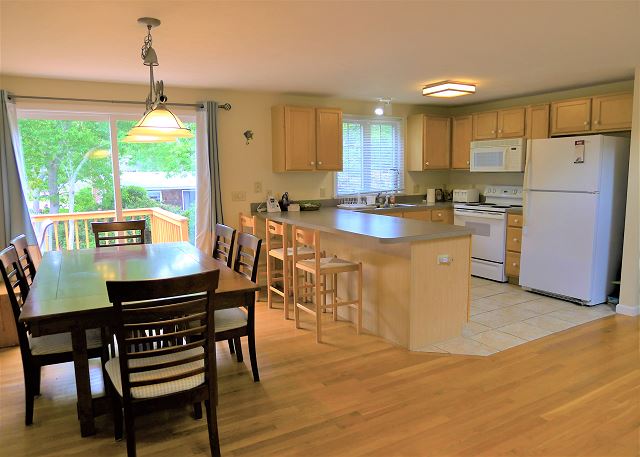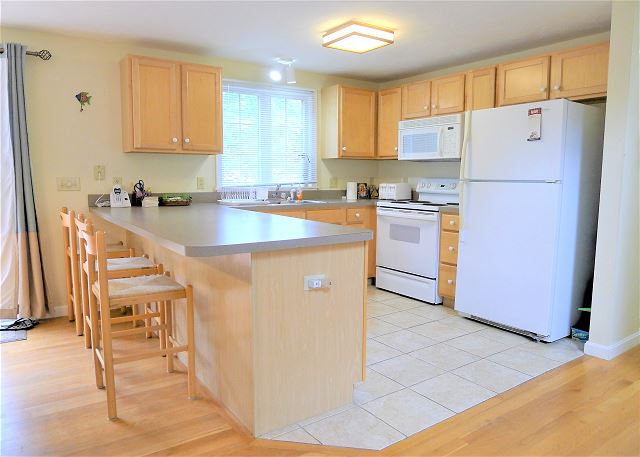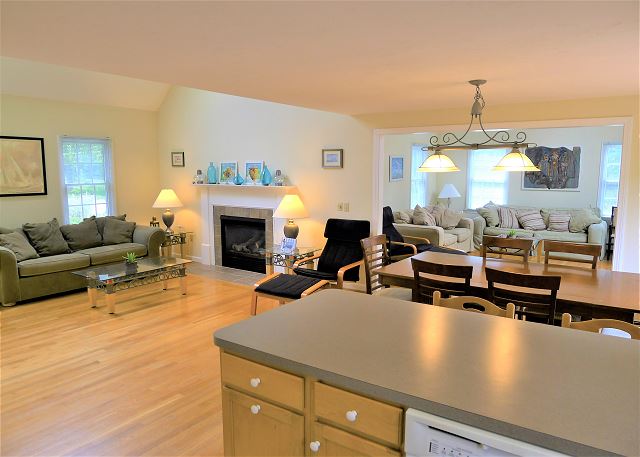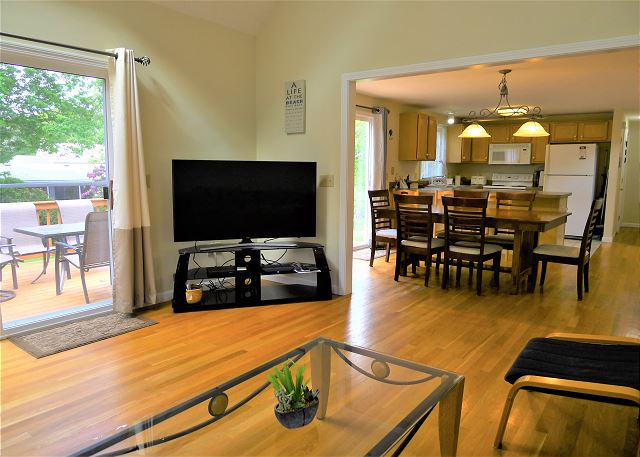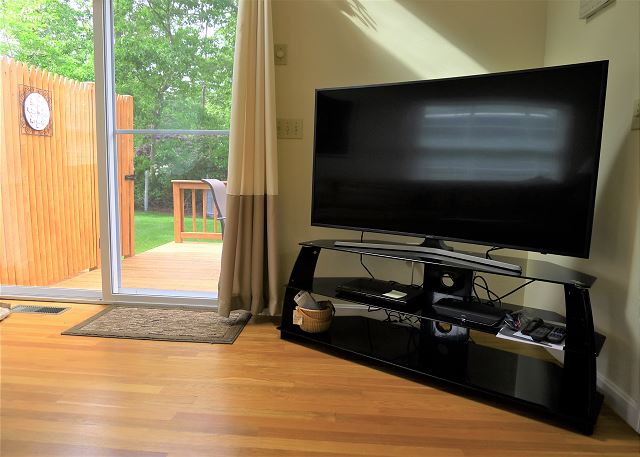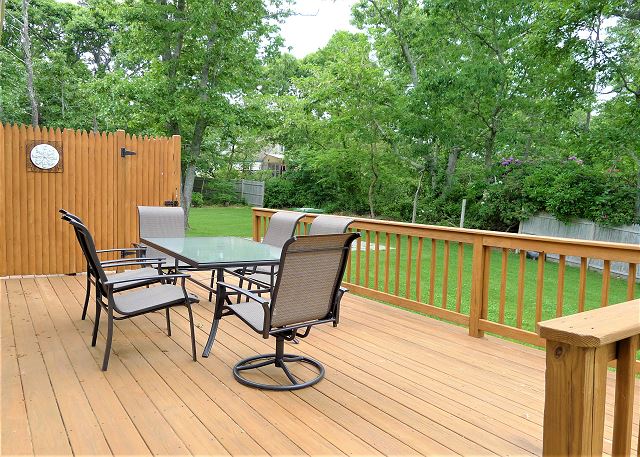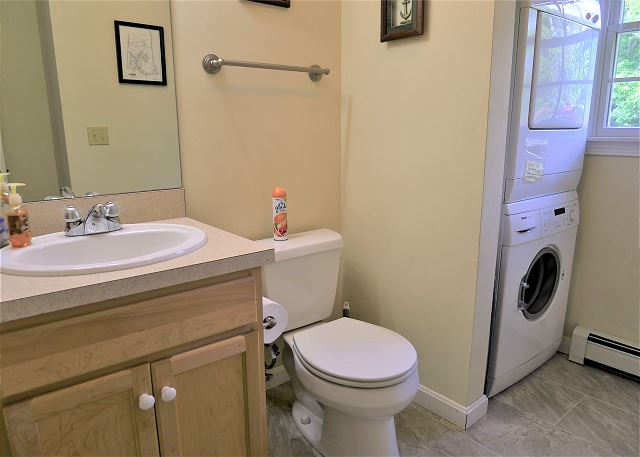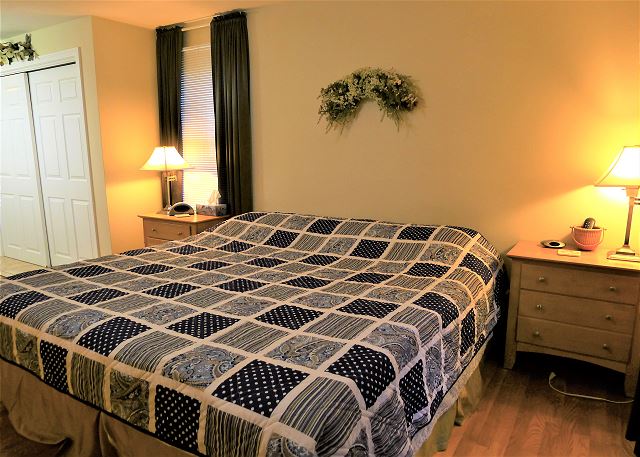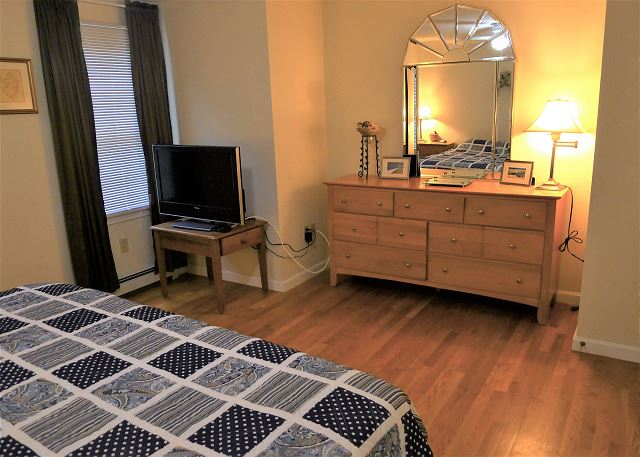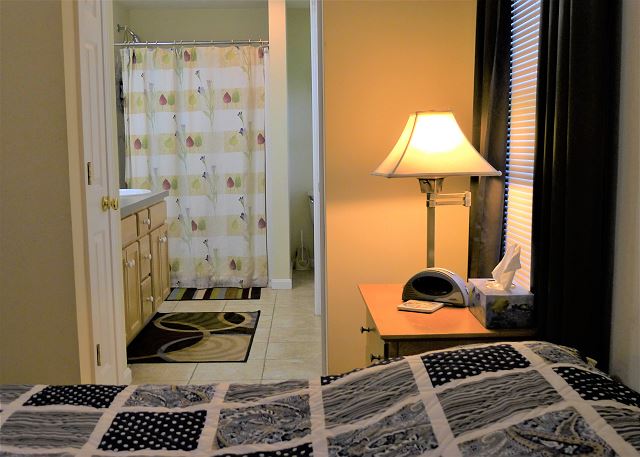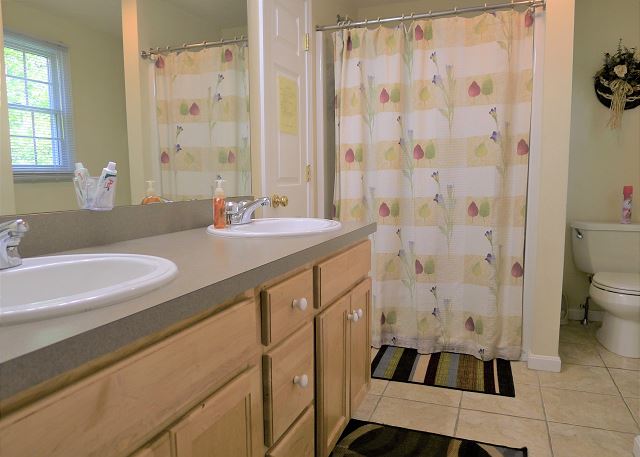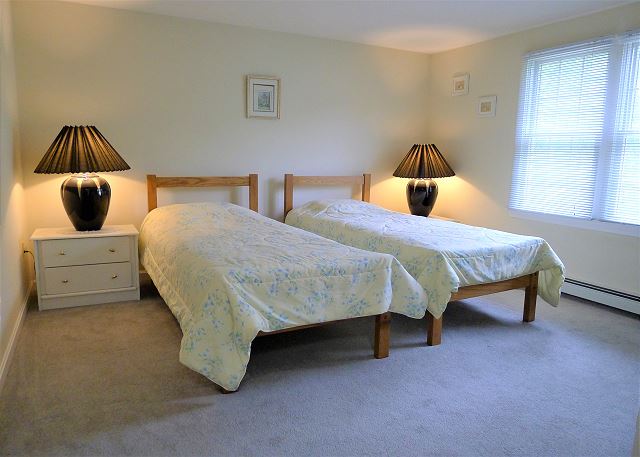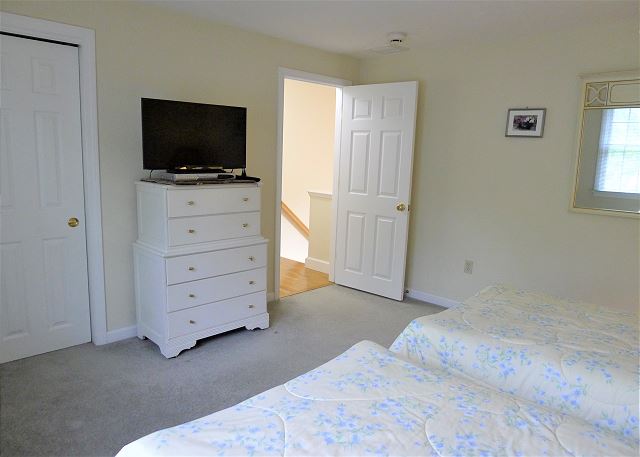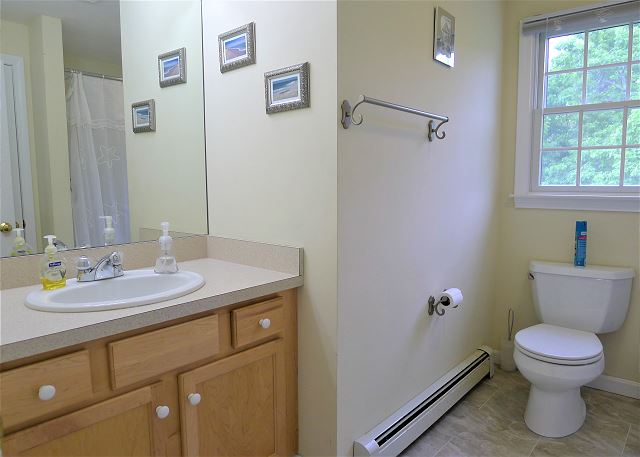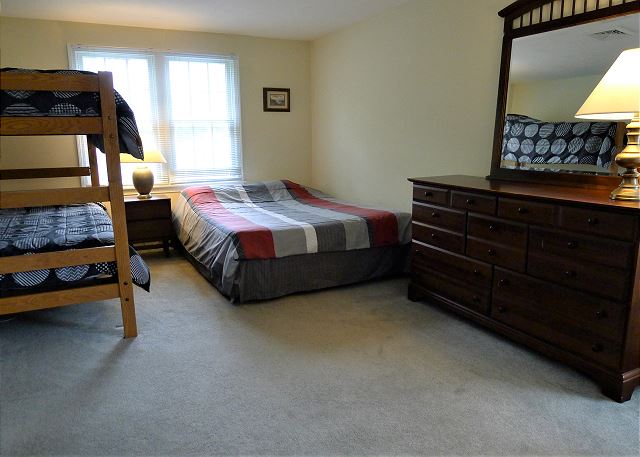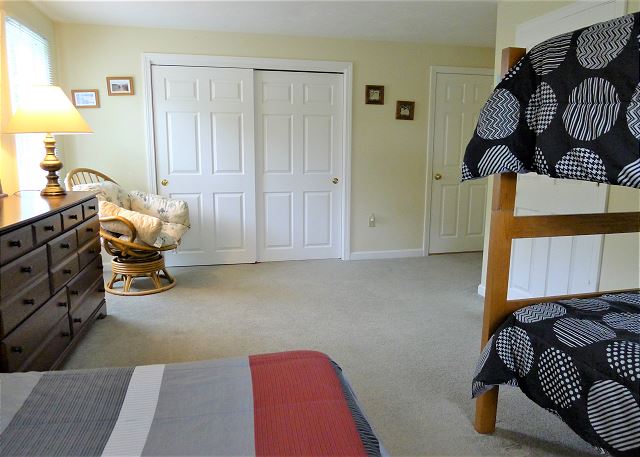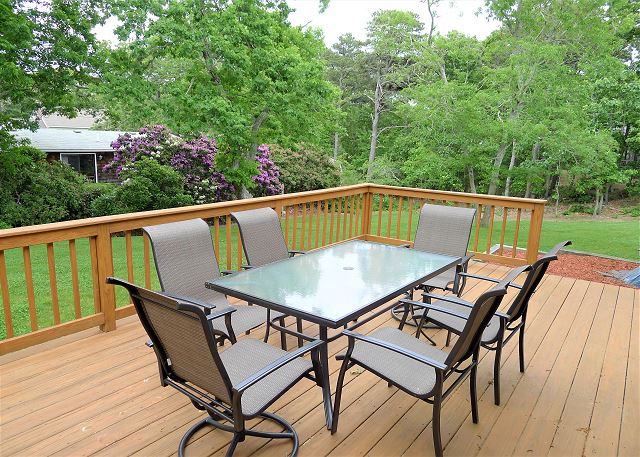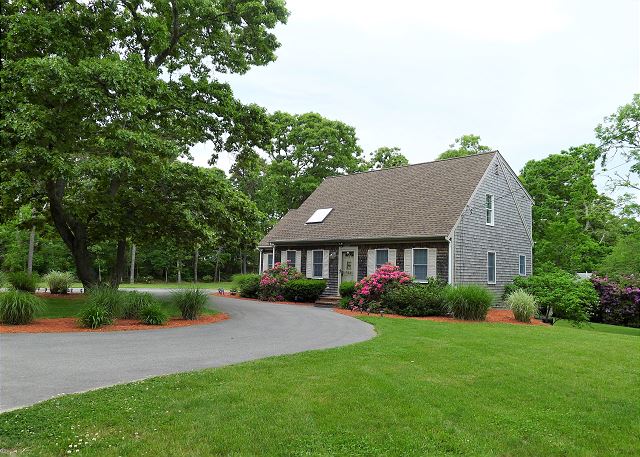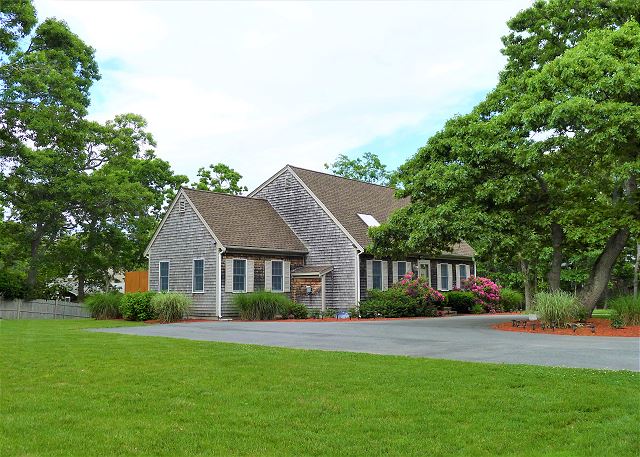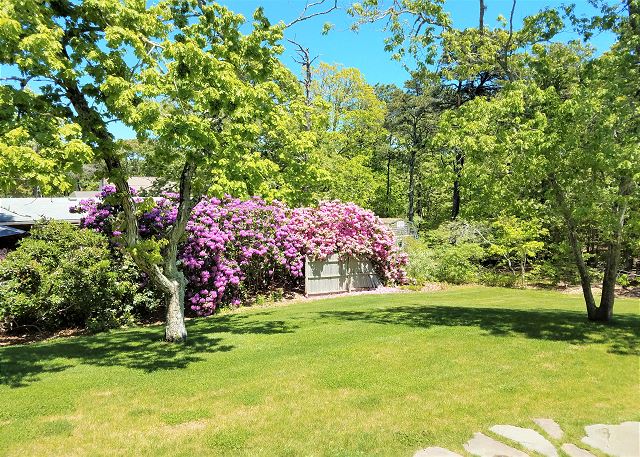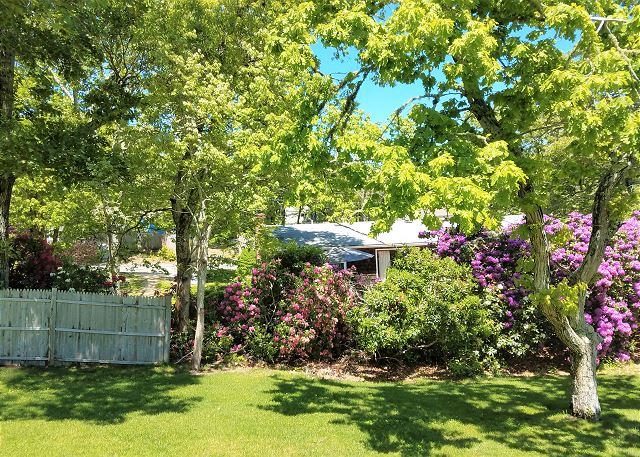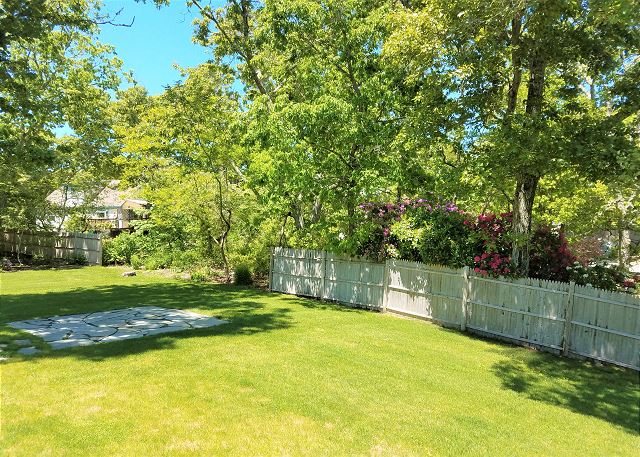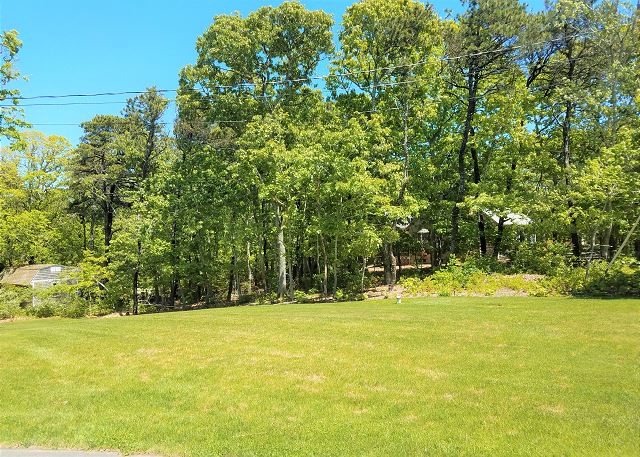 ---
Bedroom(s): 3
Bathroom(s): 2.5
Sleeps: 6
Type: House
Area:
Town: Eastham
Features of this home include nice wood floors and two spacious living areas--one with a gas fireplace, the other with TV, DVD player and doors to the deck.

The modern kitchen is open style, perfect for gathering and has desirable features such as breakfast counter, dishwasher, and is fully outfitted for most dining and serving needs.

Off the kitchen is the first floor bedroom suite with king size bed, ceiling fan, 40" flat screen TV, and a private bath with walk in shower and double sink vanity. Also on the first floor in a half bathroom with stack size washer and dryer.

The second floor has a bedroom on each side of the center hall full bath. The bedroom on the left has two twin beds, ceiling fan, and a TV. The 3rd bedroom is on the right and has a queen size bed, and a set of twin bunk beds, and ceiling fan.

Outside there is a deck with doors from den that includes a dining table for 6 and a gas grill also a great enclosed outdoor shower.

Also included is a is rec-room area in the walk out basement, beach chairs and beach toys! LOCATED a stroll away from Salt Pond Visitor Center, Ministers Pond, Cape Cod Rail Trail and 2 miles to Coast Guard Beach and Cape Cod National Seashore!

Sorry no pets and no smoking is allowed.

6 guests maximum allowed at any time. No parties exceeding the occupancy limit allowed.

LINENS (SHEETS/TOWELS) ARE NOT INCLUDED IN THIS RENTAL.

Travel insurance is highly recommended and affordable coverage to protect your vacation investment.

Please view our policy and procedure page on our web site for detailed information about renting with us.
- Extended Cable
- Fireplace
- Ceiling Fan
- Sleep Sofa
- Deck
- WiFi
- Iron/Ironing Board
- Land line telephone
- Washer & Dryer
- Microwave
- Drip Coffee Maker
- Pantry items (sugar, salt & pep)
- Cleaning Supplies
- Cookware
- Dishes / Glassware / Utensils
- Kitchen Table
- Blender
- Toaster or Toaster Oven
- Ice Maker
- Island or Counter Seating
- Dishwasher
- Lobster Pot
- TV
- Sleep Sofa/Futon
- DVD Player
- Ceiling fan
- TV
- Window A/C
- Ceiling Fan
- Hair Dryer
- Tub/Shower Combo
- Walk-In Shower
- Deck
- Gas Grill with Propane Tank
- Dining Table w/o Umbrella
- Enclosed Outdoor Shower
- Beach Chairs
- Outdoor Lighting
- Close to Town
- Near Rail Trail Bike Path
- Near National Sea Shore Beaches
- Near Golf Course
Guest Reviews of
25 fairview Eastham , MA
Perfect Location...Imperfect Home
I can't say enough about the location of the home. There was easy access to the National Seashore beaches and several back roads accessible to lights on to Rt. 6. And the yard is beautiful. That being said, the home itself could be described as tired. The upholstery on the couches and chairs were stained and worn, the mattresses saggy and bedframes wobbly. The kitchen amenities were lacking; very few pots and pans, wine glasses and serving dishes. And no dishtowels. There was not enough room in the one trash barrel provided, for a week's worth of trash, considering that there is no recycling receptacle. The propane tank for the grill was not full when we arrived, the locking mechanism on the washing machine was broken as was the storm door and ice-maker. Also, future renters should be aware that there is no door to the master bathroom from the master bedroom so if privacy is a factor, you may want to bring a floor length curtain and spring rod to hang. I would certainly rent a home in this location again, but will want to see if more thoughtfully appointed and cared for homes are available in this price-range.
4 out of 5 stars
Eastham Vacation
The location is close to the National Seashore. The house was not clean. There were socks at the foot of the bed, someone's clothes on the shelf & toenails on the nightstand. The beds are the worst. Old, thin & very hard. Everyone had shoulder pain in the AM. A fowl odor was in the living room. Mgmt told us to open the windows & sent a cleaner who said the couch was full of dog hair even though we were told it was a pet free home. I don't think it was cleaned before we came. TV was so small that you had to pull a chair up close to watch it. No toilet paper provided. They ask that you leave 2 rolls for the next renters. Hot water was turned down under all sinks so pressure was very low. W&D didn't work at all. Washer would take over 4 hours & the dryer never heated up. The bike path was about ½ mile away but had to ride on a busy street w/no sidewalk to get to it. Tough with young kids. There has to be better for $2,500/week. Keep looking.
2 out of 5 stars
Manager Response:
First, I am so sorry for what you had to put up with during your stay at 25 Fairview. Second, I should have responded to you back in August. Instead, I immediately brought your experience to the attention of both the cleaners and the owners. Our goal was to install the necessary upgrades to both property and process to restore the home's 5 out of 5 star rating. I understand that when you go on vacation, there are certain givens…givens that when absent, undermine what you've been looking forward to all year…givens like a clean interior, comfortable beds, and appliances that work. I can only hope that the weather was on your side to help offset what must have been a serious letdown for you and your family. The owners do plan on purchasing new mattresseses, new seating in the living areas and a 55" television. We have also added an extra safeguard to the cleaning process to insure it will be spotless upon each guest's arrival. I only wish that you and your family could have been the beneficiaries of these improvements. Future guests will have you to thank. CCR thanks you, too, for taking the time to detail the plus and minuses of 25 Fairview. Sandy O'Dell, Manager
Cape Cod Vacation
Review by
Keith O.
Of some 20 trips and rentals this house was the best.
5 out of 5 stars
CAPE
Review by
Sarah S.
We had an awesome time at this rental. the layout was ideal for us, enough space for 2 kids and 3 adults. The location was PERFECT as we enjoy the coast guard beach. My brother in law could run to the beach every morning which was a huge plus. We could bike on the bike path which was very close by. The road that the house was on was ideal as it was quiet and safe. The yard was perfectly large. Perfect for young kids!
5 out of 5 stars
Clean and spacious family rental in Eastham
The rental house my family and I stayed at in Eastham over the Fourth of July week was great. The home was clean, well maintained, spacious, and had the accommodations we needed. The staff was even helpful in getting us in a day early since it was available. Its proximity to the beaches, P-town, Hyannis, and other attractions was perfect for us. It would have been nice not to have to drive to the beach, but it was affordable and easy to get on the main roads. I would recommend this rental.
5 out of 5 stars
25 Fairview Eastham, MA
Great experience! The home was well-equipped and was the perfect size home for our family. It was centrally located to many of the places we planned to visit.
5 out of 5 stars
Cape Cod Vacation Home
We spent a wonderful week at this Fairview Ave home. Our family of 6 adults and 2 toddlers were looking for a nice clean spacious home and we found it!!! Centrally located and fully furnished. The kitchen had EVERYTHING we needed from dishes, to coffee pot to dishwashing detergent. Someone did all the thinking for us.. All we had to do was relax and enjoy ourselves. There was even a baby gate to protect the little ones from the stairs. Sandy from Cape Cod Rentals answered all of our questions and went out of her way to find a home that met our needs. Thanks for helping make our family reunion a success!
5 out of 5 stars
Fun at Fairview
Review by
Katherine P.
We had a great week in the cottage. It had everything we were looking for in our vacation rental. The linens were not delivered on time, but I called the office and the error was very quickly remedied. I am glad that I noticed before the office closed! We enjoyed the well supplied kitchen and had many good meals on the deck. The outdoor shower was wonderful... nothing can compare to showering under the stars!All in all a wonderful week.
5 out of 5 stars
Perfect Rental for Cape Cod Vacay
Review by
Lisa G.
We had a fantastic holiday on Cape Cod and our pick for where to stay was part of it. The house was in a great location - close to The National Seashore beaches as well as bay beaches and tons of great food. The house was clean and spacious.
5 out of 5 stars
August 2018

| S | M | T | W | T | F | S |
| --- | --- | --- | --- | --- | --- | --- |
| | | | 01 | 02 | 03 | 04 |
| 05 | 06 | 07 | 08 | 09 | 10 | 11 |
| 12 | 13 | 14 | 15 | 16 | 17 | 18 |
| 19 | 20 | 21 | 22 | 23 | 24 | 25 |
| 26 | 27 | 28 | 29 | 30 | 31 | |
September 2018

| S | M | T | W | T | F | S |
| --- | --- | --- | --- | --- | --- | --- |
| | | | | | | 01 |
| 02 | 03 | 04 | 05 | 06 | 07 | 08 |
| 09 | 10 | 11 | 12 | 13 | 14 | 15 |
| 16 | 17 | 18 | 19 | 20 | 21 | 22 |
| 23 | 24 | 25 | 26 | 27 | 28 | 29 |
| 30 | | | | | | |
October 2018

| S | M | T | W | T | F | S |
| --- | --- | --- | --- | --- | --- | --- |
| | 01 | 02 | 03 | 04 | 05 | 06 |
| 07 | 08 | 09 | 10 | 11 | 12 | 13 |
| 14 | 15 | 16 | 17 | 18 | 19 | 20 |
| 21 | 22 | 23 | 24 | 25 | 26 | 27 |
| 28 | 29 | 30 | 31 | | | |
November 2018

| S | M | T | W | T | F | S |
| --- | --- | --- | --- | --- | --- | --- |
| | | | | 01 | 02 | 03 |
| 04 | 05 | 06 | 07 | 08 | 09 | 10 |
| 11 | 12 | 13 | 14 | 15 | 16 | 17 |
| 18 | 19 | 20 | 21 | 22 | 23 | 24 |
| 25 | 26 | 27 | 28 | 29 | 30 | |
December 2018

| S | M | T | W | T | F | S |
| --- | --- | --- | --- | --- | --- | --- |
| | | | | | | 01 |
| 02 | 03 | 04 | 05 | 06 | 07 | 08 |
| 09 | 10 | 11 | 12 | 13 | 14 | 15 |
| 16 | 17 | 18 | 19 | 20 | 21 | 22 |
| 23 | 24 | 25 | 26 | 27 | 28 | 29 |
| 30 | 31 | | | | | |
January 2019

| S | M | T | W | T | F | S |
| --- | --- | --- | --- | --- | --- | --- |
| | | 01 | 02 | 03 | 04 | 05 |
| 06 | 07 | 08 | 09 | 10 | 11 | 12 |
| 13 | 14 | 15 | 16 | 17 | 18 | 19 |
| 20 | 21 | 22 | 23 | 24 | 25 | 26 |
| 27 | 28 | 29 | 30 | 31 | | |
February 2019

| S | M | T | W | T | F | S |
| --- | --- | --- | --- | --- | --- | --- |
| | | | | | 01 | 02 |
| 03 | 04 | 05 | 06 | 07 | 08 | 09 |
| 10 | 11 | 12 | 13 | 14 | 15 | 16 |
| 17 | 18 | 19 | 20 | 21 | 22 | 23 |
| 24 | 25 | 26 | 27 | 28 | | |
March 2019

| S | M | T | W | T | F | S |
| --- | --- | --- | --- | --- | --- | --- |
| | | | | | 01 | 02 |
| 03 | 04 | 05 | 06 | 07 | 08 | 09 |
| 10 | 11 | 12 | 13 | 14 | 15 | 16 |
| 17 | 18 | 19 | 20 | 21 | 22 | 23 |
| 24 | 25 | 26 | 27 | 28 | 29 | 30 |
| 31 | | | | | | |
April 2019

| S | M | T | W | T | F | S |
| --- | --- | --- | --- | --- | --- | --- |
| | 01 | 02 | 03 | 04 | 05 | 06 |
| 07 | 08 | 09 | 10 | 11 | 12 | 13 |
| 14 | 15 | 16 | 17 | 18 | 19 | 20 |
| 21 | 22 | 23 | 24 | 25 | 26 | 27 |
| 28 | 29 | 30 | | | | |
May 2019

| S | M | T | W | T | F | S |
| --- | --- | --- | --- | --- | --- | --- |
| | | | 01 | 02 | 03 | 04 |
| 05 | 06 | 07 | 08 | 09 | 10 | 11 |
| 12 | 13 | 14 | 15 | 16 | 17 | 18 |
| 19 | 20 | 21 | 22 | 23 | 24 | 25 |
| 26 | 27 | 28 | 29 | 30 | 31 | |
June 2019

| S | M | T | W | T | F | S |
| --- | --- | --- | --- | --- | --- | --- |
| | | | | | | 01 |
| 02 | 03 | 04 | 05 | 06 | 07 | 08 |
| 09 | 10 | 11 | 12 | 13 | 14 | 15 |
| 16 | 17 | 18 | 19 | 20 | 21 | 22 |
| 23 | 24 | 25 | 26 | 27 | 28 | 29 |
| 30 | | | | | | |
July 2019

| S | M | T | W | T | F | S |
| --- | --- | --- | --- | --- | --- | --- |
| | 01 | 02 | 03 | 04 | 05 | 06 |
| 07 | 08 | 09 | 10 | 11 | 12 | 13 |
| 14 | 15 | 16 | 17 | 18 | 19 | 20 |
| 21 | 22 | 23 | 24 | 25 | 26 | 27 |
| 28 | 29 | 30 | 31 | | | |
August 2019

| S | M | T | W | T | F | S |
| --- | --- | --- | --- | --- | --- | --- |
| | | | | 01 | 02 | 03 |
| 04 | 05 | 06 | 07 | 08 | 09 | 10 |
| 11 | 12 | 13 | 14 | 15 | 16 | 17 |
| 18 | 19 | 20 | 21 | 22 | 23 | 24 |
| 25 | 26 | 27 | 28 | 29 | 30 | 31 |
Available
Unavailable
Sat to Sat booking