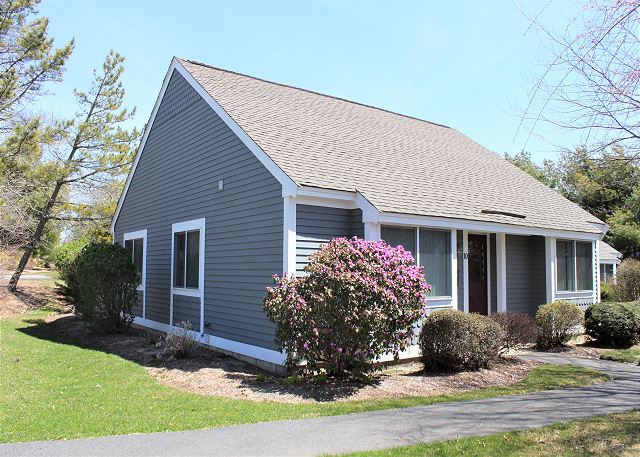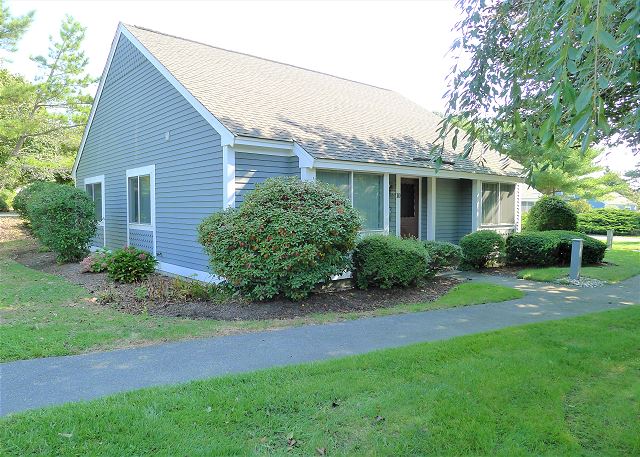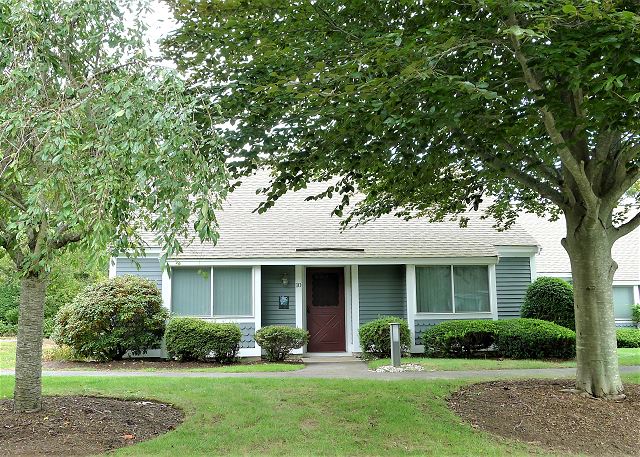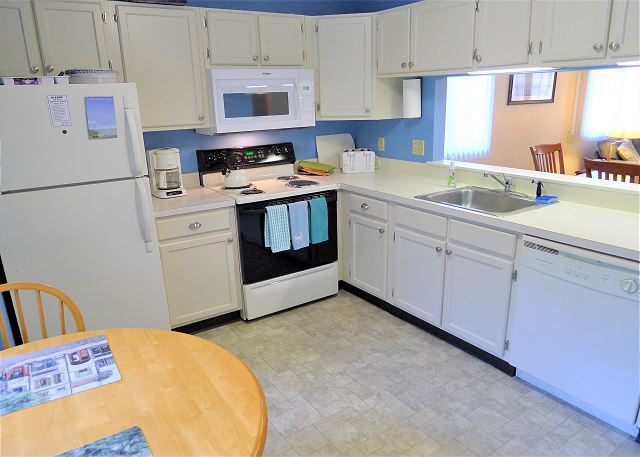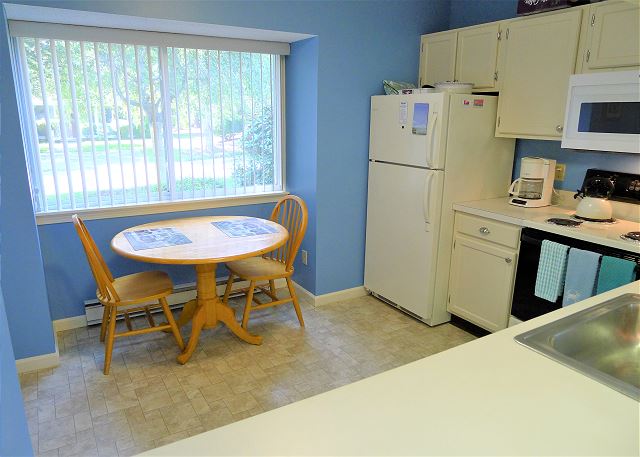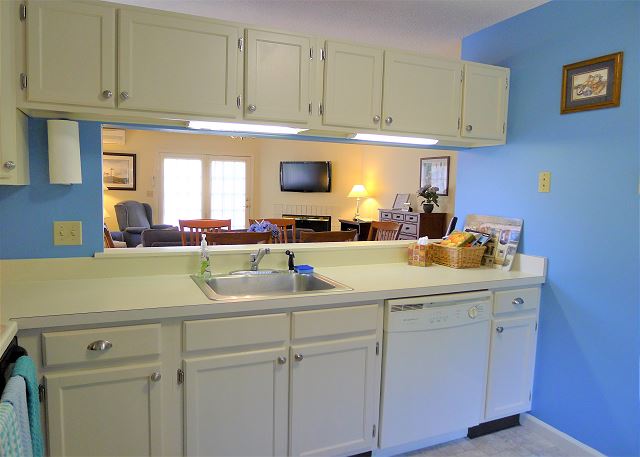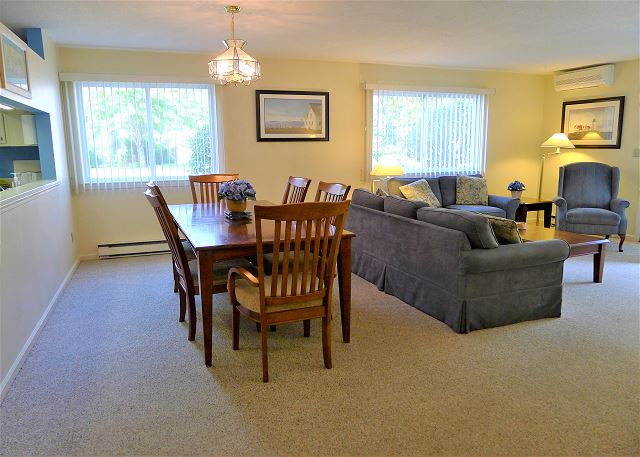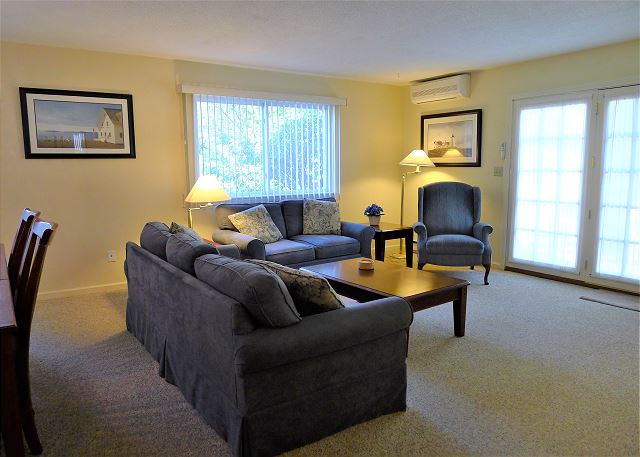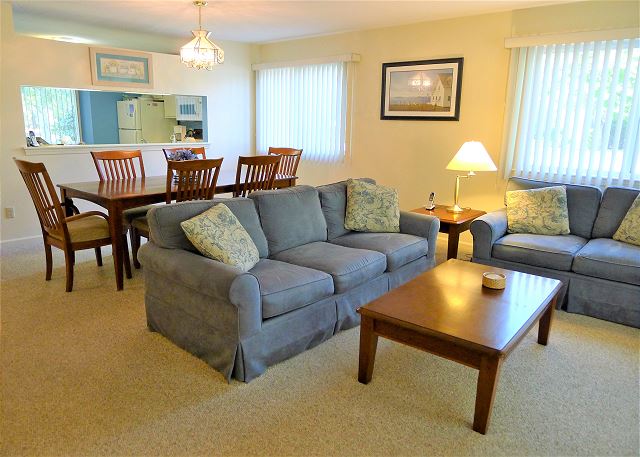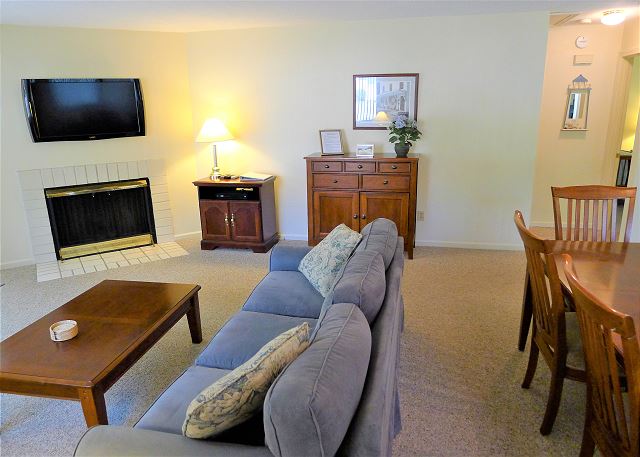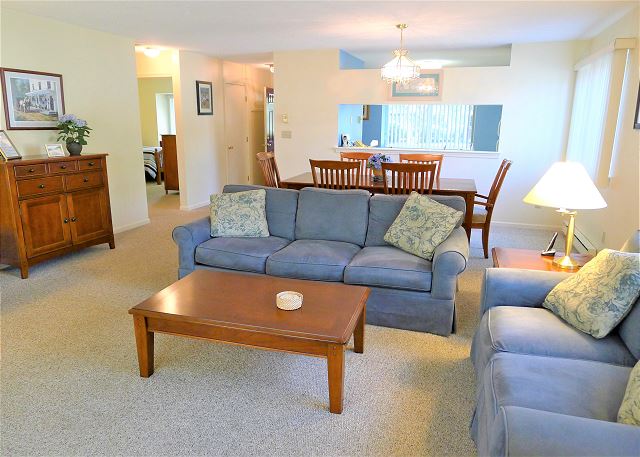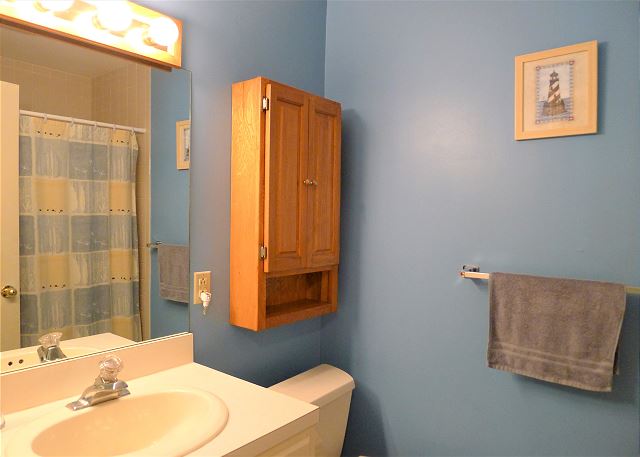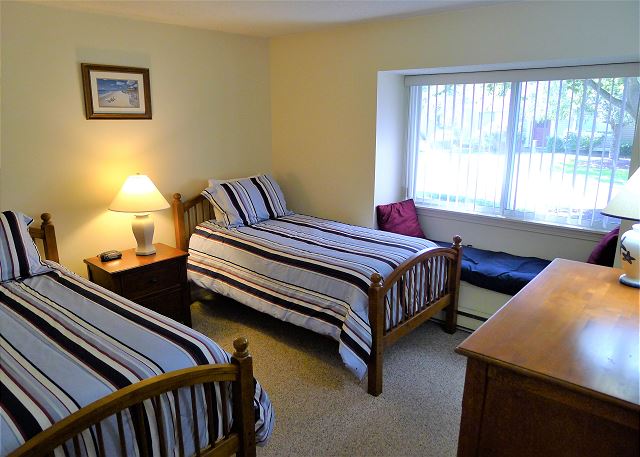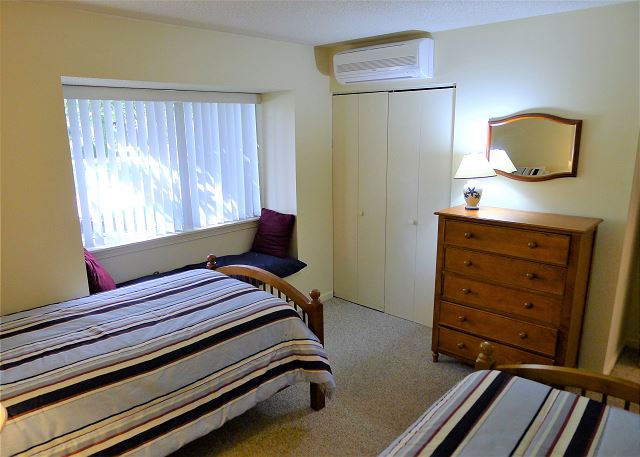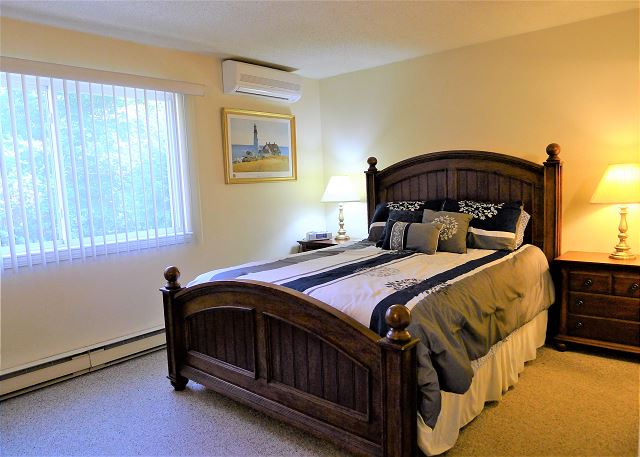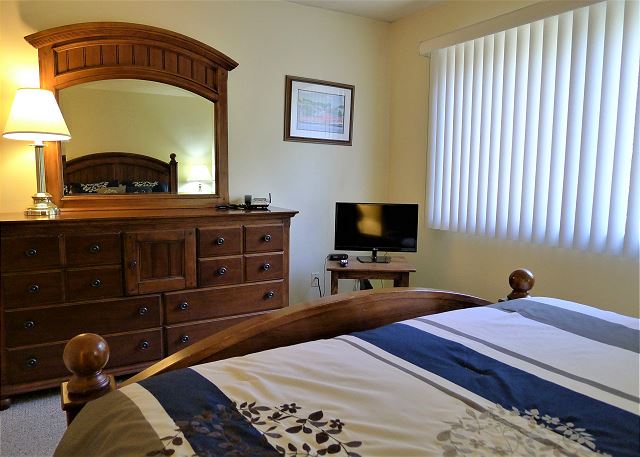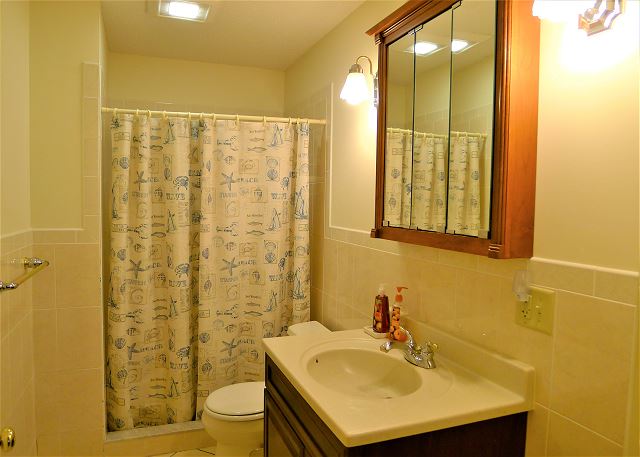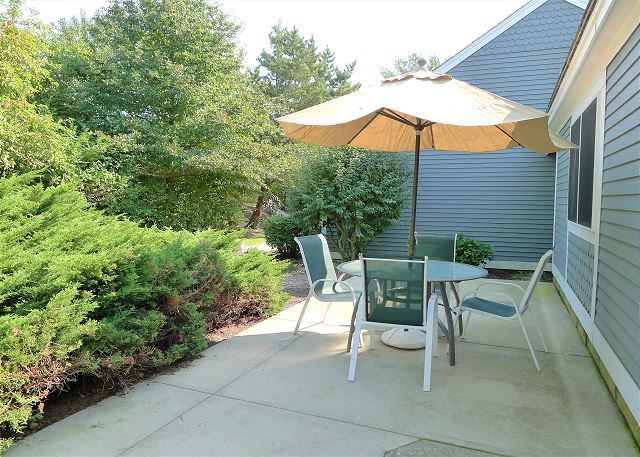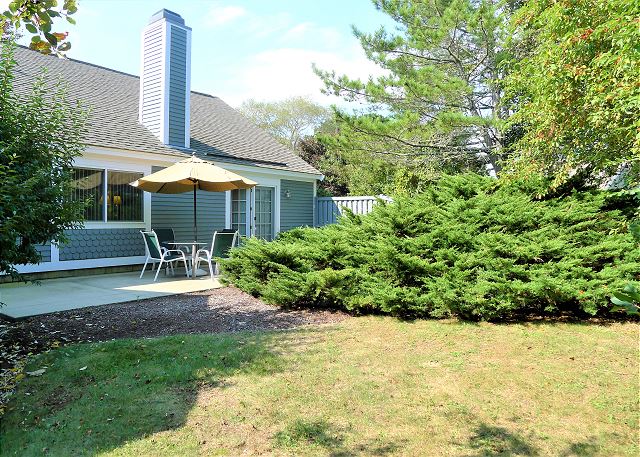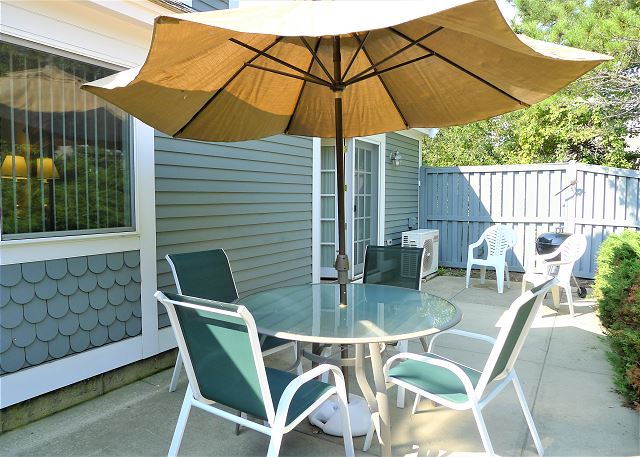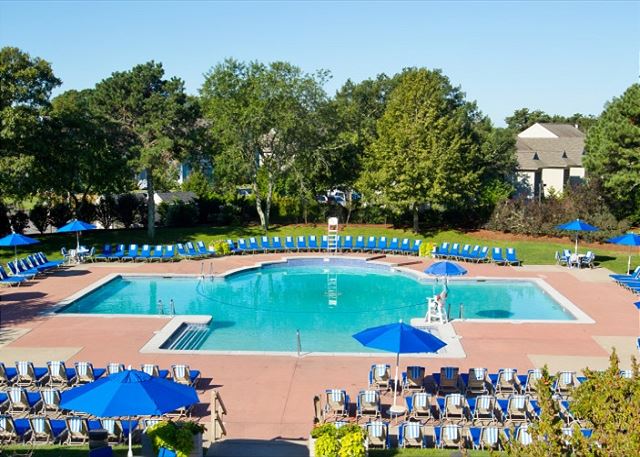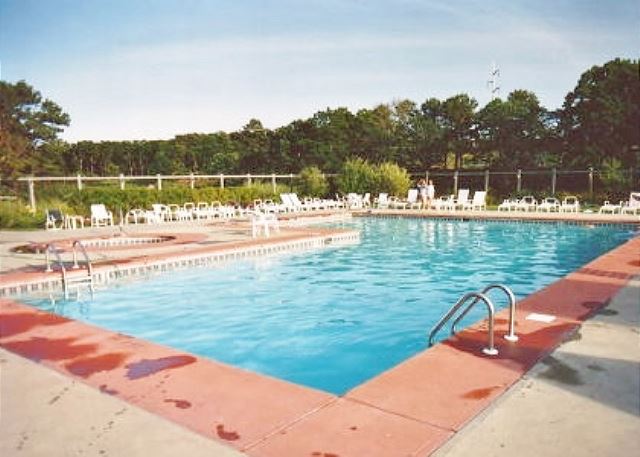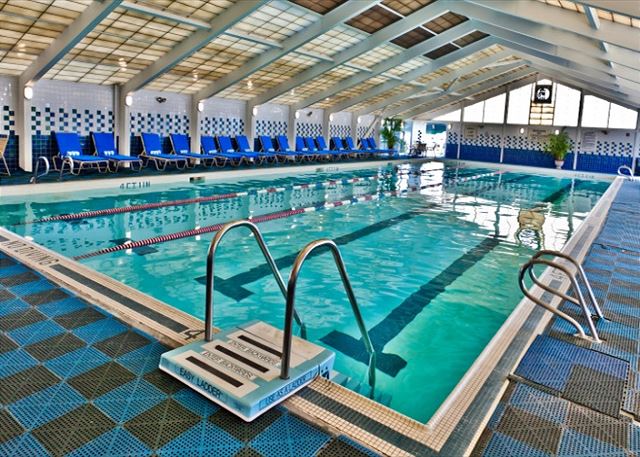 ---
Bedroom(s): 2
Bathroom(s): 2
Sleeps: 6
Type: Condominium
Area: OE Resort
Town: Brewster
Stand alone home located in the Gray/Susanna Villages of Ocean Edge Resort in Brewster, this unit offers unrivaled convenience, the comfort of A/C, and backyard privacy for up to six guests! The modern kitchen has recently been professionally painted with added new hardware. You have access to a complete inventory of kitchenware, plus toaster, coffee maker, lobster pot, blender, dishwasher, and microwave. For early risers, there is a table for two where you can sip your morning coffee and plan your day.

The open design is enhanced by space saving arrangements such as washer and dryer recessed behind closet doors, a pass through from kitchen to dining table that easily accommodates 6 people, and a queen sleeper sofa.

The dining area flows into the living room where seating is comfortably arranged to enjoy a flat screen TV with extended cable service through Comcast, dvd and cd player, or stereo.

The main bedroom has a queen bed and ensuite bath with walk-in shower. The second bedroom has two twins with an adjacent full bath recently painted (bath/shower combo). Both sleeping quarters boast new bedding!

French doors lead to your large patio exquisitely landscaped and equipped with a charcoal grill, and outdoor table with umbrella and chairs where you enjoy drinks or meals in the open air. This home is just 1 mile to the beach!

This thoughtfully put together home is convenient to Fletcher pools, the cardio room, tennis, and all the Cape has to offer, and is the absolute perfect destination for your Cape Cod trip!

Also included: WiFi, Washer and Dryer, Central Air, and parking for two cars.

Guests of this home will have Ocean Edge privileges except access to the private beach area. The resort charges fees to use these amenities, which will include the use of Fletcher indoor & outdoor pools, Fletcher cardio room, Arbor outdoor pool, and the tennis courts. This home does not include Golf privileges.You must complete your OE guest list and submit it to our office 10 days prior to your stay in order to have privileges. Remember all Ocean Edge fees are due upon arrival, paid to Ocean Edge directly by Guests if Pool & Tennis are desired.

Sorry no pets and no smoking allowed.

6 guests maximum allowed at any time. No parties exceeding the occupancy limit allowed.

LINENS (SHEETS/TOWELS) ARE NOT INCLUDED IN THIS RENTAL.

Travel Insurance is highly recommended, and affordable coverage to protect your vacation investment.

Please view our policy and procedure page on our web site for detailed information about renting with us.

State and local taxes are applicable and may vary based on local ordinances and bylaws. Tax rates are subject to change.
- DVD Player
- Extended Cable
- Stereo w/ CD player
- Sleep Sofa
- Patio
- WiFi
- Iron/Ironing Board
- Flat Screen TV
- CD Player
- Central A/C
- split ductless a/c
- Microwave
- Teapot or Tea Kettle
- Drip Coffee Maker
- Cookware
- Dishes / Glassware / Utensils
- Kitchen Table
- Blender
- Iron
- Dishwasher
- Lobster Pot
- microwave
- ironing board
- Toaster
- Dining Table
- On Suite Main Bedroom Bath
- split ductless a/c
- Tub/Shower Combo
- Walk-In Shower
- Washer & Dryer
- washer and dryer first floor
- Patio
- Charcoal Grill
- Dining Table w/ Umbrella
- Shared Pool
- Outdoor Lighting
- Near Rail Trail Bike Path
- Near Cape Cod Bay Beaches
- Resort Location & Amenities
- Near Golf Course
Guest Reviews of
10 gray Brewster , MA
Home away from home
Review by
David R.
We enjoyed our stay very much. The unit was up to date, clean and well maintained. We liked having all all the amenities available to us we we wanted.
4 out of 5 stars
Ocean Edge 10 Gray
Review by
Viola S.
We have stayed many times at this beautiful home at Ocean Edge and have always had an enjoyable vacation. The home is in a great location, was very clean and was well maintained and furnished. It also has a beautiful (recently renovated) kitchen. We will definitely stay here again in 2019.
5 out of 5 stars
Ultimate relaxation
Family fun.... biking.... hiking.... sun and surf.. ideal location.Provincetown and Hyannis short drives away.
5 out of 5 stars
Nice house, excellent location
Review by
Sylvia P.
Great location, close to the Rail Trail and Route 6A. Well maintained and furnished property.
4 out of 5 stars
Clean Comfortable Place
Review by
Martin G.
The house is in a nice quiet neighborhood. It was totally clean on our arrival. The beds were comfortable. The outside grounds were very nice including the back patio. Looking forward to our next stay.
5 out of 5 stars
April 2020

| S | M | T | W | T | F | S |
| --- | --- | --- | --- | --- | --- | --- |
| | | | 01 | 02 | 03 | 04 |
| 05 | 06 | 07 | 08 | 09 | 10 | 11 |
| 12 | 13 | 14 | 15 | 16 | 17 | 18 |
| 19 | 20 | 21 | 22 | 23 | 24 | 25 |
| 26 | 27 | 28 | 29 | 30 | | |
May 2020

| S | M | T | W | T | F | S |
| --- | --- | --- | --- | --- | --- | --- |
| | | | | | 01 | 02 |
| 03 | 04 | 05 | 06 | 07 | 08 | 09 |
| 10 | 11 | 12 | 13 | 14 | 15 | 16 |
| 17 | 18 | 19 | 20 | 21 | 22 | 23 |
| 24 | 25 | 26 | 27 | 28 | 29 | 30 |
| 31 | | | | | | |
June 2020

| S | M | T | W | T | F | S |
| --- | --- | --- | --- | --- | --- | --- |
| | 01 | 02 | 03 | 04 | 05 | 06 |
| 07 | 08 | 09 | 10 | 11 | 12 | 13 |
| 14 | 15 | 16 | 17 | 18 | 19 | 20 |
| 21 | 22 | 23 | 24 | 25 | 26 | 27 |
| 28 | 29 | 30 | | | | |
July 2020

| S | M | T | W | T | F | S |
| --- | --- | --- | --- | --- | --- | --- |
| | | | 01 | 02 | 03 | 04 |
| 05 | 06 | 07 | 08 | 09 | 10 | 11 |
| 12 | 13 | 14 | 15 | 16 | 17 | 18 |
| 19 | 20 | 21 | 22 | 23 | 24 | 25 |
| 26 | 27 | 28 | 29 | 30 | 31 | |
August 2020

| S | M | T | W | T | F | S |
| --- | --- | --- | --- | --- | --- | --- |
| | | | | | | 01 |
| 02 | 03 | 04 | 05 | 06 | 07 | 08 |
| 09 | 10 | 11 | 12 | 13 | 14 | 15 |
| 16 | 17 | 18 | 19 | 20 | 21 | 22 |
| 23 | 24 | 25 | 26 | 27 | 28 | 29 |
| 30 | 31 | | | | | |
September 2020

| S | M | T | W | T | F | S |
| --- | --- | --- | --- | --- | --- | --- |
| | | 01 | 02 | 03 | 04 | 05 |
| 06 | 07 | 08 | 09 | 10 | 11 | 12 |
| 13 | 14 | 15 | 16 | 17 | 18 | 19 |
| 20 | 21 | 22 | 23 | 24 | 25 | 26 |
| 27 | 28 | 29 | 30 | | | |
October 2020

| S | M | T | W | T | F | S |
| --- | --- | --- | --- | --- | --- | --- |
| | | | | 01 | 02 | 03 |
| 04 | 05 | 06 | 07 | 08 | 09 | 10 |
| 11 | 12 | 13 | 14 | 15 | 16 | 17 |
| 18 | 19 | 20 | 21 | 22 | 23 | 24 |
| 25 | 26 | 27 | 28 | 29 | 30 | 31 |
November 2020

| S | M | T | W | T | F | S |
| --- | --- | --- | --- | --- | --- | --- |
| 01 | 02 | 03 | 04 | 05 | 06 | 07 |
| 08 | 09 | 10 | 11 | 12 | 13 | 14 |
| 15 | 16 | 17 | 18 | 19 | 20 | 21 |
| 22 | 23 | 24 | 25 | 26 | 27 | 28 |
| 29 | 30 | | | | | |
December 2020

| S | M | T | W | T | F | S |
| --- | --- | --- | --- | --- | --- | --- |
| | | 01 | 02 | 03 | 04 | 05 |
| 06 | 07 | 08 | 09 | 10 | 11 | 12 |
| 13 | 14 | 15 | 16 | 17 | 18 | 19 |
| 20 | 21 | 22 | 23 | 24 | 25 | 26 |
| 27 | 28 | 29 | 30 | 31 | | |
January 2021

| S | M | T | W | T | F | S |
| --- | --- | --- | --- | --- | --- | --- |
| | | | | | 01 | 02 |
| 03 | 04 | 05 | 06 | 07 | 08 | 09 |
| 10 | 11 | 12 | 13 | 14 | 15 | 16 |
| 17 | 18 | 19 | 20 | 21 | 22 | 23 |
| 24 | 25 | 26 | 27 | 28 | 29 | 30 |
| 31 | | | | | | |
February 2021

| S | M | T | W | T | F | S |
| --- | --- | --- | --- | --- | --- | --- |
| | 01 | 02 | 03 | 04 | 05 | 06 |
| 07 | 08 | 09 | 10 | 11 | 12 | 13 |
| 14 | 15 | 16 | 17 | 18 | 19 | 20 |
| 21 | 22 | 23 | 24 | 25 | 26 | 27 |
| 28 | | | | | | |
March 2021

| S | M | T | W | T | F | S |
| --- | --- | --- | --- | --- | --- | --- |
| | 01 | 02 | 03 | 04 | 05 | 06 |
| 07 | 08 | 09 | 10 | 11 | 12 | 13 |
| 14 | 15 | 16 | 17 | 18 | 19 | 20 |
| 21 | 22 | 23 | 24 | 25 | 26 | 27 |
| 28 | 29 | 30 | 31 | | | |
April 2021

| S | M | T | W | T | F | S |
| --- | --- | --- | --- | --- | --- | --- |
| | | | | 01 | 02 | 03 |
| 04 | 05 | 06 | 07 | 08 | 09 | 10 |
| 11 | 12 | 13 | 14 | 15 | 16 | 17 |
| 18 | 19 | 20 | 21 | 22 | 23 | 24 |
| 25 | 26 | 27 | 28 | 29 | 30 | |
Available
Unavailable
Sat to Sat booking