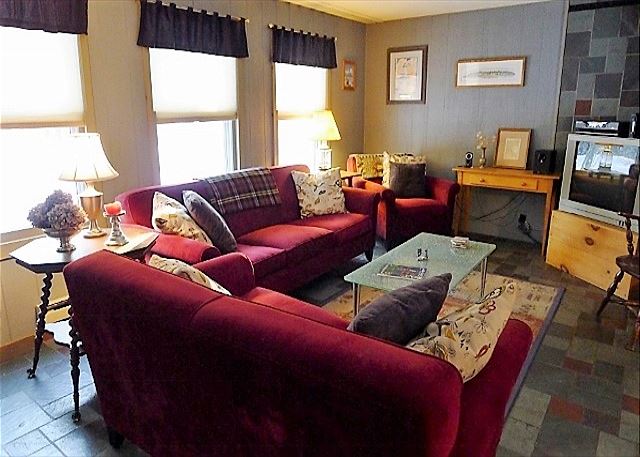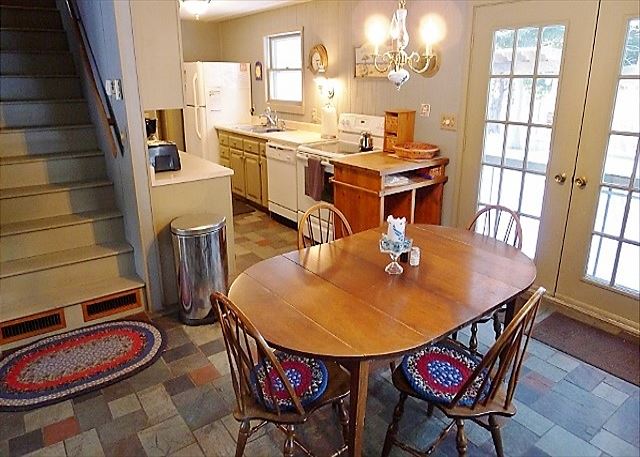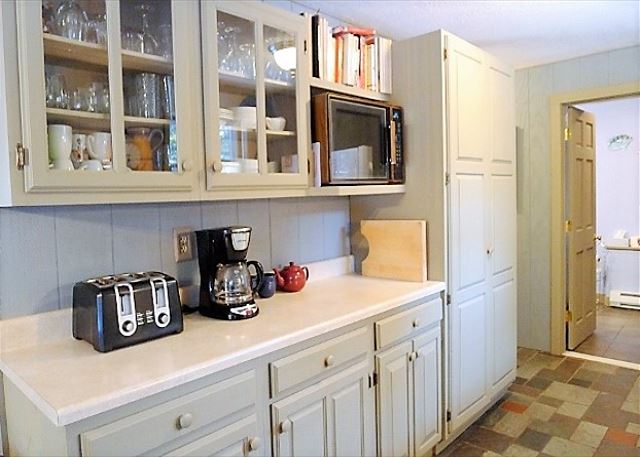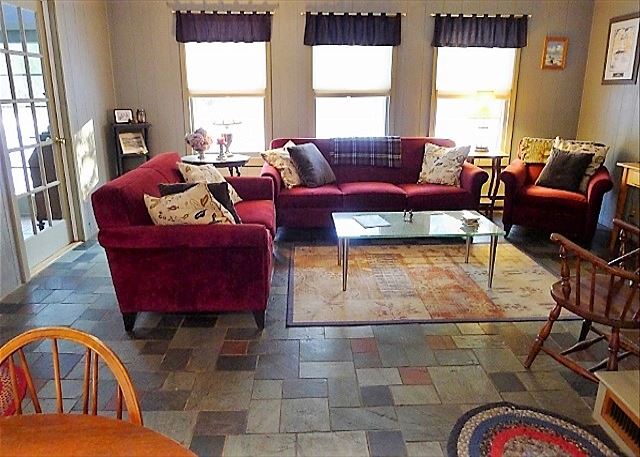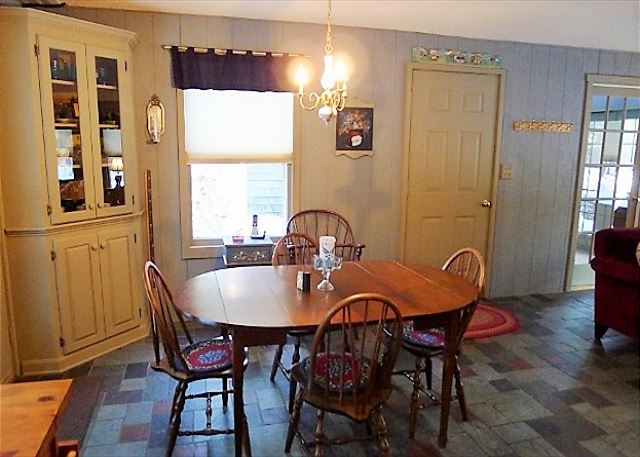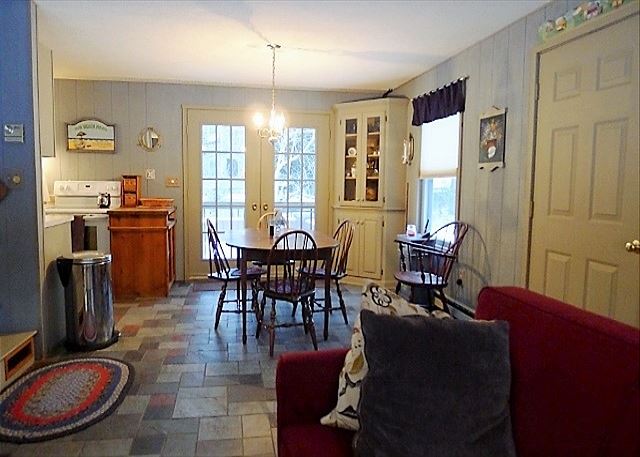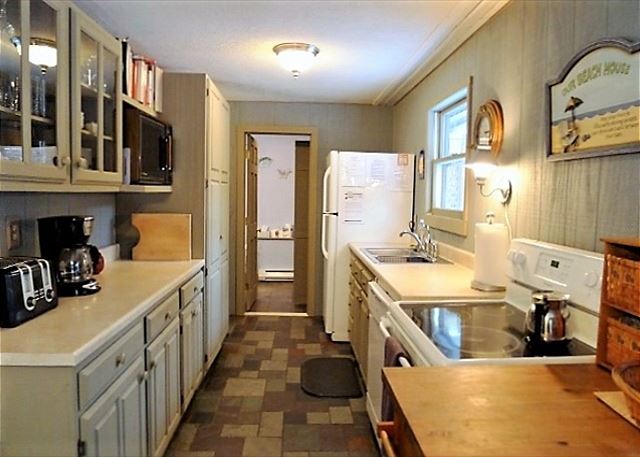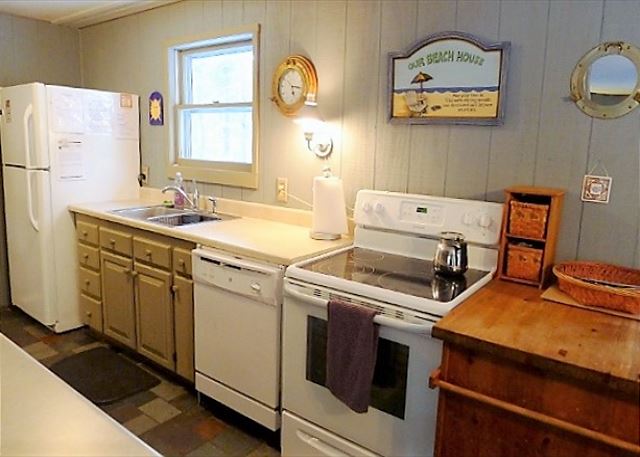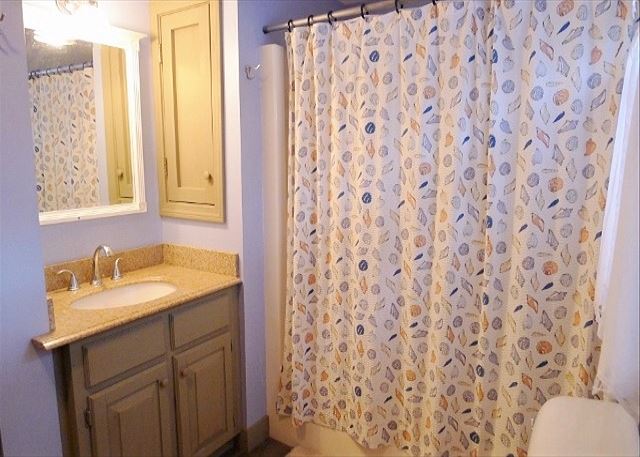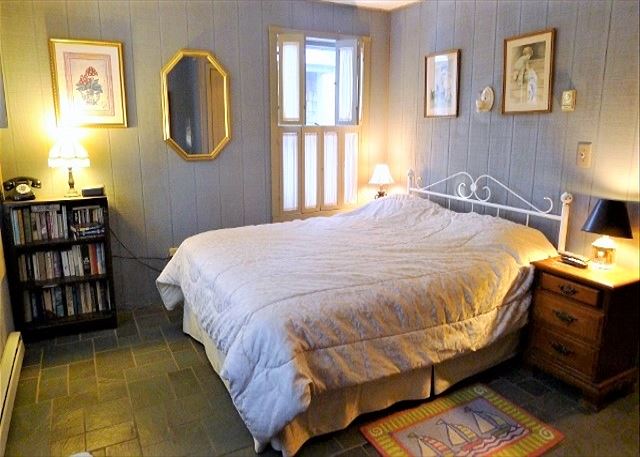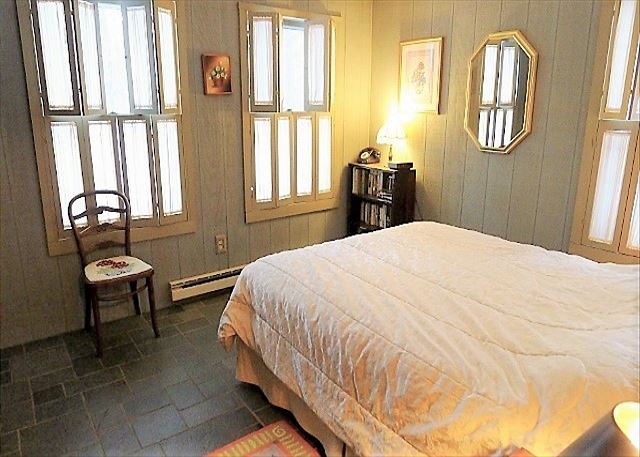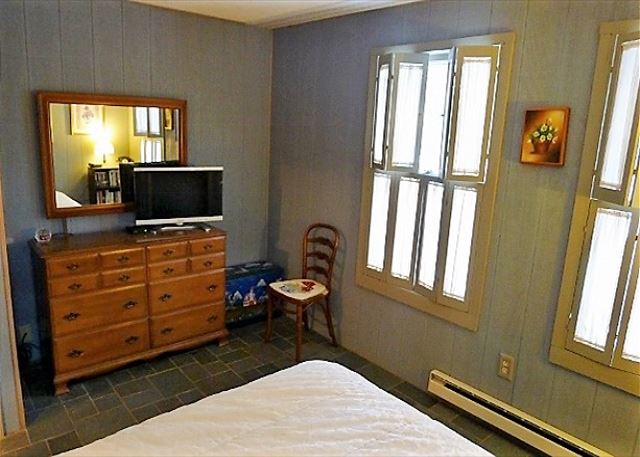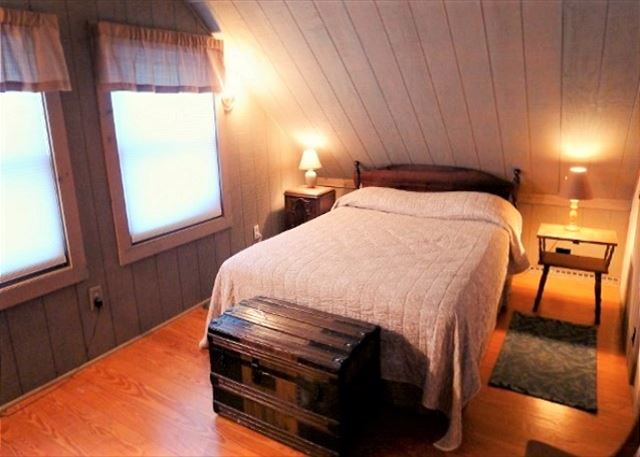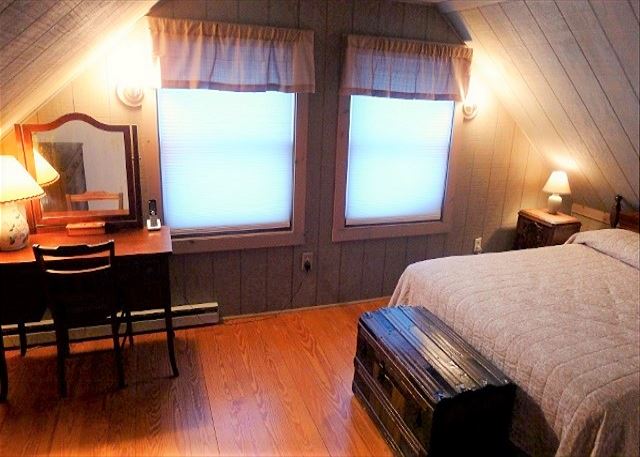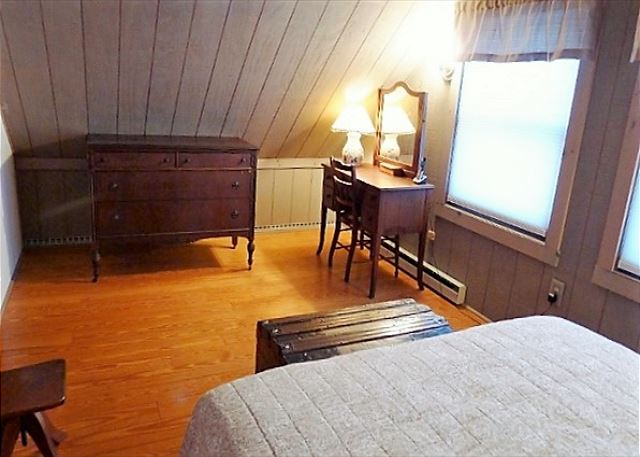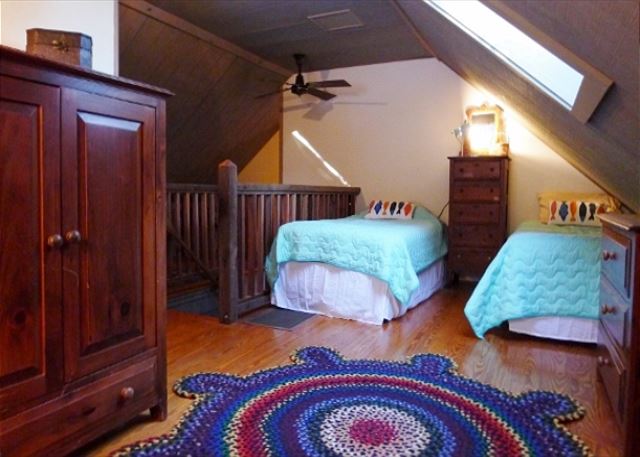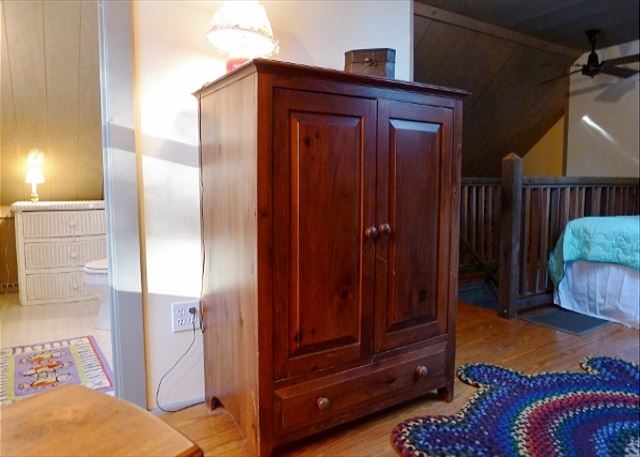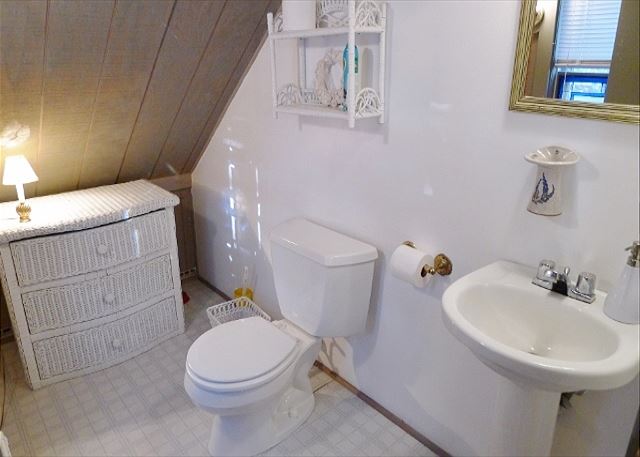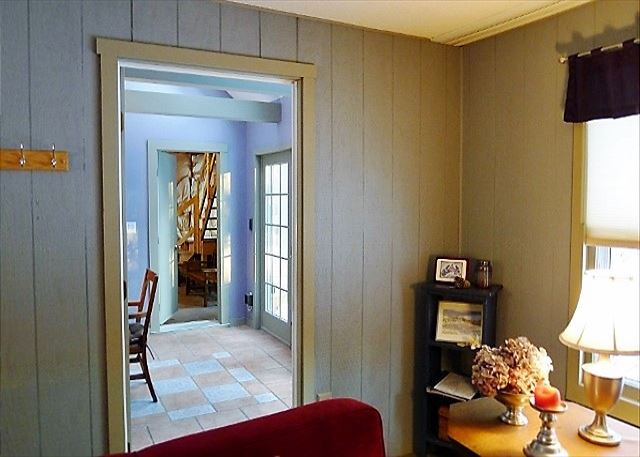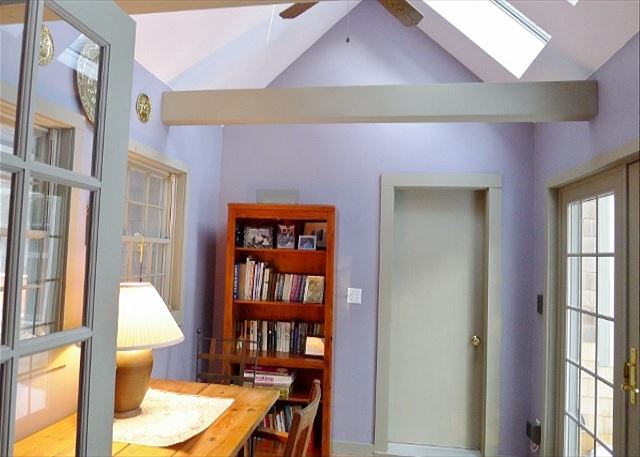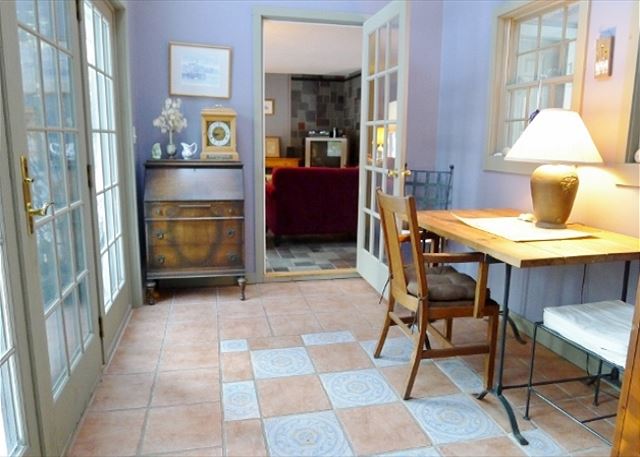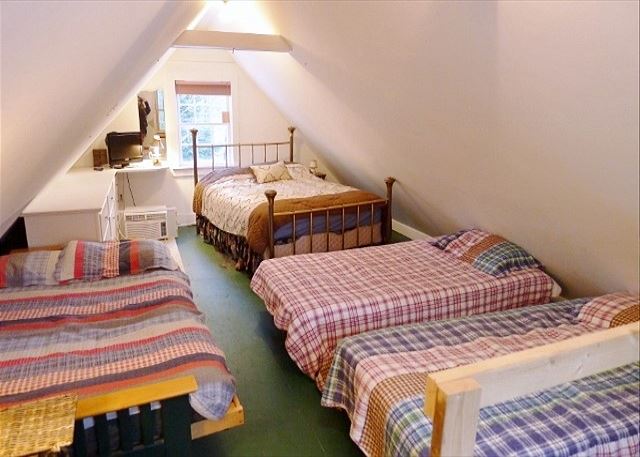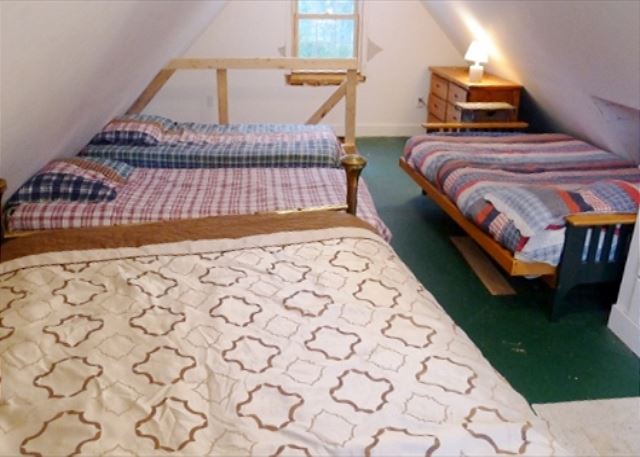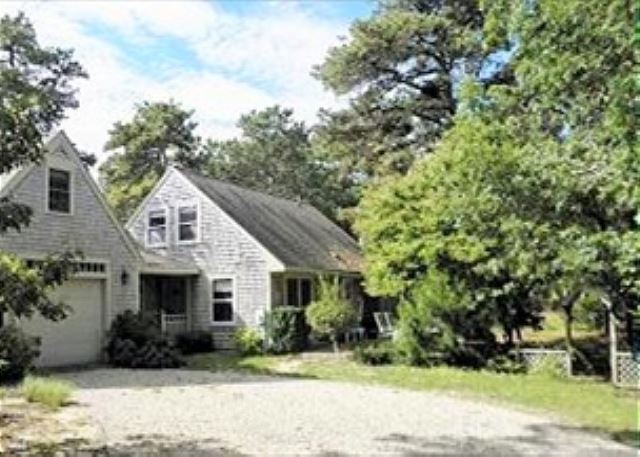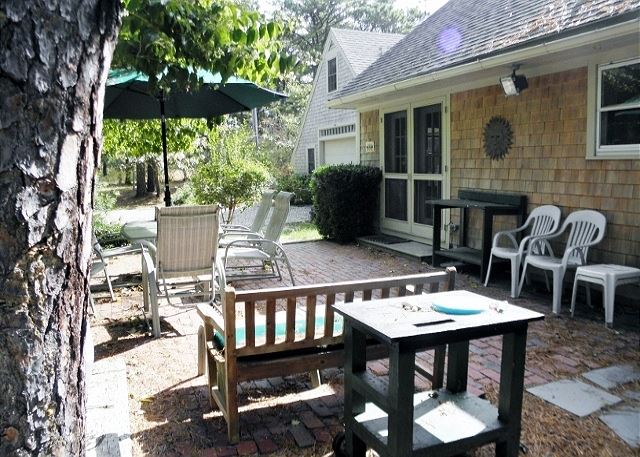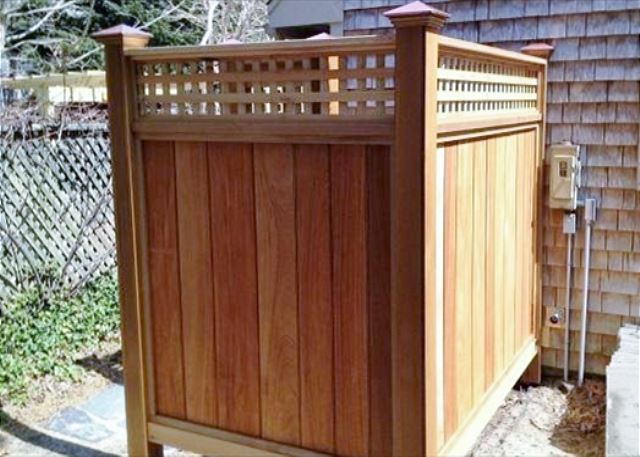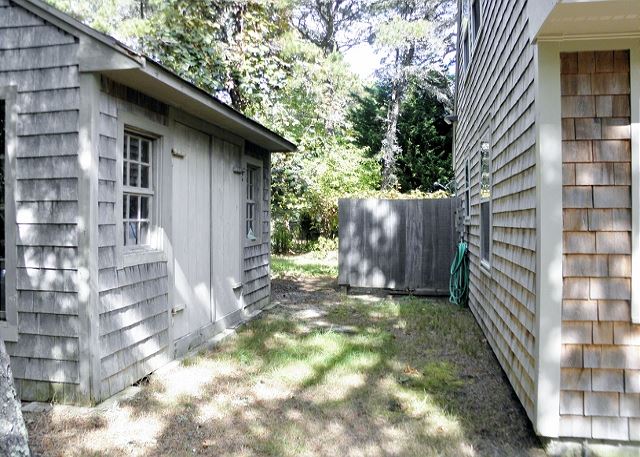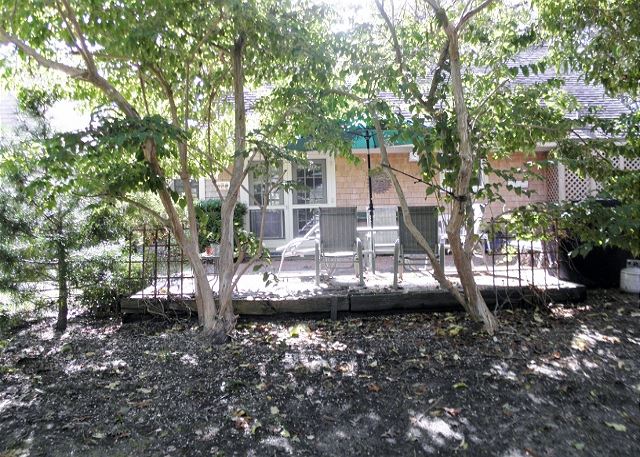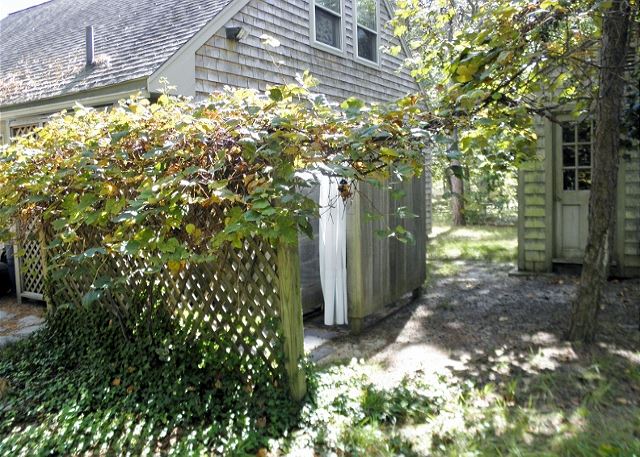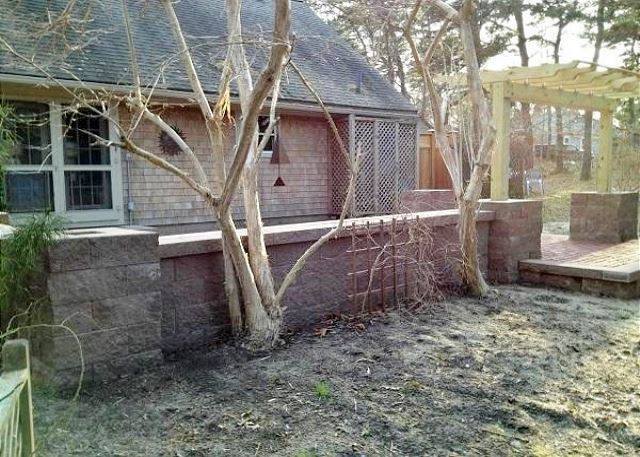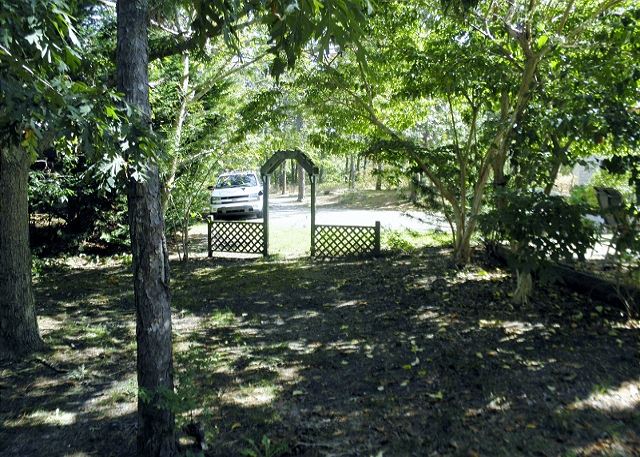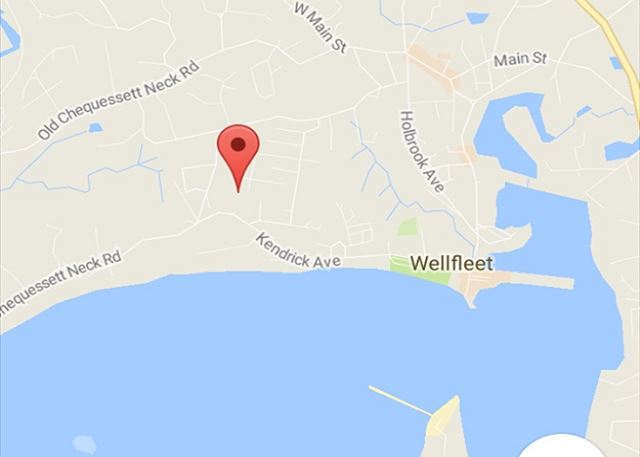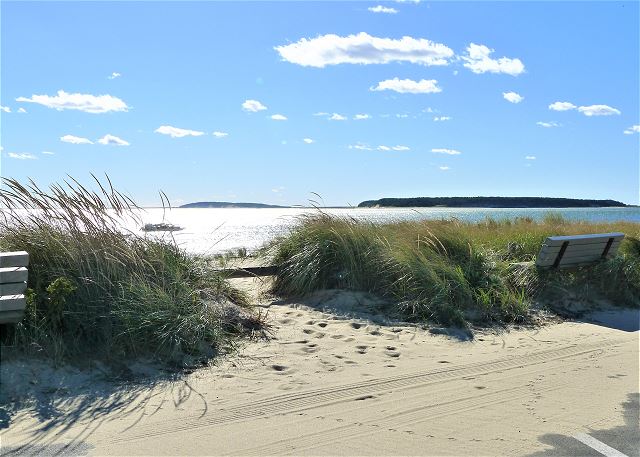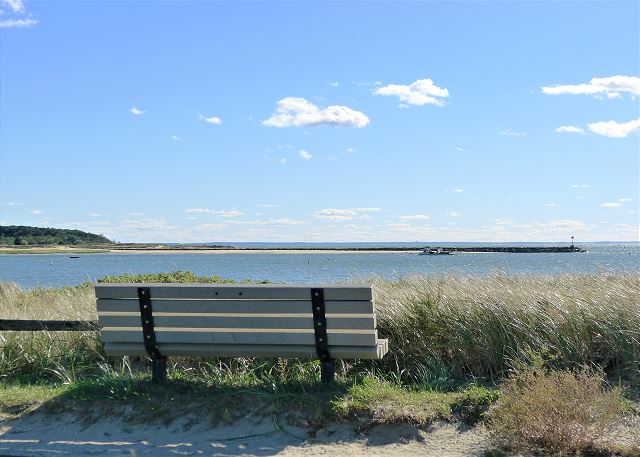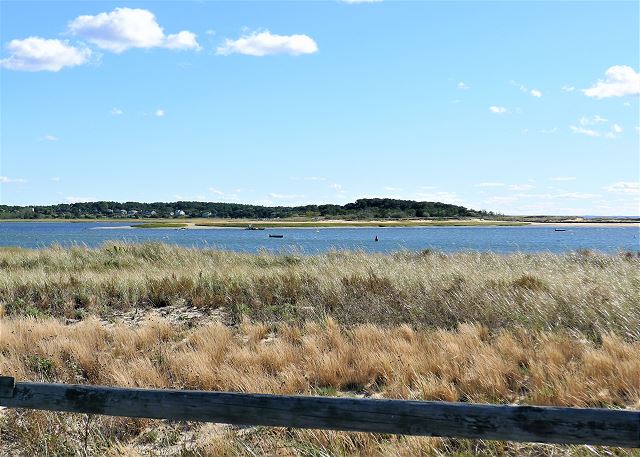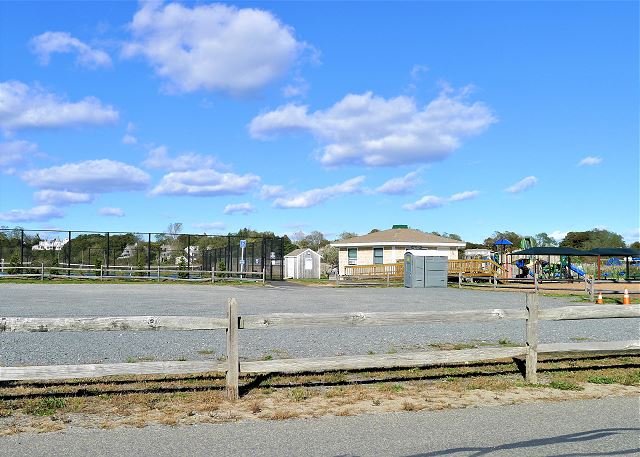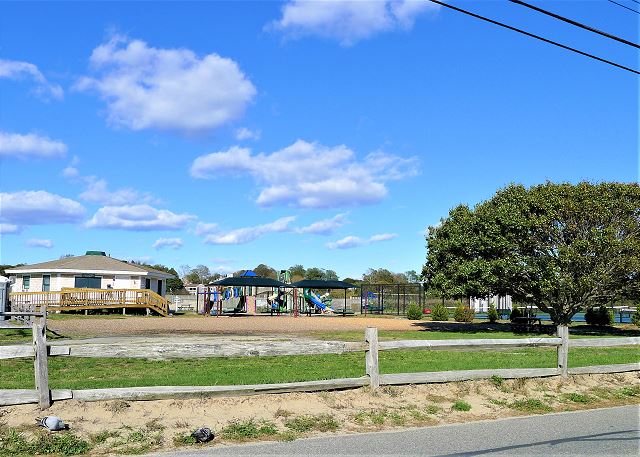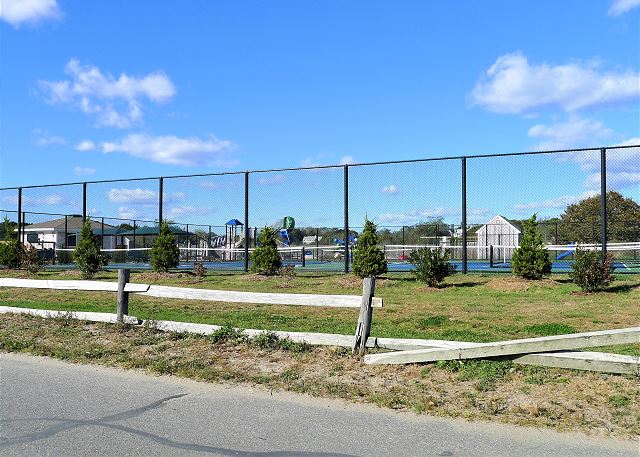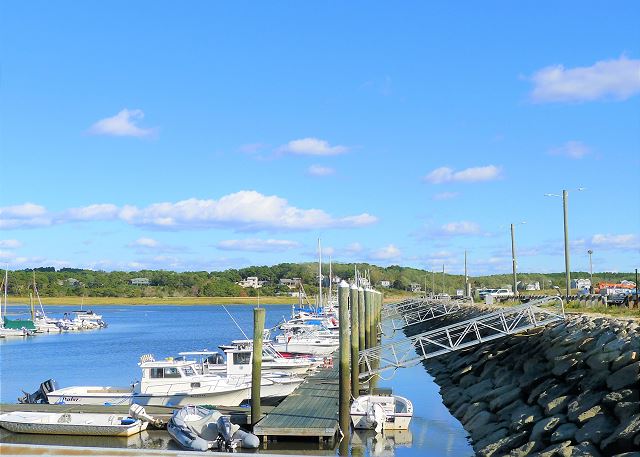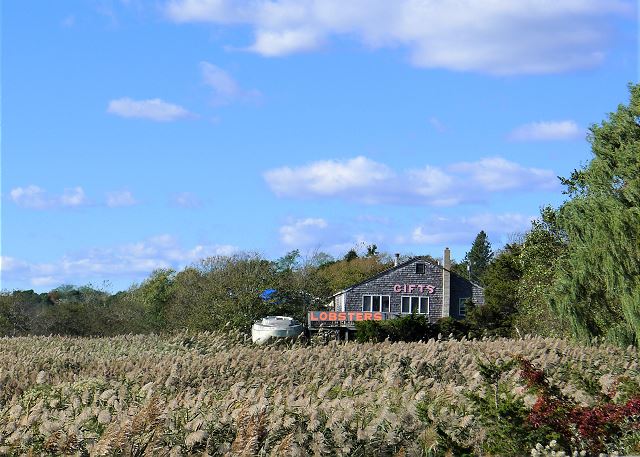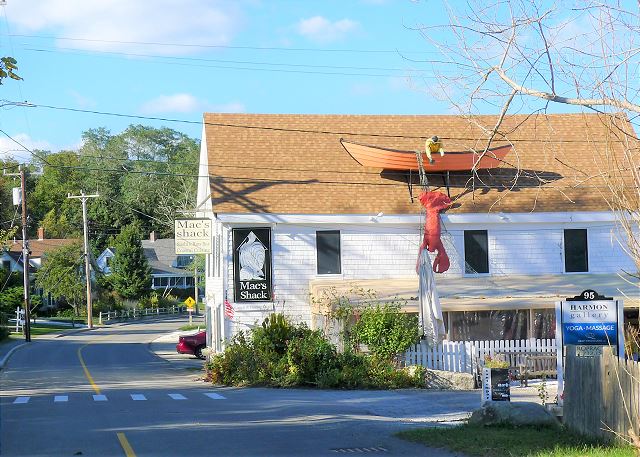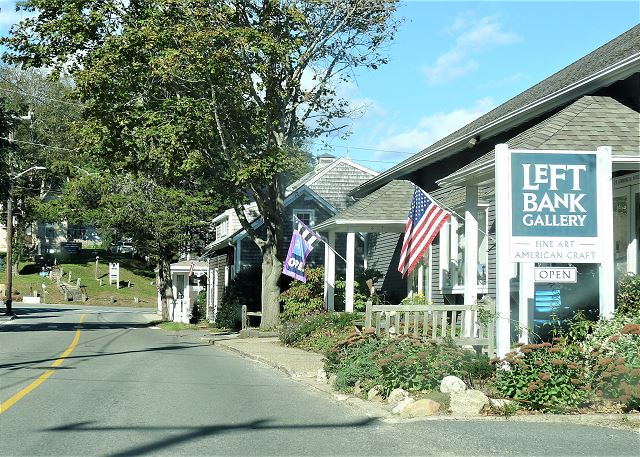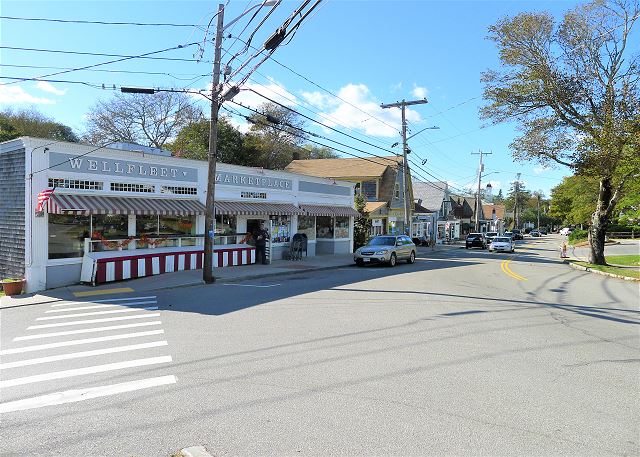 ---
Bedroom(s): 3
Bathroom(s): 1.5
Sleeps: 8
Type: House
Area: Mayo Beach
Town: Wellfleet
Come experience Wellfleet's Old Cape Cod charm, its public and hidden beaches, and the fishing heritage that defines its special beauty.

Set at the end of a quiet tree-lined street, this 3+ bed, 1.5 bath is the consummate Wellfleet home with its cooling flagstone floors, bead board walls, and lots of windows! The location is excellent: between Mayo Beach and Powers Landing Beach on the Cape's Bay side--only a 0.3 mile walk/bike or 0.8 mile by car to the beach! It is also just short 3-5 mile drive to Wellfleet's Atlantic ocean side beaches of the National Seashore. It is less than 1 mile to Wellfleet Village thronged with unique shops, galleries, and restaurants favored by locals like the Bookstore Restaurant.

There is central air conditioning on the first floor. The kitchen is cheerful and completely outfitted and updated and includes a breakfast table for 4 guests – most guests opt to have meals or drinks on the brick patio that has a gas grill, dining table and chairs for 6, and a big enclosed outdoor shower.

The living room features ample upholstered seating and has a TV/DVD player. Off to the side is a truly exquisite sun room with sitting table and glass doors leading out to both the large back yard and garage. The first floor bedroom has queen size bed and a TV. There is also a full bathroom with a tub/shower combination and washer and dryer.

The second floor has an open loft with two twin beds and a sitting or play area. Also on this floor is a lovely third bedroom with a queen size bed, ceiling fan, and a half bath. Located above and accessed through the garage is a fun bunk room with queen bed, two more twin beds, a futon, and a window A/C.

If you're looking to experience the genuine harbor town of Wellfleet in a vacation rental where nearly everything is within reach, this home is the perfect place to drop anchor.

Also included: WiFi, Parking for 4-5 cars.

No smoking allowed.

Dogs welcome at pet-friendly properties with pre-approval of weight and breed from the property manager. Failure to observe House Pet Rules may result in a severe fine and/or eviction from the property. LIMIT 1 DOG PER PROPERTY.

8 guests maximum allowed at any time. No parties exceeding the occupancy limit allowed.

LINENS (SHEETS/TOWELS) ARE NOT INCLUDED IN THIS RENTAL.

Travel Insurance is available and highly recommended coverage to protect your vacation investment.

Please view our policy and procedure page on our web site for detailed information about renting with us.

State and local taxes are applicable and may vary based on local ordinances and bylaws. These tax rates are subject to change.
" frameborder="0" allowfullscreen>
- pets considered
- Standard TV
- DVD Player
- Basic Cable
- AM/FM Radio
- Microwave
- Drip Coffee Maker
- Pantry items (sugar, salt & pep)
- Cookware
- Dishes / Glassware / Utensils
- Kitchen Table
- Blender
- Toaster or Toaster Oven
- Dishwasher
- Laundry
- Lobster Pot
- TV
- TV
- Hair Dryer
- Deck
- Patio
- Gas Grill with Propane Tank
- Dining Table w/ Umbrella
- Enclosed Outdoor Shower
- Garage Access
- Beach Chairs
- Outdoor Seating
- Near National Sea Shore Beaches
- Yes
- DOG
- Pet Considered
Guest Reviews of
1 harrison Wellfleet , MA
Wonderful Wellfleet!
Excellent!
5 out of 5 stars
Charming Rental House
Quiet and lovely
5 out of 5 stars
Our great vacation home
Review by
Alan E.
Review of 1 Harrison
Review by
James S.
Very nice cottage. Cozy but plenty of space. Enjoyed the walk to the bay beach through piney woods and proximity to all Wellfleet has to offer.
4 out of 5 stars
Paradise in Wellfleet
Review by
Alan E.
We had the best three weeks in six years because the weather was so special.
4 out of 5 stars
August 2019

| S | M | T | W | T | F | S |
| --- | --- | --- | --- | --- | --- | --- |
| | | | | 01 | 02 | 03 |
| 04 | 05 | 06 | 07 | 08 | 09 | 10 |
| 11 | 12 | 13 | 14 | 15 | 16 | 17 |
| 18 | 19 | 20 | 21 | 22 | 23 | 24 |
| 25 | 26 | 27 | 28 | 29 | 30 | 31 |
September 2019

| S | M | T | W | T | F | S |
| --- | --- | --- | --- | --- | --- | --- |
| 01 | 02 | 03 | 04 | 05 | 06 | 07 |
| 08 | 09 | 10 | 11 | 12 | 13 | 14 |
| 15 | 16 | 17 | 18 | 19 | 20 | 21 |
| 22 | 23 | 24 | 25 | 26 | 27 | 28 |
| 29 | 30 | | | | | |
October 2019

| S | M | T | W | T | F | S |
| --- | --- | --- | --- | --- | --- | --- |
| | | 01 | 02 | 03 | 04 | 05 |
| 06 | 07 | 08 | 09 | 10 | 11 | 12 |
| 13 | 14 | 15 | 16 | 17 | 18 | 19 |
| 20 | 21 | 22 | 23 | 24 | 25 | 26 |
| 27 | 28 | 29 | 30 | 31 | | |
November 2019

| S | M | T | W | T | F | S |
| --- | --- | --- | --- | --- | --- | --- |
| | | | | | 01 | 02 |
| 03 | 04 | 05 | 06 | 07 | 08 | 09 |
| 10 | 11 | 12 | 13 | 14 | 15 | 16 |
| 17 | 18 | 19 | 20 | 21 | 22 | 23 |
| 24 | 25 | 26 | 27 | 28 | 29 | 30 |
December 2019

| S | M | T | W | T | F | S |
| --- | --- | --- | --- | --- | --- | --- |
| 01 | 02 | 03 | 04 | 05 | 06 | 07 |
| 08 | 09 | 10 | 11 | 12 | 13 | 14 |
| 15 | 16 | 17 | 18 | 19 | 20 | 21 |
| 22 | 23 | 24 | 25 | 26 | 27 | 28 |
| 29 | 30 | 31 | | | | |
January 2020

| S | M | T | W | T | F | S |
| --- | --- | --- | --- | --- | --- | --- |
| | | | 01 | 02 | 03 | 04 |
| 05 | 06 | 07 | 08 | 09 | 10 | 11 |
| 12 | 13 | 14 | 15 | 16 | 17 | 18 |
| 19 | 20 | 21 | 22 | 23 | 24 | 25 |
| 26 | 27 | 28 | 29 | 30 | 31 | |
February 2020

| S | M | T | W | T | F | S |
| --- | --- | --- | --- | --- | --- | --- |
| | | | | | | 01 |
| 02 | 03 | 04 | 05 | 06 | 07 | 08 |
| 09 | 10 | 11 | 12 | 13 | 14 | 15 |
| 16 | 17 | 18 | 19 | 20 | 21 | 22 |
| 23 | 24 | 25 | 26 | 27 | 28 | 29 |
March 2020

| S | M | T | W | T | F | S |
| --- | --- | --- | --- | --- | --- | --- |
| 01 | 02 | 03 | 04 | 05 | 06 | 07 |
| 08 | 09 | 10 | 11 | 12 | 13 | 14 |
| 15 | 16 | 17 | 18 | 19 | 20 | 21 |
| 22 | 23 | 24 | 25 | 26 | 27 | 28 |
| 29 | 30 | 31 | | | | |
April 2020

| S | M | T | W | T | F | S |
| --- | --- | --- | --- | --- | --- | --- |
| | | | 01 | 02 | 03 | 04 |
| 05 | 06 | 07 | 08 | 09 | 10 | 11 |
| 12 | 13 | 14 | 15 | 16 | 17 | 18 |
| 19 | 20 | 21 | 22 | 23 | 24 | 25 |
| 26 | 27 | 28 | 29 | 30 | | |
May 2020

| S | M | T | W | T | F | S |
| --- | --- | --- | --- | --- | --- | --- |
| | | | | | 01 | 02 |
| 03 | 04 | 05 | 06 | 07 | 08 | 09 |
| 10 | 11 | 12 | 13 | 14 | 15 | 16 |
| 17 | 18 | 19 | 20 | 21 | 22 | 23 |
| 24 | 25 | 26 | 27 | 28 | 29 | 30 |
| 31 | | | | | | |
June 2020

| S | M | T | W | T | F | S |
| --- | --- | --- | --- | --- | --- | --- |
| | 01 | 02 | 03 | 04 | 05 | 06 |
| 07 | 08 | 09 | 10 | 11 | 12 | 13 |
| 14 | 15 | 16 | 17 | 18 | 19 | 20 |
| 21 | 22 | 23 | 24 | 25 | 26 | 27 |
| 28 | 29 | 30 | | | | |
July 2020

| S | M | T | W | T | F | S |
| --- | --- | --- | --- | --- | --- | --- |
| | | | 01 | 02 | 03 | 04 |
| 05 | 06 | 07 | 08 | 09 | 10 | 11 |
| 12 | 13 | 14 | 15 | 16 | 17 | 18 |
| 19 | 20 | 21 | 22 | 23 | 24 | 25 |
| 26 | 27 | 28 | 29 | 30 | 31 | |
August 2020

| S | M | T | W | T | F | S |
| --- | --- | --- | --- | --- | --- | --- |
| | | | | | | 01 |
| 02 | 03 | 04 | 05 | 06 | 07 | 08 |
| 09 | 10 | 11 | 12 | 13 | 14 | 15 |
| 16 | 17 | 18 | 19 | 20 | 21 | 22 |
| 23 | 24 | 25 | 26 | 27 | 28 | 29 |
| 30 | 31 | | | | | |
Available
Unavailable
Sat to Sat booking