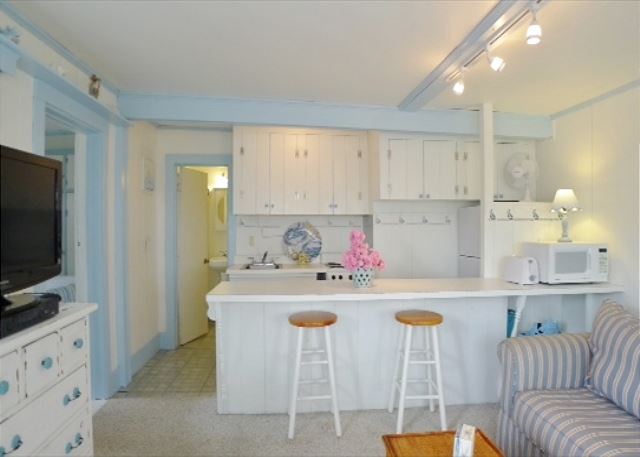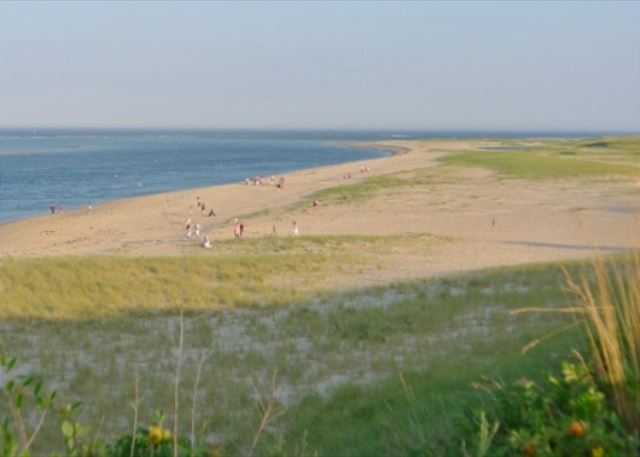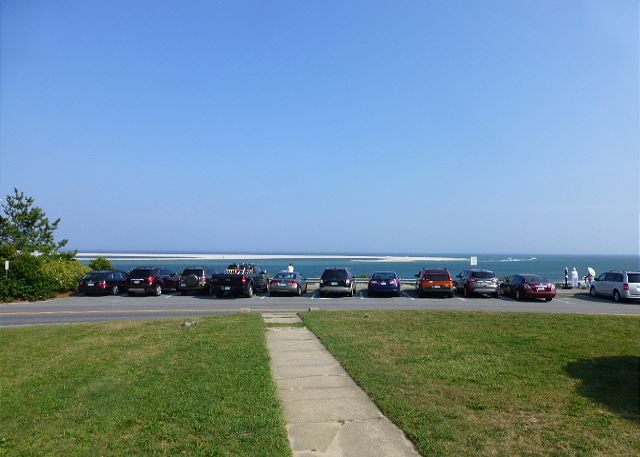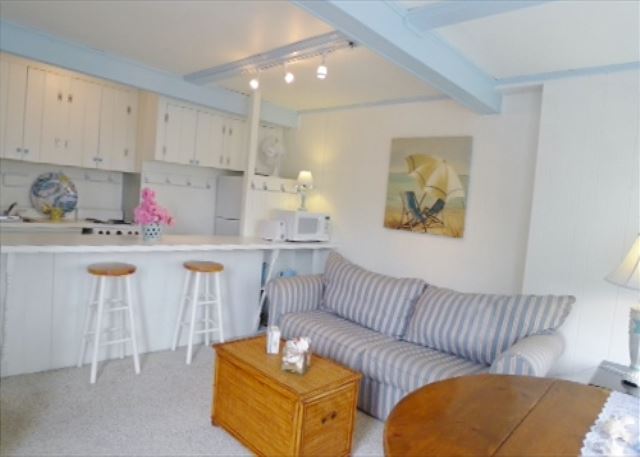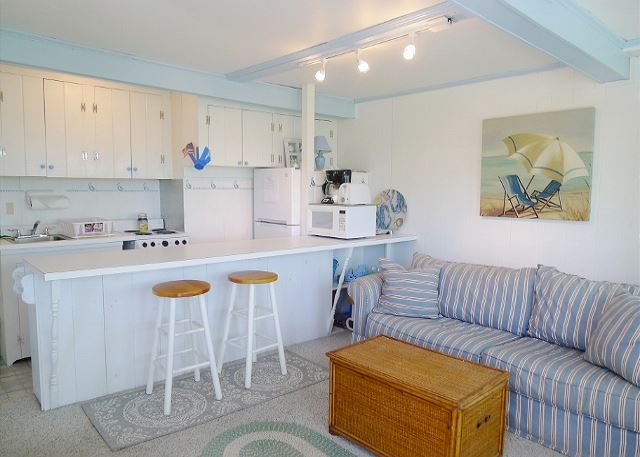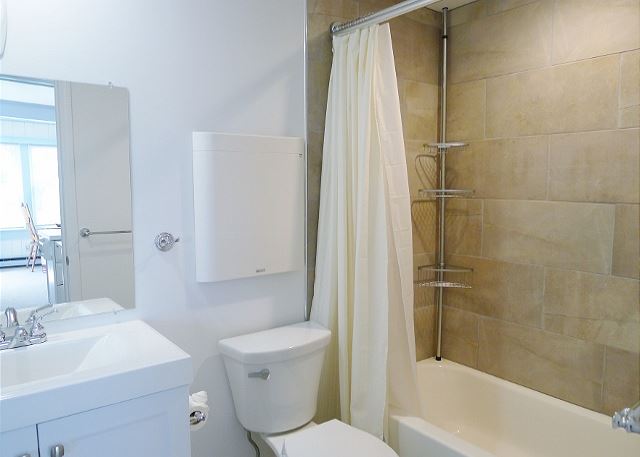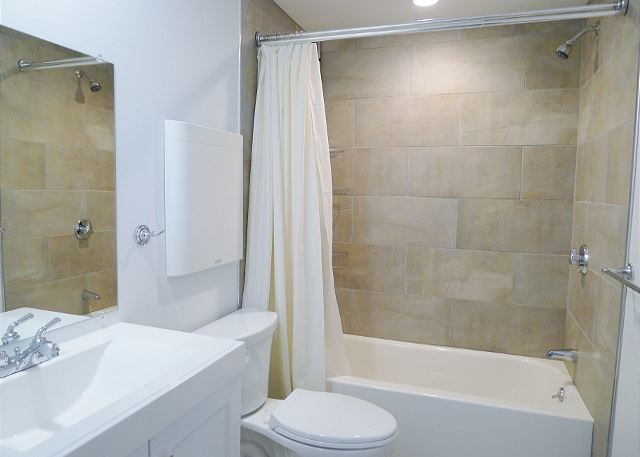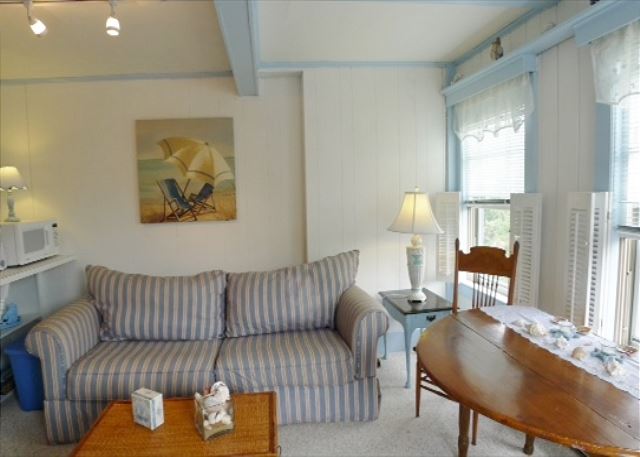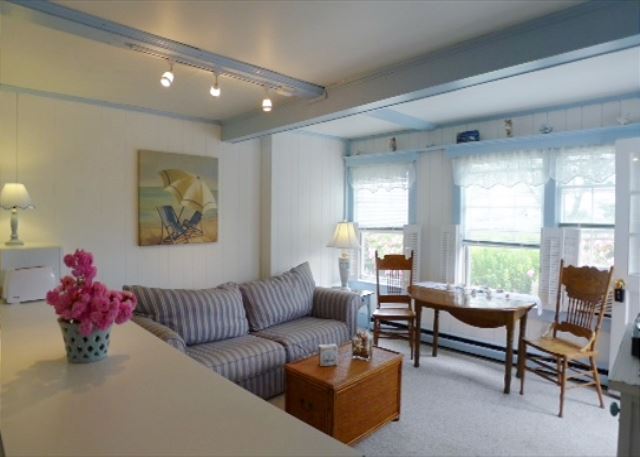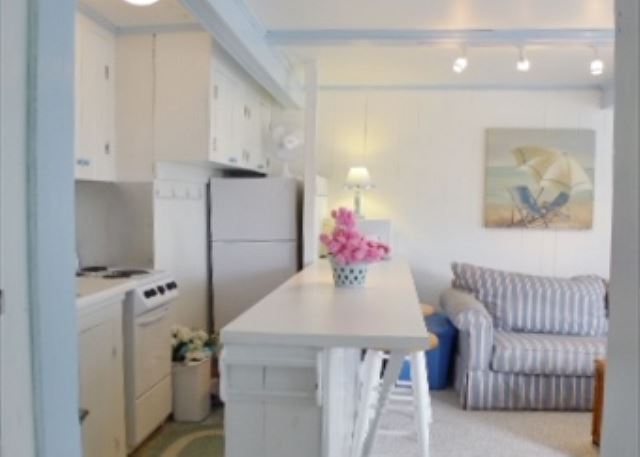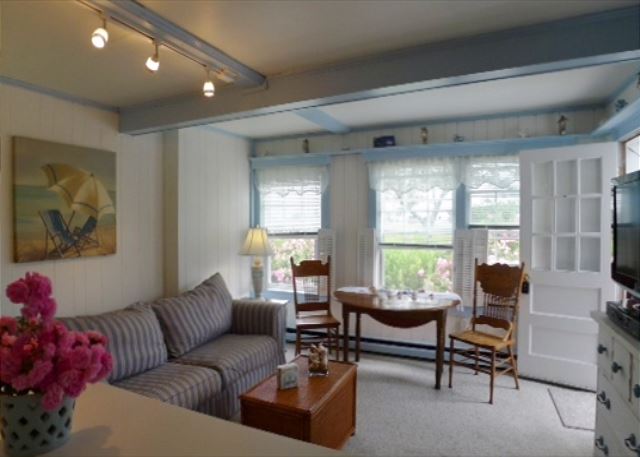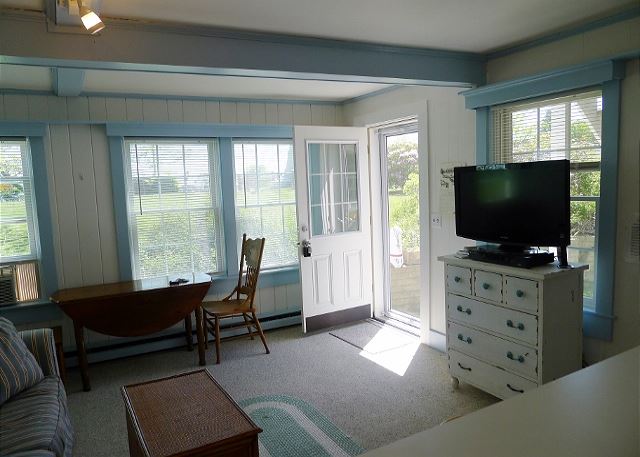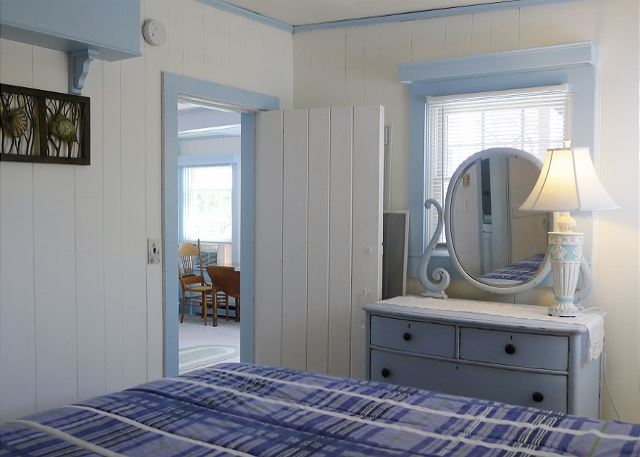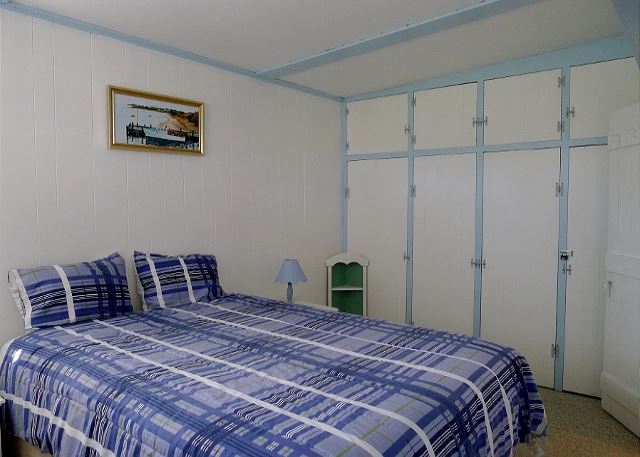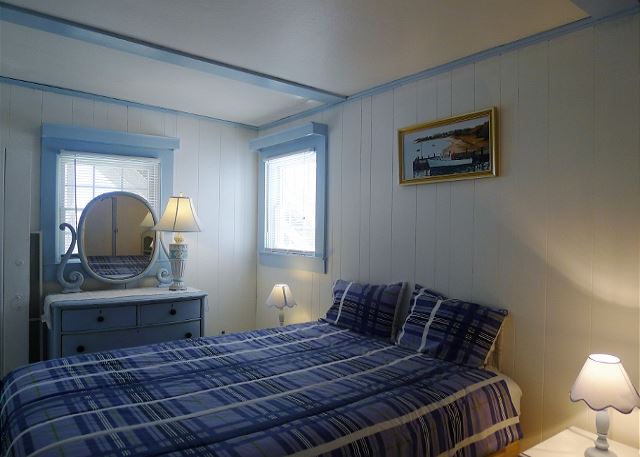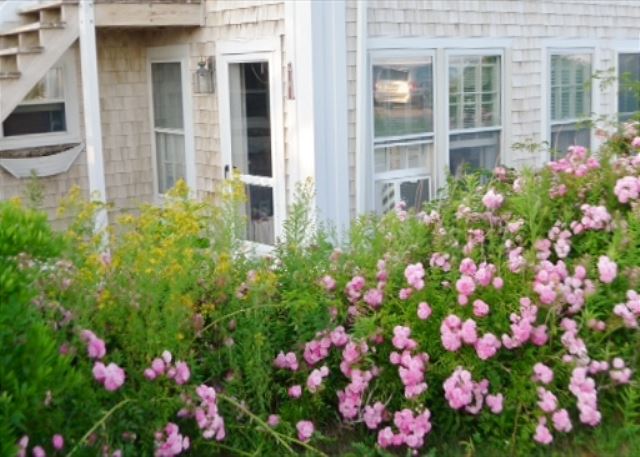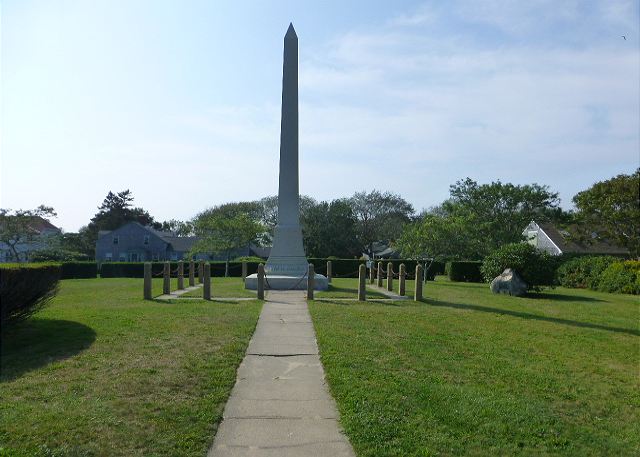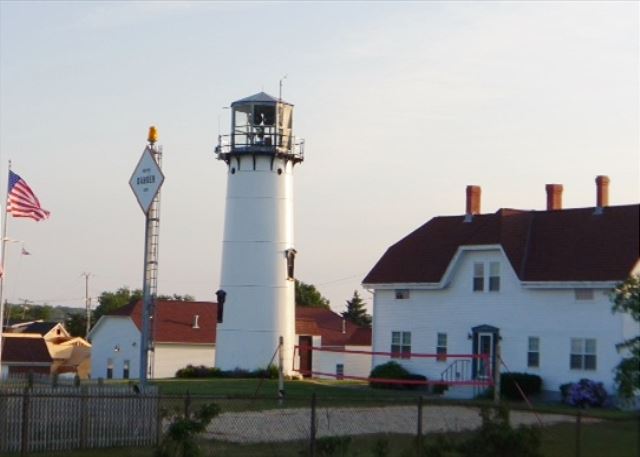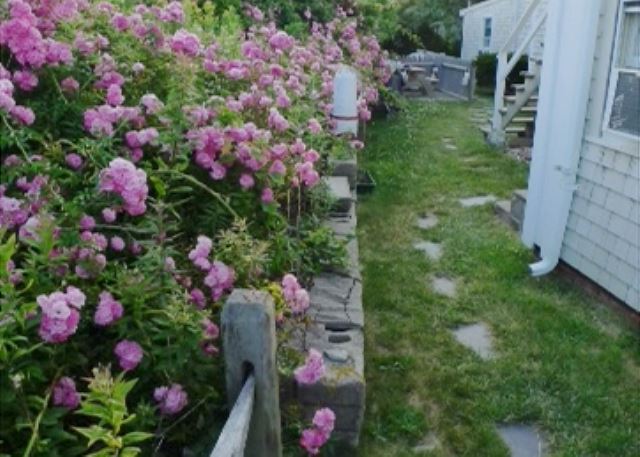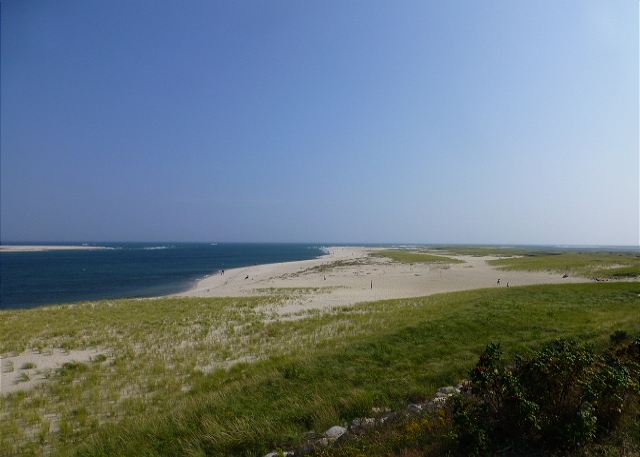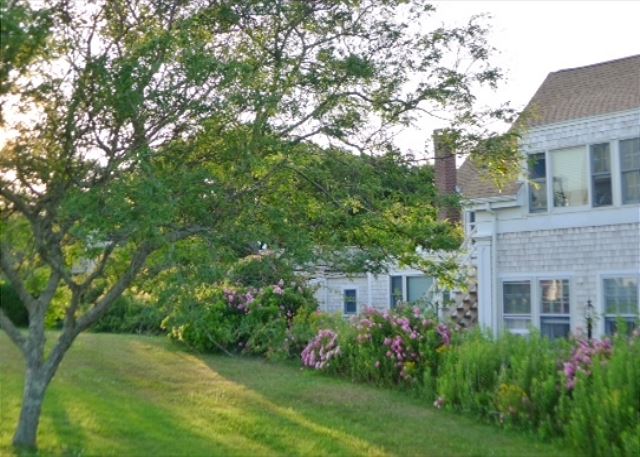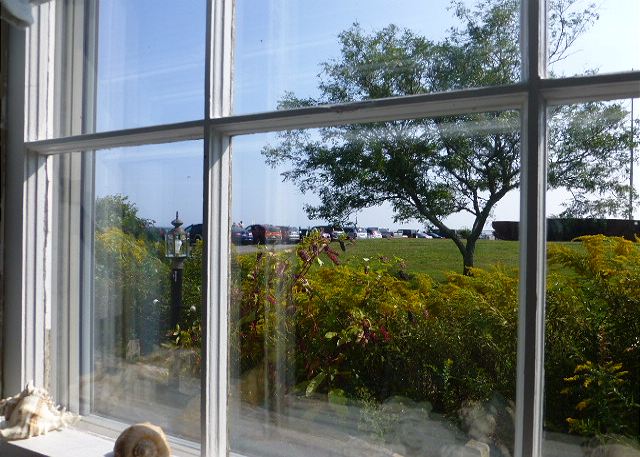 ---
Bedroom(s): 1
Bathroom(s): 1
Sleeps: 3
Type: Condominium
Area:
Town: Chatham
$1600

Rate include all charges. No hidden fees!

Location, Location, Location!

Inviting Chatham cottage-like apartment directly across from Chatham Lighthouse beach.

Downtown Chatham is just a few short blocks away. Directly across the street is a stunning sand beach with great seal watching, bird watching, sun tanning, and beach hiking.

Step into this crisp white and blue decor to find modern furnishings within this Cape Cod charmed unit.

There is window side dining table for two (as well as the kitchen counter seating with stools). Picture yourself enjoying historic Chatham Light views while hearing the Ocean waves at night.

The living room has a queen size sleep sofa, WIFI, and a flat screen TV with cable channels.

There is a fully equipped galley style kitchen with fridge, stove, coffee maker, toaster, blender, glassware along with dining, and cooking utensils.

You'll find a private bedroom with queen size bed and additional door that brings you directly into the bath from bedroom, very handy should you have a guest on the sleep sofa!

The full bath has tile tub/shower combination and 2nd door into living area.

Included is a window A/C unit and Wi-Fi Internet. *The owner provides beach chairs.* *Owners provide these items as favors to guests only and not as an integral part of the rental. If these items become lost or damaged during the course of the rental season, owners are not responsible for replacements.*

Sorry no pets and no smoking allowed.

3 guests maximum allowed at any time. No parties exceeding the occupancy limit allowed.

LINENS (SHEETS/TOWELS) ARE NOT INCLUDED IN THIS RENTAL.

Travel Insurance is highly recommended and affordable coverage to protect your vacation investment.

Please view our policy and procedure page on our web site for detailed information about renting with us.
- Flat Screen HDTV
- Basic Cable
- Sleep Sofa
- A/C Unit
- Microwave
- Drip Coffee Maker
- Pantry items (sugar, salt & pep)
- Cleaning Supplies
- Cookware
- Dishes / Glassware / Utensils
- Kitchen Table
- Blender
- Toaster or Toaster Oven
- Island or Counter Seating
- Lobster Pot
- Private bath
- Room Fans
- Hair Dryer
- Tub/Shower Combo
- Outdoor Lighting
- Outdoor Dining Table
- Close to Town
- Near Nantucket Sound Beaches
- Waterview
Guest Reviews of
73 main* Chatham , MA
Amazing location - need a little upgrading
Review by
Edith Q.
We were amazed by the location of this condo. The place was a bit smaller than we thought but it was big enough for us and our young daughter. The bathroom was recently renovated and was very clean. The kitchen and living room could benefit from an upgrade as well (small renovation or better finishing). If you have a young child or if you are a light sleeper, the emplacement of the bedroom may not be the best option for you - it is located underneath the stairs of another condo so it can be very noisy while the in and outs of the other residents. The condo could need a more appealing terrace to enjoy the beautiful view and the amazing temperature.Overall it was a good place to stay. We would definitely consider going back! Thank you!
4 out of 5 stars
Adorable Chatham Cottage
Review by
Gina W.
My husband and I had a wonderful time at this cottage. It was perfect for the 2 of us. The location couldn't have been any better. We got up early and walked over to the beach to sit on "our" bench and watch the early morning yoga crew. Very short drive into town. We could have walked but we were being lazy. Plenty of plates and utensils. Wifi worked great. Everything was perfect!
5 out of 5 stars
Perfect location!
Review by
Rene D.
This was our first trip to Cape Cod and we loved Chatham! 73 Main Street is THE best location. We were able to walk to Lighthouse Beach, Main Street, Chatham Pier and all the quaint neighborhoods in between. The unit was cottage cute with quirky charms you find in old homes. The newly renovated bathroom was a pleasant surprise. The window unit AC was unnaturally loud but did the job while we were away so that we could return to a cool space. Otherwise, we relied on open windows and portable fans to do the job.
5 out of 5 stars
AS ADVERTISED
Review by
Ronald J.
The condo was just as advertised. It was well-located and very clean. The sofa was very comfortable, which is important and should not be taken for granted. The bed slept well. We could not have asked for a better situation. In fact, it exceeded our expectations. The check-in process was the best and most professional we have ever experienced. We count this among our very best vacations, largely because of the location of this condo. The aura of the Great White Shark made the vacation even more interesting. The beach across the street is excellent and it was never crowded. Two blocks down the street was a small country store that had some of the essentials, like ice cream. It was an easy walk to downtown. Highly recommended.
5 out of 5 stars
Just right for 2
Wonderful location -- clean and comfortable.No more than two in this small. reasonably priced accommodation. Outdoor area needs to be spruced up: cleaned and new seating/table.Also, where were the recycyling bins either in the unit or near the dumpsters?
4 out of 5 stars
51st Anniversary back to the Cape
Review by
Shirley H.
Wonderful to stay next to the lighthouse as I did as a child .My parents stayed at the Hammond House when Mr & Mrs Hammond lived there as well. we also came back to stay with our children down the street on Hallett Lane behind the Port Fortune for many years we also spent our honeymoon at the Wayside Inn. Chatham has always been very special to us
5 out of 5 stars
Chatham Lighthouse
Review by
Rebecca K.
The vacation property was what you see is what you get; but it was sold as if it sleeps 4 comfortably; it really is a one bedroom and sleeps 2. The pull out couch is very old and should be replaced.
3 out of 5 stars
February 2018

| S | M | T | W | T | F | S |
| --- | --- | --- | --- | --- | --- | --- |
| | | | | 01 | 02 | 03 |
| 04 | 05 | 06 | 07 | 08 | 09 | 10 |
| 11 | 12 | 13 | 14 | 15 | 16 | 17 |
| 18 | 19 | 20 | 21 | 22 | 23 | 24 |
| 25 | 26 | 27 | 28 | | | |
March 2018

| S | M | T | W | T | F | S |
| --- | --- | --- | --- | --- | --- | --- |
| | | | | 01 | 02 | 03 |
| 04 | 05 | 06 | 07 | 08 | 09 | 10 |
| 11 | 12 | 13 | 14 | 15 | 16 | 17 |
| 18 | 19 | 20 | 21 | 22 | 23 | 24 |
| 25 | 26 | 27 | 28 | 29 | 30 | 31 |
April 2018

| S | M | T | W | T | F | S |
| --- | --- | --- | --- | --- | --- | --- |
| 01 | 02 | 03 | 04 | 05 | 06 | 07 |
| 08 | 09 | 10 | 11 | 12 | 13 | 14 |
| 15 | 16 | 17 | 18 | 19 | 20 | 21 |
| 22 | 23 | 24 | 25 | 26 | 27 | 28 |
| 29 | 30 | | | | | |
May 2018

| S | M | T | W | T | F | S |
| --- | --- | --- | --- | --- | --- | --- |
| | | 01 | 02 | 03 | 04 | 05 |
| 06 | 07 | 08 | 09 | 10 | 11 | 12 |
| 13 | 14 | 15 | 16 | 17 | 18 | 19 |
| 20 | 21 | 22 | 23 | 24 | 25 | 26 |
| 27 | 28 | 29 | 30 | 31 | | |
June 2018

| S | M | T | W | T | F | S |
| --- | --- | --- | --- | --- | --- | --- |
| | | | | | 01 | 02 |
| 03 | 04 | 05 | 06 | 07 | 08 | 09 |
| 10 | 11 | 12 | 13 | 14 | 15 | 16 |
| 17 | 18 | 19 | 20 | 21 | 22 | 23 |
| 24 | 25 | 26 | 27 | 28 | 29 | 30 |
July 2018

| S | M | T | W | T | F | S |
| --- | --- | --- | --- | --- | --- | --- |
| 01 | 02 | 03 | 04 | 05 | 06 | 07 |
| 08 | 09 | 10 | 11 | 12 | 13 | 14 |
| 15 | 16 | 17 | 18 | 19 | 20 | 21 |
| 22 | 23 | 24 | 25 | 26 | 27 | 28 |
| 29 | 30 | 31 | | | | |
August 2018

| S | M | T | W | T | F | S |
| --- | --- | --- | --- | --- | --- | --- |
| | | | 01 | 02 | 03 | 04 |
| 05 | 06 | 07 | 08 | 09 | 10 | 11 |
| 12 | 13 | 14 | 15 | 16 | 17 | 18 |
| 19 | 20 | 21 | 22 | 23 | 24 | 25 |
| 26 | 27 | 28 | 29 | 30 | 31 | |
September 2018

| S | M | T | W | T | F | S |
| --- | --- | --- | --- | --- | --- | --- |
| | | | | | | 01 |
| 02 | 03 | 04 | 05 | 06 | 07 | 08 |
| 09 | 10 | 11 | 12 | 13 | 14 | 15 |
| 16 | 17 | 18 | 19 | 20 | 21 | 22 |
| 23 | 24 | 25 | 26 | 27 | 28 | 29 |
| 30 | | | | | | |
October 2018

| S | M | T | W | T | F | S |
| --- | --- | --- | --- | --- | --- | --- |
| | 01 | 02 | 03 | 04 | 05 | 06 |
| 07 | 08 | 09 | 10 | 11 | 12 | 13 |
| 14 | 15 | 16 | 17 | 18 | 19 | 20 |
| 21 | 22 | 23 | 24 | 25 | 26 | 27 |
| 28 | 29 | 30 | 31 | | | |
November 2018

| S | M | T | W | T | F | S |
| --- | --- | --- | --- | --- | --- | --- |
| | | | | 01 | 02 | 03 |
| 04 | 05 | 06 | 07 | 08 | 09 | 10 |
| 11 | 12 | 13 | 14 | 15 | 16 | 17 |
| 18 | 19 | 20 | 21 | 22 | 23 | 24 |
| 25 | 26 | 27 | 28 | 29 | 30 | |
December 2018

| S | M | T | W | T | F | S |
| --- | --- | --- | --- | --- | --- | --- |
| | | | | | | 01 |
| 02 | 03 | 04 | 05 | 06 | 07 | 08 |
| 09 | 10 | 11 | 12 | 13 | 14 | 15 |
| 16 | 17 | 18 | 19 | 20 | 21 | 22 |
| 23 | 24 | 25 | 26 | 27 | 28 | 29 |
| 30 | 31 | | | | | |
January 2019

| S | M | T | W | T | F | S |
| --- | --- | --- | --- | --- | --- | --- |
| | | 01 | 02 | 03 | 04 | 05 |
| 06 | 07 | 08 | 09 | 10 | 11 | 12 |
| 13 | 14 | 15 | 16 | 17 | 18 | 19 |
| 20 | 21 | 22 | 23 | 24 | 25 | 26 |
| 27 | 28 | 29 | 30 | 31 | | |
February 2019

| S | M | T | W | T | F | S |
| --- | --- | --- | --- | --- | --- | --- |
| | | | | | 01 | 02 |
| 03 | 04 | 05 | 06 | 07 | 08 | 09 |
| 10 | 11 | 12 | 13 | 14 | 15 | 16 |
| 17 | 18 | 19 | 20 | 21 | 22 | 23 |
| 24 | 25 | 26 | 27 | 28 | | |
Available
Unavailable
Sat to Sat booking