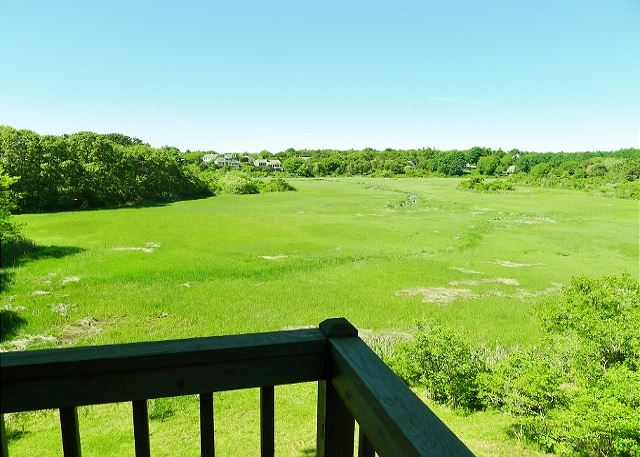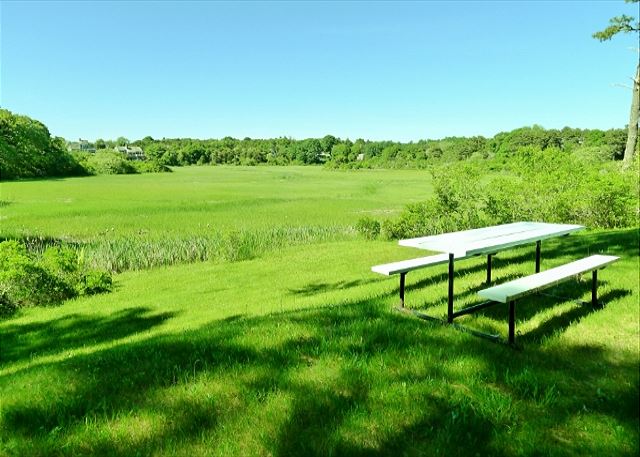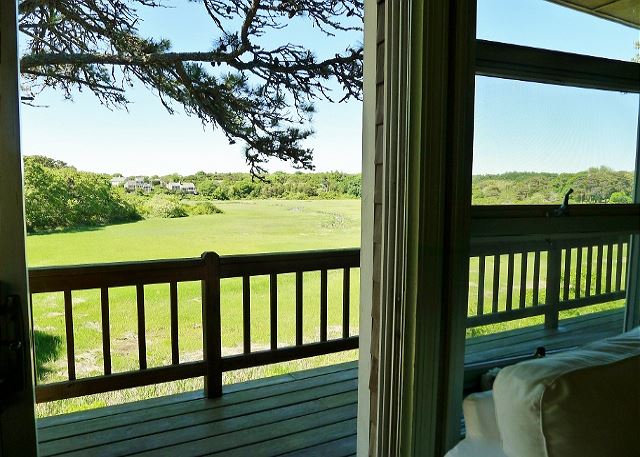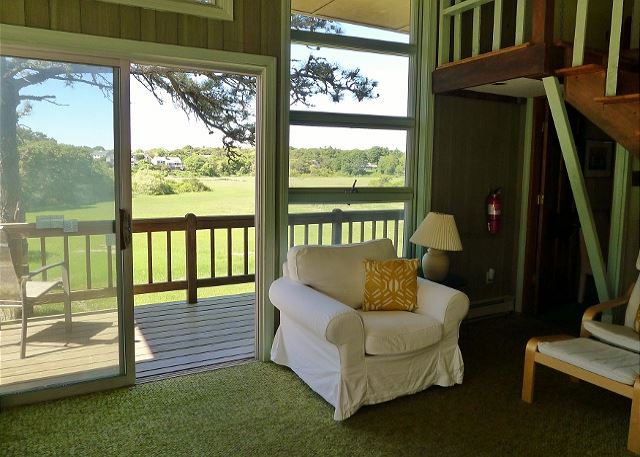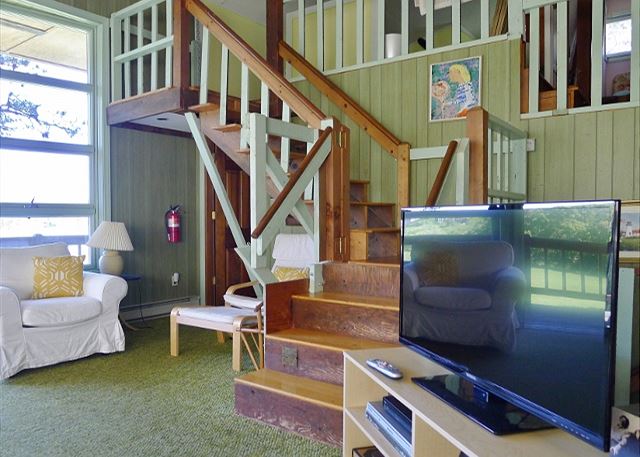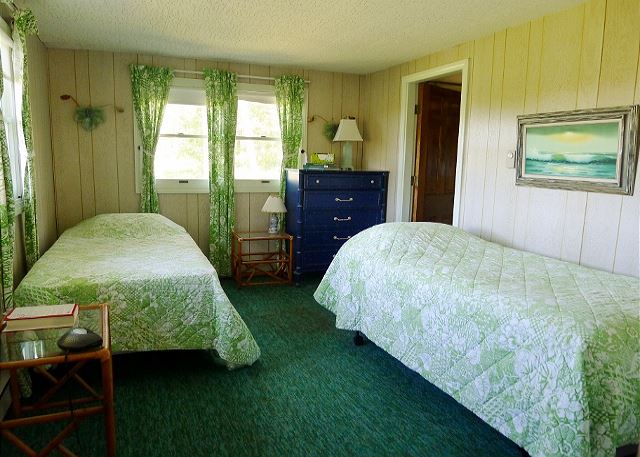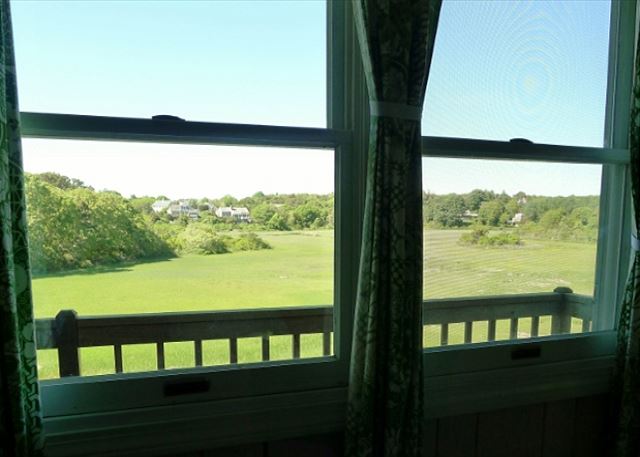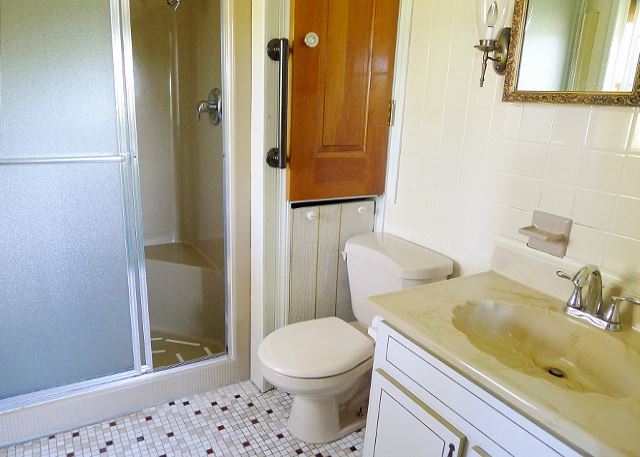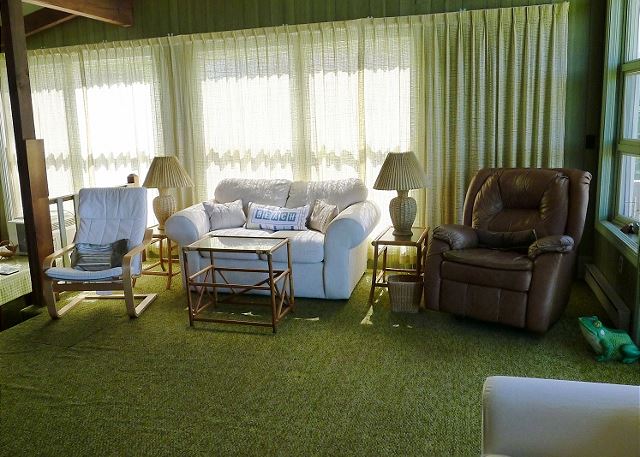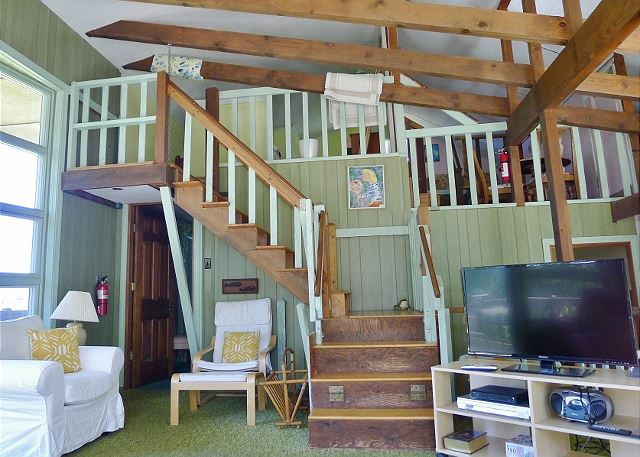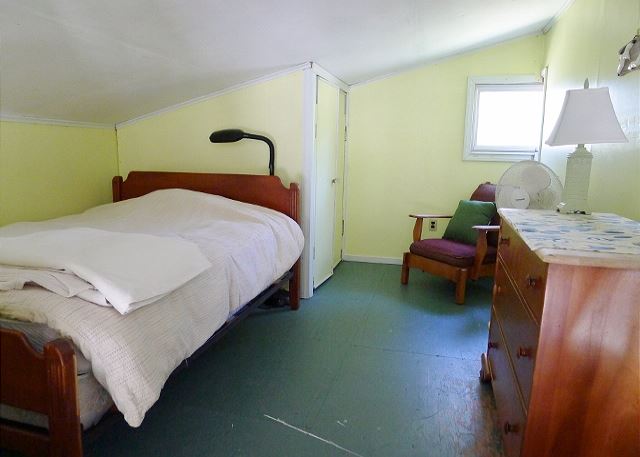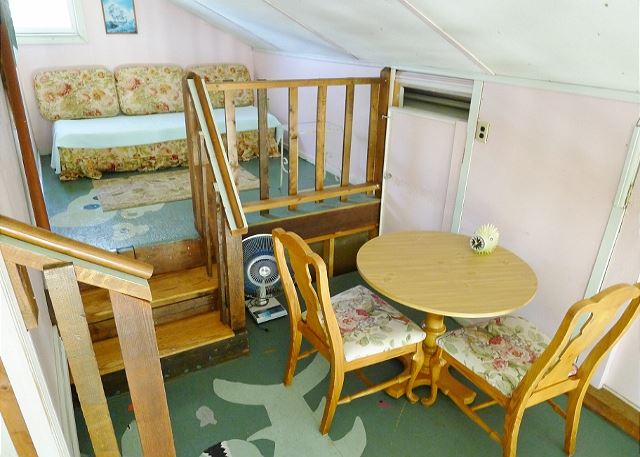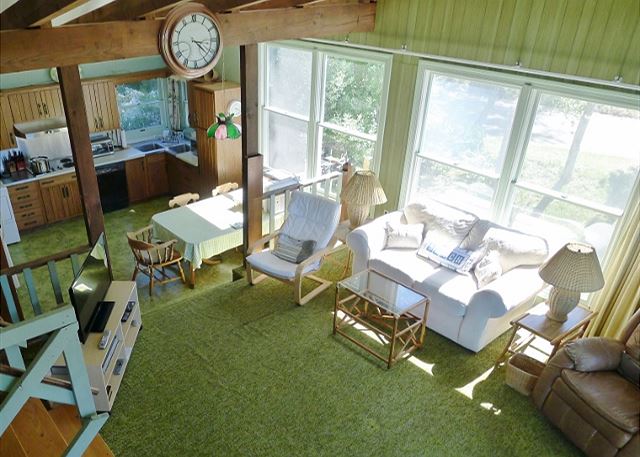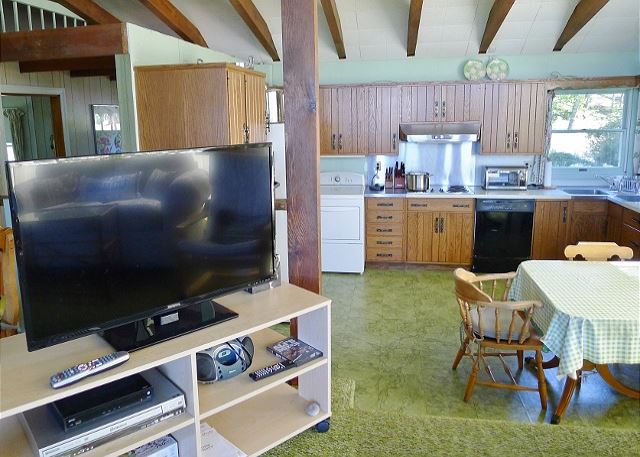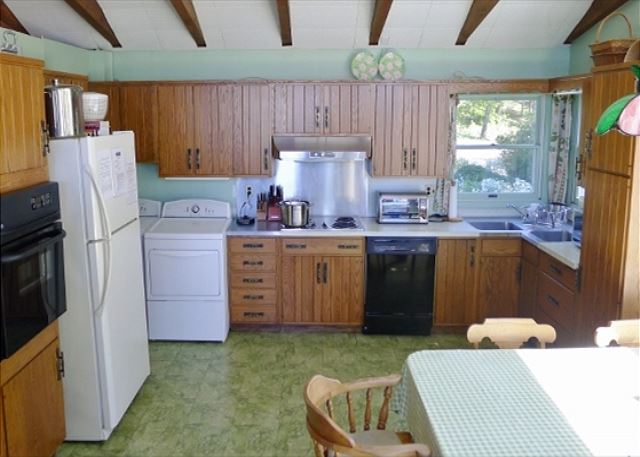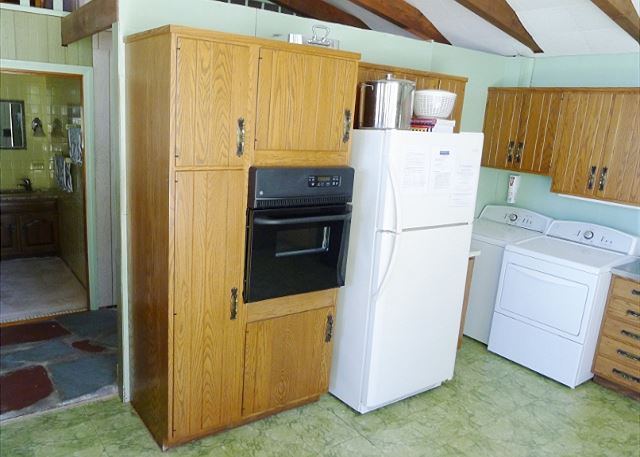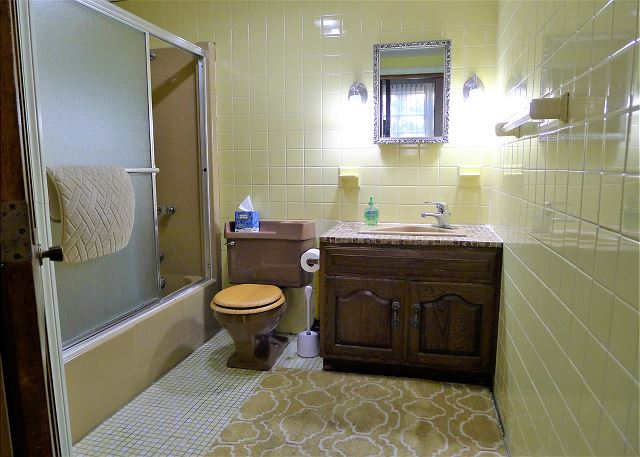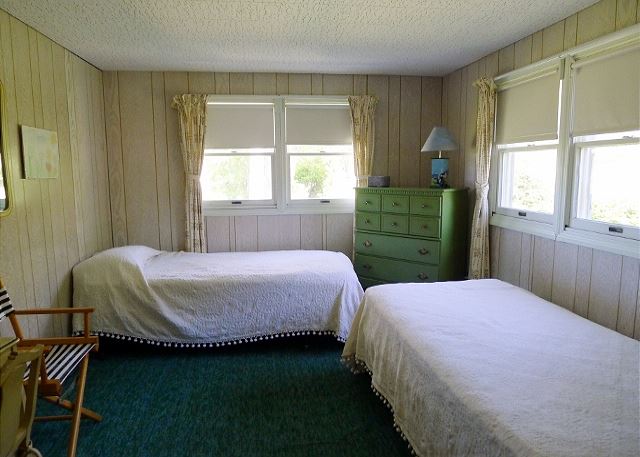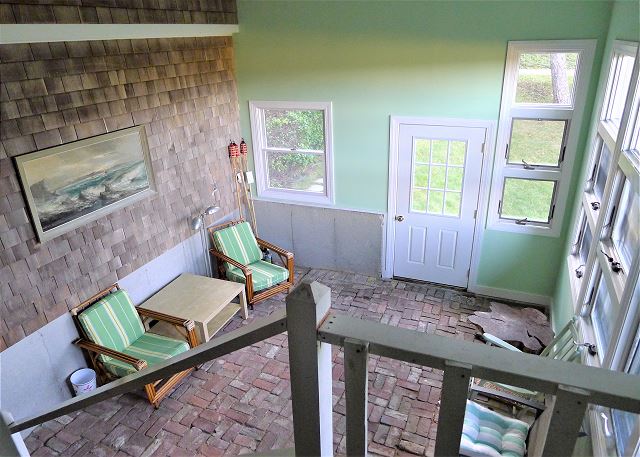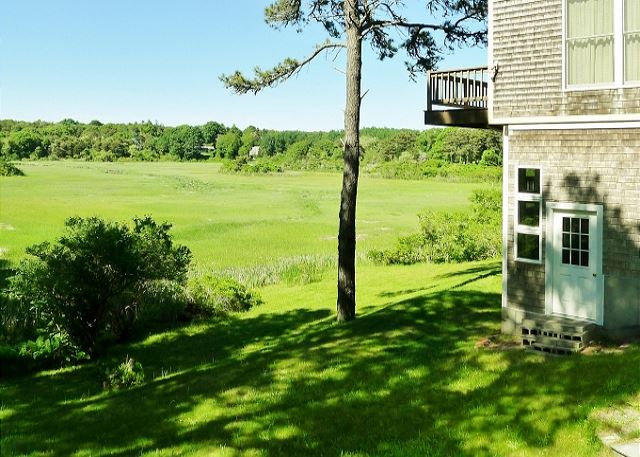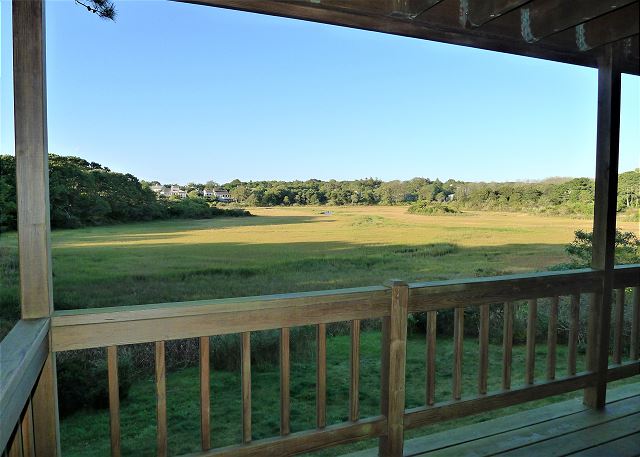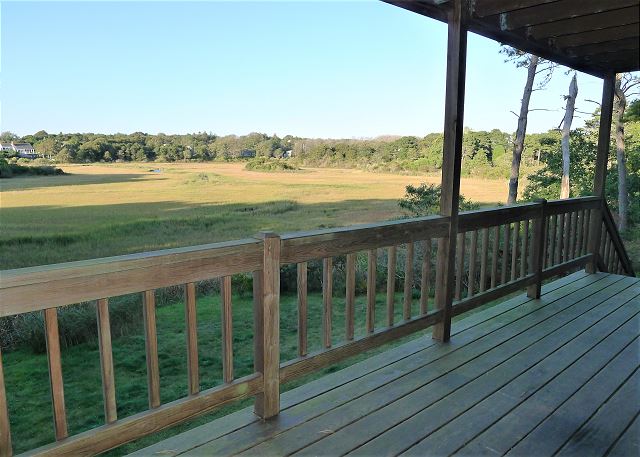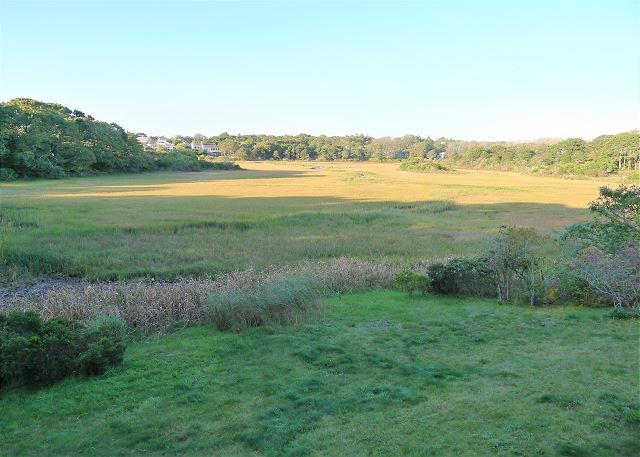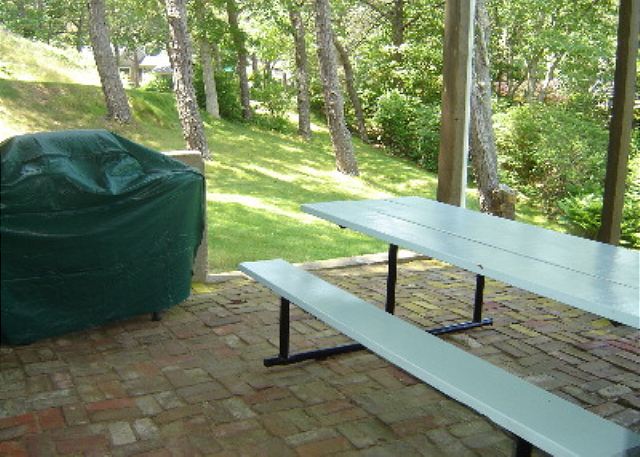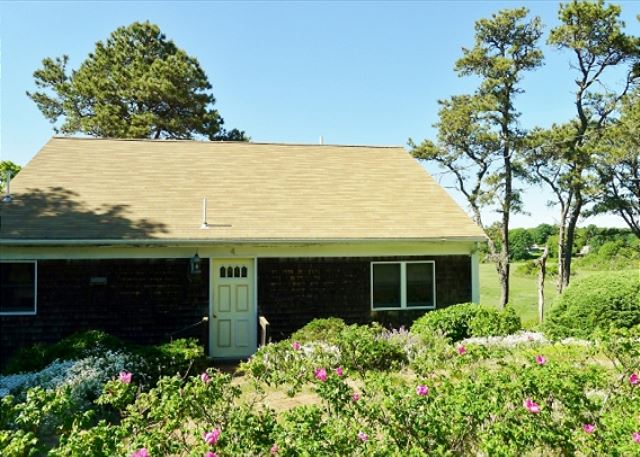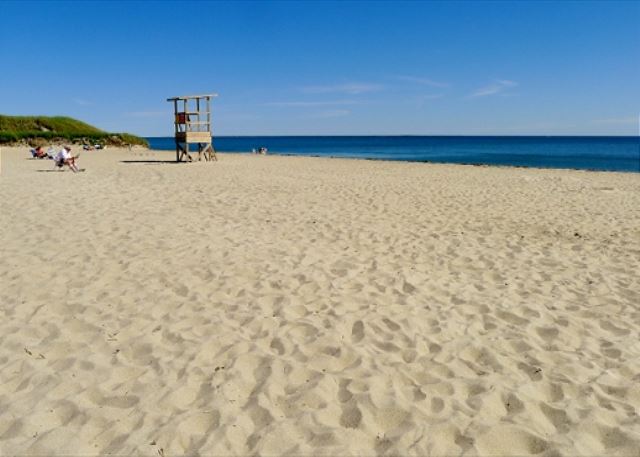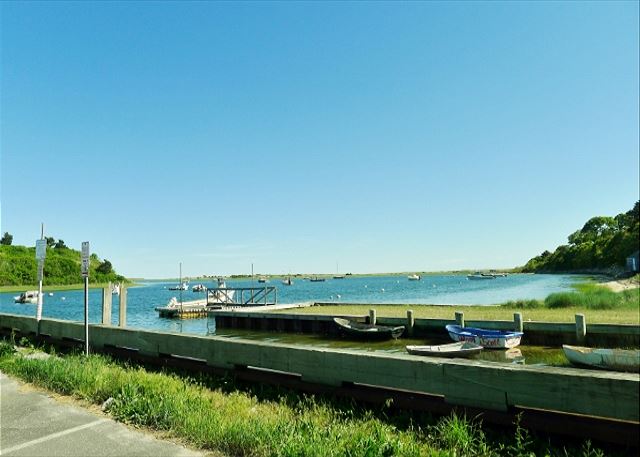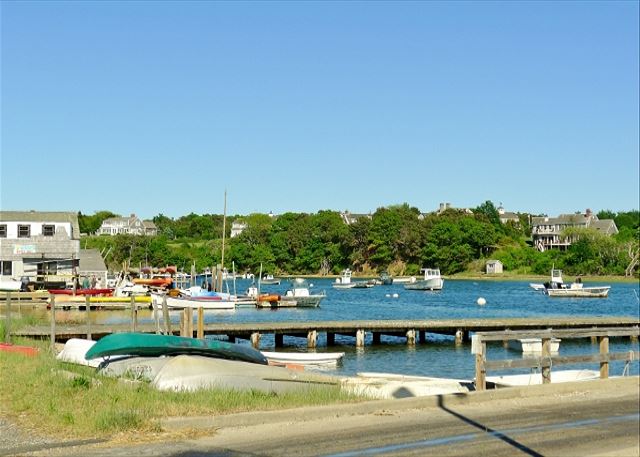 ---
Bedroom(s): 3
Bathroom(s): 2
Sleeps: 7
Type: Cottage
Area: Hardings Beach
Town: Chatham
This 3.5 bedroom and 2 full bath dog-friendly vacation home in Chatham with beautiful marsh views from multiple decks and just a half mile from Hardings Beach and Oyster Pond River. This home offers such amenities as a washer/dryer, 3 A/C units, dishwasher, cable TV, WIFI, and a gas grill.

The first bedroom, directly to the right as you enter the home, includes two twin size beds and an A/C unit. A full bathroom is located just down the hall and the first level deck beyond that. The entrance to the kitchen/dining area will be on your left, which includes a washer & dryer. This is a well-appointed kitchen with all the comforts and cooking inventory of home. A few steps up from the kitchen is the living room, with an exit to the second level deck, also with spectacular views of the marsh. the living room also features a TV, DVD player, and an A/C unit.

The second bedroom, located off the living room, includes an A/C unit, two twin beds and a full private bath. The loft area is located up a set of stairs off the living room. It is divided into 2 separate three-walled areas; one with a full size bed and the other with a extra long twin. This area does have antique ceiling heights with low clearance.

Outside you will find 2 decks, a backyard with picnic table and the best Cape Cod staple of all: the outdoor shower!

Sorry no smoking allowed.

7 guests maximum allowed at any time. No parties exceeding the occupancy limit allowed.

Dogs welcome at pet-friendly properties with pre-approval of weight and breed from the property manager. Failure to observe House Pet Rules may result in a severe fine and/or eviction from the property. LIMIT 1 DOG PER PROPERTY.

LINENS (SHEETS & TOWELS) ARE NOT INCLUDED IN THE RENTAL.

Travel Insurance is highly recommended and affordable coverage to protect your vacation investment.

Please view our policy and procedure page on our web site for detailed information about renting with us.

State and local taxes are applicable and may vary based on local ordinances and bylaws. These tax rates are subject to change.
- pets considered
- DVD Player
- Flat Screen HDTV
- Extended Cable
- Microwave
- Drip Coffee Maker
- Pantry items (sugar, salt & pep)
- Cleaning Supplies
- Cookware
- Dishes / Glassware / Utensils
- Kitchen Table
- Blender
- Iron
- Toaster or Toaster Oven
- Dishwasher
- Laundry
- Lobster Pot
- Pet Friendly
- Window A/C
- Deck
- Patio
- Gas Grill with Propane Tank
- Dining Table w/o Umbrella
- Open Outdoor Shower
- Beach Chairs
- Marshview
- Yes
- DOG
- Pet Considered
Guest Reviews of
4 marsh view Chatham , MA
Beautiful view off the back deck.
Pet friendly! Unique setup of bedrooms, but it works just fine for our family. So close to Hardings beach you can walk!
5 out of 5 stars
Never again!
Not what the pictures show or described! It was a two bedroom with a loft that was only good if you were 4 feet tall.The master bedroom had 2 kids beds and you could only get into the shower if you weighed less than 150 pounds! It would have been fine if there wasn't glass doors, a shower curtain would definitely work better. The second bath was better, but again the shower head was so short I had to stoop to wash my hair, if I was 5 foot tall it would have worked. The water pressure in all the sinks wouldn't even knock the toothpaste off my brush, and No electricity in either bathroom. The balcony off the main floor was so high I was not comfortable being out there and I wouldn't let my grandkids out there in fear they would fall either over or under the railing! The whole set up was odd, the gas grill was a floor below the kitchen and the picnic table was a floor below that ! Only 1 tv in the living room and no coffee table to play board games on , had to use the floor. The recliner was nice but only a love seat couch along with odd potato chip chairs that were not easy to get up from. The decor was a miss match of poor carpentry skills and miss matched paint, stone entry hallway was higher than abutting floors that everyone seemed to trip on . Needless to say it was our first and last time to stay there!
1 out of 5 stars
Manager Response:
Greetings Mr. Mackie, I'm disheartened that you didn't feel that the photos accurately reflected the home. We actually took pains to make sure it did because for a pet friendly home that sleeps 7 in Chatham, it's price is very low given its location, and we wanted to make sure that prospective renters understood that the home was designed to be comfortable for families with dogs who didn't want to feel anxious about maintaining it in pristine condition. That's no way to spend a vacation! Perhaps if we asked more probing questions before your booking, we could have found you a much better match. Most guests who chose this house rated it highly, and I genuinely feel badly that it was the wrong rental for you. Although it's clear you will not be returning to this cottage, I hope you will give our agency another opportunity to learn what the deciding amenities are for you and deliver a vacation rental that has it all. My Best, Sandy O'Dell, Manager,
Nice house, good location
Not fancy but comfortable....i would suggest replacing the carpeting with hard flooring and installing a ceiling fan in the living room....
4 out of 5 stars
McDonald Cape Vacation'18
Review by
Shawn and Kristin M.
Outstanding support and service from Cape Code Rental team and in particular Melissa. This was our 4th stay at this property and it continues to impress and provide a welcoming place for friends and family to make some lasting memories. The house is spotless and the amenities help make extended stays a pleasure. The marsh view from the back decks is amazing - sitting out back with a glass of wine you really feel like you're on vacation.
5 out of 5 stars
Wonderful Stay at 4 Marsh View
Beautiful location where we could sit out on the deck overlooking the marsh. A great spot for eating breakfast or watching the sunset and also within walking distance of Hardings Beach.
5 out of 5 stars
Birdwatchers vacation spot
A vacation spot with a fabulous view out the back! The two downstairs bedrooms were clean, good size. The upstairs loft is a bit funky with minimal privacy and a walk through the house to the bathroom.Parking for only three cars. Don't expect to have parking for your visitors.The best part, only a short walk to one of the best beaches in Chatham! We will definitely stay here again!
4 out of 5 stars
July 2019

| S | M | T | W | T | F | S |
| --- | --- | --- | --- | --- | --- | --- |
| | 01 | 02 | 03 | 04 | 05 | 06 |
| 07 | 08 | 09 | 10 | 11 | 12 | 13 |
| 14 | 15 | 16 | 17 | 18 | 19 | 20 |
| 21 | 22 | 23 | 24 | 25 | 26 | 27 |
| 28 | 29 | 30 | 31 | | | |
August 2019

| S | M | T | W | T | F | S |
| --- | --- | --- | --- | --- | --- | --- |
| | | | | 01 | 02 | 03 |
| 04 | 05 | 06 | 07 | 08 | 09 | 10 |
| 11 | 12 | 13 | 14 | 15 | 16 | 17 |
| 18 | 19 | 20 | 21 | 22 | 23 | 24 |
| 25 | 26 | 27 | 28 | 29 | 30 | 31 |
September 2019

| S | M | T | W | T | F | S |
| --- | --- | --- | --- | --- | --- | --- |
| 01 | 02 | 03 | 04 | 05 | 06 | 07 |
| 08 | 09 | 10 | 11 | 12 | 13 | 14 |
| 15 | 16 | 17 | 18 | 19 | 20 | 21 |
| 22 | 23 | 24 | 25 | 26 | 27 | 28 |
| 29 | 30 | | | | | |
October 2019

| S | M | T | W | T | F | S |
| --- | --- | --- | --- | --- | --- | --- |
| | | 01 | 02 | 03 | 04 | 05 |
| 06 | 07 | 08 | 09 | 10 | 11 | 12 |
| 13 | 14 | 15 | 16 | 17 | 18 | 19 |
| 20 | 21 | 22 | 23 | 24 | 25 | 26 |
| 27 | 28 | 29 | 30 | 31 | | |
November 2019

| S | M | T | W | T | F | S |
| --- | --- | --- | --- | --- | --- | --- |
| | | | | | 01 | 02 |
| 03 | 04 | 05 | 06 | 07 | 08 | 09 |
| 10 | 11 | 12 | 13 | 14 | 15 | 16 |
| 17 | 18 | 19 | 20 | 21 | 22 | 23 |
| 24 | 25 | 26 | 27 | 28 | 29 | 30 |
December 2019

| S | M | T | W | T | F | S |
| --- | --- | --- | --- | --- | --- | --- |
| 01 | 02 | 03 | 04 | 05 | 06 | 07 |
| 08 | 09 | 10 | 11 | 12 | 13 | 14 |
| 15 | 16 | 17 | 18 | 19 | 20 | 21 |
| 22 | 23 | 24 | 25 | 26 | 27 | 28 |
| 29 | 30 | 31 | | | | |
January 2020

| S | M | T | W | T | F | S |
| --- | --- | --- | --- | --- | --- | --- |
| | | | 01 | 02 | 03 | 04 |
| 05 | 06 | 07 | 08 | 09 | 10 | 11 |
| 12 | 13 | 14 | 15 | 16 | 17 | 18 |
| 19 | 20 | 21 | 22 | 23 | 24 | 25 |
| 26 | 27 | 28 | 29 | 30 | 31 | |
February 2020

| S | M | T | W | T | F | S |
| --- | --- | --- | --- | --- | --- | --- |
| | | | | | | 01 |
| 02 | 03 | 04 | 05 | 06 | 07 | 08 |
| 09 | 10 | 11 | 12 | 13 | 14 | 15 |
| 16 | 17 | 18 | 19 | 20 | 21 | 22 |
| 23 | 24 | 25 | 26 | 27 | 28 | 29 |
March 2020

| S | M | T | W | T | F | S |
| --- | --- | --- | --- | --- | --- | --- |
| 01 | 02 | 03 | 04 | 05 | 06 | 07 |
| 08 | 09 | 10 | 11 | 12 | 13 | 14 |
| 15 | 16 | 17 | 18 | 19 | 20 | 21 |
| 22 | 23 | 24 | 25 | 26 | 27 | 28 |
| 29 | 30 | 31 | | | | |
April 2020

| S | M | T | W | T | F | S |
| --- | --- | --- | --- | --- | --- | --- |
| | | | 01 | 02 | 03 | 04 |
| 05 | 06 | 07 | 08 | 09 | 10 | 11 |
| 12 | 13 | 14 | 15 | 16 | 17 | 18 |
| 19 | 20 | 21 | 22 | 23 | 24 | 25 |
| 26 | 27 | 28 | 29 | 30 | | |
May 2020

| S | M | T | W | T | F | S |
| --- | --- | --- | --- | --- | --- | --- |
| | | | | | 01 | 02 |
| 03 | 04 | 05 | 06 | 07 | 08 | 09 |
| 10 | 11 | 12 | 13 | 14 | 15 | 16 |
| 17 | 18 | 19 | 20 | 21 | 22 | 23 |
| 24 | 25 | 26 | 27 | 28 | 29 | 30 |
| 31 | | | | | | |
June 2020

| S | M | T | W | T | F | S |
| --- | --- | --- | --- | --- | --- | --- |
| | 01 | 02 | 03 | 04 | 05 | 06 |
| 07 | 08 | 09 | 10 | 11 | 12 | 13 |
| 14 | 15 | 16 | 17 | 18 | 19 | 20 |
| 21 | 22 | 23 | 24 | 25 | 26 | 27 |
| 28 | 29 | 30 | | | | |
July 2020

| S | M | T | W | T | F | S |
| --- | --- | --- | --- | --- | --- | --- |
| | | | 01 | 02 | 03 | 04 |
| 05 | 06 | 07 | 08 | 09 | 10 | 11 |
| 12 | 13 | 14 | 15 | 16 | 17 | 18 |
| 19 | 20 | 21 | 22 | 23 | 24 | 25 |
| 26 | 27 | 28 | 29 | 30 | 31 | |
Available
Unavailable
Sat to Sat booking