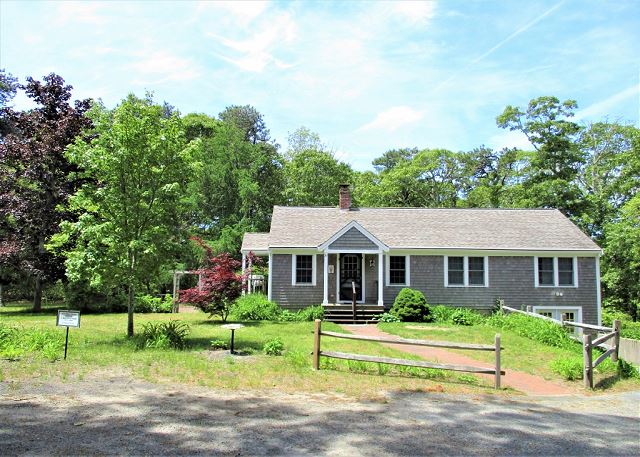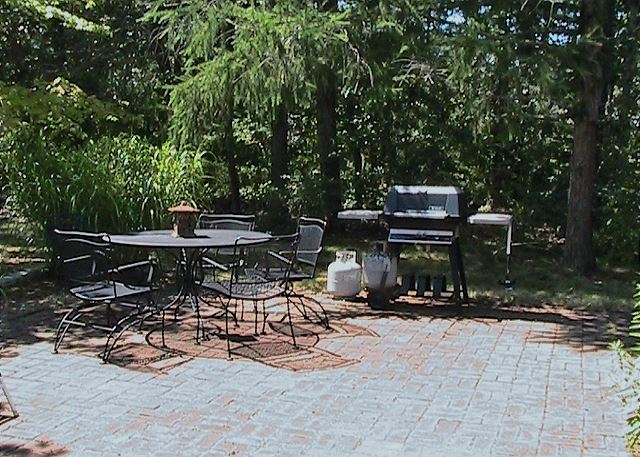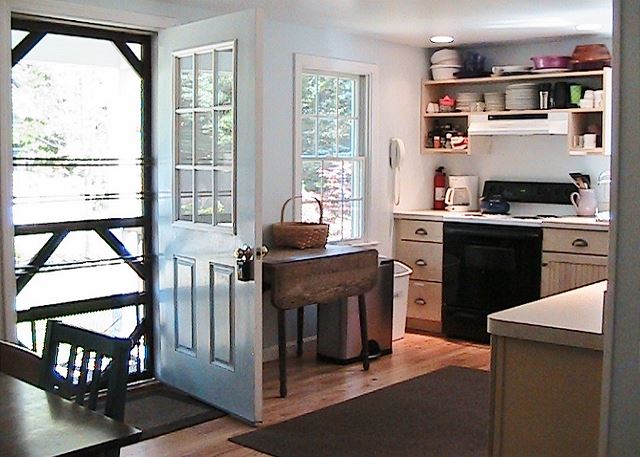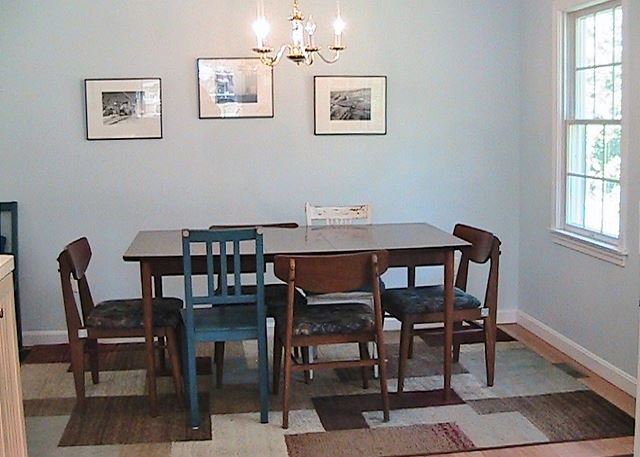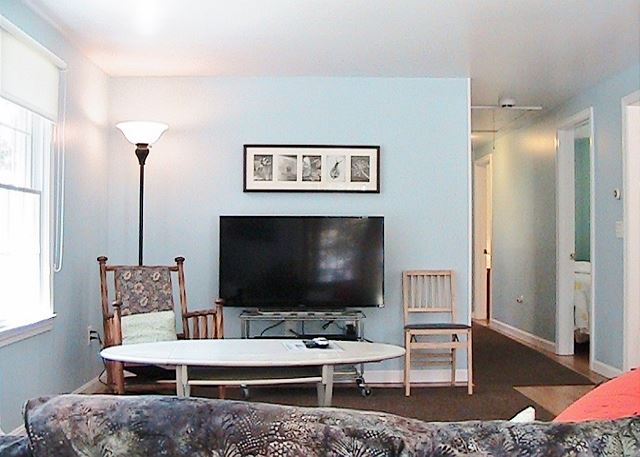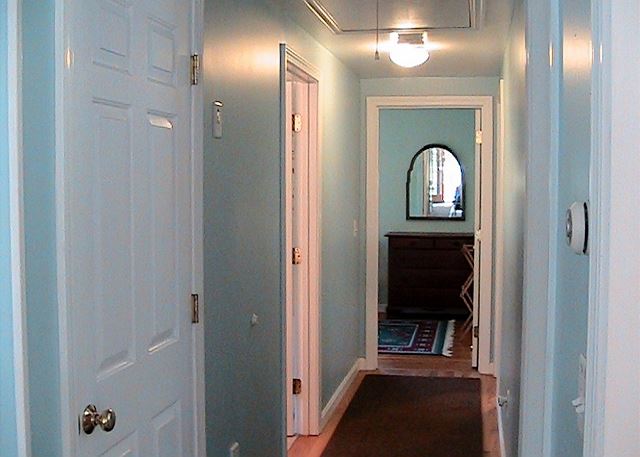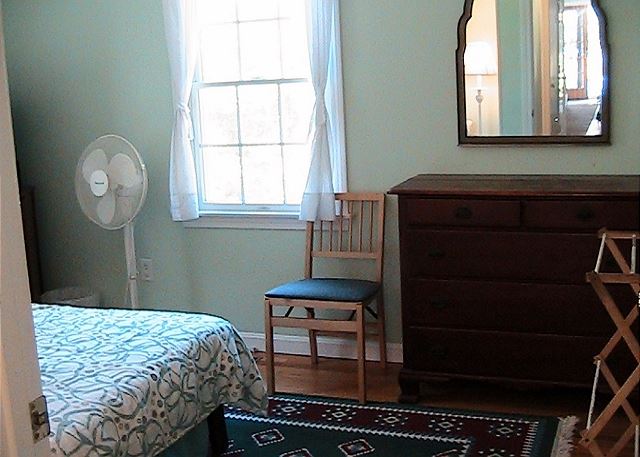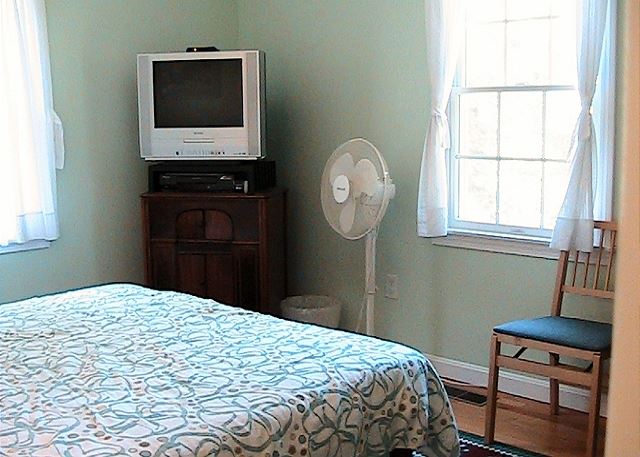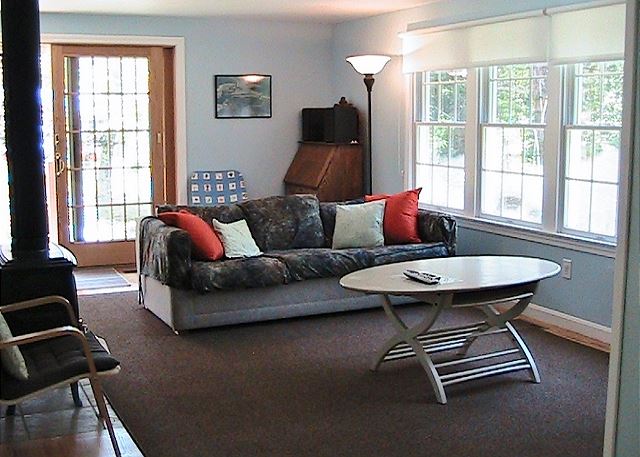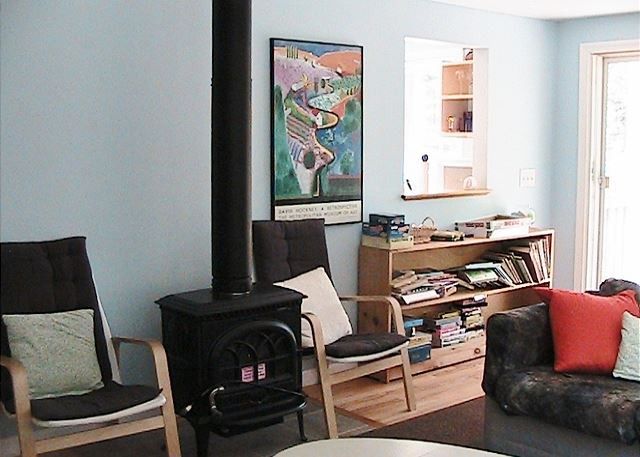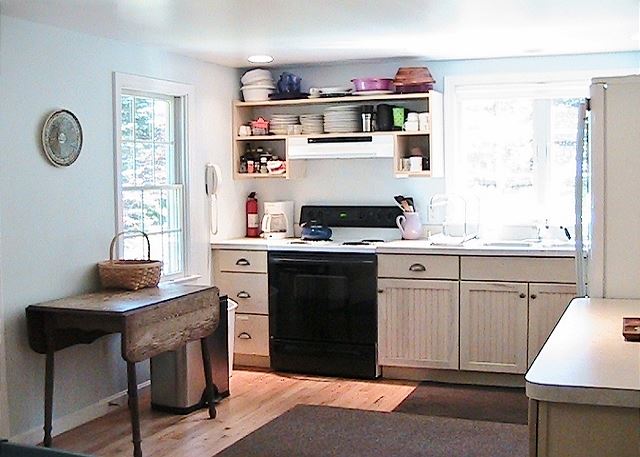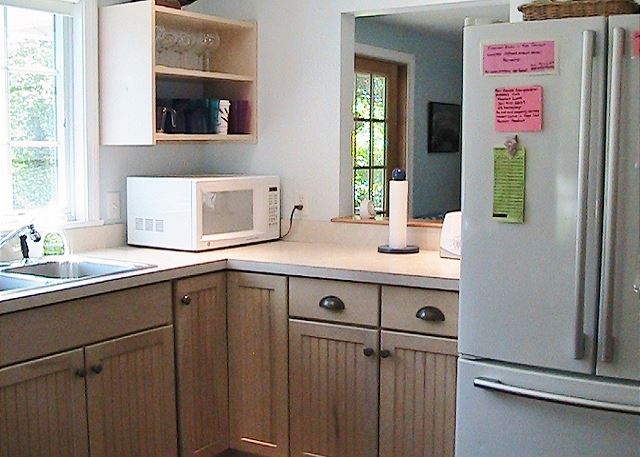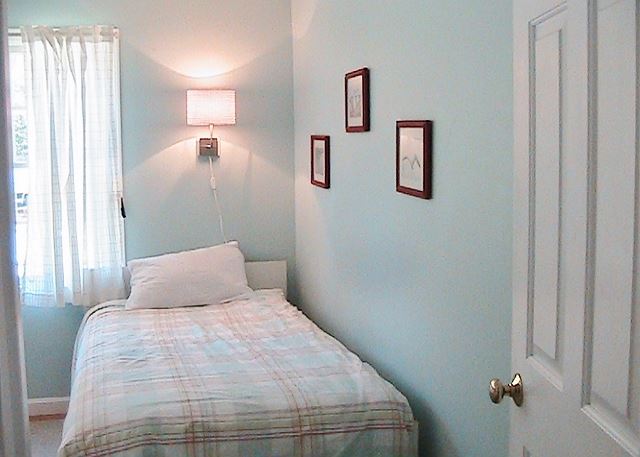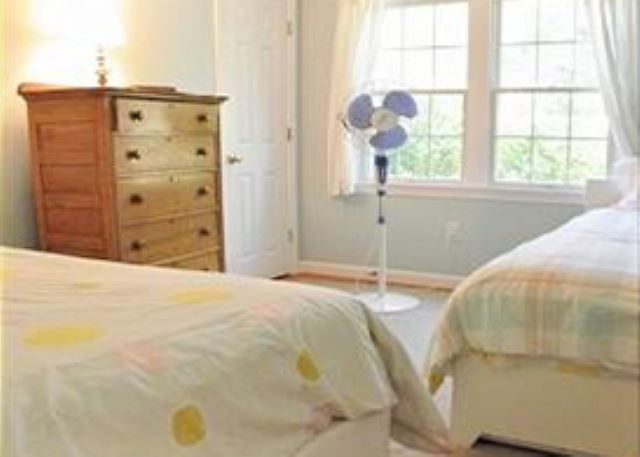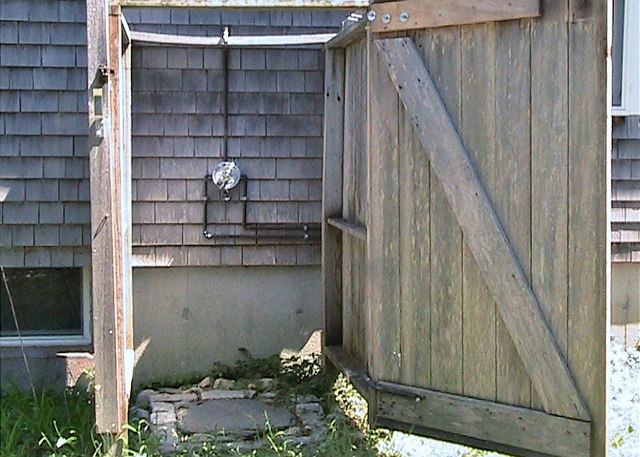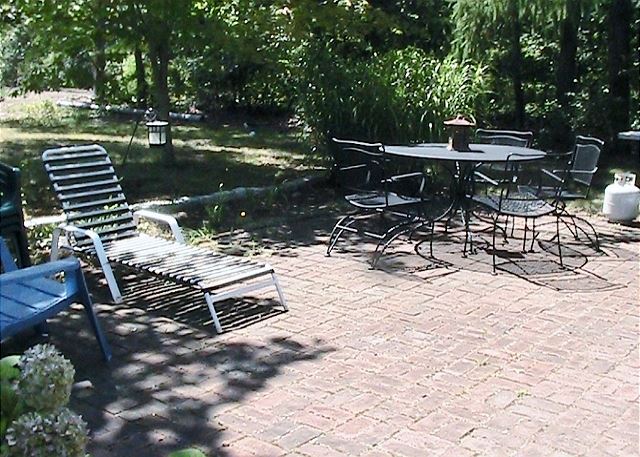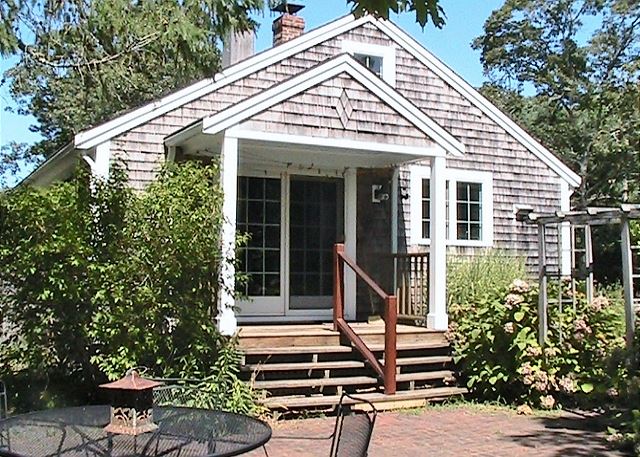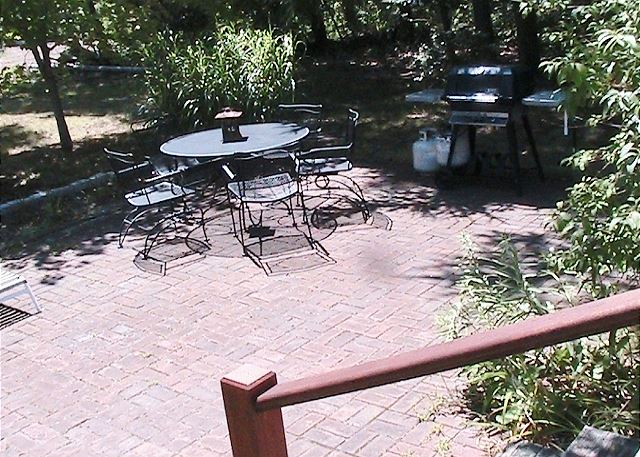 ---
Bedroom(s): 3
Bathroom(s): 1
Sleeps: 9
Type: Cottage
Area:
Town: Brewster
Cape Cod Bayside Vacation Home in Brewster.

This charming ranch style Brewster homes is located just off Route 6A, our Historic Scenic Highway, sleeps up to 9 guests! It is nestled among the pines down a sandy lane, 1/2 mile to the popular Point of Rocks Brewster Bay Beach and the other neighborhood bay beaches.

This home includes a modern kitchen that includes a microwave, drip coffee maker, toaster, blender, lobster pot, and electric range, cooking/dining ware, and spices.

There are wood floors with an open living/dining area floor plan. In the living room there is a Queen size sleeper sofa, a 48" flat screen TV with Comcast TV channels, and a DVD player.

There are three bedrooms, two with Queen beds, one of which has a 27" TV. The third bedroom sleeps 3 with a twin bed and a trundle bed, which is a twin with roll out twin bed below.

The garden patio is perfect for late afternoon or evening BBQ's on the large gas grill and outdoor dining table. Also, there is a enclosed outdoor shower for rinsing off after the beach.

Additional amenities include washer/dryer in the basement, iron & ironing board, hair dryer, CD player/radio, landline phone service, and WI-FI internet access. *Owner provides coolers* *Owners provide these items as favors to guests only and not as an integral part of the rental. If these items become lost or damaged during the course of the rental season, owners are not responsible for replacement.*

Sorry no A/C or dishwasher in this home.

The driveway accommodates parking for up to 4 cars.

DO YOU HAVE GROUPS WHO WANT TO VACATION "TOGETHER BUT SEPARATE"? ASK ABOUT ALSO RENTING 33 HARVEST RIGHT NEXT DOOR OR 62 HARVEST RIGHT ACROSS THE STREET! TOTAL SLEEPING CAPACITY OF HOUSES IS 27+!

Sorry no pets and no smoking allowed.

9 guests maximum allowed at any time. No parties exceeding the occupancy limit allowed.

LINENS (SHEETS/TOWELS) ARE NOT INCLUDED IN THIS RENTAL.

Travel insurance is highly recommended and affordable coverage to protect your vacation investment.

Please view our policy and procedure page on our web site for detailed information about renting with us.
" frameborder="0" allowfullscreen>
- Standard TV
- DVD Player
- Extended Cable
- Stereo w/ CD player
- Sleep Sofa
- Microwave
- Drip Coffee Maker
- Pantry items (sugar, salt & pep)
- Cookware
- Dishes / Glassware / Utensils
- Kitchen Table
- Blender
- Toaster or Toaster Oven
- TV
- Room Fans
- Hair Dryer
- Tub/Shower Combo
- Patio
- Gas Grill with Propane Tank
- Enclosed Outdoor Shower
- Close to Town
- Near Cape Cod Bay Beaches
- Near Golf Course
Guest Reviews of
51 harvest Brewster , MA
Great Location
Great location and comfortable but no guest instructions/welcome pack explaining what to do or places to go - local hospitals, restaurants,etc like you usually get in a rental. Recycling was still outside from the previous renters and ours was not collected either - and we had it outside in plenty of time. One fan was broken and the shower curtain liner was ripped. All this was relayed to the management company but nothing was done, and no follow up.
4 out of 5 stars
Great Brewster Location
Review by
Kathryn M.
This was a very cute house in a very private location at the end of a sandy path. House was clean, neat and updated. Our only complaint was the comfort of the beds. Other than that, it was a great choice.
4 out of 5 stars
2016 Brewster,cape cod trip
Review by
Richard B.
We had a great time. The property met all expectations.
5 out of 5 stars
7th Year, Same House
Review by
Scott & Laura H.
We've rented this house for the past 7 years. The location is perfect, central to everything in Brewster. The house is clean and comfortable.
5 out of 5 stars
Brewster Ranch 6/10 mile to point of rocks beach
bright and clean 3 br ranch w/ trundle plus sleeper sofa. Quiet peaceful dead end street. Nice outdoor shower. Washer and dryer a plus. Eat in kitchen with everything your need or dine on brick patio.
4 out of 5 stars
September 2018

| S | M | T | W | T | F | S |
| --- | --- | --- | --- | --- | --- | --- |
| | | | | | | 01 |
| 02 | 03 | 04 | 05 | 06 | 07 | 08 |
| 09 | 10 | 11 | 12 | 13 | 14 | 15 |
| 16 | 17 | 18 | 19 | 20 | 21 | 22 |
| 23 | 24 | 25 | 26 | 27 | 28 | 29 |
| 30 | | | | | | |
October 2018

| S | M | T | W | T | F | S |
| --- | --- | --- | --- | --- | --- | --- |
| | 01 | 02 | 03 | 04 | 05 | 06 |
| 07 | 08 | 09 | 10 | 11 | 12 | 13 |
| 14 | 15 | 16 | 17 | 18 | 19 | 20 |
| 21 | 22 | 23 | 24 | 25 | 26 | 27 |
| 28 | 29 | 30 | 31 | | | |
November 2018

| S | M | T | W | T | F | S |
| --- | --- | --- | --- | --- | --- | --- |
| | | | | 01 | 02 | 03 |
| 04 | 05 | 06 | 07 | 08 | 09 | 10 |
| 11 | 12 | 13 | 14 | 15 | 16 | 17 |
| 18 | 19 | 20 | 21 | 22 | 23 | 24 |
| 25 | 26 | 27 | 28 | 29 | 30 | |
December 2018

| S | M | T | W | T | F | S |
| --- | --- | --- | --- | --- | --- | --- |
| | | | | | | 01 |
| 02 | 03 | 04 | 05 | 06 | 07 | 08 |
| 09 | 10 | 11 | 12 | 13 | 14 | 15 |
| 16 | 17 | 18 | 19 | 20 | 21 | 22 |
| 23 | 24 | 25 | 26 | 27 | 28 | 29 |
| 30 | 31 | | | | | |
January 2019

| S | M | T | W | T | F | S |
| --- | --- | --- | --- | --- | --- | --- |
| | | 01 | 02 | 03 | 04 | 05 |
| 06 | 07 | 08 | 09 | 10 | 11 | 12 |
| 13 | 14 | 15 | 16 | 17 | 18 | 19 |
| 20 | 21 | 22 | 23 | 24 | 25 | 26 |
| 27 | 28 | 29 | 30 | 31 | | |
February 2019

| S | M | T | W | T | F | S |
| --- | --- | --- | --- | --- | --- | --- |
| | | | | | 01 | 02 |
| 03 | 04 | 05 | 06 | 07 | 08 | 09 |
| 10 | 11 | 12 | 13 | 14 | 15 | 16 |
| 17 | 18 | 19 | 20 | 21 | 22 | 23 |
| 24 | 25 | 26 | 27 | 28 | | |
March 2019

| S | M | T | W | T | F | S |
| --- | --- | --- | --- | --- | --- | --- |
| | | | | | 01 | 02 |
| 03 | 04 | 05 | 06 | 07 | 08 | 09 |
| 10 | 11 | 12 | 13 | 14 | 15 | 16 |
| 17 | 18 | 19 | 20 | 21 | 22 | 23 |
| 24 | 25 | 26 | 27 | 28 | 29 | 30 |
| 31 | | | | | | |
April 2019

| S | M | T | W | T | F | S |
| --- | --- | --- | --- | --- | --- | --- |
| | 01 | 02 | 03 | 04 | 05 | 06 |
| 07 | 08 | 09 | 10 | 11 | 12 | 13 |
| 14 | 15 | 16 | 17 | 18 | 19 | 20 |
| 21 | 22 | 23 | 24 | 25 | 26 | 27 |
| 28 | 29 | 30 | | | | |
May 2019

| S | M | T | W | T | F | S |
| --- | --- | --- | --- | --- | --- | --- |
| | | | 01 | 02 | 03 | 04 |
| 05 | 06 | 07 | 08 | 09 | 10 | 11 |
| 12 | 13 | 14 | 15 | 16 | 17 | 18 |
| 19 | 20 | 21 | 22 | 23 | 24 | 25 |
| 26 | 27 | 28 | 29 | 30 | 31 | |
June 2019

| S | M | T | W | T | F | S |
| --- | --- | --- | --- | --- | --- | --- |
| | | | | | | 01 |
| 02 | 03 | 04 | 05 | 06 | 07 | 08 |
| 09 | 10 | 11 | 12 | 13 | 14 | 15 |
| 16 | 17 | 18 | 19 | 20 | 21 | 22 |
| 23 | 24 | 25 | 26 | 27 | 28 | 29 |
| 30 | | | | | | |
July 2019

| S | M | T | W | T | F | S |
| --- | --- | --- | --- | --- | --- | --- |
| | 01 | 02 | 03 | 04 | 05 | 06 |
| 07 | 08 | 09 | 10 | 11 | 12 | 13 |
| 14 | 15 | 16 | 17 | 18 | 19 | 20 |
| 21 | 22 | 23 | 24 | 25 | 26 | 27 |
| 28 | 29 | 30 | 31 | | | |
August 2019

| S | M | T | W | T | F | S |
| --- | --- | --- | --- | --- | --- | --- |
| | | | | 01 | 02 | 03 |
| 04 | 05 | 06 | 07 | 08 | 09 | 10 |
| 11 | 12 | 13 | 14 | 15 | 16 | 17 |
| 18 | 19 | 20 | 21 | 22 | 23 | 24 |
| 25 | 26 | 27 | 28 | 29 | 30 | 31 |
September 2019

| S | M | T | W | T | F | S |
| --- | --- | --- | --- | --- | --- | --- |
| 01 | 02 | 03 | 04 | 05 | 06 | 07 |
| 08 | 09 | 10 | 11 | 12 | 13 | 14 |
| 15 | 16 | 17 | 18 | 19 | 20 | 21 |
| 22 | 23 | 24 | 25 | 26 | 27 | 28 |
| 29 | 30 | | | | | |
Available
Unavailable
Sat to Sat booking