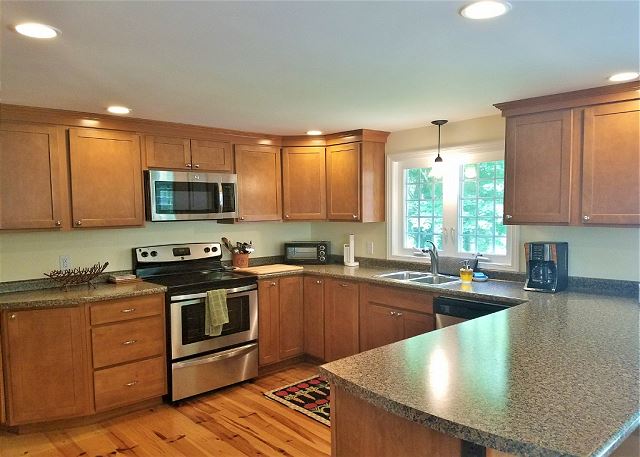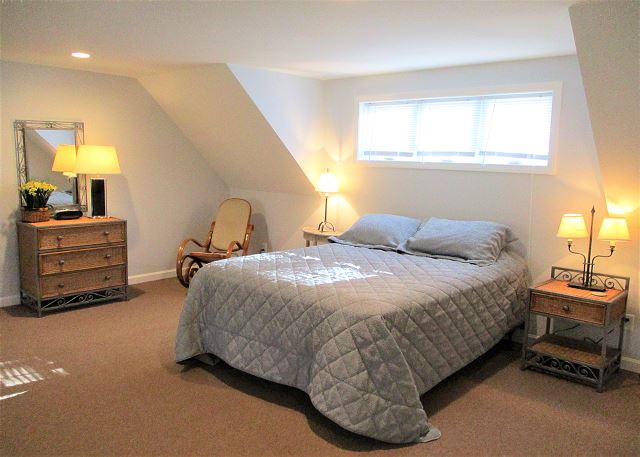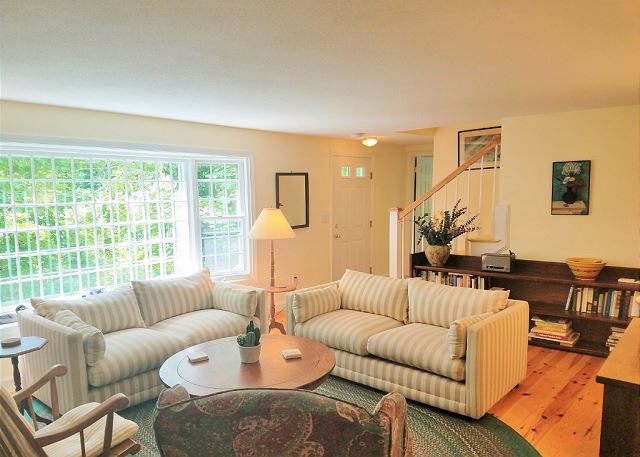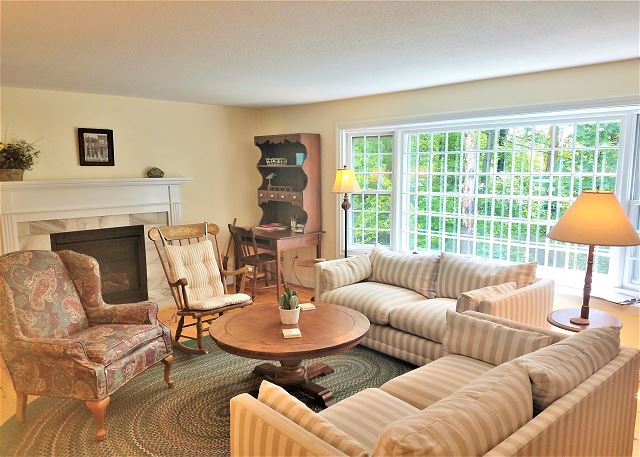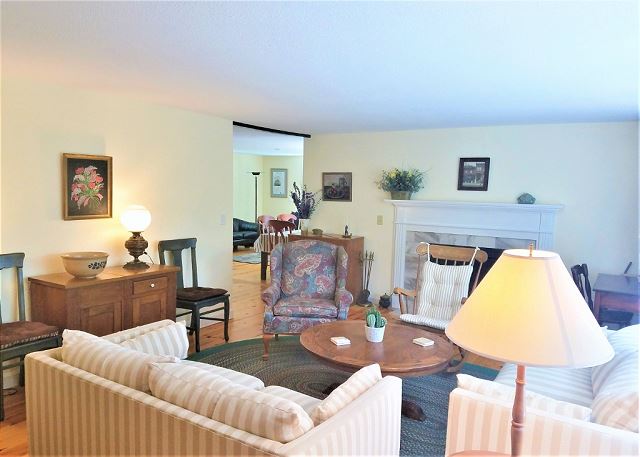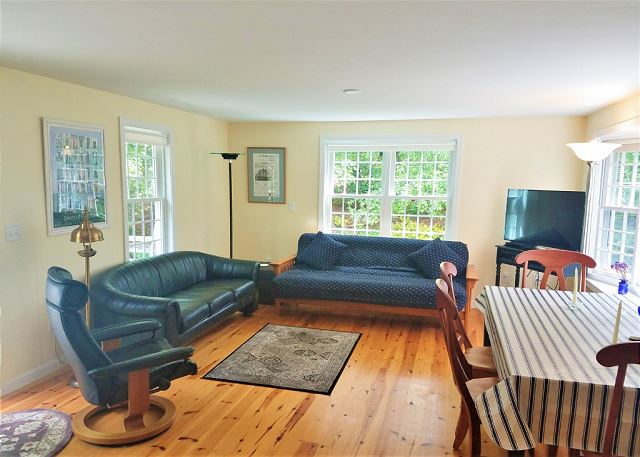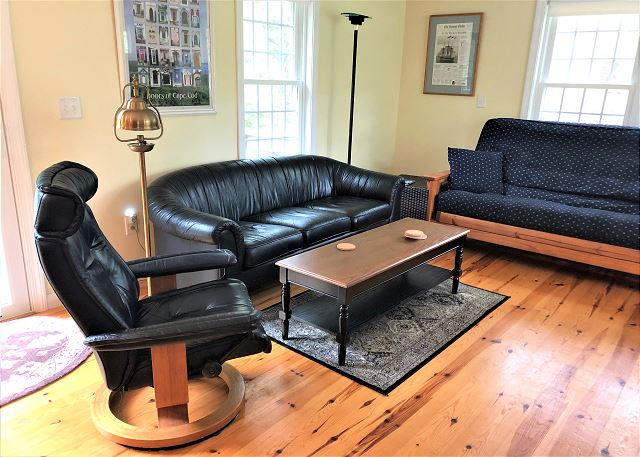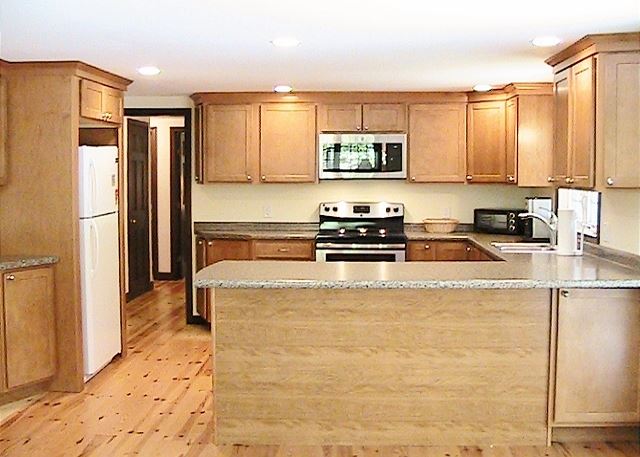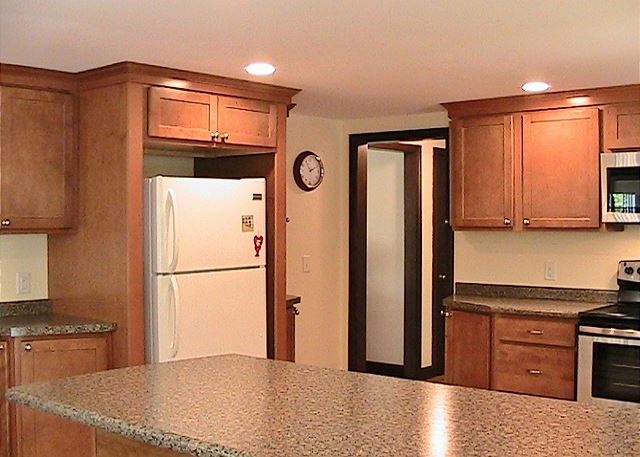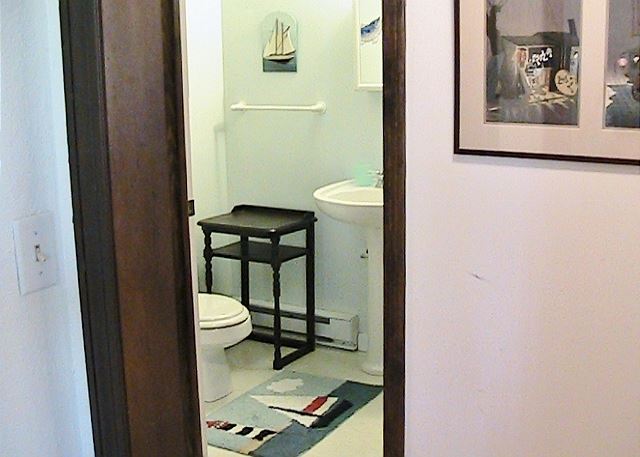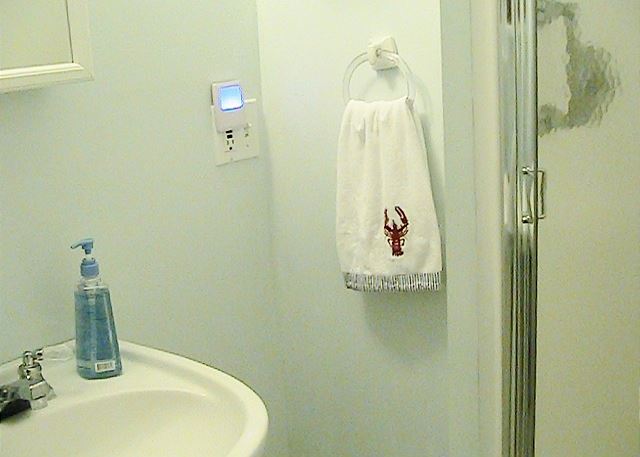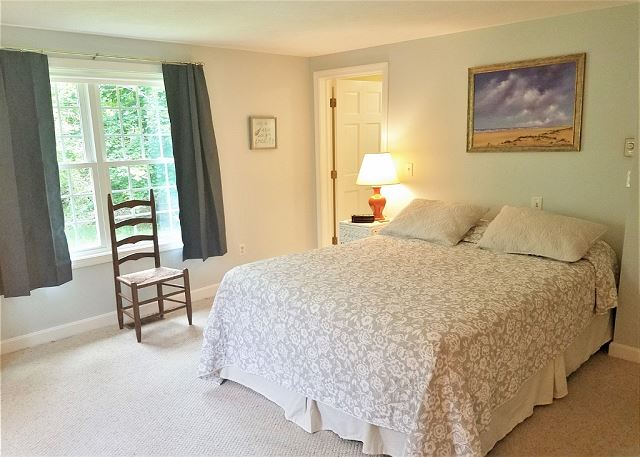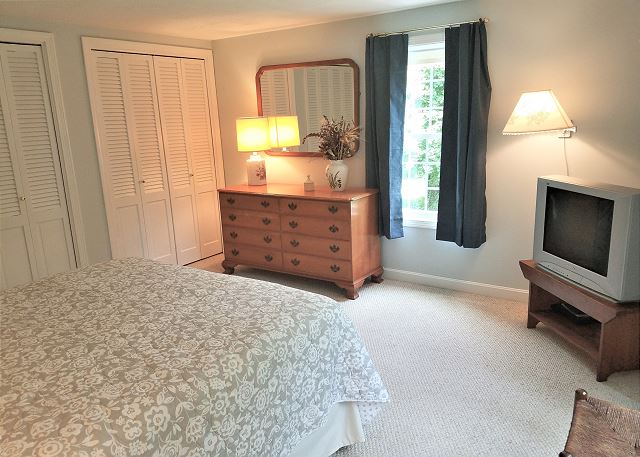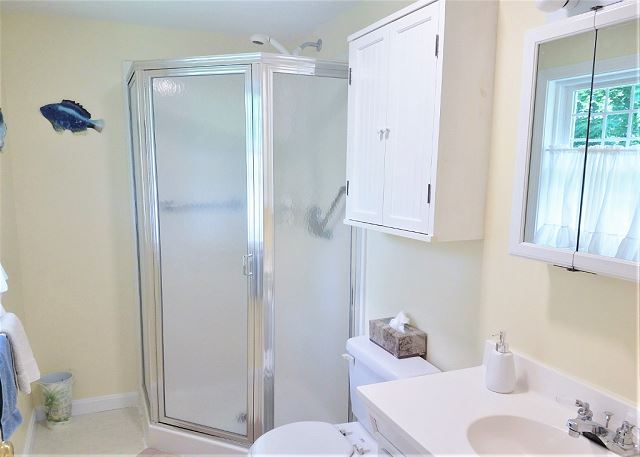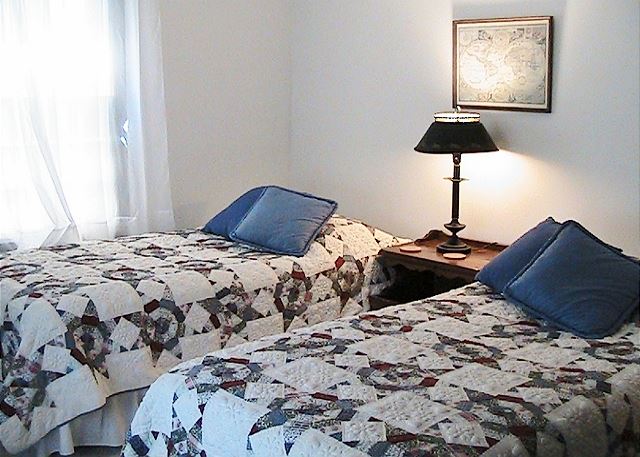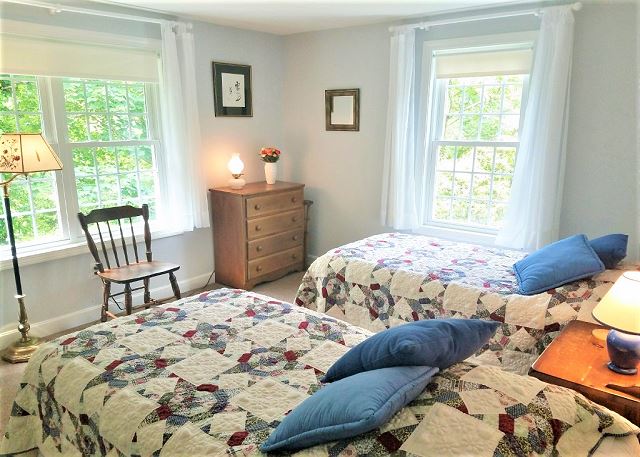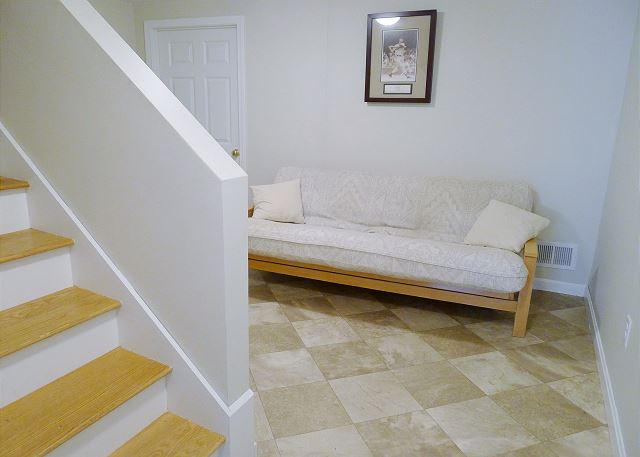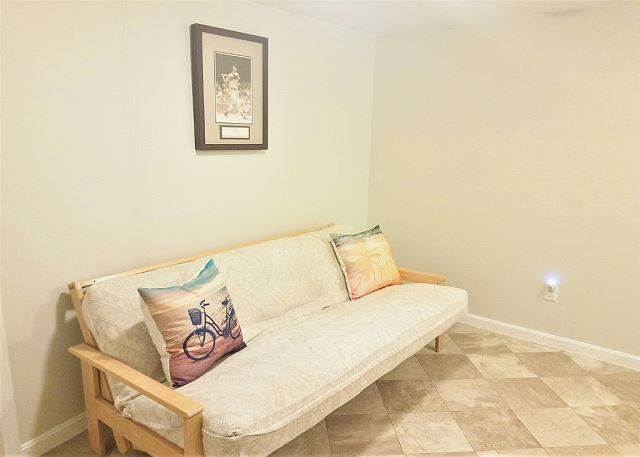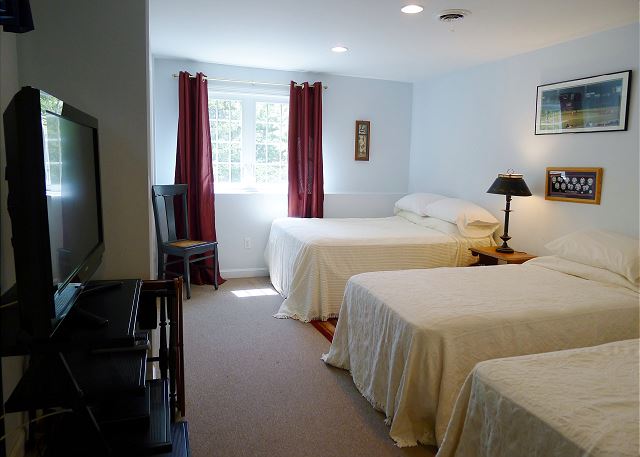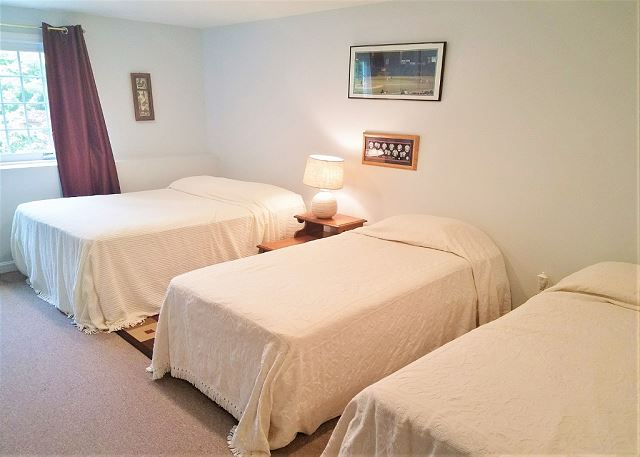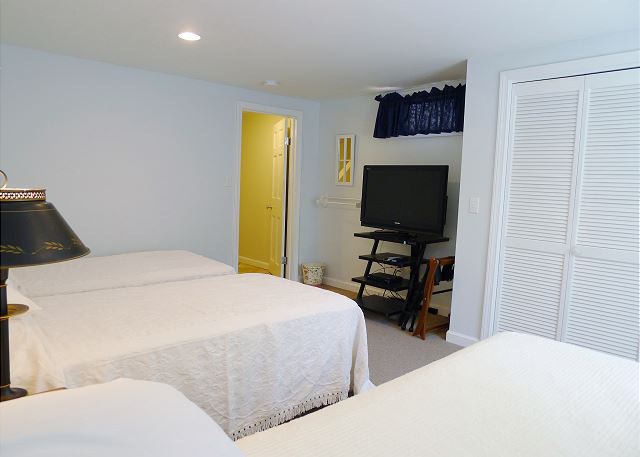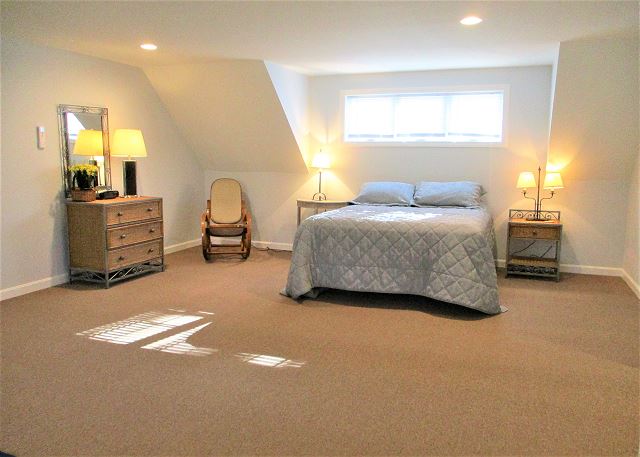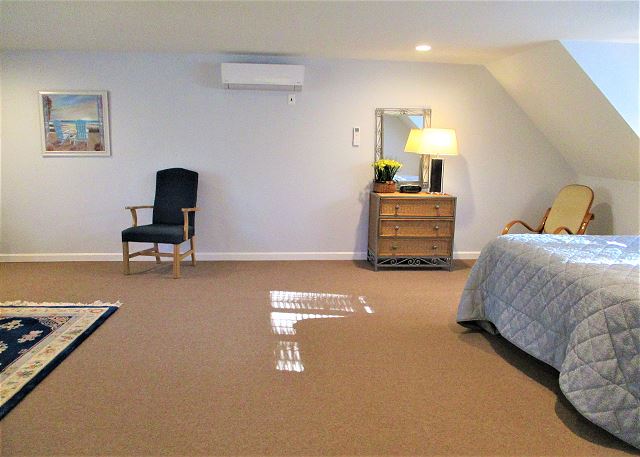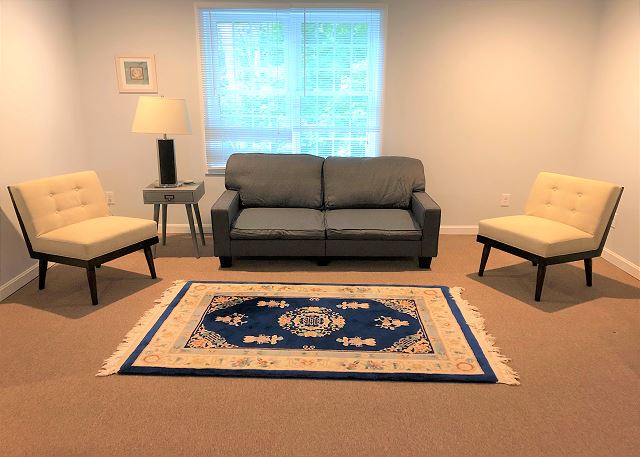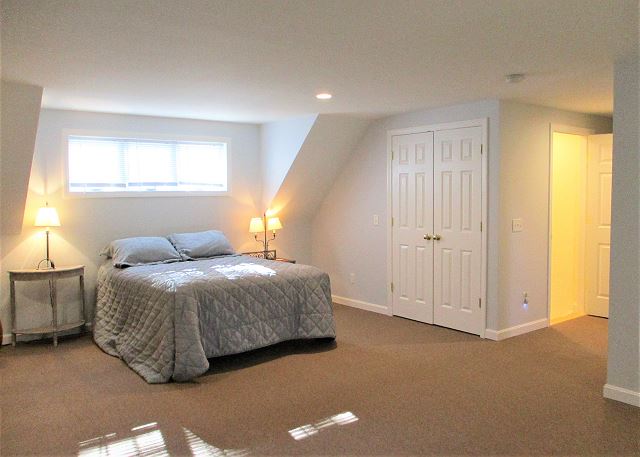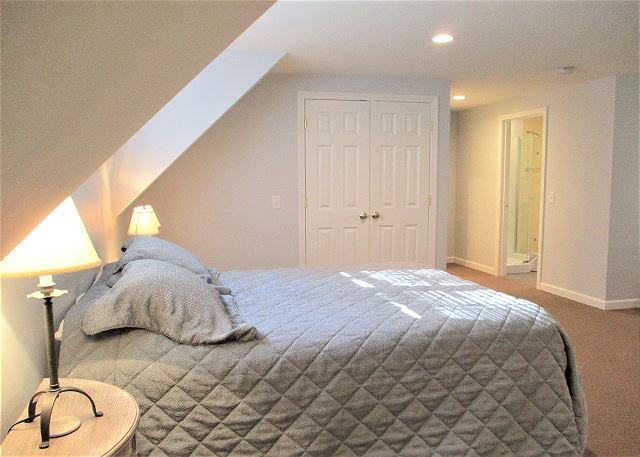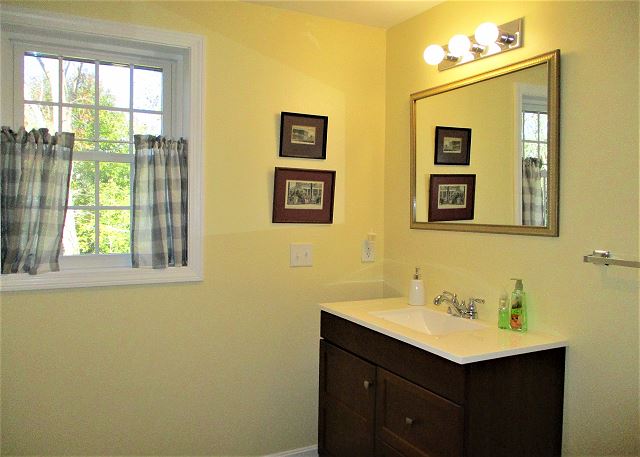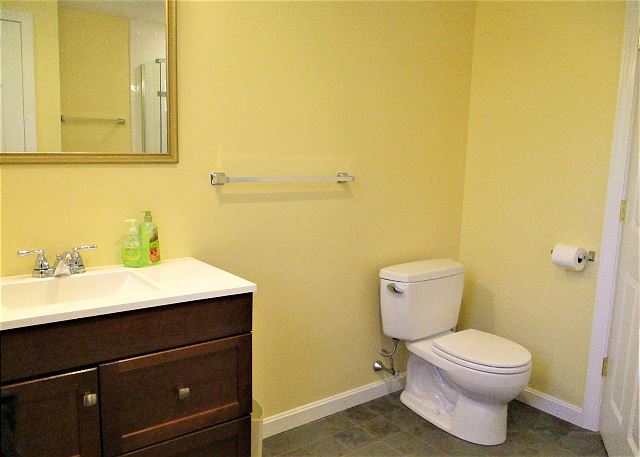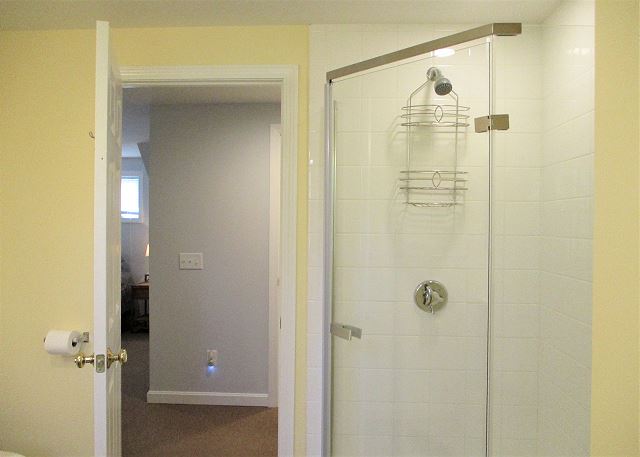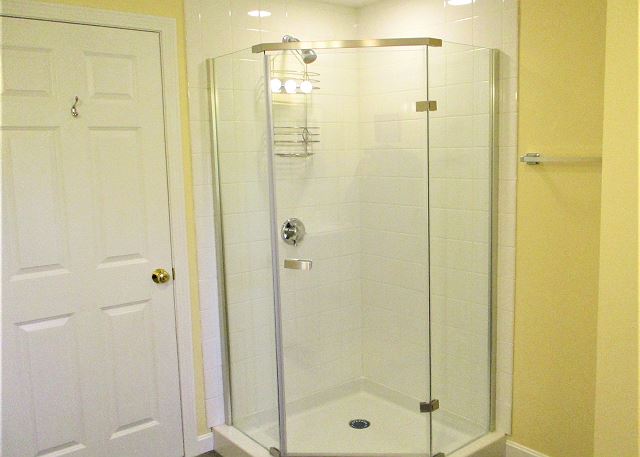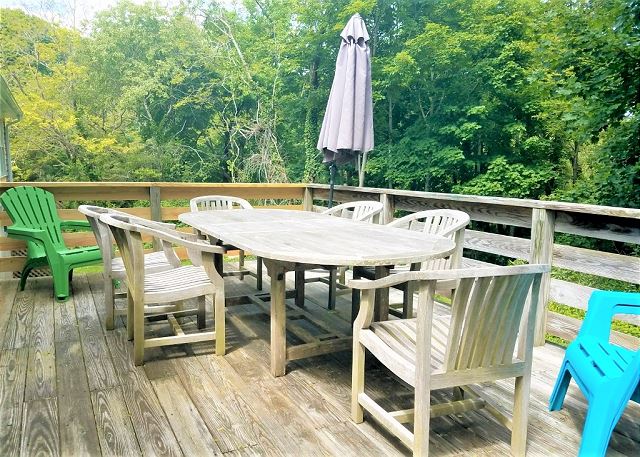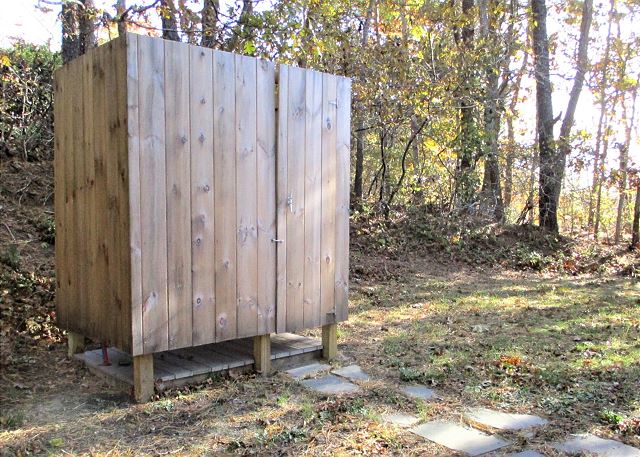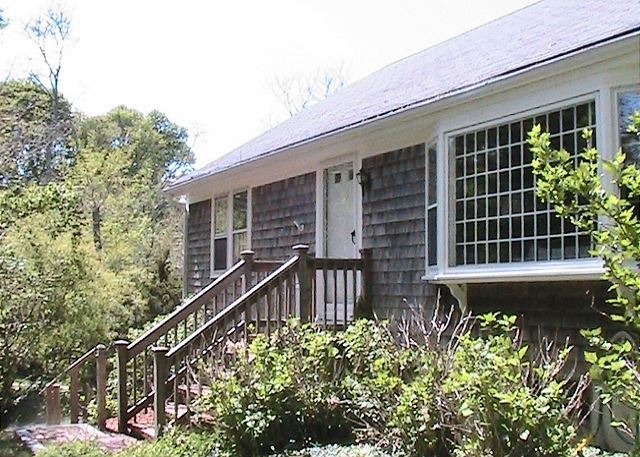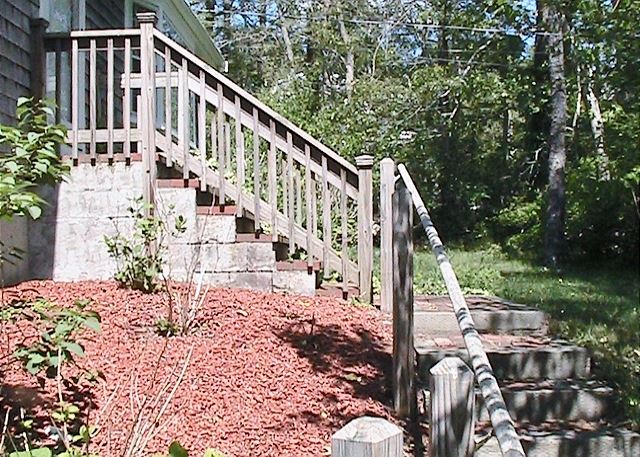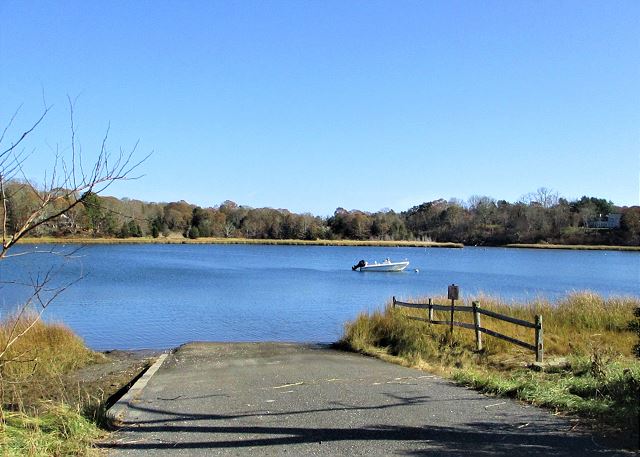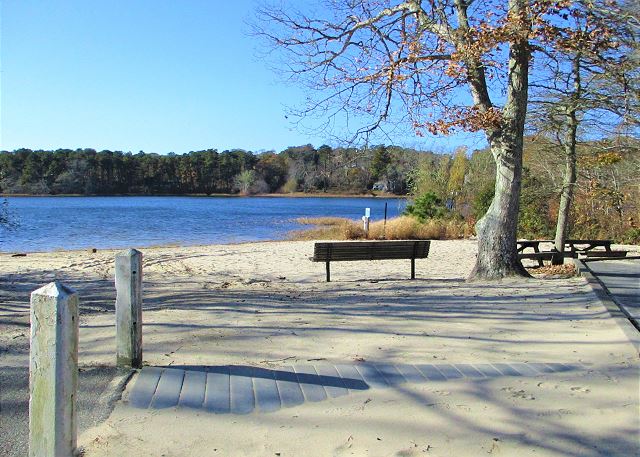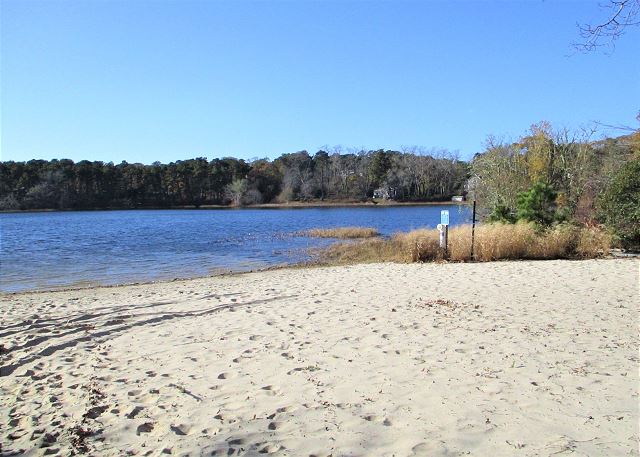 ---
Bedroom(s): 4
Bathroom(s): 3
Sleeps: 10
Type: House
Area: Crystal Lake
Town: Orleans
This sparkling 4 bedroom, 3 bath vacation rental features central air and an ideal layout for larger groups. Located on a wooded lot, you are close to bay and ocean beaches, lakes, boating, and town.

This private oasis boasts three level living with a finished lower level to accommodate extra guests. The open kitchen/den area includes all new counters, stainless steel appliances, and a spacious seating area. Sliding glass doors access a cedar deck and matching dining table, chairs, and umbrella, a charcoal grill, and peaceful vistas both day and night.

Down the hall from the kitchen is a full bath with step-in shower and 2 bedrooms. Bedroom #1 has an en-suite bath with step-in shower, TV that plays DVDs, and a queen-sized bed. Bedroom #2 has two twins.

Bedroom #3 is located on sunny ground floor and includes a flat screened TV, 2 twins and 1 full bed that together can sleep 4. Bedroom #4 is on the recently built 2nd floor which includes a third full bath,an oversized bedroom with queen bed, and a sitting area.

Take advantage of this wonderful opportunity to get away from it all yet still be near everything in the coveted town of Orleans! One block away is Arey's Pond that opens into Pleasant Bay, Pilgrim Lake recreation area & beach is just over a mile away and Nauset Beach is a short drive at 4 miles away from this lovely home.

Other amenities include: wifi, washer and dryer in basement, enclosed outdoor shower, garage access, parking for 3 cars in driveway. *Two beach chairs are provided by the owners.* *Owners provide these items as favors to guests only and not as an integral part of the rental. If these items become lost or damaged during the course of the rental season, owners are not responsible for replacement.*

Sorry no pets, no smoking, and no parties allowed.

10 guests maximum at any time. No parties exceeding the occupancy limit allowed.

LINENS (SHEETS/TOWELS) ARE NOT INCLUDED IN THIS RENTAL.

We offer travel insurance that is highly recommended and affordable coverage to protect your vacation investment.

Please view our policy and procedure page on our web site for detailed information about renting with us.

State and local taxes are applicable and may vary based on local ordinances and bylaws. Tax rates are subject to change.
- DVD Player
- Fireplace
- WiFi
- Central A/C
- Microwave
- Drip Coffee Maker
- Pantry items (sugar, salt & pep)
- Cleaning Supplies
- Cookware
- Dishes / Glassware / Utensils
- Blender
- Iron
- Toaster or Toaster Oven
- Island or Counter Seating
- Dishwasher
- Lobster Pot
- ironing board
- Dining Table
- TV
- Sleep Sofa/Futon
- DVD Player
- On Suite Main Bedroom Bath
- TV WITH DVD ONLY
- TV
- Beds
- washer
- dryer
- detergent provided
- Deck
- Charcoal Grill
- Dining Table w/ Umbrella
- Dining Table w/o Umbrella
- Enclosed Outdoor Shower
- Garage Access
- Beach Chairs
- Outdoor Lighting
- Outdoor Seating
- Close to Town
- Lake or Pond Front
- Near Cape Cod Bay Beaches
- Near National Sea Shore Beaches
Guest Reviews of
12 areys Orleans , MA
Happy with Arey's Lane
Review by
Ronald B.
Very nice home to call home for a week. Very spacious and comfortable. Central air was a plus - very humid week. Driveway and lighting out front minor inconveniences.
5 out of 5 stars
Very comfortable accommodations for 10
We rent every year in the Orleans area. This year for a larger family group we rented 12 Areys and loved the care that the owners take this property. The kitchen was great to cook in and the charcoal grill was very useful. The pond down the road is lovely with boats. We had a great week and I recommend this for 10 pp.
5 out of 5 stars
Beautiful and relaxing
Review by
Kimberly F.
10 of us fit comfortably in this roomy house. The house was clean and conveniently located.
5 out of 5 stars
Areys Road review
Review by
Cheryl S.
Vacation and house was good but there is an ant problem in the kitchen. We purchased ant traps for the counters and never left open on counters
4 out of 5 stars
Great Vacation Home!
Review by
Karen L.
We loved the property at 12 Arey's Lane. It had plenty of room and we were surprised to find out that a second floor bedroom suite was built. The property was very clean and well maintained and had everything we needed. Beds were very comfortable. It was great to have the central air. I would highly recommend this property to others.
5 out of 5 stars
Areys Lane 2016
Review by
Michael B.
Very nice house. Clean with all the necessary conveniences. Central air helpful. Lots of stairs, though, to get into the house. Bottom floor bedroom has no bath. All the climbing is hard for older guests. Would recommend for spryer guests!
4 out of 5 stars
Perfection...minus a dishwasher
Review by
Edward B.
Perfect!
5 out of 5 stars
Our first visit to 12 Arey's
Review by
Pat S.
House was in a great location and met or exceeded advertised amenities. Dryer broke while we were there, but rental agency (Cape Cod Rentals) worked hard to get it fixed for us and when it took longer than expected and inconvenienced us, they squared things by reducing our rent. My top criteria were all met: Good AC (central), new comfortable mattresses, good shower pressure and hot water, great kitchen, adequate seating around kitchen table and in living room. We had hummingbirds at the window every hour, a family of wild turkey stroll through the backyard, and nice space to stow bicycles and beach paraphernalia. Lovely lakes and beaches nearby.
5 out of 5 stars
Outstanding Orleans Home
Review by
Laura B.
We have been renting homes on the Cape for many years and have stayed in many towns. This year, our home was in Orleans and it could not have been more conveniently located and ideally suited for our family. We decided to bring along another family member (besides our family of 4) and the layout was great to accommodate another adult. The kitchen was very well stocked, the overall condition of the home was great, and the layout was very conducive to hanging around and enjoying ourselves.
5 out of 5 stars
August 2019

| S | M | T | W | T | F | S |
| --- | --- | --- | --- | --- | --- | --- |
| | | | | 01 | 02 | 03 |
| 04 | 05 | 06 | 07 | 08 | 09 | 10 |
| 11 | 12 | 13 | 14 | 15 | 16 | 17 |
| 18 | 19 | 20 | 21 | 22 | 23 | 24 |
| 25 | 26 | 27 | 28 | 29 | 30 | 31 |
September 2019

| S | M | T | W | T | F | S |
| --- | --- | --- | --- | --- | --- | --- |
| 01 | 02 | 03 | 04 | 05 | 06 | 07 |
| 08 | 09 | 10 | 11 | 12 | 13 | 14 |
| 15 | 16 | 17 | 18 | 19 | 20 | 21 |
| 22 | 23 | 24 | 25 | 26 | 27 | 28 |
| 29 | 30 | | | | | |
October 2019

| S | M | T | W | T | F | S |
| --- | --- | --- | --- | --- | --- | --- |
| | | 01 | 02 | 03 | 04 | 05 |
| 06 | 07 | 08 | 09 | 10 | 11 | 12 |
| 13 | 14 | 15 | 16 | 17 | 18 | 19 |
| 20 | 21 | 22 | 23 | 24 | 25 | 26 |
| 27 | 28 | 29 | 30 | 31 | | |
November 2019

| S | M | T | W | T | F | S |
| --- | --- | --- | --- | --- | --- | --- |
| | | | | | 01 | 02 |
| 03 | 04 | 05 | 06 | 07 | 08 | 09 |
| 10 | 11 | 12 | 13 | 14 | 15 | 16 |
| 17 | 18 | 19 | 20 | 21 | 22 | 23 |
| 24 | 25 | 26 | 27 | 28 | 29 | 30 |
December 2019

| S | M | T | W | T | F | S |
| --- | --- | --- | --- | --- | --- | --- |
| 01 | 02 | 03 | 04 | 05 | 06 | 07 |
| 08 | 09 | 10 | 11 | 12 | 13 | 14 |
| 15 | 16 | 17 | 18 | 19 | 20 | 21 |
| 22 | 23 | 24 | 25 | 26 | 27 | 28 |
| 29 | 30 | 31 | | | | |
January 2020

| S | M | T | W | T | F | S |
| --- | --- | --- | --- | --- | --- | --- |
| | | | 01 | 02 | 03 | 04 |
| 05 | 06 | 07 | 08 | 09 | 10 | 11 |
| 12 | 13 | 14 | 15 | 16 | 17 | 18 |
| 19 | 20 | 21 | 22 | 23 | 24 | 25 |
| 26 | 27 | 28 | 29 | 30 | 31 | |
February 2020

| S | M | T | W | T | F | S |
| --- | --- | --- | --- | --- | --- | --- |
| | | | | | | 01 |
| 02 | 03 | 04 | 05 | 06 | 07 | 08 |
| 09 | 10 | 11 | 12 | 13 | 14 | 15 |
| 16 | 17 | 18 | 19 | 20 | 21 | 22 |
| 23 | 24 | 25 | 26 | 27 | 28 | 29 |
March 2020

| S | M | T | W | T | F | S |
| --- | --- | --- | --- | --- | --- | --- |
| 01 | 02 | 03 | 04 | 05 | 06 | 07 |
| 08 | 09 | 10 | 11 | 12 | 13 | 14 |
| 15 | 16 | 17 | 18 | 19 | 20 | 21 |
| 22 | 23 | 24 | 25 | 26 | 27 | 28 |
| 29 | 30 | 31 | | | | |
April 2020

| S | M | T | W | T | F | S |
| --- | --- | --- | --- | --- | --- | --- |
| | | | 01 | 02 | 03 | 04 |
| 05 | 06 | 07 | 08 | 09 | 10 | 11 |
| 12 | 13 | 14 | 15 | 16 | 17 | 18 |
| 19 | 20 | 21 | 22 | 23 | 24 | 25 |
| 26 | 27 | 28 | 29 | 30 | | |
May 2020

| S | M | T | W | T | F | S |
| --- | --- | --- | --- | --- | --- | --- |
| | | | | | 01 | 02 |
| 03 | 04 | 05 | 06 | 07 | 08 | 09 |
| 10 | 11 | 12 | 13 | 14 | 15 | 16 |
| 17 | 18 | 19 | 20 | 21 | 22 | 23 |
| 24 | 25 | 26 | 27 | 28 | 29 | 30 |
| 31 | | | | | | |
June 2020

| S | M | T | W | T | F | S |
| --- | --- | --- | --- | --- | --- | --- |
| | 01 | 02 | 03 | 04 | 05 | 06 |
| 07 | 08 | 09 | 10 | 11 | 12 | 13 |
| 14 | 15 | 16 | 17 | 18 | 19 | 20 |
| 21 | 22 | 23 | 24 | 25 | 26 | 27 |
| 28 | 29 | 30 | | | | |
July 2020

| S | M | T | W | T | F | S |
| --- | --- | --- | --- | --- | --- | --- |
| | | | 01 | 02 | 03 | 04 |
| 05 | 06 | 07 | 08 | 09 | 10 | 11 |
| 12 | 13 | 14 | 15 | 16 | 17 | 18 |
| 19 | 20 | 21 | 22 | 23 | 24 | 25 |
| 26 | 27 | 28 | 29 | 30 | 31 | |
August 2020

| S | M | T | W | T | F | S |
| --- | --- | --- | --- | --- | --- | --- |
| | | | | | | 01 |
| 02 | 03 | 04 | 05 | 06 | 07 | 08 |
| 09 | 10 | 11 | 12 | 13 | 14 | 15 |
| 16 | 17 | 18 | 19 | 20 | 21 | 22 |
| 23 | 24 | 25 | 26 | 27 | 28 | 29 |
| 30 | 31 | | | | | |
Available
Unavailable
Sat to Sat booking