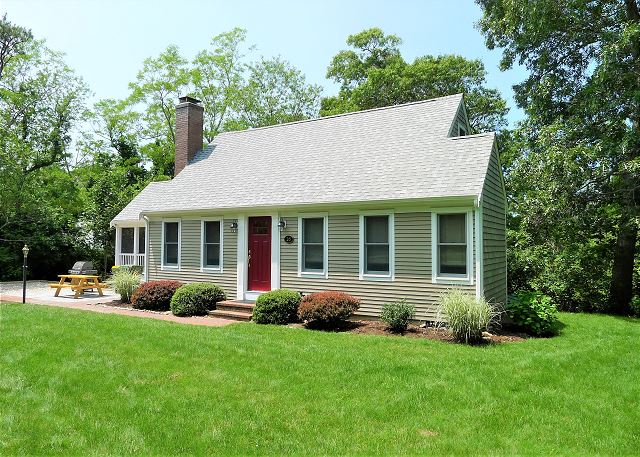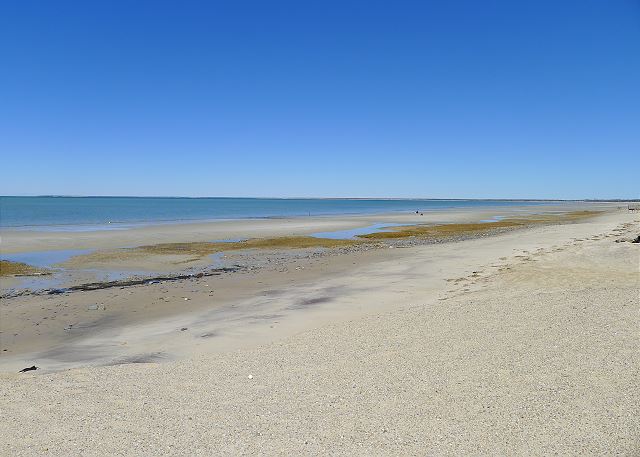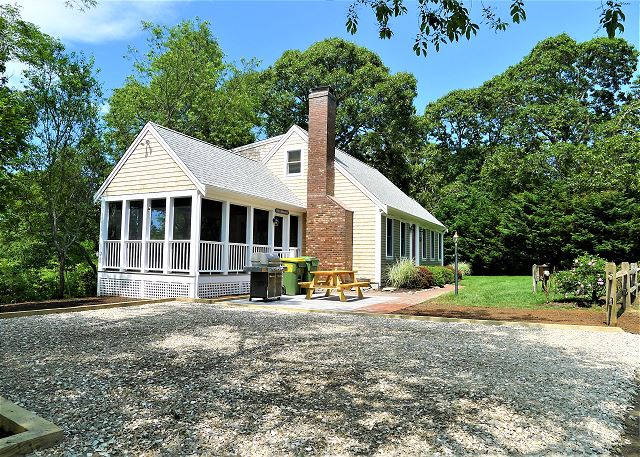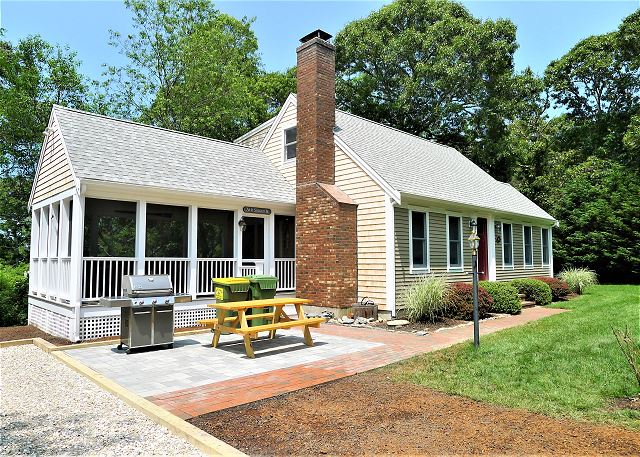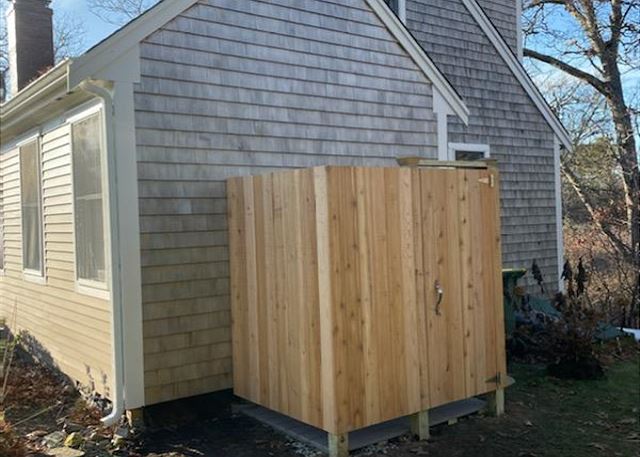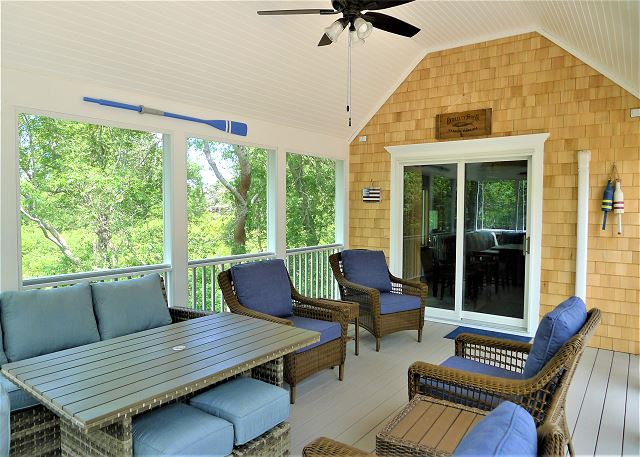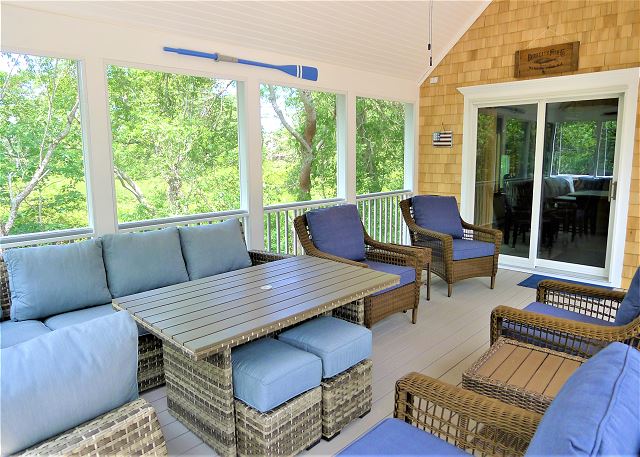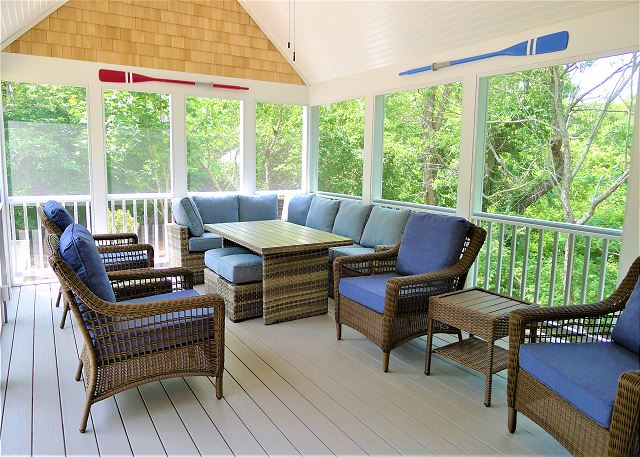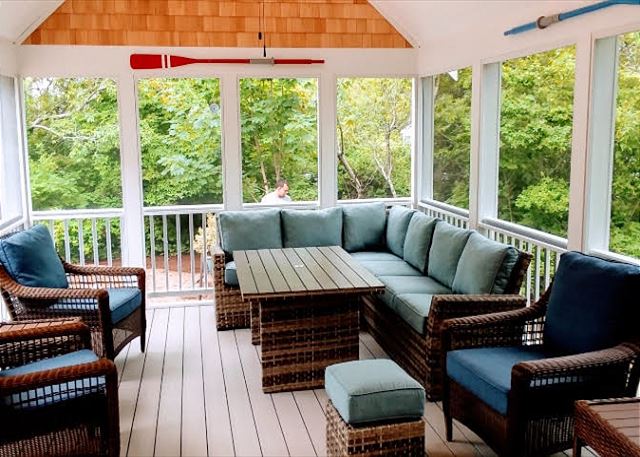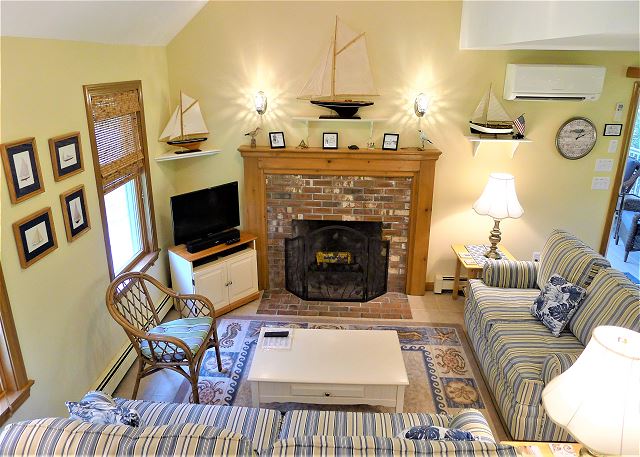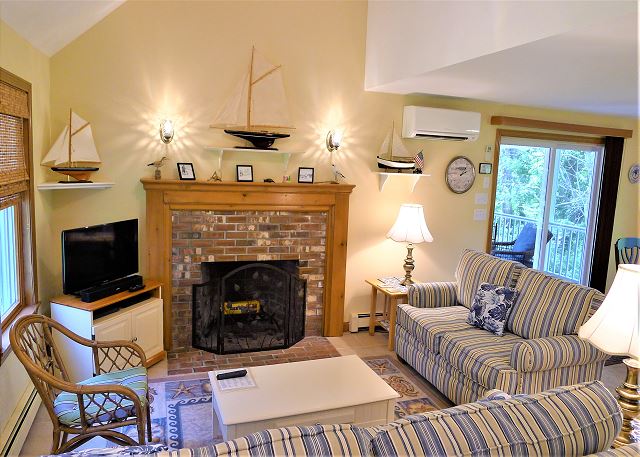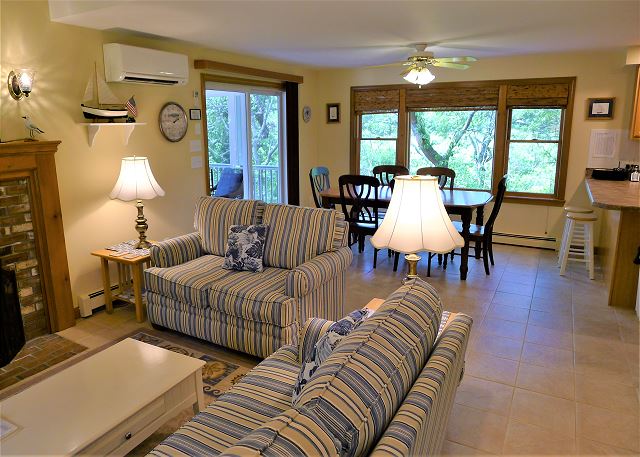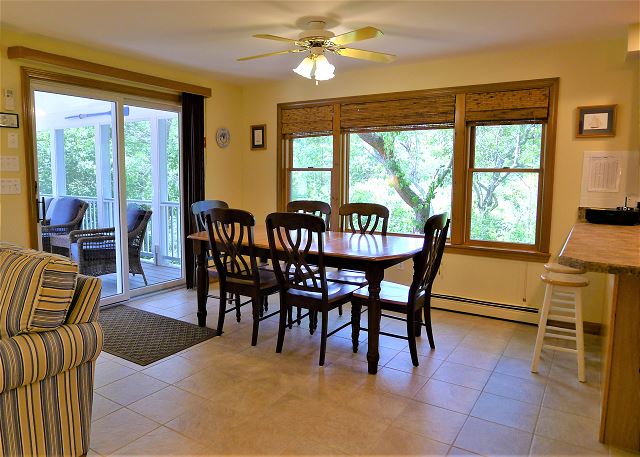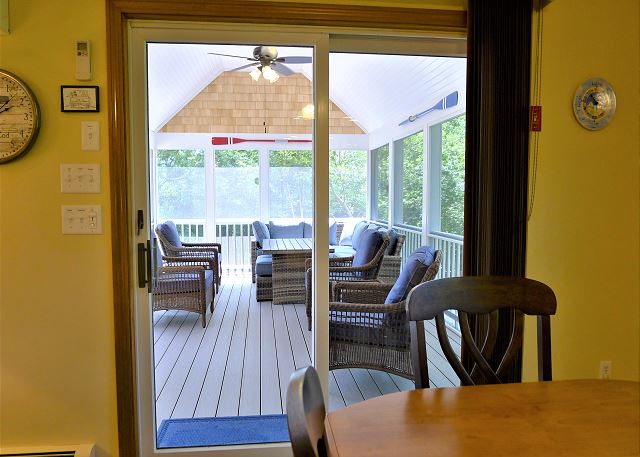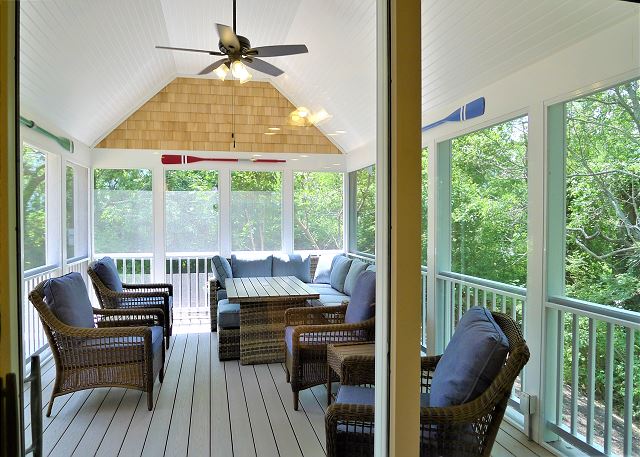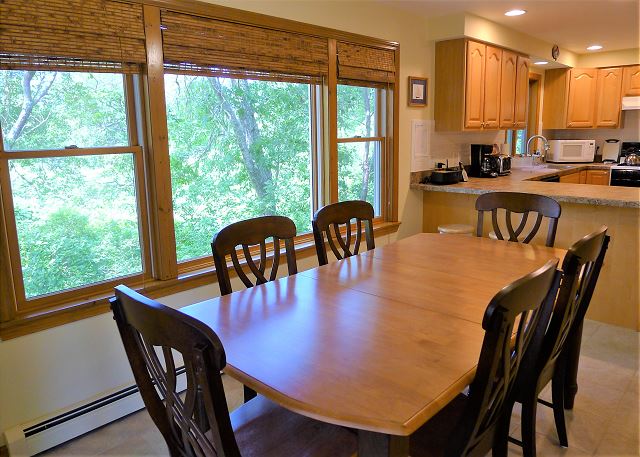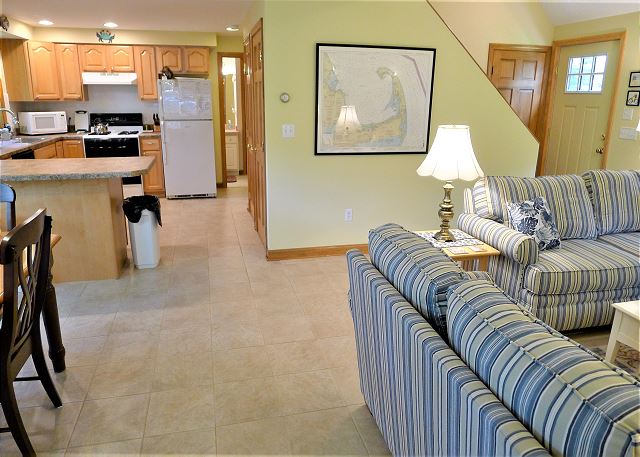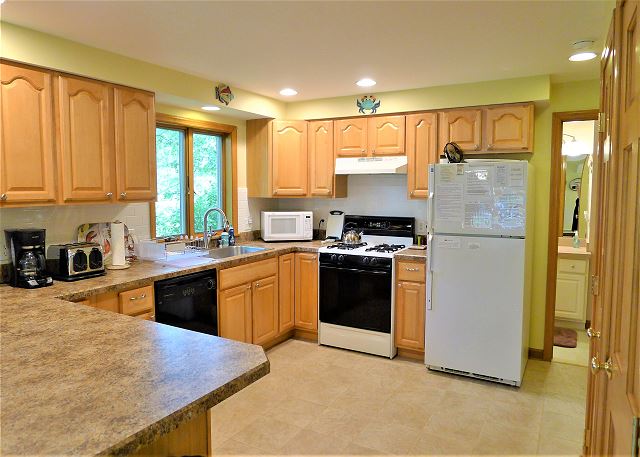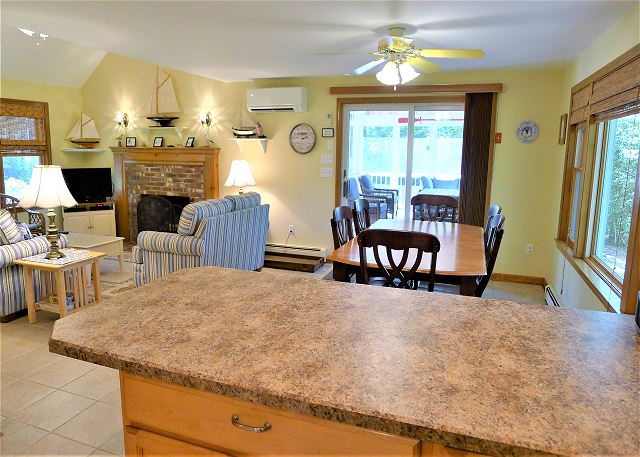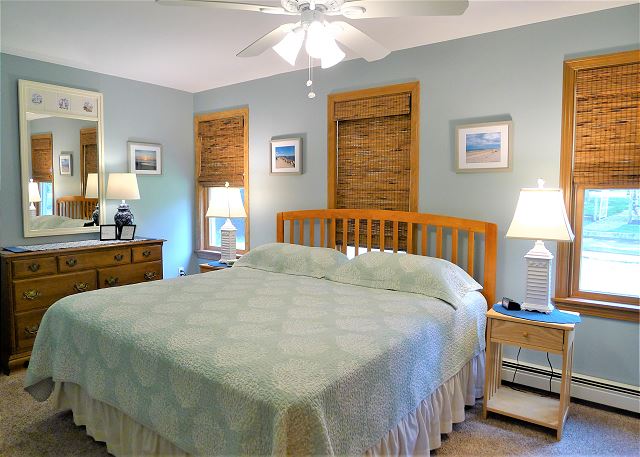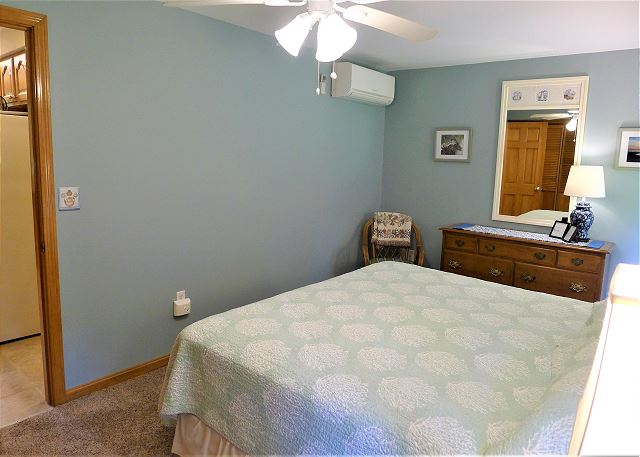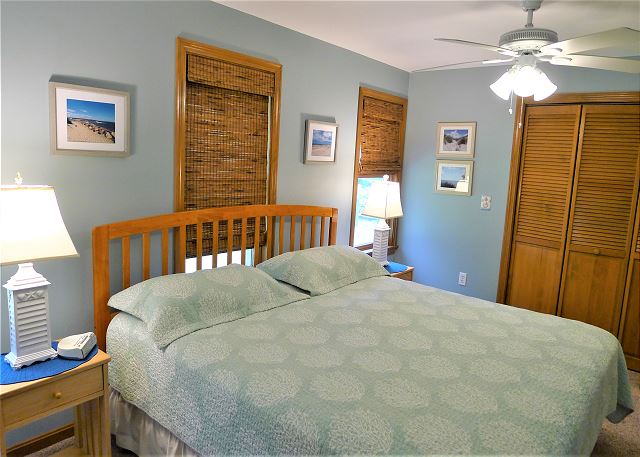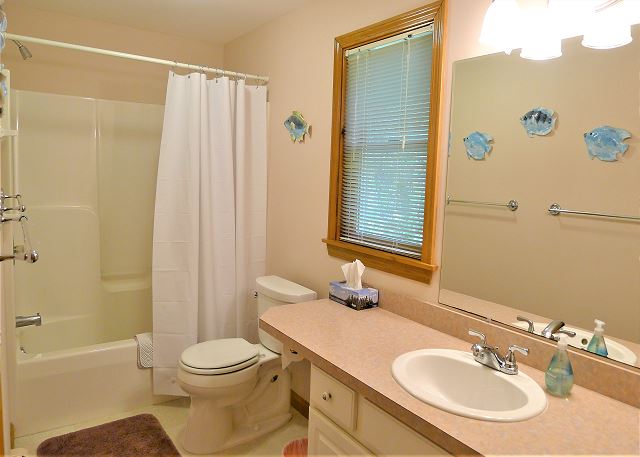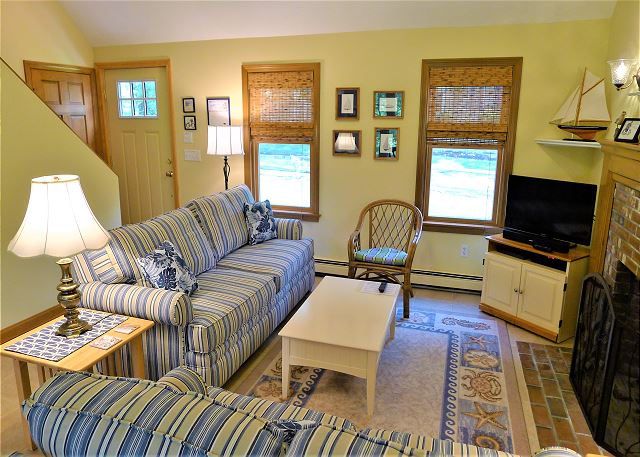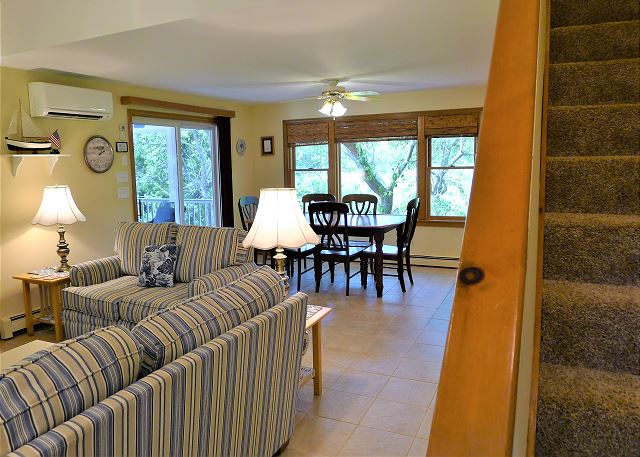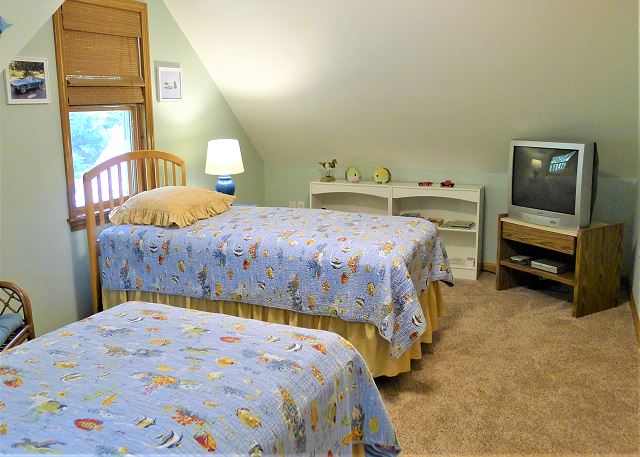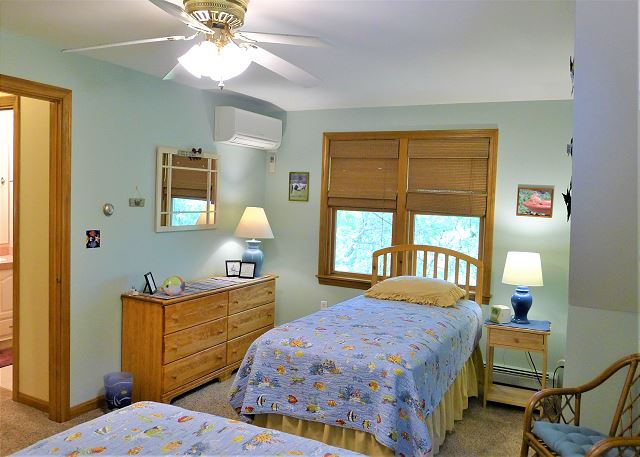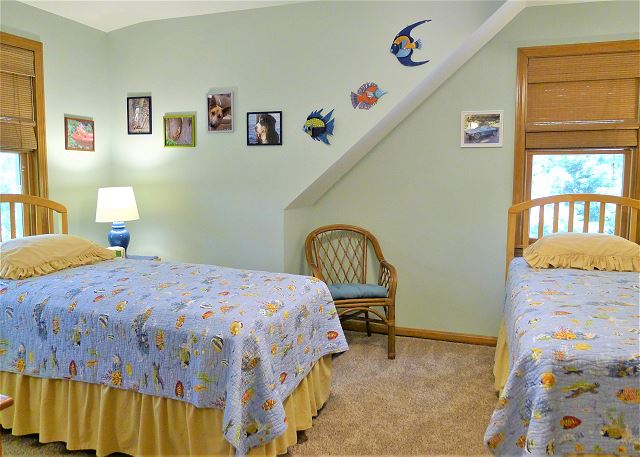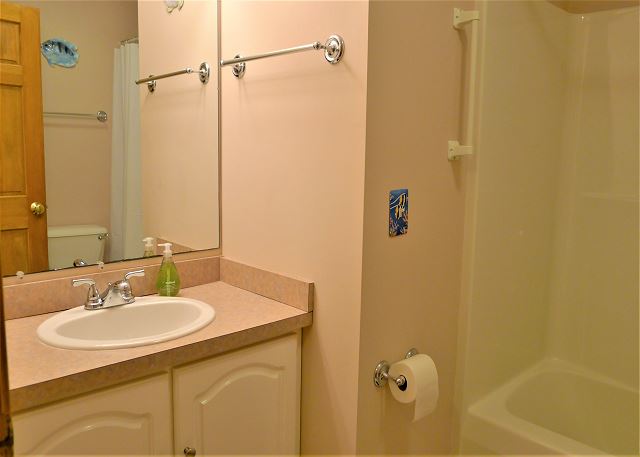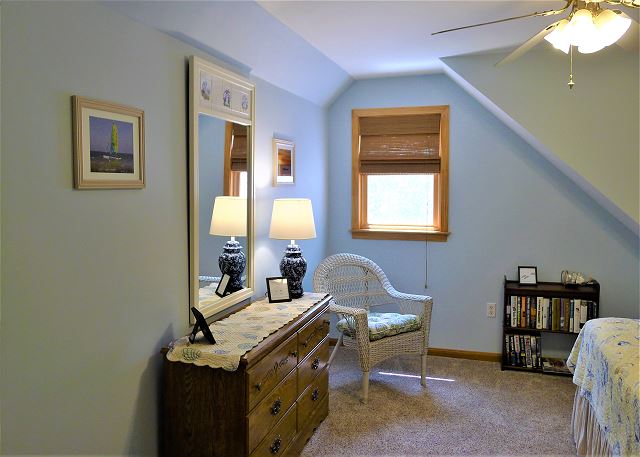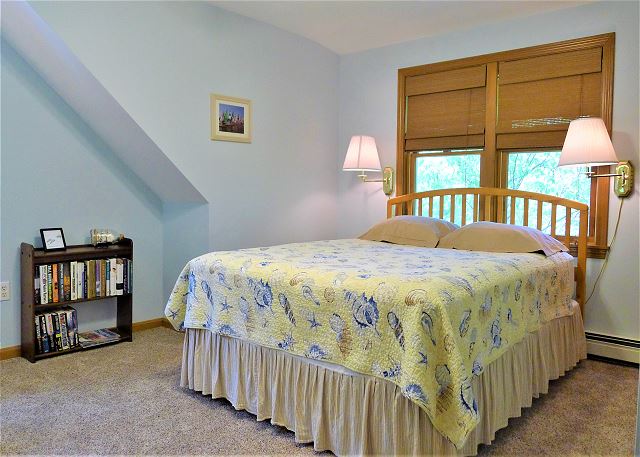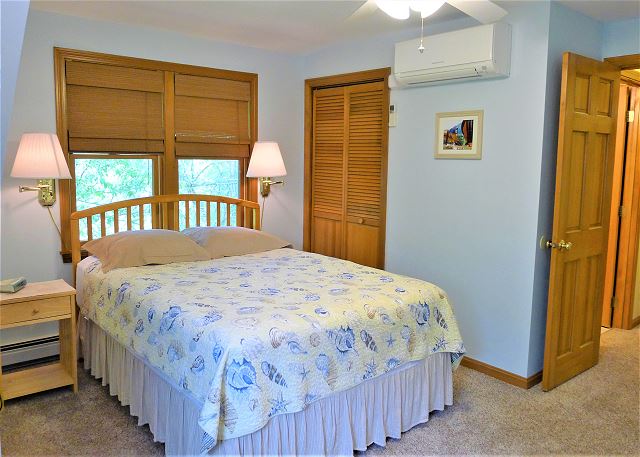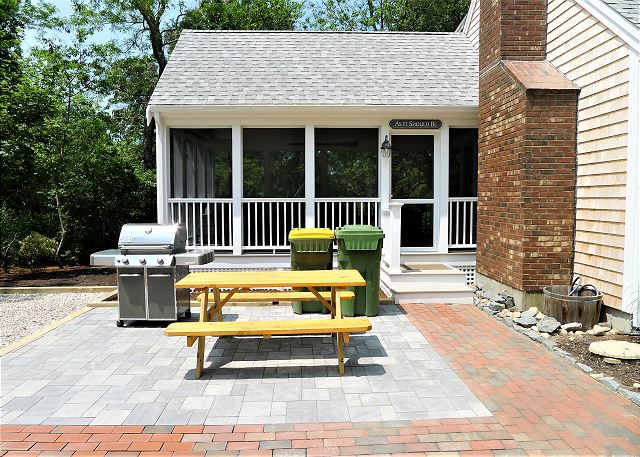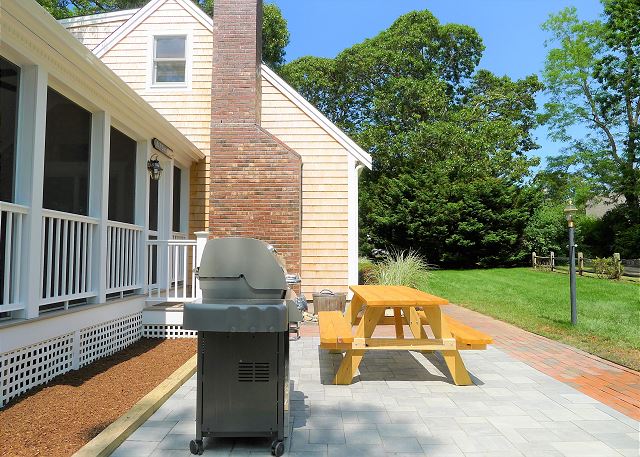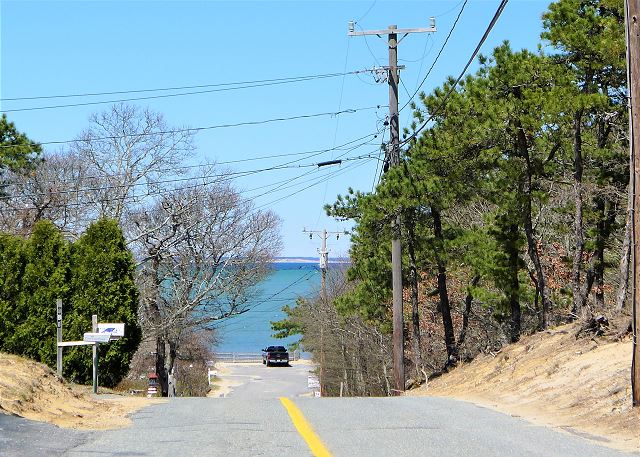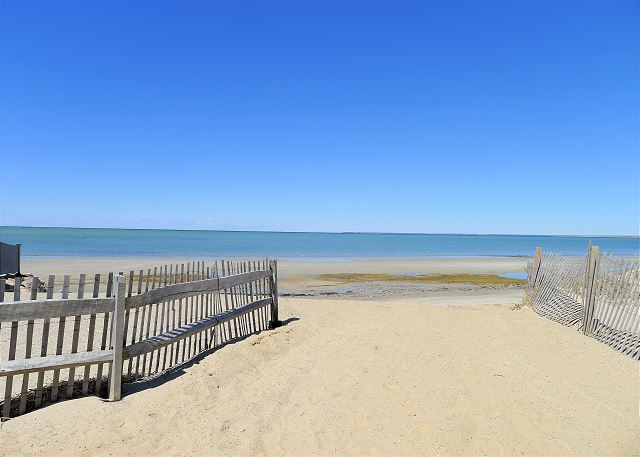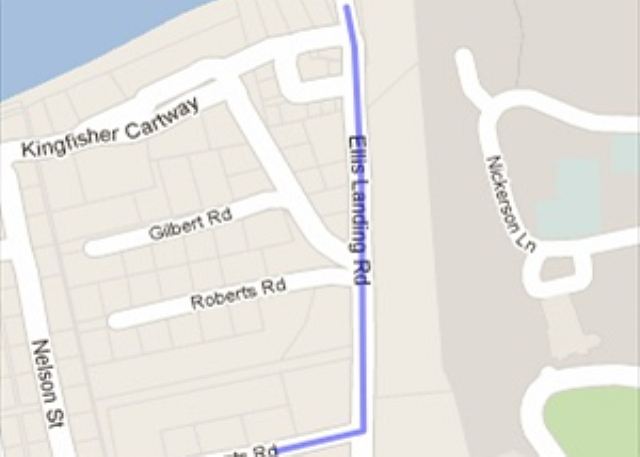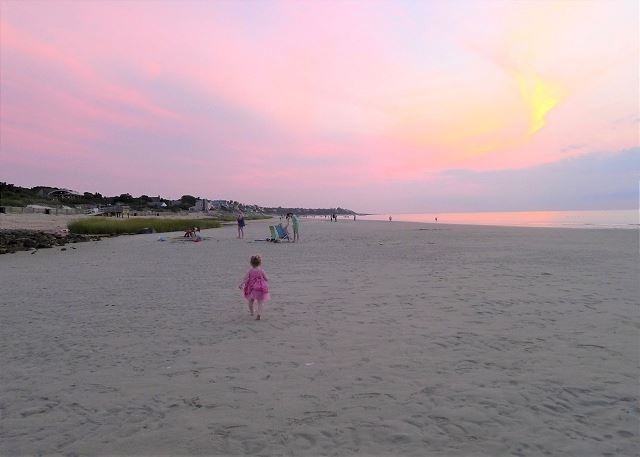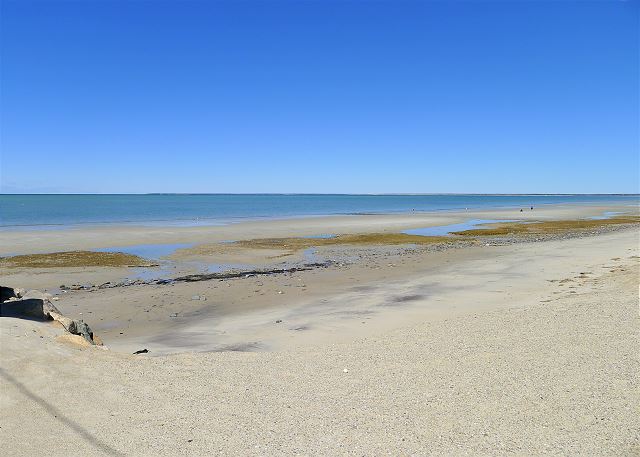 ---
Bedroom(s): 3
Bathroom(s): 2
Sleeps: 6
Type: House
Area: Ellis Landing
Town: Brewster
This classic 3 bed/2 bath Cape is immaculately appointed with an unbeatable location: Just 3/10ths of a mile to Ellis Landing Beach in Brewster! You're also near ice cream stands, family and fine dining, antique and one-of-a-kind shops, Nickerson State Park, and the Bike Path. It is the ideal spot for a vacation where you can truly do anything or unplug from everything.

This popular home features a split ductless cooling system that functions a lot like central air, and an open floor plan with cathedral ceilings that create an expansive and light-filled interior. The living room boasts ample and comfortable seating, flat screen advanced HDTV with apps, DVR, and HD channels. There is also a, Blu-ray DVD player with apps.

The kitchen is a chef's dream stocked with everything you'll need!

Dine inside next to a wide bank of windows or enjoy meals and drinks on the screened porch recently built with dining furniture and a gas grill. There is also a smaller patio with Weber grill in front of the deck to dine al fresco. Speaking of grilling, great meats are available at Ferretti's market and fish at the Breakwater Fresh Fish market next door on Underpass Road. And don't forget the best muffins from the Hopkins House!

The first floor includes a full bath with tub/shower combo and the main bedroom with king size bed.

Upstairs are two more bedrooms: one with a queen bed and one with a set of twins with TV and DVD player. They share a full bath with tub/shower combination right off the hall.

With a warm, sandy beach so close by, and all the recreational options within arm's reach, you will return to this gem again and again and again!

Also includes: BRAND NEW OUTDOOR SHOWER, high speed WiFi internet, washer and dryer, numerous beach chairs*, a kayak*, inflatable boat and inner tubes*, and parking for 2-3 cars. *Owners provide these items as favors to guests only and not as an integral part of the rental. If these items become lost or damaged during the course of the rental season, owners are not responsible for replacements.

Sorry no pets and no smoking allowed.

6 guests maximum allowed at any time. No parties exceeding the occupancy limit allowed.

LINENS (SHEETS/TOWELS) ARE NOT INCLUDED IN THIS RENTAL.

We offer travel insurance that is highly recommended and affordable coverage to protect your vacation investment.

Please view our policy and procedure page on our web site for detailed information about renting with us.

State and local taxes are applicable and may vary based on local ordinances and bylaws. Tax rates are subject to change.
" frameborder="0" allowfullscreen>
- Air Conditioning
- DVD Player
- Flat Screen HDTV
- Ceiling Fan
- WiFi
- Washer & Dryer
- A/C
- DVR
- Advanced HD Cable
- Microwave
- Drip Coffee Maker
- Pantry items (sugar, salt & pep)
- Cookware
- Dishes / Glassware / Utensils
- Kitchen Table
- Blender
- Toaster or Toaster Oven
- Island or Counter Seating
- Dishwasher
- Lobster Pot
- A/C
- TV
- Ceiling Fan
- A/C
- Hair Dryer
- Tub/Shower Combo
- Deck
- Gas Grill with Propane Tank
- Dining Table w/ Umbrella
- Enclosed Outdoor Shower
- Beach Chairs
- Close to Town
- Near Cape Cod Bay Beaches
- Walk to Beach
Guest Reviews of
26 clements Brewster , MA
Amazing week!
Review by
Bridgot B.
Our family had a great time. We have rented many places on the Cape and this was by far the cleanest. The house was stocked with everything we needed.
5 out of 5 stars
Beautiful home, convenient location, very satisfied
Home is located on quiet side street (no view) and is updated, clean, well-equipped, air conditioned, very comfortable. Large screened porch is a huge bonus, furnished to seat a dozen people (very soft seat cushions, could be firmer). Gas grill, beach chairs and some water accessories and craft available for use. Can park 3-4 vehicles depending on size. Short walking distance to local beach, Snowy Owl coffee roasters (try the apple turnover), JT's seafood and ice cream, small market, small bookshop. Bike rental and trail access nearby. Easy drive to Nauset beach, Cape Cod Brewers, Sesuit Harbor, Wellfleet Harbor Actors Theater, Arnolds (to name five we visited). Sleeps six (1 BR down, 2 up) and lease limits to that number, so might not work for larger groups. We tend to stay in different locations from year to year, but would certainly book this one again when in the area.
5 out of 5 stars
Wonderful place!
Review by
Kathleen C.
This was the third year that we stayed at this home. It is very comfortable and a quick walk to the beach. The new screen porch is amazing. The owner allows use of water toys and beach chairs. Great escape! Brewster sunsets never disappoint.
5 out of 5 stars
A wonderful vacation home.
Review by
Victor S.
We absolutely loved this property. Everything was perfect and welcoming. We will plan on booking this property again it was terrific.
5 out of 5 stars
Manager Response:
Hi Victor! You can't imagine how thrilled I am to hear this - even a second time!! I'll save this week for you to rebookiin 2019. Great house. Great weather. You both deserve it! Best, Sandy O'Dell, Manager, CapeCodRentals.
Great stay in Brewster
Review by
Lauren B.
We had a quick walk to the beach from our three bedroom rental. It was equipped with everything we needed for a peaceful stay on the cape.
5 out of 5 stars
Excellent stay in Brewster, Cape Cod
Wonderful time in Cape Cod, and first time renting there. 26 Clements Rd is a wonderful property and a fantastic location. Loved easy walk to beach and restaurants, shops, etc. House is absolutely beautiful and well maintained - Loved our stay!!!
5 out of 5 stars
Great great house
Review by
Katelyn R.
This house would be a perfect house if they had an outdoors shower..But this house is amazing and I hope to stay there again...
5 out of 5 stars
April 2020

| S | M | T | W | T | F | S |
| --- | --- | --- | --- | --- | --- | --- |
| | | | 01 | 02 | 03 | 04 |
| 05 | 06 | 07 | 08 | 09 | 10 | 11 |
| 12 | 13 | 14 | 15 | 16 | 17 | 18 |
| 19 | 20 | 21 | 22 | 23 | 24 | 25 |
| 26 | 27 | 28 | 29 | 30 | | |
May 2020

| S | M | T | W | T | F | S |
| --- | --- | --- | --- | --- | --- | --- |
| | | | | | 01 | 02 |
| 03 | 04 | 05 | 06 | 07 | 08 | 09 |
| 10 | 11 | 12 | 13 | 14 | 15 | 16 |
| 17 | 18 | 19 | 20 | 21 | 22 | 23 |
| 24 | 25 | 26 | 27 | 28 | 29 | 30 |
| 31 | | | | | | |
June 2020

| S | M | T | W | T | F | S |
| --- | --- | --- | --- | --- | --- | --- |
| | 01 | 02 | 03 | 04 | 05 | 06 |
| 07 | 08 | 09 | 10 | 11 | 12 | 13 |
| 14 | 15 | 16 | 17 | 18 | 19 | 20 |
| 21 | 22 | 23 | 24 | 25 | 26 | 27 |
| 28 | 29 | 30 | | | | |
July 2020

| S | M | T | W | T | F | S |
| --- | --- | --- | --- | --- | --- | --- |
| | | | 01 | 02 | 03 | 04 |
| 05 | 06 | 07 | 08 | 09 | 10 | 11 |
| 12 | 13 | 14 | 15 | 16 | 17 | 18 |
| 19 | 20 | 21 | 22 | 23 | 24 | 25 |
| 26 | 27 | 28 | 29 | 30 | 31 | |
August 2020

| S | M | T | W | T | F | S |
| --- | --- | --- | --- | --- | --- | --- |
| | | | | | | 01 |
| 02 | 03 | 04 | 05 | 06 | 07 | 08 |
| 09 | 10 | 11 | 12 | 13 | 14 | 15 |
| 16 | 17 | 18 | 19 | 20 | 21 | 22 |
| 23 | 24 | 25 | 26 | 27 | 28 | 29 |
| 30 | 31 | | | | | |
September 2020

| S | M | T | W | T | F | S |
| --- | --- | --- | --- | --- | --- | --- |
| | | 01 | 02 | 03 | 04 | 05 |
| 06 | 07 | 08 | 09 | 10 | 11 | 12 |
| 13 | 14 | 15 | 16 | 17 | 18 | 19 |
| 20 | 21 | 22 | 23 | 24 | 25 | 26 |
| 27 | 28 | 29 | 30 | | | |
October 2020

| S | M | T | W | T | F | S |
| --- | --- | --- | --- | --- | --- | --- |
| | | | | 01 | 02 | 03 |
| 04 | 05 | 06 | 07 | 08 | 09 | 10 |
| 11 | 12 | 13 | 14 | 15 | 16 | 17 |
| 18 | 19 | 20 | 21 | 22 | 23 | 24 |
| 25 | 26 | 27 | 28 | 29 | 30 | 31 |
November 2020

| S | M | T | W | T | F | S |
| --- | --- | --- | --- | --- | --- | --- |
| 01 | 02 | 03 | 04 | 05 | 06 | 07 |
| 08 | 09 | 10 | 11 | 12 | 13 | 14 |
| 15 | 16 | 17 | 18 | 19 | 20 | 21 |
| 22 | 23 | 24 | 25 | 26 | 27 | 28 |
| 29 | 30 | | | | | |
December 2020

| S | M | T | W | T | F | S |
| --- | --- | --- | --- | --- | --- | --- |
| | | 01 | 02 | 03 | 04 | 05 |
| 06 | 07 | 08 | 09 | 10 | 11 | 12 |
| 13 | 14 | 15 | 16 | 17 | 18 | 19 |
| 20 | 21 | 22 | 23 | 24 | 25 | 26 |
| 27 | 28 | 29 | 30 | 31 | | |
January 2021

| S | M | T | W | T | F | S |
| --- | --- | --- | --- | --- | --- | --- |
| | | | | | 01 | 02 |
| 03 | 04 | 05 | 06 | 07 | 08 | 09 |
| 10 | 11 | 12 | 13 | 14 | 15 | 16 |
| 17 | 18 | 19 | 20 | 21 | 22 | 23 |
| 24 | 25 | 26 | 27 | 28 | 29 | 30 |
| 31 | | | | | | |
February 2021

| S | M | T | W | T | F | S |
| --- | --- | --- | --- | --- | --- | --- |
| | 01 | 02 | 03 | 04 | 05 | 06 |
| 07 | 08 | 09 | 10 | 11 | 12 | 13 |
| 14 | 15 | 16 | 17 | 18 | 19 | 20 |
| 21 | 22 | 23 | 24 | 25 | 26 | 27 |
| 28 | | | | | | |
March 2021

| S | M | T | W | T | F | S |
| --- | --- | --- | --- | --- | --- | --- |
| | 01 | 02 | 03 | 04 | 05 | 06 |
| 07 | 08 | 09 | 10 | 11 | 12 | 13 |
| 14 | 15 | 16 | 17 | 18 | 19 | 20 |
| 21 | 22 | 23 | 24 | 25 | 26 | 27 |
| 28 | 29 | 30 | 31 | | | |
April 2021

| S | M | T | W | T | F | S |
| --- | --- | --- | --- | --- | --- | --- |
| | | | | 01 | 02 | 03 |
| 04 | 05 | 06 | 07 | 08 | 09 | 10 |
| 11 | 12 | 13 | 14 | 15 | 16 | 17 |
| 18 | 19 | 20 | 21 | 22 | 23 | 24 |
| 25 | 26 | 27 | 28 | 29 | 30 | |
Available
Unavailable
Sat to Sat booking