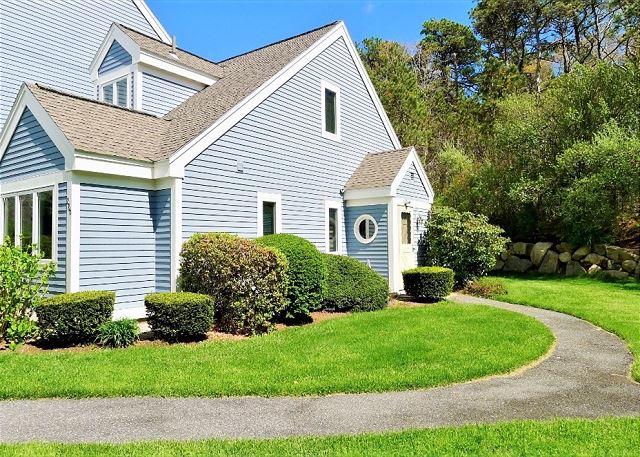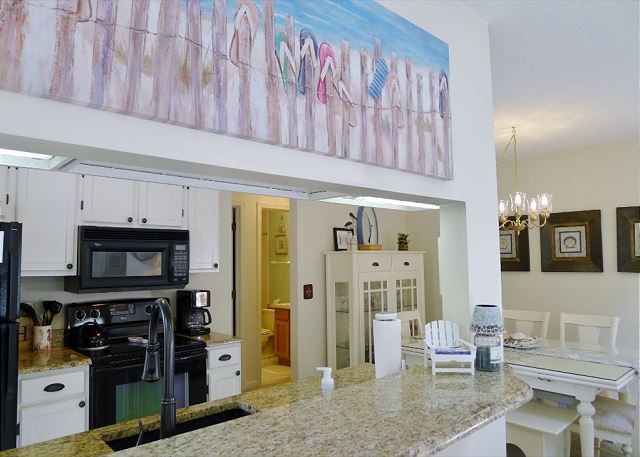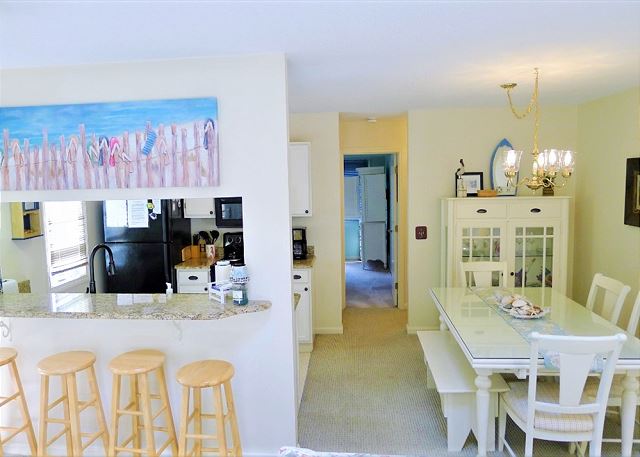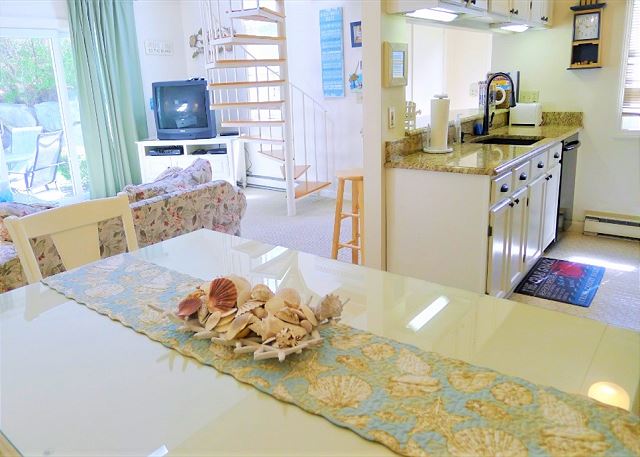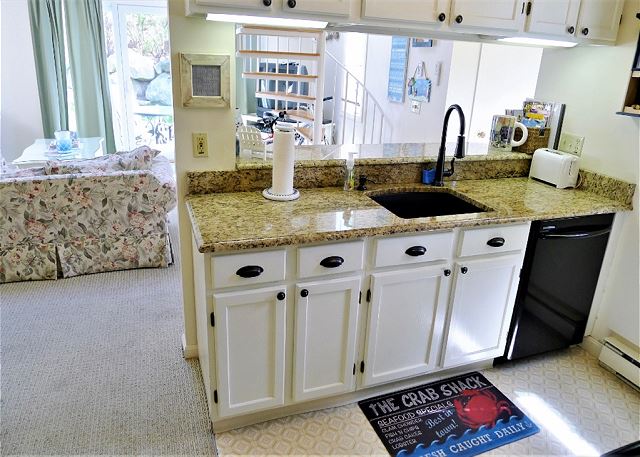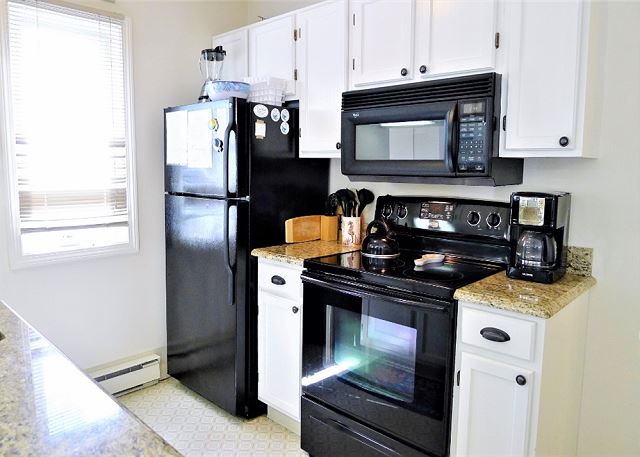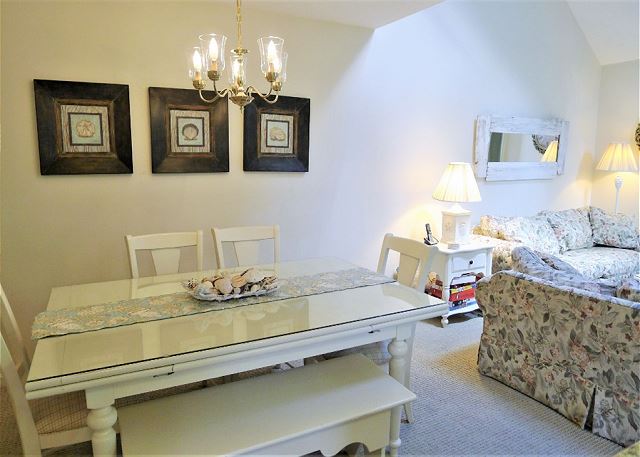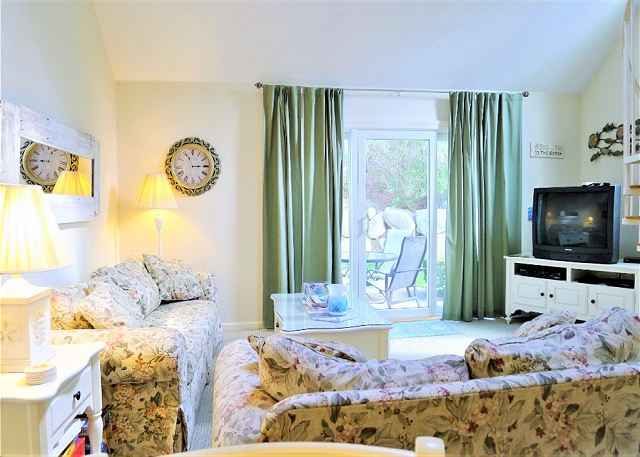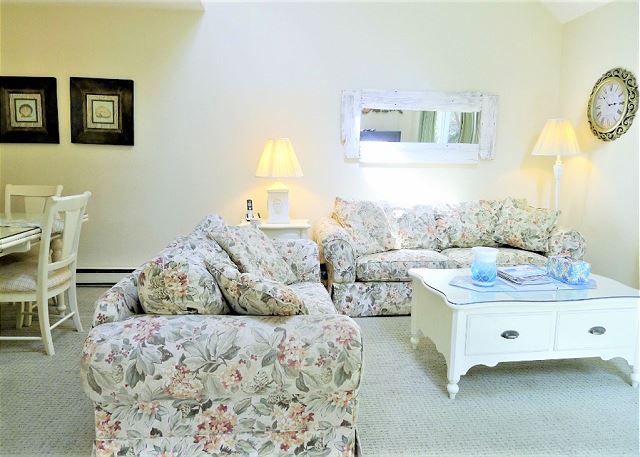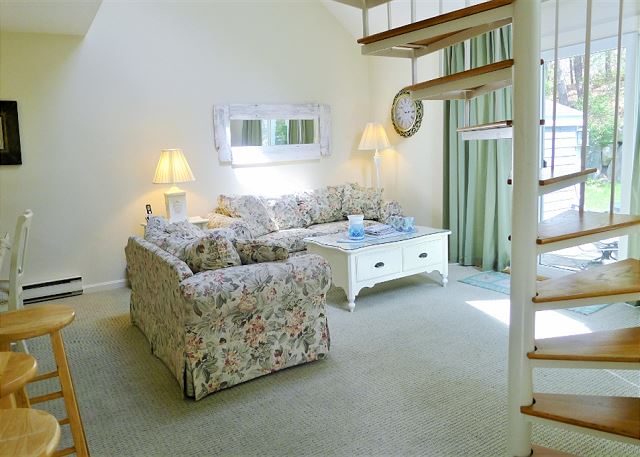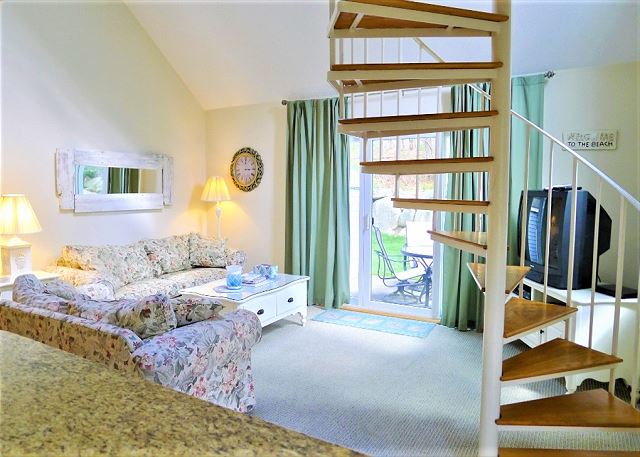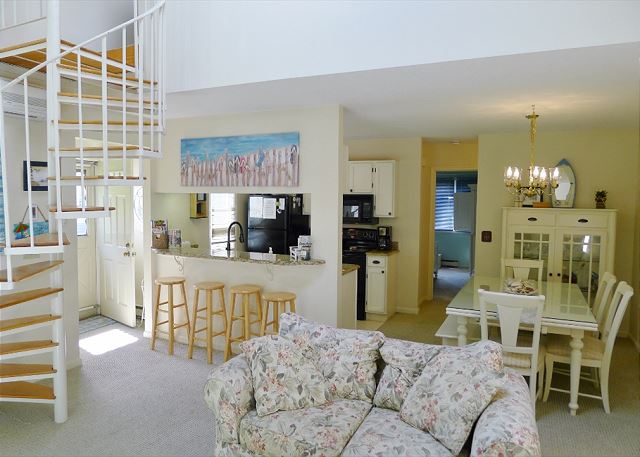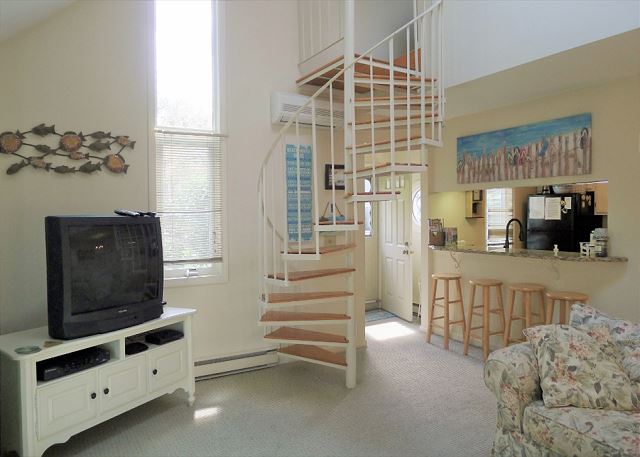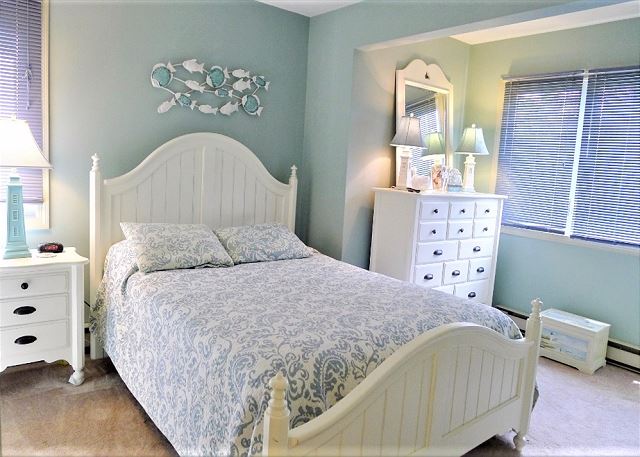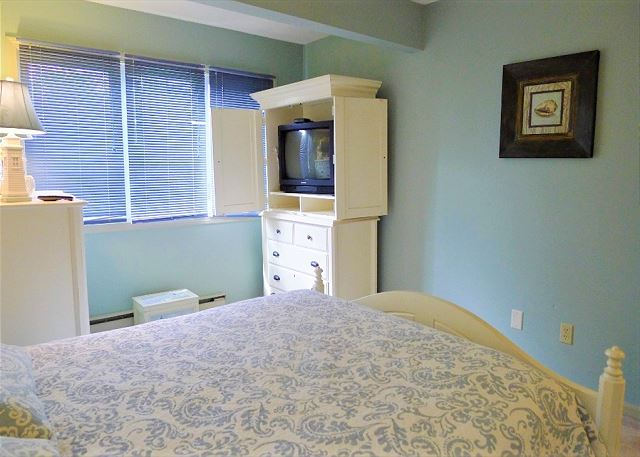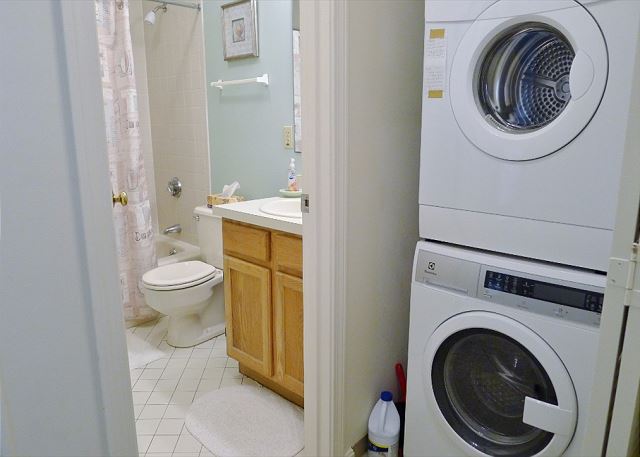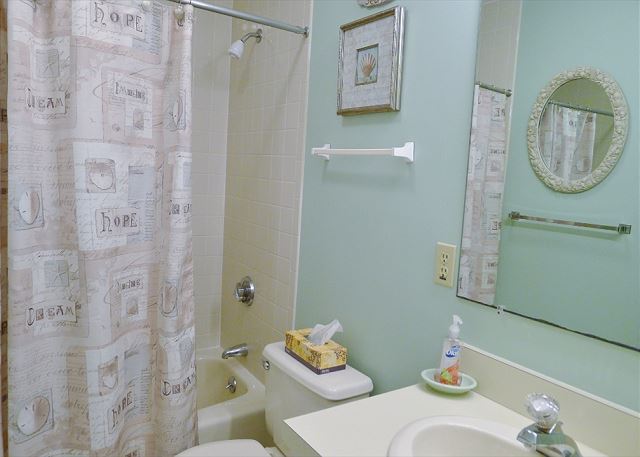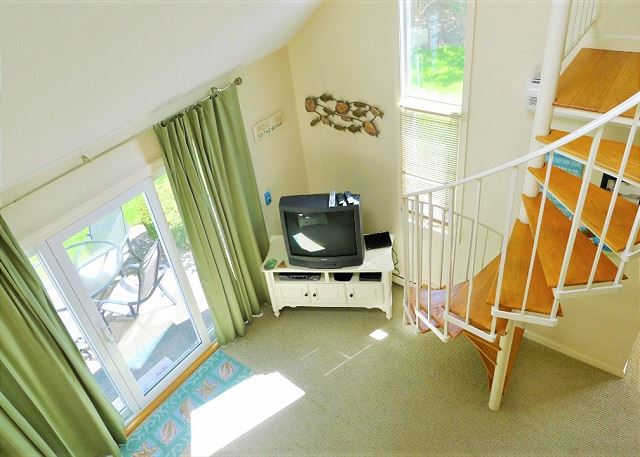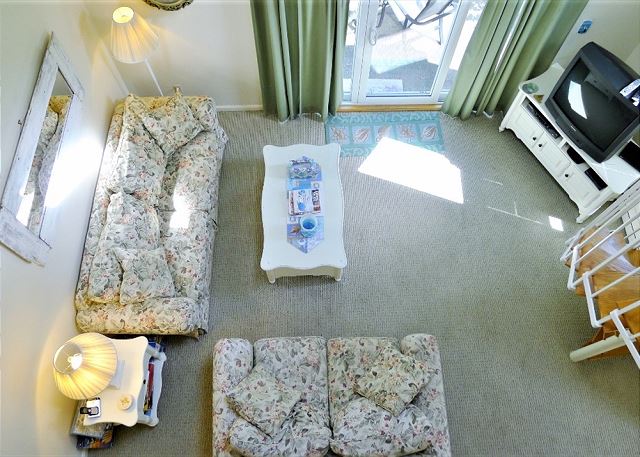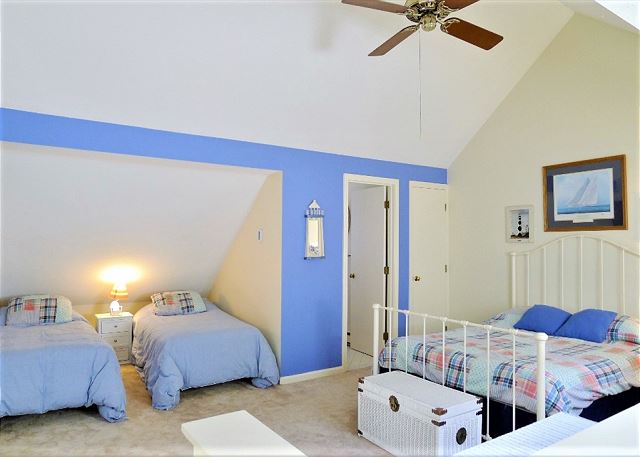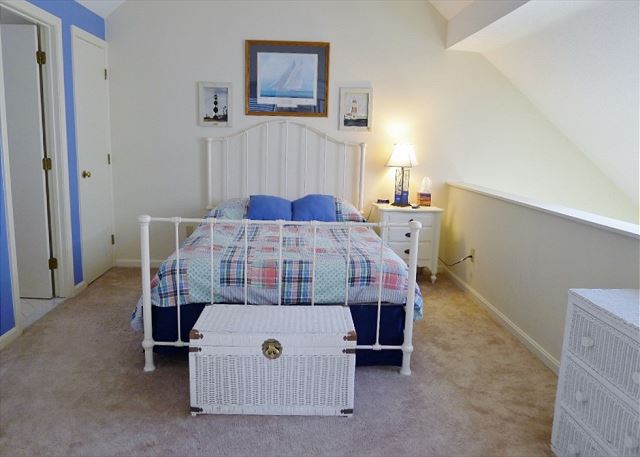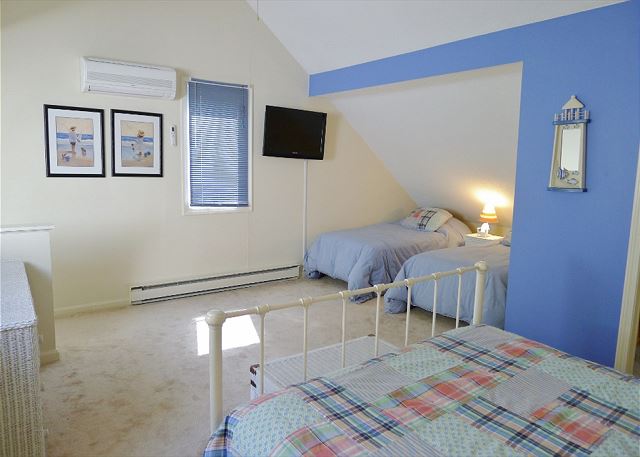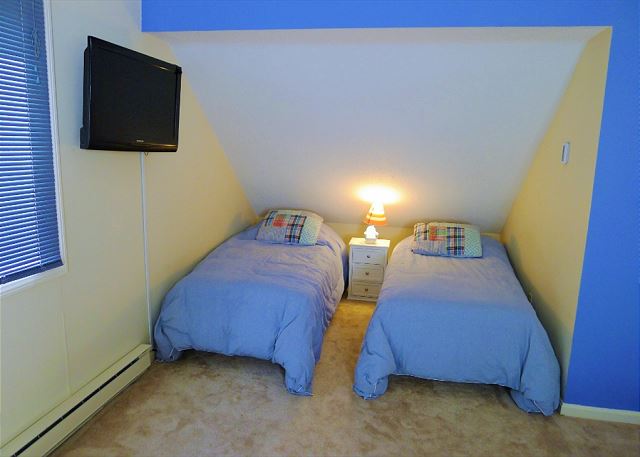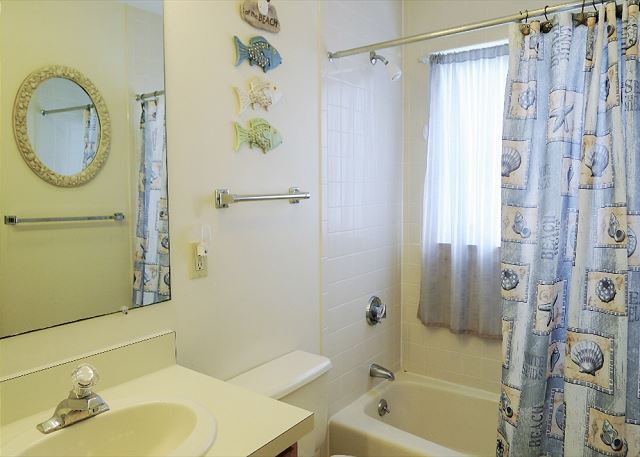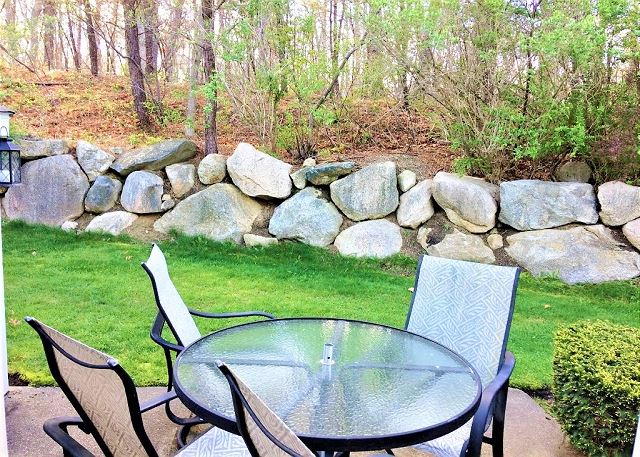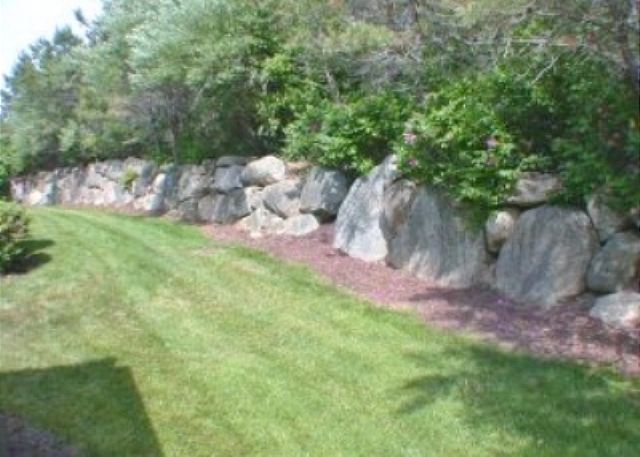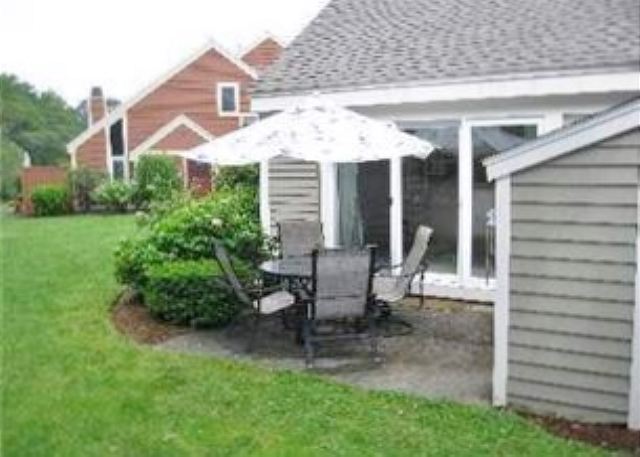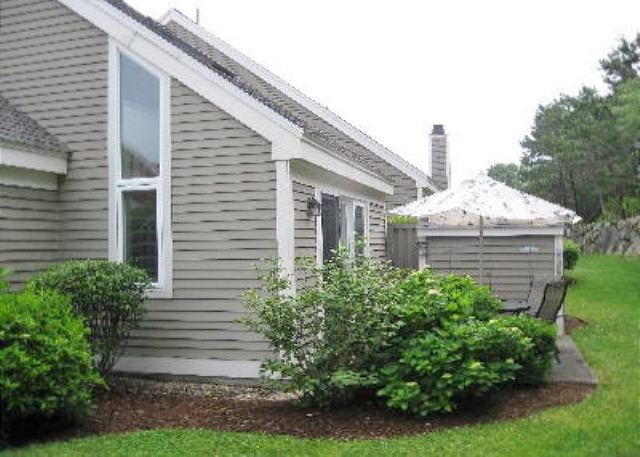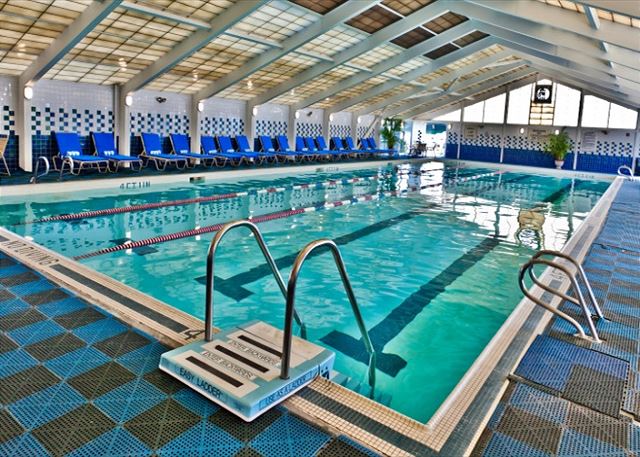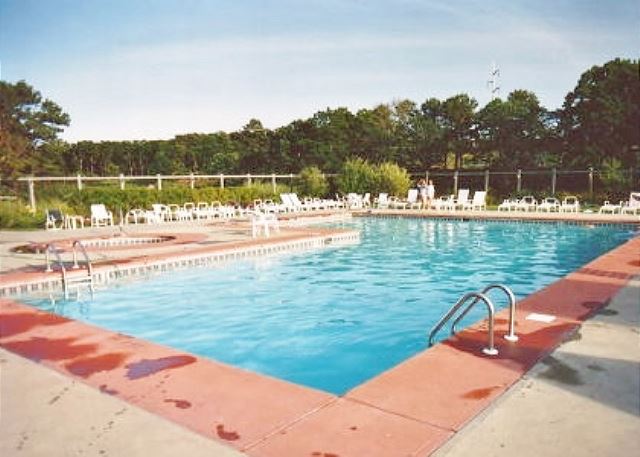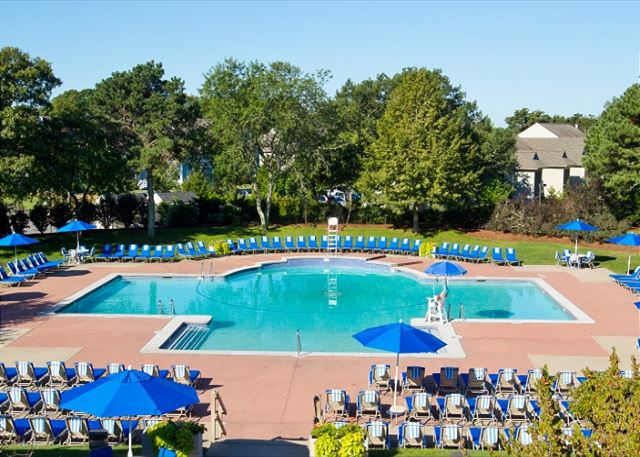 ---
Bedroom(s): 2
Bathroom(s): 2
Sleeps: 6
Type: Condominium
Area:
Town: Brewster
Affordable Brewster Getaway! Fletcher Indoor Pool is Open Year Round!

Brewster's Desirable Ocean Edge Resort, this "B" Style townhome located in Fletcher Village just a short distance from the Fletcher indoor/outdoor pool, fitness center, tennis courts, has A/C, and much more! This condo unit has beautiful fresh interior and can sleep up to 6 Guests.

On the first level of this town home there is an inviting living room with a full size sleeper sofa, TV, DVD player and a wall A/C unit. There is a galley style kitchen with marble counter tops and updated appliances, all fully outfitted with dining and cooking items that includes toaster, drip coffee maker and lobster pot. The sunny kitchen opens into the dining area, seating 6 guests, with breakfast counter also. Off the dining area is a hallway with laundry in closet, also a full bath and bedroom with queen size bed and wall A/C unit. Spiral stairs lead to the second floor loft with two twin size beds and a ceiling fan, flat screen TV and additional queen bed, wall A/C unit, and another full bath.

This home offers wireless Internet access, outdoor dining table, and a charcoal grill outside on the patio. This home also includes 3 TV's with cable, a DVD player, AM/FM Stereo with CD player, Nintendo game console, clothing washer & dyer, and 3-zone ductless A/C system, beach chairs, cooler & umbrella, beach toys and baby gate. Please note that this townhouse sits on a hill with great views, but can only be accessed by walking up several sets of steps.

Guests of this home will have Ocean Edge privileges except access to the private beach area. The resort charges fees to use these amenities which will include the use of Fletcher indoor & outdoor pools, Fletcher cardio room, Arbor outdoor pool, the New Fitness Center with outdoor pool, and Tennis courts. This home does not include Golf privileges. You must complete your OE guest list and submit it to us 10 days prior to your stay in order to have privileges.

Remember all Ocean Edge fees are to be paid upon arrival to Ocean Edge.

Sorry no pets and no smoking allowed.

6 Guests maximum allowed at any time. No parties exceeding the occupancy limit allowed.

LINENS (SHEETS/TOWELS) ARE NOT INCLUDED IN THIS RENTAL.

Travel Insurance is available, highly recommended, and affordable coverage to protect your vacation investment.

Please view our policy and procedure page on our web site for detailed information about renting with us.
" frameborder="0" allowfullscreen>
- DVD Player
- Flat Screen HDTV
- Extended Cable
- A/C Unit
- Microwave
- Drip Coffee Maker
- Pantry items (sugar, salt & pep)
- Cookware
- Dishes / Glassware / Utensils
- Kitchen Table
- Blender
- Toaster or Toaster Oven
- Ice Maker
- Island or Counter Seating
- Dishwasher
- Lobster Pot
- Door to Deck
- Window A/C
- Room Fans
- TV
- DVD Player
- Beds
- Patio
- Charcoal Grill
- Dining Table w/ Umbrella
- Shared Pool
- Tennis
- Beach Chairs
- Close to Town
- Near Rail Trail Bike Path
- Near Cape Cod Bay Beaches
- Resort Location & Amenities
- Near Golf Course
Guest Reviews of
286 fletcher* Brewster , MA
September Wedding
At the cape for our daughters wedding. Unit was large enough to accommodate 8 people comfortably. Fully stocked and beautifully decorated. Renters should be advised it is not accessible easily. There are 15 steps from the parking lot to the sidewalk.
5 out of 5 stars
Terrible Access
I would never recommend this location if you have a walking issue. In my case, recent surgery. Having to walk up and down outdoor stairways just to get to the top of a walkway that is then needed to be traversed, what seemed a block, to finally get to the property entrance is definitely not something you want to be surprised with when you arrive, and then to find that the keys given to you won't open the door, is extremely unsettling. Getting your belongings to this site with a walking issue, is no easy task. And then spending an entire week going up and down those outdoor stairways to get to your vehicle every day is extremely difficult when you have a walking issue. In previous stays, getting to the property rented was always a flat and easy access. In this case, I never thought to have had to worry about steep outdoor stairways. We arrived at the location at 3:00pm, and because of the "situation," we were not able to get into the rental until 7:00pm, due to having to wait for someone from the agency to come with new keys and finally sending someone to get our belongings up those outdoor stairways (thank you Tim!). To say the least, this experience was certainly horrible. Lesson learned. Never again. As to the unit, it was fine. Coming and going, certainly was not enjoyable. If you don't have a leg issue, then, of course, no problem. Wish I had known in advance of the access; I would not have accepted this location.
1 out of 5 stars
Manager Response:
Victor - I am genuinely sorry for your experience. Had you told us of your ambulatory challenges at the time you booked, we certainly would have recommended a different condo at Ocean Edge. Also, the delay in getting on of our property managers over to the unit to help you navigate the steps and bring in your luggage was beyond our control. There was a huge back up on Route 6 from Wellfleet to the Orleans Rotary (it took our handyman 2 hours to travel a few miles), and this was why you had to wait. I had offered to relocate you into another unit, and you declined. I had suggested that you go out for dinner or at least drinks and a snack, and that we would call you once our handyman arrived at the property, but you were insistent on sitting in the car and waiting. If you do call us next year, we will make sure that it is a property which will give you so such trouble - promise! Kindest Regards, Sandy
286 Fletcher
All in all the experience was fine.the washing machine was very flaky to get working. Not any privacy outside.
4 out of 5 stars
March 2018

| S | M | T | W | T | F | S |
| --- | --- | --- | --- | --- | --- | --- |
| | | | | 01 | 02 | 03 |
| 04 | 05 | 06 | 07 | 08 | 09 | 10 |
| 11 | 12 | 13 | 14 | 15 | 16 | 17 |
| 18 | 19 | 20 | 21 | 22 | 23 | 24 |
| 25 | 26 | 27 | 28 | 29 | 30 | 31 |
April 2018

| S | M | T | W | T | F | S |
| --- | --- | --- | --- | --- | --- | --- |
| 01 | 02 | 03 | 04 | 05 | 06 | 07 |
| 08 | 09 | 10 | 11 | 12 | 13 | 14 |
| 15 | 16 | 17 | 18 | 19 | 20 | 21 |
| 22 | 23 | 24 | 25 | 26 | 27 | 28 |
| 29 | 30 | | | | | |
May 2018

| S | M | T | W | T | F | S |
| --- | --- | --- | --- | --- | --- | --- |
| | | 01 | 02 | 03 | 04 | 05 |
| 06 | 07 | 08 | 09 | 10 | 11 | 12 |
| 13 | 14 | 15 | 16 | 17 | 18 | 19 |
| 20 | 21 | 22 | 23 | 24 | 25 | 26 |
| 27 | 28 | 29 | 30 | 31 | | |
June 2018

| S | M | T | W | T | F | S |
| --- | --- | --- | --- | --- | --- | --- |
| | | | | | 01 | 02 |
| 03 | 04 | 05 | 06 | 07 | 08 | 09 |
| 10 | 11 | 12 | 13 | 14 | 15 | 16 |
| 17 | 18 | 19 | 20 | 21 | 22 | 23 |
| 24 | 25 | 26 | 27 | 28 | 29 | 30 |
July 2018

| S | M | T | W | T | F | S |
| --- | --- | --- | --- | --- | --- | --- |
| 01 | 02 | 03 | 04 | 05 | 06 | 07 |
| 08 | 09 | 10 | 11 | 12 | 13 | 14 |
| 15 | 16 | 17 | 18 | 19 | 20 | 21 |
| 22 | 23 | 24 | 25 | 26 | 27 | 28 |
| 29 | 30 | 31 | | | | |
August 2018

| S | M | T | W | T | F | S |
| --- | --- | --- | --- | --- | --- | --- |
| | | | 01 | 02 | 03 | 04 |
| 05 | 06 | 07 | 08 | 09 | 10 | 11 |
| 12 | 13 | 14 | 15 | 16 | 17 | 18 |
| 19 | 20 | 21 | 22 | 23 | 24 | 25 |
| 26 | 27 | 28 | 29 | 30 | 31 | |
September 2018

| S | M | T | W | T | F | S |
| --- | --- | --- | --- | --- | --- | --- |
| | | | | | | 01 |
| 02 | 03 | 04 | 05 | 06 | 07 | 08 |
| 09 | 10 | 11 | 12 | 13 | 14 | 15 |
| 16 | 17 | 18 | 19 | 20 | 21 | 22 |
| 23 | 24 | 25 | 26 | 27 | 28 | 29 |
| 30 | | | | | | |
October 2018

| S | M | T | W | T | F | S |
| --- | --- | --- | --- | --- | --- | --- |
| | 01 | 02 | 03 | 04 | 05 | 06 |
| 07 | 08 | 09 | 10 | 11 | 12 | 13 |
| 14 | 15 | 16 | 17 | 18 | 19 | 20 |
| 21 | 22 | 23 | 24 | 25 | 26 | 27 |
| 28 | 29 | 30 | 31 | | | |
November 2018

| S | M | T | W | T | F | S |
| --- | --- | --- | --- | --- | --- | --- |
| | | | | 01 | 02 | 03 |
| 04 | 05 | 06 | 07 | 08 | 09 | 10 |
| 11 | 12 | 13 | 14 | 15 | 16 | 17 |
| 18 | 19 | 20 | 21 | 22 | 23 | 24 |
| 25 | 26 | 27 | 28 | 29 | 30 | |
December 2018

| S | M | T | W | T | F | S |
| --- | --- | --- | --- | --- | --- | --- |
| | | | | | | 01 |
| 02 | 03 | 04 | 05 | 06 | 07 | 08 |
| 09 | 10 | 11 | 12 | 13 | 14 | 15 |
| 16 | 17 | 18 | 19 | 20 | 21 | 22 |
| 23 | 24 | 25 | 26 | 27 | 28 | 29 |
| 30 | 31 | | | | | |
January 2019

| S | M | T | W | T | F | S |
| --- | --- | --- | --- | --- | --- | --- |
| | | 01 | 02 | 03 | 04 | 05 |
| 06 | 07 | 08 | 09 | 10 | 11 | 12 |
| 13 | 14 | 15 | 16 | 17 | 18 | 19 |
| 20 | 21 | 22 | 23 | 24 | 25 | 26 |
| 27 | 28 | 29 | 30 | 31 | | |
February 2019

| S | M | T | W | T | F | S |
| --- | --- | --- | --- | --- | --- | --- |
| | | | | | 01 | 02 |
| 03 | 04 | 05 | 06 | 07 | 08 | 09 |
| 10 | 11 | 12 | 13 | 14 | 15 | 16 |
| 17 | 18 | 19 | 20 | 21 | 22 | 23 |
| 24 | 25 | 26 | 27 | 28 | | |
March 2019

| S | M | T | W | T | F | S |
| --- | --- | --- | --- | --- | --- | --- |
| | | | | | 01 | 02 |
| 03 | 04 | 05 | 06 | 07 | 08 | 09 |
| 10 | 11 | 12 | 13 | 14 | 15 | 16 |
| 17 | 18 | 19 | 20 | 21 | 22 | 23 |
| 24 | 25 | 26 | 27 | 28 | 29 | 30 |
| 31 | | | | | | |
Available
Unavailable
Sat to Sat booking