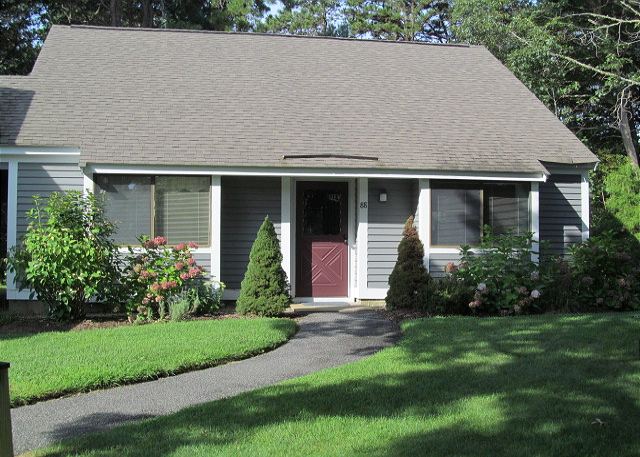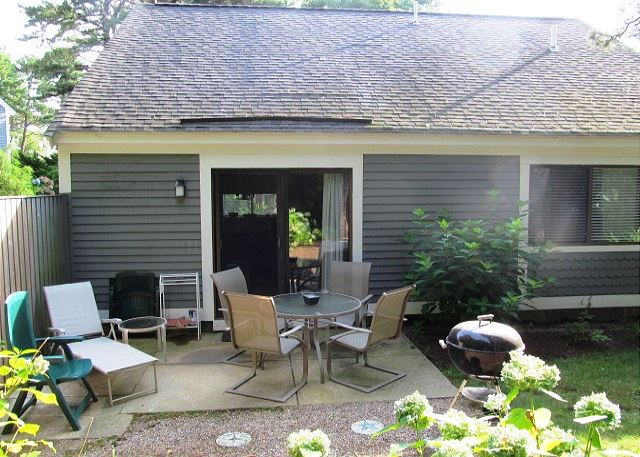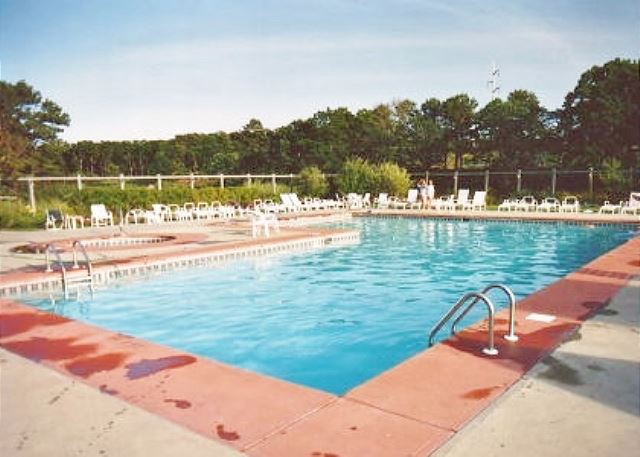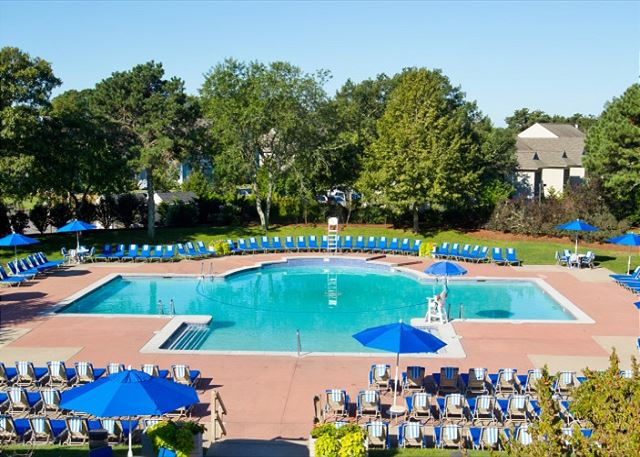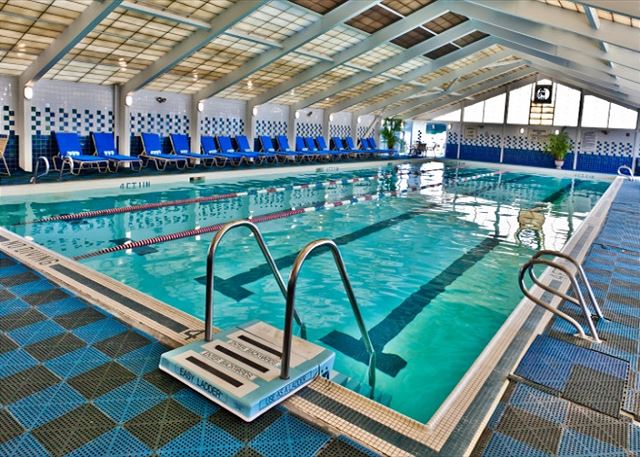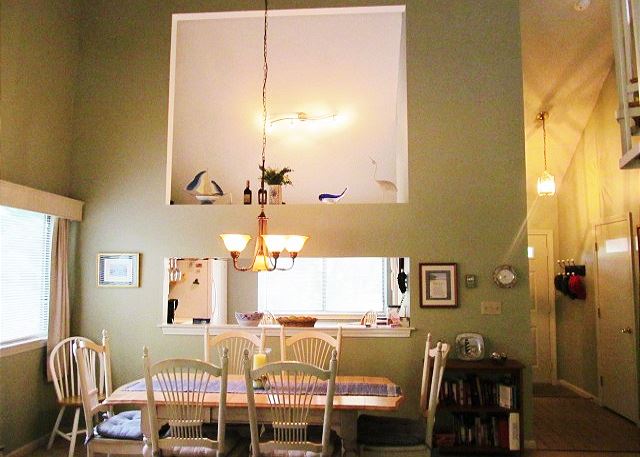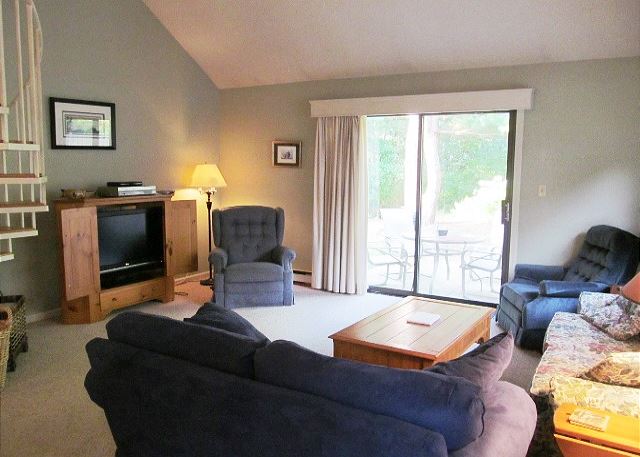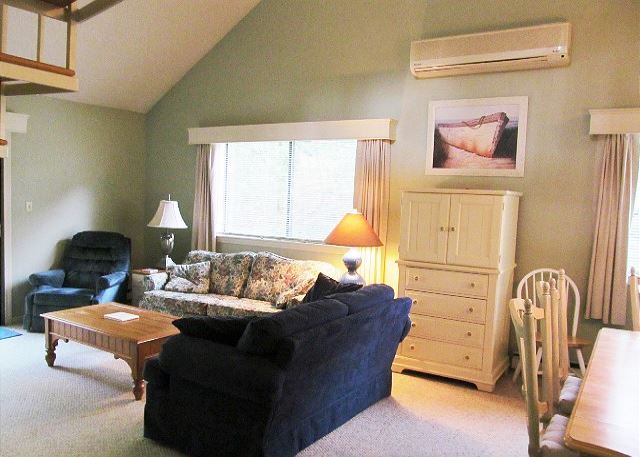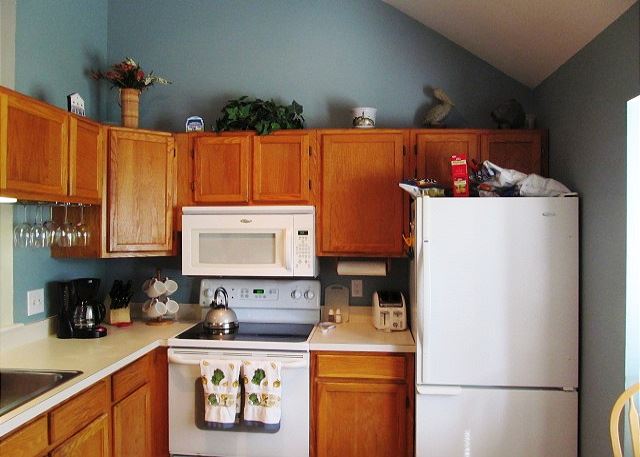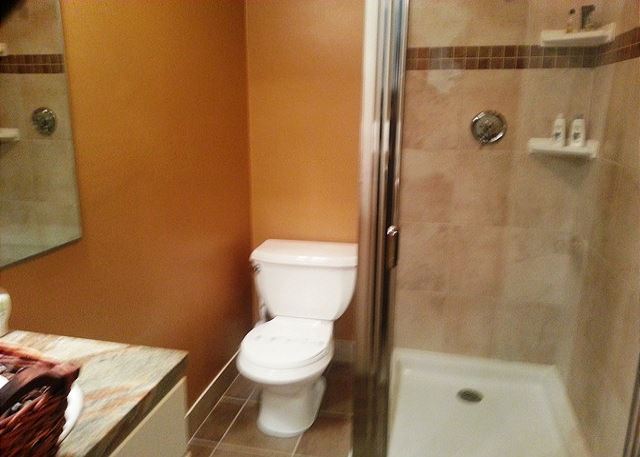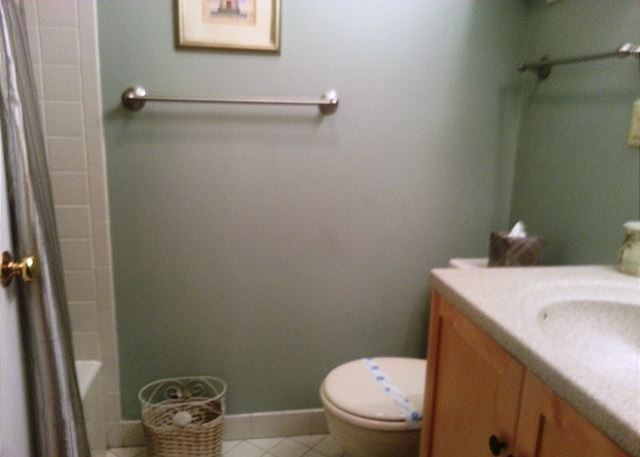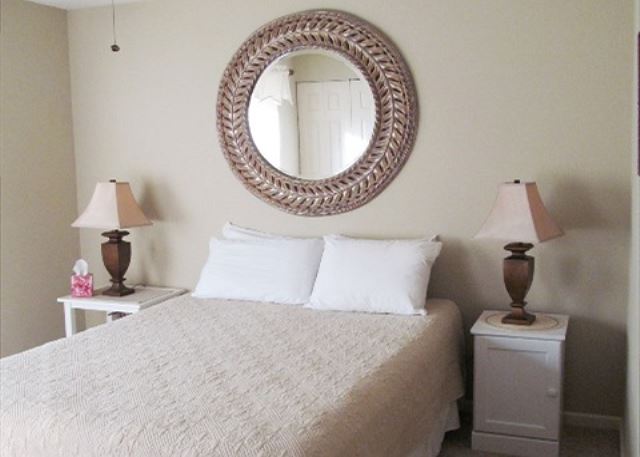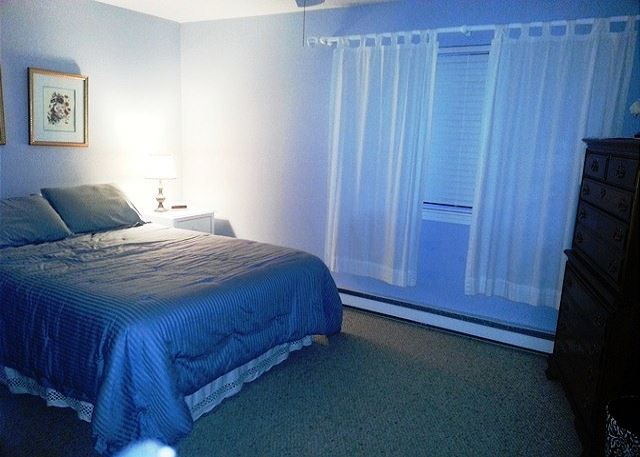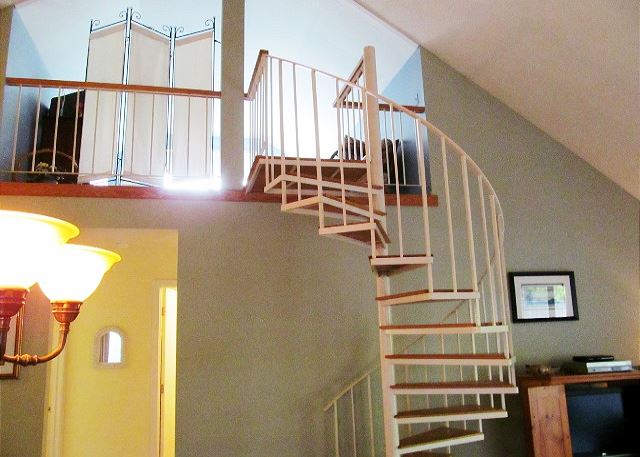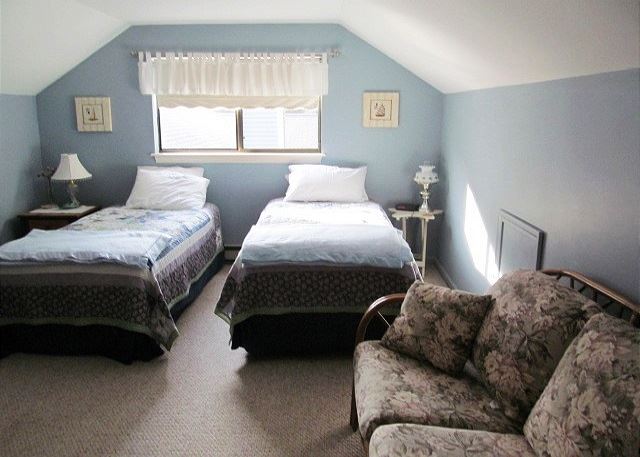 ---
Bedroom(s): 2.5
Bathroom(s): 2
Sleeps: 6
Type: Condominium
Area:
Town: Brewster
Middlecott Village at Ocean Edge Resort in Brewster with Pool & Tennis access.

This desirable Brewster Ocean Edge Resort Patio style home is located in the Middlecott Village and sleeps 6 Guests.

Inside this delightful unit your will find a fully equipped kitchen eat-in kitchen that features a dishwasher, microwave, fridge with ice maker, coffee maker, toaster and necessary dining and cooking utensils including a lobster pot. The adjacent dining area has seating for 6 that opens into the living area. The living room features sofa seating, CD player, TV with Comcast channels & DVD player, wall A/C unit, Wi-Fi Internet and ceiling fan. The living area has slider door to outdoor patio with dining table and charcoal grill. There is a brand new stack washer and dryer laundry unit in the hall entry closet.

This loft home features two bedrooms on the first floor and each has a Queen size bed. The rear bedroom has a private bath with shower, TV and ceiling fan. The front bedroom has ceiling fan and is next to the main bath a with tub/shower combination. Up the spiral stairs there is a open loft area with two twin beds and a TV.

There is parking at end of walkway in front of this unit for two cars.

Guests of this home will have Ocean Edge privileges, which will include the use of Fletcher indoor & outdoor pools, Fletcher cardio room, Arbor outdoor pool, the New Fitness Center with outdoor pool, and Tennis courts. This home does not include Golf privileges. Ocean Edge Resort charges fees you to use any of these amenities! You must complete your OE guest list and submit it to our office 10 days prior to your stay in order to have privileges.

Remember all Ocean Edge fees are due upon arrival, paid to Ocean Edge directly by Guests if Pool & Tennis are desired.

Sorry no pets and no smoking allowed.

6 guests maximum allowed at any time. No parties exceeding the occupancy limit allowed.

LINENS (SHEETS/TOWELS) ARE NOT INCLUDED IN THIS RENTAL.

Travel Insurance is available, highly recommended, and affordable coverage to protect your Vacation investment.

Please view our policy and procedure page on our web site for detailed information about renting with us.
" frameborder="0" allowfullscreen>
- Standard TV
- DVD Player
- Extended Cable
- Stereo w/ CD player
- Ceiling Fan
- A/C Unit
- Patio
- Microwave
- Drip Coffee Maker
- Cookware
- Dishes / Glassware / Utensils
- Kitchen Table
- Toaster or Toaster Oven
- Dining Table
- TV
- Ceiling Fan
- Private bath
- Tub/Shower Combo
- Patio
- Charcoal Grill
- Dining Table w/ Umbrella
- Shared Pool
- Tennis
- Outdoor Lighting
- Play Ground
- Close to Town
- Near Rail Trail Bike Path
- Near Cape Cod Bay Beaches
- Resort Location & Amenities
- Near Golf Course
Guest Reviews of
88 middlecott Brewster , MA
glorious week !
Review by
Meg P.
we spent week at this condo, had a great time ! the unit was immaculate , fully stocked and comfortable- all furnishings were fresh, clean and comfortable - wi fi /several tvs/bbq etc . I am very picky and truly loved this condo - wish it were mine !!
5 out of 5 stars
Beautiful Home as Alternative to Hotel for Cape Medical Meeting
Review by
Louis K.
Excellent property except for 2 issues: 1.) Kitchen utility closet reeked. One of my family members discovered a bag of rotting potatoes in that closet. Cleaning team should have discovered that before our arrival. 2.) One of the toilets didn't function on first day and required relative of owner to help us fix the problem. The rest of the week went smoothly with an otherwise excellent experience. One appealing feature of this rental is its proximity to the Cape Cod bicycle trail. The chief renter was at the Cape for a medical meeting in Eastham, an 8 mile bike ride each way, made easier by the closeness of the trail.
5 out of 5 stars
Met most of our needs
Review by
Sally N.
Overall, we liked the house, although the location of the circular stairway is dangerous. We had several near head injuries and finally ended up hanging a towel through the railing as a visual cue to stay away. I would have enjoyed the house better if it had been decluttered. The kitchen and pantry closet were full of misc cups/dishes in addition to the set that was needed. That left us with no place to put our food. The pantry closet smells so strongly of mothballs that we had to wash any dishes that had been stored in it before using them. We also found the beds (downstairs bedrooms) to be very uncomfortable. The kitchen drawers and cabinets were not cleaned adequately, particularly the silverware drawer. We did like the location of the home and we appreciated that the owner or a previous guest had provided some unexpected items. The house was stocked with laundry detergent, aluminum foil and other basic supplies that had not been promised to us. We loved the back porch and outdoor furniture and we enjoyed the pools in the community.
3 out of 5 stars
Great vacation on the Cape!
We really enjoyed our vacation. The house is perfect, clean, roomy and in a great location. The neighborhood is quiet and the Ocean's Edge amenities are fantastic.
5 out of 5 stars
Recent Stay at Ocean Edge
Having stayed at several patio homes in years past, I found 88 Middlecott to be above average with only a few suggested improvements (including gas grill and new mattress for a few of the beds). Most importantly they didn't overcrowd the unit with furniture.
4 out of 5 stars
88 Middlecott
Overall it was fine because I am familiar and comfortable in Ocean Edge, which is a great location. However, there was a dirty towel left in bathroom, the toilet paper dispenser fell off cabinet as soon as we used it; grill had not been cleaned so we were unable to use it; it would be nicer to have a gas grill, kuerig coffermaker and a toaster. The lock in the front door was very difficult to operate and needs to be oiled or something. These are all little things which were just somewhat annoying considering the cost of the unit. Not sure if I would rent this particular unit again.
3 out of 5 stars
Ocean Edge Villages
Excellent - highly recommended!
5 out of 5 stars
February 2018

| S | M | T | W | T | F | S |
| --- | --- | --- | --- | --- | --- | --- |
| | | | | 01 | 02 | 03 |
| 04 | 05 | 06 | 07 | 08 | 09 | 10 |
| 11 | 12 | 13 | 14 | 15 | 16 | 17 |
| 18 | 19 | 20 | 21 | 22 | 23 | 24 |
| 25 | 26 | 27 | 28 | | | |
March 2018

| S | M | T | W | T | F | S |
| --- | --- | --- | --- | --- | --- | --- |
| | | | | 01 | 02 | 03 |
| 04 | 05 | 06 | 07 | 08 | 09 | 10 |
| 11 | 12 | 13 | 14 | 15 | 16 | 17 |
| 18 | 19 | 20 | 21 | 22 | 23 | 24 |
| 25 | 26 | 27 | 28 | 29 | 30 | 31 |
April 2018

| S | M | T | W | T | F | S |
| --- | --- | --- | --- | --- | --- | --- |
| 01 | 02 | 03 | 04 | 05 | 06 | 07 |
| 08 | 09 | 10 | 11 | 12 | 13 | 14 |
| 15 | 16 | 17 | 18 | 19 | 20 | 21 |
| 22 | 23 | 24 | 25 | 26 | 27 | 28 |
| 29 | 30 | | | | | |
May 2018

| S | M | T | W | T | F | S |
| --- | --- | --- | --- | --- | --- | --- |
| | | 01 | 02 | 03 | 04 | 05 |
| 06 | 07 | 08 | 09 | 10 | 11 | 12 |
| 13 | 14 | 15 | 16 | 17 | 18 | 19 |
| 20 | 21 | 22 | 23 | 24 | 25 | 26 |
| 27 | 28 | 29 | 30 | 31 | | |
June 2018

| S | M | T | W | T | F | S |
| --- | --- | --- | --- | --- | --- | --- |
| | | | | | 01 | 02 |
| 03 | 04 | 05 | 06 | 07 | 08 | 09 |
| 10 | 11 | 12 | 13 | 14 | 15 | 16 |
| 17 | 18 | 19 | 20 | 21 | 22 | 23 |
| 24 | 25 | 26 | 27 | 28 | 29 | 30 |
July 2018

| S | M | T | W | T | F | S |
| --- | --- | --- | --- | --- | --- | --- |
| 01 | 02 | 03 | 04 | 05 | 06 | 07 |
| 08 | 09 | 10 | 11 | 12 | 13 | 14 |
| 15 | 16 | 17 | 18 | 19 | 20 | 21 |
| 22 | 23 | 24 | 25 | 26 | 27 | 28 |
| 29 | 30 | 31 | | | | |
August 2018

| S | M | T | W | T | F | S |
| --- | --- | --- | --- | --- | --- | --- |
| | | | 01 | 02 | 03 | 04 |
| 05 | 06 | 07 | 08 | 09 | 10 | 11 |
| 12 | 13 | 14 | 15 | 16 | 17 | 18 |
| 19 | 20 | 21 | 22 | 23 | 24 | 25 |
| 26 | 27 | 28 | 29 | 30 | 31 | |
September 2018

| S | M | T | W | T | F | S |
| --- | --- | --- | --- | --- | --- | --- |
| | | | | | | 01 |
| 02 | 03 | 04 | 05 | 06 | 07 | 08 |
| 09 | 10 | 11 | 12 | 13 | 14 | 15 |
| 16 | 17 | 18 | 19 | 20 | 21 | 22 |
| 23 | 24 | 25 | 26 | 27 | 28 | 29 |
| 30 | | | | | | |
October 2018

| S | M | T | W | T | F | S |
| --- | --- | --- | --- | --- | --- | --- |
| | 01 | 02 | 03 | 04 | 05 | 06 |
| 07 | 08 | 09 | 10 | 11 | 12 | 13 |
| 14 | 15 | 16 | 17 | 18 | 19 | 20 |
| 21 | 22 | 23 | 24 | 25 | 26 | 27 |
| 28 | 29 | 30 | 31 | | | |
November 2018

| S | M | T | W | T | F | S |
| --- | --- | --- | --- | --- | --- | --- |
| | | | | 01 | 02 | 03 |
| 04 | 05 | 06 | 07 | 08 | 09 | 10 |
| 11 | 12 | 13 | 14 | 15 | 16 | 17 |
| 18 | 19 | 20 | 21 | 22 | 23 | 24 |
| 25 | 26 | 27 | 28 | 29 | 30 | |
December 2018

| S | M | T | W | T | F | S |
| --- | --- | --- | --- | --- | --- | --- |
| | | | | | | 01 |
| 02 | 03 | 04 | 05 | 06 | 07 | 08 |
| 09 | 10 | 11 | 12 | 13 | 14 | 15 |
| 16 | 17 | 18 | 19 | 20 | 21 | 22 |
| 23 | 24 | 25 | 26 | 27 | 28 | 29 |
| 30 | 31 | | | | | |
January 2019

| S | M | T | W | T | F | S |
| --- | --- | --- | --- | --- | --- | --- |
| | | 01 | 02 | 03 | 04 | 05 |
| 06 | 07 | 08 | 09 | 10 | 11 | 12 |
| 13 | 14 | 15 | 16 | 17 | 18 | 19 |
| 20 | 21 | 22 | 23 | 24 | 25 | 26 |
| 27 | 28 | 29 | 30 | 31 | | |
February 2019

| S | M | T | W | T | F | S |
| --- | --- | --- | --- | --- | --- | --- |
| | | | | | 01 | 02 |
| 03 | 04 | 05 | 06 | 07 | 08 | 09 |
| 10 | 11 | 12 | 13 | 14 | 15 | 16 |
| 17 | 18 | 19 | 20 | 21 | 22 | 23 |
| 24 | 25 | 26 | 27 | 28 | | |
Available
Unavailable
Sat to Sat booking