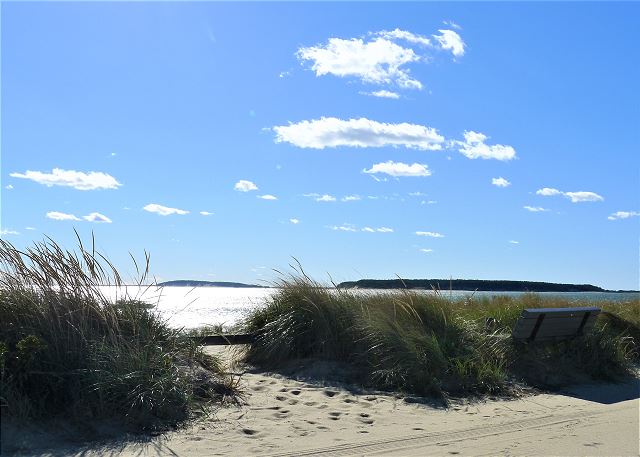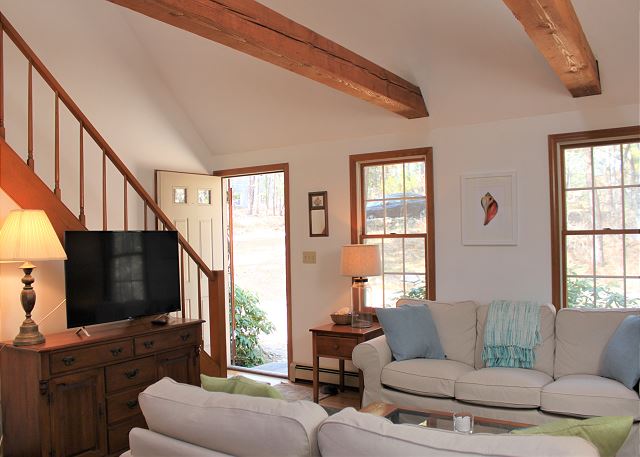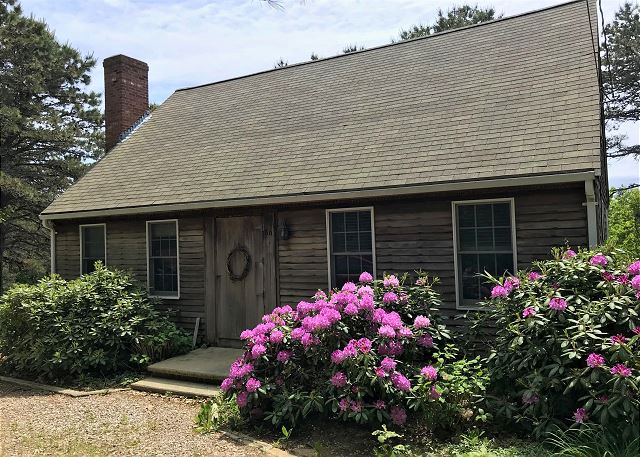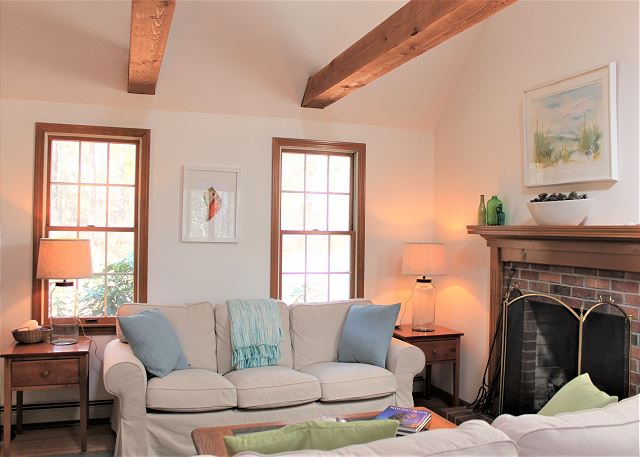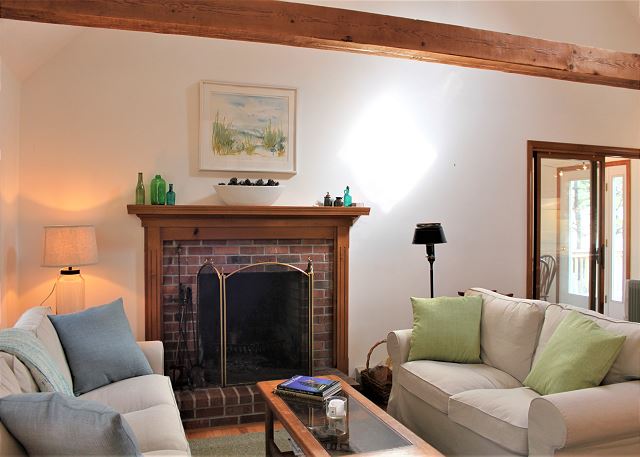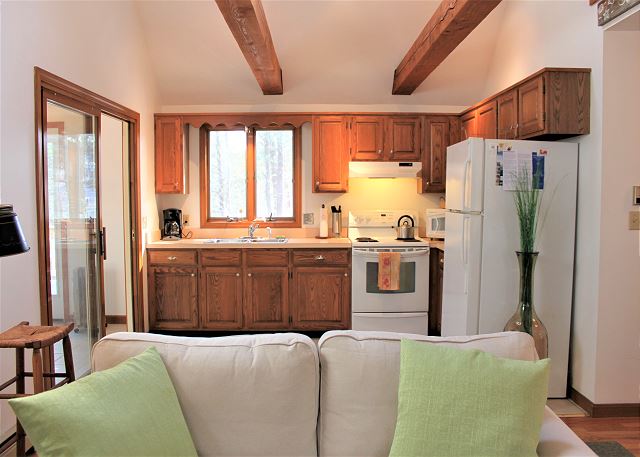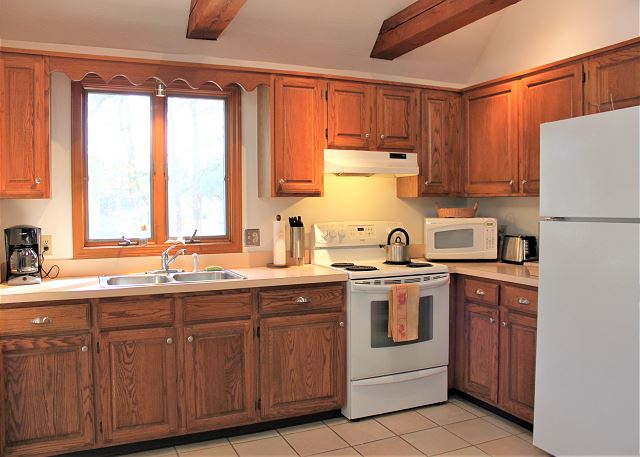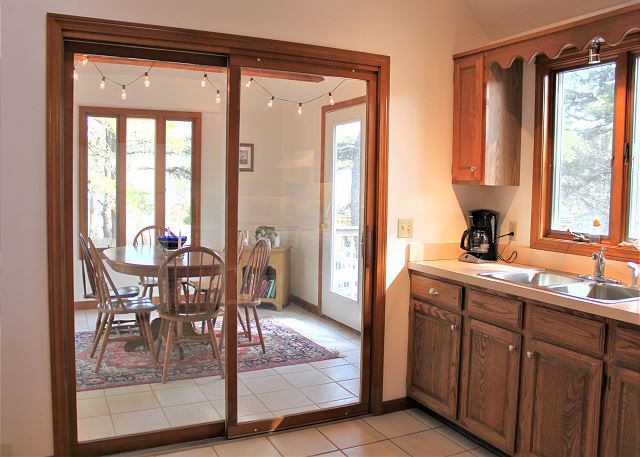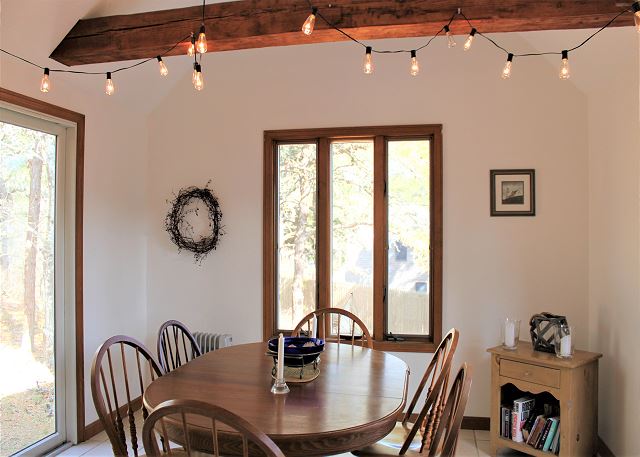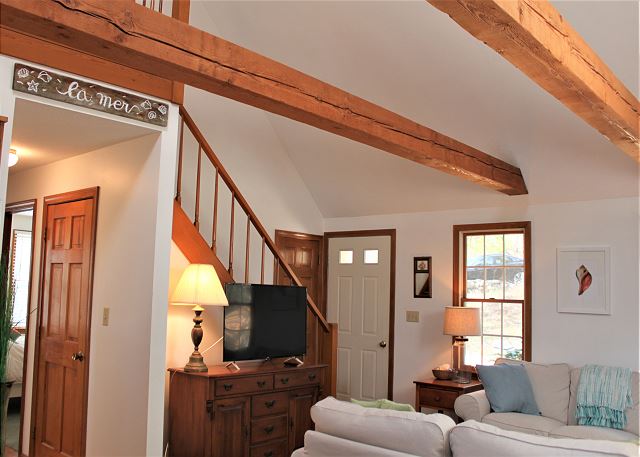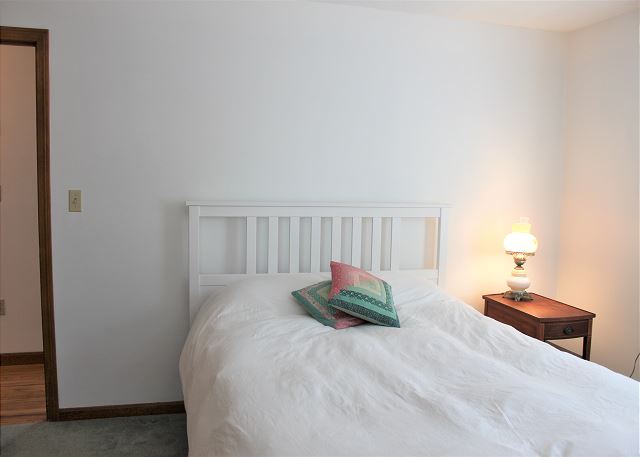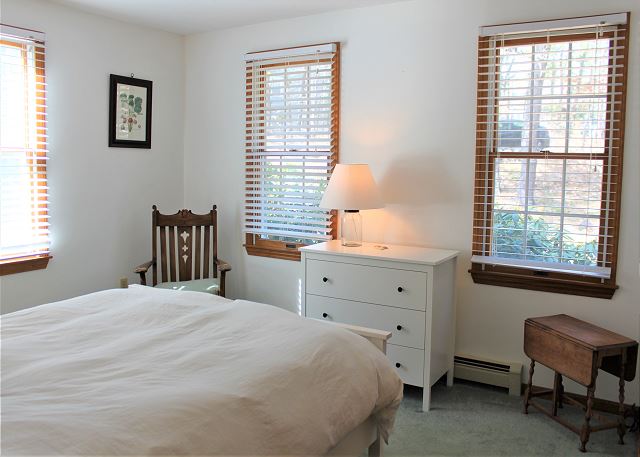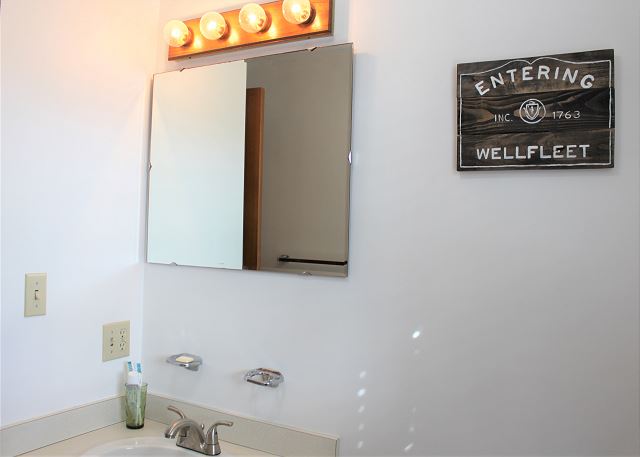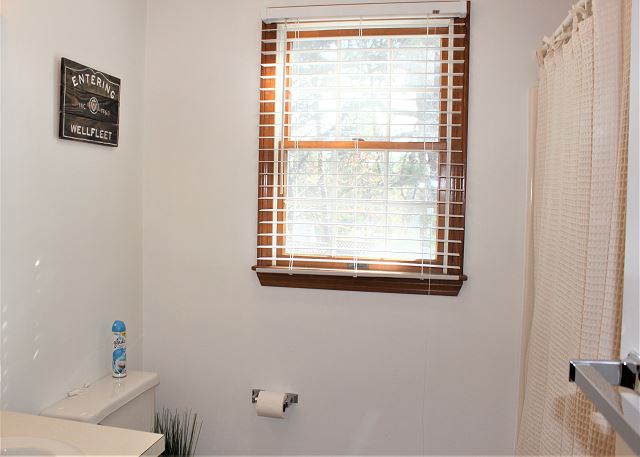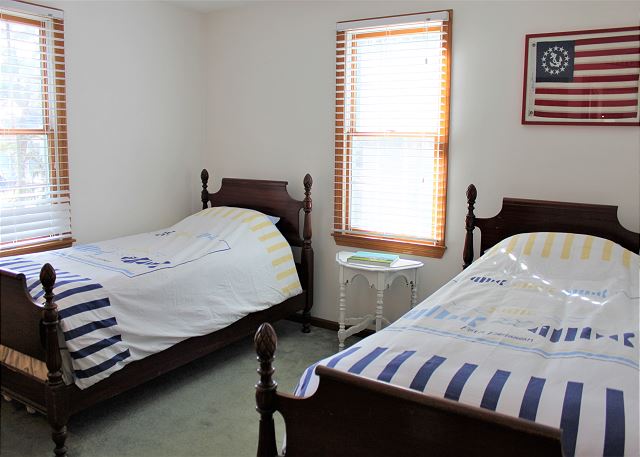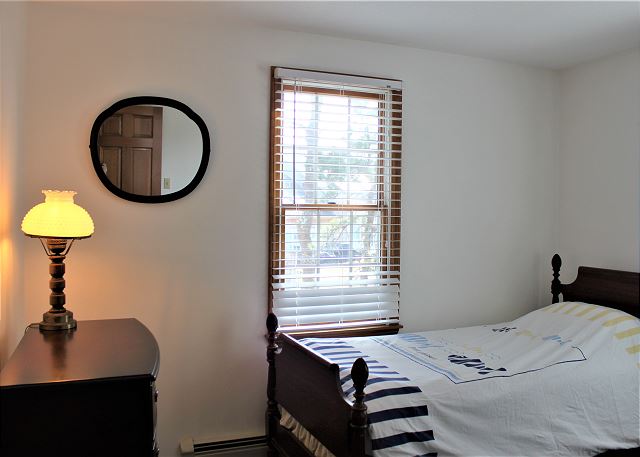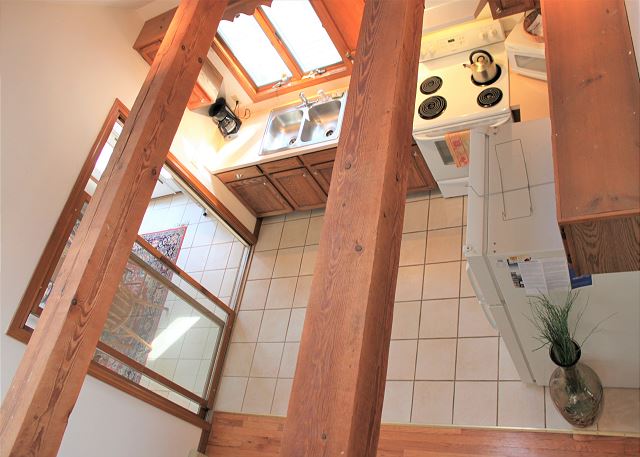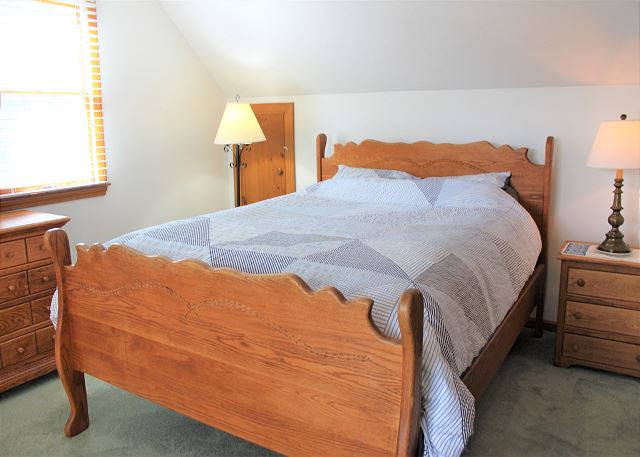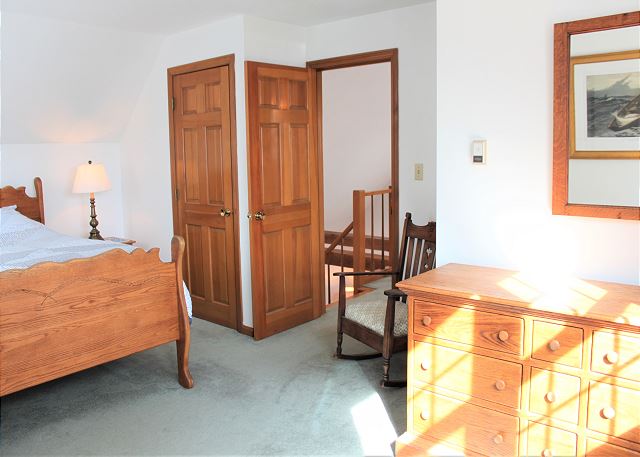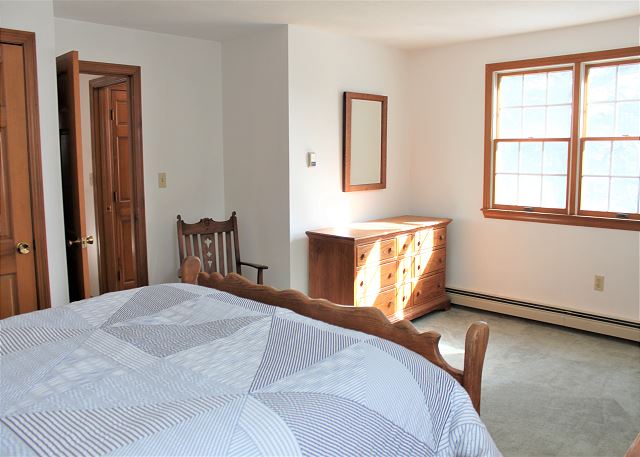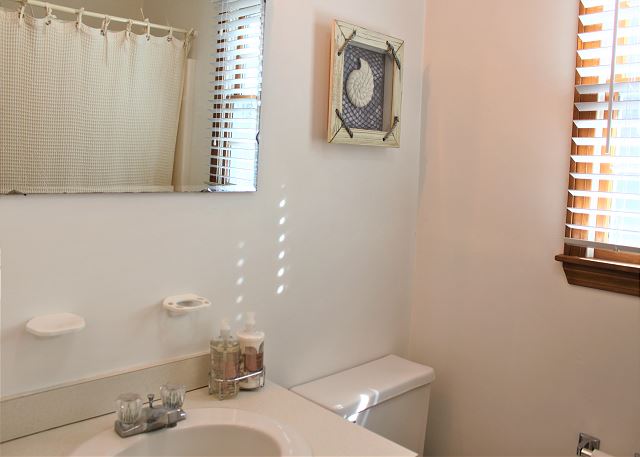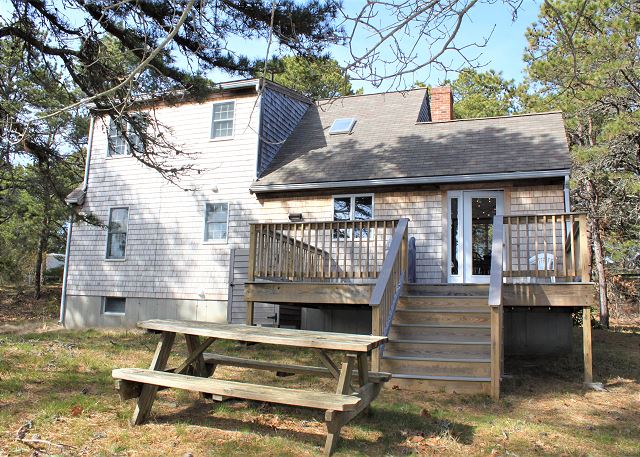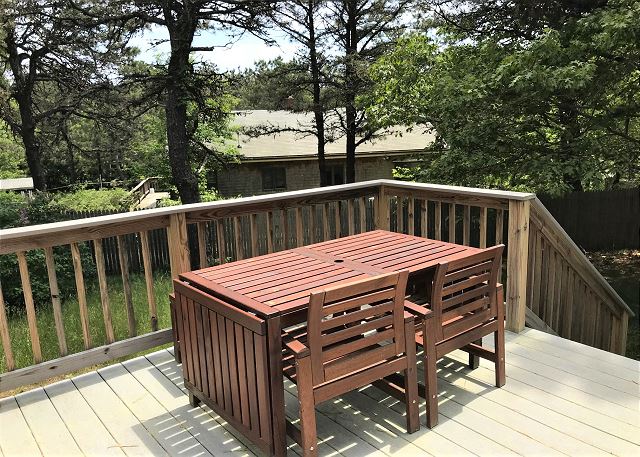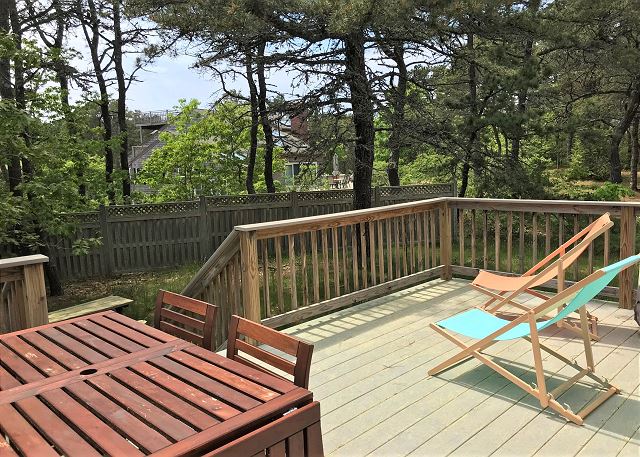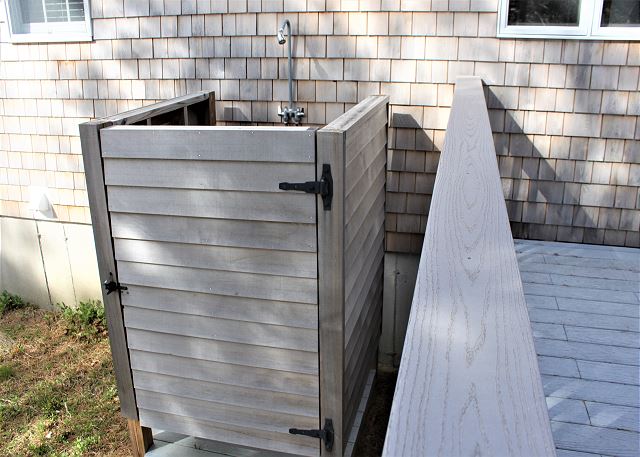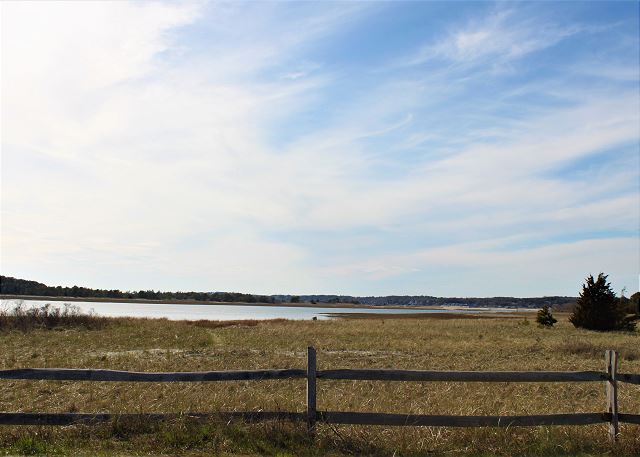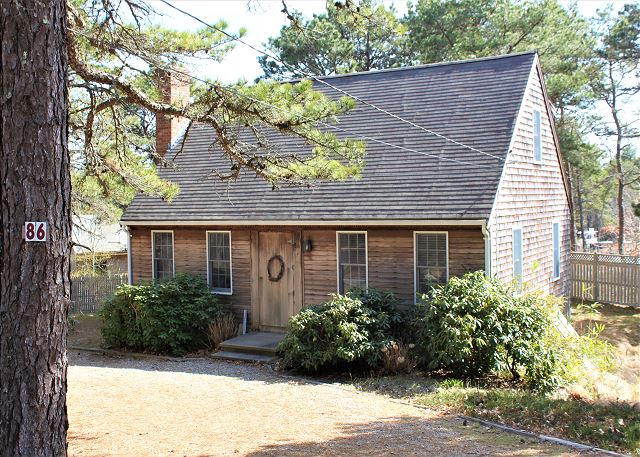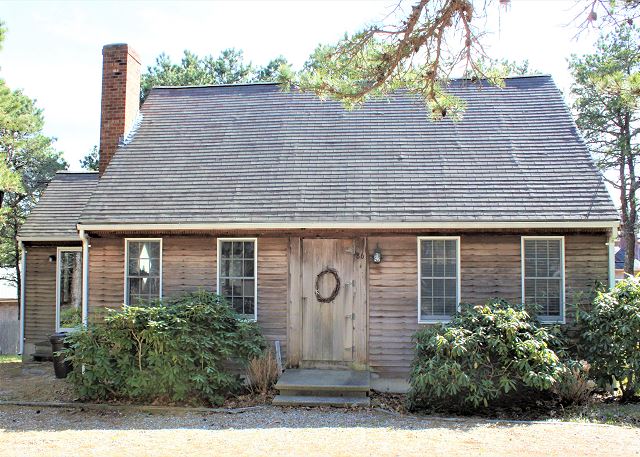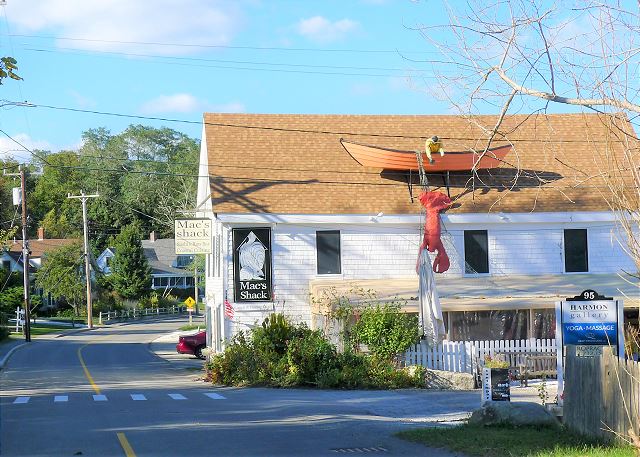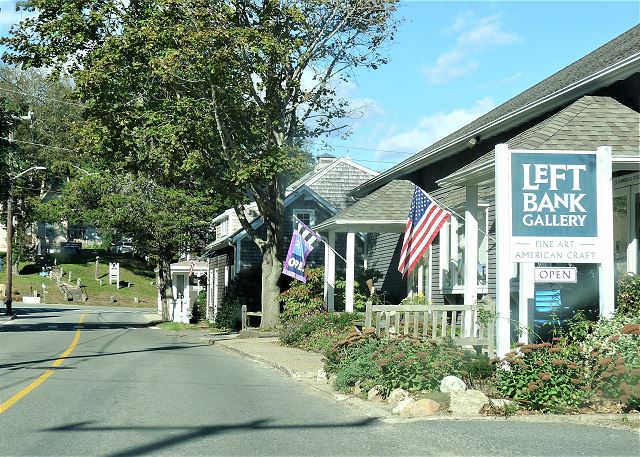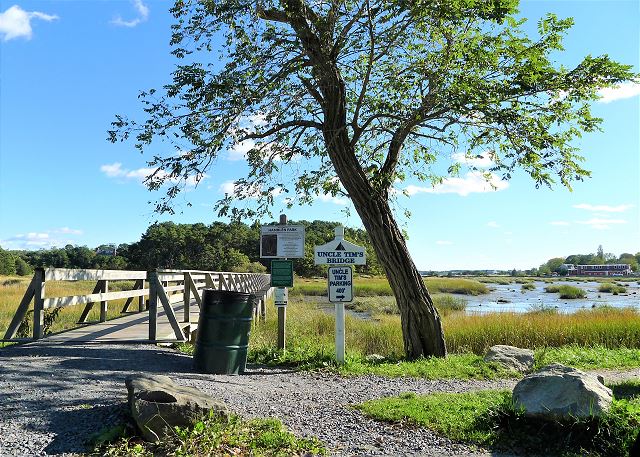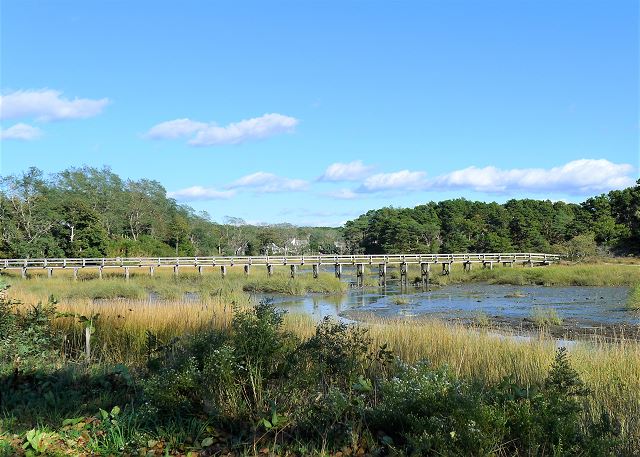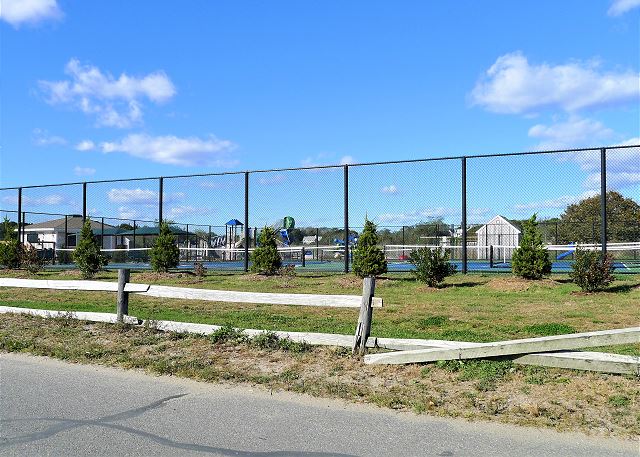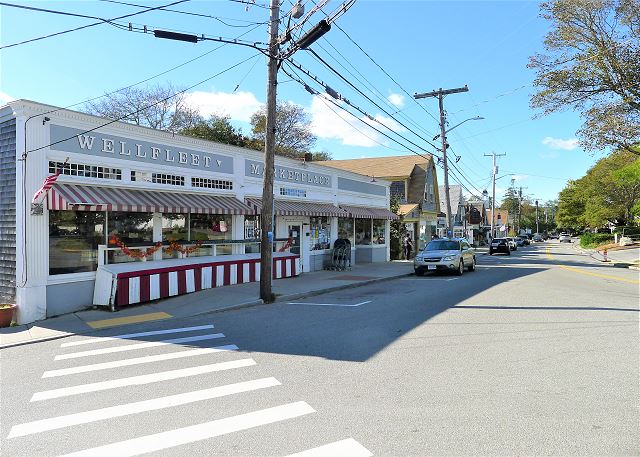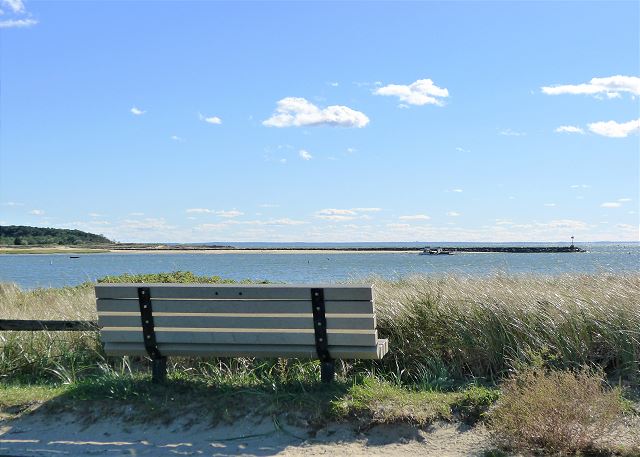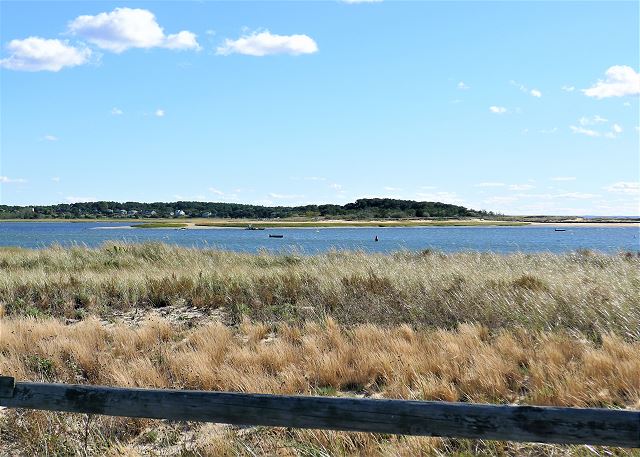 ---
Bedroom(s): 3
Bathroom(s): 2
Sleeps: 6
Type: House
Area: Indian Neck Beach
Town: Wellfleet
This Wellfleet cape located in the Indian Neck section has been transformed into the perfect getaway for 6. Bright and open with soaring cathedral ceilings, a combined living and a fully-stocked kitchen area that features a 40" flat screen TV, basic Comcast cable, and CD player. To the left is the dining space that looks like an indoor "outside room" with sliders to a private deck. Here,you can enjoy meals al fresco with gas grill and outdoor table and chairs, or just take in the serene view of the rear fenced-in lawn.

The first floor also includes a full shower/tub combo bath and two bedrooms; one with a queen and one with a set of twins. Upstairs there is a second full shower/tub bath and a third bedroom with a queen.

The bedrooms and living/kitchen area are cooled by unit A/Cs.

This house is ideally located for outdoor adventures. You can walk many trails in the immediate vicinity, and you are just a short drive from hours of hiking on Great Island, in the Wellfleet Audubon Wildlife Sancturary, and on the Cape Cod National Seashore. There is even a trail along the shore that leads to Wellfleet Harbor and the historical center. If you bring or rent kayaks, you can easily put in behind Indian Neck Beach to explore the bay.

This peaceful spot feels a million miles from nowhere but it's only a 2 minute walk to Chipman Cove, and a 15 minute walk to the warm waters of Indian Neck Beach. A popular beach, it faces the Harbor. Here, even the youngest vacationer will have a blast treasure hunting between the tide pools and seashells in this large and sandy playground.

Also included: Enclosed outdoor shower, washer/dryer, Wifi, and space for 2-3 cars in the driveway.

Sorry no pets or smoking allowed.

6 guests maximum allowed at any time. No parties exceeding the occupancy limit allowed.

LINENS (SHEETS/TOWELS) ARE NOT INCLUDED IN THIS RENTAL.

Travel Insurance is highly recommended and affordable coverage to protect your vacation investment.

Please view our policy and procedure page on our web site for detailed information about renting with us.

State and local taxes are applicable and may vary based on local ordinances and bylaws. These tax rates are subject to change.
- Flat Screen HDTV
- Basic Cable
- Fireplace
- A/C Unit
- Deck
- WiFi
- Iron/Ironing Board
- Washer & Dryer
- Room Or Window Fans
- Microwave
- Drip Coffee Maker
- Cleaning Supplies
- Cookware
- Dishes / Glassware / Utensils
- Kitchen Table
- Blender
- Lobster Pot
- Door to Deck
- Toaster
- Dining Table
- window a/cs in all bedrooms
- window a/c in living room
- Tub/Shower Combo
- washer
- dryer
- Dining Table w/o Umbrella
- Enclosed Outdoor Shower
- Outdoor Lighting
- Fenced Yard
- Close to Town
- Near Marina
- Walk to Beach
- Near Cove
Guest Reviews of
86 cove view Wellfleet , MA
Loved our stay
Review by
Margy S.
Lovely getaway, quiet, convenient location. Plenty of space for up to 6 adults.
5 out of 5 stars
Wellfleet family vacation
The Wellfleet rental was as described, however, the sole reason we stay in Wellfleet is for the beaches and the owner and rental agency made it nearly impossible for us to get the required 'proof of stay' form that's needed to get a beach sticker!
3 out of 5 stars
Manager Response:
Greetings Maura: Please apologize for my delay in responding. Reviews sometimes take a while to show up on various websites and I flagged yours the moment I saw it. I am thrilled that you enjoyed the home - condition, location, and level of cleanliness - to give this home the highest rating in those areas. But I am equally frustrated that we couldn't get you a simple copy of the lease which would have sufficed as proof of stay for your beach sticker! I checked all the notes everywhere and someone dropped the ball. I manage this agency, so I take full responsibility for this oversight. I am so very sorry for knocking a dent in what appears to be a wonderful stay. I hope you will try us again next year - I can promise you, this will NOT happen again. Enjoy the Fall and I hope I do see you next season. My Best, Sandy O'Dell, Manager, CapeCodRentals
April 2020

| S | M | T | W | T | F | S |
| --- | --- | --- | --- | --- | --- | --- |
| | | | 01 | 02 | 03 | 04 |
| 05 | 06 | 07 | 08 | 09 | 10 | 11 |
| 12 | 13 | 14 | 15 | 16 | 17 | 18 |
| 19 | 20 | 21 | 22 | 23 | 24 | 25 |
| 26 | 27 | 28 | 29 | 30 | | |
May 2020

| S | M | T | W | T | F | S |
| --- | --- | --- | --- | --- | --- | --- |
| | | | | | 01 | 02 |
| 03 | 04 | 05 | 06 | 07 | 08 | 09 |
| 10 | 11 | 12 | 13 | 14 | 15 | 16 |
| 17 | 18 | 19 | 20 | 21 | 22 | 23 |
| 24 | 25 | 26 | 27 | 28 | 29 | 30 |
| 31 | | | | | | |
June 2020

| S | M | T | W | T | F | S |
| --- | --- | --- | --- | --- | --- | --- |
| | 01 | 02 | 03 | 04 | 05 | 06 |
| 07 | 08 | 09 | 10 | 11 | 12 | 13 |
| 14 | 15 | 16 | 17 | 18 | 19 | 20 |
| 21 | 22 | 23 | 24 | 25 | 26 | 27 |
| 28 | 29 | 30 | | | | |
July 2020

| S | M | T | W | T | F | S |
| --- | --- | --- | --- | --- | --- | --- |
| | | | 01 | 02 | 03 | 04 |
| 05 | 06 | 07 | 08 | 09 | 10 | 11 |
| 12 | 13 | 14 | 15 | 16 | 17 | 18 |
| 19 | 20 | 21 | 22 | 23 | 24 | 25 |
| 26 | 27 | 28 | 29 | 30 | 31 | |
August 2020

| S | M | T | W | T | F | S |
| --- | --- | --- | --- | --- | --- | --- |
| | | | | | | 01 |
| 02 | 03 | 04 | 05 | 06 | 07 | 08 |
| 09 | 10 | 11 | 12 | 13 | 14 | 15 |
| 16 | 17 | 18 | 19 | 20 | 21 | 22 |
| 23 | 24 | 25 | 26 | 27 | 28 | 29 |
| 30 | 31 | | | | | |
September 2020

| S | M | T | W | T | F | S |
| --- | --- | --- | --- | --- | --- | --- |
| | | 01 | 02 | 03 | 04 | 05 |
| 06 | 07 | 08 | 09 | 10 | 11 | 12 |
| 13 | 14 | 15 | 16 | 17 | 18 | 19 |
| 20 | 21 | 22 | 23 | 24 | 25 | 26 |
| 27 | 28 | 29 | 30 | | | |
October 2020

| S | M | T | W | T | F | S |
| --- | --- | --- | --- | --- | --- | --- |
| | | | | 01 | 02 | 03 |
| 04 | 05 | 06 | 07 | 08 | 09 | 10 |
| 11 | 12 | 13 | 14 | 15 | 16 | 17 |
| 18 | 19 | 20 | 21 | 22 | 23 | 24 |
| 25 | 26 | 27 | 28 | 29 | 30 | 31 |
November 2020

| S | M | T | W | T | F | S |
| --- | --- | --- | --- | --- | --- | --- |
| 01 | 02 | 03 | 04 | 05 | 06 | 07 |
| 08 | 09 | 10 | 11 | 12 | 13 | 14 |
| 15 | 16 | 17 | 18 | 19 | 20 | 21 |
| 22 | 23 | 24 | 25 | 26 | 27 | 28 |
| 29 | 30 | | | | | |
December 2020

| S | M | T | W | T | F | S |
| --- | --- | --- | --- | --- | --- | --- |
| | | 01 | 02 | 03 | 04 | 05 |
| 06 | 07 | 08 | 09 | 10 | 11 | 12 |
| 13 | 14 | 15 | 16 | 17 | 18 | 19 |
| 20 | 21 | 22 | 23 | 24 | 25 | 26 |
| 27 | 28 | 29 | 30 | 31 | | |
January 2021

| S | M | T | W | T | F | S |
| --- | --- | --- | --- | --- | --- | --- |
| | | | | | 01 | 02 |
| 03 | 04 | 05 | 06 | 07 | 08 | 09 |
| 10 | 11 | 12 | 13 | 14 | 15 | 16 |
| 17 | 18 | 19 | 20 | 21 | 22 | 23 |
| 24 | 25 | 26 | 27 | 28 | 29 | 30 |
| 31 | | | | | | |
February 2021

| S | M | T | W | T | F | S |
| --- | --- | --- | --- | --- | --- | --- |
| | 01 | 02 | 03 | 04 | 05 | 06 |
| 07 | 08 | 09 | 10 | 11 | 12 | 13 |
| 14 | 15 | 16 | 17 | 18 | 19 | 20 |
| 21 | 22 | 23 | 24 | 25 | 26 | 27 |
| 28 | | | | | | |
March 2021

| S | M | T | W | T | F | S |
| --- | --- | --- | --- | --- | --- | --- |
| | 01 | 02 | 03 | 04 | 05 | 06 |
| 07 | 08 | 09 | 10 | 11 | 12 | 13 |
| 14 | 15 | 16 | 17 | 18 | 19 | 20 |
| 21 | 22 | 23 | 24 | 25 | 26 | 27 |
| 28 | 29 | 30 | 31 | | | |
April 2021

| S | M | T | W | T | F | S |
| --- | --- | --- | --- | --- | --- | --- |
| | | | | 01 | 02 | 03 |
| 04 | 05 | 06 | 07 | 08 | 09 | 10 |
| 11 | 12 | 13 | 14 | 15 | 16 | 17 |
| 18 | 19 | 20 | 21 | 22 | 23 | 24 |
| 25 | 26 | 27 | 28 | 29 | 30 | |
Available
Unavailable
Sat to Sat booking