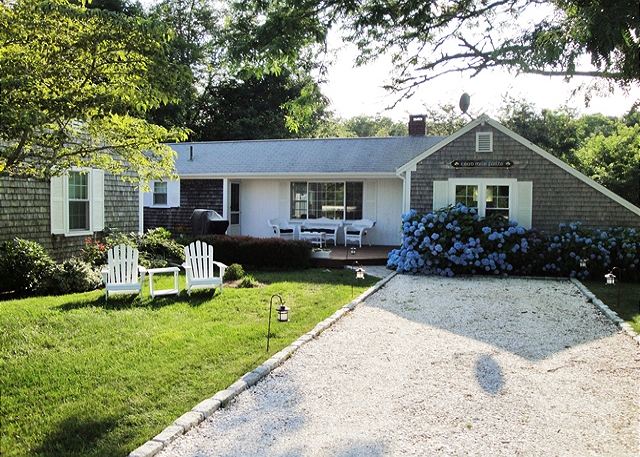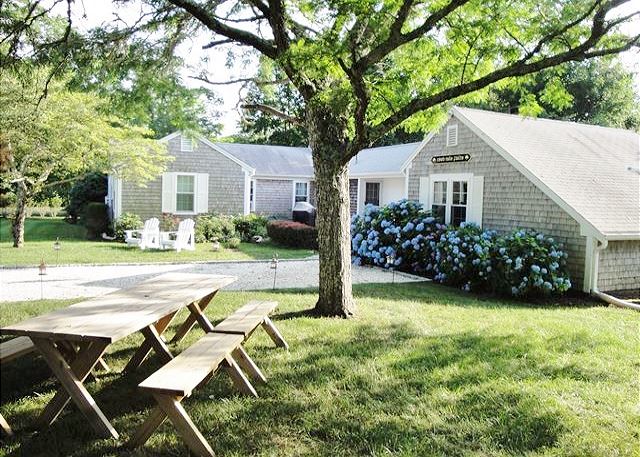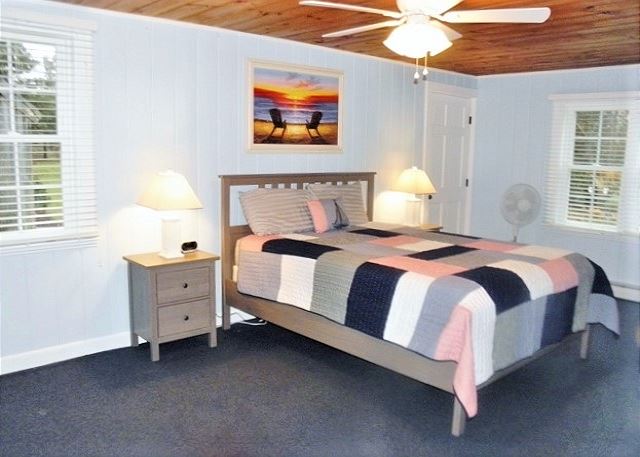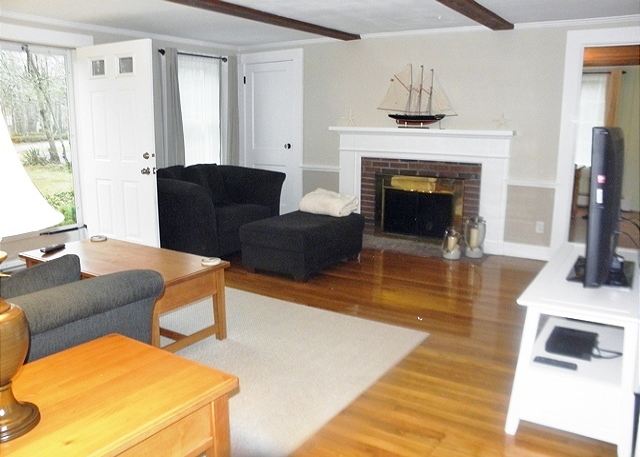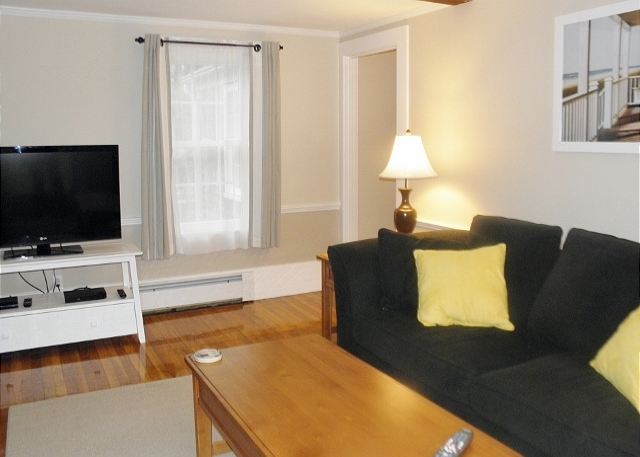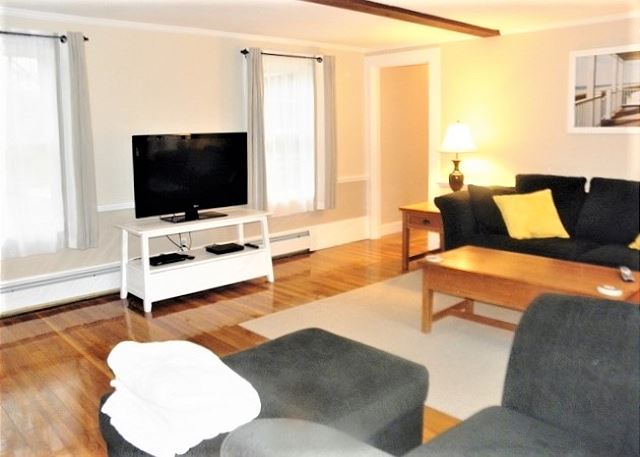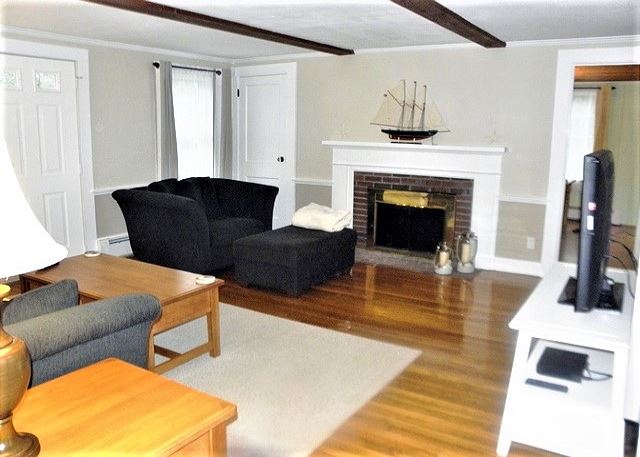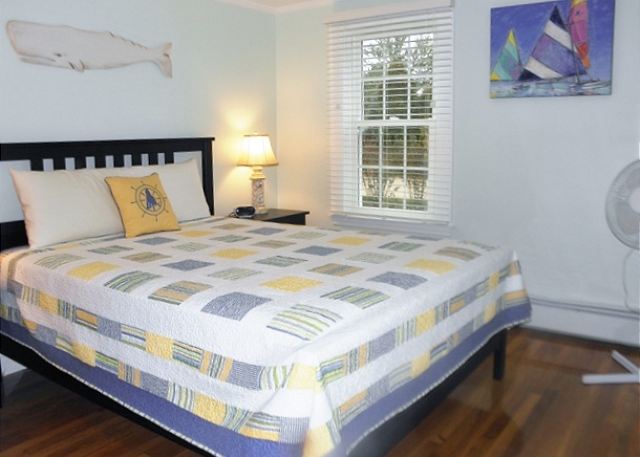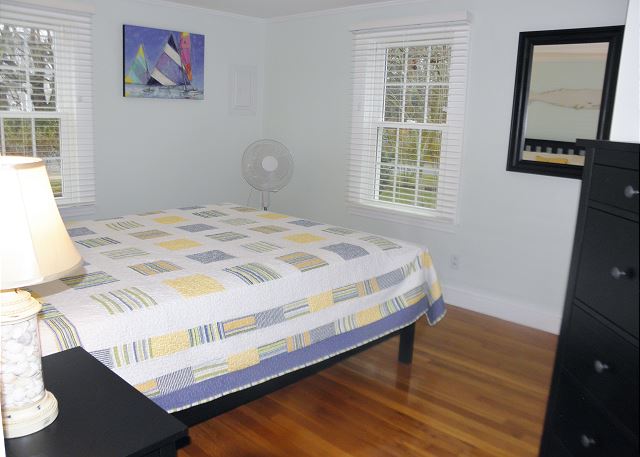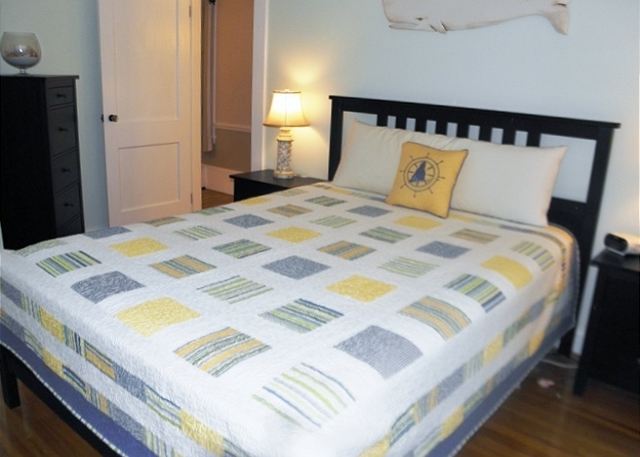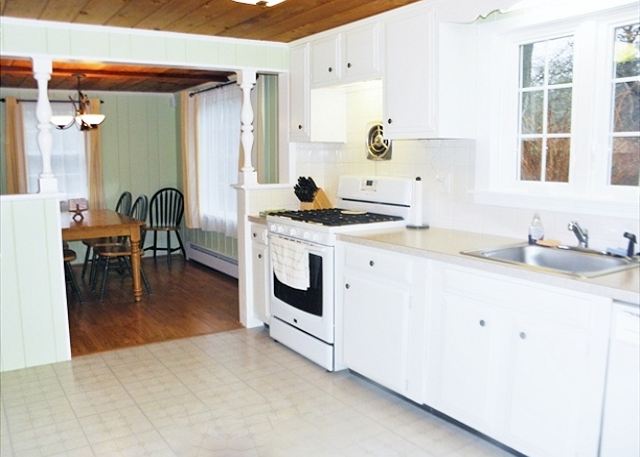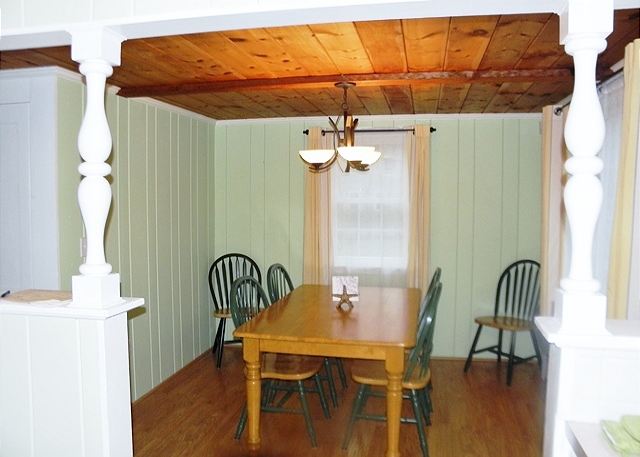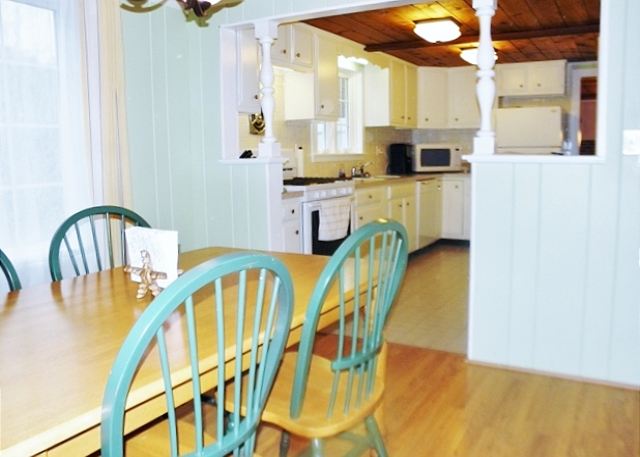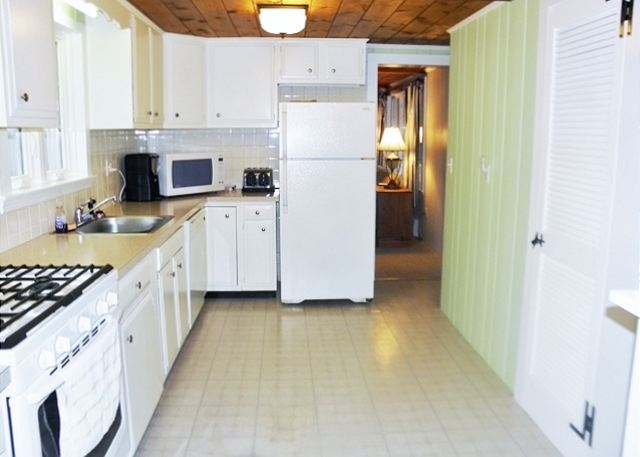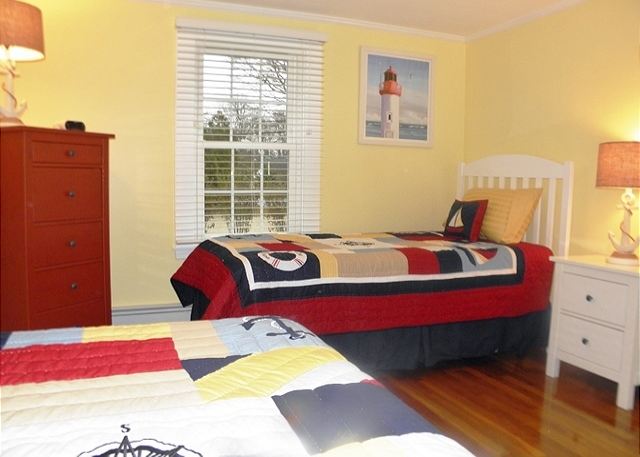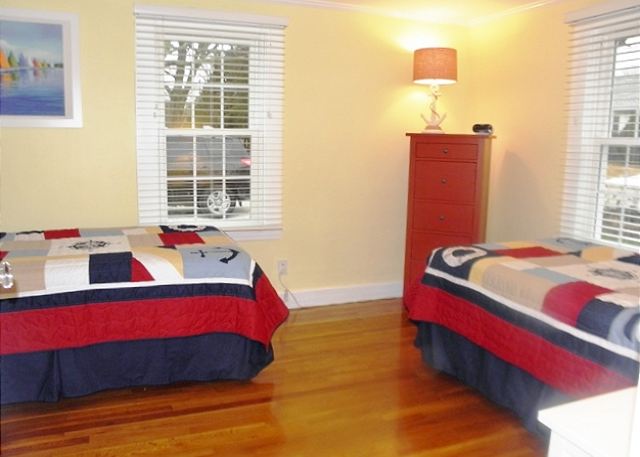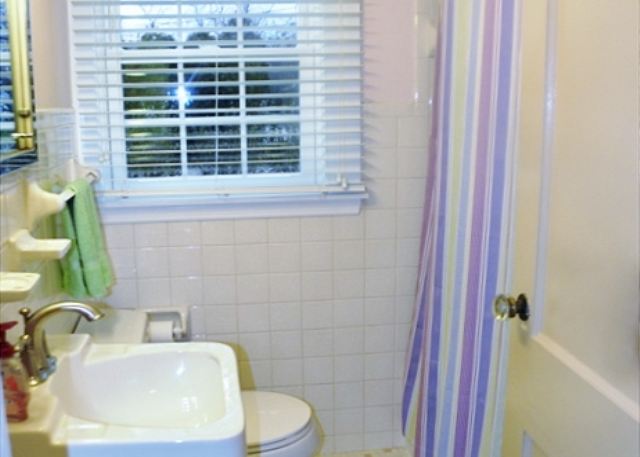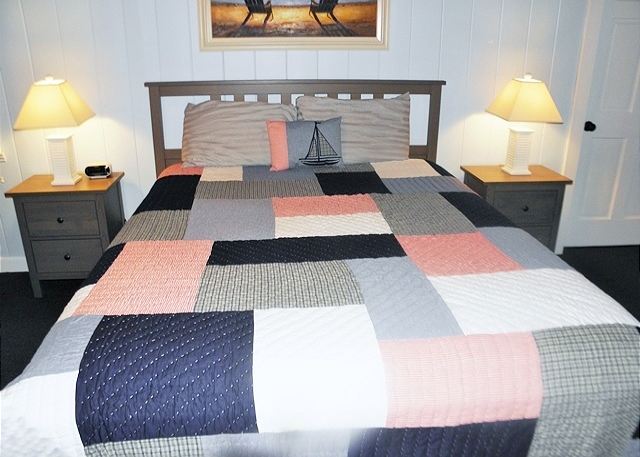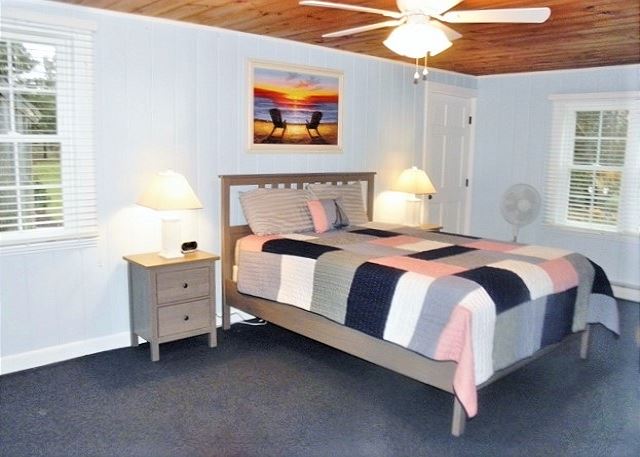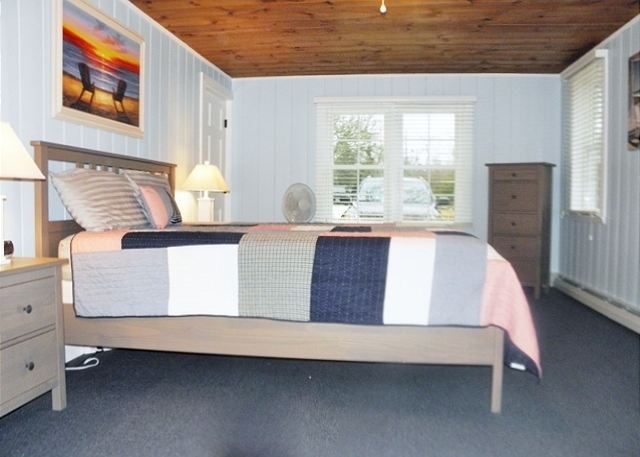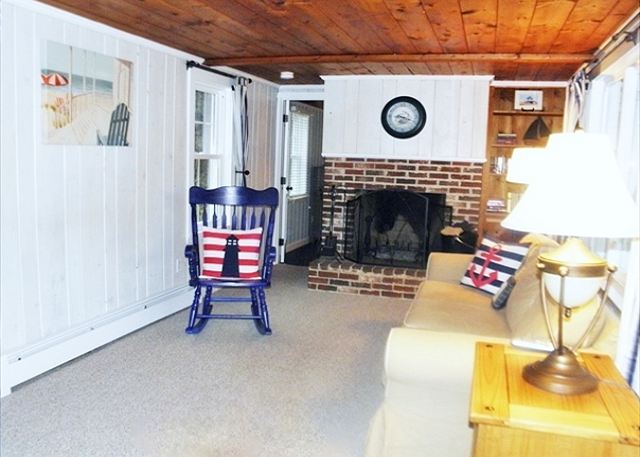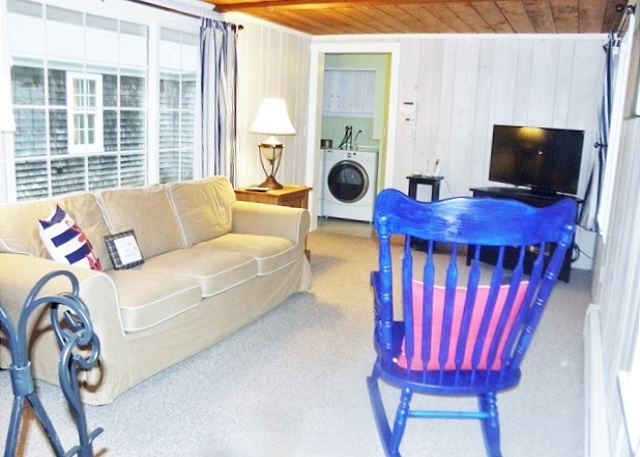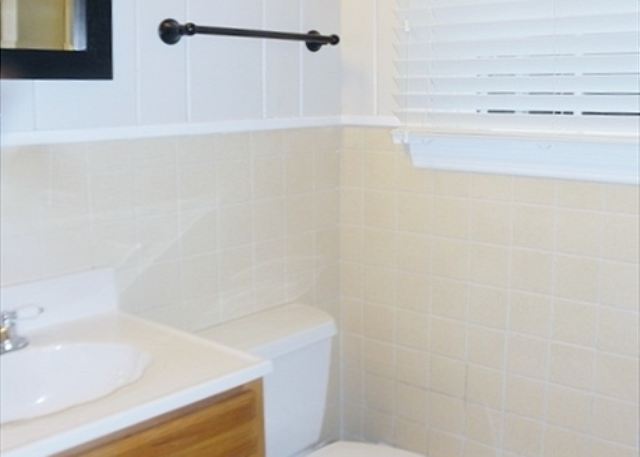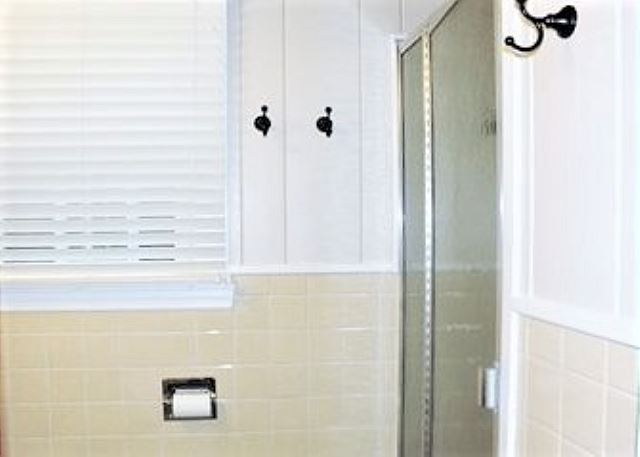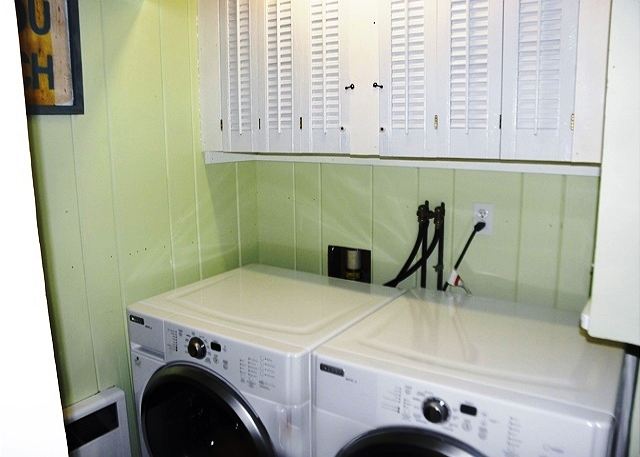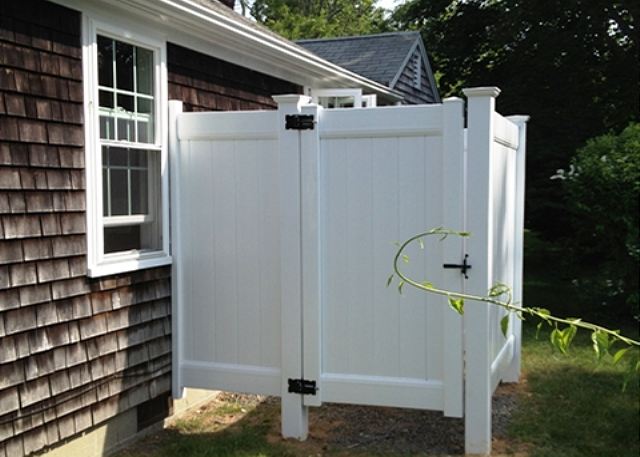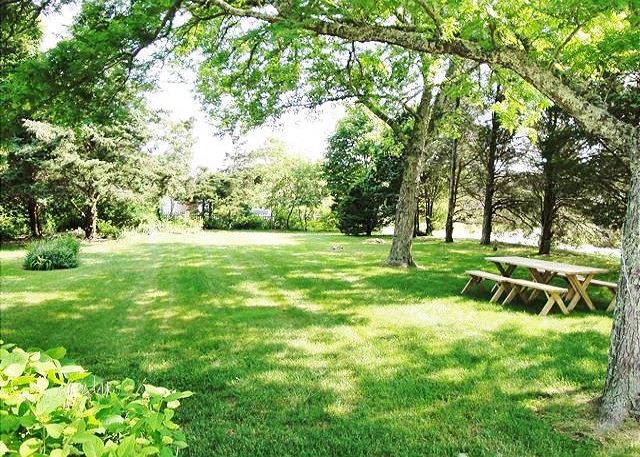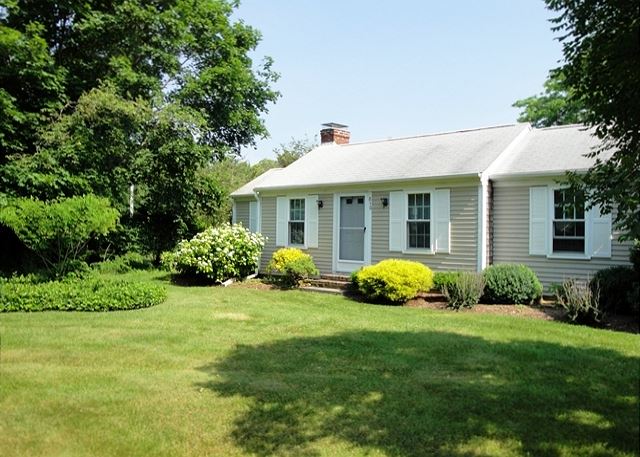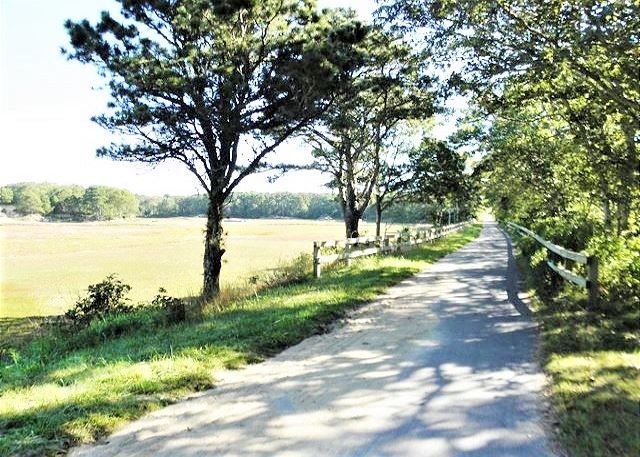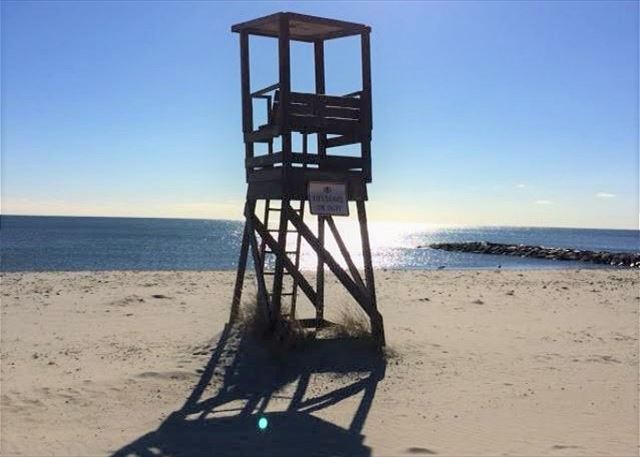 ---
Bedroom(s): 3
Bathroom(s): 2
Sleeps: 6
Type: House
Area:
Town: Harwich
Tastefully and freshly furnished, this Harwich Vacation home is completely updated, and has the Cape Cod bike trail access only 500 feet away.

Located close to Chatham and next door to Harwich center including Brooks park playground and ball field. This home has much to offer, lovely furnishings, air conditioning, Wi-Fi Internet, 2 living areas with flat screen TVs & Blue Ray DVD players, a huge new enclosed outdoor shower, and deck with outdoor seating.

Two miles to Bank Street Beach or Red River Beach in Harwich just 5 minutes away by car.

From the shell driveway, you will step on to a generously sized deck with gas grill and wicker seating. There is a picnic table and Adirondack seating on the lawn.

Upon entry to the home you will find the modern and "neat as a pin" kitchen which includes all necessary dining and cooking utensils and includes a dishwasher, microwave, toaster, coffee maker, spices, and lobster pot. Just beyond the kitchen is welcoming dining area with seating for 6 guests with over sized windows looking out onto the yard.

From the kitchen, to the right, is the den with sofa and 39 inch HD TV & blue ray DVD player. This leads to a spacious bedroom with a queen size bed, ceiling fan, and window A/C unit. There is a bath with a shower off the kitchen and a laundry area with full size washer and dryer.

As you leave the dining room on the left side of this home is the living room. Here you will find shiny hardwood floors, plush seating, and a 42 inch HD TV with blue ray DVD player, and the door to the front yard. Adjacent to the living room is the 2nd full bath with a bedroom to the left with two twin beds and a bedroom to the right with a queen bed, each has a window A/C unit and room fan.

Additional amenities include Comcast basic cable channels, WIFI Internet, local phone service, hair dryer, AM/FM radio CD player and room fans. *Cooler & beach chairs are also provided for your convenience.* *Owners provide these items as favors to guests only and not as an integral part of the rental. If these items become lost or damaged during the course of the rental season, owners are not responsible for replacement.*



Sorry no pets and no smoking allowed.

6 guests maximum allowed at any time. No parties exceeding the occupancy limit allowed.

LINENS (SHEETS/TOWELS) ARE NOT INCLUDED IN THIS RENTAL.

Travel insurance is highly recommended and affordable coverage to protect your vacation investment.

Please view our policy and procedure page on our web site for detailed information about renting with us.
- DVD Player
- Flat Screen HDTV
- Basic Cable
- Stereo w/ CD player
- Microwave
- Drip Coffee Maker
- Cookware
- Dishes / Glassware / Utensils
- Blender
- Toaster or Toaster Oven
- Dishwasher
- Laundry
- Lobster Pot
- Door to Deck
- Dining Table
- DVD Player
- Hair Dryer
- Tub/Shower Combo
- Walk-In Shower
- Washer
- Dryer
- Deck
- Gas Grill with Propane Tank
- Dining Table w/o Umbrella
- Enclosed Outdoor Shower
- Beach Chairs
- Outdoor Lighting
- Outdoor Seating
- Close to Town
- Near Rail Trail Bike Path
- Near Nantucket Sound Beaches
- Near Golf Course
Guest Reviews of
810 orleans Harwich , MA
Slainte
Review by
Margaret S.
Great home to gather family for a nice relaxing vacation on the Cape. Close to everything, and Harwich is a gem of a town...loved our stay.
5 out of 5 stars
Harwich heaven
Review by
Don D.
house is well-equipped
5 out of 5 stars
Cape House
Review by
Mary R.
This is the second year we have stayed in this house and both years we had an excellent stay. For my family the house is perfect. It has plenty of space (we have 4 that stay but easily would fit 6), is very clean and a great layout. There are two living areas that are separated by a kitchen and eating area. Two bedrooms are on one side of the house with a 3rd on the opposite end. Also two full bathrooms and an outside shower, so no one is waiting for a bathroom. It also has a very convenient location if you are staying in the Harwich area and go to Bank St. Beach. It is a mile to the beach and have to drive, but I always have too much to carry and would have to drive no matter how close I am to the beach. Is right around the corner from baseball fields where the Harwich Mariners play, which everyone enjoys. It is decorated nicely and has been redone recently. So, for my family this is the perfect property and hope to return for many years. High marks for location and cleanliness along with being very comfortable. Would definitely recommend to family and friends!
5 out of 5 stars
Great place to stay in Harwich!
Review by
Andrew & Karen G.
This was a wonderful house to rent for a week down the Cape. It has many modern updates and is quite clean and organized. Although, the beach is not within walking distance, it is a short ride by car. We loved the proximity to downtown Harwich. If you are looking to rent a house with all the amenities of home including a beautiful outdoor shower and inviting front porch in which you can see the sunrise with a hot cup of cofffee or the sun set with an ice cold beer. The owners were very accomodating. We would definitely rent this property again.
5 out of 5 stars
August 2018

| S | M | T | W | T | F | S |
| --- | --- | --- | --- | --- | --- | --- |
| | | | 01 | 02 | 03 | 04 |
| 05 | 06 | 07 | 08 | 09 | 10 | 11 |
| 12 | 13 | 14 | 15 | 16 | 17 | 18 |
| 19 | 20 | 21 | 22 | 23 | 24 | 25 |
| 26 | 27 | 28 | 29 | 30 | 31 | |
September 2018

| S | M | T | W | T | F | S |
| --- | --- | --- | --- | --- | --- | --- |
| | | | | | | 01 |
| 02 | 03 | 04 | 05 | 06 | 07 | 08 |
| 09 | 10 | 11 | 12 | 13 | 14 | 15 |
| 16 | 17 | 18 | 19 | 20 | 21 | 22 |
| 23 | 24 | 25 | 26 | 27 | 28 | 29 |
| 30 | | | | | | |
October 2018

| S | M | T | W | T | F | S |
| --- | --- | --- | --- | --- | --- | --- |
| | 01 | 02 | 03 | 04 | 05 | 06 |
| 07 | 08 | 09 | 10 | 11 | 12 | 13 |
| 14 | 15 | 16 | 17 | 18 | 19 | 20 |
| 21 | 22 | 23 | 24 | 25 | 26 | 27 |
| 28 | 29 | 30 | 31 | | | |
November 2018

| S | M | T | W | T | F | S |
| --- | --- | --- | --- | --- | --- | --- |
| | | | | 01 | 02 | 03 |
| 04 | 05 | 06 | 07 | 08 | 09 | 10 |
| 11 | 12 | 13 | 14 | 15 | 16 | 17 |
| 18 | 19 | 20 | 21 | 22 | 23 | 24 |
| 25 | 26 | 27 | 28 | 29 | 30 | |
December 2018

| S | M | T | W | T | F | S |
| --- | --- | --- | --- | --- | --- | --- |
| | | | | | | 01 |
| 02 | 03 | 04 | 05 | 06 | 07 | 08 |
| 09 | 10 | 11 | 12 | 13 | 14 | 15 |
| 16 | 17 | 18 | 19 | 20 | 21 | 22 |
| 23 | 24 | 25 | 26 | 27 | 28 | 29 |
| 30 | 31 | | | | | |
January 2019

| S | M | T | W | T | F | S |
| --- | --- | --- | --- | --- | --- | --- |
| | | 01 | 02 | 03 | 04 | 05 |
| 06 | 07 | 08 | 09 | 10 | 11 | 12 |
| 13 | 14 | 15 | 16 | 17 | 18 | 19 |
| 20 | 21 | 22 | 23 | 24 | 25 | 26 |
| 27 | 28 | 29 | 30 | 31 | | |
February 2019

| S | M | T | W | T | F | S |
| --- | --- | --- | --- | --- | --- | --- |
| | | | | | 01 | 02 |
| 03 | 04 | 05 | 06 | 07 | 08 | 09 |
| 10 | 11 | 12 | 13 | 14 | 15 | 16 |
| 17 | 18 | 19 | 20 | 21 | 22 | 23 |
| 24 | 25 | 26 | 27 | 28 | | |
March 2019

| S | M | T | W | T | F | S |
| --- | --- | --- | --- | --- | --- | --- |
| | | | | | 01 | 02 |
| 03 | 04 | 05 | 06 | 07 | 08 | 09 |
| 10 | 11 | 12 | 13 | 14 | 15 | 16 |
| 17 | 18 | 19 | 20 | 21 | 22 | 23 |
| 24 | 25 | 26 | 27 | 28 | 29 | 30 |
| 31 | | | | | | |
April 2019

| S | M | T | W | T | F | S |
| --- | --- | --- | --- | --- | --- | --- |
| | 01 | 02 | 03 | 04 | 05 | 06 |
| 07 | 08 | 09 | 10 | 11 | 12 | 13 |
| 14 | 15 | 16 | 17 | 18 | 19 | 20 |
| 21 | 22 | 23 | 24 | 25 | 26 | 27 |
| 28 | 29 | 30 | | | | |
May 2019

| S | M | T | W | T | F | S |
| --- | --- | --- | --- | --- | --- | --- |
| | | | 01 | 02 | 03 | 04 |
| 05 | 06 | 07 | 08 | 09 | 10 | 11 |
| 12 | 13 | 14 | 15 | 16 | 17 | 18 |
| 19 | 20 | 21 | 22 | 23 | 24 | 25 |
| 26 | 27 | 28 | 29 | 30 | 31 | |
June 2019

| S | M | T | W | T | F | S |
| --- | --- | --- | --- | --- | --- | --- |
| | | | | | | 01 |
| 02 | 03 | 04 | 05 | 06 | 07 | 08 |
| 09 | 10 | 11 | 12 | 13 | 14 | 15 |
| 16 | 17 | 18 | 19 | 20 | 21 | 22 |
| 23 | 24 | 25 | 26 | 27 | 28 | 29 |
| 30 | | | | | | |
July 2019

| S | M | T | W | T | F | S |
| --- | --- | --- | --- | --- | --- | --- |
| | 01 | 02 | 03 | 04 | 05 | 06 |
| 07 | 08 | 09 | 10 | 11 | 12 | 13 |
| 14 | 15 | 16 | 17 | 18 | 19 | 20 |
| 21 | 22 | 23 | 24 | 25 | 26 | 27 |
| 28 | 29 | 30 | 31 | | | |
August 2019

| S | M | T | W | T | F | S |
| --- | --- | --- | --- | --- | --- | --- |
| | | | | 01 | 02 | 03 |
| 04 | 05 | 06 | 07 | 08 | 09 | 10 |
| 11 | 12 | 13 | 14 | 15 | 16 | 17 |
| 18 | 19 | 20 | 21 | 22 | 23 | 24 |
| 25 | 26 | 27 | 28 | 29 | 30 | 31 |
Available
Unavailable
Sat to Sat booking