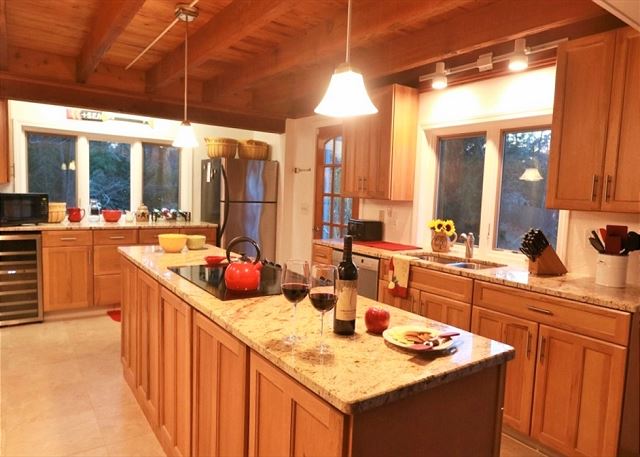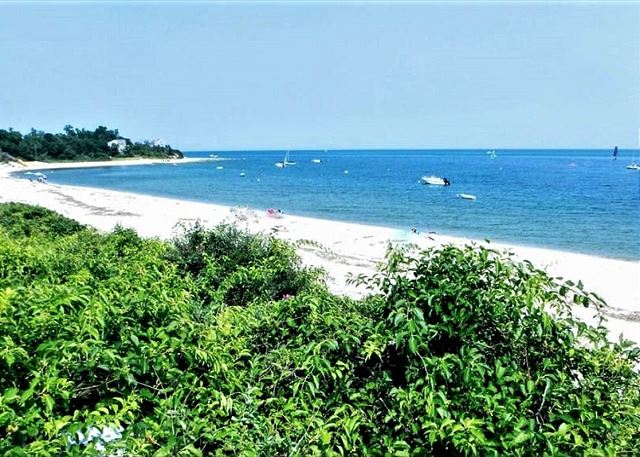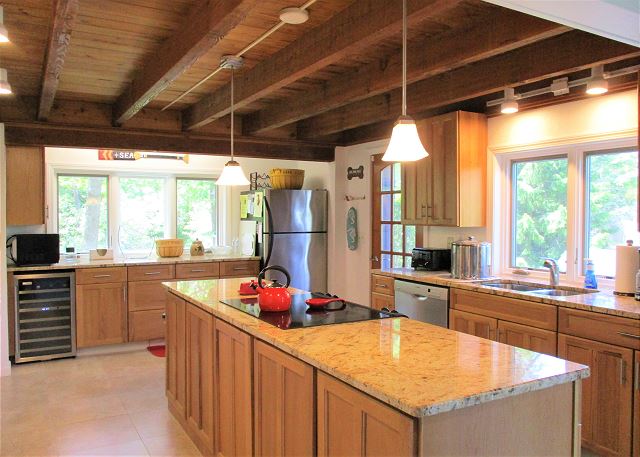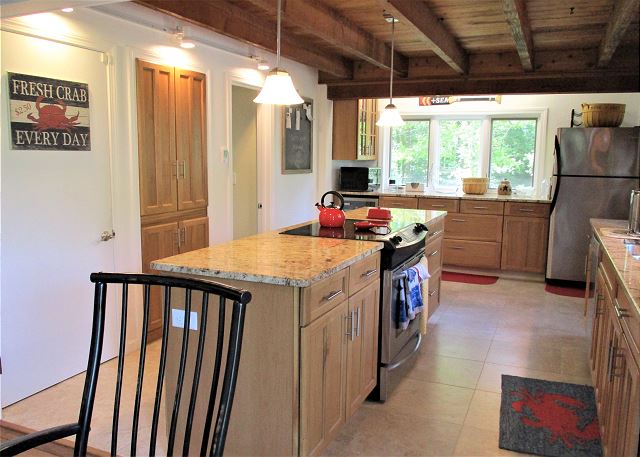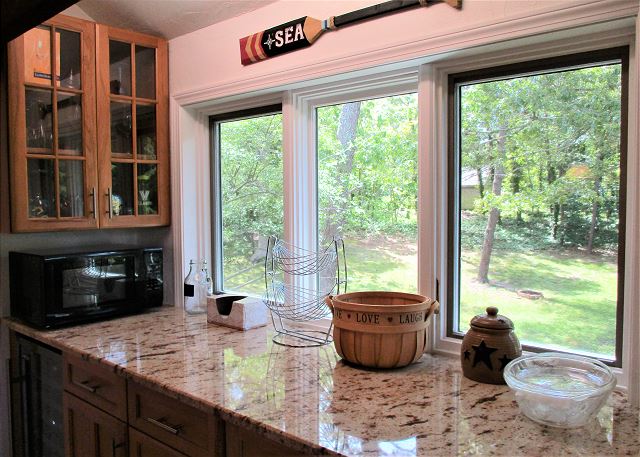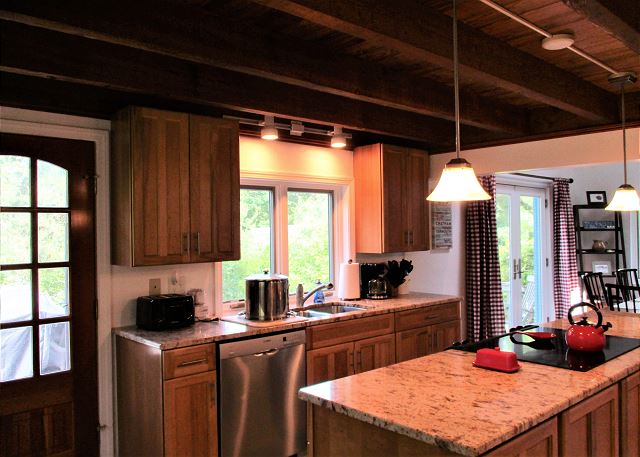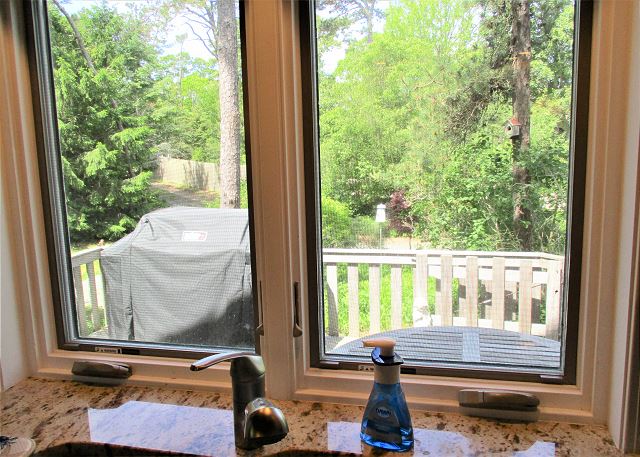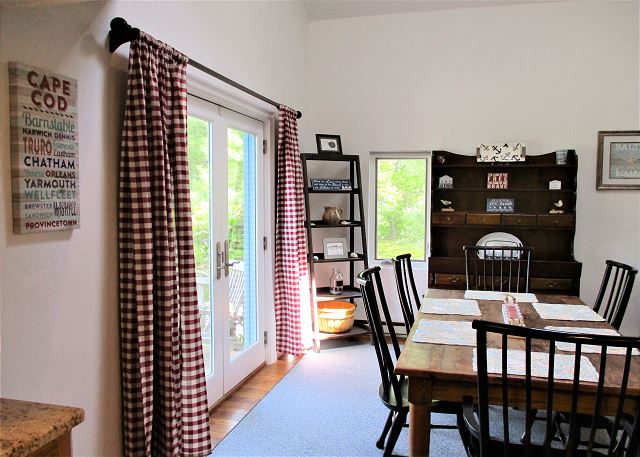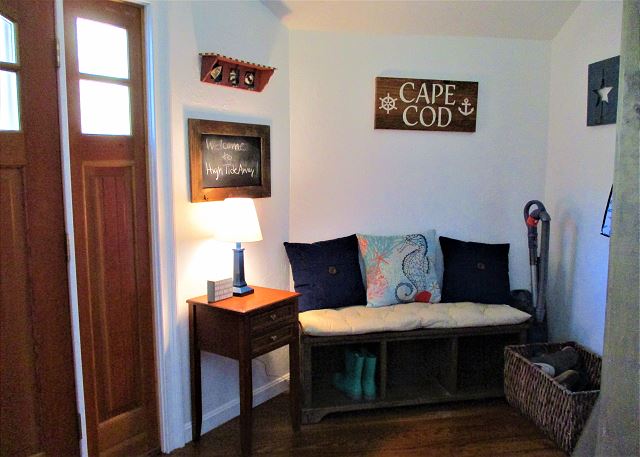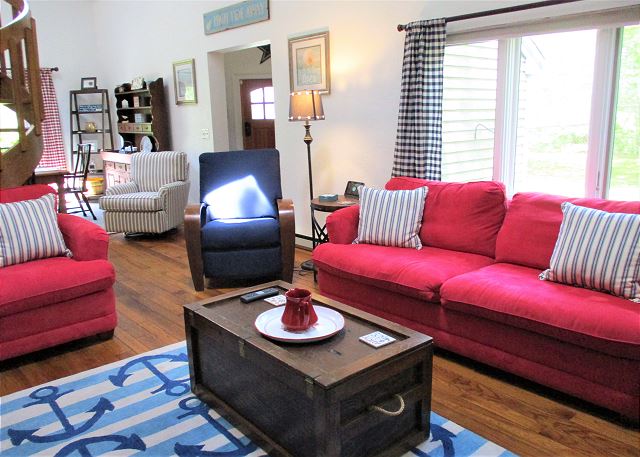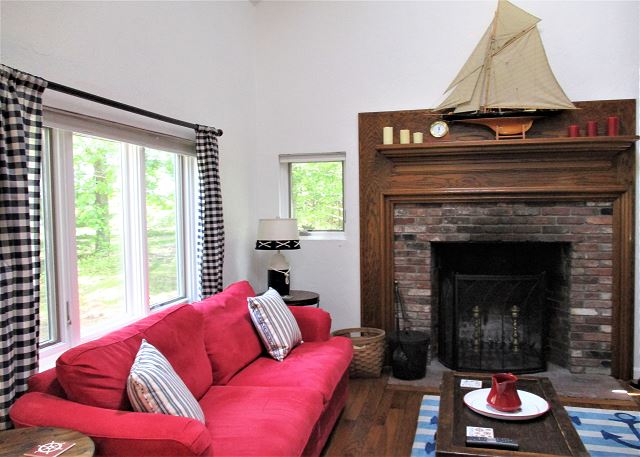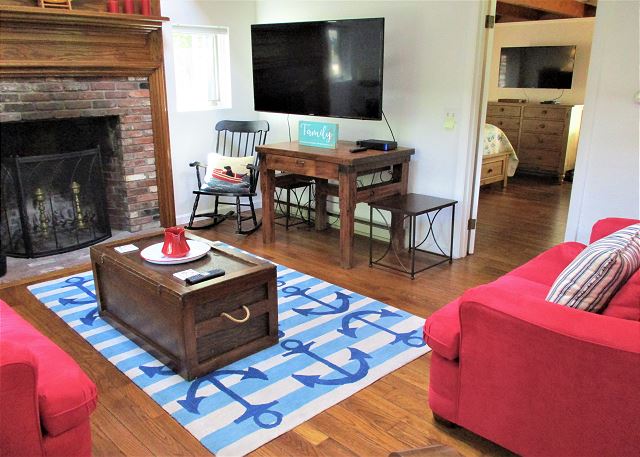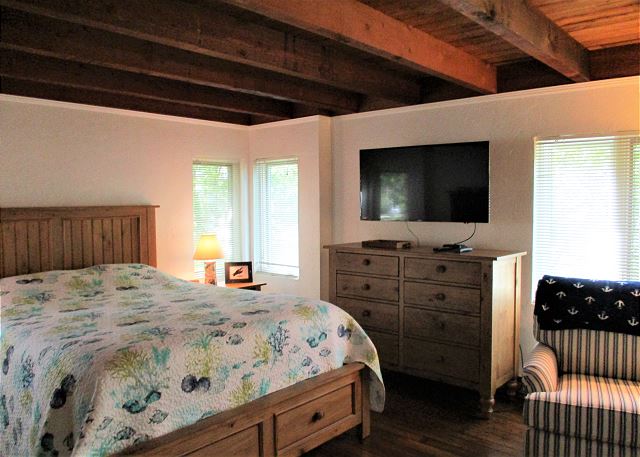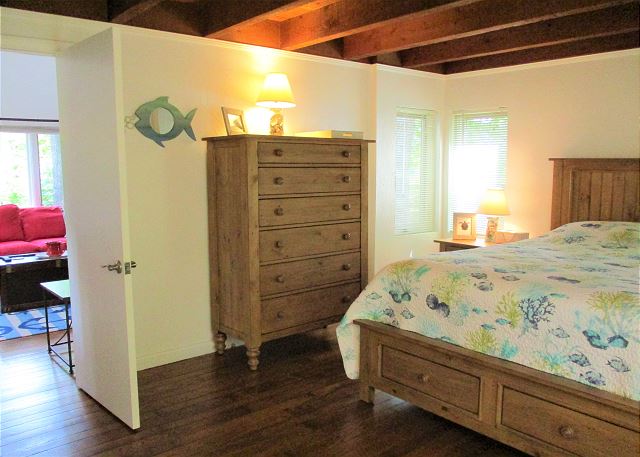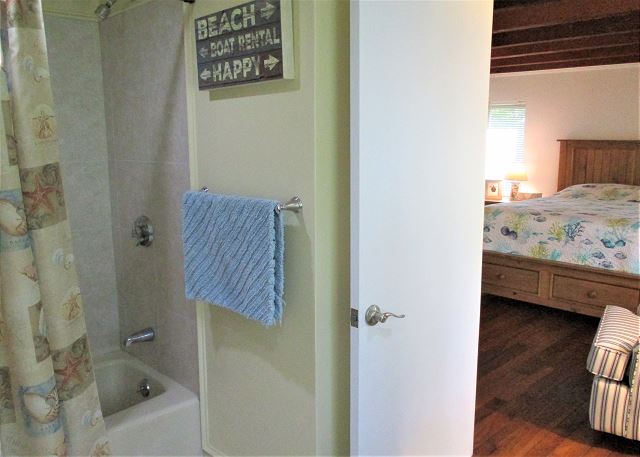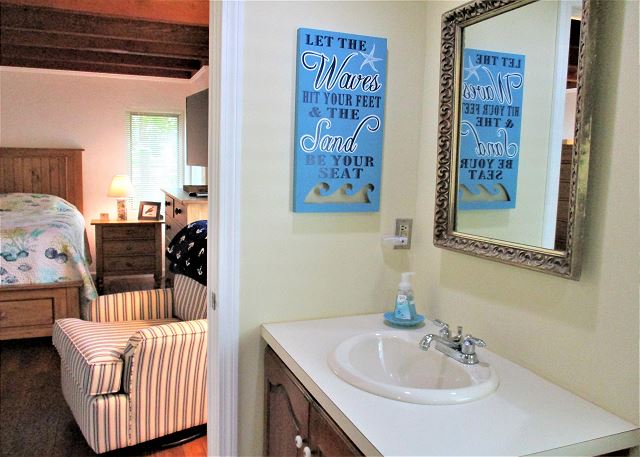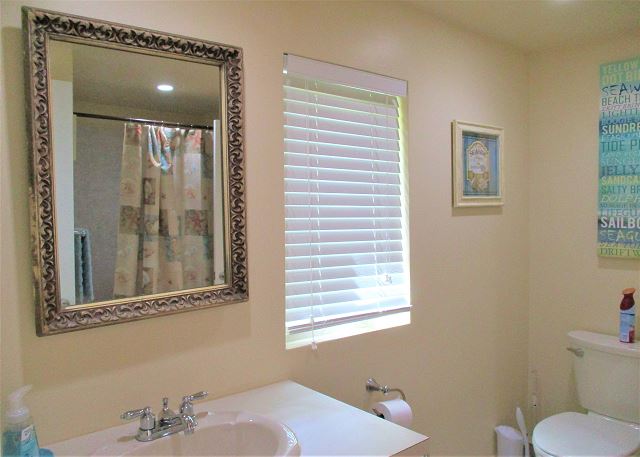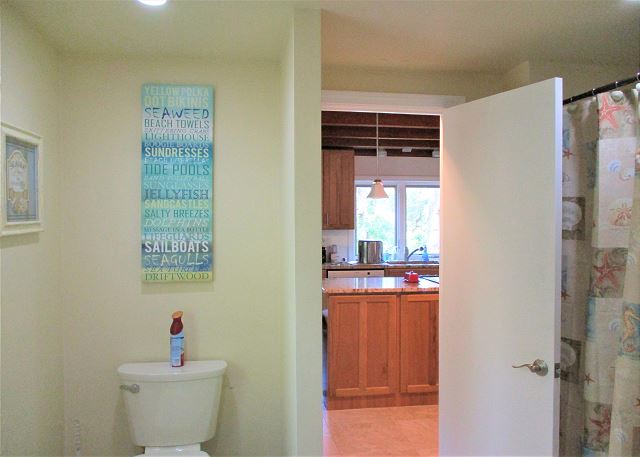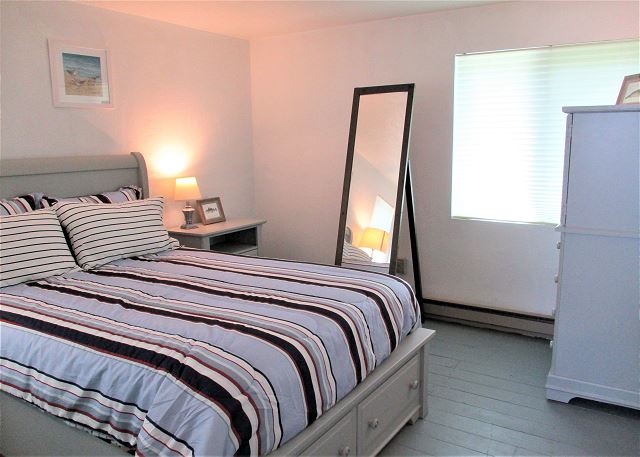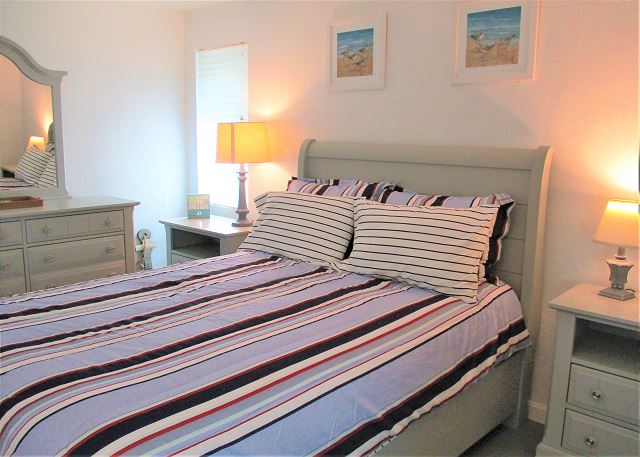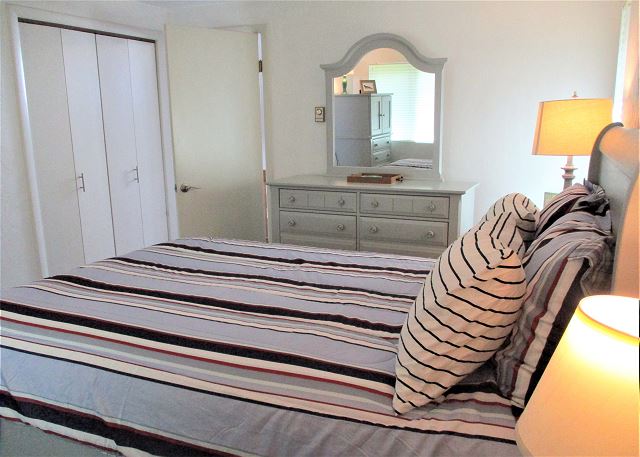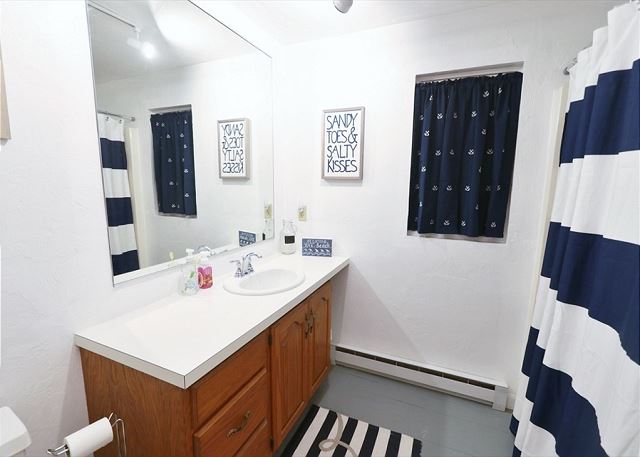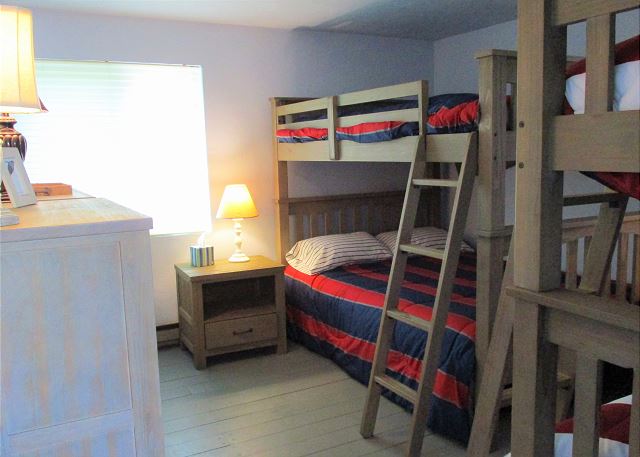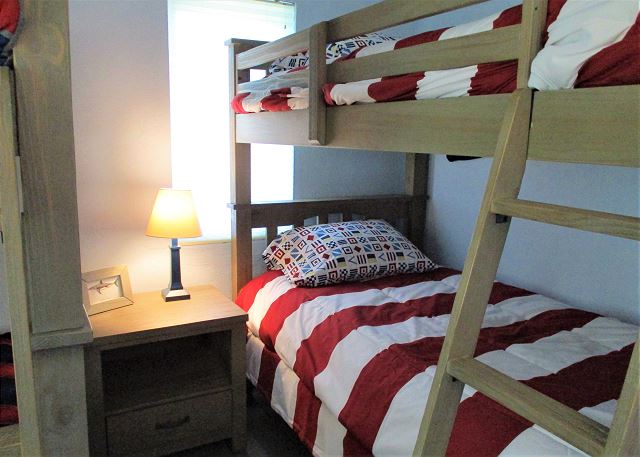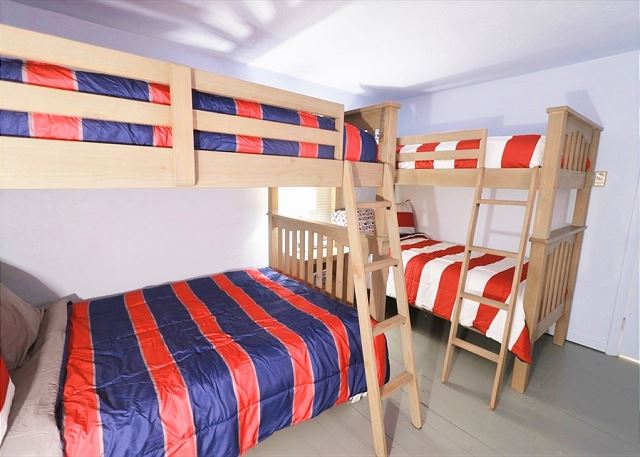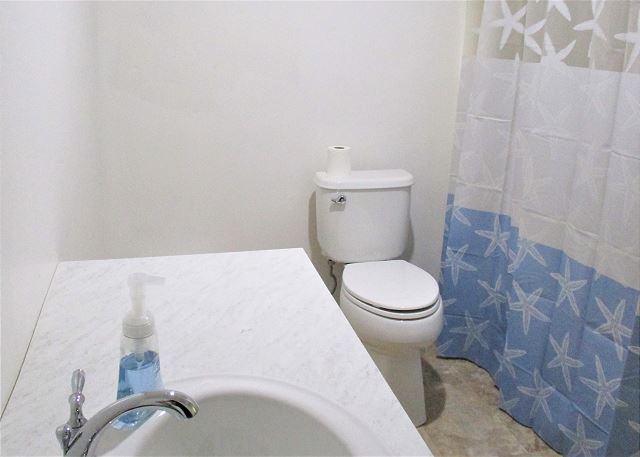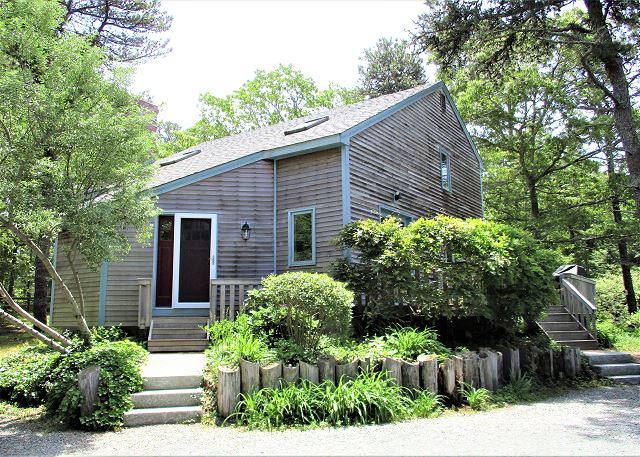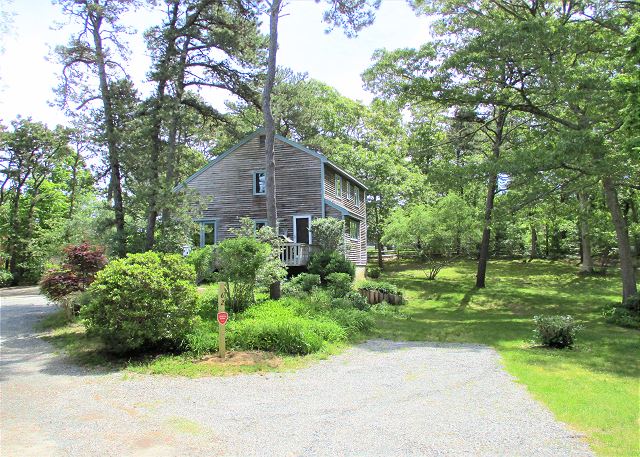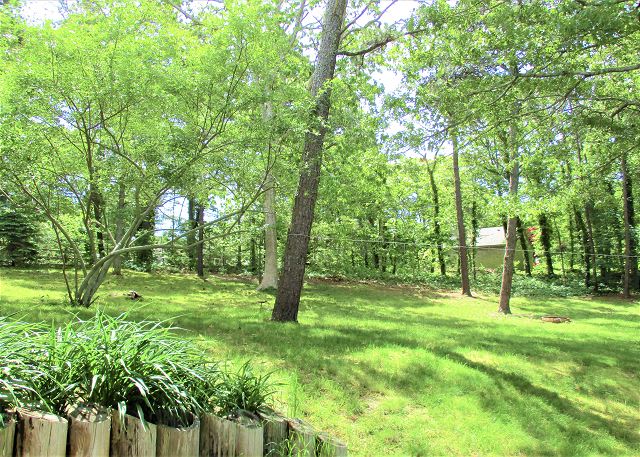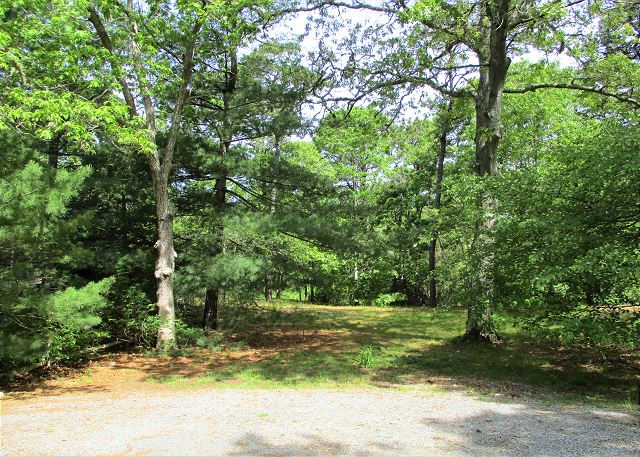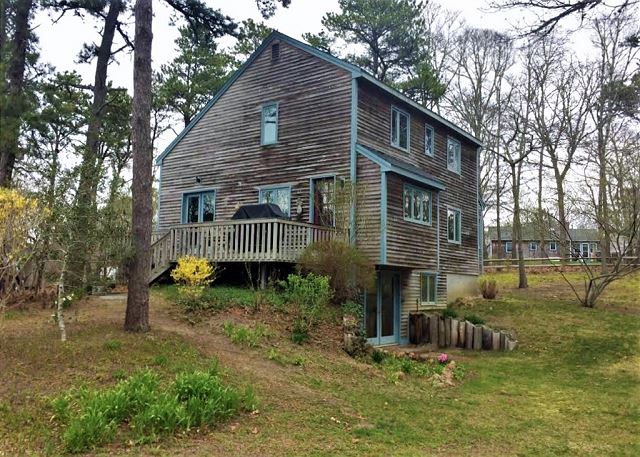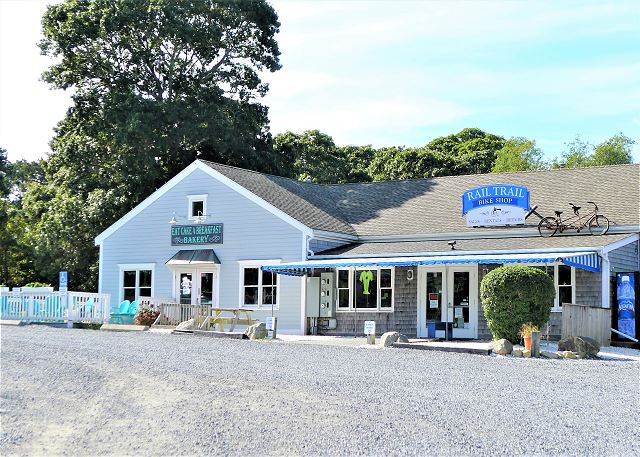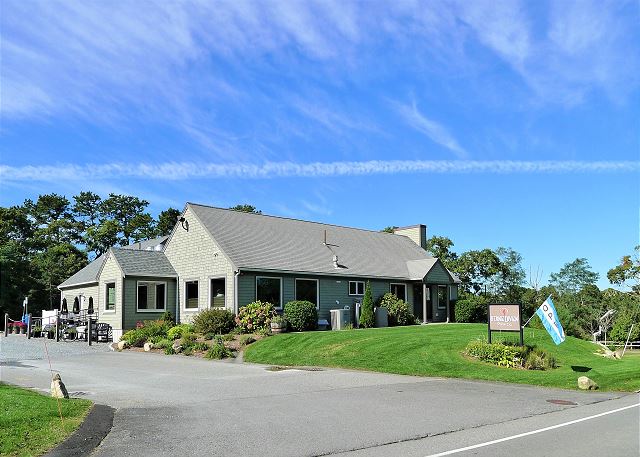 ---
Bedroom(s): 3
Bathroom(s): 3
Sleeps: 10
Type: House
Area: Point of Rocks Beach
Town: Brewster
Recently renovated with new bedding and furnishings, this 3 bedroom/3 full bath Brewster home sits at the end a super private acre lot only 0.3 miles from a peaceful bay beach. You enter the house from an ample side deck with outdoor dining table, a gas grill, and serene wooded views. Once inside, you'll walk right into an open kitchen/dining/family area with a soaring ceiling, skylight windows, and recessed lighting that buoys the atmosphere no matter what the weather!

The fully stocked kitchen lacks for nothing and features stainless steel appliances and granite counter tops.

The house boasts all the contemporary creature comforts: 4 ductless cooling units – one in each bedroom and one in the open family area - that feels like zoned central air, a 55" Smart TV in the family room, a 42" Smart TV in the main bedroom, Comcast extended cable, and WiFi.

The front entrance leads to a comfortable foyer large enough to retreat to for some quiet time.

The three bedrooms and expansive common areas provide plenty of space for 10 guests. The main bedroom on the first floor has a queen bed and its own entrance to a full bath with shower/tub combination that can also be accessed from the kitchen. A spiral staircase leads to a second floor with two additional bedrooms and another bath with tub/shower combination. Bedroom #2 has a full bed, and bedroom #3 has a set of twin bunks and a set of full-sized bunks to sleep 4-6. The full sized convertible sofa in the family area, air mattress, and rollaway cot present multiple sleeping options for 2 more guests.

The washer and dryer (detergent supplied) and third full bath with tub/shower combination are located on the lower level. Here, you can also find a play room accessed directly through french doors at ground level, or from the first floor. The young and the young at heart will enjoy this sanctuary, which also offers additional storage space and outdoor dining furniture.

Perhaps best of all, this bayside gem is a walk or bike away to all that Brewster has to offer, including Point of Rocks beach, fine and family dining, ice cream parlors, Nickerson Park, and an abundance of one-of-a kind shops that line either side of historic Old Kings Highway.

Also included: washer/dryer, box fans, wifi, wagon, room for 6 cars in driveway. *The owner provides 4 beach chairs in shed for guests' use.* *Owners provide these items as favors to guests only and not as an integral part of the rental. If these items become lost or damaged during the course of the rental season, owners are not responsible for replacement.*

DO YOU HAVE GROUPS WHO WANT TO VACATION "TOGETHER BUT SEPARATE"? ASK ABOUT ALSO RENTING 33 HARVEST OR 51 HARVEST - BOTH RIGHT ACROSS THE STREET! TOTAL SLEEPING CAPACITY OF 3 HOUSES IS 27+!

Sorry no pets and no smoking allowed.

10 guests maximum at any time. No parties exceeding the occupancy limit allowed.

LINENS (SHEETS/TOWELS) ARE NOT INCLUDED IN THIS RENTAL.

Travel Insurance is highly recommended and affordable coverage to protect your vacation investment.

Please view our policy and procedure page on our web site for detailed information about renting with us.

State and local taxes are applicable and may vary based on local ordinances and bylaws. These tax rates are subject to change.
- Standard TV
- Basic Cable
- WiFi
- A/C
- Microwave
- Drip Coffee Maker
- Blender
- Dishwasher
- Lobster Pot
- ironing board
- Toaster
- Iron
- A/C
- Hair Dryer
- washer
- dryer
- washer and dryer basement
- Gas Grill with Propane Tank
Guest Reviews of
62 harvest* Brewster , MA
Wonderful time
This house was terrific. The week started by arriving to a super clean house and got better from there. Kitchen was well stocked with dishware, cookware, and appliances and there was plenty of space for all.
5 out of 5 stars
Best Cape Cod Rental in Brewster!
Review by
Kathy H.
We have stayeda at a lot of places over the years on the Cape but I have to say this is one of the BEST rentals ever! The house was very clean and updated. There was plenty of space for everyone in our group (infact we never even used the downstairs which has a full kitchen, full bath and room for a blow up mattress. The three bedroom, two bathroom was great for our group. We biked from the house to the bay beaches and to town, the general stoe is the best for coffee and pasteries in the morning where all the locals like to meet and socialize.Sunset at the bay beaches is the best at he end of our block. My favorite workout place is called Cape Cod Fitness at 305 Hokum Rock Rd, East Dennis, Ma. I will definitely rent this house again oh right did i mention the fire pit the house has a ton of back yard space which includes a fire pit. This house is the best ever! Brewser is the best Cape Cod town ever!
5 out of 5 stars
April 2020

| S | M | T | W | T | F | S |
| --- | --- | --- | --- | --- | --- | --- |
| | | | 01 | 02 | 03 | 04 |
| 05 | 06 | 07 | 08 | 09 | 10 | 11 |
| 12 | 13 | 14 | 15 | 16 | 17 | 18 |
| 19 | 20 | 21 | 22 | 23 | 24 | 25 |
| 26 | 27 | 28 | 29 | 30 | | |
May 2020

| S | M | T | W | T | F | S |
| --- | --- | --- | --- | --- | --- | --- |
| | | | | | 01 | 02 |
| 03 | 04 | 05 | 06 | 07 | 08 | 09 |
| 10 | 11 | 12 | 13 | 14 | 15 | 16 |
| 17 | 18 | 19 | 20 | 21 | 22 | 23 |
| 24 | 25 | 26 | 27 | 28 | 29 | 30 |
| 31 | | | | | | |
June 2020

| S | M | T | W | T | F | S |
| --- | --- | --- | --- | --- | --- | --- |
| | 01 | 02 | 03 | 04 | 05 | 06 |
| 07 | 08 | 09 | 10 | 11 | 12 | 13 |
| 14 | 15 | 16 | 17 | 18 | 19 | 20 |
| 21 | 22 | 23 | 24 | 25 | 26 | 27 |
| 28 | 29 | 30 | | | | |
July 2020

| S | M | T | W | T | F | S |
| --- | --- | --- | --- | --- | --- | --- |
| | | | 01 | 02 | 03 | 04 |
| 05 | 06 | 07 | 08 | 09 | 10 | 11 |
| 12 | 13 | 14 | 15 | 16 | 17 | 18 |
| 19 | 20 | 21 | 22 | 23 | 24 | 25 |
| 26 | 27 | 28 | 29 | 30 | 31 | |
August 2020

| S | M | T | W | T | F | S |
| --- | --- | --- | --- | --- | --- | --- |
| | | | | | | 01 |
| 02 | 03 | 04 | 05 | 06 | 07 | 08 |
| 09 | 10 | 11 | 12 | 13 | 14 | 15 |
| 16 | 17 | 18 | 19 | 20 | 21 | 22 |
| 23 | 24 | 25 | 26 | 27 | 28 | 29 |
| 30 | 31 | | | | | |
September 2020

| S | M | T | W | T | F | S |
| --- | --- | --- | --- | --- | --- | --- |
| | | 01 | 02 | 03 | 04 | 05 |
| 06 | 07 | 08 | 09 | 10 | 11 | 12 |
| 13 | 14 | 15 | 16 | 17 | 18 | 19 |
| 20 | 21 | 22 | 23 | 24 | 25 | 26 |
| 27 | 28 | 29 | 30 | | | |
October 2020

| S | M | T | W | T | F | S |
| --- | --- | --- | --- | --- | --- | --- |
| | | | | 01 | 02 | 03 |
| 04 | 05 | 06 | 07 | 08 | 09 | 10 |
| 11 | 12 | 13 | 14 | 15 | 16 | 17 |
| 18 | 19 | 20 | 21 | 22 | 23 | 24 |
| 25 | 26 | 27 | 28 | 29 | 30 | 31 |
November 2020

| S | M | T | W | T | F | S |
| --- | --- | --- | --- | --- | --- | --- |
| 01 | 02 | 03 | 04 | 05 | 06 | 07 |
| 08 | 09 | 10 | 11 | 12 | 13 | 14 |
| 15 | 16 | 17 | 18 | 19 | 20 | 21 |
| 22 | 23 | 24 | 25 | 26 | 27 | 28 |
| 29 | 30 | | | | | |
December 2020

| S | M | T | W | T | F | S |
| --- | --- | --- | --- | --- | --- | --- |
| | | 01 | 02 | 03 | 04 | 05 |
| 06 | 07 | 08 | 09 | 10 | 11 | 12 |
| 13 | 14 | 15 | 16 | 17 | 18 | 19 |
| 20 | 21 | 22 | 23 | 24 | 25 | 26 |
| 27 | 28 | 29 | 30 | 31 | | |
January 2021

| S | M | T | W | T | F | S |
| --- | --- | --- | --- | --- | --- | --- |
| | | | | | 01 | 02 |
| 03 | 04 | 05 | 06 | 07 | 08 | 09 |
| 10 | 11 | 12 | 13 | 14 | 15 | 16 |
| 17 | 18 | 19 | 20 | 21 | 22 | 23 |
| 24 | 25 | 26 | 27 | 28 | 29 | 30 |
| 31 | | | | | | |
February 2021

| S | M | T | W | T | F | S |
| --- | --- | --- | --- | --- | --- | --- |
| | 01 | 02 | 03 | 04 | 05 | 06 |
| 07 | 08 | 09 | 10 | 11 | 12 | 13 |
| 14 | 15 | 16 | 17 | 18 | 19 | 20 |
| 21 | 22 | 23 | 24 | 25 | 26 | 27 |
| 28 | | | | | | |
March 2021

| S | M | T | W | T | F | S |
| --- | --- | --- | --- | --- | --- | --- |
| | 01 | 02 | 03 | 04 | 05 | 06 |
| 07 | 08 | 09 | 10 | 11 | 12 | 13 |
| 14 | 15 | 16 | 17 | 18 | 19 | 20 |
| 21 | 22 | 23 | 24 | 25 | 26 | 27 |
| 28 | 29 | 30 | 31 | | | |
April 2021

| S | M | T | W | T | F | S |
| --- | --- | --- | --- | --- | --- | --- |
| | | | | 01 | 02 | 03 |
| 04 | 05 | 06 | 07 | 08 | 09 | 10 |
| 11 | 12 | 13 | 14 | 15 | 16 | 17 |
| 18 | 19 | 20 | 21 | 22 | 23 | 24 |
| 25 | 26 | 27 | 28 | 29 | 30 | |
Available
Unavailable
Sat to Sat booking