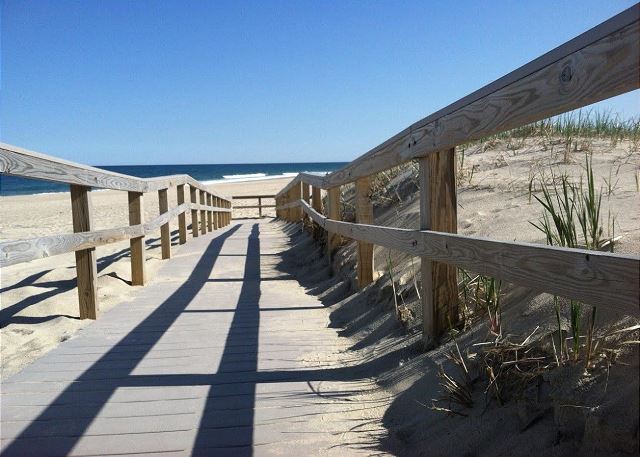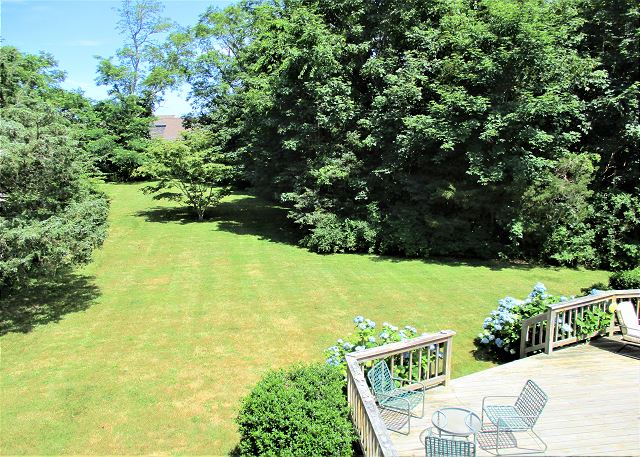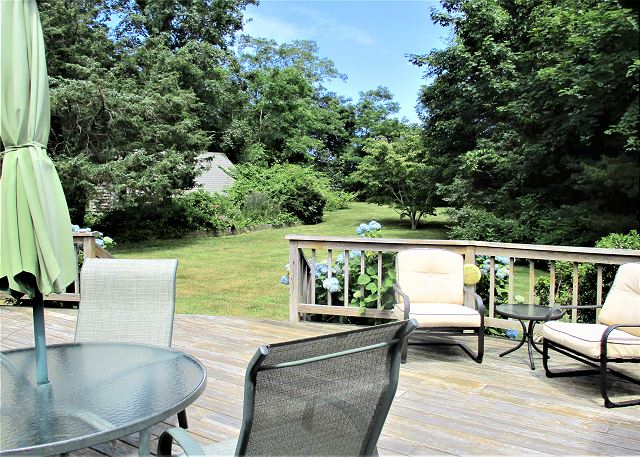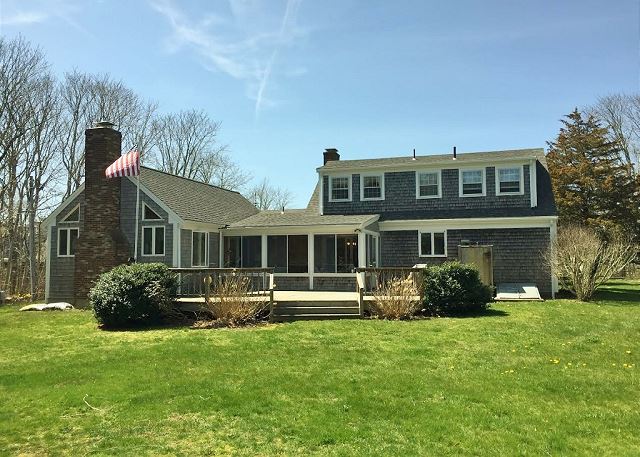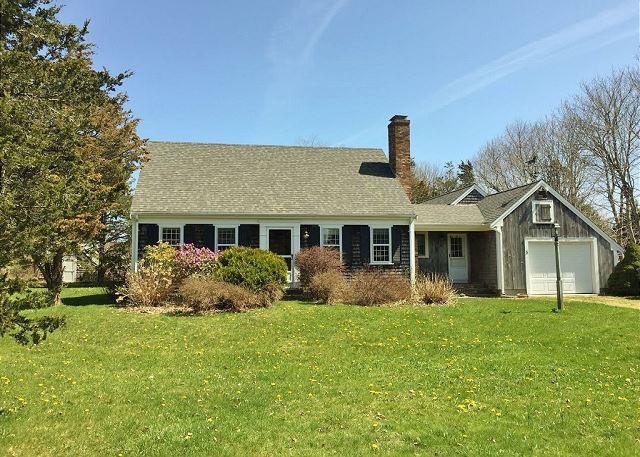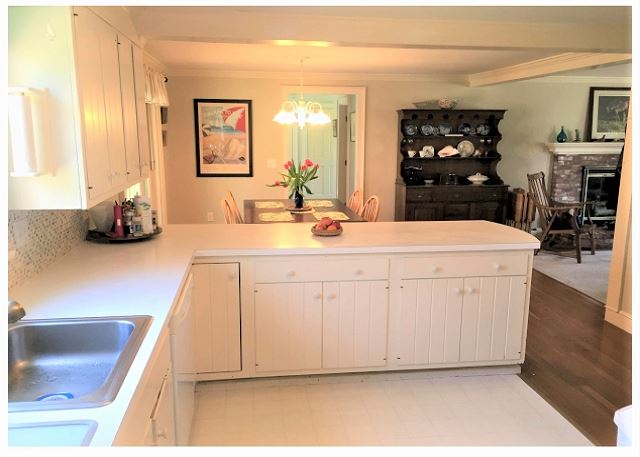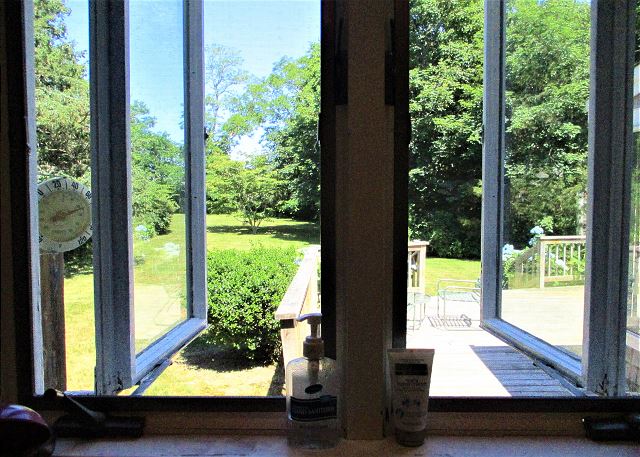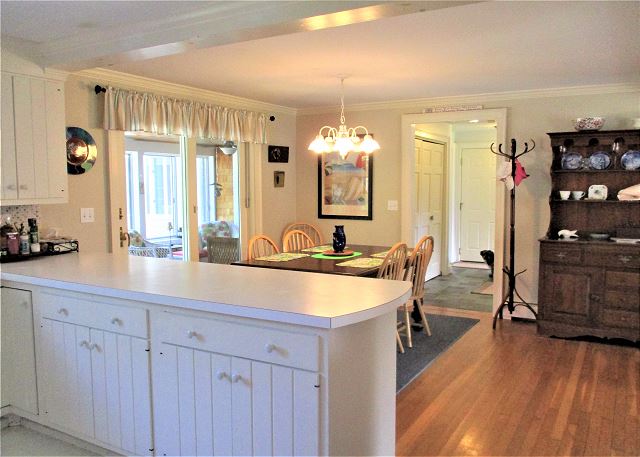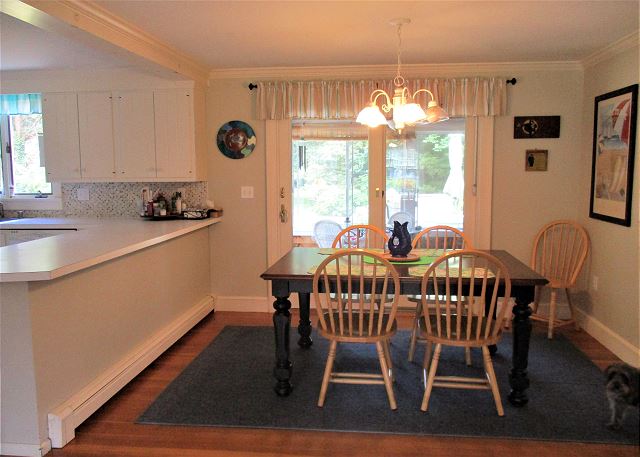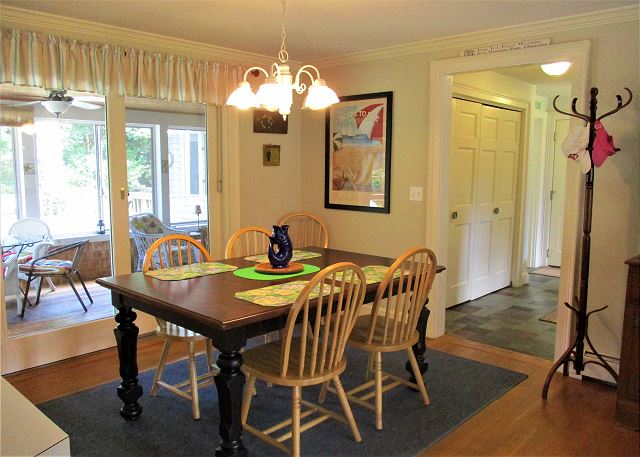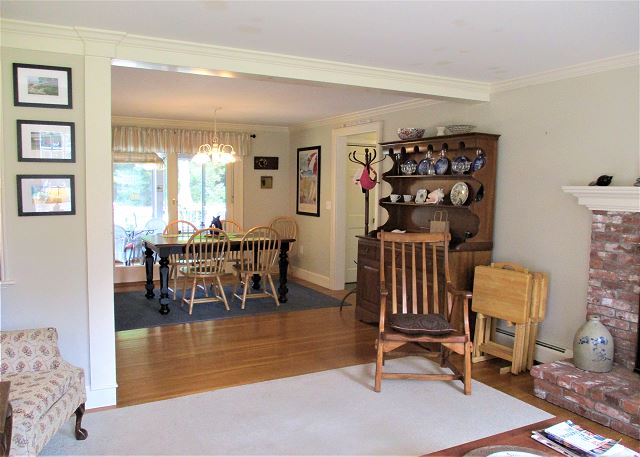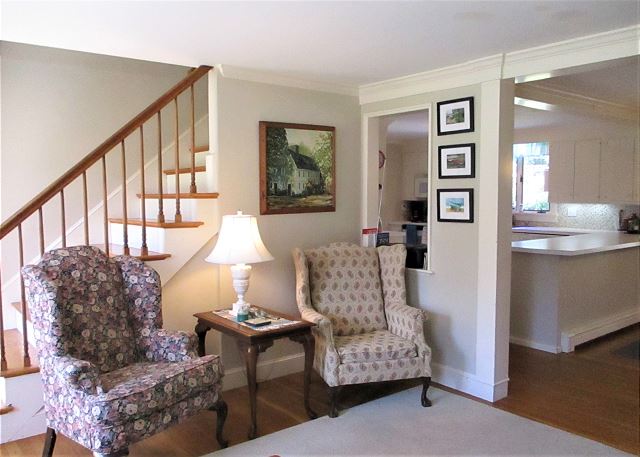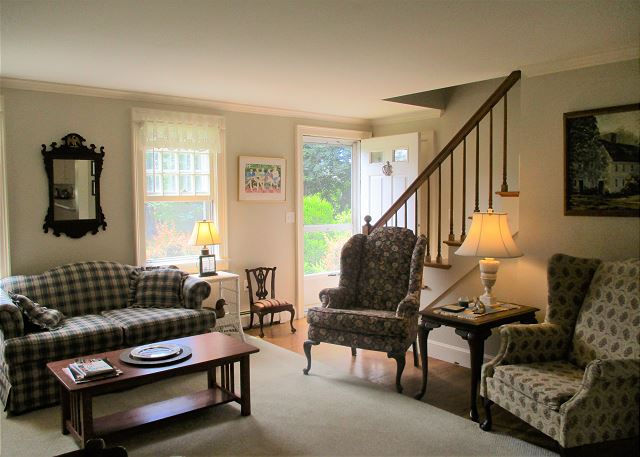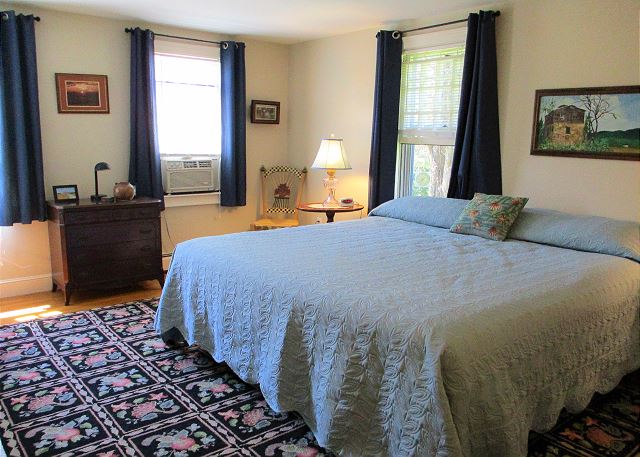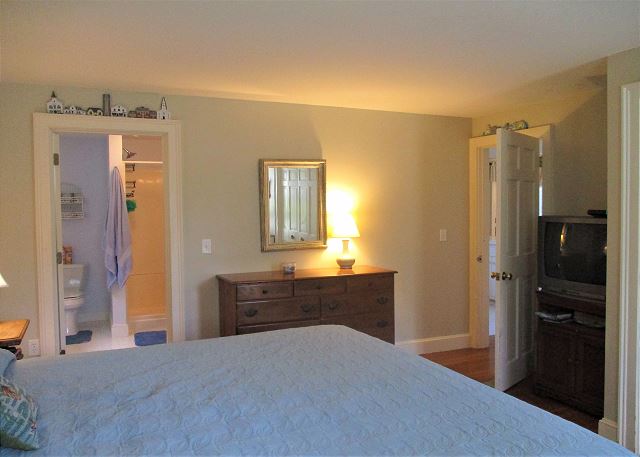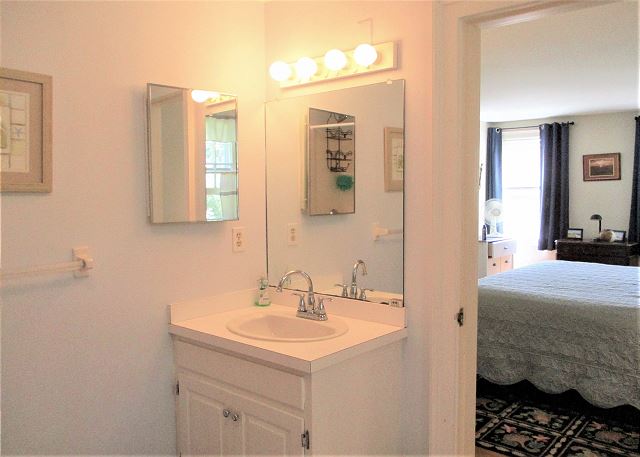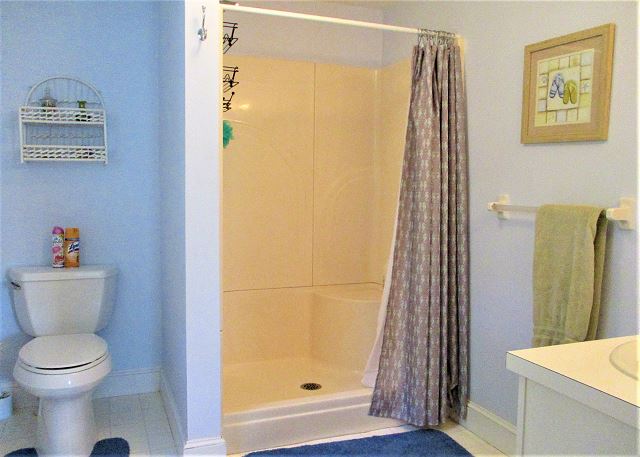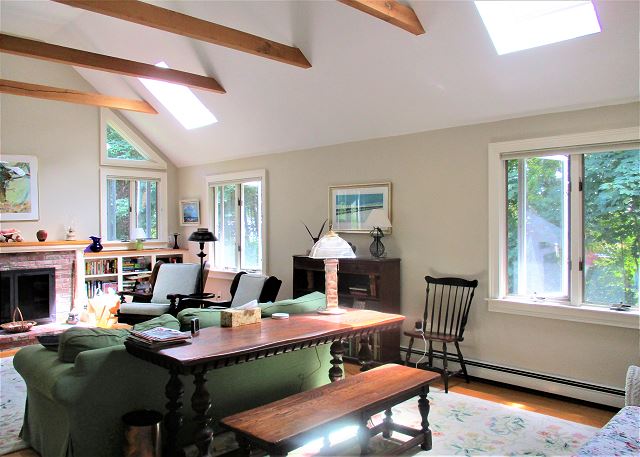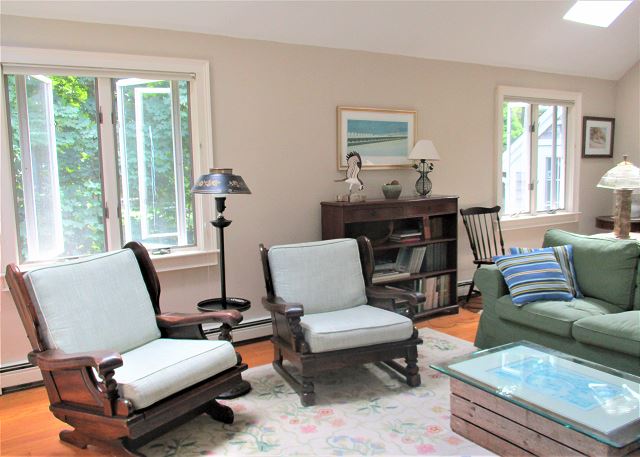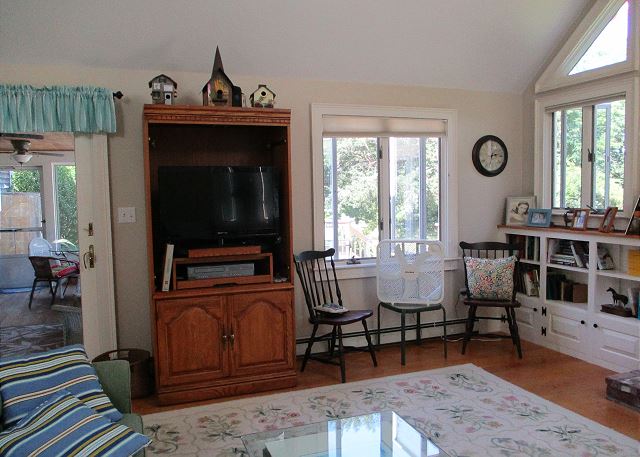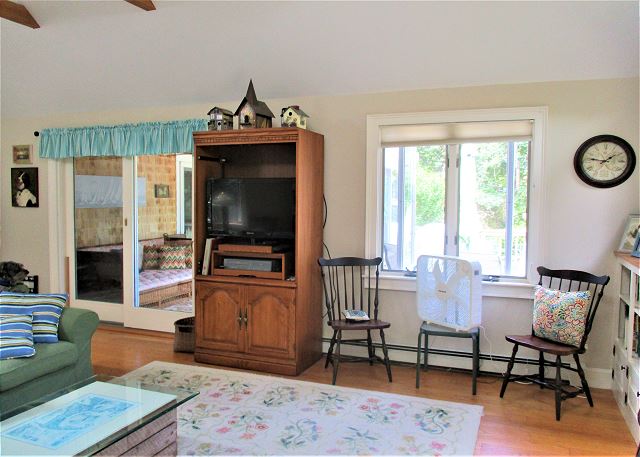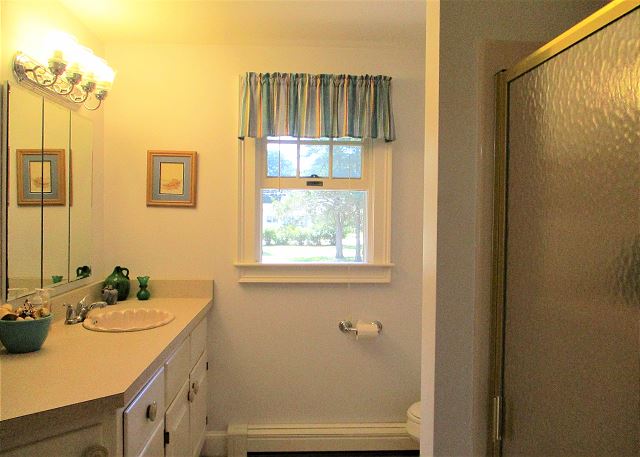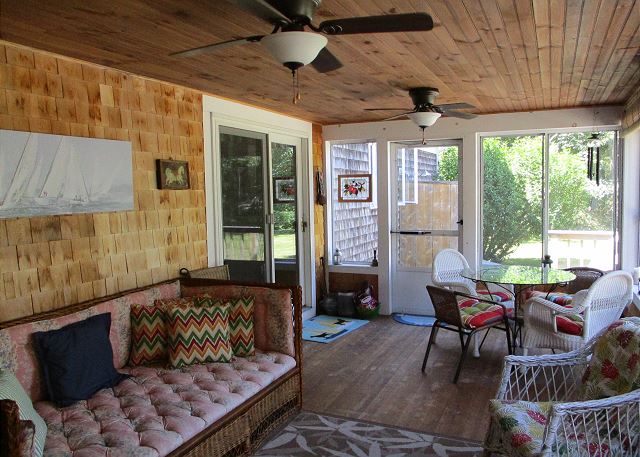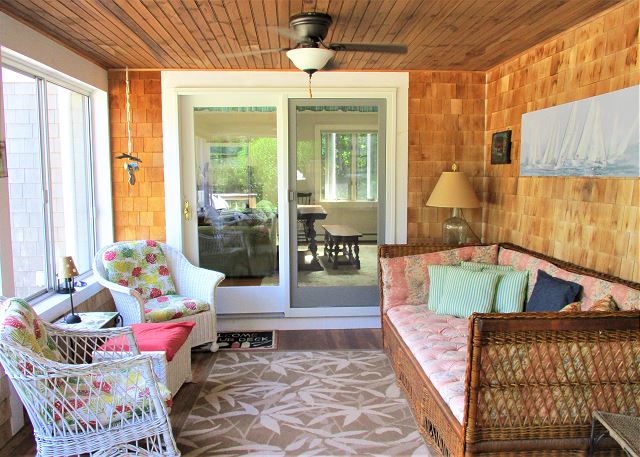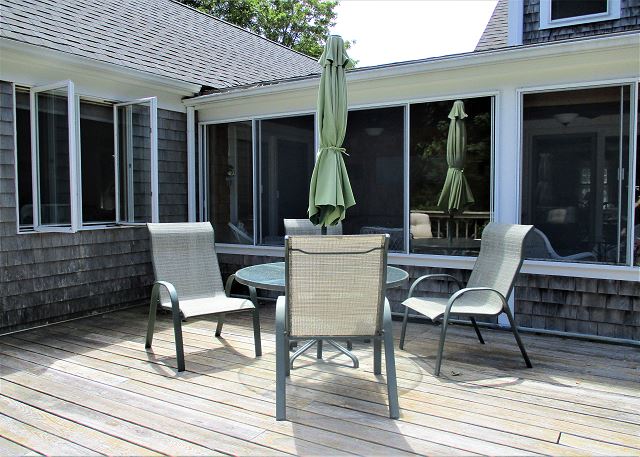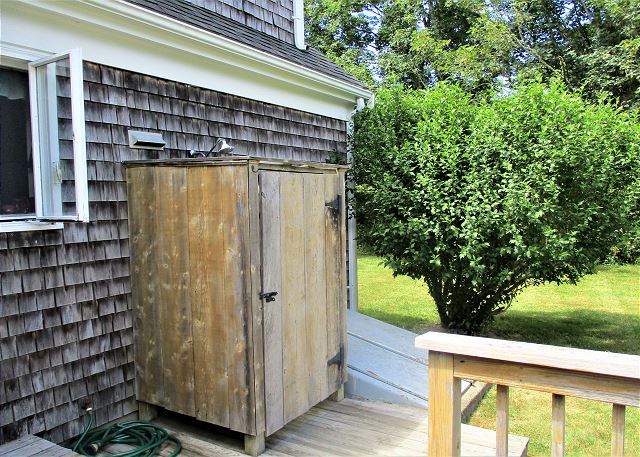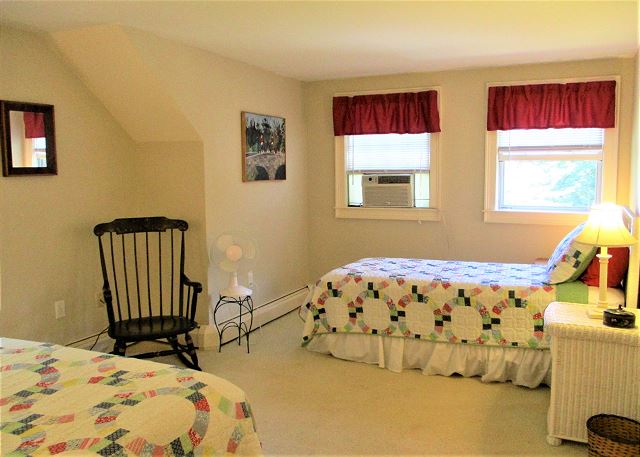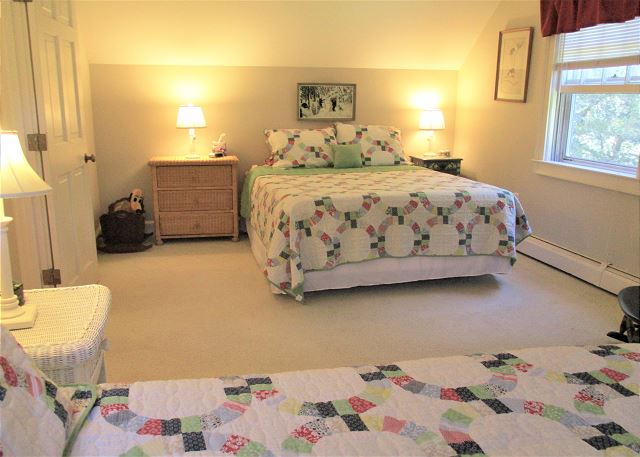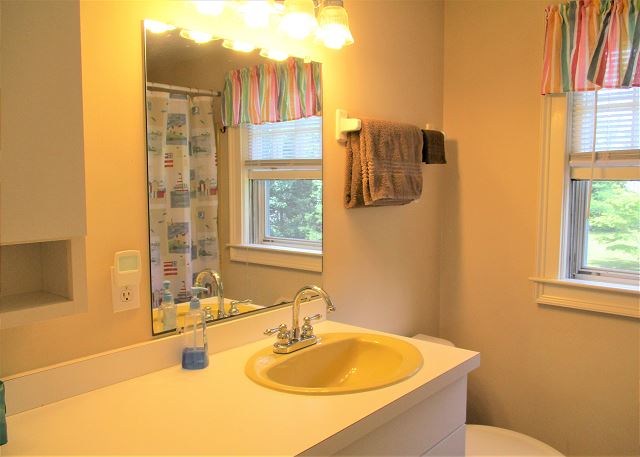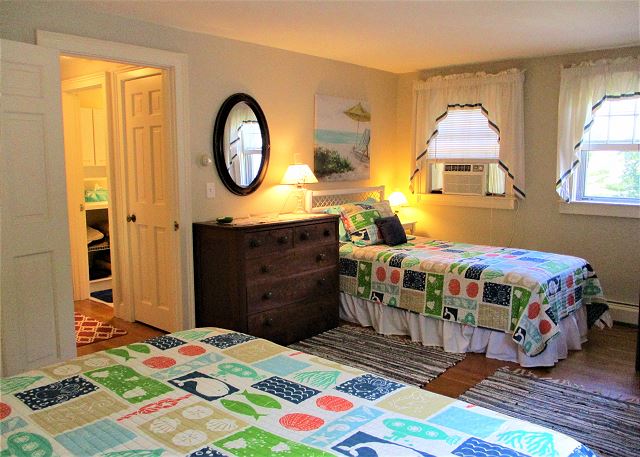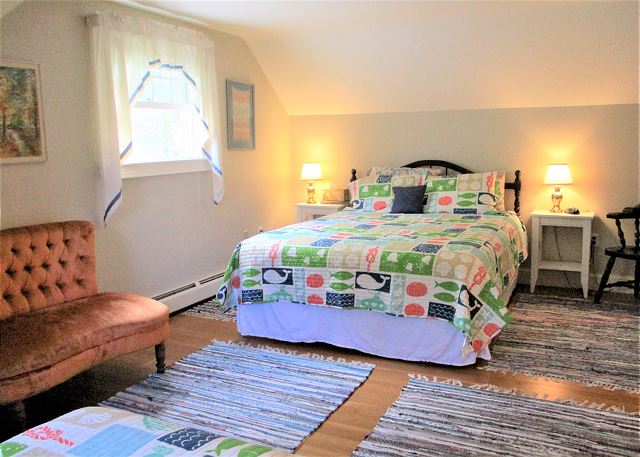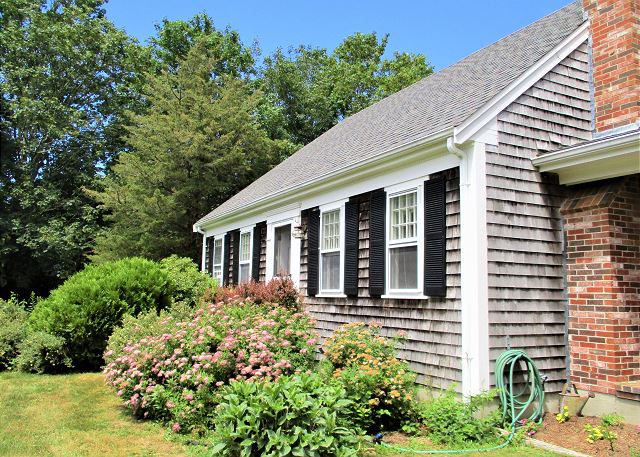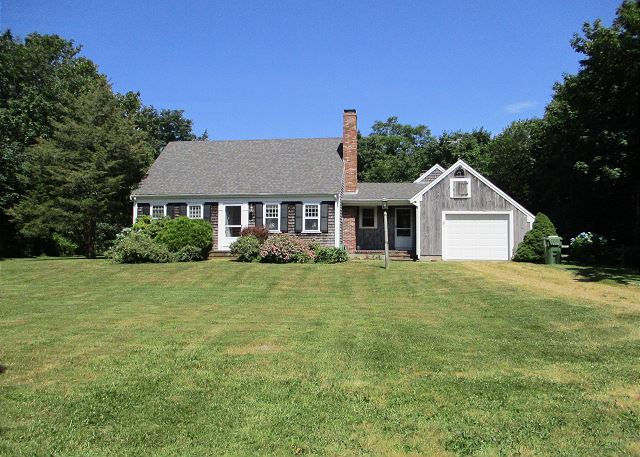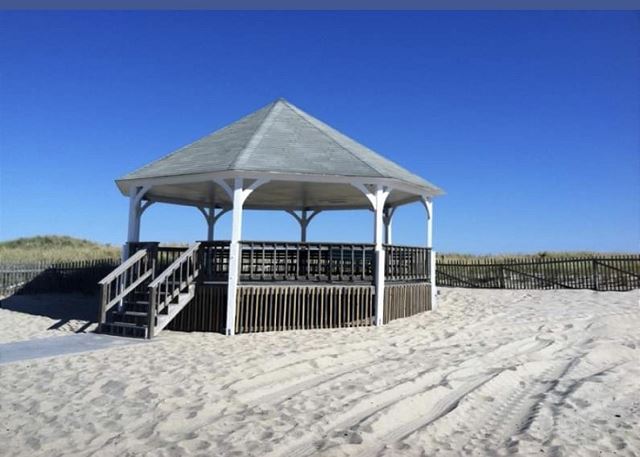 ---
Bedroom(s): 3
Bathroom(s): 3
Sleeps: 10
Type: House
Area: Nauset Beach
Town: Orleans
Located on a side street that parallels the ocean, this beachy cape is PET FRIENDLY AND COMES WITH SHEETS AND TOWELS!

The home boasts 3 bedrooms with bed configurations to accommodate 8, plus additional sleeping quarters in the sun porch and a cot upstairs to easily fit 10 guests.

On the first floor, you enter directly into a classic living room with a semi-open floor plan. On the right is the entrance to the great room with cathedral ceilings, banks of windows and glass doors for plenty of light, and lots of seating. Enjoy Comcast basic cable TV, DVDs, an extensive collection of books, or dozens of board games that fill the shelves

You can access the sun room from here or from the kitchen and dining area. This perfect retreat adjoins yet another one: The rear deck has even more outdoor dining and lounge furniture and is an ideal venue for gathering any time of day. The view is profoundly peaceful, nothing but your own grass playground sheltered by the tall trees and flora that thrive by the sea.

The first floor also includes the main bedroom with a king bed and en-suite bath that features a shower with a seat, window a/c, and a TV. There is a second full bathroom on the main level with a shower stall.

Upstairs, there are two more bedrooms, each with a window a/c, a queen and twin to sleep 6 total in both, and a roll-away cot for an extra guest. There is also a third bath with tub/shower combination.

Perhaps the greatest appeal of this home is its proximity to Nauset Beach - one of the best ocean beaches on the Atlantic coast AND to casual and fine restaurants, beach bars, unique shops, even an upscale barn to pick up anything from groceries to wine to artisan handmade items! Just walk or bike and leave the cars in the driveway. A recent guest summed it up by saying, "Pure Bliss!"

Also included: Wifi, enclosed outdoor shower, gas grill, washer/dryer, beach chairs galore, sheets and towels (which the owner ask that you launder and make the bed before departing), and parking for four cars.

Sorry no smoking allowed.

10 guests maximum allowed at any time. No parties exceeding the occupancy limit allowed.

A dog is welcome at pet-friendly properties with pre-approval of weight and breed. Additional fee may apply. Failure to observe House Pet Rules may result in a severe fine and/or eviction from the property. LIMIT 1 DOG PER PROPERTY.

LINENS (SHEETS/TOWELS) ARE INCLUDED IN THIS RENTAL. GUESTS MUST LAUNDER AND MAKE THE BEDS PRIOR TO DEPARTURE.

We offer travel insurance that is highly recommended and affordable coverage to protect your vacation investment.

Please view our policy and procedure page on our web site for detailed information about renting with us.

State and local taxes are applicable and may vary based on local ordinances and bylaws. Tax rates are subject to change.
- pets considered
- Fireplace
- WiFi
- Pantry items (sugar, salt & pep)
- Cleaning Supplies
- Cookware
- Dishes / Glassware / Utensils
- Dining Table
- DVD Player
- Flat Screen TV
- basic cable
- Window A/C
- On Suite Main Bedroom Bath
- main bedroom flat screen tv
- Shower Only
- Tub/Shower Combo
- washer
- dryer
- Sheets & Towels
- Gas Grill with Propane Tank
- Dining Table w/ Umbrella
- Enclosed Outdoor Shower
- Beach Chairs
- Outdoor Lighting
- Screened-In Porch
- Outdoor Seating
- Beach Cooler
- Close to Town
- Near National Sea Shore Beaches
- Near Ocean Beach
- Yes
- DOG
Guest Reviews of
5 cedar land Orleans , MA
Great experience and close to the beach!
Review by
Elise S.
Our family had a terrific experience and will definitely be back. The team at Cape Cod Rentals could not have been friendlier or easier to work with. We are looking forward to next year!
5 out of 5 stars
5 Cedar Land RD
The house was wonderful, bright, airy and so comfortable. The yard was large and private. Nauset Beach is just down the road and all the amenities of Orleans were right there. I would happily rent this home again.
5 out of 5 stars
Manager Response:
Greetings Natalie! I am thrilled that you enjoyed your stay at 5 Cedar Land. It's a great house i4 a fantastic neighborhood - and you would know, having lived on Barley Neck Road (I live on Briar Springs Road!). Thank you for such a glowing review of the home. Having said that, I am curious as to why our agency received a "1." It's important to know where we fell short in order to continually improve our guests experiences moving forward. I do know that there was some misunderstanding over the request that the guest wash/dry/fold sheets prior to departure. That is actually the owner's policy, one she put in place because she didn't want her guests to lug sheets and towels with them on their vacation. Since the owner does not visit the home often enough to clean them herself, and our cleaning staff would have to leave the dryer running - a real hazard - I thought it was a win-win for all! But then this might not have been the problem. If you would be so kind as to elaborate, I would very much appreciate it. Thank you, Natalie, and I hope to see you here again next year! Cheers, Sandy O'Dell, Manager, Cape Cod Rentals Agency
Perfect family getaway!
Had wonderful 2 weeks at this large and comfortable house. Plenty of space for the family to relax. Very close to Nauset beach and nice restaurants for dinner. A/C units in bedroom were very needed as we were there during a heat wave! Hope to be back!
5 out of 5 stars
February 2020

| S | M | T | W | T | F | S |
| --- | --- | --- | --- | --- | --- | --- |
| | | | | | | 01 |
| 02 | 03 | 04 | 05 | 06 | 07 | 08 |
| 09 | 10 | 11 | 12 | 13 | 14 | 15 |
| 16 | 17 | 18 | 19 | 20 | 21 | 22 |
| 23 | 24 | 25 | 26 | 27 | 28 | 29 |
March 2020

| S | M | T | W | T | F | S |
| --- | --- | --- | --- | --- | --- | --- |
| 01 | 02 | 03 | 04 | 05 | 06 | 07 |
| 08 | 09 | 10 | 11 | 12 | 13 | 14 |
| 15 | 16 | 17 | 18 | 19 | 20 | 21 |
| 22 | 23 | 24 | 25 | 26 | 27 | 28 |
| 29 | 30 | 31 | | | | |
April 2020

| S | M | T | W | T | F | S |
| --- | --- | --- | --- | --- | --- | --- |
| | | | 01 | 02 | 03 | 04 |
| 05 | 06 | 07 | 08 | 09 | 10 | 11 |
| 12 | 13 | 14 | 15 | 16 | 17 | 18 |
| 19 | 20 | 21 | 22 | 23 | 24 | 25 |
| 26 | 27 | 28 | 29 | 30 | | |
May 2020

| S | M | T | W | T | F | S |
| --- | --- | --- | --- | --- | --- | --- |
| | | | | | 01 | 02 |
| 03 | 04 | 05 | 06 | 07 | 08 | 09 |
| 10 | 11 | 12 | 13 | 14 | 15 | 16 |
| 17 | 18 | 19 | 20 | 21 | 22 | 23 |
| 24 | 25 | 26 | 27 | 28 | 29 | 30 |
| 31 | | | | | | |
June 2020

| S | M | T | W | T | F | S |
| --- | --- | --- | --- | --- | --- | --- |
| | 01 | 02 | 03 | 04 | 05 | 06 |
| 07 | 08 | 09 | 10 | 11 | 12 | 13 |
| 14 | 15 | 16 | 17 | 18 | 19 | 20 |
| 21 | 22 | 23 | 24 | 25 | 26 | 27 |
| 28 | 29 | 30 | | | | |
July 2020

| S | M | T | W | T | F | S |
| --- | --- | --- | --- | --- | --- | --- |
| | | | 01 | 02 | 03 | 04 |
| 05 | 06 | 07 | 08 | 09 | 10 | 11 |
| 12 | 13 | 14 | 15 | 16 | 17 | 18 |
| 19 | 20 | 21 | 22 | 23 | 24 | 25 |
| 26 | 27 | 28 | 29 | 30 | 31 | |
August 2020

| S | M | T | W | T | F | S |
| --- | --- | --- | --- | --- | --- | --- |
| | | | | | | 01 |
| 02 | 03 | 04 | 05 | 06 | 07 | 08 |
| 09 | 10 | 11 | 12 | 13 | 14 | 15 |
| 16 | 17 | 18 | 19 | 20 | 21 | 22 |
| 23 | 24 | 25 | 26 | 27 | 28 | 29 |
| 30 | 31 | | | | | |
September 2020

| S | M | T | W | T | F | S |
| --- | --- | --- | --- | --- | --- | --- |
| | | 01 | 02 | 03 | 04 | 05 |
| 06 | 07 | 08 | 09 | 10 | 11 | 12 |
| 13 | 14 | 15 | 16 | 17 | 18 | 19 |
| 20 | 21 | 22 | 23 | 24 | 25 | 26 |
| 27 | 28 | 29 | 30 | | | |
October 2020

| S | M | T | W | T | F | S |
| --- | --- | --- | --- | --- | --- | --- |
| | | | | 01 | 02 | 03 |
| 04 | 05 | 06 | 07 | 08 | 09 | 10 |
| 11 | 12 | 13 | 14 | 15 | 16 | 17 |
| 18 | 19 | 20 | 21 | 22 | 23 | 24 |
| 25 | 26 | 27 | 28 | 29 | 30 | 31 |
November 2020

| S | M | T | W | T | F | S |
| --- | --- | --- | --- | --- | --- | --- |
| 01 | 02 | 03 | 04 | 05 | 06 | 07 |
| 08 | 09 | 10 | 11 | 12 | 13 | 14 |
| 15 | 16 | 17 | 18 | 19 | 20 | 21 |
| 22 | 23 | 24 | 25 | 26 | 27 | 28 |
| 29 | 30 | | | | | |
December 2020

| S | M | T | W | T | F | S |
| --- | --- | --- | --- | --- | --- | --- |
| | | 01 | 02 | 03 | 04 | 05 |
| 06 | 07 | 08 | 09 | 10 | 11 | 12 |
| 13 | 14 | 15 | 16 | 17 | 18 | 19 |
| 20 | 21 | 22 | 23 | 24 | 25 | 26 |
| 27 | 28 | 29 | 30 | 31 | | |
January 2021

| S | M | T | W | T | F | S |
| --- | --- | --- | --- | --- | --- | --- |
| | | | | | 01 | 02 |
| 03 | 04 | 05 | 06 | 07 | 08 | 09 |
| 10 | 11 | 12 | 13 | 14 | 15 | 16 |
| 17 | 18 | 19 | 20 | 21 | 22 | 23 |
| 24 | 25 | 26 | 27 | 28 | 29 | 30 |
| 31 | | | | | | |
February 2021

| S | M | T | W | T | F | S |
| --- | --- | --- | --- | --- | --- | --- |
| | 01 | 02 | 03 | 04 | 05 | 06 |
| 07 | 08 | 09 | 10 | 11 | 12 | 13 |
| 14 | 15 | 16 | 17 | 18 | 19 | 20 |
| 21 | 22 | 23 | 24 | 25 | 26 | 27 |
| 28 | | | | | | |
Available
Unavailable
Sat to Sat booking