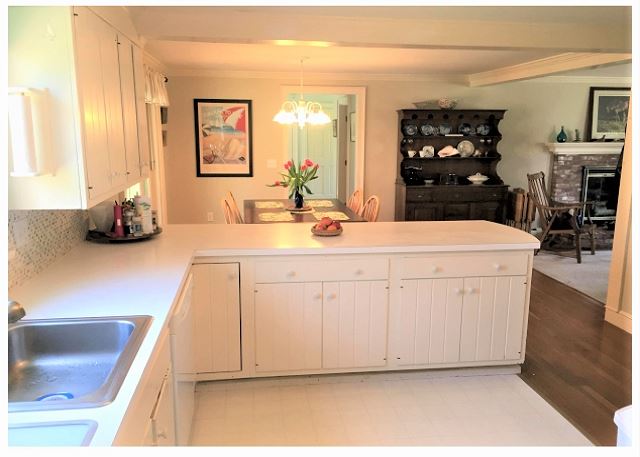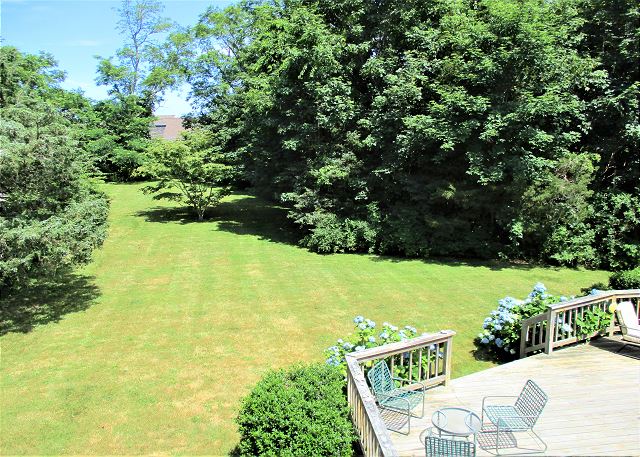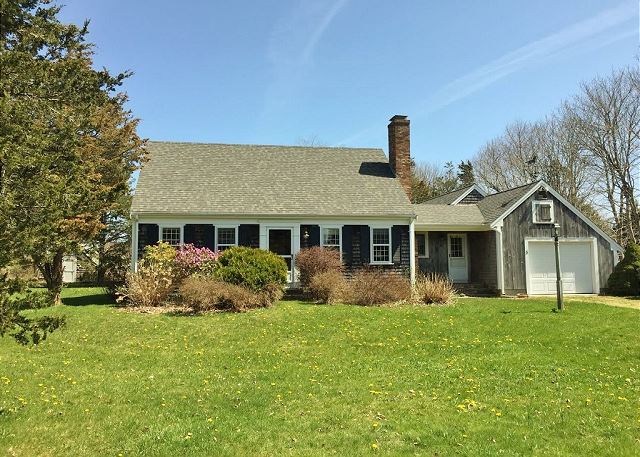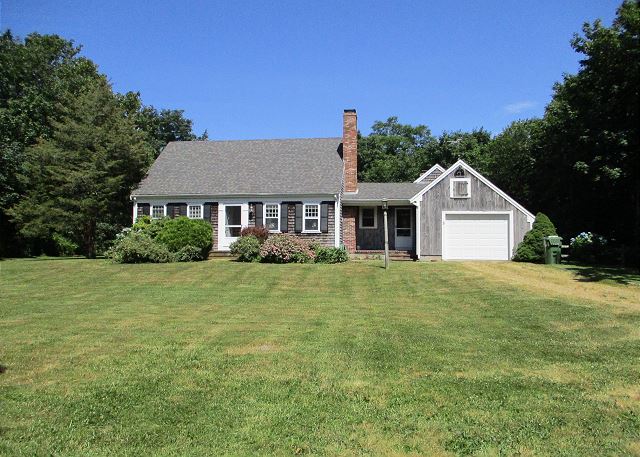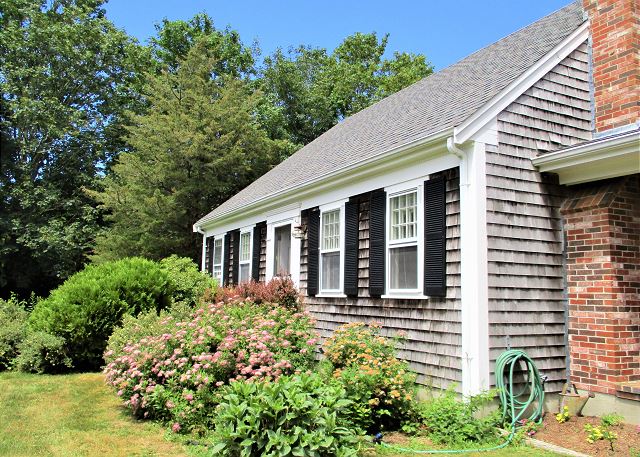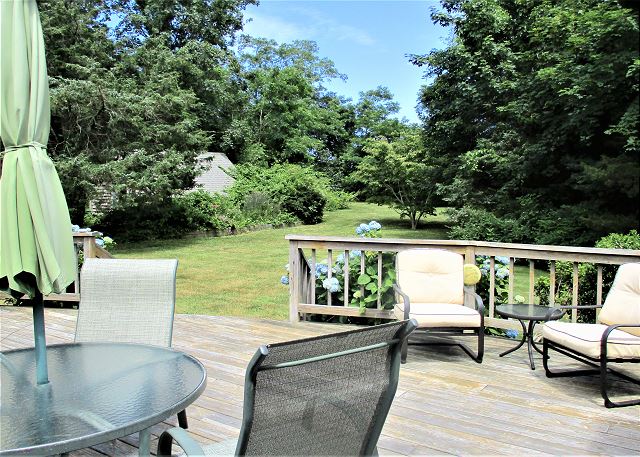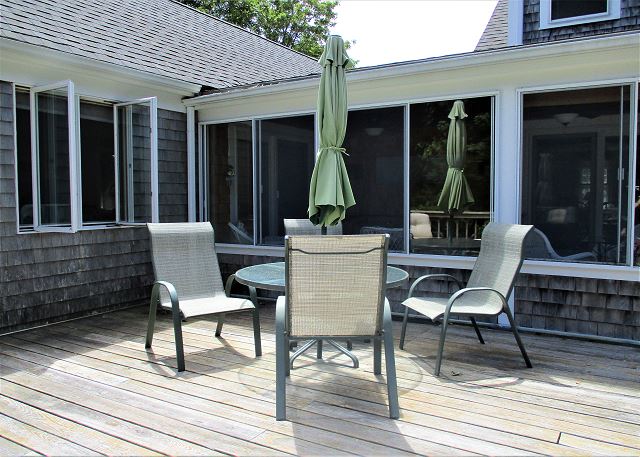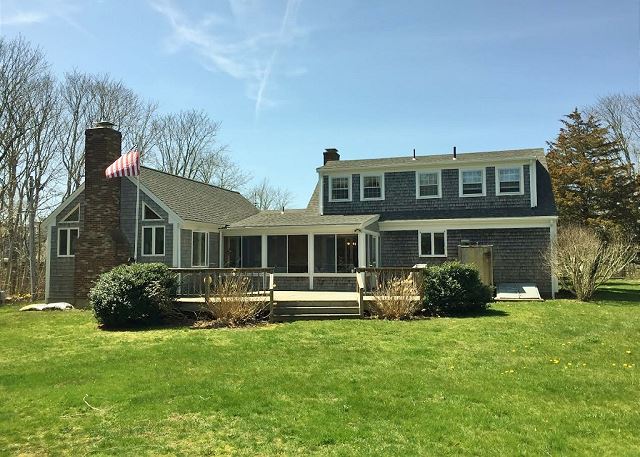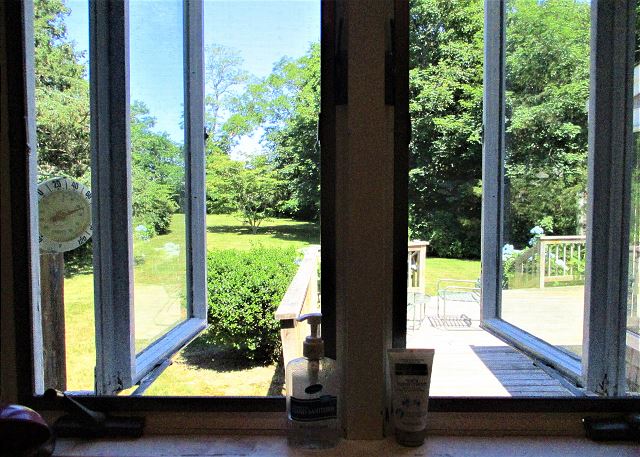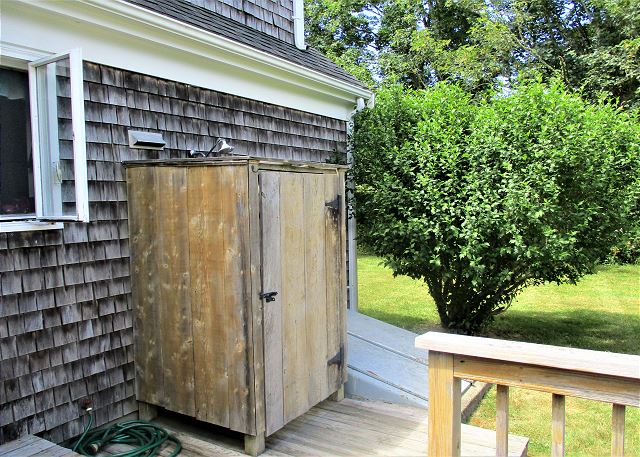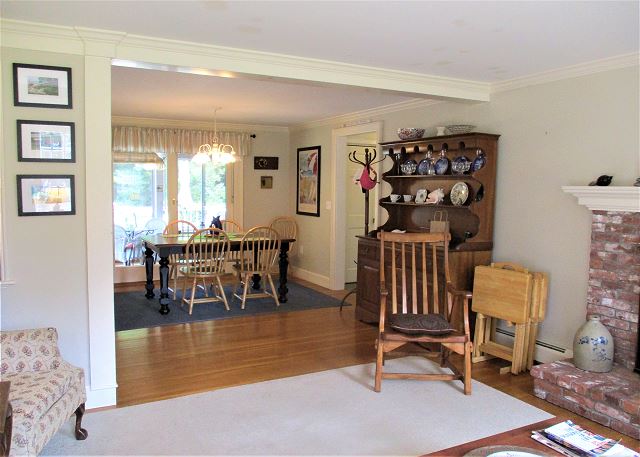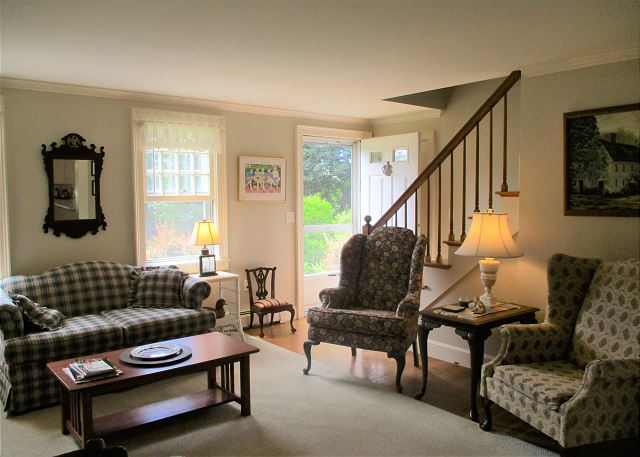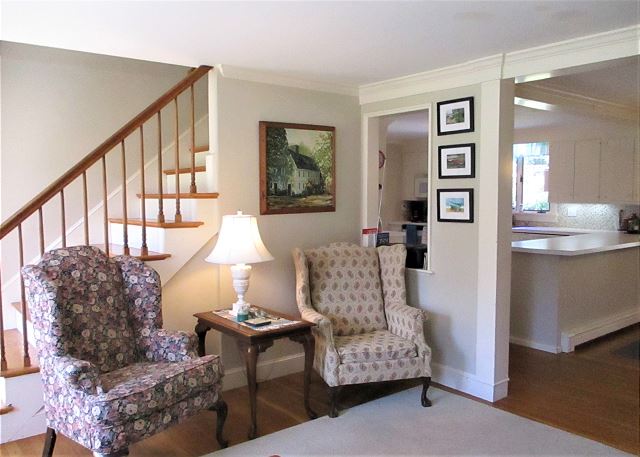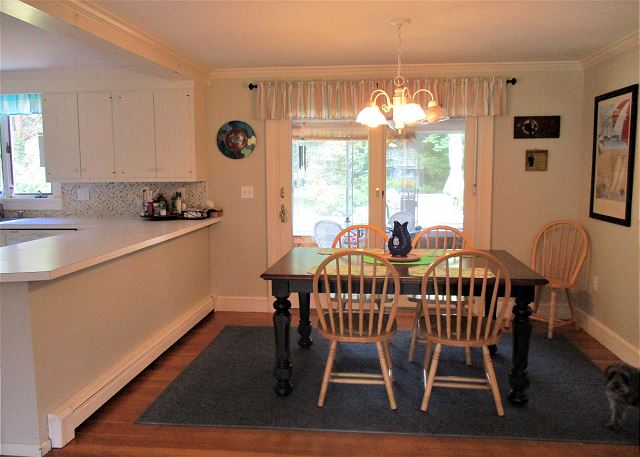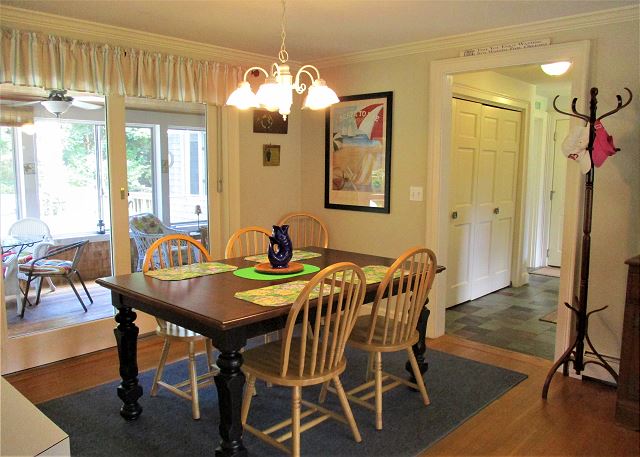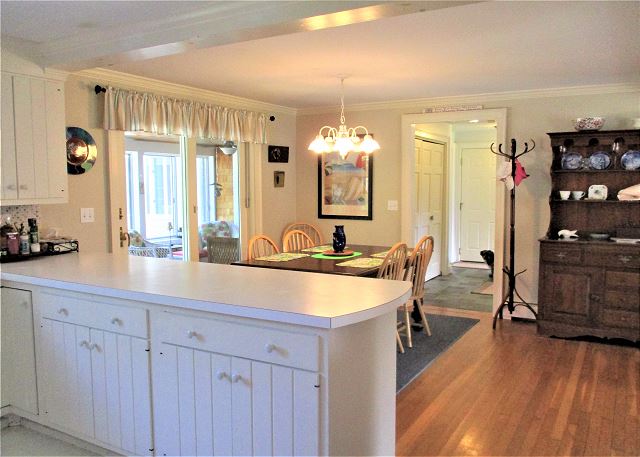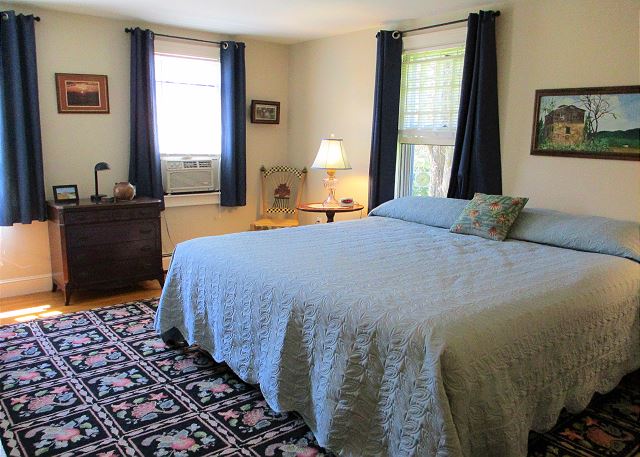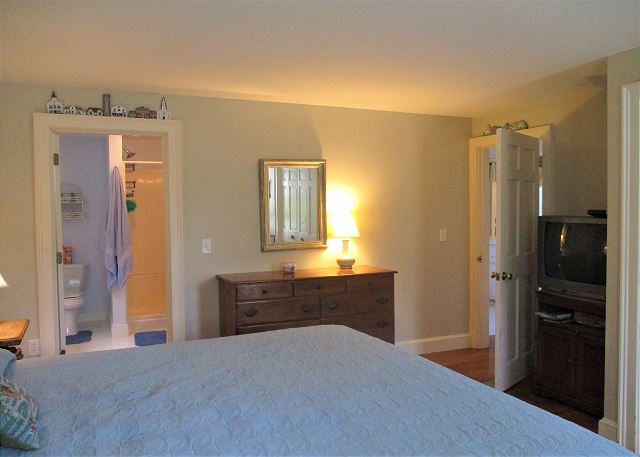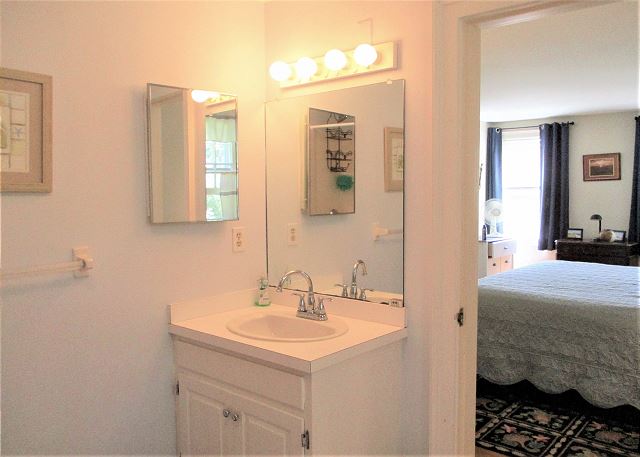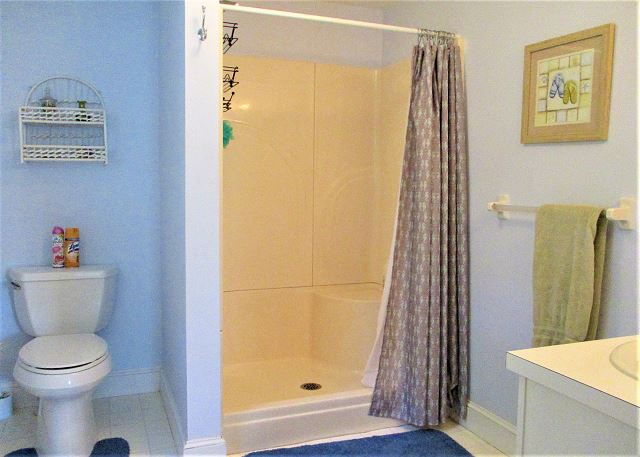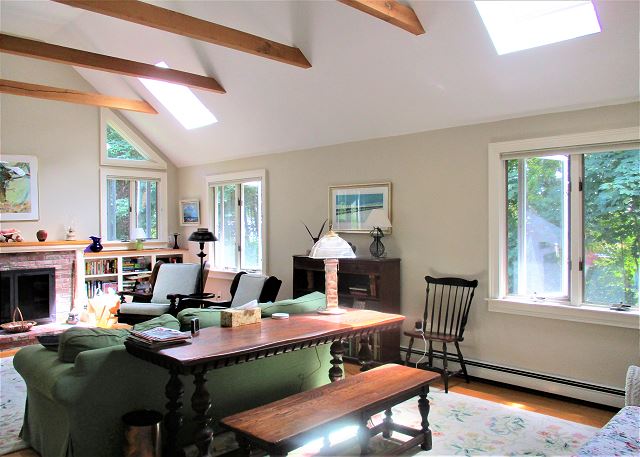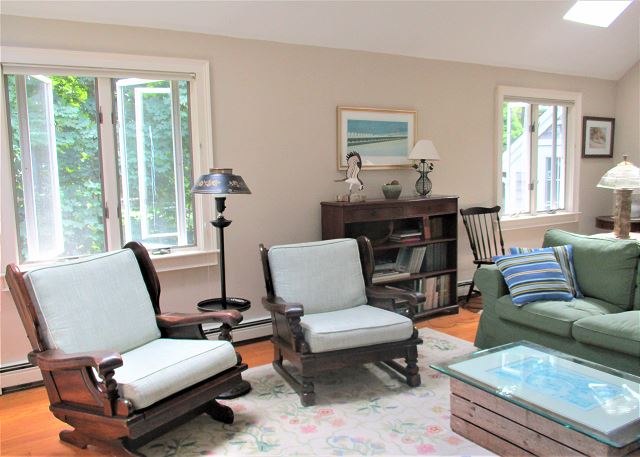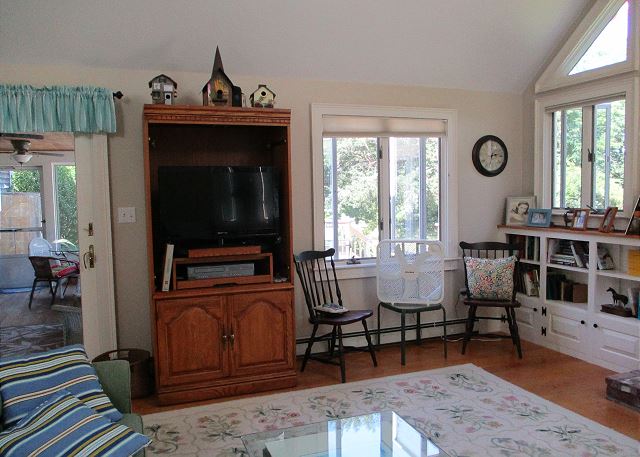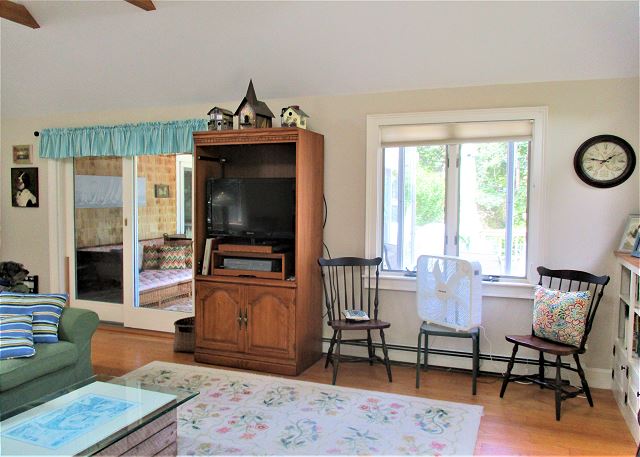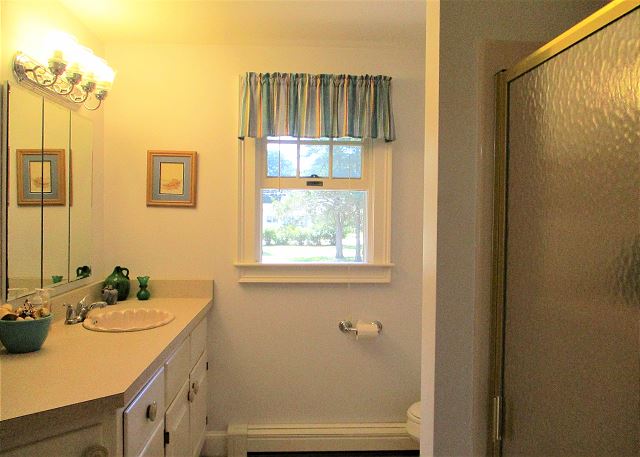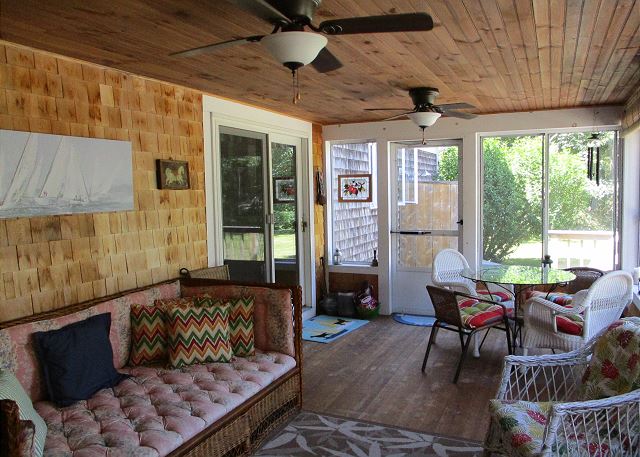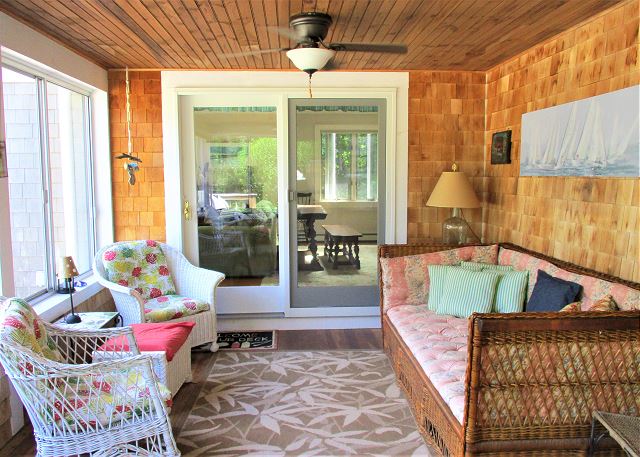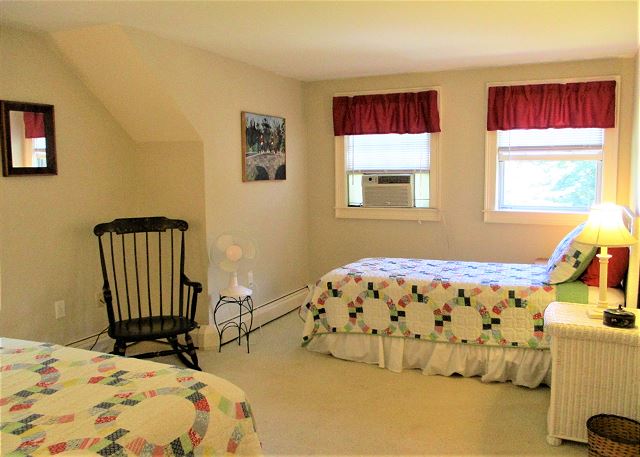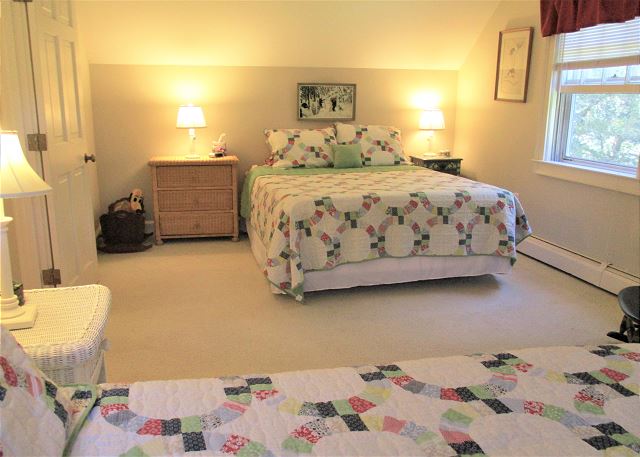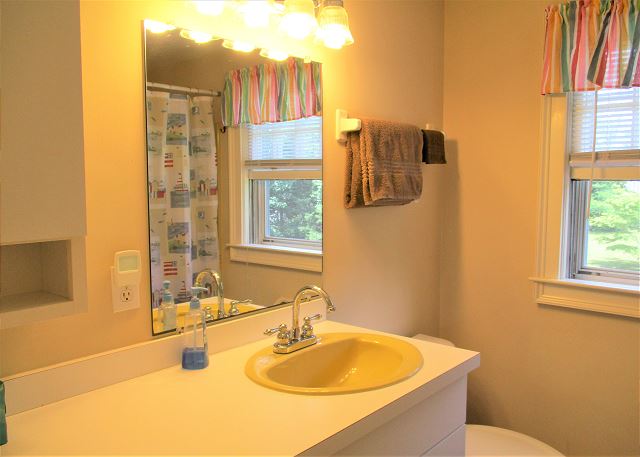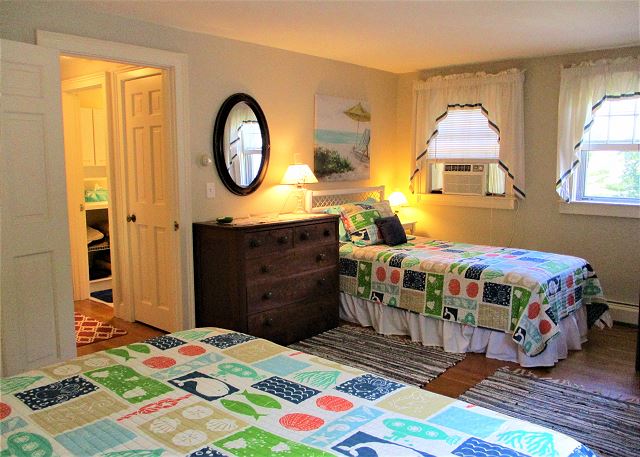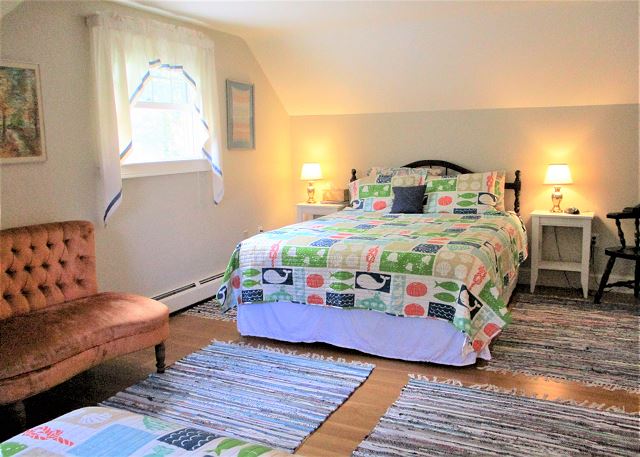 ---
Bedroom(s): 3
Bathroom(s): 3
Sleeps: 10
Type: House
Area:
Town: East Orleans
Located on a side street that parallels the ocean, this beachy cape is set back from the road by a split rail fence and an immaculate stretch of lawn that puts distance between you and your neighbors. The back yard is equally expansive with natural landscaping that provides privacy.

The home boasts 3 bedrooms with bed configurations to accommodate 8, plus additional sleeping quarters in the sun porch and a cot upstairs to easily fit 10 guests.

On the first floor, you enter directly into a classic living room with a semi-open floor plan. This room flows directly into the dining area and a fully stocked white kitchen with a breakfast bar. On the right is the entrance to the great room with a exposed beam cathedral ceiling, banks of windows, skylights, and glass doors for plenty of light, and lots of seating. Enjoy Comcast cable or a DVD on the 38 inch flat screen TV. In this airy room, you can also read books or play one of the dozens of board games that fill the shelves

You can access the sun room from here or from the kitchen and dining area. In this bright spot, guests can assemble around a second eating place and unplug (or sleep!) on the outsized daybed. This perfect retreat adjoins yet another one: The rear deck has even more outdoor dining and lounge furniture and is an ideal venue for gathering any time of day. The view is profoundly peaceful, nothing but your own grass playground sheltered by the tall trees and flora that thrive by the sea.

The first floor also includes the main bedroom with a king bed and en suite bath that features a shower with a seat, window a/c, and a 28" TV. There is a second full bathroom on the main level.

Upstairs, there are two more bedrooms, each with a window a/c, a queen and twin to sleep 6 in both, and a rollaway cot for an extra guest. There is also a third bath with tub/shower combination.

Perhaps the greatest appeal of this home is its proximity to one of the best beaches on the Atlantic coast AND to casual and fine restaurants, beach bars, unique shops, even an upscale barn to pick up anything from groceries to wine to artisan handmade items! Just walk or bike and leave the cars in the driveway. Once you cross the threshold, you have officially downshifted to Cape Cod gear.

Also included: Wifi, enclosed outdoor shower, washer/dryer, beach chairs galore, sheets and towels (which the owner ask that you launder and make the bed before departing), and parking for four cars.

Sorry no smoking allowed.

10 guests maximum allowed at any time. No parties exceeding the occupancy limit allowed.

LINENS (SHEETS/TOWELS) ARE INCLUDED IN THIS RENTAL. GUESTS MUST LAUNDER AND MAKE THE BEDS PRIOR TO DEPARTURE.

Travel Insurance is highly recommended and affordable coverage to protect your vacation investment.

Please view our policy and procedure page on our web site for detailed information about renting with us.
- pets considered
- Fireplace
- WiFi
- Pantry items (sugar, salt & pep)
- Cleaning Supplies
- Cookware
- Dishes / Glassware / Utensils
- Dining Table
- DVD Player
- Flat Screen TV
- basic cable
- Window A/C
- On Suite Main Bedroom Bath
- main bedroom flat screen tv
- Shower Only
- Tub/Shower Combo
- washer
- dryer
- Sheets & Towels
- Dining Table w/ Umbrella
- Enclosed Outdoor Shower
- Beach Chairs
- Outdoor Lighting
- Screened-In Porch
- Outdoor Seating
- Beach Cooler
- Close to Town
- Near National Sea Shore Beaches
- Near Ocean Beach
- Yes
- DOG
May 2018

| S | M | T | W | T | F | S |
| --- | --- | --- | --- | --- | --- | --- |
| | | 01 | 02 | 03 | 04 | 05 |
| 06 | 07 | 08 | 09 | 10 | 11 | 12 |
| 13 | 14 | 15 | 16 | 17 | 18 | 19 |
| 20 | 21 | 22 | 23 | 24 | 25 | 26 |
| 27 | 28 | 29 | 30 | 31 | | |
June 2018

| S | M | T | W | T | F | S |
| --- | --- | --- | --- | --- | --- | --- |
| | | | | | 01 | 02 |
| 03 | 04 | 05 | 06 | 07 | 08 | 09 |
| 10 | 11 | 12 | 13 | 14 | 15 | 16 |
| 17 | 18 | 19 | 20 | 21 | 22 | 23 |
| 24 | 25 | 26 | 27 | 28 | 29 | 30 |
July 2018

| S | M | T | W | T | F | S |
| --- | --- | --- | --- | --- | --- | --- |
| 01 | 02 | 03 | 04 | 05 | 06 | 07 |
| 08 | 09 | 10 | 11 | 12 | 13 | 14 |
| 15 | 16 | 17 | 18 | 19 | 20 | 21 |
| 22 | 23 | 24 | 25 | 26 | 27 | 28 |
| 29 | 30 | 31 | | | | |
August 2018

| S | M | T | W | T | F | S |
| --- | --- | --- | --- | --- | --- | --- |
| | | | 01 | 02 | 03 | 04 |
| 05 | 06 | 07 | 08 | 09 | 10 | 11 |
| 12 | 13 | 14 | 15 | 16 | 17 | 18 |
| 19 | 20 | 21 | 22 | 23 | 24 | 25 |
| 26 | 27 | 28 | 29 | 30 | 31 | |
September 2018

| S | M | T | W | T | F | S |
| --- | --- | --- | --- | --- | --- | --- |
| | | | | | | 01 |
| 02 | 03 | 04 | 05 | 06 | 07 | 08 |
| 09 | 10 | 11 | 12 | 13 | 14 | 15 |
| 16 | 17 | 18 | 19 | 20 | 21 | 22 |
| 23 | 24 | 25 | 26 | 27 | 28 | 29 |
| 30 | | | | | | |
October 2018

| S | M | T | W | T | F | S |
| --- | --- | --- | --- | --- | --- | --- |
| | 01 | 02 | 03 | 04 | 05 | 06 |
| 07 | 08 | 09 | 10 | 11 | 12 | 13 |
| 14 | 15 | 16 | 17 | 18 | 19 | 20 |
| 21 | 22 | 23 | 24 | 25 | 26 | 27 |
| 28 | 29 | 30 | 31 | | | |
November 2018

| S | M | T | W | T | F | S |
| --- | --- | --- | --- | --- | --- | --- |
| | | | | 01 | 02 | 03 |
| 04 | 05 | 06 | 07 | 08 | 09 | 10 |
| 11 | 12 | 13 | 14 | 15 | 16 | 17 |
| 18 | 19 | 20 | 21 | 22 | 23 | 24 |
| 25 | 26 | 27 | 28 | 29 | 30 | |
December 2018

| S | M | T | W | T | F | S |
| --- | --- | --- | --- | --- | --- | --- |
| | | | | | | 01 |
| 02 | 03 | 04 | 05 | 06 | 07 | 08 |
| 09 | 10 | 11 | 12 | 13 | 14 | 15 |
| 16 | 17 | 18 | 19 | 20 | 21 | 22 |
| 23 | 24 | 25 | 26 | 27 | 28 | 29 |
| 30 | 31 | | | | | |
January 2019

| S | M | T | W | T | F | S |
| --- | --- | --- | --- | --- | --- | --- |
| | | 01 | 02 | 03 | 04 | 05 |
| 06 | 07 | 08 | 09 | 10 | 11 | 12 |
| 13 | 14 | 15 | 16 | 17 | 18 | 19 |
| 20 | 21 | 22 | 23 | 24 | 25 | 26 |
| 27 | 28 | 29 | 30 | 31 | | |
February 2019

| S | M | T | W | T | F | S |
| --- | --- | --- | --- | --- | --- | --- |
| | | | | | 01 | 02 |
| 03 | 04 | 05 | 06 | 07 | 08 | 09 |
| 10 | 11 | 12 | 13 | 14 | 15 | 16 |
| 17 | 18 | 19 | 20 | 21 | 22 | 23 |
| 24 | 25 | 26 | 27 | 28 | | |
March 2019

| S | M | T | W | T | F | S |
| --- | --- | --- | --- | --- | --- | --- |
| | | | | | 01 | 02 |
| 03 | 04 | 05 | 06 | 07 | 08 | 09 |
| 10 | 11 | 12 | 13 | 14 | 15 | 16 |
| 17 | 18 | 19 | 20 | 21 | 22 | 23 |
| 24 | 25 | 26 | 27 | 28 | 29 | 30 |
| 31 | | | | | | |
April 2019

| S | M | T | W | T | F | S |
| --- | --- | --- | --- | --- | --- | --- |
| | 01 | 02 | 03 | 04 | 05 | 06 |
| 07 | 08 | 09 | 10 | 11 | 12 | 13 |
| 14 | 15 | 16 | 17 | 18 | 19 | 20 |
| 21 | 22 | 23 | 24 | 25 | 26 | 27 |
| 28 | 29 | 30 | | | | |
May 2019

| S | M | T | W | T | F | S |
| --- | --- | --- | --- | --- | --- | --- |
| | | | 01 | 02 | 03 | 04 |
| 05 | 06 | 07 | 08 | 09 | 10 | 11 |
| 12 | 13 | 14 | 15 | 16 | 17 | 18 |
| 19 | 20 | 21 | 22 | 23 | 24 | 25 |
| 26 | 27 | 28 | 29 | 30 | 31 | |
Available
Unavailable
Sat to Sat booking