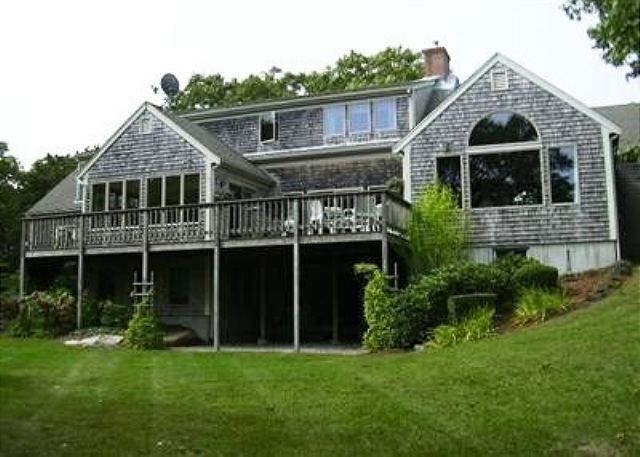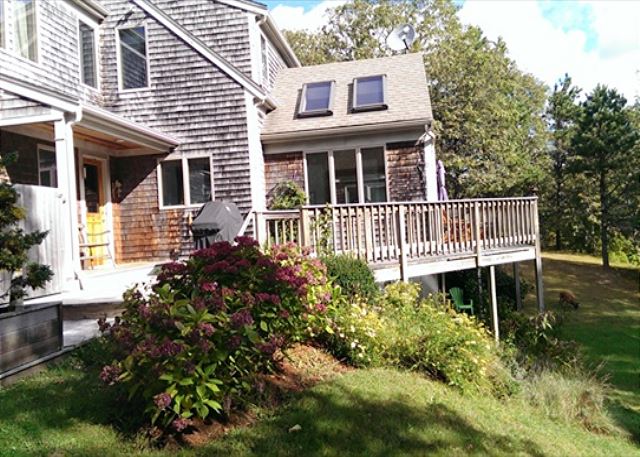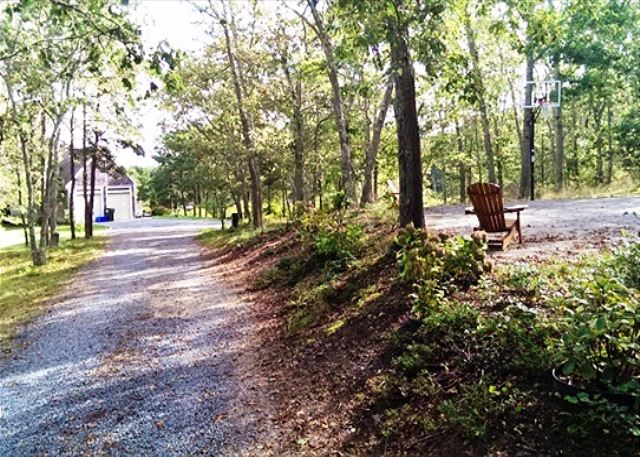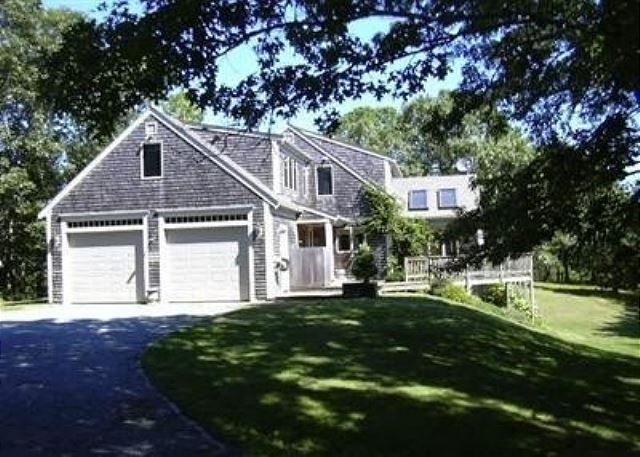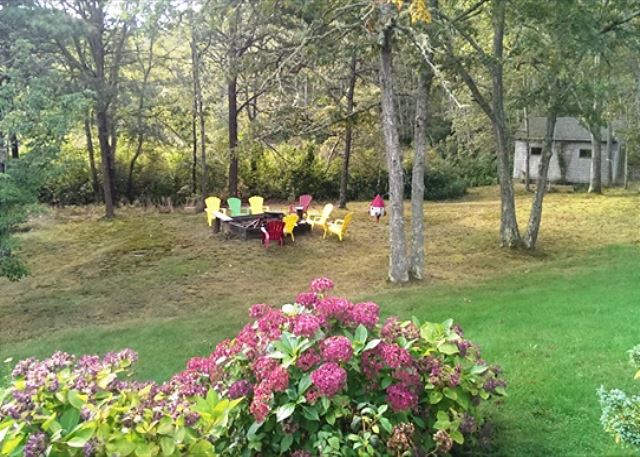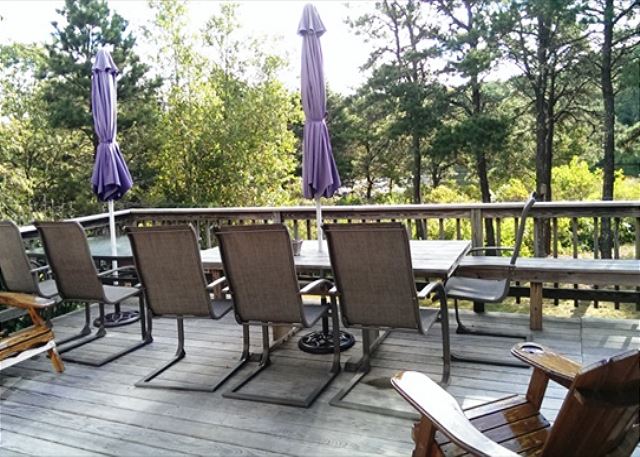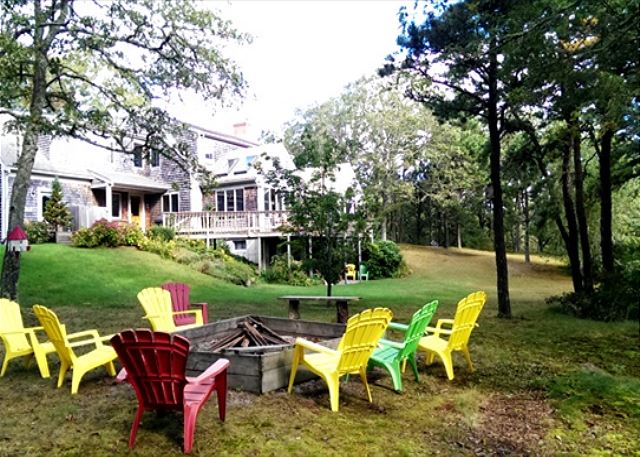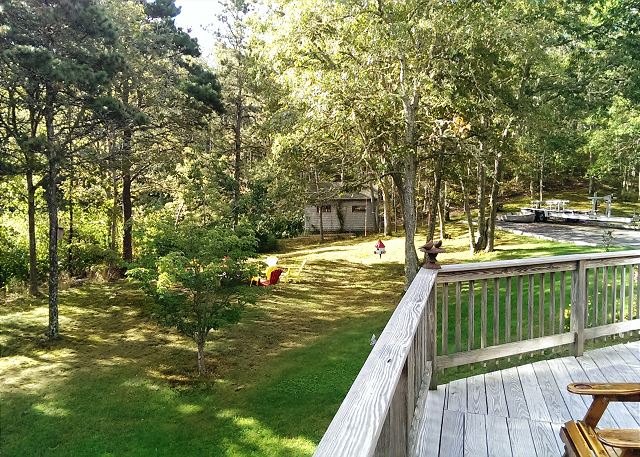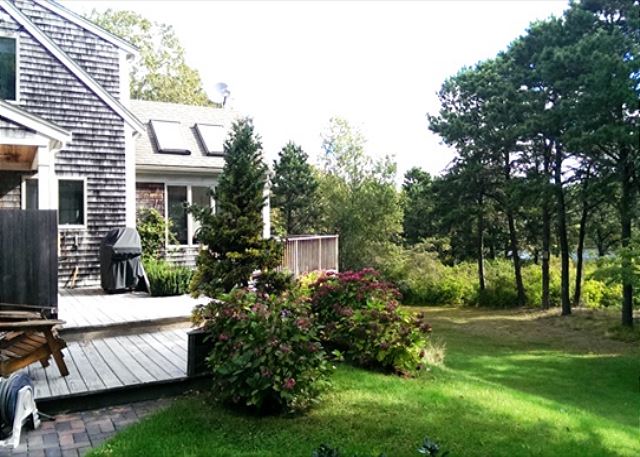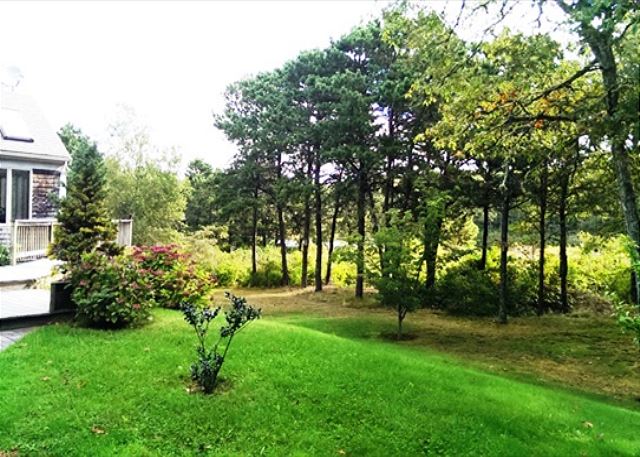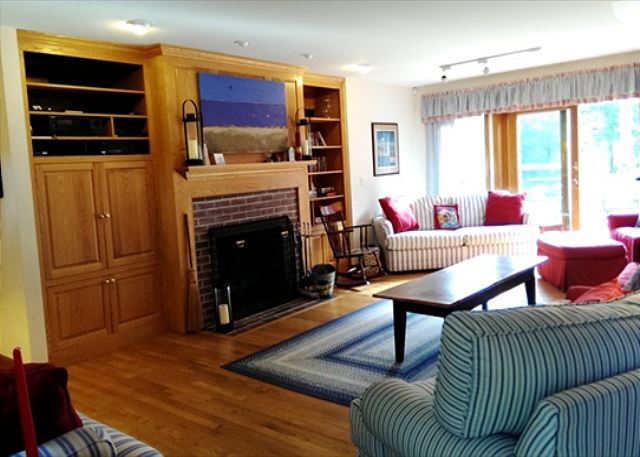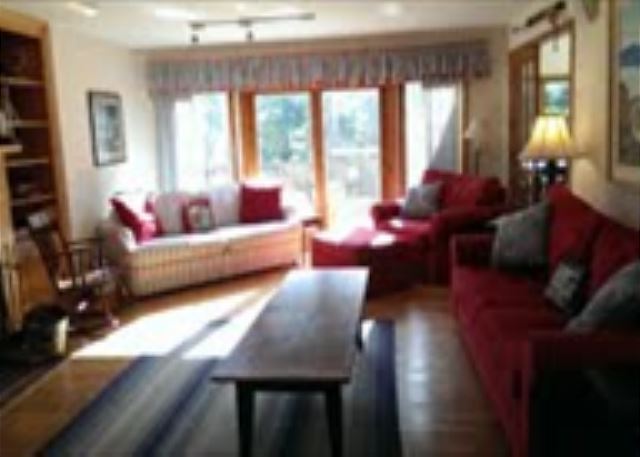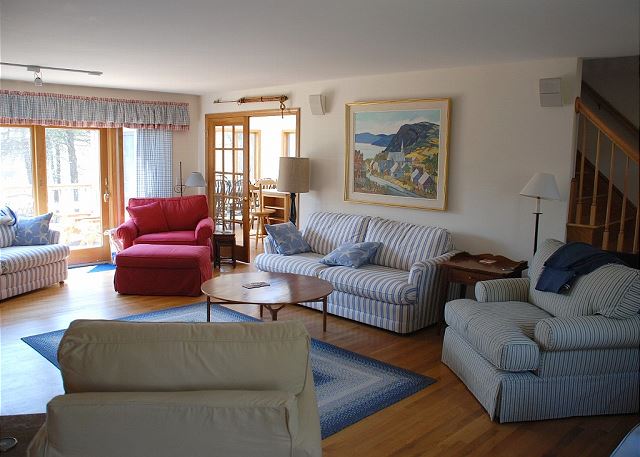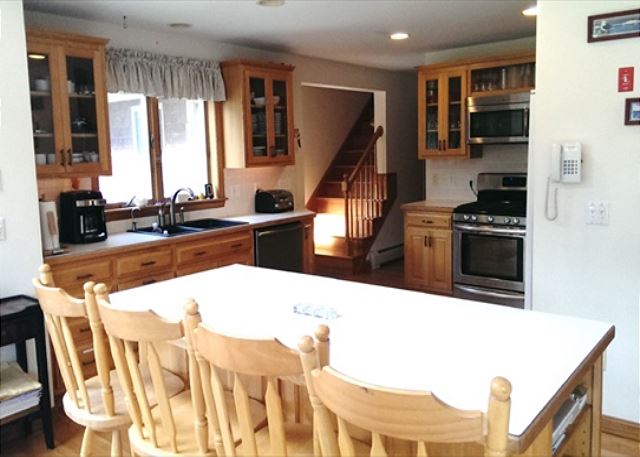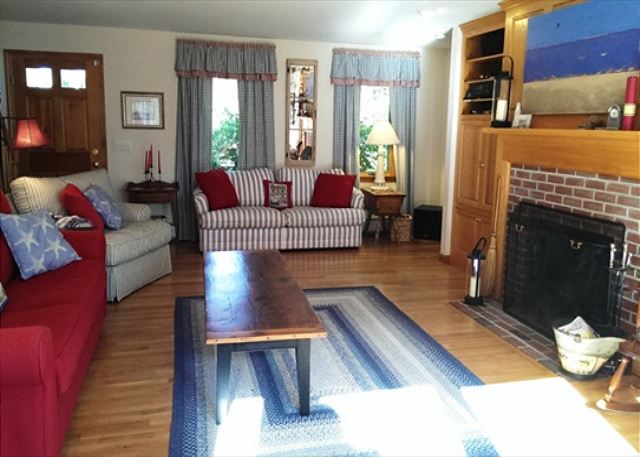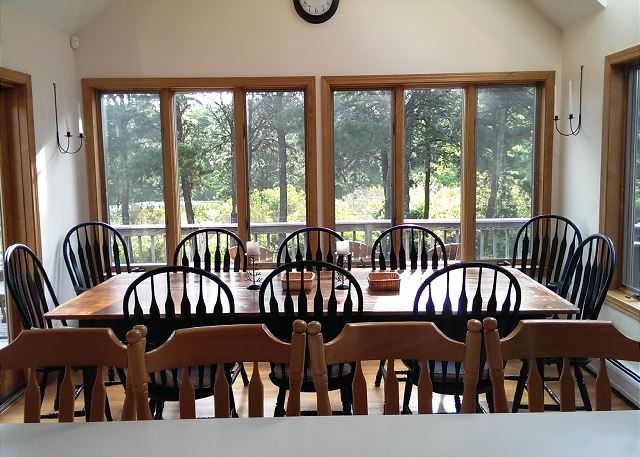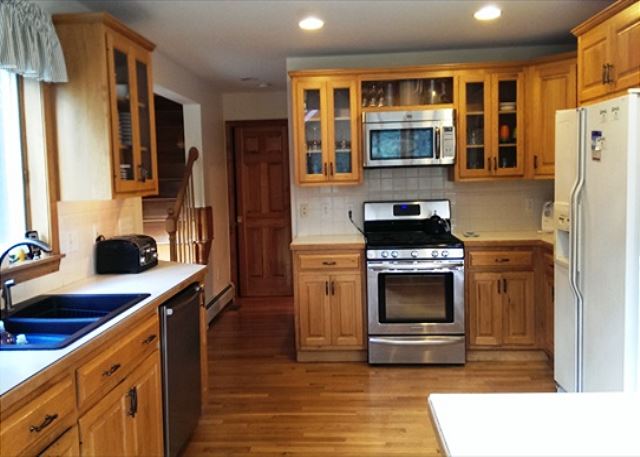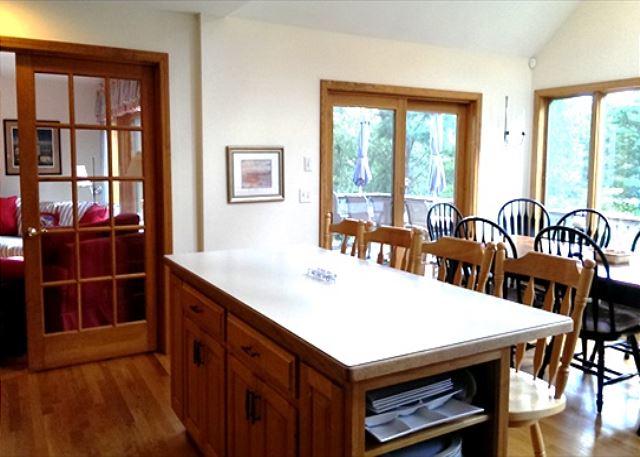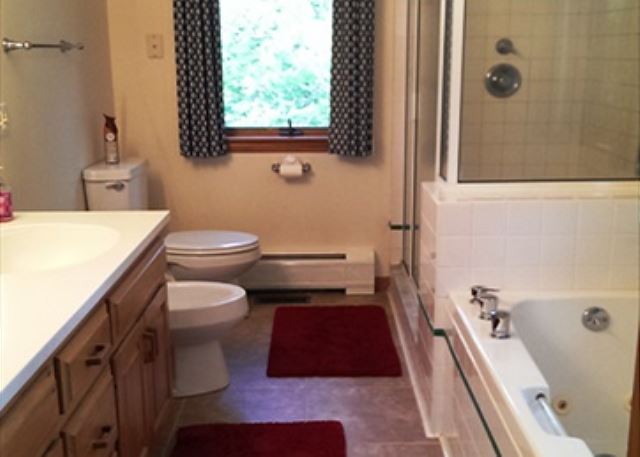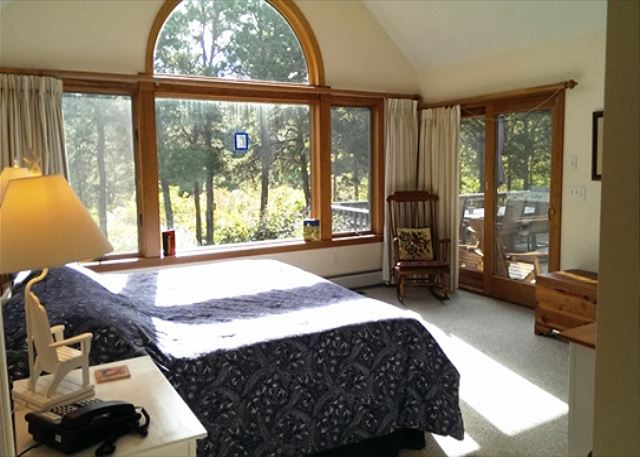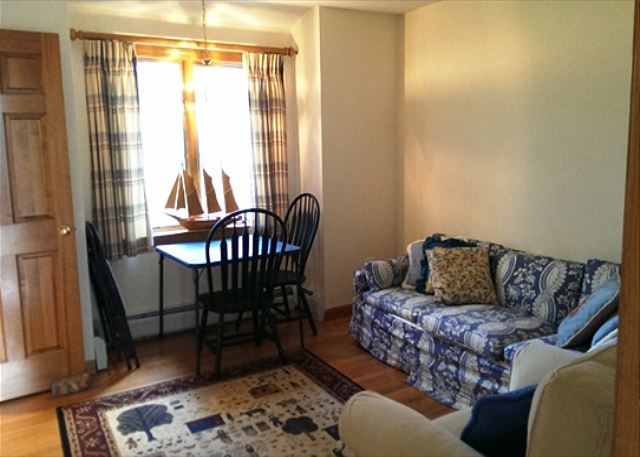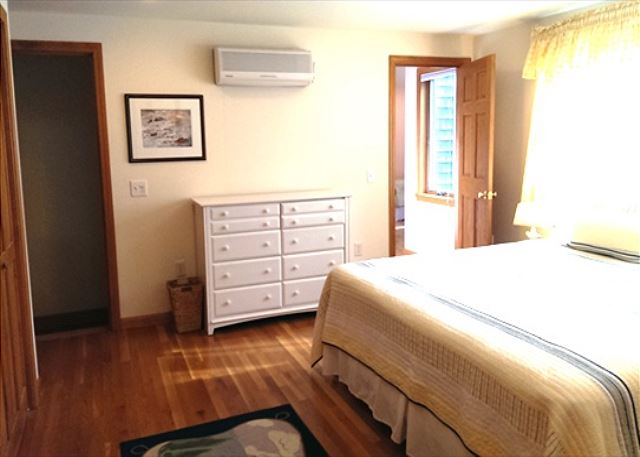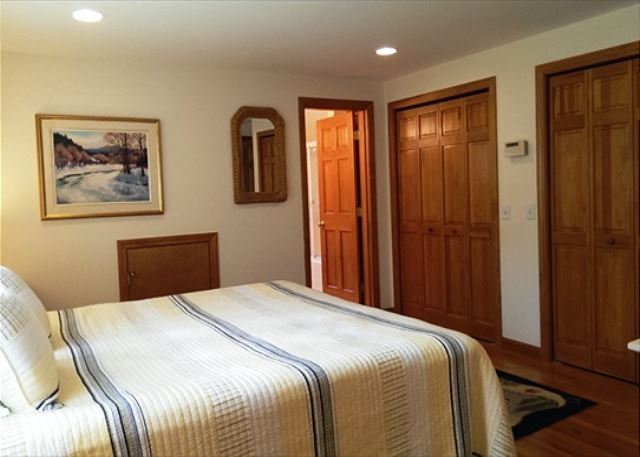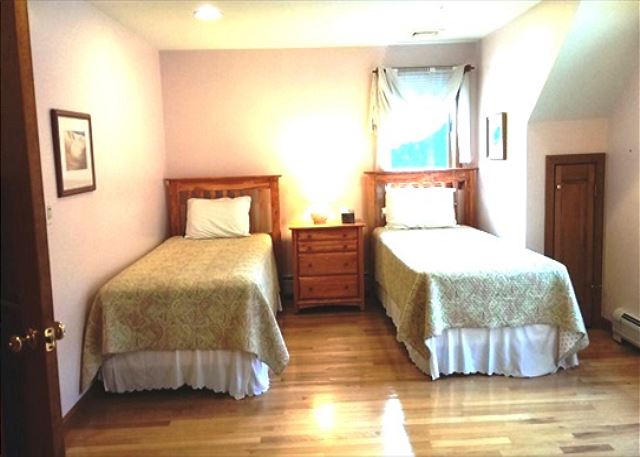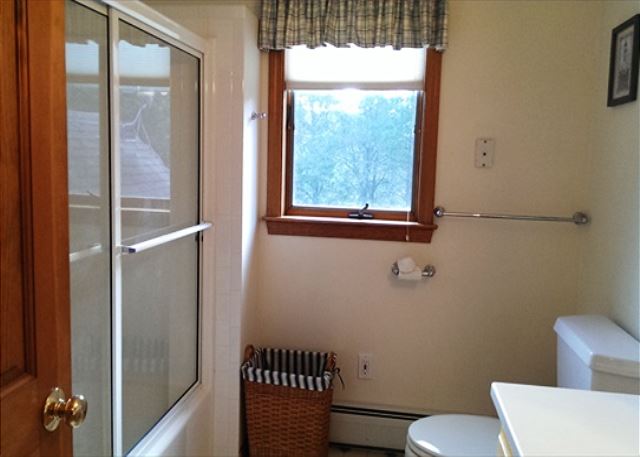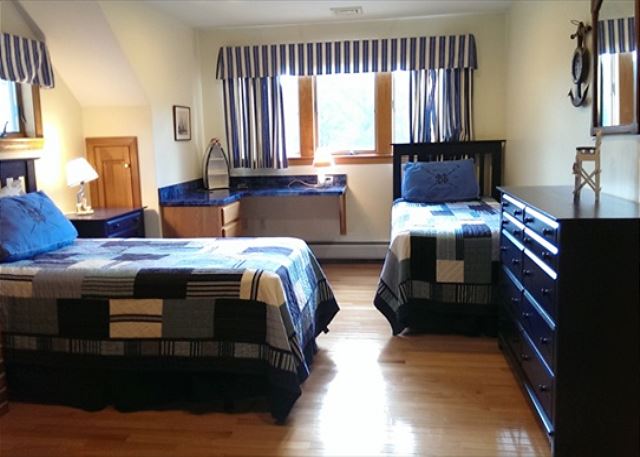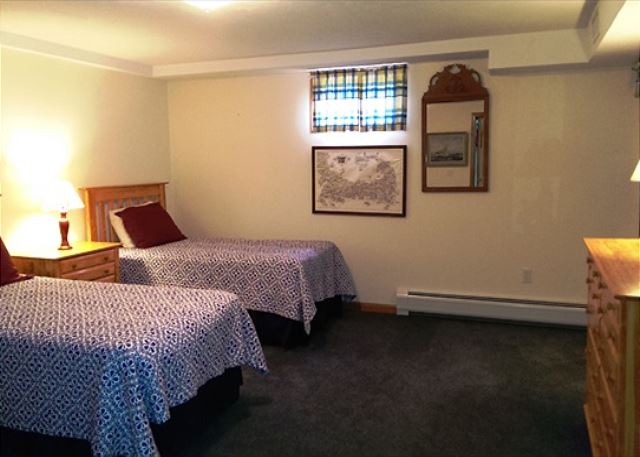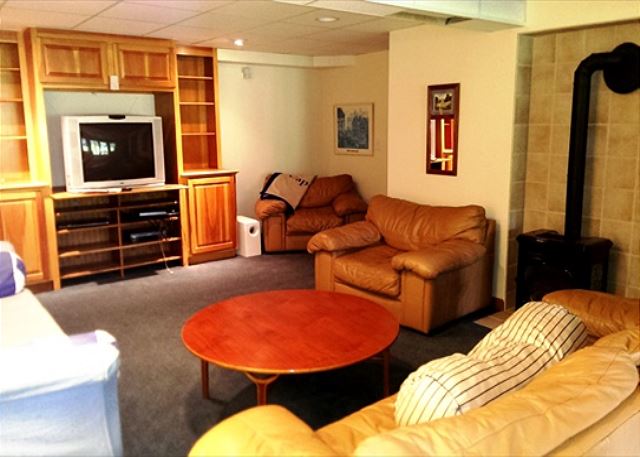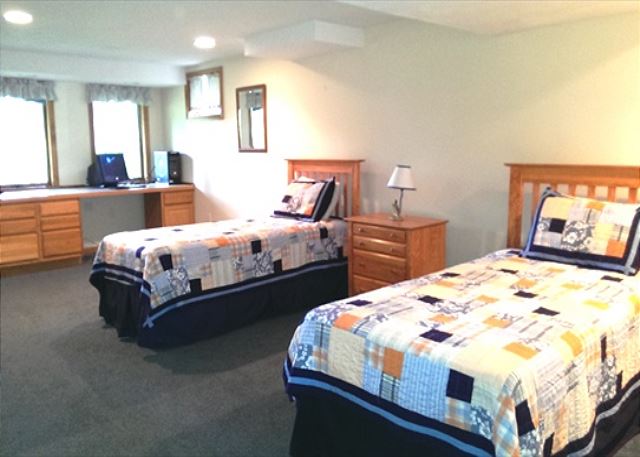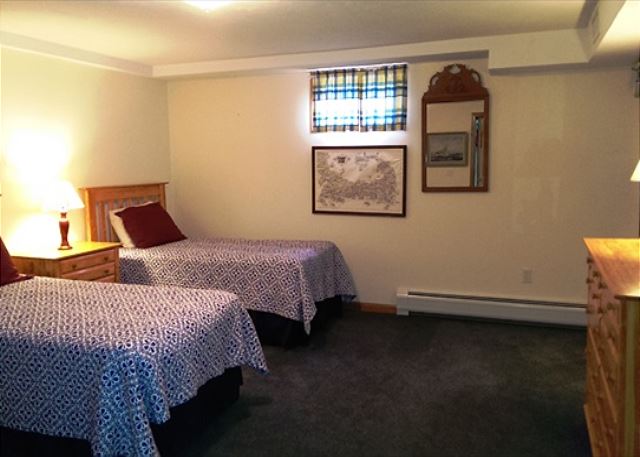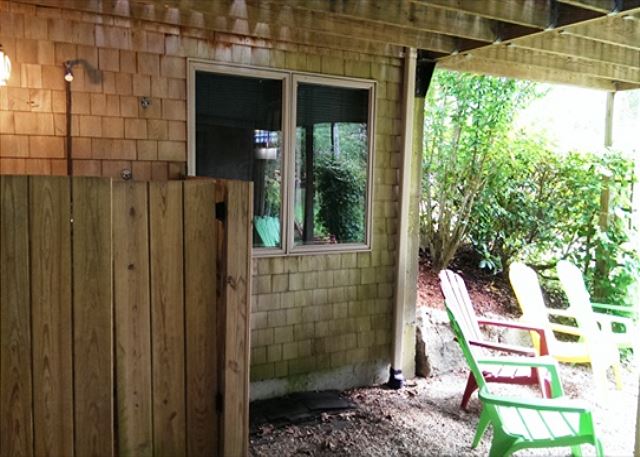 ---
Bedroom(s): 5
Bathroom(s): 3.5
Sleeps: 10
Type: House
Area:
Town: Chatham
Superb Chatham location in Retreat style setting, this expansive home accommodates up to 10 guests in delightful comfort.

This exceptional home set on 2.4 acres with pond views and pond access, lush yard with adventurist zip-line, seating surrounded fire pit, basketball court, and two enclosed outdoor showers.

From the yard is an expansive deck with 2 outdoor dining tables, 2 table umbrellas, numerous Adirondack chairs, stereo speakers and no tank large gas grill.

Inside you will step into fantastic eat-in style cooks kitchen with all amenities to dine at home. The kitchen features island seating, stainless gas cooking range, and fridge with ice maker, microwave, blender, drip coffee maker, toaster, spices, lobster pot, dishes, glass ware, and platters galore.

The wrap around deck makes for a great extension of living space with two doors from the kitchen and one from the living room, all overlooking rear yard and pond.

The kitchen door leads to the front to back living room with a variety of comfortable seating options and a 39 inch TV, DVD player, Bose stereo system, streaming Netflix for movies, expanded Comcast TV channels, and a home theater system.

Off the living area is a cozy den that leads through to the king bed suite. This king en-suite features deck access, pond views, ceiling fan, 37 inch TV & DVD player and private spa bathroom with spa tub, walk in shower, dual sinks, and a bidet.

Up the center staircase to second floor is a full bath with tub/shower combination located between the two bedrooms, each with two twin beds. From the twin bedroom on the right is a door to the 2nd King suite with private bath. There is a 2nd set of stairs from this room leading down to the kitchen for 2 egress options.

The ground level door is accessed from kitchen and leads you to the spacious living area that includes TV, DVD player, and half bath. Off this center room is a fifth bedroom featuring 2 twins.. Patio doors from this living area lead to a stone patio area with seating and the 2nd of two outdoor enclosed showers and the pond front yard.

Close drive to multiple beaches on both the Nantucket Sound and Atlantic Ocean. Just 3 miles to downtown Chatham with it's ideal Main St. strip of shops, dinning, band-stand, ball field, playground, theatre, and night life.

Additional amenities include garage with ping pong table, 2nd refrigerator Wi-Fi internet, laundry on main floor, hair dryers, 4 zone A/C, 2 ceiling fans, and more! *Owner provides coolers and beach chairs.* Owners provide these items as favors to guests only and not as an integral part of the rental. If these items become lost or damaged during the course of the rental season, owners are not responsible for replacements.*

Sorry no pets and no smoking allowed.

10 guests maximum allowed at any time. No parties exceeding the occupancy limit allowed.

LINENS (SHEETS/TOWELS) ARE NOT INCLUDED IN THIS RENTAL.

Travel Insurance is highly recommended and affordable coverage to protect your vacation investment.

Please view our policy and procedure page on our web site for detailed information about renting with us.
- DVD Player
- Flat Screen HDTV
- Extended Cable
- IPod docking station
- Stereo w/ CD player
- Microwave
- Drip Coffee Maker
- Pantry items (sugar, salt & pep)
- Cleaning Supplies
- Cookware
- Dishes / Glassware / Utensils
- Kitchen Table
- Blender
- Toaster or Toaster Oven
- Ice Maker
- Island or Counter Seating
- Dishwasher
- Laundry
- Lobster Pot
- Extra Refrigerator
- Door to Deck
- Espresso Maker
- TV
- Ceiling Fan
- Private bath
- Hair Dryer
- Jacuzzi/Whirlpool Tub
- Tub/Shower Combo
- TV
- Table Tennis
- DVD Player
- Beds
- Bathroom
- Deck
- Gas Grill (Natural Gas)
- Dining Table w/ Umbrella
- Enclosed Outdoor Shower
- Firepit or Chiminea
- Garage Access
- Beach Chairs
- Outdoor Lighting
- Basket Ball Hoop
- Kayak
- Outdoor Seating
- Close to Town
- Near Rail Trail Bike Path
- Lake or Pond Front
- Waterview
- Near Golf Course
Guest Reviews of
580 meetinghouse* Chatham , MA
Wonderful Home in a Great Location
Review by
William A.
Every thing was as expected or better. A great place for an extended family to spend a week together.
5 out of 5 stars
May 2018

| S | M | T | W | T | F | S |
| --- | --- | --- | --- | --- | --- | --- |
| | | 01 | 02 | 03 | 04 | 05 |
| 06 | 07 | 08 | 09 | 10 | 11 | 12 |
| 13 | 14 | 15 | 16 | 17 | 18 | 19 |
| 20 | 21 | 22 | 23 | 24 | 25 | 26 |
| 27 | 28 | 29 | 30 | 31 | | |
June 2018

| S | M | T | W | T | F | S |
| --- | --- | --- | --- | --- | --- | --- |
| | | | | | 01 | 02 |
| 03 | 04 | 05 | 06 | 07 | 08 | 09 |
| 10 | 11 | 12 | 13 | 14 | 15 | 16 |
| 17 | 18 | 19 | 20 | 21 | 22 | 23 |
| 24 | 25 | 26 | 27 | 28 | 29 | 30 |
July 2018

| S | M | T | W | T | F | S |
| --- | --- | --- | --- | --- | --- | --- |
| 01 | 02 | 03 | 04 | 05 | 06 | 07 |
| 08 | 09 | 10 | 11 | 12 | 13 | 14 |
| 15 | 16 | 17 | 18 | 19 | 20 | 21 |
| 22 | 23 | 24 | 25 | 26 | 27 | 28 |
| 29 | 30 | 31 | | | | |
August 2018

| S | M | T | W | T | F | S |
| --- | --- | --- | --- | --- | --- | --- |
| | | | 01 | 02 | 03 | 04 |
| 05 | 06 | 07 | 08 | 09 | 10 | 11 |
| 12 | 13 | 14 | 15 | 16 | 17 | 18 |
| 19 | 20 | 21 | 22 | 23 | 24 | 25 |
| 26 | 27 | 28 | 29 | 30 | 31 | |
September 2018

| S | M | T | W | T | F | S |
| --- | --- | --- | --- | --- | --- | --- |
| | | | | | | 01 |
| 02 | 03 | 04 | 05 | 06 | 07 | 08 |
| 09 | 10 | 11 | 12 | 13 | 14 | 15 |
| 16 | 17 | 18 | 19 | 20 | 21 | 22 |
| 23 | 24 | 25 | 26 | 27 | 28 | 29 |
| 30 | | | | | | |
October 2018

| S | M | T | W | T | F | S |
| --- | --- | --- | --- | --- | --- | --- |
| | 01 | 02 | 03 | 04 | 05 | 06 |
| 07 | 08 | 09 | 10 | 11 | 12 | 13 |
| 14 | 15 | 16 | 17 | 18 | 19 | 20 |
| 21 | 22 | 23 | 24 | 25 | 26 | 27 |
| 28 | 29 | 30 | 31 | | | |
November 2018

| S | M | T | W | T | F | S |
| --- | --- | --- | --- | --- | --- | --- |
| | | | | 01 | 02 | 03 |
| 04 | 05 | 06 | 07 | 08 | 09 | 10 |
| 11 | 12 | 13 | 14 | 15 | 16 | 17 |
| 18 | 19 | 20 | 21 | 22 | 23 | 24 |
| 25 | 26 | 27 | 28 | 29 | 30 | |
December 2018

| S | M | T | W | T | F | S |
| --- | --- | --- | --- | --- | --- | --- |
| | | | | | | 01 |
| 02 | 03 | 04 | 05 | 06 | 07 | 08 |
| 09 | 10 | 11 | 12 | 13 | 14 | 15 |
| 16 | 17 | 18 | 19 | 20 | 21 | 22 |
| 23 | 24 | 25 | 26 | 27 | 28 | 29 |
| 30 | 31 | | | | | |
January 2019

| S | M | T | W | T | F | S |
| --- | --- | --- | --- | --- | --- | --- |
| | | 01 | 02 | 03 | 04 | 05 |
| 06 | 07 | 08 | 09 | 10 | 11 | 12 |
| 13 | 14 | 15 | 16 | 17 | 18 | 19 |
| 20 | 21 | 22 | 23 | 24 | 25 | 26 |
| 27 | 28 | 29 | 30 | 31 | | |
February 2019

| S | M | T | W | T | F | S |
| --- | --- | --- | --- | --- | --- | --- |
| | | | | | 01 | 02 |
| 03 | 04 | 05 | 06 | 07 | 08 | 09 |
| 10 | 11 | 12 | 13 | 14 | 15 | 16 |
| 17 | 18 | 19 | 20 | 21 | 22 | 23 |
| 24 | 25 | 26 | 27 | 28 | | |
March 2019

| S | M | T | W | T | F | S |
| --- | --- | --- | --- | --- | --- | --- |
| | | | | | 01 | 02 |
| 03 | 04 | 05 | 06 | 07 | 08 | 09 |
| 10 | 11 | 12 | 13 | 14 | 15 | 16 |
| 17 | 18 | 19 | 20 | 21 | 22 | 23 |
| 24 | 25 | 26 | 27 | 28 | 29 | 30 |
| 31 | | | | | | |
April 2019

| S | M | T | W | T | F | S |
| --- | --- | --- | --- | --- | --- | --- |
| | 01 | 02 | 03 | 04 | 05 | 06 |
| 07 | 08 | 09 | 10 | 11 | 12 | 13 |
| 14 | 15 | 16 | 17 | 18 | 19 | 20 |
| 21 | 22 | 23 | 24 | 25 | 26 | 27 |
| 28 | 29 | 30 | | | | |
May 2019

| S | M | T | W | T | F | S |
| --- | --- | --- | --- | --- | --- | --- |
| | | | 01 | 02 | 03 | 04 |
| 05 | 06 | 07 | 08 | 09 | 10 | 11 |
| 12 | 13 | 14 | 15 | 16 | 17 | 18 |
| 19 | 20 | 21 | 22 | 23 | 24 | 25 |
| 26 | 27 | 28 | 29 | 30 | 31 | |
Available
Unavailable
Sat to Sat booking