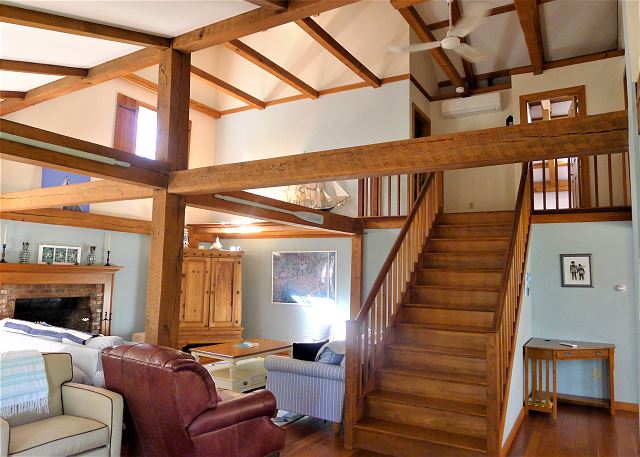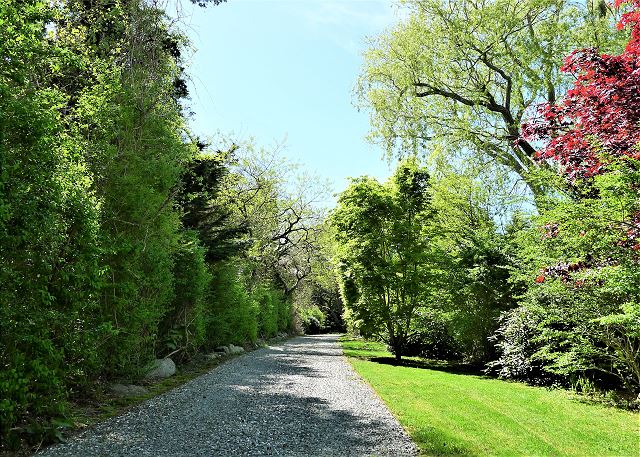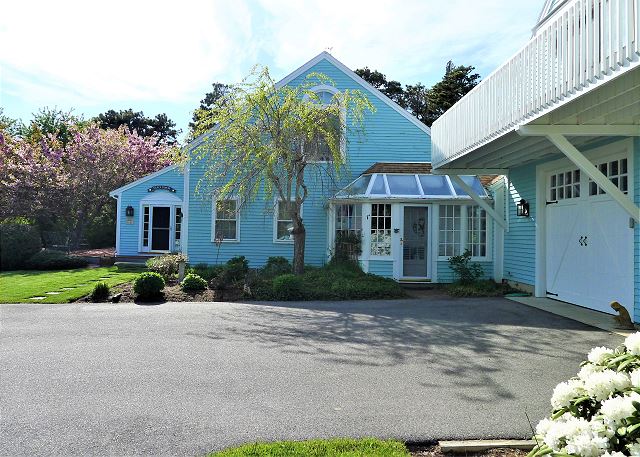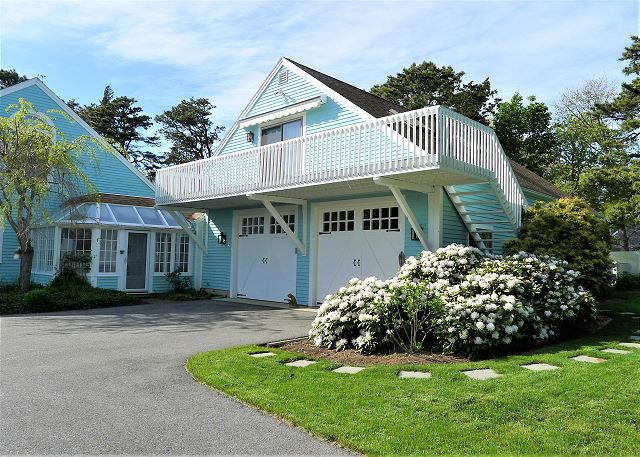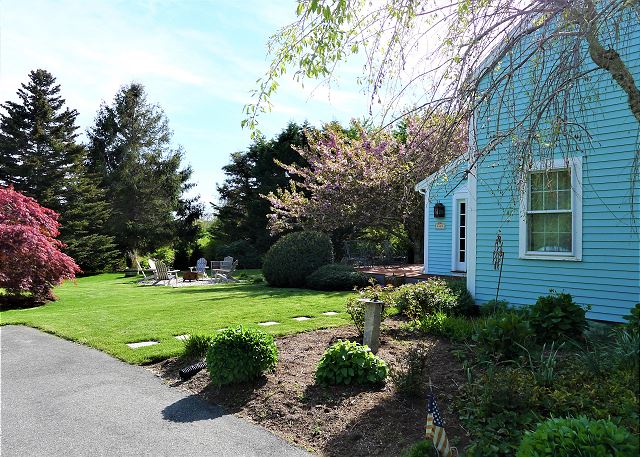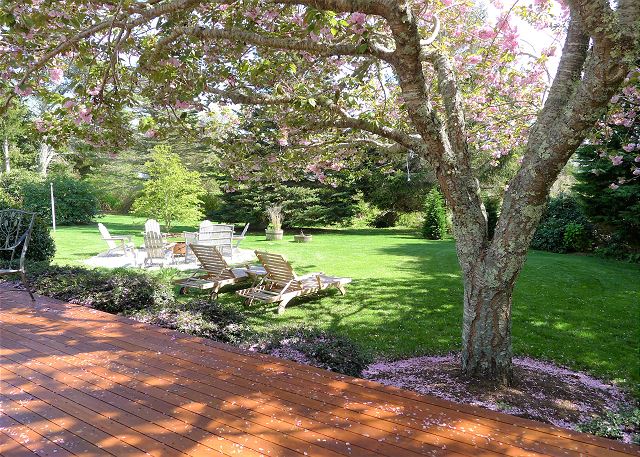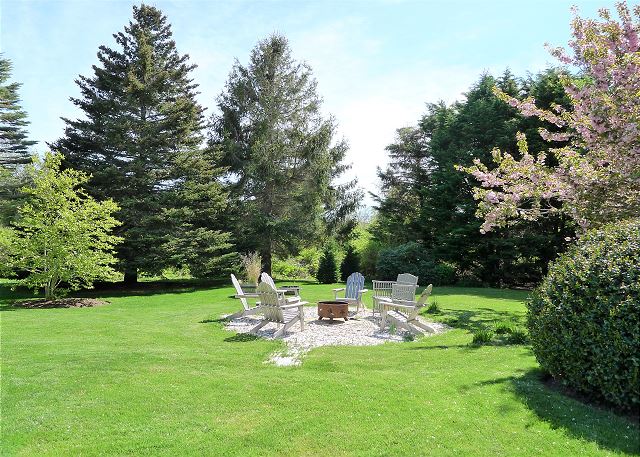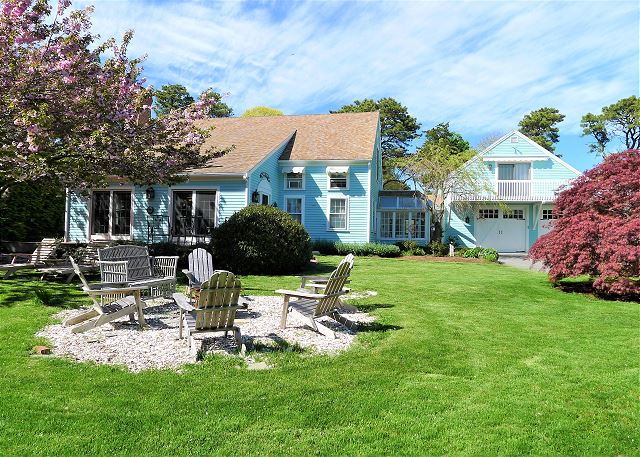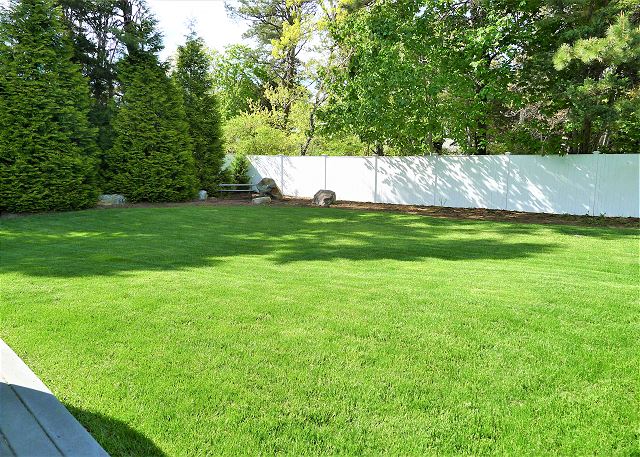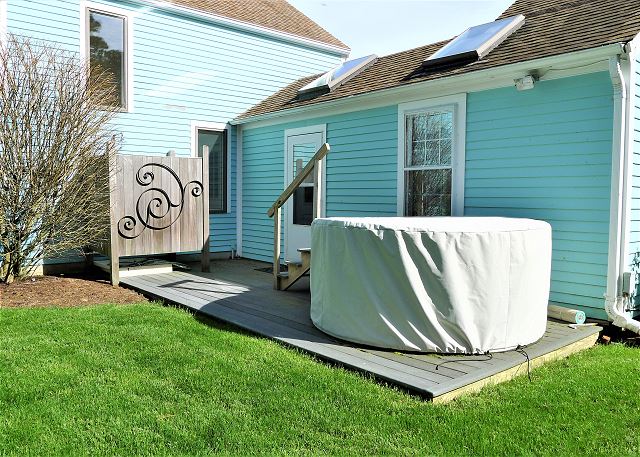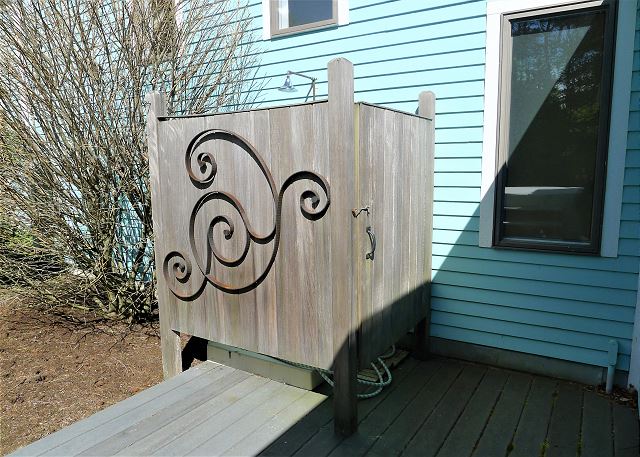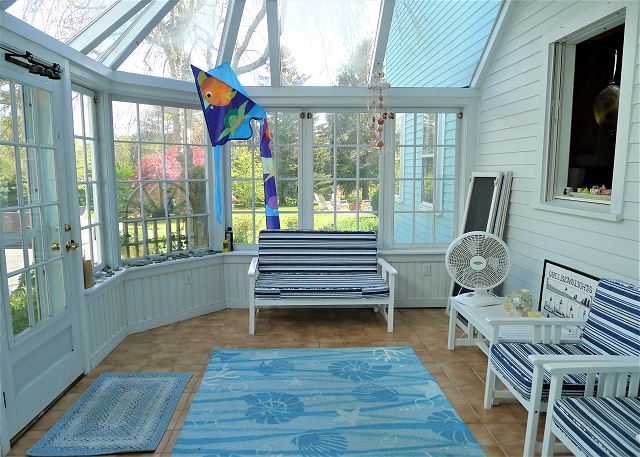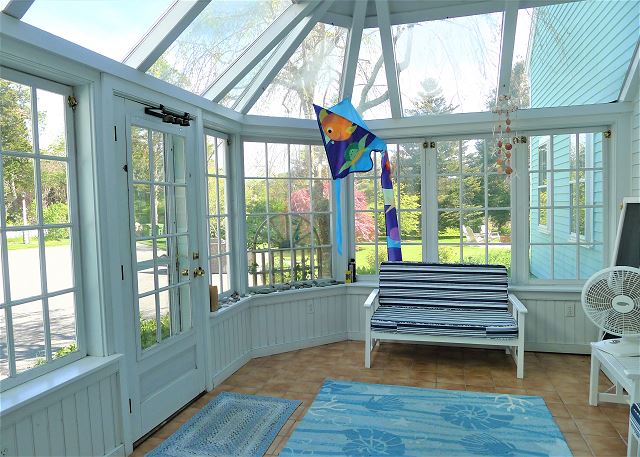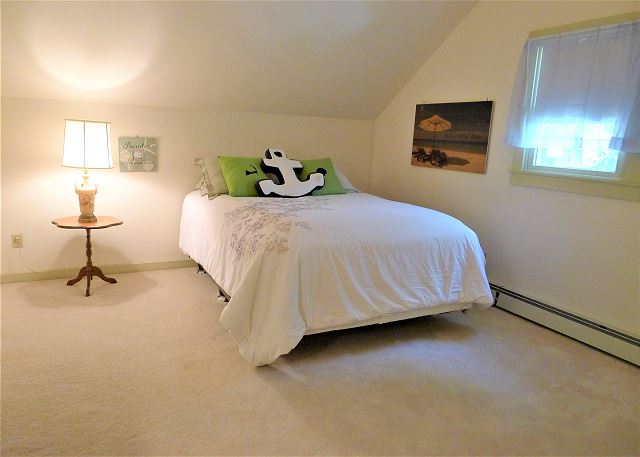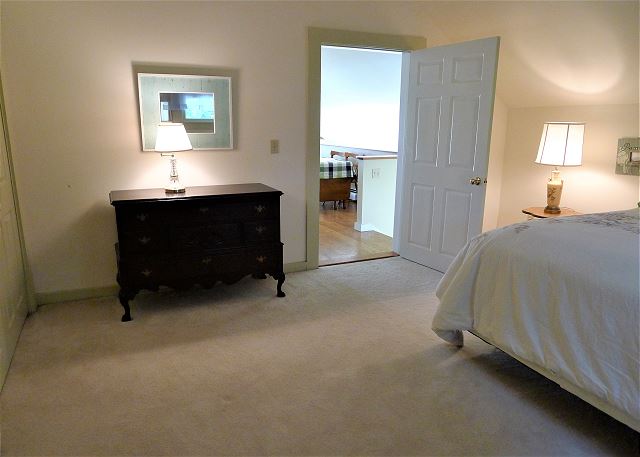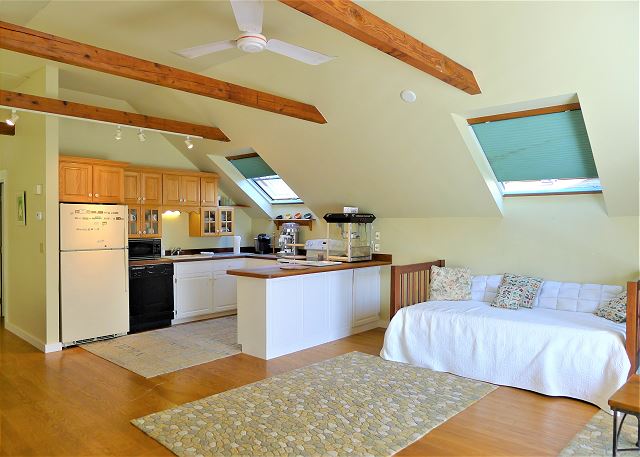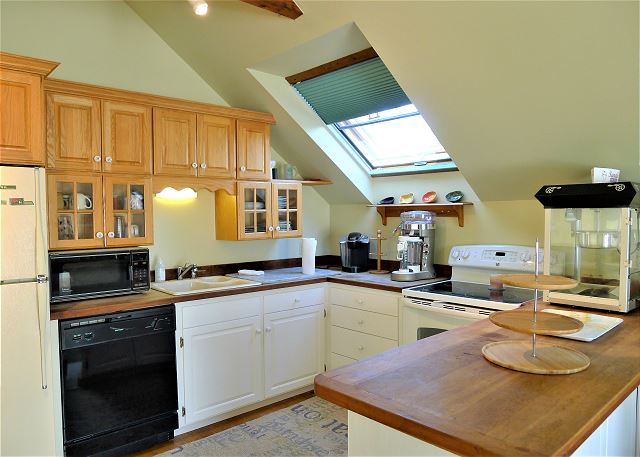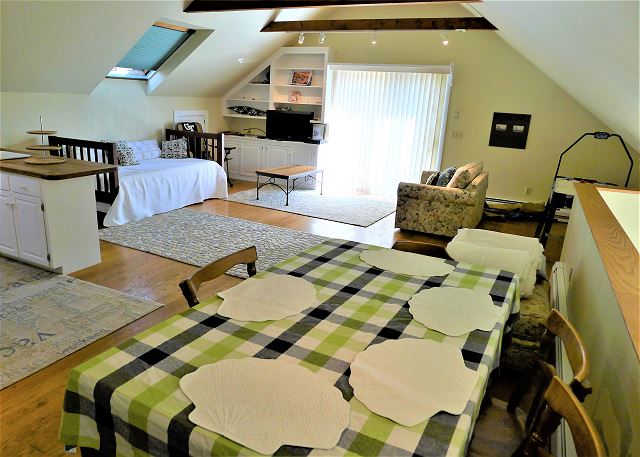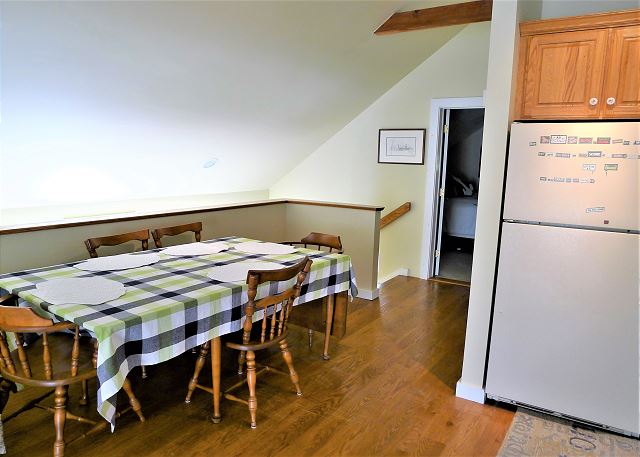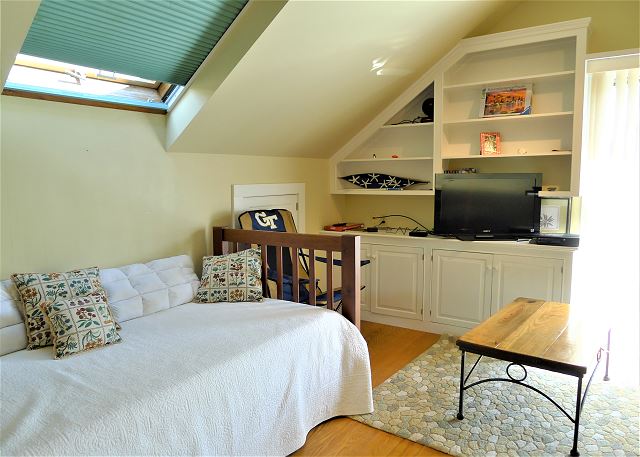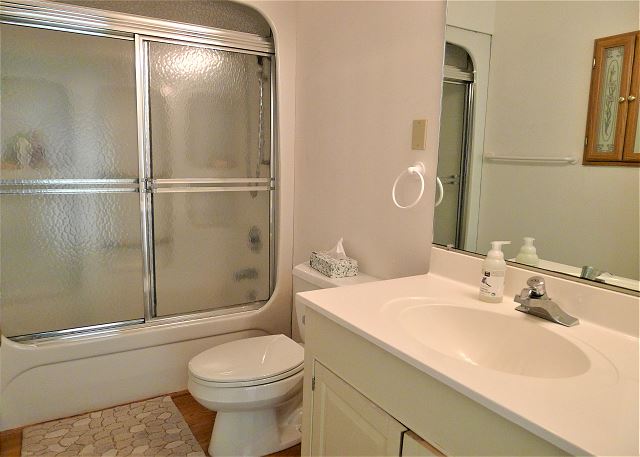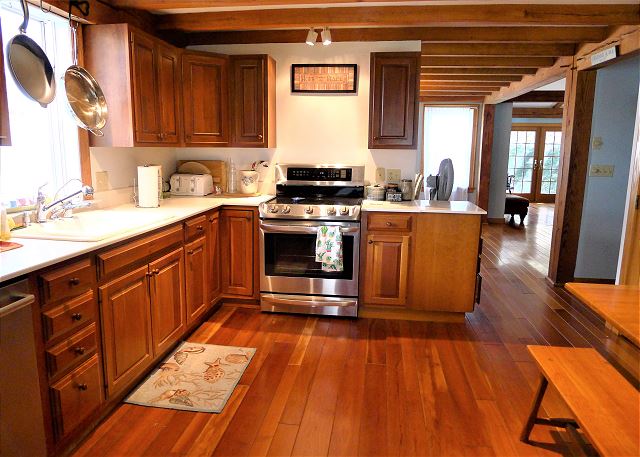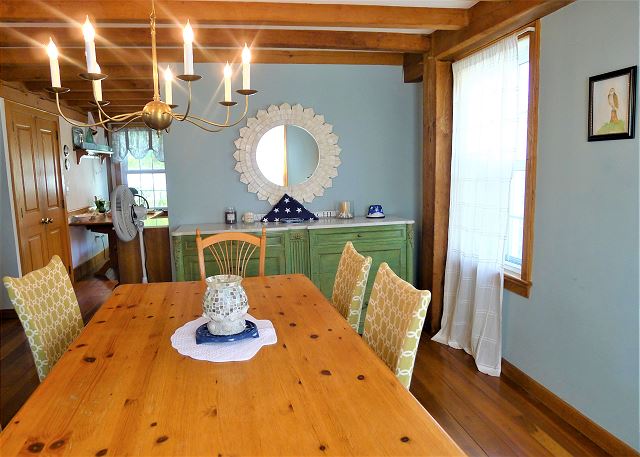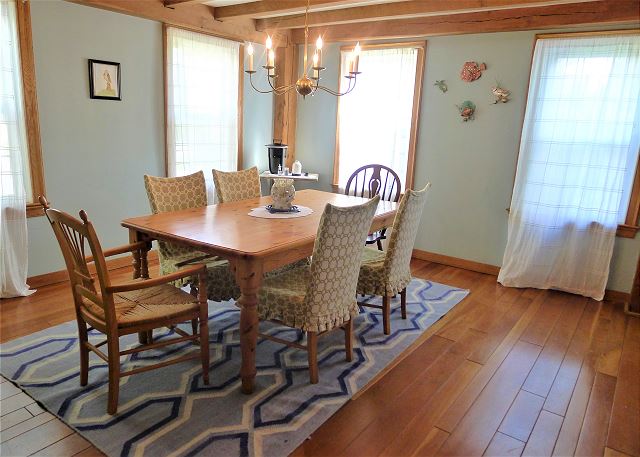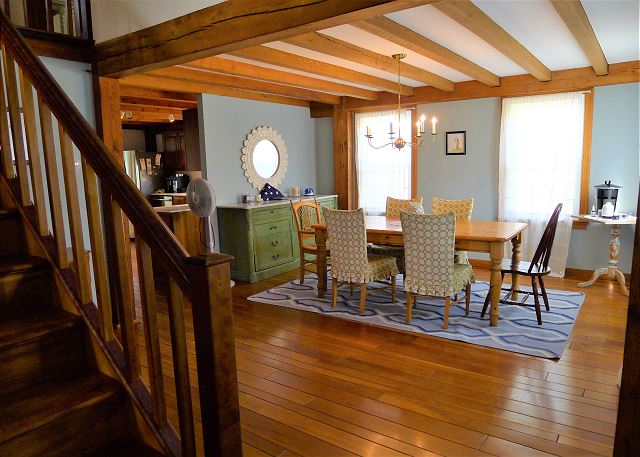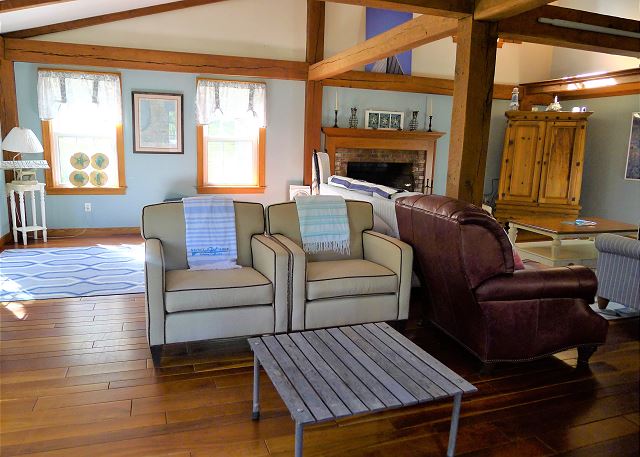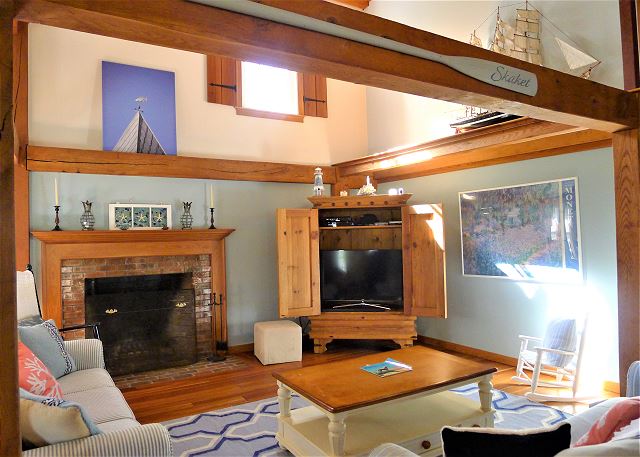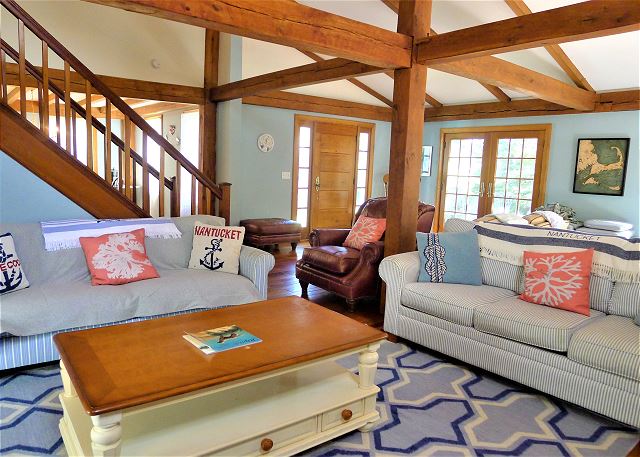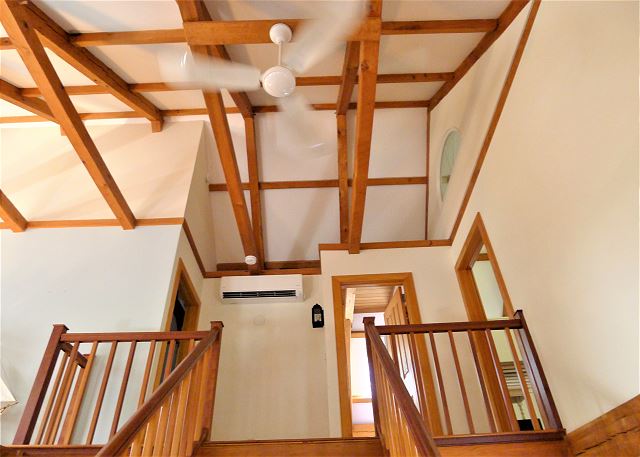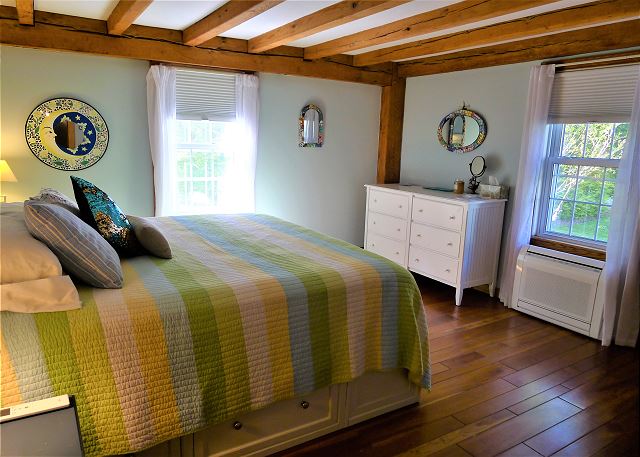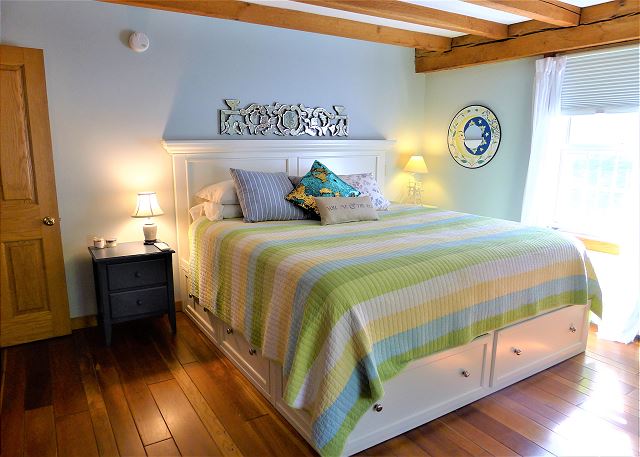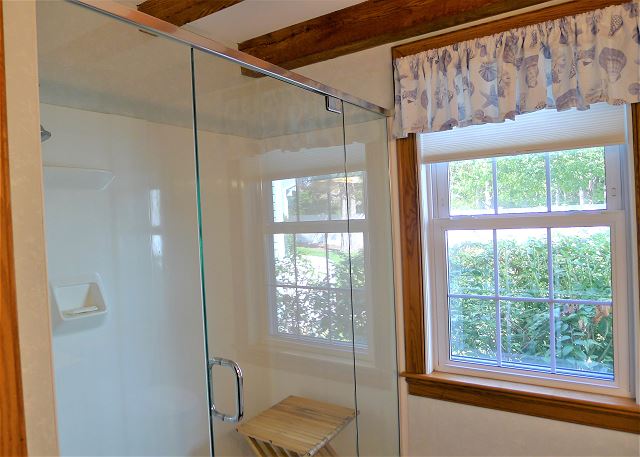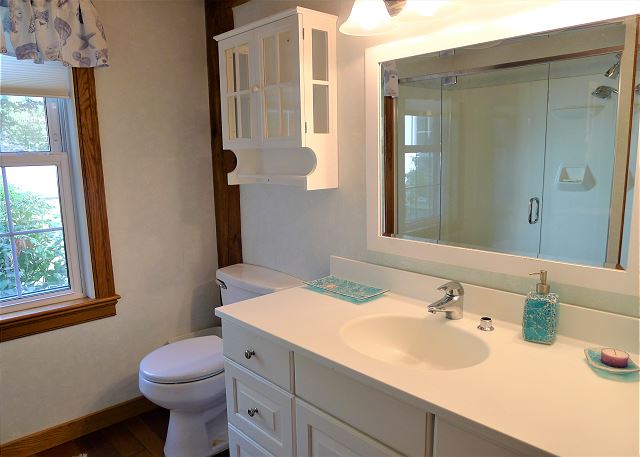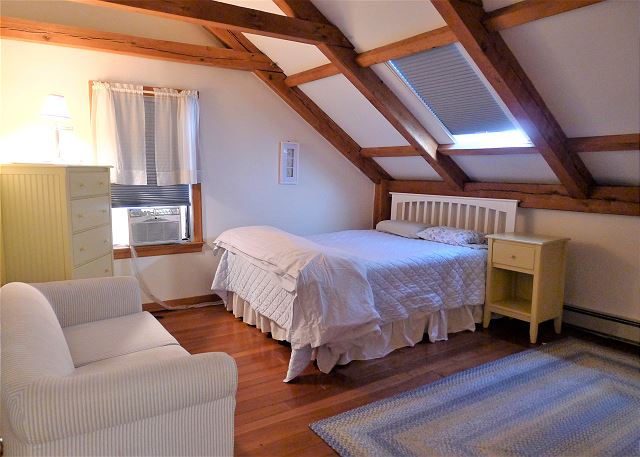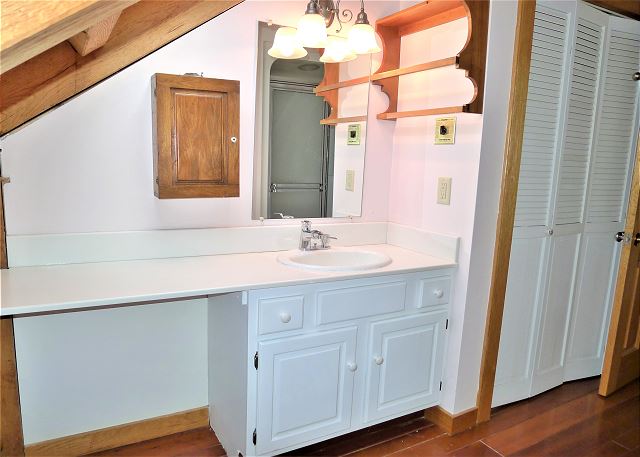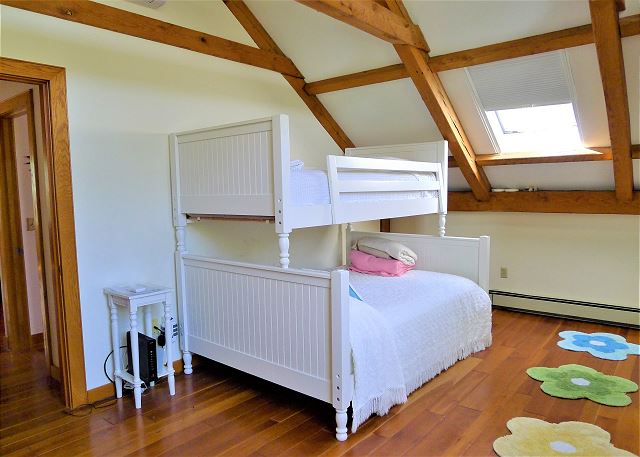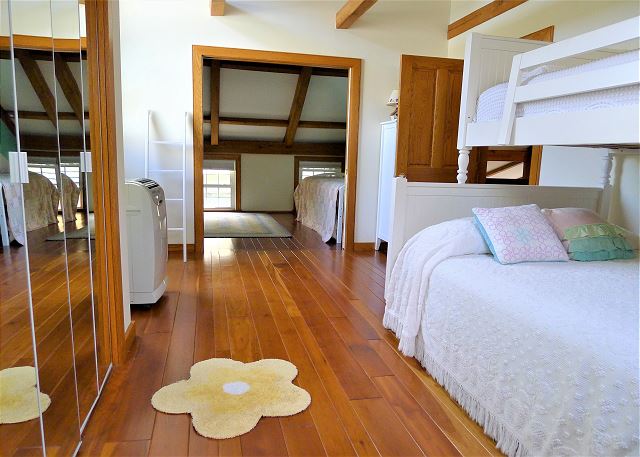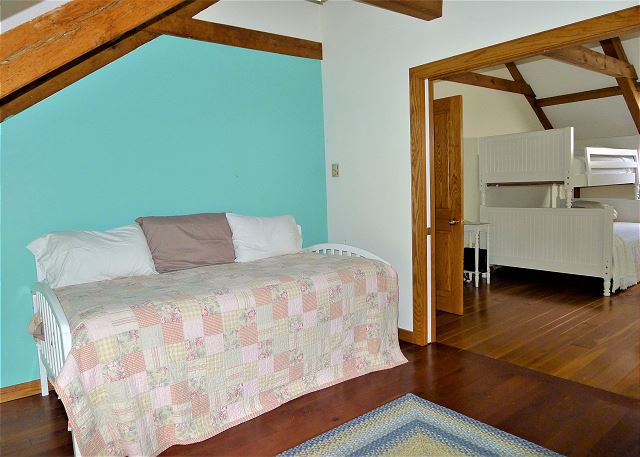 ---
Bedroom(s): 4.5
Bathroom(s): 3
Sleeps: 12
Type: House
Area: Nauset Beach
Town: Orleans
This gem is set on a resort-like lot and sleeps 9 in main dwelling and 3 in the attached apartment.

Recessed from Cedar Land Road in East Orleans which parallels the Atlantic under a mile away, this outsized home is hidden from the street by a long driveway and the camouflage of the natural landscape.

The house: You enter through an octagonal solarium with a pitched roof constructed of glass – a multi-functional space that blurs the distinction between inside and outside. Stairs leading to an apartment are off of a short, glassed-in hall. It has one bedroom with queen bed, a bathroom with shower/tub combo, a dining/sleeping/ living area with TV, and table/chairs arranged along a loft space and with sliding doors to a private balcony.

You enter the main house kitchen from the other side of the solarium well stocked from top to bottom. This leads directly to the dining and living area with towering beamed ceilings and ceiling fan, loads of strategically placed upholstered seating that can be used as separate conversational areas or together to watch the large TV centered within easy view for all. This floor also has a bedroom with a king and TV, and bath with step-in shower. The grand stairway leads to 2.5 more bedrooms: #2 has a queen; #3 has bunk beds and a full bottom and twin top; and a half bedroom with a twin trundle and twin pullout. The two rooms can be sectioned off by closing the pocket doors between them. The bath on this level is also a step in shower.

The main house is cooled by a very large ductless a/c unit, and all bedrooms have smaller units – including the living area over the garage.

The show stopper here is the property itself, as perfectly manicured as any five star retreat, with lawns that stretch far in front and back. The front lawn sports a fire pit surrounded by Adirondack chairs as well as dining table and cushioned chairs and loungers. There is additional elegant seating on the porch directly in front of the French doors.

The sides and back of the house are almost entirely fenced in, and the large and level back yard in particular is perfect for pick up games of Frisbee, volleyball, badminton, etc. Back here, there is a second deck with an enclosed outdoor shower and a beautiful Jacuzzi from which to watch the sun set.

In this downright majestic home under 1 mile to one of the most popular beaches on all of Cape Cod, you are insulated from the noise and the crowds in this private but conveniently located personal Shangrila!

Also included: Wifi, gas grill, washer and dryer in garage. Basic Comcast service, coolers. 3-4 beach chairs*, and room for 4+ cars in driveway.

*Owners provide these items as favors to guests only and not as an integral part of the rental. If these items become lost or damaged during the course of the rental season, owners are not responsible for replacements.

Sorry no smoking allowed.

12 guests maximum allowed at any time. No parties exceeding the occupancy limit allowed.

LINENS (SHEETS & TOWELS) ARE NOT INCLUDED IN THE RENTAL.

Travel Insurance is highly recommended and affordable coverage to protect your vacation investment.

Please view our policy and procedure page on our web site for detailed information about renting with us.

State and local taxes are applicable and may vary based on local ordinances and bylaws. Tax rates are subject to change.
- pets considered
- Flat Screen HDTV
- Basic Cable
- Fireplace
- Ceiling Fan
- A/C Unit
- Deck
- WiFi
- Iron/Ironing Board
- ductless unit
- Microwave
- Teapot or Tea Kettle
- Drip Coffee Maker
- Cleaning Supplies
- Cookware
- Dishes / Glassware / Utensils
- Kitchen Table
- Blender
- Toaster or Toaster Oven
- Ice Maker
- Dishwasher
- Lobster Pot
- Pet Friendly
- Dining Table
- a/c in all bedrooms
- Hair Dryer
- Shower Only
- washer/dryer garage
- Deck
- Gas Grill with Propane Tank
- Enclosed Outdoor Shower
- Firepit or Chiminea
- Garage Access
- Beach Chairs
- Hot Tub
- Outdoor Lighting
- Fenced Yard
- Beach Cooler
- Outdoor Dining Table
- Near National Sea Shore Beaches
- Near Ocean Beach
Guest Reviews of
cedar land Orleans , MA
Great trip - saved our summer vacation.
Family had a great trip (first to Orleans) and the people at CapeCodRentals helped make it amazing(saved our summer vacation!)
5 out of 5 stars
Great summer rental
We had a great time in the house, which is well located and away from the street thanks to the long driveway. We very much appreciated that we'd bring our small dog along. Property manager fixed the few glitches - clogged sink, lack of lamps in living room, instructions sheet. Some of these could have been handled in advance of our arrival. Our one suggestion would be for the kitchen to be better stocked. Everything else was great.
5 out of 5 stars
December 2019

| S | M | T | W | T | F | S |
| --- | --- | --- | --- | --- | --- | --- |
| 01 | 02 | 03 | 04 | 05 | 06 | 07 |
| 08 | 09 | 10 | 11 | 12 | 13 | 14 |
| 15 | 16 | 17 | 18 | 19 | 20 | 21 |
| 22 | 23 | 24 | 25 | 26 | 27 | 28 |
| 29 | 30 | 31 | | | | |
January 2020

| S | M | T | W | T | F | S |
| --- | --- | --- | --- | --- | --- | --- |
| | | | 01 | 02 | 03 | 04 |
| 05 | 06 | 07 | 08 | 09 | 10 | 11 |
| 12 | 13 | 14 | 15 | 16 | 17 | 18 |
| 19 | 20 | 21 | 22 | 23 | 24 | 25 |
| 26 | 27 | 28 | 29 | 30 | 31 | |
February 2020

| S | M | T | W | T | F | S |
| --- | --- | --- | --- | --- | --- | --- |
| | | | | | | 01 |
| 02 | 03 | 04 | 05 | 06 | 07 | 08 |
| 09 | 10 | 11 | 12 | 13 | 14 | 15 |
| 16 | 17 | 18 | 19 | 20 | 21 | 22 |
| 23 | 24 | 25 | 26 | 27 | 28 | 29 |
March 2020

| S | M | T | W | T | F | S |
| --- | --- | --- | --- | --- | --- | --- |
| 01 | 02 | 03 | 04 | 05 | 06 | 07 |
| 08 | 09 | 10 | 11 | 12 | 13 | 14 |
| 15 | 16 | 17 | 18 | 19 | 20 | 21 |
| 22 | 23 | 24 | 25 | 26 | 27 | 28 |
| 29 | 30 | 31 | | | | |
April 2020

| S | M | T | W | T | F | S |
| --- | --- | --- | --- | --- | --- | --- |
| | | | 01 | 02 | 03 | 04 |
| 05 | 06 | 07 | 08 | 09 | 10 | 11 |
| 12 | 13 | 14 | 15 | 16 | 17 | 18 |
| 19 | 20 | 21 | 22 | 23 | 24 | 25 |
| 26 | 27 | 28 | 29 | 30 | | |
May 2020

| S | M | T | W | T | F | S |
| --- | --- | --- | --- | --- | --- | --- |
| | | | | | 01 | 02 |
| 03 | 04 | 05 | 06 | 07 | 08 | 09 |
| 10 | 11 | 12 | 13 | 14 | 15 | 16 |
| 17 | 18 | 19 | 20 | 21 | 22 | 23 |
| 24 | 25 | 26 | 27 | 28 | 29 | 30 |
| 31 | | | | | | |
June 2020

| S | M | T | W | T | F | S |
| --- | --- | --- | --- | --- | --- | --- |
| | 01 | 02 | 03 | 04 | 05 | 06 |
| 07 | 08 | 09 | 10 | 11 | 12 | 13 |
| 14 | 15 | 16 | 17 | 18 | 19 | 20 |
| 21 | 22 | 23 | 24 | 25 | 26 | 27 |
| 28 | 29 | 30 | | | | |
July 2020

| S | M | T | W | T | F | S |
| --- | --- | --- | --- | --- | --- | --- |
| | | | 01 | 02 | 03 | 04 |
| 05 | 06 | 07 | 08 | 09 | 10 | 11 |
| 12 | 13 | 14 | 15 | 16 | 17 | 18 |
| 19 | 20 | 21 | 22 | 23 | 24 | 25 |
| 26 | 27 | 28 | 29 | 30 | 31 | |
August 2020

| S | M | T | W | T | F | S |
| --- | --- | --- | --- | --- | --- | --- |
| | | | | | | 01 |
| 02 | 03 | 04 | 05 | 06 | 07 | 08 |
| 09 | 10 | 11 | 12 | 13 | 14 | 15 |
| 16 | 17 | 18 | 19 | 20 | 21 | 22 |
| 23 | 24 | 25 | 26 | 27 | 28 | 29 |
| 30 | 31 | | | | | |
September 2020

| S | M | T | W | T | F | S |
| --- | --- | --- | --- | --- | --- | --- |
| | | 01 | 02 | 03 | 04 | 05 |
| 06 | 07 | 08 | 09 | 10 | 11 | 12 |
| 13 | 14 | 15 | 16 | 17 | 18 | 19 |
| 20 | 21 | 22 | 23 | 24 | 25 | 26 |
| 27 | 28 | 29 | 30 | | | |
October 2020

| S | M | T | W | T | F | S |
| --- | --- | --- | --- | --- | --- | --- |
| | | | | 01 | 02 | 03 |
| 04 | 05 | 06 | 07 | 08 | 09 | 10 |
| 11 | 12 | 13 | 14 | 15 | 16 | 17 |
| 18 | 19 | 20 | 21 | 22 | 23 | 24 |
| 25 | 26 | 27 | 28 | 29 | 30 | 31 |
November 2020

| S | M | T | W | T | F | S |
| --- | --- | --- | --- | --- | --- | --- |
| 01 | 02 | 03 | 04 | 05 | 06 | 07 |
| 08 | 09 | 10 | 11 | 12 | 13 | 14 |
| 15 | 16 | 17 | 18 | 19 | 20 | 21 |
| 22 | 23 | 24 | 25 | 26 | 27 | 28 |
| 29 | 30 | | | | | |
December 2020

| S | M | T | W | T | F | S |
| --- | --- | --- | --- | --- | --- | --- |
| | | 01 | 02 | 03 | 04 | 05 |
| 06 | 07 | 08 | 09 | 10 | 11 | 12 |
| 13 | 14 | 15 | 16 | 17 | 18 | 19 |
| 20 | 21 | 22 | 23 | 24 | 25 | 26 |
| 27 | 28 | 29 | 30 | 31 | | |
Available
Unavailable
Sat to Sat booking