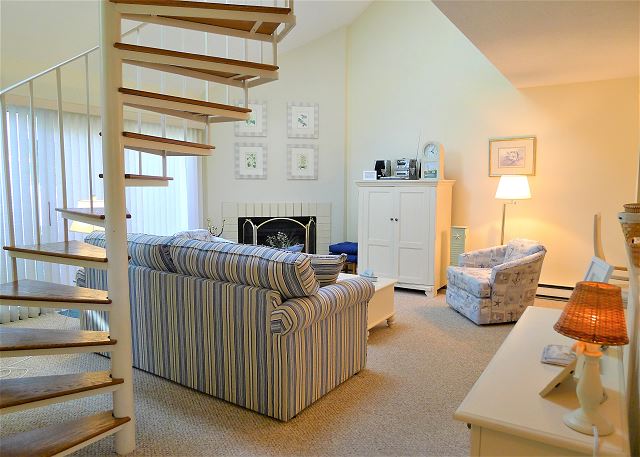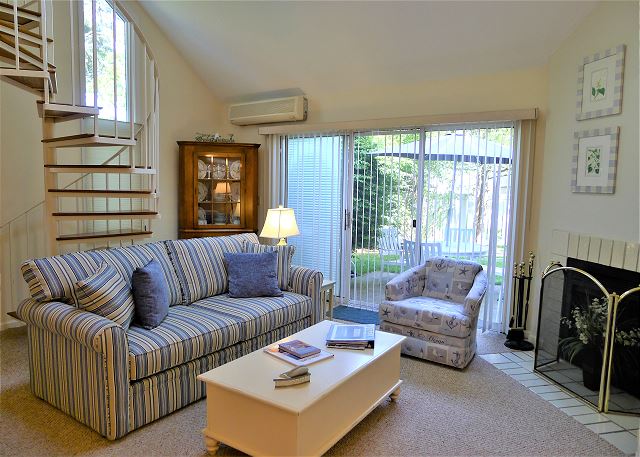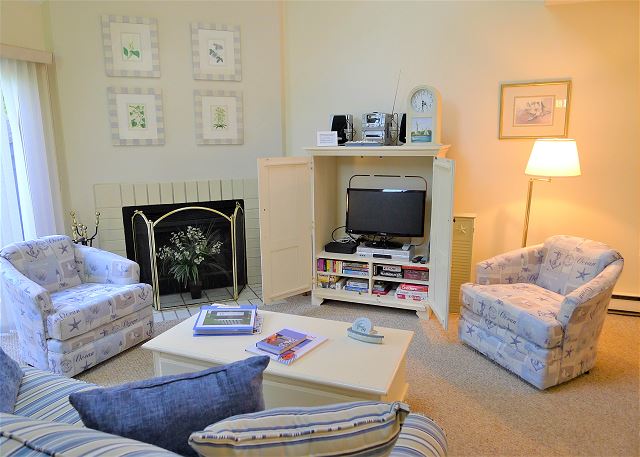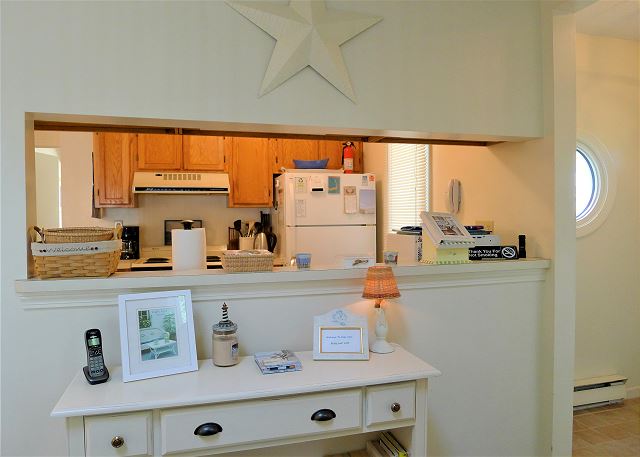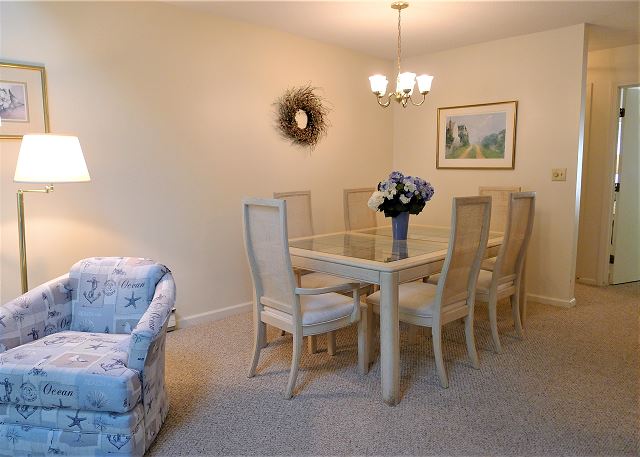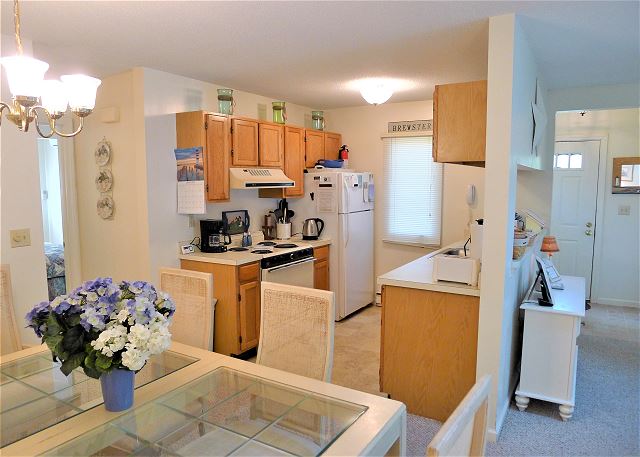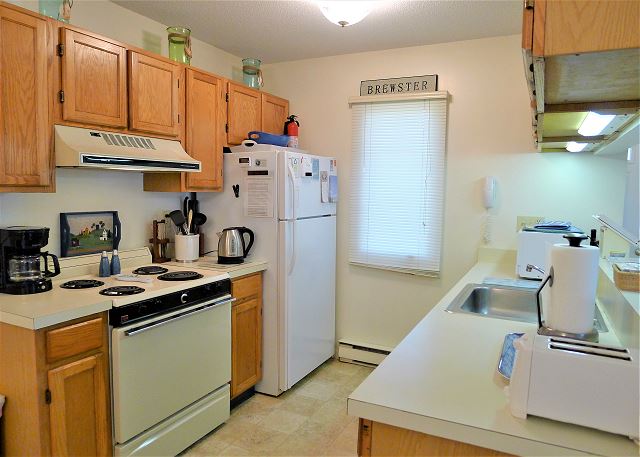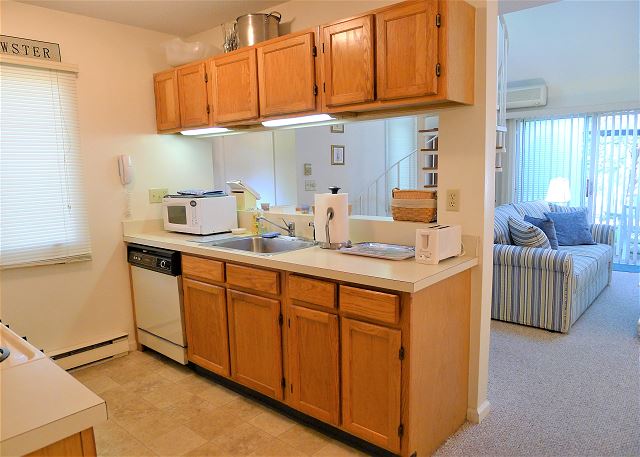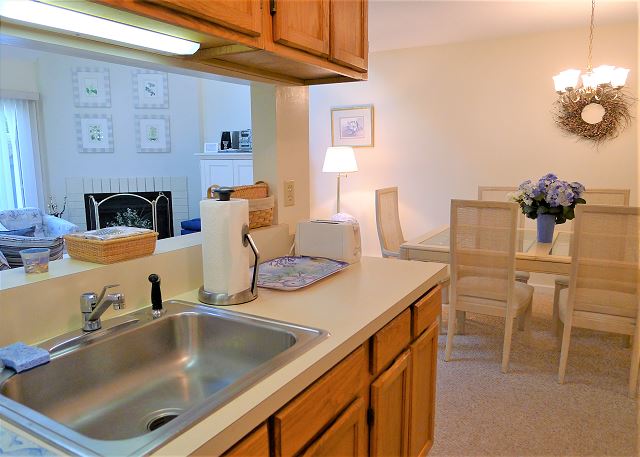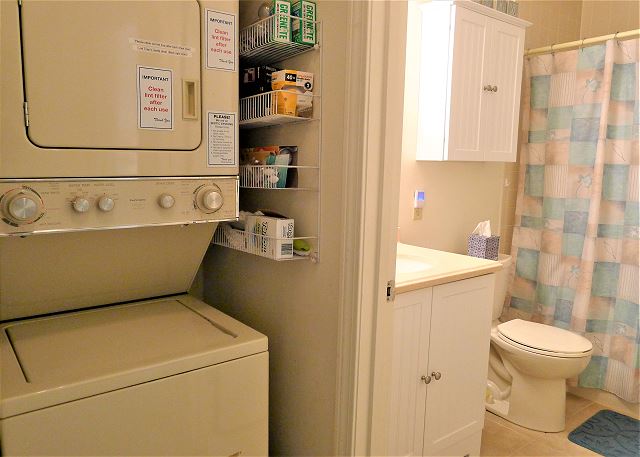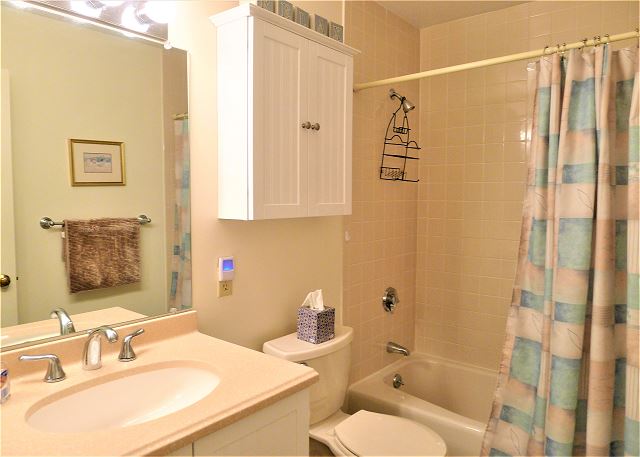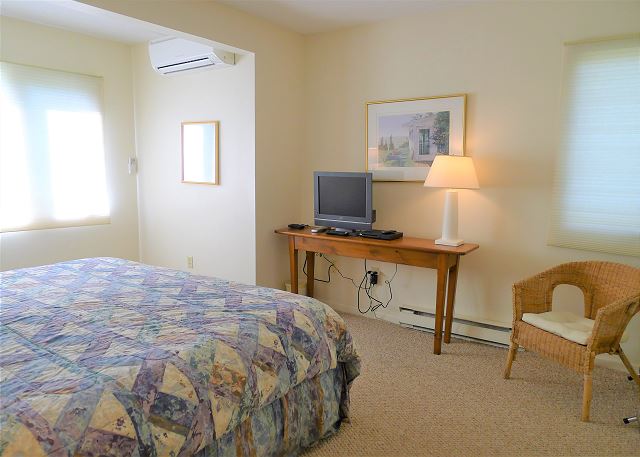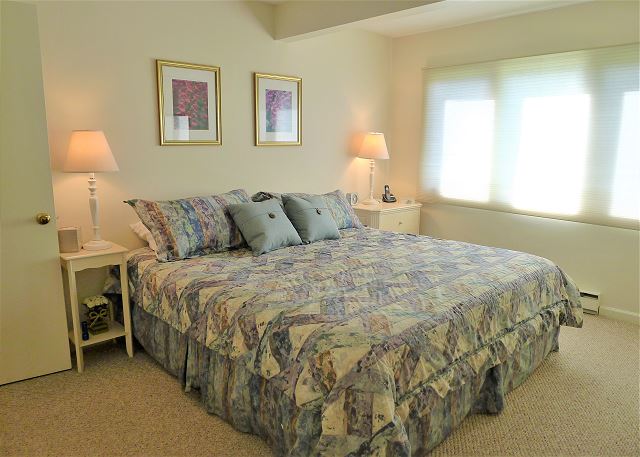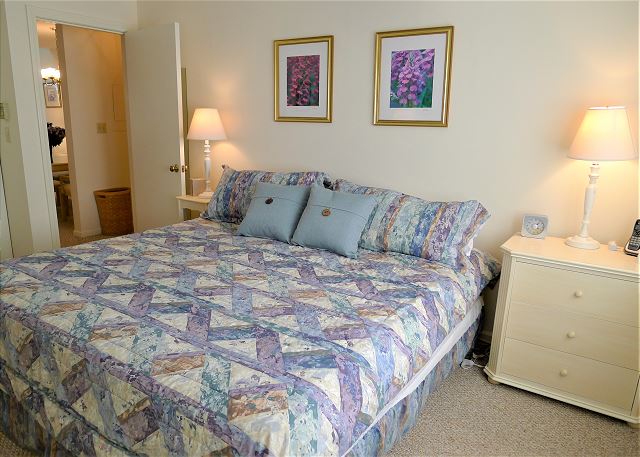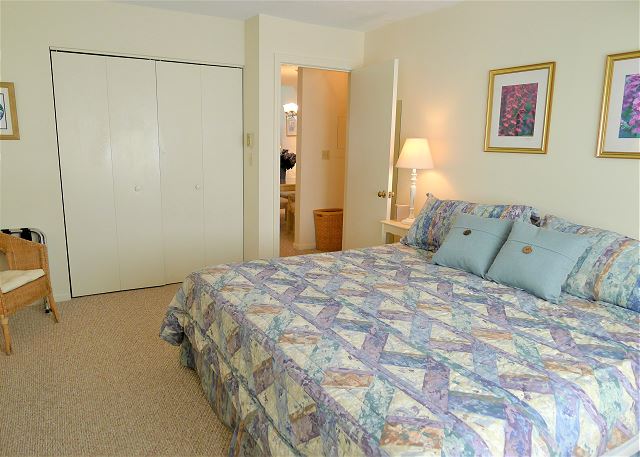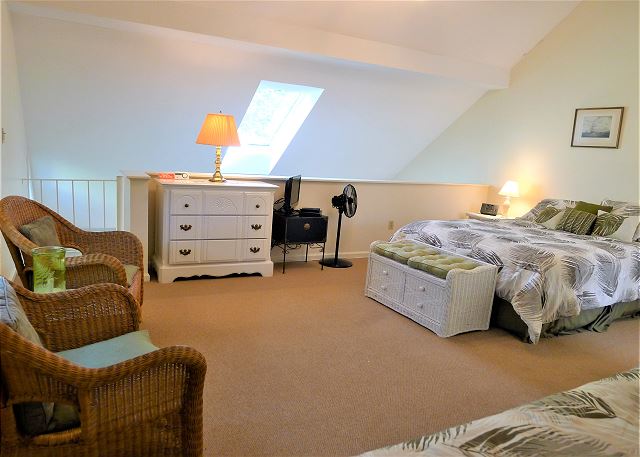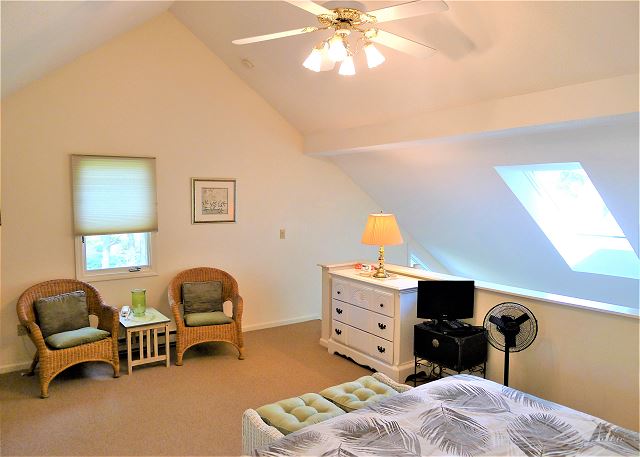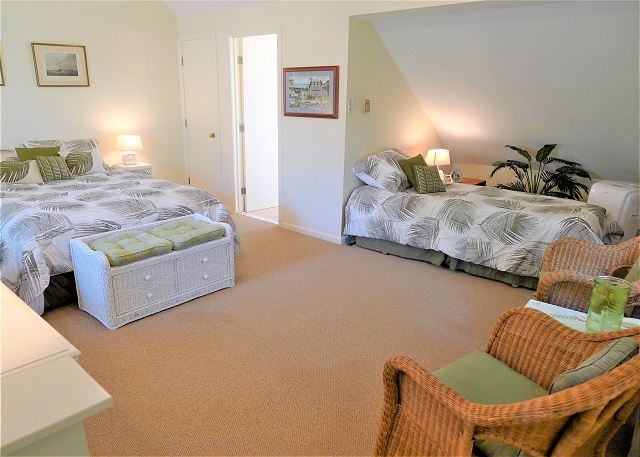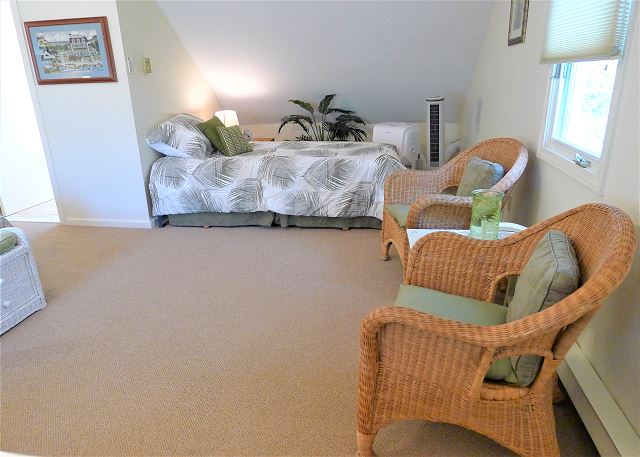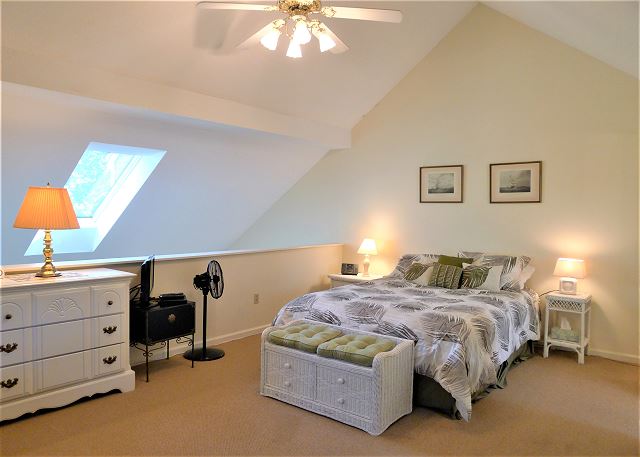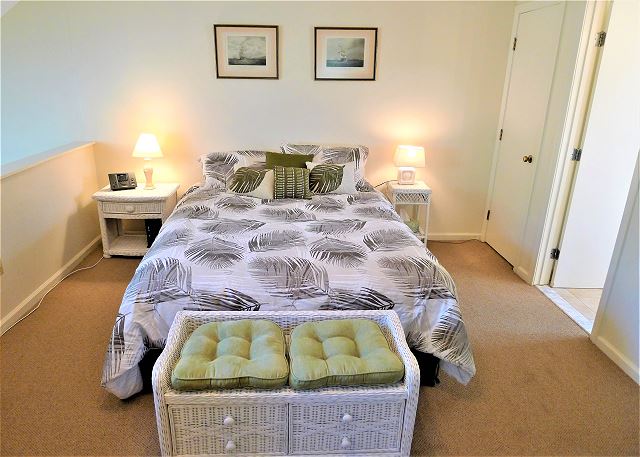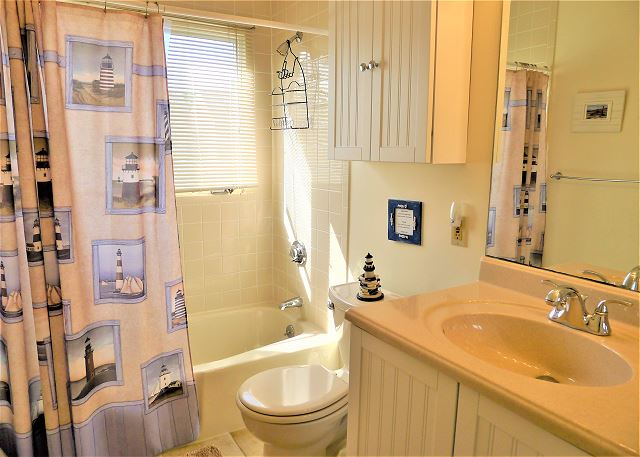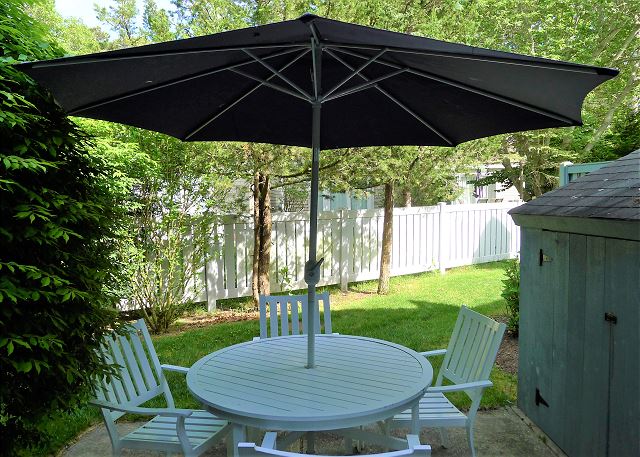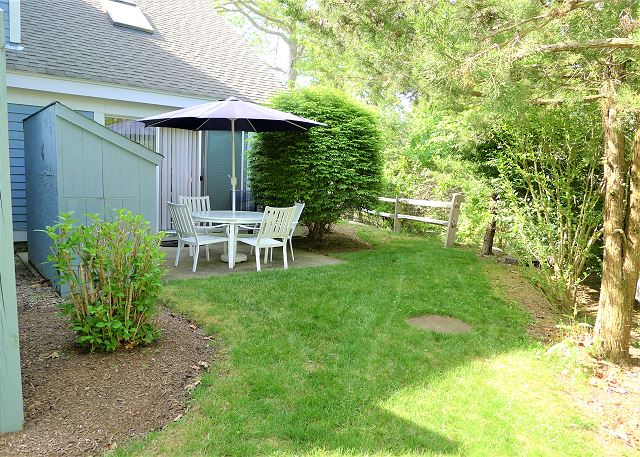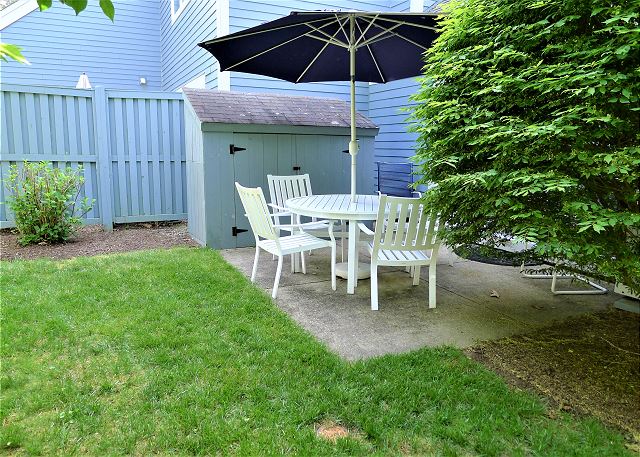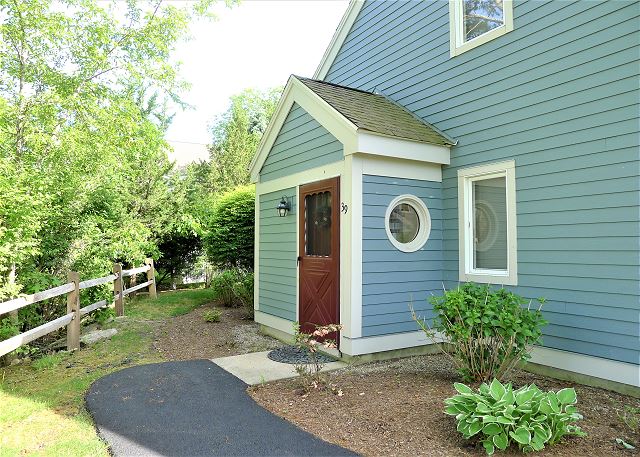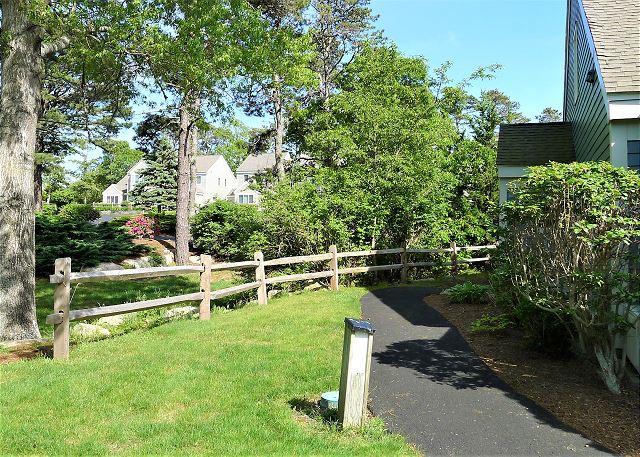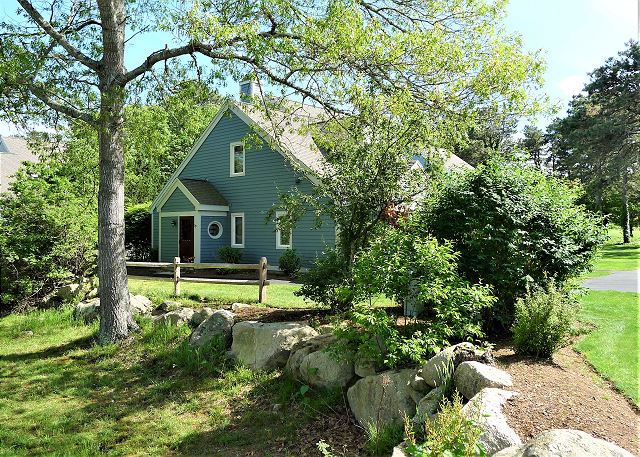 ---
Bedroom(s): 2
Bathroom(s): 2
Sleeps: 6
Type: Condominium
Area: Ellis Landing
Town: Brewster
This immaculate townhouse with spiral staircase features an open floor plan on the first level with living/kitchen pass through area to adjacent dining for 6. There is ample seating for a full house including a brand new sofa/sleeper with memory foam/gel mattress.all washed in a soothing palette of colors. The living room is designed for entertainment with a flat screen TV, Comcast basic cable, and VCR/DVD player. Two ductless units on the first level in both common and main bed room plus a portable a/c unit for the loft with ceiling fans imparts the same feeling as central air!

There are sliders from the downstairs living room that lead to a patio outfitted with dining table and chairs for 6 and charcoal grill, surrounded by trees and flowering shrubs. Choose to eat al fresco with great views or indoors where the kitchen is stocked with everything you'll need to prepare meals – right down to the staple lobster pot!

The main bedroom with king bed,TV with DVD player, and ensuite bath with tub/shower provides a welcoming and peaceful retreat..

The second bedroom is located in the loft at the top of the staircase and can accommodate 4 guests in a queen bed and a trundle with pull out twin. Beautifully decorated in beachy patterns and white furniture, the balcony above the living room is defined by a 4 ½ foot wall – high enough for privacy, low enough to take in the interior birdseye view of this very lovely home. The loft also has its own TV/DVD player and bathroom with tub/shower combo. Perfect bunk room or even a separate space for second group traveling with you.

This beauty has maintained the original integrity of Ocean Edge Luxury Resorts without sacrificing any of the modern conveniences.

Also included: Washer/Dryer cleverly tucked in a closet, room for 2+ cars, wifi, 2 fans, cd player, cooler*, 4 beach chairs*

*Owners provide these items as favors to guests only and not as an integral part of the rental. If these items become lost or damaged during the course of the rental season, owners are not responsible for replacement.

A townhouse rental gives you access to indoor and outdoor pools, cardio room, and tennis court. Resort charges fees to use any of these amenities. You must complete your OE guest list and submit it to our office 10 days prior to your stay in order to have privileges. Remember all Ocean Edge fees are to be paid upon arrival to Ocean Edge who will issues passes to these amenities.

Sorry no pets and no smoking allowed.

6 Guests maximum allowed at any time. No parties exceeding the occupancy limit allowed.

NOTE: LINENS (SHEETS/TOWELS) ARE NOT INCLUDED IN THIS RENTAL.

Travel Insurance is highly recommended and affordable coverage to protect your vacation investment.

Please view our policy and procedure page on our web site for detailed information about renting with us.
- Flat Screen HDTV
- Basic Cable
- Fireplace
- Ceiling Fan
- Sleep Sofa
- WiFi
- ductless unit
- combo vcr/dvs player
- Microwave
- Teapot or Tea Kettle
- Drip Coffee Maker
- Cleaning Supplies
- Cookware
- Dishes / Glassware / Utensils
- Blender
- Iron
- Dishwasher
- Lobster Pot
- microwave
- ironing board
- Toaster
- Dining Table
- Flat Screen TV
- Private bath
- On Suite Main Bedroom Bath
- TV WITH DVD ONLY
- split ductless a/c
- main bedroom flat screen tv
- Ceiling Fan second bedroom
- portable a/c in loft bedroom
- Hair Dryer
- Tub/Shower Combo
- Washer
- Dryer
- washer and dryer first floor
- Dining Table w/ Umbrella
- Shared Pool
- Beach Chairs
- Outdoor Lighting
- Outdoor Seating
- Beach Cooler
- Near Rail Trail Bike Path
Guest Reviews of
39 trevor Brewster , MA
Best vacation ever!
Best vacation ever! I have vacationed on the Cape cod over 20 years and this was by far the best experience I've ever had. The rental was beautiful, clean, fully stocked with everything all the way down to the lobster pot. I would absolutely recommend this rental to others. You won't be disappointed.
5 out of 5 stars
December 2019

| S | M | T | W | T | F | S |
| --- | --- | --- | --- | --- | --- | --- |
| 01 | 02 | 03 | 04 | 05 | 06 | 07 |
| 08 | 09 | 10 | 11 | 12 | 13 | 14 |
| 15 | 16 | 17 | 18 | 19 | 20 | 21 |
| 22 | 23 | 24 | 25 | 26 | 27 | 28 |
| 29 | 30 | 31 | | | | |
January 2020

| S | M | T | W | T | F | S |
| --- | --- | --- | --- | --- | --- | --- |
| | | | 01 | 02 | 03 | 04 |
| 05 | 06 | 07 | 08 | 09 | 10 | 11 |
| 12 | 13 | 14 | 15 | 16 | 17 | 18 |
| 19 | 20 | 21 | 22 | 23 | 24 | 25 |
| 26 | 27 | 28 | 29 | 30 | 31 | |
February 2020

| S | M | T | W | T | F | S |
| --- | --- | --- | --- | --- | --- | --- |
| | | | | | | 01 |
| 02 | 03 | 04 | 05 | 06 | 07 | 08 |
| 09 | 10 | 11 | 12 | 13 | 14 | 15 |
| 16 | 17 | 18 | 19 | 20 | 21 | 22 |
| 23 | 24 | 25 | 26 | 27 | 28 | 29 |
March 2020

| S | M | T | W | T | F | S |
| --- | --- | --- | --- | --- | --- | --- |
| 01 | 02 | 03 | 04 | 05 | 06 | 07 |
| 08 | 09 | 10 | 11 | 12 | 13 | 14 |
| 15 | 16 | 17 | 18 | 19 | 20 | 21 |
| 22 | 23 | 24 | 25 | 26 | 27 | 28 |
| 29 | 30 | 31 | | | | |
April 2020

| S | M | T | W | T | F | S |
| --- | --- | --- | --- | --- | --- | --- |
| | | | 01 | 02 | 03 | 04 |
| 05 | 06 | 07 | 08 | 09 | 10 | 11 |
| 12 | 13 | 14 | 15 | 16 | 17 | 18 |
| 19 | 20 | 21 | 22 | 23 | 24 | 25 |
| 26 | 27 | 28 | 29 | 30 | | |
May 2020

| S | M | T | W | T | F | S |
| --- | --- | --- | --- | --- | --- | --- |
| | | | | | 01 | 02 |
| 03 | 04 | 05 | 06 | 07 | 08 | 09 |
| 10 | 11 | 12 | 13 | 14 | 15 | 16 |
| 17 | 18 | 19 | 20 | 21 | 22 | 23 |
| 24 | 25 | 26 | 27 | 28 | 29 | 30 |
| 31 | | | | | | |
June 2020

| S | M | T | W | T | F | S |
| --- | --- | --- | --- | --- | --- | --- |
| | 01 | 02 | 03 | 04 | 05 | 06 |
| 07 | 08 | 09 | 10 | 11 | 12 | 13 |
| 14 | 15 | 16 | 17 | 18 | 19 | 20 |
| 21 | 22 | 23 | 24 | 25 | 26 | 27 |
| 28 | 29 | 30 | | | | |
July 2020

| S | M | T | W | T | F | S |
| --- | --- | --- | --- | --- | --- | --- |
| | | | 01 | 02 | 03 | 04 |
| 05 | 06 | 07 | 08 | 09 | 10 | 11 |
| 12 | 13 | 14 | 15 | 16 | 17 | 18 |
| 19 | 20 | 21 | 22 | 23 | 24 | 25 |
| 26 | 27 | 28 | 29 | 30 | 31 | |
August 2020

| S | M | T | W | T | F | S |
| --- | --- | --- | --- | --- | --- | --- |
| | | | | | | 01 |
| 02 | 03 | 04 | 05 | 06 | 07 | 08 |
| 09 | 10 | 11 | 12 | 13 | 14 | 15 |
| 16 | 17 | 18 | 19 | 20 | 21 | 22 |
| 23 | 24 | 25 | 26 | 27 | 28 | 29 |
| 30 | 31 | | | | | |
September 2020

| S | M | T | W | T | F | S |
| --- | --- | --- | --- | --- | --- | --- |
| | | 01 | 02 | 03 | 04 | 05 |
| 06 | 07 | 08 | 09 | 10 | 11 | 12 |
| 13 | 14 | 15 | 16 | 17 | 18 | 19 |
| 20 | 21 | 22 | 23 | 24 | 25 | 26 |
| 27 | 28 | 29 | 30 | | | |
October 2020

| S | M | T | W | T | F | S |
| --- | --- | --- | --- | --- | --- | --- |
| | | | | 01 | 02 | 03 |
| 04 | 05 | 06 | 07 | 08 | 09 | 10 |
| 11 | 12 | 13 | 14 | 15 | 16 | 17 |
| 18 | 19 | 20 | 21 | 22 | 23 | 24 |
| 25 | 26 | 27 | 28 | 29 | 30 | 31 |
November 2020

| S | M | T | W | T | F | S |
| --- | --- | --- | --- | --- | --- | --- |
| 01 | 02 | 03 | 04 | 05 | 06 | 07 |
| 08 | 09 | 10 | 11 | 12 | 13 | 14 |
| 15 | 16 | 17 | 18 | 19 | 20 | 21 |
| 22 | 23 | 24 | 25 | 26 | 27 | 28 |
| 29 | 30 | | | | | |
December 2020

| S | M | T | W | T | F | S |
| --- | --- | --- | --- | --- | --- | --- |
| | | 01 | 02 | 03 | 04 | 05 |
| 06 | 07 | 08 | 09 | 10 | 11 | 12 |
| 13 | 14 | 15 | 16 | 17 | 18 | 19 |
| 20 | 21 | 22 | 23 | 24 | 25 | 26 |
| 27 | 28 | 29 | 30 | 31 | | |
Available
Unavailable
Sat to Sat booking