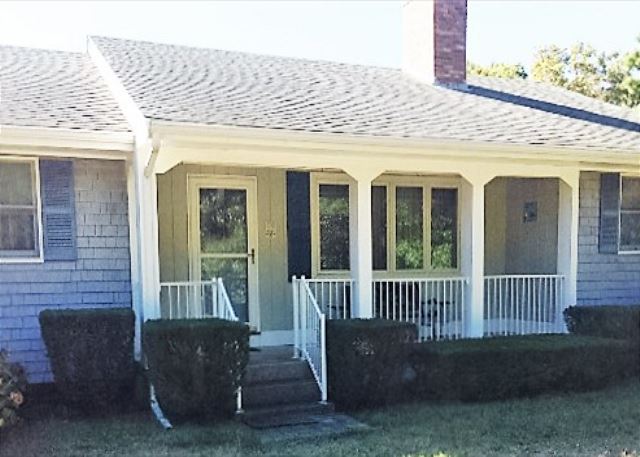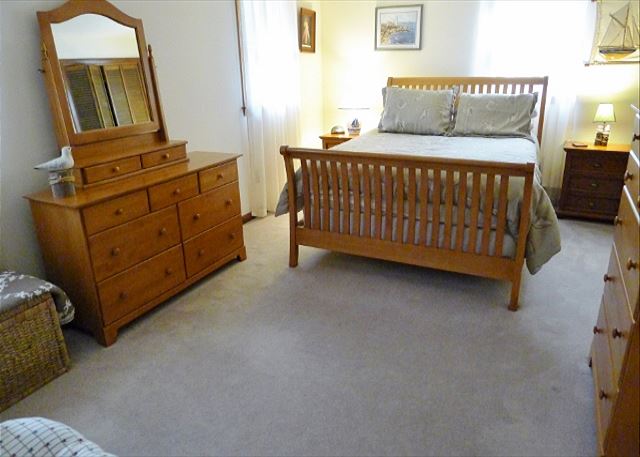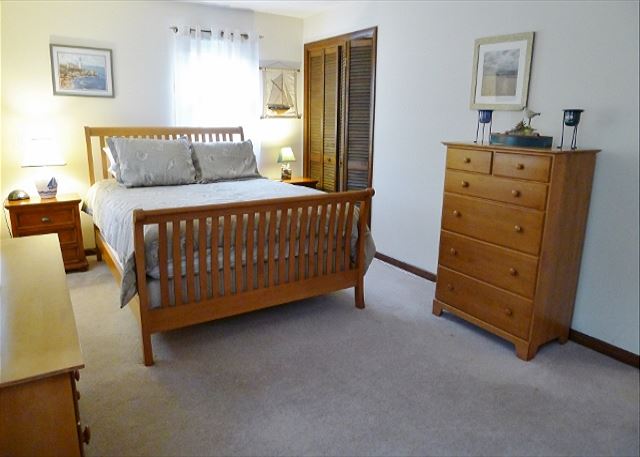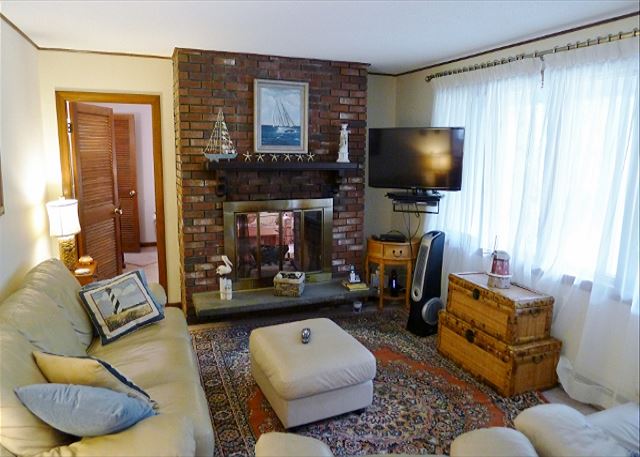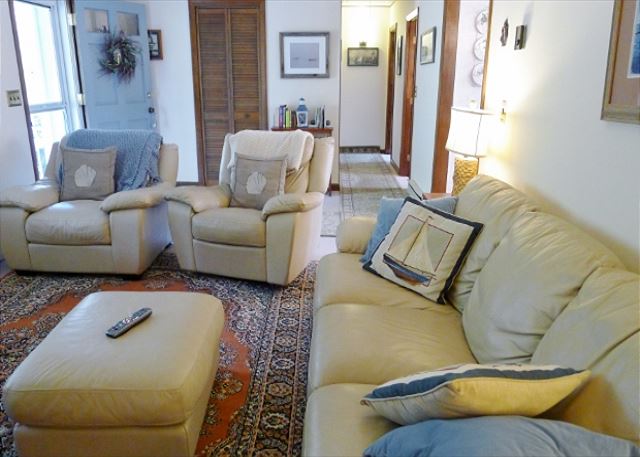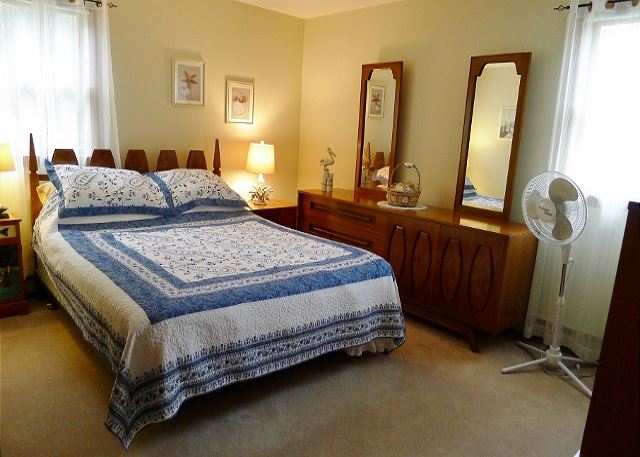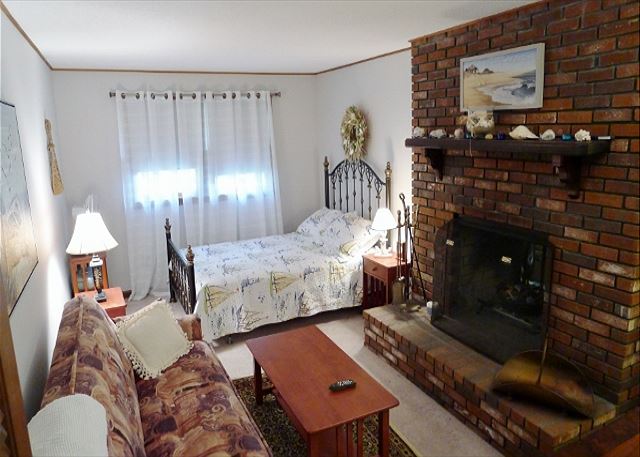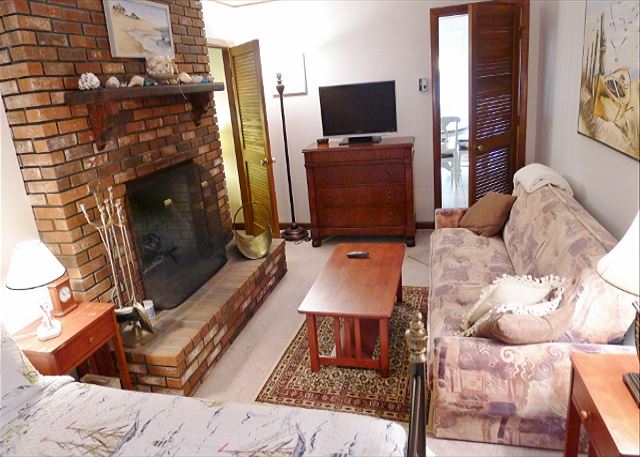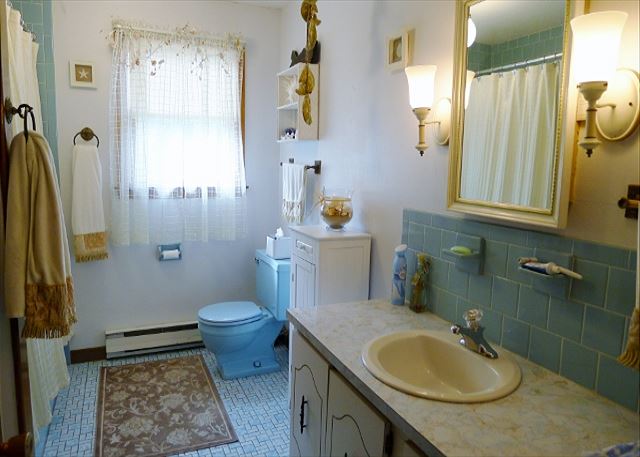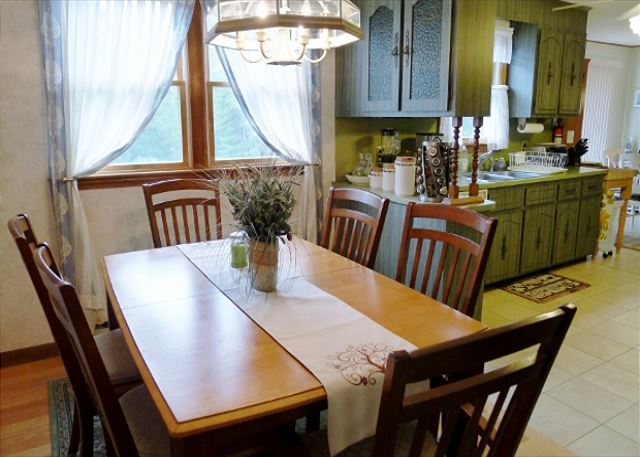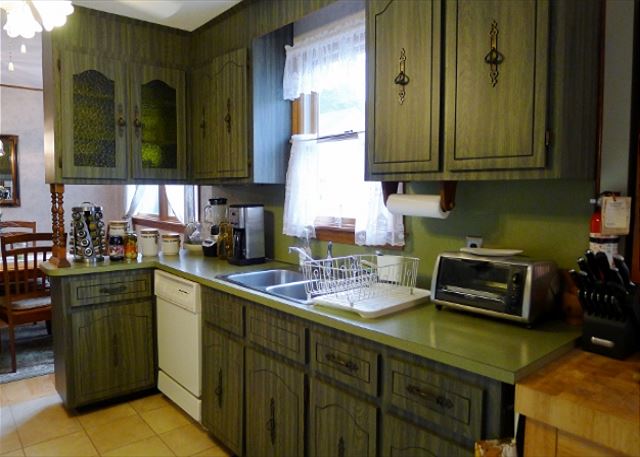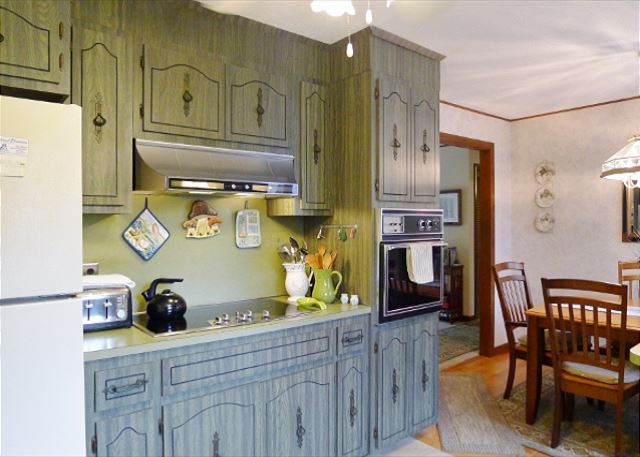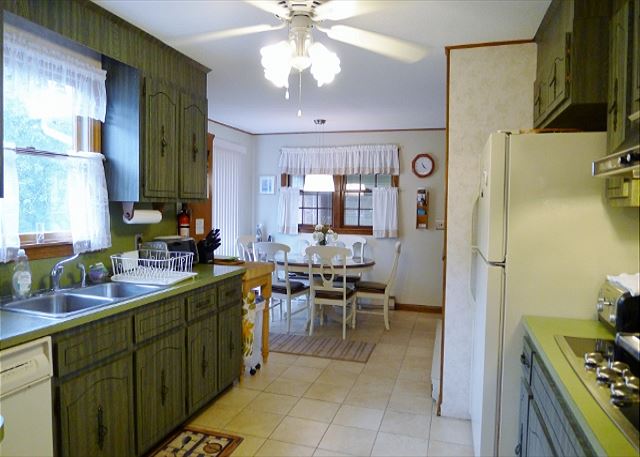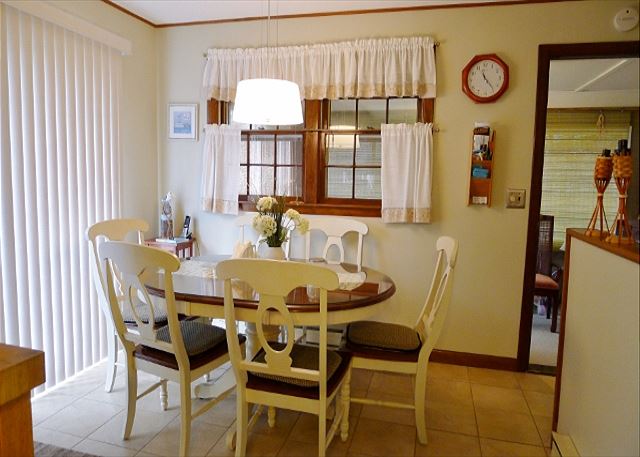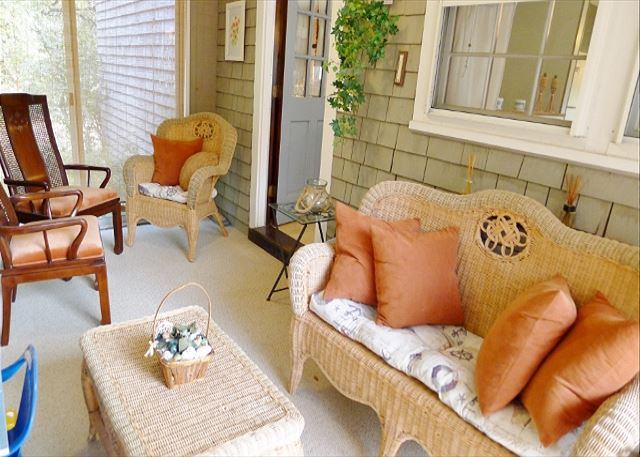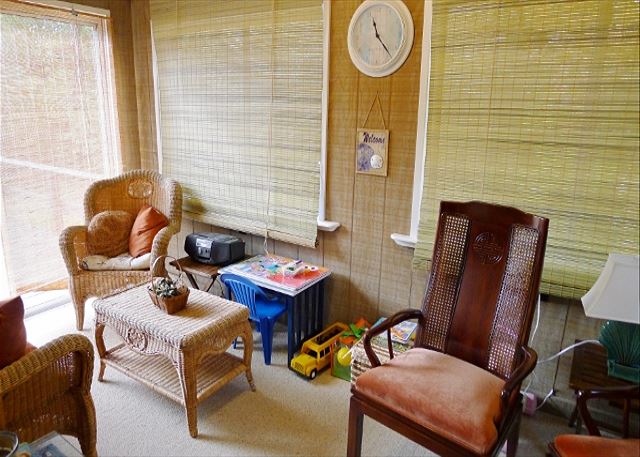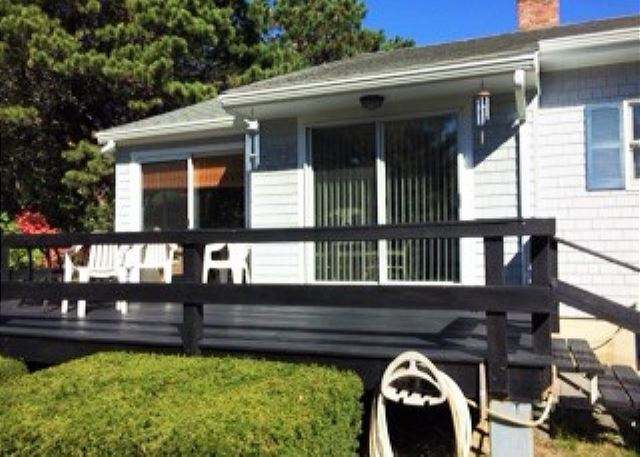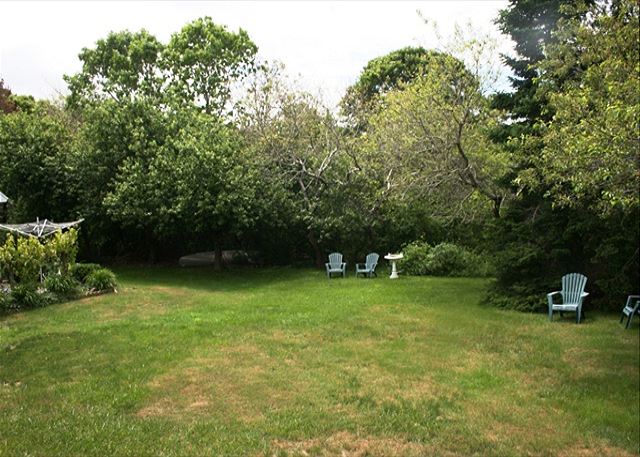 ---
Bedroom(s): 2.5
Bathroom(s): 1
Sleeps: 4
Type: House
Area:
Town: Eastham
Eastham cottage is located just 6/10's of a mile from Campground Beach! This 2+ bedroom, 1 bathroom home allows 4 guests and is located just minutes Cape Cod Bay and just a short drive to ocean beaches on the Cape Cod National Seashore.

There is a fully outfitted eat-in kitchen, 2 dining tables, a comfortable living room that offers a 40+ inch HD TV, a DVD player, Wi-Fi internet, and A/C!

Both bedrooms of this home offer a queen size bed and a window AC unit. There is also a den with a full size bed, a full size sleep sofa, and a TV. For your convenience, there is a washer and dryer located in the full bathroom.

There is a sun porch that leads out to a large deck with a gas & charcoal grill; great for BBQs & outdoor enjoyment. There is a large private yard with patio area adorned with grapevines off the garage and an enclosed outdoor shower.

NOTE: LINENS (SHEETS & TOWELS) ARE NOT INCLUDED IN THE RENTAL.

No smoking and no pets allowed.

Travel Insurance is highly recommended and affordable coverage to protect your vacation investment.

Please view our policy and procedure page on our web site for detailed information about renting with us.
- DVD Player
- Flat Screen HDTV
- Extended Cable
- Sleep Sofa
- AM/FM Radio
- Microwave
- Pantry items (sugar, salt & pep)
- Cleaning Supplies
- Cookware
- Dishes / Glassware / Utensils
- Kitchen Table
- Blender
- Toaster or Toaster Oven
- Ceiling Fan
- Dishwasher
- Lobster Pot
- Door to Deck
- TV
- Sleep Sofa/Futon
- Window A/C
- Room Fans
- Hair Dryer
- Deck
- Patio
- Gas Grill with Propane Tank
- Charcoal Grill
- Dining Table w/ Umbrella
- Enclosed Outdoor Shower
- Beach Chairs
- Outdoor Lighting
- Close to Town
- Near Cape Cod Bay Beaches
- Near Golf Course
Guest Reviews of
35 wilma Eastham , MA
Vacation 2016
Rental was advertised as AC's in 2 bedrooms. Arrived and only 1 AC and house windows all closed - had to be close to 100 degrees inside the house. Had to install the other AC unit myself from the garage. House was very clean - although a lot of clothing, food etc in the home. Had to keep our things separate from theirs. The cellar was extremely musty and spread a musty odor throughout the house until we got it cooled off with the AC.
4 out of 5 stars
Manager Response:
First, my apologies for the long delay in responding. With our new website, we've only recently been able to reply on line to guests who experience less than ideal conditions. I wish you had given us a call and we would have sent someone over to install the a/c for you and remove the clothes and food to another location. When it is hot, we instruct our cleaners not to turn off the a/c's when guests depart. The reason: to minimize or eliminate the musty odor that plagues Cape Cod cottages in the summer. In the future, I hope you will give us another opportunity to help you not only find the right rental, but help fix anything that is wrong asap – so you can start your vacation happy!
35 Wilma Rd
Great Experience
5 out of 5 stars
Stargazer's Dream
Review by
Donna C.
The home was better than advertised. It was clean and spacious. Properly stocked, Other than towels and bed linens, the house had everything else you'd need for your stay. We enjoyed our morning coffee on the front porch while the kids ran around the wrap around yard before heading out to the beach. The yard was our favorite part of the home, bring your binoculars or telescope, it is a stargazer's dream. We had our pick of some of the best beaches the National Seashore Park has to offer all within minutes of the home. The gas grill was a lifesaver on days when we were too tired to eat out. I found our bed a bit stiff but my husband said it felt good on his back. This place was nearly perfect and we cannot wait to go back next year.
5 out of 5 stars
January 2018

| S | M | T | W | T | F | S |
| --- | --- | --- | --- | --- | --- | --- |
| | 01 | 02 | 03 | 04 | 05 | 06 |
| 07 | 08 | 09 | 10 | 11 | 12 | 13 |
| 14 | 15 | 16 | 17 | 18 | 19 | 20 |
| 21 | 22 | 23 | 24 | 25 | 26 | 27 |
| 28 | 29 | 30 | 31 | | | |
February 2018

| S | M | T | W | T | F | S |
| --- | --- | --- | --- | --- | --- | --- |
| | | | | 01 | 02 | 03 |
| 04 | 05 | 06 | 07 | 08 | 09 | 10 |
| 11 | 12 | 13 | 14 | 15 | 16 | 17 |
| 18 | 19 | 20 | 21 | 22 | 23 | 24 |
| 25 | 26 | 27 | 28 | | | |
March 2018

| S | M | T | W | T | F | S |
| --- | --- | --- | --- | --- | --- | --- |
| | | | | 01 | 02 | 03 |
| 04 | 05 | 06 | 07 | 08 | 09 | 10 |
| 11 | 12 | 13 | 14 | 15 | 16 | 17 |
| 18 | 19 | 20 | 21 | 22 | 23 | 24 |
| 25 | 26 | 27 | 28 | 29 | 30 | 31 |
April 2018

| S | M | T | W | T | F | S |
| --- | --- | --- | --- | --- | --- | --- |
| 01 | 02 | 03 | 04 | 05 | 06 | 07 |
| 08 | 09 | 10 | 11 | 12 | 13 | 14 |
| 15 | 16 | 17 | 18 | 19 | 20 | 21 |
| 22 | 23 | 24 | 25 | 26 | 27 | 28 |
| 29 | 30 | | | | | |
May 2018

| S | M | T | W | T | F | S |
| --- | --- | --- | --- | --- | --- | --- |
| | | 01 | 02 | 03 | 04 | 05 |
| 06 | 07 | 08 | 09 | 10 | 11 | 12 |
| 13 | 14 | 15 | 16 | 17 | 18 | 19 |
| 20 | 21 | 22 | 23 | 24 | 25 | 26 |
| 27 | 28 | 29 | 30 | 31 | | |
June 2018

| S | M | T | W | T | F | S |
| --- | --- | --- | --- | --- | --- | --- |
| | | | | | 01 | 02 |
| 03 | 04 | 05 | 06 | 07 | 08 | 09 |
| 10 | 11 | 12 | 13 | 14 | 15 | 16 |
| 17 | 18 | 19 | 20 | 21 | 22 | 23 |
| 24 | 25 | 26 | 27 | 28 | 29 | 30 |
July 2018

| S | M | T | W | T | F | S |
| --- | --- | --- | --- | --- | --- | --- |
| 01 | 02 | 03 | 04 | 05 | 06 | 07 |
| 08 | 09 | 10 | 11 | 12 | 13 | 14 |
| 15 | 16 | 17 | 18 | 19 | 20 | 21 |
| 22 | 23 | 24 | 25 | 26 | 27 | 28 |
| 29 | 30 | 31 | | | | |
August 2018

| S | M | T | W | T | F | S |
| --- | --- | --- | --- | --- | --- | --- |
| | | | 01 | 02 | 03 | 04 |
| 05 | 06 | 07 | 08 | 09 | 10 | 11 |
| 12 | 13 | 14 | 15 | 16 | 17 | 18 |
| 19 | 20 | 21 | 22 | 23 | 24 | 25 |
| 26 | 27 | 28 | 29 | 30 | 31 | |
September 2018

| S | M | T | W | T | F | S |
| --- | --- | --- | --- | --- | --- | --- |
| | | | | | | 01 |
| 02 | 03 | 04 | 05 | 06 | 07 | 08 |
| 09 | 10 | 11 | 12 | 13 | 14 | 15 |
| 16 | 17 | 18 | 19 | 20 | 21 | 22 |
| 23 | 24 | 25 | 26 | 27 | 28 | 29 |
| 30 | | | | | | |
October 2018

| S | M | T | W | T | F | S |
| --- | --- | --- | --- | --- | --- | --- |
| | 01 | 02 | 03 | 04 | 05 | 06 |
| 07 | 08 | 09 | 10 | 11 | 12 | 13 |
| 14 | 15 | 16 | 17 | 18 | 19 | 20 |
| 21 | 22 | 23 | 24 | 25 | 26 | 27 |
| 28 | 29 | 30 | 31 | | | |
November 2018

| S | M | T | W | T | F | S |
| --- | --- | --- | --- | --- | --- | --- |
| | | | | 01 | 02 | 03 |
| 04 | 05 | 06 | 07 | 08 | 09 | 10 |
| 11 | 12 | 13 | 14 | 15 | 16 | 17 |
| 18 | 19 | 20 | 21 | 22 | 23 | 24 |
| 25 | 26 | 27 | 28 | 29 | 30 | |
December 2018

| S | M | T | W | T | F | S |
| --- | --- | --- | --- | --- | --- | --- |
| | | | | | | 01 |
| 02 | 03 | 04 | 05 | 06 | 07 | 08 |
| 09 | 10 | 11 | 12 | 13 | 14 | 15 |
| 16 | 17 | 18 | 19 | 20 | 21 | 22 |
| 23 | 24 | 25 | 26 | 27 | 28 | 29 |
| 30 | 31 | | | | | |
January 2019

| S | M | T | W | T | F | S |
| --- | --- | --- | --- | --- | --- | --- |
| | | 01 | 02 | 03 | 04 | 05 |
| 06 | 07 | 08 | 09 | 10 | 11 | 12 |
| 13 | 14 | 15 | 16 | 17 | 18 | 19 |
| 20 | 21 | 22 | 23 | 24 | 25 | 26 |
| 27 | 28 | 29 | 30 | 31 | | |
Available
Unavailable
Sat to Sat booking