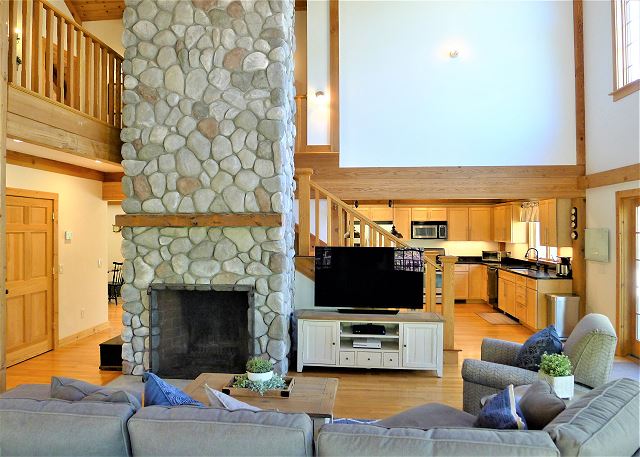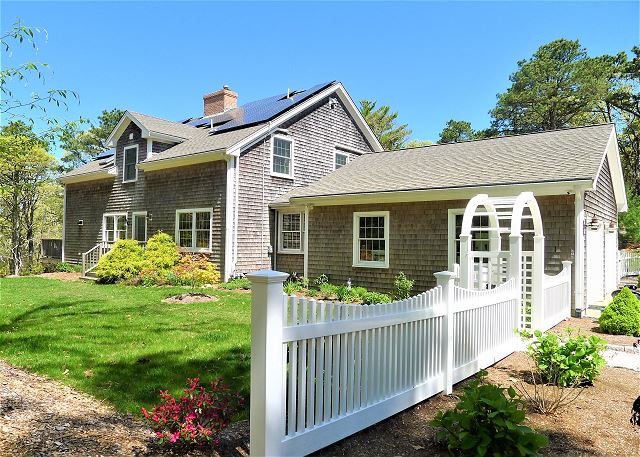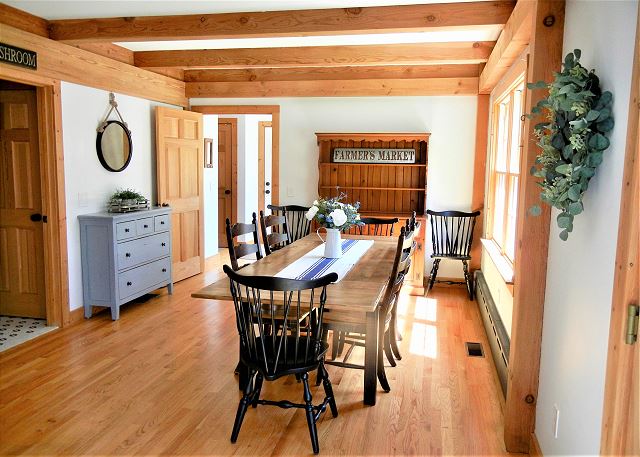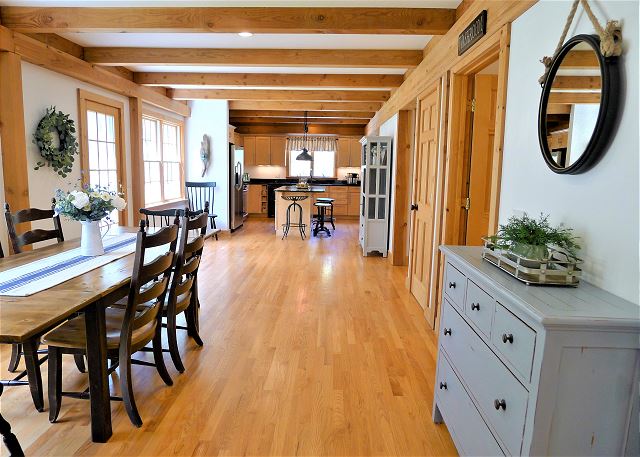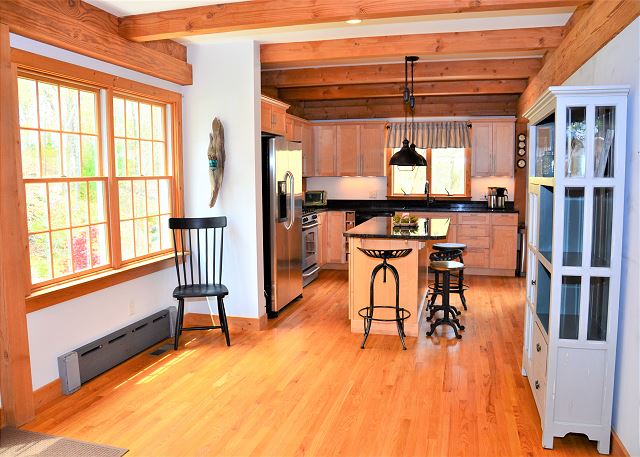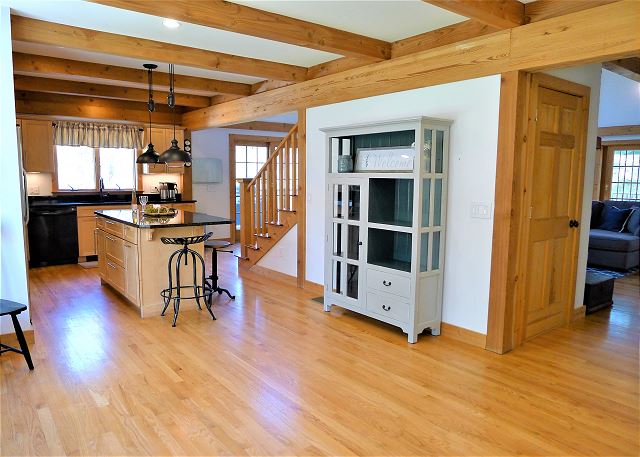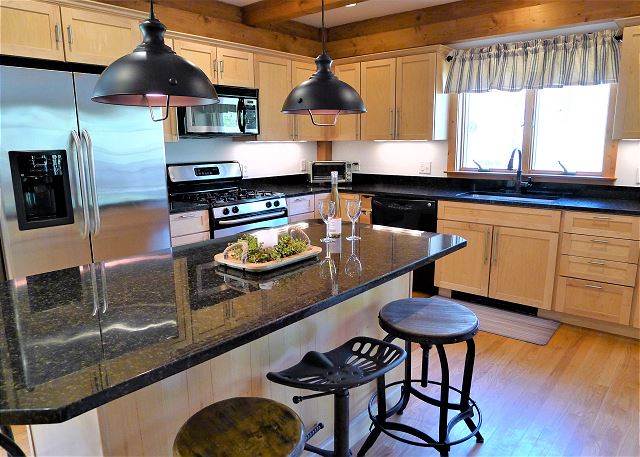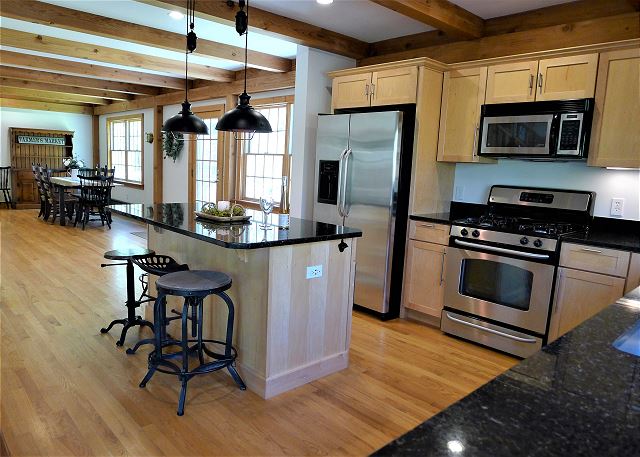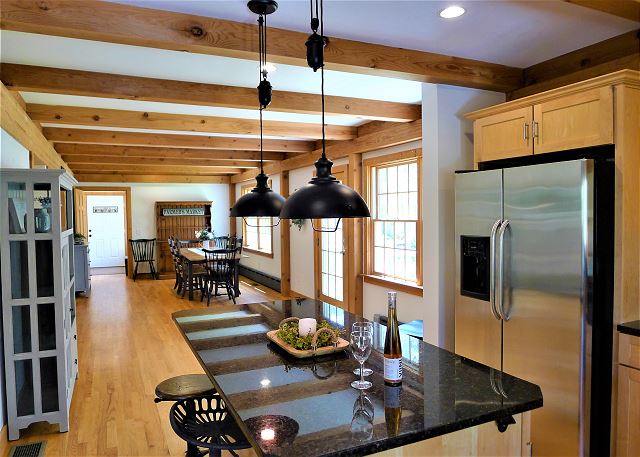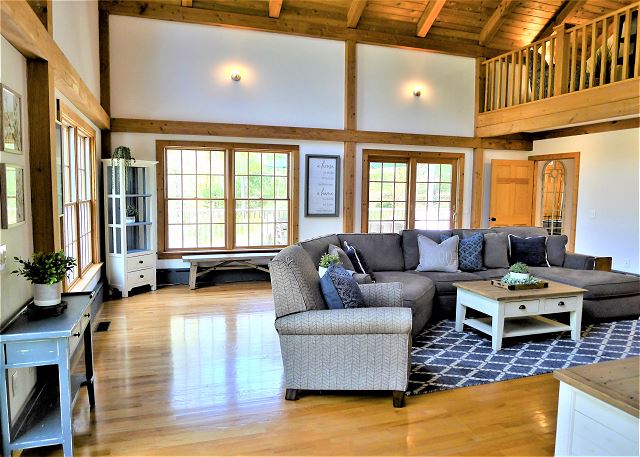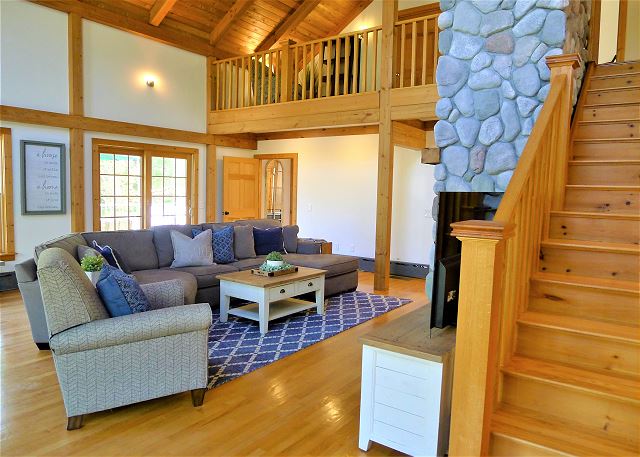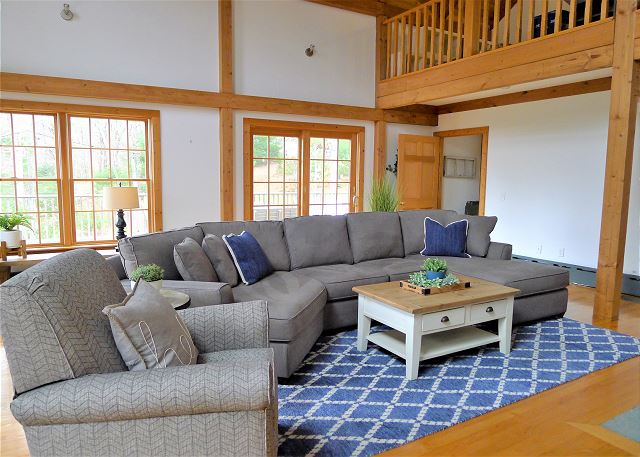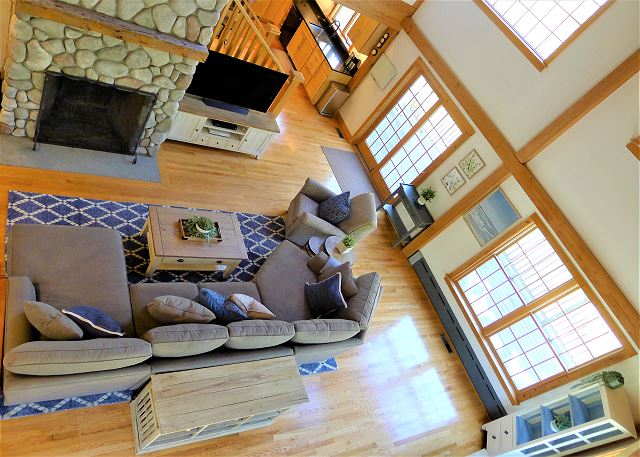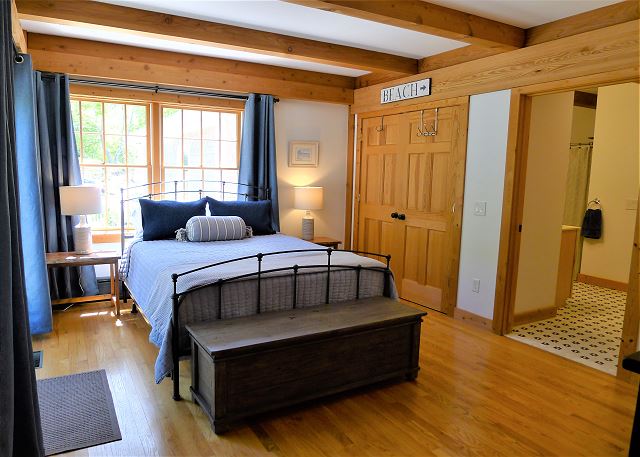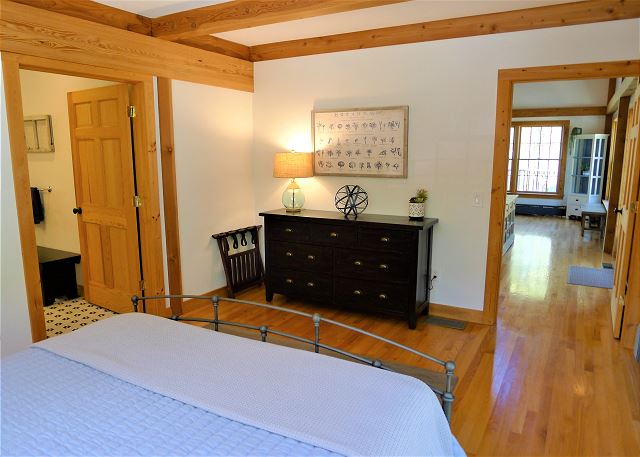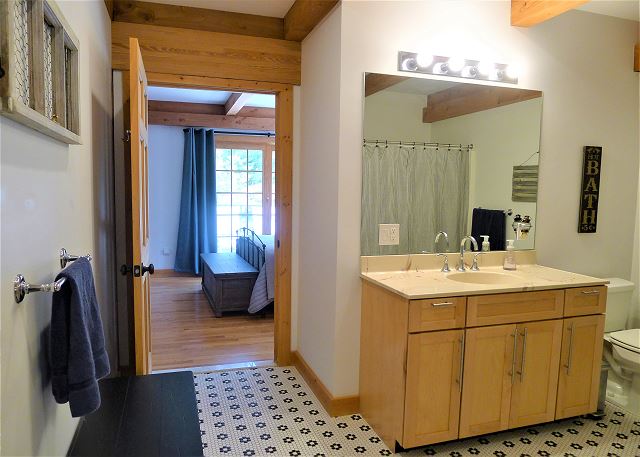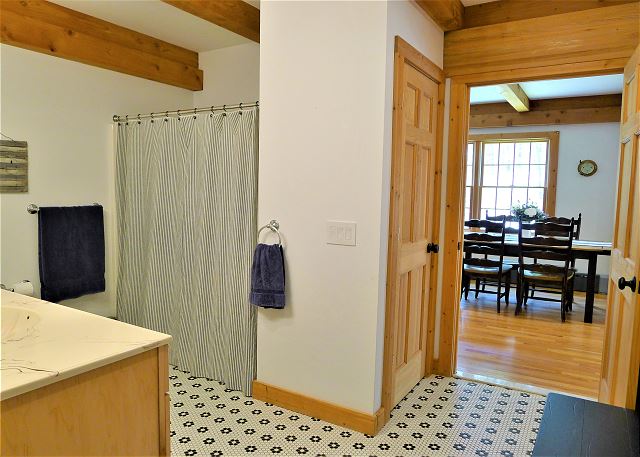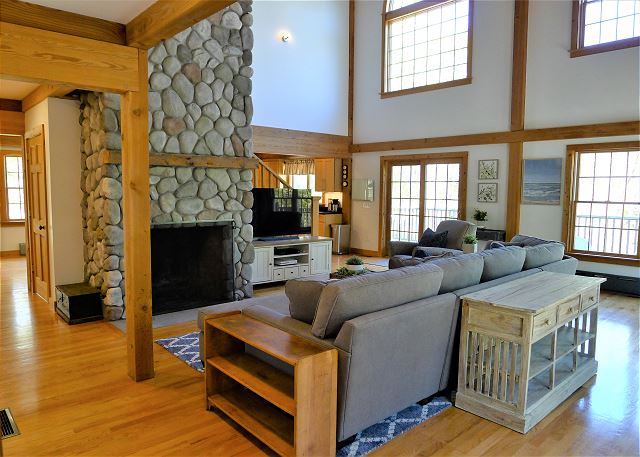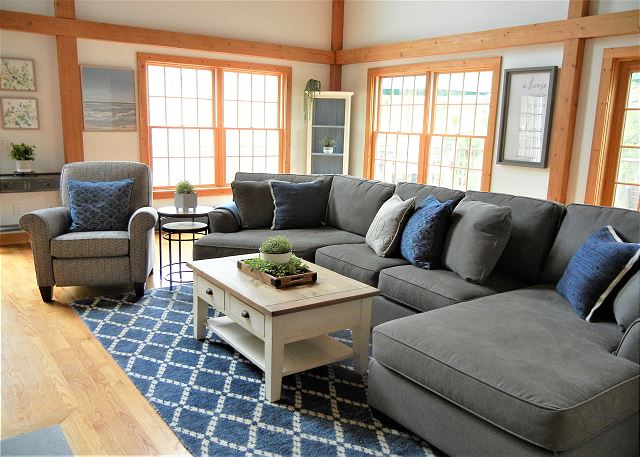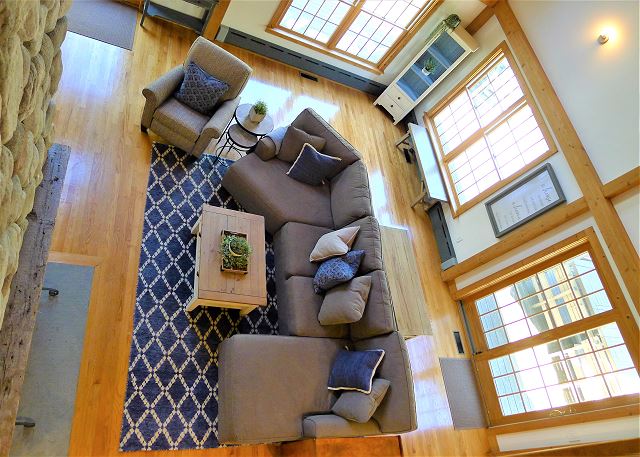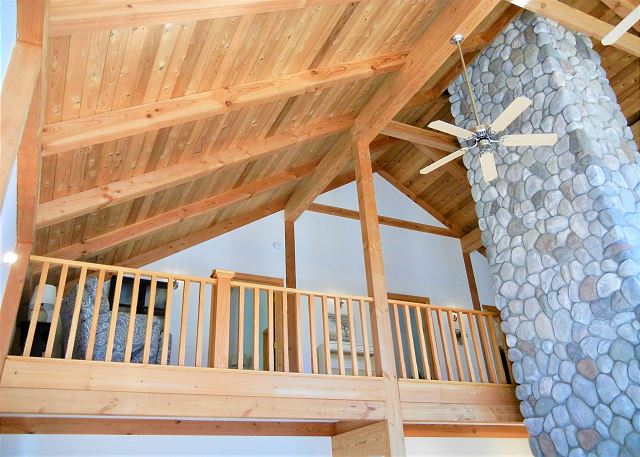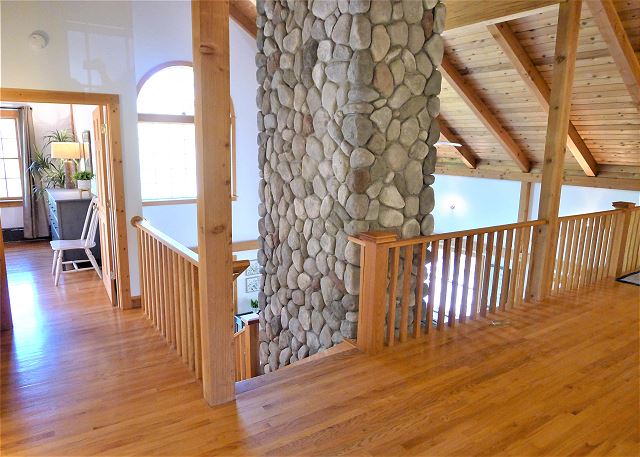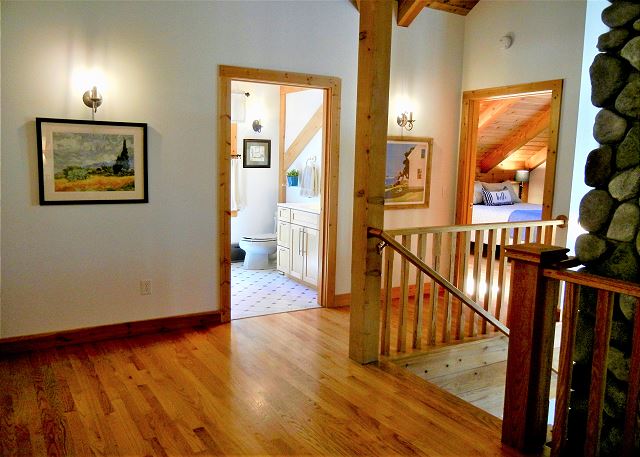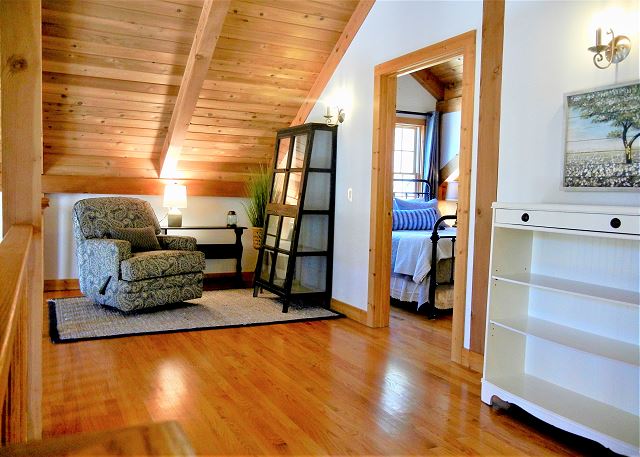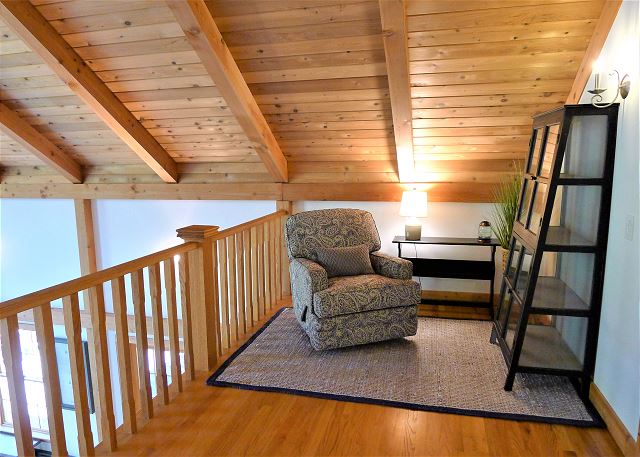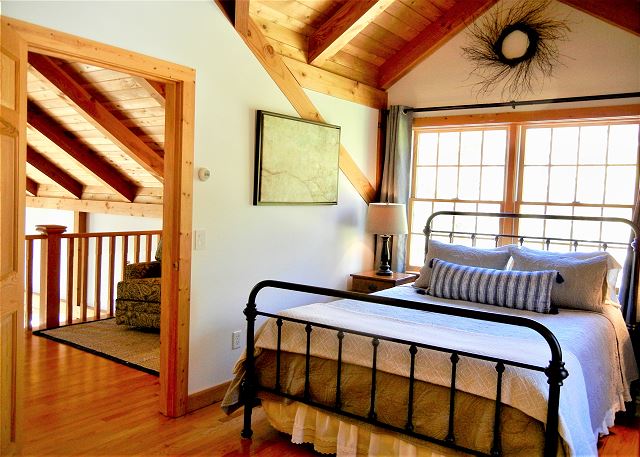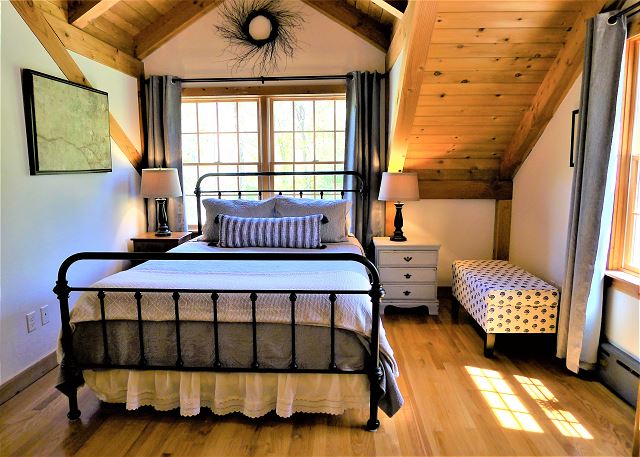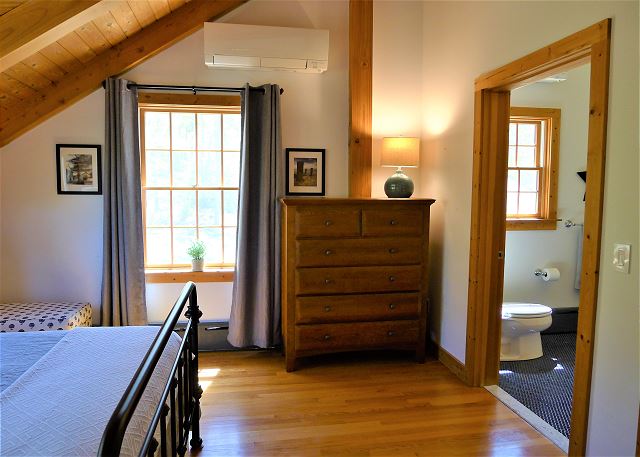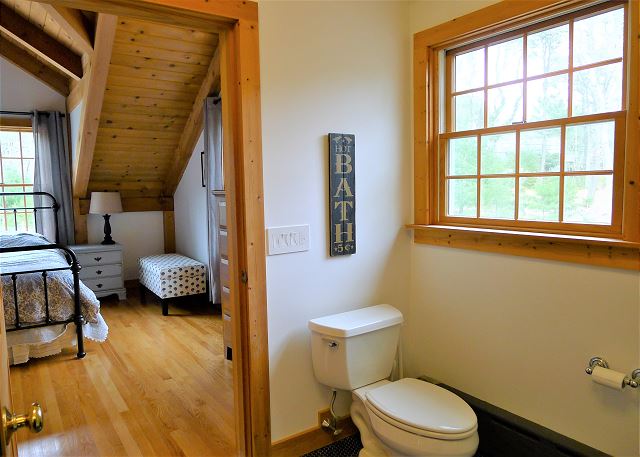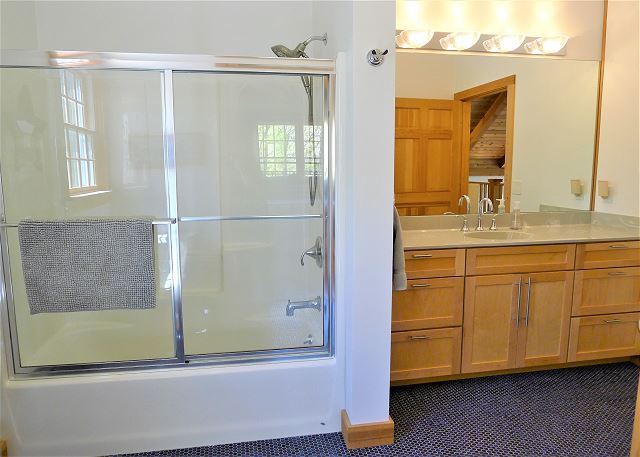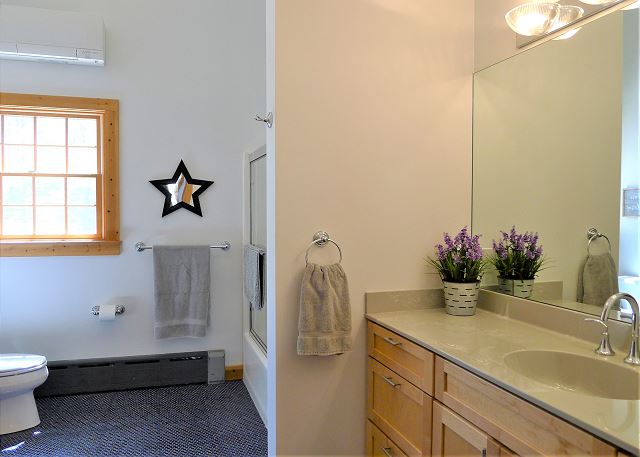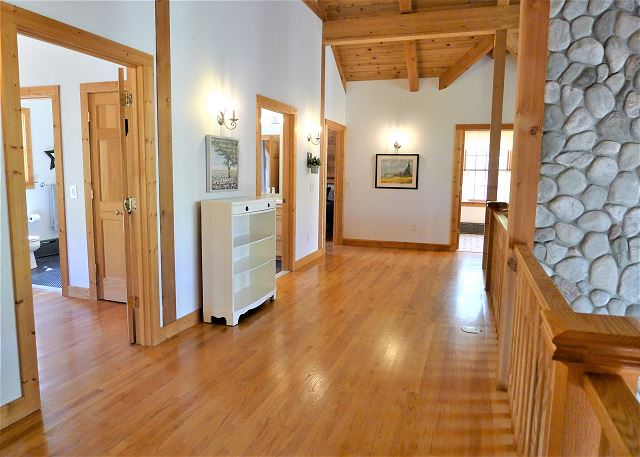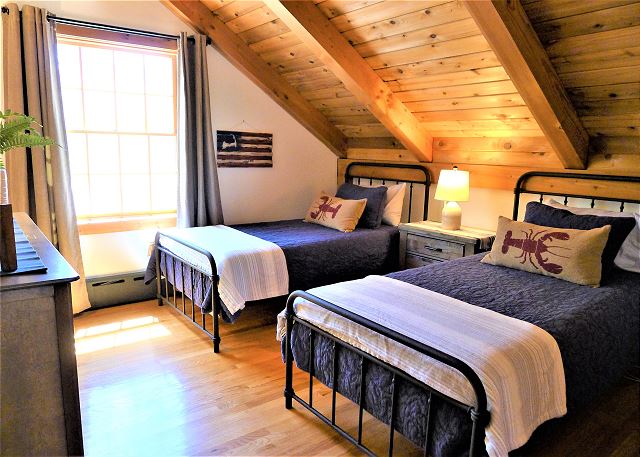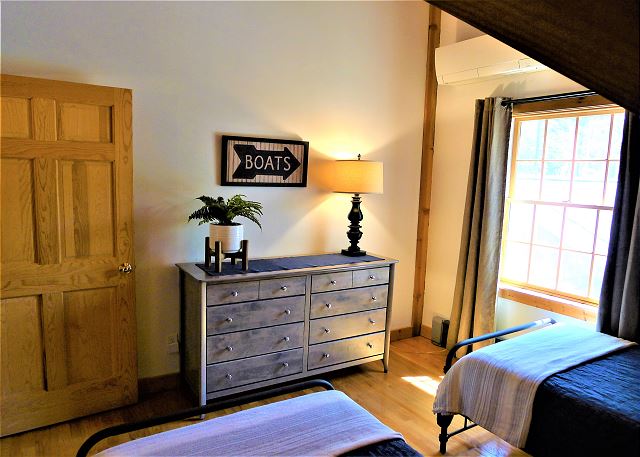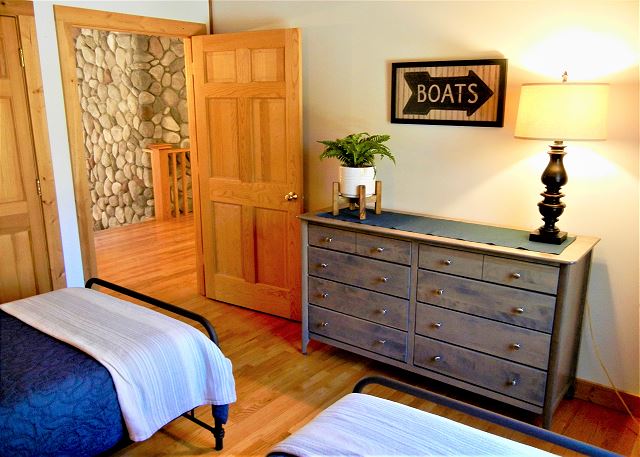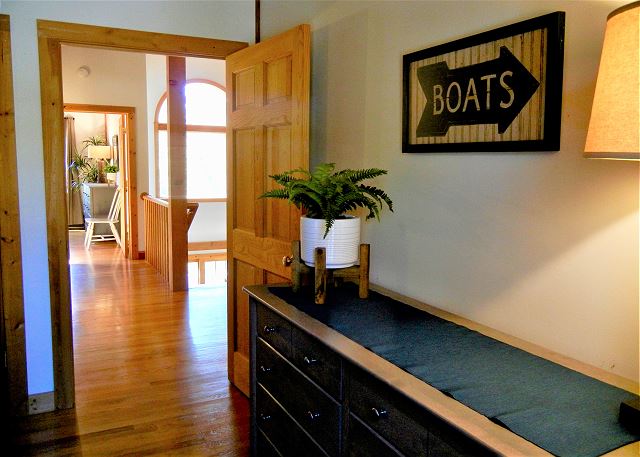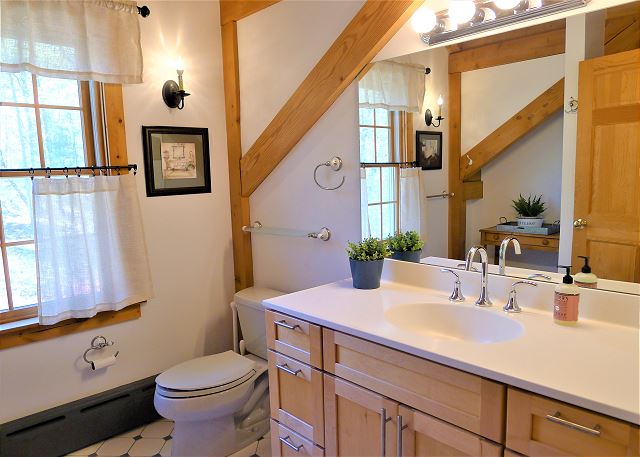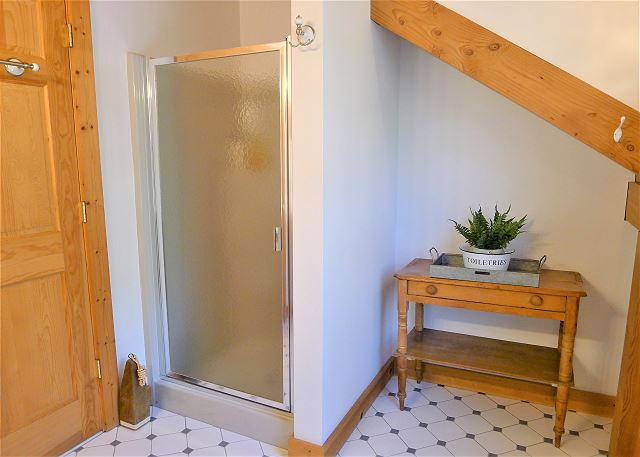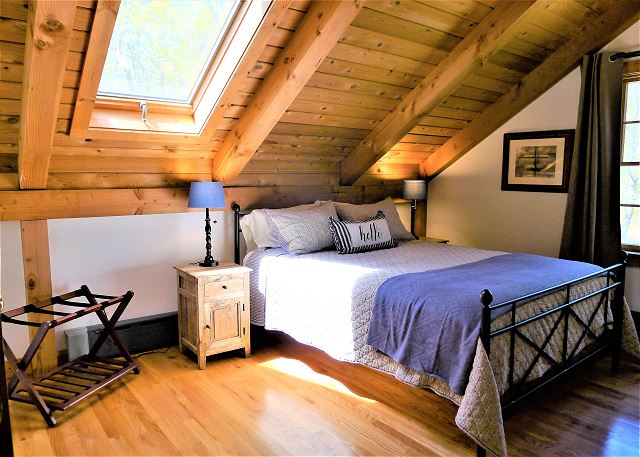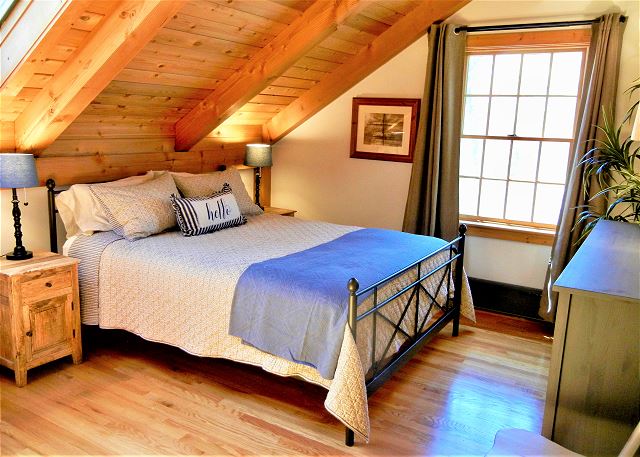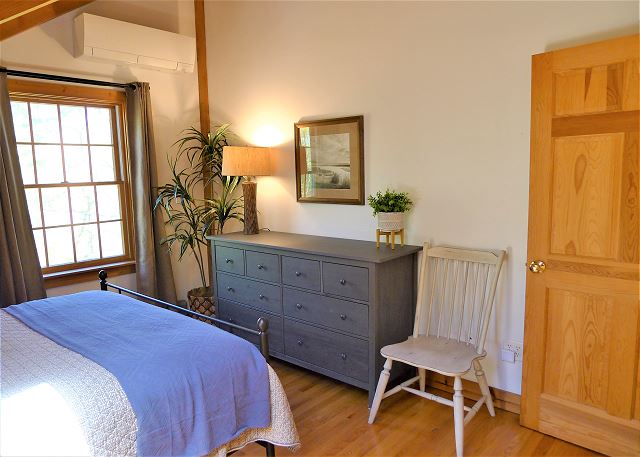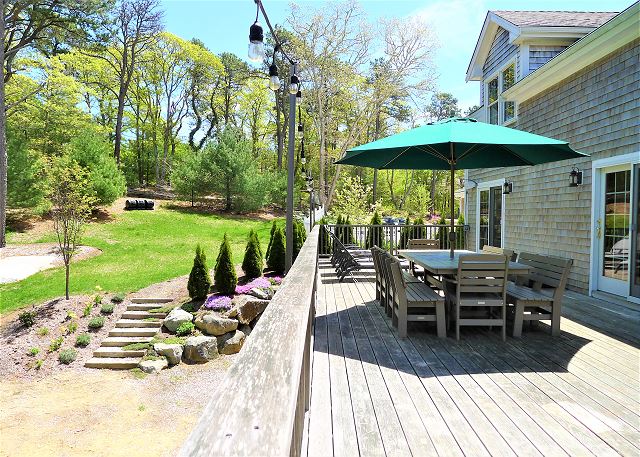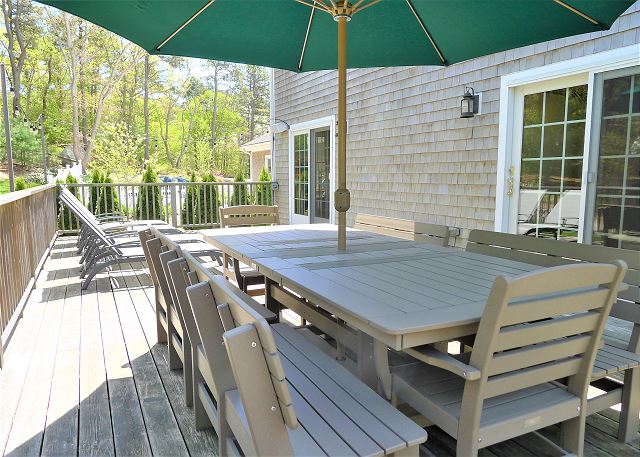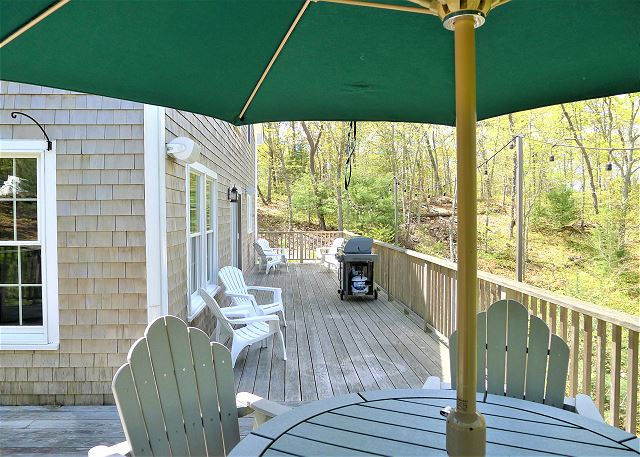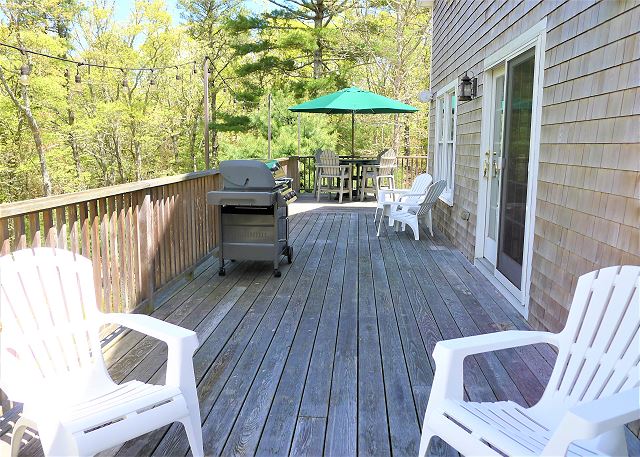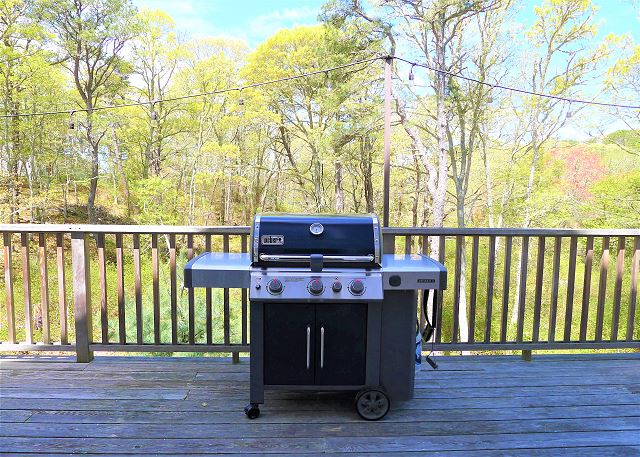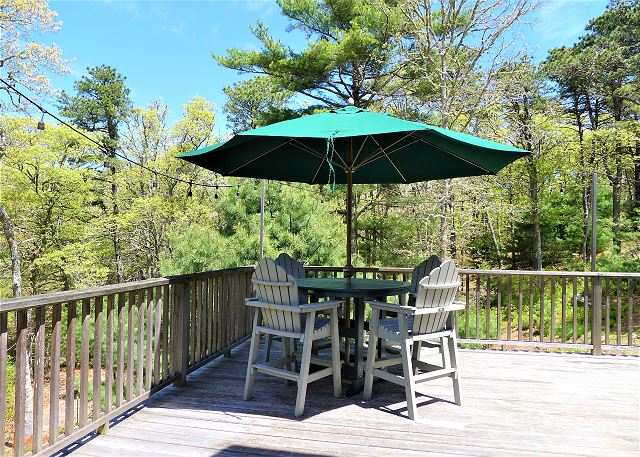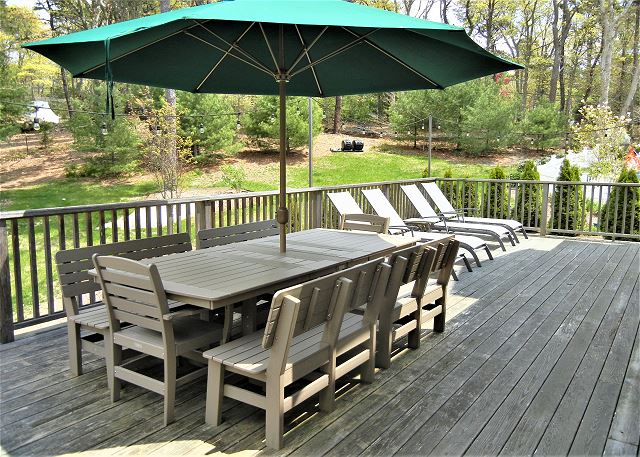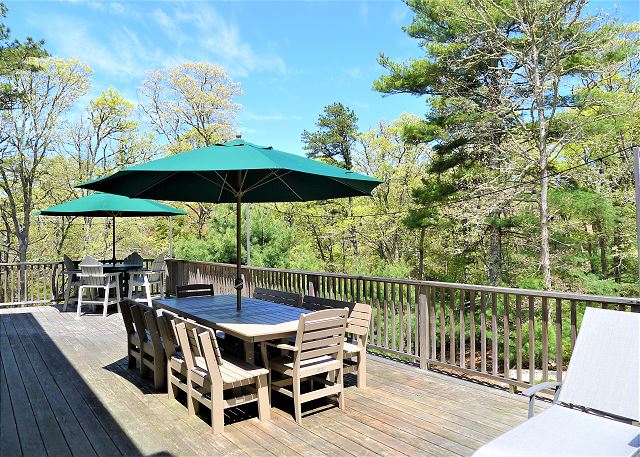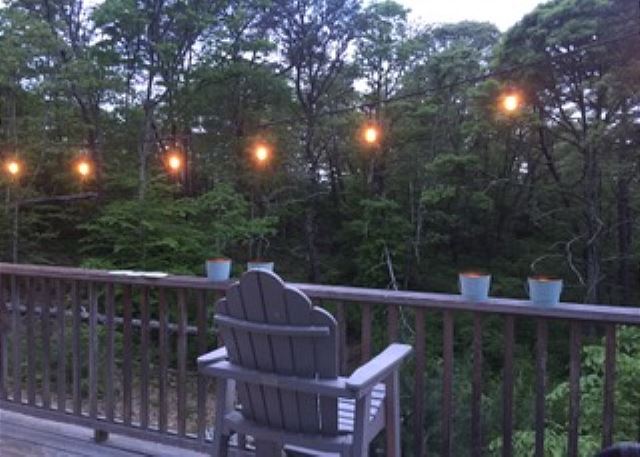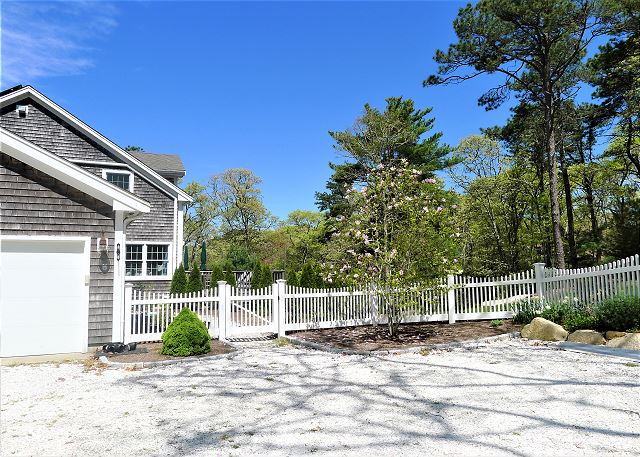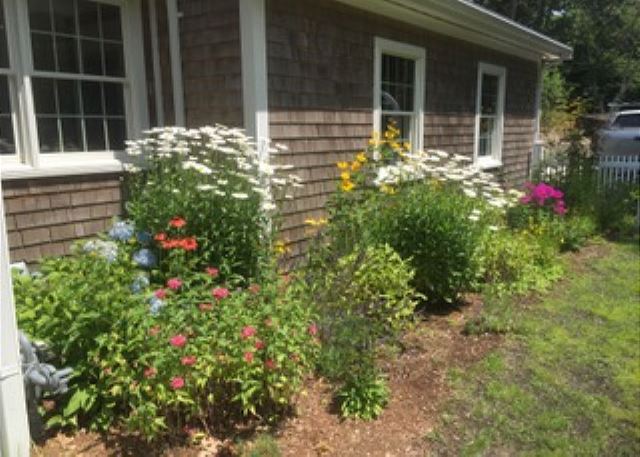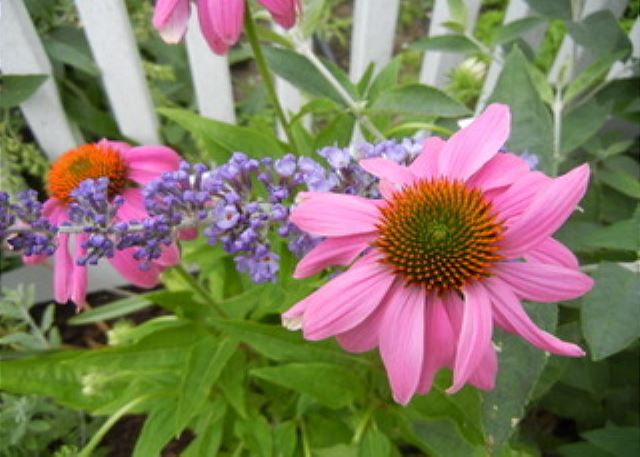 ---
Bedroom(s): 4
Bathroom(s): 3
Sleeps: 8
Type: House
Area: Mant's Landing
Town: Brewster
Tucked into an idyllic wooded neighborhood in Brewster with an abundance of wildlife, this 4 bedroom /3 bathroom solar-powered home for 8 guests is the ultimate retreat for nature lovers and adventurous spirits.

The location is literally across the street from the Punkhorn Parklands for hiking or jogging on narrow dirt roads or tree covered trails, and just up the road from Upper Mill pond for swimming, kayaking, paddling boarding, etc. Paine's Creek beach on the bay is just under 2 miles – a short and scenic distance by bike or car.

But the home itself is what steals the show. The first floor has central air and boasts soaring ceilings and huge, cathedral-like windows that catch light from morning til dusk. And with a minimalist (but comfortable) approach to furnishings, it is not only beautiful, but enormously peaceful. This home is immaculate – a great respite for an allergy sufferer!

A pristine stainless steel and granite kitchen flanks one side of the staircase, with island seating for four and dining for 10. The living room with double ceiling fans, modern sectional seating, and a 55" TV with XBox, extended cable and access to free on demand movies is on the other side of the stairs.

On this floor, there is 1 of 2 Master bedrooms that includes a queen bed and ensuite bathroom with a low curb base shower. This room has direct access to 1100 square foot deck that features outdoor dining for 10, a gas grill, a bar-height table for 4 and lounge chairs…an ideal spot to appreciate all the flora, fauna, and seemingly endless species of birds that lay claim to acres of this conservation land.

Upstairs, there are three more bedrooms, each cooled by a ductless a/c unit. Bedrooms #2 and #3 feature queen beds, and #4 a set of twins. The second floor has two full baths, one with a step in shower and the other with tub/shower combination.

With property that feels like a nature reserve, an interior that defines elegant simplicity, and a location that is both sequestered and convenient, this home is the consummate spot for your Cape Cod vacation.

Also included: Wifi, at least 4 beach (backpack) chairs including 1 small folding lounge chair*, 50 quart rolling cooler*, parking for 5 cars the driveway, washer/dryer. *Owners provide these items as favors to guests only and not as an integral part of the rental. If these items become lost or damaged during the course of the rental season, owners are not responsible for replacement.

LINENS (SHEETS/TOWELS) ARE NOT INCLUDED IN THIS RENTAL.

No pets or smoking allowed.

8 guests maximum allowed at any time. No parties exceeding the occupancy limit allowed.

We offer travel insurance which is highly recommended and affordable coverage to protect your vacation investment.

Please view our policy and procedure page on our web site for detailed information about renting with us.

State and local taxes are applicable and may vary based on local ordinances and bylaws. Tax rates are subject to change.
- DVD Player
- Flat Screen HDTV
- Extended Cable
- Fireplace
- Ceiling Fan
- WiFi
- Iron/Ironing Board
- Central Air Conditioning
- entrance to deck
- Microwave
- Teapot or Tea Kettle
- Drip Coffee Maker
- Cleaning Supplies
- Cookware
- Dishes / Glassware / Utensils
- Blender
- Ice Maker
- Island or Counter Seating
- Dishwasher
- Lobster Pot
- Door to Deck
- microwave
- Toaster Oven
- Dining Table
- Deck
- On Suite Main Bedroom Bath
- ductless a/c in each bedroom
- entrance to deck
- Hair Dryer
- Shower Only
- Tub/Shower Combo
- Walk-In Shower
- ensuite main walk in shower
- Washer & Dryer
- Deck
- Enclosed/Fenced yard
- Gas Grill with Propane Tank
- Dining Table w/o Umbrella
- Outdoor Lighting
- Outdoor Seating
- Outdoor Dining Table
- Near Cape Cod Bay Beaches
- near park
December 2019

| S | M | T | W | T | F | S |
| --- | --- | --- | --- | --- | --- | --- |
| 01 | 02 | 03 | 04 | 05 | 06 | 07 |
| 08 | 09 | 10 | 11 | 12 | 13 | 14 |
| 15 | 16 | 17 | 18 | 19 | 20 | 21 |
| 22 | 23 | 24 | 25 | 26 | 27 | 28 |
| 29 | 30 | 31 | | | | |
January 2020

| S | M | T | W | T | F | S |
| --- | --- | --- | --- | --- | --- | --- |
| | | | 01 | 02 | 03 | 04 |
| 05 | 06 | 07 | 08 | 09 | 10 | 11 |
| 12 | 13 | 14 | 15 | 16 | 17 | 18 |
| 19 | 20 | 21 | 22 | 23 | 24 | 25 |
| 26 | 27 | 28 | 29 | 30 | 31 | |
February 2020

| S | M | T | W | T | F | S |
| --- | --- | --- | --- | --- | --- | --- |
| | | | | | | 01 |
| 02 | 03 | 04 | 05 | 06 | 07 | 08 |
| 09 | 10 | 11 | 12 | 13 | 14 | 15 |
| 16 | 17 | 18 | 19 | 20 | 21 | 22 |
| 23 | 24 | 25 | 26 | 27 | 28 | 29 |
March 2020

| S | M | T | W | T | F | S |
| --- | --- | --- | --- | --- | --- | --- |
| 01 | 02 | 03 | 04 | 05 | 06 | 07 |
| 08 | 09 | 10 | 11 | 12 | 13 | 14 |
| 15 | 16 | 17 | 18 | 19 | 20 | 21 |
| 22 | 23 | 24 | 25 | 26 | 27 | 28 |
| 29 | 30 | 31 | | | | |
April 2020

| S | M | T | W | T | F | S |
| --- | --- | --- | --- | --- | --- | --- |
| | | | 01 | 02 | 03 | 04 |
| 05 | 06 | 07 | 08 | 09 | 10 | 11 |
| 12 | 13 | 14 | 15 | 16 | 17 | 18 |
| 19 | 20 | 21 | 22 | 23 | 24 | 25 |
| 26 | 27 | 28 | 29 | 30 | | |
May 2020

| S | M | T | W | T | F | S |
| --- | --- | --- | --- | --- | --- | --- |
| | | | | | 01 | 02 |
| 03 | 04 | 05 | 06 | 07 | 08 | 09 |
| 10 | 11 | 12 | 13 | 14 | 15 | 16 |
| 17 | 18 | 19 | 20 | 21 | 22 | 23 |
| 24 | 25 | 26 | 27 | 28 | 29 | 30 |
| 31 | | | | | | |
June 2020

| S | M | T | W | T | F | S |
| --- | --- | --- | --- | --- | --- | --- |
| | 01 | 02 | 03 | 04 | 05 | 06 |
| 07 | 08 | 09 | 10 | 11 | 12 | 13 |
| 14 | 15 | 16 | 17 | 18 | 19 | 20 |
| 21 | 22 | 23 | 24 | 25 | 26 | 27 |
| 28 | 29 | 30 | | | | |
July 2020

| S | M | T | W | T | F | S |
| --- | --- | --- | --- | --- | --- | --- |
| | | | 01 | 02 | 03 | 04 |
| 05 | 06 | 07 | 08 | 09 | 10 | 11 |
| 12 | 13 | 14 | 15 | 16 | 17 | 18 |
| 19 | 20 | 21 | 22 | 23 | 24 | 25 |
| 26 | 27 | 28 | 29 | 30 | 31 | |
August 2020

| S | M | T | W | T | F | S |
| --- | --- | --- | --- | --- | --- | --- |
| | | | | | | 01 |
| 02 | 03 | 04 | 05 | 06 | 07 | 08 |
| 09 | 10 | 11 | 12 | 13 | 14 | 15 |
| 16 | 17 | 18 | 19 | 20 | 21 | 22 |
| 23 | 24 | 25 | 26 | 27 | 28 | 29 |
| 30 | 31 | | | | | |
September 2020

| S | M | T | W | T | F | S |
| --- | --- | --- | --- | --- | --- | --- |
| | | 01 | 02 | 03 | 04 | 05 |
| 06 | 07 | 08 | 09 | 10 | 11 | 12 |
| 13 | 14 | 15 | 16 | 17 | 18 | 19 |
| 20 | 21 | 22 | 23 | 24 | 25 | 26 |
| 27 | 28 | 29 | 30 | | | |
October 2020

| S | M | T | W | T | F | S |
| --- | --- | --- | --- | --- | --- | --- |
| | | | | 01 | 02 | 03 |
| 04 | 05 | 06 | 07 | 08 | 09 | 10 |
| 11 | 12 | 13 | 14 | 15 | 16 | 17 |
| 18 | 19 | 20 | 21 | 22 | 23 | 24 |
| 25 | 26 | 27 | 28 | 29 | 30 | 31 |
November 2020

| S | M | T | W | T | F | S |
| --- | --- | --- | --- | --- | --- | --- |
| 01 | 02 | 03 | 04 | 05 | 06 | 07 |
| 08 | 09 | 10 | 11 | 12 | 13 | 14 |
| 15 | 16 | 17 | 18 | 19 | 20 | 21 |
| 22 | 23 | 24 | 25 | 26 | 27 | 28 |
| 29 | 30 | | | | | |
December 2020

| S | M | T | W | T | F | S |
| --- | --- | --- | --- | --- | --- | --- |
| | | 01 | 02 | 03 | 04 | 05 |
| 06 | 07 | 08 | 09 | 10 | 11 | 12 |
| 13 | 14 | 15 | 16 | 17 | 18 | 19 |
| 20 | 21 | 22 | 23 | 24 | 25 | 26 |
| 27 | 28 | 29 | 30 | 31 | | |
Available
Unavailable
Sat to Sat booking