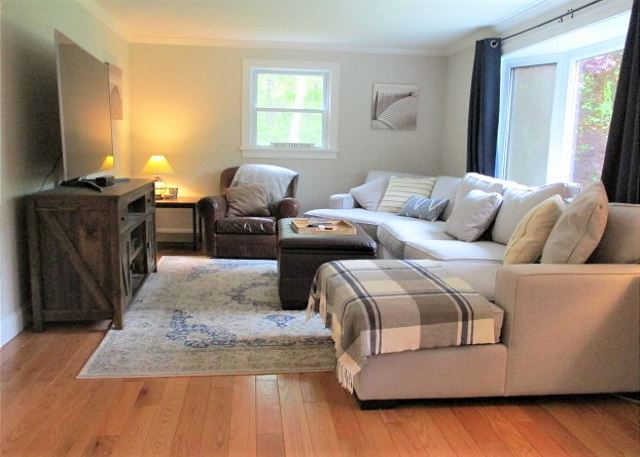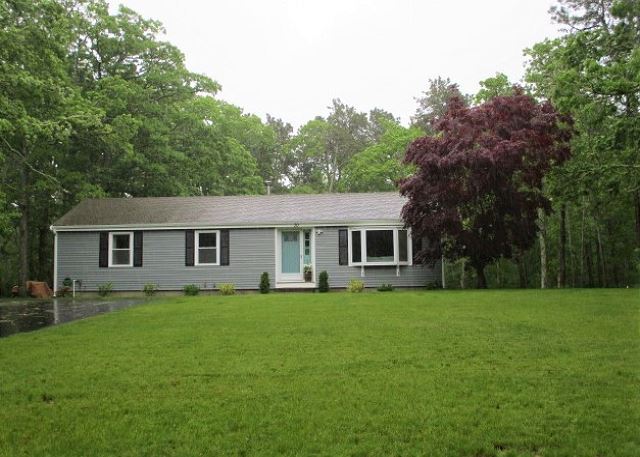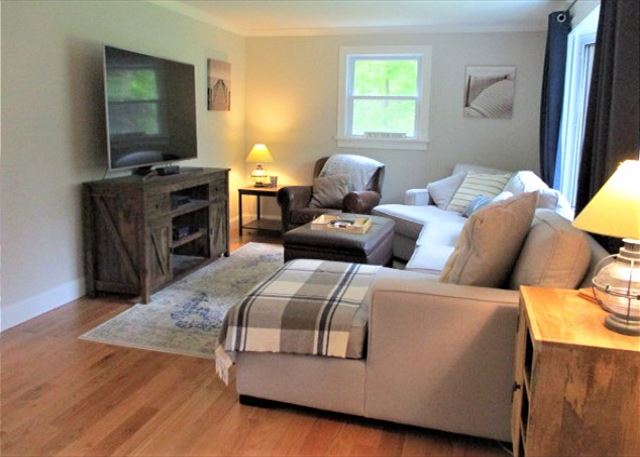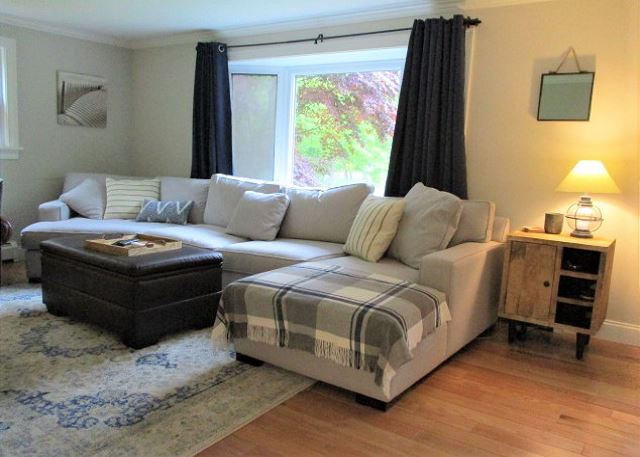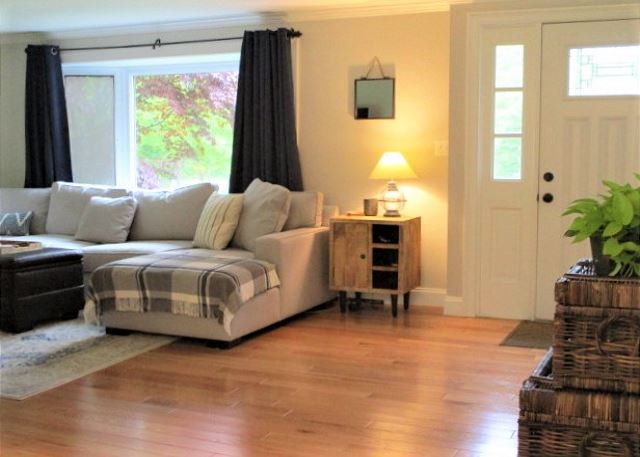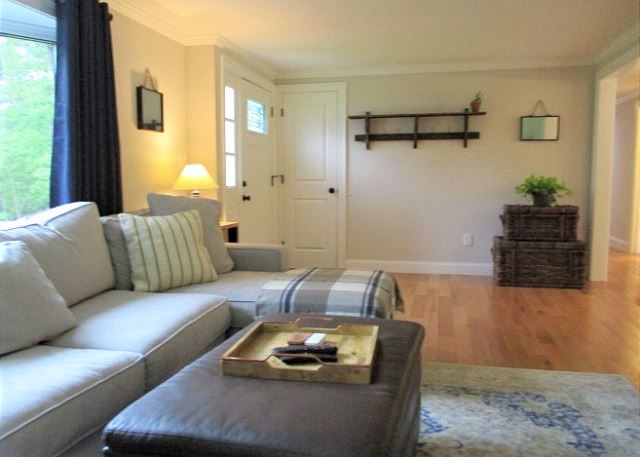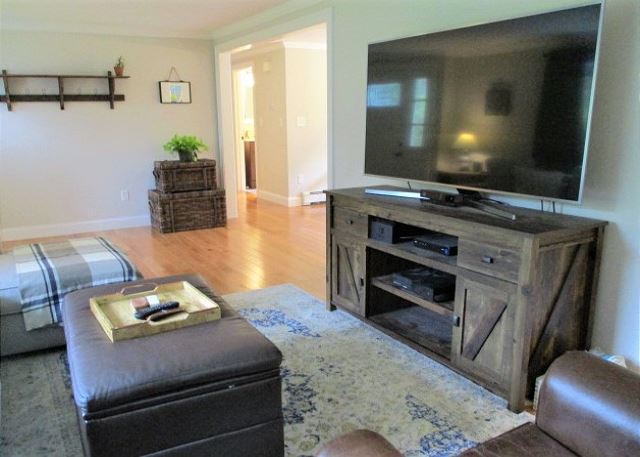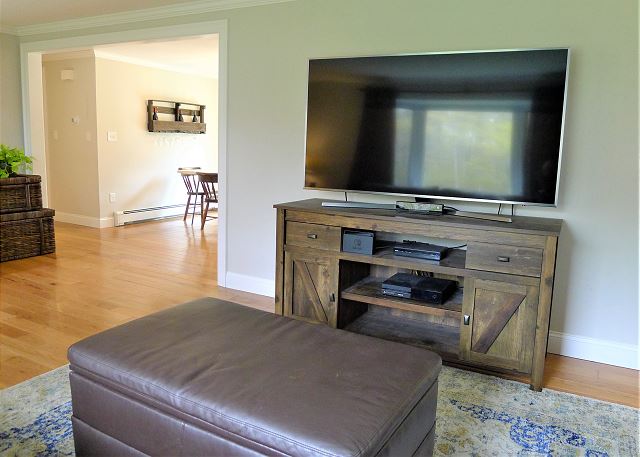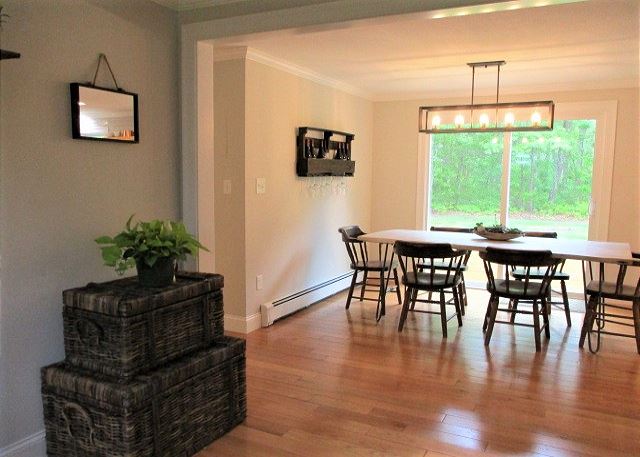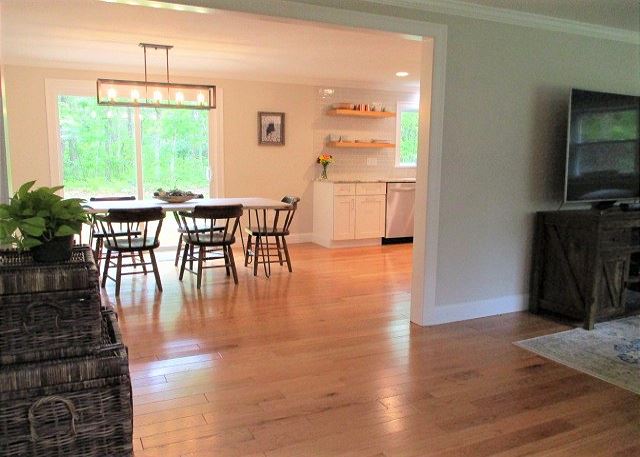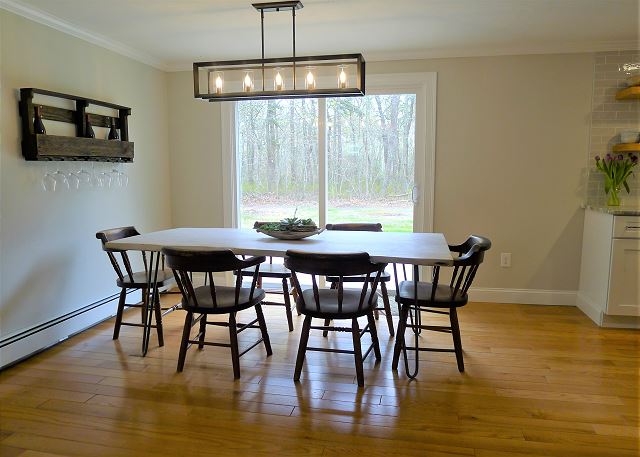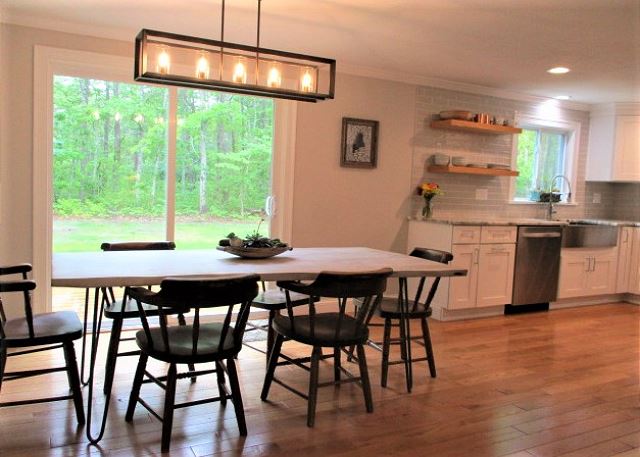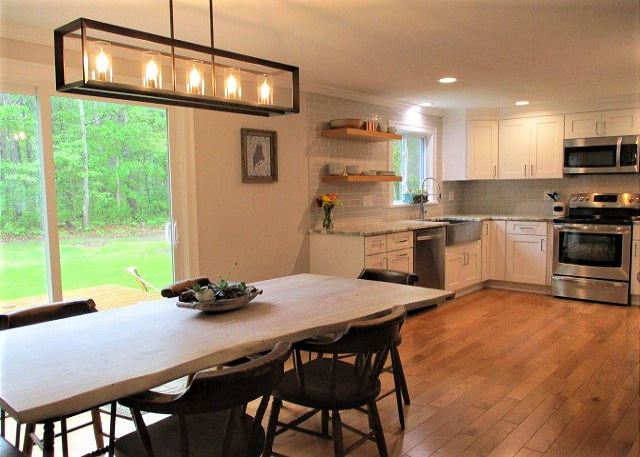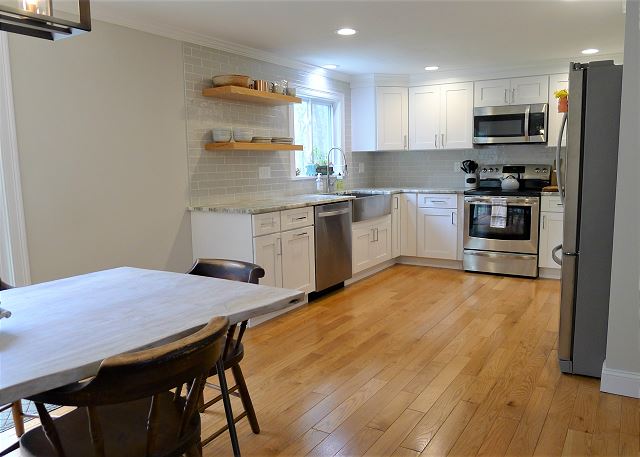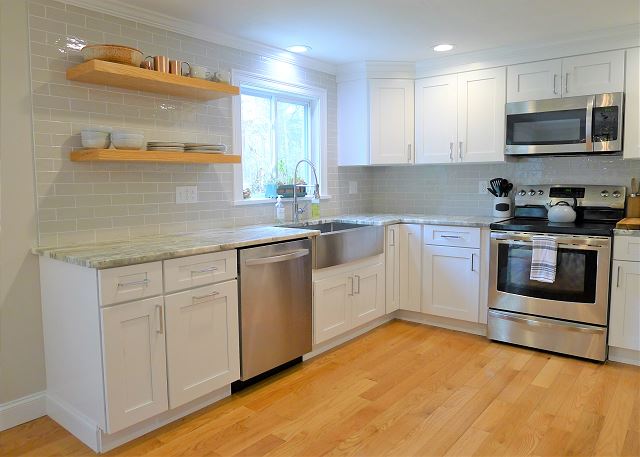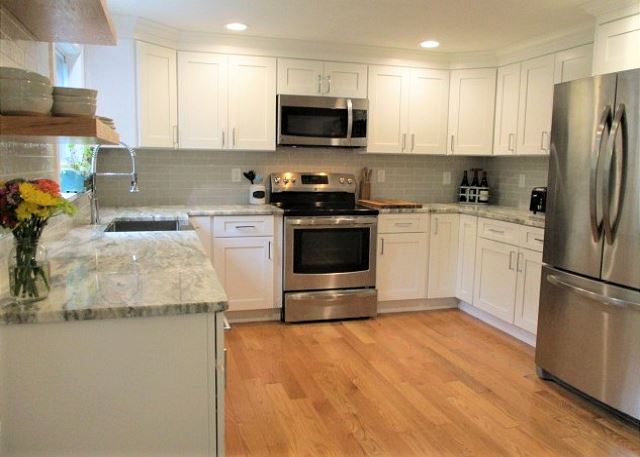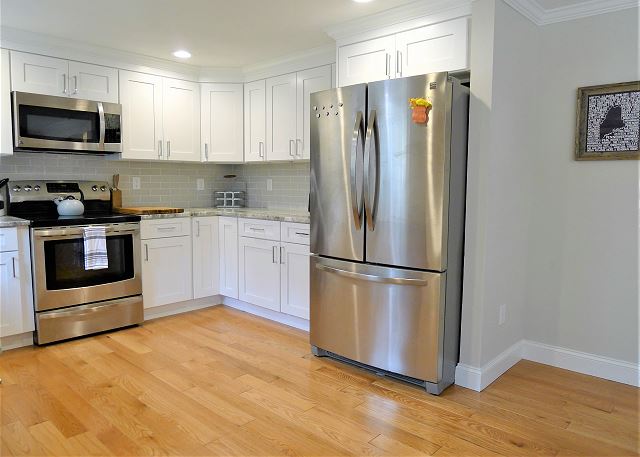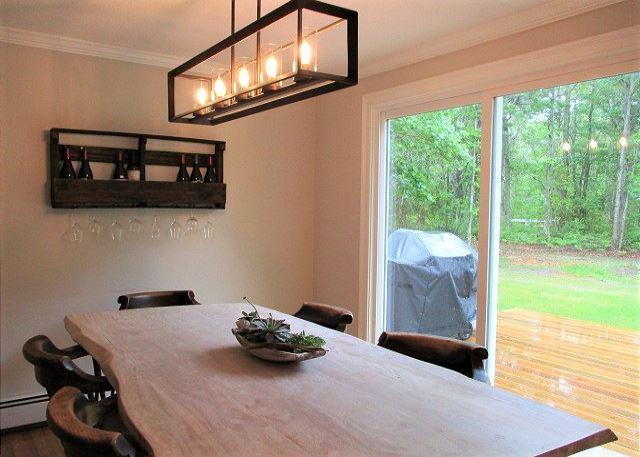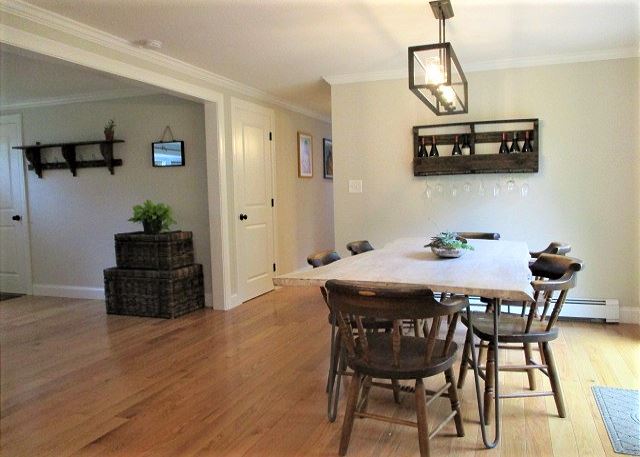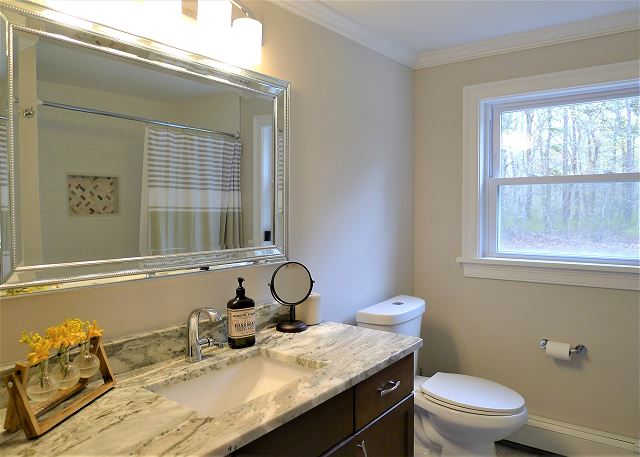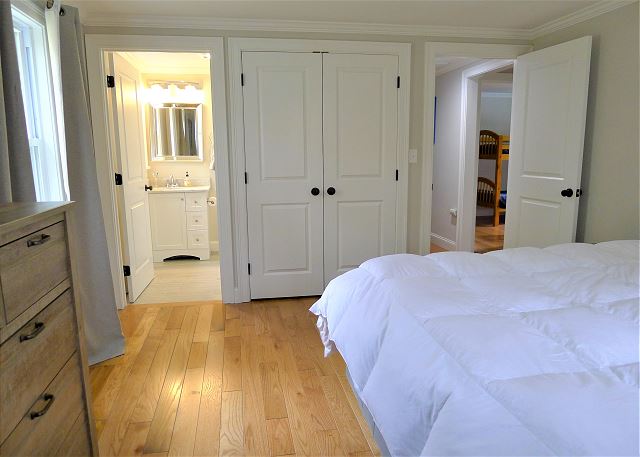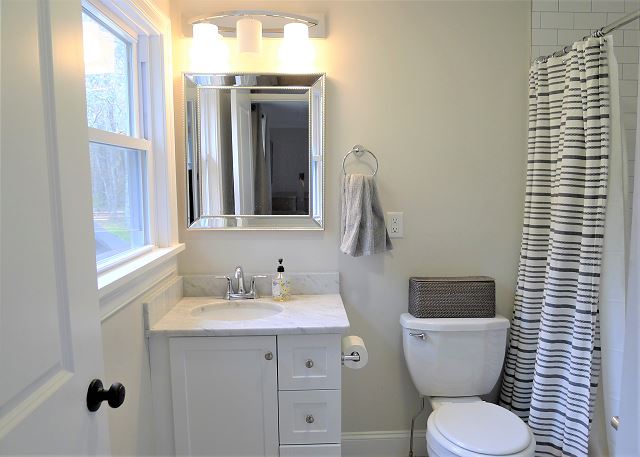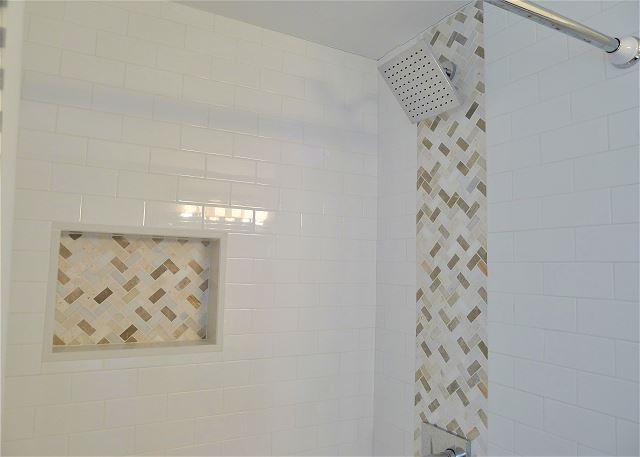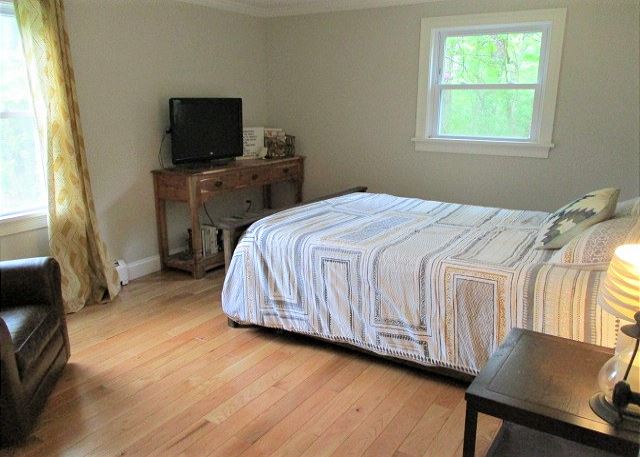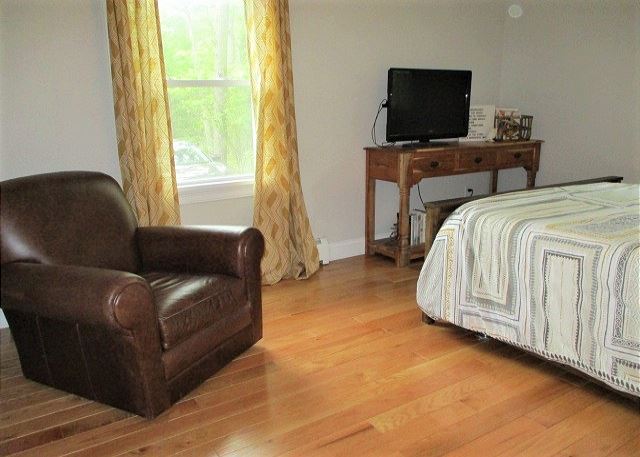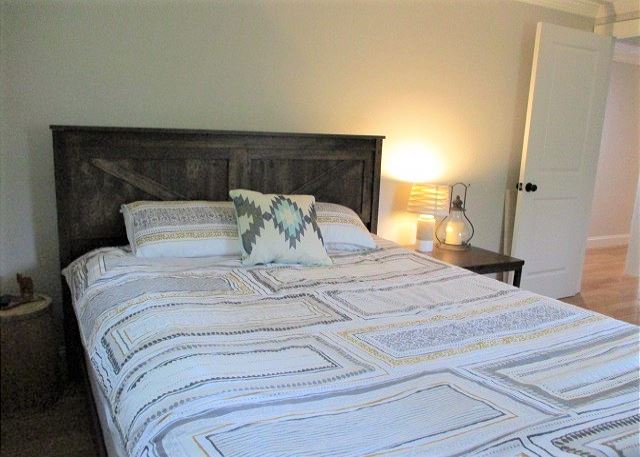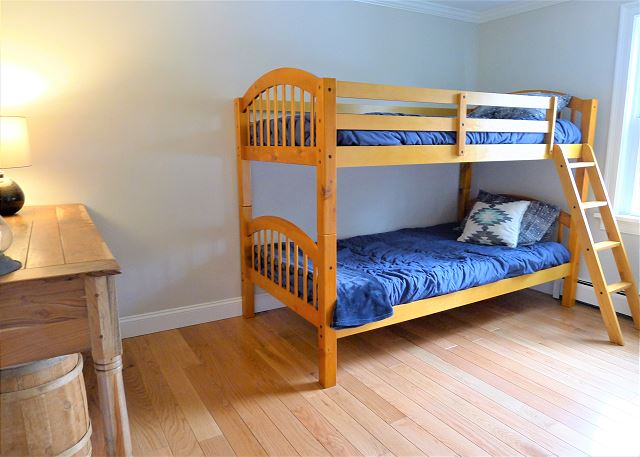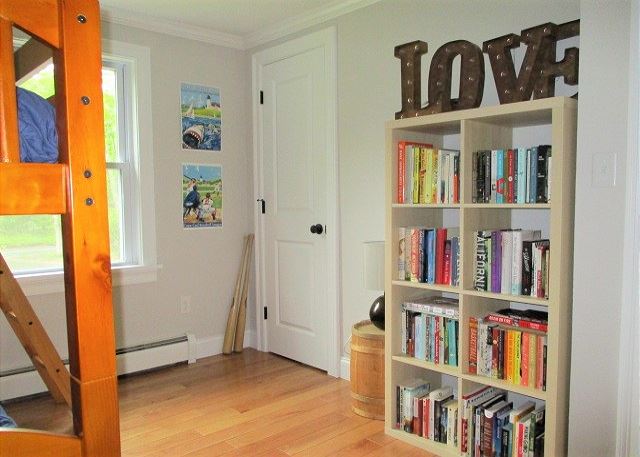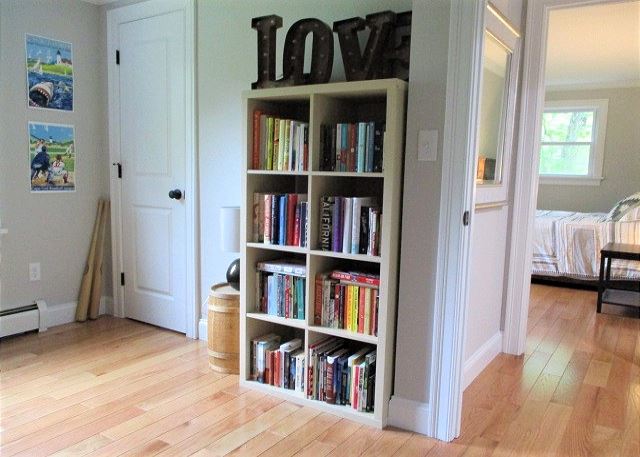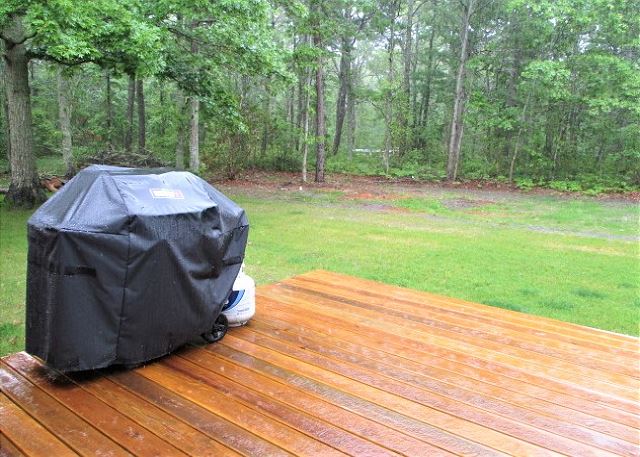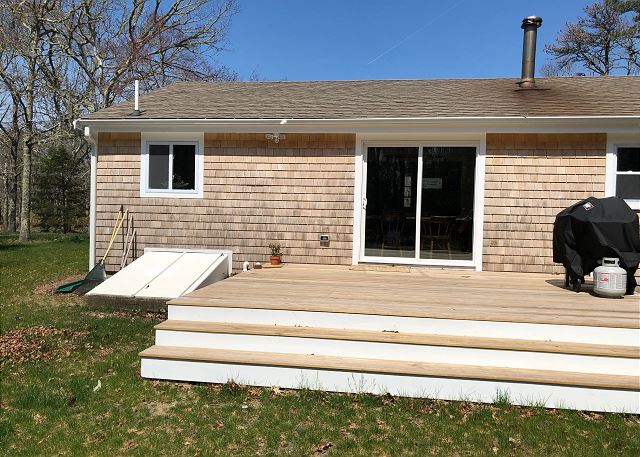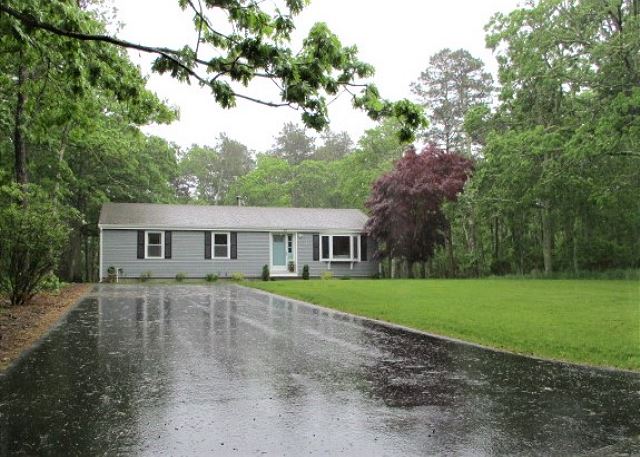 ---
Bedroom(s): 3
Bathroom(s): 2
Sleeps: 6
Type: House
Area:
Town: Brewster
NEW LISTING! With Nickerson State Park in your back yard (a fact you and your pup will LOVE – if you have one), you can enjoy hiking, swimming and kayaking in several popular kettle ponds with sandy beaches, and top-rated bird-watching, awesome bay beaches, fine and family dining, and one-of-a-kind shops are all just minutes away by car. Recently renovated from bow to stern, the uncluttered interior of this vacation home leaves lots of room for 6 guests. The front door leads into the living room that features all new upholstered seating, a standing a/c, and a 65" smart TV with basic cable, Amazon Fire, and Netflix streaming. The semi open floor plan wraps around the wonderfully bright and modern kitchen with stainless steel appliances, marble countertops, and outfitted with everything you'll need during your stay.

The kitchen encompasses the dining area with glass sliders at the back to access the newly constructed deck with gas grill and picnic table designed to host a whole summer of al fresco meals. When the sun sets, sit around the fire pit, toast marshmallows, relive your day, make more plans for tomorrow, or just gaze at the stars.

There are 3 ample-sized bedrooms: The main has a king bed with window a/c, a 50" smart TV, en suite bath featuring step-in shower with artisan tile; bedroom #2 has a queen bed , window a/c, and a 32" TV; and bedroom #3 has twin-sized bunk beds.

The second full bathroom has a tub/shower combination.

The sleek hardwood floors throughout are an extension of the soft edginess to this Cape retreat.



Also included: Wifi/Internet, washer/dryer, parking for 6 cars in driveway, fire pit, *air mattress, *cooler, *window fan *Owners provide these items as favors to guests only and not as an integral part of the rental. If these items become lost or damaged during the course of the rental season, owners are not responsible for replacement.

No smoking allowed. PETS ALLOWED UPON OWNER APPROVAL. LINENS (SHEETS/TOWELS) ARE NOT INCLUDED IN THIS RENTAL.

6 guests maximum allowed at any time. No parties exceeding the occupancy limit allowed.

Travel Insurance is highly recommended and affordable coverage to protect your vacation investment.

Please view our policy and procedure page on our web site for detailed information about renting with us.
- pets considered
- Flat Screen HDTV
- Basic Cable
- Netflix
- A/C Unit
- WiFi
- Iron/Ironing Board
- Amazon Fire
- Cleaning Supplies
- Cookware
- Dishes / Glassware / Utensils
- Kitchen Table
- Dishwasher
- Door to Deck
- microwave
- Toaster
- pool table
- Flat Screen TV
- TV
- Private bath
- On Suite Main Bedroom Bath
- window ac in 2 bedrooms
- window a/cs in all bedrooms
- Hair Dryer
- Shower Only
- Tub/Shower Combo
- washer
- dryer
- Gas Grill with Propane Tank
- Dining Table w/o Umbrella
- Firepit or Chiminea
- Outdoor Lighting
- Near Rail Trail Bike Path
- Near Cape Cod Bay Beaches
- near park
- Yes
- DOG
Guest Reviews of
30 red fawn Brewster , MA
Cape Cod Stay
Review by
Mary M.
A fully renovated house in a great location. House was very clean and the property was private as well. Nice fenced back yard with a lovely deck and fire pit. Conveniently located. We were very happy with our stay. Would love to come again.
5 out of 5 stars
September 2018

| S | M | T | W | T | F | S |
| --- | --- | --- | --- | --- | --- | --- |
| | | | | | | 01 |
| 02 | 03 | 04 | 05 | 06 | 07 | 08 |
| 09 | 10 | 11 | 12 | 13 | 14 | 15 |
| 16 | 17 | 18 | 19 | 20 | 21 | 22 |
| 23 | 24 | 25 | 26 | 27 | 28 | 29 |
| 30 | | | | | | |
October 2018

| S | M | T | W | T | F | S |
| --- | --- | --- | --- | --- | --- | --- |
| | 01 | 02 | 03 | 04 | 05 | 06 |
| 07 | 08 | 09 | 10 | 11 | 12 | 13 |
| 14 | 15 | 16 | 17 | 18 | 19 | 20 |
| 21 | 22 | 23 | 24 | 25 | 26 | 27 |
| 28 | 29 | 30 | 31 | | | |
November 2018

| S | M | T | W | T | F | S |
| --- | --- | --- | --- | --- | --- | --- |
| | | | | 01 | 02 | 03 |
| 04 | 05 | 06 | 07 | 08 | 09 | 10 |
| 11 | 12 | 13 | 14 | 15 | 16 | 17 |
| 18 | 19 | 20 | 21 | 22 | 23 | 24 |
| 25 | 26 | 27 | 28 | 29 | 30 | |
December 2018

| S | M | T | W | T | F | S |
| --- | --- | --- | --- | --- | --- | --- |
| | | | | | | 01 |
| 02 | 03 | 04 | 05 | 06 | 07 | 08 |
| 09 | 10 | 11 | 12 | 13 | 14 | 15 |
| 16 | 17 | 18 | 19 | 20 | 21 | 22 |
| 23 | 24 | 25 | 26 | 27 | 28 | 29 |
| 30 | 31 | | | | | |
January 2019

| S | M | T | W | T | F | S |
| --- | --- | --- | --- | --- | --- | --- |
| | | 01 | 02 | 03 | 04 | 05 |
| 06 | 07 | 08 | 09 | 10 | 11 | 12 |
| 13 | 14 | 15 | 16 | 17 | 18 | 19 |
| 20 | 21 | 22 | 23 | 24 | 25 | 26 |
| 27 | 28 | 29 | 30 | 31 | | |
February 2019

| S | M | T | W | T | F | S |
| --- | --- | --- | --- | --- | --- | --- |
| | | | | | 01 | 02 |
| 03 | 04 | 05 | 06 | 07 | 08 | 09 |
| 10 | 11 | 12 | 13 | 14 | 15 | 16 |
| 17 | 18 | 19 | 20 | 21 | 22 | 23 |
| 24 | 25 | 26 | 27 | 28 | | |
March 2019

| S | M | T | W | T | F | S |
| --- | --- | --- | --- | --- | --- | --- |
| | | | | | 01 | 02 |
| 03 | 04 | 05 | 06 | 07 | 08 | 09 |
| 10 | 11 | 12 | 13 | 14 | 15 | 16 |
| 17 | 18 | 19 | 20 | 21 | 22 | 23 |
| 24 | 25 | 26 | 27 | 28 | 29 | 30 |
| 31 | | | | | | |
April 2019

| S | M | T | W | T | F | S |
| --- | --- | --- | --- | --- | --- | --- |
| | 01 | 02 | 03 | 04 | 05 | 06 |
| 07 | 08 | 09 | 10 | 11 | 12 | 13 |
| 14 | 15 | 16 | 17 | 18 | 19 | 20 |
| 21 | 22 | 23 | 24 | 25 | 26 | 27 |
| 28 | 29 | 30 | | | | |
May 2019

| S | M | T | W | T | F | S |
| --- | --- | --- | --- | --- | --- | --- |
| | | | 01 | 02 | 03 | 04 |
| 05 | 06 | 07 | 08 | 09 | 10 | 11 |
| 12 | 13 | 14 | 15 | 16 | 17 | 18 |
| 19 | 20 | 21 | 22 | 23 | 24 | 25 |
| 26 | 27 | 28 | 29 | 30 | 31 | |
June 2019

| S | M | T | W | T | F | S |
| --- | --- | --- | --- | --- | --- | --- |
| | | | | | | 01 |
| 02 | 03 | 04 | 05 | 06 | 07 | 08 |
| 09 | 10 | 11 | 12 | 13 | 14 | 15 |
| 16 | 17 | 18 | 19 | 20 | 21 | 22 |
| 23 | 24 | 25 | 26 | 27 | 28 | 29 |
| 30 | | | | | | |
July 2019

| S | M | T | W | T | F | S |
| --- | --- | --- | --- | --- | --- | --- |
| | 01 | 02 | 03 | 04 | 05 | 06 |
| 07 | 08 | 09 | 10 | 11 | 12 | 13 |
| 14 | 15 | 16 | 17 | 18 | 19 | 20 |
| 21 | 22 | 23 | 24 | 25 | 26 | 27 |
| 28 | 29 | 30 | 31 | | | |
August 2019

| S | M | T | W | T | F | S |
| --- | --- | --- | --- | --- | --- | --- |
| | | | | 01 | 02 | 03 |
| 04 | 05 | 06 | 07 | 08 | 09 | 10 |
| 11 | 12 | 13 | 14 | 15 | 16 | 17 |
| 18 | 19 | 20 | 21 | 22 | 23 | 24 |
| 25 | 26 | 27 | 28 | 29 | 30 | 31 |
September 2019

| S | M | T | W | T | F | S |
| --- | --- | --- | --- | --- | --- | --- |
| 01 | 02 | 03 | 04 | 05 | 06 | 07 |
| 08 | 09 | 10 | 11 | 12 | 13 | 14 |
| 15 | 16 | 17 | 18 | 19 | 20 | 21 |
| 22 | 23 | 24 | 25 | 26 | 27 | 28 |
| 29 | 30 | | | | | |
Available
Unavailable
Sat to Sat booking