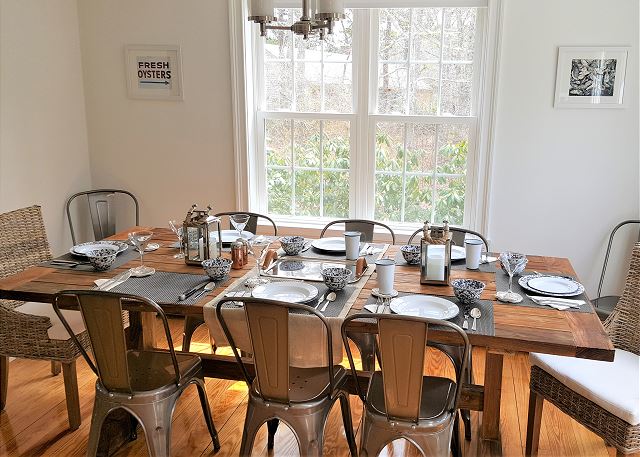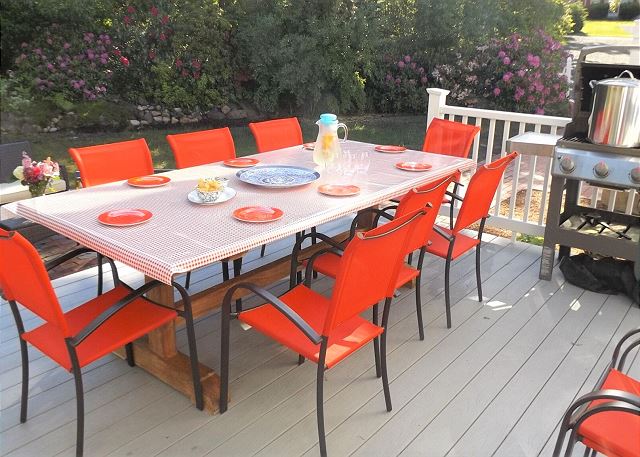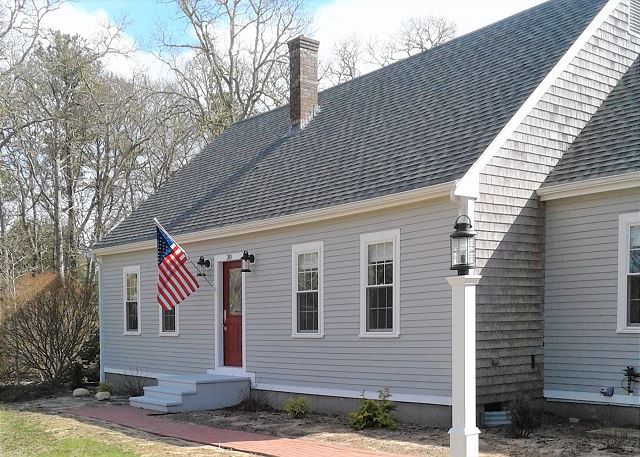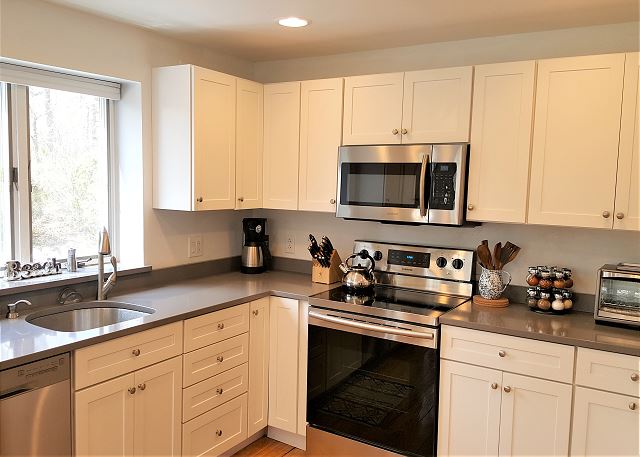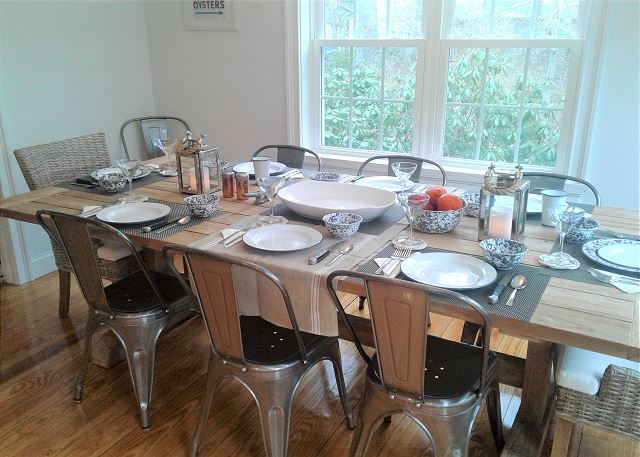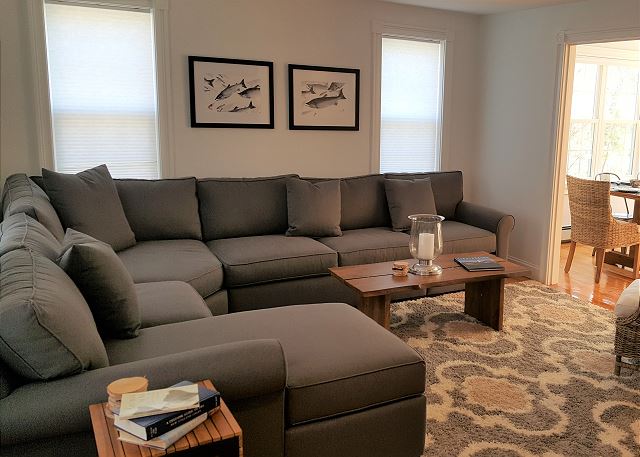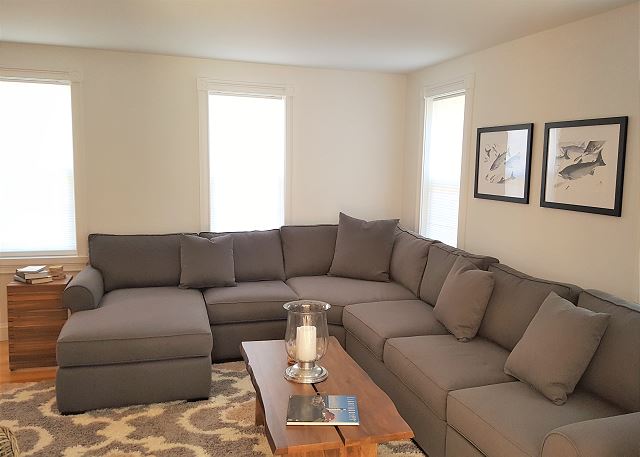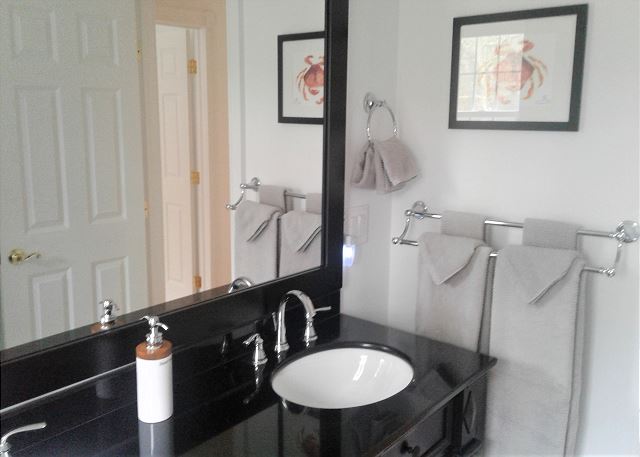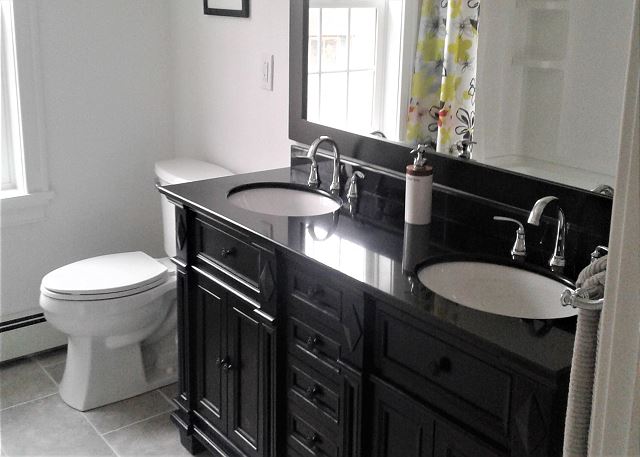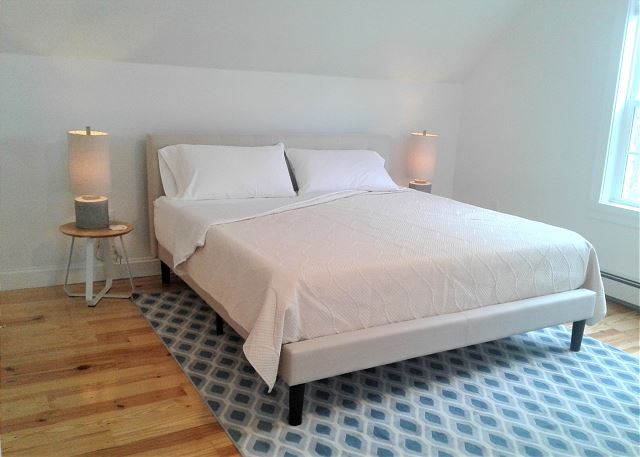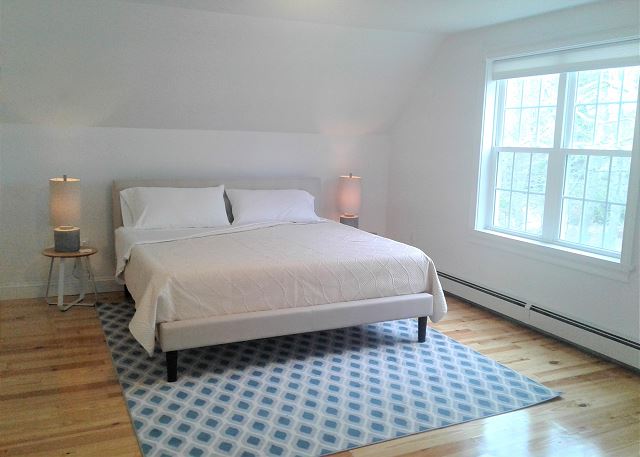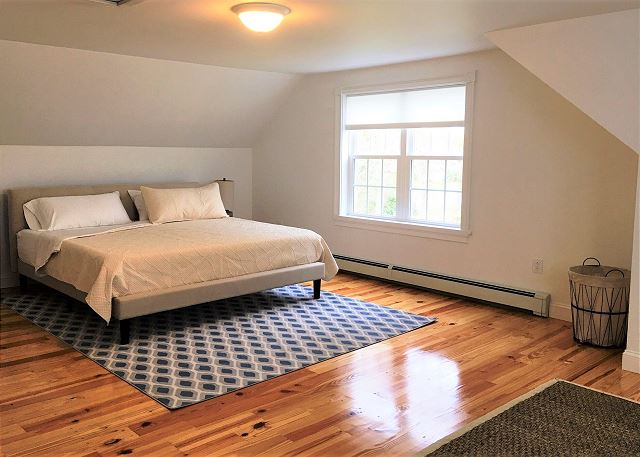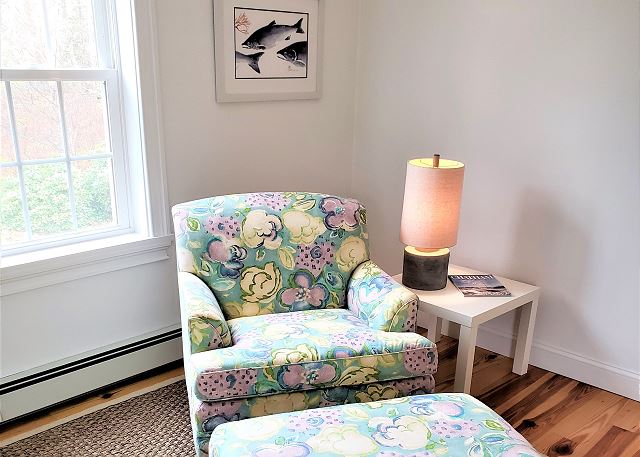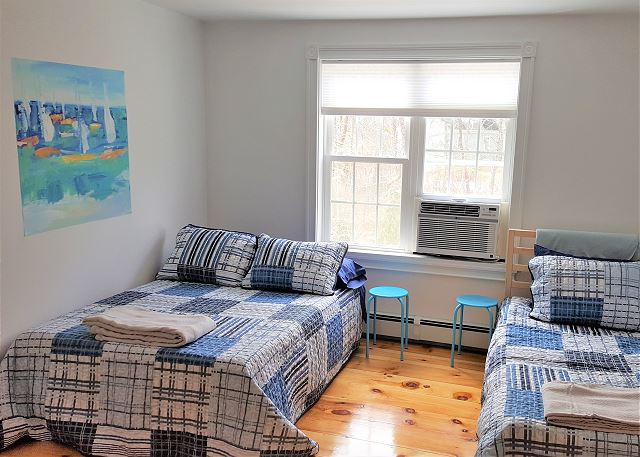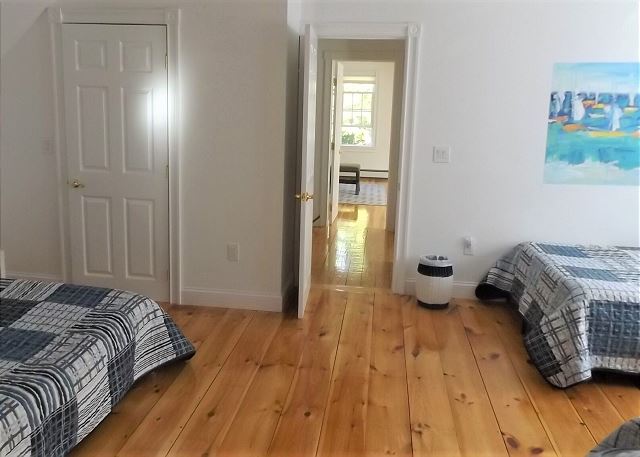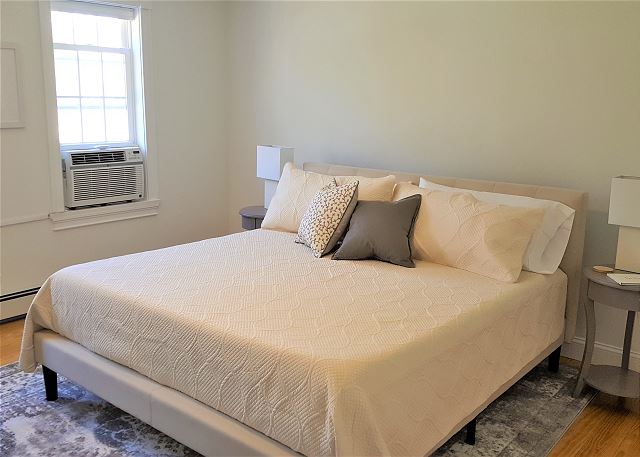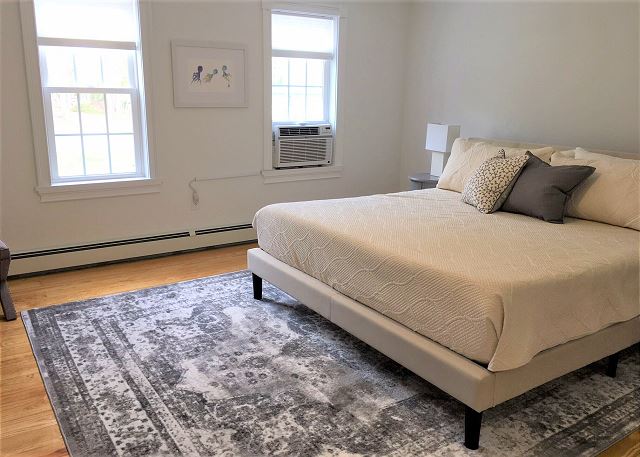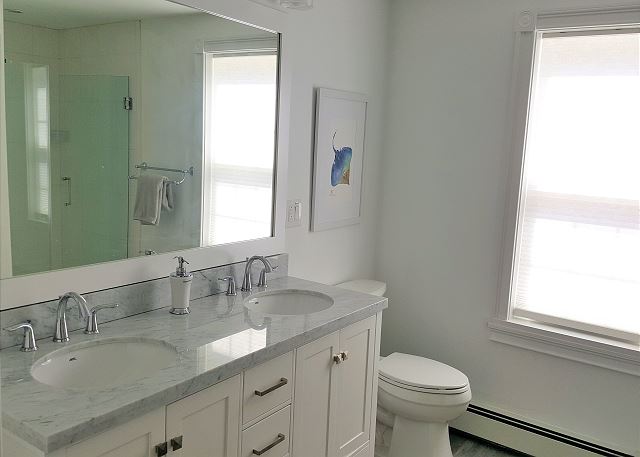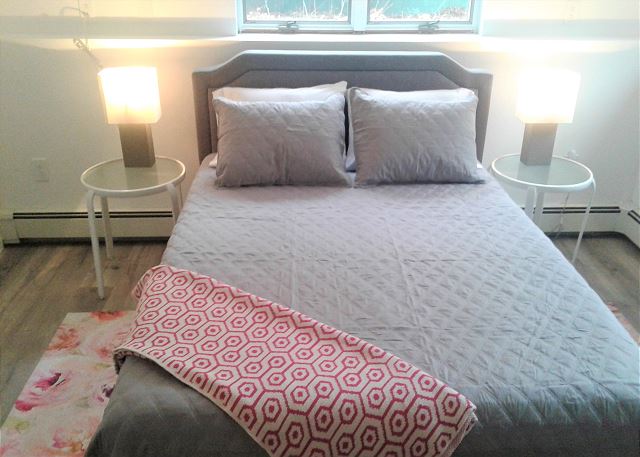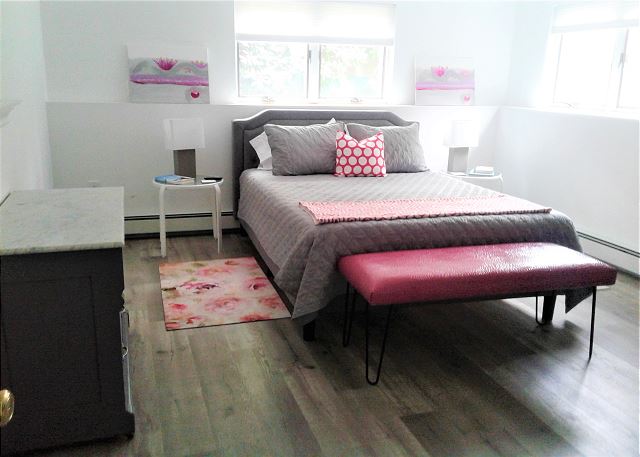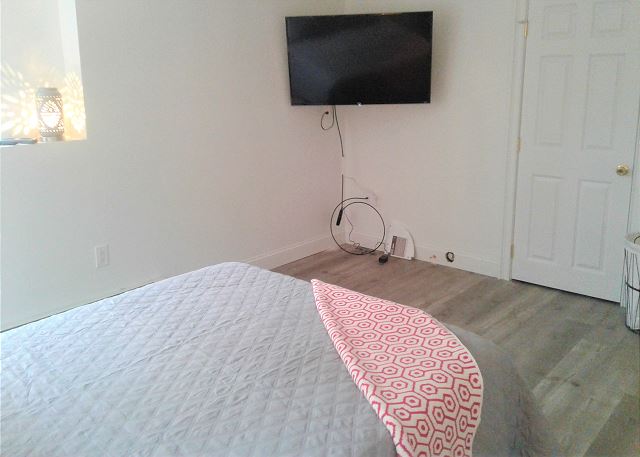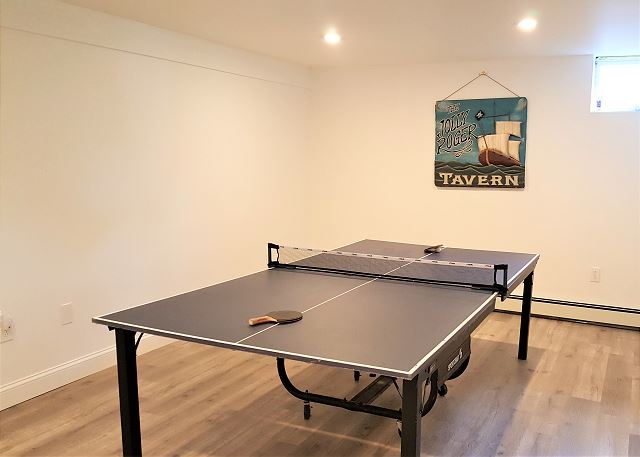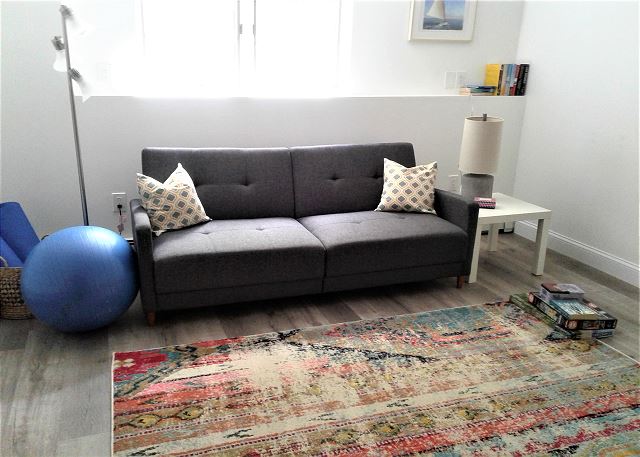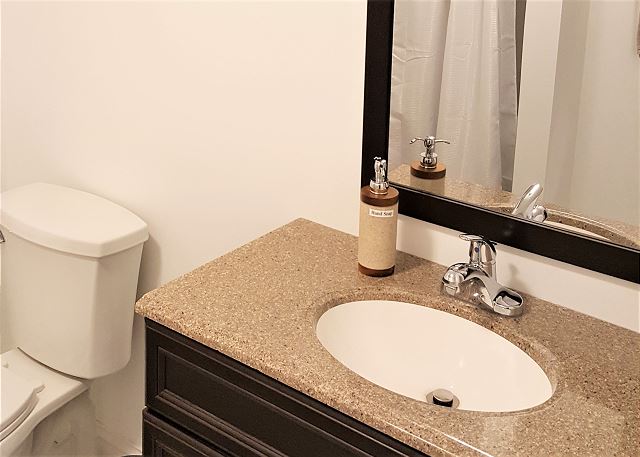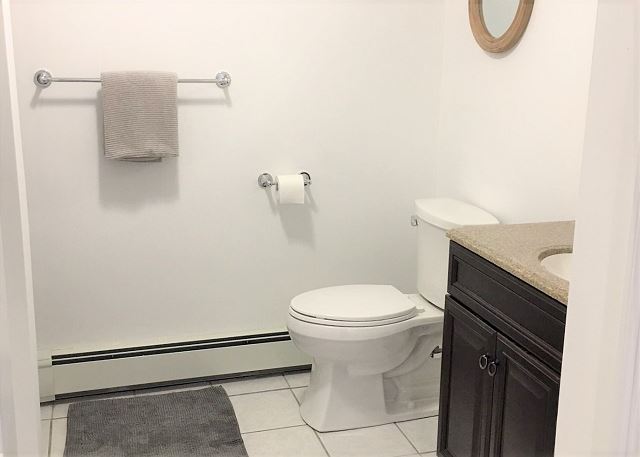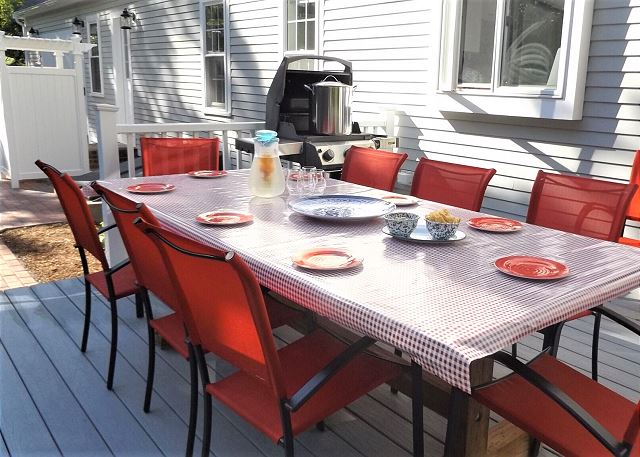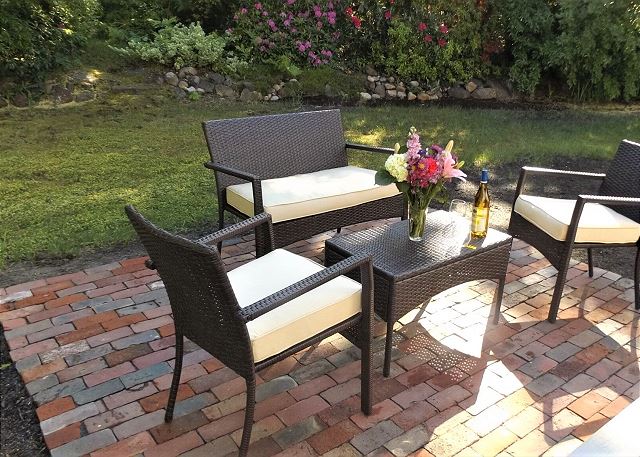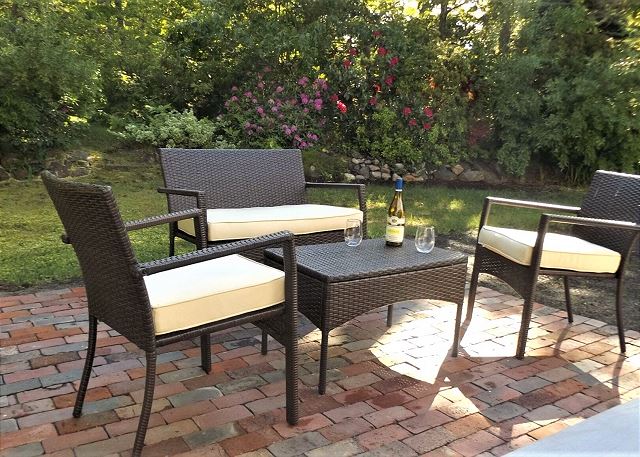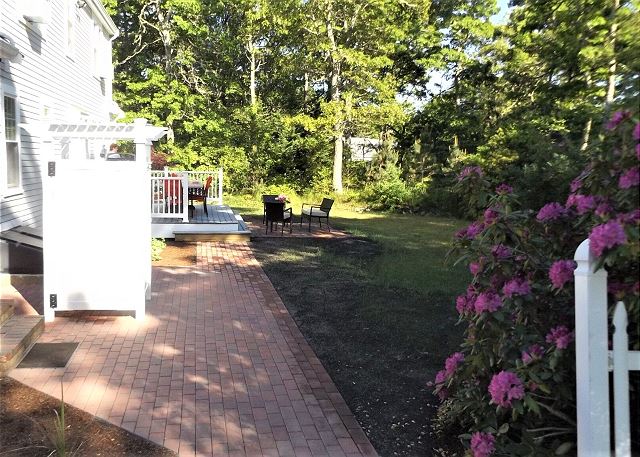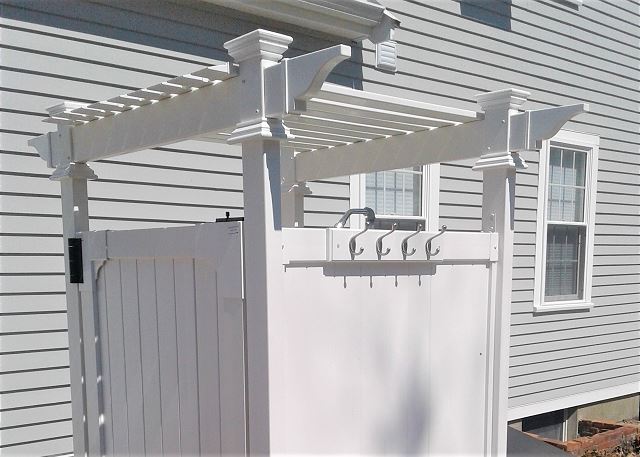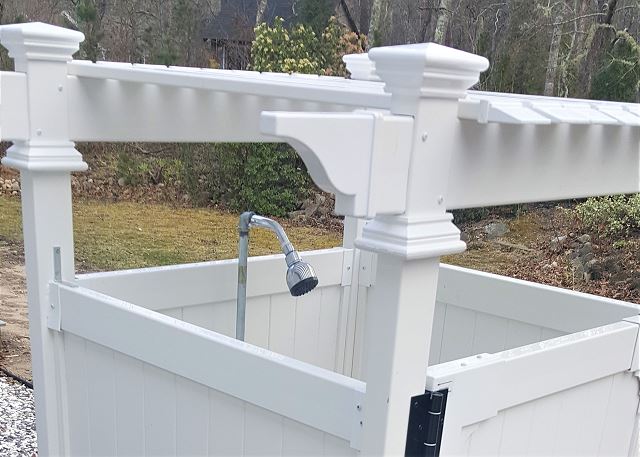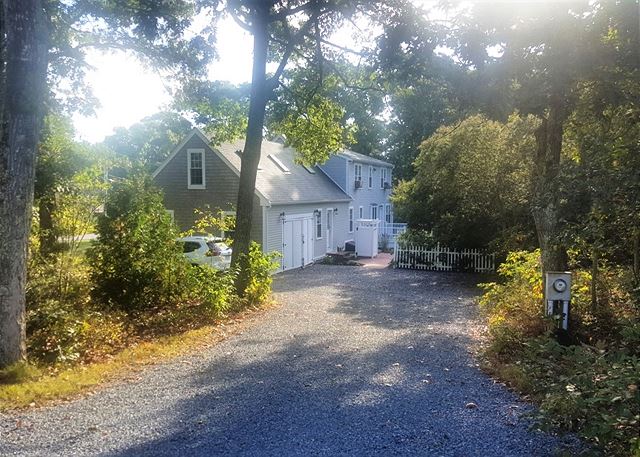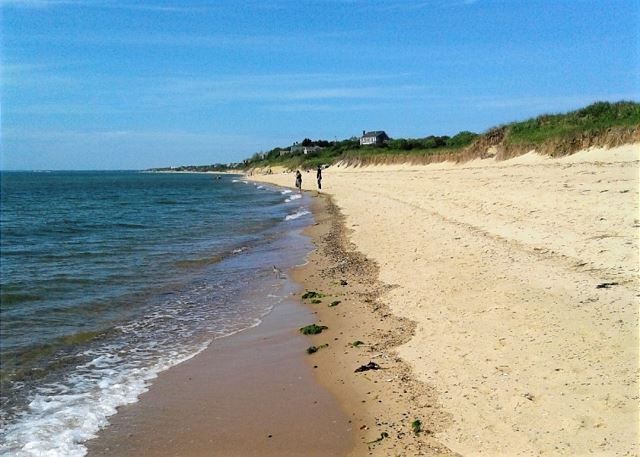 ---
Bedroom(s): 4
Bathroom(s): 3
Sleeps: 10
Type: House
Area: Jacknife Harbor
Town: Harwich
Located on a private acre in East Harwich, this 4 bedroom house has been completely remodeled with brand new mattresses and appliances for 10 guests!

The house comprises of 3 beautifully appointed levels - perfect for one large or several smaller groups who want to vacation together. The main level features a large mudroom, the first king bedroom with shower only bath. It also includes the kitchen/dining/living room with L shaped seating and a large smart TV. A magnificent 9' teak farm table easily seats 10 and connects both kitchen and living space for hours of entertaining. The kitchen is equipped with new EVERYTHING and all the extras needed to make the week complete.

The kitchen leads out onto the back deck. Here, you'll enjoy a flowering landscape, a backyard equipped with a Weber gas grill, a second teak table for comfortable outdoor dining for 10, and additional couch seating on the deck and lawn.

The lower level boasts a Queen bedroom with a 45" flat screen TV. The activity room will engage guests of all ages with a Ping Pong table and gaming room set up to play smart games with a TV monitor system and sleeper sofa. There is also a brand new laundry and full bathroom with shower only.

The upper level features two more bedrooms, one oversized with a king bed, and the bunk room with 2 full beds and a twin - all of which share a full bath with tub/shower combination.

This gem is exactly 1.4 miles to Jacknife Harbor Beach and other Pleasant Bay beaches, as well as Wequasset Resort - the state's only 5 star resort – fabulous for sunset cocktails, dinner, and boat rental. Grocery, gas, and pharmacy are all close by. And within a 10-15 minute drive, you can be at Nauset Beach, Cape Cod's ultimate destination for swimming, surfing, skim boarding, and fishing. you can also explore the nearby charming village of Chatham with its unique shops and galleries.

This is an upscale one-of-a-kind home that defines the meaning of relaxation in a spot that satisfies all recreational whims!

Also included: Wifi, enclosed outdoor shower with privacy ceiling that lets you stargaze, extended cable service and on-demand free movies, streaming Netflix, DVD player, 4 cars in driveway with additional street parking, "Speed Queen" washer/dryer, A/C in all bedrooms, *4 beach chairs. *Owners provide these items as favors to guests only and not as an integral part of the rental. If these items become lost or damaged during the course of the rental season, owners are not responsible for replacement.

Sorry no pets and no smoking allowed.

10 guests maximum allowed at any time. No parties exceeding the occupancy limit allowed.

SHEETS & TOWELS ARE NOT INCLUDED IN THE RENTAL.

We offer travel insurance that is highly recommended and affordable coverage to protect your vacation investment.

Please view our policy and procedure page on our web site for detailed information about renting with us.

State and local taxes are applicable and may vary based on local ordinances and bylaws. Tax rates are subject to change.
- DVD Player
- Flat Screen HDTV
- Extended Cable
- Movie Channels
- Iron/Ironing Board
- On Demand Free Movie
- Drip Coffee Maker
- Cleaning Supplies
- Cookware
- Dishes / Glassware / Utensils
- Blender
- Iron
- Toaster or Toaster Oven
- Dishwasher
- Lobster Pot
- Door to Deck
- microwave
- ironing board
- Dining Table
- TV
- Window A/C
- Private bath
- window a/c in living room
- new mattresses
- Hair Dryer
- Shower Only
- Tub/Shower Combo
- Table Tennis
- Beds
- Bathroom
- sleep sofa
- washer
- dryer
- Deck
- Patio
- Gas Grill with Propane Tank
- Dining Table w/o Umbrella
- Enclosed Outdoor Shower
- Firepit or Chiminea
- Beach Chairs
- Outdoor Lighting
- Outdoor Seating
- Near Cape Cod Bay Beaches
Guest Reviews of
30 bay pine Harwich , MA
My Experience
We were guest at 30 Bay Pine in August. The managing staff at Capecod Rentals were amazing : they gave us updates on the way they were fixing things and made sure we were aware when people were coming to the house to make some repairs. The house is very well situated ,close to the grocery store and between Orleans and Chatham. It was clean and the beds were confortable. There is no Central Air and it makes a big difference on the summer days : The basement was very humid and my kids with asthma were not able to stay in the basement.The A/C is in the window of 3 bedrooms out of 4 only. The fan in the basement and the living room were not powerful enough to make a difference ( temperature and humidity). The bedrooms are a good size but there is no furniture to put your clothes in any rooms. For a house that can accommodate 10 persons,there is only one couch in the whole house... There is still one room upstairs and one downstairs who could be well furnished ( they are still emptied). Overall , if this house had Central Air and had more furnitures , we would rent it again in a heartbeat. We will check on the website if the owners have made those improvements because we come to Cape Cod every summer for 2 to 4 weeks.
3 out of 5 stars
Manager Response:
Thank you so much for your feedback, Dominique. Your holiday was derailed by a number of unforeseen mishaps and you and your family were patient and understanding through it all. The owners are extremely committed to making this house a perfect venue for a vacation, and your input will help them accomplish that in the near future. We all hope to hear from you soon! My Best, Sandy O'Dell, Manager, CapeCodRentals
June 2019

| S | M | T | W | T | F | S |
| --- | --- | --- | --- | --- | --- | --- |
| | | | | | | 01 |
| 02 | 03 | 04 | 05 | 06 | 07 | 08 |
| 09 | 10 | 11 | 12 | 13 | 14 | 15 |
| 16 | 17 | 18 | 19 | 20 | 21 | 22 |
| 23 | 24 | 25 | 26 | 27 | 28 | 29 |
| 30 | | | | | | |
July 2019

| S | M | T | W | T | F | S |
| --- | --- | --- | --- | --- | --- | --- |
| | 01 | 02 | 03 | 04 | 05 | 06 |
| 07 | 08 | 09 | 10 | 11 | 12 | 13 |
| 14 | 15 | 16 | 17 | 18 | 19 | 20 |
| 21 | 22 | 23 | 24 | 25 | 26 | 27 |
| 28 | 29 | 30 | 31 | | | |
August 2019

| S | M | T | W | T | F | S |
| --- | --- | --- | --- | --- | --- | --- |
| | | | | 01 | 02 | 03 |
| 04 | 05 | 06 | 07 | 08 | 09 | 10 |
| 11 | 12 | 13 | 14 | 15 | 16 | 17 |
| 18 | 19 | 20 | 21 | 22 | 23 | 24 |
| 25 | 26 | 27 | 28 | 29 | 30 | 31 |
September 2019

| S | M | T | W | T | F | S |
| --- | --- | --- | --- | --- | --- | --- |
| 01 | 02 | 03 | 04 | 05 | 06 | 07 |
| 08 | 09 | 10 | 11 | 12 | 13 | 14 |
| 15 | 16 | 17 | 18 | 19 | 20 | 21 |
| 22 | 23 | 24 | 25 | 26 | 27 | 28 |
| 29 | 30 | | | | | |
October 2019

| S | M | T | W | T | F | S |
| --- | --- | --- | --- | --- | --- | --- |
| | | 01 | 02 | 03 | 04 | 05 |
| 06 | 07 | 08 | 09 | 10 | 11 | 12 |
| 13 | 14 | 15 | 16 | 17 | 18 | 19 |
| 20 | 21 | 22 | 23 | 24 | 25 | 26 |
| 27 | 28 | 29 | 30 | 31 | | |
November 2019

| S | M | T | W | T | F | S |
| --- | --- | --- | --- | --- | --- | --- |
| | | | | | 01 | 02 |
| 03 | 04 | 05 | 06 | 07 | 08 | 09 |
| 10 | 11 | 12 | 13 | 14 | 15 | 16 |
| 17 | 18 | 19 | 20 | 21 | 22 | 23 |
| 24 | 25 | 26 | 27 | 28 | 29 | 30 |
December 2019

| S | M | T | W | T | F | S |
| --- | --- | --- | --- | --- | --- | --- |
| 01 | 02 | 03 | 04 | 05 | 06 | 07 |
| 08 | 09 | 10 | 11 | 12 | 13 | 14 |
| 15 | 16 | 17 | 18 | 19 | 20 | 21 |
| 22 | 23 | 24 | 25 | 26 | 27 | 28 |
| 29 | 30 | 31 | | | | |
January 2020

| S | M | T | W | T | F | S |
| --- | --- | --- | --- | --- | --- | --- |
| | | | 01 | 02 | 03 | 04 |
| 05 | 06 | 07 | 08 | 09 | 10 | 11 |
| 12 | 13 | 14 | 15 | 16 | 17 | 18 |
| 19 | 20 | 21 | 22 | 23 | 24 | 25 |
| 26 | 27 | 28 | 29 | 30 | 31 | |
February 2020

| S | M | T | W | T | F | S |
| --- | --- | --- | --- | --- | --- | --- |
| | | | | | | 01 |
| 02 | 03 | 04 | 05 | 06 | 07 | 08 |
| 09 | 10 | 11 | 12 | 13 | 14 | 15 |
| 16 | 17 | 18 | 19 | 20 | 21 | 22 |
| 23 | 24 | 25 | 26 | 27 | 28 | 29 |
March 2020

| S | M | T | W | T | F | S |
| --- | --- | --- | --- | --- | --- | --- |
| 01 | 02 | 03 | 04 | 05 | 06 | 07 |
| 08 | 09 | 10 | 11 | 12 | 13 | 14 |
| 15 | 16 | 17 | 18 | 19 | 20 | 21 |
| 22 | 23 | 24 | 25 | 26 | 27 | 28 |
| 29 | 30 | 31 | | | | |
April 2020

| S | M | T | W | T | F | S |
| --- | --- | --- | --- | --- | --- | --- |
| | | | 01 | 02 | 03 | 04 |
| 05 | 06 | 07 | 08 | 09 | 10 | 11 |
| 12 | 13 | 14 | 15 | 16 | 17 | 18 |
| 19 | 20 | 21 | 22 | 23 | 24 | 25 |
| 26 | 27 | 28 | 29 | 30 | | |
May 2020

| S | M | T | W | T | F | S |
| --- | --- | --- | --- | --- | --- | --- |
| | | | | | 01 | 02 |
| 03 | 04 | 05 | 06 | 07 | 08 | 09 |
| 10 | 11 | 12 | 13 | 14 | 15 | 16 |
| 17 | 18 | 19 | 20 | 21 | 22 | 23 |
| 24 | 25 | 26 | 27 | 28 | 29 | 30 |
| 31 | | | | | | |
June 2020

| S | M | T | W | T | F | S |
| --- | --- | --- | --- | --- | --- | --- |
| | 01 | 02 | 03 | 04 | 05 | 06 |
| 07 | 08 | 09 | 10 | 11 | 12 | 13 |
| 14 | 15 | 16 | 17 | 18 | 19 | 20 |
| 21 | 22 | 23 | 24 | 25 | 26 | 27 |
| 28 | 29 | 30 | | | | |
Available
Unavailable
Sat to Sat booking