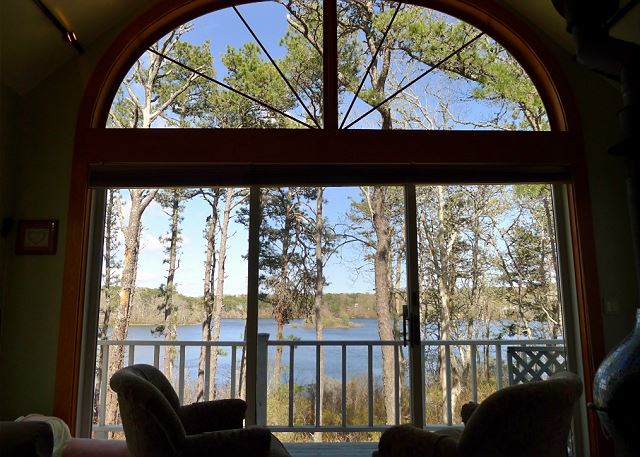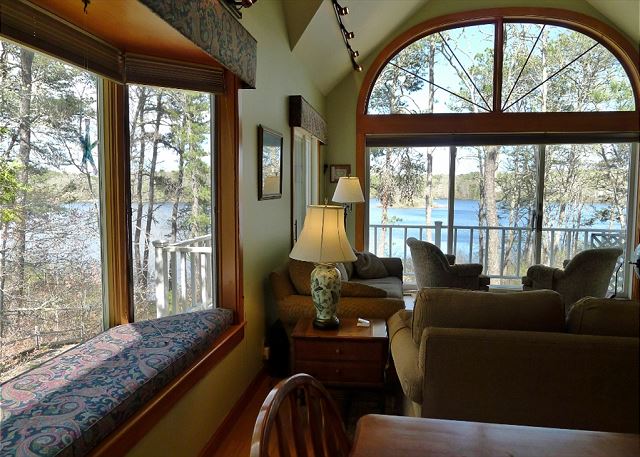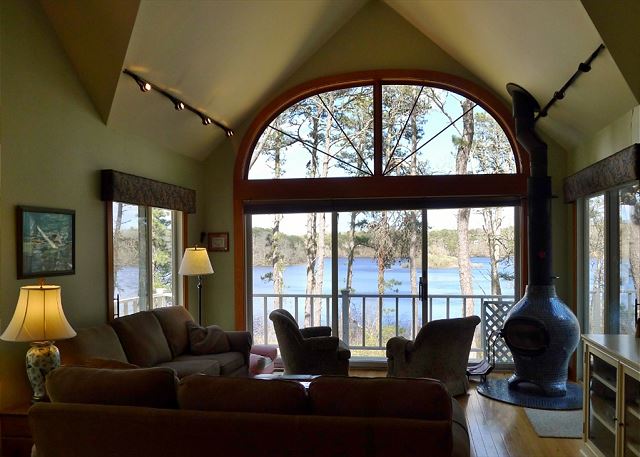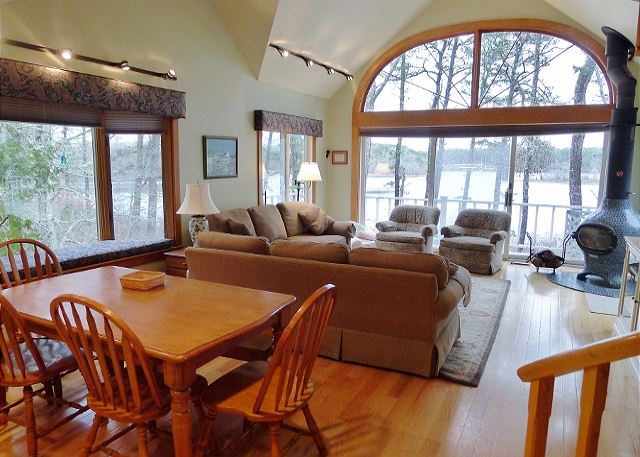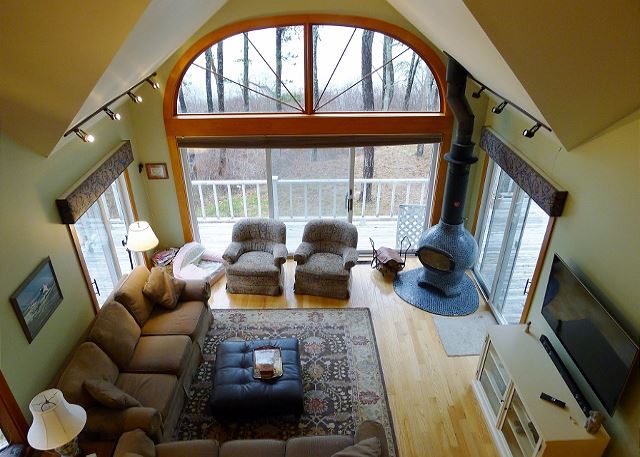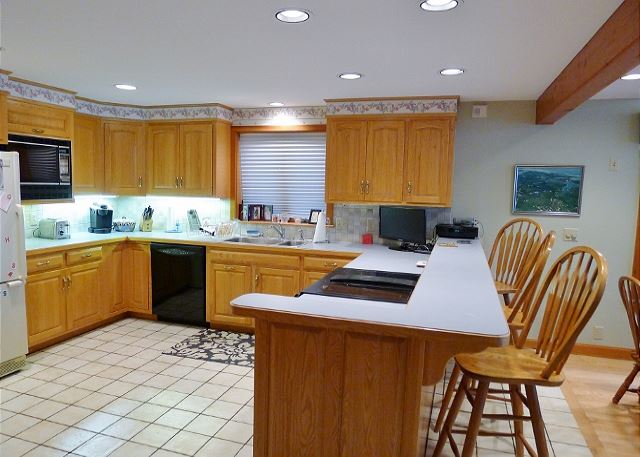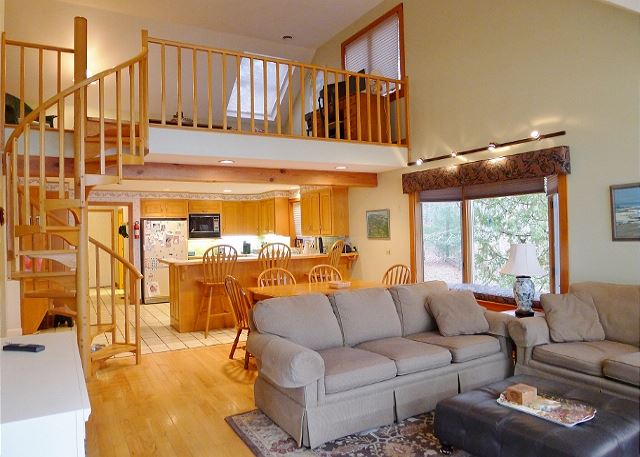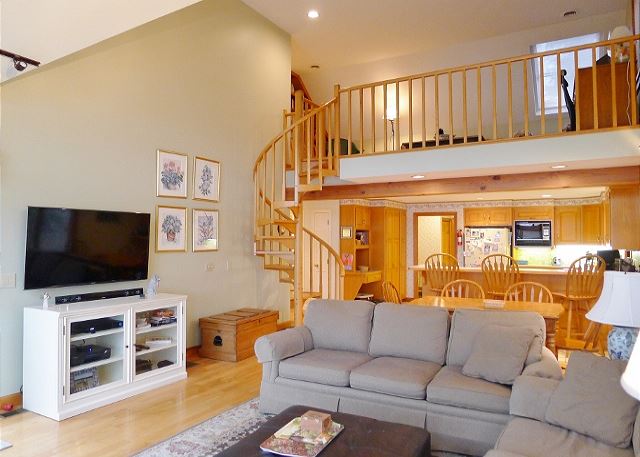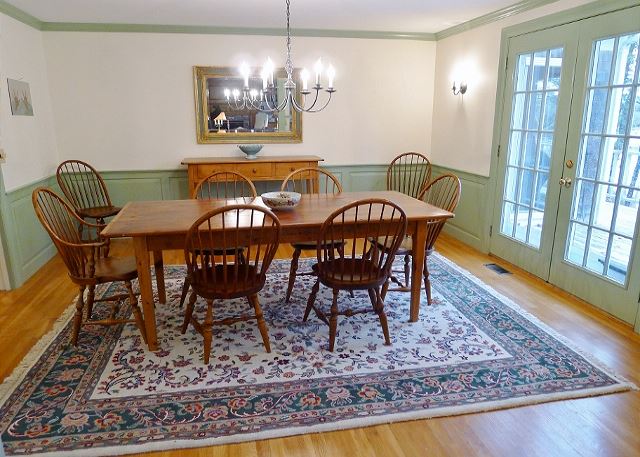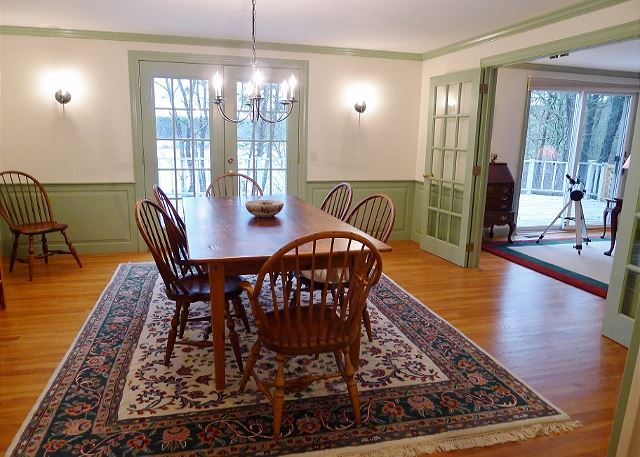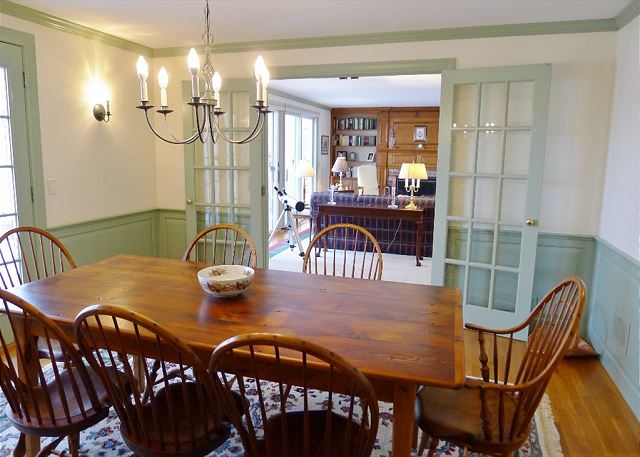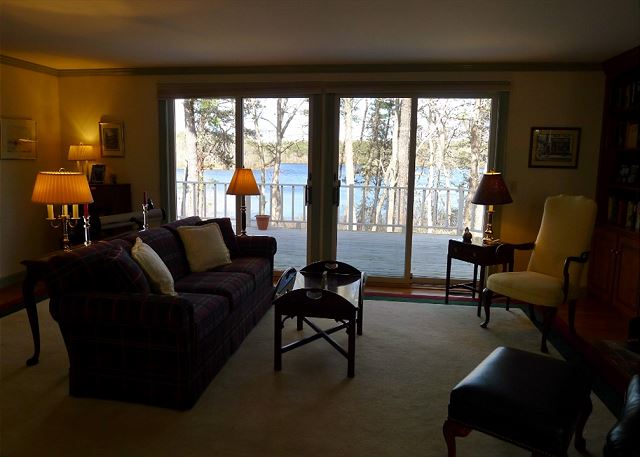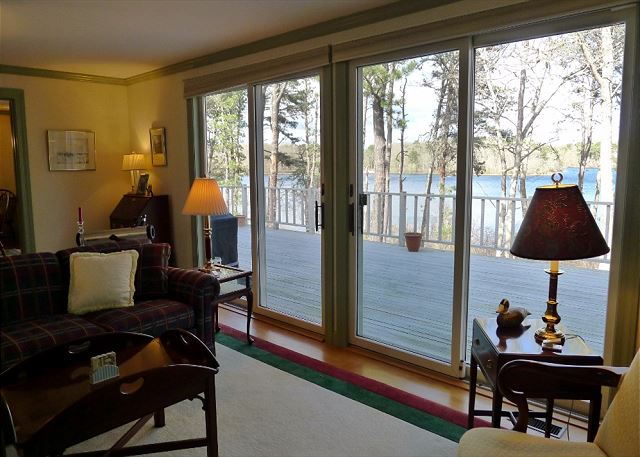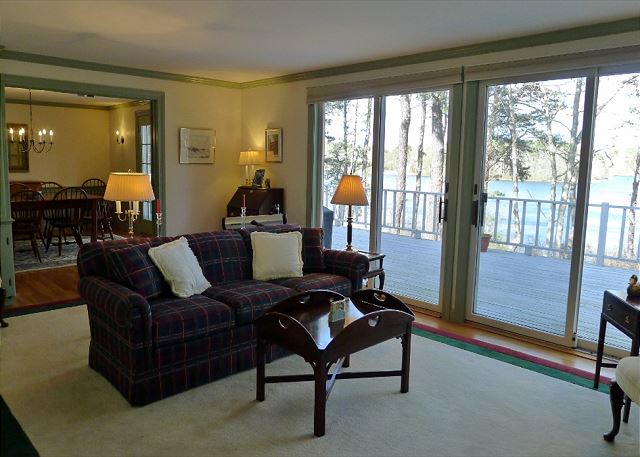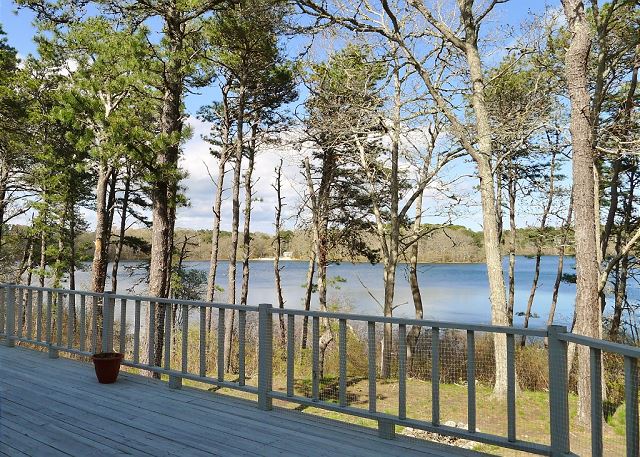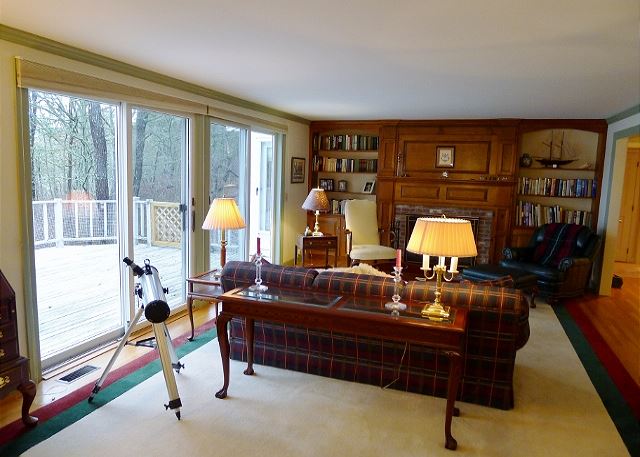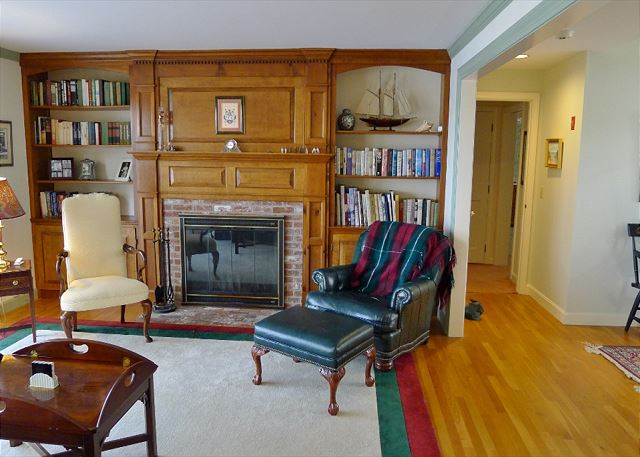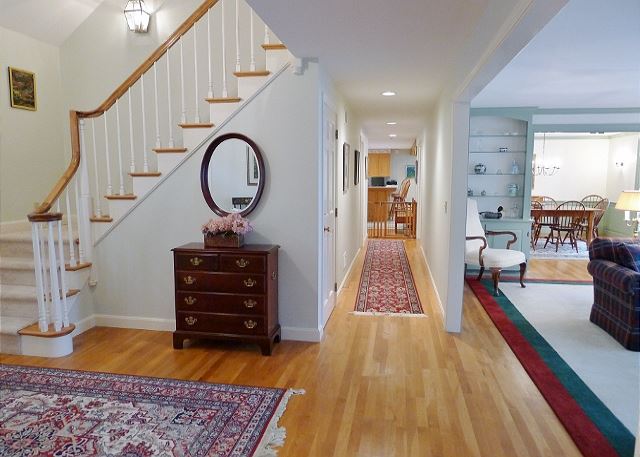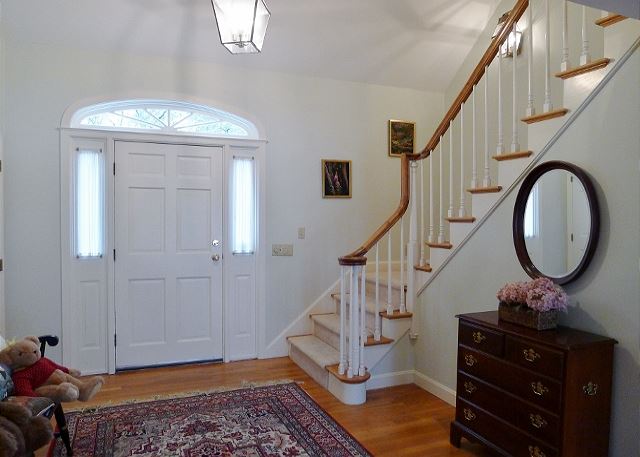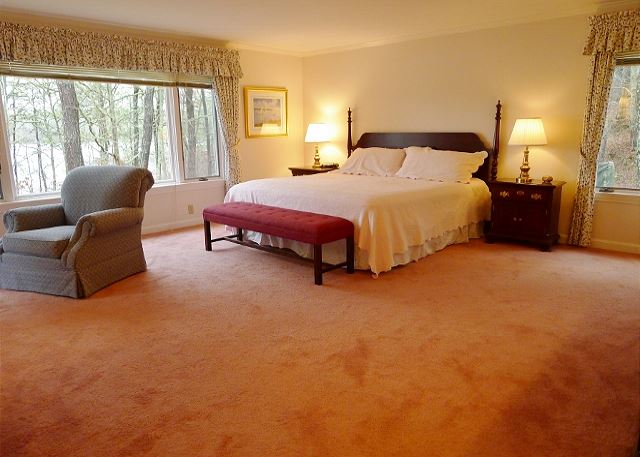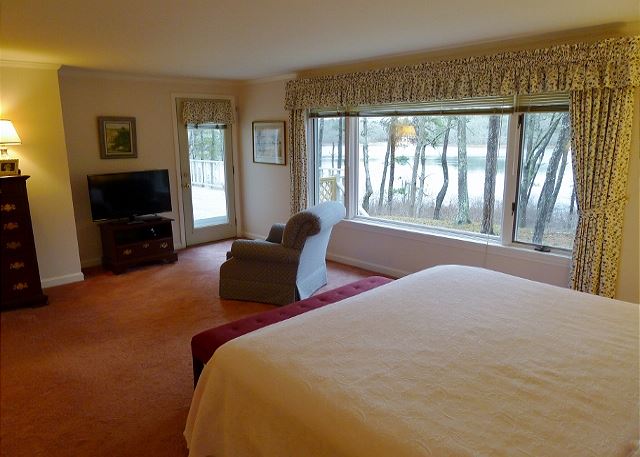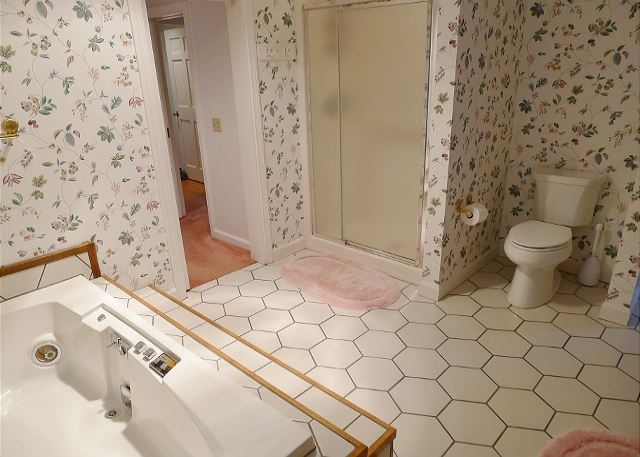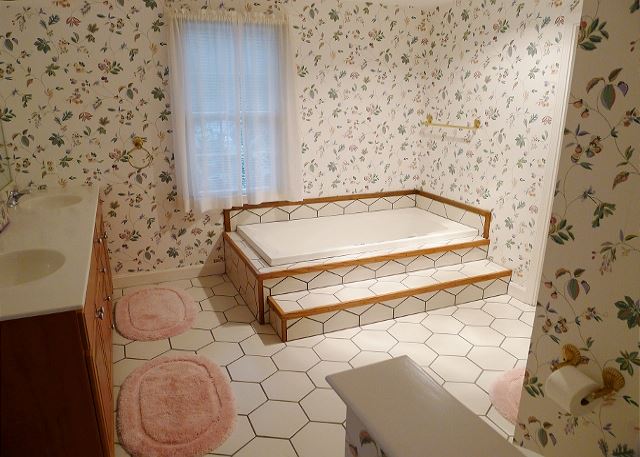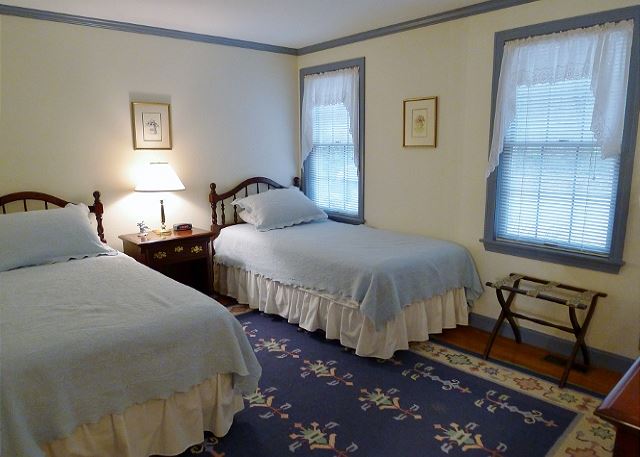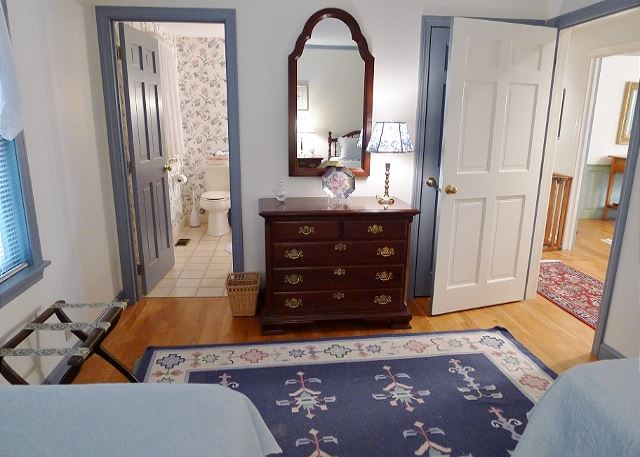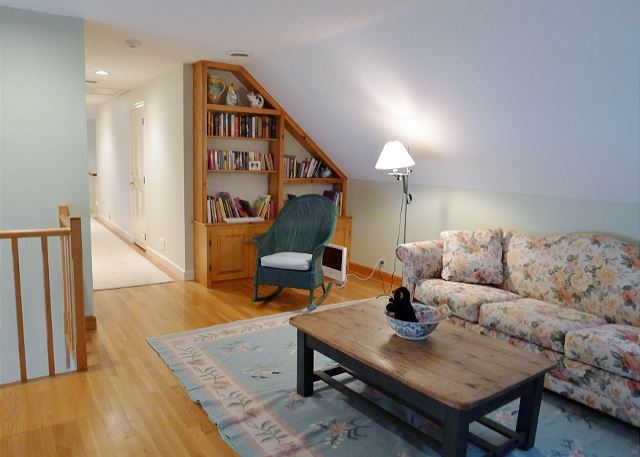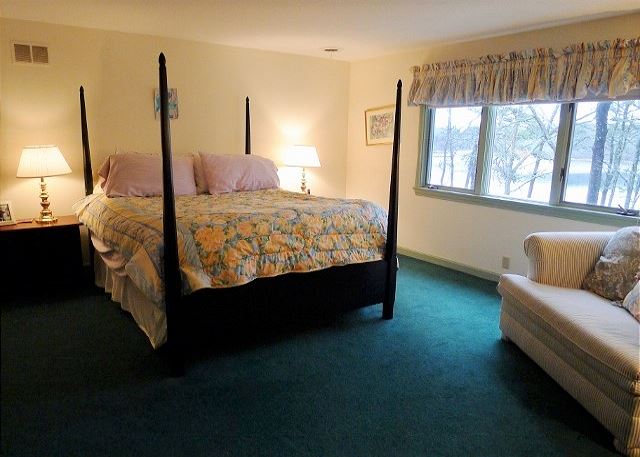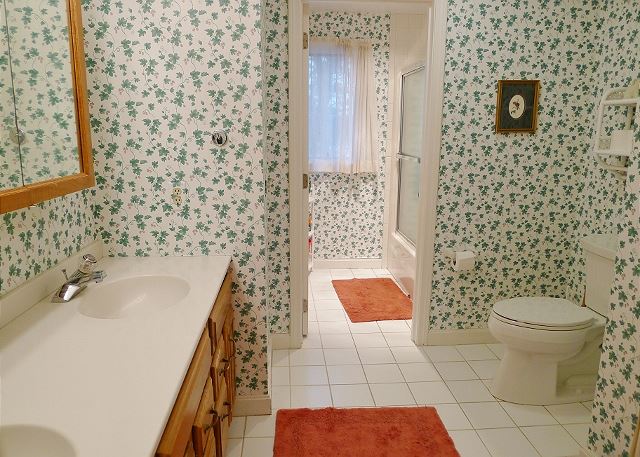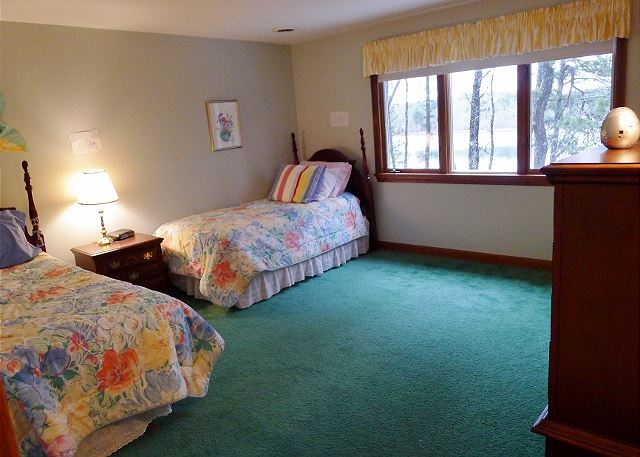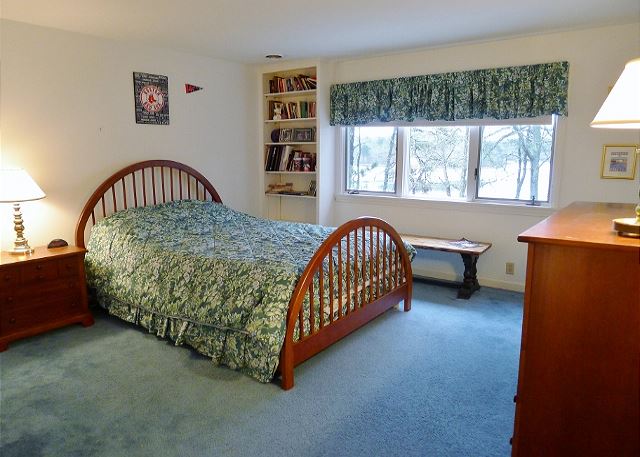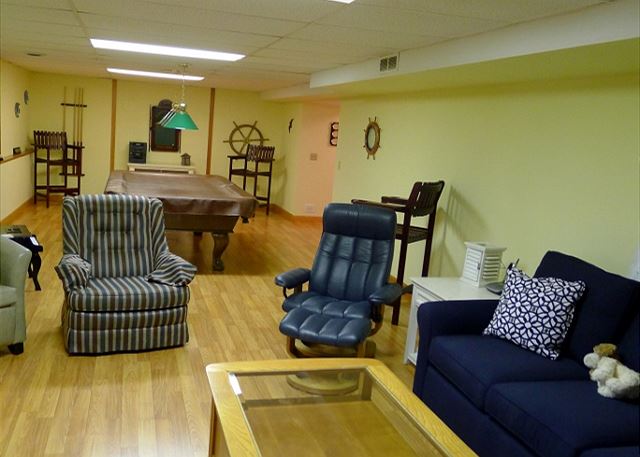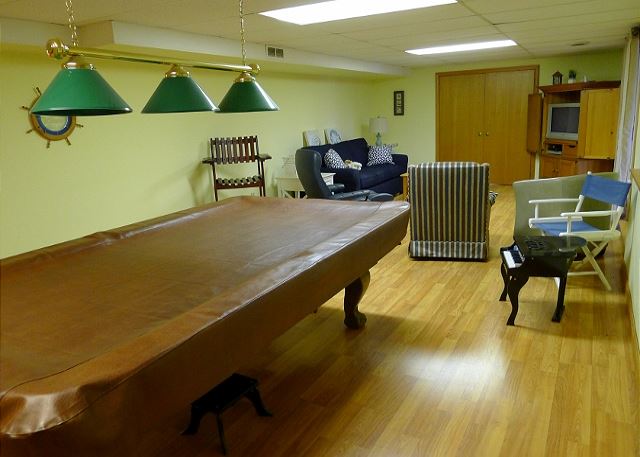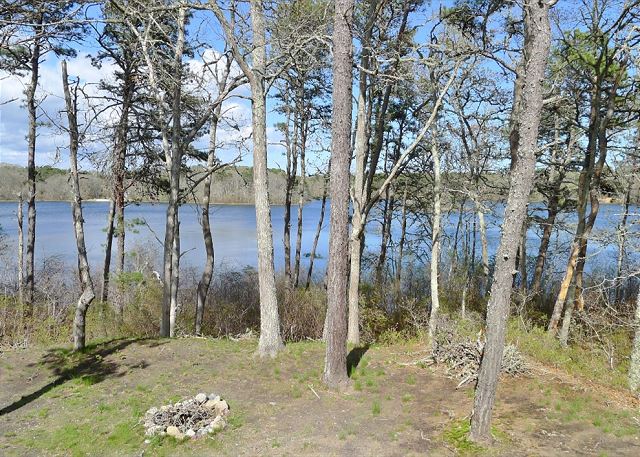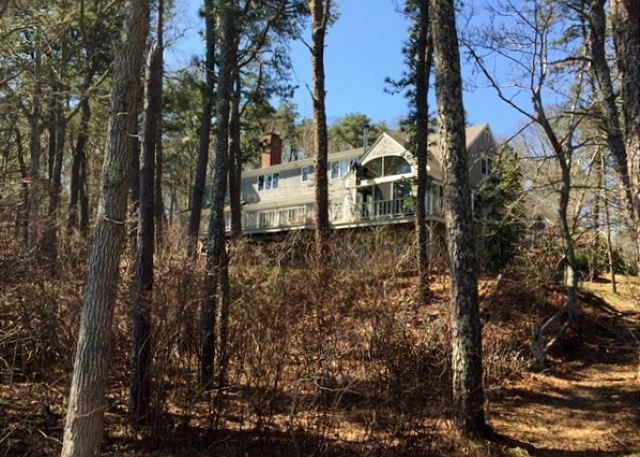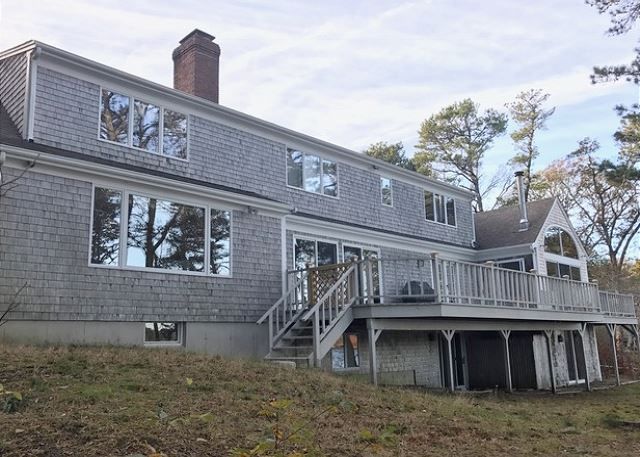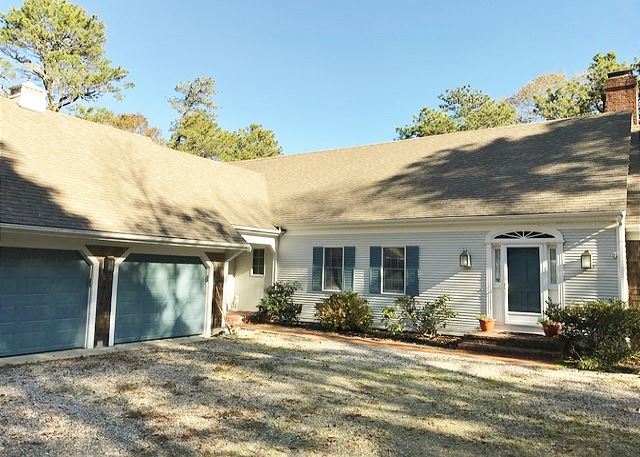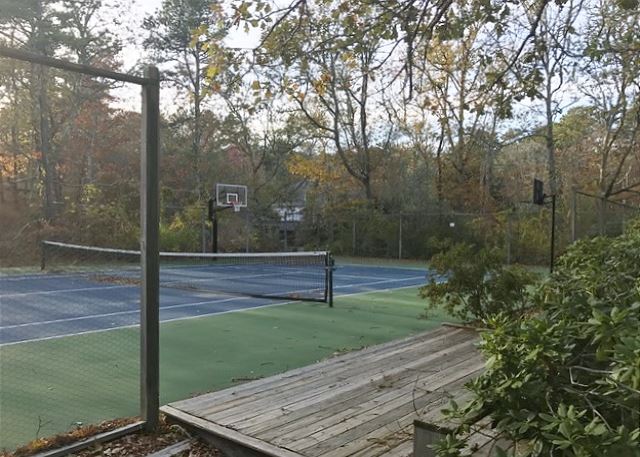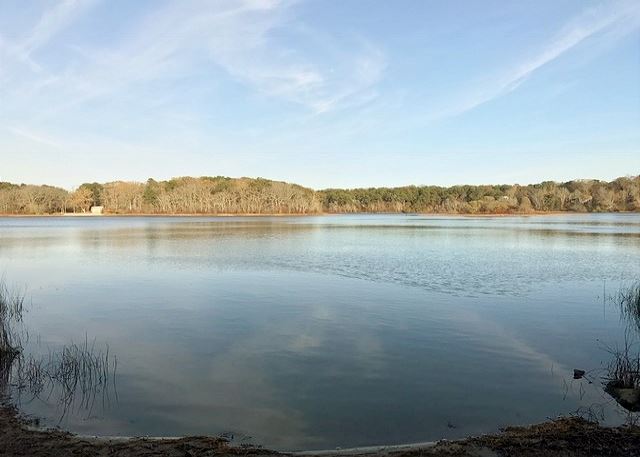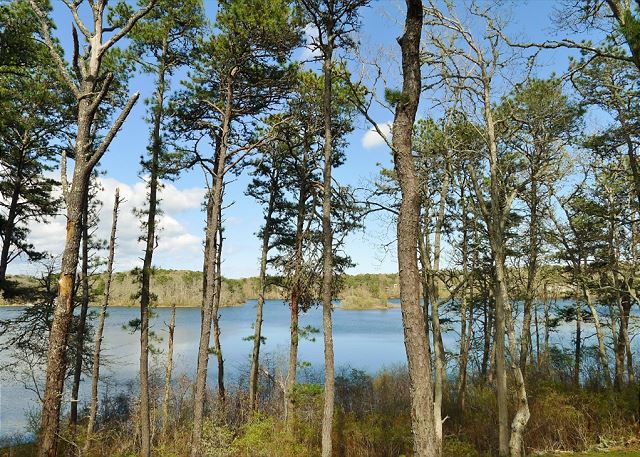 ---
Bedroom(s): 5
Bathroom(s): 3
Sleeps: 10
Type: House
Area:
Town: Orleans
Pamper yourself in this grand 5 bedroom, 3 bath home located in an ultra private estate neighborhood overlooking Pilgrim Lake where you can swim and enjoy all non-motorized boating!

Once you arrive at this expansive retreat in Orleans with 4 zoned central A/C, it will feel as though you have Cape Cod all to yourself! The common living areas are luxuriously appointed and are all facing the water through large windows that flood the interior with light. AND ALL LINENS, SHEETS AND TOWELS ARE INCLUDED IN THIS RENTAL. BEDS ARE FULLY MADE WHEN YOU ARRIVE!

The first floor features a huge main bedroom with a king-sized bed, a 42 inch smart HDTV and en suite bath that boasts both a Jacuzzi and separate shower. A second large bedroom on this level includes a set of twins and is across from another full bath with shower only. This floor also comprises a spacious living room with sliders to a broad deck running the length of the house, an elegant dining room that easily seats 8, and an ample laundry room with washer/dryer and an open kitchen and family room.

The kitchen is fully stocked with everything you could possibly need during your stay: all pots (including one for the lobster) and pans, glasses, dishes, etc, a dishwasher and microwave, as well as an upscale Ninja blender and Keurig coffee machine. There is counter seating for three overlooking a less formal eating area for 6, a 27 inch smart HDTV, and a Bose Wave radio.

Beyond the kitchen is a spectacular family room with soaring ceilings, floor to ceiling windows through which you have sweeping views of Pilgrim Lake, sumptuous chairs and couches, a 60 inch smart HDTV, DVD player, and extended Comcast cable service where you can sign into your own Netflix account. There is also direct access to the deck where you will probably spend much of your day or evening enjoying meals cooked on the gas grill around the outdoor dining furniture or simply relaxing on the deck's other seating options.

You can go upstairs by using either the traditional staircase from the foyer or a wooden spiral staircase that leads to a loft. This area can function as either a study or an alternative sleeping space as the sofa folds out into a full bed. Three other bedrooms are on this level: one with an Olympia queen (larger than the standard size) and a second Bose Wave radio; one with two twins; and one with a standard queen. All of the rooms are bright and architecturally reminiscent of an English Country house with 21st century technology.

The lower level features a combination second family and game room with another 42 inch HDTV and a pool table! The games certainly do not stop there. Outside the home there are full-sized tennis and basketball courts and a clear path directly to the lake's private beach for guests use! And do not forget the fire pit for roasting s'mores or exchanging late night conversations with friends and family.

This is a rare opportunity to be near the heart of Orleans, bay and ocean beaches, fine and family dining, unique shops, art films and galleries. But it also feels a million miles away in an rare vacation retreat that allows you to be as close or as far from nature as you choose to be! Great September rental, too!

Also included: WiFi Internet, room for 4+ cars in driveway, enclosed outdoor shower, private access to lake through association membership.

Sorry no pets and no smoking allowed.

10 guests maximum allowed at any time. No parties exceeding the occupancy limit allowed.

Travel Insurance is highly recommended and affordable coverage to protect your vacation investment.

Please view our policy and procedure page on our web site for detailed information about renting with us.
- Fireplace
- Central Air Conditioning
- Microwave
- Teapot or Tea Kettle
- Cleaning Supplies
- Cookware
- Dishes / Glassware / Utensils
- Kitchen Table
- Blender
- Keurig Coffee Maker
- Island or Counter Seating
- Dishwasher
- Lobster Pot
- TV
- microwave
- ironing board
- Toaster
- Ninja blender
- Dining Table
- TV
- DVD Player
- TV
- On Suite Main Bedroom Bath
- Hair Dryer
- Jacuzzi/Whirlpool Tub
- Tub/Shower Combo
- Walk-In Shower
- Pool Table
- HDTV
- washer and dryer first floor
- Deck
- Gas Grill with Propane Tank
- Dining Table w/ Umbrella
- Enclosed Outdoor Shower
- Firepit or Chiminea
- Tennis
- Outdoor Lighting
- Outdoor Seating
- private association beach
- basketball court
- Close to Town
- Lake or Pond Front
- Near Cape Cod Bay Beaches
- Waterview
- Lake or Pond Access
January 2018

| S | M | T | W | T | F | S |
| --- | --- | --- | --- | --- | --- | --- |
| | 01 | 02 | 03 | 04 | 05 | 06 |
| 07 | 08 | 09 | 10 | 11 | 12 | 13 |
| 14 | 15 | 16 | 17 | 18 | 19 | 20 |
| 21 | 22 | 23 | 24 | 25 | 26 | 27 |
| 28 | 29 | 30 | 31 | | | |
February 2018

| S | M | T | W | T | F | S |
| --- | --- | --- | --- | --- | --- | --- |
| | | | | 01 | 02 | 03 |
| 04 | 05 | 06 | 07 | 08 | 09 | 10 |
| 11 | 12 | 13 | 14 | 15 | 16 | 17 |
| 18 | 19 | 20 | 21 | 22 | 23 | 24 |
| 25 | 26 | 27 | 28 | | | |
March 2018

| S | M | T | W | T | F | S |
| --- | --- | --- | --- | --- | --- | --- |
| | | | | 01 | 02 | 03 |
| 04 | 05 | 06 | 07 | 08 | 09 | 10 |
| 11 | 12 | 13 | 14 | 15 | 16 | 17 |
| 18 | 19 | 20 | 21 | 22 | 23 | 24 |
| 25 | 26 | 27 | 28 | 29 | 30 | 31 |
April 2018

| S | M | T | W | T | F | S |
| --- | --- | --- | --- | --- | --- | --- |
| 01 | 02 | 03 | 04 | 05 | 06 | 07 |
| 08 | 09 | 10 | 11 | 12 | 13 | 14 |
| 15 | 16 | 17 | 18 | 19 | 20 | 21 |
| 22 | 23 | 24 | 25 | 26 | 27 | 28 |
| 29 | 30 | | | | | |
May 2018

| S | M | T | W | T | F | S |
| --- | --- | --- | --- | --- | --- | --- |
| | | 01 | 02 | 03 | 04 | 05 |
| 06 | 07 | 08 | 09 | 10 | 11 | 12 |
| 13 | 14 | 15 | 16 | 17 | 18 | 19 |
| 20 | 21 | 22 | 23 | 24 | 25 | 26 |
| 27 | 28 | 29 | 30 | 31 | | |
June 2018

| S | M | T | W | T | F | S |
| --- | --- | --- | --- | --- | --- | --- |
| | | | | | 01 | 02 |
| 03 | 04 | 05 | 06 | 07 | 08 | 09 |
| 10 | 11 | 12 | 13 | 14 | 15 | 16 |
| 17 | 18 | 19 | 20 | 21 | 22 | 23 |
| 24 | 25 | 26 | 27 | 28 | 29 | 30 |
July 2018

| S | M | T | W | T | F | S |
| --- | --- | --- | --- | --- | --- | --- |
| 01 | 02 | 03 | 04 | 05 | 06 | 07 |
| 08 | 09 | 10 | 11 | 12 | 13 | 14 |
| 15 | 16 | 17 | 18 | 19 | 20 | 21 |
| 22 | 23 | 24 | 25 | 26 | 27 | 28 |
| 29 | 30 | 31 | | | | |
August 2018

| S | M | T | W | T | F | S |
| --- | --- | --- | --- | --- | --- | --- |
| | | | 01 | 02 | 03 | 04 |
| 05 | 06 | 07 | 08 | 09 | 10 | 11 |
| 12 | 13 | 14 | 15 | 16 | 17 | 18 |
| 19 | 20 | 21 | 22 | 23 | 24 | 25 |
| 26 | 27 | 28 | 29 | 30 | 31 | |
September 2018

| S | M | T | W | T | F | S |
| --- | --- | --- | --- | --- | --- | --- |
| | | | | | | 01 |
| 02 | 03 | 04 | 05 | 06 | 07 | 08 |
| 09 | 10 | 11 | 12 | 13 | 14 | 15 |
| 16 | 17 | 18 | 19 | 20 | 21 | 22 |
| 23 | 24 | 25 | 26 | 27 | 28 | 29 |
| 30 | | | | | | |
October 2018

| S | M | T | W | T | F | S |
| --- | --- | --- | --- | --- | --- | --- |
| | 01 | 02 | 03 | 04 | 05 | 06 |
| 07 | 08 | 09 | 10 | 11 | 12 | 13 |
| 14 | 15 | 16 | 17 | 18 | 19 | 20 |
| 21 | 22 | 23 | 24 | 25 | 26 | 27 |
| 28 | 29 | 30 | 31 | | | |
November 2018

| S | M | T | W | T | F | S |
| --- | --- | --- | --- | --- | --- | --- |
| | | | | 01 | 02 | 03 |
| 04 | 05 | 06 | 07 | 08 | 09 | 10 |
| 11 | 12 | 13 | 14 | 15 | 16 | 17 |
| 18 | 19 | 20 | 21 | 22 | 23 | 24 |
| 25 | 26 | 27 | 28 | 29 | 30 | |
December 2018

| S | M | T | W | T | F | S |
| --- | --- | --- | --- | --- | --- | --- |
| | | | | | | 01 |
| 02 | 03 | 04 | 05 | 06 | 07 | 08 |
| 09 | 10 | 11 | 12 | 13 | 14 | 15 |
| 16 | 17 | 18 | 19 | 20 | 21 | 22 |
| 23 | 24 | 25 | 26 | 27 | 28 | 29 |
| 30 | 31 | | | | | |
January 2019

| S | M | T | W | T | F | S |
| --- | --- | --- | --- | --- | --- | --- |
| | | 01 | 02 | 03 | 04 | 05 |
| 06 | 07 | 08 | 09 | 10 | 11 | 12 |
| 13 | 14 | 15 | 16 | 17 | 18 | 19 |
| 20 | 21 | 22 | 23 | 24 | 25 | 26 |
| 27 | 28 | 29 | 30 | 31 | | |
Available
Unavailable
Sat to Sat booking