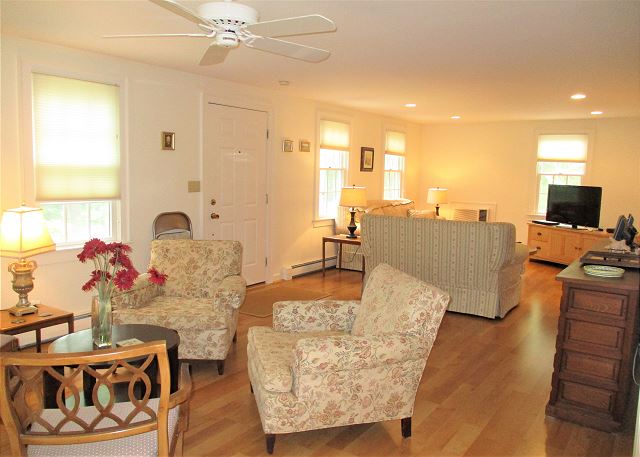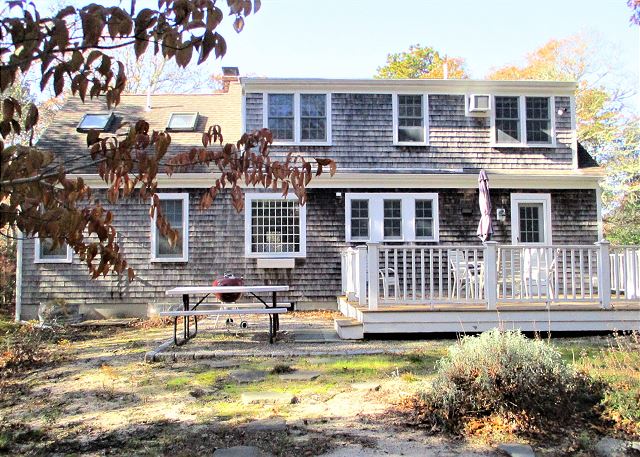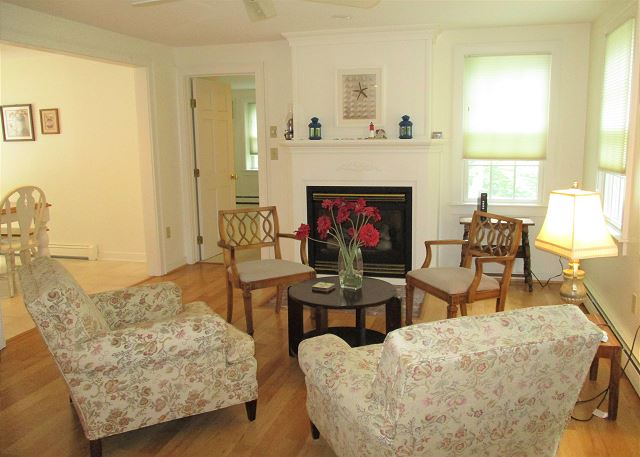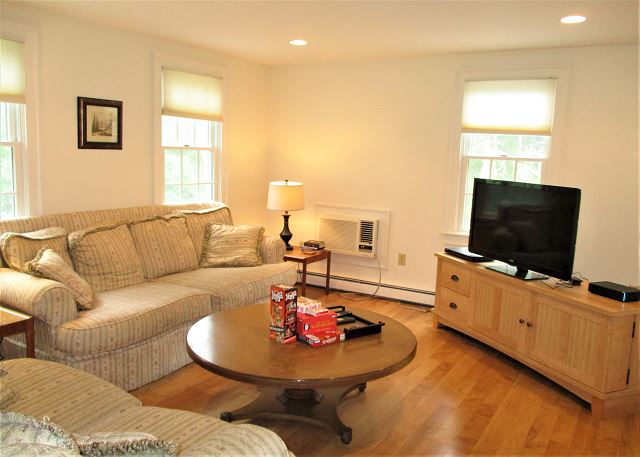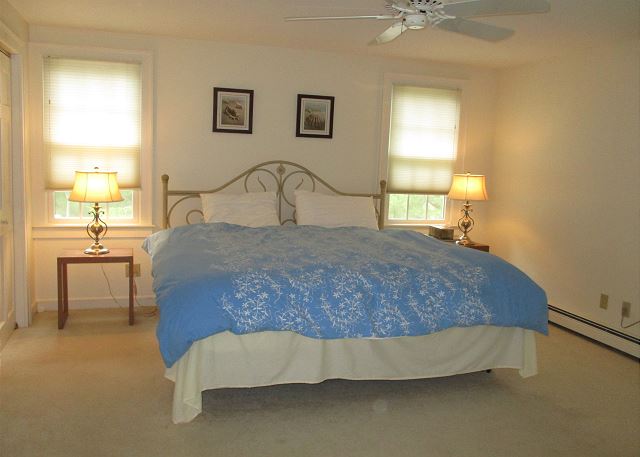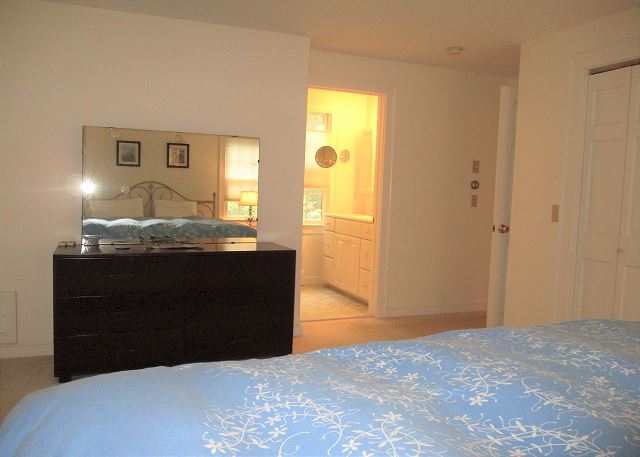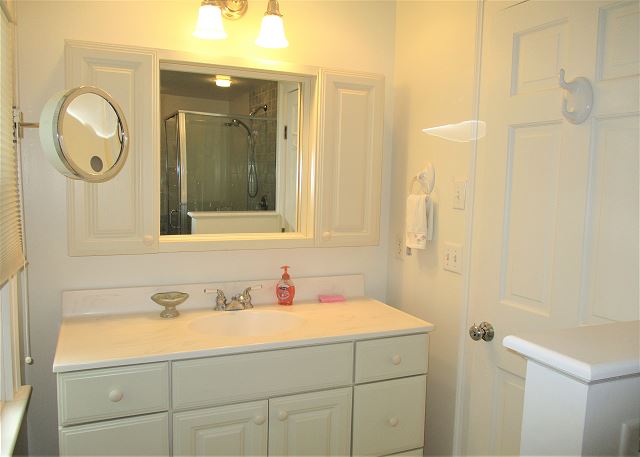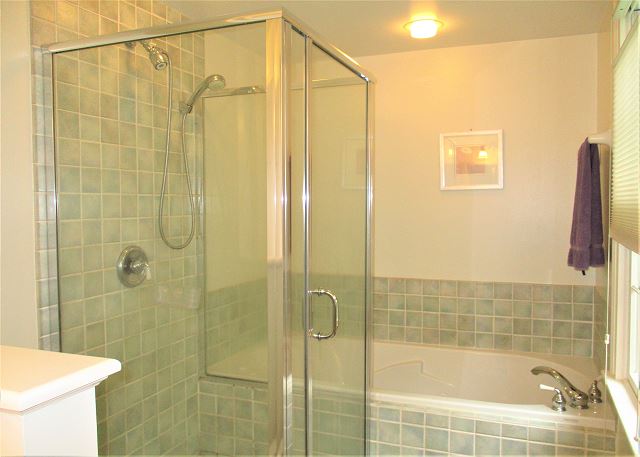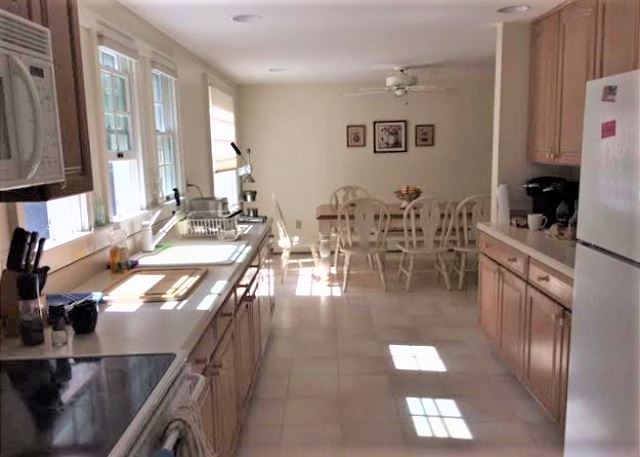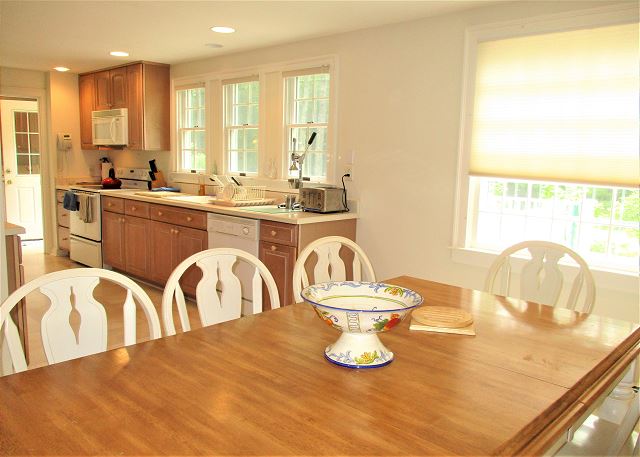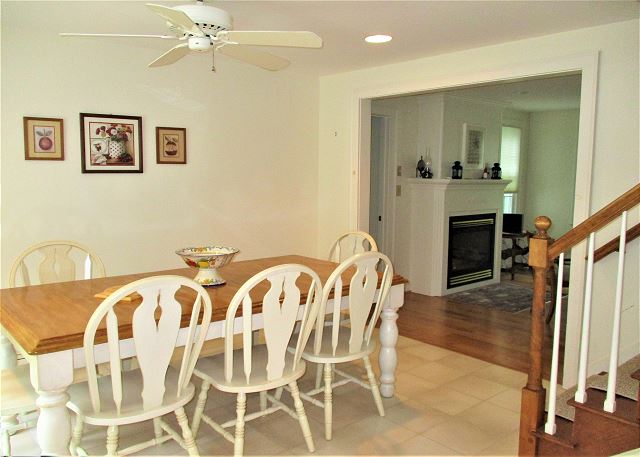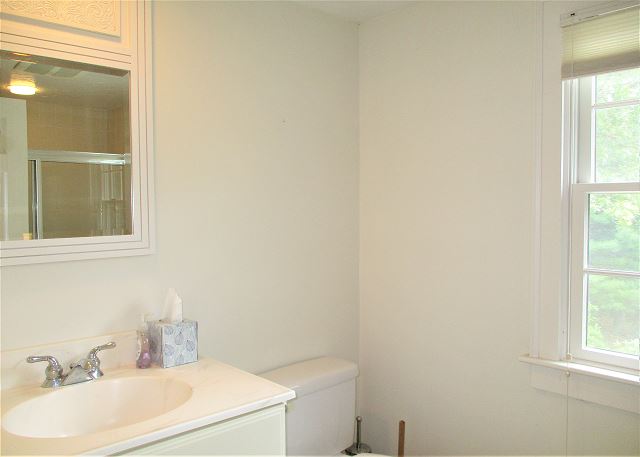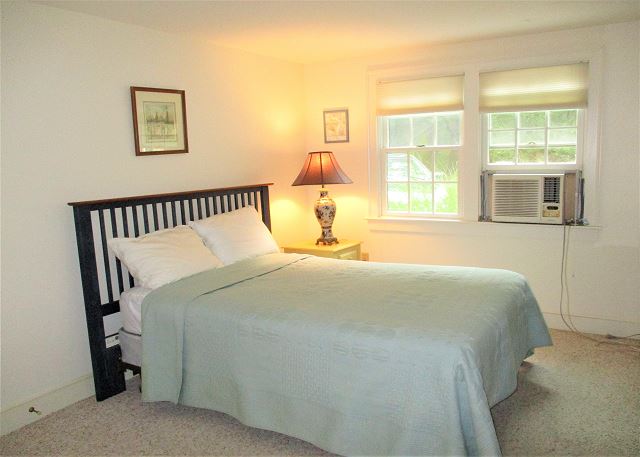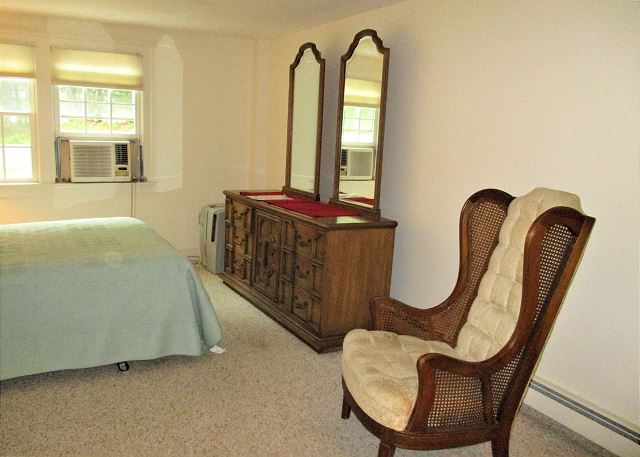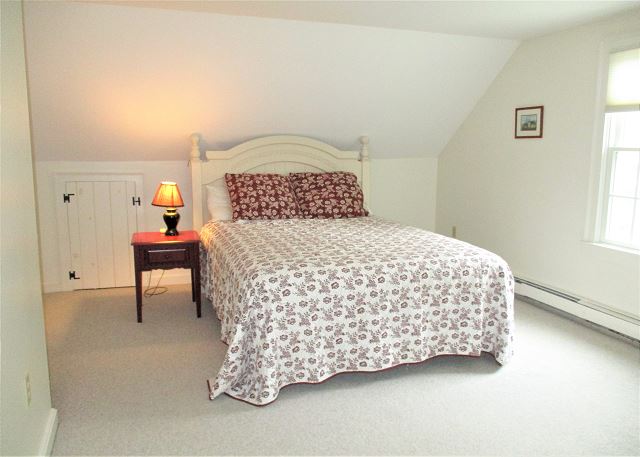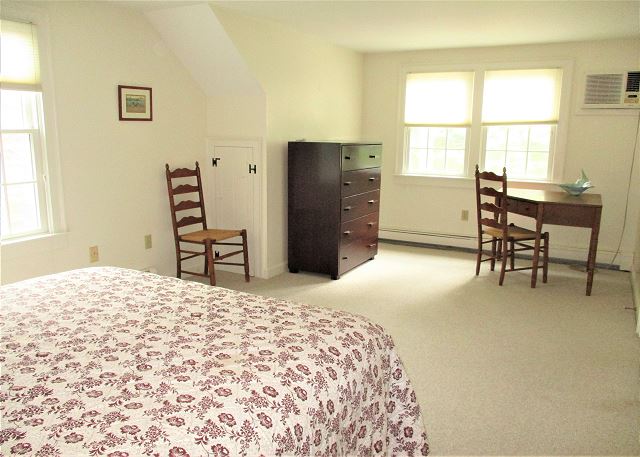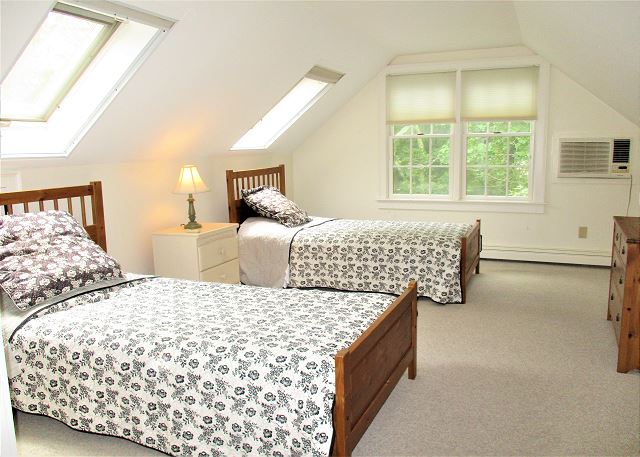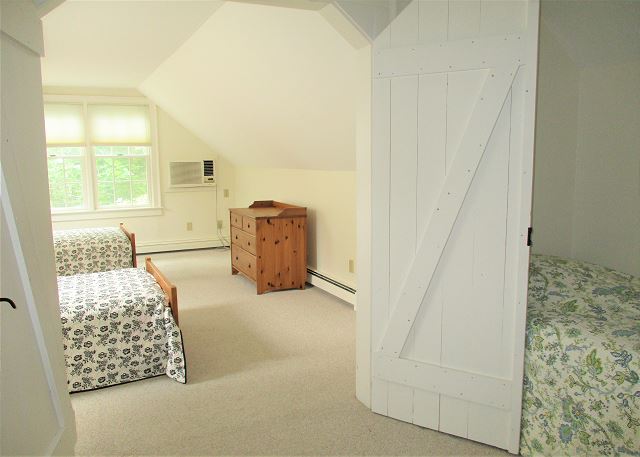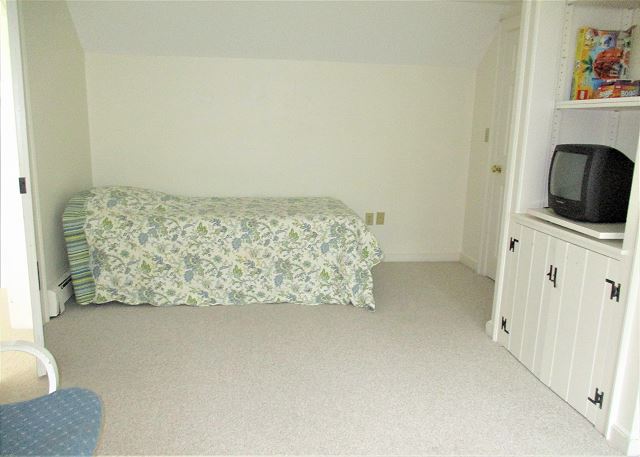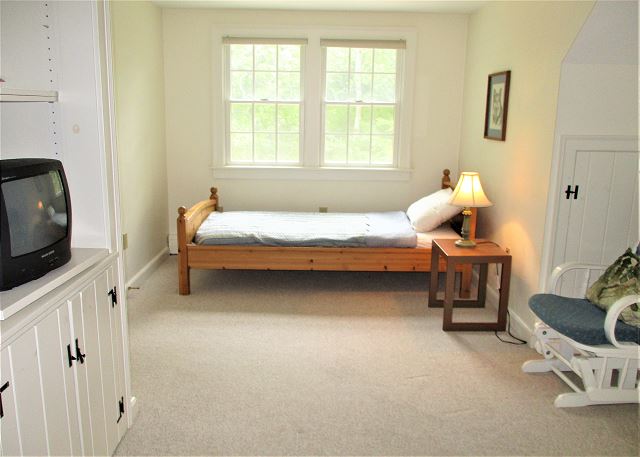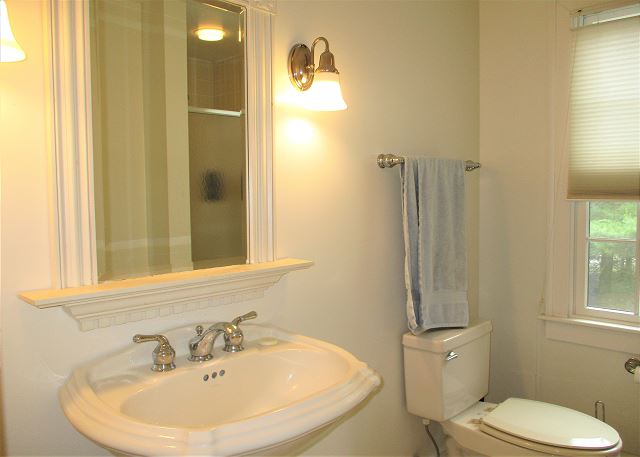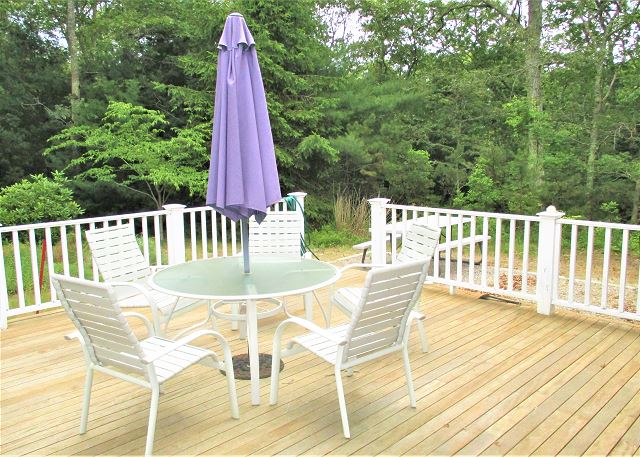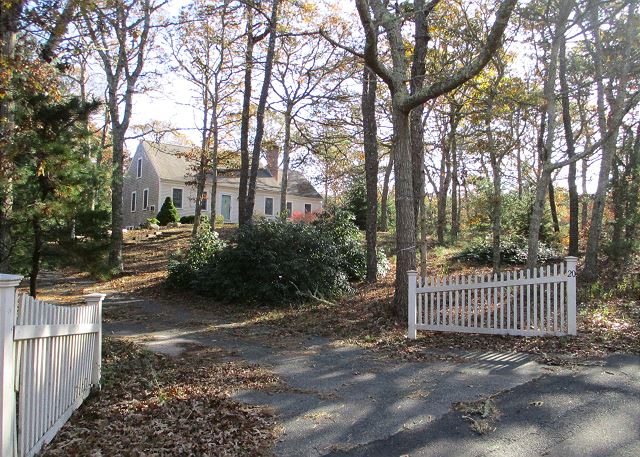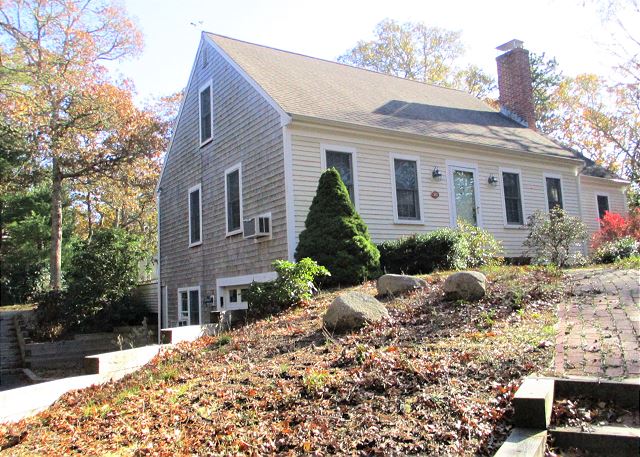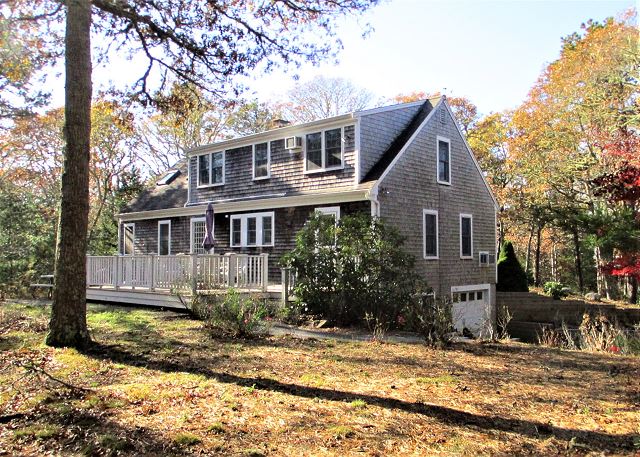 ---
Bedroom(s): 5
Bathroom(s): 3
Sleeps: 10
Type: House
Area:
Town: S Orleans
As a vacation rental, this exquisite 5 bedroom/3 full bath home in South Orleans hits all the right notes exactly on pitch. It is both elegant and relaxed, with plenty of indoor and outdoor space to comfortably accommodate 10 guests.

The front door opens directly into a living room which is bisected into two airy sections and cooled by a window a/c and ceiling fan: one functions as a sitting area with upholstered chairs gathered around a round table to facilitate conversation; the other serves as an entertainment hub with couch and love seat facing a 42' flat TV, basic cable, and dvd and cd players.

This floor includes the main bedroom with king size bed, king sized space, and an artfully tiled en suite bath that boasts a glass–enclosed shower and Jacuzzi tub. There is a second full bath with shower only on this level.

The sunny kitchen is also located on the main floor. It is fully stocked with all the dishes, pots, utensils, etc you will need (including a Keurig coffee maker). It is an immaculate cook's station dressed in white with oak cabinets – a combination that extends to the dining/kitchen table at the far end with ceiling fan above it. On the other side of the kitchen is the laundry room with washer and dryer, as well as a glass door that leads to an ample-sized deck. With its charcoal grill, tempered glass dining table and umbrella, dining chairs and picnic table, this is the perfect "summer dining/living hang out" where guests spend most of their time when not out pursuing the seemingly infinite list of activities Cape Cod has to offer.

There are stairs leading down to bedroom #2 on the lower level. It has a full-sized bed, ultra privacy, and a window unit a/c.

The second level leads a third bathroom with tub/shower combination, and to 3 more bedrooms, or 1 bedroom with window a/c and queen bed and 1 bunk room that comprises 2 adjoining rooms with a connecting door. The bedroom closest to the hallway has a small television and a set of twin beds. The bedroom through the door includes two twins and a unit a/c.

Best of all, Pleasant Bay is only 0.7 miles away for excellent swimming, paddle boarding, kayaking or just hike along the trail surrounding the bay (dogs welcome!). This large home is truly one of a kind. It is graceful and sunwashed - a happy house - suffused with that silvery light that is the color of Cape Cod.

Also included: Wifi, open outdoor shower, 4-5 cars in driveway.

Dogs may be considered upon approval of owner.

Sorry no smoking allowed inside or outside the property.

10 guests maximum allowed at any time. No parties exceeding the occupancy limit allowed.

LINENS (SHEETS/TOWELS) ARE NOT INCLUDED IN THIS RENTAL.

Travel insurance is highly recommended and affordable coverage to protect your vacation investment.

Please view our policy and procedure page on our web site for detailed information about renting with us.
- Standard TV
- DVD Player
- Basic Cable
- Ceiling Fan
- A/C Unit
- WiFi
- CD Player
- Microwave
- Drip Coffee Maker
- Pantry items (sugar, salt & pep)
- Cleaning Supplies
- Cookware
- Dishes / Glassware / Utensils
- Blender
- Iron
- Keurig Coffee Maker
- Toaster or Toaster Oven
- Dishwasher
- ironing board
- washer & dryer, detergent
- Dining Table
- Ceiling Fan
- Ceiling Fan
- Wall Unit A/C in all bedrooms
- Deck
- Patio
- Open Outdoor Shower
- Outdoor Seating
- Close to Town
- Near Golf Course
- Yes
Guest Reviews of
20 tar kiln S Orleans , MA
Beautiful house in South Orleans
Review by
Maggie G.
We enjoyed staying in this beautiful house. It was spacious and clean. The owners have it well stocked and have payed attention to every detail. We definitely enjoyed our stay here and highly recommend it.
5 out of 5 stars
February 2018

| S | M | T | W | T | F | S |
| --- | --- | --- | --- | --- | --- | --- |
| | | | | 01 | 02 | 03 |
| 04 | 05 | 06 | 07 | 08 | 09 | 10 |
| 11 | 12 | 13 | 14 | 15 | 16 | 17 |
| 18 | 19 | 20 | 21 | 22 | 23 | 24 |
| 25 | 26 | 27 | 28 | | | |
March 2018

| S | M | T | W | T | F | S |
| --- | --- | --- | --- | --- | --- | --- |
| | | | | 01 | 02 | 03 |
| 04 | 05 | 06 | 07 | 08 | 09 | 10 |
| 11 | 12 | 13 | 14 | 15 | 16 | 17 |
| 18 | 19 | 20 | 21 | 22 | 23 | 24 |
| 25 | 26 | 27 | 28 | 29 | 30 | 31 |
April 2018

| S | M | T | W | T | F | S |
| --- | --- | --- | --- | --- | --- | --- |
| 01 | 02 | 03 | 04 | 05 | 06 | 07 |
| 08 | 09 | 10 | 11 | 12 | 13 | 14 |
| 15 | 16 | 17 | 18 | 19 | 20 | 21 |
| 22 | 23 | 24 | 25 | 26 | 27 | 28 |
| 29 | 30 | | | | | |
May 2018

| S | M | T | W | T | F | S |
| --- | --- | --- | --- | --- | --- | --- |
| | | 01 | 02 | 03 | 04 | 05 |
| 06 | 07 | 08 | 09 | 10 | 11 | 12 |
| 13 | 14 | 15 | 16 | 17 | 18 | 19 |
| 20 | 21 | 22 | 23 | 24 | 25 | 26 |
| 27 | 28 | 29 | 30 | 31 | | |
June 2018

| S | M | T | W | T | F | S |
| --- | --- | --- | --- | --- | --- | --- |
| | | | | | 01 | 02 |
| 03 | 04 | 05 | 06 | 07 | 08 | 09 |
| 10 | 11 | 12 | 13 | 14 | 15 | 16 |
| 17 | 18 | 19 | 20 | 21 | 22 | 23 |
| 24 | 25 | 26 | 27 | 28 | 29 | 30 |
July 2018

| S | M | T | W | T | F | S |
| --- | --- | --- | --- | --- | --- | --- |
| 01 | 02 | 03 | 04 | 05 | 06 | 07 |
| 08 | 09 | 10 | 11 | 12 | 13 | 14 |
| 15 | 16 | 17 | 18 | 19 | 20 | 21 |
| 22 | 23 | 24 | 25 | 26 | 27 | 28 |
| 29 | 30 | 31 | | | | |
August 2018

| S | M | T | W | T | F | S |
| --- | --- | --- | --- | --- | --- | --- |
| | | | 01 | 02 | 03 | 04 |
| 05 | 06 | 07 | 08 | 09 | 10 | 11 |
| 12 | 13 | 14 | 15 | 16 | 17 | 18 |
| 19 | 20 | 21 | 22 | 23 | 24 | 25 |
| 26 | 27 | 28 | 29 | 30 | 31 | |
September 2018

| S | M | T | W | T | F | S |
| --- | --- | --- | --- | --- | --- | --- |
| | | | | | | 01 |
| 02 | 03 | 04 | 05 | 06 | 07 | 08 |
| 09 | 10 | 11 | 12 | 13 | 14 | 15 |
| 16 | 17 | 18 | 19 | 20 | 21 | 22 |
| 23 | 24 | 25 | 26 | 27 | 28 | 29 |
| 30 | | | | | | |
October 2018

| S | M | T | W | T | F | S |
| --- | --- | --- | --- | --- | --- | --- |
| | 01 | 02 | 03 | 04 | 05 | 06 |
| 07 | 08 | 09 | 10 | 11 | 12 | 13 |
| 14 | 15 | 16 | 17 | 18 | 19 | 20 |
| 21 | 22 | 23 | 24 | 25 | 26 | 27 |
| 28 | 29 | 30 | 31 | | | |
November 2018

| S | M | T | W | T | F | S |
| --- | --- | --- | --- | --- | --- | --- |
| | | | | 01 | 02 | 03 |
| 04 | 05 | 06 | 07 | 08 | 09 | 10 |
| 11 | 12 | 13 | 14 | 15 | 16 | 17 |
| 18 | 19 | 20 | 21 | 22 | 23 | 24 |
| 25 | 26 | 27 | 28 | 29 | 30 | |
December 2018

| S | M | T | W | T | F | S |
| --- | --- | --- | --- | --- | --- | --- |
| | | | | | | 01 |
| 02 | 03 | 04 | 05 | 06 | 07 | 08 |
| 09 | 10 | 11 | 12 | 13 | 14 | 15 |
| 16 | 17 | 18 | 19 | 20 | 21 | 22 |
| 23 | 24 | 25 | 26 | 27 | 28 | 29 |
| 30 | 31 | | | | | |
January 2019

| S | M | T | W | T | F | S |
| --- | --- | --- | --- | --- | --- | --- |
| | | 01 | 02 | 03 | 04 | 05 |
| 06 | 07 | 08 | 09 | 10 | 11 | 12 |
| 13 | 14 | 15 | 16 | 17 | 18 | 19 |
| 20 | 21 | 22 | 23 | 24 | 25 | 26 |
| 27 | 28 | 29 | 30 | 31 | | |
February 2019

| S | M | T | W | T | F | S |
| --- | --- | --- | --- | --- | --- | --- |
| | | | | | 01 | 02 |
| 03 | 04 | 05 | 06 | 07 | 08 | 09 |
| 10 | 11 | 12 | 13 | 14 | 15 | 16 |
| 17 | 18 | 19 | 20 | 21 | 22 | 23 |
| 24 | 25 | 26 | 27 | 28 | | |
Available
Unavailable
Sat to Sat booking