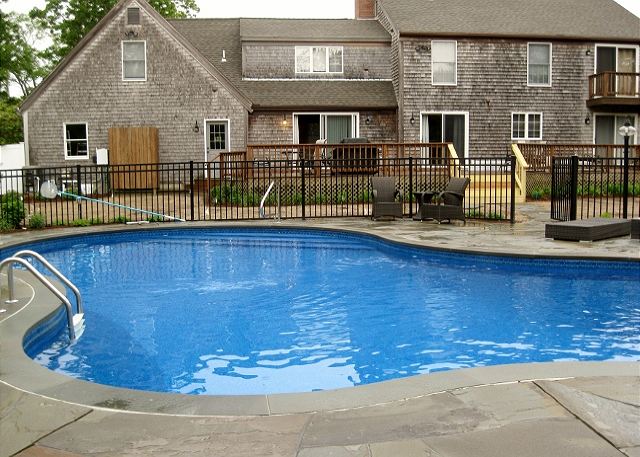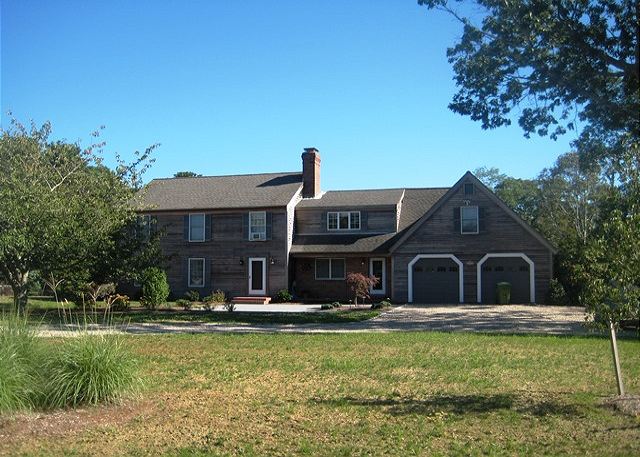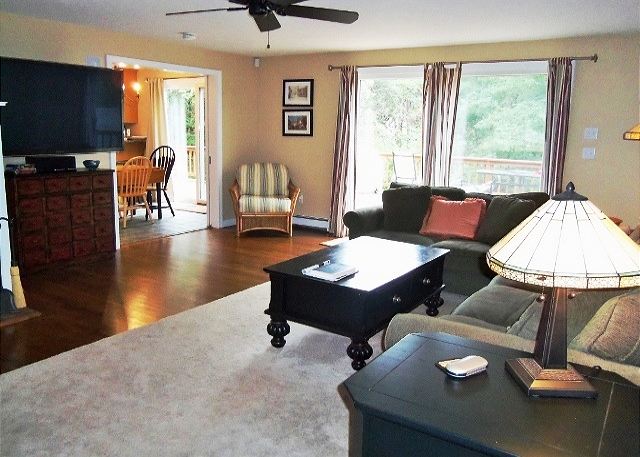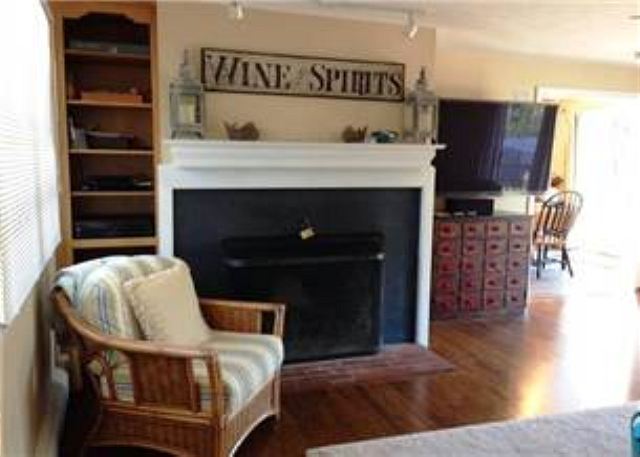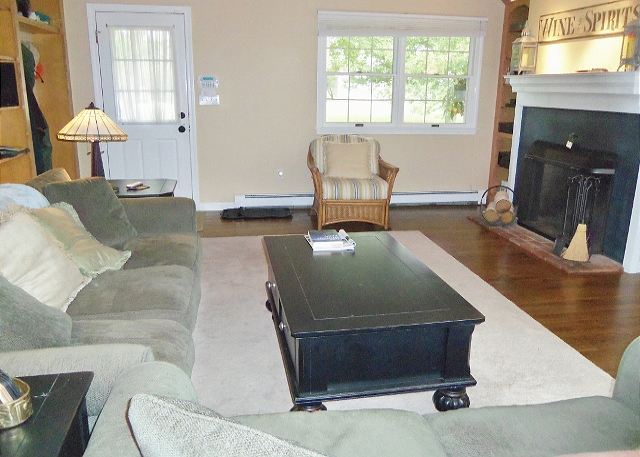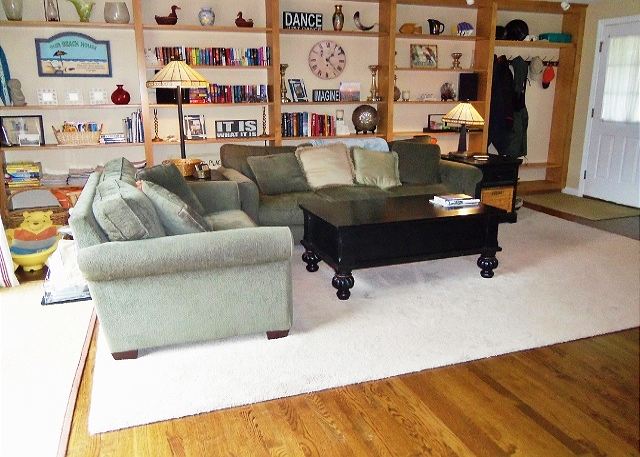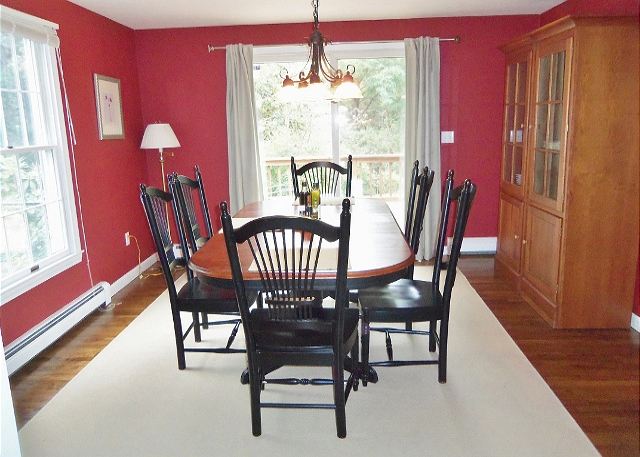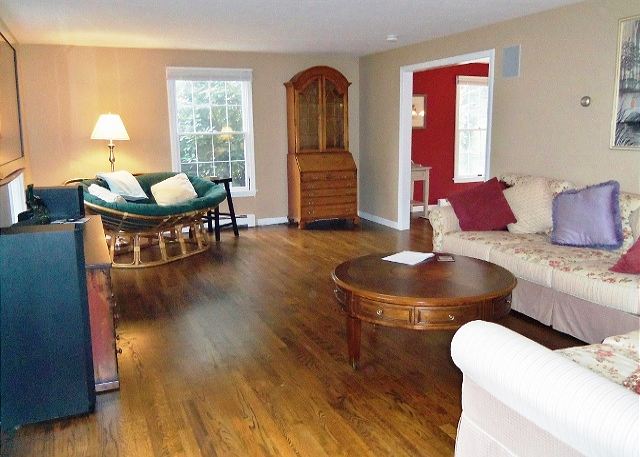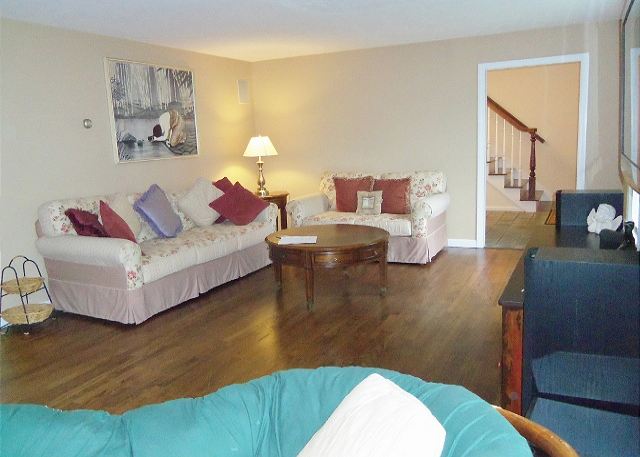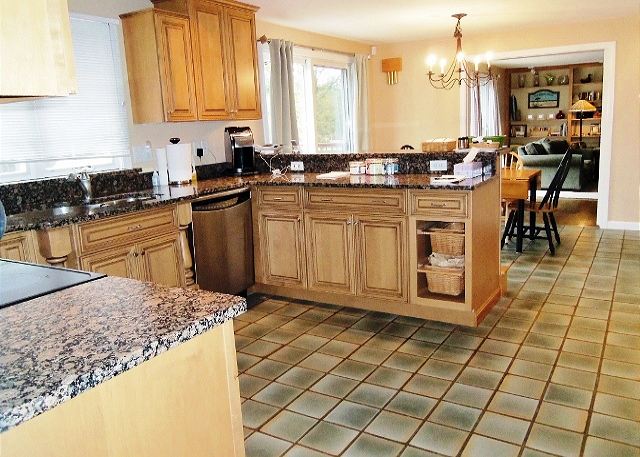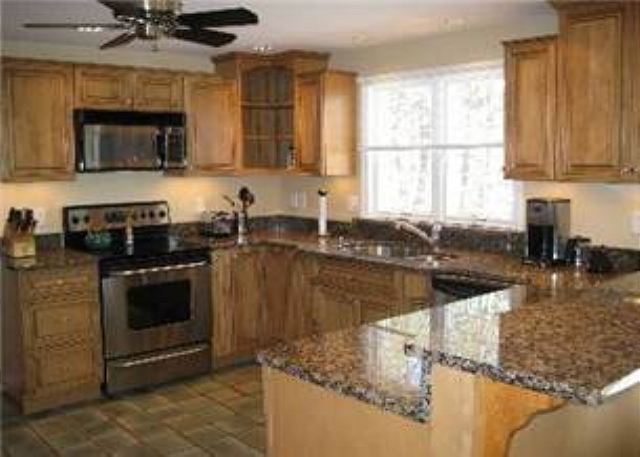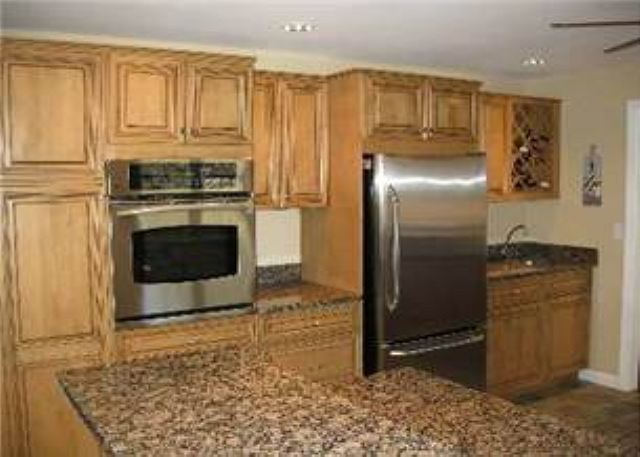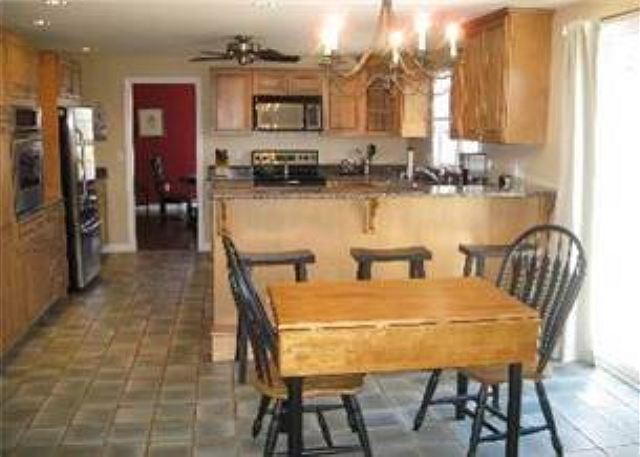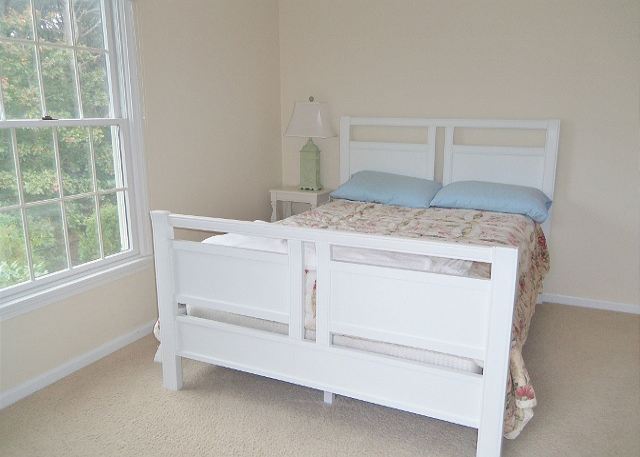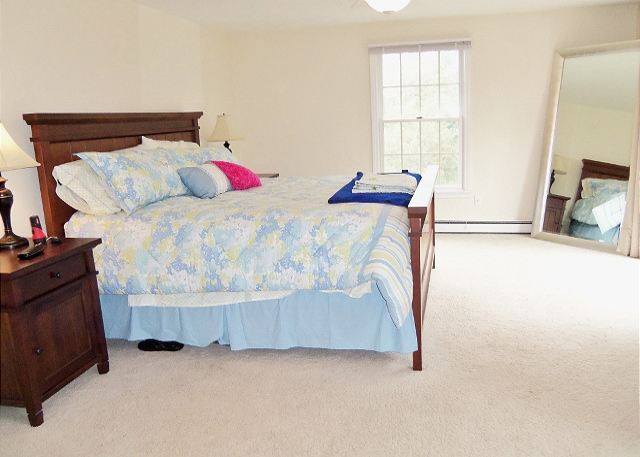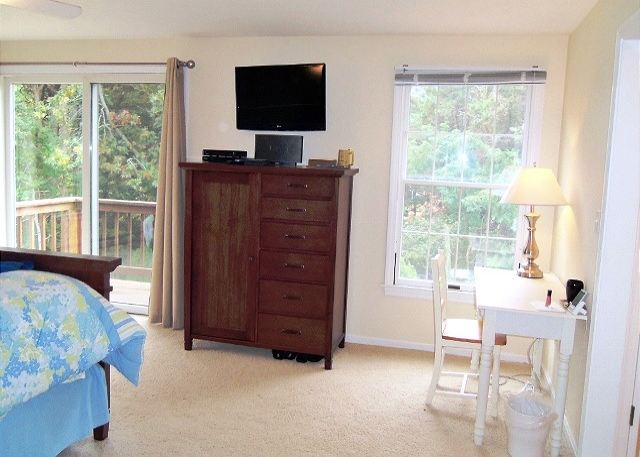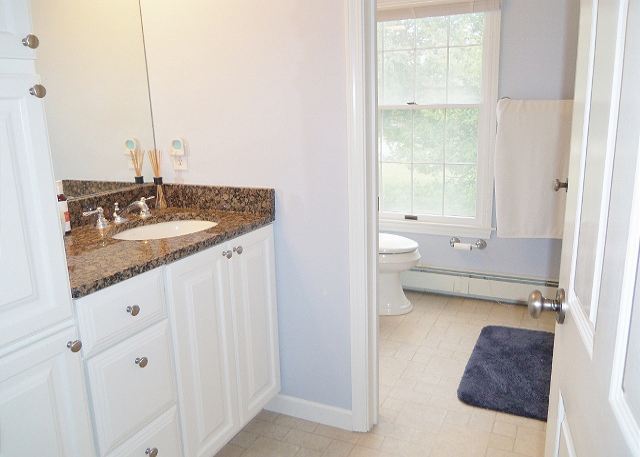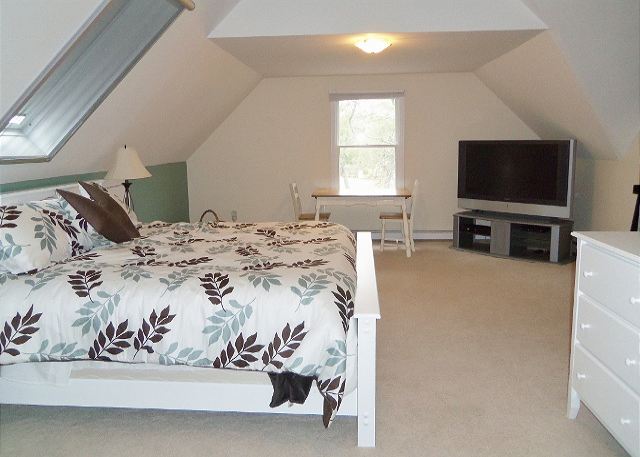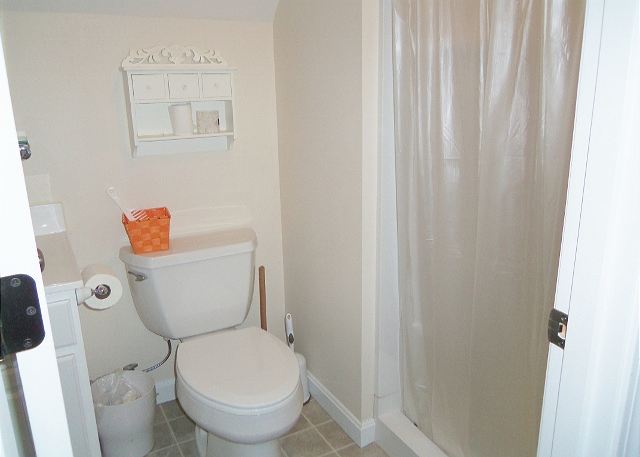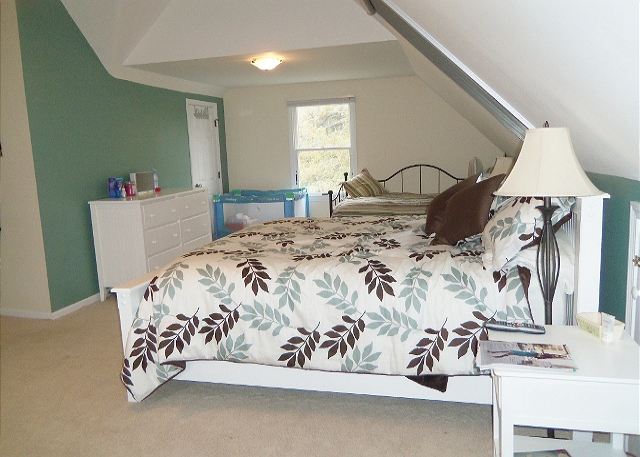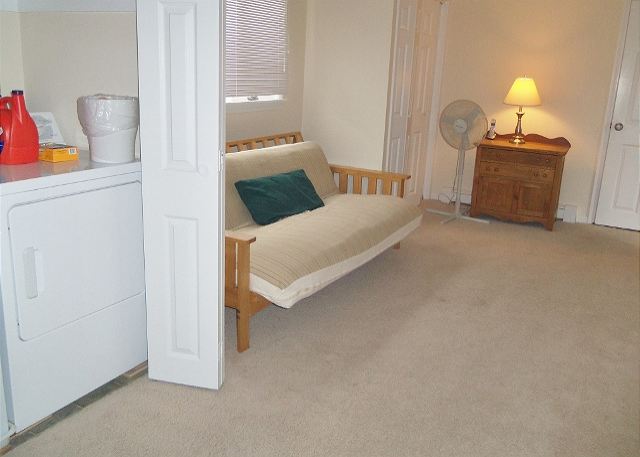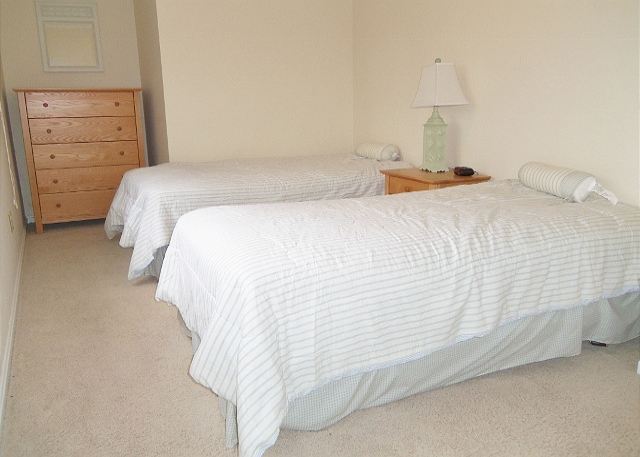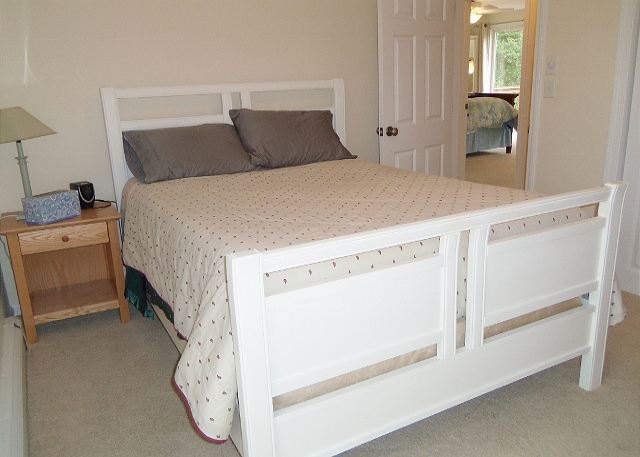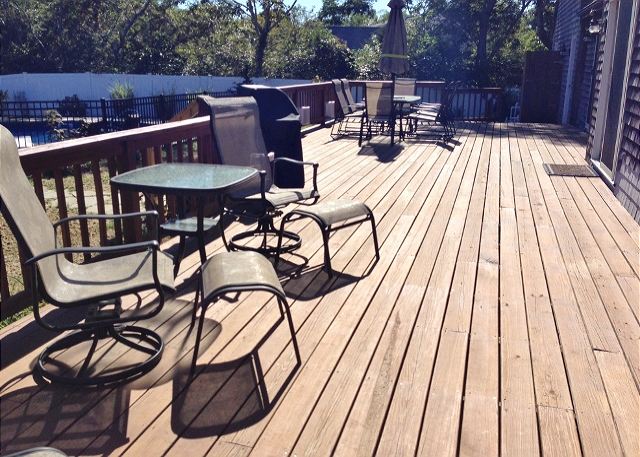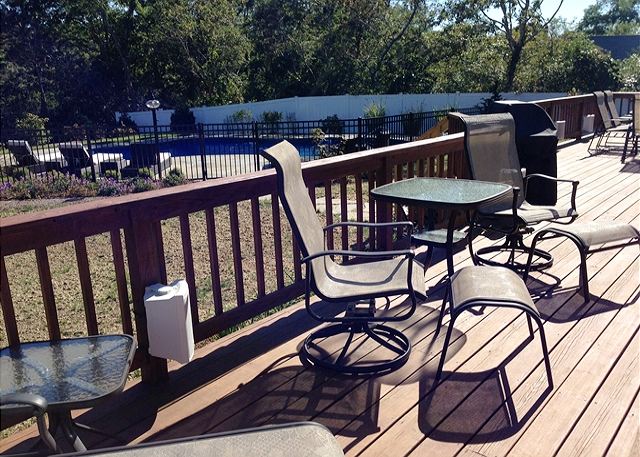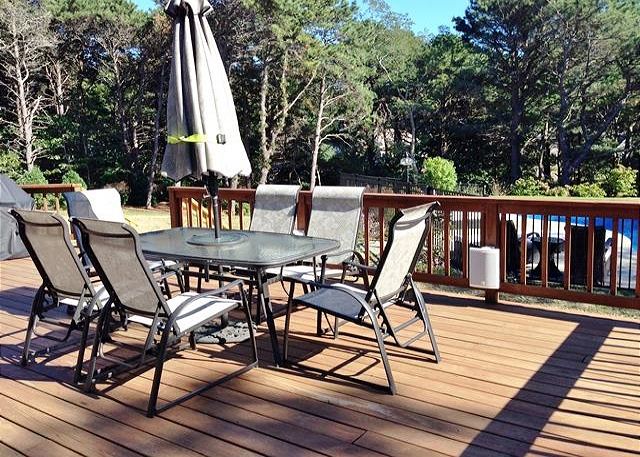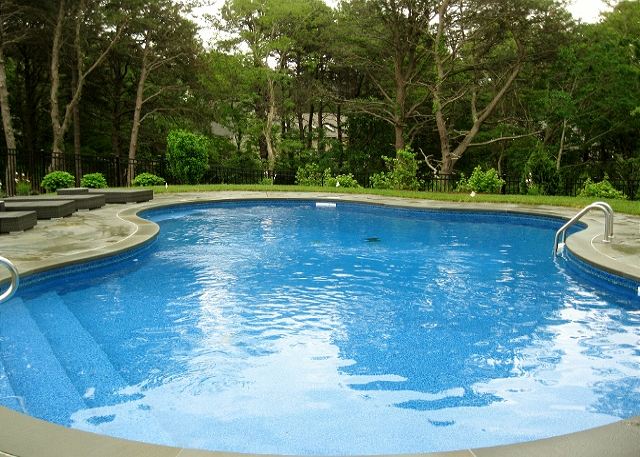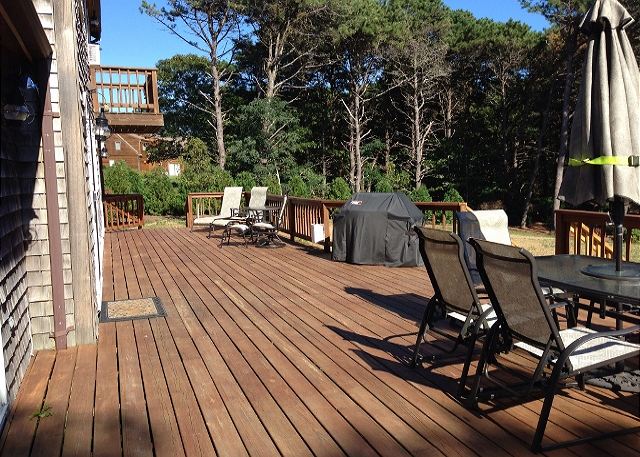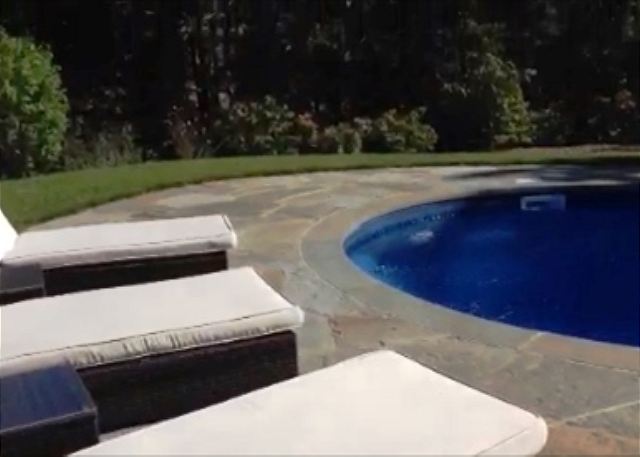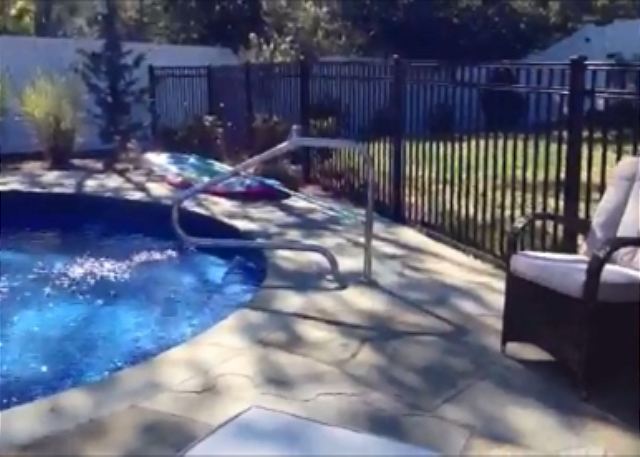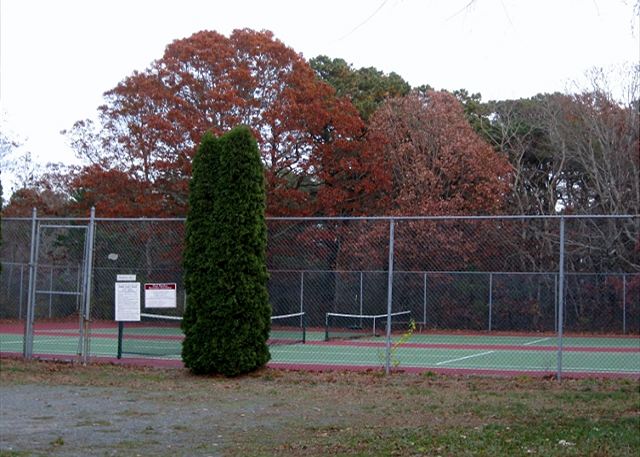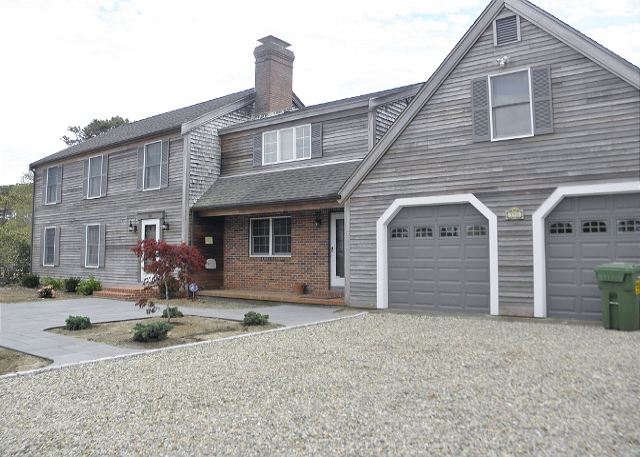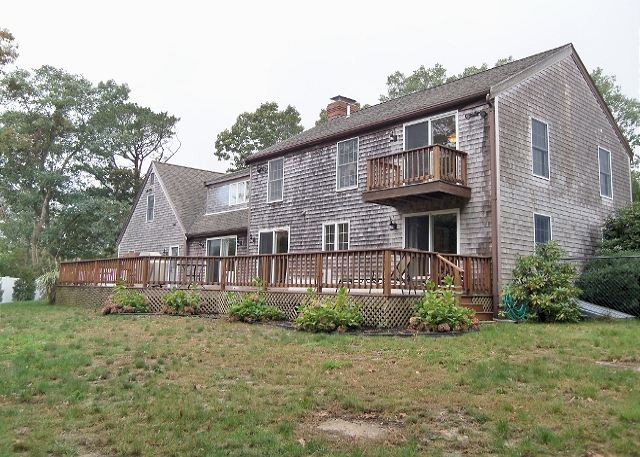 ---
Bedroom(s): 4
Bathroom(s): 3.5
Sleeps: 8
Type: House
Area:
Town: Eastham
Enjoy this expansive Eastham vacation home, now with beautiful heated private in-ground Pool and central a/c!

Located in a quiet neighborhood one mile to Boat Meadow Beach on Cape Cod Bay, with neighborhood tennis court access.

Upon entering at the main door of this beautiful home, you will find a plush living room with a large 50" flat screen. This leads to the stunning eat-in granite kitchen with dining area and doors leading to expansive deck and yard.

There is a full formal dining room, and at side entry a wonderful den also with a 50" flat screen TV. Also located on the first level is a half bathroom.

On the second floor of this home, you will find a sitting area with a washer and dryer and futon. Across from this is a open den with two twin beds. Past this down the hall is a large bedroom suite with a king size bed, a trundle bed, and 48" flat screen TV. On the other side of the 2nd floor are 3 more bedroom, two of these have a full size bed in each, and the other bedroom has a king size bed, TV, full Bathroom, and a private balcony overlooking the over-sized back yard & pool.

There is a Sonos wireless sound system throughout downstairs, deck, and in both main bedrooms.

Outdoors you will find a large front yard, with a handsome patio at the den entry. From the kitchen there are doors to an expansive deck with outdoor dining and a gas grill. Also a spacious private back yard that features a separately fenced and gated heated in the ground pool skirted with chaise lounge chairs & table seating. There is also an outdoor enclosed shower in the rear yard.

8 guests maximum allowed at any time. No parties exceeding the occupancy limit allowed.

NOTE: LINENS (SHEETS/TOWELS) ARE NOT INCLUDED IN THIS RENTAL.

Sorry, No Pets and No Smoking Allowed.

Please read our Policies and Procedures for additional details regarding renting with us.

Travel Insurance is available, highly recommended, and affordable coverage to protect your Vacation investment.

For more information about this property or our other vacation rentals, call us at or Toll Free and ask for property ID WIDG190 or visit
- DVD Player
- Flat Screen HDTV
- Extended Cable
- Movie Channels
- IPod docking station
- Stereo w/ CD player
- Microwave
- Drip Coffee Maker
- Cookware
- Dishes / Glassware / Utensils
- Toaster or Toaster Oven
- Island or Counter Seating
- Dishwasher
- Dining Table
- TV
- Ceiling fan
- TV
- Ceiling Fan
- Private bath
- Hair Dryer
- Deck
- Patio
- Enclosed/Fenced yard
- Gas Grill with Propane Tank
- Dining Table w/o Umbrella
- Enclosed Outdoor Shower
- Private Pool
- Tennis
- Garage Access
- Beach Chairs
- Outdoor Lighting
- Outdoor Seating
- Near Cape Cod Bay Beaches
- Near National Sea Shore Beaches
Guest Reviews of
190 widgeon Eastham , MA
Eastham Pool Retreat
Review by
Erika B.
We have enjoyed staying at this home for many years. The pool has been a wonderful addition. This year we experienced a negative smell in the home- dog. This is a pet free home so it is assumed the owners stay there with their pets. In addition the wifi is weak and does not work consistently or at all in some rooms. We love this home but for the cost, it should not smell like wet dog.
4 out of 5 stars
190 Widgeon Drive
All aspects of the rental process were easy. Entire stay was great--now 2 years in a row for us. We love the location and the ease with which we can access the grocery store, the bike trail, and the beaches. The pool was the most favorite aspect of the home for our kids and they are already asking us whether we can return to 190 Widgeon next year. They very much feel at home in the house. It is the perfect house for families with kids given the pool, the access to activities, and the comfortable, family-friendly sleeping areas and common areas. The only downside this year was that there is an internet issue in the house leading to very limited service--this was not an issue last year.
5 out of 5 stars
Amazing!
Review by
Jodi F.
My husband and kids (12 & 14) didn't want to leave this house. The pool, the outdoor speakers, the large deck, the beautiful landscaping - it was everything we were hoping for and more!
5 out of 5 stars
May 2018

| S | M | T | W | T | F | S |
| --- | --- | --- | --- | --- | --- | --- |
| | | 01 | 02 | 03 | 04 | 05 |
| 06 | 07 | 08 | 09 | 10 | 11 | 12 |
| 13 | 14 | 15 | 16 | 17 | 18 | 19 |
| 20 | 21 | 22 | 23 | 24 | 25 | 26 |
| 27 | 28 | 29 | 30 | 31 | | |
June 2018

| S | M | T | W | T | F | S |
| --- | --- | --- | --- | --- | --- | --- |
| | | | | | 01 | 02 |
| 03 | 04 | 05 | 06 | 07 | 08 | 09 |
| 10 | 11 | 12 | 13 | 14 | 15 | 16 |
| 17 | 18 | 19 | 20 | 21 | 22 | 23 |
| 24 | 25 | 26 | 27 | 28 | 29 | 30 |
July 2018

| S | M | T | W | T | F | S |
| --- | --- | --- | --- | --- | --- | --- |
| 01 | 02 | 03 | 04 | 05 | 06 | 07 |
| 08 | 09 | 10 | 11 | 12 | 13 | 14 |
| 15 | 16 | 17 | 18 | 19 | 20 | 21 |
| 22 | 23 | 24 | 25 | 26 | 27 | 28 |
| 29 | 30 | 31 | | | | |
August 2018

| S | M | T | W | T | F | S |
| --- | --- | --- | --- | --- | --- | --- |
| | | | 01 | 02 | 03 | 04 |
| 05 | 06 | 07 | 08 | 09 | 10 | 11 |
| 12 | 13 | 14 | 15 | 16 | 17 | 18 |
| 19 | 20 | 21 | 22 | 23 | 24 | 25 |
| 26 | 27 | 28 | 29 | 30 | 31 | |
September 2018

| S | M | T | W | T | F | S |
| --- | --- | --- | --- | --- | --- | --- |
| | | | | | | 01 |
| 02 | 03 | 04 | 05 | 06 | 07 | 08 |
| 09 | 10 | 11 | 12 | 13 | 14 | 15 |
| 16 | 17 | 18 | 19 | 20 | 21 | 22 |
| 23 | 24 | 25 | 26 | 27 | 28 | 29 |
| 30 | | | | | | |
October 2018

| S | M | T | W | T | F | S |
| --- | --- | --- | --- | --- | --- | --- |
| | 01 | 02 | 03 | 04 | 05 | 06 |
| 07 | 08 | 09 | 10 | 11 | 12 | 13 |
| 14 | 15 | 16 | 17 | 18 | 19 | 20 |
| 21 | 22 | 23 | 24 | 25 | 26 | 27 |
| 28 | 29 | 30 | 31 | | | |
November 2018

| S | M | T | W | T | F | S |
| --- | --- | --- | --- | --- | --- | --- |
| | | | | 01 | 02 | 03 |
| 04 | 05 | 06 | 07 | 08 | 09 | 10 |
| 11 | 12 | 13 | 14 | 15 | 16 | 17 |
| 18 | 19 | 20 | 21 | 22 | 23 | 24 |
| 25 | 26 | 27 | 28 | 29 | 30 | |
December 2018

| S | M | T | W | T | F | S |
| --- | --- | --- | --- | --- | --- | --- |
| | | | | | | 01 |
| 02 | 03 | 04 | 05 | 06 | 07 | 08 |
| 09 | 10 | 11 | 12 | 13 | 14 | 15 |
| 16 | 17 | 18 | 19 | 20 | 21 | 22 |
| 23 | 24 | 25 | 26 | 27 | 28 | 29 |
| 30 | 31 | | | | | |
January 2019

| S | M | T | W | T | F | S |
| --- | --- | --- | --- | --- | --- | --- |
| | | 01 | 02 | 03 | 04 | 05 |
| 06 | 07 | 08 | 09 | 10 | 11 | 12 |
| 13 | 14 | 15 | 16 | 17 | 18 | 19 |
| 20 | 21 | 22 | 23 | 24 | 25 | 26 |
| 27 | 28 | 29 | 30 | 31 | | |
February 2019

| S | M | T | W | T | F | S |
| --- | --- | --- | --- | --- | --- | --- |
| | | | | | 01 | 02 |
| 03 | 04 | 05 | 06 | 07 | 08 | 09 |
| 10 | 11 | 12 | 13 | 14 | 15 | 16 |
| 17 | 18 | 19 | 20 | 21 | 22 | 23 |
| 24 | 25 | 26 | 27 | 28 | | |
March 2019

| S | M | T | W | T | F | S |
| --- | --- | --- | --- | --- | --- | --- |
| | | | | | 01 | 02 |
| 03 | 04 | 05 | 06 | 07 | 08 | 09 |
| 10 | 11 | 12 | 13 | 14 | 15 | 16 |
| 17 | 18 | 19 | 20 | 21 | 22 | 23 |
| 24 | 25 | 26 | 27 | 28 | 29 | 30 |
| 31 | | | | | | |
April 2019

| S | M | T | W | T | F | S |
| --- | --- | --- | --- | --- | --- | --- |
| | 01 | 02 | 03 | 04 | 05 | 06 |
| 07 | 08 | 09 | 10 | 11 | 12 | 13 |
| 14 | 15 | 16 | 17 | 18 | 19 | 20 |
| 21 | 22 | 23 | 24 | 25 | 26 | 27 |
| 28 | 29 | 30 | | | | |
May 2019

| S | M | T | W | T | F | S |
| --- | --- | --- | --- | --- | --- | --- |
| | | | 01 | 02 | 03 | 04 |
| 05 | 06 | 07 | 08 | 09 | 10 | 11 |
| 12 | 13 | 14 | 15 | 16 | 17 | 18 |
| 19 | 20 | 21 | 22 | 23 | 24 | 25 |
| 26 | 27 | 28 | 29 | 30 | 31 | |
Available
Unavailable
Sat to Sat booking