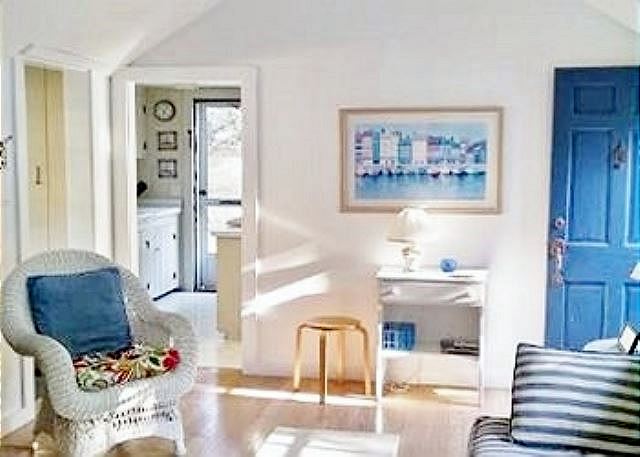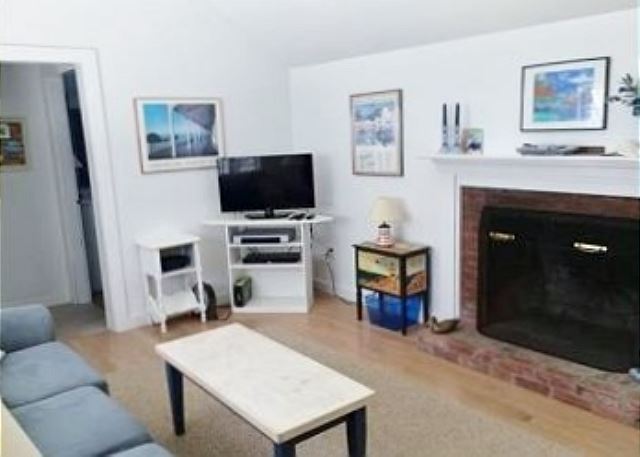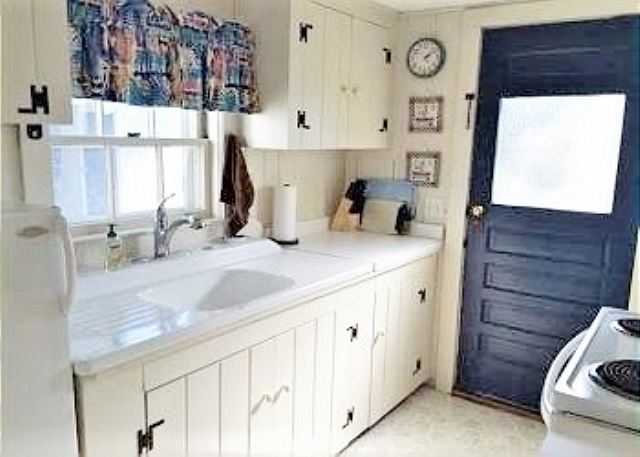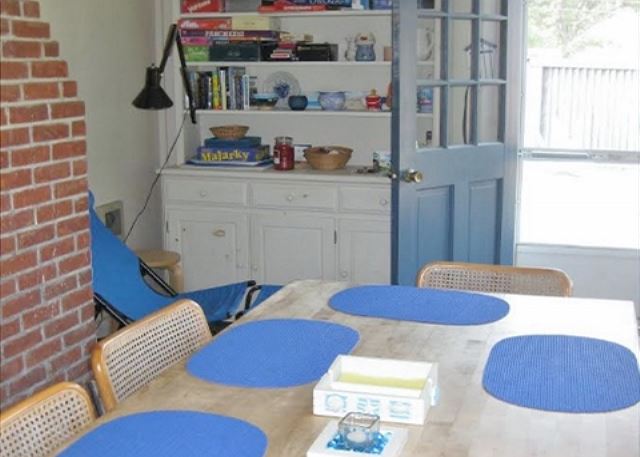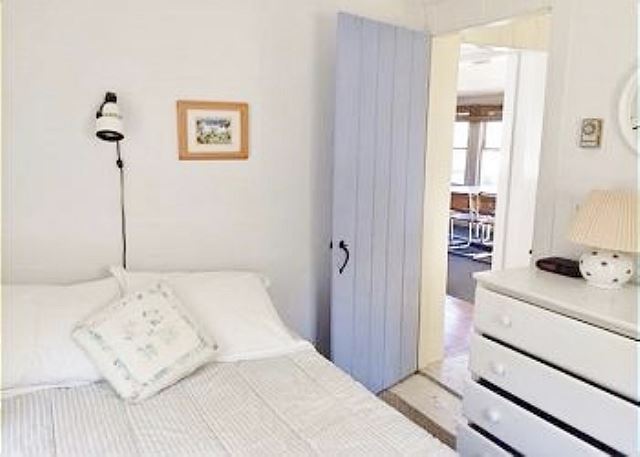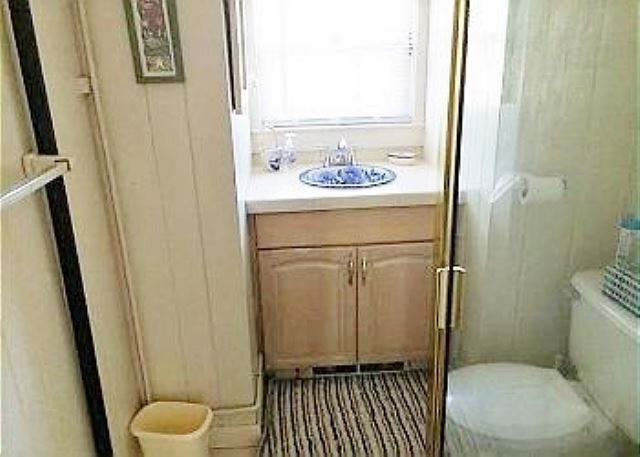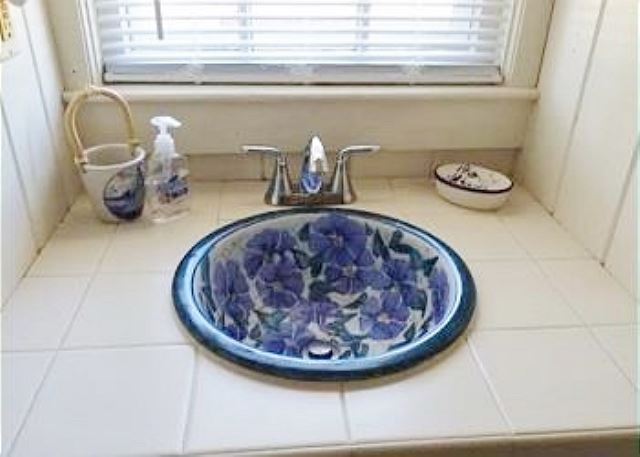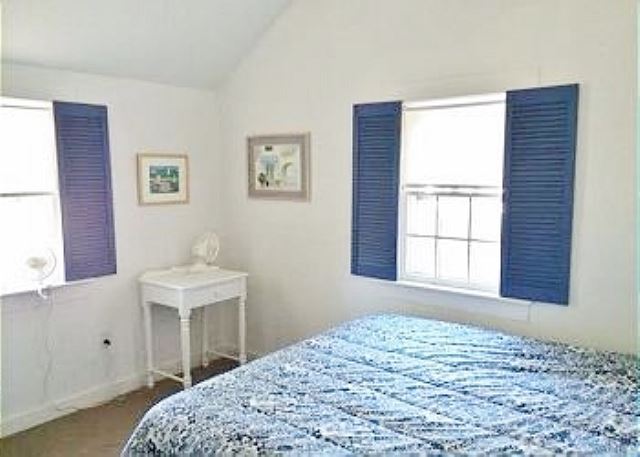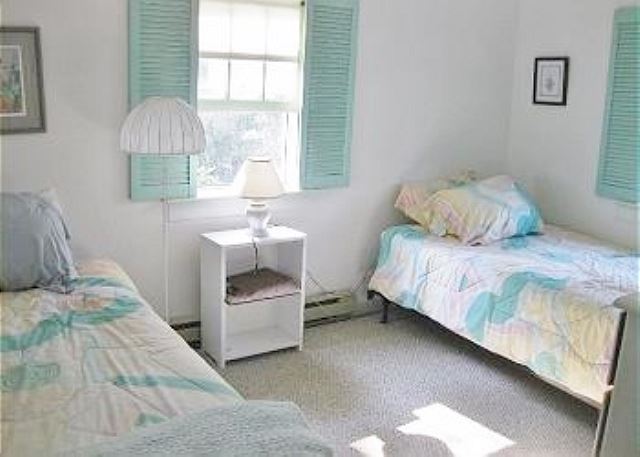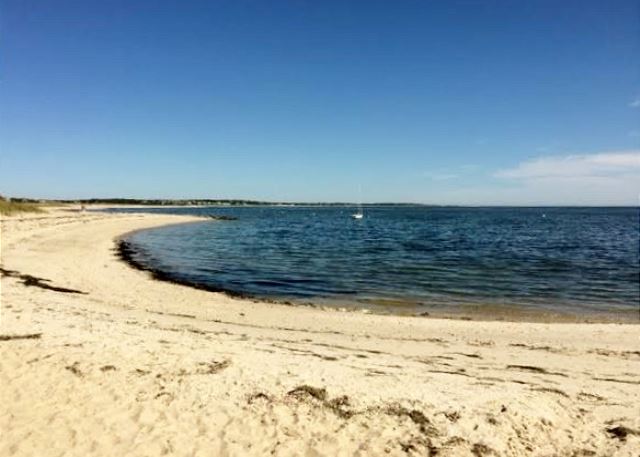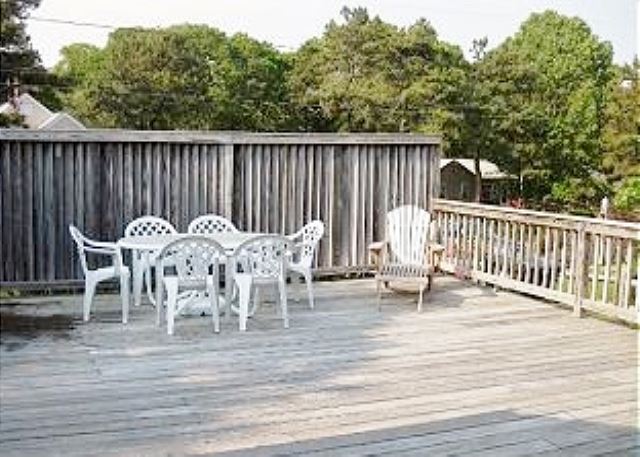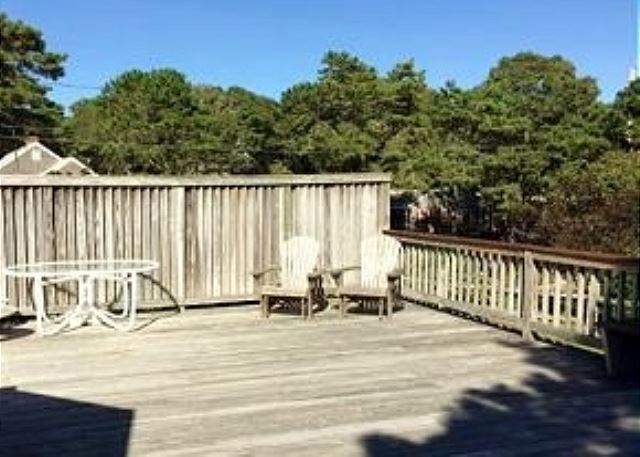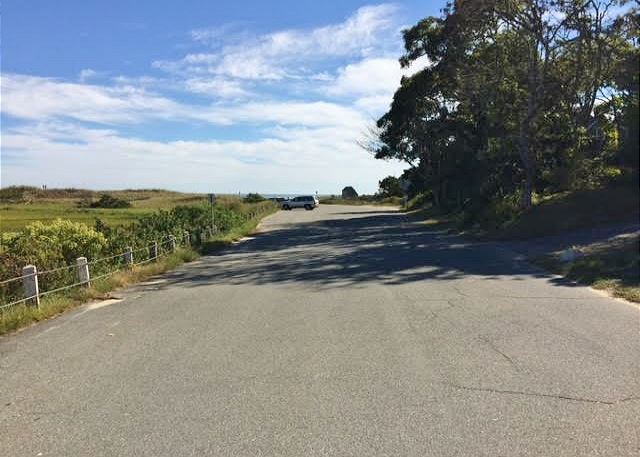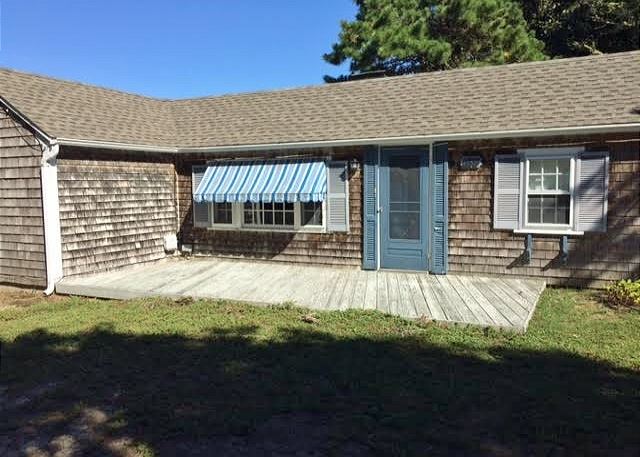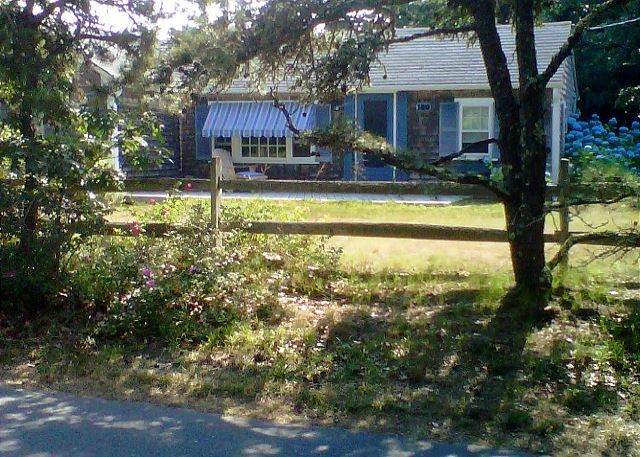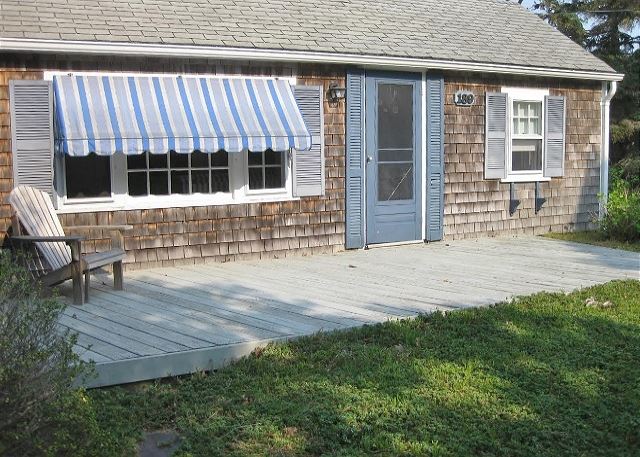 ---
Bedroom(s): 3
Bathroom(s): 1
Sleeps: 6
Type: Cottage
Area:
Town: Chatham
AFFORDABLE DREAM BEACH HOUSE IN CHATHAM WITH LARGE FRONT AND BACK DECKS, ROOM FOR 6, AND ONLY STEPS TO FOREST BEACH! PET FRIENDLY!

There is a dreamlike quality to this 3 bedroom/1 bath cottage just down the road from Forest Beach in Chatham. Maybe it's the storybook shutters flanking every bedroom window from the inside. Or the soaring exposed ceiling in the living room with beams of light that sweep through the house. Or the homespun details like the flowers painted in the Chatham Pottery sink.

Although compact, this beachy single floor retreat lives large with an open living space decorated in colors of the sea and the sand, diminishing the boundaries between indoors and out. It also boasts large front and back decks with patio furniture where you can eat, read, or relax. You can play a game of frisbee or pick-up soccer in the large back yard.

The main entrance leads directly into the sunny living room with hardwood floors, super comfy seating, and a 32-inch flat screen TV with Comcast basic cable and DVD. Through the back door you enter a charming kitchen with tile floor, butcher block table surrounded by 6 woven rattan chairs with a modern edge – one of the many unexpected features that turn the traditional Cape Cod interior on its head. The kitchen is equipped with all the pots and pans, dishes, and glassware you will need for a week or two in this enchanting home.

All three bedrooms are located along the periphery and offer refreshing cross ventilation. Bedroom #1 has a queen. Bedroom #2 has a full. Bedroom #3 has two twins.Comfortable capacity is 5 guests, although the home is permitted for 6.

The house is close to both the bike path and a public tennis court in a wonderful walking neighborhood, and Forest Beach is just 0.3 miles away. There is a warm sandy beach that curves along the shoreline in either direction, providing pleasant beach walks, plus a dune path behind Forest Beach that runs past the marsh to the inlet at the end of the beach. It is great for swimming and renowned for its sea shells and late afternoon winds. If you like windsurfing or kite sailing, it is one of Cape Cod's premier spots! The water is calm, and also perfect for kayaking and stand up paddle boarding.

Enjoy a magical experience vacationing at this home, which is equidistant to Chatham Center and Harwich Port. This seaside cottage gives true meaning to the expression "they just don't make them like they used to."

Also included in this rental: Wifi, enclosed outdoor shower, room fans, room for 2+ cars in driveway, and a shed with beach toys and beach chairs for guests' use.

Sorry no smoking allowed.

6 guests maximum allowed at any time. No parties exceeding the occupancy limit allowed.

LINENS (SHEETS/TOWELS) ARE NOT INCLUDED IN THIS RENTAL.

Travel Insurance is highly recommended and affordable coverage to protect your vacation investment.

Please view our policy and procedure page on our web site for detailed information about renting with us.
- pets considered
- DVD Player
- Basic Cable
- Room Or Window Fans
- Flat Screen TV
- Pantry items (sugar, salt & pep)
- Cleaning Supplies
- Cookware
- Dishes / Glassware / Utensils
- Toaster or Toaster Oven
- Room Fans
- Shower Only
- Deck
- Gas Grill with Propane Tank
- Dining Table w/o Umbrella
- Enclosed Outdoor Shower
- Beach Chairs
- Outdoor Lighting
- Outdoor Seating
- Outdoor Dining Table
- Near Cape Cod Bay Beaches
- Walk to Beach
- Near Old Colony Rail Trail
- Yes
- DOG
- Pet Considered
January 2018

| S | M | T | W | T | F | S |
| --- | --- | --- | --- | --- | --- | --- |
| | 01 | 02 | 03 | 04 | 05 | 06 |
| 07 | 08 | 09 | 10 | 11 | 12 | 13 |
| 14 | 15 | 16 | 17 | 18 | 19 | 20 |
| 21 | 22 | 23 | 24 | 25 | 26 | 27 |
| 28 | 29 | 30 | 31 | | | |
February 2018

| S | M | T | W | T | F | S |
| --- | --- | --- | --- | --- | --- | --- |
| | | | | 01 | 02 | 03 |
| 04 | 05 | 06 | 07 | 08 | 09 | 10 |
| 11 | 12 | 13 | 14 | 15 | 16 | 17 |
| 18 | 19 | 20 | 21 | 22 | 23 | 24 |
| 25 | 26 | 27 | 28 | | | |
March 2018

| S | M | T | W | T | F | S |
| --- | --- | --- | --- | --- | --- | --- |
| | | | | 01 | 02 | 03 |
| 04 | 05 | 06 | 07 | 08 | 09 | 10 |
| 11 | 12 | 13 | 14 | 15 | 16 | 17 |
| 18 | 19 | 20 | 21 | 22 | 23 | 24 |
| 25 | 26 | 27 | 28 | 29 | 30 | 31 |
April 2018

| S | M | T | W | T | F | S |
| --- | --- | --- | --- | --- | --- | --- |
| 01 | 02 | 03 | 04 | 05 | 06 | 07 |
| 08 | 09 | 10 | 11 | 12 | 13 | 14 |
| 15 | 16 | 17 | 18 | 19 | 20 | 21 |
| 22 | 23 | 24 | 25 | 26 | 27 | 28 |
| 29 | 30 | | | | | |
May 2018

| S | M | T | W | T | F | S |
| --- | --- | --- | --- | --- | --- | --- |
| | | 01 | 02 | 03 | 04 | 05 |
| 06 | 07 | 08 | 09 | 10 | 11 | 12 |
| 13 | 14 | 15 | 16 | 17 | 18 | 19 |
| 20 | 21 | 22 | 23 | 24 | 25 | 26 |
| 27 | 28 | 29 | 30 | 31 | | |
June 2018

| S | M | T | W | T | F | S |
| --- | --- | --- | --- | --- | --- | --- |
| | | | | | 01 | 02 |
| 03 | 04 | 05 | 06 | 07 | 08 | 09 |
| 10 | 11 | 12 | 13 | 14 | 15 | 16 |
| 17 | 18 | 19 | 20 | 21 | 22 | 23 |
| 24 | 25 | 26 | 27 | 28 | 29 | 30 |
July 2018

| S | M | T | W | T | F | S |
| --- | --- | --- | --- | --- | --- | --- |
| 01 | 02 | 03 | 04 | 05 | 06 | 07 |
| 08 | 09 | 10 | 11 | 12 | 13 | 14 |
| 15 | 16 | 17 | 18 | 19 | 20 | 21 |
| 22 | 23 | 24 | 25 | 26 | 27 | 28 |
| 29 | 30 | 31 | | | | |
August 2018

| S | M | T | W | T | F | S |
| --- | --- | --- | --- | --- | --- | --- |
| | | | 01 | 02 | 03 | 04 |
| 05 | 06 | 07 | 08 | 09 | 10 | 11 |
| 12 | 13 | 14 | 15 | 16 | 17 | 18 |
| 19 | 20 | 21 | 22 | 23 | 24 | 25 |
| 26 | 27 | 28 | 29 | 30 | 31 | |
September 2018

| S | M | T | W | T | F | S |
| --- | --- | --- | --- | --- | --- | --- |
| | | | | | | 01 |
| 02 | 03 | 04 | 05 | 06 | 07 | 08 |
| 09 | 10 | 11 | 12 | 13 | 14 | 15 |
| 16 | 17 | 18 | 19 | 20 | 21 | 22 |
| 23 | 24 | 25 | 26 | 27 | 28 | 29 |
| 30 | | | | | | |
October 2018

| S | M | T | W | T | F | S |
| --- | --- | --- | --- | --- | --- | --- |
| | 01 | 02 | 03 | 04 | 05 | 06 |
| 07 | 08 | 09 | 10 | 11 | 12 | 13 |
| 14 | 15 | 16 | 17 | 18 | 19 | 20 |
| 21 | 22 | 23 | 24 | 25 | 26 | 27 |
| 28 | 29 | 30 | 31 | | | |
November 2018

| S | M | T | W | T | F | S |
| --- | --- | --- | --- | --- | --- | --- |
| | | | | 01 | 02 | 03 |
| 04 | 05 | 06 | 07 | 08 | 09 | 10 |
| 11 | 12 | 13 | 14 | 15 | 16 | 17 |
| 18 | 19 | 20 | 21 | 22 | 23 | 24 |
| 25 | 26 | 27 | 28 | 29 | 30 | |
December 2018

| S | M | T | W | T | F | S |
| --- | --- | --- | --- | --- | --- | --- |
| | | | | | | 01 |
| 02 | 03 | 04 | 05 | 06 | 07 | 08 |
| 09 | 10 | 11 | 12 | 13 | 14 | 15 |
| 16 | 17 | 18 | 19 | 20 | 21 | 22 |
| 23 | 24 | 25 | 26 | 27 | 28 | 29 |
| 30 | 31 | | | | | |
January 2019

| S | M | T | W | T | F | S |
| --- | --- | --- | --- | --- | --- | --- |
| | | 01 | 02 | 03 | 04 | 05 |
| 06 | 07 | 08 | 09 | 10 | 11 | 12 |
| 13 | 14 | 15 | 16 | 17 | 18 | 19 |
| 20 | 21 | 22 | 23 | 24 | 25 | 26 |
| 27 | 28 | 29 | 30 | 31 | | |
Available
Unavailable
Sat to Sat booking