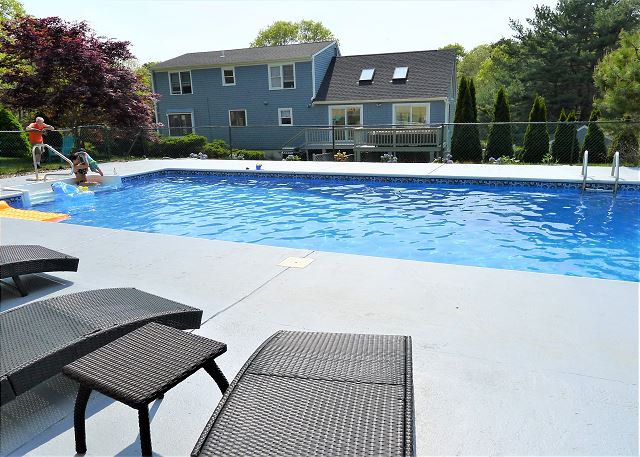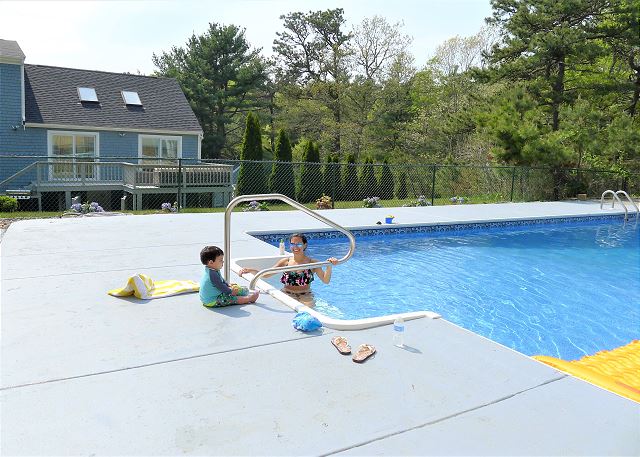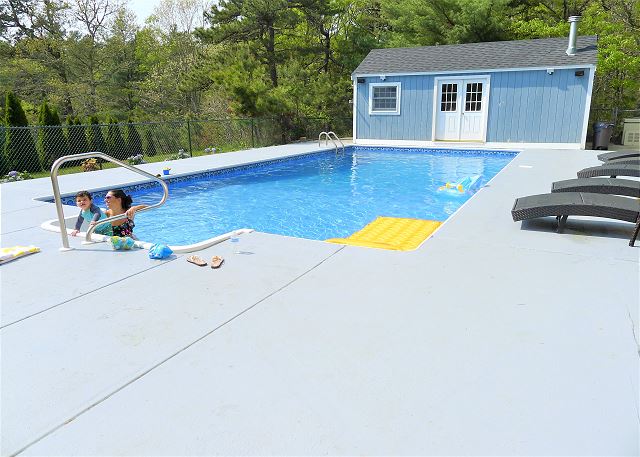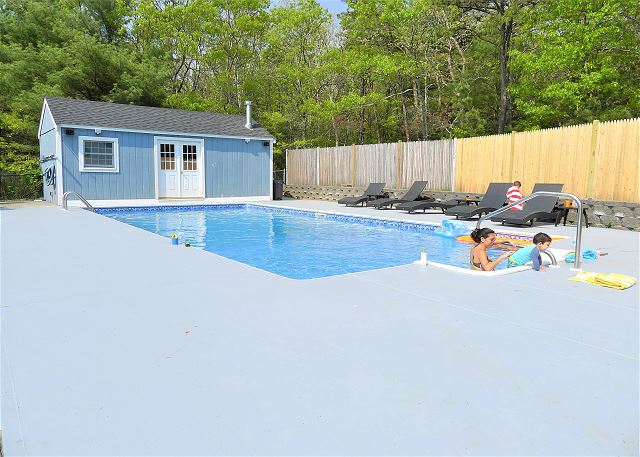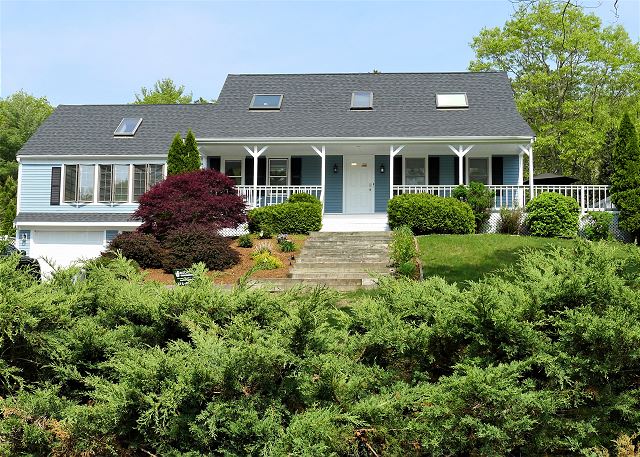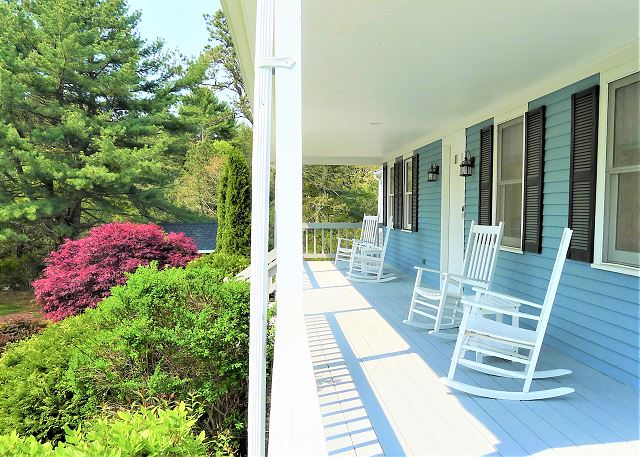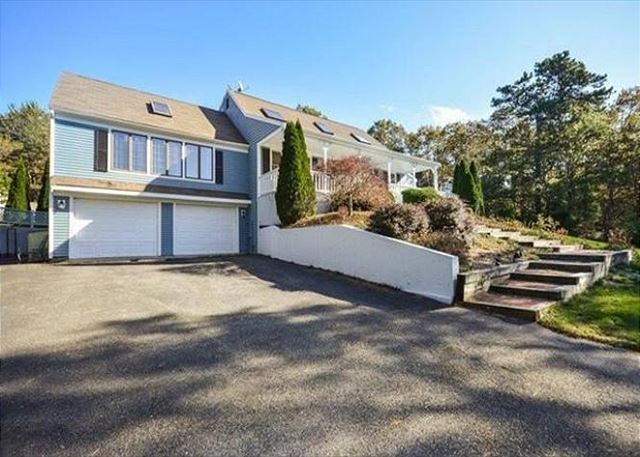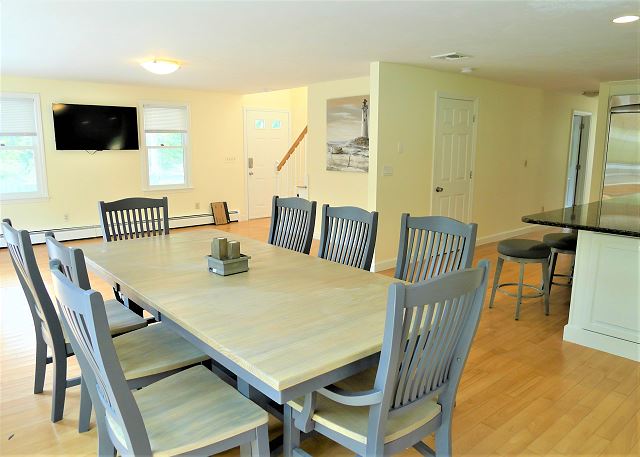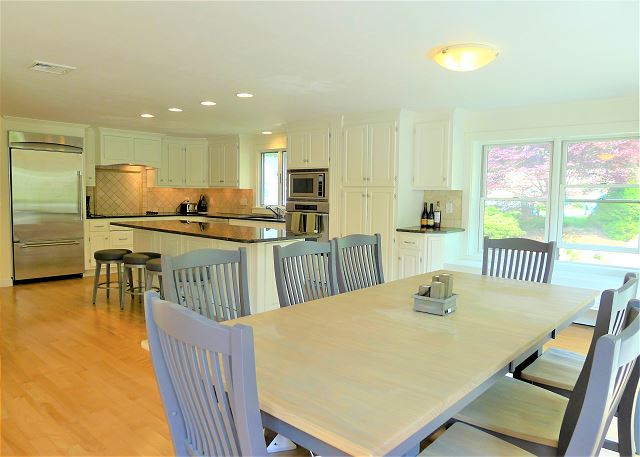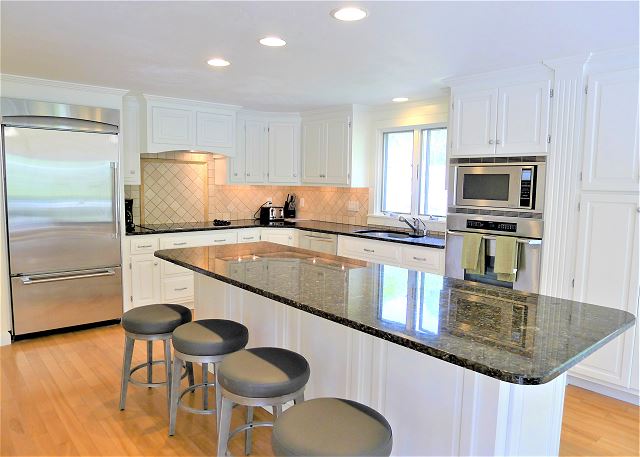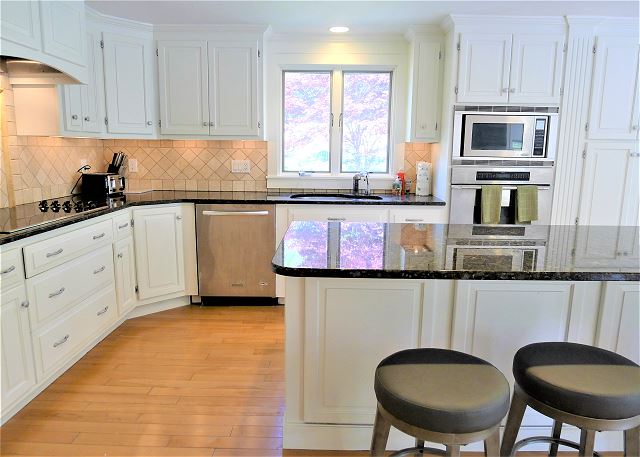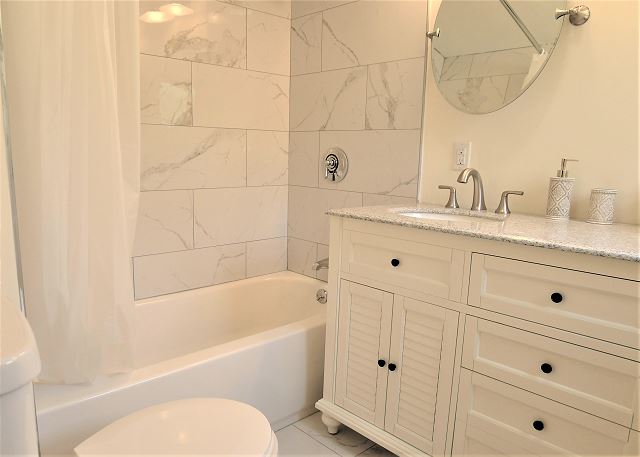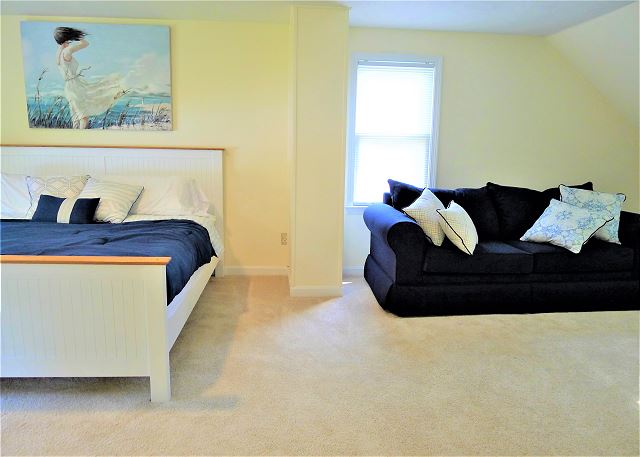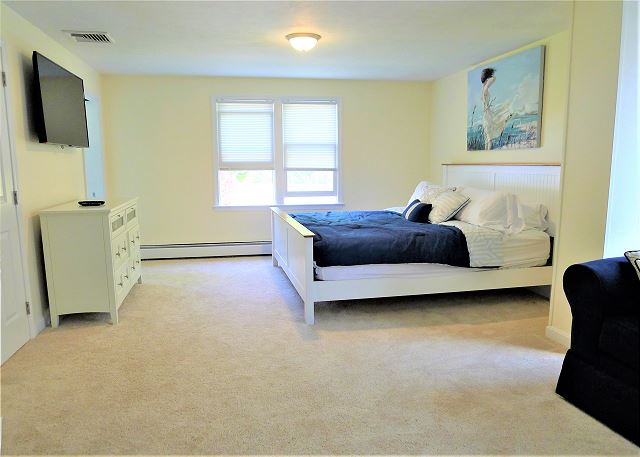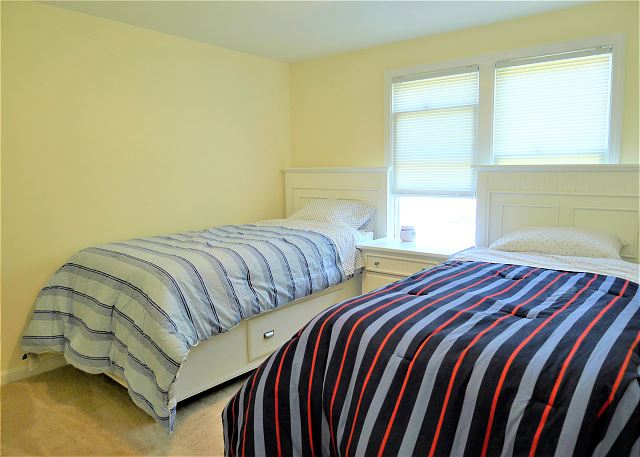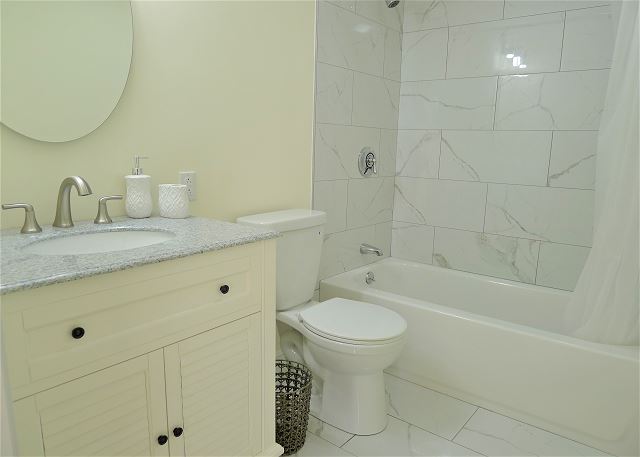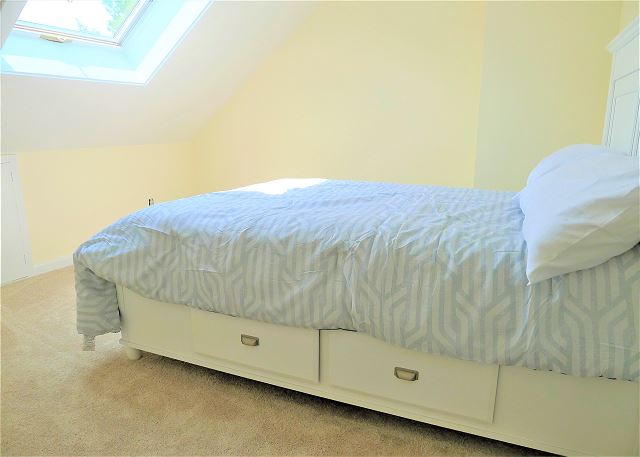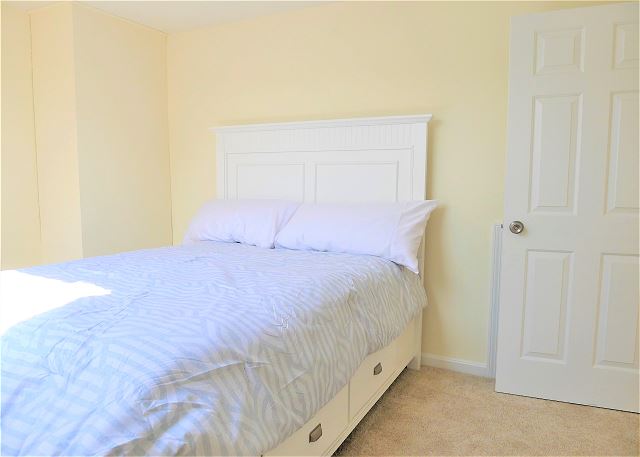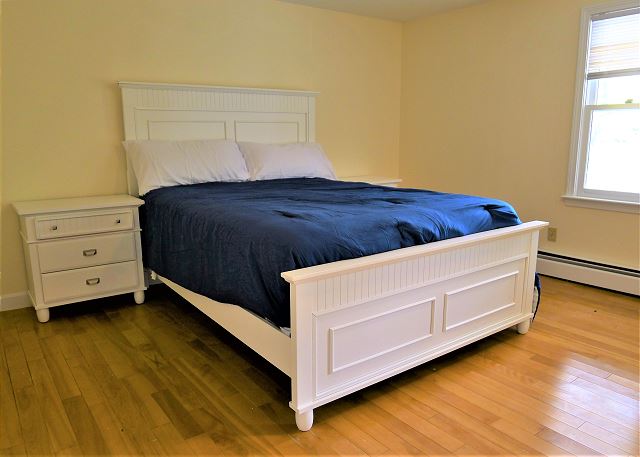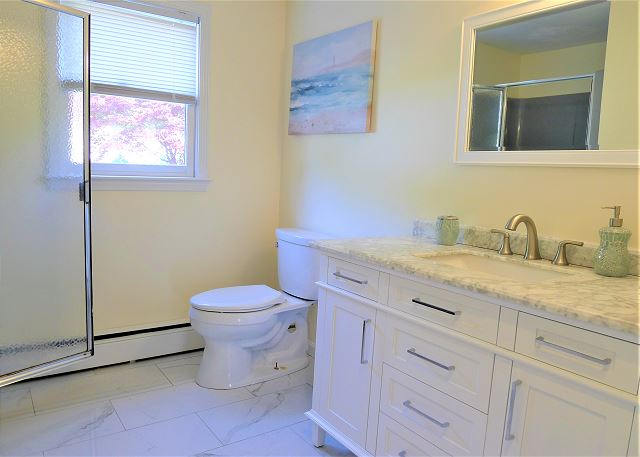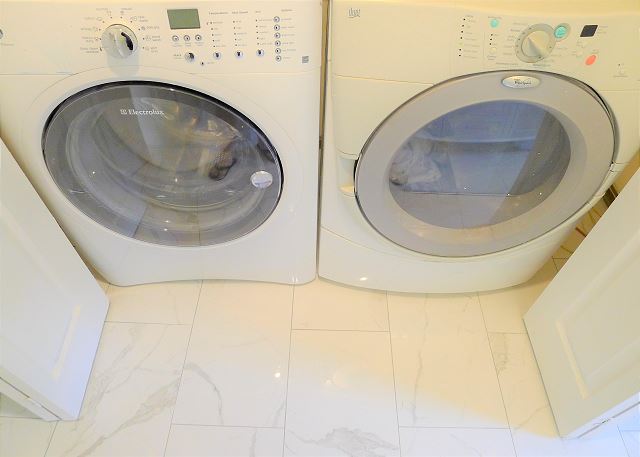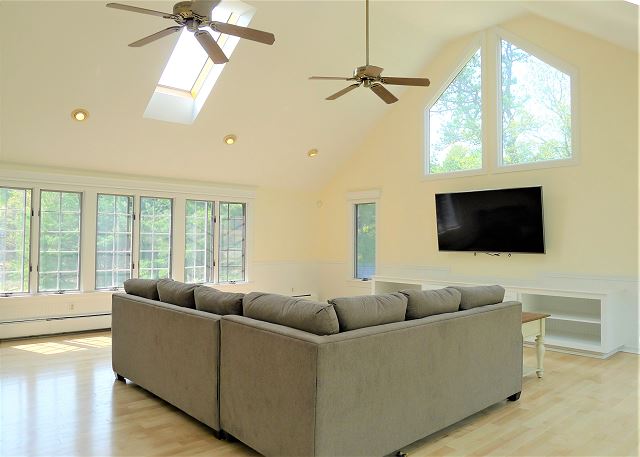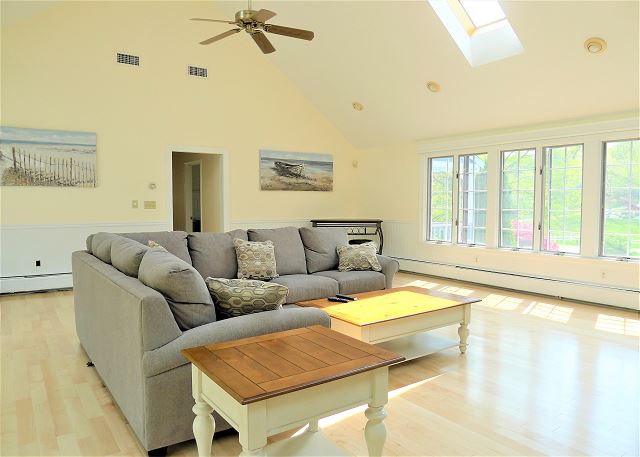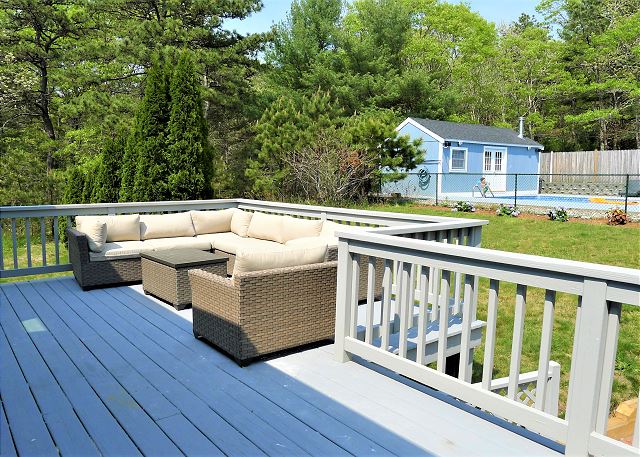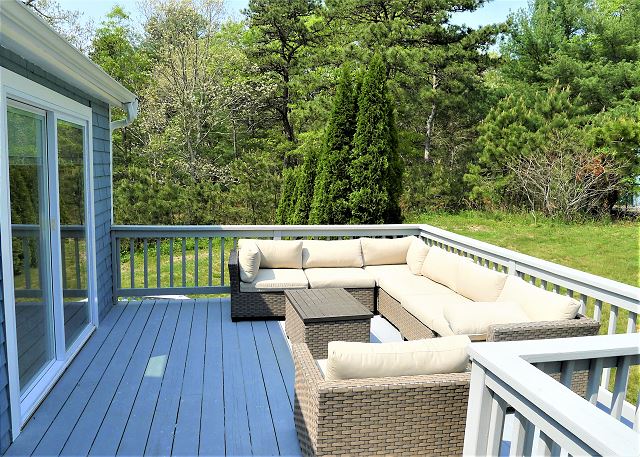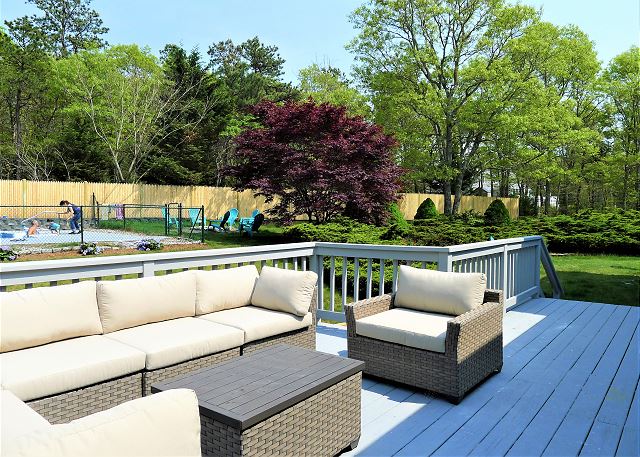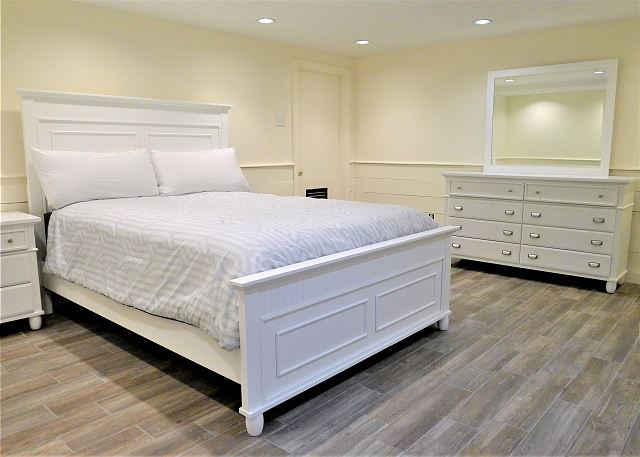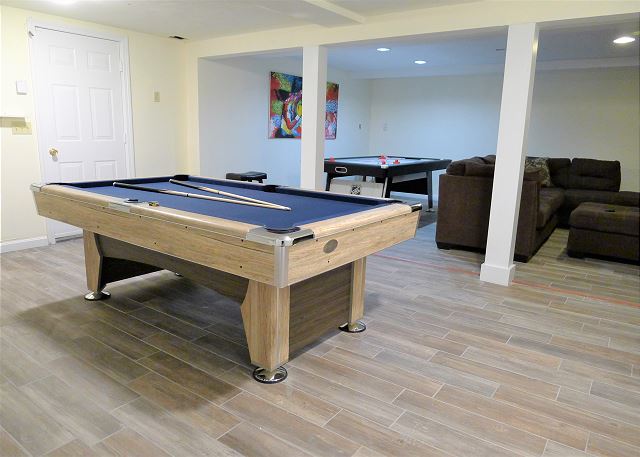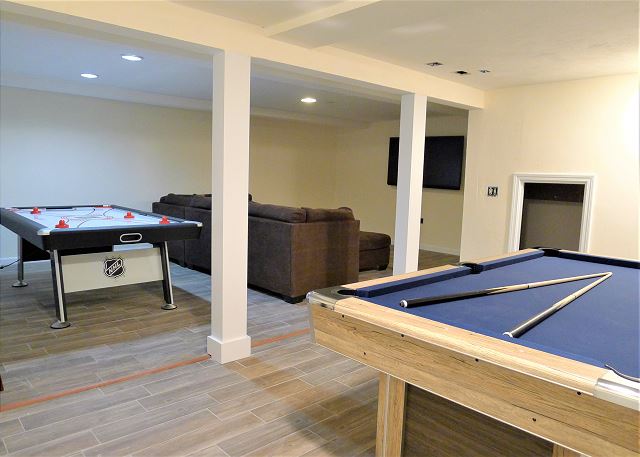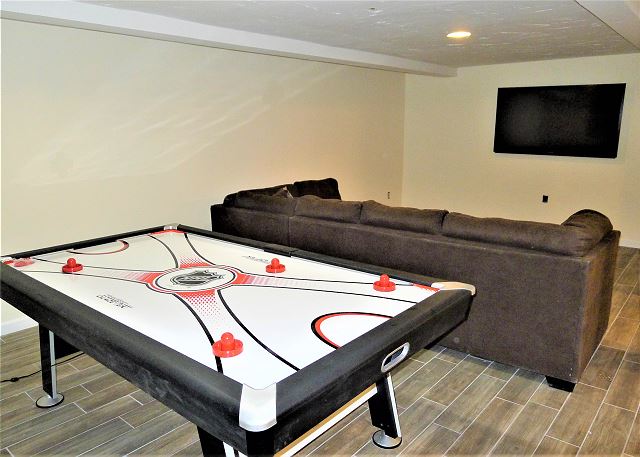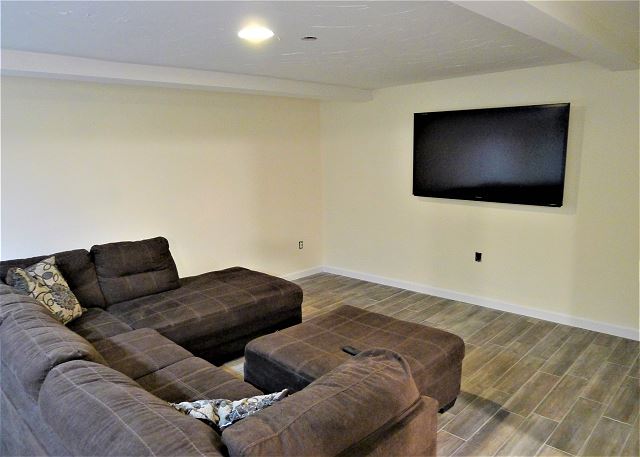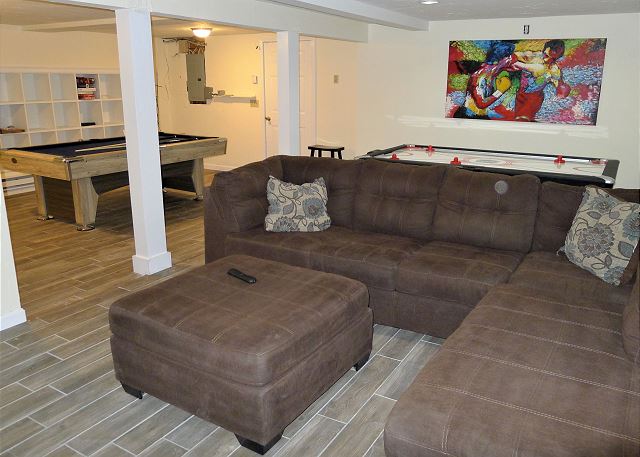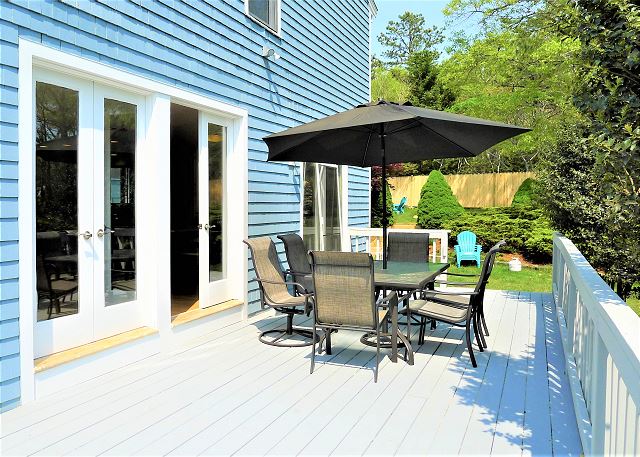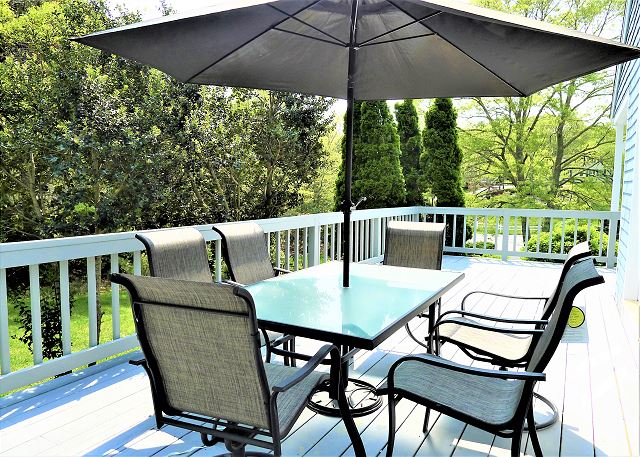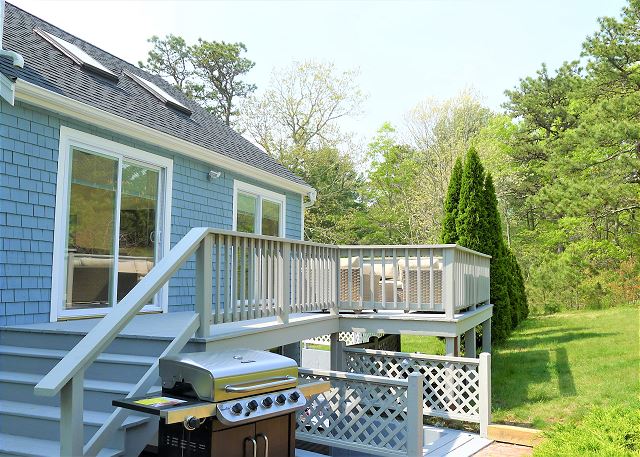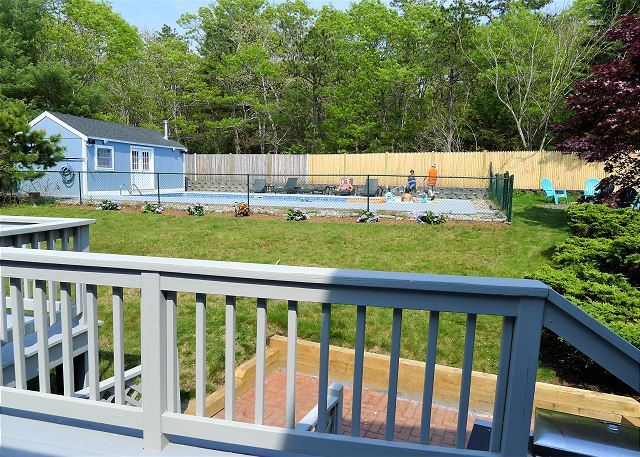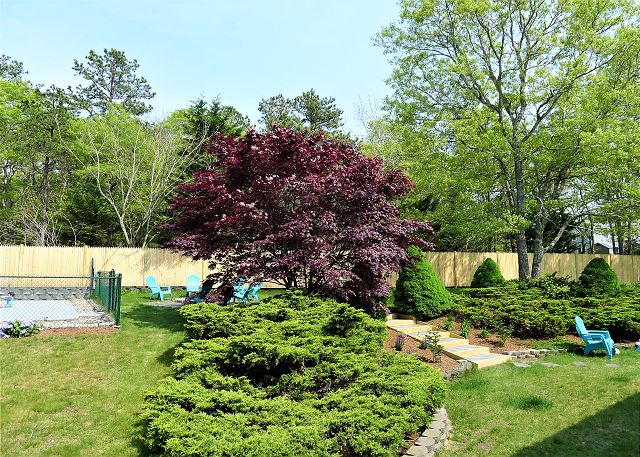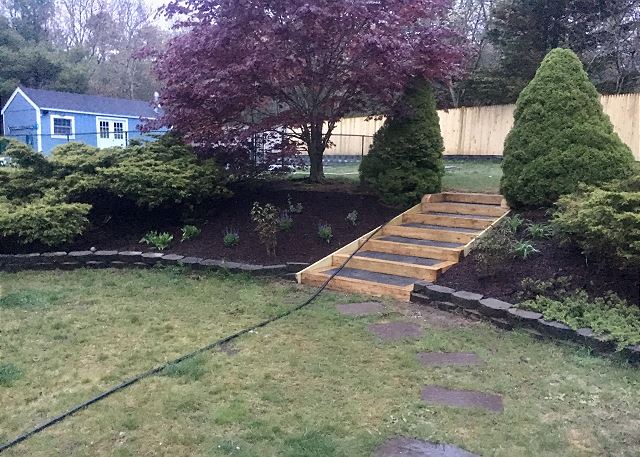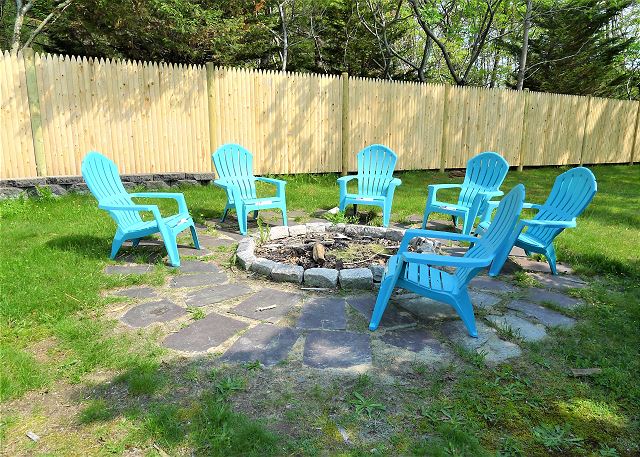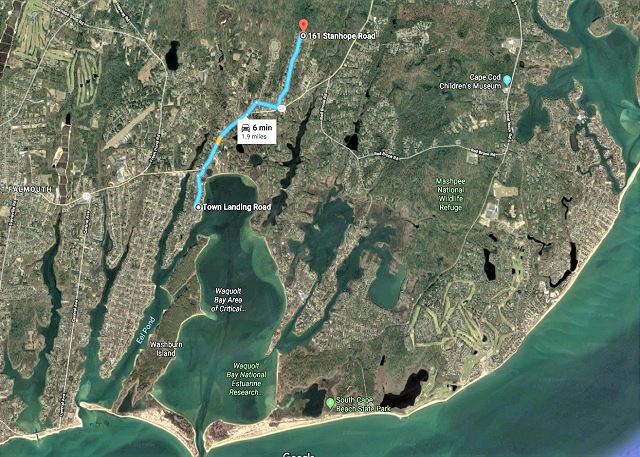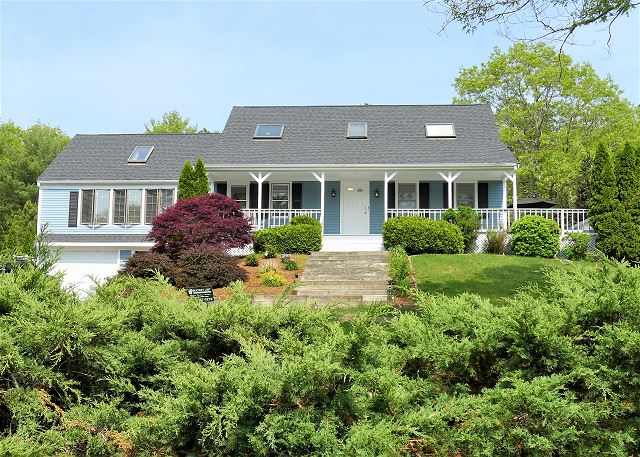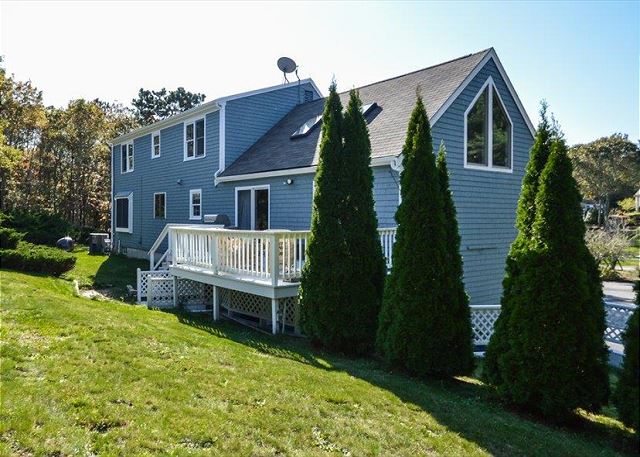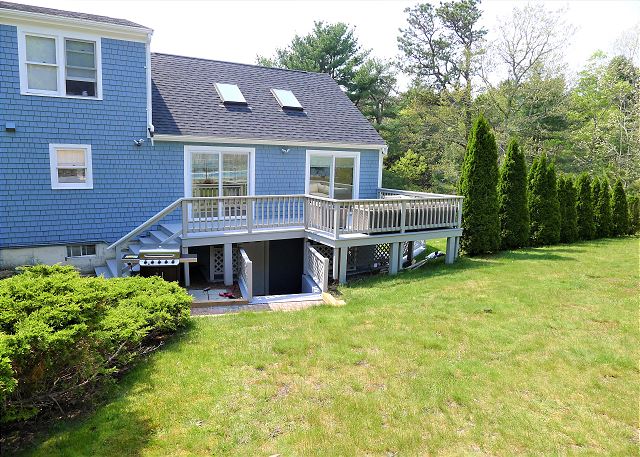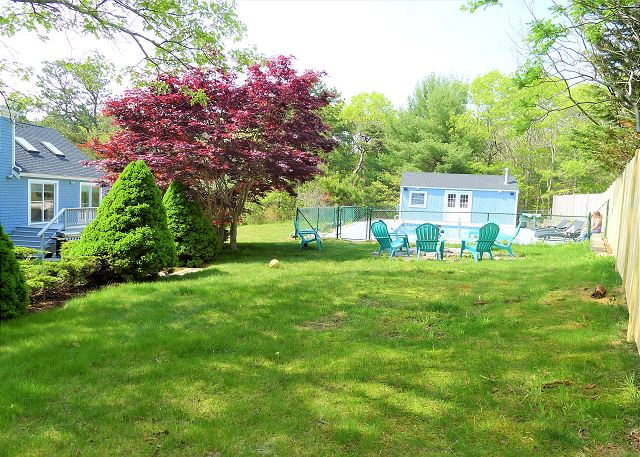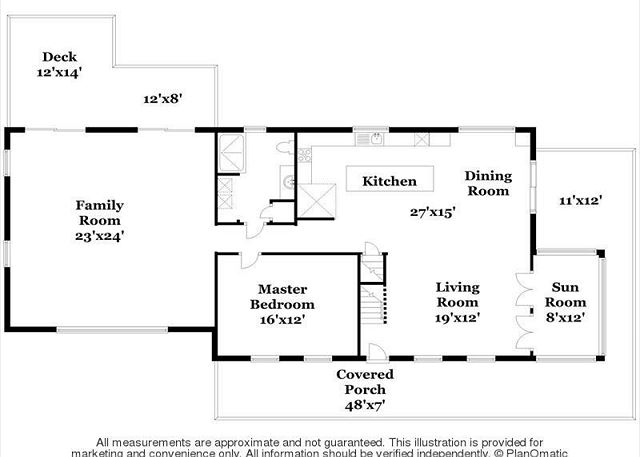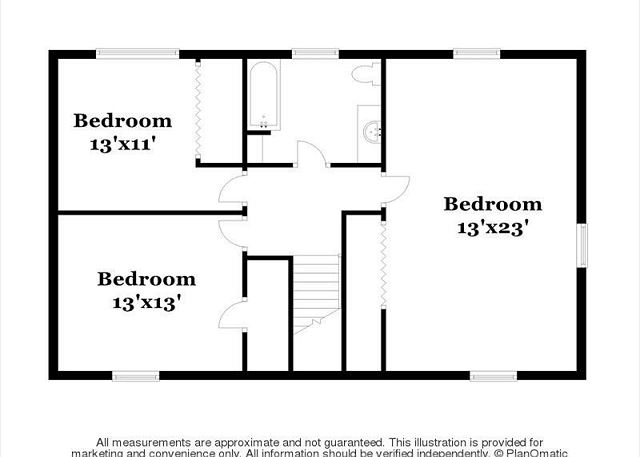 ---
Bedroom(s): 5
Bathroom(s): 3
Sleeps: 12
Type: House
Area: South Cape Beach
Town: East Falmouth
SUNDAY TO SUNDAY STAYS ONLY DURING HIGH SEASON. You may need to contact us directly to book dates. This stately home sits at end of a cul-de-sac in a peaceful East Falmouth neighborhood. Recently remodeled, it has not just a few – but just about all of your favorite things.

This 5 bed/3 bath beauty boasts a large heated pool, central air, magnificent family room with soaring vaulted ceilings, super spacious common areas, windows and skylights everywhere so the sun is always shining throughout the interior; patio and multi decks with gas grill and outdoor table and seating, fire pit, new furnishings and all new mattresses: huge granite/stainless steel kitchen with every modern appliance; spacious adjacent dining/living area; and close proximity to South Cape Beach among other DO NOT MISS destinations.

You are going to love this house!

There are 5 smart TVs. They are located in the Family Room, the Living Room, the Game Room, the Master Bedroom, and the first floor bedroom. They are all powered by Comcast with extended cable and they stream Netflix.

Already in pristine shape, the new owners took it one step further to make sure it was THE perfect vacation rental - from the gleaming hardwood floors to the fresh paint in all rooms. The lower level has been transformed into new living spaces that include a queen bedroom and a game room with sectional sofa, large smart TV, and air hockey and pool tables. For outside play right on the property, there is a basketball hoop and the oversized heated pool! Or you can just relax on the covered front porch.

Bedroom and bath configuration: 2nd floor has 3 bedrooms - master with king, a full sized bedroom, and a bedroom with two twins. There are two full bathrooms on this level - one as part of the master, and an additional full bath. The first floor includes 1 queen bedroom and 1 full bath. The lower level includes 1 queen bedroom.

Also included: Wifi, garage parking for two cars and room for 4 cars in driveway, washer/dryer, central air conditioning, fire pit, basketball hoop, ceiling fans in all bedrooms.

No smoking allowed.LINENS (SHEETS/TOWELS) ARE NOT INCLUDED IN THIS RENTAL.

12 guests maximum allowed at any time. No parties exceeding the occupancy limit allowed.

Dogs welcome at pet-friendly properties with pre-approval of weight and breed from the property manager. Failure to observe House Pet Rules may result in a severe fine and/or eviction from the property. LIMIT 1 DOG PER PROPERTY.

We offer travel insurance is highly recommended and affordable coverage to protect your vacation investment.

Please view our policy and procedure page on our web site for detailed information about renting with us.

State and local taxes are applicable and may vary based on local ordinances and bylaws. Tax rates are subject to change.
- pets considered
- Flat Screen HDTV
- Extended Cable
- Netflix
- Ceiling Fan
- Sleep Sofa
- WiFi
- Iron/Ironing Board
- Central Air Conditioning
- Room Or Window Fans
- Microwave
- Drip Coffee Maker
- Cleaning Supplies
- Cookware
- Dishes / Glassware / Utensils
- Keurig Coffee Maker
- Toaster or Toaster Oven
- Ice Maker
- Island or Counter Seating
- Dishwasher
- Lobster Pot
- Door to Deck
- microwave
- Dining Table
- Deck
- main bedroom flat screen tv
- ceiling fans in all bedrooms
- new mattresses
- TV
- Pool Table
- table foozball
- queen sized bedroom
- washer and dryer first floor
- Deck
- Patio
- Dining Table w/o Umbrella
- Private Pool
- Firepit or Chiminea
- Garage Access
- Outdoor Lighting
- Basket Ball Hoop
- Outdoor Seating
- covered front porch
- Close to Town
- Near Cape Cod Bay Beaches
- Yes
- DOG
- Pet Considered
- CAT
June 2019

| S | M | T | W | T | F | S |
| --- | --- | --- | --- | --- | --- | --- |
| | | | | | | 01 |
| 02 | 03 | 04 | 05 | 06 | 07 | 08 |
| 09 | 10 | 11 | 12 | 13 | 14 | 15 |
| 16 | 17 | 18 | 19 | 20 | 21 | 22 |
| 23 | 24 | 25 | 26 | 27 | 28 | 29 |
| 30 | | | | | | |
July 2019

| S | M | T | W | T | F | S |
| --- | --- | --- | --- | --- | --- | --- |
| | 01 | 02 | 03 | 04 | 05 | 06 |
| 07 | 08 | 09 | 10 | 11 | 12 | 13 |
| 14 | 15 | 16 | 17 | 18 | 19 | 20 |
| 21 | 22 | 23 | 24 | 25 | 26 | 27 |
| 28 | 29 | 30 | 31 | | | |
August 2019

| S | M | T | W | T | F | S |
| --- | --- | --- | --- | --- | --- | --- |
| | | | | 01 | 02 | 03 |
| 04 | 05 | 06 | 07 | 08 | 09 | 10 |
| 11 | 12 | 13 | 14 | 15 | 16 | 17 |
| 18 | 19 | 20 | 21 | 22 | 23 | 24 |
| 25 | 26 | 27 | 28 | 29 | 30 | 31 |
September 2019

| S | M | T | W | T | F | S |
| --- | --- | --- | --- | --- | --- | --- |
| 01 | 02 | 03 | 04 | 05 | 06 | 07 |
| 08 | 09 | 10 | 11 | 12 | 13 | 14 |
| 15 | 16 | 17 | 18 | 19 | 20 | 21 |
| 22 | 23 | 24 | 25 | 26 | 27 | 28 |
| 29 | 30 | | | | | |
October 2019

| S | M | T | W | T | F | S |
| --- | --- | --- | --- | --- | --- | --- |
| | | 01 | 02 | 03 | 04 | 05 |
| 06 | 07 | 08 | 09 | 10 | 11 | 12 |
| 13 | 14 | 15 | 16 | 17 | 18 | 19 |
| 20 | 21 | 22 | 23 | 24 | 25 | 26 |
| 27 | 28 | 29 | 30 | 31 | | |
November 2019

| S | M | T | W | T | F | S |
| --- | --- | --- | --- | --- | --- | --- |
| | | | | | 01 | 02 |
| 03 | 04 | 05 | 06 | 07 | 08 | 09 |
| 10 | 11 | 12 | 13 | 14 | 15 | 16 |
| 17 | 18 | 19 | 20 | 21 | 22 | 23 |
| 24 | 25 | 26 | 27 | 28 | 29 | 30 |
December 2019

| S | M | T | W | T | F | S |
| --- | --- | --- | --- | --- | --- | --- |
| 01 | 02 | 03 | 04 | 05 | 06 | 07 |
| 08 | 09 | 10 | 11 | 12 | 13 | 14 |
| 15 | 16 | 17 | 18 | 19 | 20 | 21 |
| 22 | 23 | 24 | 25 | 26 | 27 | 28 |
| 29 | 30 | 31 | | | | |
January 2020

| S | M | T | W | T | F | S |
| --- | --- | --- | --- | --- | --- | --- |
| | | | 01 | 02 | 03 | 04 |
| 05 | 06 | 07 | 08 | 09 | 10 | 11 |
| 12 | 13 | 14 | 15 | 16 | 17 | 18 |
| 19 | 20 | 21 | 22 | 23 | 24 | 25 |
| 26 | 27 | 28 | 29 | 30 | 31 | |
February 2020

| S | M | T | W | T | F | S |
| --- | --- | --- | --- | --- | --- | --- |
| | | | | | | 01 |
| 02 | 03 | 04 | 05 | 06 | 07 | 08 |
| 09 | 10 | 11 | 12 | 13 | 14 | 15 |
| 16 | 17 | 18 | 19 | 20 | 21 | 22 |
| 23 | 24 | 25 | 26 | 27 | 28 | 29 |
March 2020

| S | M | T | W | T | F | S |
| --- | --- | --- | --- | --- | --- | --- |
| 01 | 02 | 03 | 04 | 05 | 06 | 07 |
| 08 | 09 | 10 | 11 | 12 | 13 | 14 |
| 15 | 16 | 17 | 18 | 19 | 20 | 21 |
| 22 | 23 | 24 | 25 | 26 | 27 | 28 |
| 29 | 30 | 31 | | | | |
April 2020

| S | M | T | W | T | F | S |
| --- | --- | --- | --- | --- | --- | --- |
| | | | 01 | 02 | 03 | 04 |
| 05 | 06 | 07 | 08 | 09 | 10 | 11 |
| 12 | 13 | 14 | 15 | 16 | 17 | 18 |
| 19 | 20 | 21 | 22 | 23 | 24 | 25 |
| 26 | 27 | 28 | 29 | 30 | | |
May 2020

| S | M | T | W | T | F | S |
| --- | --- | --- | --- | --- | --- | --- |
| | | | | | 01 | 02 |
| 03 | 04 | 05 | 06 | 07 | 08 | 09 |
| 10 | 11 | 12 | 13 | 14 | 15 | 16 |
| 17 | 18 | 19 | 20 | 21 | 22 | 23 |
| 24 | 25 | 26 | 27 | 28 | 29 | 30 |
| 31 | | | | | | |
June 2020

| S | M | T | W | T | F | S |
| --- | --- | --- | --- | --- | --- | --- |
| | 01 | 02 | 03 | 04 | 05 | 06 |
| 07 | 08 | 09 | 10 | 11 | 12 | 13 |
| 14 | 15 | 16 | 17 | 18 | 19 | 20 |
| 21 | 22 | 23 | 24 | 25 | 26 | 27 |
| 28 | 29 | 30 | | | | |
Available
Unavailable
Sat to Sat booking