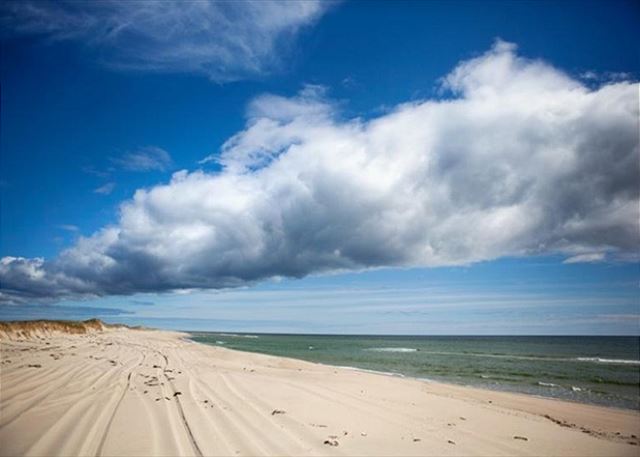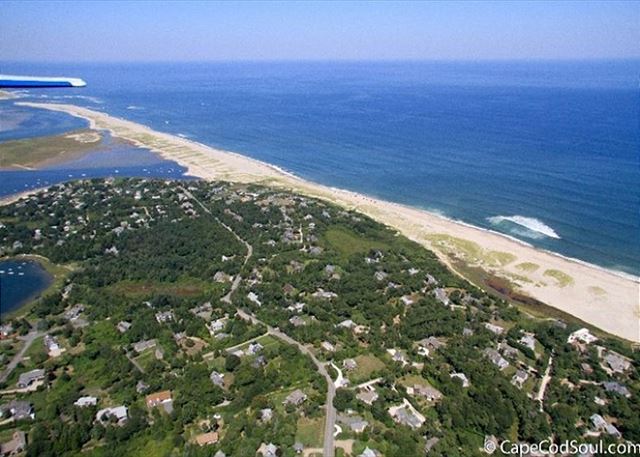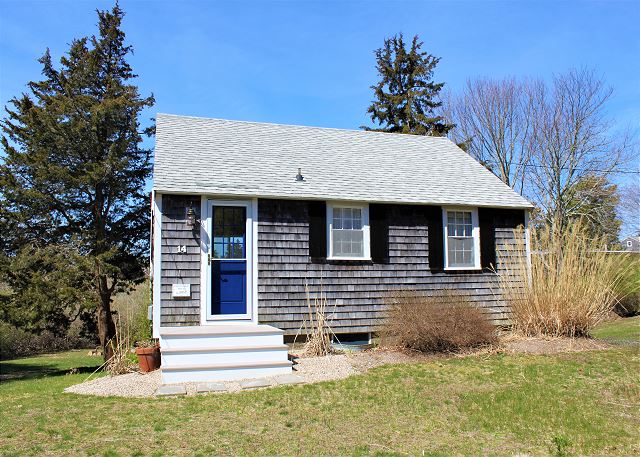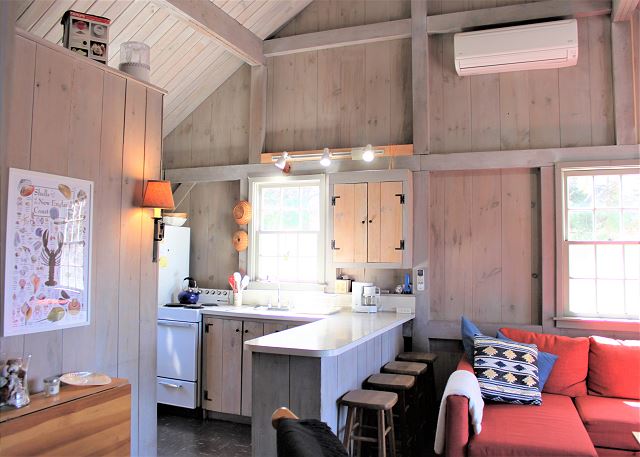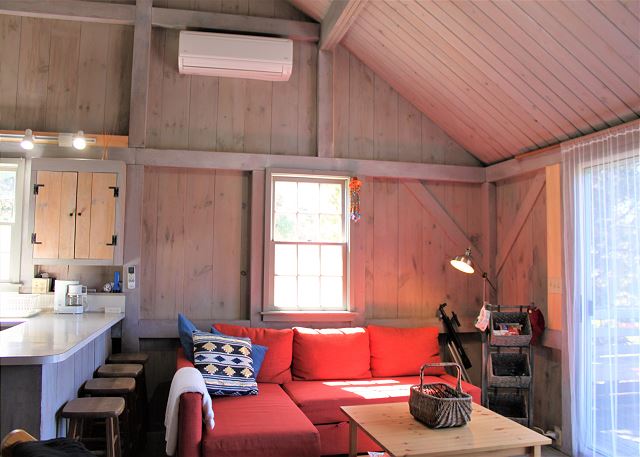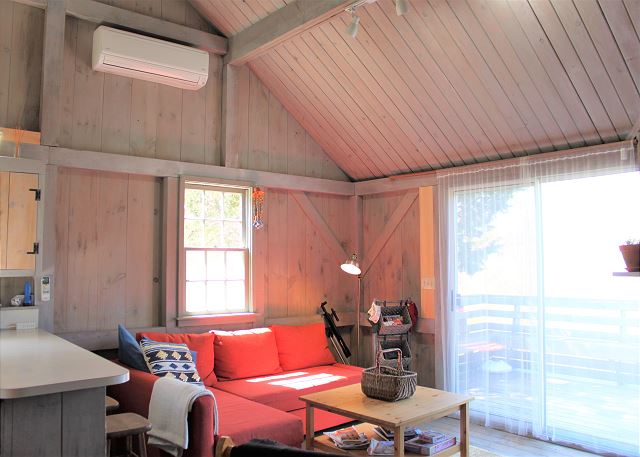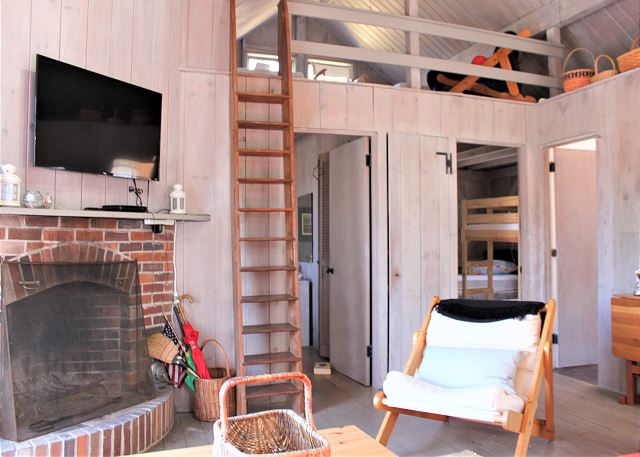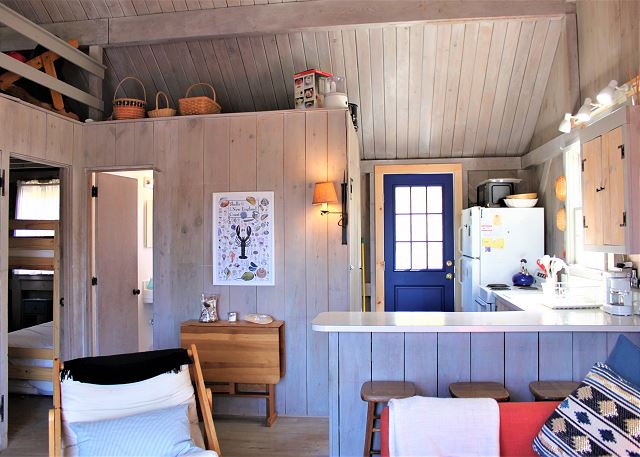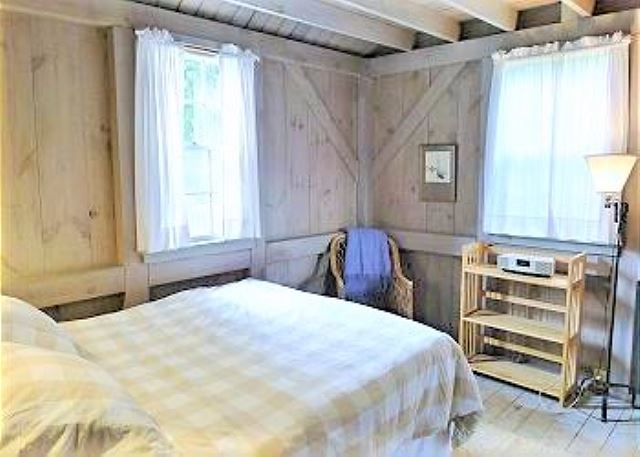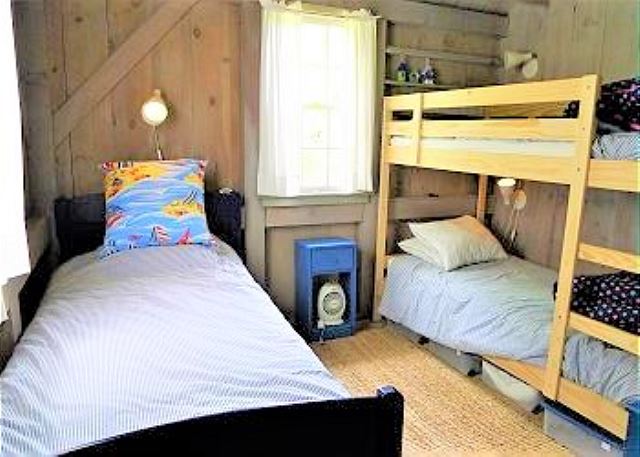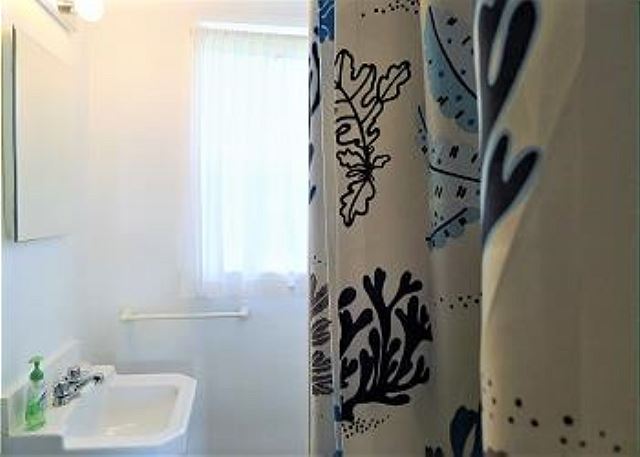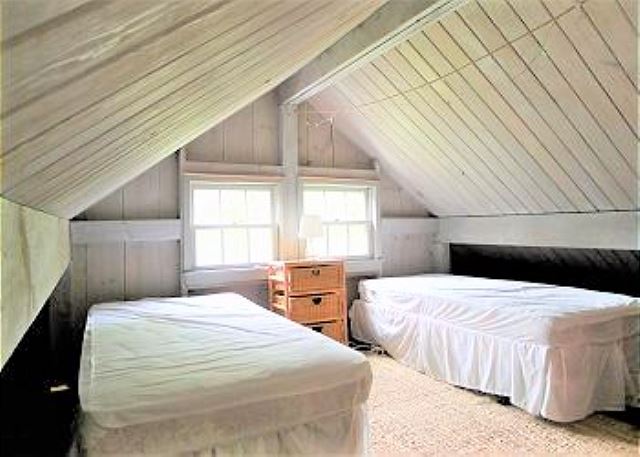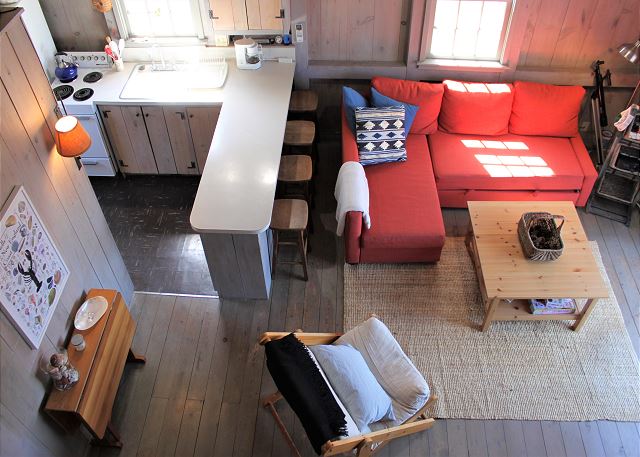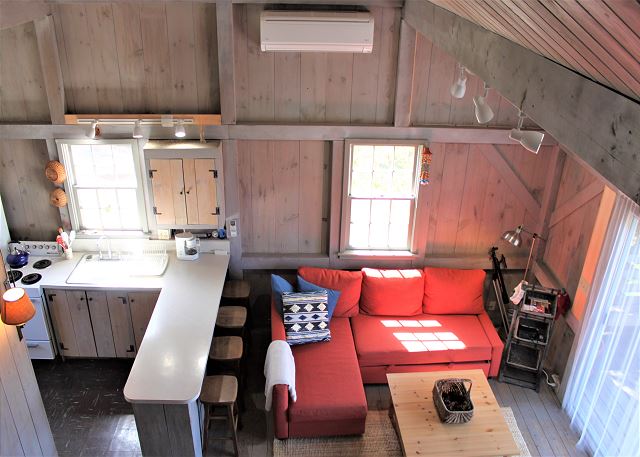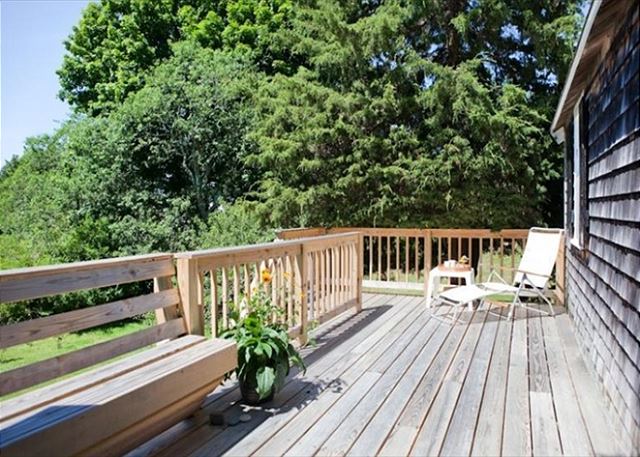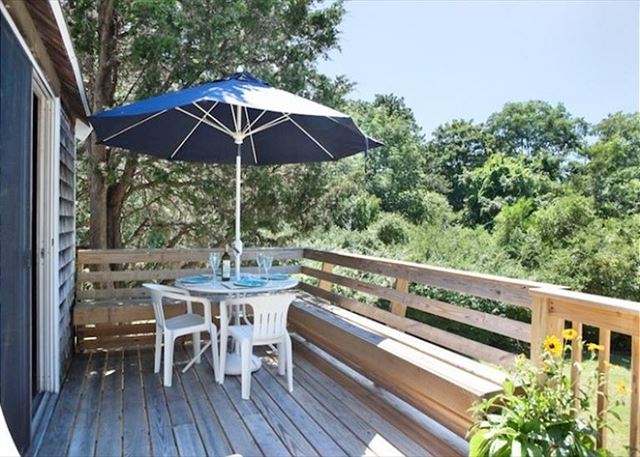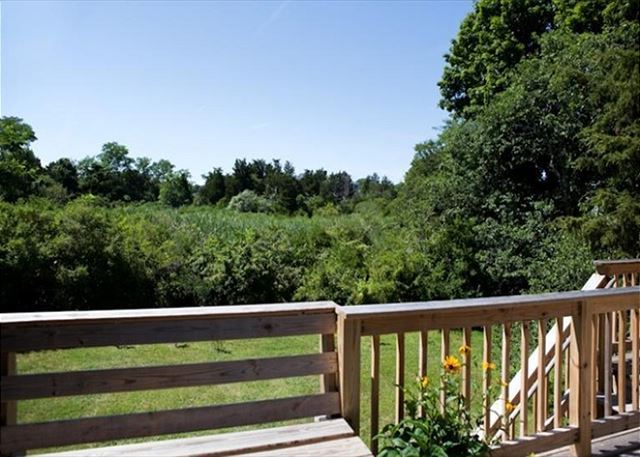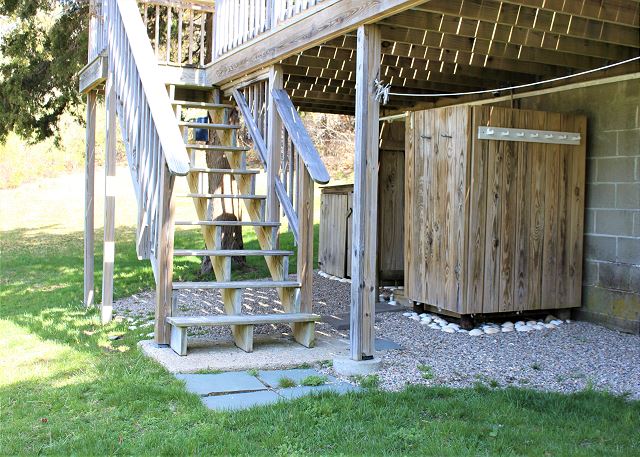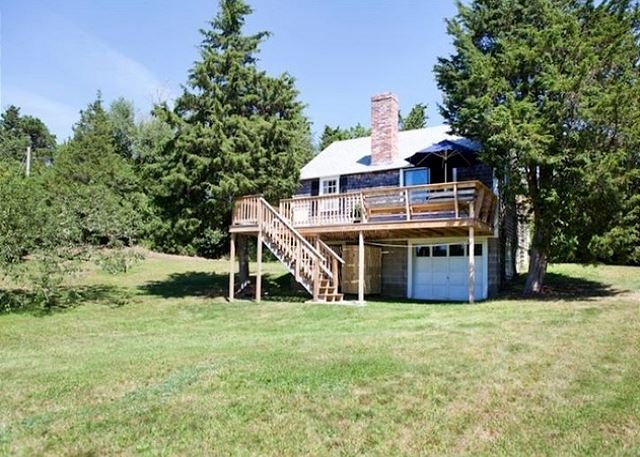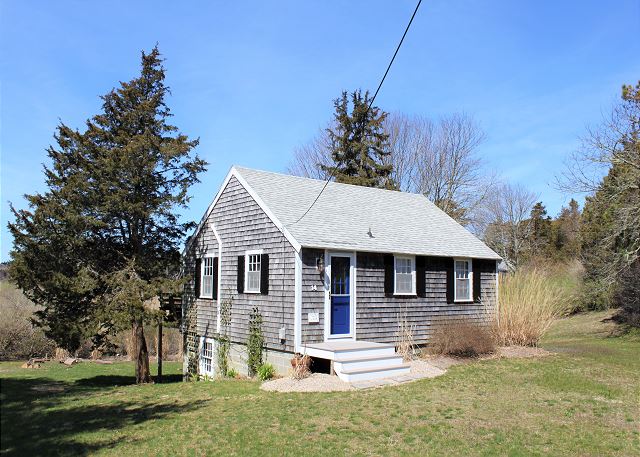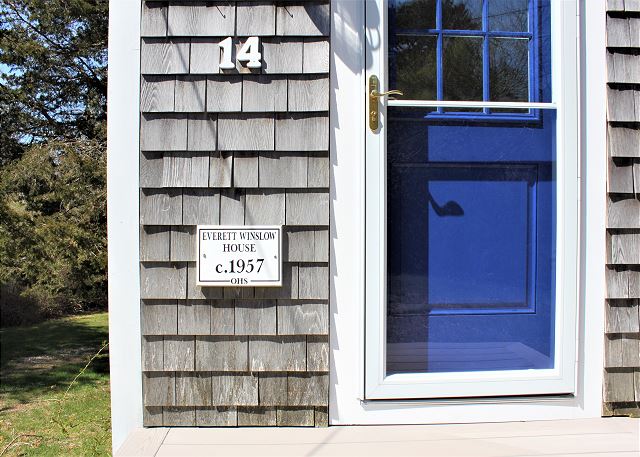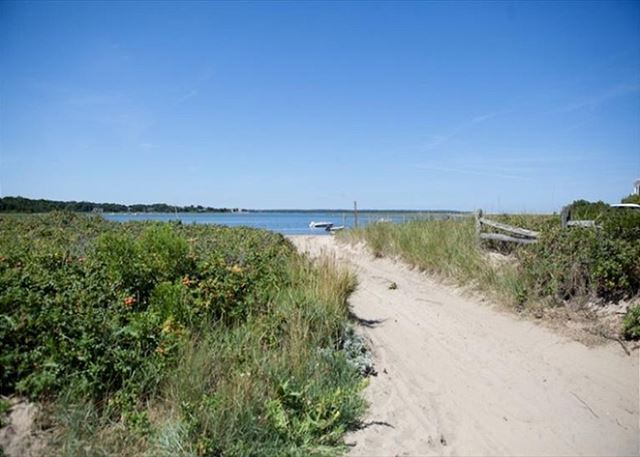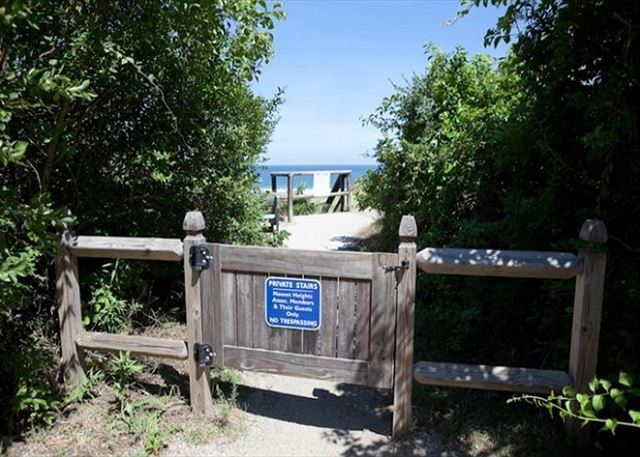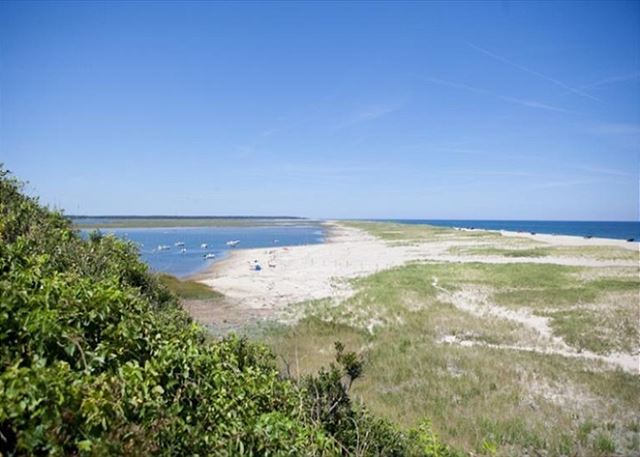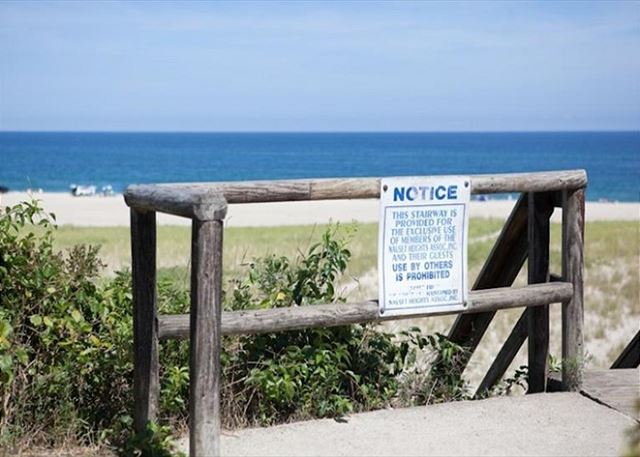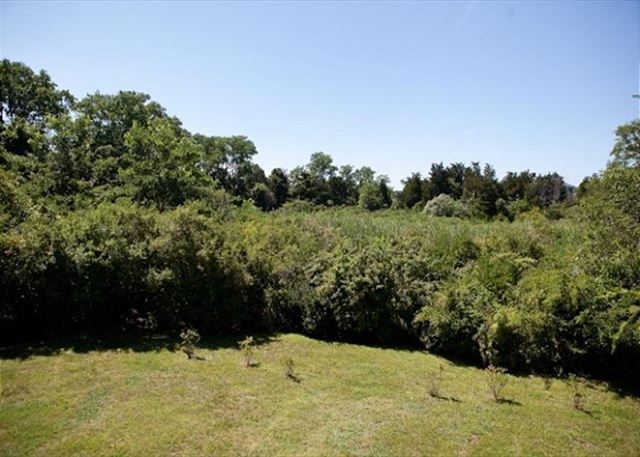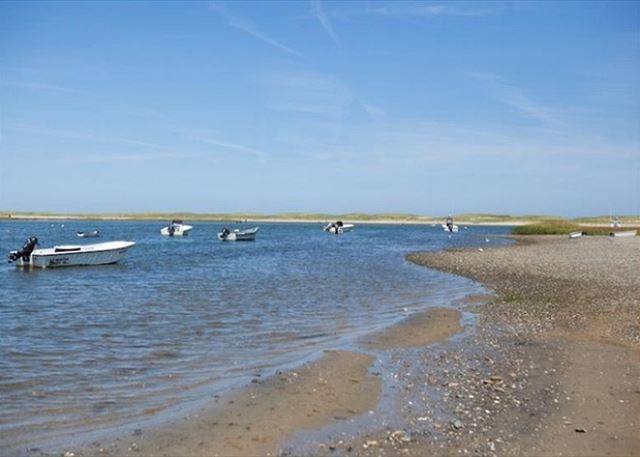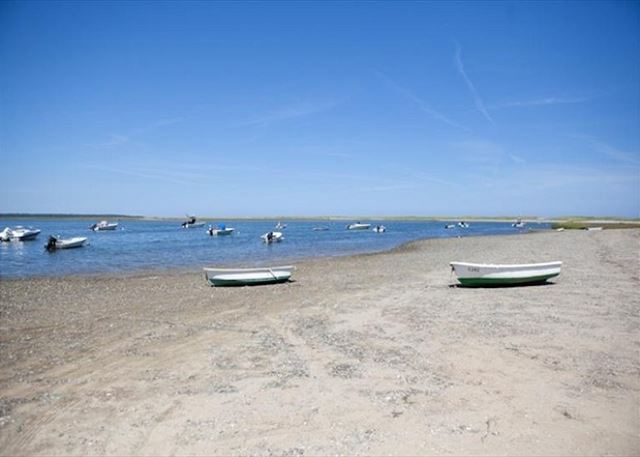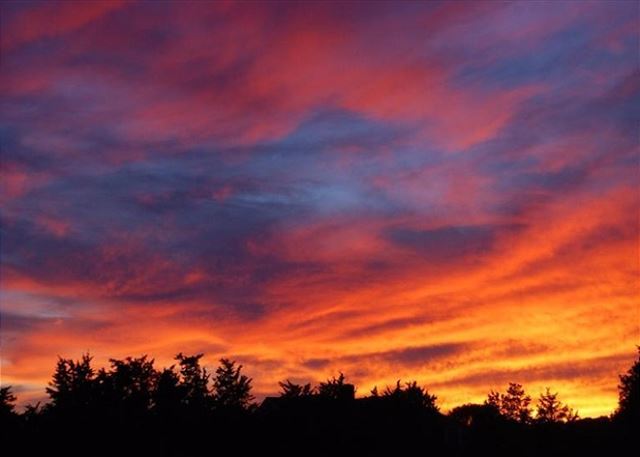 ---
Bedroom(s): 3
Bathroom(s): 1
Sleeps: 6
Type: House
Area: Nauset Beach
Town: Orleans
A unique 2 bedroom/1 bath home with loft and scenic deck, this beach cottage is an easy walk to Nauset Bay on the left and Nauset Beach on the right - ONLY 5 TO 10 MINUTES AWAY BY FOOT! The deck overlooks marshes that draw a number of local bird species so bring along a telescope or a pair of binoculars or use those provided by the owner!

The main floor combines the fully stocked kitchen with bar stools for guests, a foldout kitchen table, and a combination den and living room to gather and talk, read, or watch TV. There is a CD player plus extra HDMI cord to stream from your own device using the high-Speed reliable WiFi. The entire home is cooled by a large A/C unit installed high on the wall.

There are two bedrooms on the first floor. The main bedroom has a queen and the second bedroom has a bunk bed and twin to sleep 3. The bright bathroom has a shower stall.

The loft, which could do triple duty as a play, reading, or extra bedroom, includes a set of twins.

There is an overwhelming sense of peace and happy solitude in this cloistered lot. The beaches and town are close by, just insulated by the natural sound barriers of this perfect landscape.

Also included: Wifi, extra room fans, enclosed outdoor shower, and parking in driveway for 2 cars. *The owner provides 6 beach chairs. *Owners provide these items as favors to guests only and not as an integral part of the rental. If these items become lost or damaged during the course of the rental season, owners are not responsible for replacements.

Sorry no smoking allowed.

6 guests maximum allowed at any time. No parties exceeding the occupancy limit allowed.

LINENS (SHEETS/TOWELS) ARE NOT INCLUDED IN THIS RENTAL.

THIS PROPERTY DOES NOT HAVE A WASHER AND DRYER. LAUNDROMAT DROP OFF/PICK UP IS AVAILABLE.

We offer travel insurance that is highly recommended and affordable coverage to protect your vacation investment.

Please view our policy and procedure page on our web site for detailed information about renting with us.

State and local taxes are applicable and may vary based on local ordinances and bylaws. Tax rates are subject to change.
- DVD Player
- Stereo w/ CD player
- Fireplace
- Sleep Sofa
- A/C Unit
- Deck
- AM/FM Radio
- WiFi
- Room Or Window Fans
- Teapot or Tea Kettle
- Drip Coffee Maker
- Cleaning Supplies
- Cookware
- Dishes / Glassware / Utensils
- Lobster Pot
- A/C
- Toaster
- Dining Table
- TV
- A/C
- DVD Player
- Hair Dryer
- Shower Only
- Charcoal Grill
- Dining Table w/o Umbrella
- Enclosed Outdoor Shower
- Beach Chairs
- Outdoor Seating
- Outdoor Dining Table
- Near Cape Cod Bay Beaches
- Marshview
- Walk to Beach
- Near Ocean Beach
Guest Reviews of
14 alden Orleans , MA
cute 'n cozy 'n beachy
Review by
DEBORAH W.
Great location for access to beach north of Nauset & for strolling along Mill Pond. Home was clean & has basics for cooking etc. but no wine glasses and only a single cup coffee maker which was disappointing. Comfy seating and sleeping...A/C unit was able to cool entire home even w/extremely hot temps but the loft ladder is not good for smaller children and both indoor & outdoor showers were not comfortable for people 6ft. or over. Property manager was very responsive to our needs and overall we were happy with the rental but would say it is a more appropriate rental for 4 people not 6. Cute n cozy beach cottage vibe but very limited space for a rainy day.
4 out of 5 stars
June 2019

| S | M | T | W | T | F | S |
| --- | --- | --- | --- | --- | --- | --- |
| | | | | | | 01 |
| 02 | 03 | 04 | 05 | 06 | 07 | 08 |
| 09 | 10 | 11 | 12 | 13 | 14 | 15 |
| 16 | 17 | 18 | 19 | 20 | 21 | 22 |
| 23 | 24 | 25 | 26 | 27 | 28 | 29 |
| 30 | | | | | | |
July 2019

| S | M | T | W | T | F | S |
| --- | --- | --- | --- | --- | --- | --- |
| | 01 | 02 | 03 | 04 | 05 | 06 |
| 07 | 08 | 09 | 10 | 11 | 12 | 13 |
| 14 | 15 | 16 | 17 | 18 | 19 | 20 |
| 21 | 22 | 23 | 24 | 25 | 26 | 27 |
| 28 | 29 | 30 | 31 | | | |
August 2019

| S | M | T | W | T | F | S |
| --- | --- | --- | --- | --- | --- | --- |
| | | | | 01 | 02 | 03 |
| 04 | 05 | 06 | 07 | 08 | 09 | 10 |
| 11 | 12 | 13 | 14 | 15 | 16 | 17 |
| 18 | 19 | 20 | 21 | 22 | 23 | 24 |
| 25 | 26 | 27 | 28 | 29 | 30 | 31 |
September 2019

| S | M | T | W | T | F | S |
| --- | --- | --- | --- | --- | --- | --- |
| 01 | 02 | 03 | 04 | 05 | 06 | 07 |
| 08 | 09 | 10 | 11 | 12 | 13 | 14 |
| 15 | 16 | 17 | 18 | 19 | 20 | 21 |
| 22 | 23 | 24 | 25 | 26 | 27 | 28 |
| 29 | 30 | | | | | |
October 2019

| S | M | T | W | T | F | S |
| --- | --- | --- | --- | --- | --- | --- |
| | | 01 | 02 | 03 | 04 | 05 |
| 06 | 07 | 08 | 09 | 10 | 11 | 12 |
| 13 | 14 | 15 | 16 | 17 | 18 | 19 |
| 20 | 21 | 22 | 23 | 24 | 25 | 26 |
| 27 | 28 | 29 | 30 | 31 | | |
November 2019

| S | M | T | W | T | F | S |
| --- | --- | --- | --- | --- | --- | --- |
| | | | | | 01 | 02 |
| 03 | 04 | 05 | 06 | 07 | 08 | 09 |
| 10 | 11 | 12 | 13 | 14 | 15 | 16 |
| 17 | 18 | 19 | 20 | 21 | 22 | 23 |
| 24 | 25 | 26 | 27 | 28 | 29 | 30 |
December 2019

| S | M | T | W | T | F | S |
| --- | --- | --- | --- | --- | --- | --- |
| 01 | 02 | 03 | 04 | 05 | 06 | 07 |
| 08 | 09 | 10 | 11 | 12 | 13 | 14 |
| 15 | 16 | 17 | 18 | 19 | 20 | 21 |
| 22 | 23 | 24 | 25 | 26 | 27 | 28 |
| 29 | 30 | 31 | | | | |
January 2020

| S | M | T | W | T | F | S |
| --- | --- | --- | --- | --- | --- | --- |
| | | | 01 | 02 | 03 | 04 |
| 05 | 06 | 07 | 08 | 09 | 10 | 11 |
| 12 | 13 | 14 | 15 | 16 | 17 | 18 |
| 19 | 20 | 21 | 22 | 23 | 24 | 25 |
| 26 | 27 | 28 | 29 | 30 | 31 | |
February 2020

| S | M | T | W | T | F | S |
| --- | --- | --- | --- | --- | --- | --- |
| | | | | | | 01 |
| 02 | 03 | 04 | 05 | 06 | 07 | 08 |
| 09 | 10 | 11 | 12 | 13 | 14 | 15 |
| 16 | 17 | 18 | 19 | 20 | 21 | 22 |
| 23 | 24 | 25 | 26 | 27 | 28 | 29 |
March 2020

| S | M | T | W | T | F | S |
| --- | --- | --- | --- | --- | --- | --- |
| 01 | 02 | 03 | 04 | 05 | 06 | 07 |
| 08 | 09 | 10 | 11 | 12 | 13 | 14 |
| 15 | 16 | 17 | 18 | 19 | 20 | 21 |
| 22 | 23 | 24 | 25 | 26 | 27 | 28 |
| 29 | 30 | 31 | | | | |
April 2020

| S | M | T | W | T | F | S |
| --- | --- | --- | --- | --- | --- | --- |
| | | | 01 | 02 | 03 | 04 |
| 05 | 06 | 07 | 08 | 09 | 10 | 11 |
| 12 | 13 | 14 | 15 | 16 | 17 | 18 |
| 19 | 20 | 21 | 22 | 23 | 24 | 25 |
| 26 | 27 | 28 | 29 | 30 | | |
May 2020

| S | M | T | W | T | F | S |
| --- | --- | --- | --- | --- | --- | --- |
| | | | | | 01 | 02 |
| 03 | 04 | 05 | 06 | 07 | 08 | 09 |
| 10 | 11 | 12 | 13 | 14 | 15 | 16 |
| 17 | 18 | 19 | 20 | 21 | 22 | 23 |
| 24 | 25 | 26 | 27 | 28 | 29 | 30 |
| 31 | | | | | | |
June 2020

| S | M | T | W | T | F | S |
| --- | --- | --- | --- | --- | --- | --- |
| | 01 | 02 | 03 | 04 | 05 | 06 |
| 07 | 08 | 09 | 10 | 11 | 12 | 13 |
| 14 | 15 | 16 | 17 | 18 | 19 | 20 |
| 21 | 22 | 23 | 24 | 25 | 26 | 27 |
| 28 | 29 | 30 | | | | |
Available
Unavailable
Sat to Sat booking