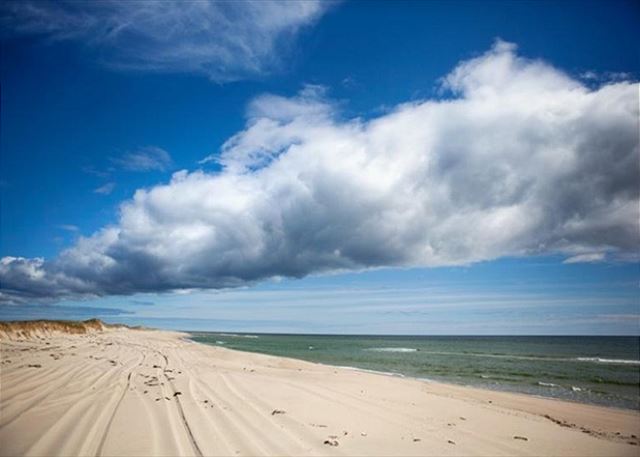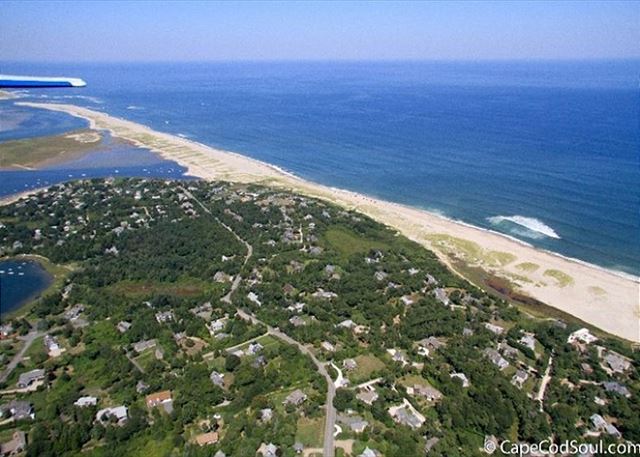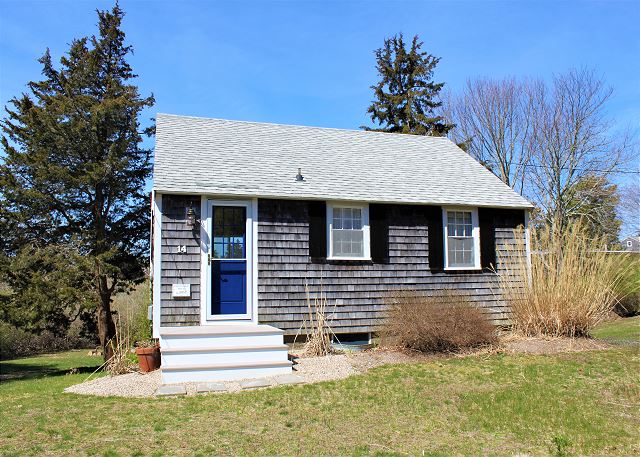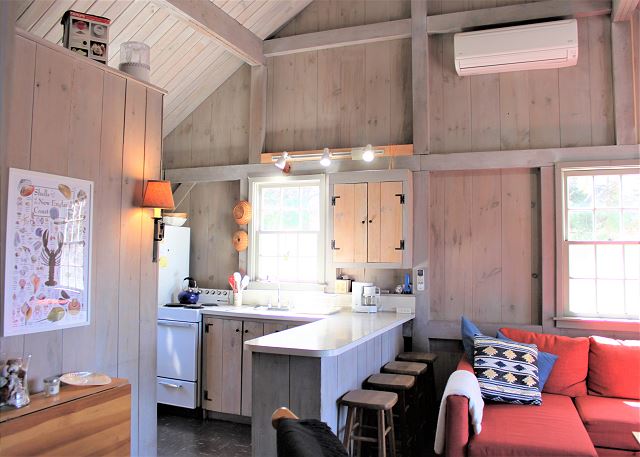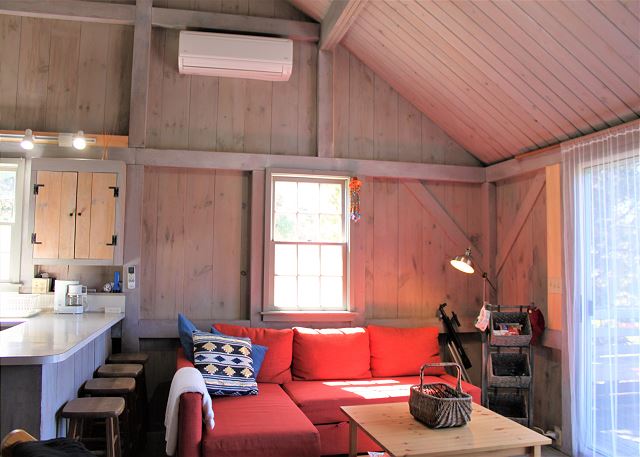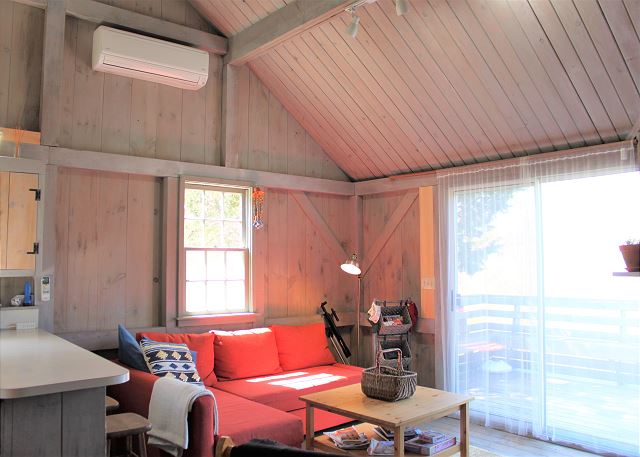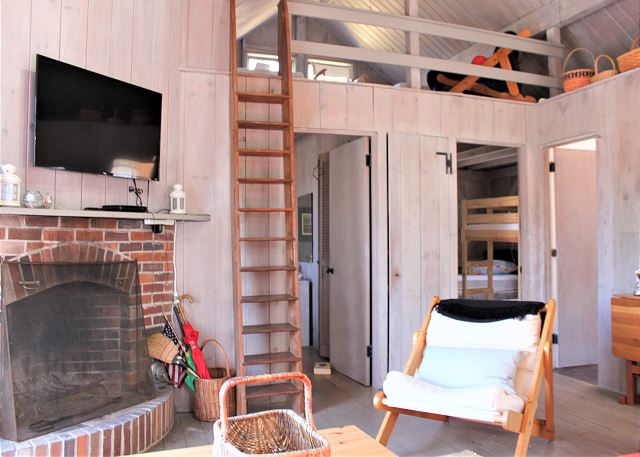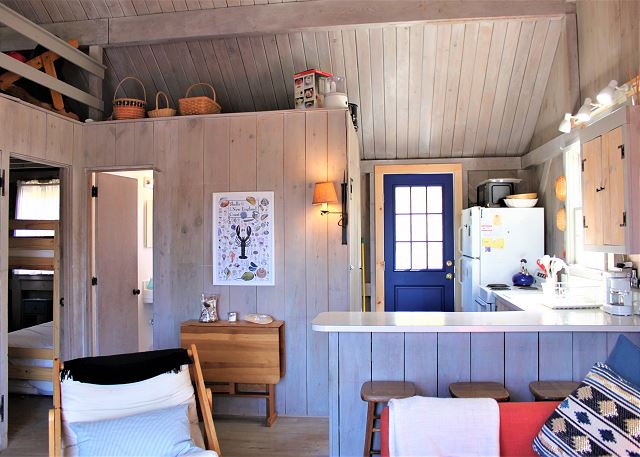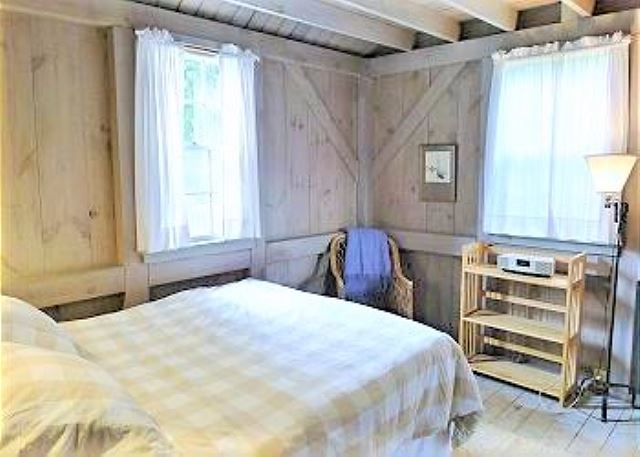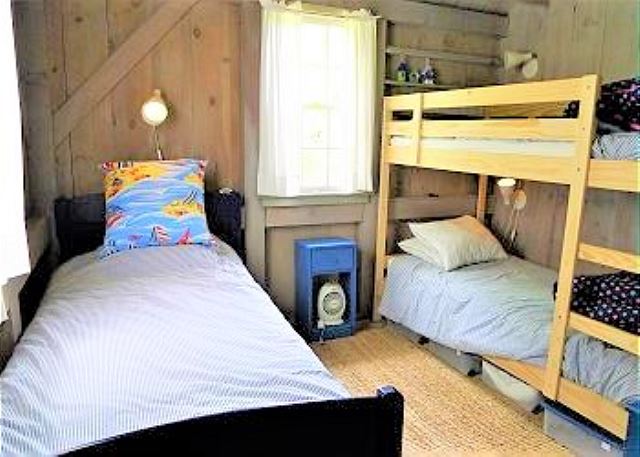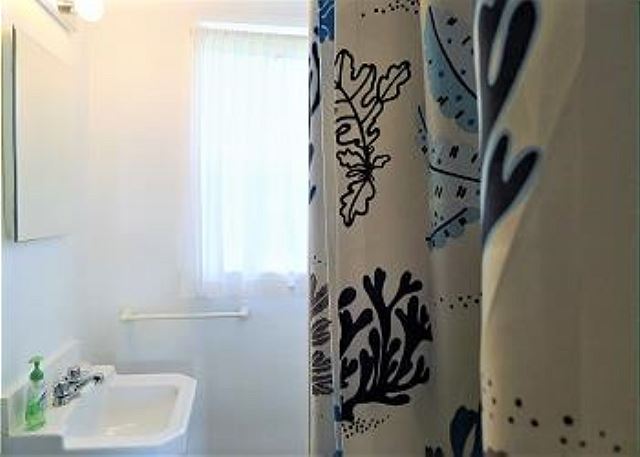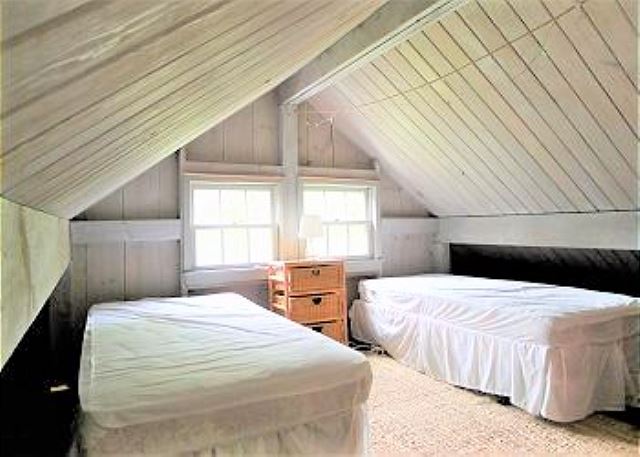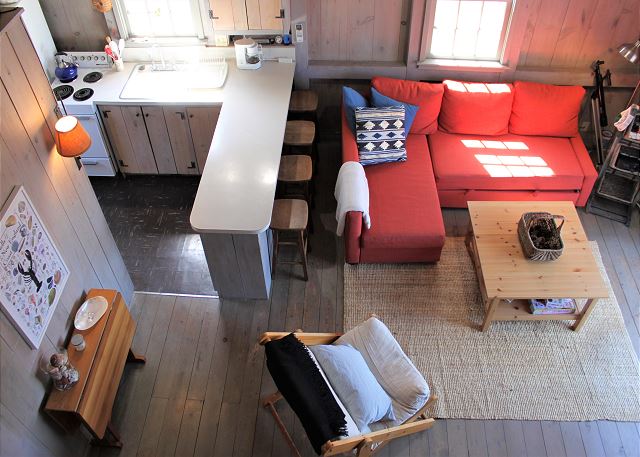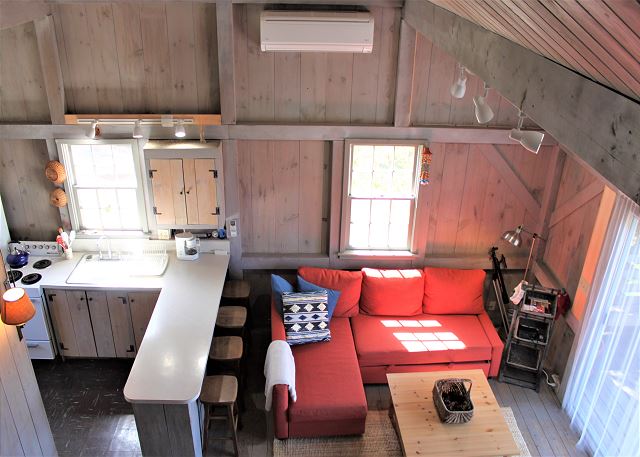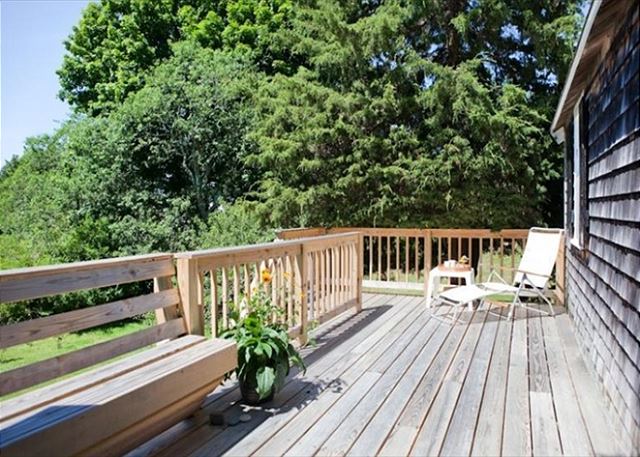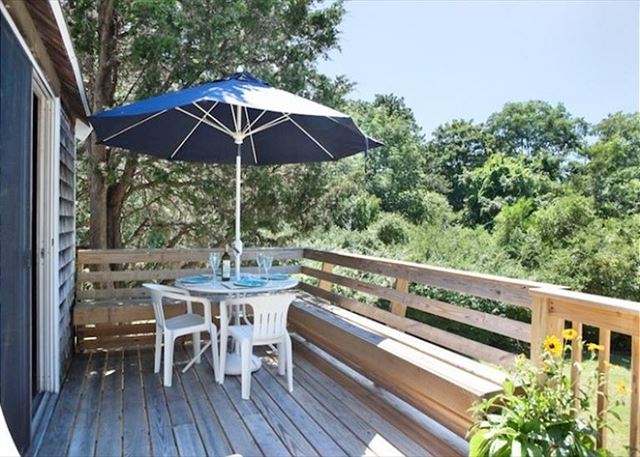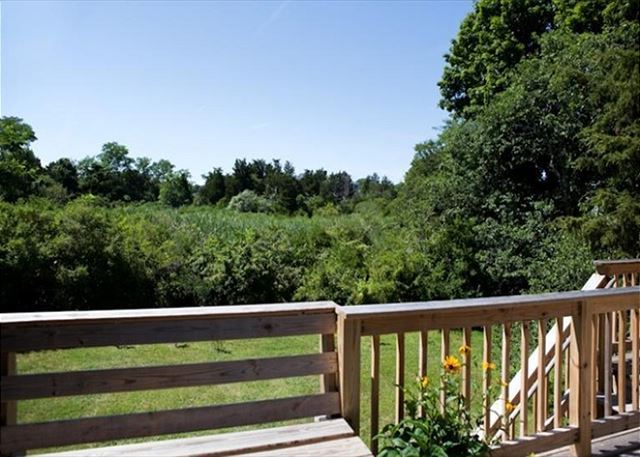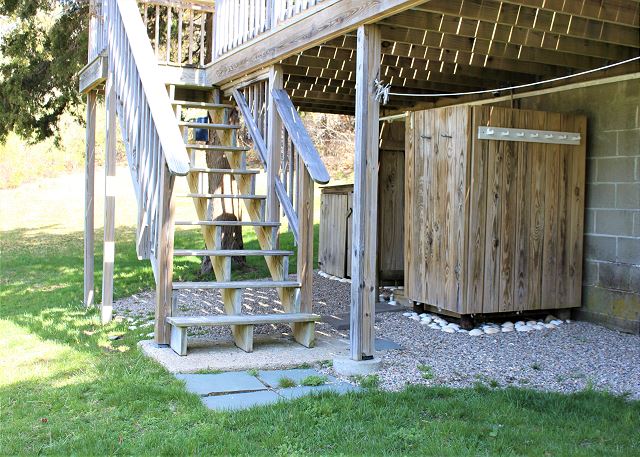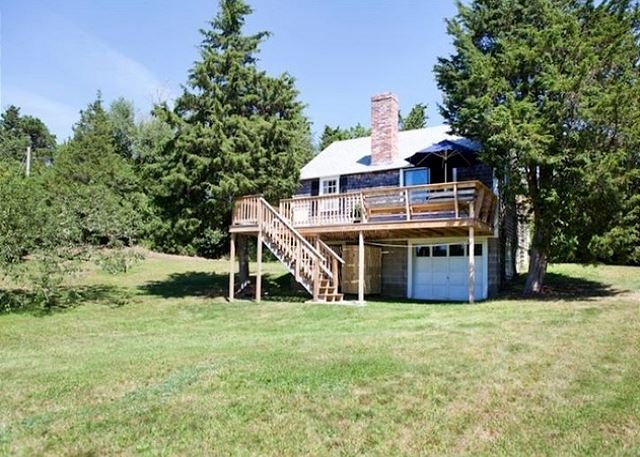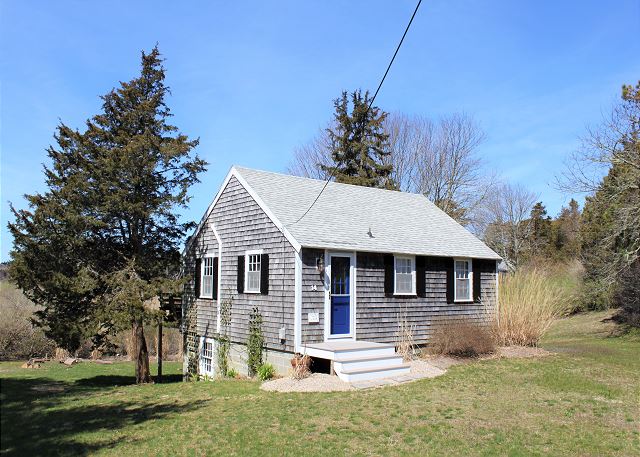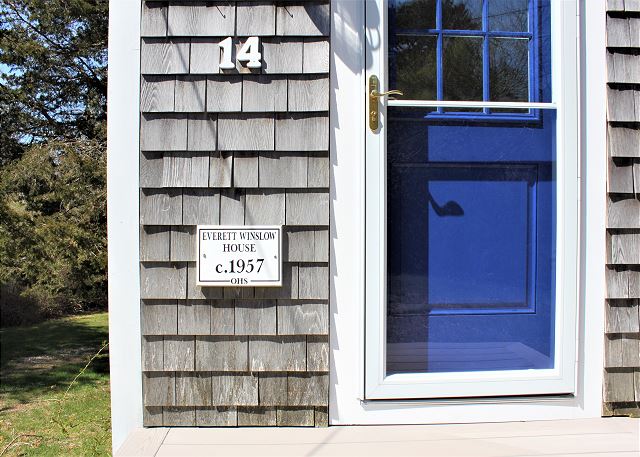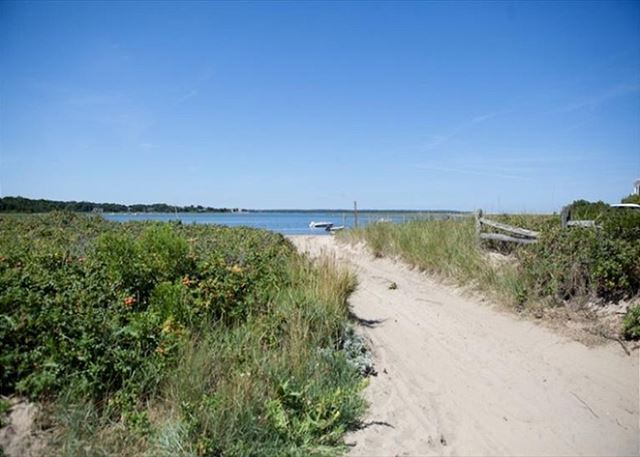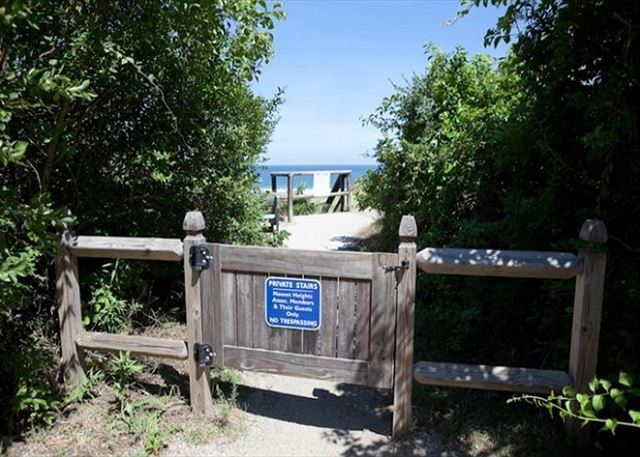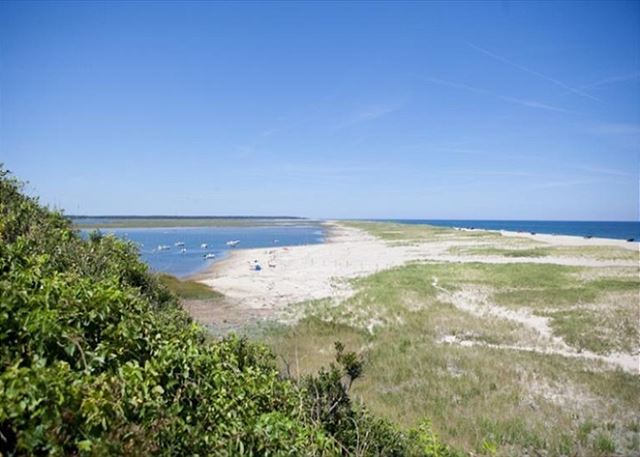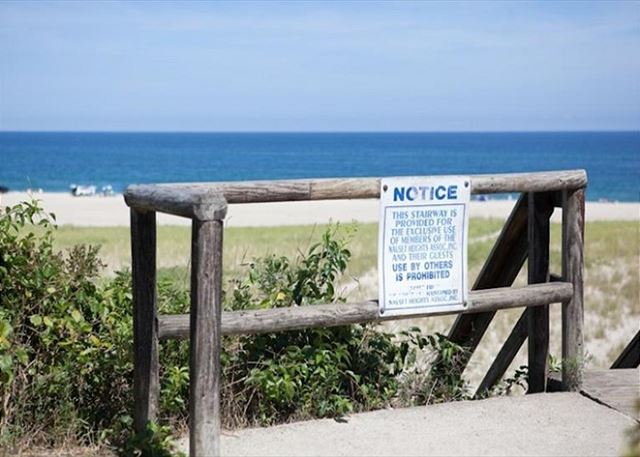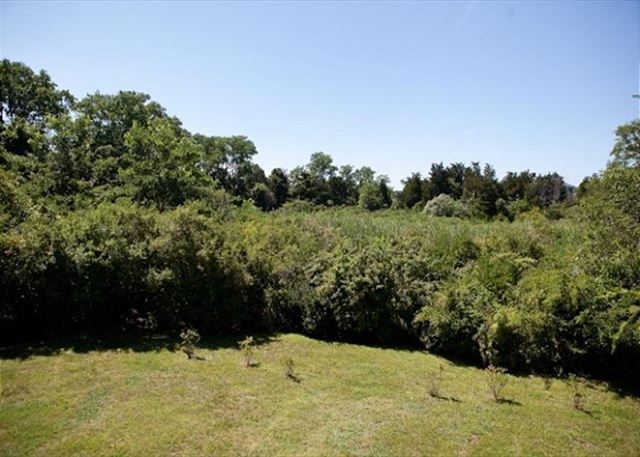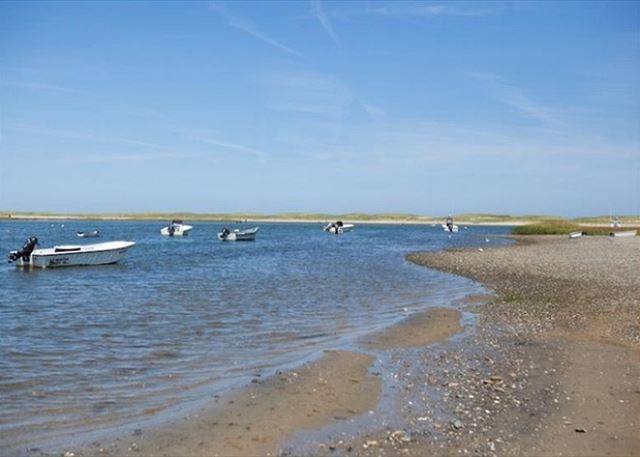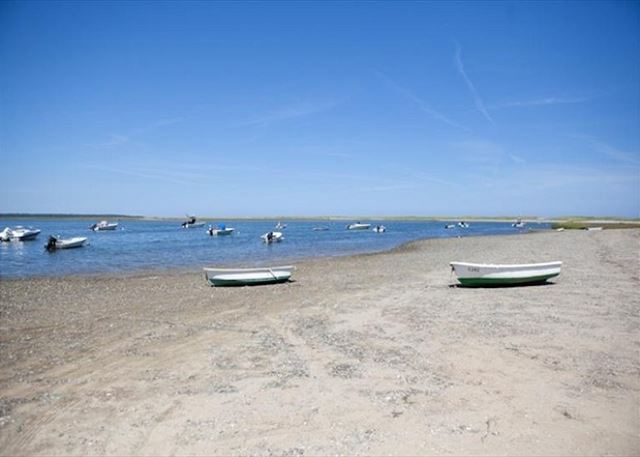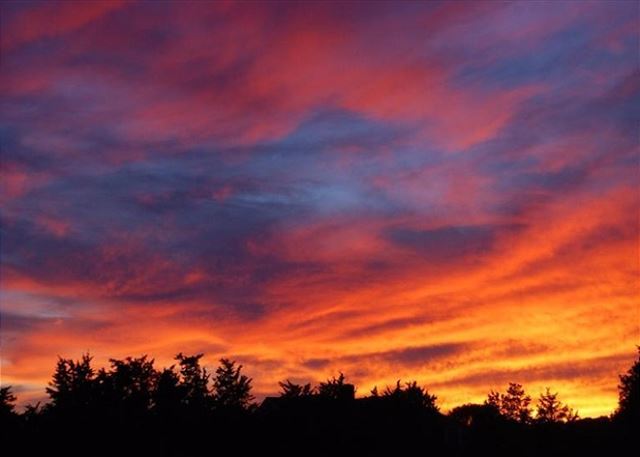 ---
Bedroom(s): 3
Bathroom(s): 1
Sleeps: 6
Type: House
Area: Nauset Beach
Town: Orleans
A unique 2 bedroom/1 bath home with loft and scenic deck, this beach cottage is an easy walk to Nauset Bay on the left and Nauset Beach on the right - ONLY 5 TO 10 MINUTES AWAY BY FOOT! The deck overlooks marshes that draw a number of local bird species so bring along a telescope or a pair of binoculars or use those provided by the owner!

The main floor combines the fully stocked kitchen with microwave, bar stools for guests, a foldout kitchen table, and a combination den and living room to gather and talk, read, or watch TV. There is a CD player plus extra HDMI cord to stream from your own device using the high-Speed reliable WiFi. The entire home is cooled by a large A/C unit installed high on the wall.

There are two bedrooms on the first floor. The main bedroom has a queen and the second bedroom has a bunk bed and twin to sleep 3. The bright bathroom has a shower stall.

The loft, which could do triple duty as a play, reading, or extra bedroom, includes a set of twins.

There is an overwhelming sense of peace and happy solitude in this cloistered lot. The beaches and town are close by, just insulated by the natural sound barriers of this perfect landscape.

Also included: Wifi, extra room fans, enclosed outdoor shower, and parking in driveway for 2 cars. *The owner provides 6 beach chairs. *Owners provide these items as favors to guests only and not as an integral part of the rental. If these items become lost or damaged during the course of the rental season, owners are not responsible for replacements.

Sorry no smoking allowed.

6 guests maximum allowed at any time. No parties exceeding the occupancy limit allowed.

LINENS (SHEETS/TOWELS) ARE NOT INCLUDED IN THIS RENTAL.

THIS PROPERTY DOES NOT HAVE A WASHER AND DRYER. LAUNDROMAT DROP OFF/PICK UP IS AVAILABLE.

We offer travel insurance that is highly recommended and affordable coverage to protect your vacation investment.

Please view our policy and procedure page on our web site for detailed information about renting with us.

State and local taxes are applicable and may vary based on local ordinances and bylaws. Tax rates are subject to change and are due per state law.
- DVD Player
- Stereo w/ CD player
- Fireplace
- Sleep Sofa
- A/C Unit
- Deck
- AM/FM Radio
- WiFi
- Room Or Window Fans
- Teapot or Tea Kettle
- Drip Coffee Maker
- Cleaning Supplies
- Cookware
- Dishes / Glassware / Utensils
- Lobster Pot
- A/C
- Toaster
- Dining Table
- TV
- A/C
- DVD Player
- Hair Dryer
- Shower Only
- Charcoal Grill
- Dining Table w/o Umbrella
- Enclosed Outdoor Shower
- Beach Chairs
- Outdoor Seating
- Outdoor Dining Table
- Near Cape Cod Bay Beaches
- Marshview
- Walk to Beach
- Near Ocean Beach
Guest Reviews of
the beachcomber Orleans , MA
Privacy
Review by
Jake G.
The positives: This is a PRIVATE property. It's a great place for a large family, but 4 adults probably won't be thrilled, as two will have to climb the ladder to sleep. I nearly took the refrigerator doors off and reversed them so they opened correctly, LOL. Somebody should spend 20 minutes doing that, it's easy. And outlets are in scarce supply. Overall, neat place, although the drive A: Needs it's entrance widened, and B, it needs marking!
5 out of 5 stars
Cozy Orleans Cottage
Our family very much enjoyed our stay at this property. The unit has bed space for 7 between the 2 bedrooms and loft but the real limiter is the single bathroom. The cottage is smaller, but in an old school Cape vacation kind of way. It's exactly as it looks in the pictures, Outdoor shower is awesome for the under 6' crowd and the back yard and really the entire property have complete privacy, Large comfortable deck faces west for great sunsets. To be fair this is not a 5 star brand new property, it's a well worn and lived in cottage with all the quirks. Beach access from the house is a 10-12 minute walk to northern Nauset. One thing some may enjoy is the beach just north of the car beach access portion provides access to Nauset Harbor just a short walk over the dunes. The warmer and calmer waters are a nice break/change from the open ocean side. The cottage has beach chairs and even 3 kayaks that can be used in the harbor. Clamming is EXCELLENT in the local walking distance areas, but get your license from the town of Orleans. At $20 for a family it is well worth it. The cottage's kitchen begs for the grill to be used (old school charcoal) due to the size, but it has all the kitchen tools required. Final thoughts on this spot, the cottage is an easy drive to many great beaches such as Skaket Beach for little kids on the bay side (5 miles) and makes Chatham and PTown simple trips. Nauset is the beach you walk to from the unit and it's more of an adventure beach trip then a water play area. Bring your binos and enjoy watching the very large sea life frolic from your chair. We enjoyed watching the whales, seals and yes... sharks. The reality of the Cape today is different from what it was. It's not a swim and water enjoyment area, the seals are far to common and come way closer than you likely imagine. It felt more like a beach adventure then a calm family beach trip. The vigilance necessary to stay safe alters the trip significantly,
4 out of 5 stars
cute 'n cozy 'n beachy
Review by
DEBORAH W.
Great location for access to beach north of Nauset & for strolling along Mill Pond. Home was clean & has basics for cooking etc. but no wine glasses and only a single cup coffee maker which was disappointing. Comfy seating and sleeping...A/C unit was able to cool entire home even w/extremely hot temps but the loft ladder is not good for smaller children and both indoor & outdoor showers were not comfortable for people 6ft. or over. Property manager was very responsive to our needs and overall we were happy with the rental but would say it is a more appropriate rental for 4 people not 6. Cute n cozy beach cottage vibe but very limited space for a rainy day.
4 out of 5 stars
December 2019

| S | M | T | W | T | F | S |
| --- | --- | --- | --- | --- | --- | --- |
| 01 | 02 | 03 | 04 | 05 | 06 | 07 |
| 08 | 09 | 10 | 11 | 12 | 13 | 14 |
| 15 | 16 | 17 | 18 | 19 | 20 | 21 |
| 22 | 23 | 24 | 25 | 26 | 27 | 28 |
| 29 | 30 | 31 | | | | |
January 2020

| S | M | T | W | T | F | S |
| --- | --- | --- | --- | --- | --- | --- |
| | | | 01 | 02 | 03 | 04 |
| 05 | 06 | 07 | 08 | 09 | 10 | 11 |
| 12 | 13 | 14 | 15 | 16 | 17 | 18 |
| 19 | 20 | 21 | 22 | 23 | 24 | 25 |
| 26 | 27 | 28 | 29 | 30 | 31 | |
February 2020

| S | M | T | W | T | F | S |
| --- | --- | --- | --- | --- | --- | --- |
| | | | | | | 01 |
| 02 | 03 | 04 | 05 | 06 | 07 | 08 |
| 09 | 10 | 11 | 12 | 13 | 14 | 15 |
| 16 | 17 | 18 | 19 | 20 | 21 | 22 |
| 23 | 24 | 25 | 26 | 27 | 28 | 29 |
March 2020

| S | M | T | W | T | F | S |
| --- | --- | --- | --- | --- | --- | --- |
| 01 | 02 | 03 | 04 | 05 | 06 | 07 |
| 08 | 09 | 10 | 11 | 12 | 13 | 14 |
| 15 | 16 | 17 | 18 | 19 | 20 | 21 |
| 22 | 23 | 24 | 25 | 26 | 27 | 28 |
| 29 | 30 | 31 | | | | |
April 2020

| S | M | T | W | T | F | S |
| --- | --- | --- | --- | --- | --- | --- |
| | | | 01 | 02 | 03 | 04 |
| 05 | 06 | 07 | 08 | 09 | 10 | 11 |
| 12 | 13 | 14 | 15 | 16 | 17 | 18 |
| 19 | 20 | 21 | 22 | 23 | 24 | 25 |
| 26 | 27 | 28 | 29 | 30 | | |
May 2020

| S | M | T | W | T | F | S |
| --- | --- | --- | --- | --- | --- | --- |
| | | | | | 01 | 02 |
| 03 | 04 | 05 | 06 | 07 | 08 | 09 |
| 10 | 11 | 12 | 13 | 14 | 15 | 16 |
| 17 | 18 | 19 | 20 | 21 | 22 | 23 |
| 24 | 25 | 26 | 27 | 28 | 29 | 30 |
| 31 | | | | | | |
June 2020

| S | M | T | W | T | F | S |
| --- | --- | --- | --- | --- | --- | --- |
| | 01 | 02 | 03 | 04 | 05 | 06 |
| 07 | 08 | 09 | 10 | 11 | 12 | 13 |
| 14 | 15 | 16 | 17 | 18 | 19 | 20 |
| 21 | 22 | 23 | 24 | 25 | 26 | 27 |
| 28 | 29 | 30 | | | | |
July 2020

| S | M | T | W | T | F | S |
| --- | --- | --- | --- | --- | --- | --- |
| | | | 01 | 02 | 03 | 04 |
| 05 | 06 | 07 | 08 | 09 | 10 | 11 |
| 12 | 13 | 14 | 15 | 16 | 17 | 18 |
| 19 | 20 | 21 | 22 | 23 | 24 | 25 |
| 26 | 27 | 28 | 29 | 30 | 31 | |
August 2020

| S | M | T | W | T | F | S |
| --- | --- | --- | --- | --- | --- | --- |
| | | | | | | 01 |
| 02 | 03 | 04 | 05 | 06 | 07 | 08 |
| 09 | 10 | 11 | 12 | 13 | 14 | 15 |
| 16 | 17 | 18 | 19 | 20 | 21 | 22 |
| 23 | 24 | 25 | 26 | 27 | 28 | 29 |
| 30 | 31 | | | | | |
September 2020

| S | M | T | W | T | F | S |
| --- | --- | --- | --- | --- | --- | --- |
| | | 01 | 02 | 03 | 04 | 05 |
| 06 | 07 | 08 | 09 | 10 | 11 | 12 |
| 13 | 14 | 15 | 16 | 17 | 18 | 19 |
| 20 | 21 | 22 | 23 | 24 | 25 | 26 |
| 27 | 28 | 29 | 30 | | | |
October 2020

| S | M | T | W | T | F | S |
| --- | --- | --- | --- | --- | --- | --- |
| | | | | 01 | 02 | 03 |
| 04 | 05 | 06 | 07 | 08 | 09 | 10 |
| 11 | 12 | 13 | 14 | 15 | 16 | 17 |
| 18 | 19 | 20 | 21 | 22 | 23 | 24 |
| 25 | 26 | 27 | 28 | 29 | 30 | 31 |
November 2020

| S | M | T | W | T | F | S |
| --- | --- | --- | --- | --- | --- | --- |
| 01 | 02 | 03 | 04 | 05 | 06 | 07 |
| 08 | 09 | 10 | 11 | 12 | 13 | 14 |
| 15 | 16 | 17 | 18 | 19 | 20 | 21 |
| 22 | 23 | 24 | 25 | 26 | 27 | 28 |
| 29 | 30 | | | | | |
December 2020

| S | M | T | W | T | F | S |
| --- | --- | --- | --- | --- | --- | --- |
| | | 01 | 02 | 03 | 04 | 05 |
| 06 | 07 | 08 | 09 | 10 | 11 | 12 |
| 13 | 14 | 15 | 16 | 17 | 18 | 19 |
| 20 | 21 | 22 | 23 | 24 | 25 | 26 |
| 27 | 28 | 29 | 30 | 31 | | |
Available
Unavailable
Sat to Sat booking