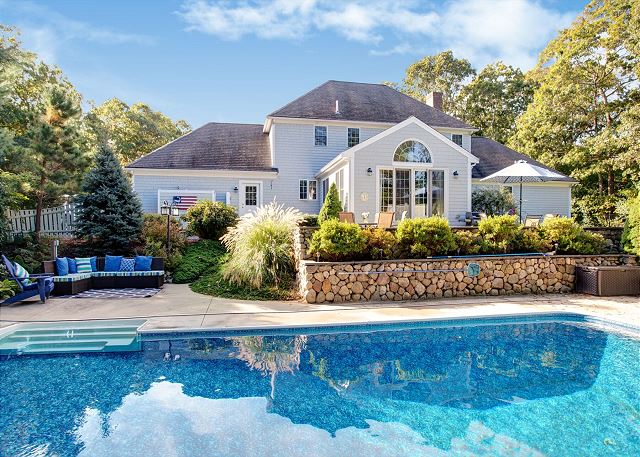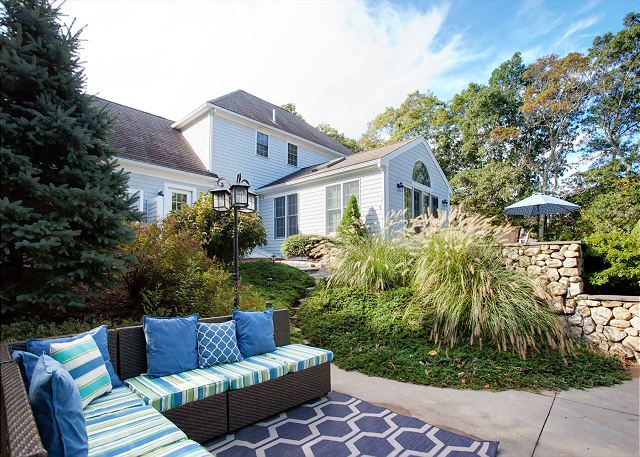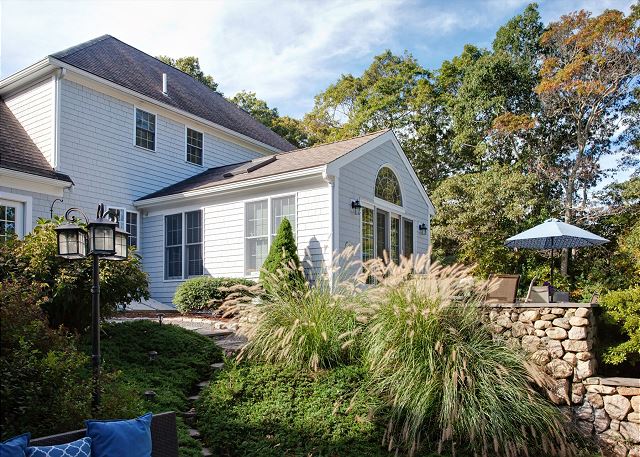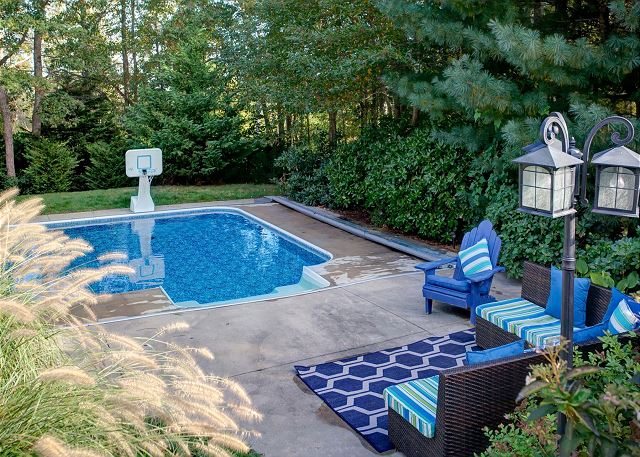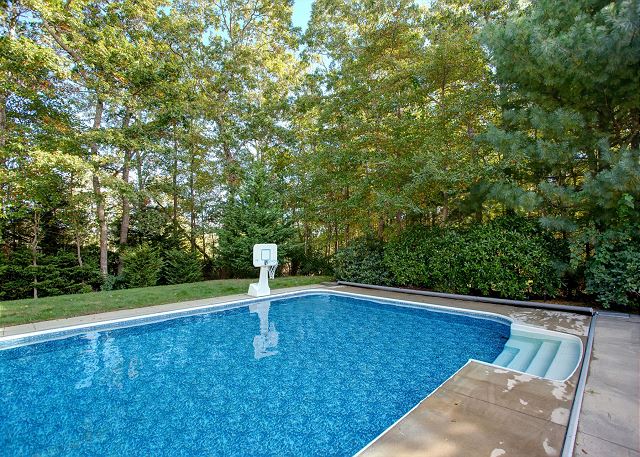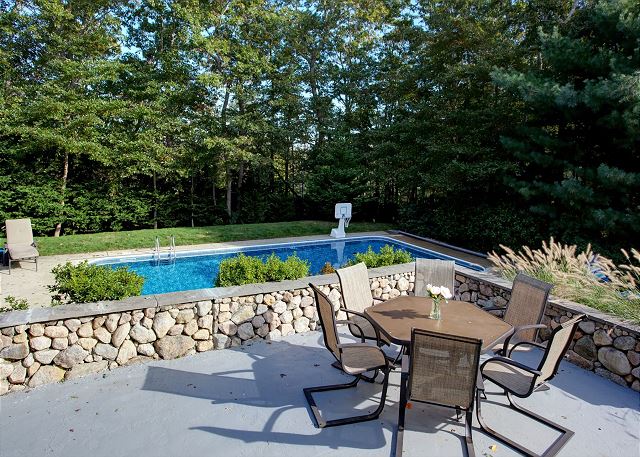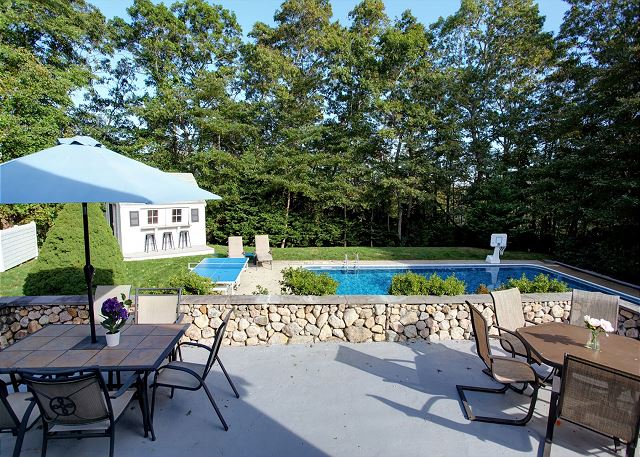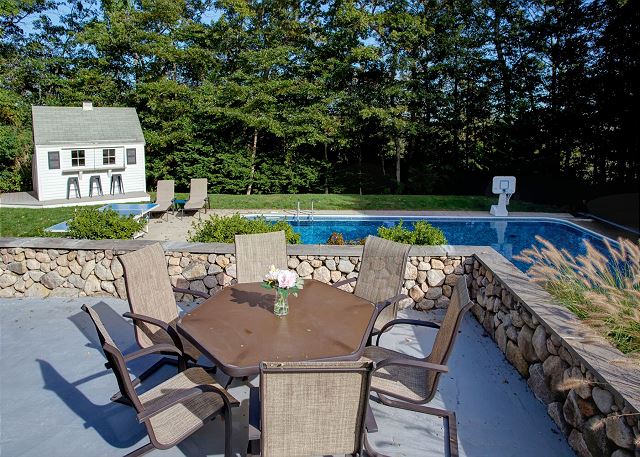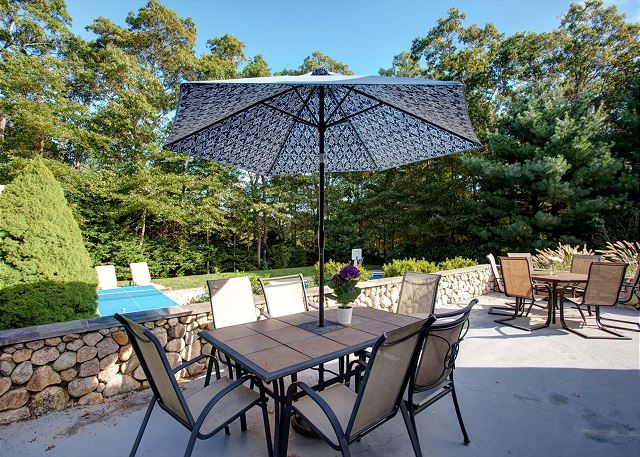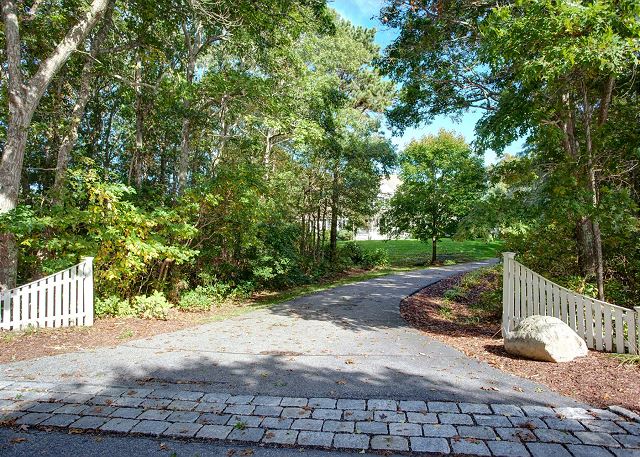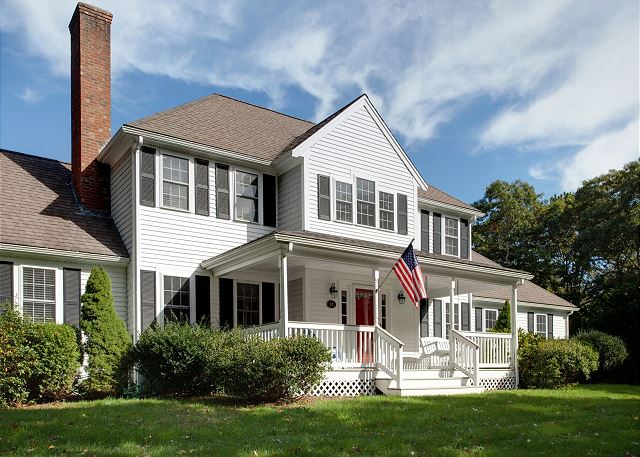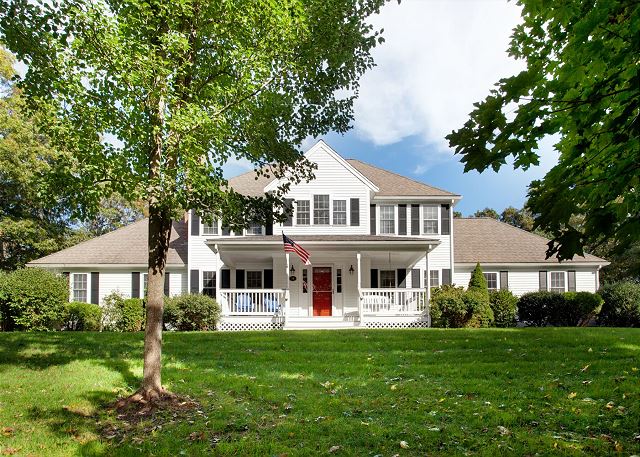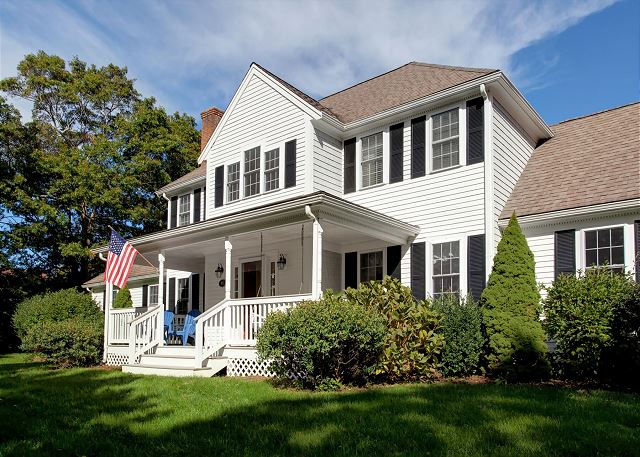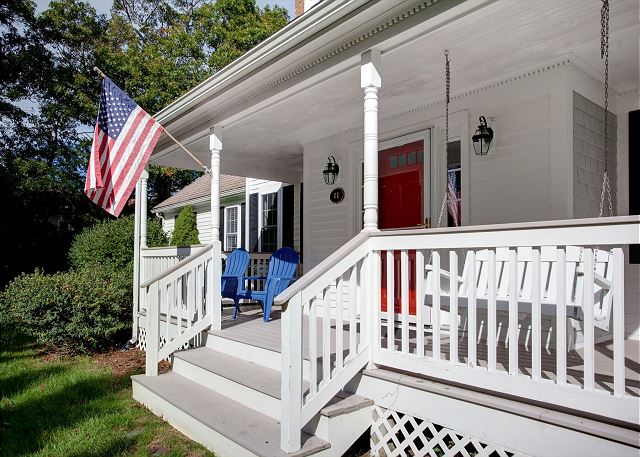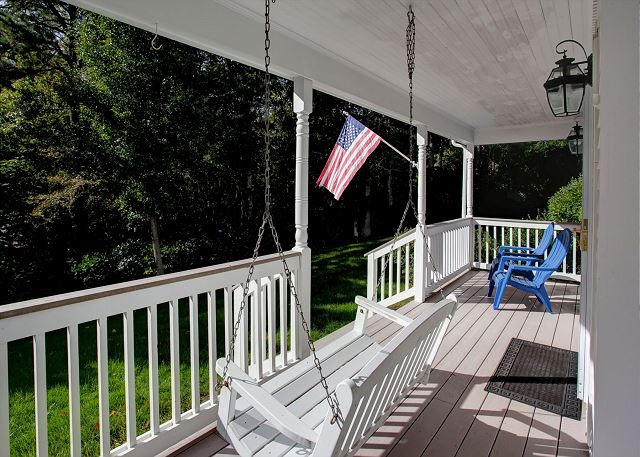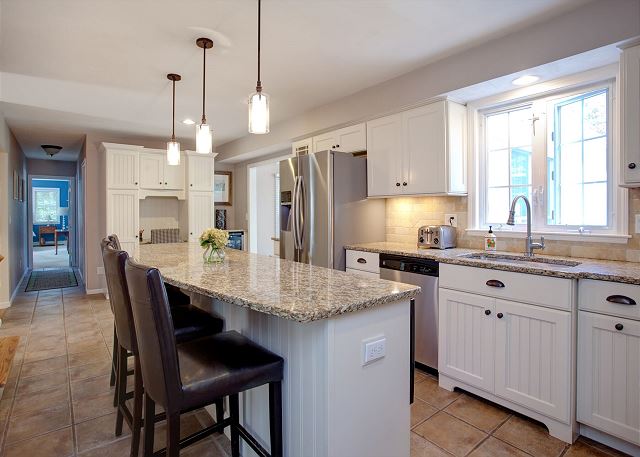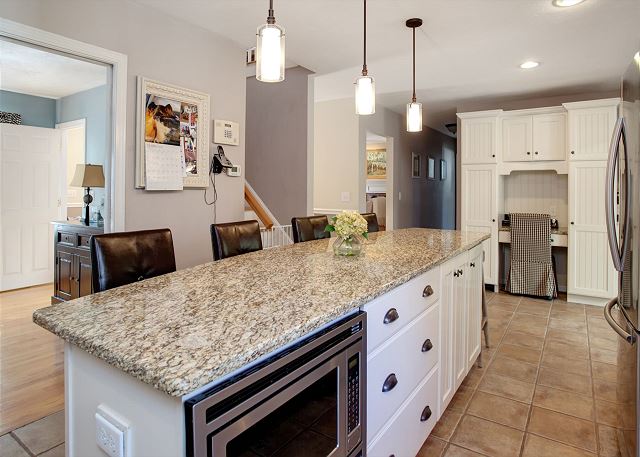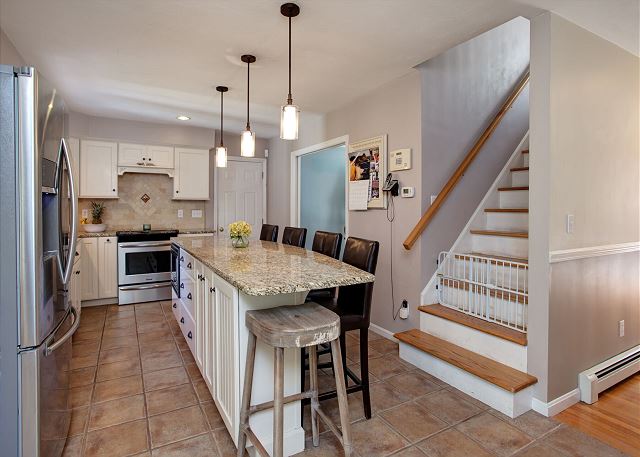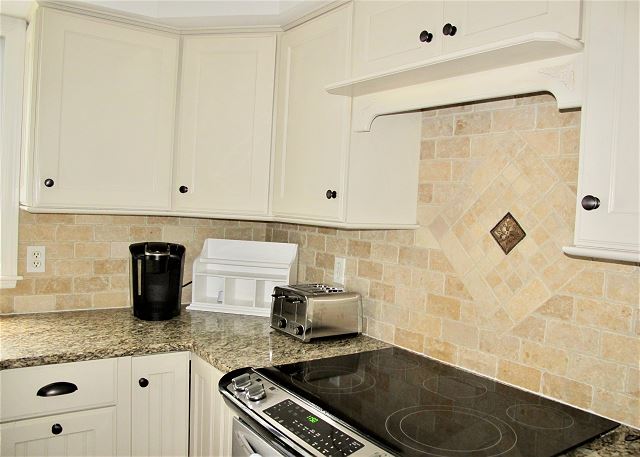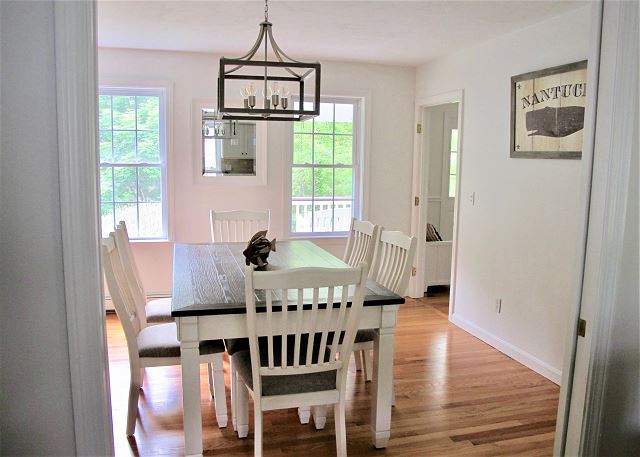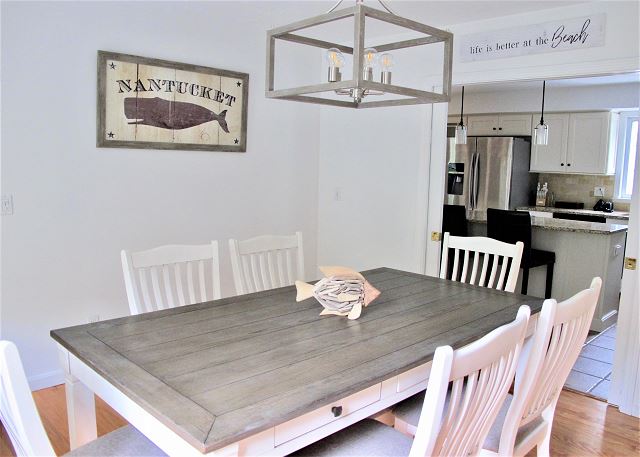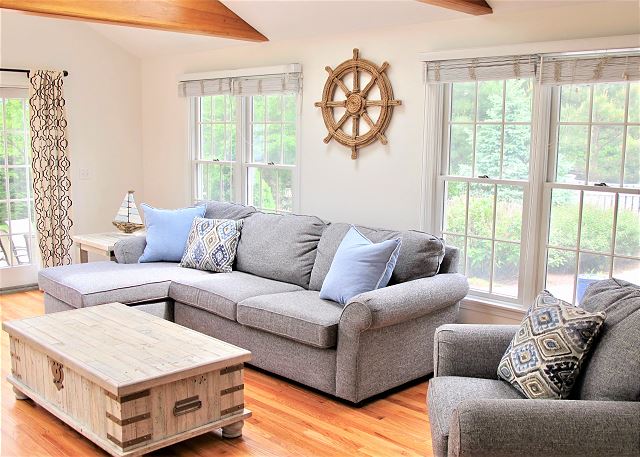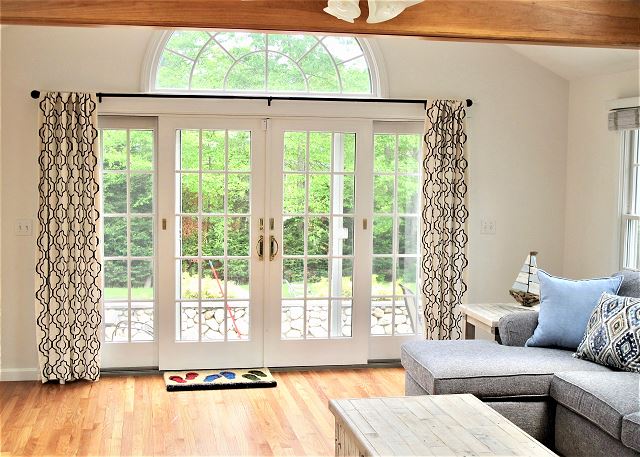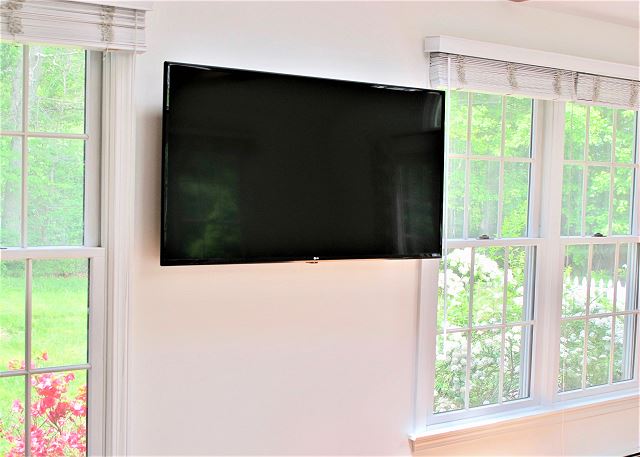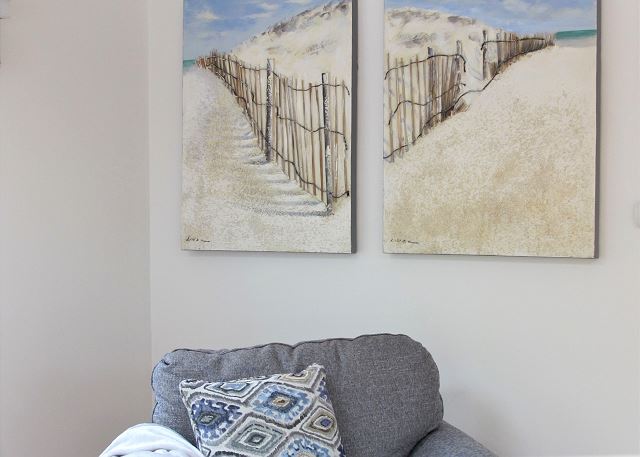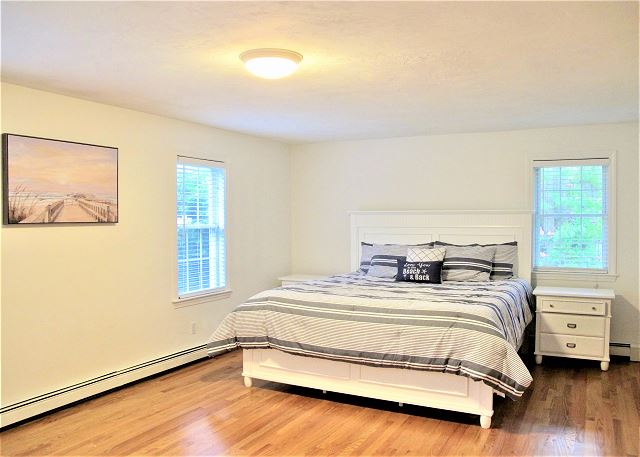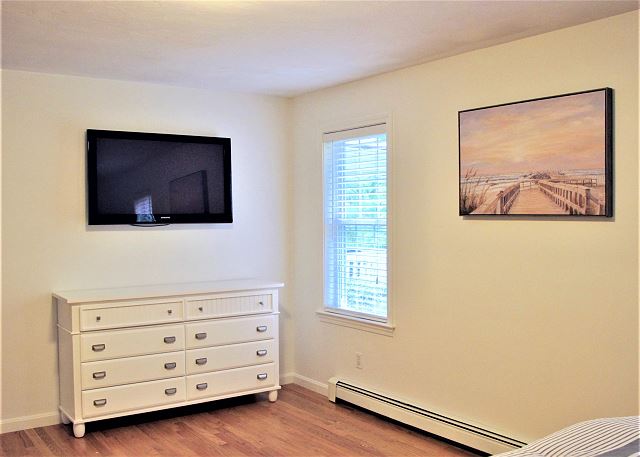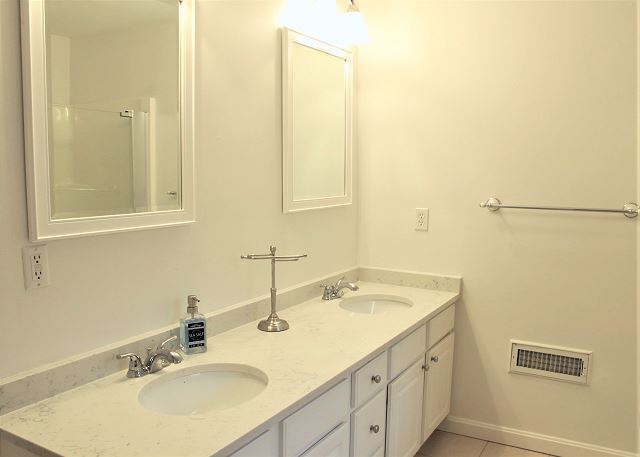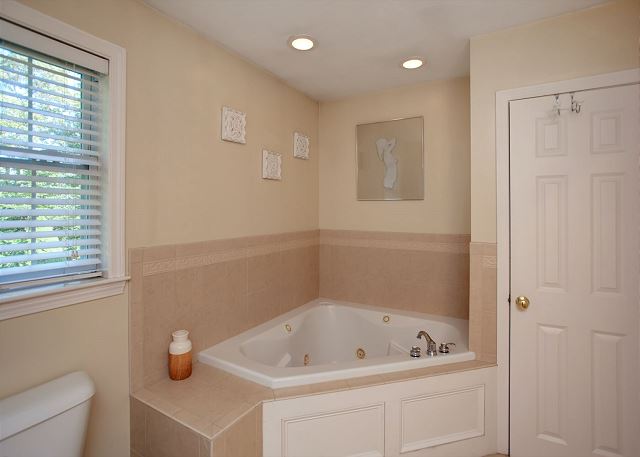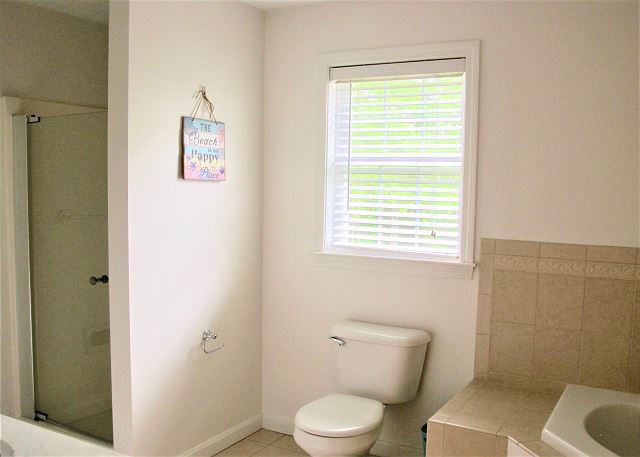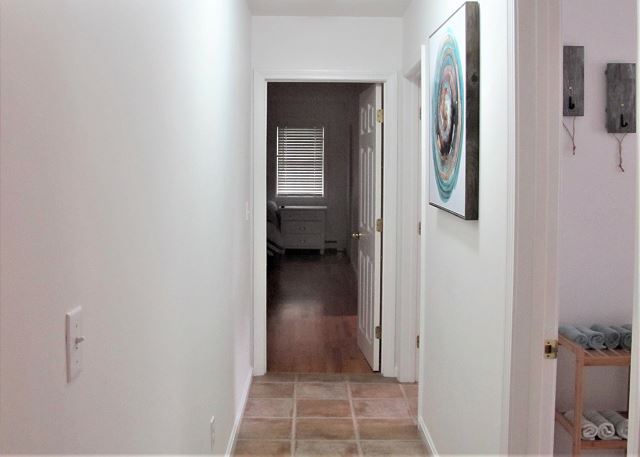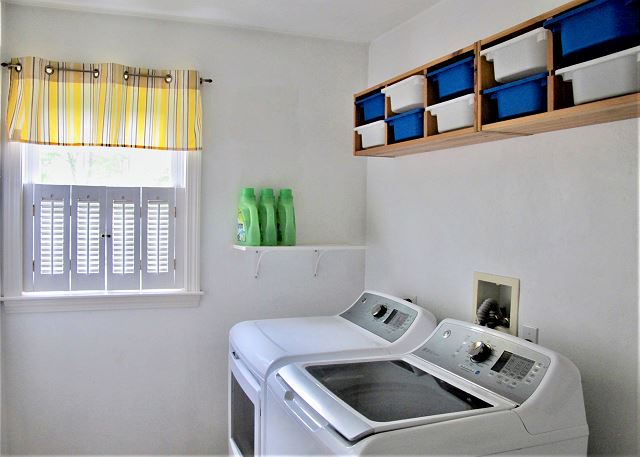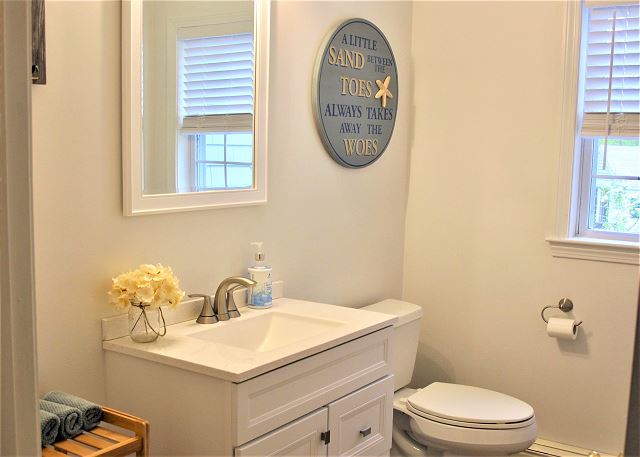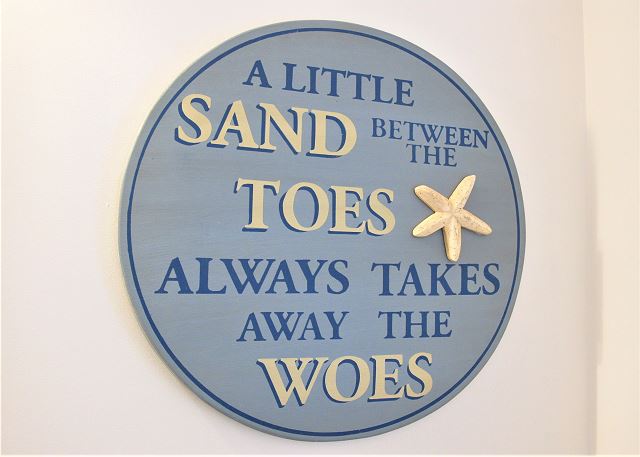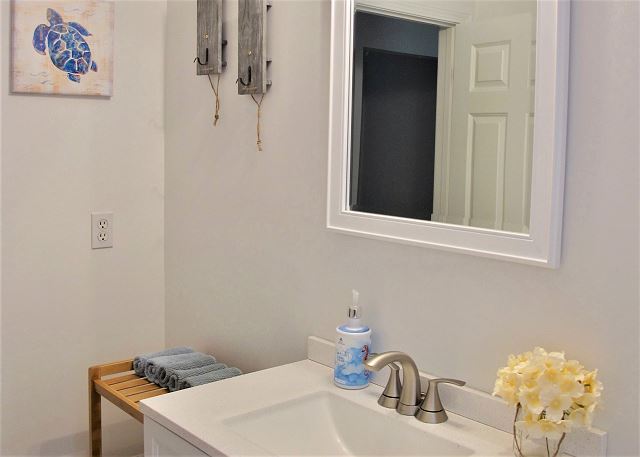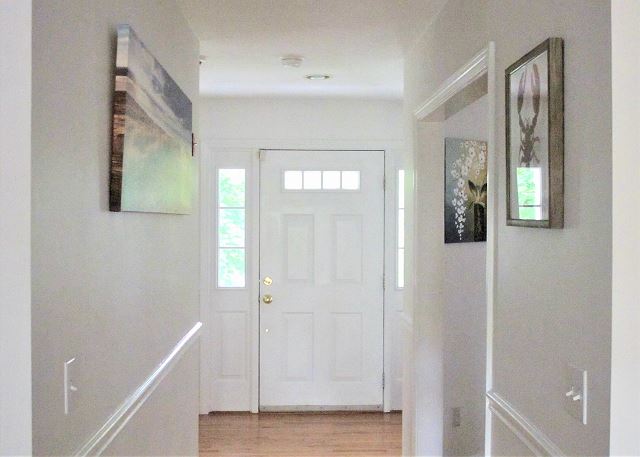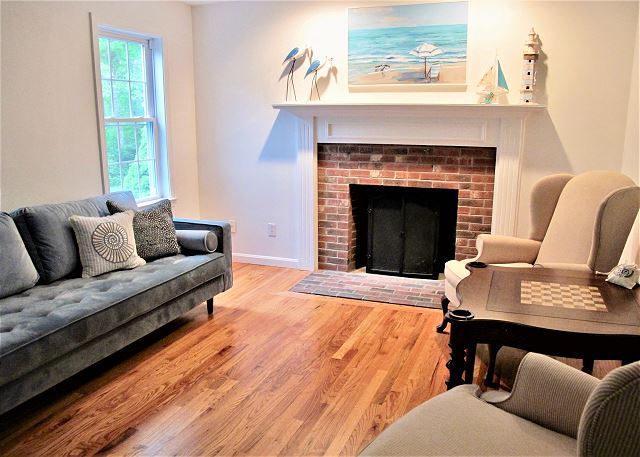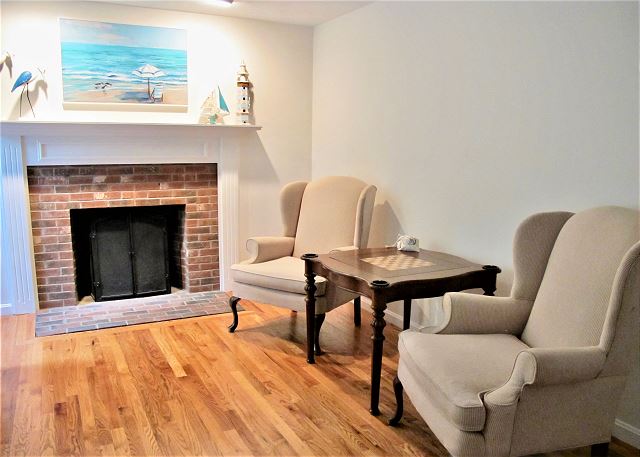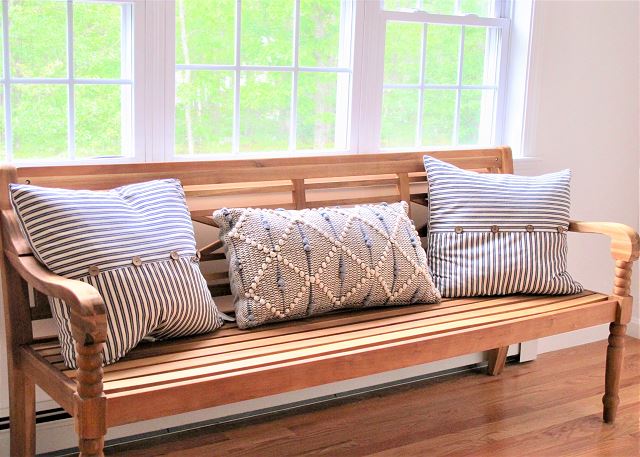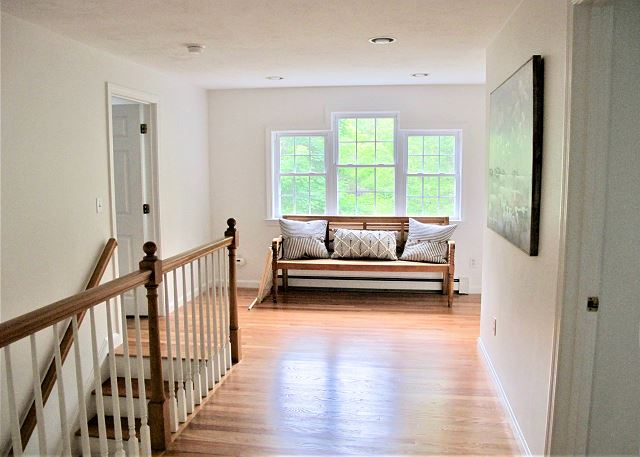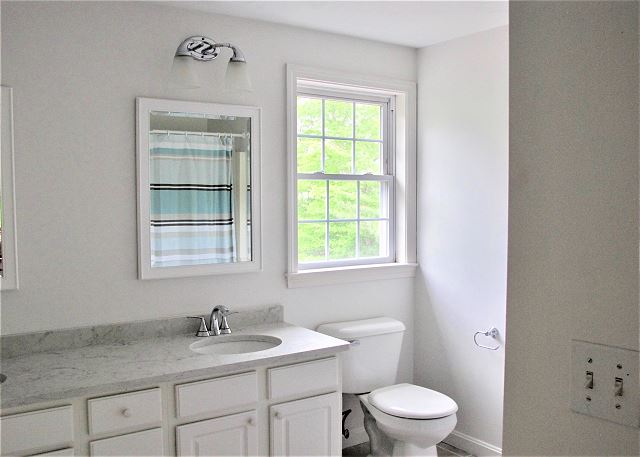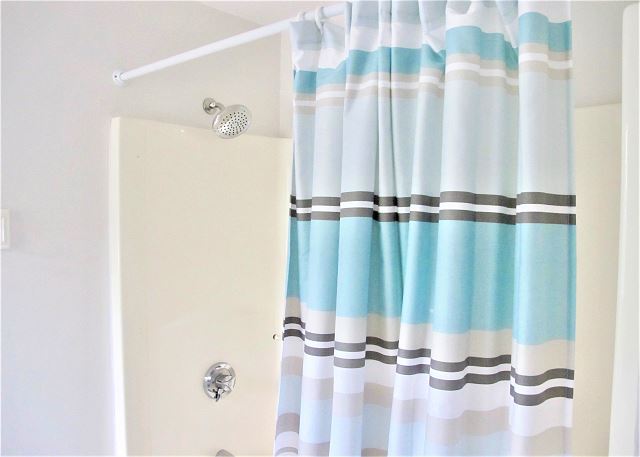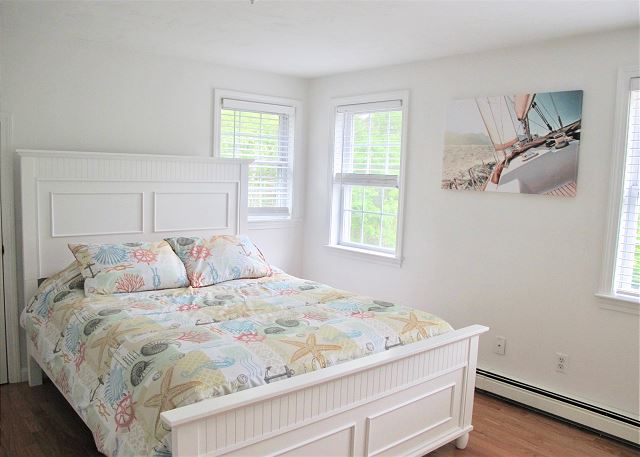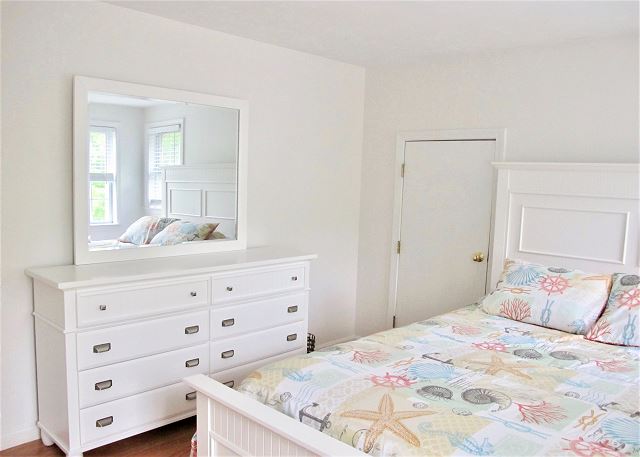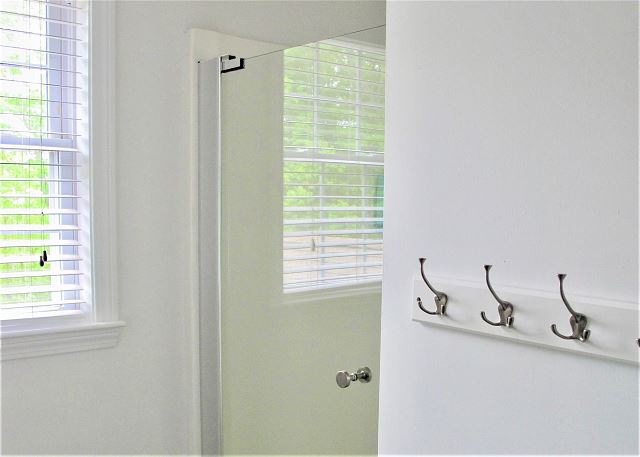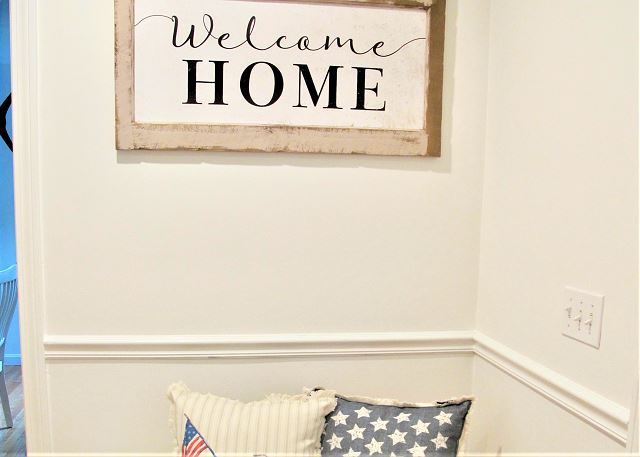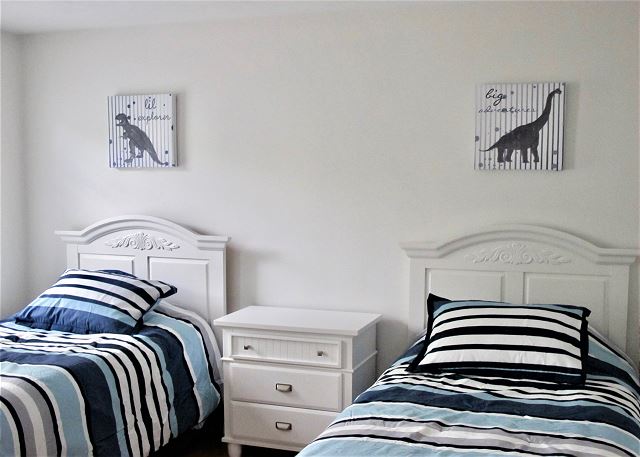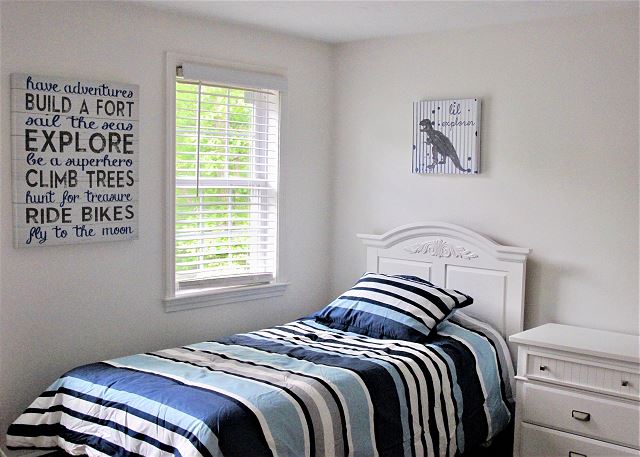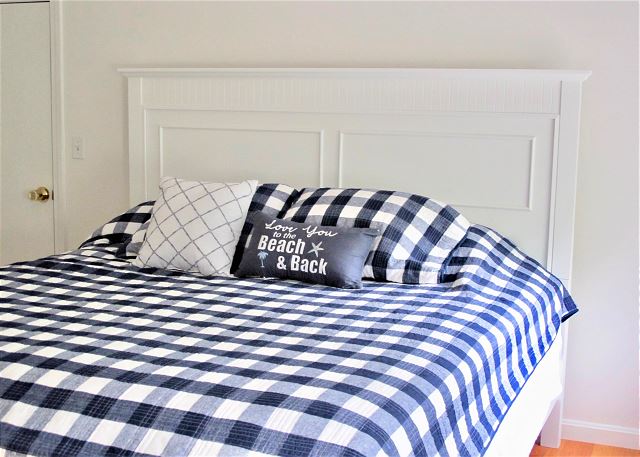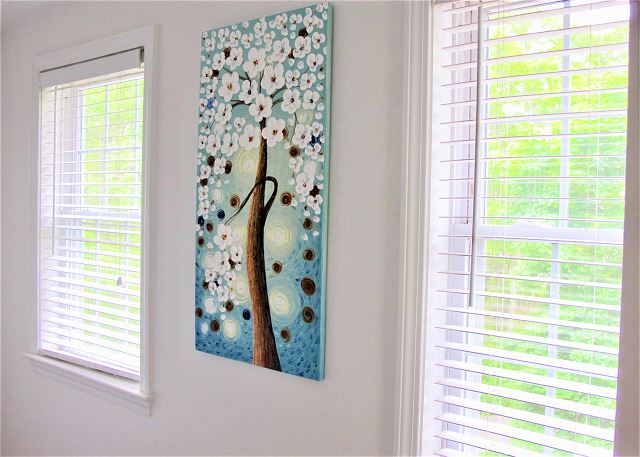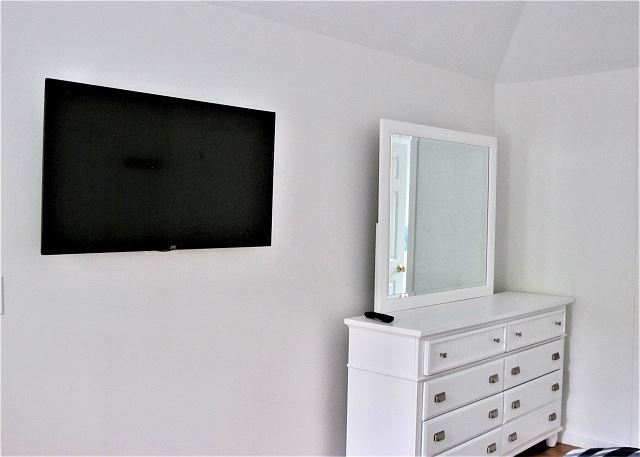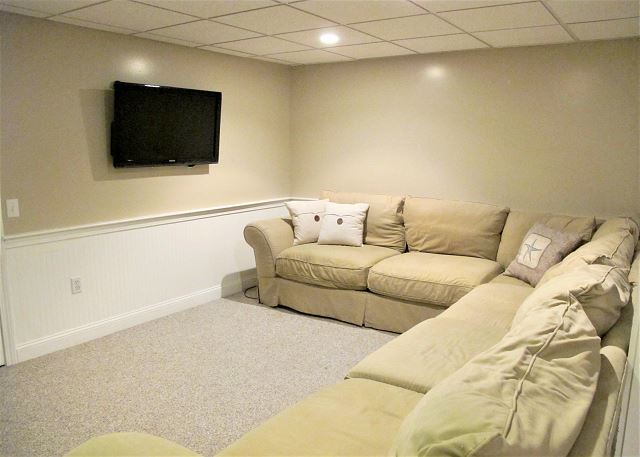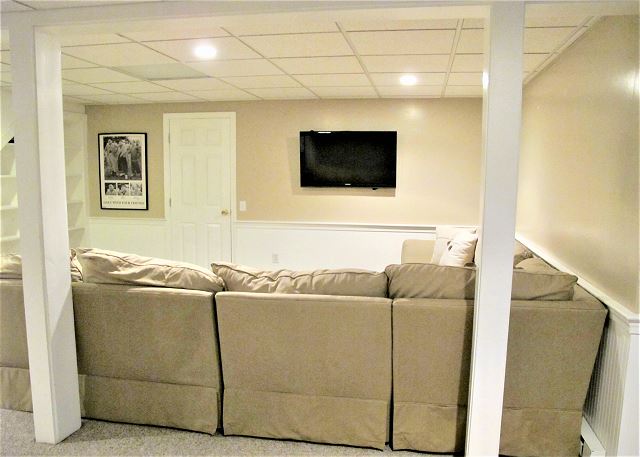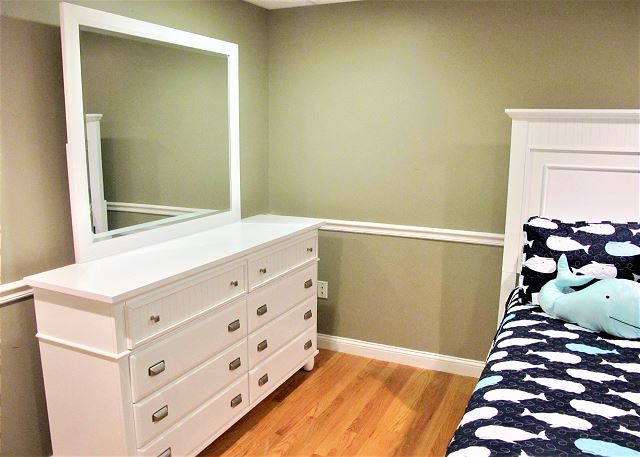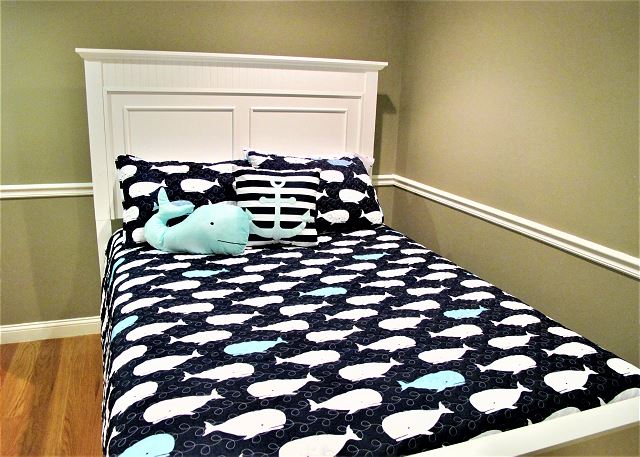 ---
Bedroom(s): 5
Bathroom(s): 3.5
Sleeps: 10
Type: House
Area: Town Neck Beach
Town: Sandwich
SUNDAY TO SUNDAY STAYS DURING HIGH SEASON! You may need to contact us directly to book dates.

Located close to the historic village of Sandwich, its great restaurants, unique shops, grocery stores, and bay beaches, this sunny 5 bedroom/3.5 bath home is pet friendly, boasts a private heated pool and huge patio in a garden oasis. Once you cross the Sagamore Bridge, you're practically here--you'll be in the pool while everybody else is fighting traffic on Route 6! Or just relaxing in the fully air conditioned home!

Nearly everything in this luxurious home is new – from the furnishings to mattresses to appliances…even fresh paint on the walls! The first floor has a living room with fireplace; state of the art kitchen with island seating for 4; adjacent dining room; grand family room with French doors to access the grounds, ceiling fan, and 50" TV; laundry room, and ½ bath. It also includes one of two main bedrooms with king sized bed, ceiling fan, 45" TV, and en suite bath with step-in shower and Jacuzzi.

Upstairs are 3 more bedrooms: The second main with queen bed and ceiling fan, 45" TV, and en suite bath with step-in shower. Bedroom number 3 has two twins and bedroom number 4 has a queen. Both share a full bath with dual sinks and bath/shower combination.

The lower level features an open entertainment area with 42" TV and comfortable sofa sectional, as well as a fifth bedroom with full size bed.

The centerpiece of this home is the heated pool in an estate-like setting with beautifully landscaped grounds and gardens. It has a broad surround and huge patio area to accommodate an L shaped seating arrangement. A stone wall defines the outdoor dining area that includes two tables and chairs for 10. There is even a pool house for drinks and snacks and nearby outdoor shower.

Set far back from the street on a cul de sac and fully fenced along the property's rear perimeter, this is the ideal retreat for guests seeking luxury, privacy, and easy access to a nearly limitless list of recreational options.

Also included: Wifi, garage parking for two cars and room for 6 cars in driveway, washer/dryer, and beach chairs*.

*Owners provide these items as favors to guests only and not as an integral part of the rental. If these items become lost or damaged during the course of the rental season, owners are not responsible for replacement.

No smoking allowed. LINENS (SHEETS/TOWELS) ARE NOT INCLUDED IN THIS RENTAL.

10 guests maximum allowed at any time. No parties exceeding the occupancy limit allowed.

A dog is welcome at pet-friendly properties with pre-approval of weight and breed from the property manager. Failure to observe House Pet Rules may result in a severe fine and/or eviction from the property. LIMIT 1 DOG PER PROPERTY.

We offer travel insurance which is highly recommended and affordable coverage to protect your vacation investment.

Please view our policy and procedure page on our web site for detailed information about renting with us.

State and local taxes are applicable and may vary based on local ordinances and bylaws. Tax rates are subject to change.
- children welcome
- pets considered
- sunday
- Fireplace
- Microwave
- Teapot or Tea Kettle
- Drip Coffee Maker
- Cleaning Supplies
- Cookware
- Dishes / Glassware / Utensils
- Blender
- Island or Counter Seating
- Dishwasher
- Lobster Pot
- Toaster
- Dining Table
- TV
- ceiling fan
- Flat Screen TV
- basic cable
- Ceiling Fan
- two ensuite masters
- ceiing fans in masters
- Jacuzzi/Whirlpool Tub
- Tub/Shower Combo
- Walk-In Shower
- TV
- Exercise Equipment
- Table Tennis
- full sized bedroom
- washer and dryer first floor
- Patio
- Enclosed/Fenced yard
- Gas Grill with Propane Tank
- Dining Table w/ Umbrella
- Dining Table w/o Umbrella
- Enclosed Outdoor Shower
- Private Pool
- Garage Access
- Beach Chairs
- Outdoor Lighting
- Outdoor Seating
- covered front porch
- Close to Town
- Near Cape Cod Bay Beaches
- Near Museum
- Near Cape Cod Canal
- Yes
- DOG
- small to med dog with approval
December 2019

| S | M | T | W | T | F | S |
| --- | --- | --- | --- | --- | --- | --- |
| 01 | 02 | 03 | 04 | 05 | 06 | 07 |
| 08 | 09 | 10 | 11 | 12 | 13 | 14 |
| 15 | 16 | 17 | 18 | 19 | 20 | 21 |
| 22 | 23 | 24 | 25 | 26 | 27 | 28 |
| 29 | 30 | 31 | | | | |
January 2020

| S | M | T | W | T | F | S |
| --- | --- | --- | --- | --- | --- | --- |
| | | | 01 | 02 | 03 | 04 |
| 05 | 06 | 07 | 08 | 09 | 10 | 11 |
| 12 | 13 | 14 | 15 | 16 | 17 | 18 |
| 19 | 20 | 21 | 22 | 23 | 24 | 25 |
| 26 | 27 | 28 | 29 | 30 | 31 | |
February 2020

| S | M | T | W | T | F | S |
| --- | --- | --- | --- | --- | --- | --- |
| | | | | | | 01 |
| 02 | 03 | 04 | 05 | 06 | 07 | 08 |
| 09 | 10 | 11 | 12 | 13 | 14 | 15 |
| 16 | 17 | 18 | 19 | 20 | 21 | 22 |
| 23 | 24 | 25 | 26 | 27 | 28 | 29 |
March 2020

| S | M | T | W | T | F | S |
| --- | --- | --- | --- | --- | --- | --- |
| 01 | 02 | 03 | 04 | 05 | 06 | 07 |
| 08 | 09 | 10 | 11 | 12 | 13 | 14 |
| 15 | 16 | 17 | 18 | 19 | 20 | 21 |
| 22 | 23 | 24 | 25 | 26 | 27 | 28 |
| 29 | 30 | 31 | | | | |
April 2020

| S | M | T | W | T | F | S |
| --- | --- | --- | --- | --- | --- | --- |
| | | | 01 | 02 | 03 | 04 |
| 05 | 06 | 07 | 08 | 09 | 10 | 11 |
| 12 | 13 | 14 | 15 | 16 | 17 | 18 |
| 19 | 20 | 21 | 22 | 23 | 24 | 25 |
| 26 | 27 | 28 | 29 | 30 | | |
May 2020

| S | M | T | W | T | F | S |
| --- | --- | --- | --- | --- | --- | --- |
| | | | | | 01 | 02 |
| 03 | 04 | 05 | 06 | 07 | 08 | 09 |
| 10 | 11 | 12 | 13 | 14 | 15 | 16 |
| 17 | 18 | 19 | 20 | 21 | 22 | 23 |
| 24 | 25 | 26 | 27 | 28 | 29 | 30 |
| 31 | | | | | | |
June 2020

| S | M | T | W | T | F | S |
| --- | --- | --- | --- | --- | --- | --- |
| | 01 | 02 | 03 | 04 | 05 | 06 |
| 07 | 08 | 09 | 10 | 11 | 12 | 13 |
| 14 | 15 | 16 | 17 | 18 | 19 | 20 |
| 21 | 22 | 23 | 24 | 25 | 26 | 27 |
| 28 | 29 | 30 | | | | |
July 2020

| S | M | T | W | T | F | S |
| --- | --- | --- | --- | --- | --- | --- |
| | | | 01 | 02 | 03 | 04 |
| 05 | 06 | 07 | 08 | 09 | 10 | 11 |
| 12 | 13 | 14 | 15 | 16 | 17 | 18 |
| 19 | 20 | 21 | 22 | 23 | 24 | 25 |
| 26 | 27 | 28 | 29 | 30 | 31 | |
August 2020

| S | M | T | W | T | F | S |
| --- | --- | --- | --- | --- | --- | --- |
| | | | | | | 01 |
| 02 | 03 | 04 | 05 | 06 | 07 | 08 |
| 09 | 10 | 11 | 12 | 13 | 14 | 15 |
| 16 | 17 | 18 | 19 | 20 | 21 | 22 |
| 23 | 24 | 25 | 26 | 27 | 28 | 29 |
| 30 | 31 | | | | | |
September 2020

| S | M | T | W | T | F | S |
| --- | --- | --- | --- | --- | --- | --- |
| | | 01 | 02 | 03 | 04 | 05 |
| 06 | 07 | 08 | 09 | 10 | 11 | 12 |
| 13 | 14 | 15 | 16 | 17 | 18 | 19 |
| 20 | 21 | 22 | 23 | 24 | 25 | 26 |
| 27 | 28 | 29 | 30 | | | |
October 2020

| S | M | T | W | T | F | S |
| --- | --- | --- | --- | --- | --- | --- |
| | | | | 01 | 02 | 03 |
| 04 | 05 | 06 | 07 | 08 | 09 | 10 |
| 11 | 12 | 13 | 14 | 15 | 16 | 17 |
| 18 | 19 | 20 | 21 | 22 | 23 | 24 |
| 25 | 26 | 27 | 28 | 29 | 30 | 31 |
November 2020

| S | M | T | W | T | F | S |
| --- | --- | --- | --- | --- | --- | --- |
| 01 | 02 | 03 | 04 | 05 | 06 | 07 |
| 08 | 09 | 10 | 11 | 12 | 13 | 14 |
| 15 | 16 | 17 | 18 | 19 | 20 | 21 |
| 22 | 23 | 24 | 25 | 26 | 27 | 28 |
| 29 | 30 | | | | | |
December 2020

| S | M | T | W | T | F | S |
| --- | --- | --- | --- | --- | --- | --- |
| | | 01 | 02 | 03 | 04 | 05 |
| 06 | 07 | 08 | 09 | 10 | 11 | 12 |
| 13 | 14 | 15 | 16 | 17 | 18 | 19 |
| 20 | 21 | 22 | 23 | 24 | 25 | 26 |
| 27 | 28 | 29 | 30 | 31 | | |
Available
Unavailable
Sat to Sat booking